The UK Wedding Venues Offering Virtual Tours (so You Can Keep Planning in Lockdown)
Keen to get cracking with your wedding venue search? Here are all the venues that you can view online right now.
We have included third party products to help you navigate and enjoy life's biggest moments. Purchases made through links on this page may earn us a commission.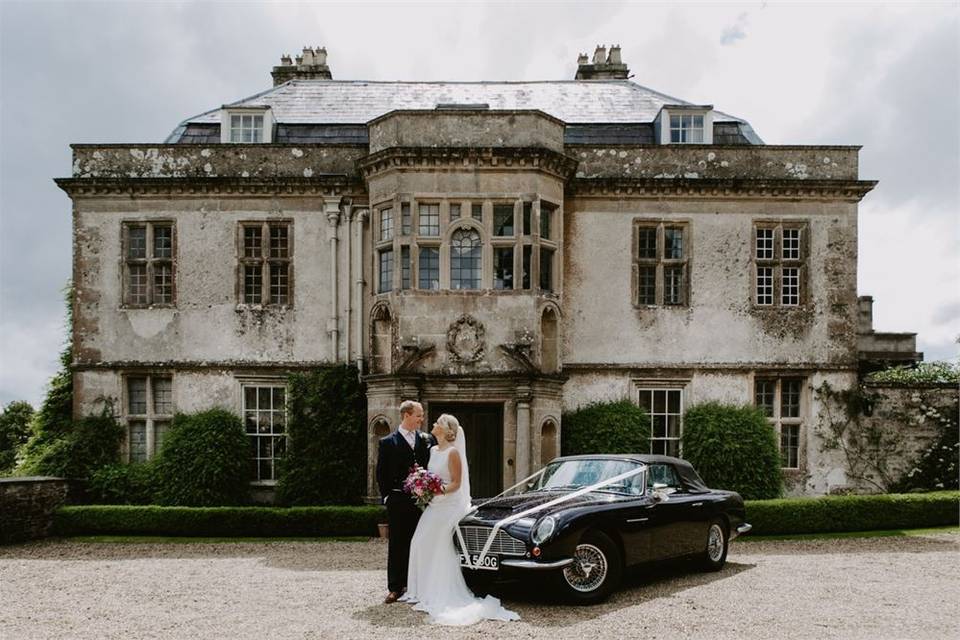 The last year has been an incredibly stressful - and at points heartbreaking - time for couples in the midst of wedding planning thanks to the impact of Coronavirus on weddings. With all in-person meetings and consultations banned for months at a time, many have struggled to move forward with their plans, resulting in hold-ups and frustration for couples and wedding businesses alike.
Since the lockdown began in March 2020, all wedding venues in the UK have had to close their doors multiple times, meaning showrounds and open days have been extremely limited.
The good news is that many venues have opened their doors virtually, allowing couples to start planning right now. To help you out, we've listed all the wedding venues currently offering virtual tours, plus we've also written some top tips on how to get the best from your virtual venue viewing at the bottom of this article – make sure you give them a read before your appointment!
So, without further ado, here are the UK wedding venues that are open for virtual tours, ordered by region. From stately homes to hotels and barns, all kinds of venues have opened their (virtual) doors – happy searching!
Wedding Venues in the East Offering Virtual Tours
Wedding Venues in the East Midlands Offering Virtual Tours
READ MORE: Why You Should (Seriously) Consider a Weekday Wedding
Wedding Venues in London Offering Virtual Tours
The Honourable Society of The Middle Temple
Weddings at Queen Mary University of London
READ MORE: From Venue to Makeup Artist: How to Plan Your Entire Wedding Online
Wedding Venues in the North East Offering Virtual Tours
READ MORE: 32 Questions to Ask Your Wedding Venue
Wedding Venues in the North West Offering Virtual Tours
Heaton House Farm Wedding Venue
Weddings at the University of Manchester
The Glass House at Staining Lodge
READ MORE: How To Find Your Wedding Venue During COVID-19
Wedding Venues in Scotland Offering Virtual Tours
READ MORE: The 20 Best Budget Wedding Venues in Scotland
Wedding Venues in the South East Offering Virtual Tours
The Mill House Hotel & Restaurant
READ MORE: How to Shop & Try on Wedding Dresses & Bridesmaid Dresses from Home
Wedding Venues in the South West Offering Virtual Tours
Temple of Minerva & Botanical Gardens
READ MORE: How to Get Married: Your Step-By-Step Guide
Wedding Venues in Wales Offering Virtual Tours
READ MORE: The Wedding Dates to Avoid in 2020, 2021, 2022 and 2023
Wedding Venues in the West Midlands Offering Virtual Tours
READ MORE: How to Plan a Wedding in Six Months: Everything You Need to Know
Wedding Venues in Yorkshire and Humberside Offering Virtual Tours
READ MORE: Weddings after COVID-19: How to Ensure Guests Have the Best Time on Your Wedding Day
How to Prepare for Your Virtual Wedding Venue Viewing
Download the meeting platform and check that it works on your device in advance. There are a variety of different platforms that venues could be using including Zoom, Microsoft Teams and FaceTime, so make sure you familiarise yourself with the one the venue you're viewing is using.
Sit in the area of the house with the strongest internet connection. The attic room may be peaceful but if your router is two floors down, you may end up with awkward pauses and freezes during your viewing. Sit closer to your router for better stability.
Check if others can join your viewing. Perhaps you'd like your mum, sister or maid of honour to view the venue with you? Ask the venue team if it's possible and how they can join the call and then make sure everyone has any passcodes needed to enter and they know exactly when the viewing will kick off.
Write down questions in advance. If you have specific questions you'd like to ask the venue, make sure you make a note of them and have them to hand during the viewing. It's easy to get swept up in the tour and forget to ask about practical details!
Ask about access. If there are wheelchair users or others with specific needs on your guest list, check that the venue will be accessible for them as you take the tour.
Ask to focus on the areas that are most important to you. If you'd like to get married outside, for example, ask the coordinator to spend more time showing you their outdoor ceremony setting – it might be worth checking the forecast in advance so you can book in on a sunny day showing it in its best light!
Ask about recommended suppliers. If the venue works with a set group of suppliers or simply has a list of recommended suppliers, it's worth finding out a bit more about them and what they do during the tour.
Ask if you can see photographs of the venue set up for a wedding. A virtual tour should give you a good idea of the space and the feel of the venue, but photos of previous weddings will give you lots of ideas when it comes to thinking of how to dress the space and make it your own.
READ MORE: Questions to Ask Your Wedding Venue
Confused about wedding planning during a pandemic? Here's How Coronavirus Might Impact Your Day.