44 of the Best Luxury Wedding Venues in the UK
From regal castles and manor houses to stately homes and rooftop bars, these are the most luxurious wedding venues in London and across the UK!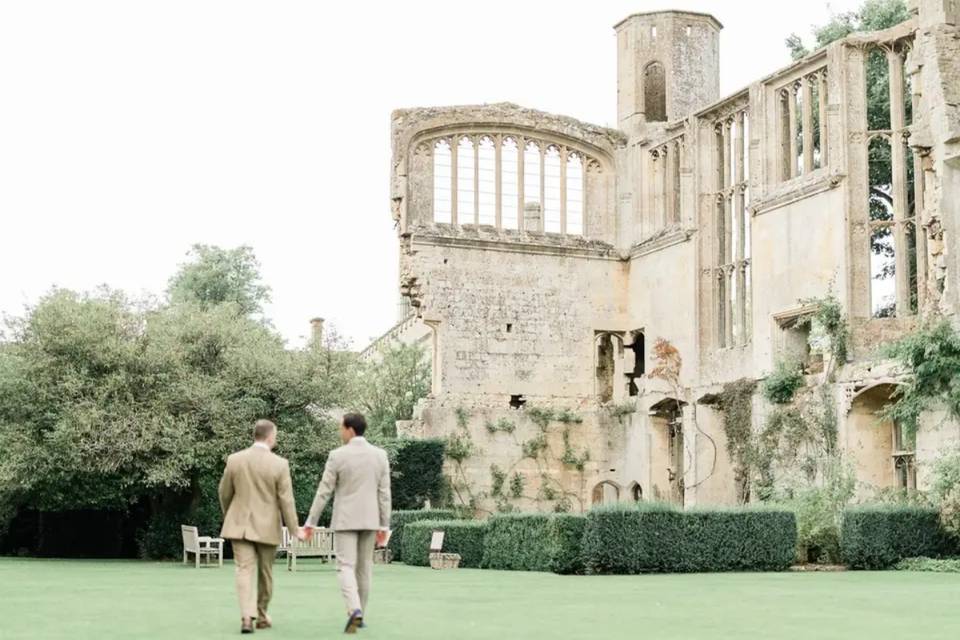 Choosing a wedding venue that's perfect for you is going to depend on a few things - especially if you're looking for a luxury wedding venue. Wedding venue prices matter, of course, but the overall vibe and feel of the spot will play a huge part in which one you go for, and some briefs are trickier to nail than others.
But couples looking for luxury wedding venues have a real treat ahead, as we've put together an edit of the most luxury wedding venues in London specifically, as well as a list of ones across the UK. From stately homes with private spas to manor houses that have had actual royalty stay in, these really are the best of the best.
44 Luxury Wedding Venues That You'll Want to Splurge On
And whilst each of these luxury wedding venues in the UK and London are well worth splashing the cash for, we reckon you'll be pleasantly surprised at the deals some of these venues have on offer. With some of the best wedding packages and special offers available, luxury wedding venues can be much more affordable than you think - so take a look, your wedding budget will thank you for it!
Luxury Wedding Venues in London
Capital cities across the world are known for offering luxury that other areas in their countries just don't, and London is no different. When it comes luxury wedding venues in London, it's pretty hard to compete with what this list has to offer. We're talking rooftop bars, iconic landmarks and even manor houses - yes, in the city!
1. The Zetter Townhouse Clerkenwell - East Central London
If you're after a stylish wedding venue that feels equally as luxury and eclectic, look no further than The Zetter Townhouse in Clerkenwell. This historic Georgian townhouse has character overflowing from each and every corner inside, and along with that, offers a wide range of rooms and spaces to host your wedding celebrations.
As well as being able to host up to 120 wedding guests, this wedding venue with accommodation also has 13 exquisitely designed guest bedrooms for your nearest and dearest to spend the night. When hiring exclusively, you get all of the bedrooms, as well as sole access to the cocktail lounge, private dining rooms, the townhouse staff and a set of keys to that famous front door.
If exclusive hire and a large soiree aren't your idea of a good time, this luxury London wedding venue also offers small wedding packages and micro celebrations for wedding groups as small as 12 people. Whether it be large and elaborate, or small and intimate, your wedding day will feel completely unique here.
Pricing: Menus from £125
Capacity: Up to 120
2. Fortnum & Mason - City of London
When it comes to luxury wedding venues, they really don't come more iconic than Fortnum & Mason in the City of London. The Fortnum & Mason brand is synonymous with pretty much everything in the world of luxury, so planning a wedding in their iconic Royal Exchange room is about as luxury as you can get.
The Royal Exchange is blessed with Romanesque architecture and historic design in the form of decorative archways, limestone floors and neoclassical pillars which require very little in the form of additional wedding venue décor - it speaks for itself, really.
What's more, the vibrancy of that famous Fortnum & Mason blue adorns the bar which sits right in the centre of the room, serving eclectic cocktails and champagne to all of your guests. The brand is renowned for its high-end cuisine options and has been servicing weddings since the 1920s.
Pricing: Menus from £140
Capacity: Up to 150
3. Searcys at the Gherkin - City of London
If you want a luxury wedding venue that is also iconic in its own right, consider Searcys at the Gherkin. This landmark wedding venue offers luxurious fairy-tale weddings for up to 260 guests across levels 39 and 40, each with unspoilt views over the UK's capital.
As a key and well-known feature of London's ever-changing skyline, your wedding could take place in one of the city's most iconic buildings - what could be better than that?
One of our favourite large luxurious wedding venues, Searcys at the Gherkin can accommodate weddings of up to 260 guests, but for something more intimate, the 38th floor is home to five smaller event spaces named after the clouds, Alto, Cirrus, Stratus, Cumulus and Nimbus, perfect for less elaborate celebrations.
Pricing: Menus from £215
Capacity: Up to 260
4. Piazza Italiana – East Central London
Piazza Italiana in East Central London has an elegant vibe that your loved ones are guaranteed to adore. Historic architectural details beautifully blend with contemporary décor to create a distinctive interior look. It resides within a Grade II-listed building that was the home of the British Linen Bank. Vintage aesthetics, mouth-watering food, and excellent staff, what's not to love?
Intimate and large gatherings can be accommodated at Piazza Italiana, so you need not worry about whether you'll have enough room. The venue can be hired with exclusive use, or you can choose specific spaces to host smaller and more intimate occasions.
In the Ante Chamber, you can exchange your vows surrounded by Venetian-inspired adornments, or opt for the Mezzanine, a wonderful spot for wining and dining with guests whilst offering gorgeous views of the garden. And wine lovers will be impressed with the extensive hand-selected selection for your wedding day toasts.
Pricing: POA
Capacity: Up to 350
5. BMA House - South West London
Though it has the appearance of a luxurious manor house in the countryside, amazingly, BMA House is a London wedding venue, located in the trendy borough of Bloomsbury. This luxury fairytale wedding venue gives countryside stately homes a real run for their money, both inside and out!
Originally built in 1911, this Grade II listed house is located on the site of a home once owned by none other than Charles Dickens, making it perfect for history and literary lovers alike. Who needs a library wedding venue when you can wed on a site which used to house one of the greats himself?
The venue can accommodate ceremonies for up to 200 guests, giving you plenty of space on the guestlist for all of your loved ones, and there are a umber of reception and dance rooms for you to entertain everyone during the evening celebrations.
Deals: The Thyme Package (£140.50pp), The Rosemary Package (£180pp) and The Lavender Package (£265pp).
Pricing: Menus from £140.50
Capacity: Up to 250
6. Kew Gardens - South West London
It's extremely rare that you'll find a luxury wedding venue in London with grounds as extensive and beautiful as the ones at Kew Gardens.
The wedding venue itself is nestled within 320 acres of renowned gardens, with a plethora of areas where you can choose to host your festivities. From the Cambridge Cottage and The Nash Conservatory, to the Orangery and the Prince of Wales Conservatory - the options are vast.
What's more, the money you spend here all goes to good causes, as the venue uses income from wedding celebrations to conserve this UNESCO World Heritage site, and to help fund educational and research programmes that help to save the planet - is there a better cause than that?
The venue also comes with a dedicated wedding planning and coordinating team who will ensure your every wish is granted, giving you and your partner the fairy-tale wedding you've always dreamt of, in one of London's most luxury wedding venues.
Deals: 10% off for remaining October 2023 dates. Reduced wedding venue hire for midweek weddings on Mondays through to Thursdays. Seasonal offer of extended hire period for November and December wedding dates - start your wedding at 3pm instead of 4pm for no additional fee.
Pricing: From £3,000
Capacity: Up to 230
7. The Marylebone Rooms - West London
If you're a couple who wants a London wedding venue which feels opulent and elegant, The Marylebone Rooms could be the one for you. The sleek, stylish interior here has been carefully curated and designed by award-winning architectural firm Michaelis Boyd, giving it a luxurious finish to perfectly match its esteemed location.
Situated just a stone's throw from the city's iconic Hyde Park, this hidden gem is bound to impress your wedding guests. And speaking of guests, the venue can host weddings with between 20 and 80 guests, making it perfect for weddings that have a 'quality, not quantity' approach.
Menus here start from £160, but the team will work with you to build a bespoke wedding package that is customised to your needs and ticks off everything you require from a wedding venue. There is also accommodation onsite at this hotel wedding venue, as well as spaces for the couple to retreat and get ready on the day.
Pricing: Menus from £160
Capacity: Up to 80
8. The Aviary - East Central London
If a rooftop wedding venue is your idea of luxury (ours too, by the way!), then you'll love what Aviary has to offer. A luxurious rooftop bar in London, Aviary is located on the 10th floor of the swanky Montcalm Royal London House Hotel, and offers sweeping views over the city from almost every angle and seat.
The design and interior here is eclectic, with warm tones and gold hues used throughout, and unique details including hanging planters and gold drinks cases.
Unlike many bars in London, Aviary can be hired exclusively for a maximum of 300 guests, and with that, includes use of the stunning private bar and terrace on the 9th floor - one of the venue's best kept secrets.
Pricing: Menus from £100
Capacity: Up to 300
9. Dulwich Picture Gallery – South East London
This luxury wedding venue is one for you history buffs out there. South East London's Dulwich Picture Gallery has been delighting couples and art enthusiasts alike for generations. Established in 1811, this gem has a marvellous history, and now you and your partner have a chance to become a part of its illustrious story.
This unique wedding venue gives you the opportunity to host an elegant and luxurious wedding in the city, in a venue which is steeped in culture and history. Rich and evocative Baroque paintings line the walls of the Soane Gallery, a refined event space where you can host your wedding reception.
You are also welcome to enjoy your ceremony here in the intimate Linbury Room. Thinking about where to have your photography session? Here, you are free to pose in the picturesque three-acre garden.
Pricing: From £1,000
Capacity: Up to 120
10. Regent's Conferences & Events – North West London
Fancy a wedding celebration in one of London's most iconic parks? Regent's Conferences & Events is a wonderful luxury wedding venue choice for couples saying 'I do' in central London. Nestled in the middle of the famous Regent's Park, this charing wedding venue provides a sense of solace that you will make you forget you're even in the city!
After the ceremony is over, you and your partner can enjoy a photography session in the venue's beautiful grounds, with lawns, gardens and lakes for you to explore. Indoors, you have several different wedding entertaining spaces, as well as outdoor options for those planning a summer wedding.
Wondering what to do about your wedding meal? Fear not, the staff here offer award-winning in-house catering services that'll impress foodie couples and guests alike, and with space for up to 1,000 guests, this large capacity wedding venue can ensure every last guest is fed and watered.
Pricing: Menus from £130
Capacity: Up to 1,000
Luxury Wedding Venues in the UK
If the bustling streets of London aren't your scene, fear not as this edit of the most luxury wedding venues in the UK has plenty more to offer. Whether you're looking for a luxury wedding hall or a large luxury wedding venue, we have you completely covered.
11. Pennyhill Park - Surrey
If a fairy-tale wedding in a luxury wedding venue is on your wish list, Pennyhill Park in Surrey is sure to fit the bill. This 19th century building is steeped in historic charm and grandeur in equal measures. The exterior grounds are beautifully manicured, offering a number of areas for outdoor ceremonies, drinks receptions and photo opportunities, an the inside isn't half bad either!
Indoors, you will find elegantly decorated, grand rooms to host your festivities, as well as an on-site spa and restaurant for pre and post wedding celebrations. As this is a hotel, too, there is ample space for both you, your families and your guests to spend the night both before and after the wedding if you want to extend the party over multiple days.
To find out even more about this idyllic, luxury wedding venue, check out our guide to weddings and stays at Pennyhill Park.
Pricing: Menus from £148
Capacity: Up to 120
12. Ellenborough Park - Gloucestershire
Ellenborough Park is one of our favourite luxury wedding venues, as it allows you and more than 100 guests to stay overnight in the 61 beautifully decorated bedrooms - weekend wedding package anyone? As well as the vast accommodation, this Cotswold wedding venue has plenty more to offer couples.
The stately home building is nestled within Gloucestershire's charming countryside. The washed stone brick synonymous with Cotswolds buildings is celebrated on the outside, and the colour palette is brought indoors with neutral and airy colours being used throughout - giving couples a stunning blank canvas to make their own.
Outside, you will find 90 acres of rustic parkland to explore and have your pictures taken, as well as stone paths to walk down and a chapel to visit.
Deals: Midweek wedding package (Monday - Thursday) from £9,000 for 50 guests including food, drinks and canapes. Winter wedding package from £6,000 for 40 guests between October 2023 and February 2024 including food, drinks and canapes.
Pricing: Menus from £140
Capacity: Up to 120
13. Iscoyd Park – Cheshire
Nestled in idyllic parkland bordering Wales, Shropshire and Cheshire is the 18th-century, Grade II-listed Iscoyd Park. This luxury family-run venue allows you to make Iscoyd your own and hire it out on an exclusive use basis for up to three days - allowing you to have a whole weekend wedding of celebrations.
This fairy-tale wedding venue boasts three licensed rooms as well as a picturesque church at the edge of the grounds. There's an exclusive cottage on the edge of the estate which can be used the night before the wedding and for wedding morning preparations, as well as luxury bedrooms within the house for the night of the wedding.
You can drink and dine in the marquee, Garden Room or newly renovated Coach House.
Pricing: From £8,000
Capacity: Up to 150
14. Peckforton Castle – Cheshire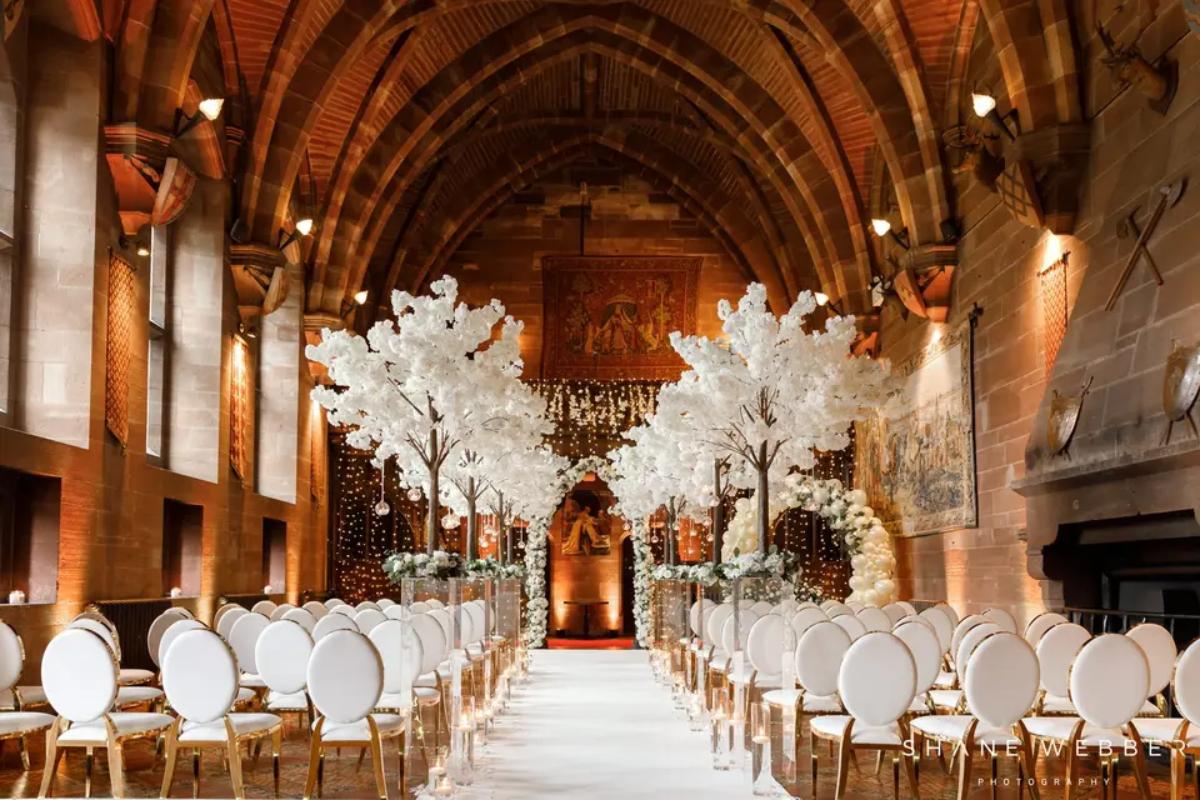 Castle wedding venues can be some of the most luxury settings imaginable and Peckforton Castle in Cheshire is no exception. With arched ceilings, stained glass windows and a seriously impressive entrance, it's giving us all the romantic wedding feels. Surrounded by woodland and perched at the end of a meandering driveway, you'll certainly feel like royalty here.
There are five unique rooms and spaces to host your wedding here, including a luxury wedding hall with arched ceilings and hair-raising acoustics.
The day before your ceremony, you can indulge in some pampering at the on-site spa. The following day, the three AA rosette standard restaurant will be on-hand to whip up a bespoke menu in one of the five licensed function rooms. After the celebrations, you and your wedding party can retire in one of the 48 individually designed bedrooms.
Pricing: Menus from £130
Capacity: Up to 250
15. Dunskey Estate - Dumfries Galloway & Ayrshire
Dunskey Castle is a luxury wedding venue in Scotland that almost cannot be beaten. The castle wedding venue is nestled within endless Scottish countryside, offering miles of scenic views. And if getting married in an Edwardian castle surrounded by lawns wasn't enough, the venue also backs onto the bank of a loch, has its own walled garden and ancient woodlands for you to explore.
And if you're not a Scotland local, you and up to 86 guests can stay overnight in accommodation split between the castle itself and the venue's on-site lodges. All rooms have been beautifully furnished and finished to a truly high standard.
Pricing: POA
Capacity: Up to 80
16. Charlton Hall – Northumberland
When it comes to masterfully combining the old with the new, Charlton Hall is a fantastic example of marrying 18th-century architecture with thoroughly modern interior design. This luxury wedding hall is set over three floors and includes a library, drawing room, breakfast room, two bars and a speakeasy underground vault.
The brand-new adjoining structure, The Looking Glass, is the main celebration space here and features a ceiling resembling a starlit sky as well as an ultra-modern bar and floor-to-ceiling windows. Catering is handled by the talented in-house culinary team and all other suppliers can be recommended by the experienced wedding coordinator.
Deals: Free wedding venue hire until September 2023.
Pricing: Menus from £70
Capacity: Up to 200
17. Gara Rock – Devon
This exclusive seaside wedding venue offers modern décor set against a spectacular backdrop. Gara Rock is a luxury wedding venue sat atop a cliff on the south coast of Devon. It offers relaxed and elegant weddings that bring the outdoors in, thanks to its glass-edged design.
You can hire the entire venue on an exclusive use basis, meaning you'll be able to throw a laidback celebration in your own private beach house. Spend just the day here or an entire weekend and make the most of the gorgeous bedrooms which overlook the cliffs and beach, and the luxurious Wild Rock Spa, a perfect spot for a couples spa break.
Deals: Get a free £1,000 bar tab when you book before 31st August 2023 for a 2023 or 2024 wedding date.
Pricing: POA
Capacity: Up to 120
18. De Vere Tortworth Court – Gloucestershire
This Victorian luxury wedding mansion set against the picturesque Gloucestershire countryside is the perfect place to host an elegant and sophisticated wedding. De Vere Tortworth Court offers a range of licensed rooms, but it's the glass-panelled half-brick orangery that's really caught our eye.
Built in 1874, the glass and stone structure exudes old-style glamour and makes for a totally unique spot to say 'I do'. You can have your ceremony and reception in this unique space and toast to your marriage as the daylight skies change to night above you through the domed glass ceiling.
Deals: Book a 2023 wedding and save £2,023.
Pricing: Menus from £120
Capacity: Up to 250
19. Howsham Hall – North Yorkshire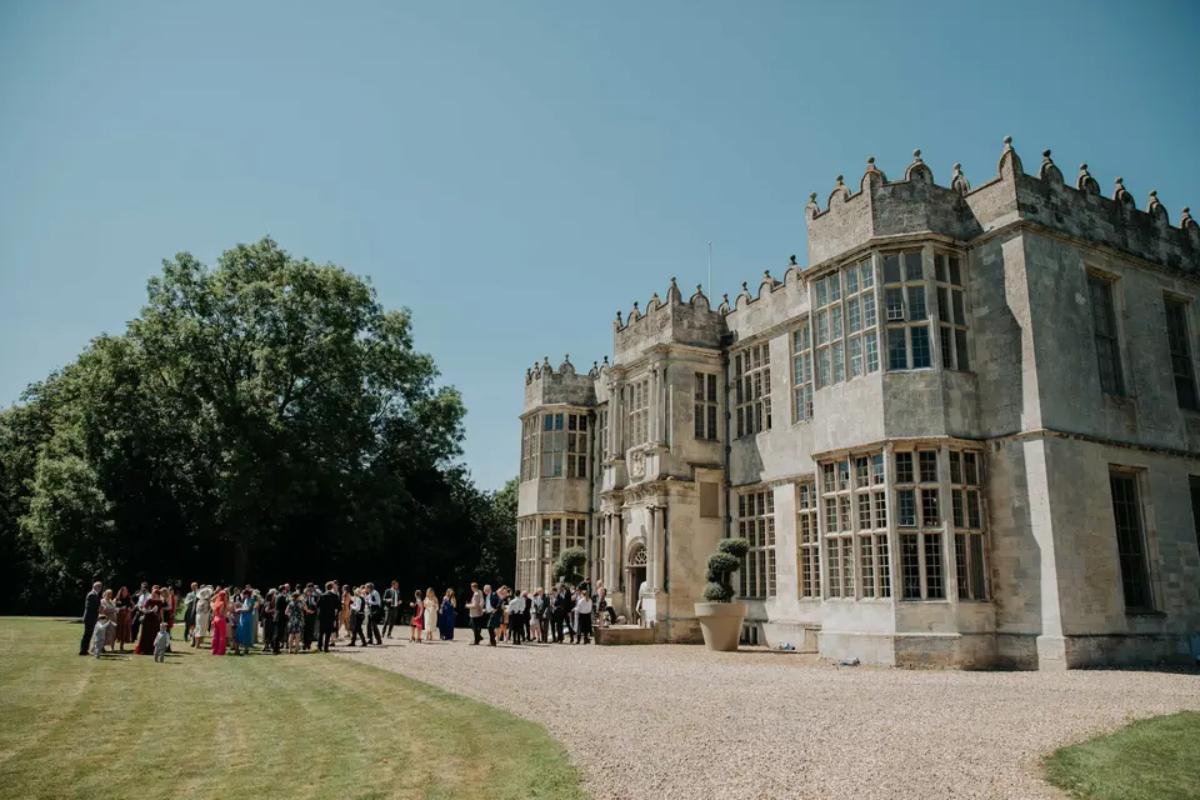 Howsham Hall is a spectacular private, period house available for exclusive hire. Nestled in a secluded valley yet just 30 minutes from York, you can enjoy all the benefits of a remote country house wedding venue with the convenience of city amenities just a short distance away. Each and every room here has been thoughtfully restored, pairing contemporary details with historic grandeur.
This luxury wedding venue boasts one of the most lavish wedding suites we've ever seen (just check out that bed and chandelier!), as well as 11 further bedrooms, each offering individually designed opulence. With a flexible planning approach, a large selection of event spaces and unbeatable curb appeal, Prepare to fall head over heels for this North Yorkshire gem.
Deals: 25% off remaining Saturdays in may 2024. Late availability on winter 2023 dates.
Pricing: From £2,000
Capacity: Up to 150
20. Sudeley Castle - Gloucestershire
If you're looking for large, luxury wedding venues that can hold hundreds of guests, you've come to the right place, as Sudeley Castle in Gloucestershire is set within 1,200 acres of land, and can host weddings of up to 450 people in their lavish marquee on the lawns.
Smaller weddings of up to 160 can be hosted within the castle, giving you the choice of their new glass Orangery, the historic library or the Old Coach House. And when the party is over, a staggering 90 of you can stay overnight in the castle's array of accommodation,
Pricing: From £6,250
Capacity: Up to 450
21. Dewsall Court – Herefordshire
This exclusive use, luxury yet rustic wedding venue is nestled within 12 acres of picturesque Hertfordshire countryside, with breath-taking views over the Black Mountains. At Dewsall Court you'll find open fires, a billiards table, luxury touches and even a late-night party den.
You can marry in the ancient church at the bottom of the garden or within one of Dewsall's many elegant indoor and outdoor spaces. All bookings come with a two-night stay for 20 guests, exclusive use of the grounds for photographs and drinks and the services of a dedicated wedding coordinator.
Pricing: Menus from £52
Capacity: Up to 170
22. Hedsor House – Buckinghamshire
If lavish is what you're looking for, look no further than luxury wedding venue Hedsor House. This grade II listed building and its majestic parkland give off an exquisite first impression, and the interiors are just as lavish.
You can celebrate with up to 60 guests in the Centre Hall, 150 in the Grand Ballroom or even take your dining alfresco in the historic gardens. Everything from vintage afternoon tea to Asian banquets and Jewish receptions can be catered for here and the team are happy to work with you to make your wedding dreams become a reality.
Pricing: From £5,650
Capacity: Up to 150
23. Doxford Hall Hotel & Spa – Northumberland
Ever considered exchanging your vows at a venue that combines classic elegance with contemporary luxury? If so, Doxford Hall Hotel & Spa is bound to appeal to you. Its gorgeous rooms and corridors are adorned with vintage décor, while its event spaces and guest rooms are brimming with timeless details.
Up to 200 of your nearest and dearest can join you to celebrate your nuptials, so no need to cut the guest list. After exchanging your vows, you can head into the stunning Kennedy Suite to wine, dine, and dance the night away. Why not enjoy some quality time with your partner at the state-of-the-art spa the day after your wedding?
Deals: Winter wedding package for 2023 and 2024 dates available from £3,366.
Pricing: Menus from £95
Capacity: Up to 200
24. Ragley Hall - Alcester
Ragley Hall is a luxury wedding venue in every sense of the word! It's a ideal choice for couples who are looking for a grand wedding venue that pairs historic charm with incredibly impressive interiors.
At the front of the venue, couples will be met with a stunning dual staircase, perfect for a wedding ceremony entrance, and for pictures of the entire party later on. Inside, there are ample ceremony rooms for you to choose from, as well as a number of entertaining areas for cocktails, canapes and a sit down meal.
This is also a wedding venue you can stay in, as the (seriously vast!) grounds are home to an on-site lodge which can sleep around 30 of your closest family and friends. And speaking of the grounds, they are enormous, and beautifully manicured - making them perfect for a marquee wedding or outdoor celebration if the British weather permits!
Pricing: From £5,260
Capacity: Up to 1,000
25. Notley Abbey – Buckinghamshire
Built in the 12th century, Notley Abbey is luxury wedding venue with a long and fascinating history. It was previously the home of Laurence Olivier and Vivien Leigh, and was restored as a wedding venue in the early 2000s. A tree-lined driveway makes for a fitting entrance to this magnificent, luxury wedding venue while manicured grounds ensure your wedding photographs will look simply stunning from every angle.
You can marry outdoors in the walled garden or inside in either the oak-panelled Abbott's Hall or the Monk's Refectory stone barn. The historic barn was where the Augustine Monks once dined in 1192 and booking a wedding here means you get the chance to become a part of history by enjoying your wedding breakfast in the very same spot.
Pricing: £POA
Capacity: Up to 250
26. Saltmarshe Hall – North Yorkshire
Grand and exquisite, Saltmarshe Hall offers everything a stately home wedding venue should, and plenty more.
The impressive, luxurious venue has been beautifully restored, giving it the elegance of a bygone era, alongside delicate modern touches to bring it into the 21st century. From the elegant licensed rooms and impressive staircase to the luxurious bedrooms and incredible grandeur, you'll never want to leave this decadent dream.
You can marry and celebrate indoors or outdoors here thanks to the stunning terrace space, which can accommodate up to 118 people. Whether it's an outdoor or indoor wedding you're after, this entire house will be exclusively yours for the day.
Pricing: Menus from £95
Capacity: Up to 200
27. Stubton Hall – Lincolnshire
This luxury wedding venue is almost too good to be true. Stubton Hall is a 19th-century house that is set on 24 acres of parkland and exudes luxury from the moment you step foot in the magnificent courtyard. Leaving you spoilt for choice, this gorgeous venue boasts four licensed ceremony rooms, ideal for both large and intimate weddings.
The light-filled Orangery is the perfect space to take your evening celebrations, with an elegant atmosphere reminiscent of the building's grand history and all the modern touches needed to really get the party started. A wedding venue with accommodation fit for royalty, your guests have 25 lavish bedrooms to choose from when the night draws to a close.
Pricing: Menus from £130
Capacity: Up to 250
28. Clevedon Hall – Somerset
Located in the stunning Somerset countryside, just half an hour from Bristol and its airport and rail links, Clevedon Hall benefits from all the seclusion of a country wedding venue with all the convenience of a city hotel. Although it does operate as a hotel, you can rest assured that the house will be exclusively yours on your big day – no sharing with other guests!
You can also choose to marry in the beautiful garden gazebo, inside the galleried grand hall or in the light and airy orangery. After the ceremony, you can enjoy drinks within the manicured grounds before tucking into a meal prepared by a Michelin-starred head chef before retiring to one of the 25 luxury bedrooms.
Deals: Elegant wedding package from £11,500 for remaining wedding dates until the end of March 2024.
Pricing: Menus from £130
Capacity: Up to 250
29. Thornbury Castle - Gloucestershire
Luxury wedding venue Thornbury Castle is a venue steeped in history. At more than 500 years old, every crevasse of this building exudes character and grandeur, and you'll find artefacts including suits of armour and period pieces which pay homage to the venue's history.
As well as history and charm, the castle is also very well known for its excellent cuisine, with wedding menus curated by award-winning chef Carl Cleghorn, as well as an on-site sommelier who will hand-pick drink accompaniments from the venue's collection of over 200 wines.
Pricing: From £4,000
Capacity: Up to 120
30. Compton Verney – Warwickshire
Compton Verney is a renowned art gallery and grade I listed Georgian mansion house, making it a unique luxury wedding venue choice. With 120 acres of picturesque parkland, a lovingly restored on-site chapel, multiple galleries and indoor and outdoor licensed spaces, there's plenty to tempt you to tie the knot here.
Couples and their guests can enjoy post-ceremony drinks in the Italian art galleries or on the beautiful lakeside lawns before heading into the exquisite Adam Hall for a wedding breakfast and party. Every other detail here is totally up to you and you're invited to use the spaces as you like; the team at Compton Verney are all about bespoke weddings and making this experience your own.
Deals: Weekday wedding packages receive up to £2,000 off their venue hire fee in 2023.
Pricing: Menus from £1,000
Capacity: Up to 120
31. Brinkburn – Northumberland
If you are planning to start your future at a luxury wedding venue with historic ties, Brinkburn in Northumberland is one to consider. This charming venue features a 12th-century priory, idyllic gardens, a manor house, enchanting woodland and so much more.
Whether you're after a religious church ceremony or a secular celebration, the staff at Brinkburn will be happy to facilitate your requests and personalise your wedding experience. The old-world priory is a popular choice with those after a grand do, but the venue also offers a tipi for couples who want a more alternative festival wedding style.
Deals: Discounted prices for Wednesday weddings which include a two night stay from Tuesday until Thursdays.
Pricing: Menus from £60
Capacity: Up to 150
32. Monkey Island Estate – Berkshire
Located in the idyllic Berkshire village of Bray, Monkey Island Estate is set on a secluded island in the middle of the River Thames, earning it some serious points for originality as well as privacy. Made up of two grade II listed pavilions, this luxurious, modern wedding venue offers beautifully restored grandeur with a healthy dose of modern luxury.
You can access the venue via boat, footbridge or helicopter only, giving you and your partner the chance to make a grand entrance your guests will never forget. You'll have the choice between the pretty River Room or the decadent Marlborough Ballroom for large celebrations, or one of the more intimate spaces on offer for smaller nuptials.
Deals: Free 7-night honeymoon with YLT Hotels when you spend more than £35,000 on weddings at Monkey Island Estate.
Pricing: £POA
Capacity: Up to 130
33. The Old Course Hotel – St Andrews
You don't need to be a golfing fanatic to appreciate The Old Course Hotel. The AA five-star hotel wedding venue is located in a breath-taking setting overlooking the Old Course, Swilcan Bridge and the beautiful West Sands Beach.
You can enjoy these magnificent views from the light-filled conservatory in a romantic ceremony of up to 110 guests. Once the vows have been recited, it's time to retire to the ballroom where you can dine with as many as 130 of your nearest and dearest and dance beneath the glittering chandeliers.
Deals: Late availability and deals on winter weddings between October and December 2023.
Pricing: Menus from £150
Capacity: Up to 450
34. Eastwell Manor – Kent
As you ascend the steps and pass the grand fountain, you can't help but feel awestruck as you approach this Neo-Elizabethan manor house. Eastwell Manor is a luxury wedding venue that sits within an enormous 3,000 acres of beautifully manicured gardens and features 74 individually designed bedrooms and suites as well as banquet rooms, a Champneys spa and a nine-hole golf course.
You can marry inside one of the oak-panelled reception rooms, or outside in the stunning Italian garden gazebo. The gorgeous lawns also offer the perfect space for marquee receptions, should you prefer to celebrate outdoors rather than inside the manor itself. Either way, you'll be treated to award-winning food and the chance to spend the night in the newly renovated 1920's style rooms.
Pricing: Menus from £60
Capacity: Up to 150
35. Avington Park – Hampshire
Set in the heart of the Itchen Valley in Hampshire, Avington Park is a beautiful stately home, overlooking Avington Lake and positioned on 150 acres of its own historic parkland. The pillared gateway with large wrought iron gates makes an impressive arrival as guests travel down the lime tree avenue.
Steeped in rich history, this luxurious wedding venue dates back to 961 AD when it was mentioned in the Domesday Book. Kings and royal courtiers have graced this house over its long history - how very Bridgeton. This gorgeous wedding venue say the house lives up to its name of the party palace, hosting luxury weddings and special events for up to 200 guests.
Pricing: From £19,000
Capacity: Up to 180
36. Brocket Hall – Hertfordshire
The Brocket Hall Estate has been hosting grand celebrations since the 18th century and you're invited to make your wedding part of its decadent history. The estate boasts not one, but three magnificent, licensed event locations. Choose from the historic Brocket Hall complete with an opulent regency ballroom, the modern barn-style Melbourne Club or the intimate Auberge du Lac restaurant.
Whichever luxurious location you choose, you'll be able to make the most of the stunning 543 acres of surrounding countryside – complete with a romantic bridge over the Broadwater Lake, and the lavish on-site accommodation.
Pricing: £POA
Capacity: Up to 150
37. The Frogmill – Gloucestershire
Opened as a luxury wedding venue in 2018, the 17th century Frogmill is a true Cotswold gem. This luxe venue is truly one of a kind - it combines the famous quaint Cotswold stone with contemporary architecture and colours to create a sleek-yet-charming vibe.
The light and airy Mill Room, with vaulted ceiling and dramatic chandeliers, is licensed for civil ceremonies and also makes for the perfect celebration space after drinks on the terrace. When it's time to kick off your dancing shoes, The Frogmill offers 28 fuss-free luxury bedrooms.
Pricing: Menus from £55
Capacity: Up to 200
38. Merrydale Manor – Cheshire
If it's modern luxury you're looking for, look no further than Cheshire's Merrydale Manor. Hired on an exclusive basis only, this impressive country estate comprises of a sweeping driveway, luscious parkland, manicured gardens and brand new, purpose-built Merrydale Suite and Bar.
The stunning ceremony room at Merrydale features an arched, beamed ceiling with large windows and neutral décor, allowing you the chance to dress the room to your tastes. The Merrydale Suite is the ultimate in contemporary luxury and offers state-of-the-art facilities, guaranteeing your reception has the wow factor.
Deals: Late availability deals for remaining 2023 and 2024 dates.
Pricing: Menus from £49.50
Capacity: Up to 200
39. Tyn Dwr Hall – Denbighshire
Picture all the beauty, grandeur and history of a Grade II-listed manor house with the addition of a purpose-built, state-of-the-art function space and you've got Tyn Dwr Hall. In the hall, you'll find everything you'd expect from a 19th-century building: oak-panelled rooms, ornate open fireplaces and crystal chandeliers.
As you head into the newly renovated extension, you're welcomed by large windows boasting unbeatable views of the North Wales hills, an arched ceiling and plenty of space to party. You really can have it all at Tyn Dwr Hall and you can enjoy it over several days thanks to their fabulous on-site accommodation for up to 66 guests.
Pricing: Menus from £4,450
Capacity: Up to 200
40. Belmond Le Manoir aux Quat'Saisons – Oxfordshire
You'll feel transported to the fields of Southern France or Italy as soon as you arrive at this luxury wedding venue. Ideal for foodie couples, Michelin-starred menus will be at the heart of your celebrations as well as a selection of whimsical gardens that will be exclusively yours.
Belmond Le Manoir aux Quat'Saisons can cater for up to 50 guests in their Art Deco style dining room or La Belle Époque Conservatory. Alternatively, you can hire the entire manor house and its gardens for up to 100 guests. At the end of the celebrations, you and your guests can bed down for the night in the 32 individually designed bedrooms – each inspired by Raymond Blanc's travels.
Pricing: £POA
Capacity: Up to 50
41. Holne Park House – Devon
Those planning a wedding in the South West of England are guaranteed to be delighted by Holne Park House in Devon. Its stately exterior is a wonderful introduction to what this luxurious wedding venue has to offer. Elegant reception rooms, ornate décor, and idyllic outdoor areas are just a few of its highlights.
During your big day, the award-winning events team will be on hand to ensure that everything runs smoothly. When your day draws to a close, you are welcome to spend the night in one of the well-appointed guest rooms. As an added touch, the staff encourages you to pose for photographs on the grounds.
Pricing: £POA
Capacity: Up to 200
42. Cliveden House – Berkshire
The Duchess of Sussex stayed here the night before her wedding to Prince Harry. If it's luxurious enough for actual royalty, it's luxurious enough to make our list! To reach the venue, guests must make their way up the sweeping driveway and past the fountain of love – giving a taste of the romance to come.
It's not just the opulent interiors that will make guests feel like royalty as they step through the doors of Cliveden House; it's also the exceptional service and attention to detail offered here. You'll be given exclusive use of the house which can host 120 within it or up to 250 in a marquee on the grounds. You'll also be given all 38 bedrooms on-site and use of the spa and leisure facilities for the duration of your stay.
Pricing: £POA
Capacity: Up to 250
43. Titanic Hotel Liverpool – Merseyside
From grand manor houses to inner-city wedding venues, we love the Titanic Hotel Liverpool for its contemporary opulence. Floor-to-ceiling windows and steel beams decked with festoon lights all make for a unique and impressive wedding venue.
The function spaces aren't the only detail we're lusting after here, we're also completely obsessed with the 153 luxurious rooms and suites. With warehouse-style details and magnificent riverside views, what's not to love?
Here, you get a beautiful large luxury wedding hall with enough space for up to 500 guests and 300 who can stay overnight.
Pricing: From £9,740
Capacity: Up to 500
44. Clearwell Castle – Gloucestershire
Time for the pièce de résistance. We are heading to the charming county of Gloucestershire for this romantic getaway. Clearwell Castle is defined by its stately architecture, idyllic outdoor spaces, and rich history. Their award-winning staff cannot wait to welcome you to this fairy-tale estate for a once-in-a-lifetime event.
There are so many options for nearlyweds who intend on marrying at Clearwell Castle. You can indulge in your dream ceremony beside the vintage bandstand before heading into the opulent ballroom for your reception. The Croquet Lawn offers countless picture opportunities, while a trio of quaint cottages can provide accommodation for the happy couple and their closest friends.
Pricing: Menus from £100
Capacity: Up to 250
Found the venue for you? Love that for you, but before you sign on the dotted line, check out these important questions to ask your wedding venue.