How to Shop & Try on Wedding Dresses & Bridesmaid Dresses from Home
Coronavirus getting in the way of your wedding dress search? Welcome to the world of digital dress shopping, where you can experience boutique-style browsing from the comfort of your sofa!
We have included third party products to help you navigate and enjoy life's biggest moments. Purchases made through links on this page may earn us a commission.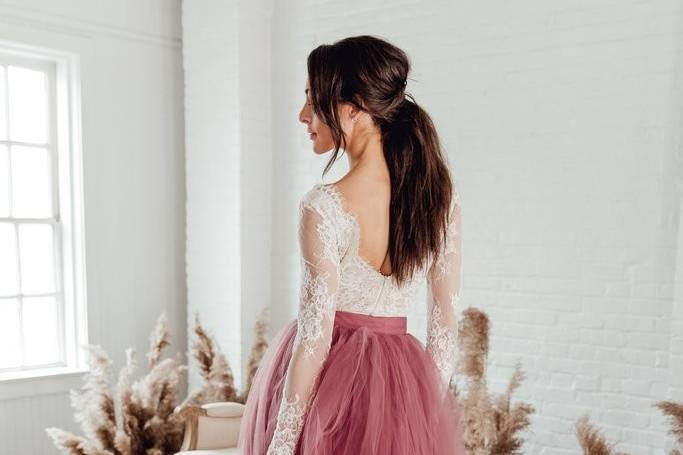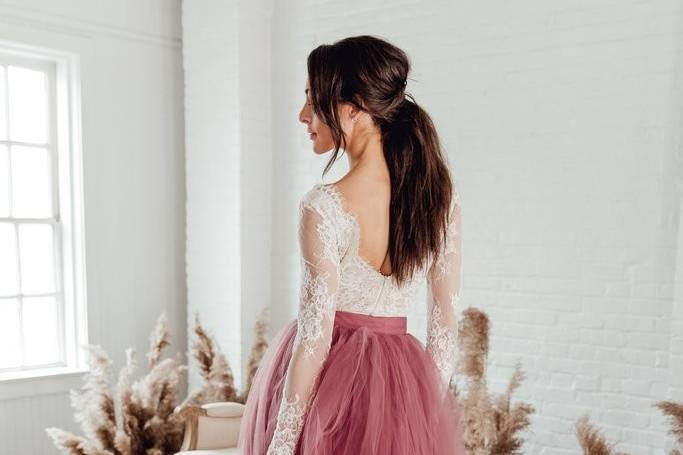 Wedding dress shopping has to be one of the most exciting parts of the wedding planning process. If you've always dreamed of a bridal boutique experience – surrounded by your bridesmaids while you try on gown after gown until you find 'The One' – then the thought of missing out thanks to the COVID-19 lockdown can feel quite disheartening.
Even in 'normal times' there are lots of reasons why you might struggle to get to the boutique you really want to visit – from time constraints to geography getting in the way. Luckily, with modern brides and their busy lifestyles in mind, increasing numbers of bridal boutiques have come up with innovative ways to help brides shop for their gowns and kit out their bridal party all from the comfort of their sofa.
From virtual consultations that start with a confidence boosting session to the brand that allows you to help worthy causes while you shop online, it's never been easier (or more rewarding) to do your wedding dress shopping from home.
How to Shop for Your Wedding Dress from Home
1. Do Your Research
Efficient (and enjoyable!) wedding dress shopping is all in the preparation, which is something that can easily be done from home. Now is the time to follow all those wedding inspiration accounts on Instagram (we're right here, ladies) and indulge in regular Pinterest sessions. Looking at a wide variety of images, including real weddings and individual designers, will help you to get a feel for what you like.
Once you've put together a Pinterest or inspiration board, you can start identifying your wedding dress non-negotiables. "Create a list of must-haves for the gown. For example; lace, mermaid, long sleeves, church wedding so high neckline, etc" recommends wedding planner Charlotte Ricard-Quesada of La Fête.
"Once you have the images and the list, reach out to your planner, or if you don't have one, to your suppliers that you have already booked. They have all been in the industry for ages, and seeing your board and list, they will be able to recommend a handful of designers or shops for you to look at.
"Look at the websites and Instagram pages of the designers and make a list of your top three to five designers. Obviously at the moment you can't really make an appointment to go in, but you can ring them up and make an appointment for in a few months' time. Just make sure that you mention your wedding date when reaching out to the stores so that they are aware of the potentially tight turnaround time."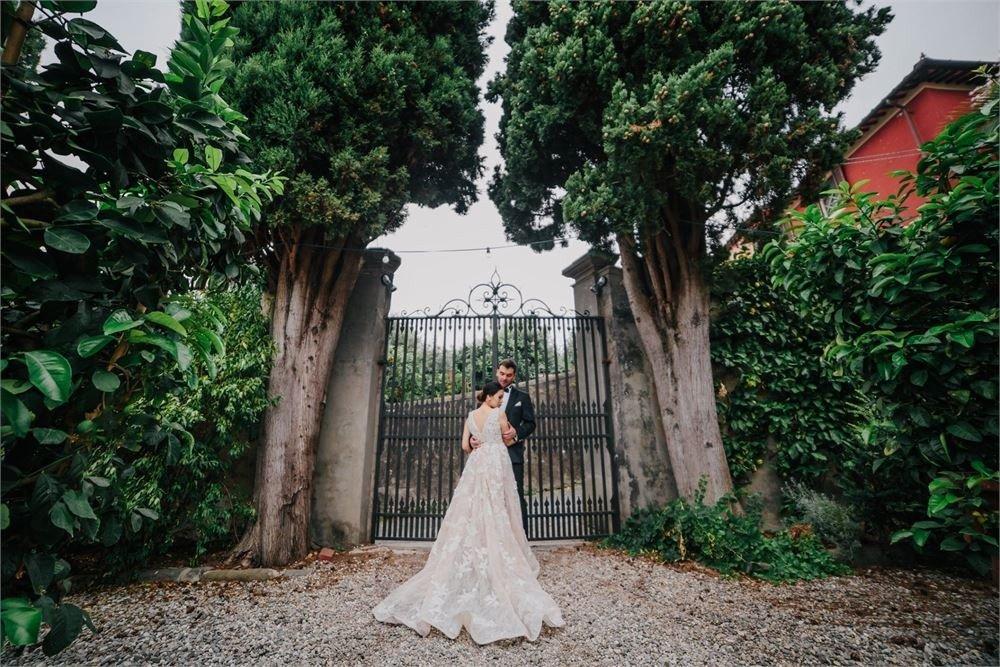 Image: La Fête
2. Book a Virtual Appointment
Reach out to designers and bridal boutiques and ask if they offer virtual appointments. You'll be surprised how many have risen to the challenge Coronavirus has presented and come up with clever ways to help brides get a traditional shopping experience from the comfort of their own homes.
"We're running virtual appointments here at Rock the Frock at our Essex and Cheshire stores. They can be booked online, brides can select which dresses they'd like to see, we can try them on for them and then they can ask any questions they would like about them. We're conducting the appointments via Zoom so that family members and friends can attend too!" explains Karen Whybro, founder of Rock the Frock Bridal .
Book out your afternoon and dedicate it to your virtual appointment, just as you would with an in-person appointment. Wedding dress shopping can be daunting, even when done from your own sofa, and so don't be afraid to let the store or designer know your worries and insecurities as this can impact the way they approach your search.
Anna Wood, founder of Anna Wood Bridal, launched virtual appointments for brides as soon as lockdown hit. She knows better than most how important feeling good can be when it comes to wedding dress shopping. "We specialise in first of all making brides feel amazing. Alongside Anna Wood Bridal, I'm a personal development coach, so I'm a great believer that it's not all about the dress. I could put the most confident bride in a bin bag, and they would feel amazing on their day, I could put someone who's nervous in the most amazing dress and they wouldn't feel confident.
"We build the relationship first with the client then go out of our way to find our brides the dress of their dreams, whether it's in our boutique or we have to search elsewhere."
If your wedding is on the horizon and you can't wait the typical four to five month turnaround time most gowns need, why not consider an ex-sample or second-hand wedding dress?
"Brides Do Good is an amazing option if you are tight for time or would simply like to give back while purchasing your dream dress" says Charlotte. "It's a charity fighting against child marriage around the world. All the wedding dresses sold here are sold for a fraction of their original price and are all donated by the designers themselves or were worn once only." Brides Do Good is currently offering digital consultations and the opportunity to discuss their collection online with an expert.
READ MORE: 23 of Our Favourite High Street Wedding Shoes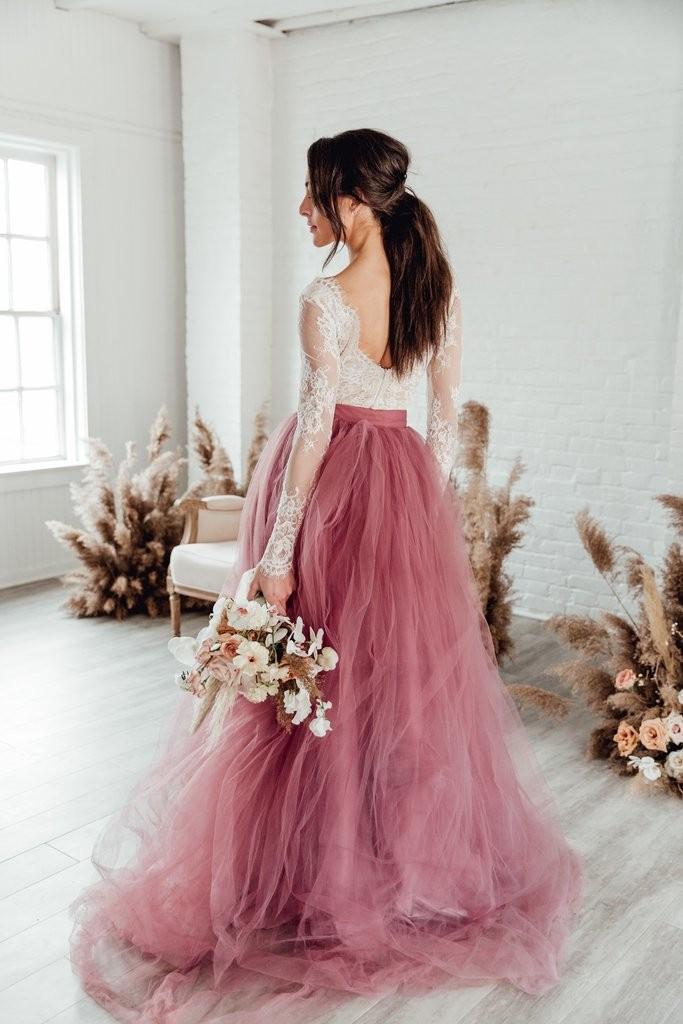 Image: Rock the Frock / Sweet Caroline Styles
3. Buy Off-the-Rack
If you know exactly what you're after and you're happy to buy a wedding dress following a digital consultation, then off-the-rack could be the right option for you.
Kensington bridal boutique Blush & Ivory regularly advertise high-end sample sales on their Instagram page, giving you the chance to snap up a bargain. They're also currently offering virtual consultations, taking you through all things wedding dresses.
"We're very aware that there will still be brides getting married this year and they haven't yet got their dress, as they would be looking now. Due to this we have decided to offer our current boutique samples to be purchased off the peg for those brides and have set up a Facebook group to facilitate that."
If you've seen a sample online that you like the look of, ask if the boutique or designer can send a sample of the fabric through the post. As many of us will know from our regular ASOS orders, it can be tricky to see exactly what you're getting through a screen and a chance to feel the fabric can mean the difference between saying 'yes' to the dress or continuing with your search.
Shopping for a pre-made or made-to-order wedding dress online is also another easy option. Stores such as Catherine Deane are happy to offer sizing advice and set up online consultations with their stylists to ensure that you get in-store service quality from home.
4. Ask to Try on a Sample
Not all stores will offer this service but some boutiques are willing to loan samples to brides to try on at home, particularly if you're due to marry by the end of the year and yet to choose a dress. Ask your local boutique if you can arrange a contactless drop-off or pick-up. If the boutique or designer you're interested in is from further afield, you can expect to pay shipping fees.
Rest assured that any companies offering this service will be steaming and cleaning garments in between brides to ensure that their sample service is as risk-free as possible. Dresses are also likely to be packaged in a way that protects them, so make sure you carefully follow the instructions when you send the gown back and that you wash your hands thoroughly before and after handling packaging.
It's important to keep in mind that wedding dress samples will come in whatever size the boutique or designer has available (as would be the case when shopping in person) and so you won't be able to see exactly how it would sit on you. Seeing the dress IRL and trying it on with the help of a few undone buttons or bulldog clips will help you to get a much better idea of whether or not the gown suits you, though. You'll also be able to feel the weight of it and see the fabric up-close, which can help to make you confident in your decision.
Trying on wedding dresses from home should be reasonably straightforward when it comes to high street stores but do always check the returns policy before ordering. Each store should have measurement breakdowns for each standard size in their size guide so make sure you check this against your own measurements.
Remember, when your high street dress or boutique sample arrives, make sure you tell your partner not to disturb you if they're self-isolating with you. Try the gown on in a room with plenty of natural light and set up a full-length mirror so that you can take it all in. Shoes of a similar heel height to those of the shoes you plan on wearing will also be handy if you haven't ordered your wedding shoes just yet. We'd also advise removing your makeup and washing your hands before touching the fabric to avoid any marks or stains.
To make sure trying on your gown is still a special experience, ask your bridesmaid or mum to join you for the big reveal on Zoom or FaceTime (prosecco optional but totally recommended!). A bridal stylist from the store may also be able to join you via video link to talk you though how to put the gown on and how to pin it into place to get the best idea of how it will look in the correct size.
5. Discuss Alterations and Customisation
If you've found your dream dress but would like to customise it by adding straps, a sash or another detail, make sure you discuss this with the store or designer first. You will most likely be able to make these alterations but make sure you check what's possible and how much it might cost before ordering.
It's also worth asking the store if they can send fabric samples, if you wanted to add a lace trim for example, and asking if they would allow you to loan some of their belts and other accessories so that you can be sure you're selecting the right pieces to complete your look.
READ MORE: Cheap Wedding Dresses: The 53 Best Wedding Dresses on the High Street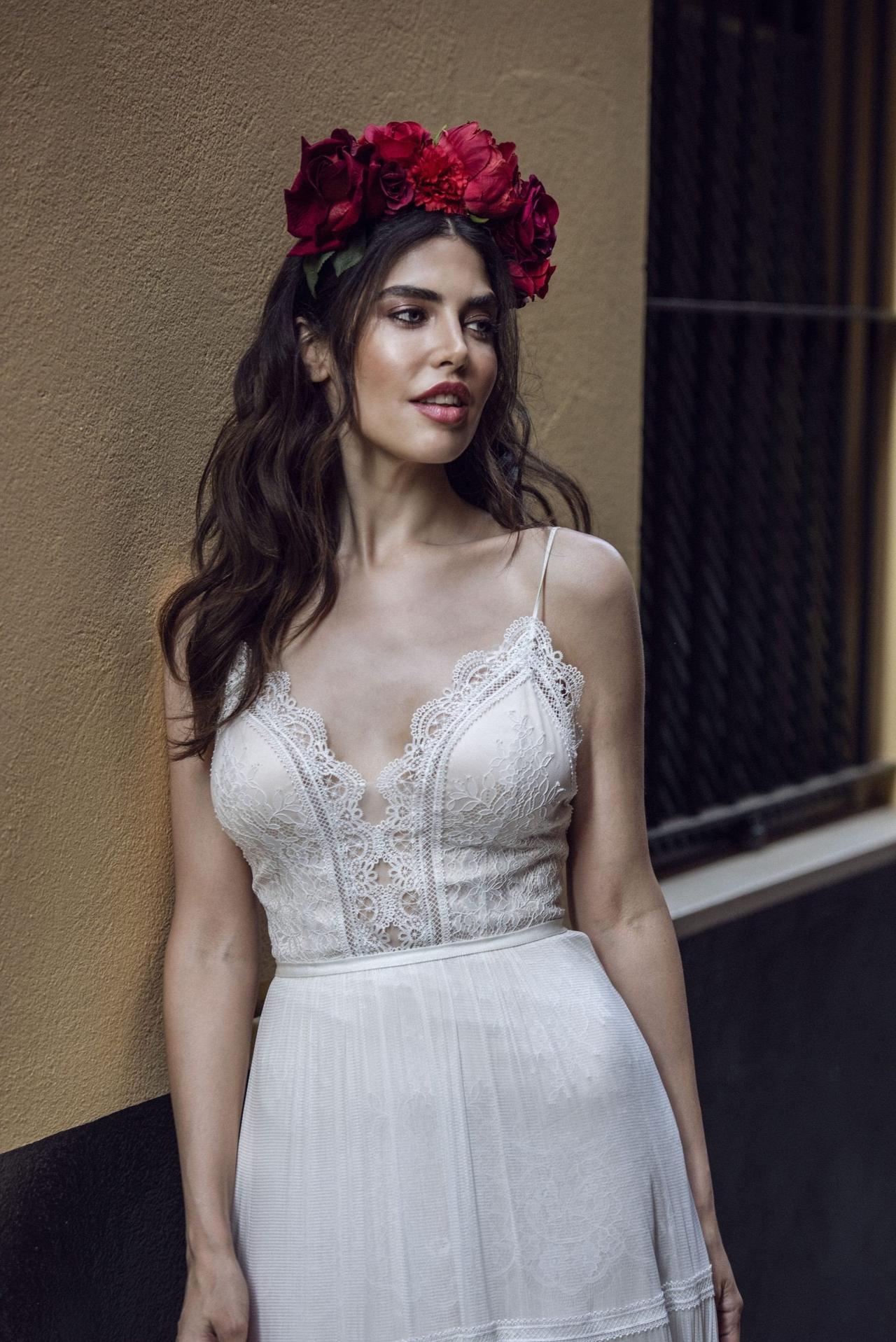 Image: Catherine Deane
How to Shop for Your Bridesmaid Dresses from Home
1. Do Your Research and Consult Your Girls
Just like wedding dress shopping, the key to bridesmaid shopping success from home is in the research, says Charlotte Ricard-Quesada. "Get researching on Pinterest and the web. You need to make sure that you get the right inspiration for your vision: colour, shapes, silhouettes.
"Don't forget to speak with your bridesmaids too. See what shapes, necklines, sleeve lengths, etc. they feel best and most comfortable in. They deserve to feel and look their best on your big day!
"Next, ask your bridesmaids to send you all of their measurements. Keep them safe, as these will be what you refer back to when purchasing the dresses."
2. Ask to Try On Samples
Unlike wedding dresses, stores often carry more than one sample of each bridesmaid dress and so it's likely that you'll be able to order gowns based on their measurements and have them delivered to your girls to try on.
"I had a virtual appointment yesterday with a lady who wanted to see our bridesmaid dresses and I'm now sending them to her so she can try them at home" says Karen Whybro.
If you're purchasing bridesmaid dresses from your local boutique, it may be easier to arrange a contactless pick-up or drop-off and then ship them to each of your bridesmaids if they live further away, this will also give you the chance to check-out the gowns in person yourself. Alternatively, you can ask the company you're ordering though if it's possible to get dresses shipped to your 'maids. Be prepared to pay shipping fees for each individual address.
Shopping online is also an option for your 'maids, with many high street stores including Ghost and ASOS selling some seriously pretty gowns. Charlotte also recommends shopping brands like Twobirds with convertible dresses that can be reworked to suit all shapes and sizes.
Ordering high street bridesmaid dresses to try on should be as straightforward as your regular ASOS haul but it's always worth double checking the returns policy of the company. Ask your bridesmaids to take a look at the size guide of the brand you're interested in ordering from and get them to tell you which gown will best fit them. Just like your dress, bridesmaid gowns may need altering down the line but getting the closest match to begin with will reduce the amount of work for the seamstress and keep costs as low as possible.
Once your 'maids have received their samples or high street gowns, ask them to join you on Zoom or FaceTime so that you can see how they look and double check that your girls feel totally comfortable in them.
3. Choose Accessories
Once you've sorted the dresses, you can refer back to your inspiration board and finish the look with accessories that can easily be ordered online. In fact, Charlotte thinks a lockdown is the perfect opportunity to get your girls heel-ready: "Why not ask them to wear their shoes around the house with socks to break them in now whilst we are all in lockdown?"
READ MORE: The 33 Best High Street Bridesmaid Dresses for 2020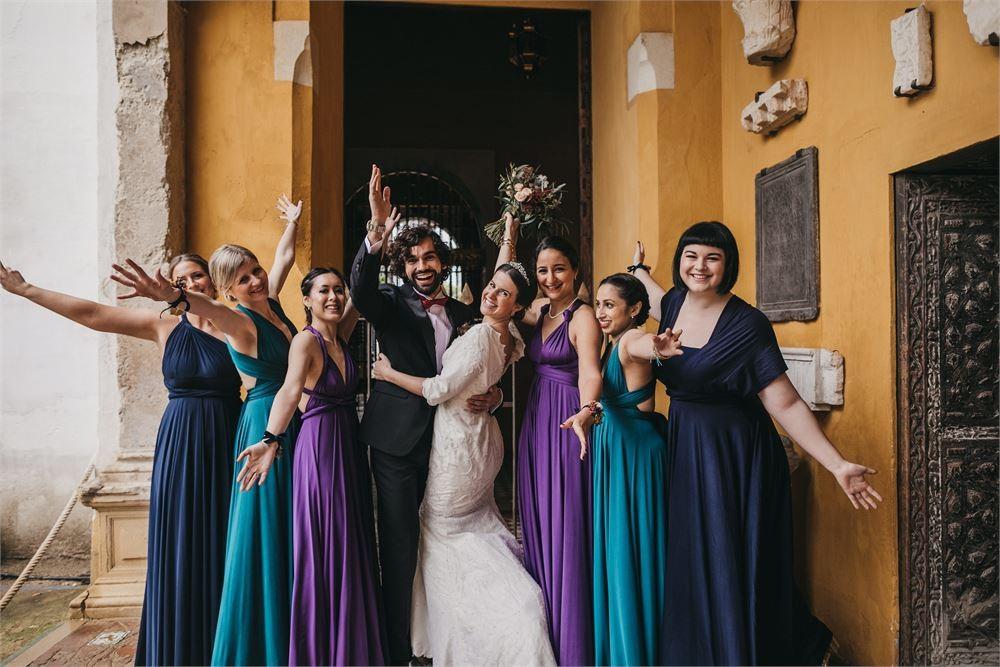 Image: La Fête
How to Shop for Your Groomswear from Home
It's not just dress designers that are altering the way they do things, groomswear retailers are also getting in on the act. This means that just because you can't make it to Savile Row, it doesn't mean you can't have a high-quality suit tailored just for you.
Alexandra Wood, founder of Alexandra Wood Tailors, has set up a virtual made-to-measure service designed to give grooms and groomsmen what they need from home. "Your consultation will be a relaxed, 30 minute informal chat, where you will be asked some questions on your style of wedding, for us to understand your needs. Within a week you will be sent a carefully curated report, with a full breakdown of fabric samples and design suggestions for your wedding suit. Choose which of your style and fabric suggestions you'd like to order and schedule your 30 minute session, where you will be guided through the measuring process. An electronic invoice will be sent to you so that your order can be placed. You will be informed when your items are ready and they can be sent directly to you or, if you'd like to see us personally for your fitting, kept safely stored."
Alexandra recommends all grooms consider styles they like before their consultation, using Instagram and Pinterest, and also the theme and timing of the wedding: "Is it an evening, romantic style which may suit a dinner suit? Or a relaxed, country style, where a tweed suit may fit better? Think about the time of year you're getting married and if you'd prefer a cooler weight fabric if you're getting married in the peak of summer."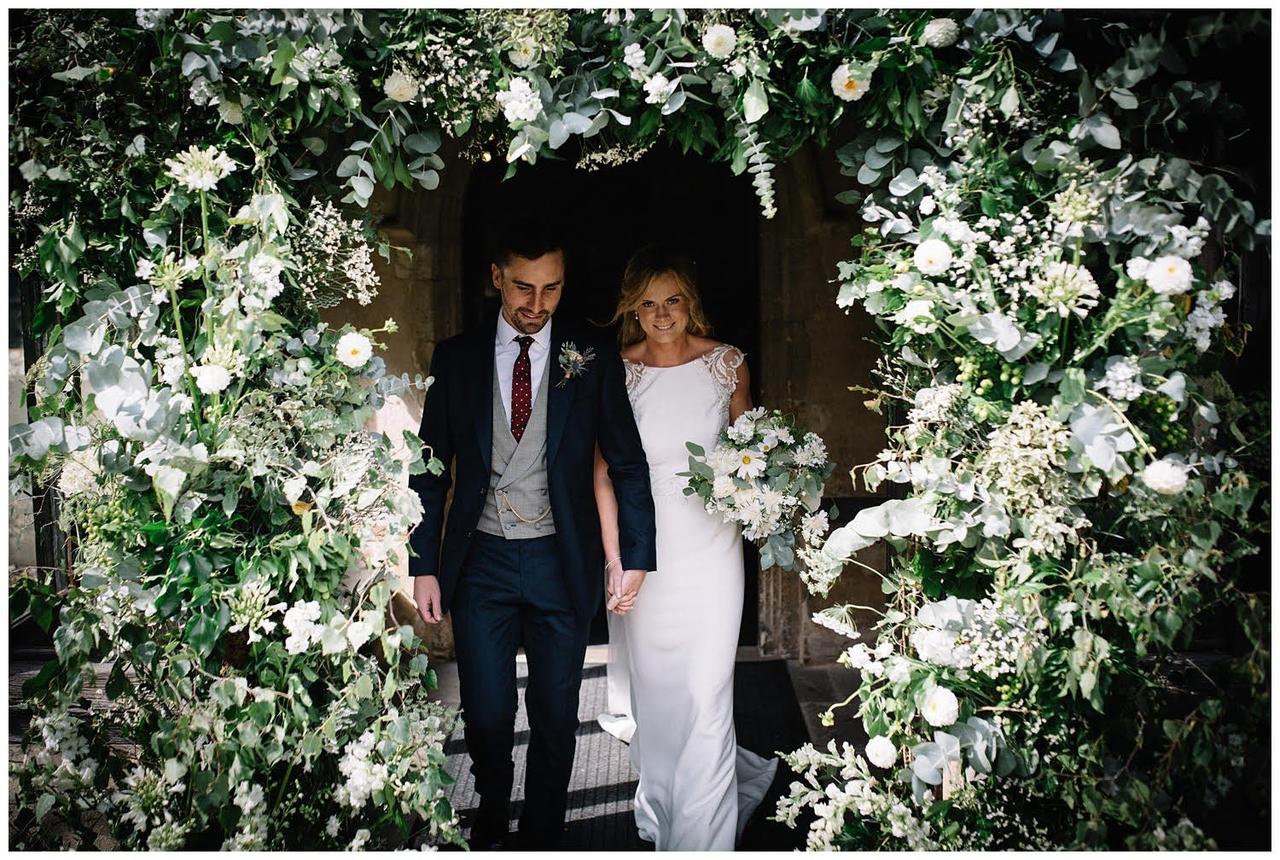 Image: Alexandra Wood Tailors
Now you've got your wedding dress sorted, you can start some other wedmin tasks from home! Don't miss our list of the 17 Tasks to Tick Off Your To-Do List During Lockdown.