When it comes to wedding packages, you'd be surprised at the variety available in the UK.
Once largely associated with hotel venues, packages are now available at all different kinds of wedding venues, from the classic to the alternative.
The main thing to remember about wedding packages is that they're actually not designed to give you a cookie-cutter wedding. The vast majority can be tweaked to different degrees to suit your style - and some can be completely customised.
So long as you know exactly what's included - in terms of suppliers as well as VAT - a package can really help you control your wedding budget, as you'll have a clear figure for your ceremony and reception. Go down the dry hire route and costs can quickly mount up.
We've searched the UK for the best wedding packages for 2021.
The Best Wedding Packages in Scotland
Winton Castle – Lothian & Borders
What could be more romantic than your very own wedding castle? Just half an hour outside Edinburgh you'll find Winton Castle, an exclusive-use venue with a rich history.
Package prices start at £6,300 for hire in low season, then you add on food and drink to suit your desires, with a three-course seated wedding breakfast starting at £68 per head. There are some lovely extras to consider, too, such as a whisky bar and a falconry display.
The Old Course Hotel – Fife & Angus
Located amid the spectacular beauty of St Andrews, The Old Course Hotel is a wedding venue that's all about grown-up sophistication. You don't have to be a golf lover to want to get married here - the amazing celebration spaces alone, including the grand ballroom, should persuade you - but there is naturally an excellent course.
The venue has wedding packages to suit different budgets. The Forever Package is from £165 per person and includes all the elements of a delightful wedding, from reception drinks and canapés to a three-course wedding breakfast. Want to really push the boat out? The Eternity Package starts at £375 per person and includes an eight-course wedding banquet and cocktails!
Drumtochty Castle – Aberdeen & Deeside
Drumtochty Castle is the kind of place wedding dreams are made of. Set in a hidden glen, it features opulent interiors and indulgent accommodation.
Their wedding package starts at £7,000 off season, and includes exclusive use, two nights accommodation for up to 23 guests, afternoon tea for the bridal party and tableware such as crystal glasses. They also offer a micro wedding package for up to 30 people - and you still get exclusive use of the castle!
Crear – Argyll
Looking for a wedding venue that's a real escape from everyday life? Set on Scotland's magical west coast, Crear is exactly that - a large house with grounds leading down to a sandy beach.
For a 2-night midweek wedding, prices start at £3,450, then from £49 per head for a three-course wedding breakfast and canapés. If you want to supply your own alcohol, corkage starts at £10 per person.
House for an Art Lover – Glasgow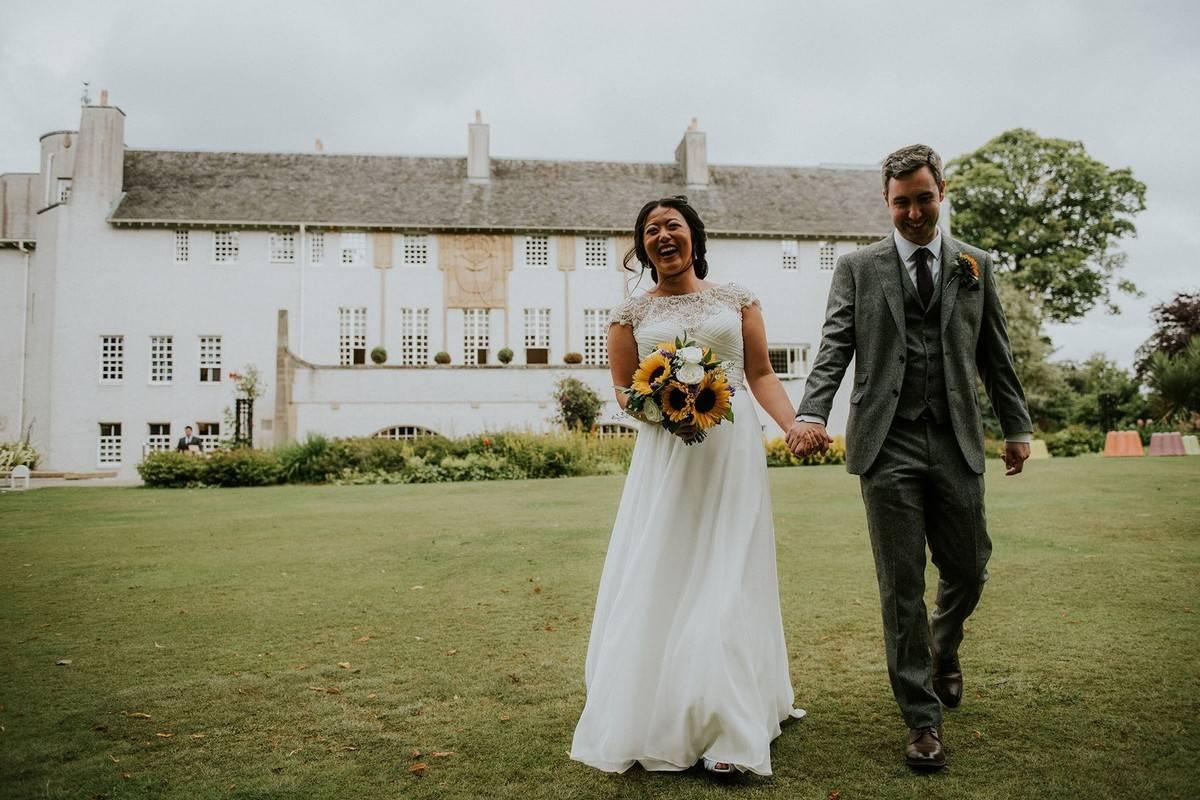 House for an Art Lover is effectively a country house venue in a city location, with unique interiors that blend contemporary design and Victorian tradition.
You'll find some excellent, easy-to-understand wedding packages here, including some mid-week options. For a weekend celebration, the package starts at £3,990 for 60 day guests, and includes venue hire, a three-course wedding breakfast, table stationery and the dance floor. They can also create bespoke packages to fit your individual needs.
READ MORE: Scottish Wedding Venues: The 22 Best Places to Get Married in Scotland
The Best Wedding Packages in Wales
Oxwich Bay Hotel – Swansea
Oh, we do like to be beside the seaside - particularly when we're at the lovely Oxwich Bay Hotel, located in an idyllic part of the Gower Peninsula.
The indoor celebration spaces are inviting, but to truly make the most of the setting, it's worth choosing the marquee for its incredible views. If you book now for 2022 and 2023, marquee packages start at £5,000 in low season (based on 40 guests), and include use of the Chestnut room for your ceremony, a three-course wedding breakfast, a master of ceremonies and table linen.
Château Rhianfa – Isle of Anglesey
Château Rhianfa is straight out of a fairy tale: an enchanting castle overlooking the Menai Strait. While you may think nothing can live up to that exterior, the interiors are rather special, too.
They have three wedding packages to suit different price points, and you can add extra features for a day that's tailored to you. At £99 per person, the Lace package is ideal for couples on a budget, or you could always throughly spoil your guests and yourselves with the Silk Package at £145 per head.
Oak Tree Farm – Carmarthenshire
Oak Tree Farm is one of 2021's most exciting new wedding venues. It's a real countryside idyll, with flower meadows and woodland, and a stretch tent for your wedding breakfast, as well as bell tents for glamping - outdoor living with a side order of luxury.
For 2021, due to the uncertainty caused by the pandemic, they're offering a special package starting at £3,500 for hire. You get exclusive use of the venue for two nights, including glamping for 40 guests, and source your own suppliers.
Ruthin Castle Hotel & Spa – Denbighshire
Ruthin Castle is an atmospheric four-star hotel with a stunning setting. There are some truly beautiful bedrooms to repair to at the end of the night - a first night as newlyweds in one of the suites is a must.
They have three wedding packages at different price points, starting with the Twilight package at £2,250 for 60 guests. This is ideal for a laidback wedding, including a sparkling drinks reception, DJ and buffet. For something more formal, consider the Platinum package, from £5,000 for April-September, which includes a three-course wedding breakfast, an evening buffet and a night in the bridal suite.
Temple of Peace – Cardiff
Looking for a unique wedding venue in Wales? The beautiful Temple of Peace could be right up your street. Despite the city location, this Art Deco marvel feels wonderfully serene, and you can really make it your own through your décor choices.
While you can decide to have just your ceremony here, we think it would be a shame not to stay on for your reception. Their 2021 reception package starts at £3,195 (plus £500 for the ceremony) and includes hire, furniture, tableware and a wedding co-ordinator. For something low-key, we love the afternoon tea package - £2,995 for a ceremony for up to 30, followed by a drink reception and afternoon tea.
READ MORE: The Most Stunning Welsh Wedding Venues
The Best Wedding Packages in the East of England
Curds Hall Barn – Norfolk
Looking for a rustic wedding venue? Curds Hall Barn is a stylish option, and as it's a blank canvas, you can really put your own stamp on the day.
Their package starts at £4,950 (dates May to September in 2021) and includes three-day hire, access to a fully equipped catering kitchen, trestle tables and the help of an event manager, among other elements.
Woodhall Manor – Suffolk
Woodhall Manor is an enchanting place for a country wedding, with stunning grounds and an Elizabethan manor house.
They have an excellent range of wedding packages to suit different styles and guest list numbers, from one-day celebrations and two-day festivities to intimate affairs. They also have packages for winter, New Year and last-minute weddings. Their Modern Classic package starts at £5,000 for 50 guests, including exclusive hire, food and drink and a honeymoon suite.
Oxnead Hall – Norfolk
Oxnead Hall is a beautiful wedding venue, featuring a medieval church, orangery and barn on site, as well as a lake that would make for a glorious backdrop to your newlywed pictures.
The venue can host up to 140 guests However, if you're dreaming of an intimate elopement, you can still get married here - just take a look at their ceremony offer, starting at £995 for your 'I do' and a glass of celebratory prosecco.
Willow Grange Farm – Cambridgeshire
If you're looking for an outdoor wedding venue, Willow Grange Farm is a lovely option. This working farm has an on-site sperry tent for summer weddings, as well as a rustic barn for winter celebrations, and is set amid gorgeous countryside.
Their package for summer 2021 starts at £5,495 for mid-week - ceremony and catering are extra. This includes three-day hire, chairs and tables, car parking and, brilliantly, corkage.
Easton Grange – Suffolk
Easton Grange is a stylish venue set amid tranquil countryside. There are separate barns for your ceremony and reception, and well as on-site accommodation for up to 20 people.
The venue's packages are flexible and can be adapted to suit different budgets. In mid-season, hire starts at £3,000 and the wedding breakfast from £50pp plus VAT, with drinks packages starting at £15pp plus VAT.
READ MORE: 15 of the Best Wedding Venues in Suffolk
The Best Wedding Packages in the East & West Midlands
Stubton Hall – Lincolnshire
Stubton Hall is a serenely beautiful exclusive-use venue surrounded by immaculate parkland. They offer three packages that can be tailored to create your perfect celebration: Lovely, Fancy and Extravagant.
If you're looking to save, Lovely is the package for you, but we can't help being drawn to Extravagant. For £187 per person (minimum 70 guests), you get exclusive use of the house and grounds, reception drinks of Veuve Clicquot champagne or cocktails, a three-course meal with fine wines, a wedding cake and a DJ, among other elements.
Pendrell Hall – Shropshire
Looking for an elegant country house venue? Pendrell Hall certainly needs to be on your radar, blending chic interiors with contemporary facilities. You can get married indoors or have an outdoor 'I do' in the gardens.
If you're thinking of a winter wedding, the price starts at £5,950 for a Saturday in November or March, including hire, use of an event manager, a dressing room each and the wedding night suite, on an exclusive-use basis. Brilliantly, there's no corkage, so you can supply your own drinks - however, if that sounds like too much hassle, the venue also offers drinks packages. The wedding breakfast starts at £39.75 per head.
Edgbaston Park – Birmingham
Edgbaston Park Hotel in fact has two venues: the Frye Suite, for couples who love the contemporary look, and Hornton Grange, a historic house.
Packages at Hornton Grange start at £90 per person for a weekday, including exclusive use, a three-course meal, an evening buffet and accommodation for the couple and five guests.
The Grain Loft – Shropshire
The 400-year-old Grain Loft is a wedding venue with plenty of charm, hosting up to 60 guests. Ceremonies can take place outdoors or in the oak-beamed barn.
Packages start at £3,200 for a midweek wedding in low season, which includes hire, the honeymoon suite, use of furniture and decorations - and there's no corkage! You can also add extras such as a marquee, hot tub and fire pits, as well as pampering treatments.
East Lodge Country House Hotel – Derbyshire
East Lodge is a country house hotel with plenty of wow factor, from the glorious grounds to the elegant interiors.
Their packages can be changed to be fully bespoke to suit your wedding style, from black tie on a grand scale to laidback and intimate. If you're thinking about a whole weekend of festivities, their Platinum package is a great starting point. From £8,215 for 40 day guests and 30 extra evening guests, you get venue hire, a three-course wedding breakfast, an evening buffet, two bedrooms for two nights, in-house DJ and discounted accommodation for guests.
READ MORE: The Best Wedding Venues in the West Midlands
The Best Wedding Packages in London & the South East of England
Bradbourne House - Kent
Country manor Bradbourne House offers the kind of non-package packages that are ideal for couples who want a clear pricing structure but also a personalised day.
There's a venue hire charge, starting at £3,000 for Monday-Thursday hire in autumn and winter. This includes room hire, a toastmaster, and set up of the ceremony and wedding breakfast. After that, you work with the venue co-ordinator to build a bespoke day, adding on food and drink, plus extras such as a pop-up bar.
Queen Mary University of London – East London
At London's Queen Mary University you'll find the elegant and unique Octagon, a celebration space that's guaranteed to impress your guests.
They offer three wedding packages: ceremony-only, dry hire and the Octagon package.
The Octagon package is the one to pick if you want minimum wedding planning stress. Prices for 2021 start at £115 per adult for a Friday wedding, and include venue hire for 9 hours, a three-course wedding breakfast with half a bottle of wine per person, prosecco for the toasts and drinks reception and all crockery and dining furniture. You'll even get a menu and wine tasting session. This is for a minimum of 100 guests.
The Great House at Sonning – Berkshire
Riverside hotel The Great House at Sonning has everything you need for a stylish celebration, from chic celebration spaces to catering by Coppa Club. To make it even more special, you can have guests arrive by boat!
Packages start at £120 per person for April-October 2021, with a minimum of 60 guests. That includes exclusive use of the Great House Lodge, four-course wedding breakfast with wine, evening snacks and accommodation for the couple getting married, among other elements.
The Corinthia London - Central London
Looking for a luxury wedding package? To truly spoil your guests, it has to be The Corinthia London, a glamorous hotel with a beautiful ballroom for celebrations.
The Corinthia also has one of the capital's best spas, so you can indulge in some very special pre- and post-wedding pampering.
Their wedding packages start at £175 per person and are very comprehensive in terms of inclusions. The Gold package is the top tier. Starting at £215 per person, this includes room hire, ten canapés per person, Laurent-Perrier champagne, a bottle of wine per person and a one-night stay in a penthouse for the newlyweds.
The Tudor Barn – Buckinghamshire
Looking for a rustic yet elegant retreat for your wedding? The Tudor Barn is an excellent option, with gorgeous grounds and interior spaces with oak beams.
Among their 2021 options, the Friday Twilight package would be ideal for a unique celebration. Starting at £4,000 for 70 guests, this is predicated on a 6pm ceremony (not including registrar fees and ceremony set-up fee), with an evening buffet and two glasses of sparkling wine per guest.
Frensham Heights – Surrey
Looking for glamour on a grand scale? It has to be Frensham Heights, a stunning venue that can host up to 150 guests in its ravishingly beautiful spaces that include a ballroom with minstrels' gallery and a Jacobean Hall.
Hire starts at £4,450 for January-April and October-December, and on top of that a standard menu package is usually £70 per head.
Huntsmill Farm – Buckinghamshire
Huntsmill Farm is a rural retreat with a real sense of style and character, including a wedding barn and 7 self-catering cottages.
If you're booking for 2022, prices start at £4,750 for a Tuesday wedding April-September, including exclusive hire, use of the cottages, tables and chairs and a staffed bar. Catering is on top, and there's no corkage charge from arrival to the end of the meal.
READ MORE: 17 of the Best Outdoor Wedding Venues in London
The Best Wedding Packages in the South West of England
Gloucester Blackfriars Priory – Gloucestershire
Wedding venues don't come much more magical than a restored 13th-century priory. Gloucester Blackfriars Priory has two atmospheric celebration spaces: the East Range, for more intimate affairs, and the North Range for up to 150 seated guests.
The North Range packages start at £3,250 on a Monday-Thursday in October-March, rising to £5,000 for a summer Saturday or Sunday. You get exclusive use of the whole site, tables and chiavari chairs, a stocked and staffed bar and indoor fairylights, as well as a candlelit garden and garden games.
Orchardleigh House – Somerset
Orchardleigh House is a privately owned stately home set on a 500-acre country estate. The ethos here is all about using the venue as a home-from-home, so you and your guests can relax amid the magical surroundings.
They have a three-day wedding package from £6,275, which includes exclusive hire, a wedding breakfast and canapés, accommodation for 20 guests the night before the wedding and evening food.
De Vere Totworth Court – Gloucestershire
Set in a Victorian manor, De Vere Totworth Court is ideal for an elegant country wedding, with two celebration spaces.
Our favourite has to be the light-filled Orangery, which can accommodate up to 90 seated guests. The venue's Orangery Essential Package comes in at £120 per person on weekdays for April-October 2021, with a minimum of 80 guests. That includes room hire, a three-course wedding breakfast, a glass of wine per person with dinner, dance floor hire and a master of ceremonies, among other things.
River Cottage – Devon
Is food one of the central elements of your wedding? You seriously need to consider getting married at Hugh Fearnley-Whittingstall's River Cottage, a foodie destination set amid 100 acres of farmland.
They cater for both intimate and larger weddings. The Whole Hog package starts at £8,800 for a summer date for 30 guests. For that, you get exclusive use, meaning you can use the different spaces as you choose. You also get a three-course meal plus canapés - you'll plan the menu with one of the chefs - all furniture, crockery, glassware and cutlery, and jam jars of seasonal flowers for the tables. You can add extras such as outdoor games, an overnight stay, evening pizza and a wedding cake.
READ MORE: The 23 Best Wedding Venues in The Cotswolds
The Best Wedding Packages in the North East of England
The Barn on the Bay, Northumberland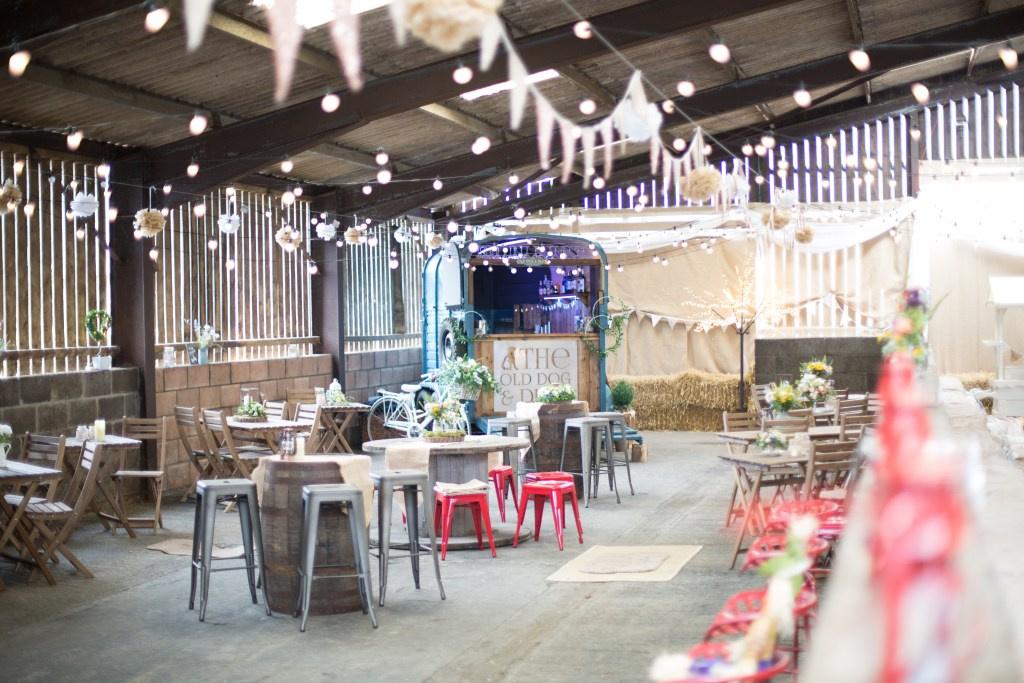 Can't decide between a rustic wedding and a coastal wedding? You don't have to! The Barn on the Bay is a working farm located on the Northumberland coast, so you can enjoy the best of both worlds. Their wedding packages vary according to when you're getting married and how long you're hiring the venue for.
We think the overnight package is a great choice if you have a small number of loved ones who need accommodation. The package starts at £6,900, including hire of the barn with tables and chairs, decorations and hay bale sofas.
Bamburgh Castle – Northumberland
Bamburgh Castle is a dramatic setting for a wedding, with glorious architecture and that incredible location overlooking the Northumberland coast. As you'd expect, it's a perfect setting for large-scale weddings, from a ceremony in the King's Hall to reception drinks with a view on the terrace.
However, the venue also hosts micro weddings, with packages starting at £500 for a just-the-two-of-us ceremony that you can livestream to your loved ones.
Brinkburn – Northumberland
Brinkburn is a magical wedding venue, for couples who are looking for somewhere that's elegant and yet a little bit different. Set in a wooded ravine, there's a manor house, church, stables that have been converted into accommodation and tipi tents.
They currently offer four wedding packages. We like the value of the two-day midweek package, which starts from £6,285 for 50 guests. The package includes canapés, drinks and a wedding breakfast in the tipi tents, plus accommodation for up to 12 guests.
Eshott Hall – Northumberland
For a luxurious, exclusive-use wedding venue, it has to be the enchanting Eshott Hall. From beautiful exteriors to indulgent facilities, it really is the ideal country house for a party to remember.
There are different packages, including a bespoke build-your-own option. The Regency Package is impressive value: from £12,500 for 80 day guests and 100 evening guests, it includes accommodation across 17 bedrooms, pre-wedding supper and champagne for up to 34 guests, three-course wedding breakfast, canapés, evening food, a wedding drinks package, stationery and a master of ceremonies, among other elements. You even get a one-night stay on your first anniversary!
READ MORE: Wedding Venues in the North East: 20 of the Best
The Best Wedding Packages in the North West of England
Wyresdale Park - Lancashire
Wyresdale Park has everything you need for a fantastic country wedding, from beautiful barns to the wedding ceremony and reception to glamping sites and even an on-site spa.
Their packages are very smart. You choose between 'festival' and 'feast' - essentially, the difference is in the dining style, with festival as a hog roast and feast as a sit-down meal. Prices start at £10,860 (for a Tuesday wedding) for 80 guests, and include food, flowers, photography and accommodation, plus bridal hair and makeup for weekday weddings.
Crewe Hall – Cheshire
It's period glamour all the way at Crewe Hall, a 17th-century mansion hotel set amid beautiful gardens.
There are a variety of great wedding packages using their in-house catering team. However, if you have a specific cuisine in mind, you can opt for their self-catering package. Starting at £7,000 Sunday-Thursday, this includes use of the banqueting kitchen by your approved caterer, full day hire of the Continental Suite and tables, chairs and crockery.
Broadoaks Boutique Country House – Cumbria
The Lake District is a wonderful setting for a wedding. Broadoaks Boutique Country House has a particularly beautiful location overlooking Lake Windermere, surrounded by enchanting gardens.
If you're looking to get married in 2021, check out their late availability package for any available date up to 23rd December. Starting at £2,995, this is for up to 32 guests, and includes exclusive use, a three-course wedding meal, six bottles of sparkling wine and breakfast the following day.
Meols Hall Tithe Barn – Merseyside
Located in the grounds of a 12th-century manor house in Southport, the Tithe Barn is a wedding venue with bags of charm.
Hire starts at £5,299 for a Saturday and includes exclusive use of the barn, coach house and courtyard, chairs, tables, PA sound system and bar facilities. Wedding breakfast menus start at £39.99 per head and there's no corkage charge.
READ MORE: Wedding Venues in Cheshire: Our Pick of the Best
The Best Wedding Packages in Yorkshire
Devonshire Arms Hotel & Spa – North Yorkshire
Surrounded by the Yorkshire Dales, the Devonshire Arms Hotel & Spa is a wonderful place for a romantic getaway. Even better? You can combine that special getaway with your wedding!
Their Luxury Intimate Wedding package is for 6-24 guests, and starts at £165 per adult in 2021 (£65 per child), plus room hire, which is £500 on a weekend. For that, you get your ceremony room, a glass of Laurent-Perrier Champagne per guest, a six-course tasting menu or three-course classic meal, half a bottle of wine per guest and, for your wedding night, a deluxe king bedroom.
Howsham Hall – North Yorkshire
Private country house Howsham Hall is pretty as a picture, blending glorious period features with contemporary luxuries throughout.
There are three flexible, customisable packages that vary in price depending on the season and your individual requirements. The Superior Package starts at £150 (plus VAT) per guest, and includes 7 rooms for an overnight stay, canapés and a three-course venue. There's an on-site pub you can use for a fun evening reception.
The Woodman Inn – West Yorkshire
Dreaming of a wedding in a country pub with plenty of character? We have the venue for you: the 18th-century Woodman Inn, located in a historic hamlet in West Yorkshire.
There are two celebration spaces here. The glass-walled Garden Room seats up to 150 and the more intimate Country Room is for 40-80 guests.
The Woodman Inn's packages can be customised to suit your individual preferences. If you're booking now for 2022, the Country Room package starts at £3,999 for a Sunday-Thursday wedding with 40 day guests and 80 evening guests. It includes t a three-course wedding breakfast, a glass of house wine for each guest for the meal, bacon ciabattas in the evening and a suite for your wedding night.
READ MORE: Wedding Venues in Yorkshire: 22 of the Best
The Priests House – North Yorkshire
This magical Yorkshire venue offers a range of wedding packages depending on the size of your guest list and when you want to get married. All are worth exploring, but what's particularly caught our eye at The Priests House is their Twilight Wedding Package for something unique.
The price starts at £1,350 for a ceremony starting at 5pm, including exclusive use of the venue from 4pm to midnight and after-dark features such as fire pits and outdoor lighting. Food and drink packages are extra, and include mouthwatering options.
Ready to book some viewings? Make sure you check out our list of the essential questions to ask your wedding venue so you know what to ask when you're there.