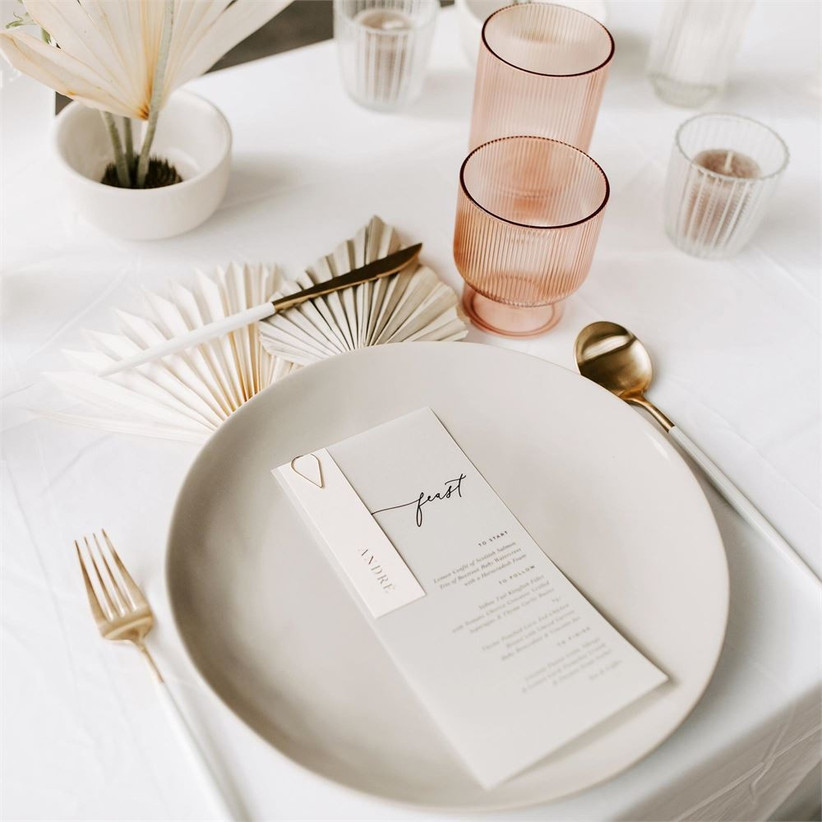 Many couples believe that a vital part of the wedding planning process is getting out to meet suppliers and view venues, but while checking everything out IRL is ideal, it turns out it's totally not essential.
In fact, the more couples we spoke to, the more it seems that brides and grooms are turning to the internet to do most of their planning even before Coronavirus began impacting weddings. Thanks to the powers of Zoom, Instagram, Facebook, FaceTime and Google Tours, you can easily plan your wedding using just a laptop, a smartphone and some determination.
Read on to find out exactly how you can plan every detail of your wedding online. From sorting your venue to sourcing your dream dress, you'll be surprised at just how much you can achieve during a day at your desktop.
How to Find Your Wedding Venue Online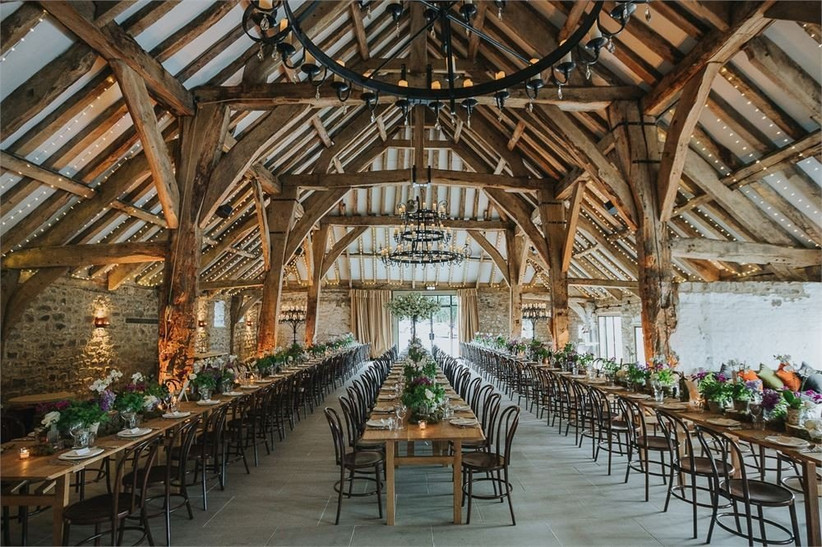 Image: The Tithe Barn – Bolton Abbey
Finding a wedding venue from home is arguably going to be the trickiest element of your online planning process, but it can be done. The reason wedding venue open days and show-arounds are so popular is that they give couples the chance to see the venue in all its glory and get a real feel for the atmosphere, as well as a chance to meet the venue team.
After you've narrowed down your shortlist of the venues you love on Hitched, it's surprisingly easy to see which venue is for you. Many venues are offering drone footage of the grounds, Google tours of the building and even FaceTime calls with couples, where a wedding coordinator will take you around the venue and answer questions. These digital options make it easy for couples wedding venue shopping from abroad, or at the other end of the country, who are unable to attend in person to get a true flavour of what the venue has to offer.
Real weddings are also a great way of finding out exactly what weddings look like at the venues you're interested in, so make sure you ask the wedding coordinators to provide lots of examples for you to look at.
How to Find Your Wedding Planner Online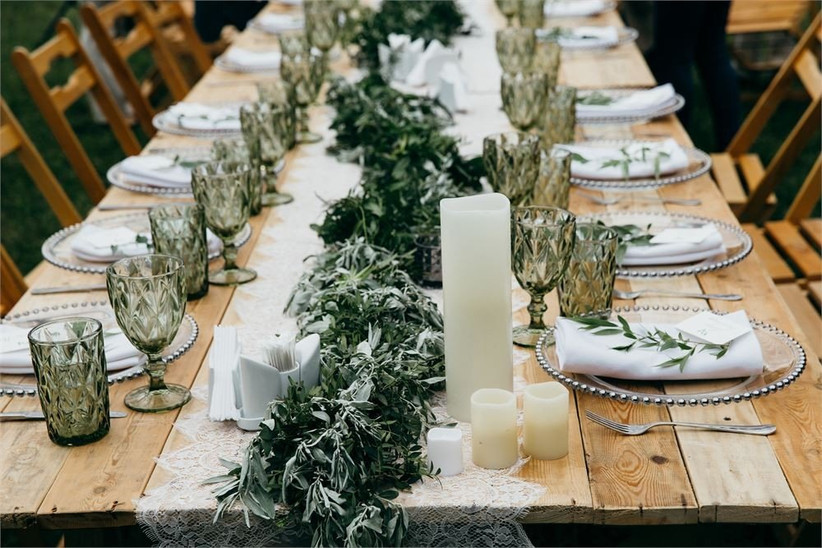 Image: Olive Sky Weddings & Events
A wedding planner is a great asset to have when planning a wedding online. If your wedding planner is based at the location you're getting married, they can easily oversee everything on your behalf. Wedding planners will also have plenty of online wedding planning hacks and advice to share with you.
Search for wedding planners based in the area you're getting married. Planners based nearby will likely have good local knowledge and a contacts book brimming with the best local suppliers.
Once you have found a planner that you like, set up a video call with them. This person will be heavily involved in the planning of the most important day of your life and possibly be there on the day too, so it's important that you get to know them and feel totally comfortable with them before booking.
Ask for examples of previous weddings they have worked on, for the details of suppliers they recommend for your wedding and check how they have handled any wedding mishaps in the past. It's worth knowing that your wedding planner works well under pressure and can handle everything without you needing to worry.
READ MORE: 9 Things That Could Go Wrong on Your Wedding Day (According to a Planner)
How to Book Your Civil Ceremony Online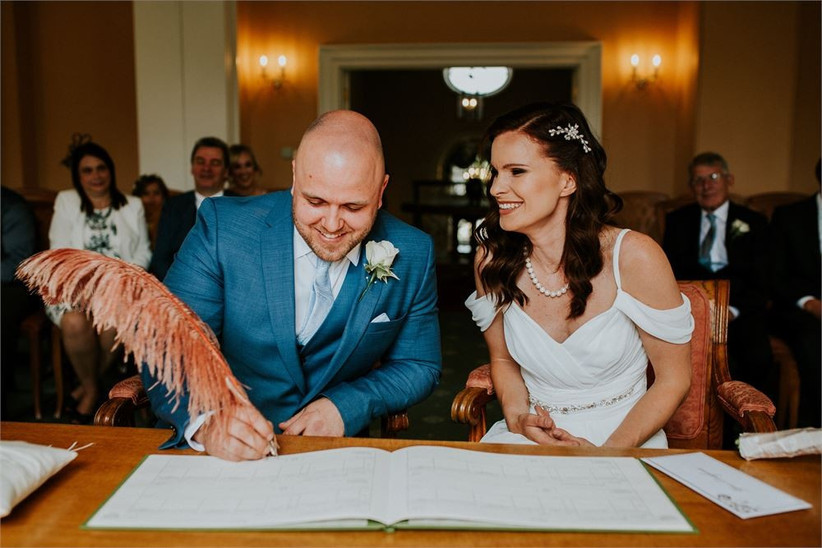 Image: Photo Bart
If you're planning on a civil ceremony, either at a licensed venue or at a registry office, you will firstly need to book a registrar and secondly give notice. Booking a registrar can usually be done over the phone or online, depending on your county, but you do need to give notice in person.
If you're not marrying in the county you live in, you can still give notice at your local registry office. If you live in separate counties, you will both need to go to your local offices. You can book an appointment to give notice and you must attend 28 days before your wedding. Your notice is then valid for 12 months.
Remember, before you book a registrar, make sure you've checked that your venue has the date free!
How to Book Your Religious Ceremony Online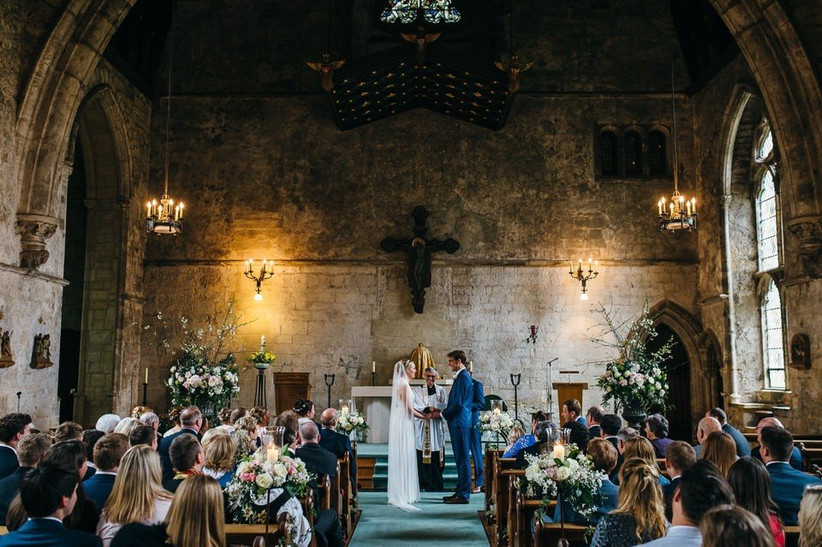 Image: Simon Biffen Photography
If you know the church or religious building you would like to marry in already, the first thing you need to do is email or phone them and check what you need to do to marry there. Each church will have their own set of requirements, but generally if it is your home parish or the one at least one of you were born in, you should be able to marry there. If you want to marry in a church outside of your parish, you will most likely need to attend services there in the build up to the day. This is called 'making a connection'.
If you haven't chosen a church or are unfamiliar with religious buildings close to your reception venue, ask your reception venue staff for their recommendations. Alternatively, to find a church, you can visit A Church Near You.
Many religious leaders will also require you to attend meetings or courses ahead of the day. If it's difficult for you to make it in person, discuss the possibility of setting up meetings via video call.
You'll need to contact the church as soon as you've booked a provisional date with your reception venue as churches tend to book up months in advance too.
How to Find Your Celebrant Online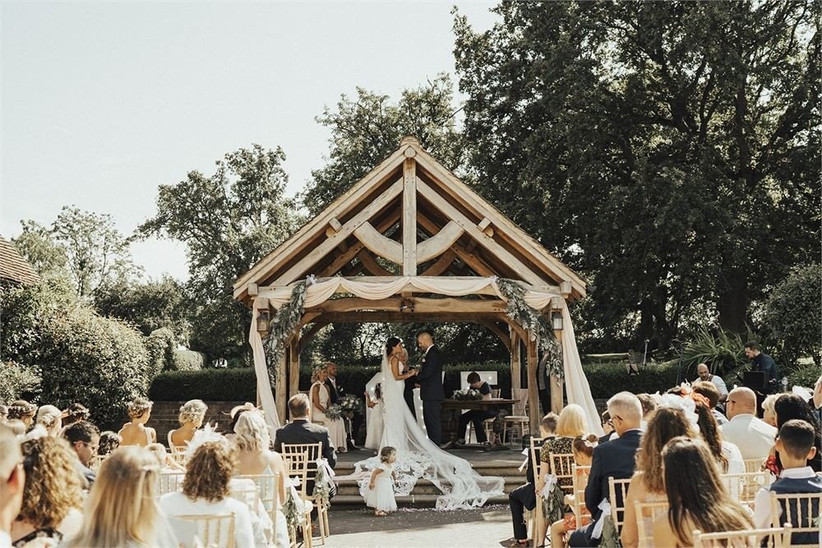 Image: Warwickshire Registration Service
Your wedding celebrant will have a key role on your day and so you'll want to spend time considering your choice and getting to know them. The beauty of having a celebrant is that they can completely personalise your ceremony as they're not bound by legal or religious requirements and so it's worth making sure your celebrant gets to know the both of you too. That way, they can inject plenty of personal touches.
Ask your venues for recommendations and search reviews online and then begin to put together a celebrant shortlist. Once you've found celebrants you like, ask to set-up a video call so that you can talk to them about how you'd like your ceremony to be and ask them about ceremonies they've done in the past.
Once you've found a celebrant you click with, make sure they're free on your wedding date and book them in straight away.
How to Find Your Wedding Dress Online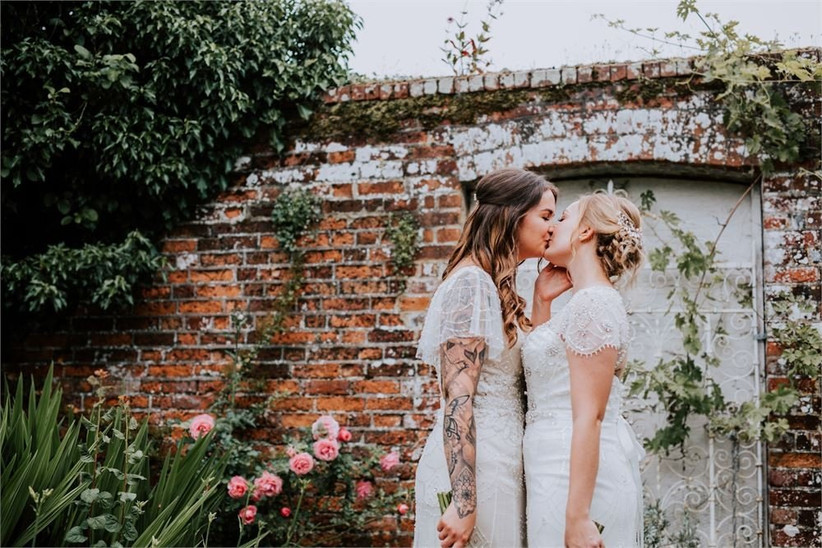 Image: Sally Rawlins Photography
Shopping for a wedding dress from home has never been easier. Not only are there plenty of places to buy a wedding dress online, there are also traditional bridal boutiques offering digital services to brides who find themselves unable to make it into the store.
To begin tracking down your dream dress, you'll need to get an idea of what you like. Search wedding dress hashtags on Instagram and Pinterest and follow wedding accounts (like Hitched!) to develop a list of must-have features. You can even scroll through our wedding dresses and narrow them down by designer and style to find dresses you like and the stockists.
Ask the boutiques that stock the designers you love how they can help you digitally. It may be that they can host a video consultation, try on dresses for you, send fabric swatches or even courier samples to you.
How to Find Your Bridal Party Outfits Online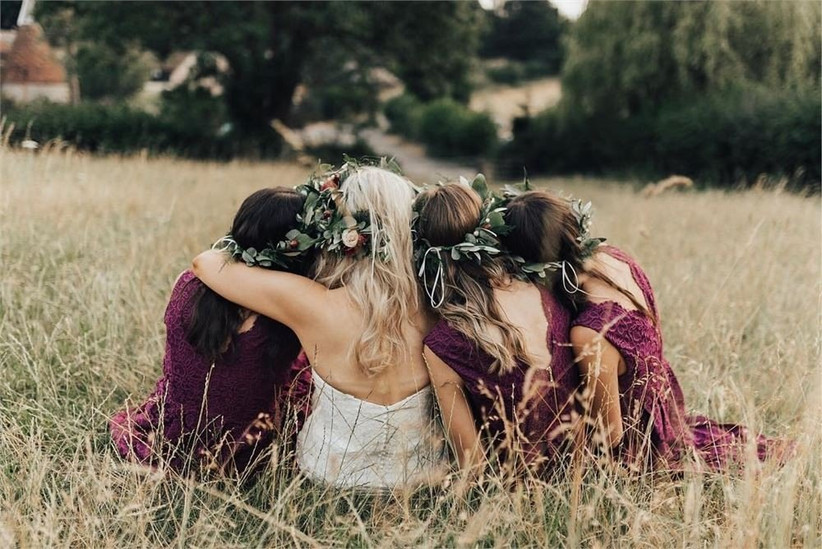 Image: Rebecca Carpenter Photography
Kitting out your bridal party can easily be done online as long as you're thorough when it comes to ordering swatches and getting everyone's measurements.
Ask your bridesmaids to send you their measurements, typical dress sizes and any basic must-haves (long length instead of short, for example). Once you have found some dresses that fit the bill, send around as many pictures as you can find of the gowns to your 'maids and get their opinions. You'll want your girls to feel completely comfortable on the day, so it's important that they back your choice.
When it comes to the groom and his groomsmen, plenty of stores offer made-to-measure groom attire that can be created using measurements and fabric selections done from home. Ask the tailor if they can send fabric swatches to give you a better idea of how the suit will look and feel, and always get their advice on the best way to take measurements to avoid any fitting problems further down the line.
Page boy and flower girl outfits are readily available online from many major high street stores, just remember not to rush your purchase as children grow very quickly. Keep an eye on the styles you like and a couple of months before the big day, go ahead and add them to your virtual shopping basket.
How to Find Your Wedding Photographer Online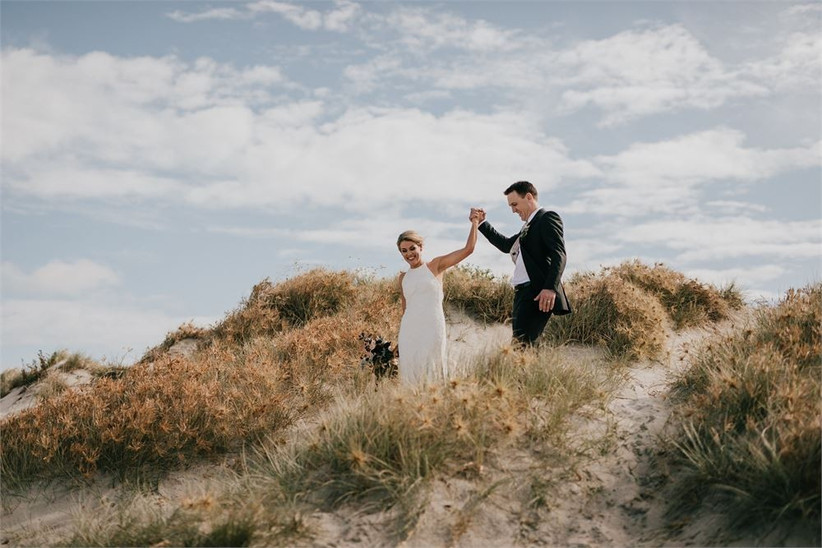 Image: Diana V Photography
Just like the planner, your wedding photographer will be there on the day and so feeling comfortable with them is very important. Once you've found some photographers you like, set up some video calls and ask them to take you through both their on-the-day and post-wedding editing process.
Wedding photography is super-important as it's your lasting memory of the day, so it's also worth asking photographers what their insurance plan is in case of illness or injury. Good photographers should be part of a network of quality photographers who can step in if anything goes wrong.
There are lots of ways to find an amazing photographer – from the Hitched wedding photographer database to Pinterest and Instagram. Plus, it's always worth asking for your wedding planner and venue's recommended supplier lists. Make sure you're able to view a range of weddings and see some verified reviews from previous couples before taking the plunge and paying that deposit.
How to Find Your Wedding Florist Online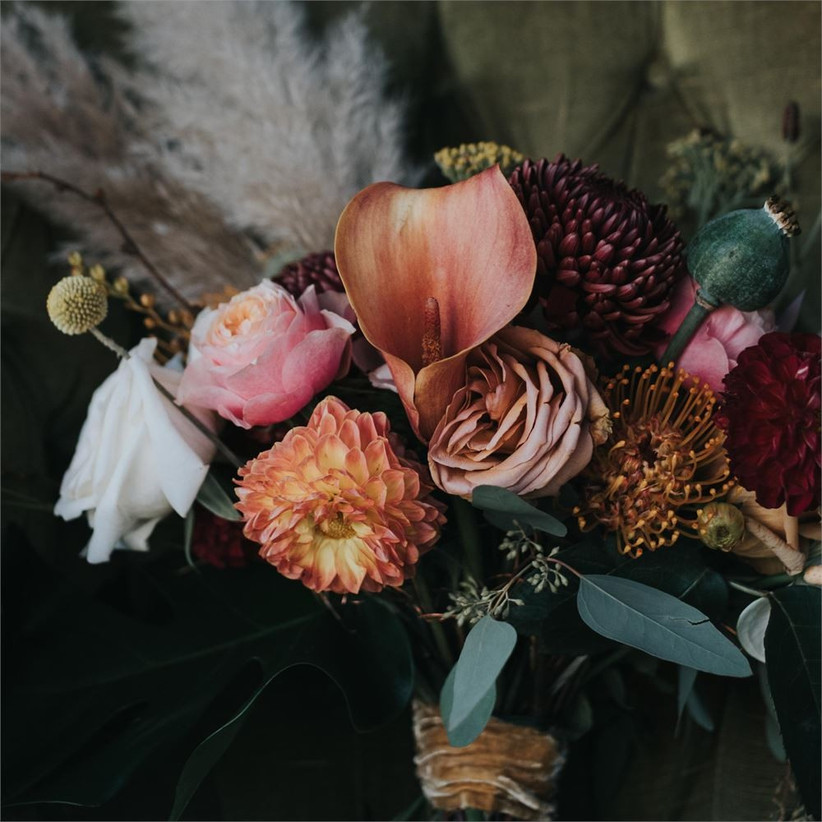 Image: Iris & Co
Flowers are one of our favourite wedding elements and a good wedding florist can turn any venue into a blooming wonderland! Check out the florists used at previous weddings at your venue to get an idea of how they might style the space on your day.
It's also worth asking around to find other recommended florists in the area. Floral styling is an important element to many couples and each florist will have a unique style of their own, so it's worth investing as much time as possible scrolling through websites and social media feeds to really get a flavour of their work.
Finally, if you're hosting an eco-friendly wedding or you want to be mindful of your wedding day's environmental impact, do ask florists what their eco-credentials are. There are many florists offering only seasonal blooms, picked in the UK with little carbon footprint, so it's worth spending time making sure your blooms are totally guilt-free.
How to Find Your Wedding Cake Online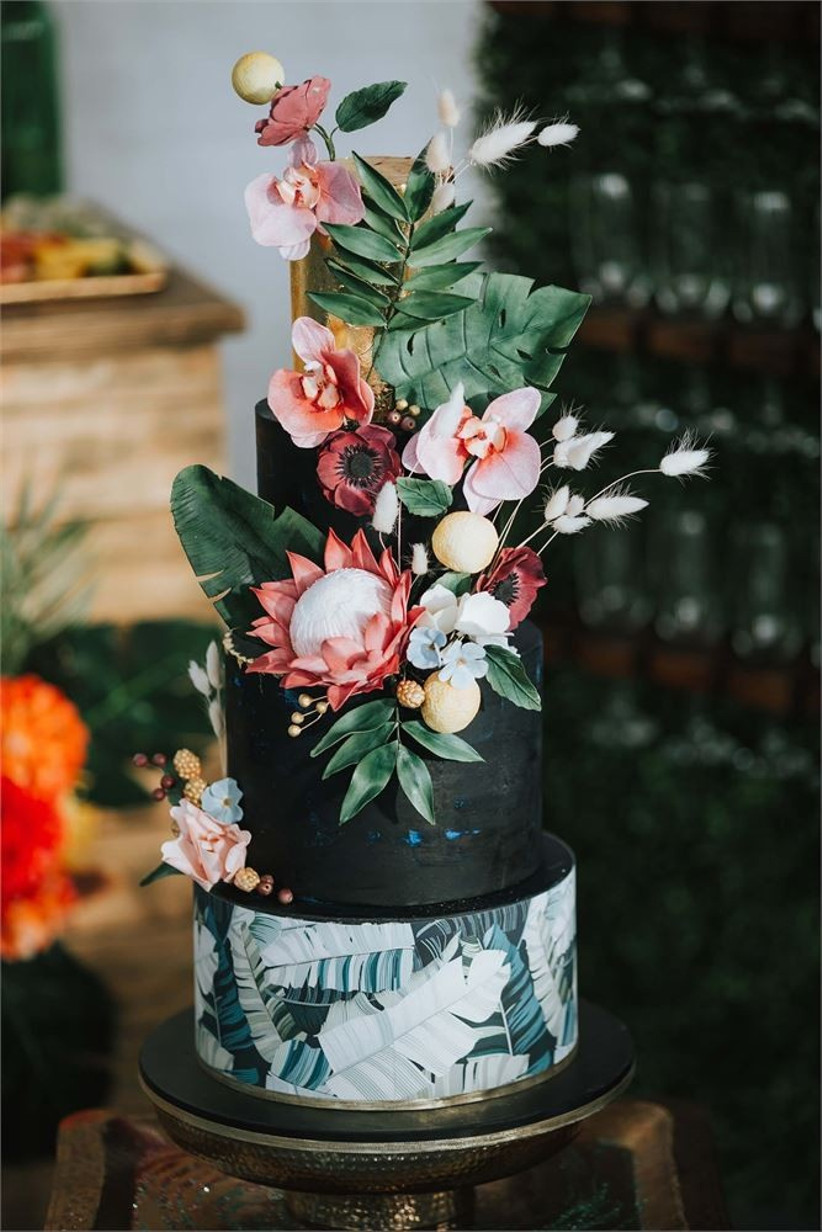 Image: Cobi & Coco
Ok, we admit it, it can be pretty much impossible to have a proper cake consultation online. However, you can certainly choose the design of your bake from an online gallery or through a video consultation with your wedding cake supplier.
The first thing you need to do is get an idea of the type of cake you'd like. Are you dreaming of a four-tier traditional cake or a semi-naked rustic bake? Decide on a theme and save as many pictures that show what you like as possible.
Check out cake makers' websites and Instagram feeds to make sure they have the skills and style to bring your dream wedding cake to life, and when you're confident they do, book a video consultation.
Attend your consultation armed with your inspiration pictures and an idea of flavours that you'd like. It may be that your design can be sorted online, and your cake maker can arrange for samples to be delivered to you so that you can confirm the flavours you like afterwards.
How to Find Your Wedding Caterer Online
Image: Pieminister
You may have an idea of the food you'd like to serve on your big day, but that doesn't mean that you wouldn't like to taste it first! The most important thing to try and secure with a wedding caterer is a way of getting food to you.
Ask caterers you're interested in booking if they are able to deliver some samples of their menu to you. If not, book a video call and ask them to prepare some dishes for you to see, the presentation is also important so it's a good idea to check this out.
The caterer can also describe in detail the ingredients used and the preparation methods which will give you the best idea of how the menu will taste. It may not be quite like tucking in, but it's probably the best you can get if delivery is not an option!
If you can hold out until closer to the big day and then attend a tasting, you can always provisionally choose a menu based on the recommendations of your caterer and make any last-minute changes just before the big day.
READ MORE: Grazing Tables: 18 Ideas and How to Make Your Own
How to Find Your Wedding Stationery Online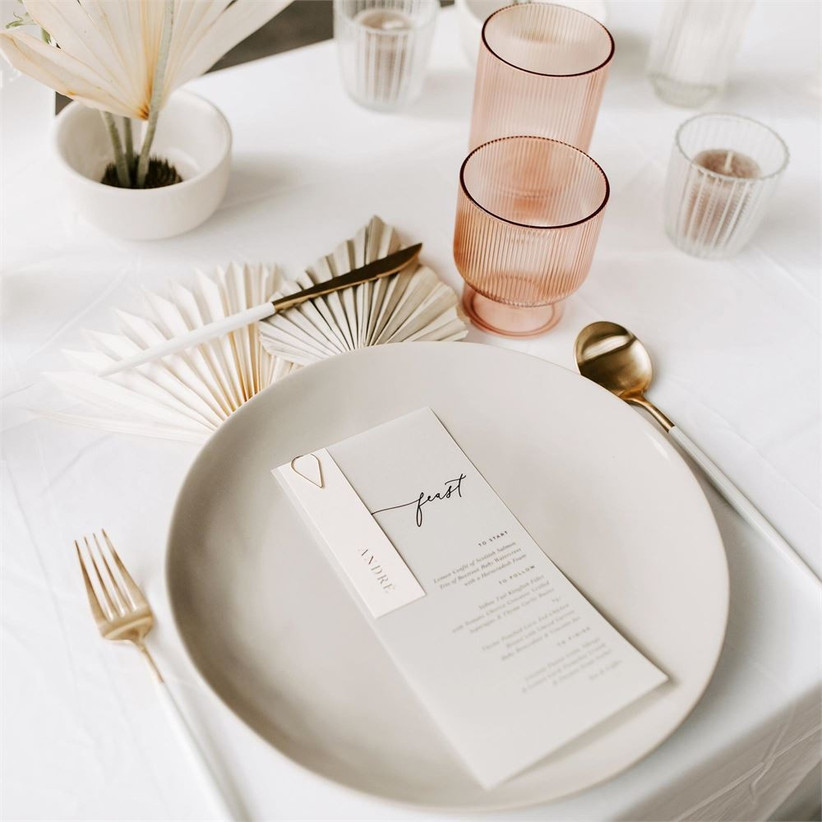 Image: Crum & Co.
Choosing wedding stationery online should be fairly straightforward, as long as you're able to get samples sent to you in the post. Finding a design you like is one thing, but ensuring that the quality of the materials used are up to scratch is another thing entirely.
If there are a range of paper and card options, ask for small swatches of each to be sent to you. Once you have a design and specific materials in mind, ask for a full mock-up of your stationery to be sent to you, this will give you the confidence to put in that order.
Before choosing a stationery designer, make sure they can make all of the on-the-day stationery you need too. If you need them to create a table plan or place names, for example, just make sure they're aware that you'll need those closer to the time and you'll also need to see samples of these items.
How to Find Your Wedding Hair Stylist & Makeup Artist Online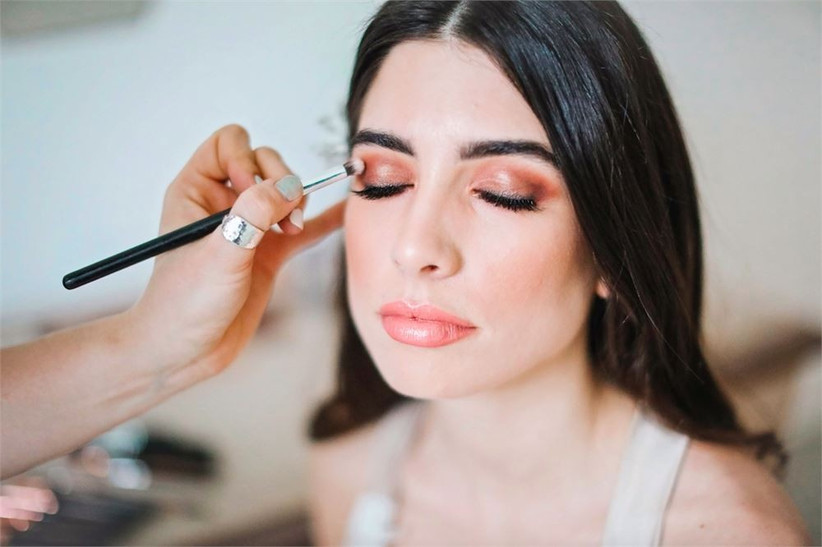 Image: The Bridal Stylists
This is another online wedmin task that can be made a lot easier by Pinterest and Instagram. Start off by looking through hair and makeup looks and saving the ones you like, or take a look at our roundup of the best wedding hairstyles.
Next, you can ask your wedding planner or venue for their recommendations, or find local hair and makeup suppliers yourself. It's really important that you not only read about their qualifications but you also look at as many pictures of their work as possible. Make sure that their work features the same elements that you like in your inspiration pictures.
Once you've tracked down a hair and makeup artist you like, send them your inspiration pictures and a photo of yourself and set up a video call. Armed with your pictures, the artist should be able to advise on what will suit you and how they will achieve your desired look.
A video call is also an ideal opportunity to ask about the products the hair and makeup artist uses and ask their advice on any hair and makeup prep you should be doing before the big day. Remember, this is another supplier that will be with you on the day, so it's important to make sure you feel totally comfortable with this person.
Check out the 2020 UK Wedding Award Winners and make sure you're booking the very best!