What Is a Commitment Ceremony & How Does It Differ to a Wedding?
How does a commitment ceremony compare to a civil or religious wedding? Here's everything you need to know before you say 'I do'
We have included third party products to help you navigate and enjoy life's biggest moments. Purchases made through links on this page may earn us a commission.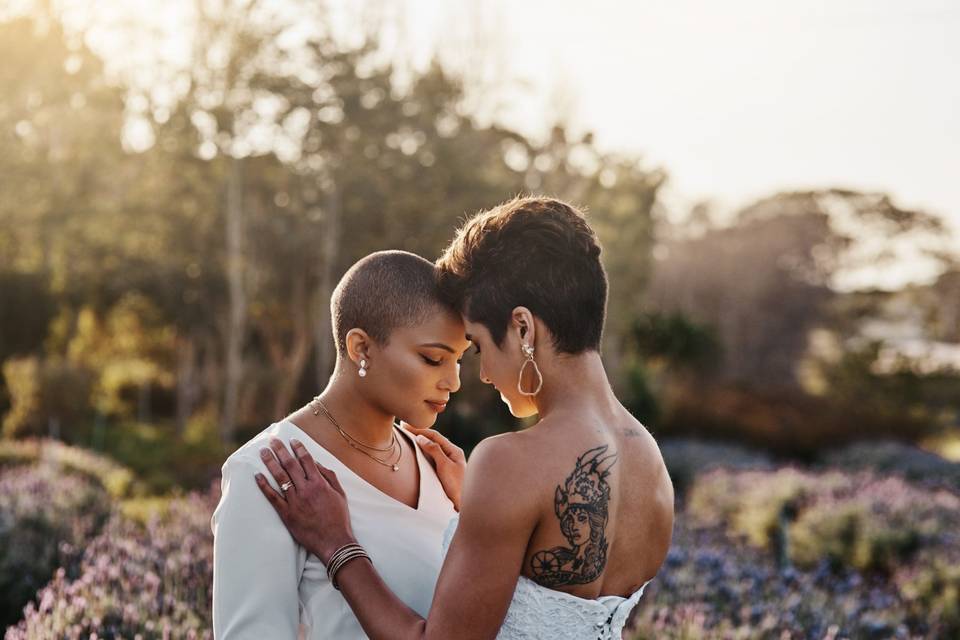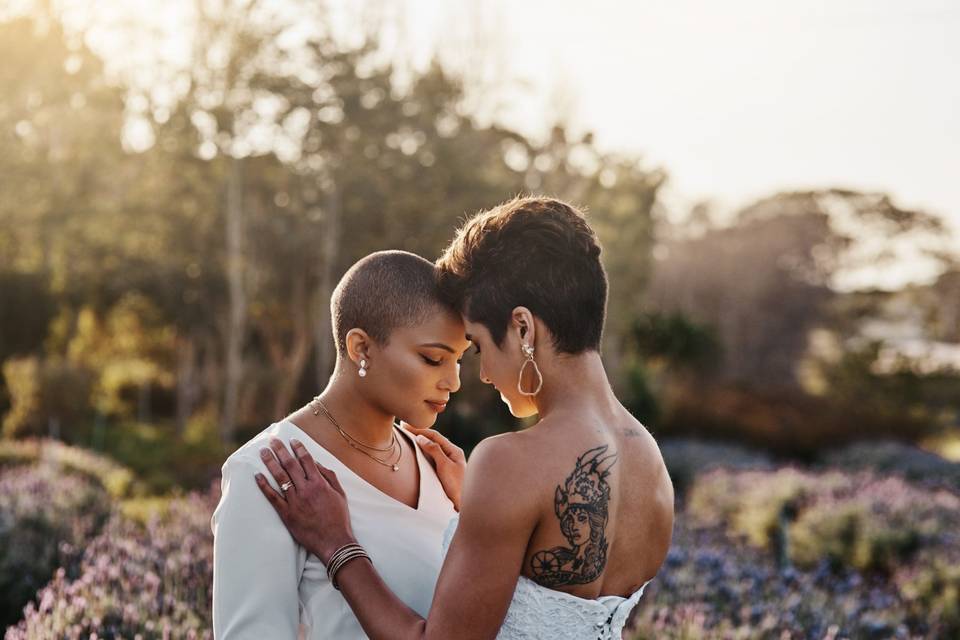 How you choose to express your commitment to your partner is a hugely personal choice, and for some couples a legal wedding might not be right.
So what are the options if you want to celebrate your union outside of the traditional civil or religious wedding framework?
A commitment ceremony could be for you if you'd like to express your devotion to your partner, without paperwork. Here's how a commitment ceremony works and the ways in which it differs from a wedding or civil ceremony.
What Is a Commitment Ceremony?
A commitment ceremony is a service that allows a couple to make a commitment to one another without legal rights or responsibilities. You can still say vows, ask guests to do readings, play music, express your love for another, exchange rings (more on those later) and kiss in front of your nearest and dearest, but the service isn't legally binding and your marital status will not change.
READ MORE: What Is a Humanist Wedding?
How Does a Commitment Ceremony Work?
To some degree, however you want it to! Commitment ceremonies are more flexible in nature than legal weddings – locations don't need to licensed for starters.
You can plan a commitment ceremony in a relevant council building or go wild and host your ceremony on a beach, on top of your favourite hill, on a boat, in a castle, in your mum's garden or just in your front room via Zoom.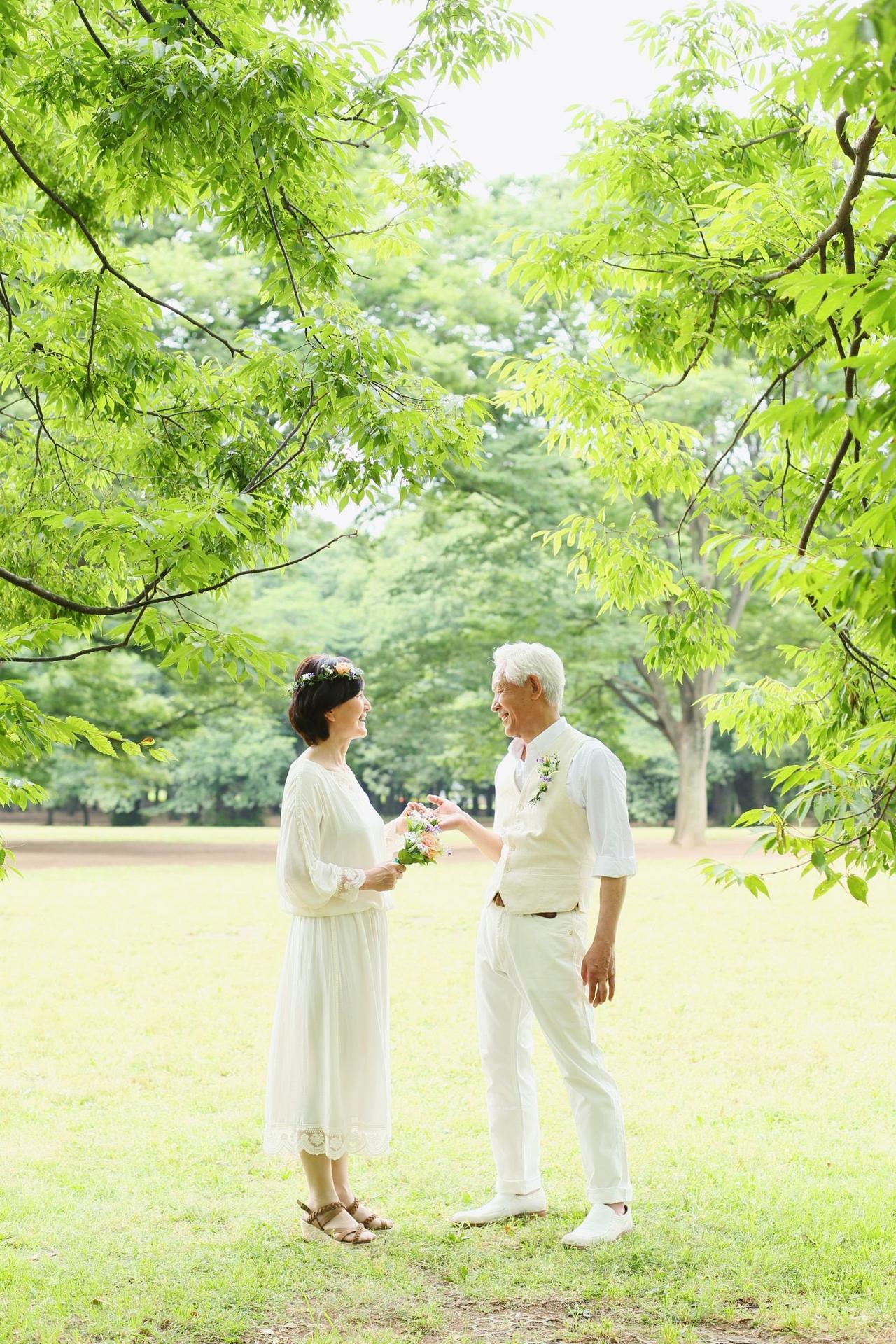 Why Have a Commitment Ceremony?
There reasons are incredibly varied and personal to each couples. Many couples choose commitment ceremonies over legal weddings if they've been married previously or simply favour an alternative way to share and show their love for one another.
The freedom and ease of planning a commitment ceremony are two big draws, says wedding industry consultant Kelly Mortimer.
"Symbolic ceremonies are a popular choice for couples wanting much more adaptable celebrations. In England and Wales, the rules on where you can get married are still quite restrictive. For example, the nuptials must take place under a registered and permanent structure. A commitment ceremony doesn't involve any of the typical legal red tape."
As well as where you can hold the ceremony, the service itself can be totally individual and unique. Jennifer Claire, founder of the Academy of Modern Celebrancy and The Celebrant Directory explains that commitment ceremonies are less rigid in structure than legal marriage proceedings:
"Each part of a commitment ceremony can be handcrafted to suit individual couples. There are no limitations to the content that can be used unlike that of registration services that are legally bound by its scripts. Couples also have the choice to to include traditions that are meaningful to them should they wish, such as hand fasting or religious readings."
One reason may be that you may not like the religious tradition of marriage, but you should be aware that if you do want to include religious references, it isn't always possible. If you organise a commitment ceremony with your local council, it's always best to check with your celebrant as to any specific guidelines that they may have in place. Rules tend to differ county to county in the UK.
READ MORE: The Best Non-Religious Reading Ideas
Is a Commitment Ceremony Legal?
After pledging your commitment to one another, exchanging vows and rings and kissing if you wish to, you'll likely sign a commitment certificate that's presented by your celebrant. Jennifer emphasises that this is where the key difference between a commitment ceremony and a wedding comes in.
"The biggest distinction is that a celebrant cannot pronounce the couple legally wed – instead we'll declare that they're committed to one another in front of their trusted audience," says Jennifer.
You also don't require anyone to bear witness to either the signing of the certificate or the ceremony itself, unlike at a legal wedding, so if you're dreaming of a secluded elopement a commitment ceremony could fit the bill.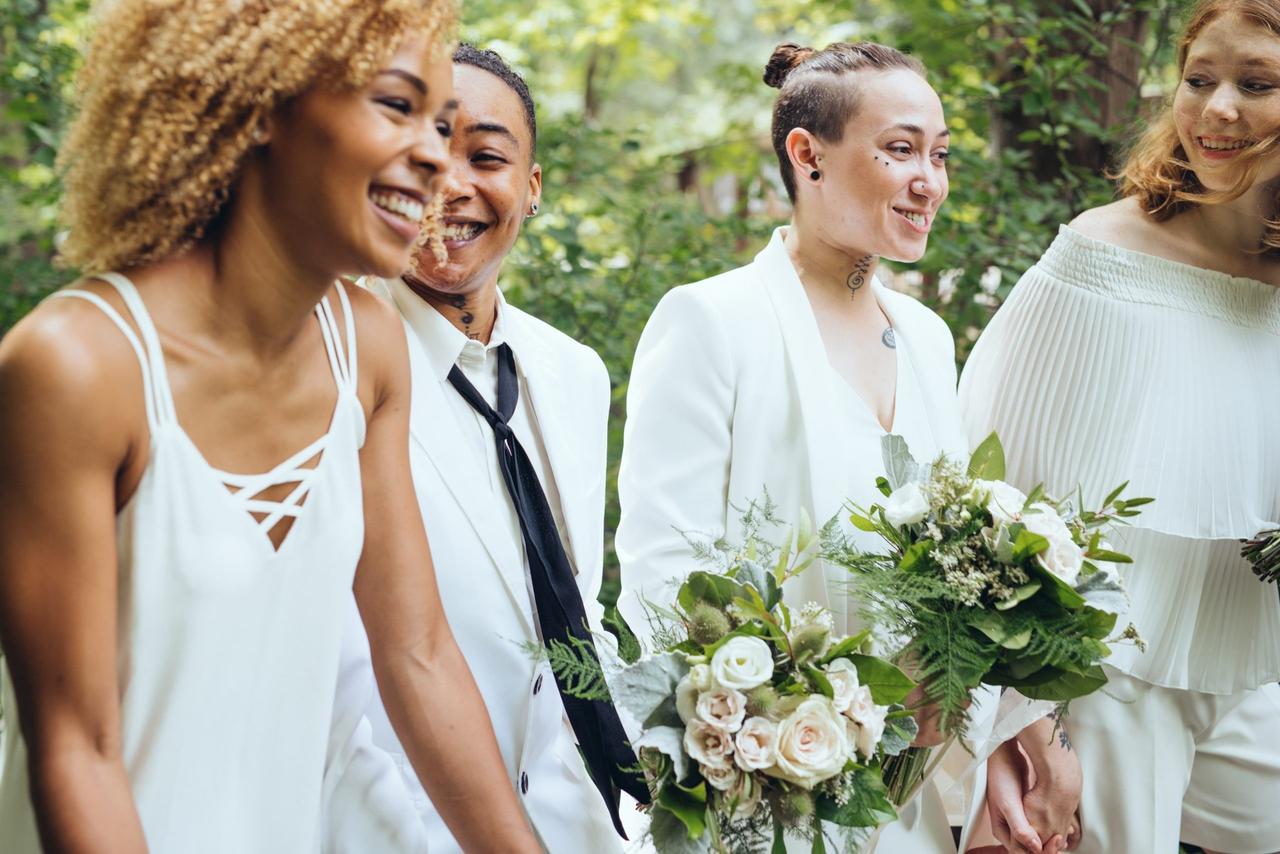 Who Can Officiate at a Commitment Ceremony?
You can find an approved, experienced civil celebrant via your local council, or within the county that you're planning to hold your commitment ceremony, or alternatively browse our celebrant directory. It's important to be clear that you're seeking to organise a commitment ceremony rather than a civil wedding service from the get go as some registrar celebrants only conduct legally binding ceremonies.
While it's advised you choose a celebrant registered with a professional body, anyone can be a celebrant. This means if you want to be married by a friend you can choose this.
What Do You Say During a Commitment Ceremony?
Almost anything goes, which is all part of the appeal according to Kelly:
"Commitment ceremonies are so unique as the words that a celebrant, couple or a guest say are perfectly aligned to suit the couple in question rather than the law or a religious text."
You can write your own vows or promises to one another, choose readings or poems that are meaningful to you and let your celebrant know what you want them to emphasise within the ceremony. If you're unsure about wording, your celebrant will have a script and structure prepared but you needn't stick to it. A rough framework could look like the following:
Welcome and introduction by the celebrant
Readings by guests
Promises to one another
Vows and ring exchange
Signing of the certificate accompanied by music
Declaration of commitment by the celebrant, the kiss and any parting words
You can add to, subtract from or ignore this rough plan completely. There's generally no limit to the duration of a commitment ceremony but again this is a good subject to bring up with your celebrant in the planning stages – a two hour epic will likely prove a bit much for all involved.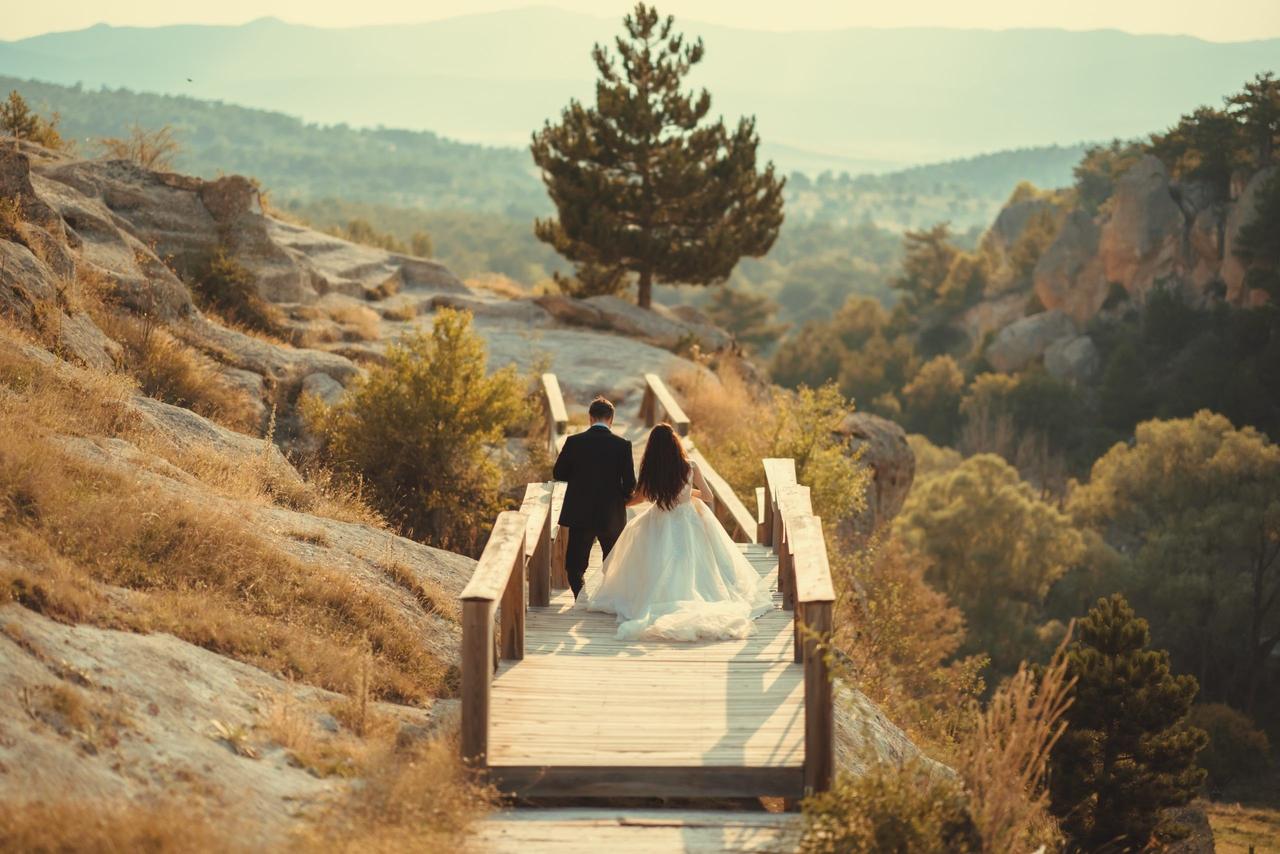 How Much Does a Commitment Ceremony Cost?
Pricing very much depends on the type of ceremony you choose (a more basic scripted service or a bespoke celebration) and the venue, day and time you opt for. Expect to pay around £200 for a commitment ceremony led by a civil celebrant at a registry office and anywhere between £500 to £1,000 for more tailored ceremonies in other locations. Online commitment ceremonies are cheaper – anywhere from £15 for a 15 minute service.
Can You Have a Commitment Ceremony in a Church?
No. Commitment ceremonies are generally not permitted in religious buildings, but almost anywhere else in the world is your oyster.
Can You Have a Commitment Ceremony While You're Still Married?
Technically, as a commitment ceremony is not legally binding, you can have one, but you won't find many (or any) celebrants who are happy to perform one for you. It's not something we would recommend as a way of starting your new life with your partner. If you're separated from previous spouse, it's going to make for a less sticky situation to legally end that marriage first.
As with legal marriage, a celebrant will require you to be 16 years of age or older and anyone under the age of 18 requires written consent from a parent or legal guardian.
You'll need to show identification to your celebrant prior to the ceremony, most likely in the form of a passport, and bear in mind that the commitment ceremony certificate drawn up by your celebrant doesn't count as a form of identification from then on.
Kelly notes that one increasingly popular option is for a couple to enter into a legal marriage with the required two witnesses prior to a celebratory commitment ceremony. This allows for total personalisation of the ceremony itself while ensuring that a couple is also married in the eyes of the law. You could, for example, conduct a legal marriage with a registrar in the morning and then celebrate your union by way of a commitment ceremony hosted by a celebrant in the afternoon.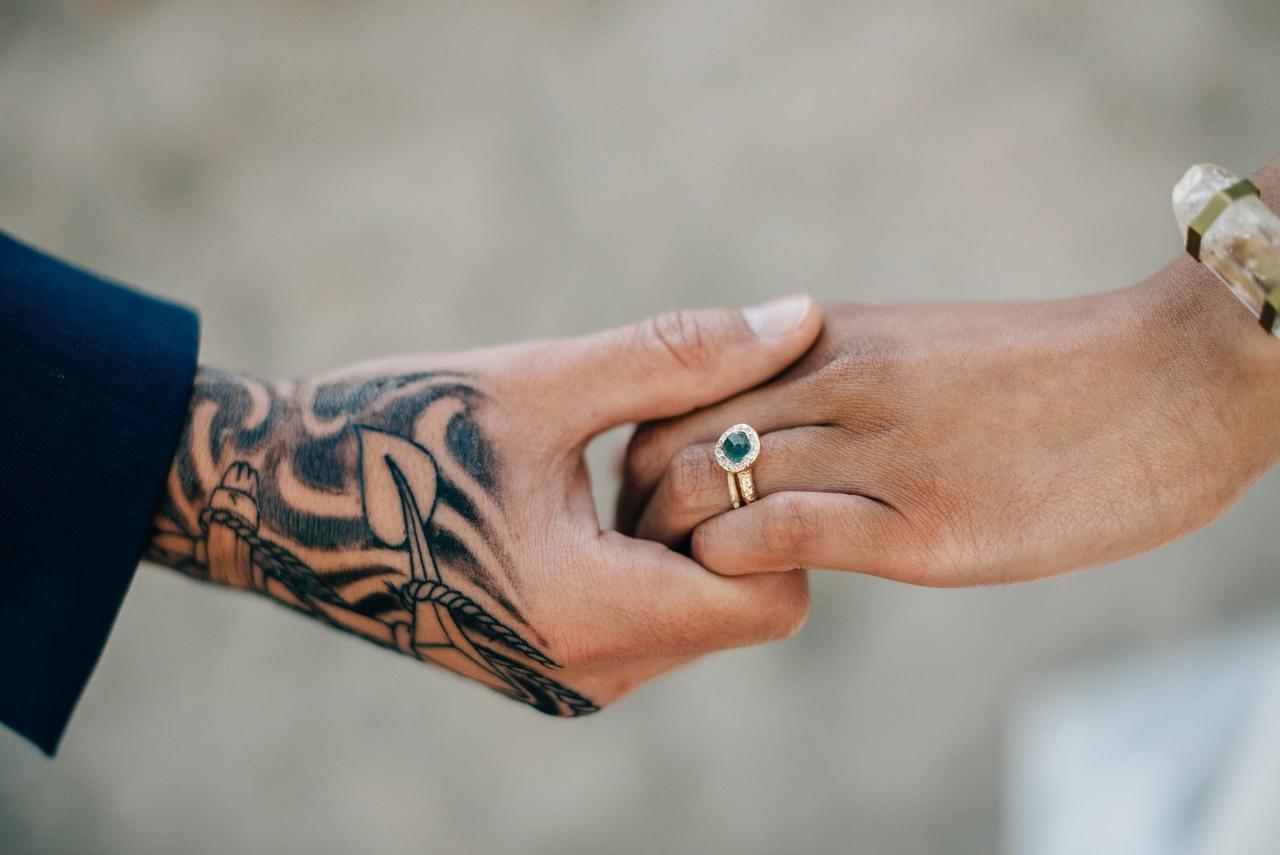 What Is a Commitment Ring?
A commitment ring replaces the wedding ring, representing your vows and serving as a memory of both the day and your love for one another. You don't need to have one if you don't fancy it or if budgets are tight – you could opt for a handfasting ceremony instead, whereby a couple's hands are bound together and blessed by a celebrant.
A commitment ring could take the form of a traditional wedding band, a personalised or unusual ring, a wedding ring tattoo or look more akin to an engagement ring – as with most elements of a commitment ceremony, it's totally up to you.
Thinking about a wedding at home? Here's 15 key things to consider when you throw at wedding at your house.