32 Questions to Ask Your Wedding Venue Before You Book
From insurance and accommodation to what 'exclusive use' really means, here are all the key questions to ask your wedding venue
We have included third party products to help you navigate and enjoy life's biggest moments. Purchases made through links on this page may earn us a commission.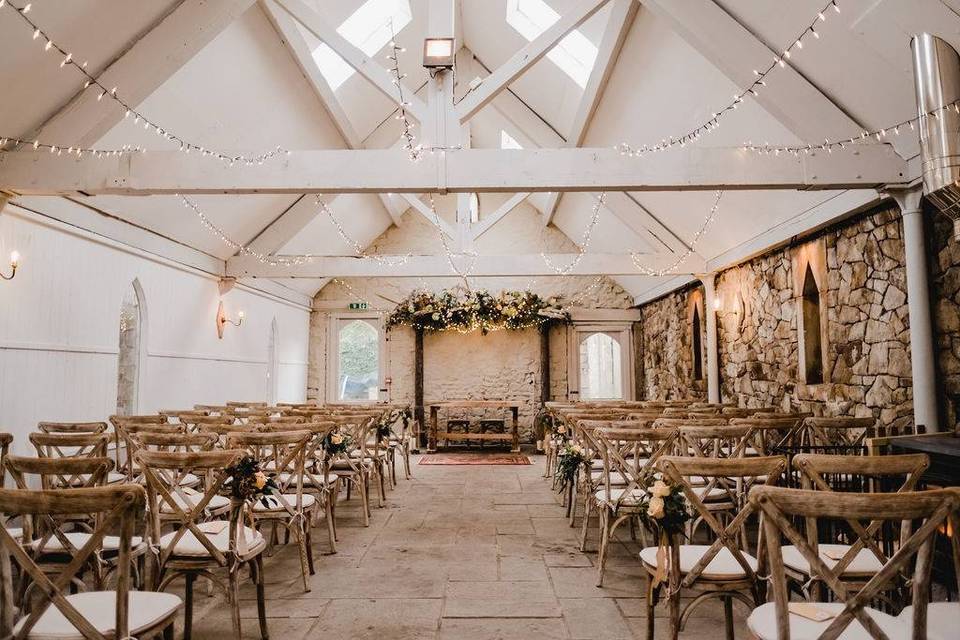 You'll probably visit a few different wedding venues before you find the one you want to marry at. After all, from rustic venues to unusual venues, there's so much to choose from!
There'll be a huge amount of information to take away at each viewing and it's easy to realise you forgot to ask lots of important questions.
To make sure you've got all the essential information you need before you put down a deposit, here's a list of 34 questions to ask your wedding venue. We're assuming you've already checked that the venue is available on your wedding date, of course!
Print off the questions from our free printable PDF and pack a pen in your bag to jot down the answers. Not every question will be relevant to you, but this will cover all your bases so when it comes to comparing venues you'll have all the info at hand.
The Basics
1. How Long Can I Provisionally Hold a Date For?
During peak season, it's important to hold your wedding date to avoid the disappointment of someone else booking it. Some venues let you hold a date for free until they get other interest, while others will ask you to pay a refundable or non-refundable deposit. Find out whether you'll need to pay and how long they'll hold it for while you weigh up your venue options.
2. How Many Guests Can You Accommodate in the Day and the Evening?
You and your partner will have at least a rough idea of the amount of guests that'll be attending the wedding. Make sure the venues you're looking at are big enough for your guest list.
3. Is the Venue Licensed for Civil Ceremonies?
If you want to have your ceremony and reception all under one roof, make sure your chosen venue has a wedding licence. If not, you can have a religious or civil ceremony somewhere else and host your reception at the venue, or get legally married beforehand and have a celebrant-led ceremony on the day.
4. Is the Wedding Venue Available for Exclusive Hire?
Venues vary in terms of how many weddings they will allow on one day, who else is permitted on the grounds of the venue, and the times your suppliers are allowed in and out. If you're looking for a private wedding venue where you will be the only couple getting married and the house, grounds and staff belong to you, ensure that your venue is an 'exclusive use' one – especially if it's a hotel or historical landmark.
Just because a venue isn't 'exclusive use', doesn't mean there will be more than one wedding, so it's really important to find out the details of who will be allowed to go where.
5. Who Will Be the Point of Contact in the Lead-Up to the Wedding?
Even if you think you've asked everything, questions will arise ahead of your wedding day so you need to know exactly who to contact. It'll ease your stress to have a go-to person to contact to discuss finer details.
Secondly, you'll need to know who your point of contact on the wedding day will be. The likelihood is it'll be one of the wedding coordinators, venue manager or another senior member of staff. This is essential information for the ushers and bridesmaids as they will be taking care of any hiccups on the day.
6. Do I Have to Use Your Recommended Suppliers?
Most venues will supply you with a list of "recommended suppliers" who they regularly work with and trust, and it can be helpful if you're not sure where to start with your search for a wedding photographer or cake supplier.
However, some venues will request that you stick only to their recommended suppliers, which can limit your choices and potentially not work with your budget. Find out if the catering is in-house or from a recommended supplier, or whether it might be possible to bring in an external caterer. What's the procedure for that and how much does it cost?
7. Do You Have Accommodation On-Site?
This is essential if you're getting married in a location that isn't local to your family and friends. Some venues will also offer a discounted room rate or include bedrooms in the wedding package, so be sure to ask what they can do for you in terms of rooms and prices. If they don't, are there any B&Bs or hotels in the area? Is there a reliable taxi service?
Find out check in and out times too – you'll be swamped by guests asking this! You could send out an email or put an accommodation FAQ on your wedding website with prices, dates to pay by, who to pay, and the check in/out times.
8. Is There Enough Parking for All Our Guests?
If lots of guests will be travelling by car to your venue, check the parking situation at the venue. If they don't have allocated parking, are there nearby car parks or roads for guests to leave their cars, do they charge etc?
Similarly, it's handy to know if your guests can leave their cars overnight as it gives them more choice on how late they stay, whether they decide to have a drink, or whether they'll need to think ahead about taxis.
9. From What Time Can We Access the Venue?
Whether you're planning on doing some wedding DIY or bringing in the professionals, you'll need to know when you can access the venue and how long you'll have to prepare it for your day. It's also worth asking when they expect you to have cleared your decorations by on the following day.
The Ceremony
10. Are There Areas For Both of Us to Get Ready in the Morning?
If you're a bride dreaming of getting your hair and makeup done in the bridal suite of your venue or a groom looking for an area to prep ahead of the day, it's important to make sure that space is actually available. Not all wedding venues will have the facilities for you and your partner to get ready there on the morning of your wedding. Is this included in the price too?
11. What is the Changeover Plan From Ceremony to Reception Room?
If your reception is taking place in the same room as your ceremony, ask what will happen in the changeover and how long it will take. Will the staff set up the tables or will you need to plan for your bridesmaids and ushers to do this? What will you guests do in the in-between time? Is there a separate area for them to have drinks and take photos?
12. How Flexible are You With Timings of the Day?
Most venues know from experience the best running times for your day, e.g. how long you'll want between the ceremony and reception for photos and when is best to have the dinner and speeches. Ask what they recommend and then how flexible they can be. If you're not looking for a traditional layout to your wedding day and want an informal or slightly different timeline to your day, you need to make sure your venue offers that.
13. Are There any Décor Restrictions?
If no naked flames are allowed then you definitely won't be walking down a candle-lit aisle. Ask whether you're able to hang things like lights or drapery, and check restrictions on things like candles or large flower arches. You might not know yet how you want to decorate but it's best to know what you can't do from the start.
14. Are Fireworks/Confetti Allowed?
Not all venues allow fireworks or confetti so check this. Some will be happy with biodegradeable or petal confetti.
READ MORE: The Ultimate Guide to Planning a Wedding Ceremony
The Wedding Breakfast
15. Do You Offer a Complimentary Menu Tasting Within the Catering Cost?
It's very common that couples will want to try out the wedding breakfast and accompanying wines before the actual day, and a lot of venues put on menu tasting evenings where you can sample dishes from the menu to help choose your three courses. See how many people can attend this as you might like to bring your parents too.
16. What Menu Options Do You Have and Do You Cater For Vegetarians?
Will you have one, two, three or more course options for your guests? Do they offer vegetarian dishes, gluten free, or vegan? It's vital that you let the venue know as soon as possible about any dietary requirements or allergies so they can ensure that they have appropriate options to offer your guests.
17. Are Crockery and Linen Included in the Price?
You'd be surprised how many people forget about this. It's also worth asking what the crockery and table cloths look like as they may not go with your theme and you might want to provide your own.
18. What Size Tables Do You Have?
Are they square or are they round? How many people can fit on each table? What does the head table look like? This is all really important information that you'll need to know in advance to do your table plan.
19. Is There a Cake-Cutting Fee? Do You Provide Cake-Cutting Utensils?
Some venues will charge you per person to cut and serve the wedding cake which can quickly add up. You'll also need to know if you have to provide the cake slice.
20. Can We Brig Our Own Alcohol? Do You Charge a Corkage Fee?
Some venues will require you to use their bar facilities or those of a recommended supplier, others will be happy for you to bring your own booze and some will give you a choice. If you're bringing your own, before you load up on fizz, ask them if they charge a corkage fee and how much it is.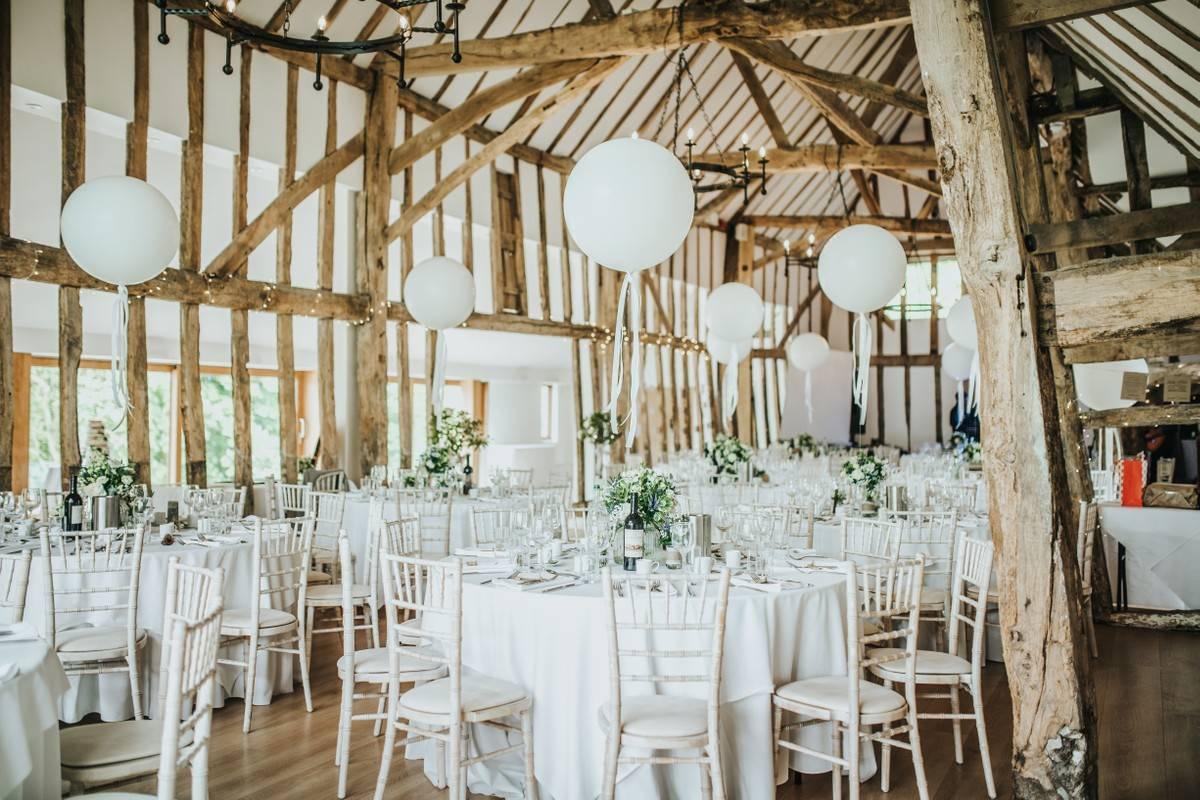 The Evening Reception
21. What Evening Food Options Do You Offer?
If your wedding breakfast is an early afternoon one, your guests will definitely be peckish again by the evening. Are evening canapés or a buffet dinner part of your package, or do you have to pay extra? Could we hire a pizza van or similar?
22. Can You Accommodate a Live Band or DJ? When Can They Set Up?
No point hiring a live band if there's simply nowhere they can plug in. If you want dancing, this is an important enquiry! Finding out when they can set up will be helpful for your suppliers and will help you mentally prepare the logistics of your day.
Ask if the venue has a sound limiter too. Don't panic if this sounds completely alien to you, your wedding band or DJ will know exactly what this means. It's simply a volume limit that they can play to, and most professional entertainers will be able to tailor the volume of their act to your venue's limit.
23. What are Your Bar Prices and is it Cash Only?
If you're not planning on having an open bar, it might be worth checking what prices the bar at your venue will charge. If the venue's alcohol is really expensive, you might be able to negotiate a special price for one or two kinds of drink to try and ease the cost of the night for your guests.
It's well worth checking if the bar takes cards and cash. Guests will need to know in advance if it's cash only.
24. Could We Plug an iPhone into Your Sound System?
Couples who want to cut costs at the wedding may want to ask about providing their own music. Does your venue have speakers or a sound system that you could plug a laptop or iPhone into? It's a simple way to provide background music to your drinks reception and wedding breakfast.
25. What Time Will Our Evening Reception Need to Finish?
Lights-out time is something you absolutely need to know before you send out wedding invitations and start booking suppliers for the big day. It's also worth asking if the bar stops serving at the same time, or if that's half an hour or an hour before.
Facilities
26. Do You Have Disabled Access?
Is there access and toilets for disabled guests? Elderly guests too might be more comfortable using a lift or an entrance that doesn't involve steps.
27. How Many Toilets are There?
At least 4 toilets per 100 guests is recommended if you don't want most of your wedding to take place in the toilet queue! This is an essential question if you have a barn or marquee where toilets will need to be hired.
28. Is There Somewhere We Can Securely Store Our Wedding Gifts?
Couples tend to get lots of very valuable wedding gifts so make sure the venue has a safe place you can store them all.
Pricing and Payment
29. How Much Will the Initial Deposit Be and When is the Final Payment Due?
You might think the venue you want is out of your league financially, but with just a deposit to pay first, and final payments later on, it may just be doable.
Securing a final date for the venue payment allows you to map out a timeline of financial pay-outs and can give you time to save up to pay for the wedding.
30. Is VAT Included in the Prices Given to Us?
VAT can sometimes creep up on you, so be sure to check if that's included in the price or if it's added later on.
31. Are There Any Extra Charges For Staff/Cleaning/Room Hire that Aren't Included in the Prices Given to Us?
There's always hidden costs no one tells you about when it comes to the wedding, so be sure to ask this question. Ask if you'll incur a charge if the number on the day doesn't match the numbers you've given them too (people do bring unexpected +1s!)
Wedding clear-ups are a very important subject to cover at the start. While a large majority of venues will have staff that can take care of the post-wedding clean-up, there's still cases where you'll be responsible for either doing it yourself – if you've hired land for a marquee, for example – or you'll be in charge of hiring a team to do it for you.
32. What's the Cancellation Policy?
If you cancel far enough in advance, most venues can return your full deposit. However, you may not get it back after a certain date so check what their policy is.
33. Are There Any Venue Restrictions?
Venues like breweries might have an over 18s-only policy which means children are off the guest list. Similarly, historic properties don't always like kids running around. As well as checking on decor restrictions, ask if there's anything that might affect your guest list.
34. Do You Have Public Liability Insurance?
Every wedding venue should have some form of public liability insurance and should have no qualms providing a document that proves this. You don't want to be held responsible if a guest injures themselves. If it's a farm that doesn't often host weddings, for example, it's well worth your time to check.
Remember to print off the PDF!
If you're on the hunt for a real wedding bargain, be sure to check out our round-up of the best affordable wedding venues in the UK!