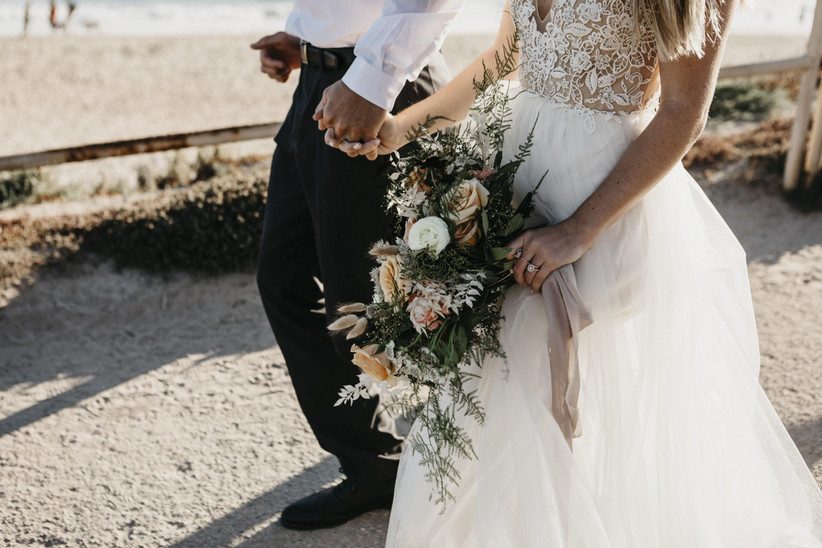 Weddings in England have returned without restrictions as social distancing rules come to an end.
The 19th July kicked off Stage 4 of restriction easing, which included the lifting of the 'one metre plus' social distancing rule and mandatory face masks.
There are now no limits on guest numbers at weddings in England nor any requirement for table service, and dancing and singing can return to ceremonies and receptions. Guests are able to enjoy the wedding day without masks, and music can be played at full volume where background volume was advised before.
The Prime Minister urged England to "exercise judgement" and said the decision to hug or wear masks will become a matter of "personal choice".
He advised everyone to get the vaccine when made available to them and to continue to wear a face covering in crowded places with people you don't normally meet to protect others. Couples, wedding guests and suppliers will have to make their own choices about what they deem safest on their day, but clinically vulnerable guests may still wish to wear a mask.
While the 19th July marked 'Freedom Day' in England only, Scotland also saw an easing of rules. The whole country was moved to Level 0, which means weddings can take up with up to 200 guests, although masks are still required.
Couples who are planning their 2021 weddings will be eager for the latest advice so we've gathered everything we know about what is currently allowed at weddings across the UK and broken down all the official guidelines.
The devolved administrations of Scotland, Wales and Northern Ireland have set their own rules on weddings in 2021, which we've covered too. Scroll on to find out everything you need to know if you're having a 2021 wedding.
What Are the Current Rules for Weddings in England, Scotland, Wales and Northern Ireland?
England
As of the 19th July, England moved to Stage 4 of lockdown easing which removed all social distancing rules around weddings. Here's what the official guidelines state for weddings from 19th July:
There are no legal restrictions on the number of people that can attend a wedding, civil partnership, reception or celebration.
Legal requirements for social distancing no longer apply and you do not need to stay 2 metres apart from people you do not live with.
Face coverings are no longer required by law in any setting. However, the government expects and recommends that people wear face coverings in crowded areas such as public transport.
COVID-secure rules, including table service requirements and restrictions on singing and dancing, no longer apply. However, there are steps everyone should continue to consider to reduce the risk of transmission. All businesses should follow the principles set out in the working safely guidance.
If someone has been instructed by NHS Test and Trace to self-isolate because they have tested positive for COVID-19, or they're the close contact of someone who has tested positive for COVID-19, they must still self-isolate and not attend.
The updated guidelines still have plenty of advice for engage couples on how they can make their day as safe as possible, including:
Let as much fresh air in as possible and keep indoor events or enclosed spaces well ventilated: "The more fresh air there is to breathe, the less likely other people are to inhale infectious particles."
Request guests take twice-weekly lateral flow tests in the run-up to your wedding as one in three people have COVID with no symptoms. Rapid lateral flow tests are free from pharmacies or online and take 30 minutes to show results. If positive, even if guests have no symptoms, they should isolate and not attend the wedding
"Touching or kissing objects that are handled communally including consumables, carries a risk of catching or spreading a virus. The use of shared communal objects, including consumables, is now a personal choice" - think about this if you're having a religious mass or similar communal ritual
There are no limits on the number of people who can sing, dance or perform inside, however, any activity where voices are raised or people are breathing heavily increases the risk of transmission. Consider if these can take place outside or in the best ventilated area of the venue
Display an NHS QR code for guests who may wish to check in, although this is no longer required by law
If a wedding is taking place abroad or in the UK outside of England, the guidelines state that guests are permitted to travel, but must follow the rules on weddings in the destination they've travelled to.
Scotland
Like England, Scotland also relaxed their social distancing rules on 19th July, although not to the same extent. All of Scotland moved to Level 0 which means up to 200 people can attend a marriage ceremony or wedding reception.
Physical distancing guidelines remain in place, including:
Indoors, physical distancing will be at one metre for marriage ceremonies and wedding receptions in all venues
Outdoors, groups of up to 15 people do not need to physically distance from each other, but will need to remain one metre from those in other groups
At an outdoor ceremony, a group of 15 could sit or stand together, and at an outdoor reception, the group of 15 can mingle and dance with each other
The couple can receive or greet their guests and move between groups outdoors but they should remain one metre from groups other than their own group of 15
Outdoors, people attending a wedding can be served drinks and canapés without being seated
Subject to conditions being met, Scotland will move beyond Level 0 on the 9th August and out of almost all lockdown restrictions. At this time, you will be able to dance, sing and mingle at indoor weddings.
Northern Ireland
The Northern Irish guidelines state:
"Numbers attending indoor ceremonies and post-ceremony celebrations will be determined by the venue on a risk assessed basis", meaning each individual venue can host a different number and you'll need to contact your venue for exact details.
"During the ceremony, face coverings must be worn by all unless exempt, other than the officiant, the couple getting married and children aged 12 and under."
If you plan to host a ceremony or reception in a private home, it must follow domestic regulations, which allow up to 15 people (including children) from no more than five households to meet outdoors in a private garden.
"There are no restrictions on the number of people seated at the 'top table', however other tables are restricted to a maximum of 10. Children under 12 are excluded from table numbers."
Live music is permitted, but must remain at ambient levels that permit normal conversation.
Dancing is not permitted, except for the couple's first dance
"Face coverings must be worn if you leave your table (to access toilet facilities/in public areas), unless exempt."
An indicative date of 26th July has been set to remove the legal requirement for social distancing outdoors and to reduce distancing to a minimum of one metre indoors, but this date is subject to review on 22nd July.
Wales
All of Wales moved to alert level 1 on the 7th June. Here are what the Welsh wedding guidelines say about weddings:
Wedding ceremonies and civil partnerships are allowed to take place inside in any approved venue or place of worship, with the guest limit determined "by the capacity of the venue where it is being held, once physical distancing measures have been taken into account."
However, there is a set limit for receptions, and this differs whether it is classed as a "regulated event" or a "non-regulated event taking place at a regulated premises".
Indoor receptions in regulated premises such as restaurants and hotels had only been able to have a maximum of 30 guests, but this will now be determined by the socially distanced capacity.
Outdoor receptions that are regulated events, i.e. organised by a business, charity or other organisation, have a cap of 10,000 people seated and 4,000 people standing but the limit still needs to be determined by a socially distanced risk assessment.
If the wedding or reception is held on private land, up to 30 people (regardless of the household, and not counting carers or children under 11) can attend outdoors, however, only members of the household or extended household can attend indoors in a private dwelling.
A marquee with more than 50% open sides is treated as an external environment for this purpose.
Here's what entertainment is allowed at receptions in Wales:
Live or recorded music including DJs are permitted at both indoor and outdoor events as long as music is played at a background level.
No dancing allowed except for the couple's first dance
Singing and chanting are not permitted ether.
Speeches are allowed as normal, however, sharing of microphones and the passing out of gifts should be avoided.
Wedding photos should be taken outdoors wherever possible and close group shots are not permitted unless in extended household bubbles.
There should be not physical contact at all unless you're in the same bubble and guest should keep their masks on at all times when not eating or drinking and be discouraged from moving around the venue.
What Wedding Rules Changed on 19th July 2021?
On 19th July, wedding rules changed in England and Scotland.
In England, social distancing rules were lifted, which meant there were no longer caps on the number of guests or the mandatory wearing of face masks by guests. Table service was lifted and guests were allowed to dance, sing and have physical contact once again.
Scotland will move to Level 0 "with modifications" on the 19th. This increased the guest limit to 200 people, but still keep masks mandatory for guests. Nicola Sturgeon has set the 9th August as her target date for all restrictions lifting.
Wales and Northern Ireland did not make rule changes on the 19th but ceremonies and receptions can go ahead according to the socially-distanced capacity of each individual venue.
This means that summer weddings can go ahead across the UK in 2021, and with pretty large guest lists!
Will My Autumn 2021 Wedding Happen? Will There Be a September Review?
According to the current advice, yes, autumn 2021 weddings will be able to go ahead without restrictions.
The Health Secretary Sajid Javid said the lifting of social distancing rules in England will be reviewed in September, however, the UK Weddings Taskforce has been assured that there are no plans to return to lockdown. As it stands, weddings in England can definitely go ahead in autumn 2021 and couples are encouraged to continue with their planning on the basis that no restrictions will be in place.
In Scotland, the date for the lifting of restrictions has been set as the 9th August by Nicola Sturgeon. This means autumn wedding should be able to go ahead without restrictions, providing all goes to plan.
Northern Ireland and Wales are reviewing changes to their wedding rules at a different pace, but the understanding is they will follow with the lifting of all restrictions sometime in August.
We simply don't know what the future will bring, but as for now, the Government have acknowledged that cases will rise and don't seem to think it will mean another lockdown. This could change, but it's worth pushing ahead with planning if it feels right to you.
Will My Winter 2021 Wedding Happen? Will There Be Restrictions?
If the UK's roadmaps stay on track, weddings of all different sizes will go ahead in winter 2021.
The Prime Minister has warned that COVID cases will rise, but we have "weakened" the link between cases and hospitalisation. No one knows what the winter will look like, but the hope from the Government and the wedding industry is that lockdown restrictions are not brought back.
Winter brings its own complications like the flu, and we will have to wait and see the impact this has on hospitalisations.
If you have a wedding in winter 2021, the best thing you can do is get vaccinated and encourage your guests to do the same.
What Happens If I Can't Have as Many Guests as I Want?
In Wales and Northern Ireland, capacity limits at venues are determined by a risk assessment based on each individual venue's socially-distanced capacity. This may mean that you cannot invite as many guests as you originally planned.
You may decide to go ahead with your wedding as it is, you may want to postpone your day, or you may wish to have a smaller ceremony followed by a big reception party later in the year when all restrictions are lifted.
In terms of who is included in the numbers for weddings, all wedding guests, including the couple and children, count; anyone working at the ceremony or reception is not included.
There are some exceptions for children, such as under 12s not counting as part of table number limits in Wales. These vary so read the rules for your area carefully.
How Can I Avoid Catching COVID and Missing My Own Wedding?
We know this is a big worry for couples as the cases of Covid in the UK continue to rise. Boris Johnson has predicted that we could see as many as 100,000 cases a day by later in the summer, so naturally couples who are getting married want to do everything they can to avoid having to isolate and cancel their day.
One of the biggest places we're hearing of couples catching COVID ahead of weddings is their hen or stag party, so it could make a lot of sense to delay this!
We'd advise you to read the NHS guidelines on how to avoid catching COVID which contain some really useful advice on practical steps you can take to reduce your risk of catching it. These include:
Get vaccinated – everyone aged 18 or over can book COVID-19 vaccination appointments now
Meet people outside if possible
Open doors and windows to let in fresh air if meeting people inside
Limit the number of people you meet and avoid crowded places
Wear a face covering when it's hard to stay away from other people – particularly indoors or in crowded places like public transport
Wash your hands with soap and water or use hand sanitiser regularly throughout the day
There are some extra steps that you can take if you're being extra cautious. These are Hitched's own thoughts and you don't have to follow any of them, but if you're being extra cautious we'd advise:
Ask your company if you can work from home in the 10 days leading up to your wedding to avoid commuting and sharing workspaces
You will have lots of admin to do, such as collecting items or buying final bits. Purchase what you can online and choose contact-free delivery. If you're going to meet a supplier or one of your wedding party, ask if they'll take a lateral flow test before seeing you, and you should do the same. It's recommended to take two lateral flow tests a week in the final few weeks before your wedding
Have hen, stag or sten parties a few months in advance of the wedding or save them up for after the wedding; they'll be just as fun and something to look forward to
If anyone close to you has symptoms, isolate as soon as you can and arrange a PCR test
Is there any way to cut down unnecessary trips in the couple of weeks before the wedding? Perhaps you can get your food shop delivered? Maybe you can arrange your pre-wedding haircut or nail appointment a little earlier than you planned?
What's the Best Way to Ask Guests to Take a Lateral Flow Before My Wedding?
Worried about sounding demanding if you ask guests to take a lateral flow on the morning of your wedding? Don't. It's a very simple and quick test that your friends and family can take to ensure your wedding is as safe as possible. The last thing anyone wants is for loved ones to catch COVID on their special day.
Most of your guests will understand this completely and we'd send an email around to all guests as well as creating an area on your wedding website where you explain your request.
Wording like this is good:
"We're excited to celebrate our wedding with you all next week. It's important to us that we keep all our guests as safe as possible and there will be elderly and vulnerable loved ones in attendance who need a little extra care.
"We politely ask that all guests take a Lateral Flow test on the morning of our wedding to check they are negative for COVID. Lateral Flow tests are free from pharmacies and online, and are a quick and simple test that gives results back in 30 minutes. One in three people who have COVID have no symptoms and we ask you to respect our decision to require guests to take a test before attending our special day.
"If you are positive, please isolate, even if you do not have any symptoms. We will miss your presence at the wedding, but your safety is our priority.
"For those who are sadly unable to attend, the ceremony will be live streamed and we'd love for you to tune in at this link and be a part of our celebrations still."
If you really feel awkward (although there's no reason to), blame it on your venue. You could say:
"We've received an important update from our venue. For the safety of their staff, they have requested that guests wear masks at all times inside the ceremony venue, which we fully support. We would also ask that our guests complete a Lateral Flow test on the morning of the wedding."

Can I Currently Get Wedding Insurance?
Many providers have temporarily suspended their wedding insurance products. Others are still accepting new customers, but check carefully whether your policy has Coronavirus restrictions built in. Some specifically exclude claims related to Covid-19.
We don't have exact information on when wedding insurance policies will be available from providers as they're dealing with backlogs of queries and waiting to see what happens following 'Freedom Day'. When we have more details, we'll be sure to update you.
Will My Wedding Insurance Cover Postponement or Cancellation?
This will entirely depend on your policy. As weddings have now reopened, the main cause of postponement or cancellation will be if one of the couple gets COVID and has to isolate, or if the venue has to close due to staff isolating.
Many wedding insurance companies are dealing with a backlog of queries and are only taking calls or emails relating to wedding taking place in a certain time period, while others are not covering COVID-impacted weddings if the policy was bought after a certain date. For example, Wedinsure says, "For all new customers who purchase a policy from 23rd October 2020, the policy specifically excludes all claims and losses arising directly or indirectly from any Pandemic or Epidemic including COVID-19."
Wedding Plan Insurance have outlined the circumstances in which your wedding will be covered if cancellation and not postponement is necessary, but the policy is also only valid if insurance was taken out before any lockdown or venue closures were announced. "Our policy would only provide cover if your venue is unable to hold your wedding due to the outbreak of infectious or contagious disease, the venue is closed by the relevant authority, or the death, injury or sickness of you or your close relative that would make continuance of the wedding inappropriate, subject to the policy terms and conditions."
Wedinsure highlight that you will need to check the specifics of your policy as they do not cover certain situations related to Coronavirus restrictions: "The policy does not cover cancellation or rearrangement due to any claim resulting from issues relating to travel bans, flight cancellations or government acts, regulations such as a ban on public or social gatherings or any form of travel restrictions."
Each company will be different and we recommend taking a look at the terms and conditions and phoning your insurer if you're unsure.
Do We Have to Wear Masks After 19th July?
No social distancing measures, including the mandatory wearing of masks, apply after the 19th July in England. This means couples and their guests can dance, hug, stand and drink, and move around the venue without masks. There are also no limits on guest numbers.
That said, the PM has asked people to "exercise judgement" and it will be down to "personal choice" whether attendees and staff choose to wear face masks.
Some venues and couples are choosing to impose restrictions still for the health of their staff or loved ones, and this is entirely within their right to do. While these rules are not obligatory, it's human courtesy to follow them. If your venue has imposed restrictions that aren't in line with the official guidelines, have a calm and friendly conversation with them to understand why. Some of their staff may be vulnerable and therefore they need guests to wear masks for their safety. Don't get angry if you disagree with their rules, it's their choice. There may be a middle ground you can find, such as them moving a portion of your day outdoors.
In the rest of the UK, guest limits and social distancing measures definitely do remain in place.
In Scotland, Wales and Northern Ireland, face masks remain mandatory for guests and suppliers, and certain social distancing rules apply. Check out our rules for each nation, above, for more details.

Can I Go to a Wedding Abroad?
England is running a traffic light system for international travel, with countries on red, amber and green lists. While you can travel abroad for a wedding, you are encouraged to minimise your travel and will have to follow the legislation of both the destination country and England on your return. This may include a hotel quarantine if you travel to a red list country.
The gov.uk guidance states: "People are permitted to travel to attend a marriage or civil partnership ceremony or reception in England. They're also able to leave England and travel to other parts of the UK (or abroad), to attend a marriage or civil partnership ceremony. If someone travels outside England to attend a wedding or civil partnership, they must follow the rules on weddings in place at the destination as well as any relevant restrictions on international travel."
The basic answer, therefore, is yes, but there's a lot of red tape you need to be aware of at the moment if you plan to travel this summer!
Can We Go on Venue Viewings?
Absolutely, venues are open for viewings. We recommend you call ahead to find out if the venue has chosen to continue with any restrictions, such as limiting the number of people who can attend or asking you to continue wearing a mask inside.
Can I Still Buy My Wedding Dress or Wedding Outfit?
Non-essential retail, such as bridal shops and suit shops, are open in England, Wales, Scotland and Northern Ireland.
We'd recommend you start with online research and then book yourself an appointment when you feel comfortable. What's more, increasing numbers of bridal boutiques are offering virtual appointments, so you can get an idea of different dress styles. Check out our guide on how to shop for a wedding dress online.
Wedding dresses do have relatively long lead times - we recommend to start looking nine months in advance - so it's worth contacting boutiques to find out how long made-to-order gowns take to arrive from different designers. And remember, if you end up needing a wedding dress relatively last minute, you can always buy a wedding dress online that isn't made-to-order.
How Can I Keep My Wedding Guests Safe?
Your key objective for wedding planning in 2021 will be to make wonderful memories while keeping guests as safe as possible.
There are plenty of ways to follow the rules - all of which you can find here - but we've listed the biggest ones for you:
1. Keep Guests Up-to-Date
Guests need to know what's expected of them. Do you want them to take a rapid lateral flow test on the morning of the wedding? How about continue to wear masks? Tell them this. If you have a wedding website, this is a great space to explain what you would like your guests to do.
Why not also add information from the NHS hygiene guidelines? The government suggest sign posting guests to their Staying Alert and Safe document. We recommend you give it a read yourself but here's the key points:
Hands - Wash your hands regularly and for 20 seconds.
Face - Wear a face covering in indoor settings where you will come into contact with people you do not normally meet or where clinically vulnerable people may be
Isolate - Isolate when positive or when contacted by NHS Test and Trace
2. Plan Safety Measures in Advance
Bernadette Chapman of the UK Alliance of Wedding Planners (UKAWP) advises that couples put their own special measures in place on the day: "Ask the venue if they have antibacterial soap in the restrooms, ask for disposable paper hand towels over fluffy soft hand towels. Ask for hand sanitisers to be placed in the toilets and think about having staff spritz every guest with high quality alcohol-based sanitisers. You could have masks provided for everyone to wear except the couples themselves, why not have this in a personal pretty gift bag along with sanitiser?"
3. Stay in Contact With Your Venue and Suppliers
Find out from your venue and suppliers what measures they're maintaining. If you have some additional requirements - perhaps you're having custom face masks made and would like serving staff to wear them - speak to them in advance. Remember that your safety comes first, so if they decline to do something (e.g. the masks you'd provide aren't medical grade), then accept that it's for your safety.
Our guide to throwing a socially distanced wedding and reception is also a great place to start when looking at ways to keep guests safe.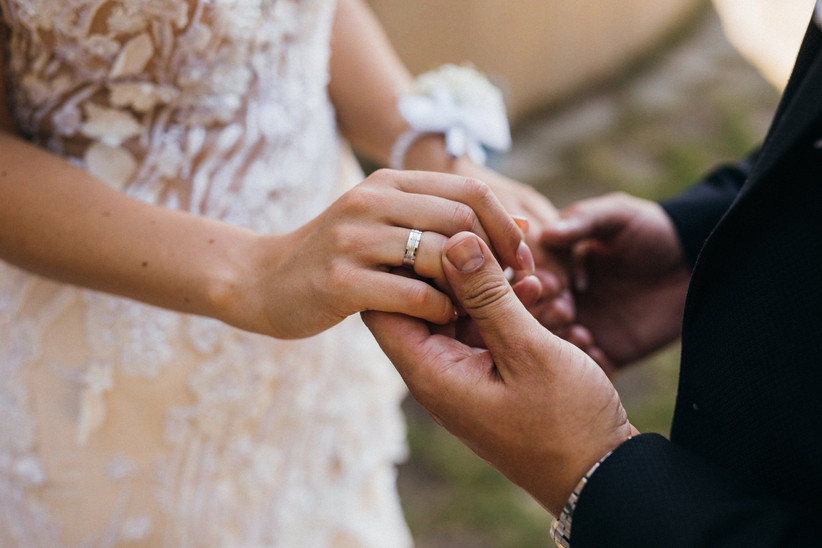 I Don't Feel Comfortable Going to a Wedding Just Yet, Can I Say No?
If you've been invited to a wedding taking place within the next few months and you're vulnerable or shielding, let the couple know as soon as possible that you won't be able to attend. Many couples are looking at innovative and creative ways to involve absent guests, so make sure you check in and ask if you're able to join them via video link or follow a hashtag on social media.
The above advice also applies if you simply don't feel comfortable socialising at the moment. Deciding to skip the celebration doesn't make you a bad friend or family member and we reckon the happy couple will understand your position. Pop a wedding gift in the post or contribute to their wedding gift list as a gesture and arrange to celebrate together at a later date.
If you've decided to accept the invitation, then we recommend following the guidelines below:
Take a Lateral Flow Test - Take a test on the morning of the wedding to make sure you and anyone else in your household isn't positive. If you are, you won't be able to attend, but if it comes back negative, you'll have peace of mind. The couple will of course be gutted if you can't make it but will be grateful to you for helping to keep their wedding safe, trust us.
Wash Your Hands - Sanitising is certainly a handy way to keep germs at bay until we can get to a sink, but nothing beats a 20 second wash in the basin. Make sure you wash your hands at regular intervals particularly if you have touched surfaces or are about to eat.
Follow the Venue/Couple's Rules - Even if you're in a part of the country where no restrictions apply, some couples and venues may decide to keep them e.g. if a vulnerable elderly relative is coming and they'd like people to continue wearing masks. Check in ahead of time about what you need to do and respect the couple or their venue's wishes.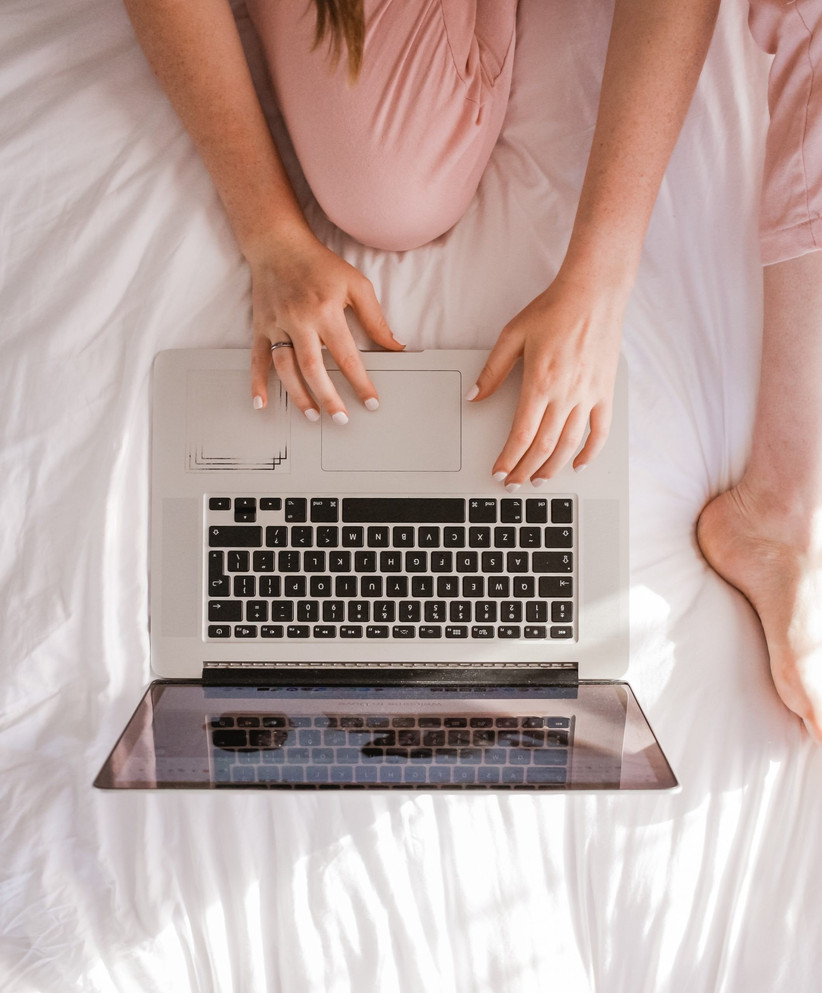 How Can I Make Virtual Guests Feel Part of the Day?
If your venue still has socially-distanced capacity restrictions or some vulnerable guests don't feel comfortable attending the wedding, you can still make them feel involved! Luckily, modern technology and social media have made it easier than ever before to include absent friends.
Ask your venue if they have video link equipment and invite absent guests to join you via video call for the ceremony and speeches
If you're having a videographer, stage a special screening of your wedding video just for them when it's ready
Set aside an order of service and wedding favour and present them to your absent guest/s after the wedding
Save them a slice of wedding cake!
Create a wedding hashtag and ask guests to upload pictures and videos throughout the day and have absent guests follow the action
If you're set on celebrating with all your loved ones IRL, then why not consider a sequel wedding? This will allow you to host an intimate ceremony now and a larger celebration, when the situation improves, at a later date. It'll mean double the fun and you'll get to wear your dress more than once!
READ MORE: How to Live Stream Your Wedding: Our Top 5 Tips
Am I Eligible for a Refund If I'm Forced to Cancel?
In September 2020, the Competition and Markets Authority (CMA) - which helps consumers understand their rights - released a statement on refunds for cancelled weddings. Their review specifically relates to weddings cancelled between Marc and September 2020, but applies to other points during the year when full lockdown was implemented. Below are the main points.
Before you start, it's important to understand what the CMA mean when they use the legal term 'frustrated' in their statement - a contract is 'frustrated' if, due to no fault of the parties, something happens after the contract was entered into which means it can no longer be performed at all or performance would be radically different to what was agreed, and therefore the contract comes to an end.
For weddings scheduled between late March 2020 and late September 2020, it's reasonable to take the view that the wedding could not go ahead safely without breaking lockdown laws, and therefore your contract with the venue/supplier has come to an end (i.e. is 'frustrated')
It's also the CMA's view that if the number of guests who can attend your wedding or reception safely and lawfully is radically different to the number agreed in your wedding contract then your contract has come to an end
Couples with weddings during this time period whose contracts are frustrated are entitled to a refund of monies already paid, and you don't have to make any further payments
The starting point is that couples are offered a full refund, even on 'non-refundable' deposits - however, there are exceptions
Businesses are able to deduct some of the refund to cover costs they've incurred. Each case will need to be looked at individually, but some costs they can claim are things like perishable food and flowers that were already bought and can't be reused for another wedding, or business expenses like extra staffing and planning costs (that have already been paid)
The CMA has set out a list of things that can't be deducted from your refund, like refurbishment of the building and an administration charge to refund you.
Whether you have insurance or not does not affect this right to refund - however, you can only get your money back once. Businesses are not expected to refund you if you have claimed, or are in the process of claiming, money back from your insurer
It can seem a little overwhelming so the best thing to do is read over the CMA's advice and then speak to your venue or supplier. Bear in mind, wedding businesses are under enormous pressure. Any refunds you may be entitled to could take time to process.
Remember also that the CMA statement is an advisory one. Its purpose is to help you as consumers understand your rights and be treated fairly. If you decide to take further action, it is up to a court to decide how the law applies.
Will I Need to Cancel or Postpone My Wedding Abroad?
Travel should still be kept at a minimum, but the guidelines state: "You are permitted to travel to attend a marriage or civil partnership ceremony or reception in accordance with the legislation in England.
"You are also able to leave England and travel to other parts of the UK (or abroad), to attend a marriage or civil partnership ceremony, again when it is taking place as set out in the legislation."
Be aware that very few countries are on the UK's 'Green List' and those countries may not be welcoming Britons.
If your wedding is due to take place abroad, we strongly advise that you keep in touch with your venue or your local wedding planner. For the most up-to-date and reliable information, it's best to check the Foreign & Commonwealth Office website regularly.
I Paid with My Credit Card, Will I Get My Money Back if My Wedding is Cancelled Due to Covid?
If you have paid for anything using a credit card, you should be covered by Section 75 of the Consumer Credit Act.
This means that any payments between £100 and £30,000 can be claimed back in the event of a cancellation. Even if you paid a deposit with a credit card and the rest by other means, providing the deposit was between £100 and £30,000, the credit card company would be liable for the total.
Can I Book a Honeymoon for 2021?
In theory, yes - but be aware booking a honeymoon abroad for 2021 doesn't guarantee you'll actually be able to get away. International travel resumed on 17th May with countries assigned to the green, amber and red lists, which determine how you must quarantine on return.
Travel abroad requires tests in advance and on your return, and can also require proof of two vaccinations. You should check everything ahead of time with your honeymoon travel company and check the rules for the country you're visiting on the Foreign Office website.
A great alternative is always a UK staycation!
Can I Still Begin Planning My Wedding During Covid?
Yes! There are plenty of wedding planning tasks you can tackle without having to leave the house, like finding your wedding venue from home.
Many wedding venues are offering virtual tours and video meetings, allowing you to have a traditional show-around experience from the comfort of your sofa. Suppliers are also offering video consultations and everything from fabric swatches to cake samples can be sent to you.
Bear in mind that many 2020 couples have postponed to 2021 and 2022 and so you'll need to act quickly if you're wishing to secure dates. Even if you're not ready to book, ask your favourite venues and suppliers what their 2021 and 2022 calendars are looking like to get an idea of availability.
Are you and your partner working from home together? Don't miss our tips on how to take care of your relationship while home-working!