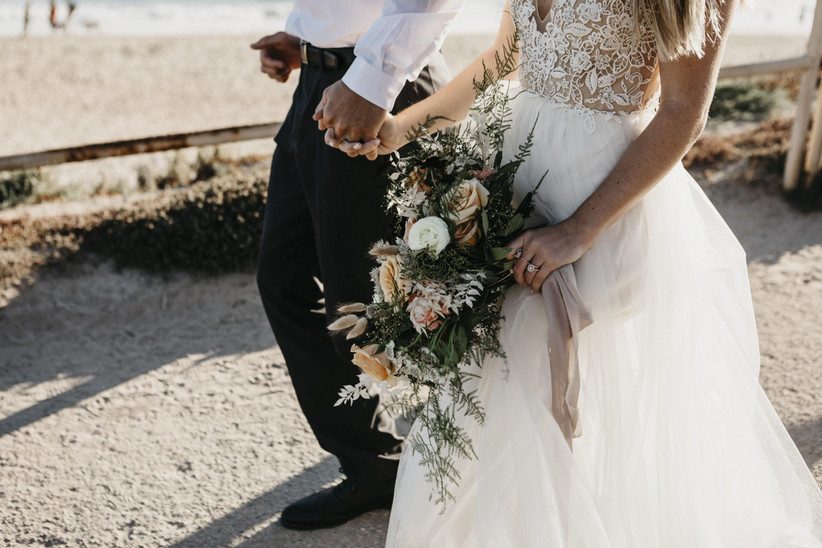 The Prime Minister has announced that weddings could restart with no or few restrictions in England from 21st June 2021 at the earliest. This comes after weddings have been banned in the country for weeks except under "exceptional circumstances" during the Coronavirus pandemic.
England remains in a third national lockdown. However, on Monday 22nd February Prime Minister Boris Johnson set out the roadmap for easing Covid restrictions - and that includes a return for weddings in the summer.
There was also limited good news for couples planning spring weddings: according to the roadmap, ceremonies and receptions could restart with 6 people from 8th March, 15 people from 12th April and 30 people from 17th May.
Boris Johnson made clear that the easing of lockdown restrictions will be driven by 'data' rather than 'dates', which means this timeline will be subject to regular review - and could be pushed back.
The devolved administrations of Scotland, Wales and Northern Ireland have set their own rules, as we'll explain.
Here's what we know so far and the very latest updates.
What Are the Current Rules for Weddings in England, Scotland, Wales and Northern Ireland?
England
The current gov.uk guidelines state that weddings and civil partnership ceremonies can only take place with up to 6 people (not including anyone working at the wedding), in "exceptional circumstances". Examples of "exceptional circumstances" include if one of the couple getting married is due to undergo major surgery or debilitating medical treatment, or is seriously ill and not expected to recover.
England's roadmap out of lockdown has four steps:
In step one, from 8th March, weddings could be able to take place with up to 6 people - no longer only under "exceptional circumstances".
In step two, from 12th April weddings are due to restart in the country with up to 15 people, subject to restrictions. Weddings can only take place in venues that are allowed to open during this time - during step two, pubs and restaurants will only be able to operate outdoors.
In step three, from 17th May weddings could be able to take place with up to 30 people.
In step four, no earlier than 21st June, the government hopes to lift all legal limits on social contact, meaning weddings as we know them should be able to go ahead once more.
However, it's worth noting that these dates are not set in stone. Before every step of the roadmap, the government will be reviewing the data - and that means the dates could be pushed back.
Scotland
On 22nd February First Minister Nicola Sturgeon announced a route map out of lockdown for easing restrictions in Scotland. She warned that bringing people together in a social situation spreads the virus, making it unlikely that larger weddings will be taking place in the country during the next few months.
However, the First Minister did say that, data allowing, Scotland could move back into a tiered system from 26th April at the earliest, with a "phased but significant reopening of the economy."
It's not yet known what that would mean for weddings. In the previous tiered system, weddings were allowed as follows:
Tier 4 - no more than 5 people
Tiers 1, 2 & 3 - up to 20 people
Tier 0 - up to 50 people
Nicola Sturgeon didn't specifically mention weddings during the announcement, but when asked when larger celebrations might go ahead, she said she hoped "greater numbers of people" would be able to attend ceremonies by the end of April.
Mainland Scotland and some islands are currently in tier 4. This means that wedding ceremonies can take place with a maximum of 5 people in attendance. You are not allowed a reception.
The Scottish guidelines state: "Wedding ceremonies and civil partnership registrations can take place with a maximum capacity of 5 people (including the couple, the witnesses and the person conducting the ceremony, 6 if an interpreter is required), provided the venue's capacity allows for 2 metre physical distancing.
"Wedding or civil partnership receptions and post funeral gatherings such as wakes and cannot take place."
A safe two metre distance must be maintained at all times during the wedding ceremony.
Northern Ireland
The administration of Northern Ireland is due to announce the country's roadmap out of lockdown on 1st March.
Northern Ireland entered a six week lockdown on 26th December 2020. This has been extended and is currently due to end on 5th March 2021.
Wedding ceremonies are still allowed to take place with up to 25 people, but receptions are not permitted.
The Northern Irish guidelines state: "Marriages and civil partnerships ceremonies are limited to 25 people. This number includes children under 12 and the celebrant.
"A risk assessment for over 15 people is required.
"Face masks must be worn by all other than those party to the marriage.
"Receptions or post ceremony gatherings are not permitted."
Wales
All of Wales is under alert level 4. First Minister Mark Drakeford announced the country's 21-day review of Coronavirus restrictions on Friday 19th February, after Wales became the first country in the UK to vaccinate the top four priority groups.
Wedding ceremonies are currently allowed in places of worship and register offices. From 1st March, the law will be changed to allow licensed wedding venues, such as hotels, to reopen for ceremonies.
Wedding receptions are still not allowed. The number of people that can attend is determined by the capacity of the venue when all physical distancing measures have been taken into account.
The Welsh guidelines state: "Places of worship and Register Offices are able to remain open for wedding and civil partnership ceremonies. This is subject to the need to take all reasonable measures to minimise the risk of spreading the virus on the premises.
"Other 'approved premises' such as hotels, are required to close alongside other businesses in the hospitality sector.
"Wedding or civil partnership 'receptions' are not permitted, and in practice many venues are required to close while alert level 4 restrictions are in place."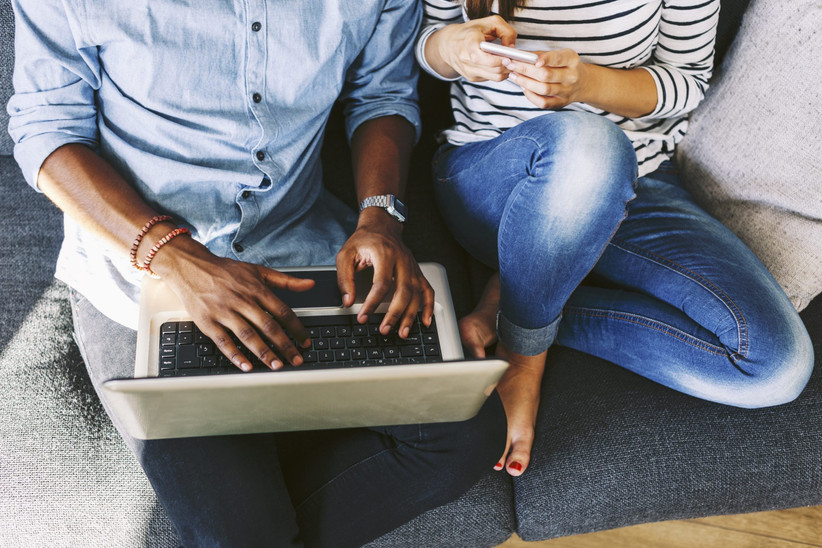 Will My Spring 2021 Wedding Happen?
England
As part of England's roadmap for easing Coronavirus restrictions, ceremonies and receptions could restart with up to 6 people at a ceremony from 8th March, then up to 15 people from 12th April at ceremonies and receptions, and up to 30 people from 17th May.
While the roadmap announcement is a real reason for optimism, remember that these dates are provisional and should be approached with caution. The activation of each step will depend on the results of four tests, including the number of hospital admissions and the impact of any new variants.
Wales
At the moment, wedding ceremonies can go ahead in Wales - not receptions. The lockdown rules are due to be reviewed by 12th March. However, Welsh ministers have played down the idea of a substantial easing of restrictions, so at the moment, it seems unlikely that wedding receptions will be allowed until after Easter at the earliest. However, this is a fast-changing situation and will depend on infection rates and new variants of the virus.
Currently, you can only get married in Wales in places of worship and register offices. From 1st March, licensed wedding venues, such as hotels, will be allowed to reopen for ceremonies.
Scotland
First Minister Nicola Sturgeon gave the results of the Scottish government's latest review of lockdown restrictions this week. While schools are due for a phased return, all other restrictions will remain in place until early March. While small wedding ceremonies are allowed, it doesn't seem likely that receptions will be allowed until late spring at the very earliest.
Northern Ireland
According to multiple reports, Northern Ireland is likely to extend Coronavirus restrictions beyond 5th March - possibly past Easter. Small wedding ceremonies can go ahead under the current rules and at the moment we can't see why that would change.
If you're due to get married from March-May 2021, your first step is deciding whether a wedding with small numbers is the right thing for you and your partner. If it means cutting your guest list down so dramatically that key members of your family can't come, then it's worth looking into postponing.
If you think you want to go ahead with a wedding ceremony - and have the reception at a later date - speak to your venue and suppliers to confirm what their advice and policy is. Are they happy to go ahead with your wedding with a minimal number of people? Can they adjust your plans easily? Will you be able to have the same experience?
For those who want to postpone, head of the UK Alliance of Wedding Planners Bernadette Chapman suggests scheduling a call with your venue and officiant as a priority: "Have a date in mind and check they are available. Ask if there are any penalties for changing the date. It might be that, provided the change of date happens in this financial year, they will change the date for free, but if after the tax year there might be an additional charge.
"It's also very important you speak with the registrars, because it will be a new date and you will need to give notice again, so check the registrars are free on that date."
If you have a wedding website, we suggest having an area of the site dedicated to updates on your postponement so that you're not constantly fielding questions from guests.
Can You Have a Wedding in a Garden in April or May 2021?
The UK Weddings Taskforce is in talks with the government and say there has been progress on making the case for outdoor receptions in the spring. We will update here as soon as we hear more.
Will My Summer 2021 Wedding Happen?
There is reason to be optimistic for summer weddings. Boris Johnson said in his roadmap announcement that he hopes all restrictions will be lifted by 21st June 2021 at the earliest - and he specifically referenced weddings and other life events. However, bear in mind that the roadmap's timeline is subject to change depending on data nearer the time.
Will My Winter 2021 Wedding Happen?
If England's roadmap stays on track, it should be possible for larger weddings to go ahead by this time.
What Happens If My Venue Can't Open but My Ceremony Can Go Ahead?
Under the current roadmap in England, hotels, pubs and restaurants will not be able to open indoors until 17th May. If you're due to get married before that, The UK Weddings Taskforce recommends asking your venue to get in touch with them. There is currently no guidance on this from government, but the Taskforce hopes for official rules to be issued this week.
Who Is Included in the Numbers for Weddings?
The government has not yet published specific guidance.
In England in 2020, the rules were that all wedding guests, including the couple and children of all ages, were part of the numbers; suppliers were excluded. That may be the case for 2021; the UK Weddings Taskforce has requested clarity.
Can I Still Buy a Wedding Dress?
While non-essential shops remain closed, you can still carry out online research. What's more, increasing numbers of bridal boutiques are offering virtual appointments, so you can get an idea of different dress styles. Check out our guide on how to shop for a wedding dress online. Wedding dresses do have relatively long lead times, but if you're looking for a dress now for a summer wedding, for example, it's worth contacting boutiques to find out how long made-to-order gowns take to arrive from different designers. And remember, if you end up needing a wedding dress relatively last minute, you can always buy a wedding dress online that isn't made-to-order.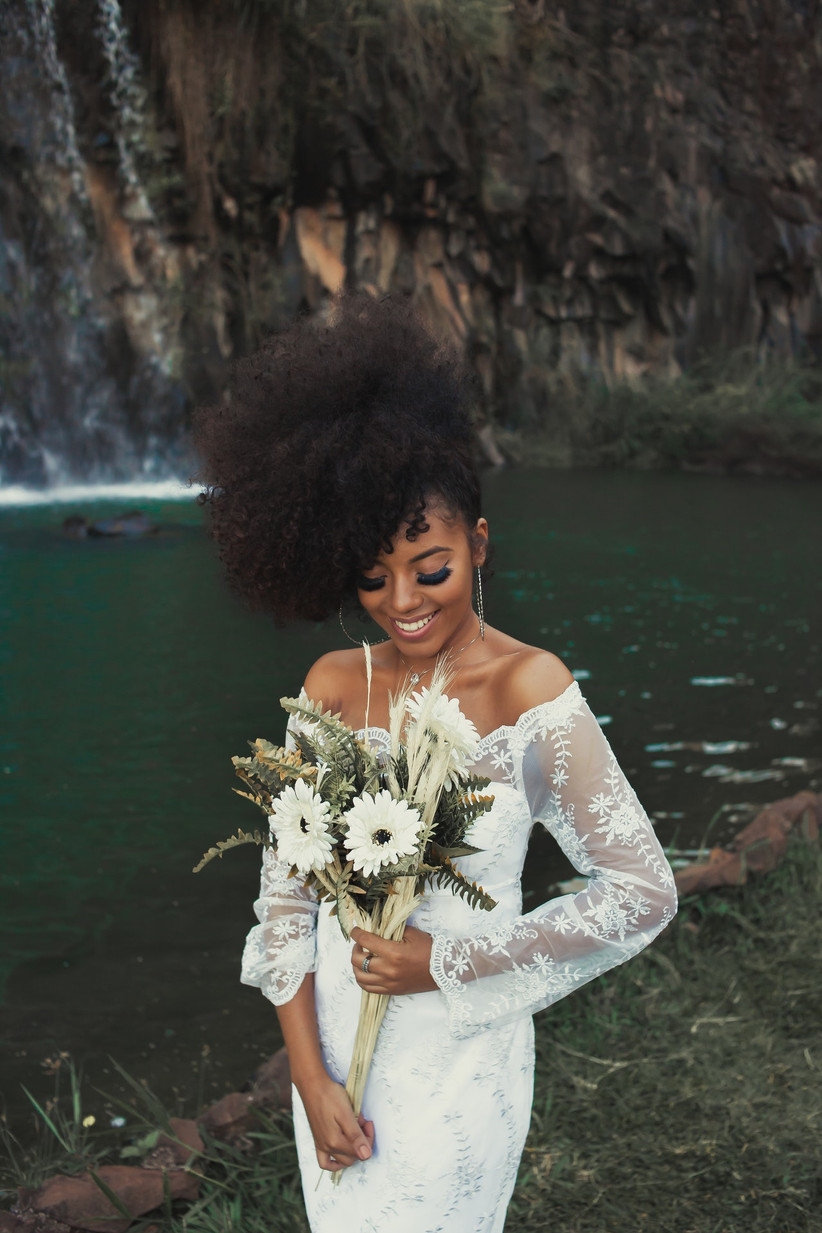 When Can We Go on Venue Viewings?
At the moment, wedding venues are classed as non-essential, so it's likely the earliest they will open for viewings is 12th April. However, the UK Weddings Taskforce has put in an urgent request for clarity from the government, in the hope this will be reconsidered.
Will Masks & Social Distancing Measures Still Apply after 21st June?
Some scientists have predicted that social distancing and masks may be necessary for the foreseeable future, meaning you could still see masks at indoor weddings during 2021 even as other restrictions ease.
Proof of vaccination and lateral flow tests may make it possible to ease social distancing at weddings - the UK Weddings Taskforce has asked administrations for clarity.
Currently, in areas where weddings are allowed, face masks should be worn throughout the wedding ceremony, and should not be removed by guests, the officiant or the photographer.
The couple may temporarily remove their mask while saying their vows and for a short time for photos, but the latest NHS advice is that a face covering should be worn at all times indoors around those who aren't in your social bubble. If you officiant would prefer you wear a mask during your vows, you must respect their wishes.
These guidelines particularly apply to indoor ceremonies. You may find that a face mask is not necessary outside if guests are socially distanced and sit within their bubbles.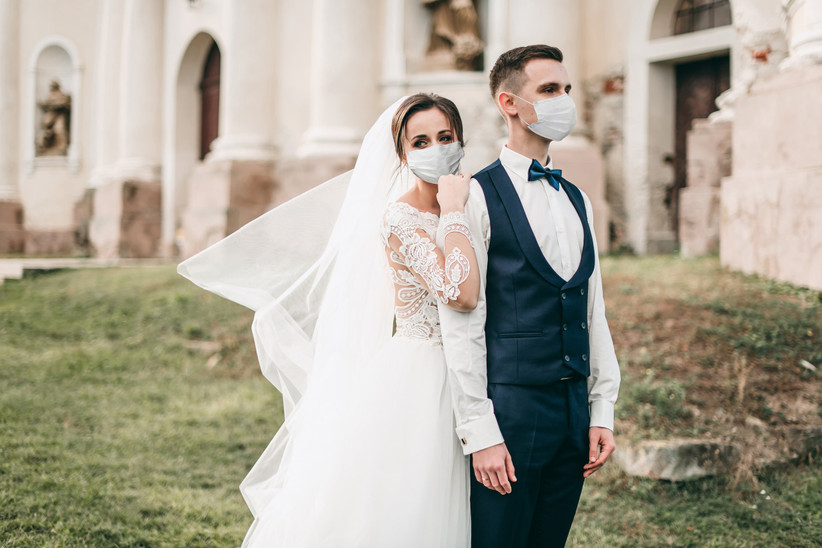 When Can Big Weddings Happen Again?
Hopefully from 21st June 2021, big weddings can come back with no restrictions, but this date is subject to change and, as explained, it's not yet clear if safety measures will still need to be put in place. We're keeping everything crossed for a bumper year for weddings from summer onwards!
How Can I Keep My Wedding Guests Safe?
Your key objective for wedding planning in 2021 will be to make wonderful memories while keeping guests as safe as possible. If you're getting married before 21st June, there will be restrictions in place.
There are plenty of ways to follow the rules - all of which you can find here - but we've listed the biggest ones for you:
Keep Guests Up-to-Date
Guests need to know what's expected of them. If you have a wedding website, why not add information from or link to the NHS hygiene guidelines? The government also suggest sign posting guests to their Staying Alert and Safe document. We recommend you give it a read yourself but here's the key points:
Hands - Wash your hands regularly and for 20 seconds.
Face - Wear a face covering in indoor settings where social distancing may be difficult, and where you will come into contact with people you do not normally meet.
Space - Stay 2 metres apart from people you do not live with where possible, or 1 metre with extra precautions in place (such as wearing face coverings or increasing ventilation indoors).
Plan Safety Measures in Advance
Bernadette also advises that couples put their own special measures in place on the day: "Ask the venue if they have antibacterial soap in the restrooms, ask for disposable paper hand towels over fluffy soft hand towels. Ask for hand sanitisers to be placed in the toilets and think about having staff spritz every guest with high quality alcohol-based sanitisers. You could have masks provided for everyone to wear except the couples themselves, why not have this in a personal pretty gift bag along with sanitiser?"
Stay in Contact With Your Venue and Suppliers
Find out from your venue and suppliers what measures they're introducing for their teams. If you have some additional requirements - perhaps you're having custom face masks made and would like serving staff to wear them - speak to them in advance. Remember that your safety comes first, so if they decline to do something (e.g. the masks you'd provide aren't medical grade), then accept that it's for your safety.
Our guide to throwing a socially distanced wedding and reception is also a great place to start when looking at ways to keep guests safe.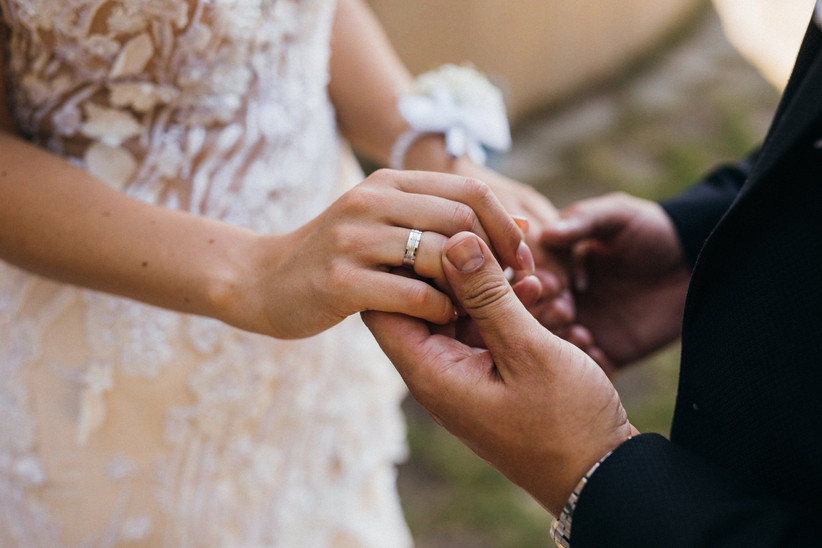 I've Been Invited to a Wedding During Covid, What Do I Need to Know?
If you've been invited to a wedding taking place within the next couple of months in an area where this is permitted, and you're vulnerable or shielding, let the couple know as soon as possible that you won't be able to attend. Many couples are looking at innovative and creative ways to involve absent guests, so make sure you check in and ask if you're able to join them via video link or follow a hashtag on social media.
The above advice also applies if you simply don't feel comfortable socialising at the moment. Deciding to skip the celebration doesn't make you a bad friend or family member and we reckon the happy couple will understand your position. Pop a wedding gift in the post or contribute to their wedding gift list as a gesture and arrange to celebrate together at a later date.
If you've decided to accept the invitation, then we recommend following the guidelines below:
Remember Your Mask - you may need to wear a mask at certain points during the day and so it's best to come prepared. There are hundreds of face coverings available in stylish fabrics, so you're bound to find one that complements your outfit!
Keep Your Distance - a wedding is one of few occasions that allow you to gather with as many as 15 people, so it's important to take precautions and keep your distance. Sadly, staying 1-2 metres away from loved ones means you won't be able to hug or kiss them. We get that this is upsetting, particularly on such a special day however it's way better than spreading germs.
Wash Your Hands - sanitising is certainly a handy way to keep germs at bay until we can get to a sink, but nothing beats a 20 second wash in the basin. Make sure you wash your hands at regular intervals particularly if you have touched surfaces or are about to eat.
We also recommend paying close attention to social distancing in the week or so before the wedding and keeping track of your symptoms. If you have any of the COVID-19 symptoms listed here, get a test urgently or stay away from the celebrations to avoid infecting the couple or other guests. The couple will of course be gutted you can't make it but will be grateful to you for helping to keep their wedding safe, trust us.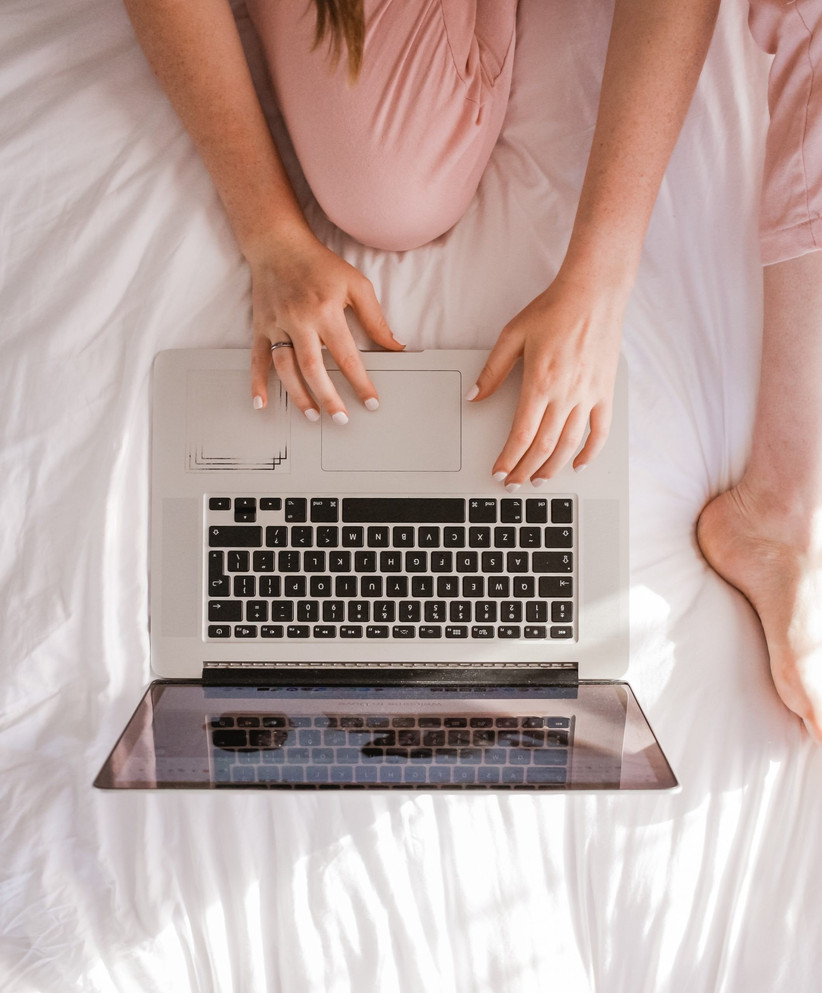 How Can I Make Virtual Guests Feel Part of the Day?
If and when a limit on guest numbers returns, many couples will be forced to reduce their guest list and look at other ways to involve guests in their celebrations. Luckily, modern technology and social media have made it easier than ever before to include absent friends. Here are the best ways to get them involved:
Ask your venue if they have video link equipment and invite absent guests to join you via video call for the speeches or ceremony
If you're having a videographer, stage a special screening of your wedding video just for them when it's ready
Set aside an order of service and wedding favour and present them to your absent guest/s after the wedding
Save them a slice of wedding cake!
Create a wedding hashtag and ask guests to upload pictures and videos throughout the day and have absent guests follow the action
If you're set on celebrating with all your loved ones IRL, then why not consider a sequel wedding? This will allow you to host an intimate ceremony now and a larger celebration, when the situation improves, at a later date. It'll mean double the fun and you'll get to wear your dress more than once!
READ MORE: How to Live Stream Your Wedding: Our Top 5 Tips
Will My Wedding Insurance Cover Postponement or Cancellation?
Wedding Plan Insurance have outlined the circumstances in which your wedding will be covered if cancellation and not postponement is necessary: "Our policy would only provide cover if your venue is unable to hold your wedding due to the outbreak of infectious or contagious disease, the venue is closed by the relevant authority, or the death, injury or sickness of you or your close relative that would make continuance of the wedding inappropriate, subject to the policy terms and conditions." The policy is also only valid if insurance was taken out before any lockdown or venue closures were announced.
Wedinsure highlight that you will need to check the specifics of your policy as they do not cover certain situations related to Coronavirus restrictions: "The policy does not cover cancellation or rearrangement due to any claim resulting from issues relating to travel bans, flight cancellations or government acts, regulations such as a ban on public or social gatherings or any form of travel restrictions."
According to Which? Debenhams, John Lewis, Emerald Life and Wedinsure (in certain cases) will cover you if your venue or other suppliers cancel. However, all wedding insurance companies asked, would not cover weddings cancelled due to government travel restrictions in the area. We recommend taking a look at the terms and conditions and phoning your insurer if you're unsure.
As of 18th May 2020, the FCA (Financial Conduct Authority) told insurers that they must help customers struggling with payments, according to Which?.
Can I Still Get Wedding Insurance?
Many providers have temporarily suspending their wedding insurance products. Others are still accepting new customers, but check carefully whether your policy has Coronavirus restrictions built in. Some specifically exclude claims related to Covid-19.
Am I Eligible for a Refund If I'm Forced to Cancel?
Up until now, there were no clear guidelines on refunds which left both couples and their suppliers confused and unsure about what to do next. The Competition and Markets Authority (CMA) - which helps consumers understand their rights - has released a statement on refunds for cancelled weddings.
We recommend you read the whole statement yourself to better understand how it relates to your own situation, but below are the main points.
Before you start, it's important to understand what the CMA mean when they use the legal term 'frustrated' in their statement - a contract is 'frustrated' if, due to no fault of the parties, something happens after the contract was entered into which means it can no longer be performed at all or performance would be radically different to what was agreed, and therefore the contract comes to an end.
For weddings scheduled between late March 2020 and late September 2020, it's reasonable to take the view that the wedding could not go ahead safely without breaking lockdown laws, and therefore your contract with the venue/supplier has come to an end (i.e. is 'frustrated')
It's also the CMA's view that if the number of guests who can attend your wedding or reception safely and lawfully is radically different to the number agreed in your wedding contract then your contract has come to an end
Couples with weddings during this time period whose contracts are frustrated are entitled to a refund of monies already paid, and you don't have to make any further payments
The starting point is that couples are offered a full refund, even on 'non-refundable' deposits - however, there are exceptions
Businesses are able to deduct some of the refund to cover costs they've incurred. Each case will need to be looked at individually, but some costs they can claim are things like perishable food and flowers that were already bought and can't be reused for another wedding, or business expenses like extra staffing and planning costs (that have already been paid)
The CMA has set out a list of things that can't be deducted from your refund, like refurbishment of the building and an administration charge to refund you.
Whether you have insurance or not does not affect this right to refund - however, you can only get your money back once. Businesses are not expected to refund you if you have claimed, or are in the process of claiming, money back from your insurer
It can seem a little overwhelming so the best thing to do is read over the CMA's advice and then speak to your venue or supplier. Bear in mind, wedding businesses are under enormous pressure. Any refunds you may be entitled to could take time to process.
Remember also that the CMA statement is an advisory one. Its purpose is to help you as consumers understand your rights and be treated fairly. If you decide to take further action, it is up to a court to decide how the law applies.
Will I Need to Cancel or Postpone My Wedding Abroad?
Currently, travel is banned from the UK, unless for a legally permitted reason - and that doesn't include getting married. According to England's roadmap out of restrictions, international travel is not due to resume until 17th May 2021 at the earliest.
If your wedding is due to take place abroad, we strongly advise that you keep in touch with your venue or your local wedding planner.
For the most up-to-date and reliable information, it's best to check the Foreign & Commonwealth Office website regularly.
I Paid with My Credit Card, Will I Get My Money Back if My Wedding is Cancelled Due to Covid?
If you have paid for anything using a credit card, you should be covered by Section 75 of the Consumer Credit Act. This means that any payments between £100 and £30,000 can be claimed back in the event of a cancellation. Even if you paid a deposit with a credit card and the rest by other means, providing the deposit was between £100 and £30,000, the credit card company would be liable for the total.
Can I Book a Honeymoon for 2021?
In theory, yes - but booking a honeymoon abroad for 2021 doesn't guarantee you'll actually be able to get away. Even though international travel is set to resume on 17th May, that date isn't set in stone and could be pushed back. What's more, border rules change quickly - remember, other countries may still be restricting inbound travel - and you may need to have a test before and after travel, which would add to the cost.
If you're considering a UK staycation for your honeymoon, the rules will vary depending on which country you're visiting.
In England, travel outside your local area is scheduled to be allowed from 29th March. Self-contained holiday accommodation is currently due to open from 12th April - that means self-catering properties and campsites. From 17th May at the earliest, hotels are due to open.
Can I Still Begin Planning My Wedding During Covid?
Yes! From finding your wedding venue from home to buying a wedding dress online, there are plenty of wedding planning tasks you can tackle without having to leave the house.
Many wedding venues are offering virtual tours and video meetings, allowing you to have a traditional show-around experience from the comfort of your sofa. Suppliers are also offering video consultations and everything from fabric swatches to cake samples can be sent to you.
Venues are now also offering socially distanced tours, provided they're outside of local lockdown areas. You will need to wear a mask, sanitise your hands and keep your distance but none of that will get in the way of appreciating your potential wedding venue!
Bear in mind that many 2020 couples have postponed to 2021 and 2022 and so you'll need to act quickly if you're wishing to secure dates. Even if you're not ready to book, ask your favourite venues and suppliers what their 2021 and 2022 calendars are looking like to get an idea of availability.
Are you and your partner working from home together? Don't miss our tips on how to take care of your relationship while home-working!