Bring Your Own Booze: 21 of the Best No-Corkage Wedding Venues
No-corkage wedding venues allow couples complete creative control over their wedding alcohol, and they can save you a lot of money too! Browse our favourite picks here...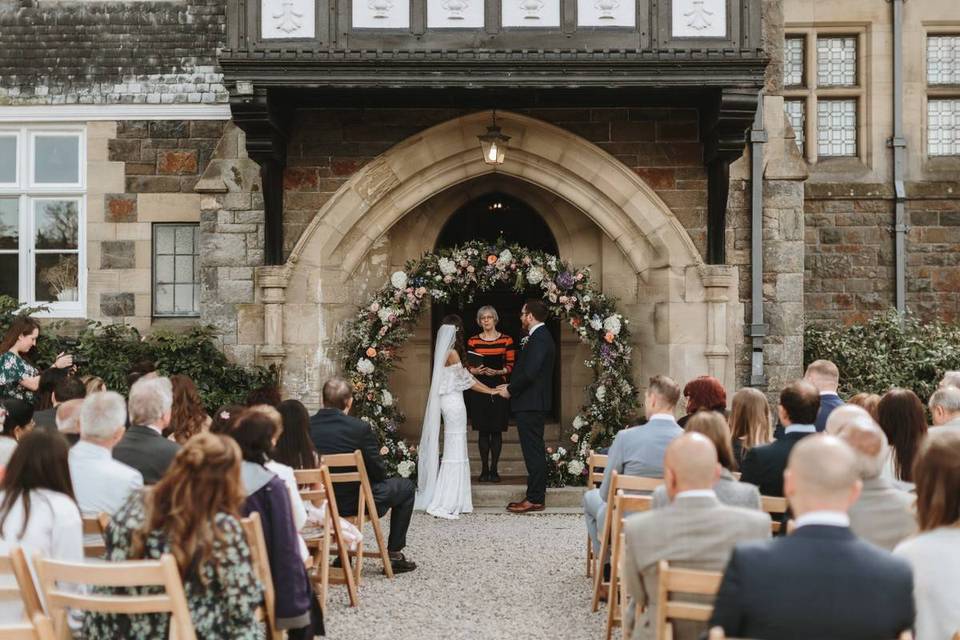 It's no secret that weddings can be a costly affair so we don't blame you for seeking out all the wedding budget saving options. One money-saving hack we're well and truly on board for is choosing a no-corkage wedding venue.
A no-corkage wedding venue allows you to bring in your own booze without being charged for opening it and drinking it on-site. Most no-corkage venues are dry-hire so you'll be expected to bring in your own catering too (although there are some exceptions below!), but most are happy to help you source the right caterers and ensure that food and drink flow smoothly throughout the day - ideal!
21 of the Best No-Corkage Wedding Venues to Help Save You Money
To help you track down the right no-corkage wedding venue for you, we've compiled a list of our faves. Happy browsing!
READ MORE: The 20 Best Modern Wedding Venues in the UK
1. Huntsham Court - Devon
This exclusive use, dry-hire wedding venue is nestled in the stunning Devonshire countryside and allows you to choose every element of your special day – without compromise or corkage fees. If you'd love to design your day from the ground up but have no idea where to get started, the team here can put you in touch with their network of amazing suppliers, housekeepers and butlers during the five-hour planning session you get with their event manager when booking.
Huntsham Court can sleep up to 92 guests and host up to 120 for an event. It's also totally flexible, so you can move furniture and host different parts of the day in any room you fancy.
2. Brinsop Manor House and Barn - Herefordshire
Set within 800 acres of breathtaking Herefordshire countryside is Brinsop Manor House and Barn – a truly remarkable no corkage wedding venue. This 12th-century, moated manor house stands out from the crowd for all the right reasons and, thanks to its characterful and cosy interior, has an unbeatable ambience.
You can host up to 180 day guests here and 250 for the evening. Guests can enjoy the vaulted Great Hall, Elizabethan Library and courtyard garden – all with a corkage-free drink in hand.
READ MORE: 19 Alternative Food and Drink Ideas for Couples Looking for Something Different
3. Foxtail Barns - Staffordshire
This charming barn is a great choice for couples with a more rustic-chic style. With its exposed red brickwork, vaulted ceilings and large illuminating windows, this corkage-free venue can provide you with everything you need and more for a picture-perfect soirée. Foxtail Barns is dripping in character, and to help you truly make the most of the day, the team offers post-ceremony drinks on a corkage-free basis.
You can invite up to 150 guests for a wedding breakfast and evening do. The venue also offers up to 20 unique guest rooms for those looking to stay overnight.
4. Bridal Barn - Shropshire
Offered as a self-catering and corkage-free wedding venue, Bridal Barn in Shropshire allows you to create the day of your dreams entirely from scratch. Secluded within the Shropshire countryside, this wedding venue is perfect for boho festivals and cool-themed nuptials with a relaxed vibe.
You can host up to 150 here, and with a separate tipi and 80 acres of private land to explore, there's plenty of space for street food stalls, gin bars and garden games!
READ MORE: 10 Tips for Planning a Tipi Wedding and 12 of the Best in the UK
5. The Glasshouse at ANRÁN – Devon
Imagine saying 'I do' at the edge of a lake as your loved ones look on, before heading into a glasshouse filled with botanical plants and your fave tipple – totally corkage free! Well, at The Glasshouse at ANRÁN, you can do just that.
This unique and beautiful wedding venue can host up to 200 in its stunning glasshouse or 400 in a marquee by the lake. Plus, there's a range of beautifully rustic barn and holiday cottage accommodation options on-site for you and your guests.
6. Pendrell Hall - Shropshire
If you're dreaming of a wedding day that's truly unforgettable, Pendrell Hall could be the venue for you. Steeped in history, this property will take you back to a time of elegance and grandiosity where you can celebrate your long-awaited wedding day.
The venue's in-house catering team will happily craft you a delicious meal, and the no-corkage option allows you to bring your own drinks, ensuring that every element of your celebration is considered, while making sure your wedding budget still works for you.
7. The Mill Barns - Shropshire
The Mill Barns is a new and exciting Shropshire wedding venue designed specifically for weddings and events. The venue is licensed for civil ceremonies and invites couples to enjoy celebratory drinks at their wedding reception without the worry of corkage fees.
You can host up to 170 guests in the magnificent vaulted ceremony barn, complete with floor to ceiling windows, before celebrating late into the night in the breathtaking wedding breakfast barn.
8. The Pilgrims Rest - East Sussex
This gorgeous, characterful and ambient corkage-free wedding venue is available for exclusive-use hire. The building is filled with charming original features including beams, exposed brick, inglenook fireplaces and lattice windows that make for an enviable wedding photo backdrop.
You can invite up to 100 guests to stoke the fires and enjoy a tipple within the cosy exterior with you on your big day. Having played host to thousands of weddings over the years since the venue was built in 1420, The Pilgrims Rest has a proven track record when it comes to giving guests a warm and welcoming reception.
READ MORE: 37 Magical Winter Wedding Venues to Say 'I Do'
9. Thief Hall - North Yorkshire
If you dream of finding a blank canvas that you can put your own stamp on, then take a look at Thief Hall. This stunning corkage free wedding barn features neutral décor with wooden floors and beams galore – ideal for any wedding theme.
The barn wedding venue boasts an outdoor license, allowing you to really make the most of the beautiful surrounding countryside, as well as a corkage-free wedding reception offering. Plus, six bedrooms are available on-site for 28 lucky guests after that final nightcap.
10. Dodford Manor Barn Wedding Venue – Northamptonshire
Nestled within the rolling Northamptonshire countryside, boasting floor-to-ceiling windows to show it off, is Dodford Manor Barn Wedding Venue. This exclusive-use, no-corkage wedding venue is made up of lovingly restored 17th century stone and oak barns that are simply perfect for ceremonies and wedding receptions alike.
The team here pride themselves on their personal approach, and their catering style is no different. You can choose anything from a BBQ outdoors in the summer to a candlelit, formal meal in the winter – all while enjoying drinks of your choice with absolutely no corkage charges.
11. The Green Cornwall - Cornwall
Located in the heart of Cornwall, right on the edge of the Moor, is this charming and totally versatile wedding venue. Couples are welcome to make use of the stunning barn and tranquil grounds for their events, and overnight accommodations for 40 guests makes it ideal for celebrations that you wish to stretch out that bit longer.
The Green Cornwall's Red Brick Barn is the ideal choice for small and large parties alike and opens out onto the beautiful formal parklands. Down by The Oak Arbour is perfect for large ceremonies for those who want to enjoy a romantic service out in the beauty of nature.
READ MORE: 26 of the Best Asian Wedding Venues in the UK
12. The Ashes Barns and Country House - Staffordshire
You'll feel a million miles from anyone else as you exchange vows at this enchanting countryside wedding venue. With 50 acres of land including gardens, a lake and a pond, there's bags of photo opportunities and plenty of spaces to enjoy a drink totally corkage-free!
The Ashes Barns and Country House also boasts some of the most luxurious accommodation in the area with The Country House for 16 people, and The Coach House and adorable Shepherds Hut for six!
READ MORE: 21 Wedding Venues with Accommodation
13. Shoreditch Wedding Venues - London
Licensed by Hackney Council for civil ceremonies, both Shoreditch Studios and Kachette welcome you to spend your entire wedding day with them. These unforgettable urban settings can host anywhere from 20 to 170 and, thanks to their no-corkage, dry-hire option, you can bring in your own food and drink without any added cost or restrictions.
The white walls, high ceilings and industrial vibe of Shoreditch Studios make for the perfect blank canvas, while the exposed brick of Kachette gives the venue an unforgettable rustic and atmospheric feel.
READ MORE: Cheap Wedding Venues in London: 19 of the Best
14. Homme House - Herefordshire
Become Lord or Lady of the manor for the day as you enjoy exclusive use of Homme House. This family-run, corkage-free wedding venue will certainly feel like your own home for the day as you enjoy all five acres of beautiful gardens as well as all of the reception rooms and accommodation.
Home House can accommodate up to 90 guests indoors for a wedding breakfast and up to 140 in a marquee on the lawn. You may exchange vows in the house or within the walled gardens or marry in the idyllic church at the edge of the estate.
15. Plas Dinam Country House - Wales
Set within the spectacular scenery of mid Wales, Plas Dinam is an impressive no-corkage country house and stables. We love that this venue combines the traditional grandeur of a beautiful country house with the rustic charm of a barn wedding venue.
You can marry outside with the magnificent frontage as your backdrop or say 'I do' within the stunning house itself. Finally, you can enjoy a no-corkage celebration in the unique stone barns.
16. Temple of Minerva & Botanical Gardens - Somerset
We love this enchanting garden wedding venue for an intimate ceremony of up to 35. The beautiful temple features large windows that bring the stunning outdoors in and in the summer, you're welcome to throw open the doors and seat extra guests on the terrace.
Temple of Minerva & Botanical Gardens offer total flexibility when it comes to your celebrations. You're welcome to pitch a marquee on the lawn and serve up a three-course meal or simply enjoy an outdoor picnic with a corkage-free selection of drinks.
17. Glyngynwydd Wedding Barn and Cottages – Wales
If laidback and rustic are keywords in your wedding venue search – as well as no-corkage of course – then Glyngynwydd Wedding Barn and Cottages might just be the wedding venue for you. This stunning collection of wood and stone barns lend themselves perfectly to country and festival wedding themes.
This venue is available on a dry-hire basis, meaning you'll need to bring in your own catering, but don't panic if you're feeling daunted by the task... The team are more than happy to help with recommendations and ideas.
18. The Reading Rooms - Norfolk
A dramatic vaulted ceiling, tiered chandelier, exposed brick and large arched windows make The Reading Rooms stand out from the crowd. This incredible 17th-century building, located in the breathtaking Norfolk countryside, really is the luxury wedding venue of dreams!
Located next door to the beautiful Church of St Ethelberts, The Reading Rooms is ideal for those wishing for a religious ceremony without the hassle of transporting guests between two venues. Alternatively, you're welcome to say 'I do' within the venue's own licensed space before enjoying your favourite tipple with no corkage fees!
19. Hampton Court House - Surrey
The team at The Hampton Court House (a gorgeous no-corkage wedding venue) are proud to welcome couples to celebrate their celebrations in this remarkable setting. Though only 11 miles from the centre of London, you will feel as though you are a hundred miles away from the hustle and bustle of daily life.
The property features a stunning garden designed by the well-known astronomer Thomas Wright, a large, stately hall perfect for ceremonies and an elegantly decorated dining room for your wedding breakfast. You and your loved ones can enjoy exclusive use of the estate during your soirée, leaving you feeling like royalty on your big day.
20. Bruisyard Hall - Suffolk
Bruisyard Hall is a no-corkage wedding venue that offers endless rustic charm, gorgeous indoor gathering spaces, and amazing views of the surrounding countryside - what's not to love? You can invite up to 200 of your loved ones to mark your special day here, and the flexible event rooms can be customised to suit your needs.
The property also features a number of hideaways that are perfect for more intimate weddings. While the barn can host a grand party, the stately drawing room and its grand fire have been the backdrop for a number of romantic ceremonies.
21. Bredenbury Court Barns - Herefordshire
Bredenbury Court Barns is the ideal blend of modernity and classic elegance. The estate offers a stunning barn-style ballroom set in an enchanting rural area tucked away in the West Midlands, as well as both outdoor and indoor event spaces.
The venue's team of event specialists looks forward to working with you as you plan your event and will share your vision for your once-in-a-lifetime event. Their no-corkage options make it super simple for couples to keep their costs low without having to forsake any important element of their day.
What is No Corkage at a Wedding?
While many venues throughout the UK offer bartending services and drinks packages, it may suit some couples better to provide their own alcohol for their event. A 'no corkage' clause means that venues won't charge you if you want to bring in your own alcohol, allowing nearlyweds more control over their budget and drink choices.
What Does No Corkage Mean?
'No corkage' means that there is no charge to bring your own alcohol and refreshments to a venue to serve during your wedding celebration. It's important to check a venue's no corkage clause before booking as some will charge a corkage fee for the wedding breakfast but offer no corkage charges for the reception and vice versa. When venues charge corkage, it means that if you bring your own alcohol into the wedding, there will be a fee which is usually charged per bottle or unit.
What is a Dry Hire Wedding Venue?
Dry hire wedding venues are venues that don't include any extra suppliers or services. At dry hire venues, couples are expected to provide their own alcohol, beverages, and sometimes catering services to enjoy on their wedding days. Wedding venues that aren't dry hire will often include food, drinks, venue décor, furniture and other useful add-ons. Booking a wedding venue as a dry hire gives couples more flexibility on who and what they book, but it does involve more leg work.
Found your perfect venue? Now it's time to put that no-corkage deal to good use and find out everything you need to know about wedding champagne towers!