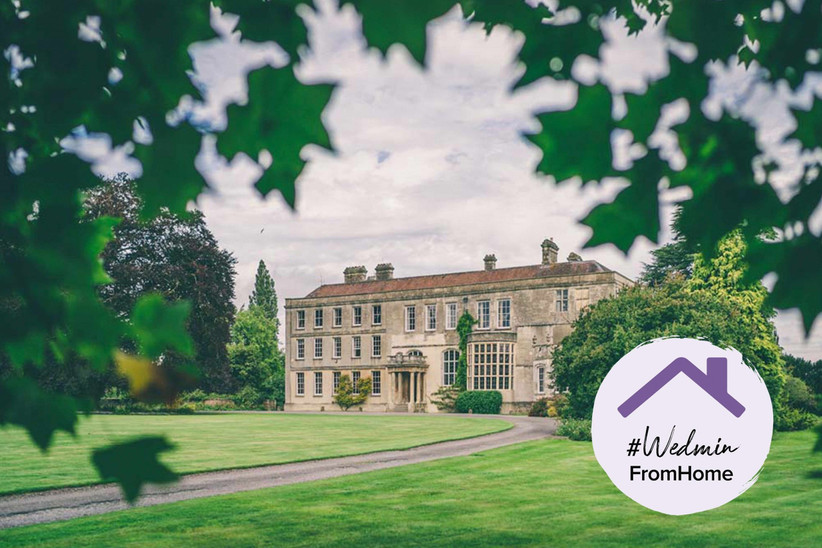 Finding your wedding venue is one of the most important tasks on your wedding planning to do list, as the setting you choose for your big day will inform all of your wedding decisions. We don't want to freak you out, but it's kind of a big deal.
Wedding venues come in all shapes and sizes, with or without corkage and offer everything from total wedding management to completely self-catered and DIY wedding days.
The key to finding the right wedding venue is all about ticking off your venue must-haves first. All that's left after that is for you to fall in love with one!
But what happens if you're, say, wedding venue shopping in the midst of a worldwide pandemic, or hunting for venues down in Cornwall from the comfort of your sofa in Scotland?
To get the lowdown on how to find a wedding venue from home, we chatted to some of our favourite venues who told us how they've been helping couples from afar and how you can best manage your search without stepping foot inside a single venue.
Image: Sandy Cove
Finding and Booking a Wedding Venue During COVID-19
Whether you're looking for a wedding venue in 2020 or you're searching for the perfect setting for a 2021 wedding, Coronavirus certainly isn't making things easy for couples at the start of their wedding planning journey.
If you've found a venue you love but you're unsure about going ahead and booking while wedding insurance policies are on hold, we suggest the following:
Ask your venue to agree a special set of terms with you, allowing for postponements in case of Coronavirus-related issues. Make sure you get any agreement made in writing.
Agree a provisional date with your venue and pay the deposit after you have secured your wedding insurance.
Pay any deposits or instalments with a credit card. Credit cards give extra protection if anything goes wrong with your purchase and you're much more likely to recover any lost funds than when paying via debit card or cash.
READ MORE: Wedding Insurance: How Much it Costs, What it Covers & Which to Buy
1. List Your Venue Must-Haves
If you love the idea of getting the creative juices flowing and doing a lot of the wedding planning and decorating yourself, then you'll need to find somewhere that offers venue hire only. If the thought of doing it all yourself has got you breaking out in a sweat, you'll probably want to find a venue with an in-house wedding coordinator.
If you're dreaming of a boho-inspired day, mostly spent outdoors, then you may want to steer clear of city centre hotels with limited gardens. And if a post-reception firework display is an absolute must, you'll need to check it's definitely allowed.
"We would say to couples that firstly they need to think about what is important to them, and location is a key factor. They also need to imagine how they would like to style their wedding and to choose a venue that is in-keeping with their ideal day. When looking online they also need to have a budget in mind and to look into this with venues first", explains Dawn Ten-Bokkel, manager at Sandy Cove in Devon.
"Our wedding brochure is online, and we have tried to be as transparent as possible, there are no hidden charges and couples can see very quickly whether we fit their budget."
To get started, list your venue must-haves and have them ready to check off with each venue you look at. Here are the key things you need to consider:
Venue type – with everything from barns to castles on offer, you'll need to decide on the venue types you're willing to consider. If you're absolutely set on just one venue type, this can really focus your search.
Venue capacity – you're going to need to make sure your venue has space for everyone so have a think about the rough number of guests you're going to invite (remember to consider daytime and evening capacity too!).
Budget – set your wedding budget early on so that you don't end up looking at and falling for venues out of your price range.
Location – do you prefer city centre or rural settings? Have you got your heart set on saying 'I do' where you grew up? Deciding on a location can cut your search in half instantly.
Ceremony venue – if you want to have a religious ceremony, you'll need to search for venues with places of worship within a reasonable travelling distance.
Accommodation – if your venue is far from home or you're inviting guests from afar, accommodation will be crucial.
Catering – can you bring in your own wedding catering or does the venue offer their own menus? If you're set on a specific type of cuisine make sure you include this on your list.
Corkage – if you fancy bringing in your own booze, a hefty corkage fee could shave a chunk off your wedding budget so watch out for this extra cost.
Once you have your list of venue must-haves, you can start browsing the 4,000 venues on our wedding venue database and narrow your search according to your list. "Make a shortlist of say five venues (anything more may be too much choice!)" advises Adele Sharp, marketing manager at Elmore Court in Gloucestershire.
READ MORE: How to Choose a Wedding Venue: What You Need to Consider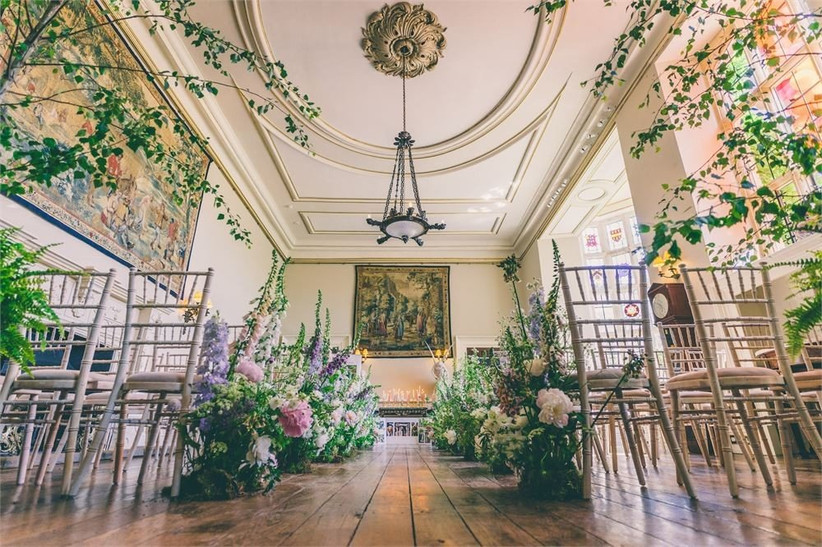 Image: Elmore Court
2. Set Up a Video Meeting
Armed with your shortlist, you need to set up a video meeting with a member of each venue team.
Make sure your list of must-haves is close at hand and ask about each one to make sure you're definitely getting what you want. Once you're happy that they have your basic requirements covered, you might want to consider asking them more in-depth questions, such as 'are there any decor restrictions?' or 'will we have access to a sound system?'.
It's also worth asking the venue to take you through a typical wedding day to get a feel for how they flow and an idea of timings.
Sarah Turpitt, general manager at Polhawn Court in Cornwall, explains how they utilise video meetings to get to know prospective couples. "Our team are available for virtual meetings to talk through each couple's plans and how they might work. This has been a really positive experience and our couples who have recently enquired are enjoying this one-on-one time from the comfort of their own home. It gives them a chance to get to know us a little bit at the same time as having some expert wedding advice."
Your video meeting is also a good opportunity to ask about key suppliers such as florists, photographers and DJs. Ask them to share the websites and social media pages of the suppliers they frequently work with so that you can check them out and make sure they fit with your vision and budget.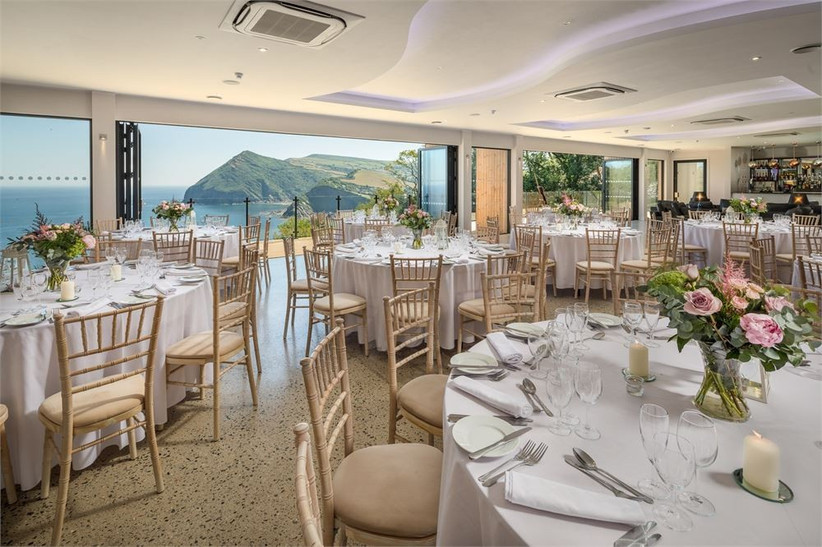 Image: Sandy Cove
3. Book a Virtual Tour
A virtual venue tour is a great way to get a feel for a venue and experience the space without actually being there, and the good news is that many venues are now offering this service. Joshua Dugdale, owner of Wasing Park in Berkshire, is hosting virtual tours for couples to give them a real sense of everything the estate has to offer from the comfort of their homes.
Polhawn Fort are another of the many venues coming up with innovative ways to show off their venue online: "We have modified our discovery experience as people simply can't visit in person. We already had a drone video of the property which we send to our couples when they first enquire, but as a result of the travel restrictions we have now made a more informal walk through video of the Fort, as it was two weeks ago, for our couples to check out, either while we are on Skype with them or on their own," Sarah advises.
Many venues, including Elmore Court, are keen to ensure that video tours and meetings include the same level of service and care as traditional in-person show-around sessions: "We are offering couples that enquire the option to walk around the virtual tour with one of our co-ordinators, screen sharing over the power of Zoom, and conducting a viewing just like we would in person. We can then answer any questions they have and look at available dates," says Adele.
If you do end up booking your venue after a digital tour be sure to pop some fizz and toast this important wedding decision – just as you would at an in-person venue appointment!
READ MORE: The 32 Questions to Ask Your Wedding Venue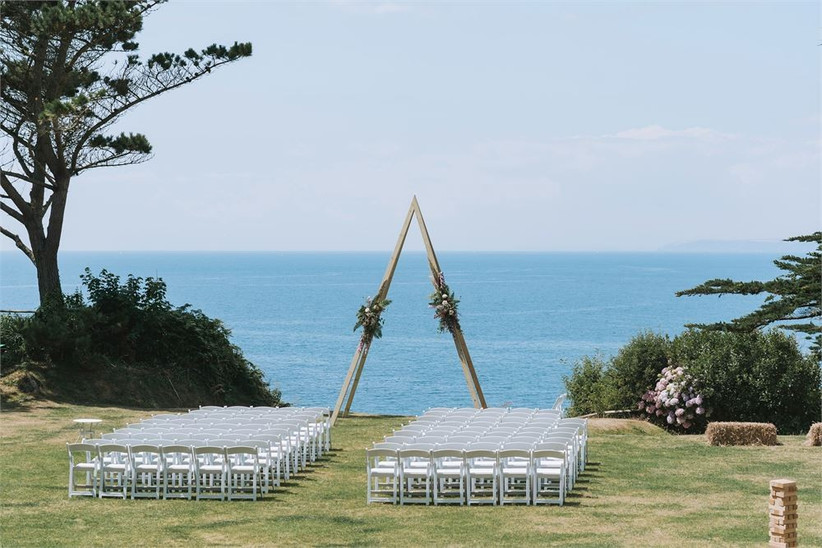 Image: Polhawn Fort
4. Ask to See Real Weddings
Real weddings are one of our favourite ways to gather wedding inspiration and when it comes to deciding on a wedding venue, photos and videos of previous nuptials can be invaluable.
"On our website we have a walk-around tour so that couples can see the style and space and we also have a video of a previous wedding which we hope gives a real feel for our venue and its location.
"Our website also has a gallery with many pictures from previous weddings held here" says Dawn.
If the venue you're interested in doesn't have a video or photographs readily available, there's no harm in asking them to reach out to one of their recent couples and ask if they wouldn't mind sharing theirs.
You could also search your venue as a hashtag on Instagram or look for the name on Pinterest to try and track down real wedding photos couples or suppliers may have shared.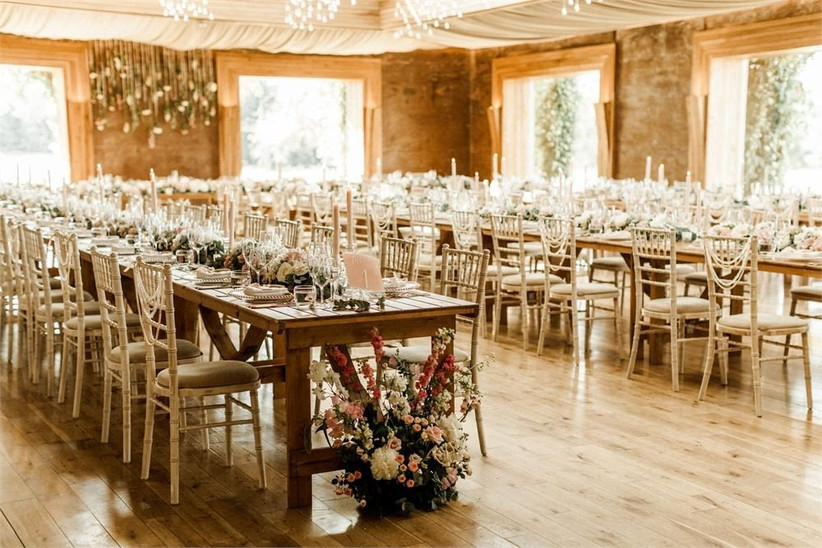 Image: Elmore Court
5. Read Reviews
The best way to find out what it's like to host a wedding at a particular venue is to speak to a couple who have already done it, or at least read their reviews.
Check out reviews on the venue's Hitched listing if they have one, on Google and on their social media pages. Again, keep your must-haves list close at hand and look out for any key pieces of information that will help you to check off items on your list.
If you feel comfortable enough, you can always reach out to couples who have left social media reviews via private message and ask them if they would recommend the venue and for any tips on how to make the best of the space.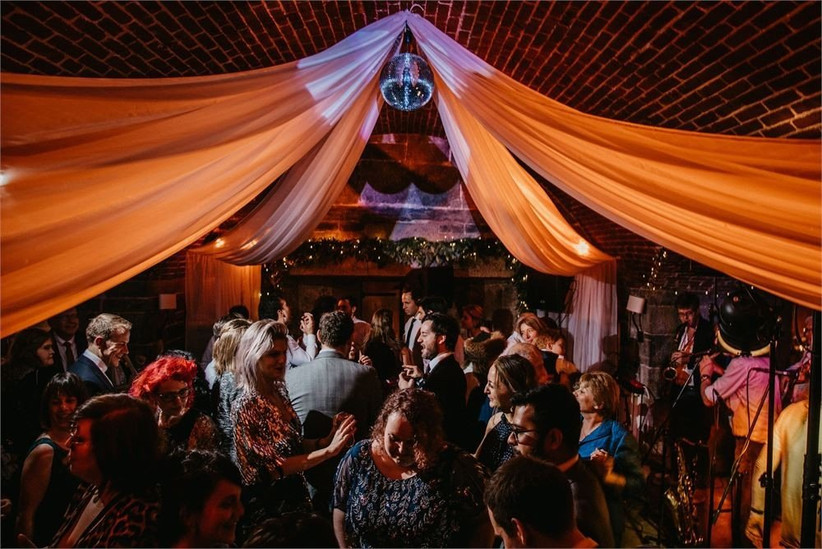 Image: Polhawn Fort
Keep your planning at home going and stay organised with our step-by-step Ultimate Wedding Checklist – you can't go wrong!