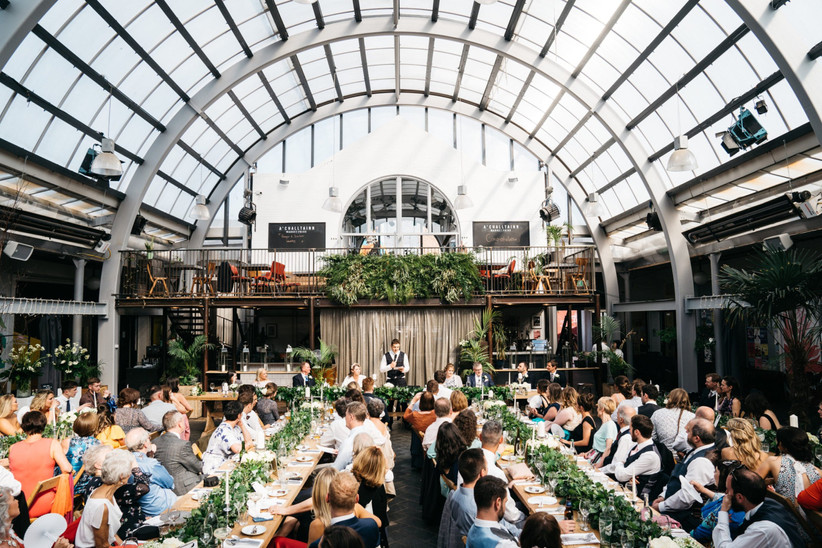 Glasgow is an amazing place for a wedding. Famous for its vibrant live music and arts scene, stunning architecture and irresistible nightlife, this city is also the location of some amazing wedding venues.
There's just so much variety. Whether you want an intimate wedding in a local pub or a statement celebration in an unusual space, there are wedding venues for every kind of couple and budget here.
Add in fantastic travel connections and plenty of accommodation to suit different guest budgets, and you'll struggle to find a better Scottish city in which to tie the knot (sorry, Edinburgh).
What's more, you don't have to limit yourself to indoor spaces. As Scottish law means you can get legally married outdoors, there are Glasgow wedding venues with beautiful al fresco areas for your ceremony - weather allowing, of course.
The glorious surrounding countryside is also home to some stunning wedding venues, which give you the convenience of having a city nearby but with a more rural setting.
Here are our favourite wedding venues in Glasgow and surrounding areas, from grand, glamorous hotels to more intimate spaces.
READ MORE
1. 200 SVS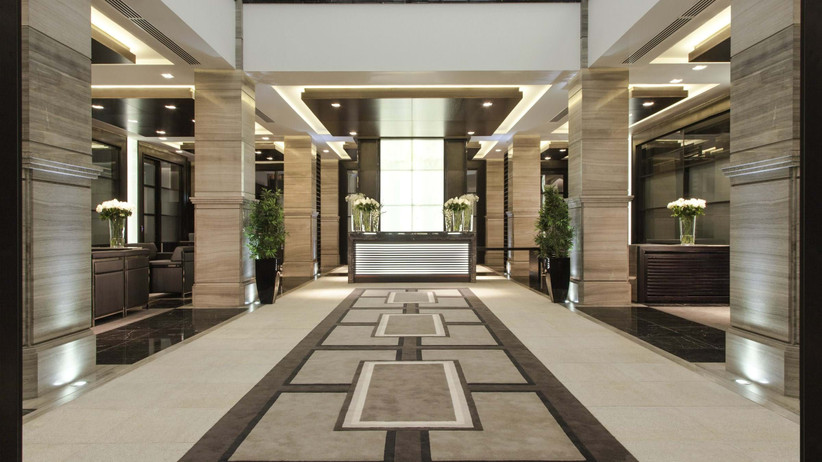 It's glamour all the way at 200 SVS, a Glasgow wedding venue situated right in the city centre.
Stepping into the Grand Hall is sure to make an impression on your guests, before they make their way to one of the various event spaces for your celebration.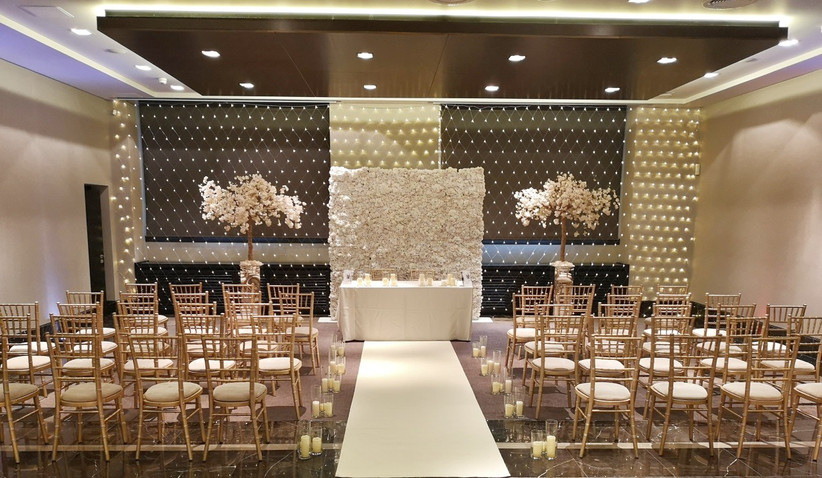 There are spaces here to suit different sizes of guest list, from an intimate dinner for 10 up to an epic party for 200.
You'll also find an on-site spa, so you can your loved ones can indulge in some pre- or post-wedding pampering.
2. House For An Art Lover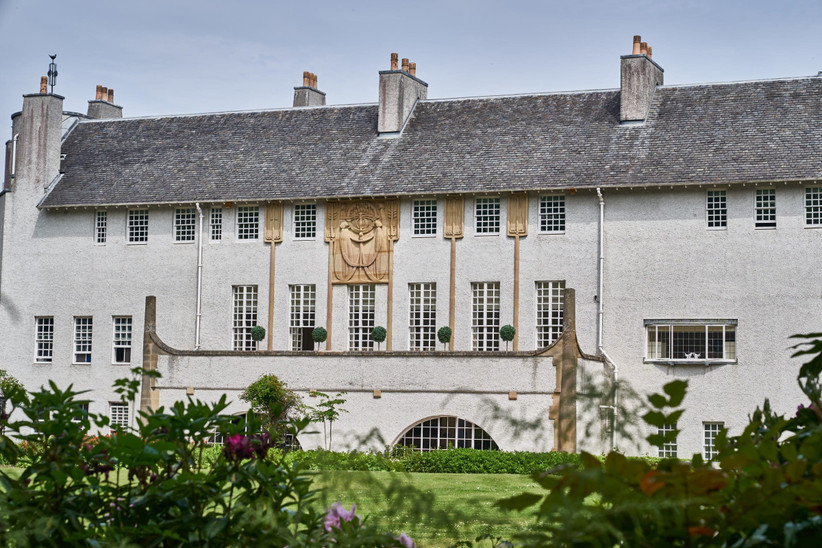 Set within the beautiful surroundings of Bellahouston Park, House for an Art Lover is a truly unique wedding venue in Glasgow. Their exclusive-use Mackintosh Suite is inspired by Scotland's most beloved artist, Charles Rennie Mackintosh, and is full of photo-worthy spots. Outside you can take full advantage of the park and even arrange to take photos in the adjacent Walled Garden.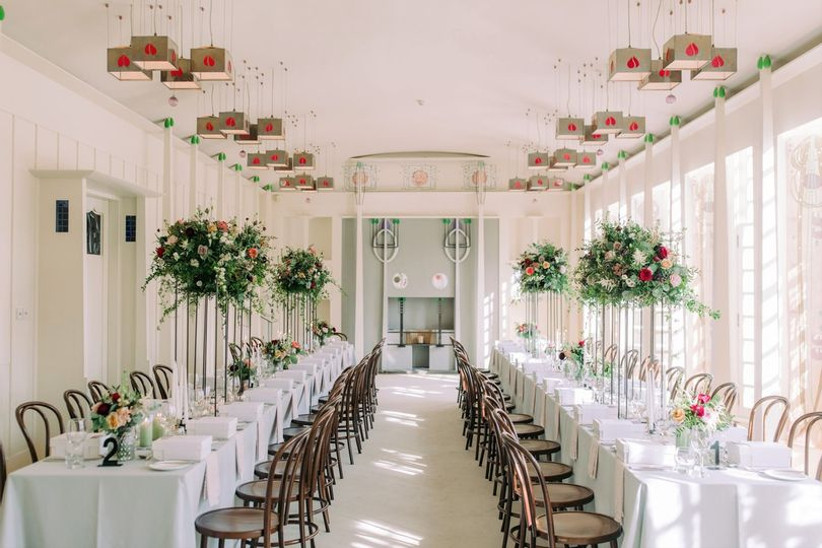 There's some many fantastic extras included, from fresh flower centrepieces, indoor fairy lights, and your cake stand and knife. Plus, they've got a delicious vegan dinner menu to choose from so all your guests will be catered for! We love that as part of the set of rooms there's a separate bar you can dance the night away in, so you don't have to wait for the tables to be cleared after the wedding breakfast.
3. Gleddoch Hotel & Spa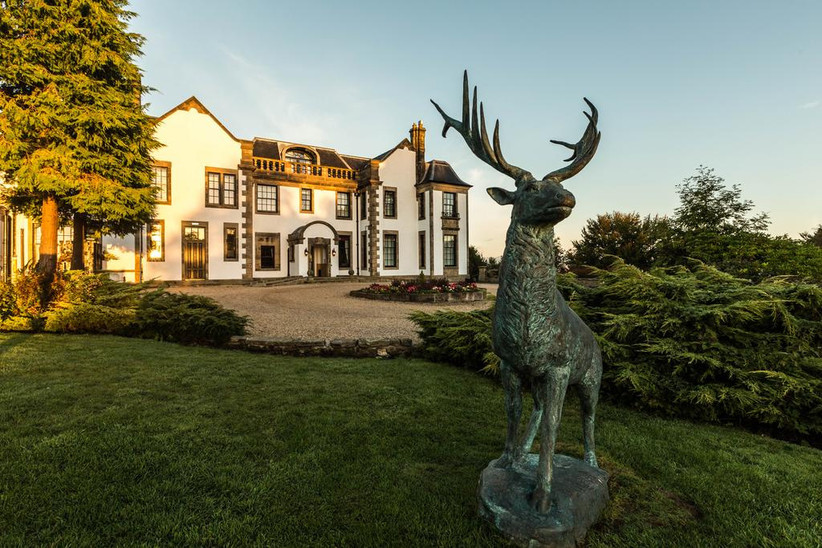 Looking for a Glasgow wedding venue with more of a serene, country feel? Gleddoch Hotel & Spa should fit the bill. Overlooking the River Clye, this hotel is just 20 minutes from central Glasgow and yet, surrounded by manicured gardens, it feels worlds away.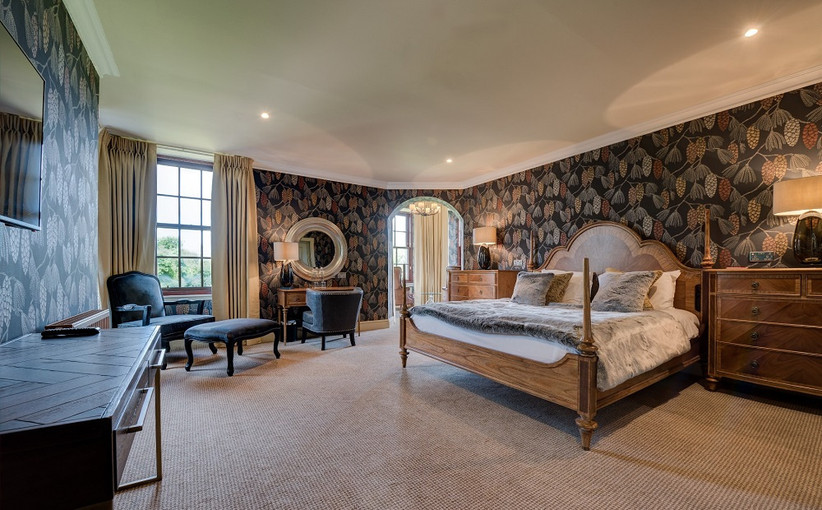 With 70 bedrooms, there's plenty of accommodation for your guests, and the excellent facilities mean you'll want to stay on for a post-wedding mini-moon - whether that's enjoying the spa or playing a round or two of golf.
4. Òran Mór
The name of this unique venue means 'great melody of life' or 'big song' in Gaelic. Formerly a parish church, Òran Mór is now an entertainment venue, including a whisky bar, restaurant, nightclub and theatre. The first thing to draw your eye is the Auditorium, which has been transformed into a stunning wedding spot by Scottish artist Alasdair Gray's celestial ceiling mural.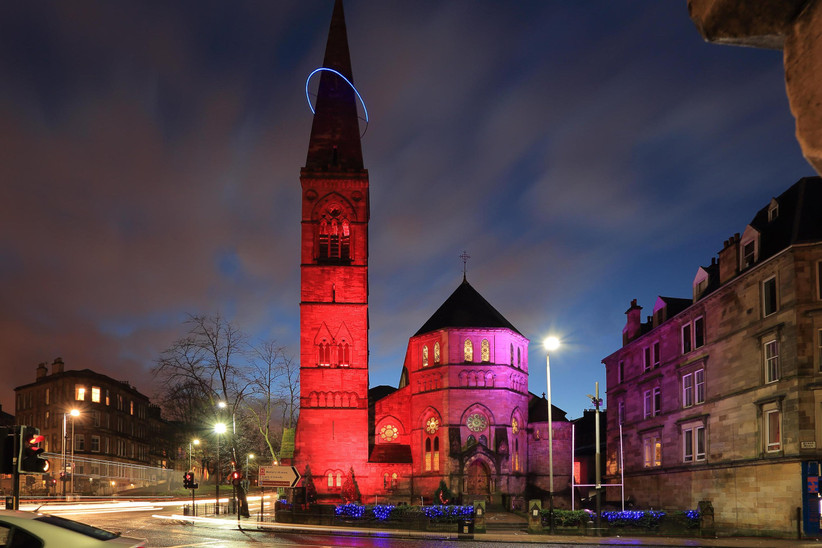 Lots of original features like the stained-glass windows remain, and the modern art adorning the walls adds personality to this vast venue. It can hold over 250 guests for a sit-down dinner, and food comes courtesy of their in-house chefs. Buzzing with life and character, it's an excellent venue for a wedding.
READ MORE: 17 Amazing Places to Mini-Moon in Scotland
5. BAad Glasgow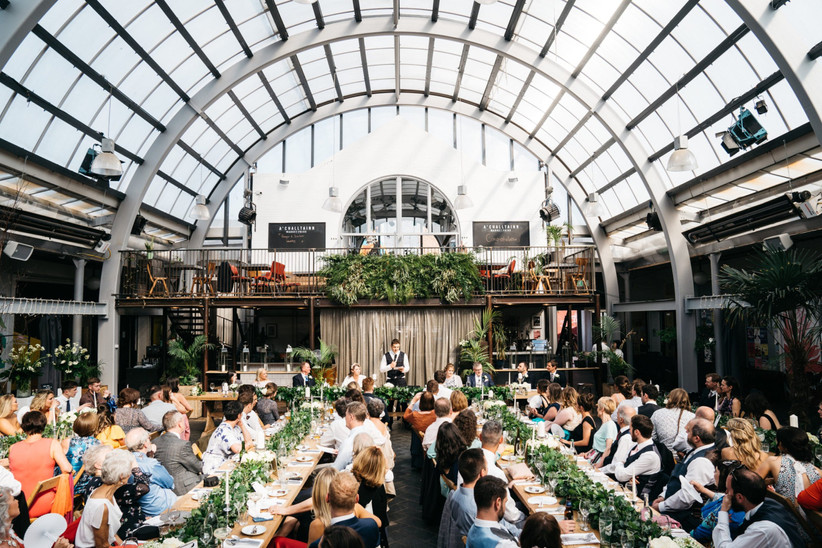 Set in the heart of the iconic Barras market, Barras Art and Design (BAad) is the industrial-chic venue of your dreams. Flooded with natural light, encasing an enviable heated courtyard, and serving food from the award-winning A'Challtainn Fish Restaurant and Bar upstairs, you'll love this unique space.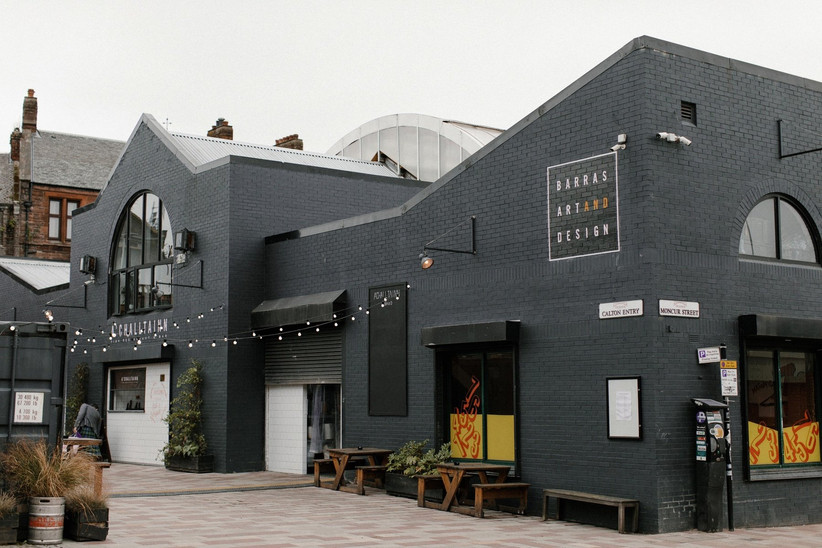 BAad is a blank canvas and versatile to your theme. From an intimate 25 guests to a grand 250, the space can be made bespoke to your needs. What there always is, is a big stage so your wedding entertainment is guaranteed to go with a bang!
6. Citation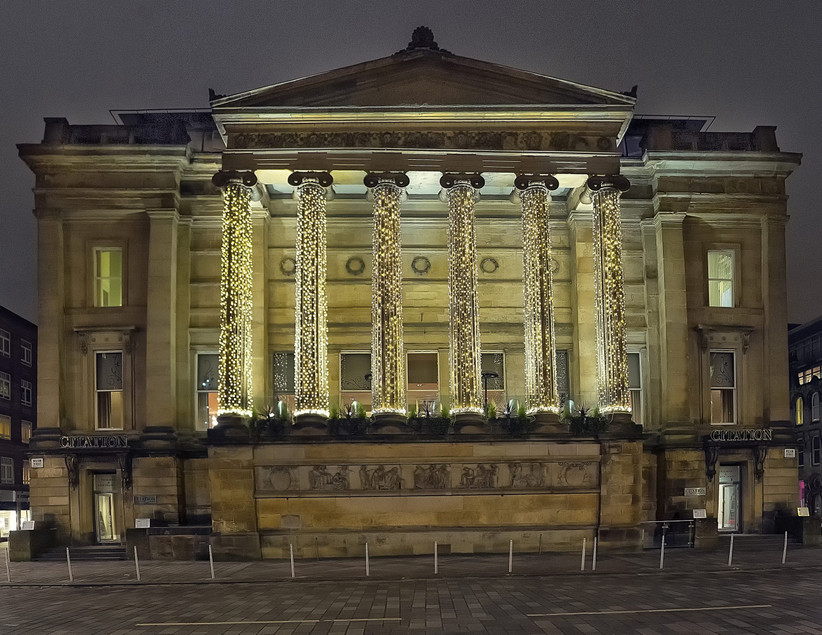 Looking for a Glasgow wedding venue with plenty of style? It's definitely worth taking a look at Citation, an elegant events space in the East End's Merchant City.
The chic spaces here include a balcony for al fresco celebrations.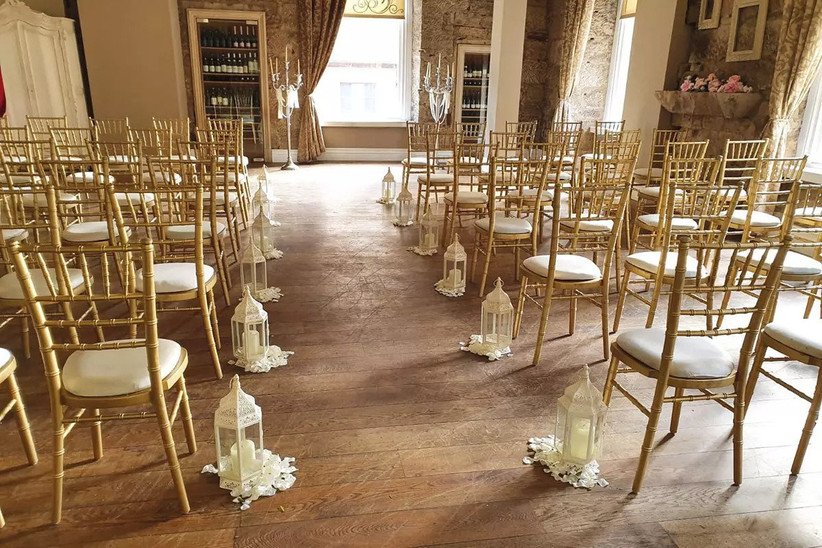 Citation is ideal for couples who want a low-stress planning experience, as their all-inclusive wedding package covers everything from the food and DJ to the stationery, and you'll have a planenr to help you every step of the way,
7. The Engine Works
This is one of Glasgow's coolest wedding venues. Flooded with natural light and bursting with exposed brickwork, The Engine Works is a former steel works that is now home to an events space that blends rich history and contemporary design into a surprisingly romantic venue. With a blank space to decorate, bespoke catering and space for 10-250 guests, the whole concept of The Engine Works is designed around giving you the exact wedding you've always wanted. And sorry, did we mention how cool it is?
The hidden gem here is the garden, sitting right next to the canal. It's great for housing BBQs in the summer, or food trucks, bouncy castles, G&T pop-ups and even outdoor ceremonies.
8. The Corinthian Club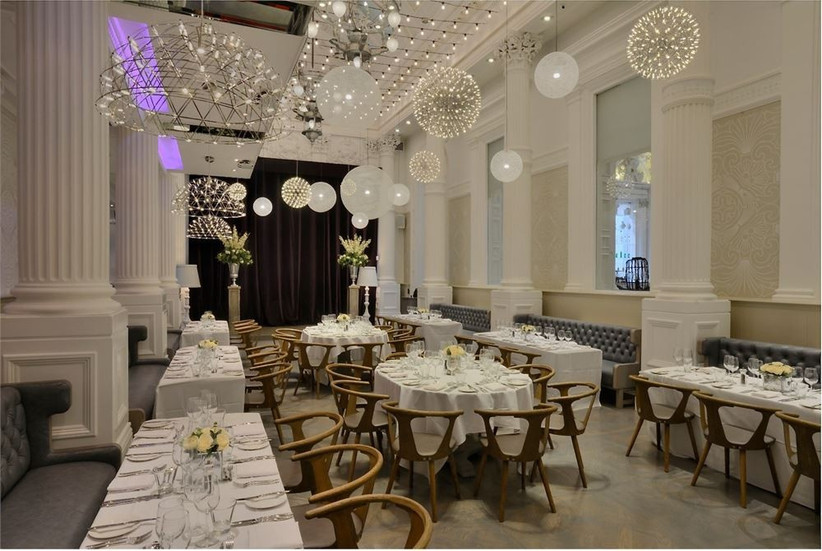 A 18th century mansion turned bank turned courts of law – and painstakingly restored as The Corinthian Club in 1999 – this breathtaking venue is bursting with Glaswegian history and character. The centrepiece of The Corinthian is the awe-inspiring 26ft glass dome that without doubt you'll want to feature in your wedding photos.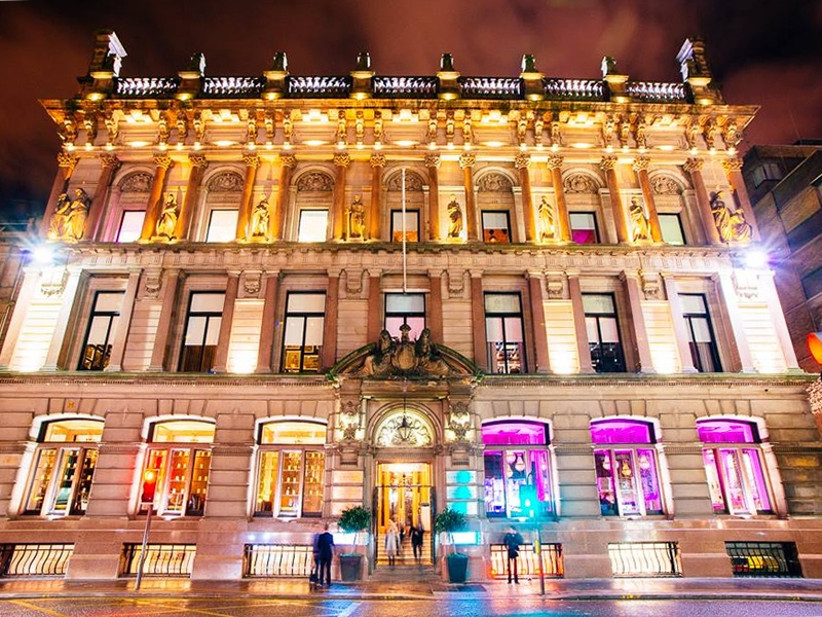 Each of its five floors has a unique offering, with the entire building containing a brasserie, five bars, seven event spaces, a casino and nightclub. For larger weddings up to 250 guests, their Flying Scotsman room is hard to beat. A huge vaulted auditorium with balconies and private dining rooms (excellent for setting up a DVD room for restless kids or a separate space that the grandparents can sit and chat), it's a real showstopper.
READ MORE: The Best Wedding Venues in Scotland
9. Mar Hall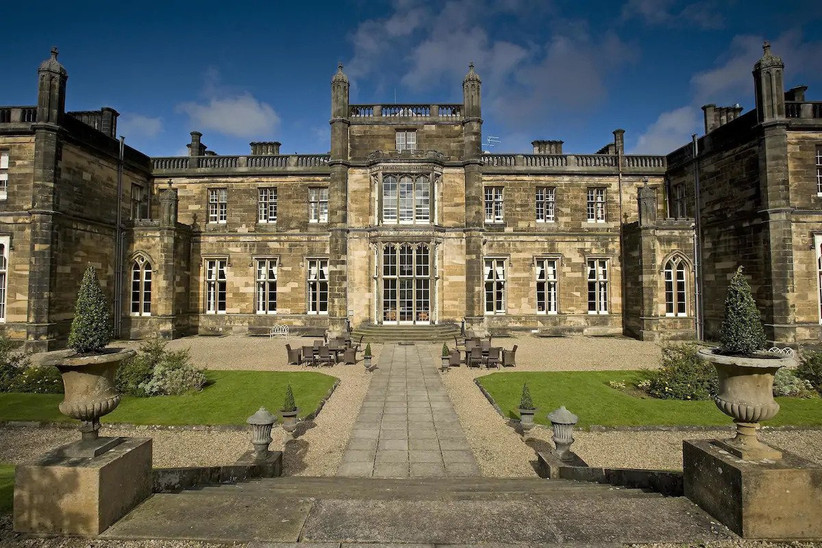 For a luxurious Glasgow wedding venue, we highly recommend you add Mar Hall to your must-visit list. This beautiful hotel combines period features and contemporary indulgences including a Championship golf course and a Decleor spa.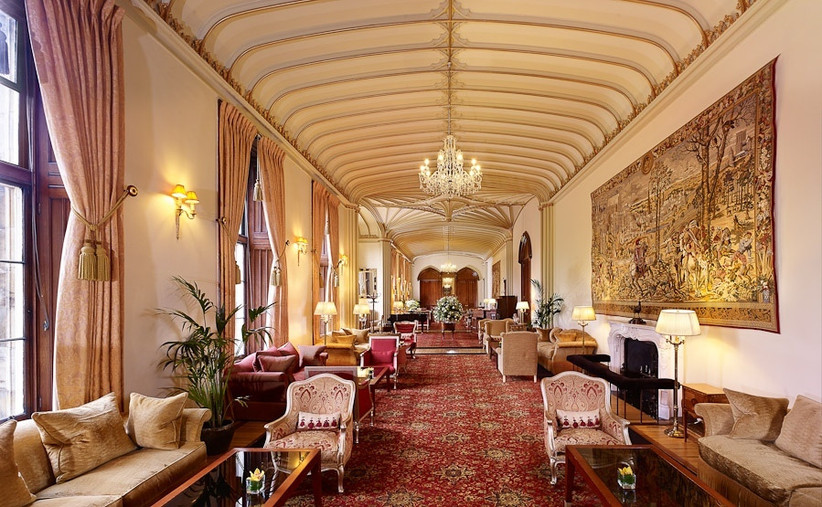 It has an enchanting country setting, but is located just 15 minutes from Glasgow city centre. For larger guests lists, exclusive use is available.
10. Sloans Bar & Restaurant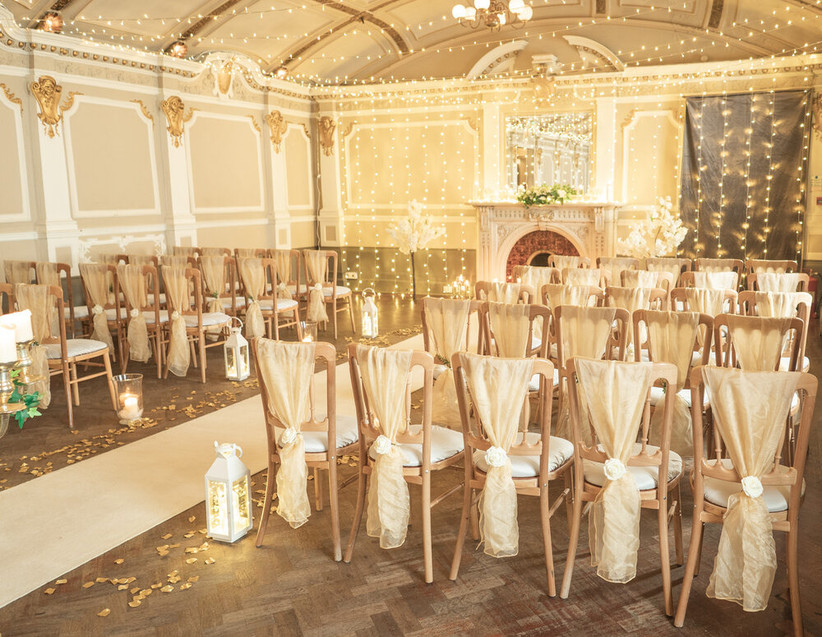 Sloans is Glasgow's oldest bar and restaurant and true stalwart of the live music and pub scene. If you want a ceilidh at your wedding, this is the place. They host one every Friday in their Grand Ballroom so they're well-equipped to turn their magnificent room into your perfect party set-up. There's also a pretty, fairy light-adorned outdoor courtyard with an entrance tunnel covered in amazing murals that's ideal for wedding photos.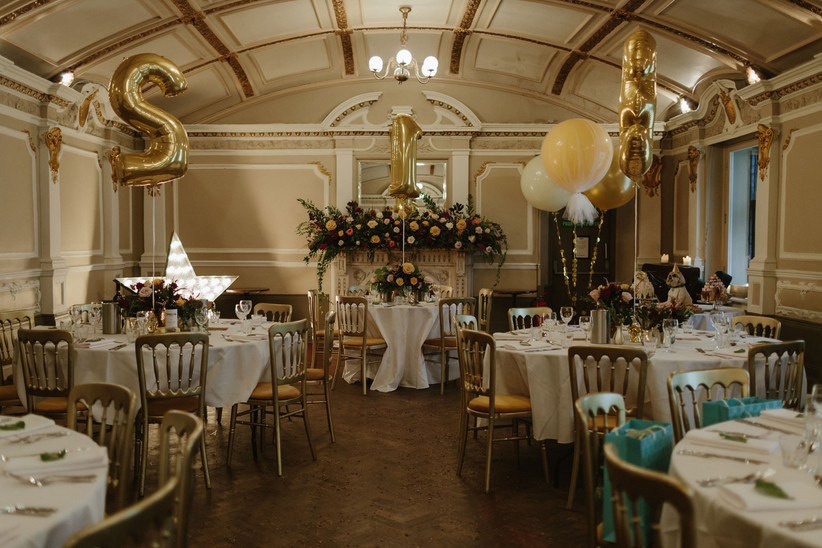 There's lots of different parts of the building you can use depending on numbers, from the cosy snug and private dining room – suitable for up to 25 – to the unique ballroom that can host 150 for your reception. Plus there's a huge choice of menu options.
11. 1599 at the Royal College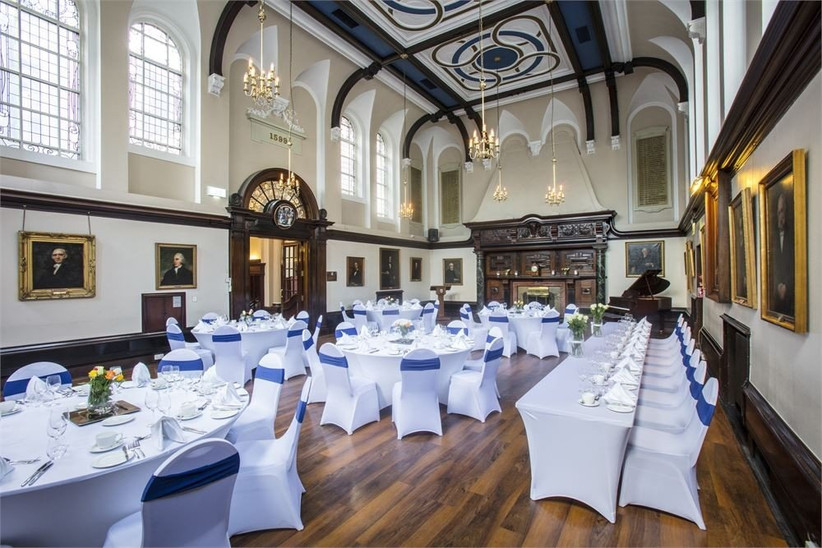 If you have any medics in the family, you might want to marry at Fifteen Ninety Nine at The Royal College of Physicians and Surgeons of Glasgow – a collection of beautiful, historical rooms dating back to 1862 (although the college was founded in 1599, hence the name). You'll have exclusive use of the College Hall, the Princess Alexandra Room, and the Lower Library; all exuding elegance and period features.
Even if you don't have a medical degree, it's amazing to be in a venue with such an illustrious past. The Princess Alexandra Room was where Sir Joseph Lister delivered his groundbreaking work on antiseptic surgery. The Lower Library is the most striking room in our opinion; housing a large collection of 19th and 20th century medical textbooks, and perfect for a drinks reception. You'll find it hard to believe you're right in the heart of Glasgow city centre.
12. Macdonald Crutherland House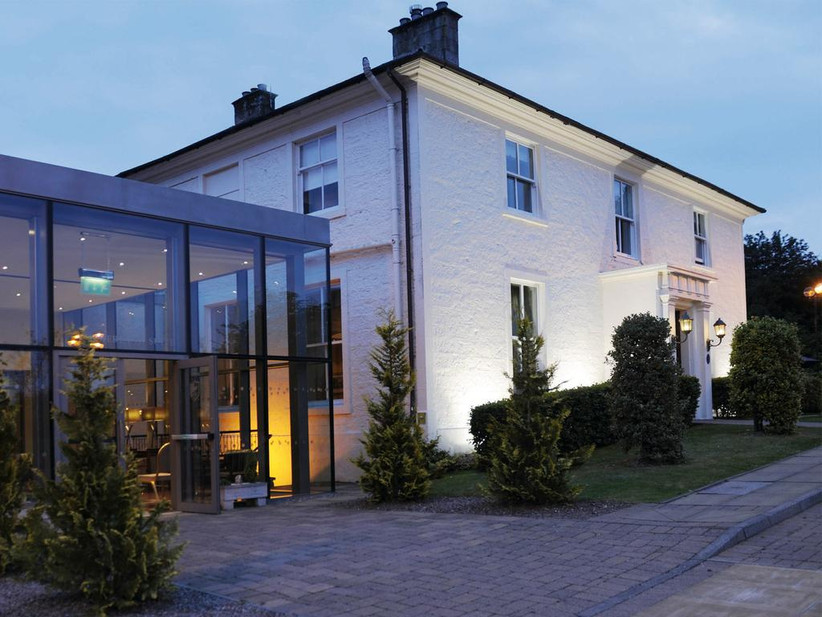 Located a short drive from Glasgow, Macdonald Crutherland House is surrounded by 37 acres of gardens and woodland, giving it the feel of a serene hideaway for your wedding.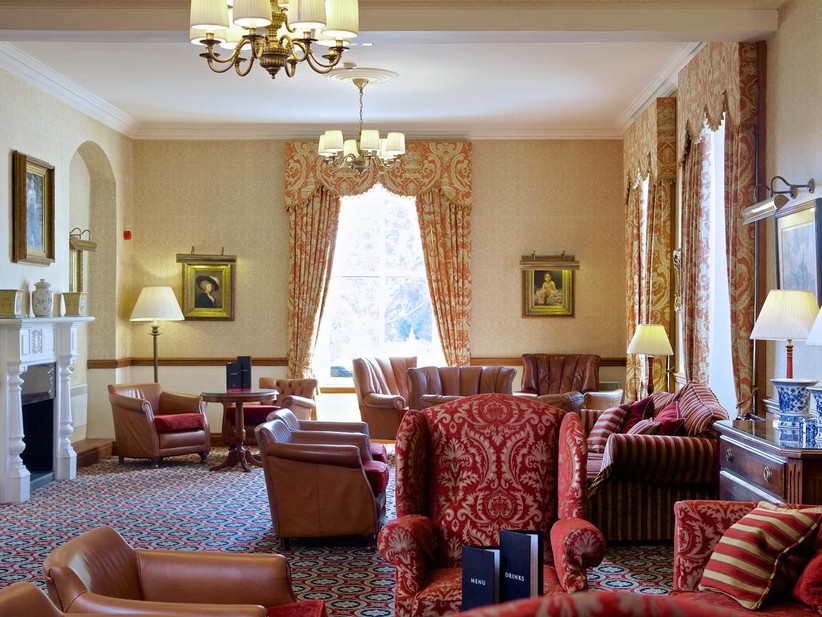 There are celebration suites for smaller guest lists, as well as the Crutherland Suite which can accommodate up to 300 and has a private bar and dance floor.
READ MORE: 25 of the Best Hotel Wedding Venues for Every Budget
13. Greenbank Garden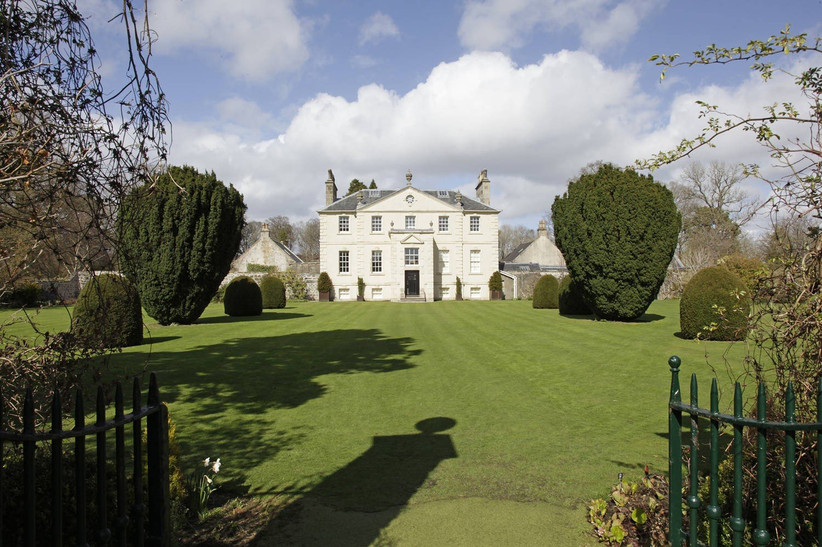 Set in the south of the city, the 18th century Greenbank House – now run by the National Trust of Scotland – is a dreamy backdrop to these magical walled gardens. Tranquil and beautiful, it's the ideal spot for a summer wedding. You can marry in the outdoors, surrounded by flowers, sculptures and fountains, before dining in a marquee or tipi on the lawns. Some of your guests may not even be aware of Greenbank Garden – so it's the perfect opportunity to introduce them.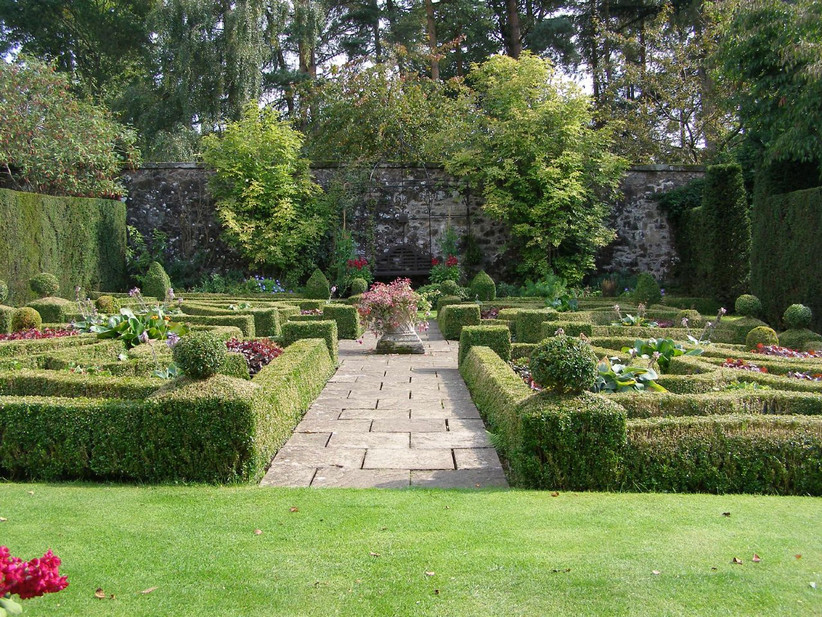 If you're interested in an indoor option, NTS also run weddings at Holmwood in Glasgow. This quirky family home was built by legendary Scottish architect Alexander 'Greek' Thompson and has the most fascinating interiors.
14. Arta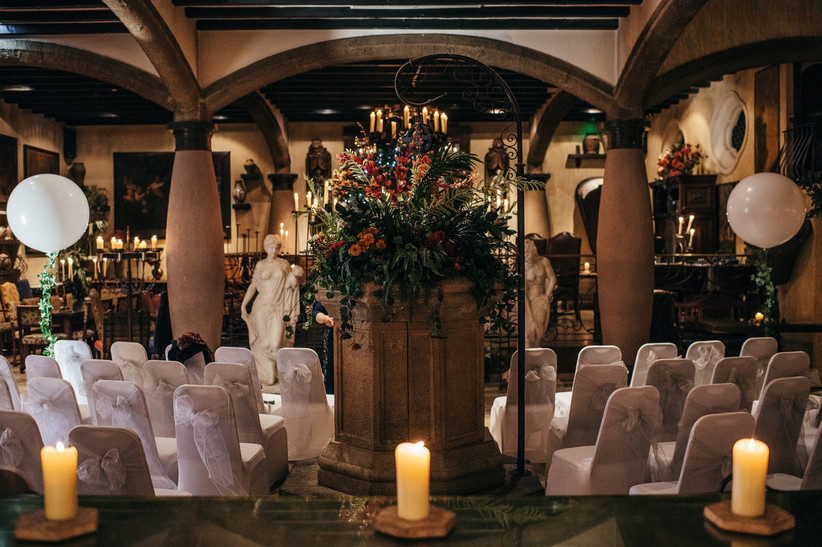 Let's be honest, Glasgow doesn't always have the best weather. But you're guaranteed Mediterranean warmth at Spanish hacienda-styled restaurant and bar space Arta. Foodies will be in heaven – the clever menus combine Latin tapas flavours with local Scottish ingredients.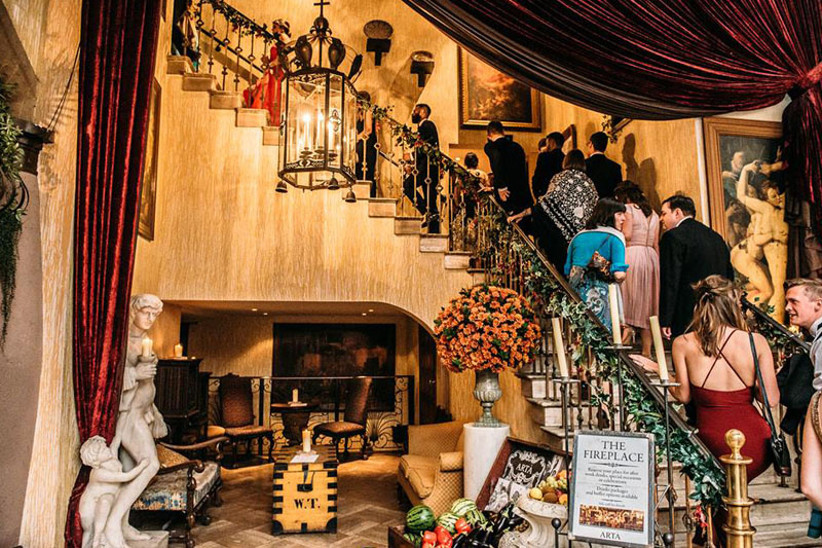 Built over three floors like a grand Spanish townhouse, there's everything from an intimate courtyard that can seat 35 for dinner, to their Canvas bar that's big enough for a ceilidh. You can add on plenty of individual touches too, like a petal drop (essentially a giant petal confetti whirlwind) and a string quartet.
15. Harelaw Farm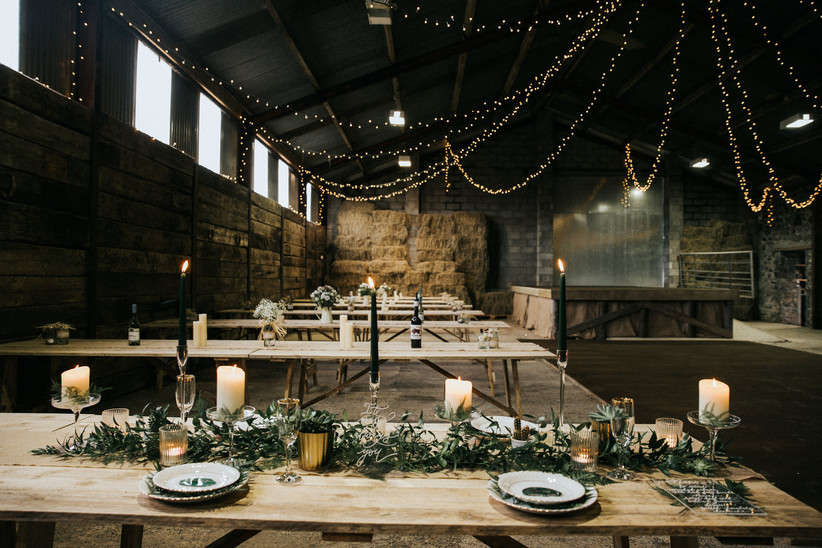 Harelaw Farm is a delightful barn wedding venue 15 minutes from Glasgow city centre. Dating back to the 18th century, the two barns have been beautifully refurbished, offering wedding spaces that are full of rustic charm.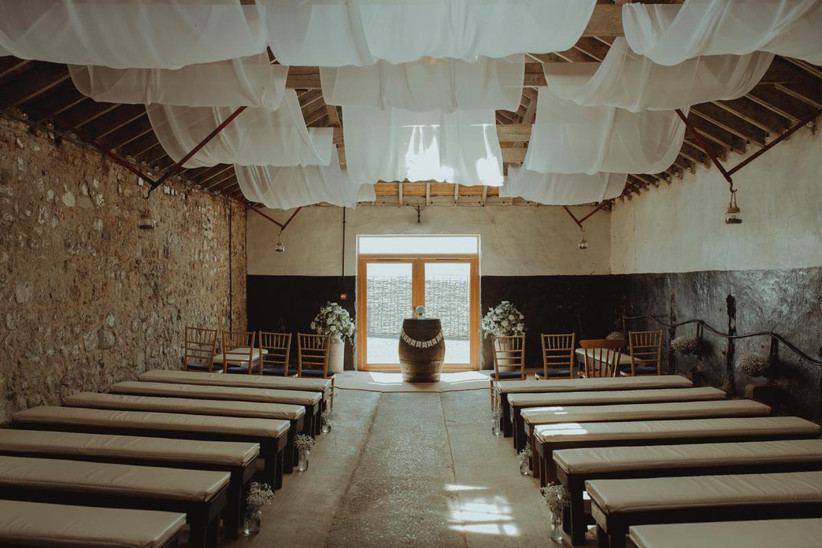 Your guests will be in for a real foodie treat, as the in-house chefs work with the freshest local ingredients to create menus of hearty, farmhouse-style dishes.
Up to 20 people can stay overnight at the farmhouse, so you can enjoy a full wedding weekend with your loved ones.
READ MORE: 15 of the Best Barn Wedding Venues
16. The Merchants House of Glasgow
The Merchants House of Glasgow – dating back to 1605 – is a hidden treasure in the heart of the city, whose halls and corridors hum with history. The Grand Hall, lined with grand portraits of eminent merchants, can seat up to 130 for a wedding breakfast and features a beautiful Steinway grand piano. If you're after a venue that's full of personality and part of the fabric of Glasgow's history, this is perfect for you.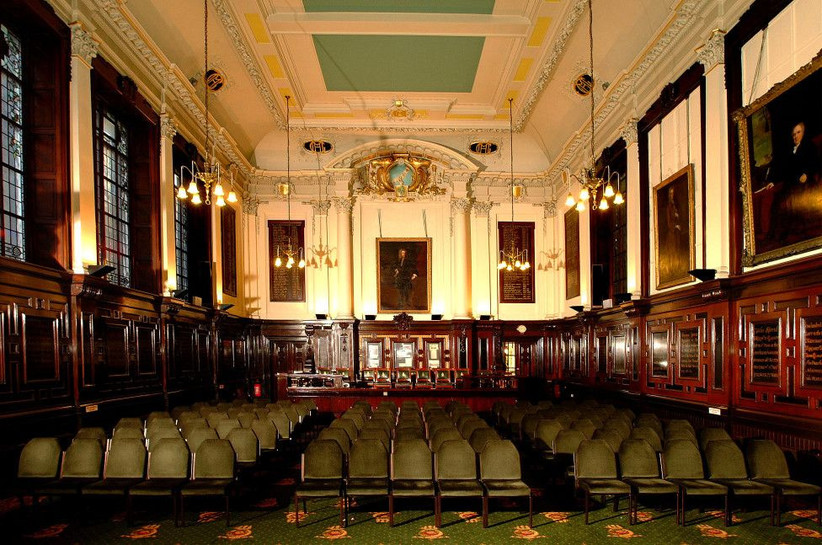 As one of the oldest social enterprises in Scotland, what's fantastic about Merchants House is its charity status, meaning all profits go back to helping those in need in Glasgow.
17. WEST On The Green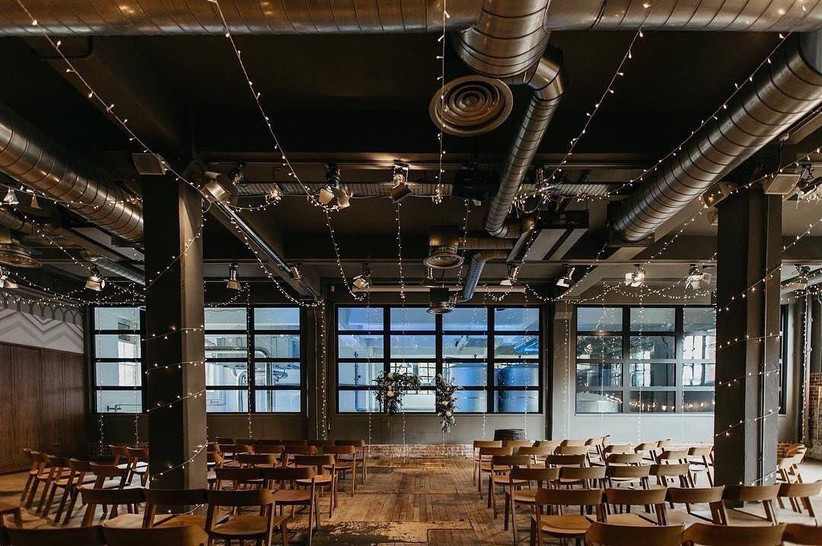 Breweries are an excellent option for a reception venue if you're looking for a relaxed, friendly atmosphere – with amazing beer options! WEST On The Green is a beerhall-style bar and restaurant, working brewery and event space in the famous Templeton Building on Glasgow Green.
Full of distinctive, rustic architecture, the best backdrop to your wedding is in The Courtyard – here a 15ft high wall of glass offers views onto the state-of-the-art WEST brewery below. For more intimate ceremonies choose the airy Hop Room, which comes complete with a grand piano. And during your photograph time? Entertain guests with a brewery tour and tasting. The menu is German-inspired with delicious Scottish ingredients: you'll very much enjoy your menu tasting.
If you've fallen in love with these beautiful Glaswegian venues, make sure you don't miss the 51 essential questions to ask your venue before you book.