The 20 Best Budget Wedding Venues in Scotland
A tight budget doesn't need to stop you from booking your dream venue. We've scoured Scotland for the very best wedding budget-friendly wedding venues around.
We have included third party products to help you navigate and enjoy life's biggest moments. Purchases made through links on this page may earn us a commission.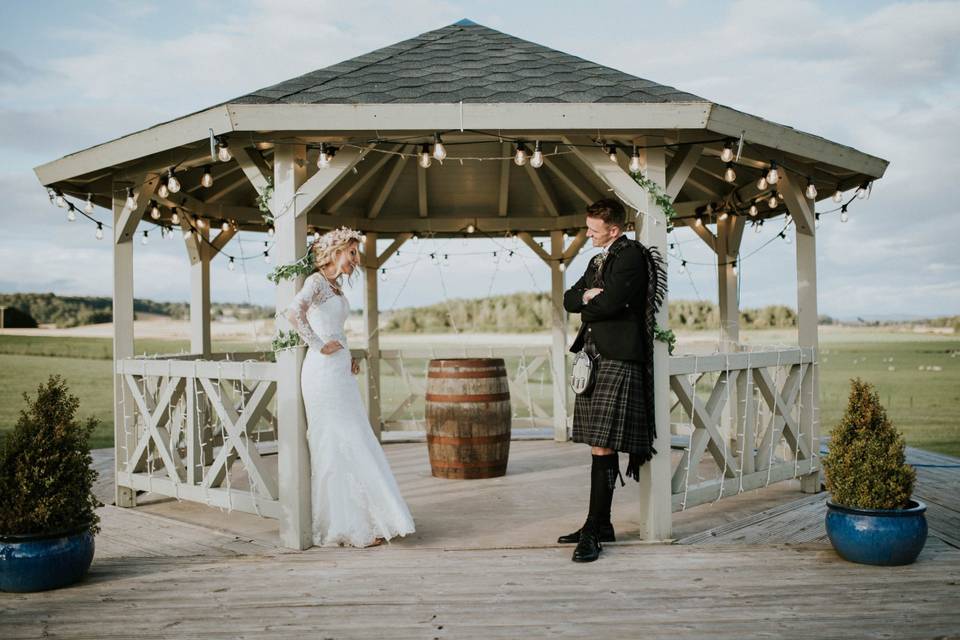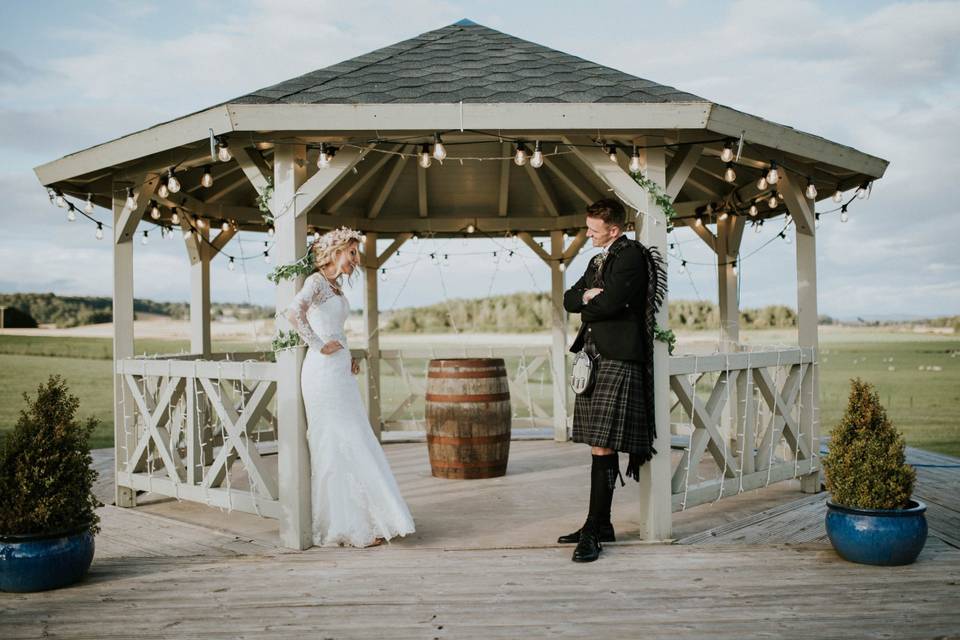 Finding your dream wedding venue on a budget can be tricky. With some venues charging five-figure sums simply for venue hire, couples can find themselves struggling to meet the rest of their wedding costs.
If you're after the perfect wedding venue north of the border and you're on a budget, you're in luck. Turns out there are plenty of cheap wedding venues in Scotland and, by the looks of this list, budget-friendly certainly doesn't mean you need to compromise on style.
In fact, we reckon you'll be pretty surprised by just how much you can get for your money, especially if you're happy to go off-peak. From fairy tale castles to loch-side lodges, here are the very best budget wedding venues in Scotland.
Now, surely there's enough funds left in the budget for that dream wedding dress?!
1. Kippilaw House – Melrose
This enchanting mansion house can be exclusively yours for the day, all at a surprisingly budget-friendly cost. Kippilaw House, including its ballroom, bar, dining room, grand hall and sitting room, will be yours to enjoy for the day along with the fabulous manicured lawn and terrace.
With a choice of three reception rooms, you can host anything from an intimate ceremony with just close family present to a large-scale celebration with up to 200 guests. Venue hire starts at £1,400 for a weekday do, with an added £550 if you wish to hold your ceremony here too. Saturday costs go up to £1,900 for a reception and the ceremony fee remains the same.
2. Kingsmills Hotel – Inverness
If you're looking for a cheap wedding venue in Scotland that makes wedding planning easy, then Kingsmills Hotel is perfect for you. This stylish hotel offers weddings for anywhere between three and 300 people and invites you to utilise its new Kingsmills Suite, which opens directly onto the tranquil grounds.
Prices range from £150 for a ceremony with up to 30 guests in the Adams Lounge to £300 for a ceremony with 150 in attendance in the Kingsmills Suite. The approximate price for guests (including arrival and toast drinks, canapés, meal, wine and an evening buffet) is £65.50. Kingsmills may also offer money off listed prices for weddings taking place Sunday to Thursday.
READ MORE: 33 Cheap Wedding Venues in the UK: The Best Affordable Venues
3. Winton Castle – East Lothian
Think a Scottish castle of your own for the day is out of your price range? Think again! Winton Castle offers a range of wedding packages including low-season and winter wedding specials that make becoming king or queen for the day a very realistic prospect.
A winter wedding package for 80 guests here is £11,500 and includes: exclusive-use, fire pits and open fires, ceremony room hire, reception with drinks and canapés, a three-course wedding breakfast, ballroom hire, an evening buffet for up to 120 guests, unlimited soft drinks, tea and coffee, personalised flag flying and complete event management. Sounds like a good deal to us!
4. Royal Botanic Garden – Edinburgh
If you love the idea of an outdoor wedding, or at least spending a large part of your day in the great outdoors, why not get hitched at the Royal Botanic Garden Edinburgh? This peaceful, city-centre oasis might just be cheaper than you think.
Venue hire starts at £3,500 during high season and goes down to £1,750 during the winter months, VAT not included. Dining packages are £55 per person plus VAT year-round and include reception drinks, a three-course meal with coffee, half a bottle of wine and bubbles for the toast.
READ MORE: Scottish Wedding Venues: The Best Places to Get Married in Scotland
5. Crear – Argyll
There's something very unique and laidback about weddings at Crear and the team love to keep it that way. If you'd love the convenience of having everything you need on-site plus the freedom to create a day that's as individual as you are, Crear is a fantastic choice.
You can hire the beachfront Crear House and Studio for two nights mid-week from just £5,950, which includes 12 overnight guests staying in six stunning en-suite rooms, room hire, a wedding breakfast, wedding flowers and photography plus much more. Three nights over a weekend will set you back £7,950 off season.
6. Linlithgow Burgh Halls – West Lothian
This iconic West Lothian landmark is the perfect pick for art and culture-loving couples thanks to its fine art galleries and rich history. You may think hiring a venue as impressive as this may be too much of a stretch for your budget, but think again.
You can hire one of the two spacious and light-filled function rooms at Linlithgow Burgh Halls for just £1,100 November to February, £1,650 in the spring and autumn and £2,215 over the summer months. Exclusive-use ranges from £3,540 to £5,540, depending on the day of the week.
7. The Lodge on Loch Goil – Argyll
What could be more romantic than a Victorian country house nestled on the edge of a loch? The Lodge on Loch Goil is a truly enchanting and unique venue offering couples privacy, tranquillity and pretty reasonable prices. Plus, it also offers you plenty of flexibility when it comes to ceremony settings. You can marry within The Lodge itself or on the lawn facing the loch with up to 50 guests in attendance. Alternatively, you can marry within the venue's magical treehouse in an intimate set-up for just the two of you or with up to 12 guests.
The mid-week Arran wedding package, based on 12 guests plus the couple, with exclusive-use of the venue includes: accommodation for yourselves and your guests for one night, the services of a wedding coordinator, Victorian afternoon tea on arrival, pre-ceremony drinks, Champagne and canapés, wedding breakfast with wine, cheese and coffee and a Highland breakfast before departure, all for £12,000.
8. The Old Dr Bells Baths – Edinburgh
This former Victorian bathhouse is certainly unlike any other venue in the area. Featuring a vaulted ceiling and large windows, this light and airy space is a great blank canvas for couples looking to really make a venue their own.
The Old Dr Bells Baths offer a range of flexible wedding packages that take the stress right out of wedding planning. The Gold package comes in at £89 per person and includes: exclusive use, a three-course wedding breakfast, post-ceremony fizz, a drink for the toast, a glass of wine with the meal, a wedding coordinator, master of ceremonies and a pre-wedding tasting for the couple. So, for a wedding with 50 guests you can expect to pay around £4,450. Not bad if you ask us!
9. House For An Art Lover – Glasgow
Old and new blend perfectly at House For An Art Lover in Glasgow. The early 20th century architectural design works perfectly with the contemporary and quirky décor and creative attitude of the HFAAL team. Plus, it's super-easy for guests to get to, situated within easy reach of key transport links.
Arty couples will love the chance to say 'I do' amongst the works of some of Scotland's most talented artists and they can do just that for £2,900 with 40 day guests and 80 evening guests on a weekday. This price includes a three-course meal, a house drinks package, venue hire, evening food and much more.
10. Forbes of Kingennie Country Resort – Angus
Set in the heart of the rugged Scottish countryside and nestled on the water's edge is Forbes of Kingennie Country Resort, a tranquil and homely wedding venue. When you're not saying your vows in the magnificent Buddon Burn room or enjoying the atmosphere underneath the fairy-lit beams in the Inglesmaldie suite, you can explore the stunning pools and surrounding woodland.
As majestic in the winter as it is charming in the summer, this venue offers couples the chance to say 'I do' for less during the colder months. Winter weddings start at £4,230 based on 60 day guests and 40 evening guests and include venue hire, drinks, canapés, a three-course wedding breakfast and the services of a dedicated wedding coordinator.
11. Bachilton Barn – Perthshire
If barn wedding venues are right up your street, you're not alone. With bags of rustic charm and stunning country views, it's no surprise wedding barns have massively increased in popularity over the last few years. Bachilton Barn is the perfect example of why we love them so much!
This beautifully styled barn is housed together with three other rooms, all exclusively yours for the day, giving you and your guests plenty of space to relax and mingle. You're also welcome to make use of the stunning gazebo and pond for romantic wedding photos. Venue hire in the winter months starts at £4,000 on weekdays and £5,000 on weekends. Hire includes accommodation for two nights for 28 people in the charming cottages.
12. Fingask Castle – Perthshire
Scotland is famed for its stunning castles and ruggedly romantic landscapes, but many couples believe booking a remote castle comes with a royally large bill. Fingask Castle is certainly the exception to the rule and offers venue hire from just £1,000 for weekday weddings.
You can marry within the walls of the historic castle, inside the outdoor pavilion or in one of the many stunning gardens, all of which come as standard when you hire the venue. Fingask provides everything you need to host a wedding ceremony and reception including chairs, glassware and tableware and pride themselves on their 'no hidden extras policy'.
READ MORE: 13 of the Most Magical Castle Wedding Venues in Scotland
13. Lodge on Loch Lomond – Argyll
Imagine saying 'I do' on the shores of a loch with only mountains on the horizon behind you. That's how outdoor weddings at Lodge on Loch Lomond go down. Even if the rain makes an appearance, you can continue to enjoy the magnificent view from the floor to ceiling windows inside.
The Lodge on Loch Lomond list a range of low season Friday and Sunday dates with rates set at £65 per person. This special price includes three drinks per person, a three-course meal with coffee, wedding stationery, a complimentary night in the bridal suite with a bottle of fizz and an evening buffet. This makes a wedding for 50 come in at a purse-friendly £3,250.
14. Aswanley – Aberdeenshire
Aswanley is a charming fortified house and Victorian barn situated on the edge of the famous Scottish Highlands. The barn features a series of interconnecting rooms, allowing you to organise your day with ease. Ceremonies can be inside or outside, and you're welcome to use the space in whichever way works best for you.
The spacious barn has been meticulously restored, giving it a warm and welcoming environment that will have guests feeling right at home. Midweek barn celebrations will set you back £3,712 for venue hire, you can then choose the catering and drinks options you would like from Aswanley's list of tried and trusted suppliers.
15. Fruin Farm – Argyll
If you're all about those country vibes, where better to get hitched than a working farm? Fruin Farm offers use of the entire farm for the day, giving you access to the 200-year-old rustic barn, the cosy snug, the light-filled Forest Room and, of course, the surrounding land (home to a llama or two!).
In-keeping with the laidback nature of the venue, the team are flexible when it comes to the details of your day. You can serve up anything from pizzas to hog roasts and BBQs, and you can deck the barn with anything from balloons to Baby's Breath. Exclusive-use hire starts at £3,000 and all bookings include cutlery, chairs, table linen, candles and a fire pit with marshmallows!
16. Harvest Moon – East Lothian
What could be more romantic than saying 'I do' beneath a canopy of stars and woodland trees? At Harvest Moon woodland weddings are totally bespoke, allowing each couple to put their very own stamp on the venue. Fancy serving up hot dogs in a tipi or afternoon tea in a stretch tent? The team will put you in touch with all the right people to make it happen.
Woodland weddings typically take place between October and March (when the landscape is at its most magical!) and prices for ceremony space hire and treehouse accommodation for around 49 people is £3,500. Treehouses feature wood-burning stoves, heaters and duvets so fluffy you won't want to leave!
17. Carrick Castle Estate – Near Glasgow
Set on the West shore of Loch Goil on the beautiful peninsula of Cowal, Carrick Castle Estate boasts one of the most majestic views of any budget wedding venue in Scotland. The newly built lodge is a blank canvas on which you can project your own ideas and the space can accommodate up to 120 guests.
You can celebrate in the spacious barn, intimate lodge or in a marquee within the grounds for a more traditional feel, it's totally up to you.
Intimate lodge wedding hire for between 2 and 18 guests start at £1,080 and this includes tables, chairs and toilets. Barn pricing goes up to £3,650 but this includes décor.
READ MORE: 75 Unusual Wedding Venues: The Best Unique Venues Across the UK
18. The Royal College of Surgeons of Edinburgh – Edinburgh
The Royal College of Surgeons of Edinburgh offers not only a range of rooms but a range of buildings, with something to suit weddings of all sizes and styles. The grand Playfair Building features plenty of large, opulent rooms while the Prince Philip Building boasts modern and elegant styling, perfect for more laidback celebrations.
Packages here start at £95 per person for a minimum of 80 guests, which may sound a touch too pricey but bear in mind that this includes everything from reception drinks, a three-course meal and an evening buffet as well as accommodation for the two of you on the night.
19. The National Piping Centre – Glasgow
For seriously Scottish vibes, we love The National Piping Centre, situated in central Glasgow. Not only is it a centre of excellence for the traditional Scottish instrument, it's also a four-star hotel with an award-winning head chef, making it a fantastic pick for the biggest day of your life.
Wedding packages here, of course, include a piper as well as venue hire and everything you need to set up, including table linen and candles. The Winter Wedding package is just £2,700 with peak season packages going up to a still rather reasonable £7,100.
20. Arta – Glasgow
If you're dreaming of a wedding venue that stands out from the crowd, you'll adore Arta and its authentic mediterranean vibes nestled on the streets of Glasgow. The Spanish hacienda offers a choice of seven rooms across three floors and is available for both ceremony and reception hire.
Room hire packages start at £1,200 Thursday to Sunday and just £500 for Monday to Wednesday hire. For this you can expect the services of a wedding coordinator, table centre decorations and on-table stationery. Dining starts at just £34 per person and menus feature a mix of traditional Scottish fare and Spanish favourites.
Find out how to make more easy savings with our 25 Super Smart Hacks to Help You Save for Your Wedding.