Wedding planning made easy
Wedding planning has never been so easy with our complete, free and customisable checklist, budget, website, suppliers and more!
Wedding planning made easy
Wedding planning tools you'll love
Create a free account in Hitched and start planning your big day.
Checklist
Get the most complete Wedding Checklist so you don't miss a thing.
Discover more
Customise your tasks
Add, modify or remove tasks as needed to create a custom Checklist.
Track your progress
Keep an eye on your completed and pending wedding tasks.
Sync your budget
Your Budget is synced with your Checklist to keep you on track.
Supplier and venue manager
Find, manage and contact your favourite suppliers with one click.
Discover more
Message suppliers
Find and message your favourite suppliers wherever you are.
Don't rely on memory
Include notes and details about each supplier for future reference.
Save your favourites
Compare suppliers' prices, read reviews and save your favourites.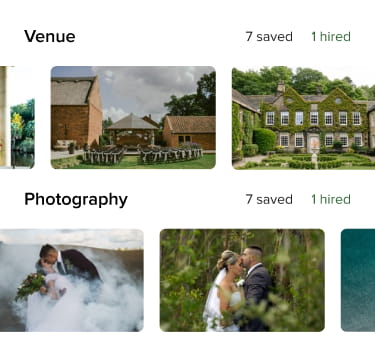 Your wedding website
Create your own customisable Wedding Website for your guests.
Discover more
Create your wedding website in the blink of an eye
Customise your website by selecting a unique design and add your details.
Update as you go
Keep your guests informed on any changes or last minute details.
Collect RSVPs
Your Guest List is synced so guests can RSVP through your site.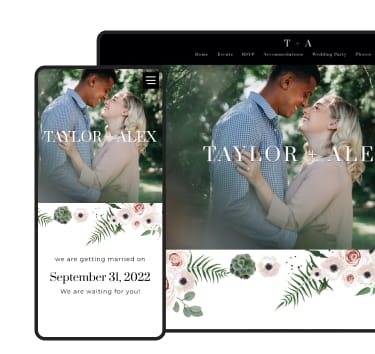 Get your free Hitched account to start planning
As you create your Wedding Website, you can also put together your guest list.
Budget planner

Let Hitched run the numbers and keep your spending under control.

Revise Your Budget

Seating chart

Easily drag and drop guests from your Guest List to assign seats.

Arrange Your Tables

Guest list

Create and manage your Guest List and receive RSVPs, all in one spot.

Add Your Guests
Start planning your wedding

Let's tick off your first wedding planning task and create your free Wedding Website. Then you'll be able to start managing your guest list and more!

Create your wedding website

Build your own Wedding Website and make it yours. Try different templates, use colours to match your wedding style and invitations, add photos and much more.

Easily receive RSVPs

One of the greatest things about your free Wedding Website is that guests can RSVP directly. No need to post cards or keep record by hand. It couldn't be easier!

Customise your domain

Get imaginative and create your own domain name for your Wedding Website. Make it something easy that your guests can remember so they always know where to go.
Dream it. Plan it. Book it. Wherever you are. Download the Hitched app.
The Hitched app will be your greatest ally as you plan your wedding. Save venues as you visit them, receive RSVPs and plan like a pro.
Frequently Asked Questions
Questions about our planning tools? Look no further!
Do you have to pay for the wedding planning tools?

You don't need to pay a thing, our wedding planning tools are free. When you create a free account on Hitched.co.uk you'll gain access to all our tools to plan your dream wedding.

What do the Planning Tools offer me?

The Planning Tools at Hitched take all the hassle out of wedding planning. They allow you to manage every aspect of your wedding from the palm of your hand: your Checklist, Guest List, Budget, Seating Chart and more. You'll plan your wedding with ease and save loads of time so that you can enjoy your engagement to the fullest.

What can I do with the Planning Tools?

Stay organised with our Checklist tool which you can personalise to keep all your tasks in check. This way, you can easily see what you need to do next. Next, set a budget for each aspect of your big day. Your Budget Planner will be synced with your Checklist so you can keep track of pending payments to suppliers. To make everything crystal clear, your Supplier Manager will be synced as well so that you can manage your entire wedding team with one easy tool. Finally, let's not forget your beloved guests. With the Guest List tool, you can add all your guests, include menu or dietary preferences and manage RSVPs. Everything will sync with your Wedding Website so that guests can send their RSVP directly. The final step is a fun one. You can create a seating plan by simply dragging and dropping each guest into the tables with our easy-to-use Seating Chart.

How should I use the Planning Tools?

Start by creating a free account on Hitched. You'll be prompted to connect your partner, so that they also have access to the tools. This lets you plan together. First, you'll see the Checklist we put together for you. Feel free to modify it to suit your needs; add notes, suppliers and expenses, which will be synced with your Budget tool. Mark tasks as completed as you go. Next, go through your Budget. Again, we've included some estimates, but you can modify each cost or add new ones as needed. You'll be able to view paid and pending payments at a glance, just as you can see your completed and pending tasks. Once you've got an idea of who you'll invite, start adding guests to your Guest List. There, you can include menu preferences and mark their attendance. You can also group guests, which will make it easy to seat them using the Seating Chart later. When you're ready, create your free Wedding Website and share all the juicy details of your wedding with your guests.
A special thanks to: Laura Ford Photos