30 Cheap Wedding Venues with Prices Starting at £22.50pp
With wedding packages under £2,000 and discounts of up to 50%, these cheap wedding venues are offering *so* much to budget-loving Brits
Keeping costs down when planning a wedding can be tricky. Opting for cheap wedding venues can make a huge difference to the cost of your day, meaning you can splash out on a few other things like your wedding dress, wedding cake or wedding photographer.
We've rounded up some of the best cheap wedding venues that look anything but – and will help you plan the wedding day of your dreams for a budget that suits you!
When searching cheap wedding venues near me, some couples may worry they'll have to compromise on style and aesthetic because of their budget, but we're here to tell you that isn't the case at all. These affordable wedding venues allow you to plan cheap weddings that look the total opposite.
As well as listing some of the most gorgeous, cheapest wedding venues in the UK, we also have advice on how to decorate a cheap wedding venue and how to find bargain wedding packages under £2,000. It really is possible to get a wedding venue for cheap prices when you know where to look - and if that's your goal, you've come to the right place.
Cheap Wedding Venues: 30 Affordable Wedding Venues in the UK
Make your wedding budget stretch further by saving big on one of these affordable wedding venues.
If you're specifically looking for cheap wedding venues in London, you can find our pick of the best 19 here, and we've also got the top 22 affordable wedding venues in Scotland too.
To explore more amazing offers, check out our wedding venue special offers section, where you can narrow down deals by your county to help you on your search for the cheapest wedding venues near me.
All deals subject to availability and valid on the date of writing – 03/10/2023
1. Brickhouse Vineyard - Exeter, Devon
Tucked away in the picturesque South Devon hills, Brickhouse Vineyard is the ultimate hidden gem, and one of our favourite cheap wedding venues in the UK. Perfect for intimate weddings, you'll have exclusive use and complete privacy as you say "I do" among 20 acres of woodland and vines. Naturally, you'll also have access to some of the best wine the South of England has to offer!
If you're looking to really wow your guests while also saving, then this is the cheaper wedding venue for you. One newlywed said: "Our guests were in awe when they arrived at how amazing and beautiful they thought the venue was. "
This same Hitched user highlighted another amazing feature of the venue: the staff. "All the staff we interacted with, both in person and through email, were all so lovely and helpful, and thanks to them our day ran so smoothly."
Deals: Hitched get exclusive access to a 10% discount at this cheap wedding venue and there are also late availability offers for remaining 2023 dates.
Pricing: From £1,700
Capacity: Up to 100
2. Holmes Mill - Clitheroe, Lancashire
This former textiles mill in the charming Lancashire town of Clitheroe is the height of modern industrial chic. With exposed beams, naturally textured walls and even some of the former mill machinery, Holmes Mill is a unique wedding venue with tons of natural light and character. Right next door is a luxury hotel with 39 bedrooms for guests.
Newlyweds have described this gorgeous wedding venue as "everything we hoped for and so much more".
Deals: Holmes Mill, one of the cosiest cheap wedding venues in the UK, is offering couples a stonking deal. All remaining 2023 wedding dates will cost you just £3,995 for 50 guests.
Pricing: From £3,995
Capacity: Up to 150
3. Owlpen Manor - Dursley, Gloucestershire
Think a private Cotswold valley with a 215-acre estate is out of your price range? Think again! The great deals that Owlpen Manor has on offer make this stunning property one of many cheap wedding venues in the UK.
Owlpen Manor is a romantic Tudor country house with plenty of spots across the estate to tie the knot. From the church to the Great Hall and Cyder House barn, there are spaces for 20 to 200 guests. The Old English formal gardens are ideal for your photos.
The medieval Cyder Barn dates back to 1446 and features a huge oak cider press for a unique setting.
"Owlpen feels like your own private slice of idyllic countryside, where you are able to create your wedding day exactly as you want it." says a Hitched user. "We loved having the whole venue for two nights, and having close friends and family staying on the estate in cottages meant we had time to really enjoy the whole weekend."
Deals: Planning to tie the knot during the week? Check out Owlpen Manor's Midweek Wedding Package which includes food and drinks for 40 guests, with the option to add more up to 120! They also have a winter wedding discount for late 2023 and early 2024 dos, and an exclusive 10% offer for Hitched couples only.
Pricing: From £3,250
Capacity: Up to 120
4. The Shropshire Golf Centre - Telford, Shropshire
The Farmhouse at the Shropshire Golf Centre dates all the way back to 1818 and has beautiful beams and chandeliers in abundance. Couples looking for a picturesque Shropshire wedding venue are in luck - this cheap wedding venue has it all.
No matter whether you want to tie the knot indoors or outdoors, there are numerous event spaces and scenic areas to choose from. Not only that, but couples have the option of exclusive use for a private celebration. There's a separate Library Bar and snug for your guests to relax in and, thanks to the venue's recent refurbishment, the interiors are stunning.
The staff are another great benefit of this venue, with one Hitched user saying "I don't know what to write to express how utterly amazing the staff at The Shropshire are. They made our day everything we wanted & more."
Deals: If you absolutely can't wait to get hitched, check out this venue's Let's Knot Wait package, giving you room hire, food, linens, bar, a resident DJ and more, for couples who have their wedding within six months of booking.
There's also an exclusive cheap wedding venue deal for couples wanting to get married in winter. The Under the Mistletoe package offers couples an £800 saving on festive weddings.
Pricing: From £3,500
Capacity: Up to 200
5. The Sitwell Arms Hotel - Eckington, South Yorkshire
The Sitwell Arms Hotel is a former 18th-century coaching inn that has been transformed into a rustic hotel wedding venue with beautiful grounds that are perfect for photos. Outside are the lily pond and rose orchard garden, a fishing lake and fountain, and even a secret garden, ideal for an outdoor wedding.
If you'd prefer to get hitched indoors, there's space for up to 200 of your friends and family. Guests staying the night can enjoy 30 superb on-site bedrooms.
Deals: Good news if you're getting married in January or February 2024 and are on the hunt for cheap places to get married, as you can enjoy this beautiful venue for only £2,400.
They're also offering a whopping 20% off remaining 2023 wedding packages, giving couples the chance to tie the knot and save £3,000 while they do it. You can also secure yourself a free engagement party worth more than £1,200 by booking this deal with them.
Pricing: Menus from £28
Capacity: Up to 250
6. The Venue At Sandy Cove - Ilfracombe, Devon
Situated in Ilfracombe, Devon is The Venue at Sandy Cove. This gorgeous property is a classically decorated space that can host both ceremonies and receptions, ideal for couples who are planning budget weddings but still want a glam look.
This is perfect for couples searching for the ultimate coastal wedding venue - we guarantee your guests won't be able to take their eyes off the seafront views. One newlywed said, "The setting is breath-taking, all our guest were blown away with the place."
The venue has a number of spaces for indoor and outdoor ceremonies, most notably the cliff-top gazebo with a sky walk platform. State-of-the-art lighting with a colour wheel means that couples can tailor the lighting to fit their colour scheme, and guests can watch you say your vows in front of the sea thanks to the floor-to-ceiling windows.
Deals: Last-minute couples can enjoy 25% off last-minute key dates in 2023. If you want spectacular views from one of Devon's best cheap wedding venues, you won't want to miss out on this.
Pricing: From £1,500
Capacity: Up to 200
7. Limpley Stoke Hotel - Bath, Somerset
Just outside the city of Bath is the elegant Limpley Stoke Hotel. Overlooking the spectacular Limpley Stoke Valley, it offers a selection of function rooms that can host up to 200 - although you can't go wrong with an intimate wedding either. With a complimentary honeymoon suite stay and a dedicated wedding coordinator, you won't need to worry about a thing.
The picture-perfect gardens are another big draw to this gorgeous Somerset wedding venue. Couples can opt to hold their entire wedding ceremony and reception here, making this a great choice of cheap venues for weddings.
Limpley Stoke Hotel is a certified hit with our users - one even commented, "The food here is fantastic; breakfast, canapés, sit down meals - we received so many comments from guests on how lovely it all was. More people chose to stay the night of the wedding and everyone commented on how nice their rooms were."
Deals: Check out the Ultimate Offer Package here - this includes 40 day guests, a three course meal, arrival drinks, an evening finger buffet, resident DJ and more for only £3,980.
If you're tying the knot in Somerset and looking for 'cheap wedding venues near me', this could be the one.
Pricing: Menus from £36
Capacity: Up to 200
8. The Woodman Inn - Huddersfield, West Yorkshire
Nestled in a historic hamlet, The Woodman Inn is a picturesque refurbished 18th-century country inn. Offering delicious food, stunning surroundings, beautifully-appointed accommodation and lots of personal touches, there are fewer places more inviting for your big day.
When you think of this wedding venue, cheap is the last word that comes to mind, but their prices say otherwise.
If you're planning a more intimate wedding ceremony, then The Country Room is the venue for you, seating between 40-80 people. Larger weddings can take place in The Garden Room, a glass structure seating 60-150 guests.
One Hitched user commented, "The level of service was outstanding, the food was exceptional and the team couldn't do enough for us." What more could you want?
Deals: There are several budget wedding venue deals to be had here, but two of our favourites are their country and garden room packages.
Couples booking the exclusive Garden Room Package can benefit from a generous 20% discount, whilst Country Room Package customers can see themselves saving 15% when booking at this venue. Both deals are valid for 2024 weddings and give the option to add additional day and evening guests.
Pricing: Menus from £29
Capacity: Up to 150
9. The Plough Inn - Eaton, Cheshire
The idyllic village of Eaton is home to the historic Plough Inn. Lovingly restored, the 15th-century coaching inn now has a stunning oak barn for weddings of up to 85 guests, and 17 stylish bedrooms for them to stay in.
The red brick home, manicured gardens and wood-framed barn make this the ideal spot for a rustic-styled day, and you can plan one of the cheapest weddings here without anyone even realising. What really sets this venue apart is the food. The Plough offers a range of delicious options from tantalising canapes to delicious meals and pub classics - the ideal foodie wedding venue.
Deals: The Plough Inn team love a winter wedding, and they're offering exclusive cheap wedding venue packages for both 2024 and 2025 festive celebrations.
Couples tying the knot in January, February or November 2024 can do so for just £2,424, and those tying the knot in the same months a year later in 2025 can do so for a mere £3,025 - what an absolute bargain.
Pricing: Menus from £40
Capacity: Up to 115
10. The Buttery and Glasshouse - Wrotham, Kent
The Buttery and Glasshouse is a unique and beautiful country inn located in the heart of Kent. It dates back 600 years, has bags of character with its exposed beams and original stone walls. We love The Buttery – a spacious function room that flows out onto the veranda and courtyard, where guests can enjoy reception drinks and get photographs taken.
The on-site restaurant prepares delicious English dishes using fresh local ingredients, as well as American-inspired feasts prepared in Kent's only imported Texas smoker.
Hitched users love this cheap venue for weddings - one said, "Excellent venue, excellent food. The staff are amazing. Every single part of our wedding was perfect. The team are really good at what they do. You won't find many venues better. Thank you so much!"
Deals: There are a staggering six budget wedding venue deals at The Buttery and Glasshouse for couples to benefit from.
One of our favourites is the long weekend wedding package which gives you exclusive access to the venue from noon on Friday until the Sunday afternoon. They also have deals for bank holidays, New Year's Eve, a special Sunday wedding price and intimate wedding packages for small and cosy dos.
Pricing: From £120
Capacity: Up to 100
11. Sheene Mill - Royston, Cambridgeshire
Sheene Mill is a romantic, boutique country venue situated right on the River Mel and surrounded by lovely landscaped gardens. The 16th-century former flour mill has lots of its original features like open fireplaces and exposed beams, adding to its character and charm.
If you appreciate good food, you're in luck - one newlywed said, "The food was delicious and beautifully presented, all of our guests loved it."
It's licensed for indoor and outdoor ceremonies, and you'll love posing for pictures with their resident swan Will. Where else could you get a wedding venue for cheap as chips prices and get to be photographed with a swan?
Deals: If you're looking for the cheapest wedding venues, one way to save money is to embrace a late availability offer like the one here. If you book with Sheene Mill for a late availability date, you can enjoy a huge 50% off the venue hire price.
And if you're planning to tie the knot in 2024 or 2025, the venue encourages you to contact them for more special promotions. Not only that, but Hitched users get a further 5% discount here.
Pricing: From £1,000
Capacity: Up to 180
12. Inglewood - Puddington, Cheshire
How spectacular is Inglewood Manor? Inside you'll find oak-carved rooms, roaring open fires, and three licensed ceremony rooms, while outside, you can marry on the large balustrade terrace which looks out over 38 acres of manicured lawns and shimmering lakes.
Upstairs there are 29 individually designed, luxury bedrooms to rest your head. It's a truly impressive setting for your big day, and might cost you less than you expect.
Budget wedding venues rarely look as grand as Inglewood Manor, and their packages make them one of the most tempting cheap wedding venues on the list.
Deals: There are plenty of deals up for grabs at Inglewood Manor, including a 2023 All Inclusive Package (£7,500 for 50 all-day guests) and a 2024 All-Inclusive Package (£8,500 for 50 all-day guests).
Pricing: Menus from £65
Capacity: Up to 200
13. Redworth Hall Hotel - Darlington, Durham
Redworth Hall Hotel is a gorgeous Jacobean manor house set within 26 acres of stunning grounds. You'll arrive up the sweeping drive to its impressive façade and enter into the wood-panelled rooms.
The Great Hall is perfect for your wedding breakfast, with lots of warm wood, rich colours, and sumptuous furnishings- and speaking of the wedding breakfast, one Hitched user said, "The food was lovely both for the breakfast and evening buffet. And of course the Great Hall looked stunning all day!"
Coupled with delicious food and great service, it'll be a truly memorable day at one of the most glamorous cheap venues for weddings.
Deals: Redworth Hall Hotel is one of the best cheap wedding venues in the UK because it has a whopping eight deals for couples to make the most of - and it's not just for last minute dates. They have 2025 day and moonlight wedding packages starting at just £3,600, and similar packages for 2024 wedding dates too. Run, don't walk guys.
Pricing: Menus from £90
Capacity: Up to 220
14. One Warwick Park Hotel - Tunbridge Wells, Kent
Hotel wedding venues were the most popular choice for weddings in 2023 according to our National Wedding Survey, and looking at beautiful venues like One Warwick Park Hotel, it's easy to see why. This Grade II-listed wedding venue is a former brewery and schoolhouse boasting visionary architecture and interior designs.
19th century timber vaults and 15-foot arched windows make this a blank canvas venue with a difference. This function room features an adjoining bar, allowing parties of up to 120 seated and 180 guests to enjoy the beautiful building.
Don't just take our word for it - one Hitched user said, "The wedding itself went perfectly, looked better than we could have ever imagined and, thanks to Christie and the entire team at One Warwick Park, we experienced a truly unforgettable day."
Deals: One Warwick Park Hotel has exclusive 2023 wedding package offers for late availability dates, but their prices are totally budget friendly even without this.
Pricing: From £1,000
Capacity: Up to 150
15. Church Farm Estate - Corsham, Wiltshire
Tie the knot in the cheap wedding venue of dreams by choosing Church Farm Estate in Wiltshire. This charming estate is an outdoor wedding venue set in the most gorgeous, rural location.
It's also rumoured that budget weddings can't be done sustainably, because being eco-conscious costs more - but we're here to bust this myth, as Church Farm Estates is sustainably conscious, and also starts its prices at less than £2,000.
Here, you can plan cheap weddings without having to worry about your impact on the environment - that's a win-win in our eyes.
Deals: Prices at Church Farm Estate start from £1,750, meaning wedding packages under £2,000 are possible here. What's more, Hitched couples can get an exclusive 10% discount on bookings when they quote Hitched in their inquiry. More savings for you!
Pricing: From £1,750
Capacity: Up to 50
16. Cleaver & Wake - Town Centre, Nottinghamshire
We love a city wedding here at Hitched, but couples often feel like getting married in the city centre might price them out when planning on a budget. But places like Cleaver and Wake in Nottingham prove that cheap wedding venues do exist in city centres, and you don't have to compromise on location or style.
This affordable wedding venue is all about the food, with their kitchen being headed up by Chef Patron Laurence Henry, you're comfortably in good hands.
The venue can host weddings of up to 70 day guests and 150 in the evening, and is easily accessible by public transport due to its excellent city-centre location. Finding wedding venues that are cheap and high quality has never been easier with places like this floating about.
Deals: Always dreamed of an August bank holiday wedding but never thought you'd find cheap places to get married? Think again as Cleaver and Wake have a special deal for August bank holiday weddings in 2024, offering couples 10% off their venue hire.
They also have May bank holiday deals, mid-week ceremony discounts and money off 2023 and 2024 remaining dates.
Pricing: Menus from £60
Capacity: Up to 150
17. The Old Dr Bells Baths - Leith, Lothian & Borders
The Old Dr Bells Baths is a totally unique budget wedding venue located in Leith. This venue celebrates its Victorian heritage while also combining it with a sense of modern luxury.
This venue is a former bath house and has now been renovated to become one of Scotland's premier event spaces. Neutral white colours make this the ideal blank canvas to decorate on your wedding day, with one Hitched user saying, "We liked how the venue is so flexible on theme, with a beautiful blank canvas room that can be decorated to your own tastes."
Deals: The Old Dr Bells Baths is offering a Winter Wedding Package from November 2023 - April 2024, giving couples the chance to say their vows and celebrate for only £5,000.
There are also a select number of dates still available for the £2,023 in 2023 package, which may make this one of the cheapest wedding venues in the area.
Pricing: From £22.50
Capacity: Up to 150
18. Stoke by Nayland Hotel, Golf & Spa - Colchester, Essex
Stoke by Nayland Hotel, Golf & Spa is an award-winning family-owned wedding venue which has been helping couples create memories and plan budget weddings for over 50 years.
And these couples are happy to come back time and time again - one Hitched user said, "We had the most perfect day and already can't wait to go back to celebrate our anniversaries there in years to come."
If you want stunning wedding photos, then this is the place to be - the hotel is surrounded by 300 acres of stunning English countryside scenery with lakes, streams and woodlands.
From grand gatherings to intimate celebrations, this venue accommodates weddings of all styles and sizes. The four-star hotel also has 80 contemporary bedrooms and 10 luxurious countryside apartments to help you and your guests relax in style.
Deals: There's more midweek madness at Stoke by Nayland Hotel, with Sunday-Thursday dates coming in at £5,950, as well as a New Year's Eve offer which gives couples an all-inclusive package for less than £9,500.
Pricing: Menus from £79.50
Capacity: Up to 300
19. Curds Hall Barn - Dereham, Norfolk
Blank canvas wedding venues are a great way to put your own unique stamp on your wedding day - and Curds Hall Barn is no exception. The Main Barn's impressive features, including vaulted ceilings and floor-to-ceiling windows, mean that this is a light and airy space ideal for saying your vows.
If an outdoor wedding ceremony is more your style, there are plenty of locations in the grounds that also boast spectacular views. One newlywed commented, "Curds Hall Barn is in the most idyllic setting, in rural Norfolk. The barn is absolutely beautiful and fitting perfectly with the rustic design we wanted!"
Drinks can be held in the Main Barn or the lawn, where you and your guests can enjoy some outdoor wedding games.
Deals: If you're looking for cheap barn wedding venues near me in Norfolk, then you have to check out the deals at Curds Hall Barn.
We love wonderful Wednesday weddings, and so do the Curds Hall Barn's team - they're offering a £1,000 venue hire discount on Wednesday weddings throughout bookings in 2023.
Pricing: From £3,500
Capacity: Up to 120
20. The Bedford Hotel - Tavistock, Devon
The Bedford Hotel is a privately owned 19th century Grade I-listed wedding venue built on the remains of a Benedictine abbey. If you're looking for a historic wedding venue full of rare and wondrous beauty, then this is the affordable wedding venue for you.
The Bedford Hotel boasts four uniquely beautiful function rooms, all of which are licensed for civil ceremonies and civil partnerships. From intimate ceremonies to lavish celebrations with up to 110 of your closest family and friends, you'll find your perfect wedding setting here.
The events team are another highlight of the venue, with one Hitched user saying, "They were highly attentive, coming up with great suggestions and helping us create the wedding we wanted."
Deals: If you and your partner have been searching for 'wedding packages under £2,000 near me', then look no further.
The Bedford Hotel's Small & Beautiful Midweek Weddings package allows hire of the Gallery function suite, drinks reception, afternoon tea and more for only £1,600 based on 30 guests.
They also have a wonderful winter weddings deal which allows you and 50 guests to celebrate for just £3,250.
Pricing: Menus from £46
Capacity: Up to 100
21. Bunny Hill Weddings - Market Weighton, East Riding of Yorkshire
There's no shortage of fab wedding venues in Yorkshire, and Bunny Hill is certainly one cheapest venues - and the most beautiful. This modern barn boasts a high-end luxury interior as well as 12 acres of grounds dedicated to weddings with manicured lawns, strips of shady woodland and walled courtyards.
On-site accommodation sleeps up to 35, and choosing to spend your first night as a married couple there will get you access to the wedding suite and its private garden and Jacuzzi.
This affordable wedding venue operates just like a boutique hotel, meaning that couples have everything they need in-house, including catering and bar services.
Take the advice of this Hitched user: "If you're newly engaged and thinking of Bunny Hill as your venue… do it! Don't even think about it."
Deals: Bunny Hill's Keep It Simple budget wedding package is designed for those arranging a wedding at short notice or those who prefer a less complicated wedding planning process. The package includes venue hire, food and drink, coordination and venue dressing for up to 50 guests on selected Tuesdays and Thursdays.
There is also a generous 20% discount for couples booking in low season months, perfect for cost winter weddings we say.
Pricing: From £6,240
Capacity: Up to 350
22. Carlton Manor - Kingston Upon Hull, East Riding of Yorkshire
A charming manor house, a tipi wedding venue, picturesque countryside - what more could you want? Carlton Manor is a beautiful property dating back to the 18th century, and has recently undergone an extensive renovation to restore the budget venue's historic charm while also adding modern conveniences.
Couples having civil ceremonies can enjoy a number of spaces for their vow exchange. We highly recommend you check out the spacious Carlton Tipi - this structure can accommodate up to 150 guests for both a wedding breakfast and an evening reception.
Deals: Book an autumn or winter weekend wedding in October and November 2023 or from January to March in 2024 for the price of a midweek wedding - reduced from £7,400 to £6,000, making this one of the cheaper wedding venues in the area with huge savings to be had.
Pricing: From £7,995
Capacity: Up to 150
23. The Swan Hotel - Bibury, Gloucestershire
Who doesn't love a Cotswolds wedding venue? The Swan Hotel is a charming hotel wedding venue found on the banks of the River Coln, right in the heart of the region. Full of charm and elegance, this is the ideal location for a memorable yet affordable wedding experience.
Couples can choose to celebrate their love both indoors and outdoors here, with spaces like The Library, The Signet Room and The Summer House ready for picture-perfect ceremonies.
The Swan Hotel is licensed for civil ceremonies and the hotel's staff are proud supporters of love in all its forms. Couples love it here - just listen to this rave review: "Everything was taken care of for us on the day including decorating the venue, supplier set up and looking after all of our guests. We didn't want it to end or to leave The Swan. Perfect day."
Deals: Good news for couples celebrating summer weddings on a budget - The Swan Hotel are giving bargain-loving couples the chance to have a summer wedding for just £6,000!
You can add a garden wedding ceremony onto this package, but they'll even refund you this if the weather is poor and you have to say 'I do' inside - how lovely is that? And it's valid between April and October 2024, so you can book in high season for much less.
Pricing: Menus from £95
Capacity: Up to 110
24. Bardney Hall - Barton Upon Humber, Lincolnshire
Stately home wedding venues are a great way to celebrate a romantic wedding - just look at Bardney Hall. This mother-and-daughter owned unique destination is the perfect place for a fairytale wedding experience, and you can celebrate with up to 70 guests whilst still benefiting from a cheap wedding venue.
The red brick stately manor is surrounded by lush, expertly landscaped gardens and can be rented in its entirety, including spaces such as the Garden Room, Function Room and Drawing Room. Inside the manor you'll find an expert blend of a regal and welcoming atmosphere.
Hitched users love it here - one said, "I honestly don't know how to put into words how fantastic this place is. Bardney Hall and its gardens are simply stunning."
Deals: There are plenty of deals on offer hire, including their permanent deal of dry hire from £4,000 and excellent value package for 20, 30, 40, 50 and 60 guests. They also have twilight and small wedding packages to suit every size of guest list, and midweek deals from just £2,000.
If you're looking for cheap wedding venues near me, don't miss out on these amazing deals.
Pricing: From £2,000
Capacity: Up to 100
25. Weston Hall - Stafford, Staffordshire
Weston Hall is a Grade II-listed building right in the heart of the Staffordshire countryside with many of its original Elizabethan features such as open stone fireplaces. Whilst being a super affordable wedding venue in the UK, newlyweds are singing its praises for the look and feel on Hitched, saying "The venue is pure luxury!"
This property boasts 20 acres of breath-taking scenery, the perfect backdrop to bring all your wedding photo ideas to life. Weston Hall can accommodate up to 110 guests for your ceremony and evening reception or, if you'd prefer a more traditional ceremony, there are many nearby local churches where you can also tie the knot.
Deals: Check out Weston Hall's Sunday-Thursday package, coming in at £115 per person, which covers exclusive hire of The Westminster Suite, three course wedding breakfast, two glasses of prosecco, one glass of wine and pork baps. It's hard to believe that such a grand wedding venue is so cheap.
There are also six other budget wedding venue deals at Weston Hall, including December offers, exclusive use packages and an autumn deal you need to know about.
Pricing: From £4,650
Capacity: Up to 150
26. House For An Art Lover - Glasgow, Central & Glasgow
There's no shortage of beautiful wedding venues in Scotland, and the supremely stylish House For An Art Lover is no exception. This affordable wedding venue takes its inspiration from the Art Nouveau artist and architect Charles Rennie Mackintosh and has been developed from original designs dating back to 1901.
If you pride yourself on your taste for fine aesthetics, this could be the wedding venue for you. The mesmerising property combines colourful history with pleasing visuals to provide three beautiful spaces for you and up to 150 guests.
Hitched users love this venue, with one happy newlywed commenting, "It was an absolutely perfect day for us, could not have gone better. Thank you so much to you and your team for making the planning process so easy and stress free, and helping the day flow so well!"
Deals: This cheap wedding venue looks anything but, making it hard to believe that their winter wedding package starts from just £3,340 for January, February, March, November and December 2024 weddings.
Pricing: Menus from £66.50
Capacity: Up to 150
27. Eden Barn - Kirkby Stephen, Cumbria
We love barn wedding venues like Eden Barn, a delightful property set in 100 acres of outstanding natural beauty. This destination manages to be both exclusive and intimate at the same time, and its traditional 200 year old Westmorland stone barn offers a unique rustic elegance tailored to suit any style of day, even budget weddings.
Vows can be exchanged under a canopy of festoon lights or a handcrafted outdoor pavilion with a scenic backdrop. Any couples looking for a church wedding will be delighted with the beautiful historic churches nearby.
This has to be one of the most beautiful cheap wedding venues - just listen to what Hitched users have to say: "It was the dream venue, not only for its stunning surroundings and breath-taking barn, but also for the team."
Deals: Eden Barn are offering a £500 discount on all their prices if booked within 21 days of a visit, either in person or virtually - yes, you read that right, £500 off your 2025 wedding!
Couples looking for cheap barn wedding venues near me can call off their search here, as they're also offering £1,000 off 2024 wedding dates and free champagne on selected Saturdays next year.
Pricing: From £3,800
Capacity: Up to 200
28. Stoke Place - Stoke Poges, Buckinghamshire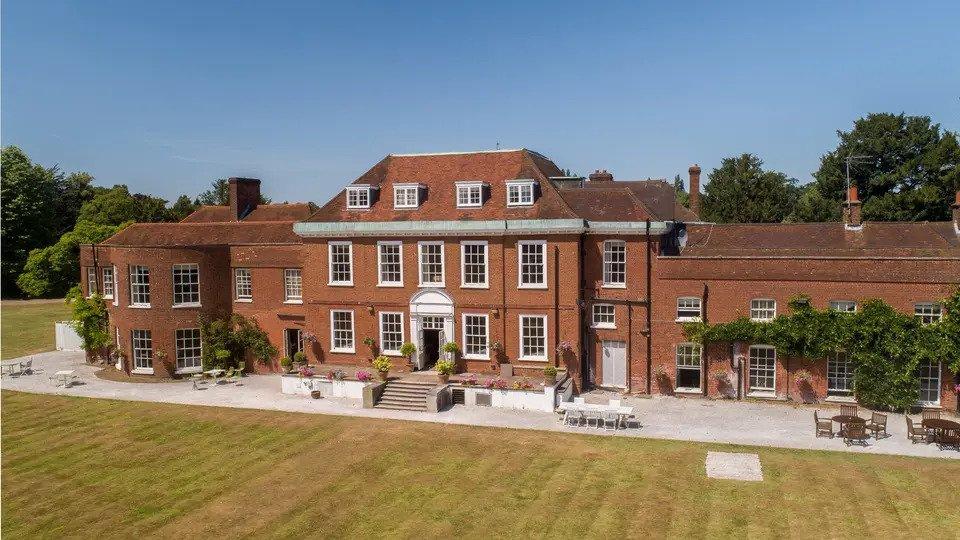 Located right by Windsor and just 30 minutes away from the capital, Stoke Place is an easily accessible and elegant country wedding venue. No matter whether you're having your wedding in spring, summer, autumn or winter, this venue comes alive with colour in every season, and allows you to do so on a tight budget.
You'll find a number of settings licensed for civil ceremonies in this exquisite property, including the minimalist Ballroom, Lakeside Room and The Thomas Gray. For truly unique ceremonies, the Wigwam is a rustic favourite for intimate wedding breakfasts with everything for you and 40 of your guests.
Stoke Place always leaves newlyweds feeling satisfied: one said, "There was nothing to complain about and we will definitely come back in the future. Our guests have been very happy and enjoyed every moment, they have tasted and enjoyed the food and they were very happy."
Deals: Couples have the opportunity to hold their wedding in the unique Wigwam with a package costing only £6,500. There's also a 2023 Late Availability package coming in at £8,999 and a Wondrous Winter Wedding Package for £8,999 for 70 people.
Pricing: Menus from £163
Capacity: Up to 160
29. Solberge Hall Hotel - Whitewell, North Yorkshire
This North Yorkshire wedding venue is a specialist exclusive-use wedding venue. Solberge Hall Hotel was first built in 1824 and offers couples privacy and tranquillity to exchange their vows, as well as lush outdoor gardens and elegant suites.
The venue is licensed for both indoor and outdoor civil ceremonies and boasts locations such as The Hambleton Suite, with a capacity of 160 day guests and 200 evening guests, and the Drawing Room with a capacity of 20 guests, ideal for more intimate ceremonies.
Couples looking for cheaper wedding venues with an air of elegance won't be disappointed; Hitched users described Solberge Hall Hotel as "absolutely stunning and we could not have asked for a more perfect day. "
Deals: There are deals upon deals upon deals at Solberge Hall Hotel - five in total, to be exact.
The Wiske Wedding Package offers a range of benefits for 80 day guests and 140 evening guests for prices from £10,400, while the Romanby Wedding Offer caters to 60 day and 120 evening guests for only £5,945, not to mention the amazing Warlaby, Swale and Tees packages.
Pricing: Menus from 60
Capacity: Up to 250
30. Gloucester Blackfriars Priory - Gloucester, Gloucestershire
When it comes to historic wedding venues, Gloucester Blackfriars Priory is simply unbeatable. This impressive venue was formerly a medieval priory and has been lovingly renovated to all its former glory.
Marrying here means that you and your guests can enjoy a private courtyard garden, an impressively high scissor-braced roof and the Scriptorium, Britain's oldest and best preserved medieval library. When it comes to exchanging your vows, this can be done in one of two licensed spaces, the North Range and the East Range.
But don't just take our word for it: Hitched users have described it as "the perfect combination of rustic and flexible that suited our DIY autumnal non-traditional wedding." and said that "Finding Blackfriars Priory felt like a dream."
Deals: The venue's midweek winter warmer comes in at an impressive £5,150, including a three-course wedding breakfast, welcome drinks and table wine for up to 50 guests! Blackfriars Priory is proof that cheap venues for weddings don't have to compromise on style and beauty.
Pricing: From £1,300
Capacity: Up to 250
How to Find a Cheap Wedding Venue?
Couples wondering how to get a cheap wedding venue will be pleasantly surprised by the expert advice we've gathered.
"It's easier than you might think to find a cheap wedding venue," says Zoe Burke, leading wedding expert and Editor of Hitched.
"We have a great section of wedding deals on Hitched, and so many of our thousands of listed venues post their wedding special offers and packages there, so you can find a bargain.
"My top tip for couples looking for a cheaper wedding venue would be to be flexible about when you get married. If you have your heart set on a summer Saturday - aka peak wedding season - you're going to be paying a premium as those dates are more in demand. However, if you're willing to consider a winter Friday when there's less competition for the dates, you'll find more affordable deals.
"I'd also say if you have your heart set on a particular wedding venue but it looks like it's out of your price range, it can't hurt to get in touch and ask if there's anything they can do for your budget. They might not be able to, but lots of venues do build bespoke packages so you can see if there's an option to create something that suits your needs.
"Finally, if you're willing to plan a wedding with short notice, ask the venues you love to let you know if they have any cancellations. It's not very common, but when it does happen, you can often get a great deal. My cousin actually planned her wedding in six weeks to fit in with a cancellation at a wedding she loved - it cost her a fraction of the price, and was a lovely wedding!"
How Much is a Cheap Wedding Venue?
"This is really quite subjective," explains Zoe. "Cheap is going to be relative to your wedding budget, after all, but for me, a cheap wedding venue is often one that has a great deal or special offer available.
"With wedding venue deals, you're often able to get a beautiful wedding venue for less than you normally would - but you'll take a winter or mid-week date, for example.
"There are plenty of affordable wedding packages and deals out there, and with the average couple spending £8,400 on their wedding venue alone, you're looking for something below that price really, to constitute a cheap wedding venue.
"But with that being said, if your dream wedding venue normally charges £20,000 and they have a deal for £15,000 - that could be constituted as cheap too! Decide your wedding budget first, and that will help you to determine what a cheap wedding venue is to you."
How to Decorate a Cheap Wedding Venue?
"Decorating a cheap wedding venue is going to depend on the style of the venue - and why it's being classed as cheap," says Zoe. "If it's cheap because it's a dry-hire wedding venue and you're decorating it all yourself, then it's going to depend on your wedding theme.
"Personally, I don't think you can ever go wrong with loads of fairy lights - they elevate every setting! For more affordable wedding décor ideas think about lots of greenery and plants (as opposed to flowers). It looks really stylish, and is more affordable than buying fresh flowers."
How Much of Your Wedding Budget Should You Allocate to Your Venue?
Many may think that the age-old question is how to get a wedding venue for cheap, and don't get us wrong, it's frequently asked (hopefully we've answered that for you here), but another question often asked is how much of your wedding budget should you put towards your venue?
"The average couple spends £8,400 on their wedding venue," reveals Zoe. "Which is just over 45% of the average wedding cost of £18,400.
"This doesn't mean this is how much you need to spend, but it's important to consider that your wedding venue is going to take up a significant amount of your wedding budget!
"Paying for your venue will very often include lots of things like your ceremony room hire, use of linens, specific chairs or chair decorations, your crockery and quite often your catering too, as it tends to be included in lots of wedding packages. This will often include a three course meal, and some wine for the tables.
"Check whether things like canapes and evening food are included, or if they are extra, and also query things you don't think will be necessary to see if there's scope to change the deal. For example, if some décor is included but you don't need it, ask if that spend could be used elsewhere or removed - the worst they can say is no!"
Still looking for ways to save money? Check out our round-up of the best ways to cut wedding costs.