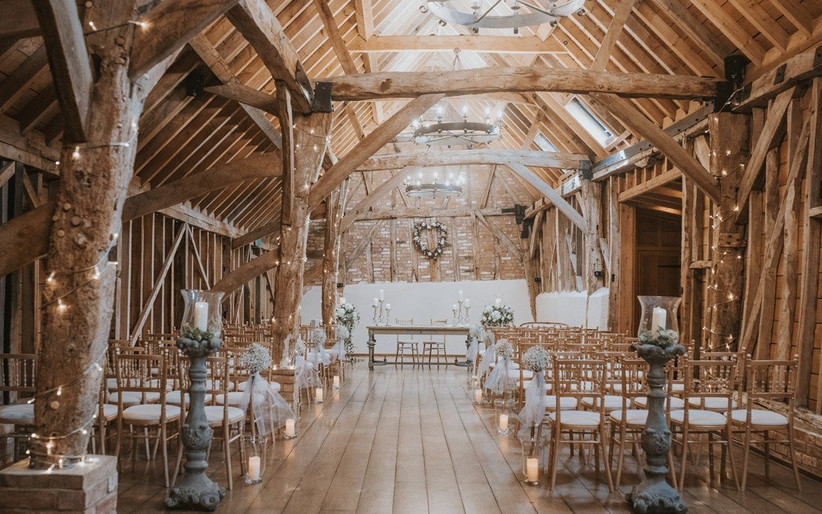 Keeping costs down when planning a wedding can be tricky. Despite setting a budget at the beginning, the spending can quickly spiral out of control.
Opting for a cheap wedding venue can make a huge difference to the cost of your day, meaning you can splash out on a few other things like your wedding dress, cake and photographer.
We've rounded up some of the best cheap wedding venues that look anything but – and will help you budget for the wedding day of your dreams!
If you're specifically looking for cheap wedding venues in London, you can find our pick of the best 15 here.
To explore more amazing offers, check out our wedding venue special offers section, where you can narrow down deals by your county.
All deals subject to availability and valid on the date of publication – 08/11/2019
READ MORE: How to Save Thousands on Your Wedding Venue
1. The Devonshire Fell Hotel & Restaurant – North Yorkshire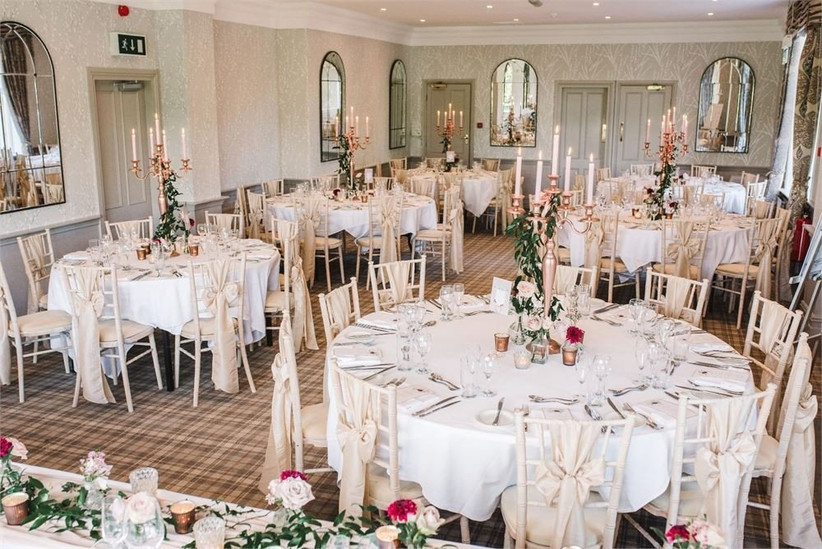 We're all a-flutter at the thought of getting married at this gorgeous boutique hotel in Yorkshire. The Devonshire Fell boasts some of the county's best countryside views, contemporary and quirky interiors, 16 luxurious bedrooms and incredible food.
It is currently offering an amazing wedding package on all remaining Fridays in 2020. For £6,295, you'll get exclusive use of the hotel and garden with civil ceremony room hire, reception drinks, a three-course wedding breakfast for 60 guests, an overnight suite for the wedding couple and more. Midweek wedding packages start from £4,724.
2. Brickhouse Vineyard – Devon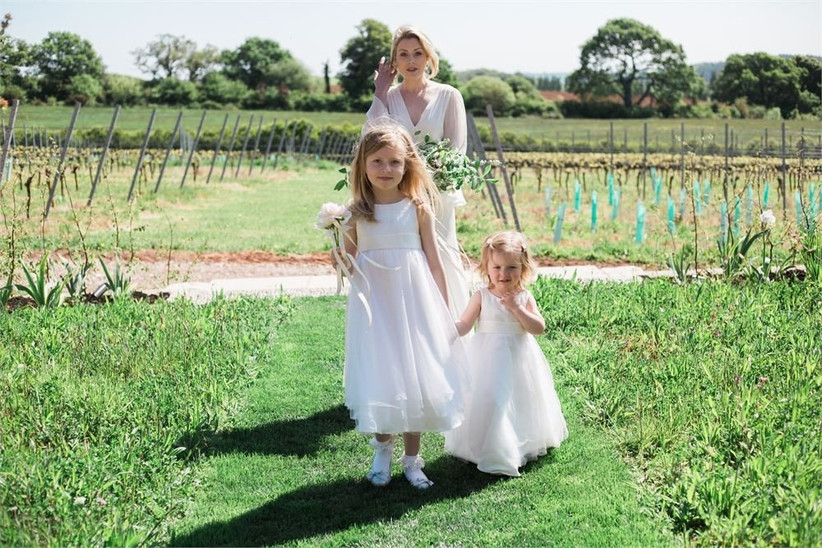 Tucked away in the picturesque South Devon hills, Brickhouse Vineyard is the ultimate hidden gem. Perfect for intimate weddings, you'll have exclusive use and complete privacy as you say "I do" among 20 acres of woodland and vines. Naturally, you'll also have access to some of the best wine the South of England has to offer!
Elopement packages start at £690, while small wedding packages for 50 guests – with your artisan cake, bridal bouquet, photography and wedding breakfast included! – start from £5,250.
3. Holmes Mill – Lancashire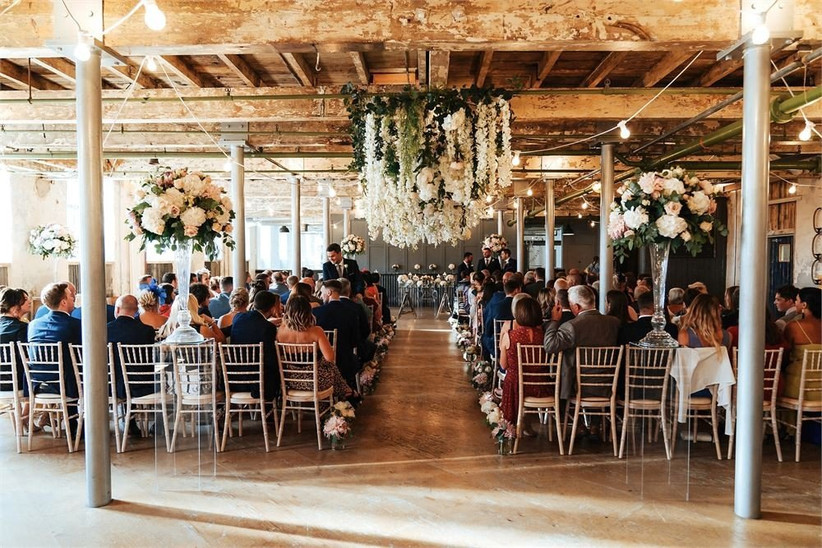 This former textiles mill in the charming Lancashire town of Clitheroe is the height of modern industrial chic. With exposed beams, naturally textured walls and even some of the former mill machinery, it's a unique space with tons of natural light and character. Right next door is a luxury hotel with 39 bedrooms for guests.
Remaining winter dates up to March 2020 are on offer for £3,750 for 60 guests. For 2020, hosting your ceremony at Holmes Mill starts from £950, with a minimum spend from £1,500.
4. The Old Barn at Esholt – West Yorkshire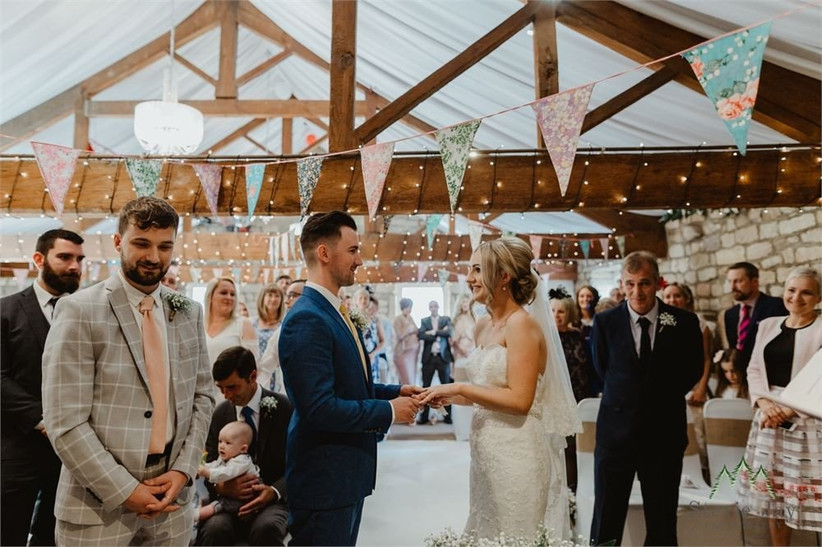 This 200-year-old barn in the heart of the Yorkshire countryside is the epitome of rustic charm. With everything on offer from a formal banquet to a tea party, and a blank canvas for you to decorate to your theme, you can have exactly the day that suits you. The team at The Old Barn at Esholt has 10 years' experience planning weddings so you're in safe hands. It has a civil ceremony licence or various churches and a registry office are close by too.
Room hire is just £350 with a £450 cost for a civil ceremony room if you marry there. Alternatively you can opt for an all-inclusive package. They are open to you bringing in your own suppliers as well as using recommended options.
5. Owlpen Manor – Gloucestershire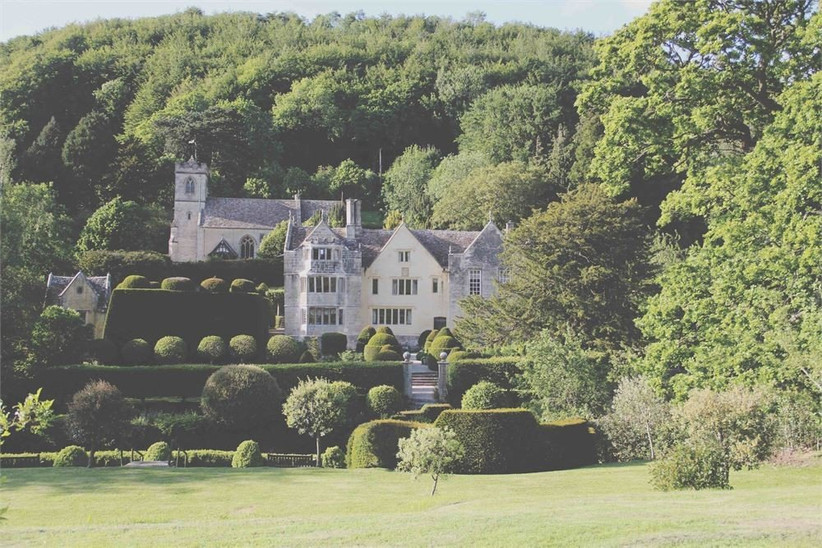 Think a private Cotswold valley with a 215-acre estate is out of your price range? Think again! Owlpen Manor is a romantic Tudor country house with plenty of spots across the estate to tie the knot. From the church to the Great Hall and Cyder House barn, there's spaces for 20 to 200 guests. The Old English formal gardens are ideal for your photos.
Having a marquee boosts the price quite a lot, but if you're after an intimate wedding of up to 50, hire price for the Cyder Barn is from £900. This medieval barn dates back to 1446 and features a huge oak cider press for a unique setting. With a marquee, you can expect to pay £2,350 upwards for the venue.
6. The Waterfront – Staffordshire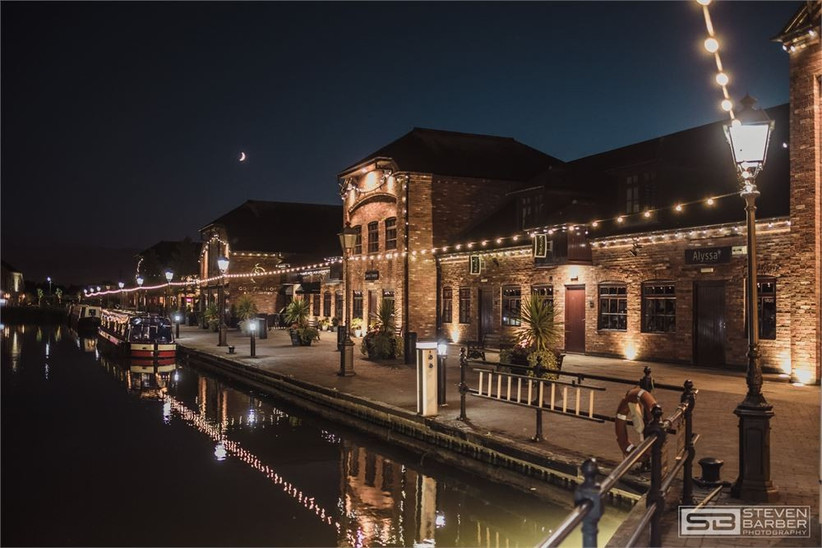 The Waterfront is the perfect setting for a wedding in Staffordshire. It is a unique and charming canal-side wedding venue offering bags of character, exposed brickwork and marina views.
If you can't wait to say 'I do', then The Waterfront's late availaibility offer could be the answer to your prayers! You'll get exclusive use of the Crow's Nest Suite, a three-course wedding breakfast for 50 guests and evening buffet for an additional 40, an in-house DJ, sweet cart and sweets, and much more for £4,450!
7. The Shropshire Golf Centre – Shropshire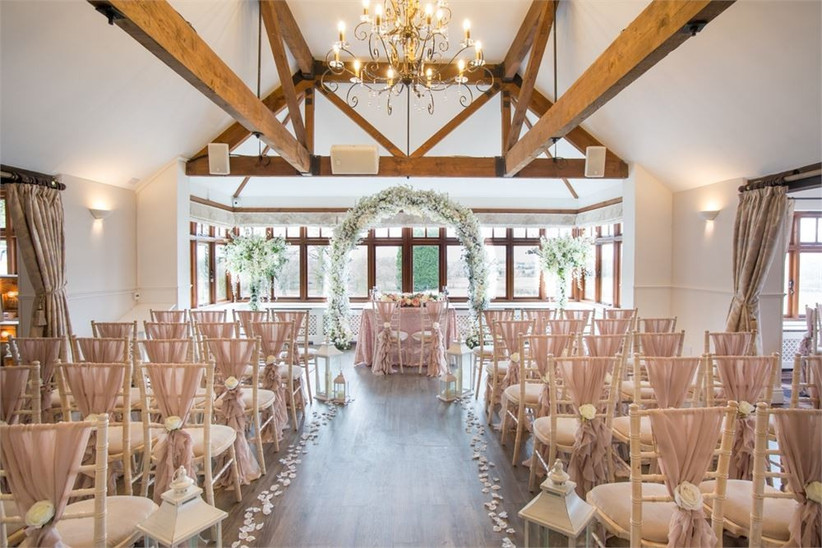 The Farmhouse at the Shropshire Golf Centre dates back to 1818 and has beautiful beams and chandeliers in abundance. There's a separate Library Bar and snug for your guests to relax in and, thanks to the venue's recent refurbishment, the interiors are stunning.
With their "Why Wait?" package, couples can get a fabulous discount on any weddings taking place within six months of their booking. The price for 40 guests on their final December dates is just £999 for the room, civil ceremony and wedding breakfast! Their popular all-inclusive package is yours from £3,995.
8. The Pumping House – Nottinghamshire
This Grade II-listed, red brick venue in Nottinghamshire is beautifully bright. The original chimney of the old Pumping House is still there and it's set in six acres right in the heart of Sherwood Forest making a beautiful and distinctive backdrop for photos. It has two licensed civil ceremony rooms, the impressive Engine Hall or tranquil Ollerton Room for the wedding breakfast, plus rooms for drinks and more. Did we mention there's also 10 self-catering apartments to stay in?
Exclusive-use venue hire prices in 2020 start from £2,800 which includes lots of extras like event security, big 'LOVE' letters, fully stocked and staffed bars, the cake stand and knife.
9. Askham Hall – Cumbria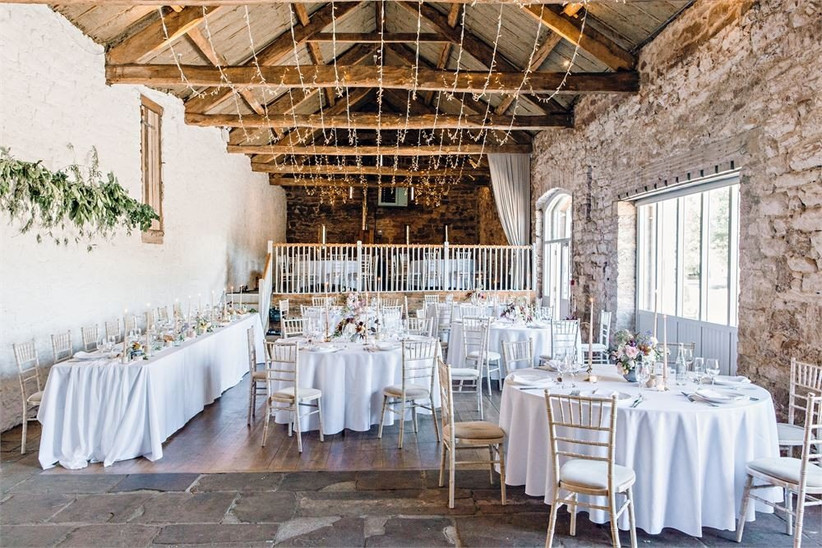 We're head over heels in love with Askham Hall, a spectacular country house wedding venue in Cumbria. It sits on the edge of the Lake District National Park and is suitable for weddings of any size. We love the barn for a civil ceremony or the outdoor pavilion for an outdoor wedding. There are also 18 luxury double bedrooms for your and your guests to spend the night in.
If you're looking to marry within six months, their 'Kiss Me Quick' package is £3,950 for 50 guests with a late afternoon ceremony and evening meal. If you'd like an Easter 2020 wedding, they're offering £1,000 off their normal package. Barn hire starts from £1,800 plus you'll get a discount on their 15 bedrooms.
READ MORE: What New Laws Could Mean for Your Outdoor Wedding Ceremony

10. Knightor Winery – Cornwall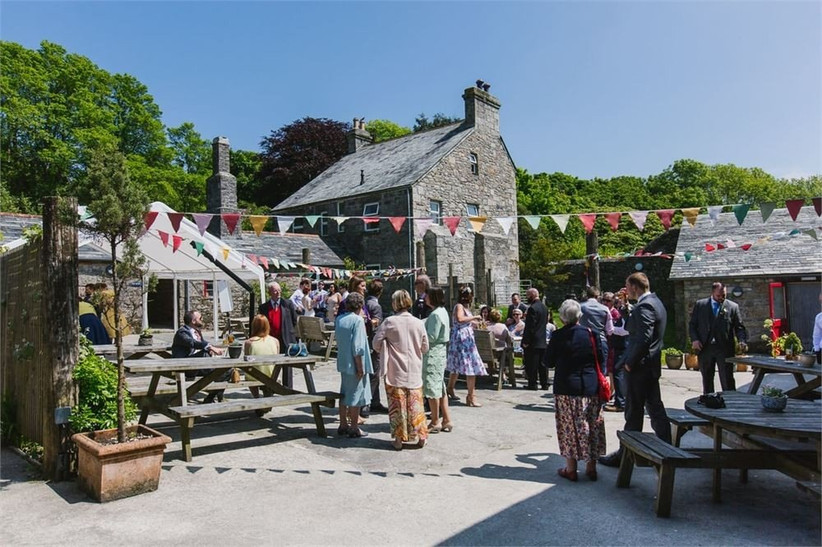 This unique winery set just above St Austell Bay makes for the most memorable Cornish wedding. You'll get exclusive use of the whole venue, including the traditional stone barn, farmhouse (which sleeps 12), courtyard and three acres of vines, gardens and a pond. Knightor Winery is perfect for outdoor weddings or a rustic barn wedding for everything from intimate groups up to 180 evening guests.
Their midweek and winter catered packages are excellent value: exclusive hire, buffet, reception drinks, canapes, table wine, toasting drinks and evening pasties for 40, plus wedding night accommodation, is £3,400 all in! Cosy winter weddings in 2020 are a bargain too – you can hire the venue from just £400 with no accommodation, or £900 including the house for 12 people.
11. Bassmead Manor Barns – Cambridgeshire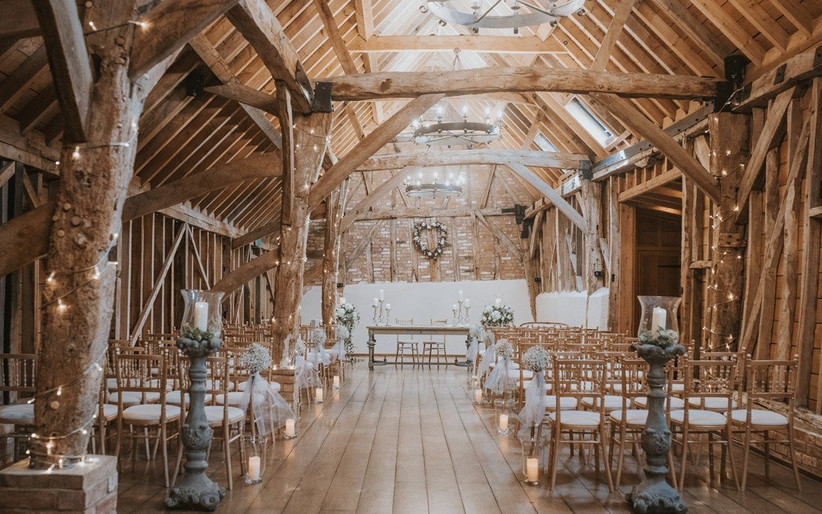 Fusing historic barns with a contemporary reception space, you'll love the relaxed atmosphere and spacious, open-plan design of Bassmead Manor Barns. The 300 year-old Rickety Barn has been wonderfully restored to provide a charming, rustic venue for your ceremony with traditional oak beams, wrought iron chandeliers and twinkling fairy lights.
The modern Moat Barn is perfect for your reception drinks, opening out over landscaped ground with roaming peacocks. Then it's on to the dramatic Bridge Barn for your gourmet wedding breakfast and dancing. Venue hire starts from £2,300 for a 2020 wedding.
12. Globe at Hay – Herefordshire
In the historic town on Hay-on-Wye is the world-famous Globe at Hay. Home to the How The Light Gets In festival, this enchanting former Methodist Church is now a licensed arts and events venue, split into three separate spaces. With inspiring double height ceilings and the original pulpit, it's a beautiful, intimate space for weddings of up to 60. The in-house chefs can whip up a treat too using local, seasonal meats and veggies for feasting centrepieces.
Exclusive hire starts from £1,500, with non-exclusive from just £350. There's also 10% off venue hire in September 2020. It has a cool festival feel, with bags of charm, colour and quirkiness so don't miss out!
13. The Sitwell Arms – Derbyshire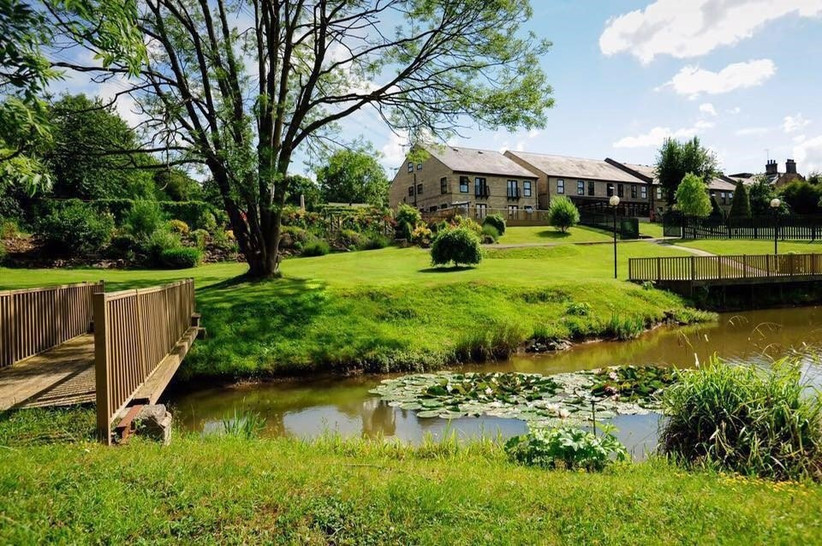 This former 18th century coaching inn has been transformed into a rustic hotel with beautiful grounds that are perfect for photos. Outside are the lily pond and rose orchard garden, a fishing lake and fountain and even a secret garden. These are all ideal for an outdoor wedding. Alternatively, indoors there is space for up to 200 guests.
There's a variety of different packages at the Sitwell Arms Hotel, all great value. A winter 2020 wedding is just £2,000. The summer garden party package for 50 day guests starts from £3,000; their 'six months or less' whirlwind wedding package is the same price.
READ MORE: The Best Wedding Venues in Essex
14. The Alma Inn – Lancashire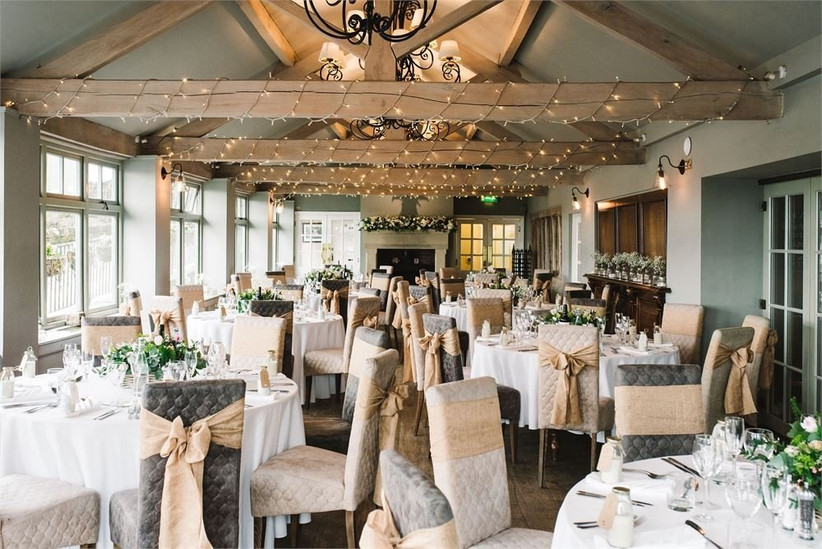 The Alma Inn is a quaint pub set in the Pendle countryside. Boasting stone floors, real fires, original beams and outstanding moorland views, this historic venue oozes with character and rustic charm. There's space for 120 day guests and up to 200 in the evening, with plenty of accommodation so the night doesn't have to end early. This country gem is an idyllic spot for photos too.
Cosy winter wedding packages start from £3,995 for 50 guests with all your food and plenty of drink included so it's kind on your wallet too. A real hidden find!
15. The Pilgrims Rest – East Sussex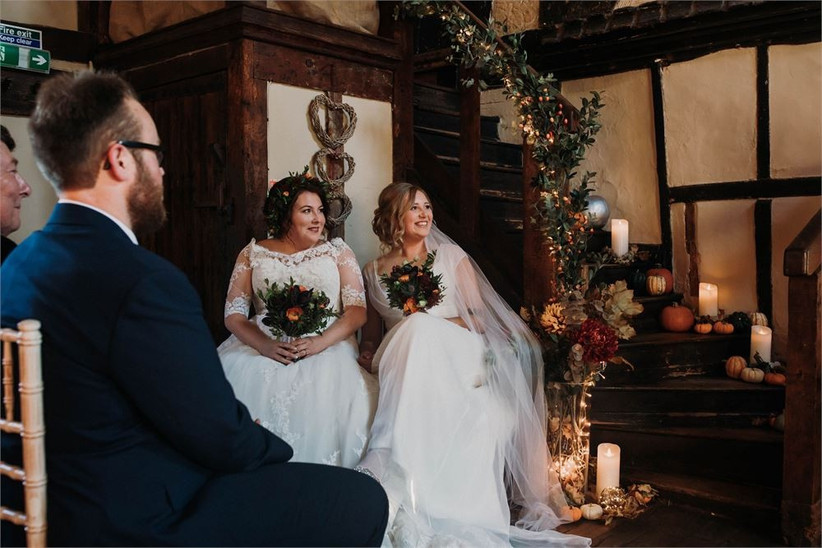 Bursting with rustic charm, The Pilgrims Rest first opened its doors in 1420 and has hosted celebrations from medieval banquets to Georgian balls, Victorian luncheons to Edwardian tea dances. With three reception rooms filled with history and period features – plus walled gardens outside – this unique venue is available for fully-catered weddings or for you to completely DIY to your taste.
Prices start at £2,450 for venue hire with no corkage charge and exclusive use for the whole day. With a huge amount of flexibility, this stylish Wealden Hall House is ideal for those looking for an affordable rustic venue (and you get a dedicated wedding co-ordinator!)
16. The Driftwood Spars – Cornwall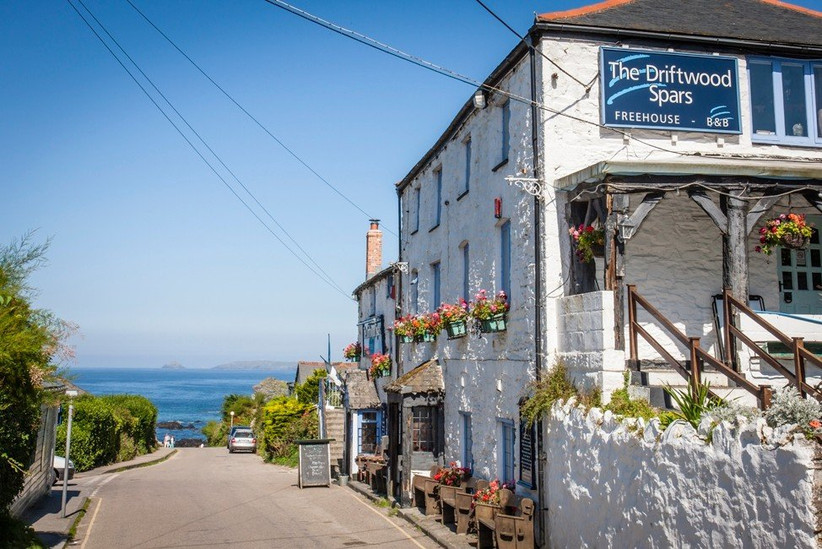 Just a stone's throw from Trevaunance Cove, The Driftwood Spars is a charming wedding venue with a warm, friendly atmosphere. It's ideal for intimate or grand celebrations with a panoramic backdrop perfect for your wedding photos. It really sings when it comes to your wedding breakfast: a delicious menu of locally-sourced, seasonal produce, showing off the best of Cornwall.
Winter weddings for 40 guests start from £3,000, and Cornish summer weddings start from £4,750, but there's also a 'design your own' package option. If you're looking to elope, it's £780 for the two of you, with a three-course meal, wine and a two-night stay – plus they provide the witnesses!
17. Limpley Stoke Hotel – Somerset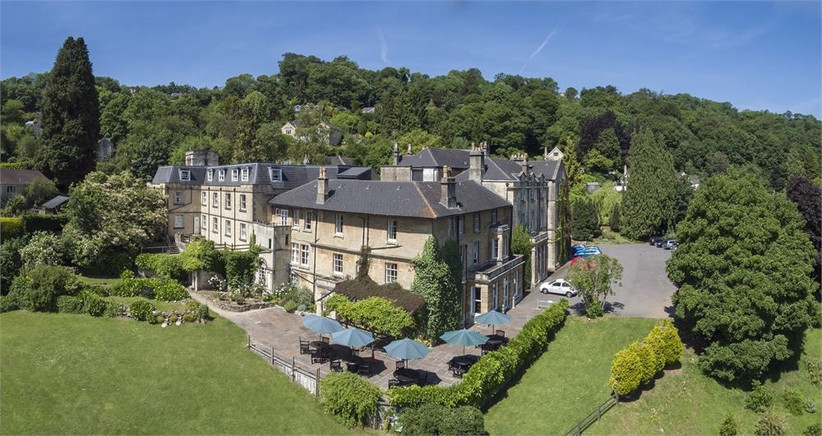 Just outside the city of Bath is the elegant Limpley Stoke Hotel. Overlooking the spectacular Limpley Stoke Valley, it offers a selection of function rooms that can host up to 200, although you can't go wrong with an intimate wedding either. With a complimentary bridal suite stay and a dedicated wedding co-ordinator, you won't need to worry about a thing.
Their 'Ultimate Offer Package' is outstanding value. For £2,750, you'll get room hire, a three-course meal with wine, arrival drinks and canapes, an evening buffet, your honeymoon suite, a master of ceremonies, a red carpet welcome, sparkling wine for the toast and a DJ for 50 people.
18. The Woodman Inn & Thunderbridge Gardens – West Yorkshire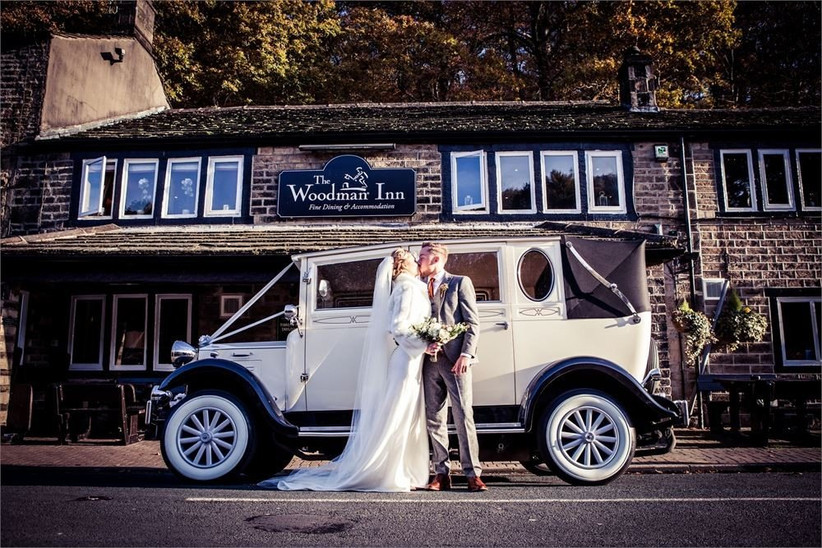 Nestled in a historic hamlet, The Woodman Inn is a picturesque refurbished 18th century country inn. Offering delicious food, stunning surroundings, beautifully-appointed accommodation and lots of personal touches, there's few places more inviting for your big day.
Choose from the inn or their new venue, Thunderbridge Gardens – an intimate woodland venue set beside a stream in Thunderbridge Forest – where you can host your reception outdoors or in their glass marquee. Their midweek Woodman package is £3,199 for 40 guests, with a £250 discount on all new bookings before March 2020.
19. Llyn Gwynant Barns – Gwynedd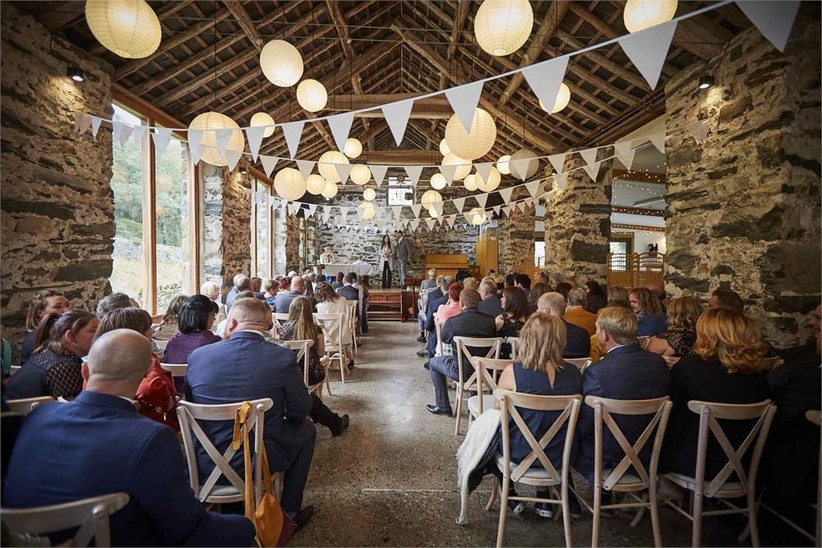 If you're into a festival vibe, throw a two day glamping extravaganza on the shores of Llyn Gwynant Lake in Snowdonia, Wales. The Big Barn at Llyn Gwynant Barns is perfect to hold your whole day, while outside are charming private fields where up to 150 guests can camp.
The price for two nights midweek in 2020 is £4,000. You'll get exclusive hire of the venue and campsite for two nights with a fully staffed bar as well as free hire of all kitchen equipment and tableware. If you're on budget you can fully or partly self-cater.
READ MORE: The Best Wedding Venues in Cornwall
20. The Plough Inn – Cheshire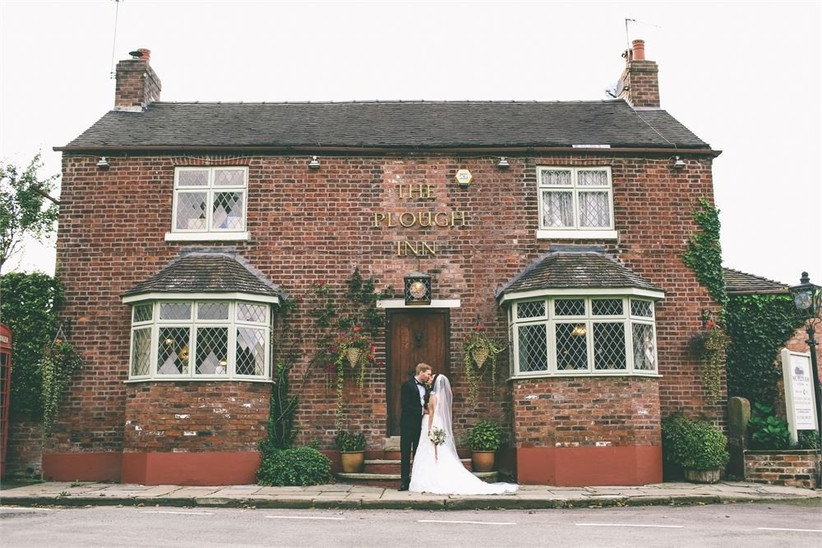 The idyllic village of Eaton is home to the historic Plough Inn. Lovingly restored, the 15th century coaching inn now has a stunning oak barn for weddings of up to 70 and 17 stylish bedrooms for your guests to stay in. The food here is what's really special – hearty favourites and lots of different evening options.
The Plough Inn does a fantastic offer of a £2,020 wedding package for 50 guests in January, February or November 2020. Intimate weddings of under 35 guests cost £50 a person all-inclusive, while their bigger wedding packages start at £35 per person plus room hire and drinks.
21. The Great Barn – Oxfordshire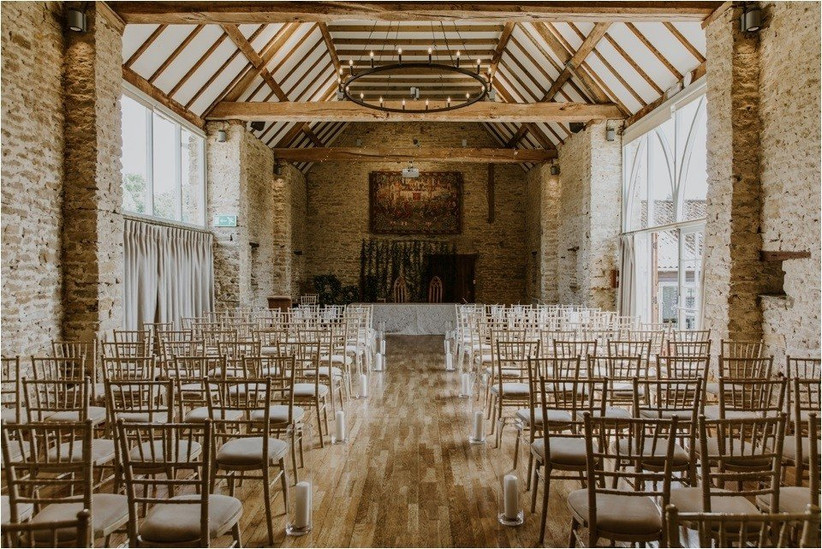 Nestled within 250 acres of stunning wooded estate in Oxfordshire is The Great Barn, a beautiful rustic wedding venue perfect for your celebration. It boasts three picturesque lakes, a beautiful dressing room, gorgeous gardens and a bar complete with log fires and comfy leather sofas.
The Great Barn is currently offering 10% discount on venue hire for all remaining March and April 2020 dates so act quickly. Their 2020 rates start from £3,650.
READ MORE: 27 Beautiful Ideas for Your Rustic Wedding Day
22. Logie Country House – Aberdeen & Deeside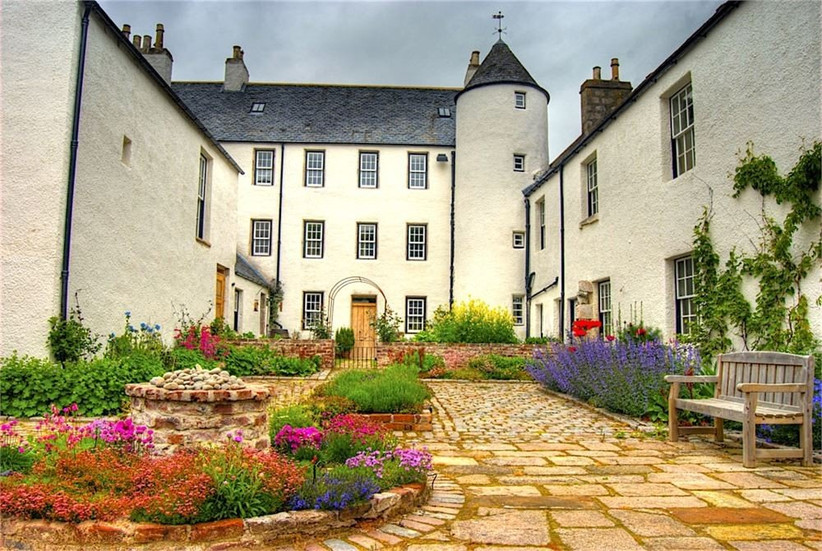 Yes, you really can get a magnificent Scottish country house on an affordable budget! Logie Country House dates back to 1492 and is a grand, award-winning, exclusive-use country house and estate in the beautiful Aberdeenshire countryside.
The whole house and estate can be yours for two to three days. It sleeps 42 and is dotted with open fires, antiques, sumptuous bedrooms, cosy four-poster beds, courtyards, and coats of arms. Did we mention the indoor infinity pool, cinema, two hot tubs and a private island?
Late availability and off-peak prices start from under £4,000, with catering from £36 per person (includes vat), meaning your budget can stretch further than you think.
23. The Bull Hotel – Kent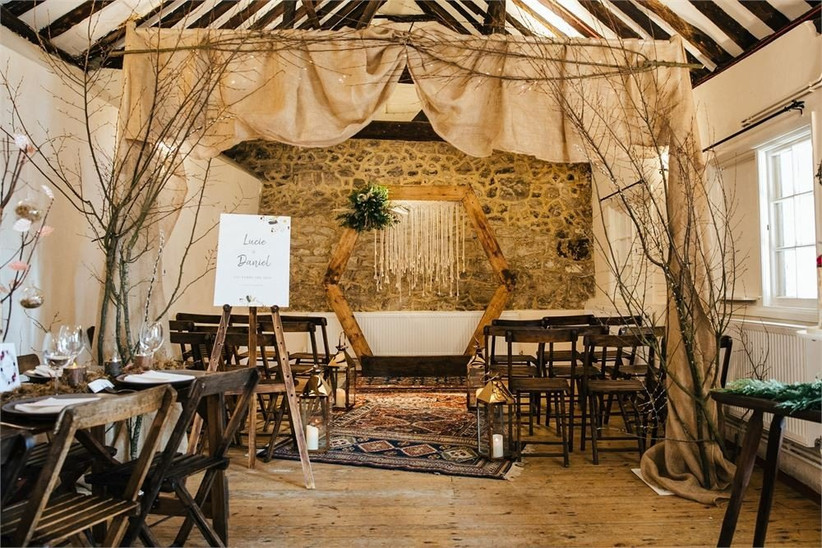 The Bull Hotel is a unique and beautiful country inn located in the heart of Kent. It dates back 600 years, has bags of character and boasts exposed beams and original stone walls. We love The Buttery – a spacious function room which flows out onto the veranda and courtyard, where guests can enjoy reception drinks and get photographs taken.
All-inclusive wedding packages for 50 guests start from £3,500 with no additional hire fee for Monday to Thursday weddings.
READ MORE: The Best Pub Wedding Venues
24. Warley Park Golf Club – Essex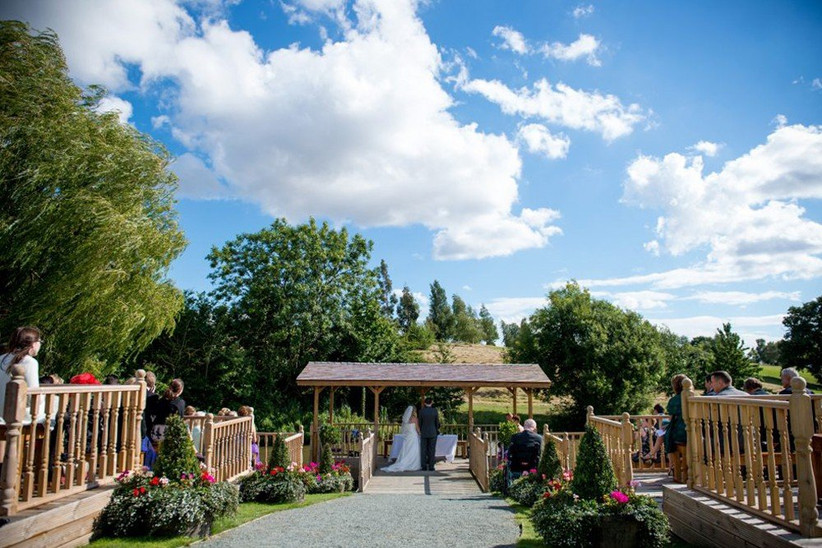 Located in the charming village of Little Warley, near Brentwood, Warley Park is a truly scenic setting for your big day with options for both indoor and outdoor weddings.
The Lakesview function room boasts stunning panoramas across the surrounding lakes and golf courses, and it can accommodate 120 guests for a formal sit-down meal. Outside, their lake-front pier is perfect for a summer ceremony or as a photo backdrop at any time of the year.
All-inclusive packages start from £3,199 for 45 guests for the ceremony and unlimited evening guests. This includes your DJ, three-course wedding breakfast, and evening buffet.
25. Inkersall Grange Farm – Nottinghamshire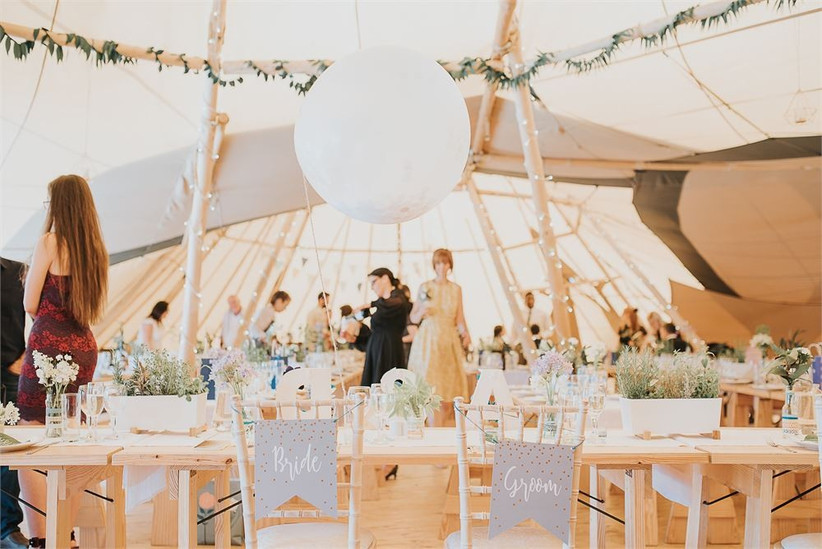 Tipi venues are traditionally a bit more expensive, due to the fact they're only set-up during late spring to early autumn and venues need to provide toilet, bar and catering facilities too. Inkersall Grange Farm tipis are great value and a magical experience.
You get three giant hat tipis, one chill out tipi, tables, chairs, a fire pit, dance floor, bar facilities, luxury on-site toilets and all your electricity and water supply included. Prices start from £3,600.
26. The Pear Tree – Wiltshire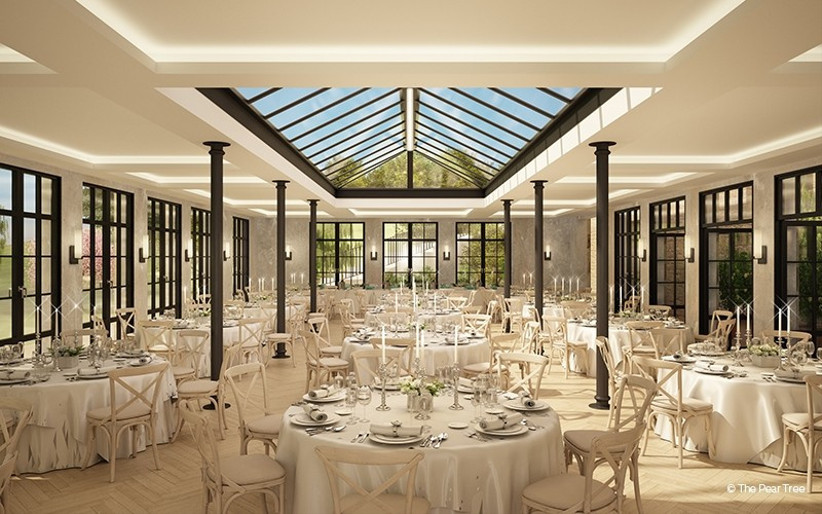 With a Cotswolds stone Orangery, breathtaking garden staircase and beautiful interiors, The Pear Tree exudes glamour and sophistication. Get ready in the Cascade dressing room, marry in the light and airy Blossom ceremony room surrounded by flickering candles, and party the night away in the contemporary Orangery.
To celebrate the grand opening of The Pear Tree from 2020, you can make a fantastic saving with their launch offer. Book a remaining wedding date for as little as £2,000 with exclusive use of the whole venue!
READ MORE: 19 Picture Perfect Seaside Wedding Venues
27. Victoria Hall – West Yorkshire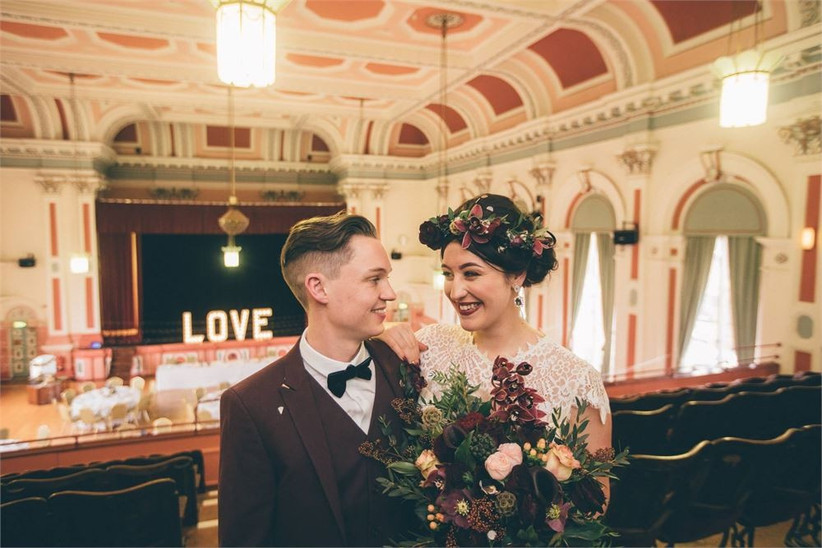 The UNESCO World Heritage site of Saltaire is a truly unique setting for your wedding day. It's a Victorian model village in Shipley, and in the heart of it is the Grade II-listed Victoria Hall. It has a choice of beautifully decorated, atmospheric rooms that can host up to 350 guests for an evening reception – ideal for Asian or Jewish weddings.
Their packages are very clear cut with no hidden costs. Although they don't include catering, you can get use of the rooms, bar staff, substantially discounted drinks packages and tablecloths from £2,500. Exclusive use for the whole day is from £4,400.
28. Polhawn Fort – Cornwall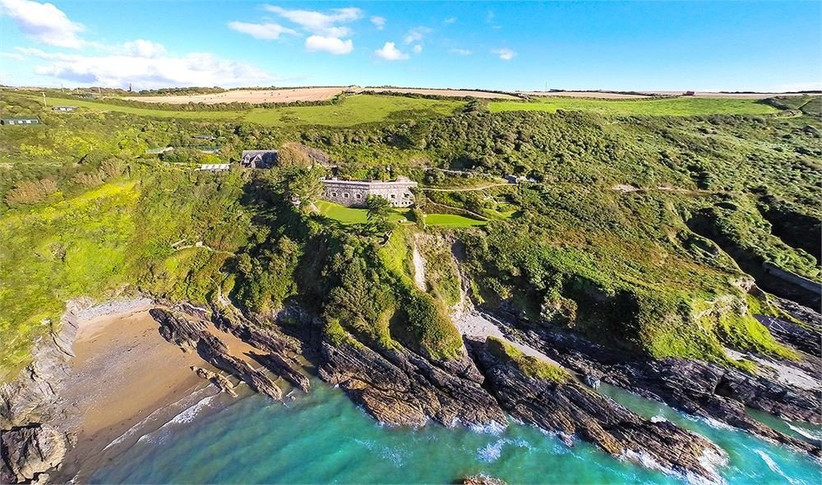 Sitting on the western tip of the Rame Peninsula is Polhawn Fort, an extraordinary wedding venue which looks out across miles of ocean and the rugged Cornish coastline. It certainly has the wow-factor. If you get married here, you'll have exclusive use of the entire venue for two or four days, allowing for an extended tailor-made wedding with total privacy. The Grand Hall seats up to 120 people, and there is space for up to 20 guests in a range of stylish bedrooms.
They're currently offering an exclusive price freeze for all Hitched couples: get any 2021 wedding date for 2020 prices! Monday to Wednesday hire of this unique wedding venue in 2020 starts from £3,985.
READ MORE: Is This the Most Instagrammable Honeymoon Hotel Ever?
Still looking for ways to save money? Check out our round-up of 37 ways to cut wedding costs.