The Ultimate Guide to Wedding Themes: Inspirational Planning Ideas
Vintage, rustic, alternative or boho - whichever wedding theme you go for, we've got a tonne of inspirational ideas for you
We have included third party products to help you navigate and enjoy life's biggest moments. Purchases made through links on this page may earn us a commission.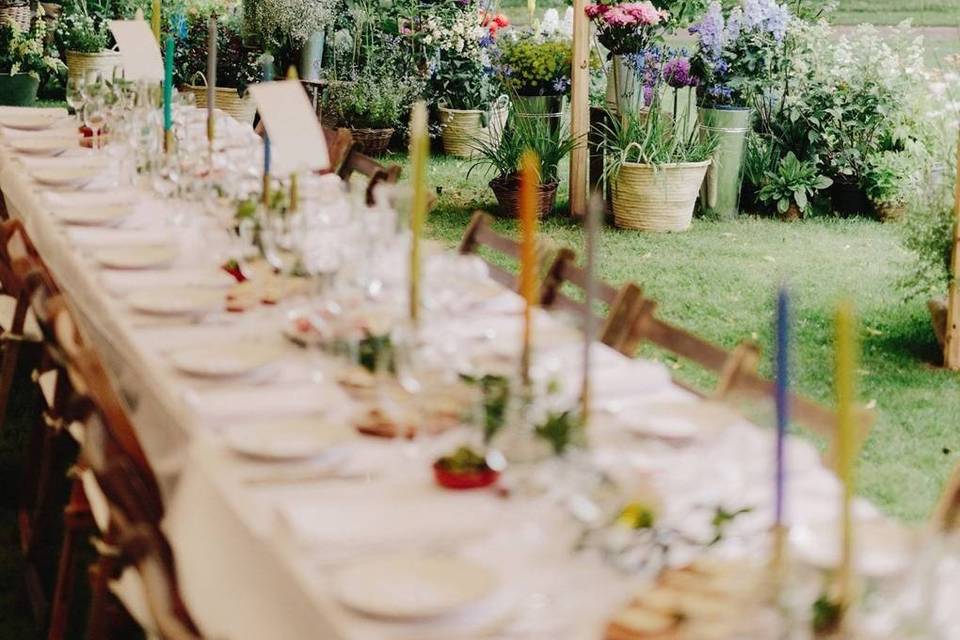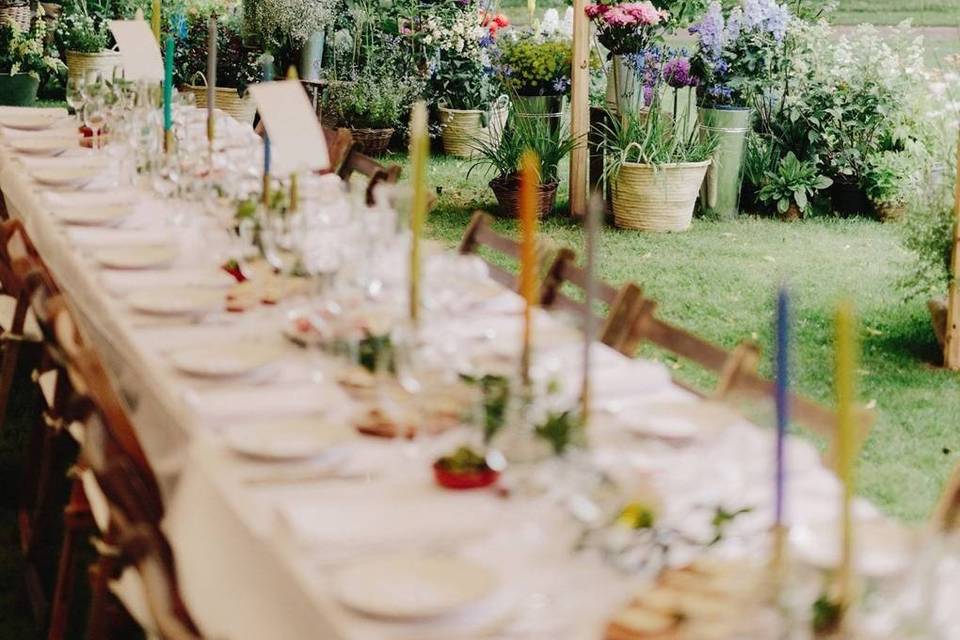 Your wedding is the perfect opportunity for you and your partner to express yourselves and your styles. Whether you're both obsessed with the 1950s or you love hitting the festivals every summer, the theme of your wedding is the perfect way to celebrate that things you love almost as much as you love each other.
That said, navigating the world of wedding themes can be a little tricky. It's easy to get overwhelmed by it all (Pinterest is a minefield), and you might be left with a whole host of irrational wedding planning worries which make you want to throw your table plan out of the window.
To help ease the stress, we've compiled the ultimate guide to wedding themes to give you some top tips on how to pull off the most popular ones. Plus, there are some top tips from Stratton Court Barn's wedding coordinator Karin Tindall to guide you on your way. Which theme is your favourite?
READ MORE: Etsy's Top Wedding Trends of 2019
Festival Wedding Theme
Image: Pinterest
Festival themed weddings are bright and colourful. They're laidback, they're outdoors and they're full to the brim with fun details.
Not only are festival weddings the perfect excuse to stretch your celebrations out over a whole weekend, you can have so much fun with live music, outdoor games and street food.
READ MORE: The Best Alternative Food & Drink Ideas
Image: Pinterest
First up, set the tone for your festival wedding with unique save the dates. You could even give guests their own wristband to gain access to your 'wedfest'.
You'll then want to find a venue with plenty of outdoor space. Farm wedding venues with land to erect a marquee or tipi often work best, as you'll have a complete blank canvas to make your dreams a reality.
Image: Pinterest
Invest in some live music, go crazy with wedding signs and set up a drinks station for your guests so that they can enjoy a cheeky tipple. Cider, beer and Pimm's should be the drinks of choice.
Once the day draws to a close, encourage your guests to glamp in the field with you and leave a pair of wellies by their tent for the morning.
Image: Tipis at Beaumont Hall
All you need now is a boho wedding dress and a flower crown, and you'll be ready to party the weekend away!
READ MORE: The Best Festival Wedding Venues
Tropical Wedding Theme
Image: Pinterest
Who says you need the sea and a sandy beach to pull off a tropical-inspired wedding? Not us. For this theme, think palm leaves, pink shades and plenty of fruity cocktails.
Image: Pinterest
When you're choosing your venue, those with orangeries or a botanical vibe would work perfectly. We love the orangery at Kew Gardens or Hayne House in Kent. The natural light which floods the room through floor-to-ceiling windows will have you feeling as though you're somewhere much sunnier than you actually are!
Image: Pinterest
When it comes to your décor, decorate wooden beams and chairs with tropical garlands, make your name cards from palm leaves and keep the table centrepiece simple by dropping larger palms in clear or brightly coloured glass vases.
Image: Pinterest
The food and drink is easy – guests will love summery cocktails in coconuts and snacks like slices on watermelon on sticks. How about creating some fruity ice lollies at home the day before the big day?
READ MORE: 31 Ways to Make the Most of a Summer Wedding
Nautical Wedding Theme
Image: Pinterest
Whether you're planning a destination wedding or just a huge fan of the British seaside, a nautical theme perfectly suits a summer wedding by the coast.
Image: Pinterest
If the beach is where you and your partner are happiest, choose a seaside wedding venue. If nothing else, it'll open up all sorts of possibilities with your wedding photographs – how about getting snapped while paddling or standing in front of colourful beach huts?
READ MORE: The Best Wedding Venues in Cornwall
Image: Pinterest
When it comes to the colour scheme, think all things blue and white. Nautical stripes work especially well, particularly when paired with beach motifs like shells, anchors and rope. For your centrepieces, consider jars filled with pebbles, sticks of rock and beach hut table numbers. How about beach balls and sunglasses as props in your photo booth?
Image: Pinterest
With the above finalised, all that's left to consider is your outfit. Choose a relaxed and floaty beach wedding dress and accessorise with some flat and comfortable beach wedding shoes to dance the night away in.
READ MORE: How to Master Beach Wedding Hair
Fairytale Wedding Theme
Image: Pinterest
If your wedding dreams consist of a stately home wedding venue, black tie dress code and a sparkling pair of bridal slippers, then a fairytale wedding theme is the one for you.
Image: Pinterest
For nuptials like this, you'll want to be pulling out all the stops and hosting a three-course sit-down dinner (champagne pyramid and all) complete with ornate flower arrangements, a grand top table and all the other formalities.
READ MORE: Our Favourite Glamorous Wedding Venues
Image: Pinterest
Your bridesmaids would look beautiful dressed in blush bridesmaid dresses, and rose gold décor details would complement the hue perfectly. Your wedding cake should be as many tiers as you can possibly stretch to, and you could even consider a horse and carriage for your transport…
Image: Pinterest
When it comes to your entertainment, a string quartet would match the feel of the day accordingly. And don't forget, if you really want to feel like a princess for the day, you'll need to treat yourself to a venue with one of the best bridal suites in the country!
Rustic Wedding Theme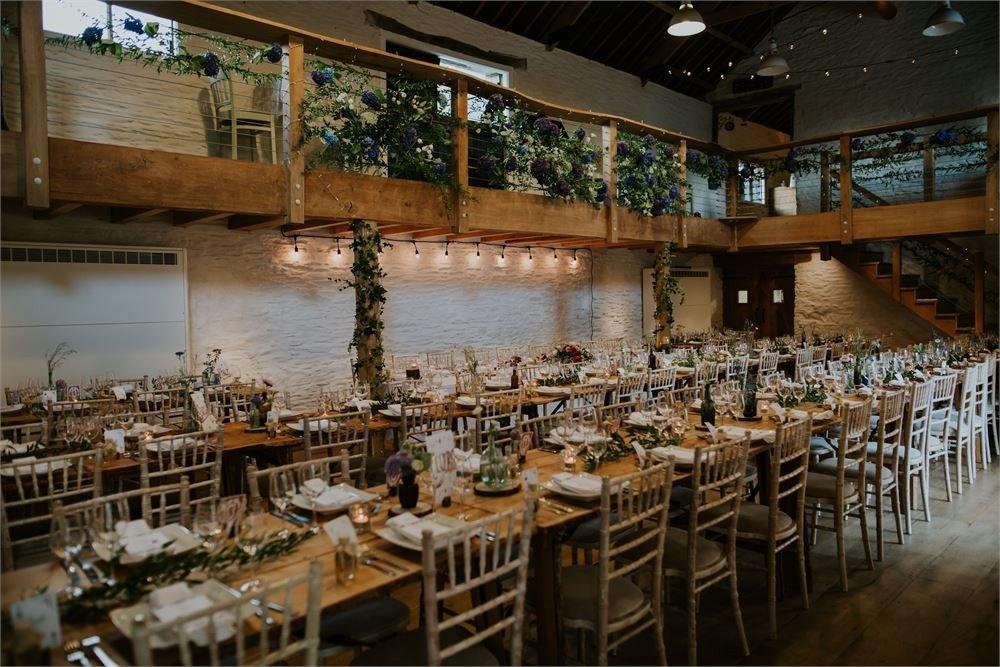 Image: Trenderway
String lights, oak beams, mason jars and bales of hay contribute to the wedding theme of the moment.
Lending itself perfectly to the ever-popular barn wedding venue, a rustic wedding theme is simple, homely and beautiful.
Image: Pinterest
You will become obsessed with candles, roses and using slices of log in your décor if you go for a rustic themed wedding – that we can guarantee! Log slices have so many great uses, such as for place names, a fun alternative to ring bearer pillows or as a great cake stand.
READ MORE: The Best Barn Wedding Venues in Essex
Image: Pinterest
Talking of wedding cakes, naked wedding cakes suit the rustic trend so well, as does gypsophilia which you could incorporate throughout your décor and even in your wedding updo! Sprigs of gypsophilia placed in bottle or vases are a cheap and easy décor idea.
Image: Eskuvo
Don't forget about your groom, either – check out our edit of rustic groomswear (think brown hues and tweed) to ensure he looks suitably dapper for the occasion. As for your dress, look for boho-inspired designs and lace wedding dresses with a relaxed shape.
READ MORE: The Best Rustic Farm Wedding Venues to Say 'I Do'
Winter Wedding Theme
Image: Dewsall Court
Since everyone is already in the mood for a party, the festive season is arguably one of the best times to host your wedding.
In December, take full advantage of your guests' high spirits and infuse your wedding with everything from Christmas trees to candles and a soundtrack of "All I Want for Christmas is You". Oh, and make sure you choose a wedding venue with a roaring log fire.
READ MORE: The Best Winter Wedding Venues in the UK
Image: Wollaton Hall & Deer Park
Of course, your winter wedding doesn't have to be Christmas themed. Karin says: "Metallic and light reflecting décor details would add a real gilt edge to your day, as would dressed candelabras, multi-faceted glassware and a white wedding cake."
Image: Pinterest
When it comes to your winter wedding flowers, consider a deep and dramatic colour palette. Berry shades work perfectly, while green foliage and red roses are a fail-safe festive option.
Image: Pinterest
As for winter wedding food, think hearty dishes which will warm your wedding guests. No, you don't have to serve up a roast dinner, but red meat washed down with a glass of mulled wine is sure to do the trick. You could even treat your guests to festive homemade wedding favours like miniature candy canes, cinnamon scented candles and gingerbread men.
READ MORE: 50 Christmas Wedding Ideas to Transform Your Big Day
Modern Wedding Theme
Image: Pinterest
If you're a style-savvy bride hoping to host a totally modern and contemporary wedding, you'll want to be looking out for geometric shapes, rose gold details and a whole load of monochrome.
Image: Pinterest
There is no limit to what you can do with a modern wedding. Keep an eye out for unusual wedding venues – wedding venues in the city usually work well, and East London has some pretty cool wedding venues if you're based in the capital.
Image: Pinterest
As you move onto the décor, be brave and think about sleek seating, unusual lighting and quirky glassware. Spend a little more on place cards – they can double up as personalised wedding favours, and those made of slate or crystal are particularly striking. How about incorporating some of the trends of moment (take a look at our round-up of Etsy's favourites) like greenery and unexpected textures?
Image: Pinterest
Simple wedding dresses often work best at modern weddings – look out for styles with on-trend features like cowl necks, spaghetti straps or balloon sleeves.
READ MORE: 25 Modern Wedding Songs for Contemporary Couples
Travel Wedding Theme
Image: Pinterest
If you love to travel almost as much as you love each other, or if you and your other half are from different countries, then include a nod to your hobby of globetrotting in your wedding theme.
Image: Pinterest
The sky is quite literally the limit if this is the wedding theme you choose – from wedding signs which show how far your guests have travelled from to tables named after countries.
READ MORE: 30 of the Most Amazing Places to Mini-Moon in the UK
Image: Pinterest
If you're after a unique guestbook idea, why not lay out postcards from places you've visited next to a letter box and get guests to write messages on the back of them?
Alternatively, you could pop a permanent marker next to a globe and ask your guests to sign that!
Image: Pinterest
You can get creative with your invitations (how about pretend passports?!), and the theme would lend itself perfectly to blue table décor. Dress up your table with green foliage, candle centrepieces and beautiful blue glassware.
READ MORE: The World's Best Honeymoon Destinations by Month
Bohemian Wedding Theme
Image: Pinterest
If you're a laidback bride with a boho style, choose the corresponding wedding theme. Bohemian weddings are relaxed, cool and carefree. Think beautiful, vibrant colours, striking outdoor spaces and all-things Eastern-influenced.
Image: Pinterest
When decorating your woodland wedding venue, collect printed rugs and patterned cushions to bring the space to life. You could create beautiful seating spaces on the floor, lit up only by candles as the sun starts to set.
READ MORE: The Most Beautiful Bohemian Wedding Dresses
Image: Pinterest
We also love the idea of collecting old pieces of ribbon and fabric to drape from the walls, trees and ceilings. It has such a beautiful effect!
Consider a grazing wedding breakfast as opposed to something structured and formal. Wooden boards full of cold meats, fresh fruit and cheeses would work perfectly and only add to the laidback vibe of the day.
Image: Pinterest
Bohemian wedding flowers and bright and colourful. Consider a cascading bouquet if you're really wanting to throw yourself into the theme.
READ MORE: How Much Should My Wedding Flowers Cost?
Vintage Themed Wedding
Draw inspiration from your favourite decade gone by with the ever-popular vintage themed wedding.
The versatility of the vintage theme is so vast and it's the perfect way to represent the timeless bond you and your other half have with each other.
Art Deco Theme
Image: Pinterest
How about becoming entirely inspired by the 1920s and hosting a Great Gatsby themed 1920s wedding?
Image: Pinterest
When it comes to your vintage wedding dress and accessories, emulate the roaring 20s with fringing, feathers and delicate beading.
The flapper silhouette, which was defined by high necklines and drop waists and finished with a feather boa or beaded cape, would look opulent in your photographs.
Image: Pinterest
Opt for a gold and black colour theme if you really want to go all out!
READ MORE: Gorgeous Gold Wedding Cakes
1950s Theme
Image: Pinterest
If you're more of a 1950s lover, include a few subtle nods to the past with bunting and vintage crockery.
Image: Pinterest
Creating a 1950s-inspired tea party is a really fun idea. Karin says: "Use old shabby-chic style suitcases or park a bicycle outside and fill the basket with flowers."
Image: Pinterest
She continues: "Another great vintage wedding idea is to use an old milk churn instead of a pedestal for a larger flower arrangement. Just don't go too overboard with vintage props or else your wedding will look like the inside of a charity shop!"
1960s Theme
Image: Pinterest
Dedicate your wedding day to the spectacular swinging sixties! It was the era of rock and roll: think eyeliner flicks, Twiggy-inspired eyelashes and retro pops of colour.
Image: Pinterest
A 1960s theme allows you to go all out with the retro prints. Oranges and yellows will work perfectly at your reception, with old vinyl discs as centrepieces and patterned table runners for effect.
Image: Pinterest
A tea-length wedding dress is a must, as are mini-dresses for your bridesmaids. Big hair bands, beehives and brightly coloured wedding shoes will also help emulate the era of the mods.
You'll be able to pick up various props from charity shops to bring your day to life… and if you're lucky? A genuine 1960s wedding dress, too!
READ MORE: The Best Vintage Bridesmaid Dresses
Country Garden Themed Wedding
Image: Pinterest
If your wedding dreams revolve around something outdoor, relaxed and intimate, a country garden wedding theme could be the way to go.
Image: Pinterest
Flowers will be at the heart of your day, with large arrangements really transforming whichever venue you choose.
Image: Pinterest
Of course, it doesn't have to cost an arm and a leg. Asking friends and family to donate a potted plant from their garden could lead to something really beautiful!
Image: Pinterest
Host your ceremony outside before enjoying a wedding breakfast in a tipi and dancing under the stars. Props like watering cans and wellington boots will make the perfect finishing touches.
READ MORE: The Best Outdoor Wedding Venues
Music Themed Wedding
Image: Pinterest
If music makes your world go round, theme your wedding accordingly. There is so much you can do with this theme by incorporating your love of all genres into your décor and scattering mentions of your favourite songs like confetti.
Image: Blue Lion Band
At the ceremony, include romantic lyrics from your favourite tracks in your readings or your vows. How about enlisting the help of a local harpist or string quartet to set the scene?
READ MORE: 13 Beautiful Wedding Readings From Love Songs
Image: Pinterest
When it comes to your reception, motifs are key. You could use old records as an alternative to a guest book and name your tables after your favourite albums.
How about creating a wedding soundtrack, popping it on blank CDs and handing it out as a fun and personalised wedding favour idea?
Image: Pinterest
Oh, and don't forget to hire your favourite wedding band to provide a soundtrack to the day! You'll want to be kept dancing all night.
READ MORE: 23 Questions to Ask Your Live Band or Wedding DJ
Animal Themed Wedding
Image: Pinterest
Congrats! You've chosen a real winner of a wedding theme with this one. Animal themed weddings are creative, fun and they haven't been overdone. So, if you and your partner are animal lovers through and through, there is nothing more adorable than entwining your passion into your wedding plans.
Image: Pinterest
Whether you opt to base your wedding on farmyard animals (how about a gorgeous farm wedding venue?), or rely on wild and safari creature illustrations to liven up your reception décor, your guests will absolutely love what you create.
Image: Pinterest
Name your tables after your favourite animals, include "party animal" motifs in your décor and consider animal print fabrics to jazz things up. You could even put together a photo booth with animal ear props!
Image: Pinterest
The most dedicated among you might fancy using your pet in the ceremony (how about a puppy ring bearer?) or having live animals at your reception for your guests to pet. The possibilities are endless!
Wedding Theme Dos and Don'ts
Image: Pinterest
DO Choose a Theme That Suits Your Venue
"A barn wedding venue is brilliant for a vintage or rustic theme," says Karin Tindall. "Whereas a manor house is perfect for a day with understated elegance. Marquees lend themselves well to charming country garden themes."
DO Check in With Your Partner
"When picking out a theme make sure it agrees with both yourself and your partner and reflects who you are as a couple," says Anastasia McClymont from Wedhead Wedding Hire. "If your partner likes minimalist modern pieces and you are in love with shabby chic, it may create disagreements. Always try and find a compromise."
DO Look at The Wedding as a Whole
"Don't try and match everything or your guests will miss some of the little details," says Anastasia. "But do try to focus on the larger picture when planning a themed wedding to make sure that everything flows."
DON'T Go Overboard
"Keep the base of things simple and neutral, such as the chairs and the tables," says Anastasia. "Then add the themed details afterwards."
DON'T Forget Your Theme
"If you have a long run up to your wedding, don't be tempted to pick up any old item that catches your eye as it may not fit the theme," warns Karin. "Stick to what you've planned and remember that less is often more."
READ MORE: The Hottest Pinterest Wedding Trends for 2019
Now you've chosen your theme, it is onward with the planning! Check out our 17 step wedding planning guide to get you started.