How to Plan a Small Wedding: 35 Small Wedding Ideas
Just because you've cut down on numbers doesn't mean you need to have any less of a celebration! Here's how to throw an epic small wedding for a handful of your loved ones
We have included third party products to help you navigate and enjoy life's biggest moments. Purchases made through links on this page may earn us a commission.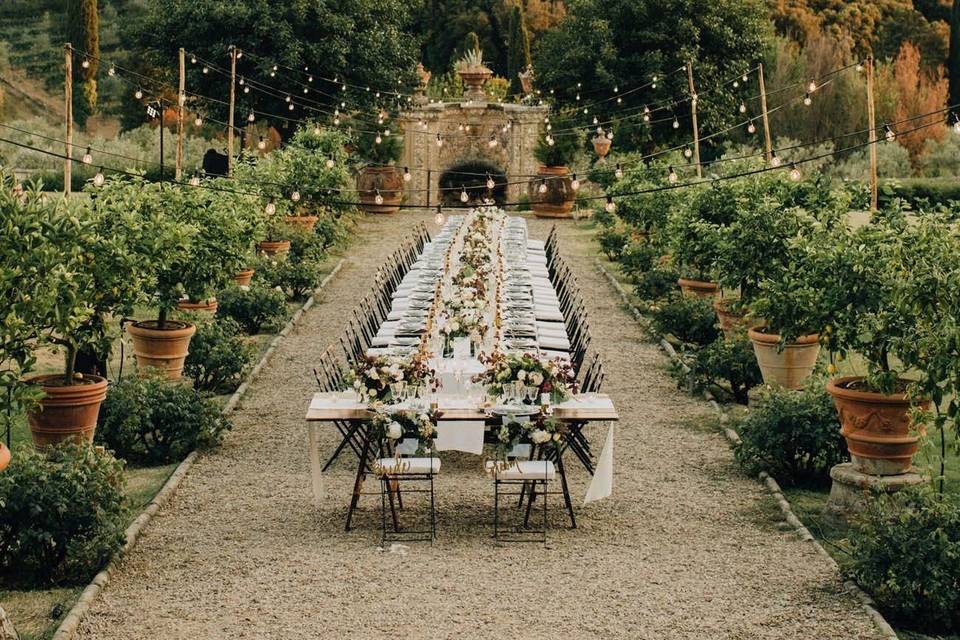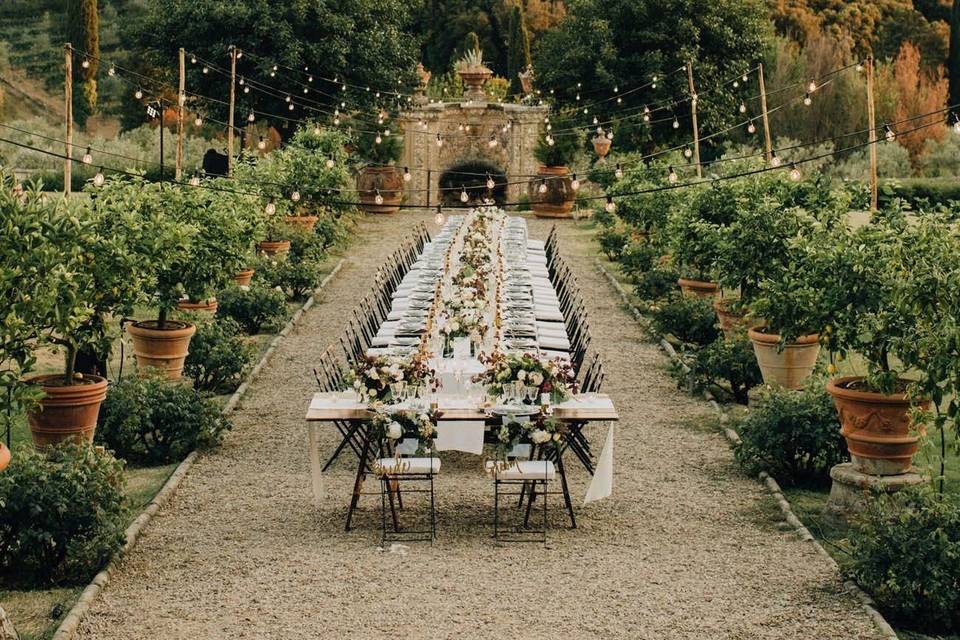 Not everyone wants the big, white wedding or has the option to have one. Instead smaller weddings are growing in popularity as people choose to surround themselves with just their closest loved ones. With a more intimate guest list, you can focus on creating a personal and unforgettable experience for you and your guests.
Typically a very small wedding of less than 20 guests is called a micro wedding, while a small wedding is considered as having between 30 and 60 guests. However, it's really up to each couple what they consider "small".
You'll find that adopting even a few of these small wedding ideas will create an unforgettable atmosphere. From ways to make a large venue seem cosier to family-style meals, creative seating, handwritten notes for each guest and intimate after party ideas, your day will be just as joyful, romantic and fun.
If you're still deciding whether to have a small wedding, there's plenty of reasons they're amazing:
The overall cost of your wedding is likely to be cheaper
You can spend more money on your biggest priorities
You can spend more individual time with loved ones
You can create a more intimate and personal day
Fewer guests means less stress and a more relaxed atmosphere
What's important to remember is that the size of your guest list doesn't mean anything else needs to be small: go big on the dress, flowers, cake, invites, dinner and venue if you want! Here's a few tips on how to start planning your small wedding and then our favourite small wedding ideas.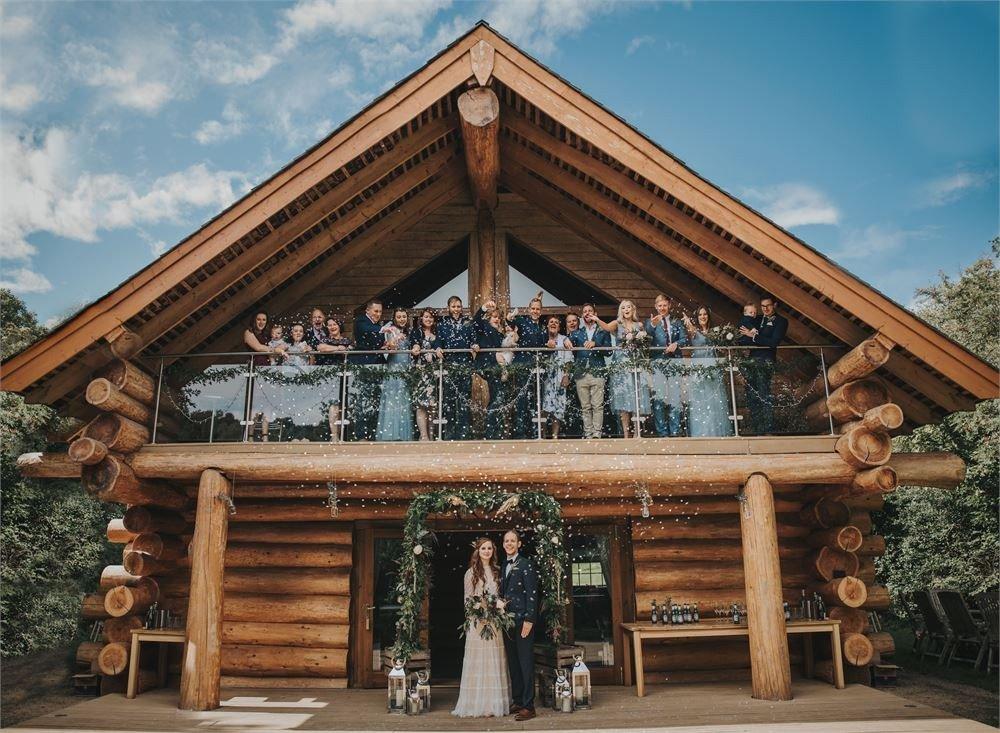 Image: Hidden River Cabins
7 Top Tips for a Planning a Small Wedding
1. Make Sure Your Venue is Exclusive-Use
This isn't a deal-breaker for everyone, for lots of couples don't want to share their wedding venue with another couple or even the general public. If it's important to you, ensure you have exclusive-use whatever the size of your guest list. It'll feel more private and it's lots of fun to have an entire venue, house or restaurant to yourself.
We've got some great ideas for venues that host micro weddings if you decide to embrace the guest limit fully. These venues specialise in only holding very small weddings so they'll know exactly how to make the most of your guest list.
2. Only Invite Your Personal VIPs
You need to be very selective with a small guest list and your guests will understand this. You are perfectly entitled to say no plus ones, no children, and no extended family. Every single person you invite to a wedding this size should be someone that is close to you and you can't imagine marrying without them there. Often couples ask: have we seen this person in the last six months (lockdown permitting, of course)? Would I want to go for a coffee one-on-one with this person? If the answer is no, then they don't make the cut.
3. Get a Wedding Coordinator
Whether it's a planner for the entire thing or your venue offers an on-the-day coordinator service, you don't want to spend your day stressing. A smaller number of guests means that if you need the ushers to help find something or bridesmaids to check how much alcohol you have left, their lack of presence will be noticed. Hiring a planner or getting good venue staff means the day will flow easier and you won't have to worry about decorations, food or drink.
4. Ditch the Wedding Party
The rulebook is out the window. You can choose if you want bridesmaids or ushers, and it's perfectly fine if you don't. Perhaps have a sibling instead.
5. Consider a Social Media Ban
An unplugged wedding is one where guests are asked to put their phones away and focus on living in the moment. Privacy is often a big consideration in having a small wedding, so it can be a good idea to ask guests to refrain from putting their photos on social media or even taking them at all if you've got a photographer.
6. Think About a Weekday Wedding
With less guests, it's more likely they'll all be able to take off a weekday to attend your wedding (be careful as some professions like teachers can't). Booking a weekday wedding means your costs will be cheaper – allowing you to spend more money on your guests' experience – and your chosen suppliers are more likely to be available.
7. Maximise the Experience You Do Have
You might need to let go of the image of the wedding you thought you'd have and embrace a new vision e.g. forget the large, formal stately home and choose a registry office ceremony and a private room in a restaurant after. Whatever your wedding ends up looking like, lean into it. You need to take advantage of what you've got. Guests will take their cue from you so focus on all the good things and spend your budget on making those amazing. That could be incredible food, a live band, or really embracing a back garden wedding with fun garden games and a Champagne picnic.
Whatever the size of your guest list, our small wedding ideas are a brilliant place to start in creating a memorable and atmospheric day.
READ MORE
Venue Ideas for Small Weddings
1. Look at Non-Traditional Venues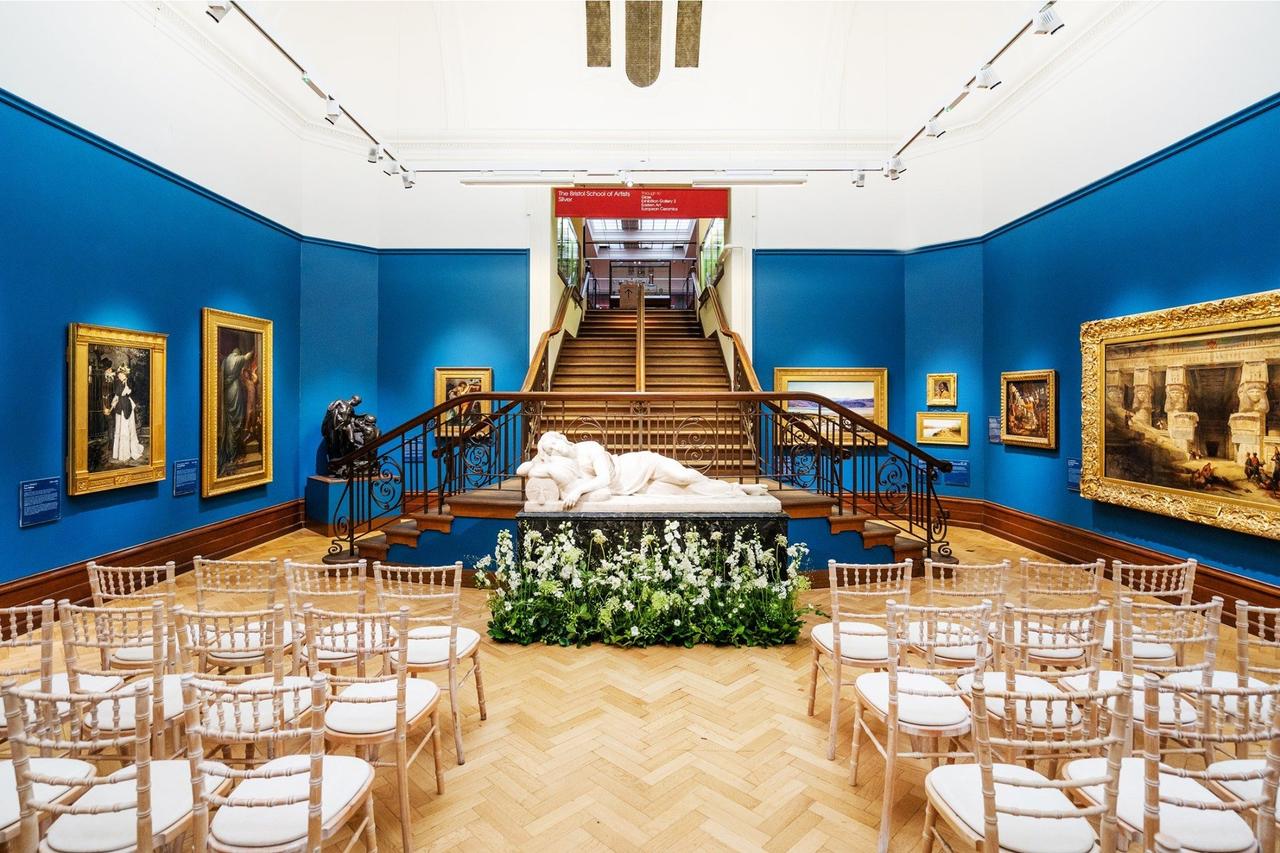 Image: Bristol Museum & Art Gallery
You need a venue that's the right size for the number of guests. Too large, and you'll feel like you're rattling around the place and it'll be hard to create an atmosphere; too small, and you'll feel squeezed in like sardines.
While you can go for a small room in a large venue, the best way to create an intimate feel is choosing a venue that complements your guest list size. Look at our list of the best small wedding venues in the UK and you'll see what we mean: it's full of bijou hotels and cosy country houses, pubs and private rooms in restaurants, intimate barns and even a treehouse!
You can be more creative and less restricted with numbers under 60 so think outside the box too: is there a cool gallery in a museum or a library you love? What about a boat, bandstand, a marquee on a beach or a garden summerhouse?
Non-traditional venues mean you don't even have to choose somewhere that feels like a typical 'wedding venue' spot – did you meet in a cute coffee shop, cinema or university bar? Throw your wedding where you met or allude to it in your choice of venue.
2. Make a Large Venue Feel Intimate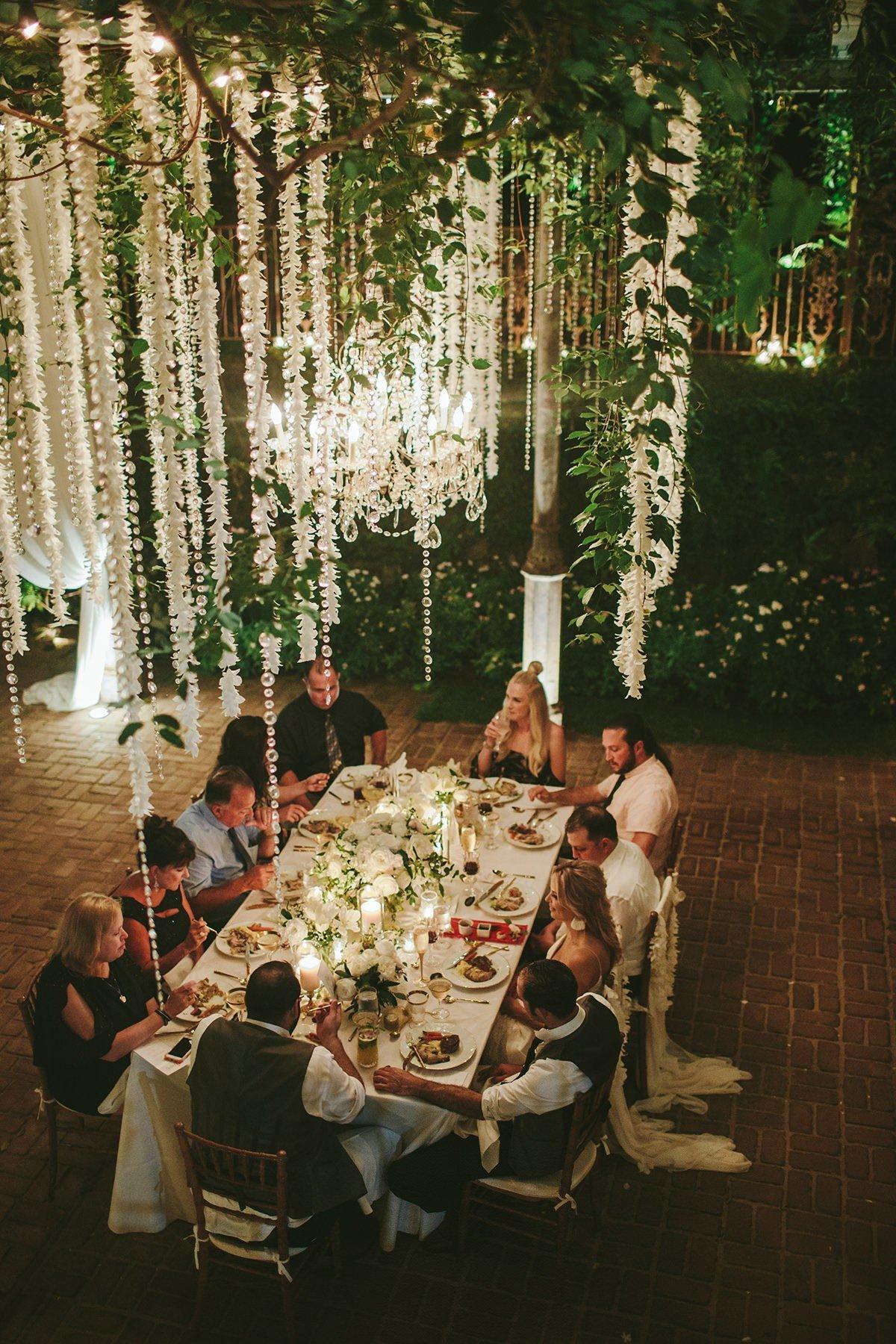 Image: Pinterest
If you fall in love with a venue that's meant for 200, don't panic – there are plenty of ways to adapt the space to make it feel snug.
Lower the ceiling with drapes or use them to section a room. The fabric will capture sound in an empty room to stop it from feeling echo-y and create the illusion of a smaller room
Suspend statement pieces like floral installations or paper lanterns from the ceiling; it has a similar effect on making the room feel smaller, while also adding drama, texture and colour to your space
The warm glow of candlelight and lanterns is much more romantic and intimate than bright lighting
Create a focal point in the centre of the room that your eyes are drawn towards, such as a sweetheart top table, a dance floor, or a statement piece of décor like a tree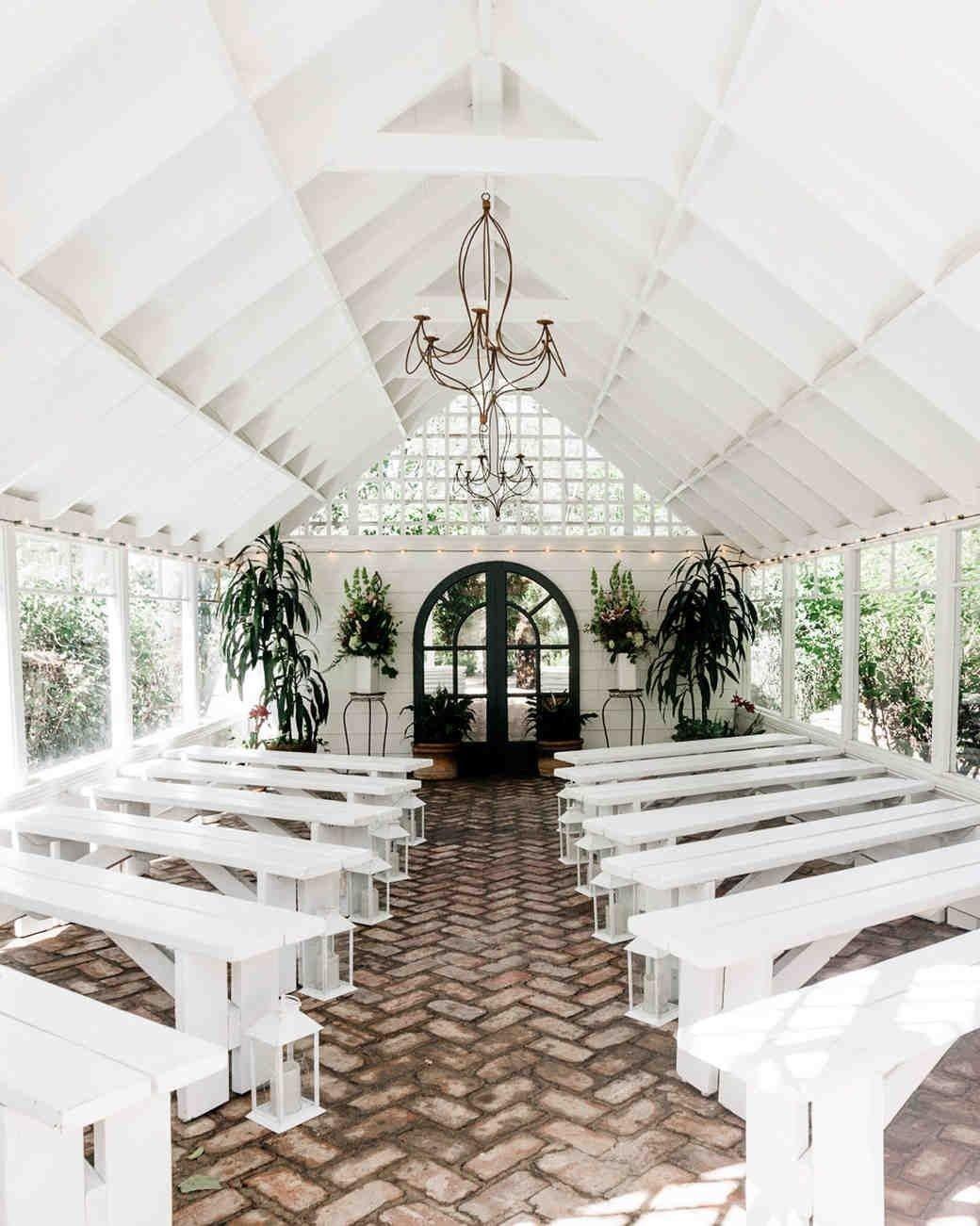 Image: Pinterest
Large trees round the perimeter of the room to draw the action into the centre, and it's such a lovely, rustic, living element
Use an alternate layout or seating plan in the room, for example, two long banquet tables in a cross shape in the centre of a room will keep the activity in the one area, allow your guests to interact better than on round tables, and create a kind of frame around the party in the middle
Separate the room into two distinct areas – with a partition if you want – so one is for eating and dancing, and another is a lounge area for relaxing and chatting that has an eclectic mix of sofas and chairs
Use oversized florals (or lots of greenery if you want to save money) and tall centrepieces to fill the room both in height and width
3. Think of Fun Transport to Reach the Venue
Image: Pinterest
With a smaller guest list, you'll have the funds to make the guest experience all the richer. Kick this off by arranging a cool way to transport your guests to the venue or between the ceremony and reception, such as a VW camper van, tuk tuks or golf carts, a canal boat, a vintage school bus or traditional black cabs.
4. Consider a Registry Office Wedding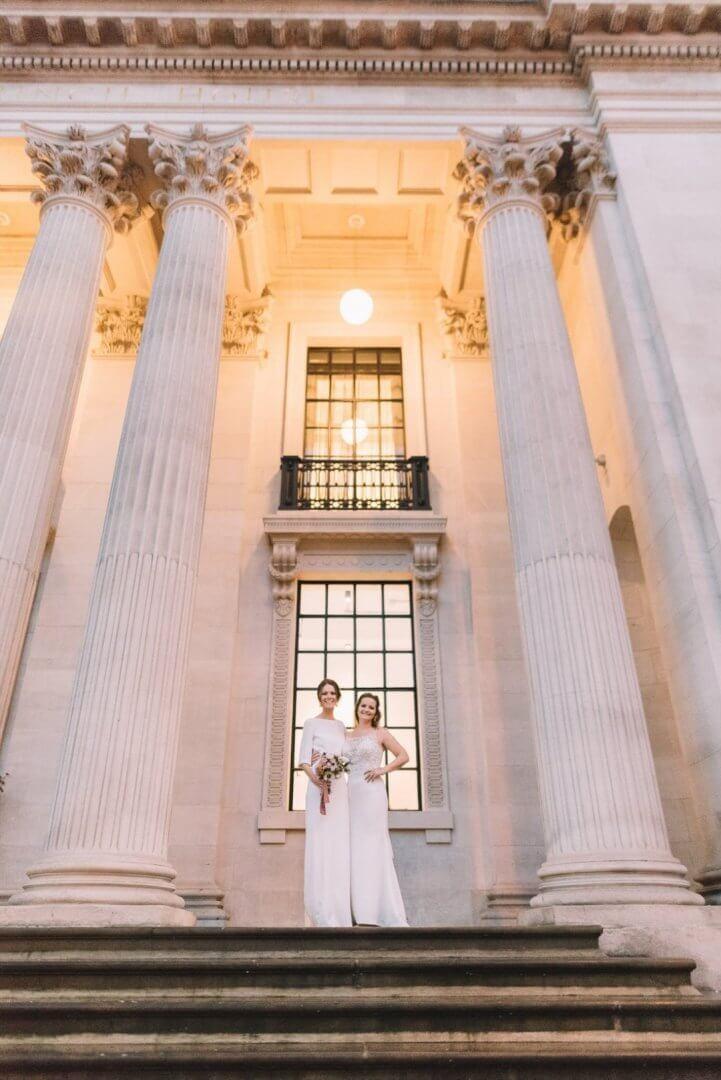 Image: Pinterest
Plenty of registry offices or town halls have inexpensive and architecturally cool small ceremony rooms you can hire out. The Old Marylebone Town Hall in London hosted Sir Paul McCartney's wedding, and has an impressive backdrop of columns out the front for photos and beautifully renovated rooms inside. Don't dismiss a registry office wedding out of hand as your local registry office could surprise you.
The benefit to a small registry office wedding now is that you can still have a full-sized sequel wedding later. For the second wedding, hire a celebrant to lead the service and do it again with a more relaxed vibe and a bigger party.
5. Choose a Brunch or Twilight Ceremony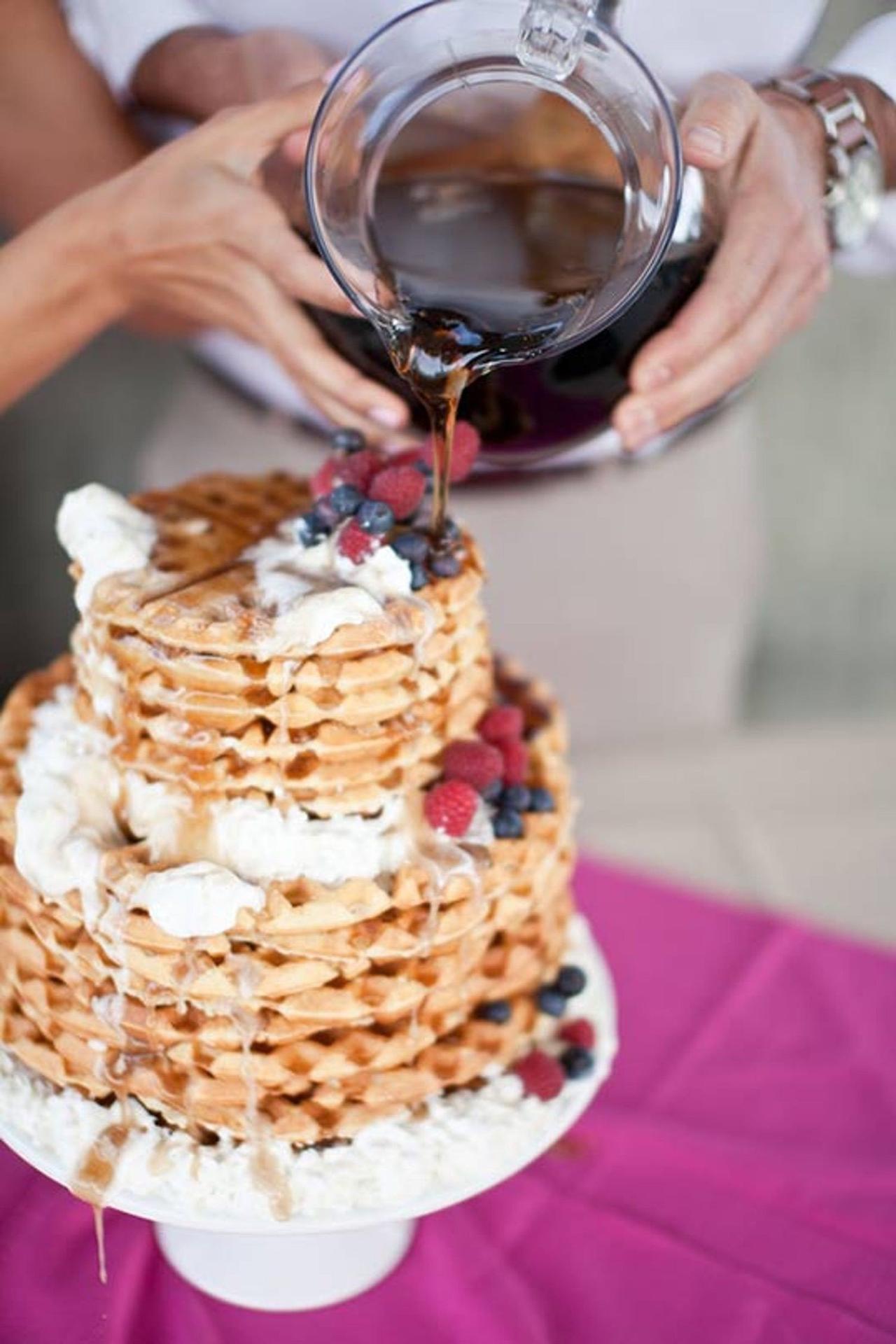 Image: Pinterest
Your wedding venue may be totally up for you turning the typical order of the day on its head. Forget about a 2pm service – what about a 10am service followed by a big brunch instead of an evening reception? Or a twilight ceremony where you marry as the sun sets and have a European-style late dinner and dancing? There's so much flexibility and originality to a small wedding.
6. Have a Destination Wedding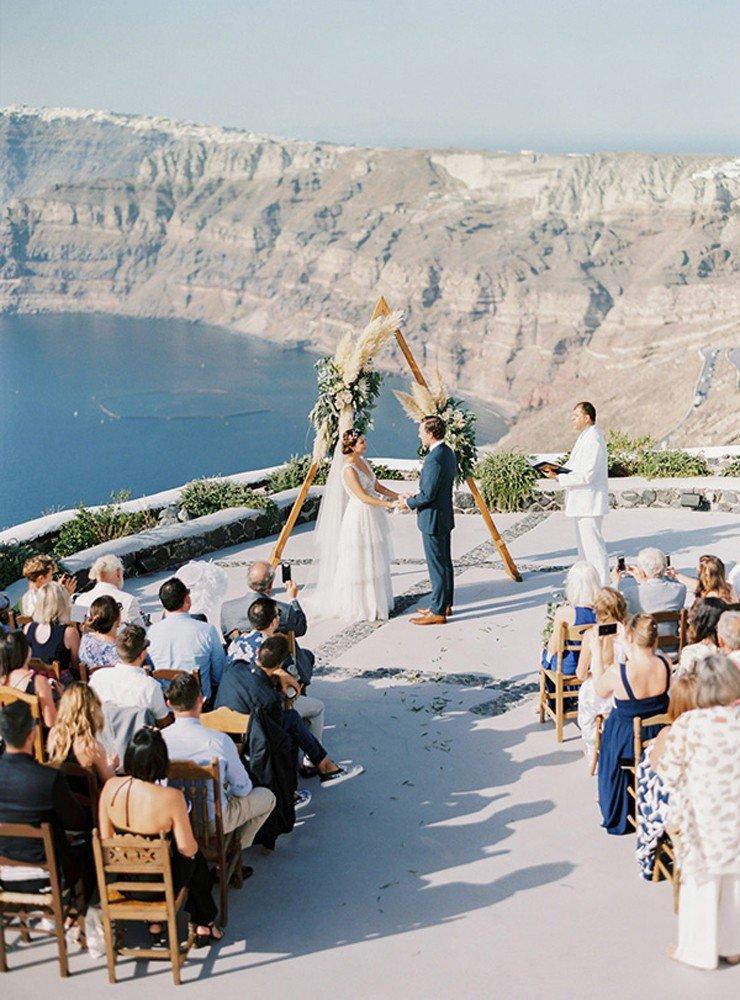 Image: Pinterest
We did say think outside the box – so what about outside the country? Just a few friends and family is perfect to elope aboard (where safe to travel). Destination weddings are often less expensive than UK weddings so you'll have more budget to splash out on activities or paying for some meals/accommodation for your guests during their stay. Plus you're then already in a bucket list destination to begin your honeymoon!
You could rent a large villa or the whole of a small hotel in a picturesque location in Spain, France or Greece. Alternatively, go further afield to a boutique guest house or luxe hotel on a Caribbean or Indian Ocean island and have a small wedding in paradise.
7. Enjoy the Great Outdoors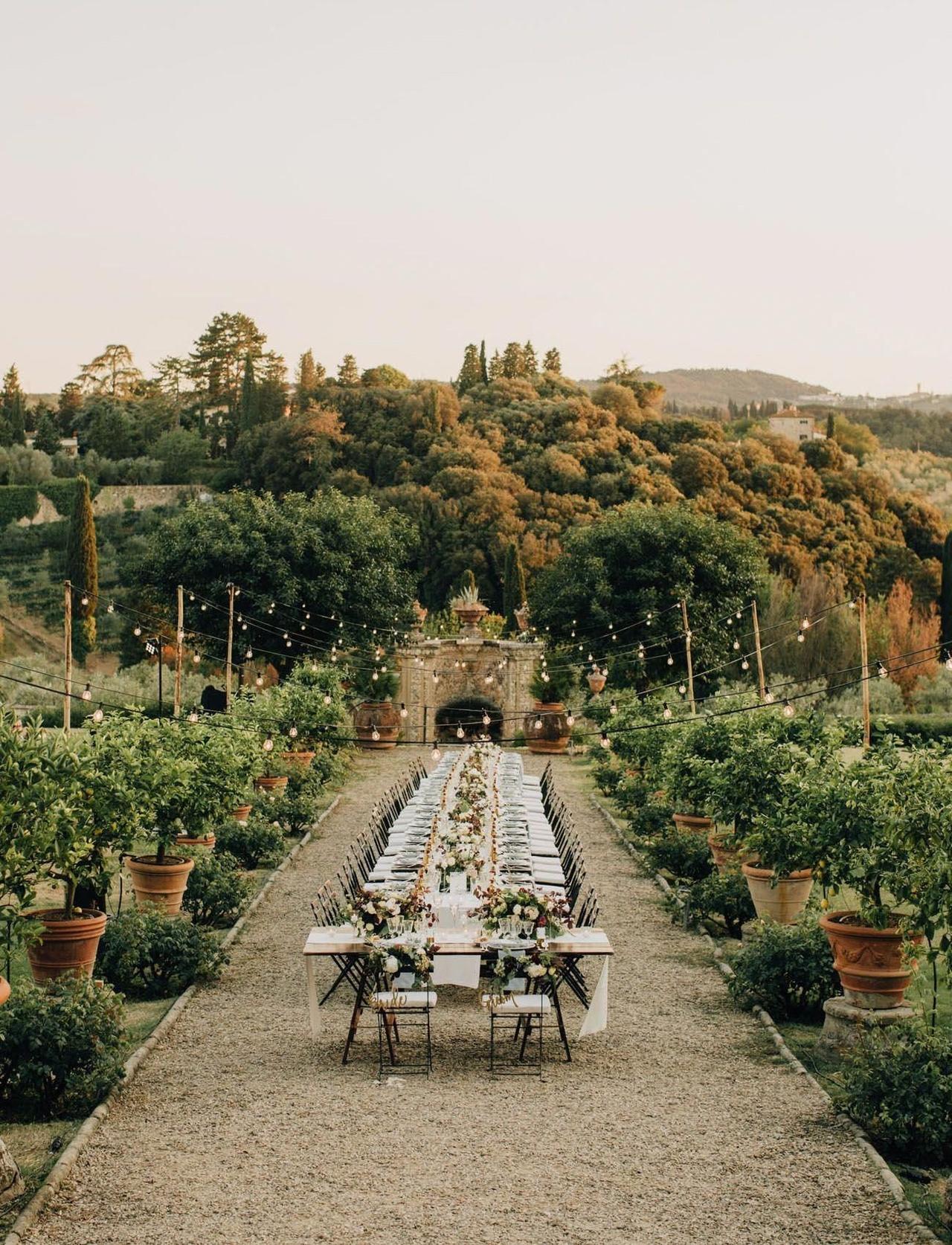 Image: Pinterest
Whether it's your backyard, woodland, a secret garden or a camping ground by the sea, you won't feel out of place among the beauty of nature. String lights around trees, create an arch out of branches and florals, use haybales or lawn chairs as seating, set up outdoor games to play like croquet, and have a really relaxed, fun, nature-inspired wedding.
8. Play Around with Your Aisle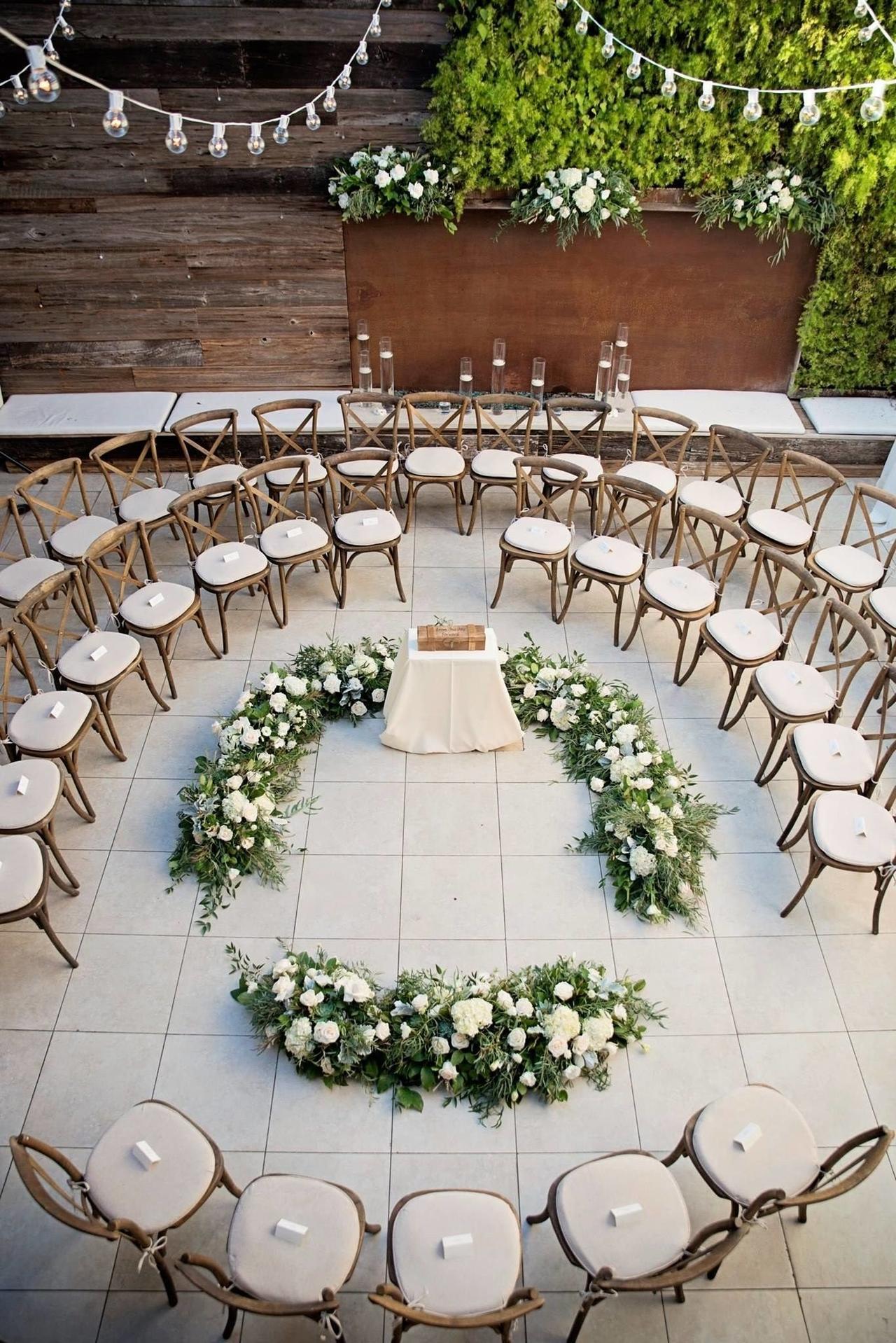 Image: Pinterest
There's no rules that say your guests have to sit in lines behind you two at the front, especially if you don't have a huge number of guests. Here's some different ideas for an aisle and how to walk down it:
Guests can stand or be seated in a circle or semi-circle around the two of you, meaning everyone gets a great view
A spiral of chairs that you walk around to the centre where you'll say your vows looks spectacular in photos
What about creating 'in the round'-style seating, where your guests are seated on four sides of a stage with you in the middle?
Lead your guests into the ceremony space. Mingle with them first and then guide them in to the ceremony space with the couple at the front and all your guests filing in behind you
Outdoor weddings can look brilliant with an alternative to traditional chairs, such as wooden benches, hay bales, big cushions and blankets on the floor, and some eclectic sofas and armchairs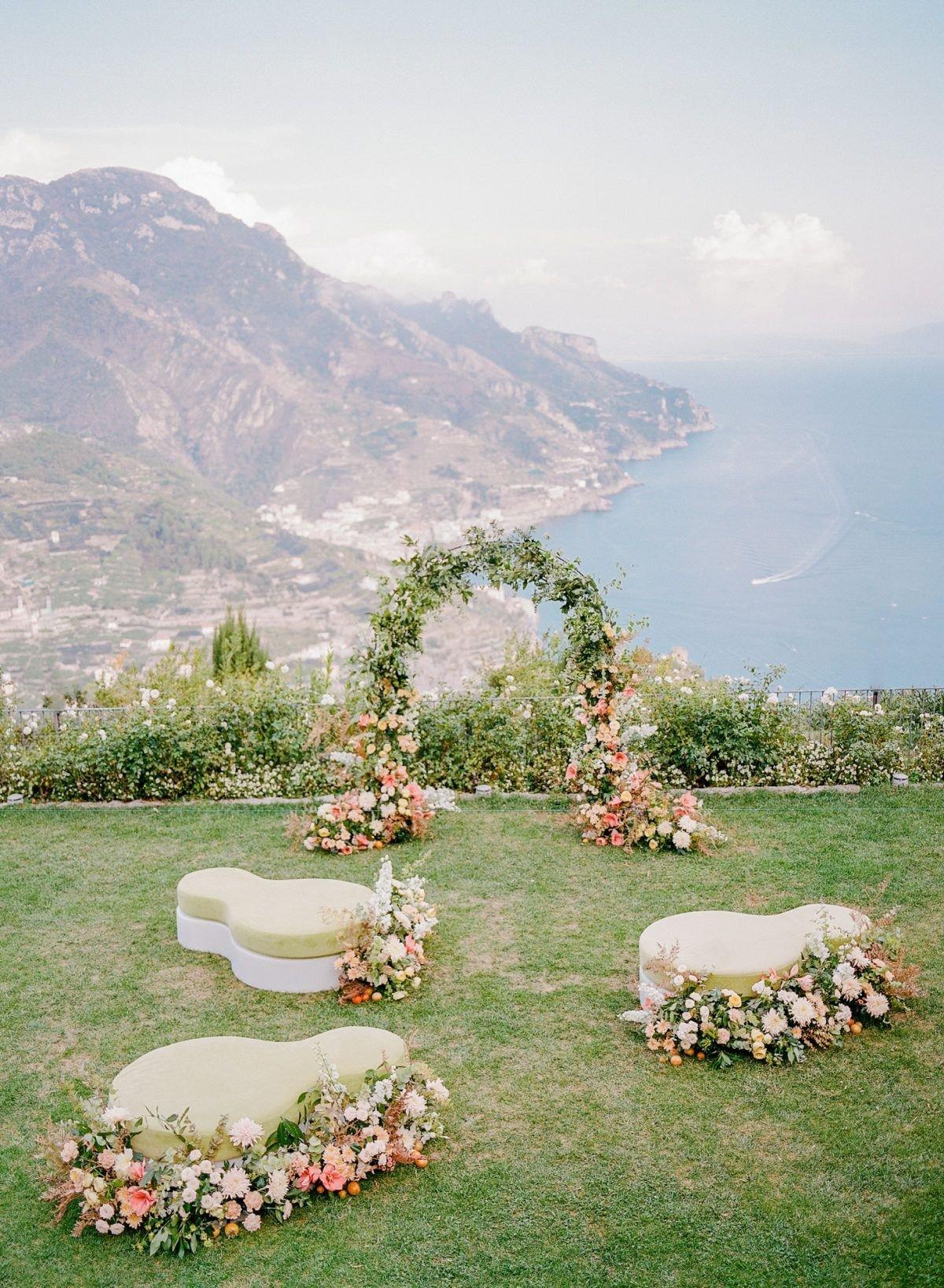 Image: Pinterest
Alternatively get rid of seating altogether if it'll be a short ceremony – although provide an alternative if older guests are there!
Ask each guest to hold a long-stemmed flower and collect it from them as you walk down the aisle. By the time you reach the top, you'll have your bouquet
Décor Ideas for Small Weddings
9. Incorporate Family Heirlooms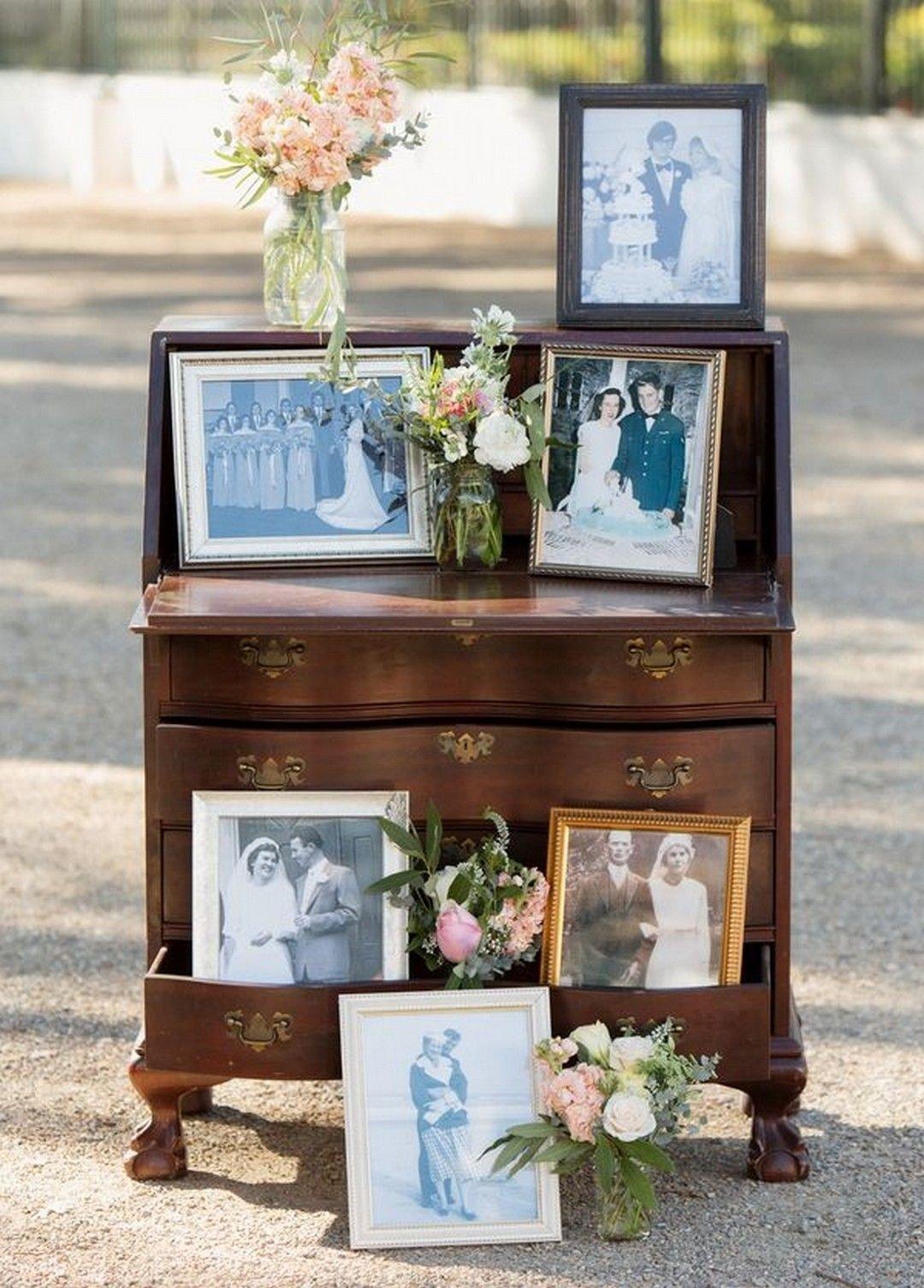 Image: Pinterest
Small weddings feel very much more personal, and you'll find that adding a bit of family history into the day will make it all the more poignant. Your grandparents wedding china or tablecloths would be lovely to serve your wedding breakfast on or decorate your venue with wedding pictures from your parents and grandparents' big days. Wear a dress, veil or piece of jewellery that has been handed down through the family or wrap something like an antique brooch, bracelet, or even rosary around your wedding bouquet.
10. Create a Relaxing Lounge Area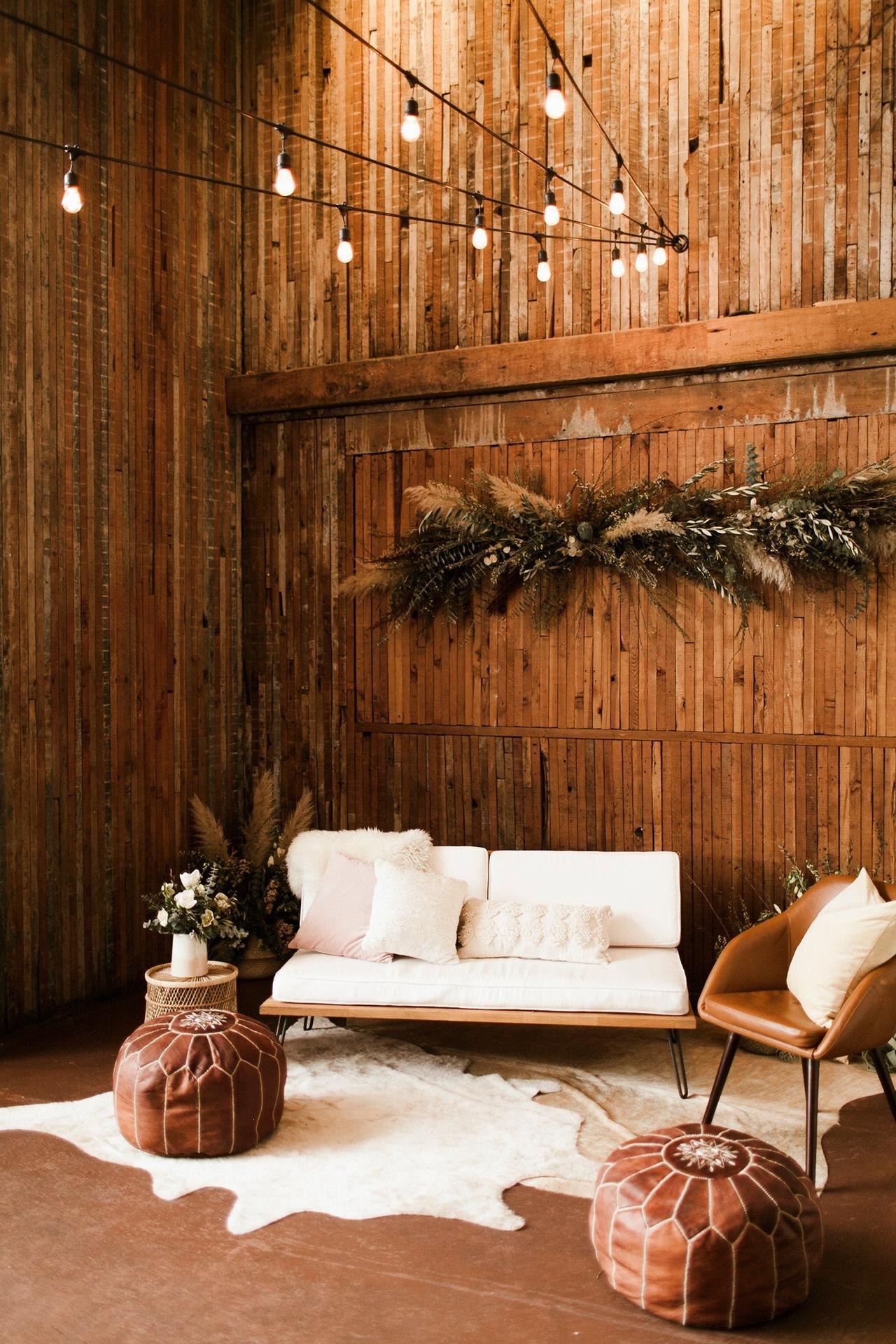 Image: Pinterest
Guests will want a relaxing break-out area to chat, so create an inviting lounge space for them to enjoy. Fill it with sofas, armchairs, cushions and little tables to put their drinks. Keep the décor and fabrics in line with your theme: Moroccan carpets and throws look great at a boho wedding, while velvet is ideal for an elegant affair. Decorate with fairy lights, chandeliers, stacks of vintage suitcases, mirrors and even a few board games like chess. If you have to use the furniture that comes with your venue, buy some nice throws to cover it with.
11. Customise Everything You Can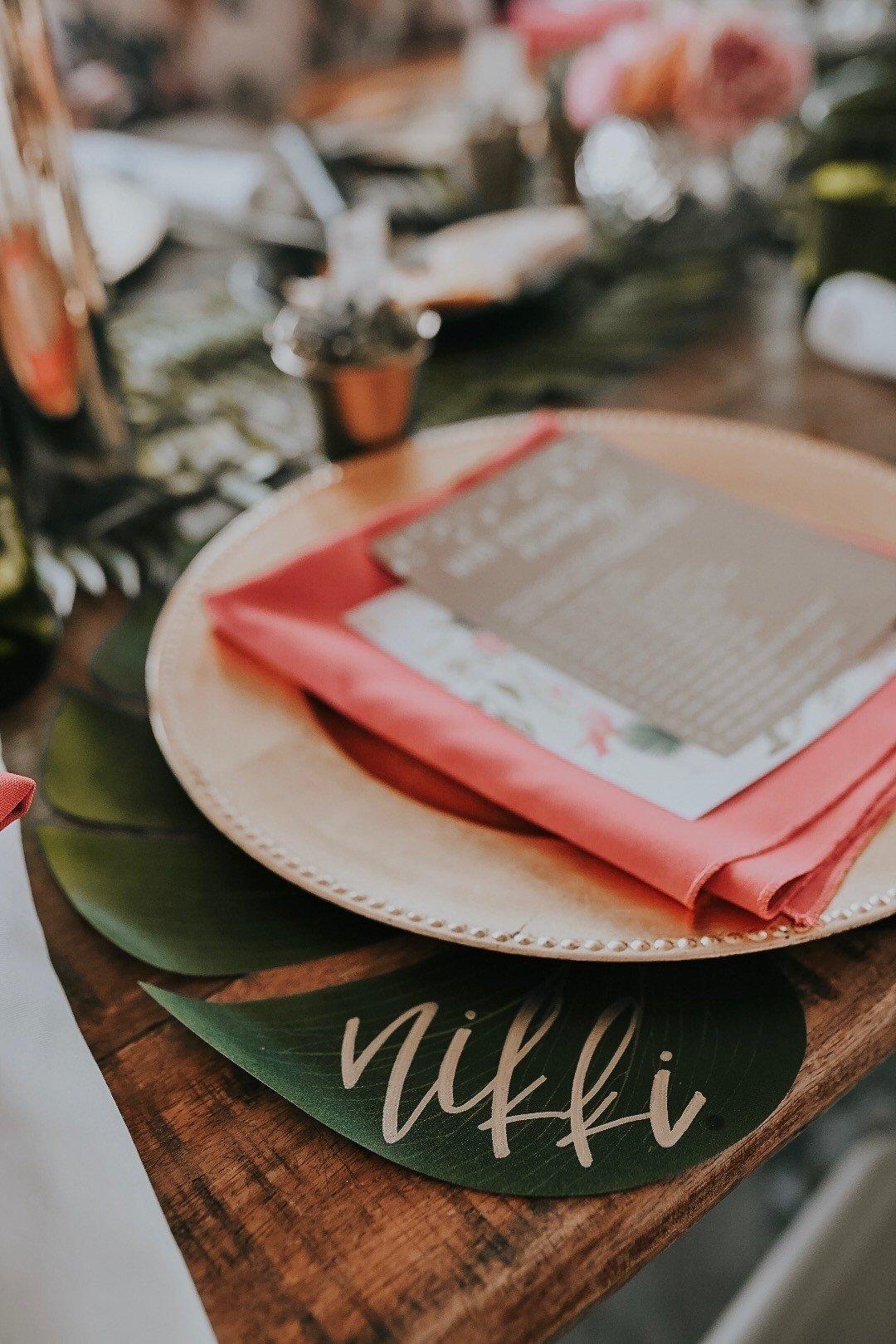 Image: Pinterest
Personalise it all! When you have a small guest list, the micro details matter. Here's some of our favourite ways:
Go wild with place cards: write guests' names on tropical leaves or potted succulents; personalise mini bottles of Champagne; have laser cut-outs of their name in wood or cool acrylic; use agate or geode for seriously colourful place settings; ice them on biscuits, or even attach them to an individually-selected gift for each person
Hire a calligrapher or illustrator to handwrite each order of service, menu and place setting with your guest's name and a sketch of the guest
Create a video of your love story to play in the background of your wedding breakfast
Write (or hire a poet to write!) a custom poem for each guest, it's a truly bespoke touch!
Leave a handwritten note for each guest on their place setting, sharing your most treasured memory with them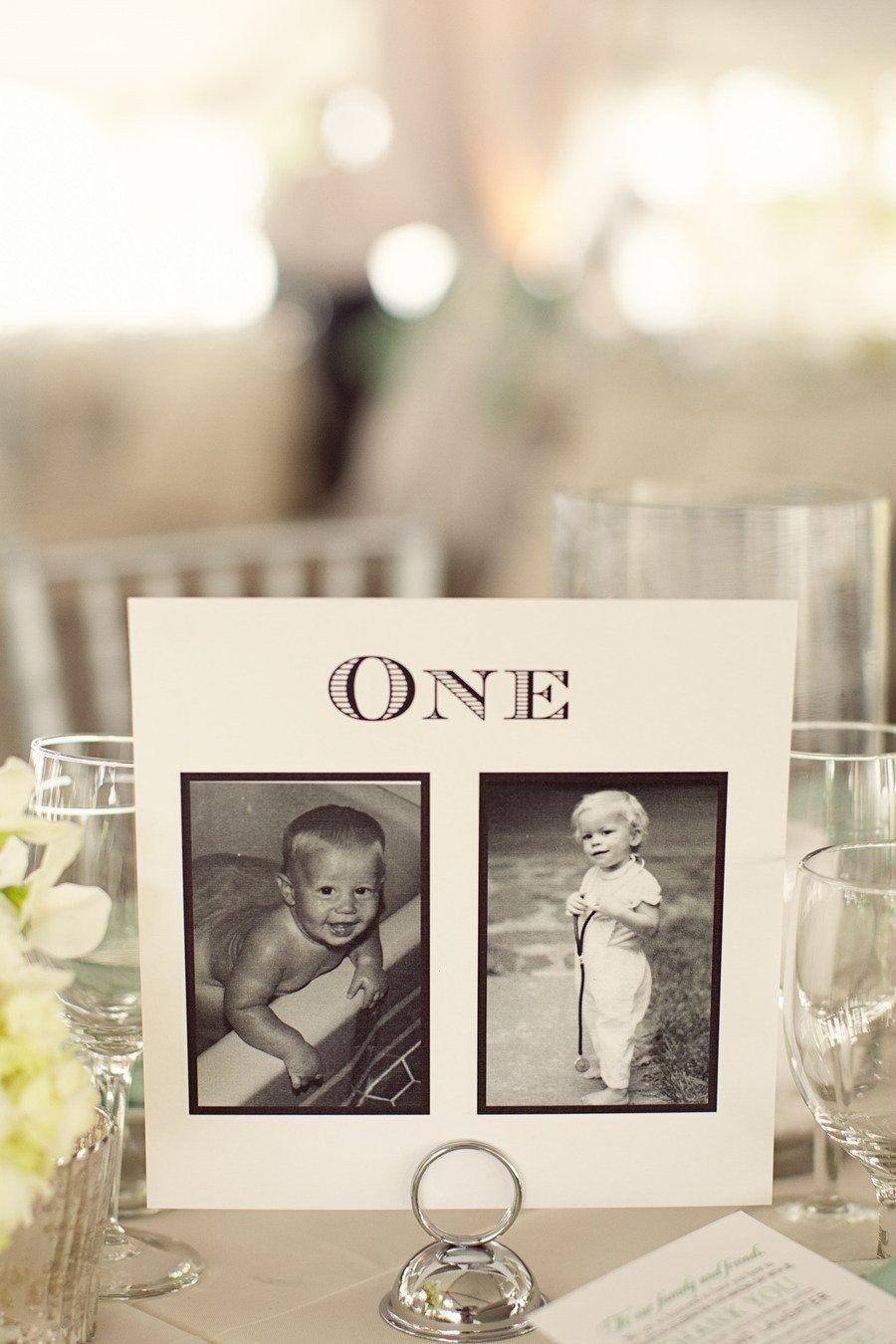 Image: Pinterest
Put your name and wedding date on everything you can: napkins, guest book, cocktail stirrer, cake topper, the label of wine bottles, wedding signs etc.
If you're into star signs, get readings for each of your guests or customise their place setting with their zodiac sign
Choose pictures of the two of you at that age instead of table numbers – everyone loves a baby picture
Make a custom aisle runner: write a passage from your favourite book or poem, or print your name and date on the runner
Customise all your décor with a personalised crest for your wedding day that combines your initials
12. Turn Your Guests into Décor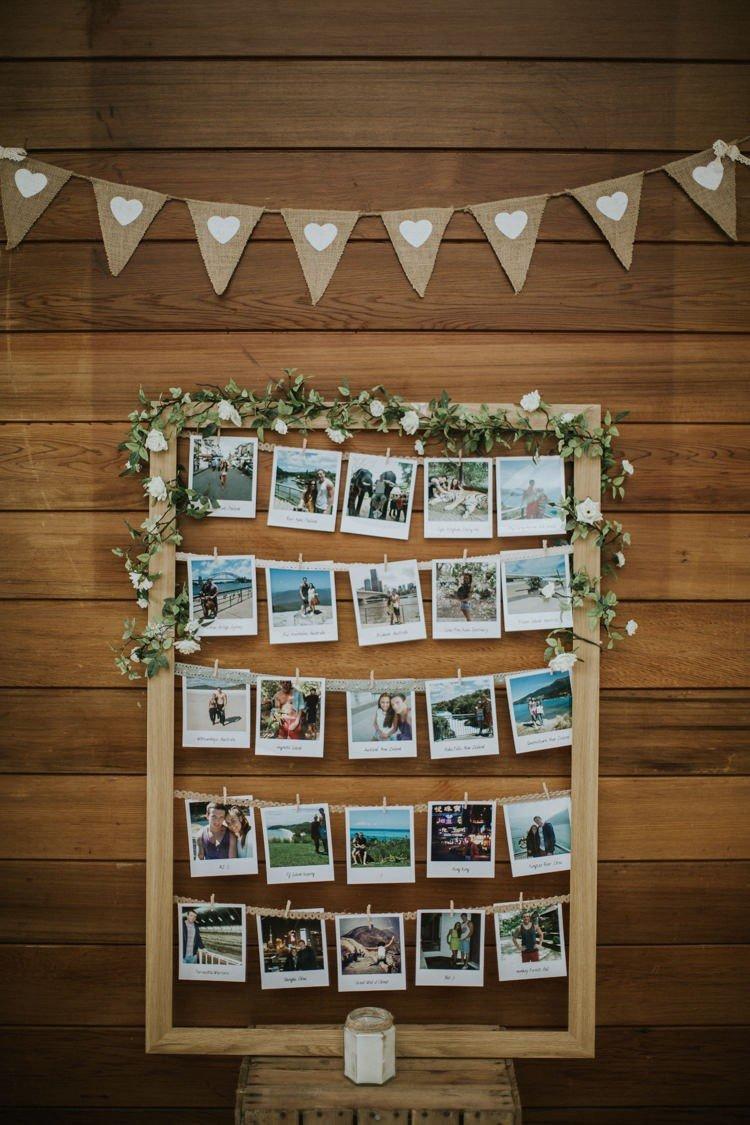 Image: Pinterest
By this we mean, use photos of your loved ones in everything from their place settings to hanging strings of polaroids up as bunting. It's an inexpensive way to make your guests feel so special and to crack out a few of your favourite photos with them while making more memories.
13. Mix and Match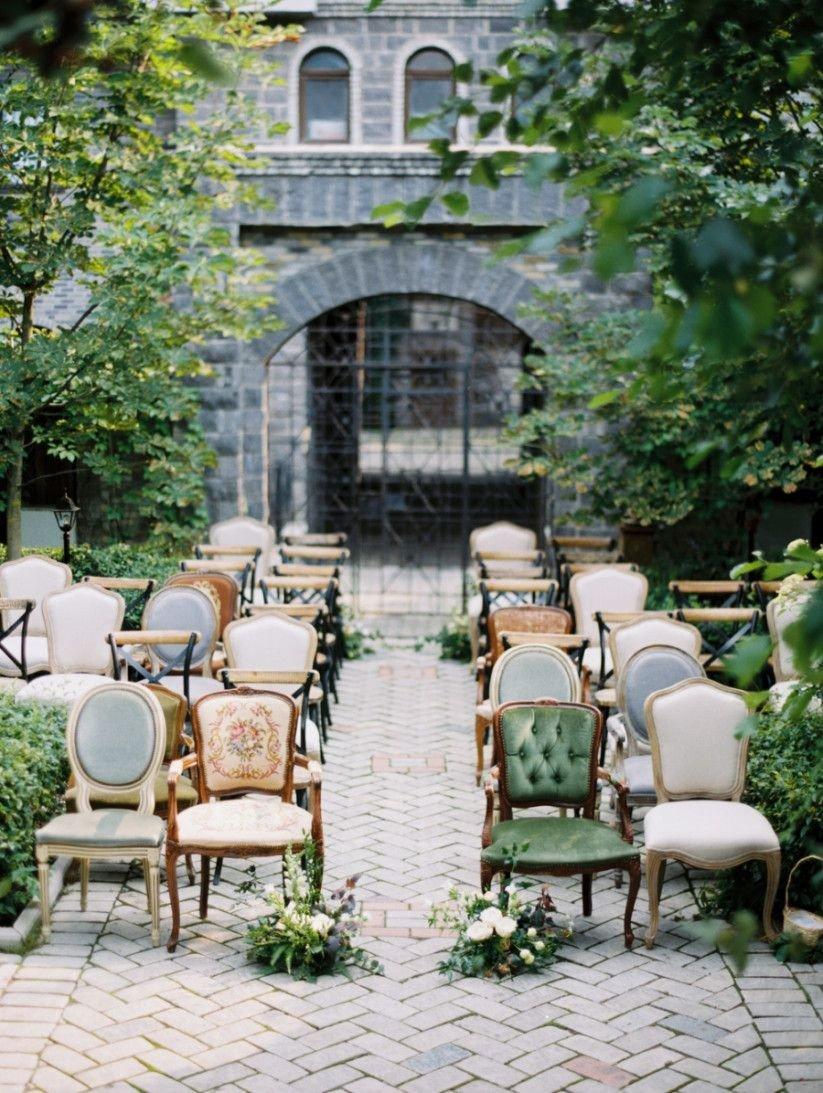 Image: Pinterest
An original way to give your wedding a unique, stylised look without spending much is to choose an eclectic mix of chairs for your ceremony. Hire vintage chairs, especially ones that juxtapose with your venue – think plush velvet in an industrial warehouse, or contemporary ghost chairs in a cosy, rustic barn.
14. Splurge on Your Priority Items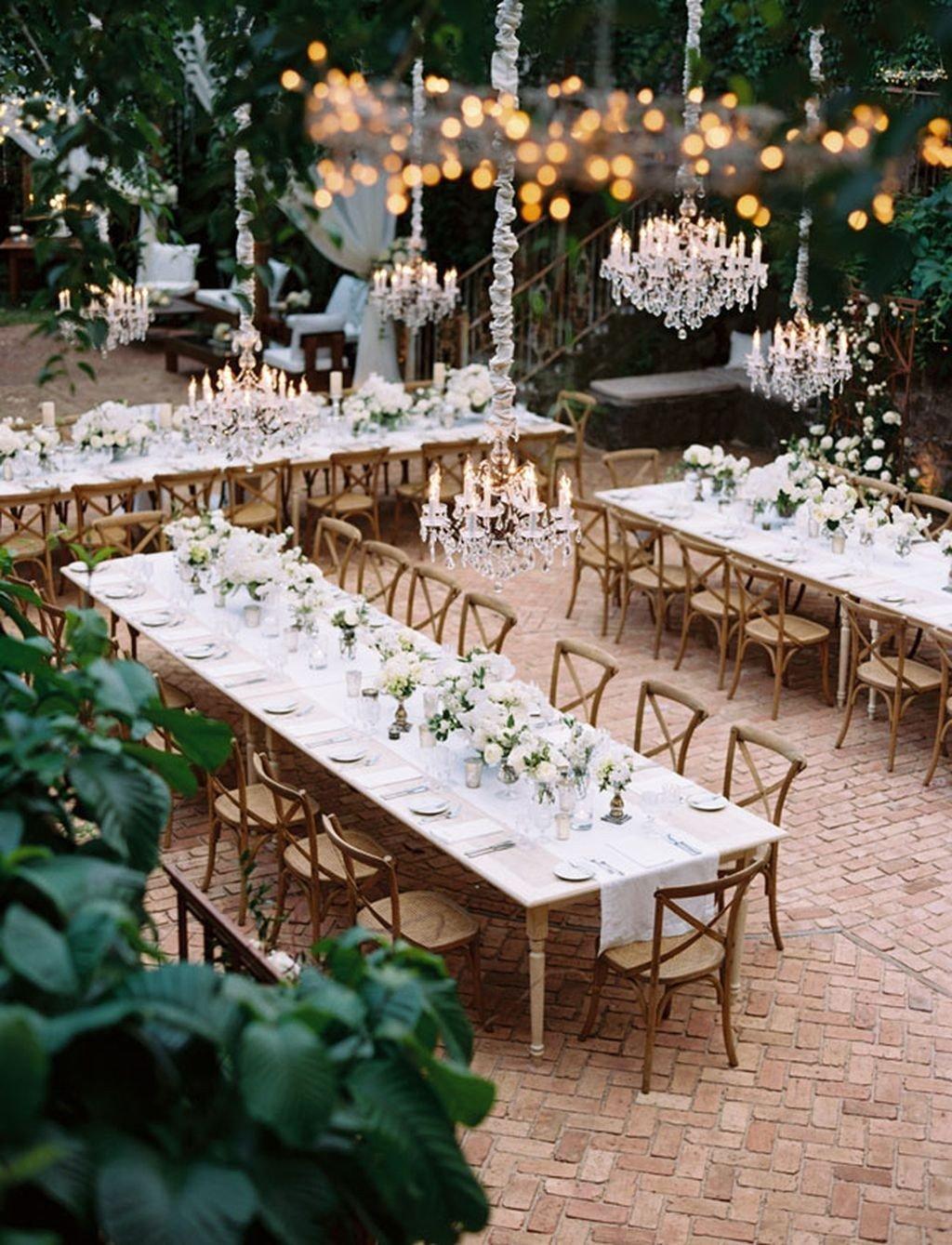 Image: Pinterest
The huge benefit to having a small wedding is that you have more budget per head to spend on your guests. As a couple, write down a list of what your priority items are: it could be having Michelin star food, gorgeous flowers on every surface, an open bar, splashing out on live music, hiring a unique venue you didn't think you could afford before, or going all out on your styling. Focus on two to three priorities and then make those the stars of the show when it comes to designing the look of your reception.
15. Ditch What Doesn't Matter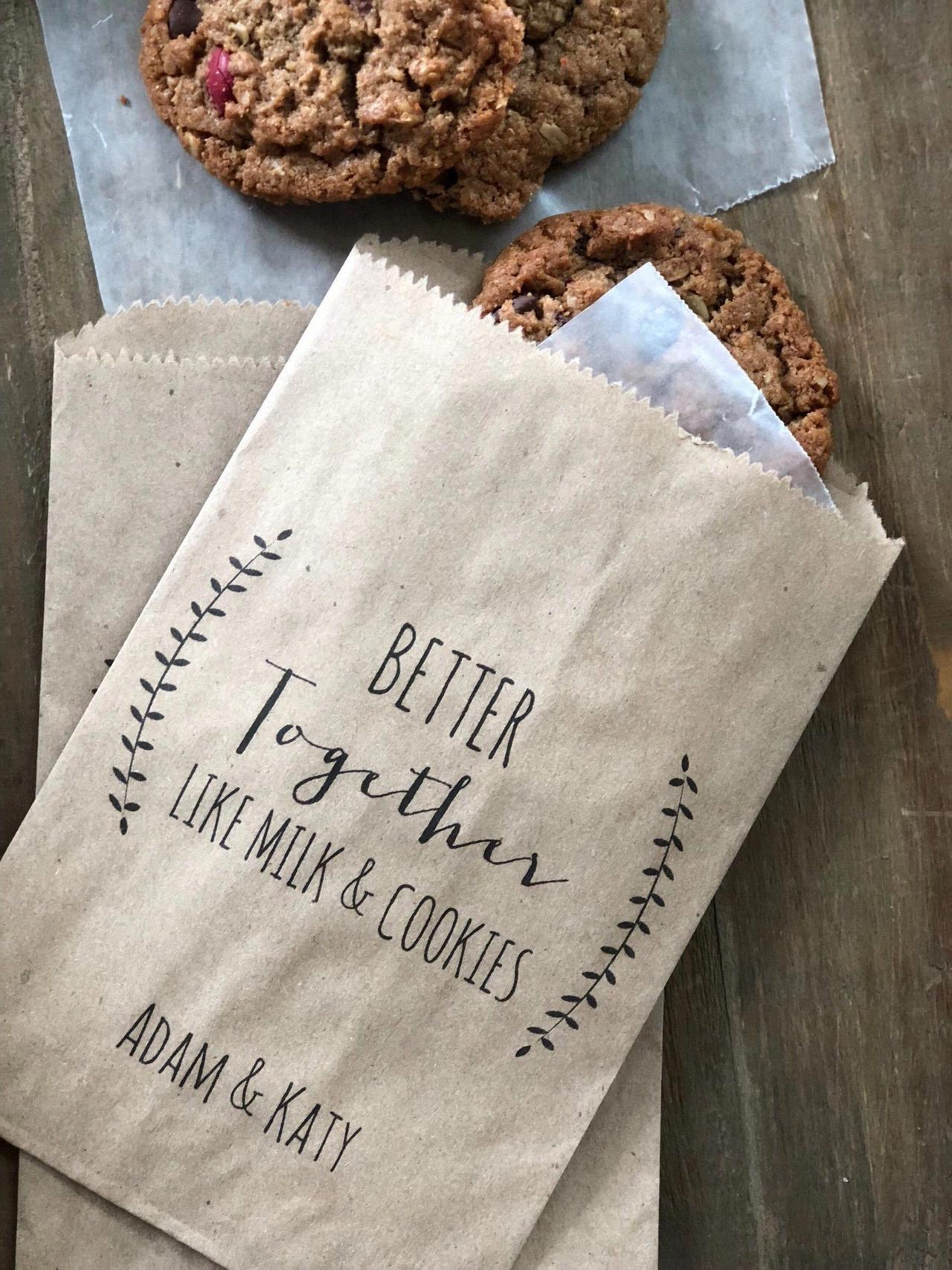 Image: Pinterest
And if something isn't important? Ditch it or DIY it! Don't bother with wedding favours or a photo booth if they're not on your priority list or make your own and save your budget.
16. Invest in a Photographer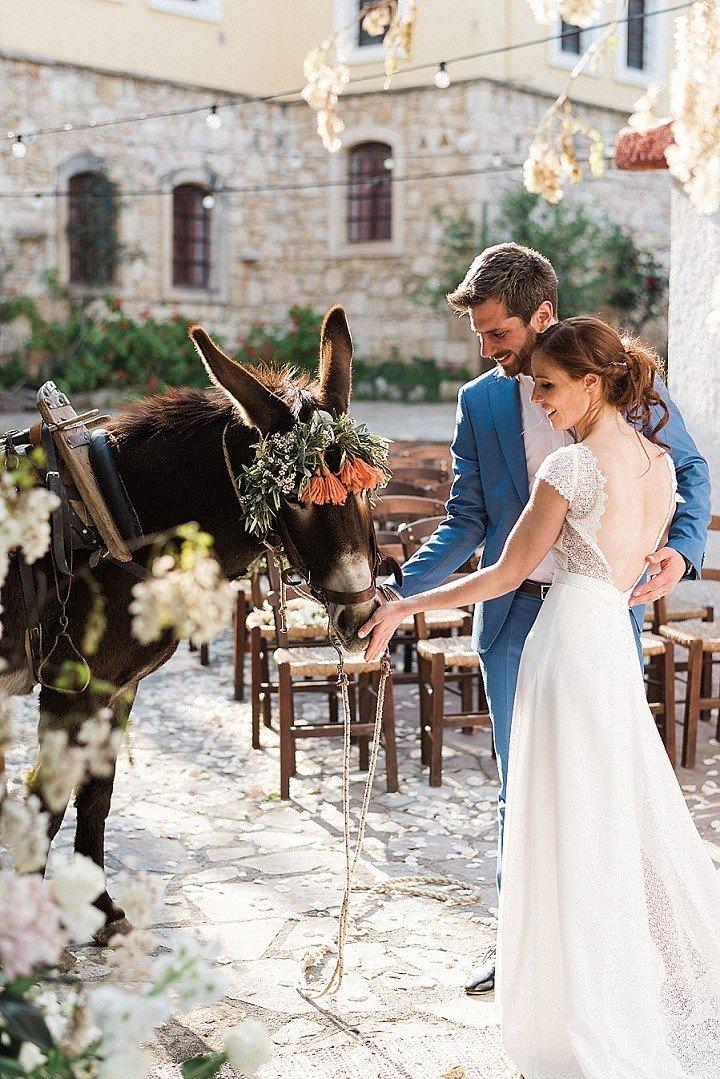 Image: Pinterest
Why design a wedding with love and care if you don't invest in a photographer to capture those treasured moments of laughter, friendship and happy tears?
17. Get Creative with Your Seating Layout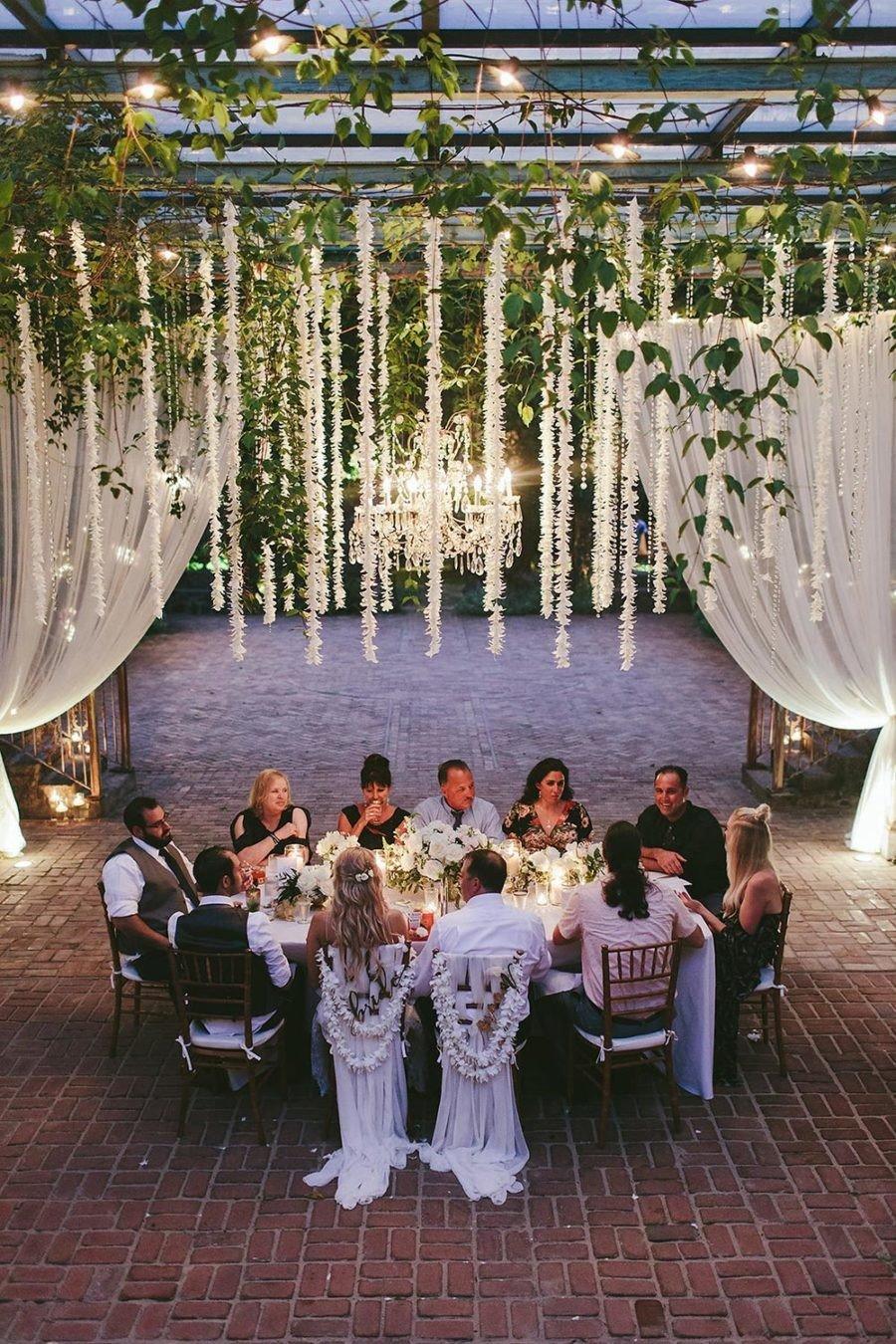 Image: Pinterest
The usual little, round tables might not work for small groups, as much of the atmosphere will come from mingling, chatting and laughing. Don't be afraid to go for something different like a huge round-table that can fit all 15 of you on, a banquet table with feasting boards in the middle so people talk and get hands-on involved with the meal, or even a U-shaped table.
18. Embrace Bold Patterns and Colours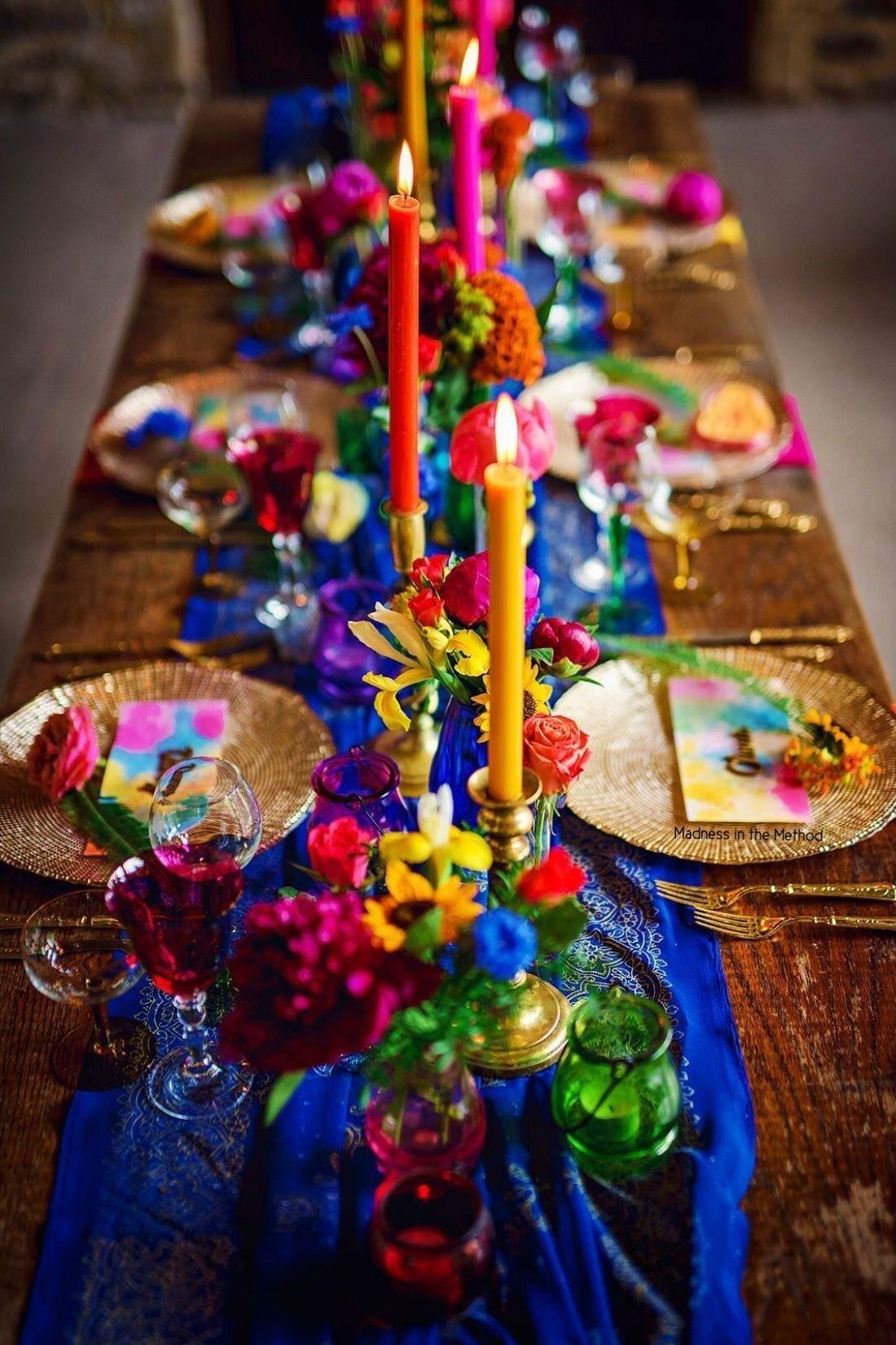 Image: Pinterest
Dark colours will make a space feel smaller, while white will make your venue feel bright and airy. If you want to draw the eye, however, patterns and bold colours are your way to go. Floral patterns, splashes of bright or neon colours, chevrons and stripes, and geometric designs add visual interest, energy and dimension to a space. Your gaze will be drawn towards the bright colours so make them your focal point, like on your table runner, wedding cake, floral arch and centrepieces.
19. Have Tissues on Hand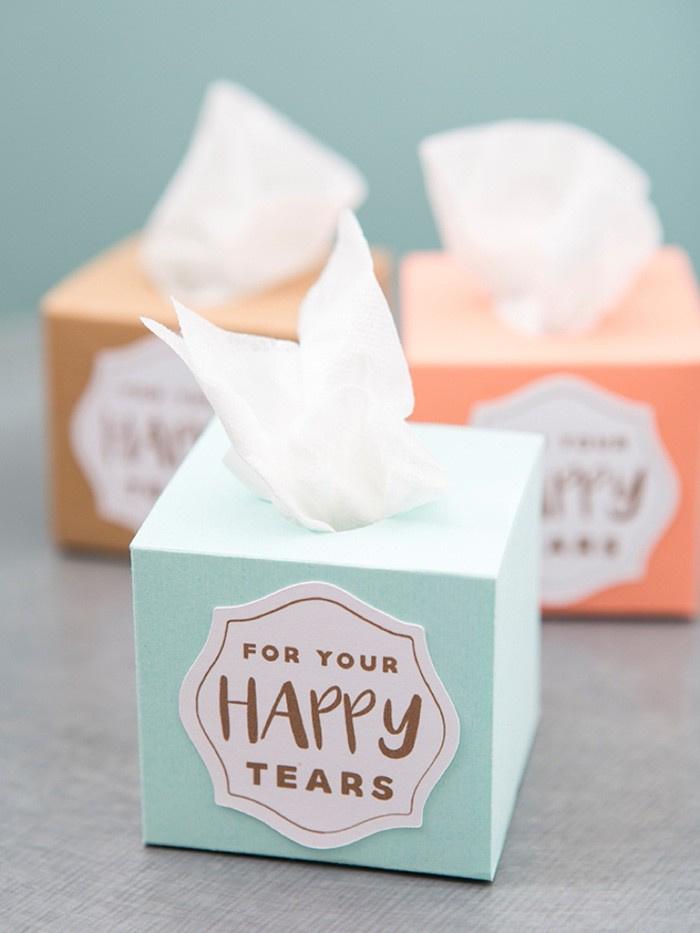 Image: Pinterest
Tears are wonderful at a wedding: they're a display of your love and emotion. Expect the romantic, intimate vibe of a small wedding to lend itself to even more tears, so prep for it with personalised tissues for your guests or even a quirky box of delicate hankies at the back of your ceremony space.
20. Set Up a Station for Outdoor Necessities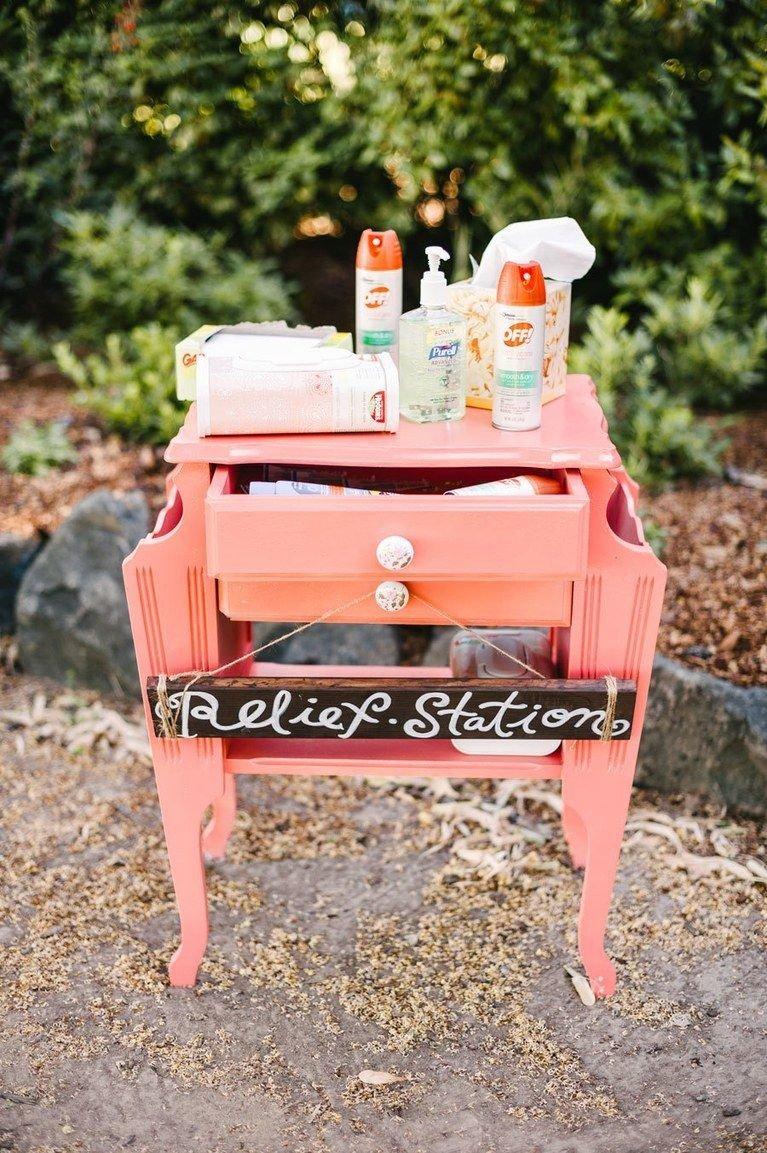 Image: Pinterest
If you choose to have an outdoor wedding (which we adore for small weddings), set up a little station with everything your guests might need. Stock an old rustic dresser with sun cream, hand wipes and sanitiser, heel guards and bug spray.
Food and Drink Ideas for Small Weddings
21. Set Up a Food Truck Station
Image: Pinterest
If a formal sit-down meal doesn't feel right to you, a cool food truck might be just the ticket. You can get almost anything made fresh in food trucks these days, from fish and chips, tacos, hog roasts, wood-fired pizzas, paella, pie and mash, and BBQs to churros, waffles, ice cream, doughnuts, cookie dough and cupcakes.
22. Eschew Traditional Meal Times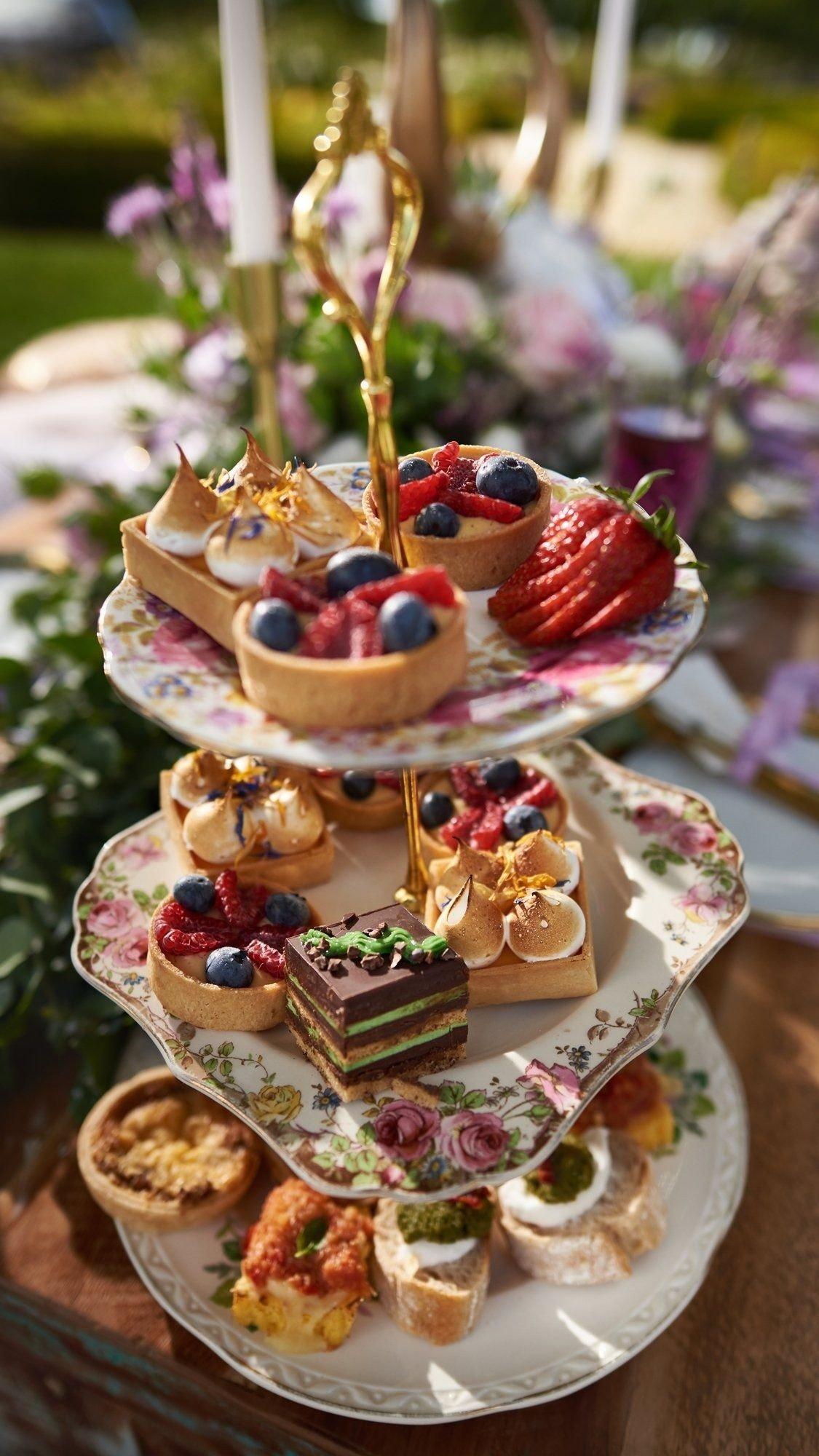 Image: Pinterest
As we mentioned before, you don't have to have a late afternoon wedding breakfast. We love a massive brunch buffet with eggs, pancakes, avocado, and mimosas to drink. For mid-afternoon, a picnic or afternoon tea are lovely choices for a small wedding where you can mingle with finger sandwiches, cups of tea or teacup cocktails, scones, cake and more.
23. Nominate Someone as Chef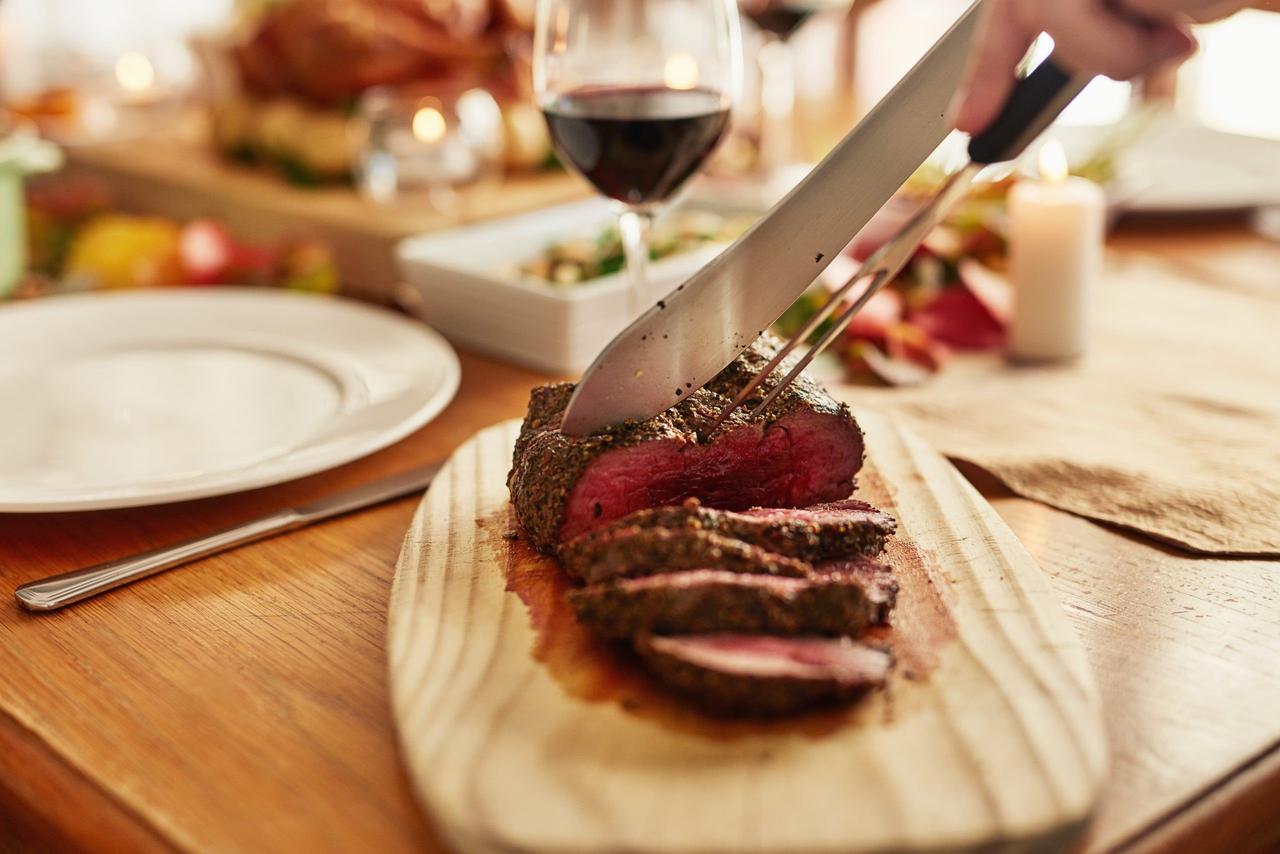 Not to cook the meal, but to carve at the table. It's a lovely way to serve food and break the ice at the table. You'll make the nominated table chef feel extra special too!
24. Get Creative with Cocktails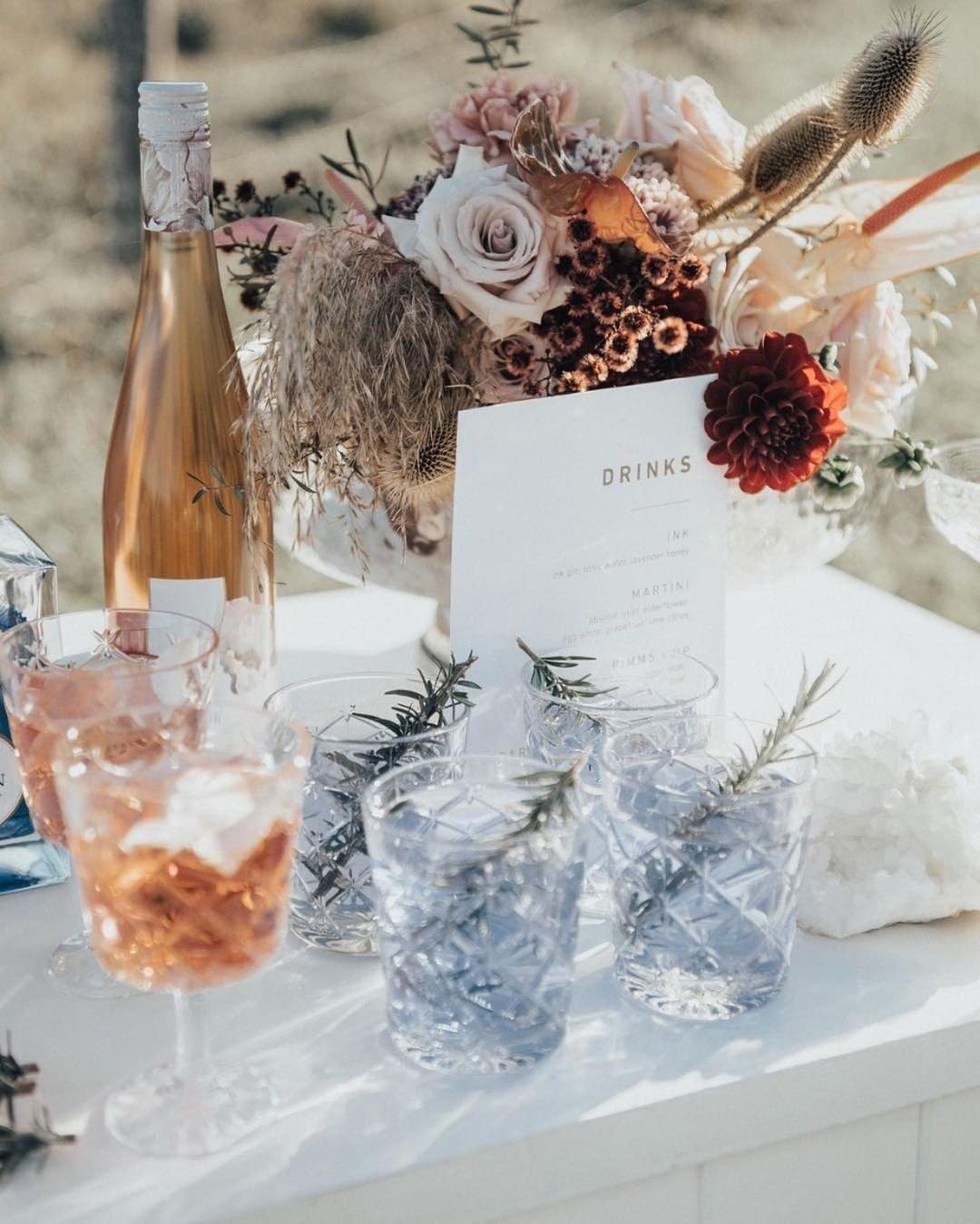 Image: Pinterest
If you've got 100 guests, it can be very slow to have a bar making cocktails fresh; with a smaller guest list, this isn't a problem. Design four signature cocktails that your barman can whip up on the spot, and make them with flavours you like or appropriate to the season. Frozen margaritas or a twist on Pimm's with ginger beer are lovely for summer; gin, brandy, apple and cranberry are all gorgeous autumn flavours.
25. Choose a Cake Alternative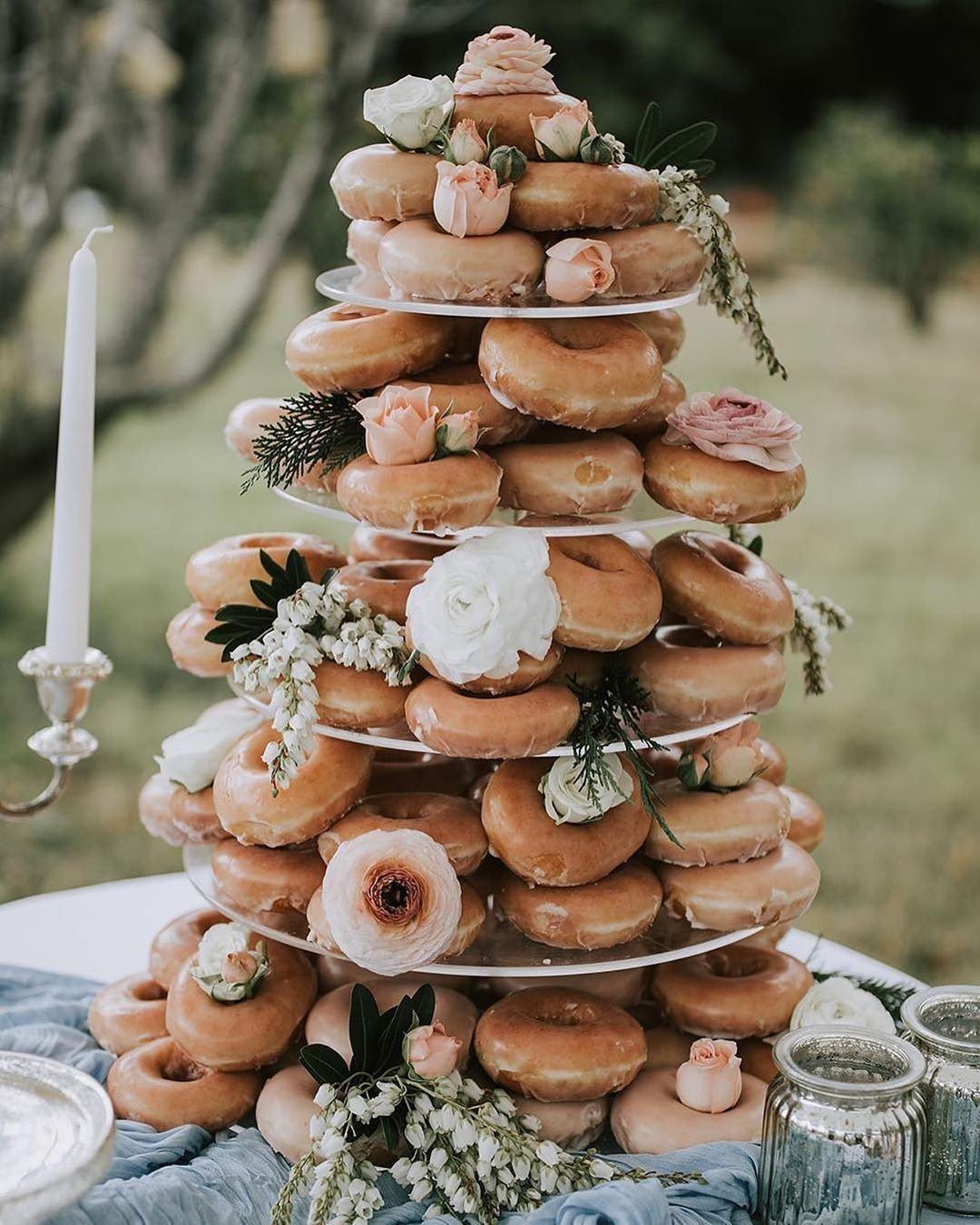 Image: Pinterest
By all means get a wedding cake (a small one, or a larger one you can freeze the layers of), but you might find an alternative more social and enjoyable. Stacking sweet treats like doughnuts and brownies are great for guests to take as the feel the need for something sweet, or make an interactive display with churros to dip in chocolate sauce or even a candy floss machine.
26. Eat Your Favourite Things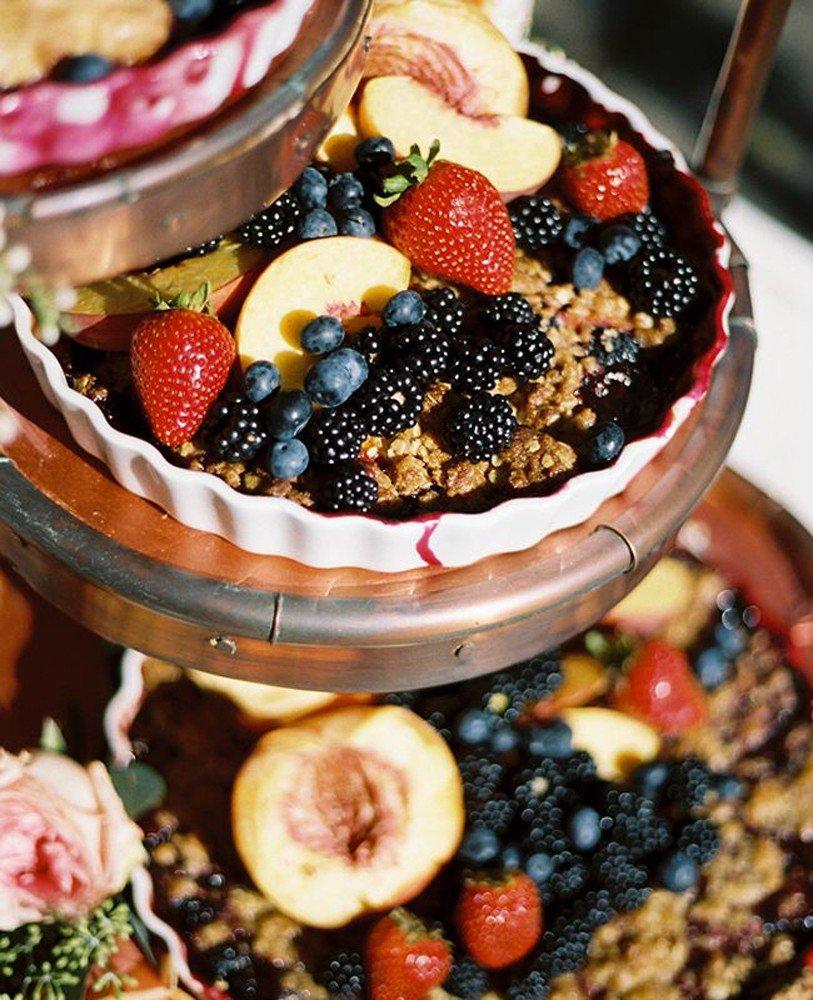 Image: Pinterest
Most caterers will be happy to create something bespoke for an intimate dinner so plan out with your partner exactly what you both love eating the most. Don't be afraid to do something that might not even be very 'wedding-y': if you love a takeaway-style curry, ask for one of those; if your favourite dessert is an apple crumble, don't hesitate to ask for big dishes of it with pots of custard that you can serve yourself from at the table.
27. Get Baking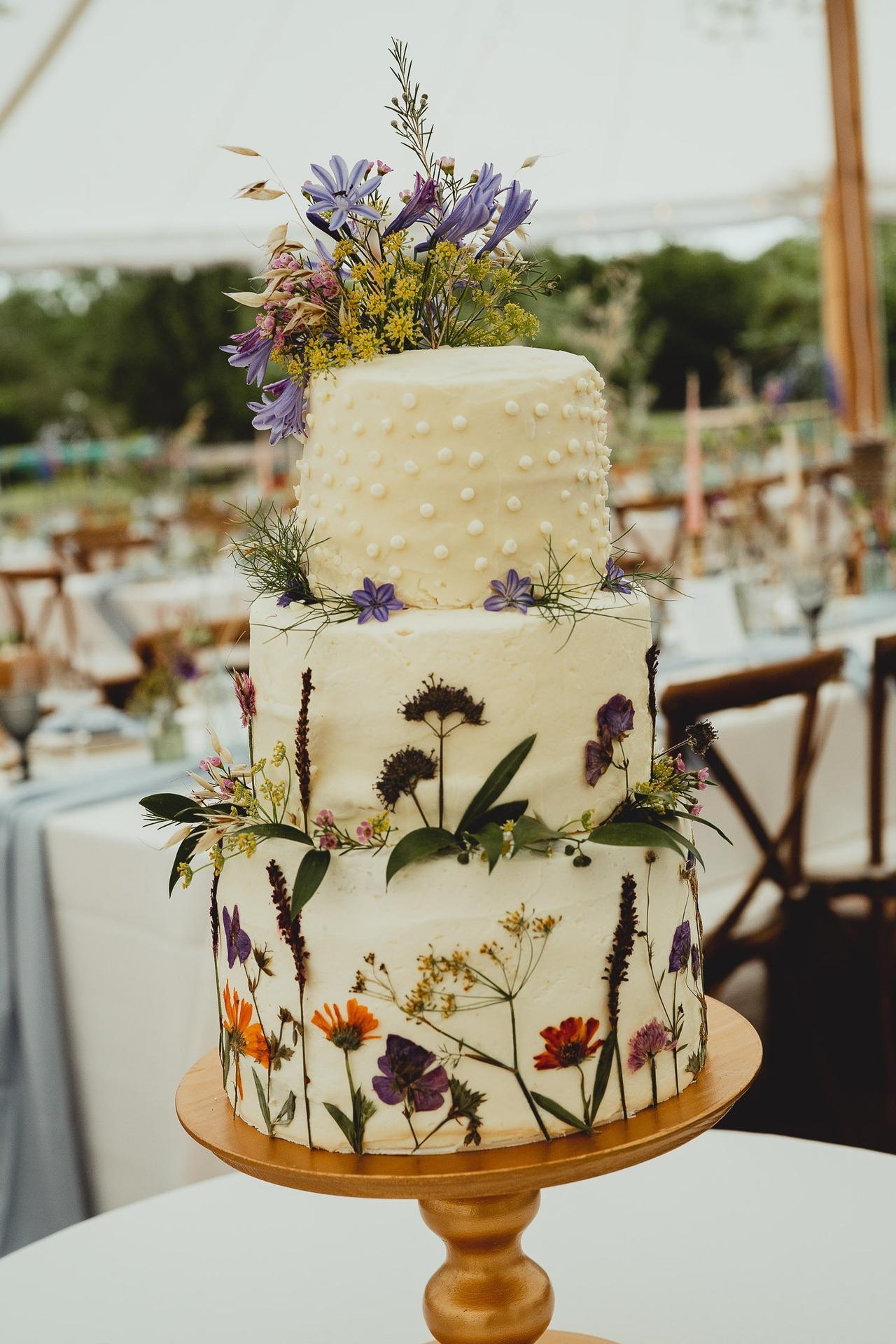 Image: Pinterest
If it's small numbers and you love to bake, make your own wedding cake, brownies, cupcakes or even biscuits for wedding favours. Not Nigella in the kitchen? You might have a friend or family member who is and will be happy to bake for you!
Entertainment Ideas for Small Weddings
28. Hire a Band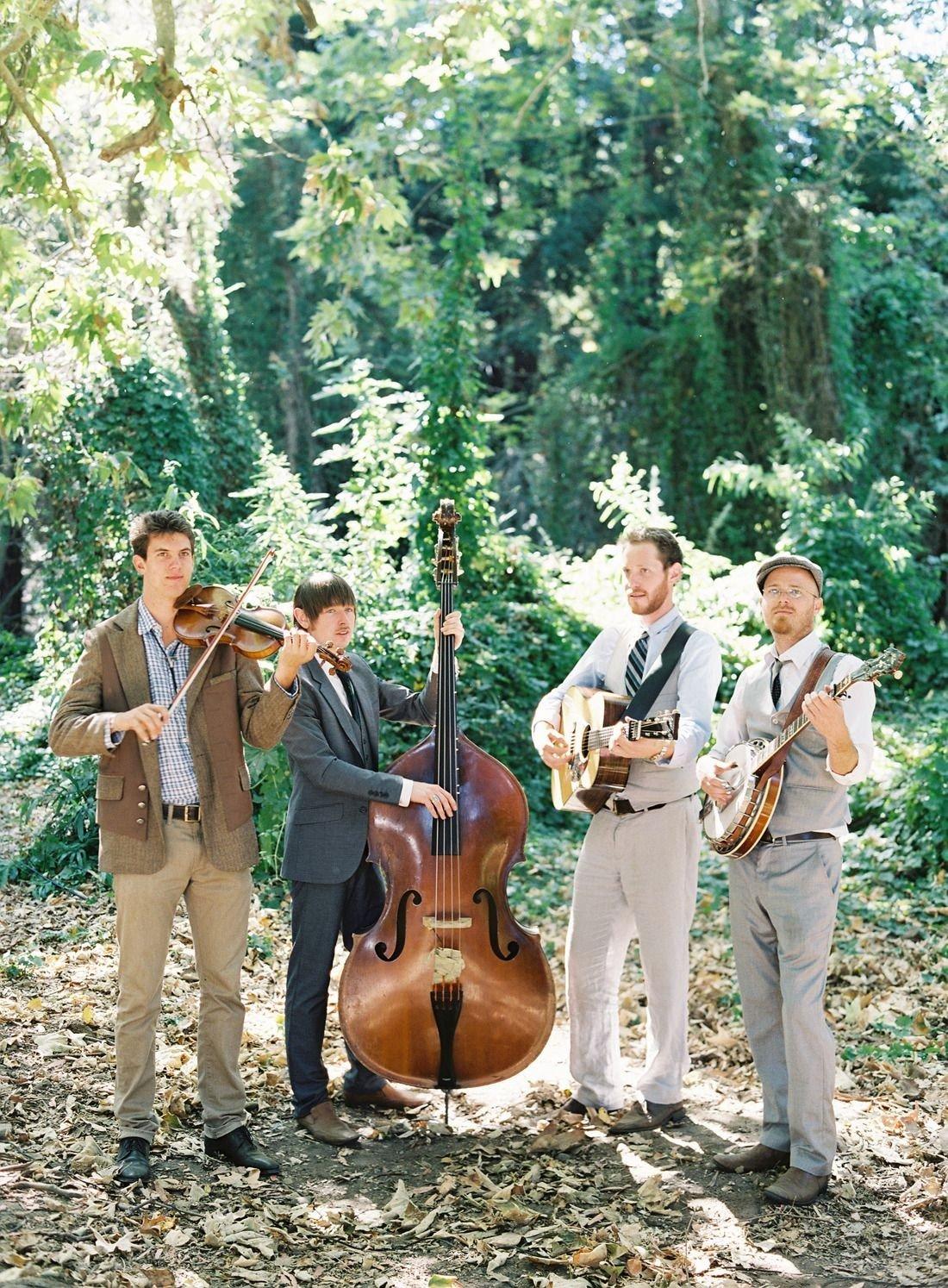 Image: Pinterest
Live music is your best bet for a small wedding. A DJ spinning tunes might feel disconnected with the atmosphere, but a solo acoustic act during dinner and a live Motown or festival-style act to dance to in the evening will be perfect. A small wedding is all about connection, and live music is ideal for this. You don't want a huge band that feels disproportionate to the number of guests either; a three or four-piece is perfect.
29. Paint Your Wedding Live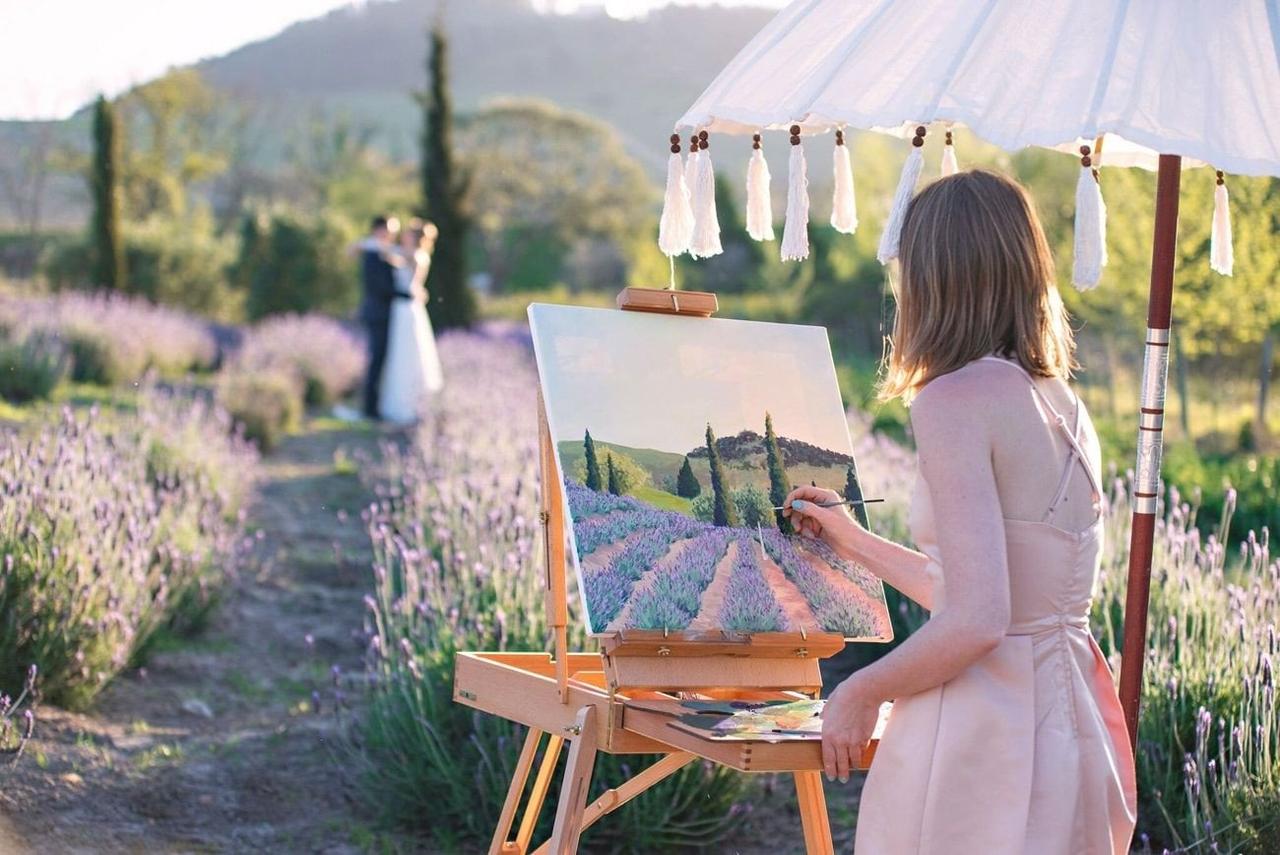 Image: Pinterest
There are artists who will capture your wedding in paint or pencil as it happens live. With a smaller guest number, the artist will be able to capture all of you. Search for an artist that fits with your style, it could be street art, watercolours, pen and paper sketches.
30. Include Your Furry Guests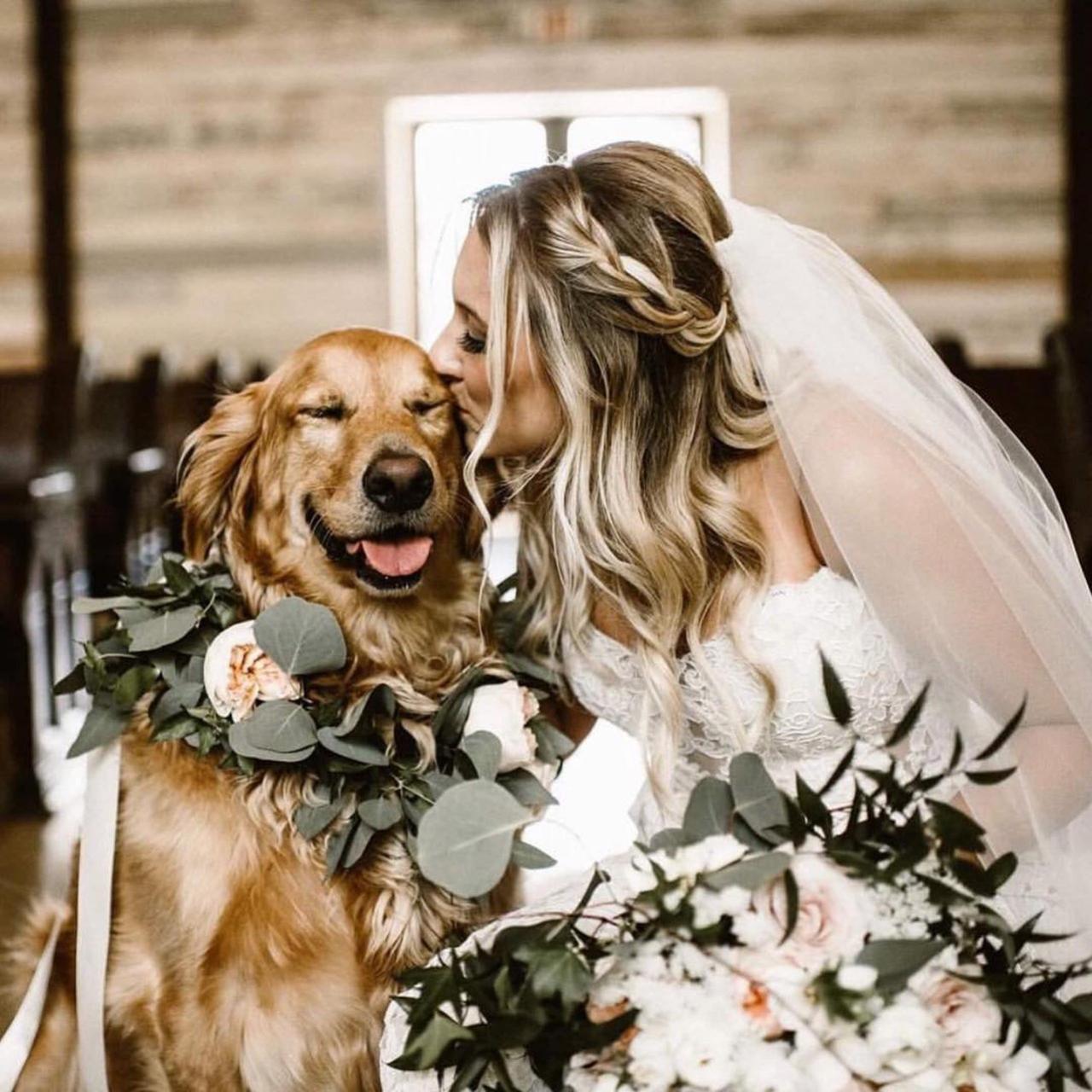 Image: Pinterest
Take your pet down the aisle with you; dress them up and pose for photos; make them ring bearer. Dogs, cats, horses, rabbits and more are family too. You won't have to worry about them if they're milling around only a small group of people they already know.
31. Get Some Group Games Going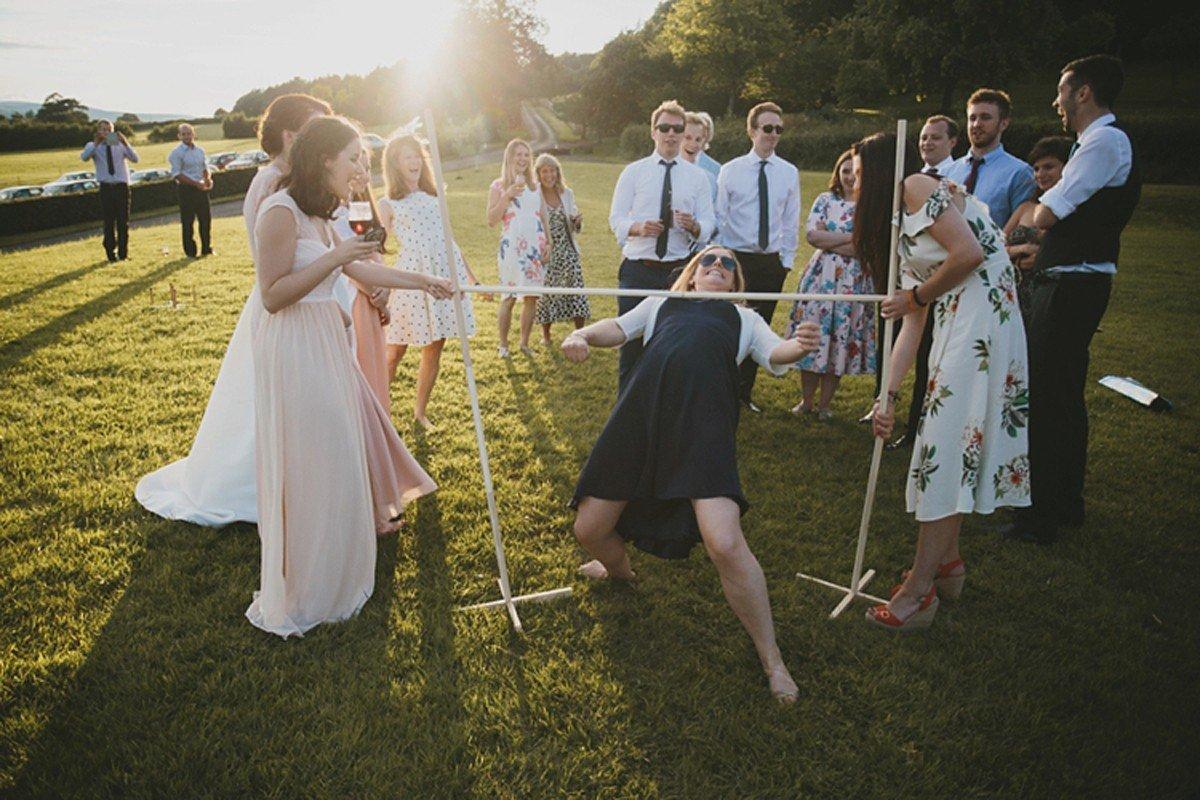 Image: Pinterest
Group games will get all your guests interacting and bring lots of fun to the day. Outdoor games like giant Jenga or skittles are great, or try something a bit more active like a piñata, rounders or the limbo.
32. Host a Ceilidh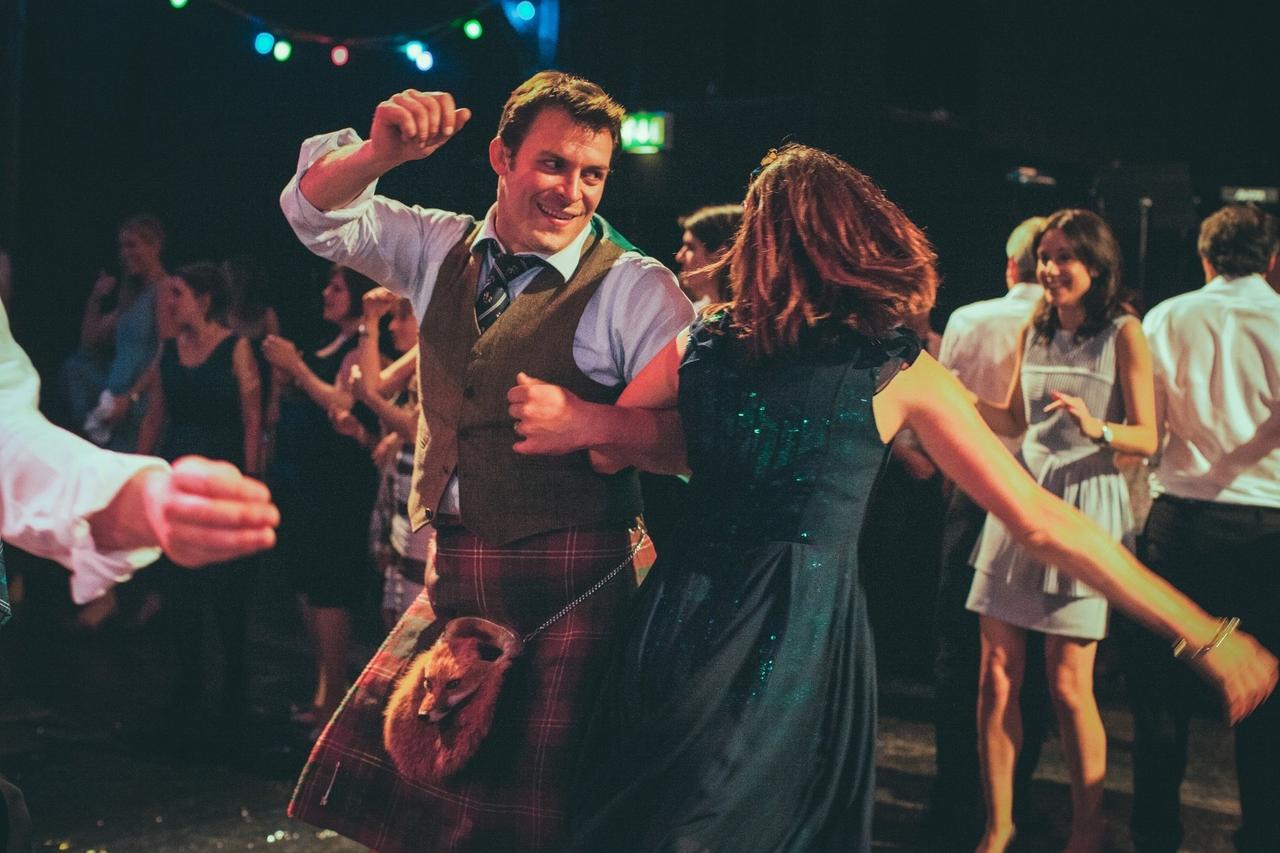 Image: Pinterest
You need about 20-30 people dancing for a ceilidh to really kick off. While you might not be able to have that many just yet, it's a brilliant, fun and inclusive idea for your wedding entertainment to keep in mind. It doesn't matter if you're Scottish or not, it's a unique, memorable (and slightly sweaty!) way to end a night.
33. Have a Stunning Send-Off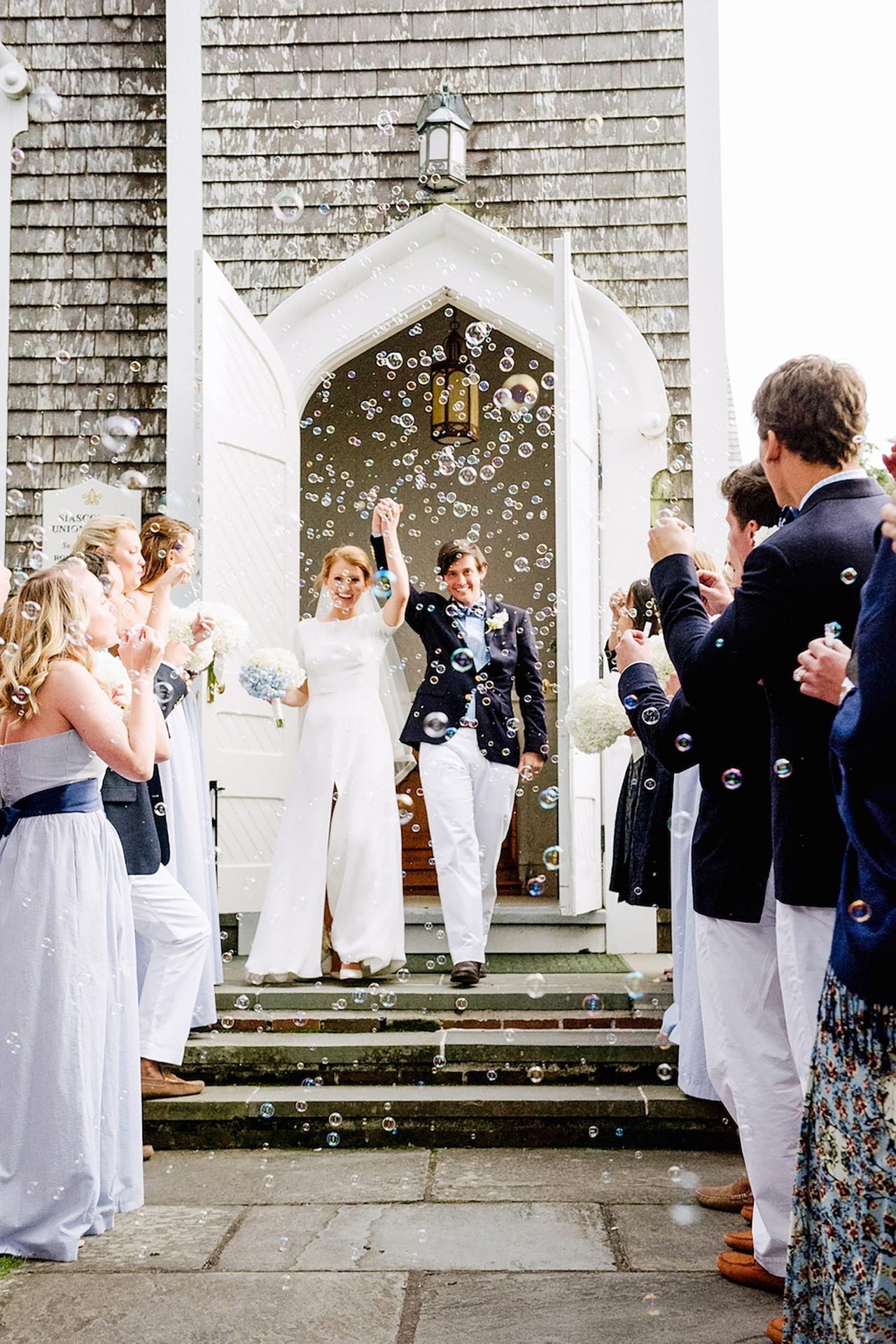 Image: Pinterest
Sparkler send-offs look amazing in photos and have the wow factor. There's loads of ways to have a memorable send-off though, like bubbles, smoke bombs, luminarias (candles in paper bags instead of environmentally-harmful sky lanterns), ribbon streamers, glow sticks, feathers, paper aeroplanes, silly string, or even just throwing handfuls of dried herbs like lavender for a fragrant send-off.
34. Throw an After-Party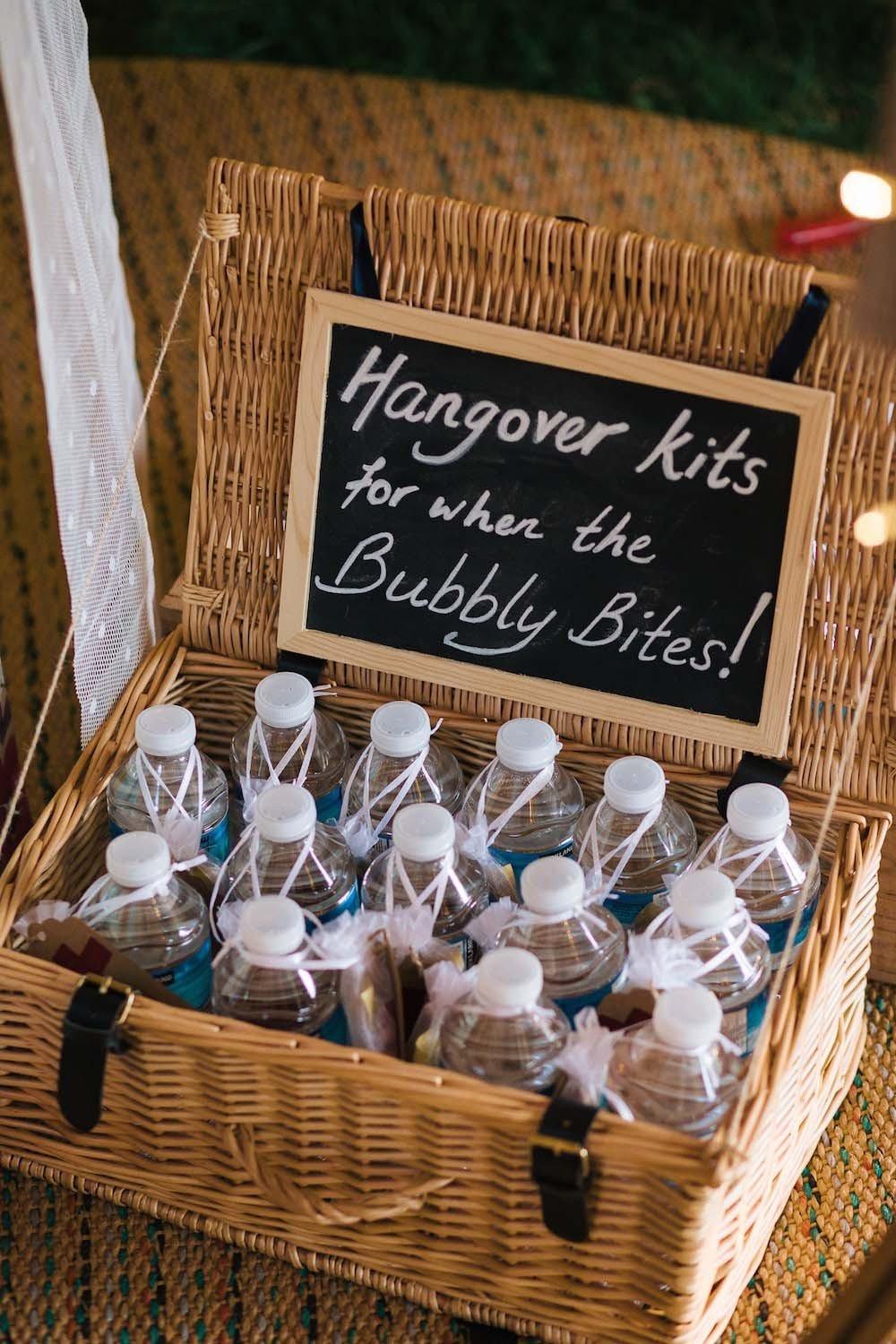 Image: Pinterest
Often your guests will be staying in the same accommodation as you, so throw a reception after-party for them back there. Keep the drinks flowing and the dancing going if you aren't quite ready to stop the party.
35. Leave a Permanent Mark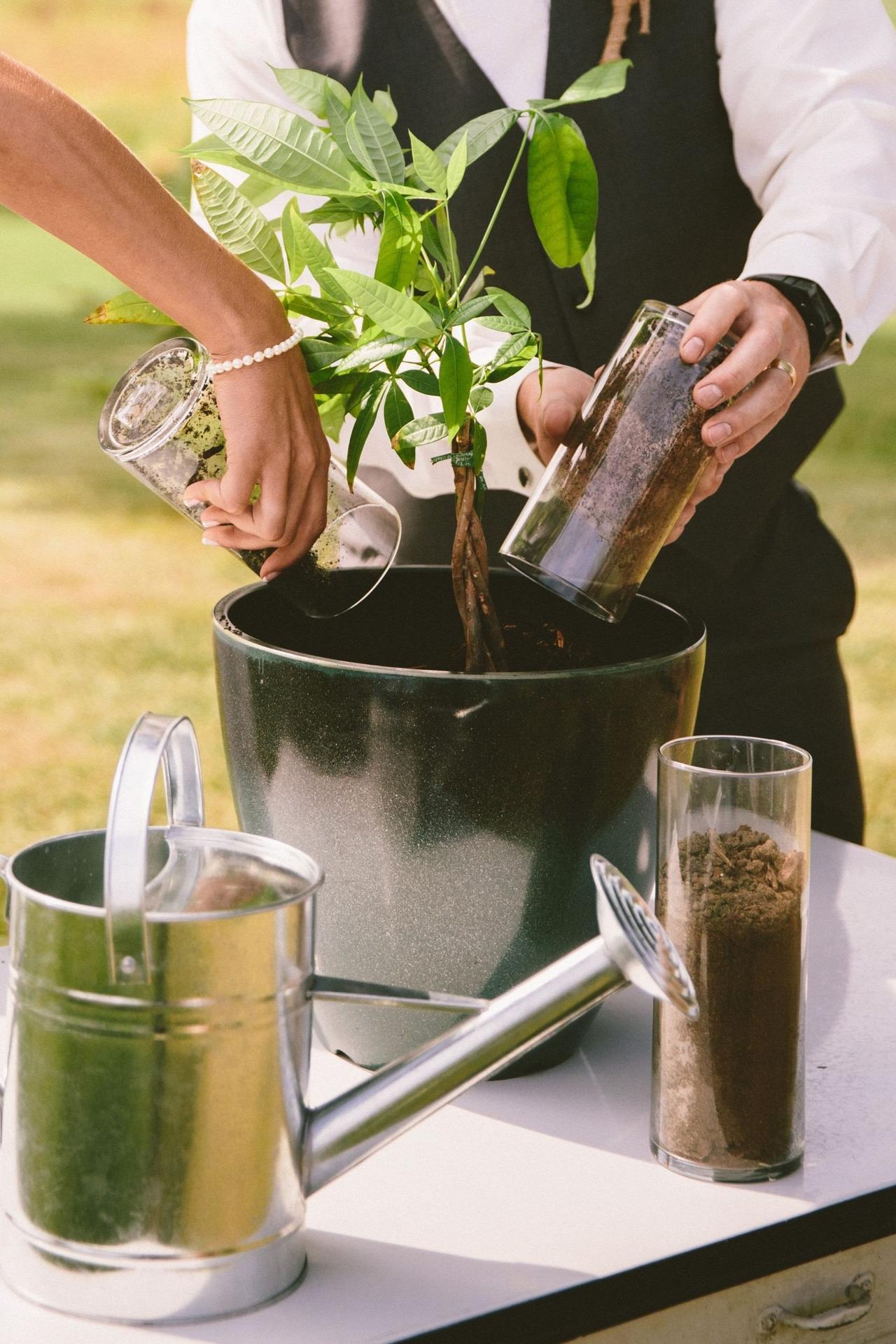 Image: Pinterest
We love the trend of planting a tree with your guests to mark your ceremony. It's an eco-friendly and sustainable way of getting all your guests involved in the ceremony – they can each add a bit of dirt as you plant it – and you'll have something you can look back on in years to come.
Want more décor ideas? Here's 35 wedding decoration ideas to transform your venue, plus 45 wedding tablescape ideas. On a budget? Don't miss 19 IKEA décor hacks you need to try!