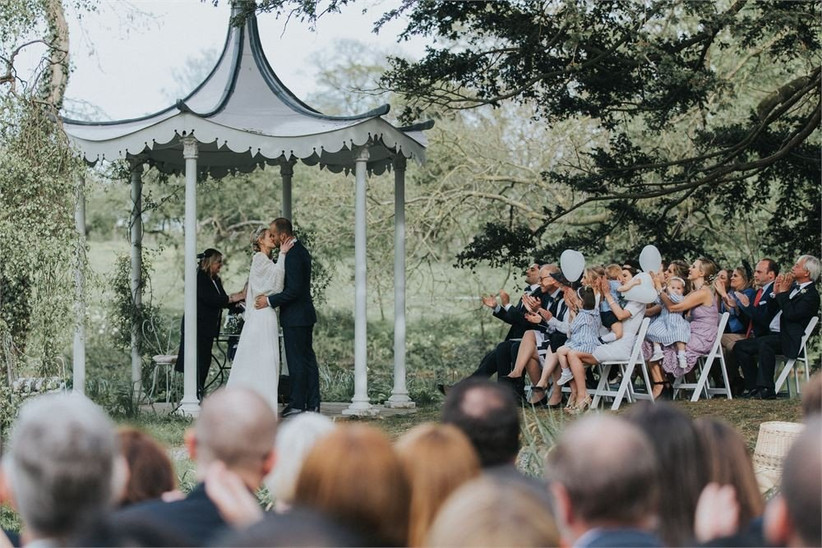 If you love the idea of saying your vows at an outdoor wedding venue then you're in luck!
From lakeside gazebos to spots in the middle of rolling fields, the UK is full of stunning locations to say 'I do' in the great outdoors.
There are so many fab choices which work beautifully for a summer wedding, or if you add in some Instagram-worthy throws and blankets then there's no reason why an outdoor wedding venue couldn't work in the cooler months too.
Not only do outdoor wedding venues lend themselves to great photo opportunities but they allow you and your partner to have a truly special, personal ceremony.
Here's our pick of the best from around the UK.
READ MORE: How To Choose a Wedding Venue
Dewsall Court – Herefordshire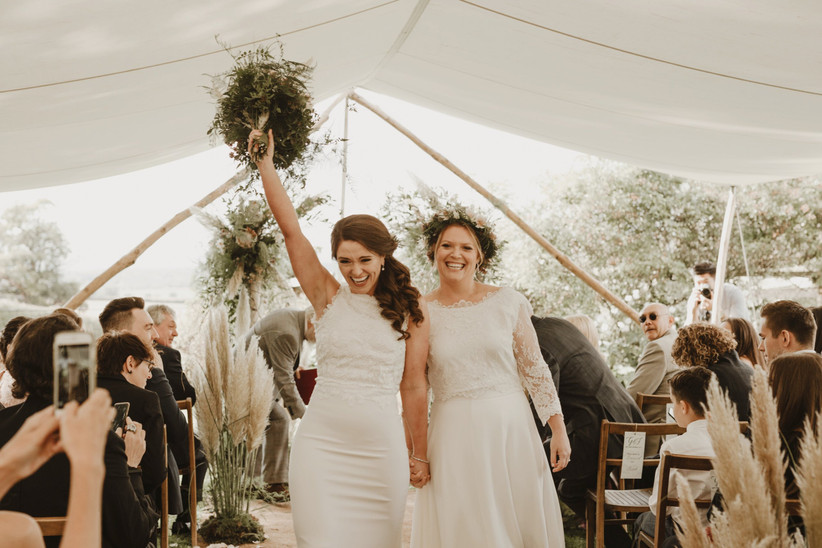 Set among 12 acres of picturesque Herefordshire countryside and with breathtaking views over the Black Mountains, it's easy to see why the enchanting Dewsall Court is perfect for an outdoor ceremony.
Say 'I do' outside under their garden canopy and enjoy your wedding breakfast in their stunning barn conversion, tipis or conservatory (including a fire pit for late-night toasted marshmallows!)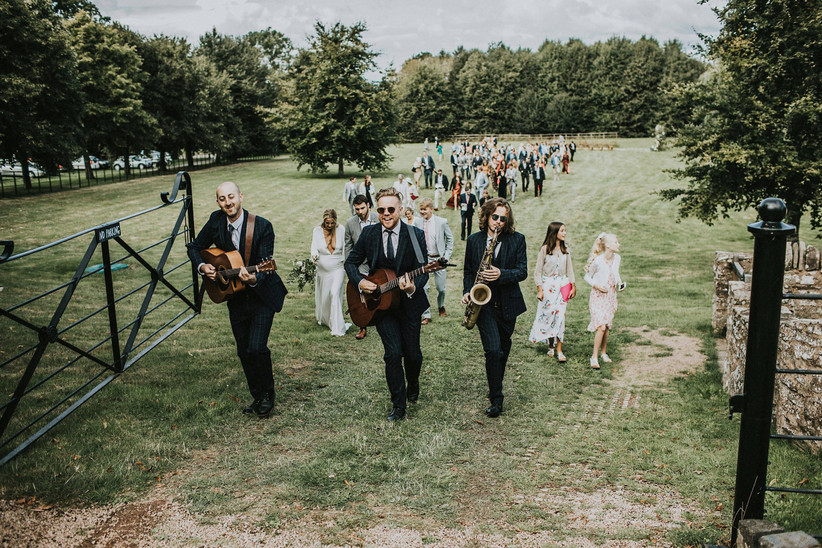 Exclusive use for the whole weekend means you and your nearest and dearest can enjoy two nights in the blissful surroundings. You'll also have the time to decorate the venue exactly as you want, meaning you can have a truly unique, personal day.
As well as being licensed for ceremonies inside and outside up to 140 guests, there's also a charming church at the bottom of the garden should the weather take a turn for the wet (hey, it's Britain after all).
Froyle Park – Hampshire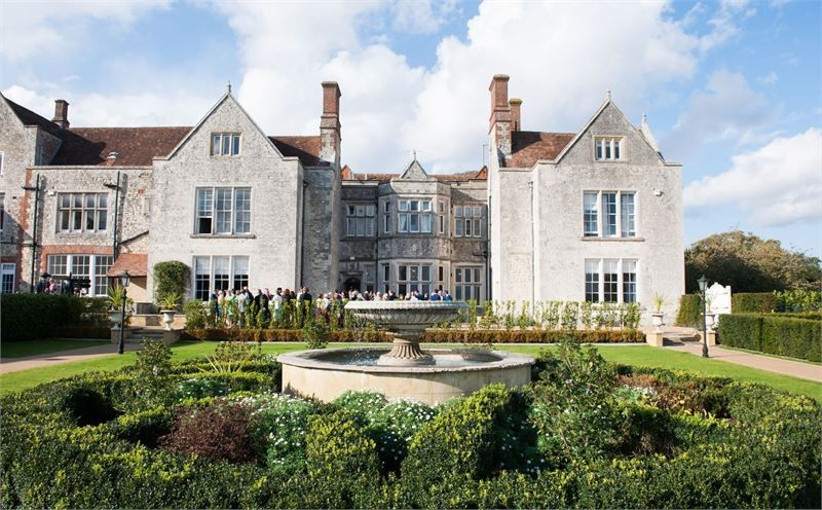 Froyle Park in Hampshire, a country estate in Hampshire with a stunning panoramic vista, is one wedding venue that has really seen a boom in the number of their celebrations held outdoors. Victoria Rose, brand and PR manager for Harbour Hotels, said: "Couples are looking to do something different, to create incredible memories and wow their guests.
"At Froyle Park civil ceremonies can take place in our beautiful outdoor dome covered altar, with guests seated among our manicured gardens and under the mature cherry tree. Other non-legal ceremonies can be held anywhere in the grounds."
READ MORE: 10 Wedding Venues with Gorgeous Gardens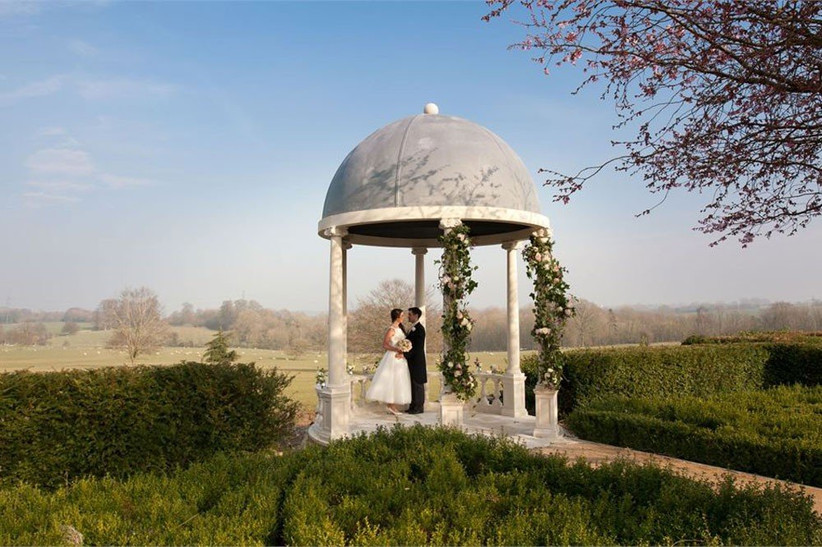 She continued: "Couples have been using their imagination to enhance the beauty of the area, using hurricane lanterns, fairy lights and other personal touches.
"One of our outdoor weddings is taking place at sunset, with additional lighting to create a truly magical scene."
READ MORE: Inspiration for Country Garden Weddings
Pembroke Lodge – Surrey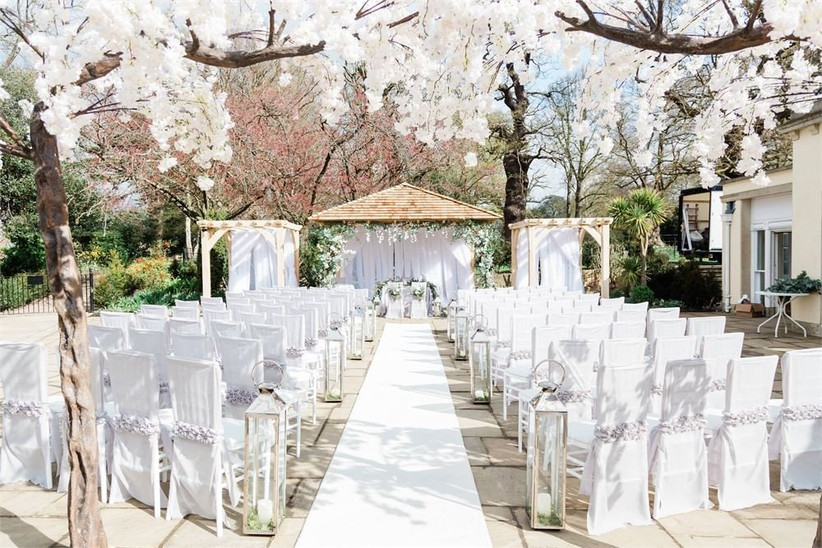 Richmond Park's Pembroke Lodge is one of London's most popular wedding venues, and for good reason. It boasts acres of Royal Park complete with roaming deer on its doorstep, plus stunning views and beautiful interiors. You'll feel a million miles away from the nearby bustling city.
New for spring 2019 is the gorgeous Belvedere Terrace – the perfect spot for your outdoor wedding ceremony. Thanks to its blossom trees and pretty wooden gazebo, it is a truly magical setting.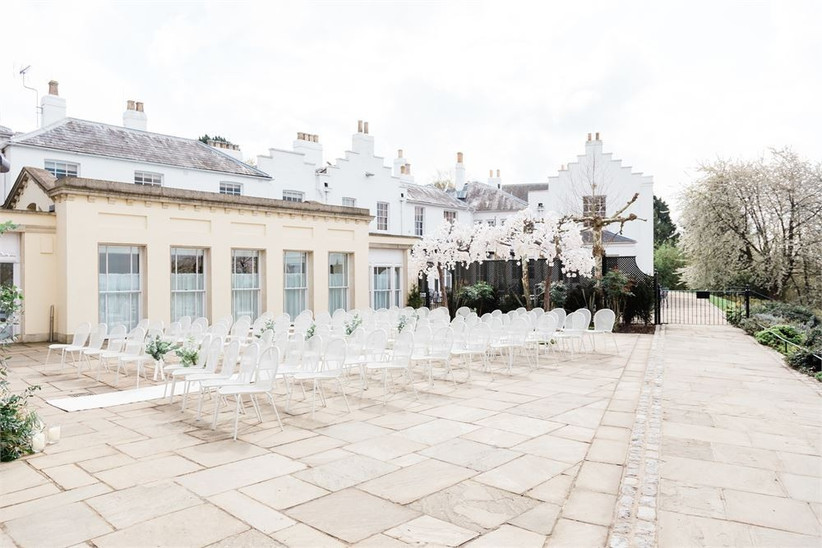 Once you've said 'I do', you can mingle on the terrace as you enjoy reception drinks. While guests chat and take in their surroundings, you can slip away to capture some photographs within the park.
Inside, you'll find a choice of function suites where you can enjoy a delicious wedding breakfast created by the venue's team of talented chefs. Whether it's a small gathering or a larger celebration you're planning, Pembroke Lodge is a breathtaking venue choice.
READ MORE: 17 of the Best Wedding Venues in London
Preston Court – Kent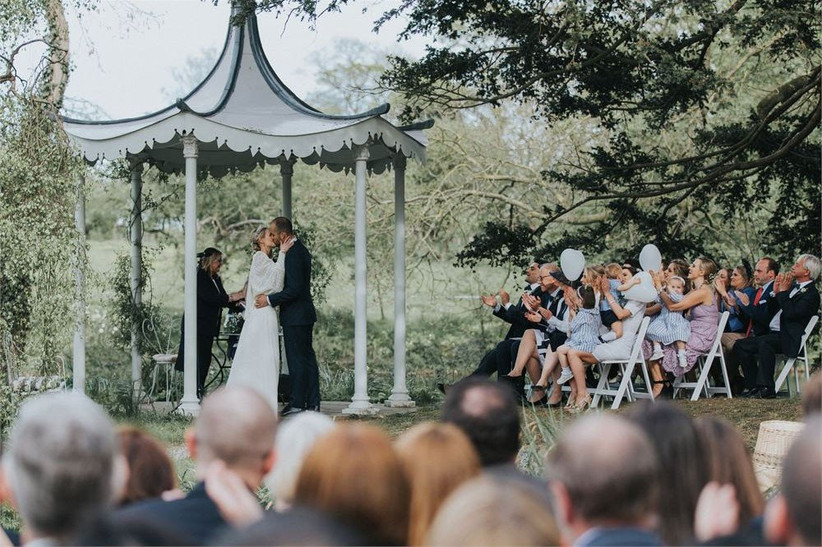 If you're looking to host a festival-themed wedding day then this could be the outdoor wedding venue you've been dreaming of.
READ MORE: The Ultimate Guide to Planning a Festival Wedding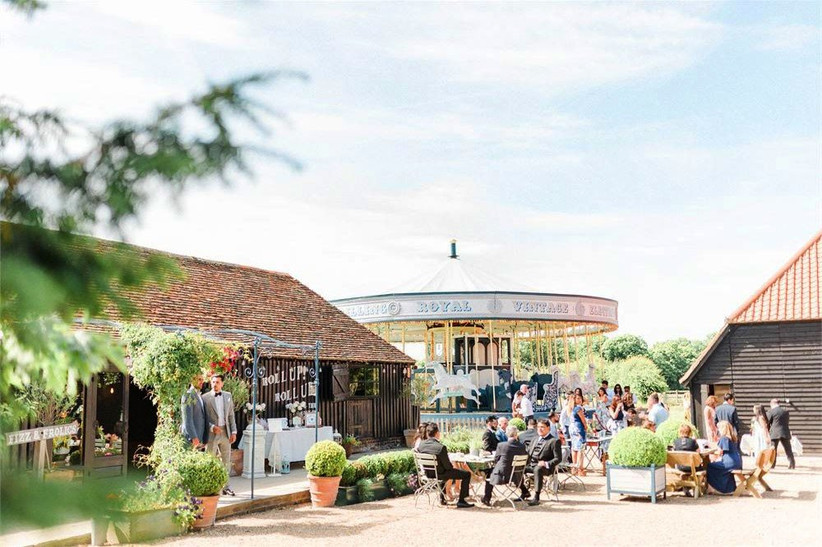 Not only can you say your vows outside, but you can hire fairground rides to keep your guests entertained in the great outdoors all night!
Preston Court is located just 15 minutes away from trendy Margate, and with many delightful Kentish properties to rent or boutique hotels to enjoy in the area, why not extend your stay and mini-moon here once your big day is over? There's so much to see and do.
READ MORE: 29 of the Most Amazing Places to Mini-Moon in the UK
Birtsmorton Court – Worcestershire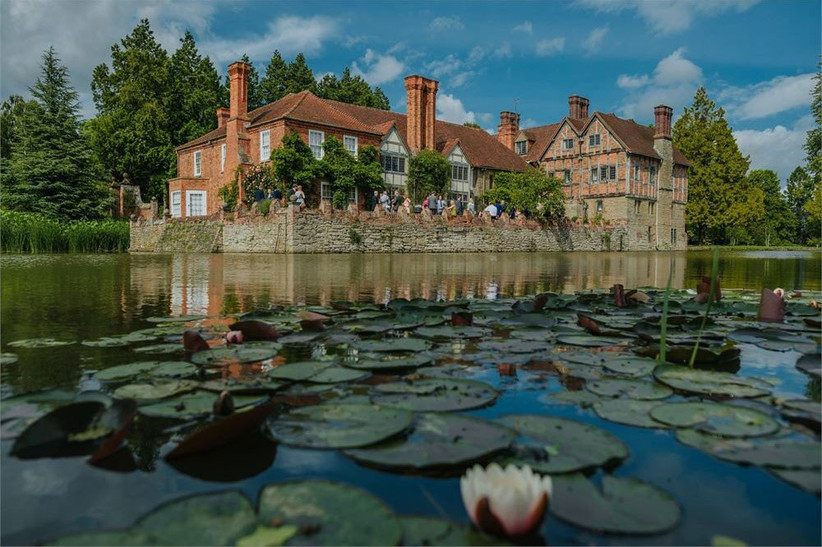 At Birtsmorton Court, couples have the choice of three different indoor and outdoor ceremony locations.
With its decorative pergola, fountain and fragrant white flowers, the White Garden is the ideal spot for a relaxed outdoor ceremony between late March and mid-October.
READ MORE: Manor House Wedding Venues You'll Love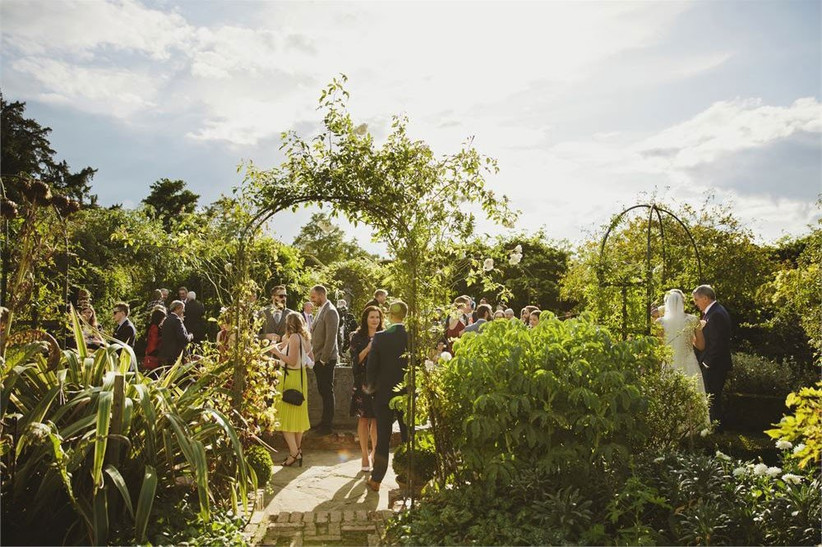 There's seating for 60 guests, but unlimited capacity for standing guests, making it perfect whatever size wedding you choose to have.
Oh, and if the weather isn't on your side on the day, the two indoor alternatives are equally as beautiful. Birtsmorton don't call themselves "the most picturesque wedding venue in the West Midlands" for nothing…
Southend Barns – West Sussex
Image: Helen Cawte Photography; Full supplier details
Set on a stunning working farm in the Chichester countryside, Southend Barns are bursting with rustic charm. There's plenty of indoor options to host your big day in the Threshing and Dairy Barns. However, we're in love with their Secret Garden, a romantic ceremony garden flooded with sunlight and romantic touches.
With a stunning 50-foot aisle and flanked by beds of vibrant flowers, it's a blank canvas to really dress up to your theme. How gorgeous is that log wall on the left-hand side – an amazing backdrop to photos! As is the nearby alpaca field, holding Southend Barns' resident furry flock.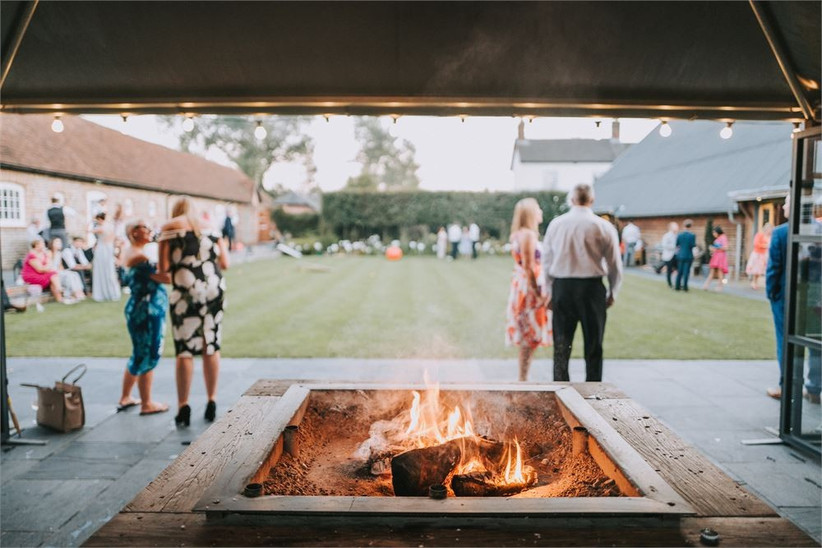 A beautiful courtyard lies at the heart of the venue. The Collecting Yard has heaters, fire pits and sofas so you can host your reception drinks there and turn it into a cosy and enchanting area to relax and chat as the night draws in. This tranquil hideaway is a perfect outdoor venue, surrounded by gorgeous wildlife and scenery, with plenty of options if the weather doesn't go your way.
Drakestone House – Gloucestershire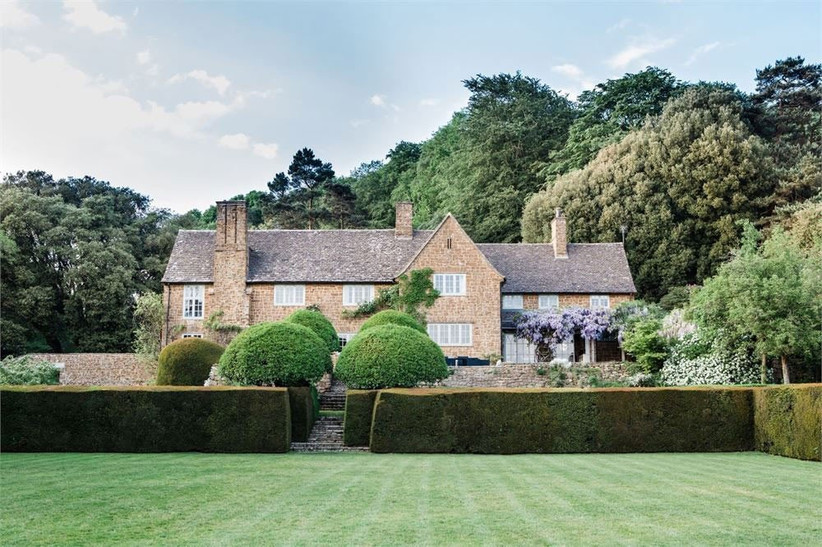 Set in the idyllic rolling countryside of Gloucestershire, Drakestone House is the perfect place to start married life.
It's a hidden and private 10 acre estate where couples can expect luxury and exclusive use as standard. Not just for one day, either – you and your guests can expect exclusive use of the property for three magical days.
This Gloucestershire venue only opened its doors for weddings in summer 2017, so if you're after a new wedding venue where not many people have said their vows before, this could be the place for you!
READ MORE: Exclusive Use Wedding Venues in Gloucestershire
Nymans – West Sussex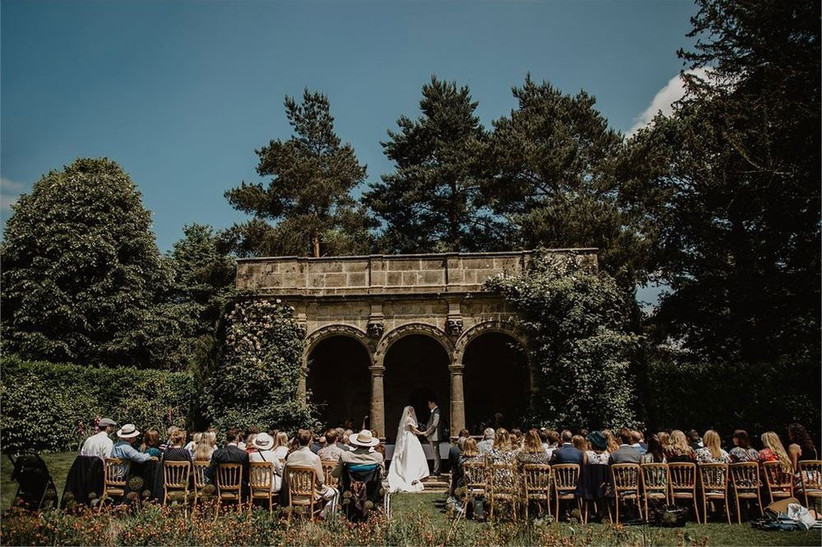 Nymans is a peaceful countryside wedding venue with a loggia that is licensed for outdoor weddings and civil ceremonies.
A beautiful gothic building with soaring arches and ivy-clad walls, the loggia is set within a sunken garden that has striking floral displays.
READ MORE: The Best Newly Opened Venues to Say 'I Do'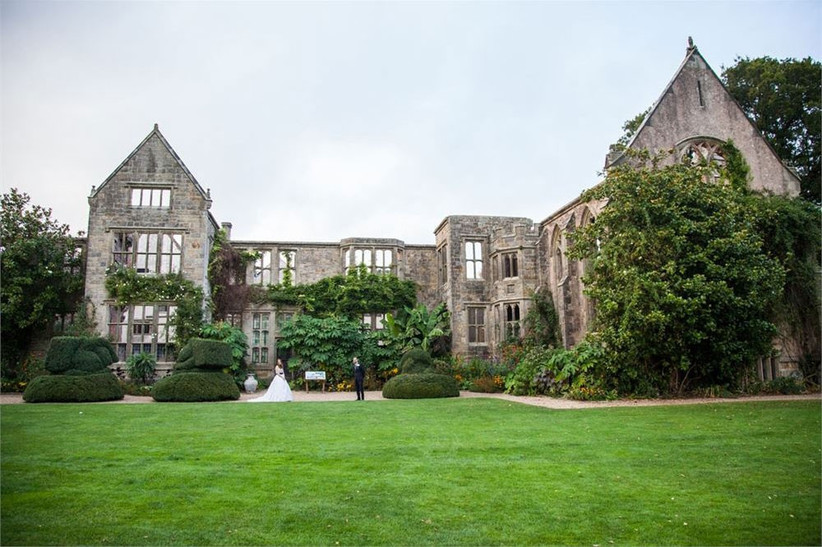 If you're after a small and intimate wedding venue, then this place is perfect, because the loggia seats just 30 of your closest friends and family.
Larger ceremonies can be catered for too, with the option of seating an unlimited number of additional guests on the lawn.
Lemore Manor – Herefordshire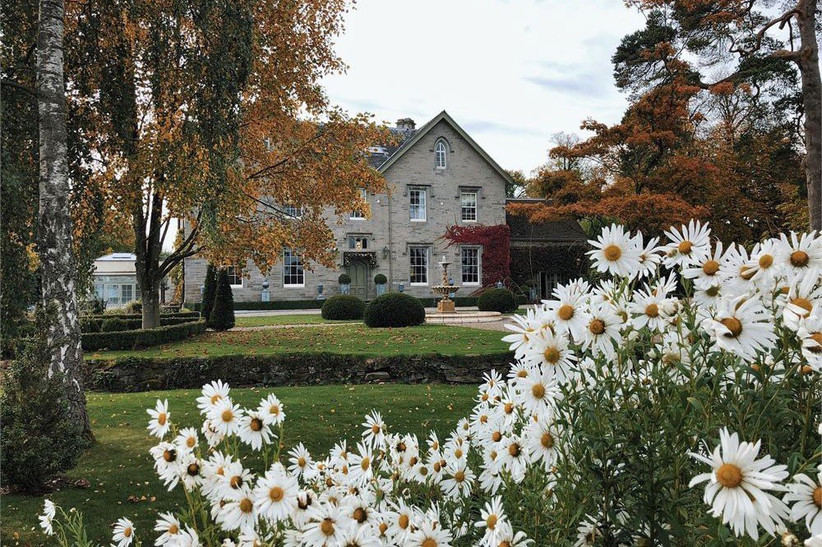 This beautiful Herefordshire wedding venue is the perfect place to hold your outdoor wedding ceremony of dreams.
Tie the knot in the great outdoors in one of Lemor Manor's two licensed locations. The covered bandstand is totally romantic whilst the front steps of the main entrance to Lemor Manor are the most elegant of spots to say 'I do'.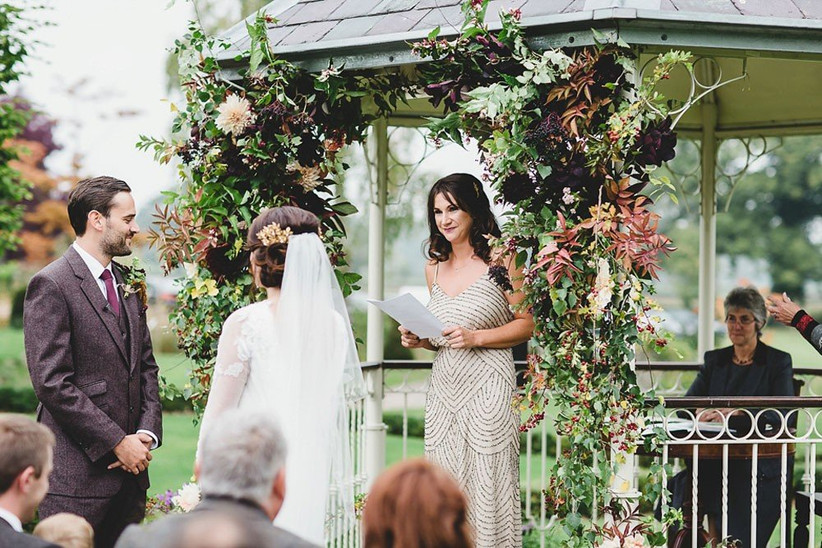 If this wasn't enough, Lemor Manor has a Hen House Studio, complete with hot tub, champagne bar, mirror stations and fantastic countryside views. You and your bride squad can begin your big day here and get ready in style.
READ MORE: Bride and Bridesmaid Dressing Gowns to Start Your Day in Style
Woodhall Manor – Suffolk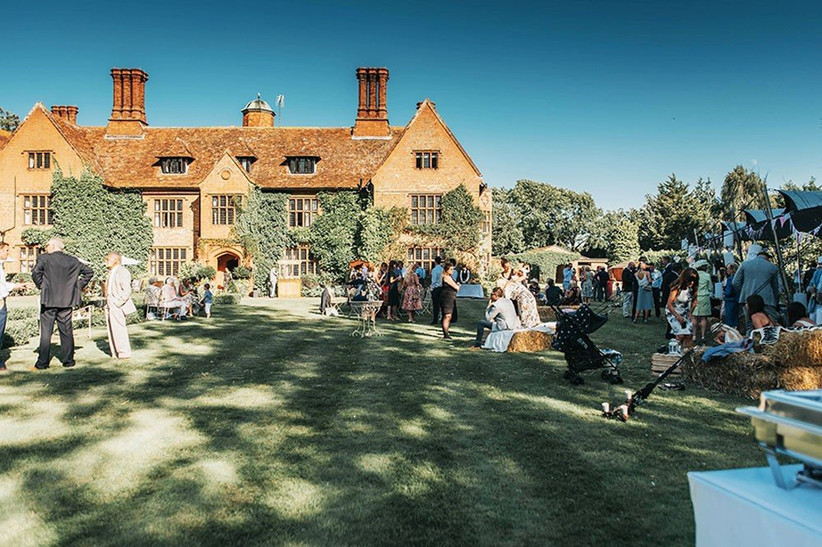 If you're after an outdoor wedding venue in the wonderful county of Suffolk, then look no further than Woodhall Manor: a romantic and enchanting Elizabethan property.
Once you've said your vows in the impressive grounds, you can party the night away in the Long Bar. This stunning reception room is well equipped with a stage, disco lights, dance floor and a bar.
READ MORE: Questions to Ask Your Wedding Venue Before You Book
What's more, Woodhall has 14 luxurious ensuite bedrooms for your overnight guests, and the Honeymoon Suite will be the perfect place to spend your first night of married life.
The William Cecil – Lincolnshire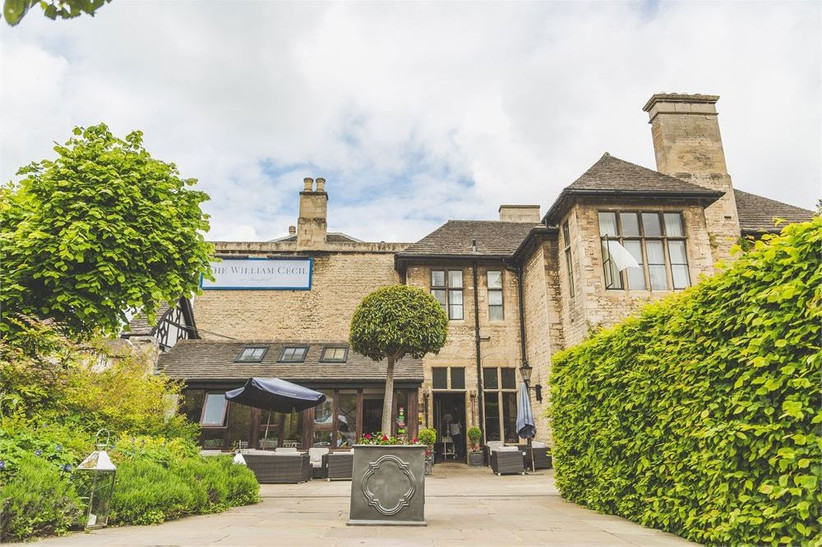 For couples in search of a quaint pub wedding venue, The William Cecil in Stamford could be just the ticket.
If you opt for an outdoor wedding ceremony, you'll say your vows in the romantic garden pavilion. You and your guests can mark the beginning of your new married life surrounded by the charm of the Cecil's manicured lawn and rose covered archway.
READ MORE: Fabulous Venues for Foodie Couples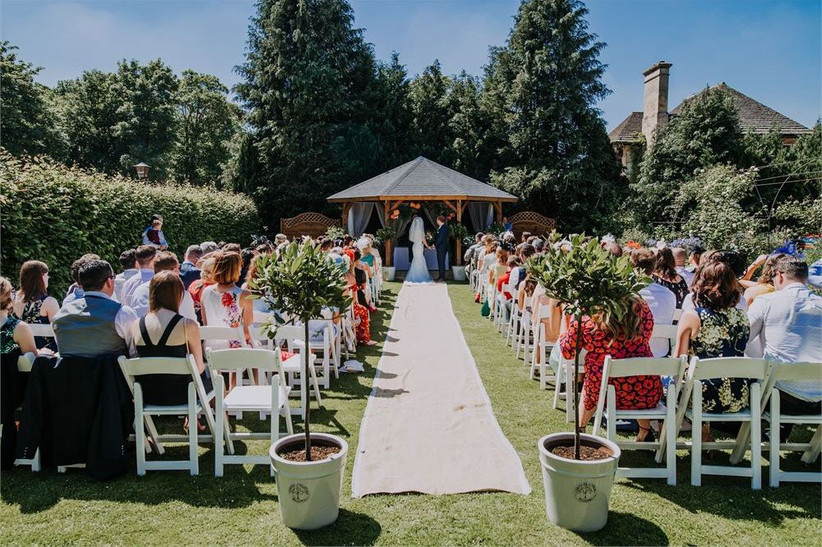 This Lincolnshire wedding venue tailor each wedding to your bespoke needs, making them a brilliant choice for your special day.
The Venue at Sandy Cove – Devon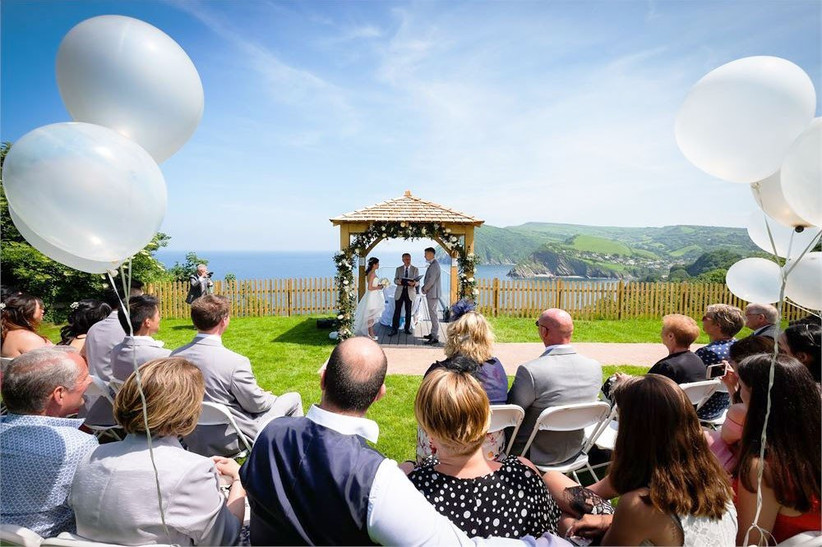 The Venue at Sandy Cove is a stunning coastal wedding venue fit for the most perfect of outdoor wedding ceremonies.
We can't think of anything more romantic than saying 'I do' from a gazebo which overlooks the sea. Seriously, the views here are incredible.
READ MORE: 19 Picture Perfect Seaside Wedding Venues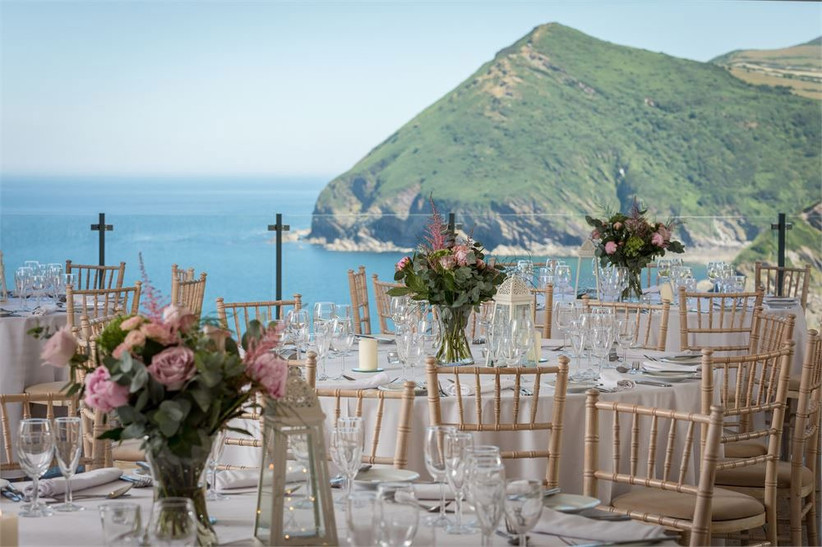 Once you've had your treasured wedding photographs taken in front of the breathtaking scenery, you can enjoy canapés before heading inside for your wedding breakfast.
The Venue is endlessly contemporary inside, and the food you'll be served is to-die-for.
Pendrell Hall – Staffordshire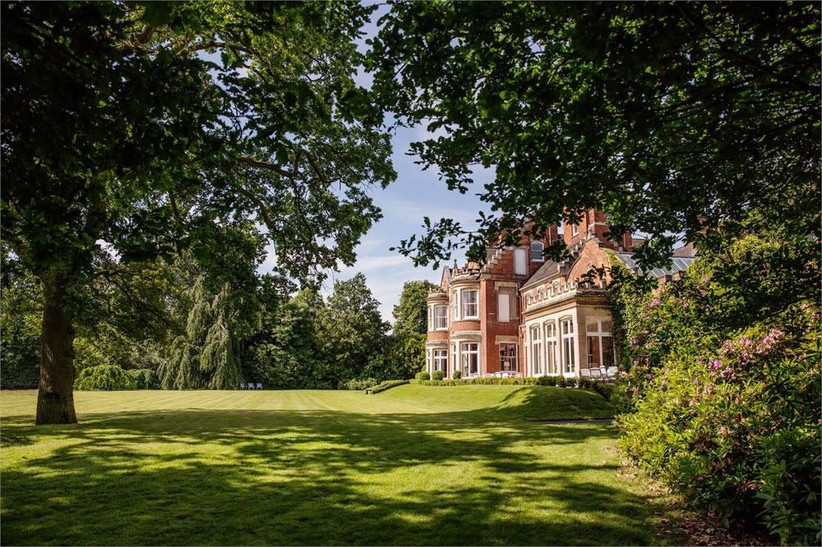 Pendrell Hall is a gorgeous Victorian country house complete with stunning gardens that would make the most idyllic of outdoor wedding ceremony locations.
From the moment you say your vows in the romantic garden gazebo to the moment you sit down to eat in the grand ballroom, your wedding day will flow exactly as planned.
READ MORE: The Most Gorgeous Stately Home Wedding Venues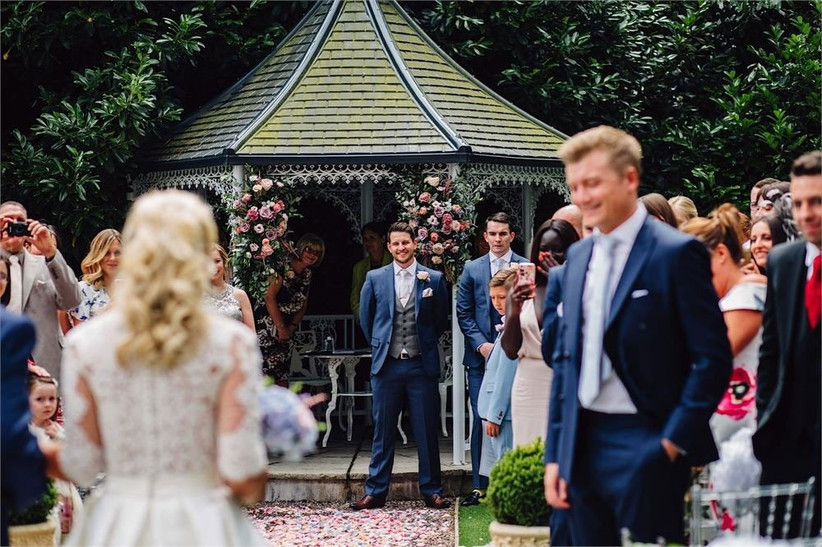 This Staffordshire venue also offers no corkage fee (great news) and stylish accommodation for your overnight guests. It has the Hitched stamp of approval!
The Walled Garden at Beeston Fields – Nottinghamshire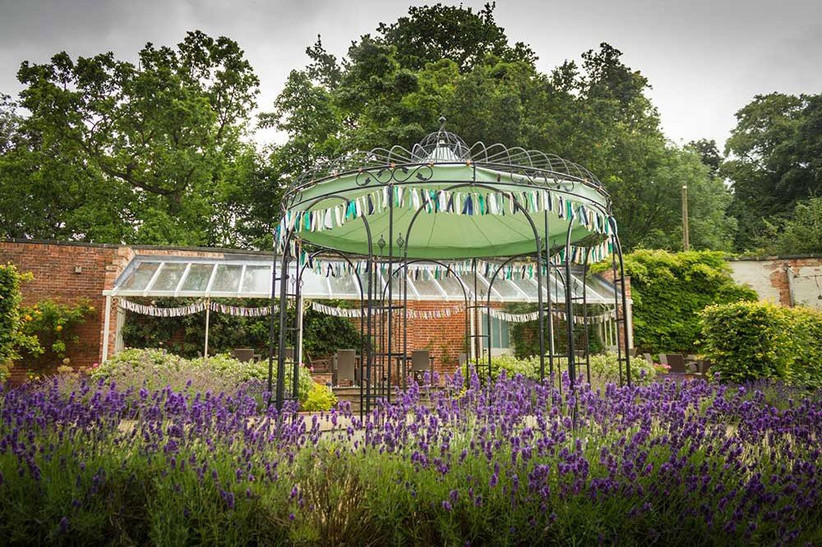 The Walled Garden at Beeston Fields is just as magical as the name suggests. It's a traditional and enchanting Victorian walled garden with a grand marquee, secluded amidst 135 acres of historic parkland.
It would make the perfect setting for your vintage-inspired wedding day – you'll say your vows under the old greenhouse which has been converted and features a back wall lined with rambling roses.
READ MORE: Vintage Wedding Transport Ideas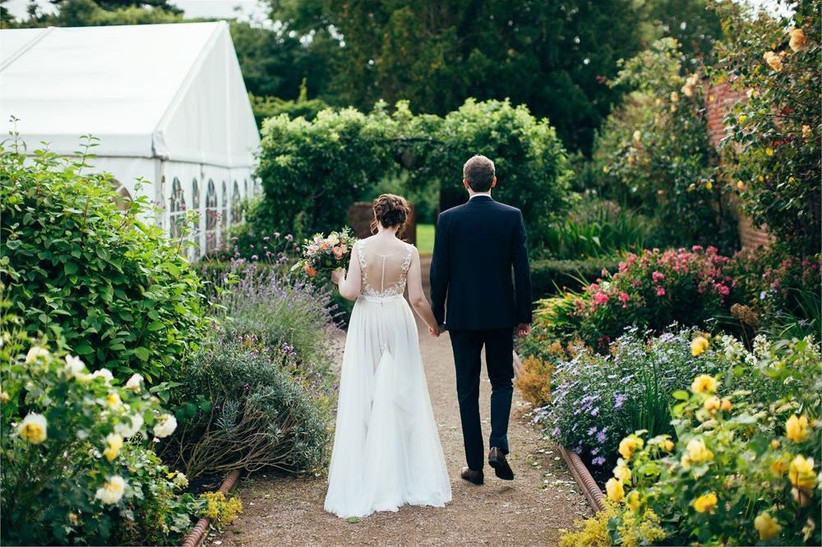 When you want to take a moment away from the madness to soak in your newlywed status, you can take an afternoon walk through apple arches and flower beds in full bloom. We can't image anything more perfect.
Brinsop Court – Herefordshire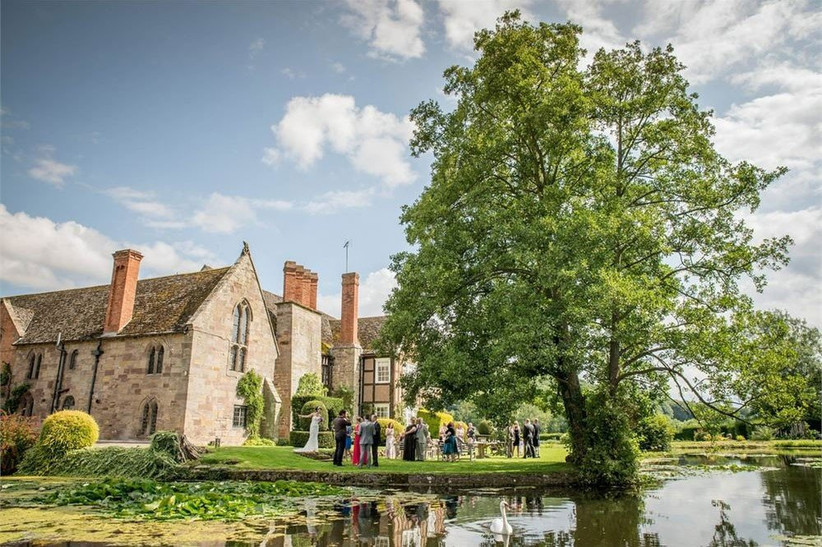 Escape to the leafy Brinsop Court Estate – a secret gem nestled in the heart of Herefordshire – to host your beautifully unique wedding.
As your guests arrive at this gorgeous woodland wedding venue, they'll be lead through the magical forest which surrounds Brinsop to the Grade I listed manor house.
READ MORE: Sensational Spring Wedding Venues That You'll Adore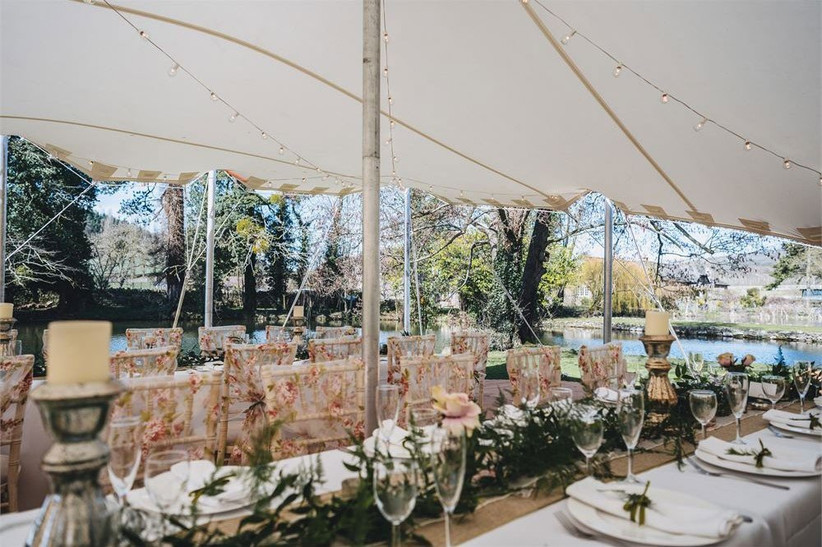 If you don't want to say your vows in nearby Brinsop church, say them in the ancient courtyard which sits in sun-dappled woodland.
Once the beautiful day is over, sneak away to Ivy Cottage for your final glass of bubbles in the hot-tub. It's the perfect country escape.
Cripps Barn – Gloucestershire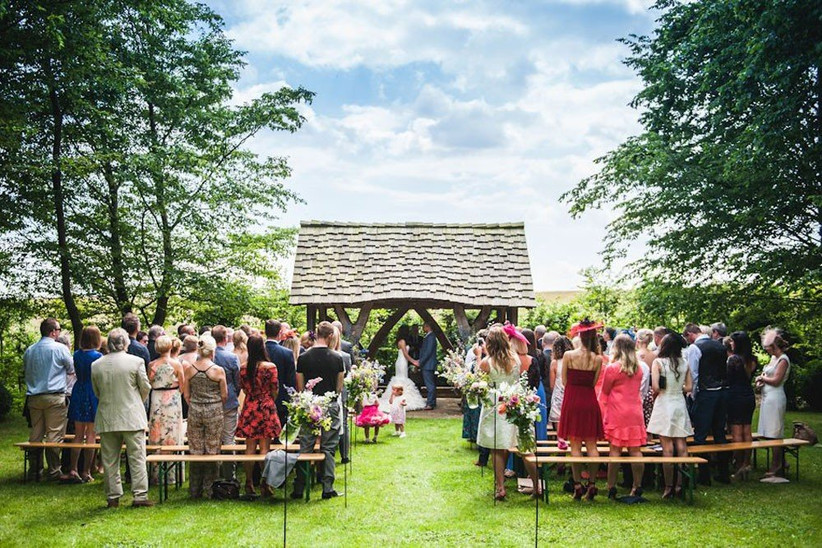 This glorious barn wedding venue sits in the heart of the Gloucestershire countryside and boasts flagstone floors, an open fire place, a large south-facing terrace with fire pits and a bonfire.
If you've been treated to a beautifully sunny day and don't want to get married inside then say your vows outside in the woodland glade.
It's equipped with a microphone and speakers in the trees so your guests can hear your music and vows.
READ MORE: Festival Wedding Venues For The Coolest Couples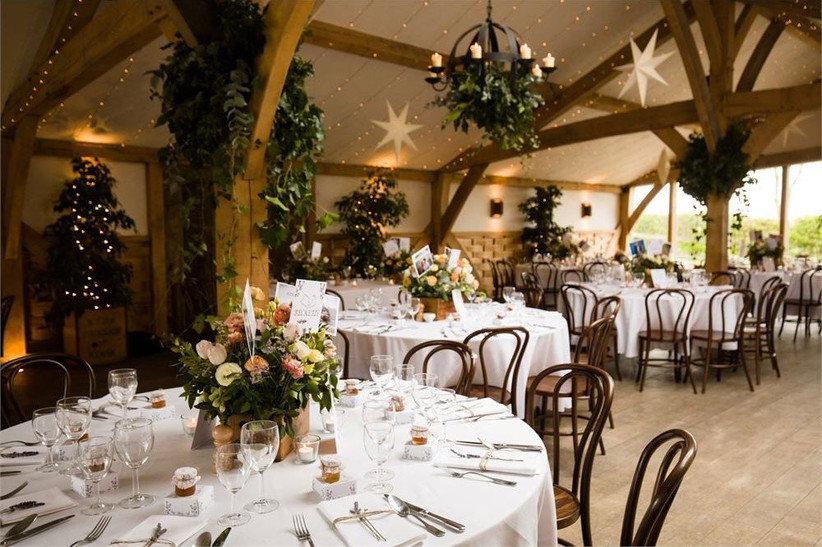 After the wedding, Cripps Barn is the perfect place to party. Plus, there's free camping available in the field next door for any outdoor-loving guests!
Harvest Moon – Lothian & Borders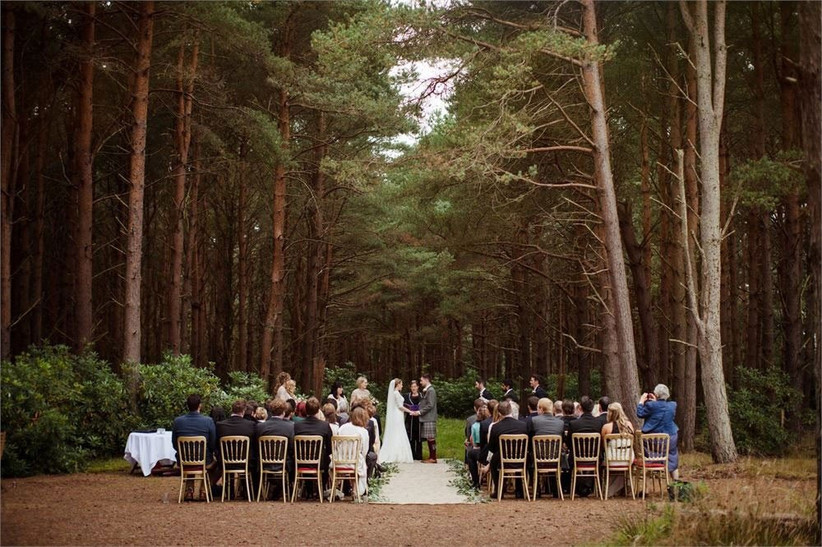 In another take on the woodland wedding venue we have Harvest Moon: a totally unique wedding venue in beautiful Scotland.
Say your vows at the treehouse site with stunning views of Bass Rock, and continue the woodland theme by retiring to the amazing honeymoon treehouse at the end of your special day.
READ MORE: Large Capacity Wedding Venues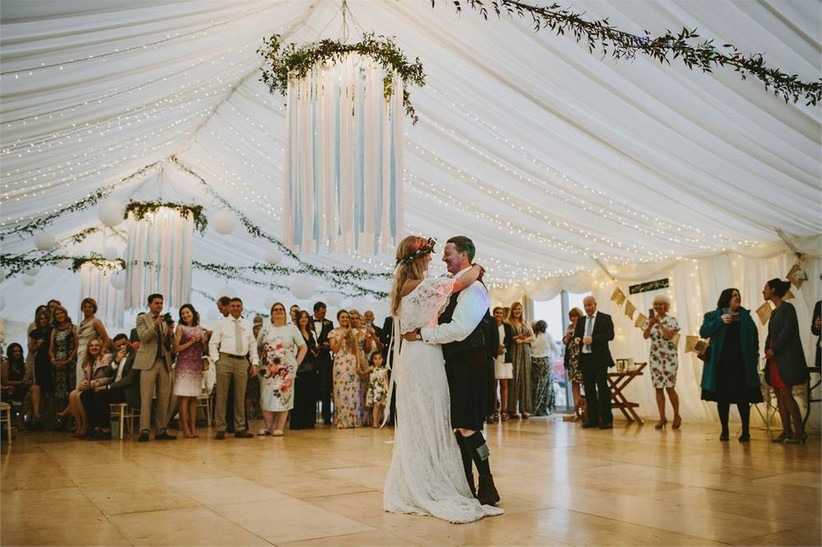 If you'd rather feel the sand beneath your toes during your outdoor wedding ceremony, Harvest Moon also offers couples the chance to get married on a breathtakingly beautiful beach. You'll be spoilt for choice!
Lusty Glaze – Cornwall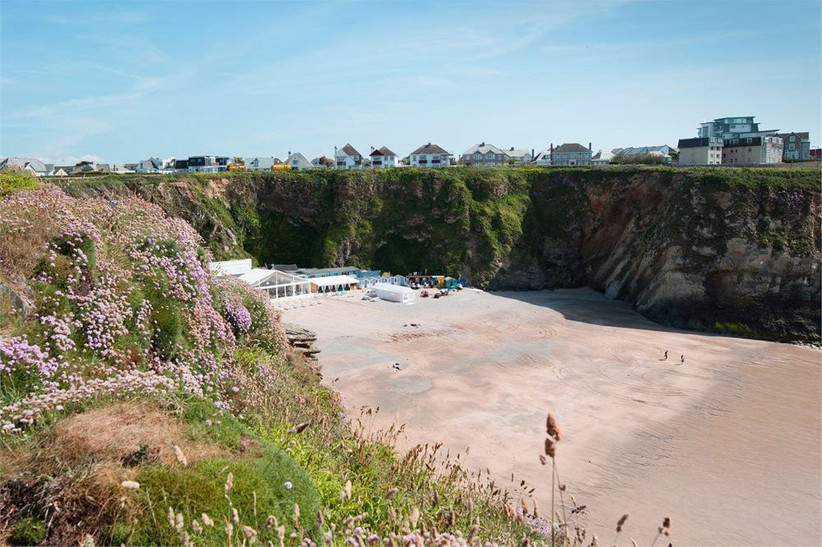 For a seaside ceremomy with a spellbinding sunset, Lusty Glaze is the dream outdoor wedding destination for lovers of the coast.
This spectacular Cornwall wedding venue is sheltered away on a private beach in the North of the county; thanks to the blue sea and white sand, it's no wonder this spot was crowned Britain's Best Beach by The Sunday Times!
READ MORE: Gorgeous Wedding Dresses for Your Beach Wedding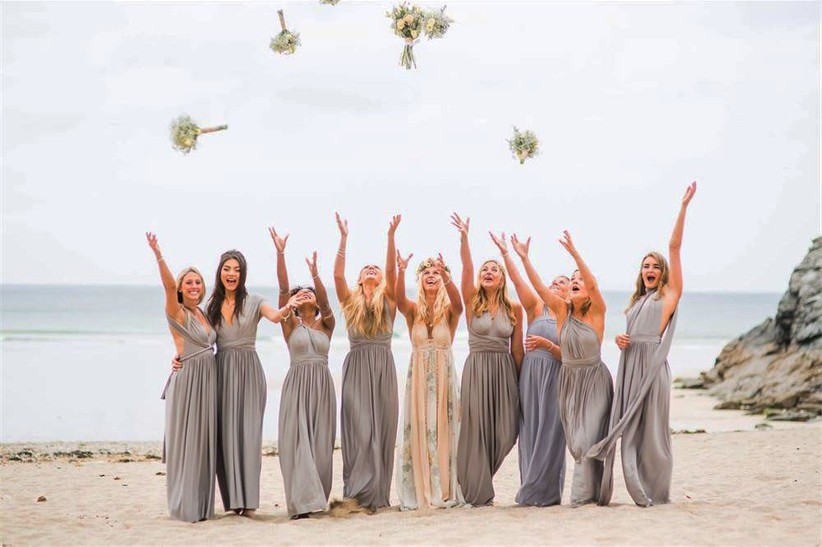 Offering everything from civil ceremonies to full wedding breakfasts, Lusty Glaze Beach is the most stunning of blank canvases. Whether you're going for barefoot boho, an intimate winter wedding by the wood burner, something a little more formal, or anything in between, you'll be able to call the beach your own.
Moddershall Oaks – Staffordshire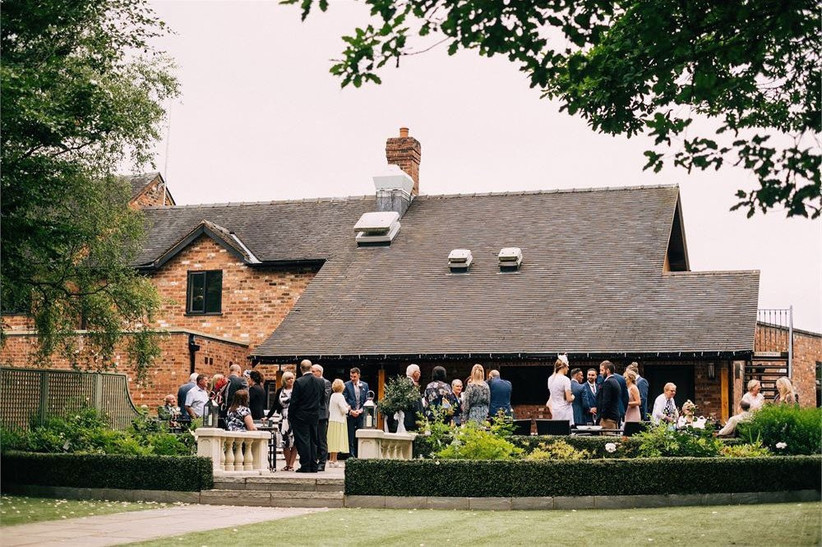 Surrounded by an enchanting array of fairylights spread through the trees and private woodland, Moddershall Oaks' stunning outdoor wedding venue will bring something totally unique to your big day.
Say your vows in a hand-made oak gazebo which sits on the edge of a private lake, surrounded by your nearest and dearest.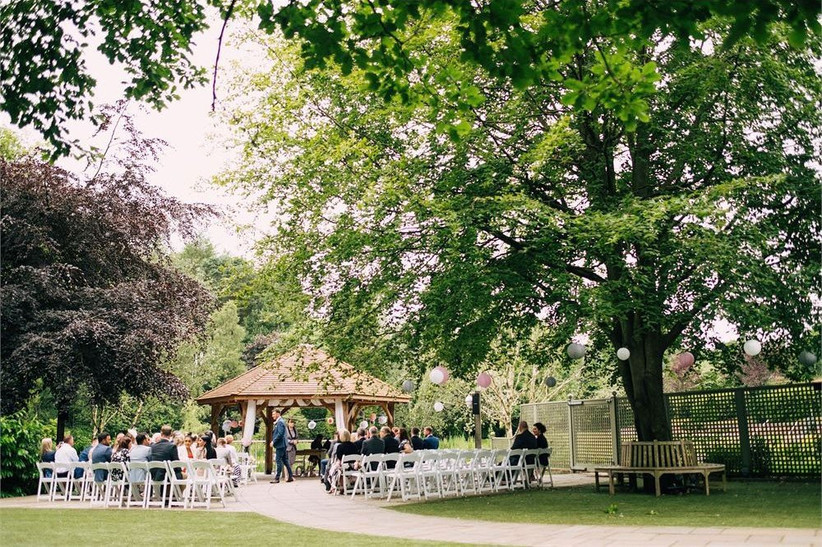 You can then enjoy the great outdoors further by holding a drinks reception in the brand new landscaped garden; you could even enjoy live music on the lawn!
At this beautiful countryside wedding venue, newlyweds will also be invited to spend the night in Moddershall's exclusive 5 star bridal suite.
You'll get full access to the spa and leisure facilities, a private outdoor hot tub, a bottle of champagne, a cooked breakfast and a four-poster bed. Where do we sign?!
READ MORE: How To Have An Eco-Friendly Wedding
If you're still searching for your perfect wedding venue then you can find even more outdoor wedding venues listed in our directory.