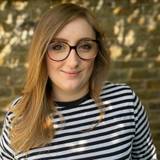 Zoe Burke is the Editor of Hitched - she has worked in the wedding industry for over 10 years now, and first started out at Hitched as an intern fresh out of university! Zoe is a wedding expert - she's been on several BBC radio stations, Global stations and even on the Today Show in Australia, talking about famous UK wedding moments - from Meghan Markle marrying at Windsor Castle to Princess Eugenie's wedding dress choice. She's hugely passionate about weddings and firmly believes that there's no 'should' or 'have to' when it comes to planning the perfect wedding. If you're ever stuck on anything wedding planning related, you can always get her expert wedding advice on our weekly Instagram Q&A!
Experience:
Zoe joined the Hitched team in 2012 as an intern, just two days after finishing her degree. She completed her year's internship before becoming Assistant Editor of Hitched. After four years in that role, she left for a little while to work on a number of different projects, including as Digital Editor of bridal trade publication Bridal Buyer, and as Editor of Confetti. However, when a job opening focusing on social media became available at Hitched, she had to apply. What could be better than a job that combined her favourite medium and her favourite brand? Luckily (or perhaps thanks to some quite relevant experience), Zoe got the job and is back home at Hitched, where she's since become Editor of the brand!
Education:
Zoe graduated from university in Southampton in 2012 with a degree in Writing, Fashion & Culture. Prior to that, she studied English and Drama and Theatre Studies in Stratford-upon-Avon, believing she'd probably become a Shakespearian actor. If you've seen her Reels, you probably get that vibe.
Hitched Q&A with Zoe:
What Is Your Ideal Wedding Style?
This is so hard to answer because it changes all the time! After a decade in weddings I've fallen in love with every style going - but neon signage and lots of greenery always make me save a post on social!
Dream Honeymoon Location?
I am actually such a huge Ernest Hemingway geek, so it's my absolute dream to visit Key West in Florida and Havana in Cuba to see more of the places he called home.
What Was (or Would Be) Your First Dance Song?
My first dance song would be 'I Forget Where We Were' by Ben Howard, but I know for a fact my partner would veto it...
Favourite Celebrity Wedding Look?
I will always and forever have time for Fearne Cotton's beautiful bridal look - it was so perfectly 'her'. But let's not forget Meghan Markle's evening look too, which is up there in my all-time favourite style moments.
Articles published by Zoe Burke