The National Wedding Survey: The Average UK Wedding in 2021
We surveyed over 2,000 couples who married in 2021 to find out what the average wedding looked like, including how much people spent and what impact COVID-19 had...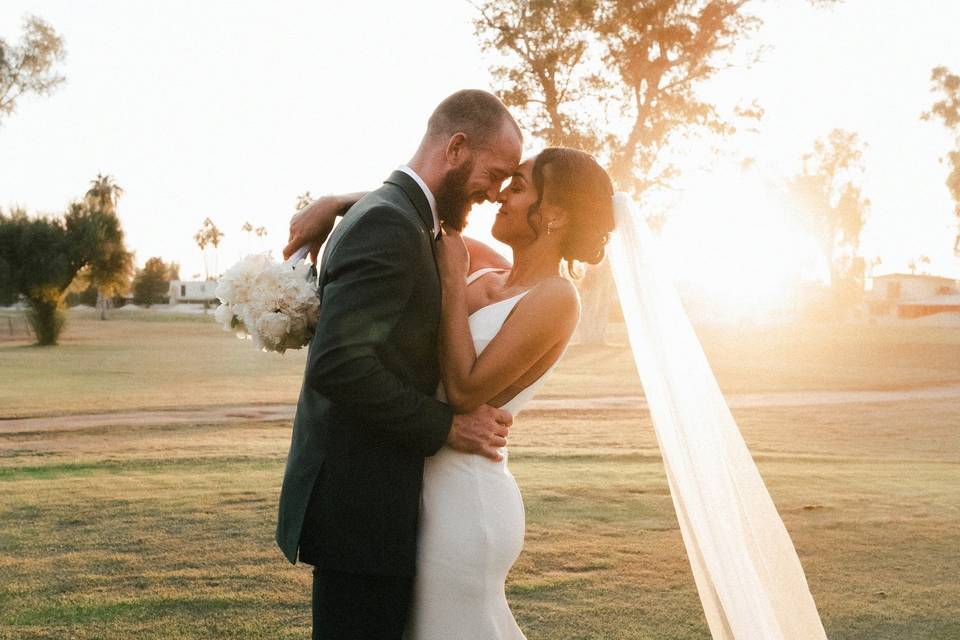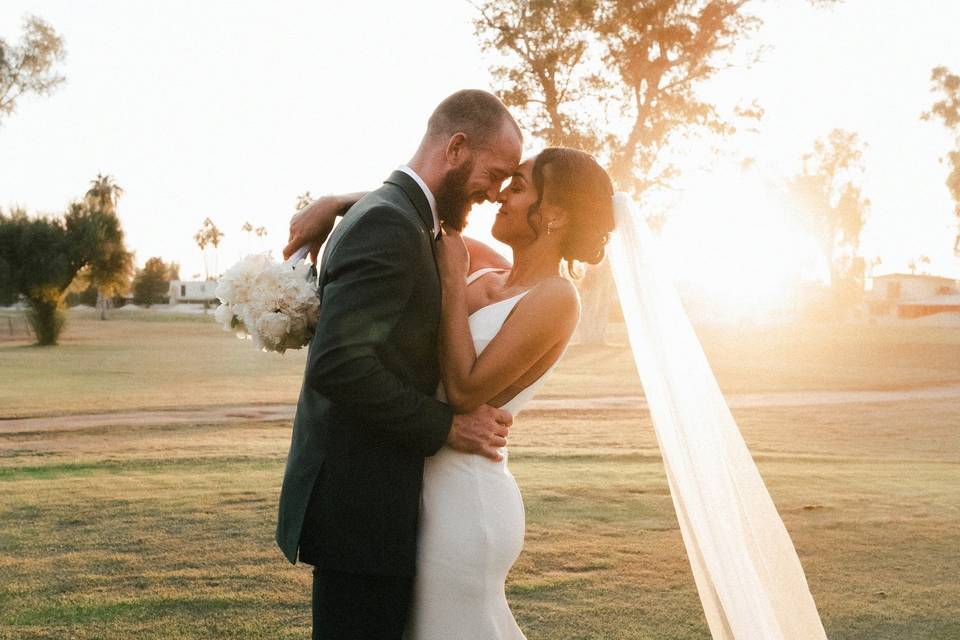 It's fair to say that over the past couple of years, it's been pretty tricky to have an 'average' wedding. From guest lists of 15 and dancing being 'strongly advised against' to minimonies and anni-ceptions - 2021 is the year we got seriously creative with weddings.
We surveyed over 2,000 couples* who got married last year to see what the average wedding in 2021 looked like…how does yours match up?
The Average UK Wedding in 2021
Presenting our infographic detailing exactly what the average wedding looked like in 2021! Download the results of the Hitched National Wedding Survey here.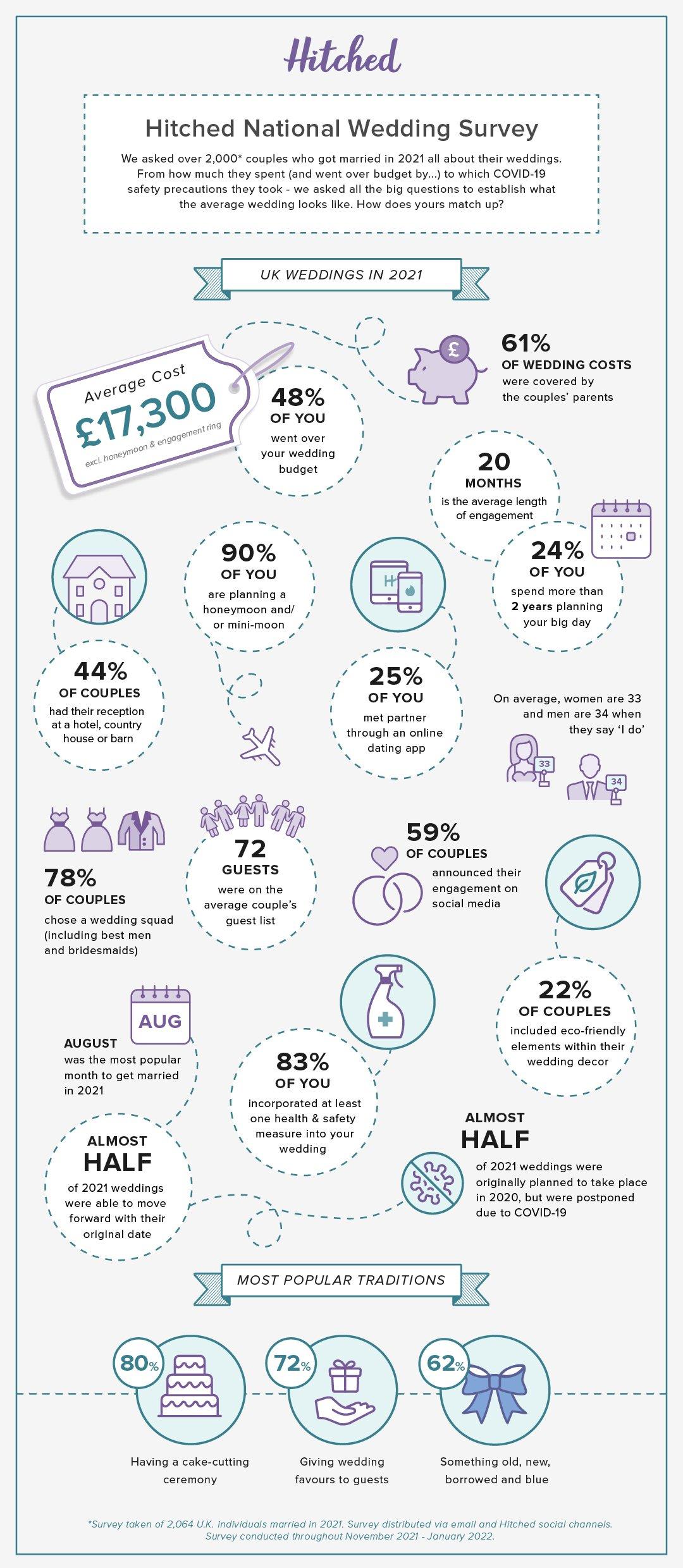 The Average Cost of a UK Wedding in 2021
According to our survey, the average cost of a wedding is £17,300. This is up 90% from 2020, when the pandemic restrictions saw wedding spend drop to an average of £9,100.
This doesn't however take into account the cost of the engagement ring, and how much couples are planning to spend on their mini-moon or honeymoon (or in the cases of some lucky ducks, both!)
That being said - after a long, hard pandemic, wedding planning couples were leaning on their family for financial support more so than in previous years. Three in five couples had financial help from their family to help pay for their wedding, with parents' footing 61% of the bill - and perhaps they needed it, seeing as 48% of couples in 2021 actually went over budget! This is a step up from pre-pandemic times, when half of couples received financial help for their wedding.
READ MORE: How to Ask Your Parents for Wedding Money
Wedding Costs Broken Down
We've broken down that £17,300 average cost of a wedding, looking at seven key spending areas:
Venue hire - £7,600
Wedding dress - £1,300
Photography - £1,200
Groom's attire - £500
Catering per head - £65
Bridal hair - £80
Bridal makeup - £70
It's worth noting the amount spent in certain areas has increased since pre-pandemic times (2019), with couples spending over 40% on their wedding venue than they did in 2019, and 4% more on wedding photography, suggesting that the setting and the mementoes have become more of a focus in 2021.
The Average Wedding Planning Couple in 2021
The average age of a bride has gone up slightly since we surveyed couples in 2019 - women (on average) are now 33 when they walk down the aisle, compared to 32 in 2019. However, the average age of a groom has stayed the same at 34! This is a leap though compared to the 2018 data, when women were 31 and men were 32 (on average) when they said 'I do'.
A quarter of all couples who married in 2021 met through a dating app, showing that romance is still developing digitally for many couples (and that those apps can actually work!).
It takes the average couple 20 months to plan their perfect wedding - no change from our 2019 data, even with the extra stress caused by the pandemic, although nearly a quarter of couples did spend over two years planning.
According to our survey, 59% of couples announced their engagement on social media - and who can blame them? It's a guaranteed way to get those likes rolling in.
READ MORE: The Best Captions for Your Engagement Announcement on Social Media
The Impact of Covid on Weddings in 2021
We all know that COVID-19 was the unwanted guest at the party in 2021, but couples were still able to crack on with getting married. Almost half of couples who married in 2021 were able to proceed with their original wedding date, and nearly half of all weddings that took place in 2021 were pushed back from 2020.
Many people were mindful of the risks though, with 83% incorporating at least one health and safety measure into their wedding to minimise the risk of COVID-19 spreading on their big day. Over half of weddings that took place in 2021 had hand sanitiser in place for everyone to use, and a third of all couples required their guests to take a lateral flow test before attending their wedding.
Despite guest numbers being capped at 15 and 30 until 21st July 2021, couples in 2021 managed to have a wedding guest list of around 72 guests, on average. This is, not surprisingly though, down compared to the 102 guests per wedding in 2019.
What Makes a Wedding in 2021: Traditions & Trends
Hotels were the most popular type of wedding venue in 2021, with 16% of couples choosing the convenience of being able to have all their guests stay over! In 2019, barns were the most popular choice, and they remain a crowd-pleaser with 14% of couples choosing to marry in a rustic setting. Country manors were also big in 2021, with a further 14% picking a country house wedding venue to host their day.
When it comes to wedding traditions, there are some that show no signs of going anywhere. 80% of couples cut into a wedding cake in 2021, 72% gave their guests wedding favours and 62% had something blue, as well as something old, borrowed and new!
The teetotal wedding trend took off in 2021, with one in ten couples opting not to serve alcohol at their wedding, and a number of couples chose to adopt the American tradition of a 'first look', with 12% of couples choosing to have a moment alone to see each other before the ceremony. Over a fifth (22%) of those who married in 2021 included eco-friendly elements at their wedding, showing that sustainability is a consideration for couples as they plan.
Some elements of weddings in 2021 remained very traditional though: 80% of marriages that took place in 2021 saw at least one person change their last name - this is up from 75% in 2019! Almost a third of couples (30%) approached the parents on either side ahead of getting engaged, with nearly half of couples (46%) asking for their blessing to propose.
Hungry for more data? We break down the average cost of a wedding here.
*Survey taken of 2,064 U.K. individuals married in 2021. Survey distributed via email and Hitched social channels. Survey conducted throughout November and December 2021 and January 2022.