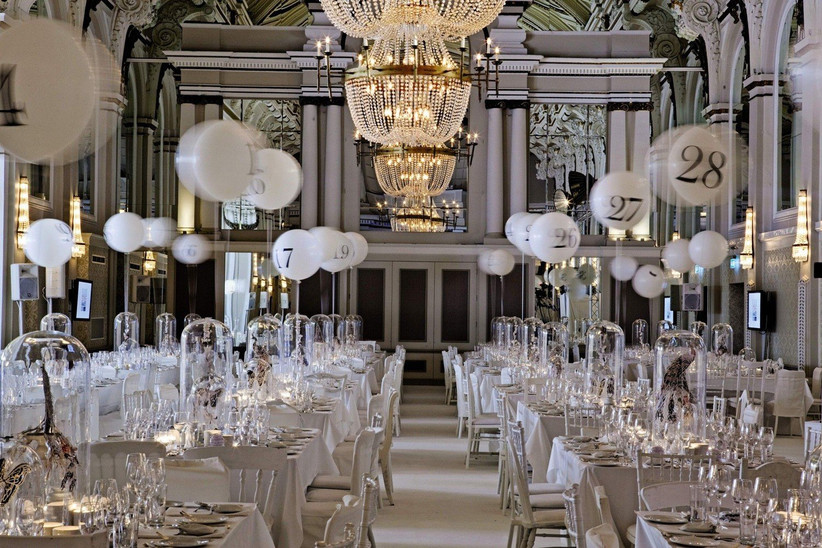 Your wedding marks the first day of your shared life as a married couple — and your wedding story is one that you'll tell for years to come. With this in mind, why not pick a venue with its own fascinating history when you're planning your big day?
To help you in your search, we've rounded up our favourite historic wedding venues.
From grand palaces to Victorian hotels, each venue has its own incredible story to tell. Which is your favourite?
Stanbrook Abbey – Worcestershire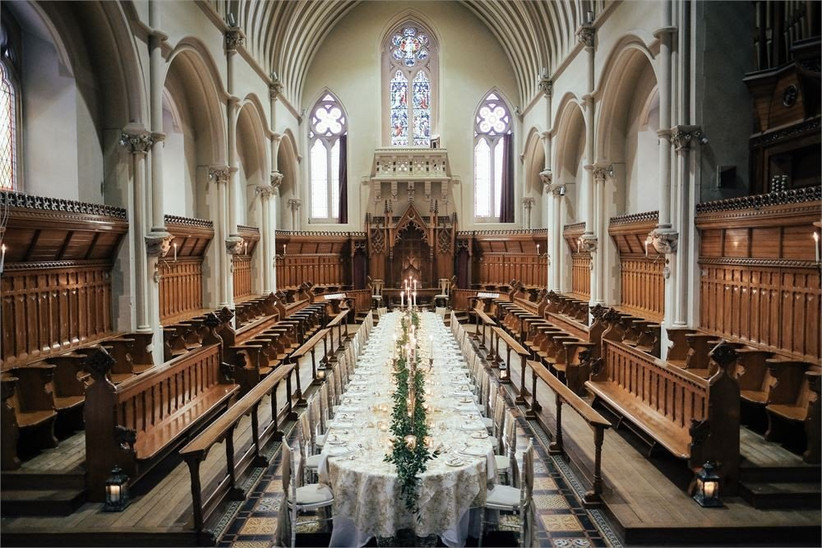 This grade II-listed 16th century former abbey prides itself on being an exquisite wedding venue with indulgent touches aplenty. It perfectly blends historic and contemporary architecture resulting in a space which is sure to leave your heart aflutter.
Stanbrook Abbey is set just a stone's throw from the Cotswolds and surrounded by rolling hills, historic villages and picturesque foot paths – you certainly won't be short of photo backdrops!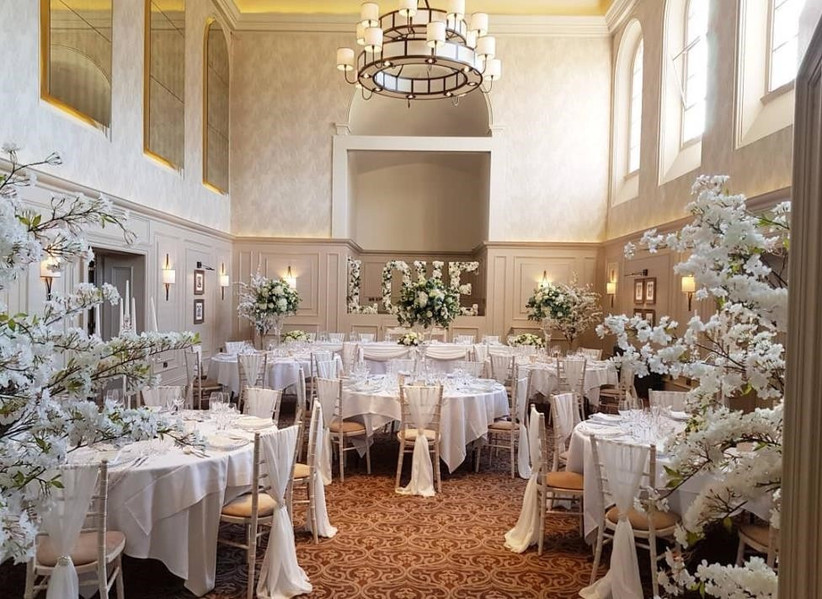 The estate offers complete flexibility to choose from a small and intimate affair or a something much larger. For a big celebration, the Callow Great Hall is perfect.
After your ceremony, take to the terrace for reception drinks and photographs on the lover's swing before enjoying a spectacular wedding breakfast and retiring to one of the many luxurious on-site suites. There's no better place to spend your first night as newlyweds.
Botleys Mansion – Surrey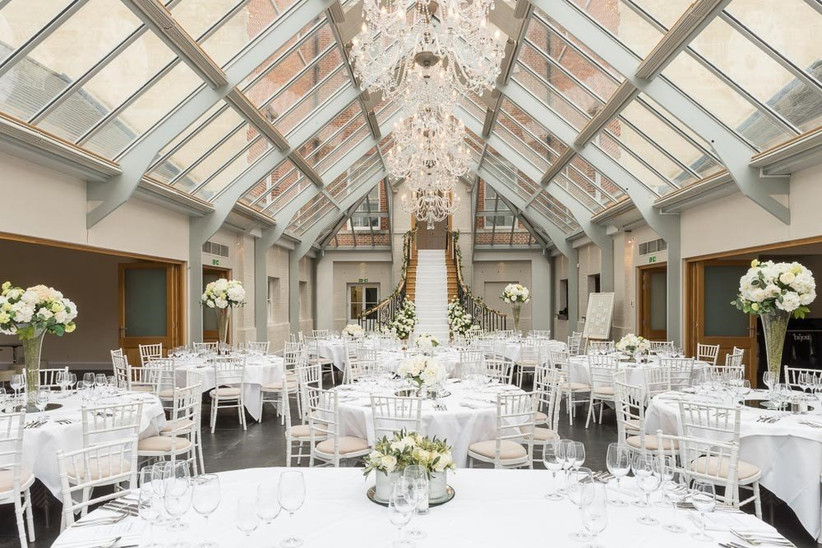 Just how stunning is Botleys Mansion? One of six exclusive and romantic venues by Bijou Weddings, Botleys is a spectacular 18th Century Grade II listed Palladian mansion which was restored in the early 2000s.
It caters for weddings with 60 to 250 guests across various stylish entertaining spaces, making it the perfect venue for your ultra-glamorous Surrey wedding.
Botleys is only 30 minutes away from London, and from the moment your guests make their way down the winding driveway they'll be completely blown away by its grandeur.
We love the range of unique features, including an elegant fountain and sweeping staircase, which make for gorgeous photo backdrops. There's also 11 ensuite bedrooms for your nearest and dearest, plus a luxurious bridal suite!
Blenheim Palace – Oxfordshire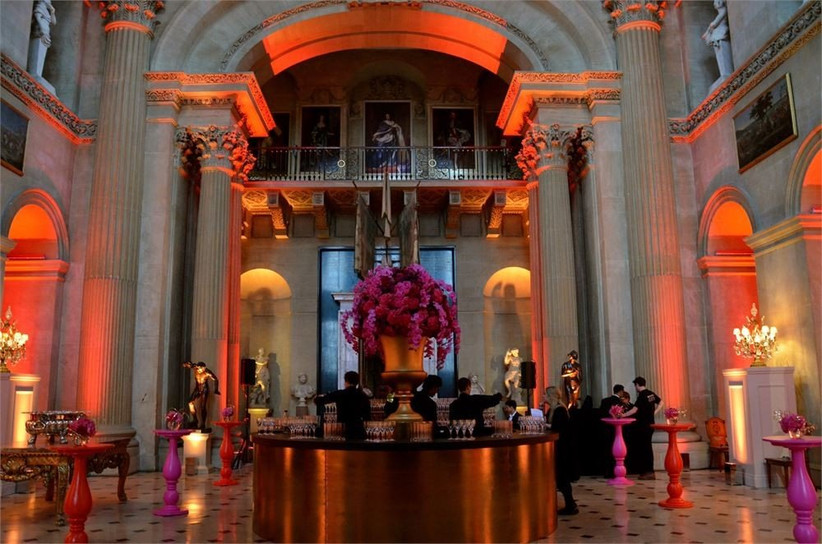 With a rich history that spans across 300 years, it's no wonder that Hitched users chose the beautiful Blenheim Palace as your Best Historic Venue in The UK Wedding Awards 2016.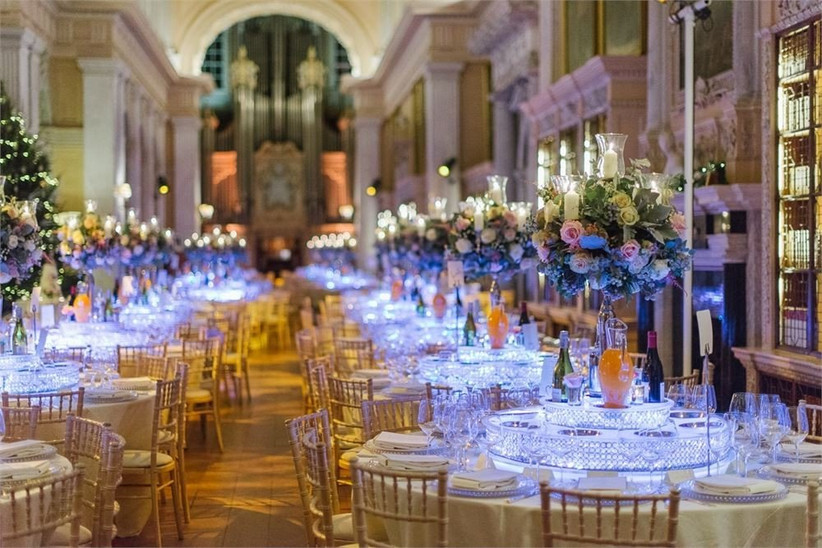 Home to the 12th Duke and Duchess of Marlborough and birthplace of Sir Winston Churchill, this special venue makes a wonderful setting for weddings.
You won't be short of a photo opportunity or two here as there are stunning spaces both inside and outside the venue, including picturesque parkland and the spectacular Great Hall.
Notley Abbey – Buckinghamshire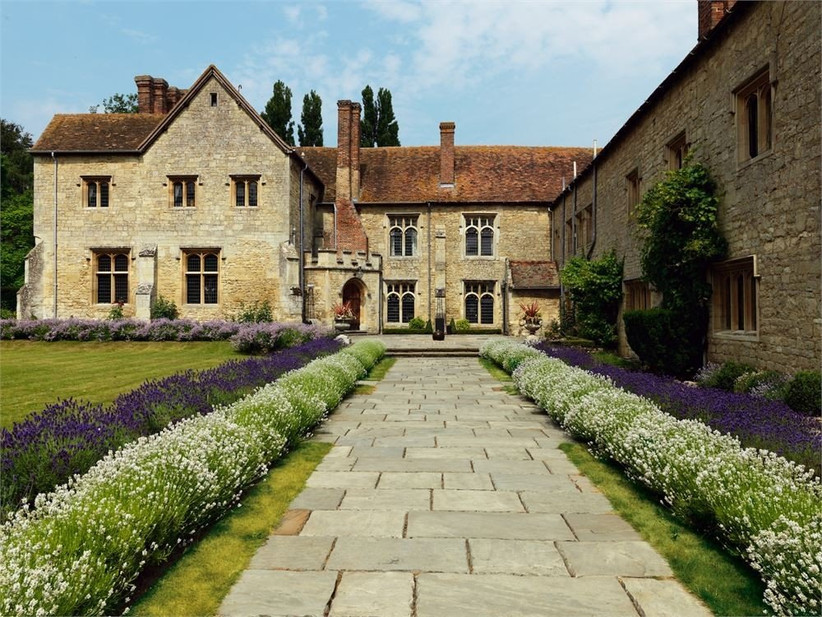 Built in the 12th century, Notley Abbey was once the home of Laurence Olivier and Vivien Leigh. It's steeped in history, class and elegance and would make the perfect venue for your sophisticated wedding day!
It was fully restored in the early 2000s and is available for exclusive hire during all seasons. Not only would the gardens and floor-to-ceiling windows make it perfect for a summer celebration, but the exposed brickwork and cosy corners make it a beautiful winter wedding venue too.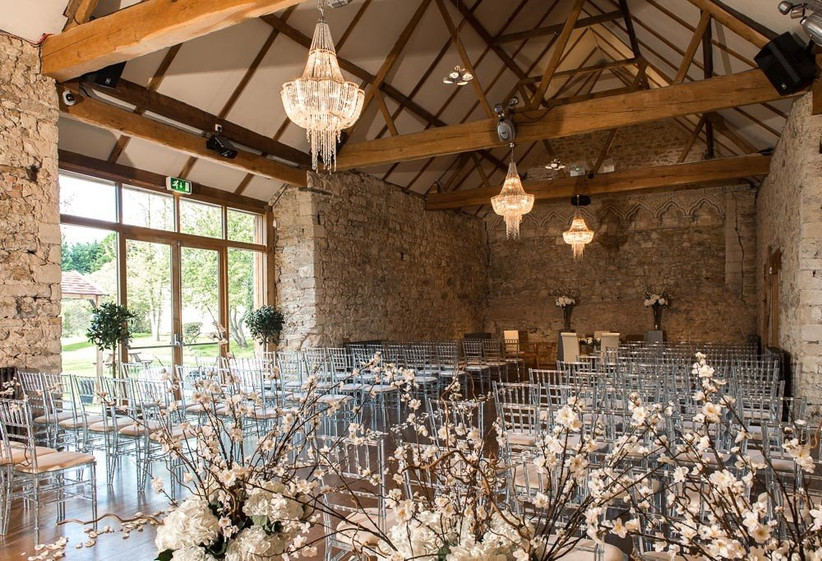 For your all-important wedding breakfast, we love the Monks' Refectory. It dates back to 1192 and traditionally hosted the daily meals of the Augustine Monks who lived on site. See, we told you this place was steeped in history!
The space seats up to 172 guests, with capacity for more of your loved ones to join you for evening celebrations. Oh, and since this venue will be yours exclusively for 24 hours, you'll have free-run of the onsite accommodation… and you can enjoy a hearty breakfast the following morning! What a treat.
Ghyll Manor – West Sussex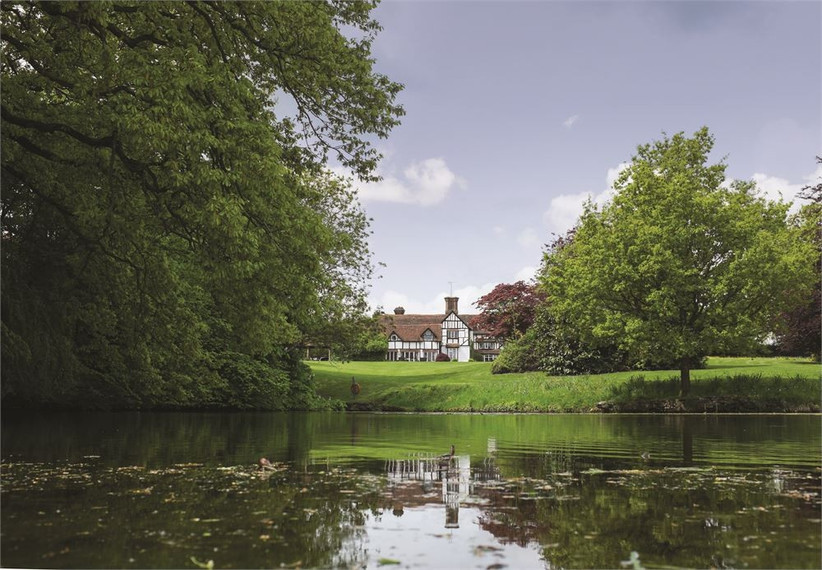 This charming country house hotel dates back to the 17th Century and still retains some of its original features.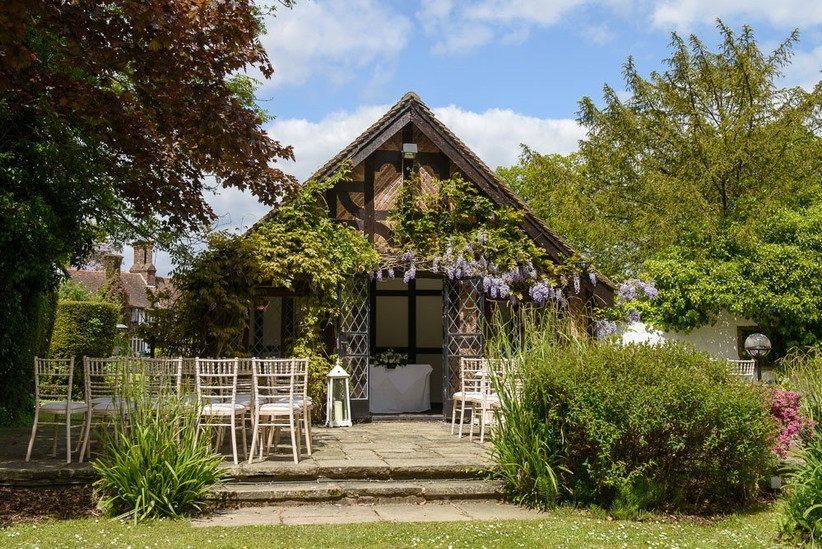 The traditional oak beamed building has picture perfect views over the 40 acres of private gardens and there's even a pretty summerhouse where you can hold your outdoor wedding ceremony.
Whether you want a large celebration or a more intimate affair, weddings of all sizes can be held at Ghyll Manor.
Battersea Arts Centre – London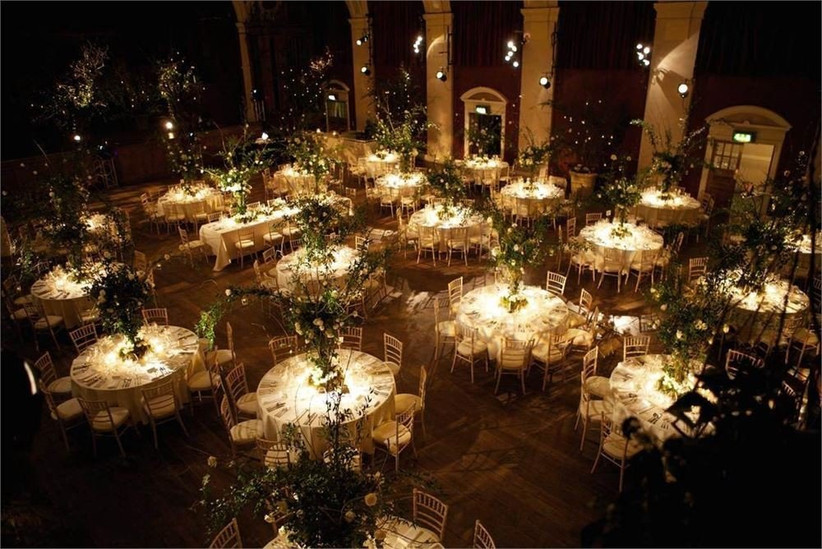 If you're looking for an unusual wedding venue in London that has plenty of history, then the Battersea Arts Centre may tickle your fancy.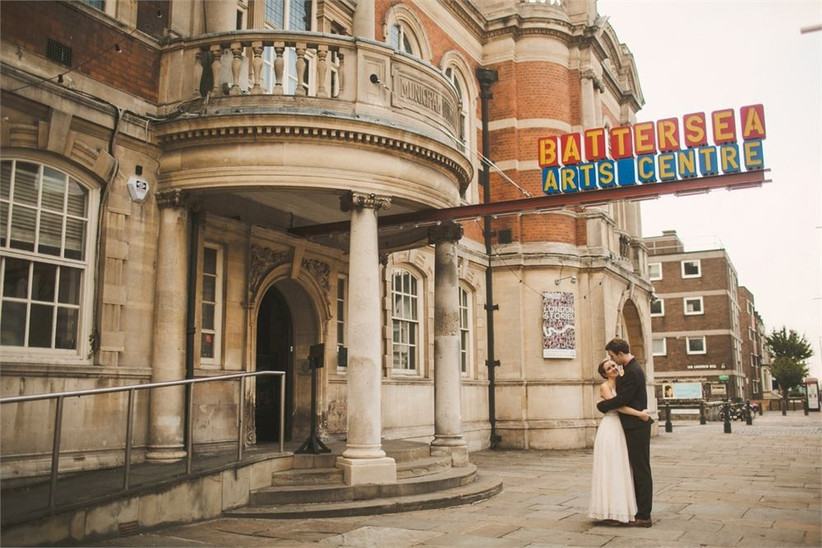 The eclectic Victorian architecture, grand décor and theatrical history is perfect if you're a couple who love the arts.
Brides can make a stunning entrance down the large marble staircase and there are loads of fantastic spaces for weddings of all sizes.
Glenmore House – Surrey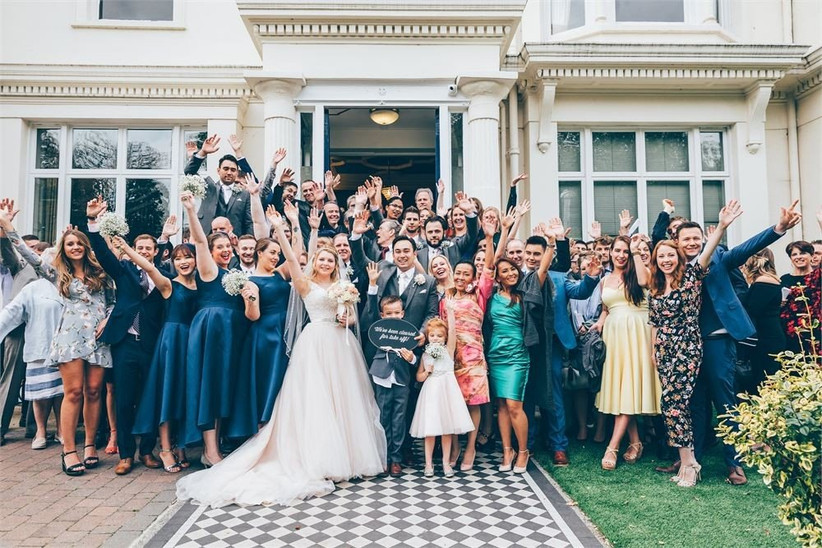 This romantic wedding venue has been welcoming guests since 1921. Full of character and charm, Surbiton venue Glenmore House has all you need for a timeless and classic wedding day.
As well as getting to enjoy the splendid Georgian architecture, you and your guests will also get to savour delicious food from the expert team of chefs.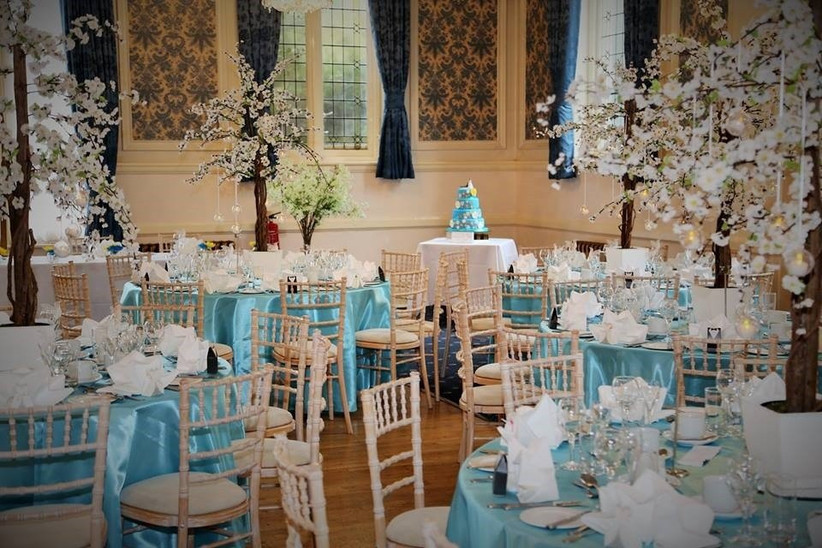 The ballroom is a beautiful and traditional place to have your wedding breakfast with its glittering chandeliers, minstrel galleries and large dance floor. However if you do want to bring things back to the modern day, the adjacent bar is like a glitzy West End night club.
Ghillie Dhu – Lothian & Borders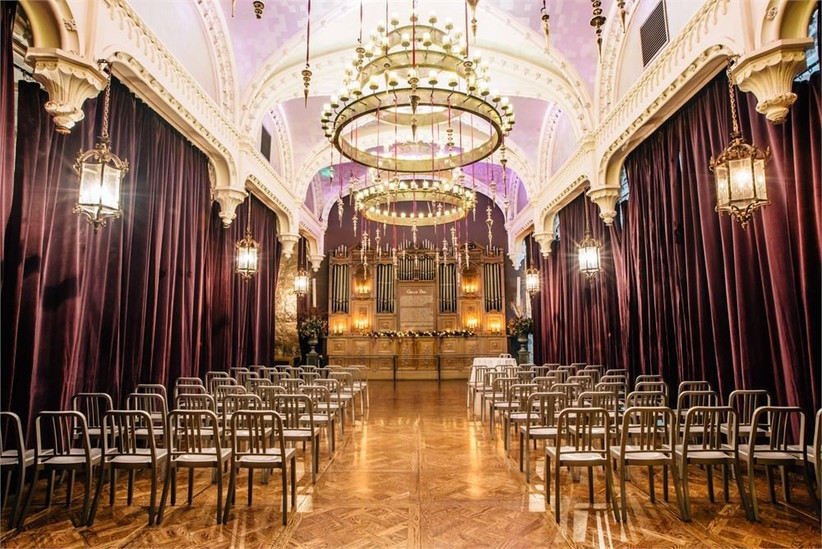 This Edinburgh venue is one of our favourite city wedding venues for many reasons. Situated just a stone's throw from Edinburgh Castle (photo opportunity alert), this former church was built in 1842 and has recently had a stunning restoration.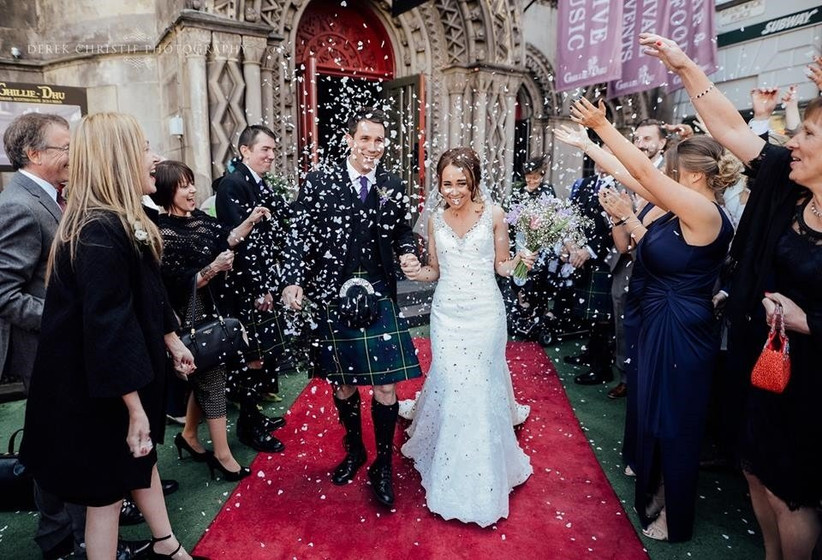 Ghillie Dhu's amazing Auditorium is seriously impressive with its high vaulted arch ceilings, which lends itself well to being flooded with colourful lighting.
Carlton Towers – Yorkshire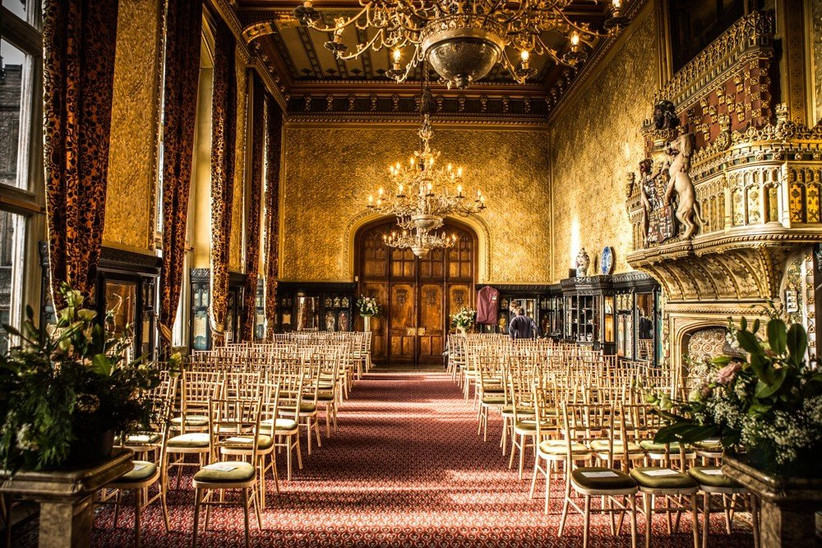 If a glamorous wedding venue in the north of England is what you and your partner are after, then look no further than Carlton Towers.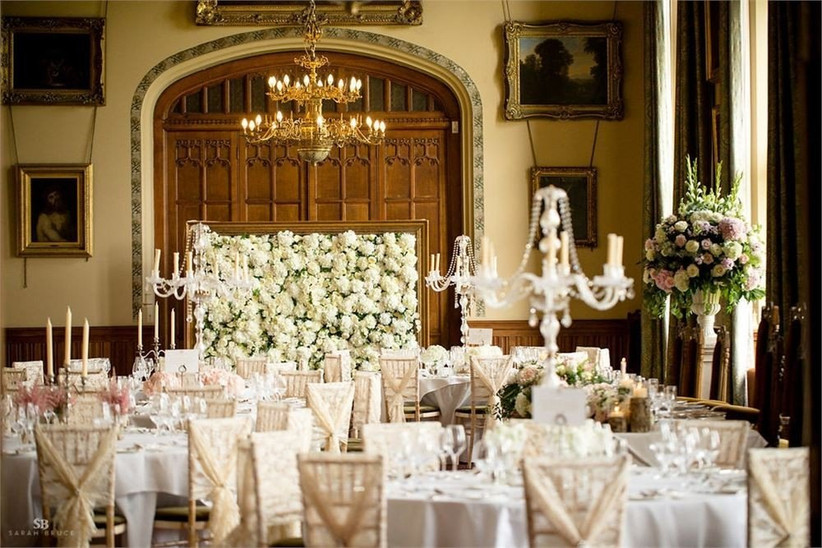 This incredibly enchanting venue is a privately owned Victorian country house that has been hosting weddings for over 30 years.
The Gothic-style appearance of the house is perfect if you want your setting to blow your guests away, plus there are three grand Victorian staterooms available for your reception.
Chatsworth House – Derbyshire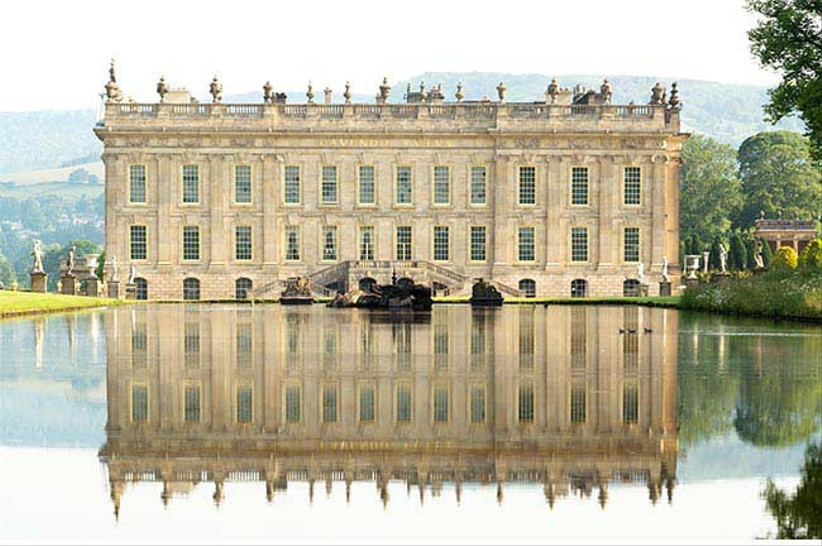 Historic wedding venues don't get more elegant than Chatsworth House. This beautiful building is home to the Duke and Duchess of Devonshire and has been passed down through the Cavendish family for 16 generations.
You may also recognise Chatsworth House from 'The Duchess', a biography of the 18th Century Duchess of Devonshire which starred Keira Knightley.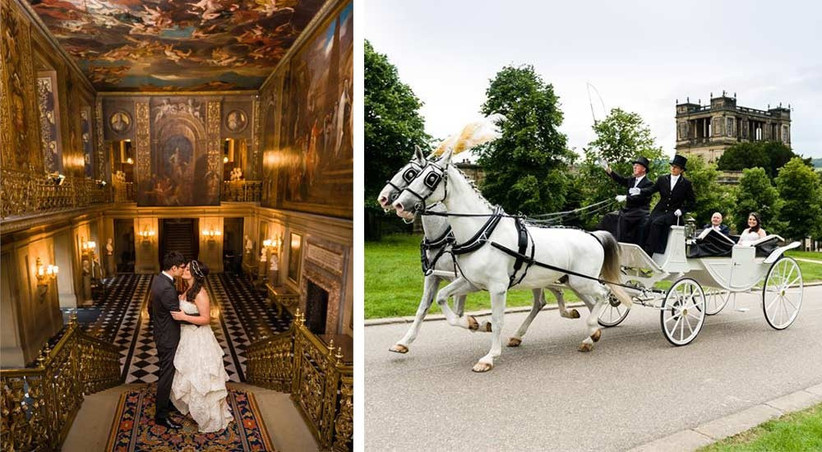 Not only does the house have Hollywood credentials, it also has a whopping 1000 acres of parkland and a broad choice of romantic ceremony and reception rooms.
To see more famous settings like this, check out our favourite wedding venues from TV and film.
Grand Connaught Rooms – London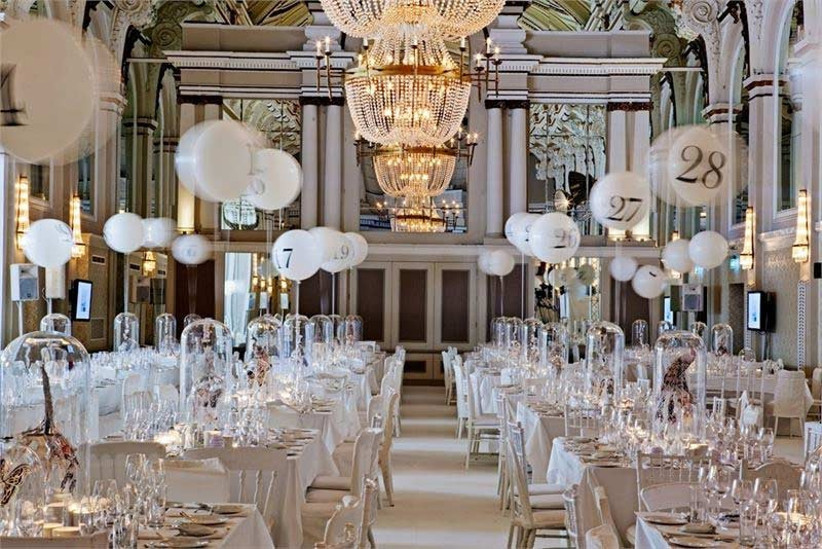 The Grand Connaught Rooms has been the headquarters of the Freemasons since 1717, and is now one of London's most sought after venues in Covent Garden.
The soaring arched ceilings, crystal chandeliers and sophisticated dining spaces will make you feel like a million dollars on your wedding day.
The Grand Connaught Rooms is also ideal if you're looking for Asian wedding venues – the Grand Hall is the crown jewel of the venue and it can accommodate up to 550 guests.
Theobalds Park – Hertfordshire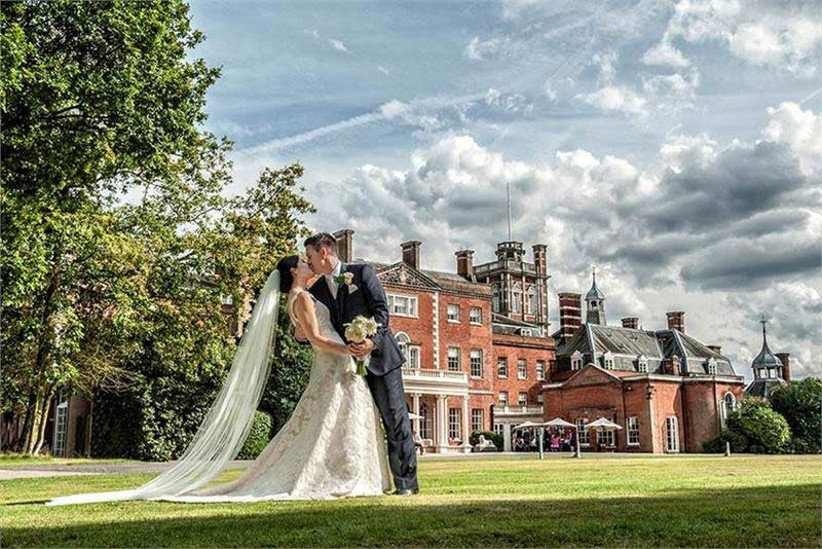 Dating as far back as the 15th Century, this eye catching redbrick mansion would provide a glorious background to your big day.
Theobalds Park has been home to Nobles, Lords and Ladies throughout the decades and its historic grandeur is combined with modern interiors – making it a truly special venue for a timeless wedding day.
You'll have 55 acres of parkland to play around in when it comes to photos and there is a rustic barn and courtyard for outdoor ceremonies.
St Pancras Renaissance Hotel – London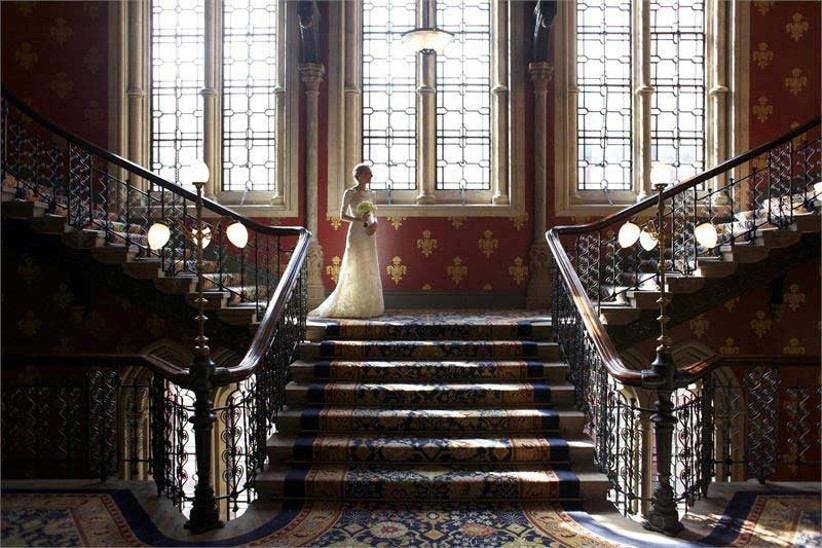 Famous English poet Sir John Betjeman once called this Victorian building "too beautiful and too romantic to survive", but it now stands today as the elegant St Pancras Renaissance Hotel.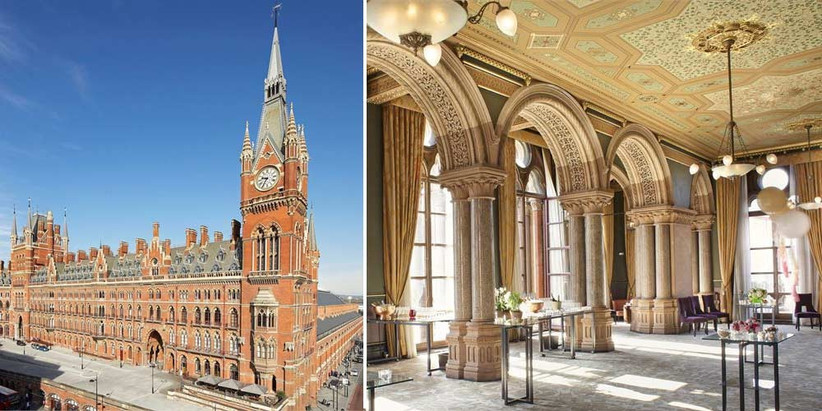 With its red brick gothic exterior, intricate carved stonework, rich paintwork and grand staircase, this impressive venue promises a unique and impressive setting. FYI – the Spice Girls also filmed the video for 1996's 'Wannabe' on the hotel staircase!
Berkeley Castle – Gloucestershire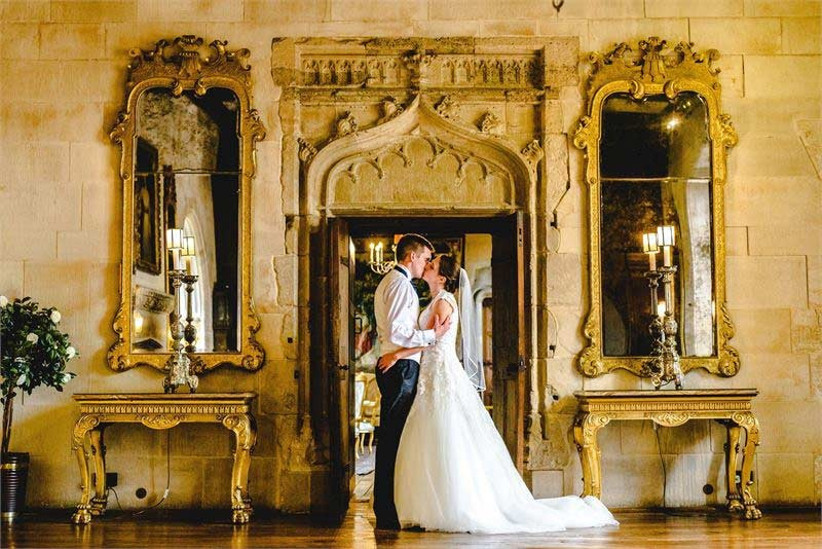 If you and your partner want a historic setting for your big day, then have you considered a castle wedding venue?
One venue that will make you feel like you're getting married in a fairytale is Berkeley Castle in Gloucestershire. You can enjoy the feeling of owning your very own castle as the venue is available exclusively to you and your party!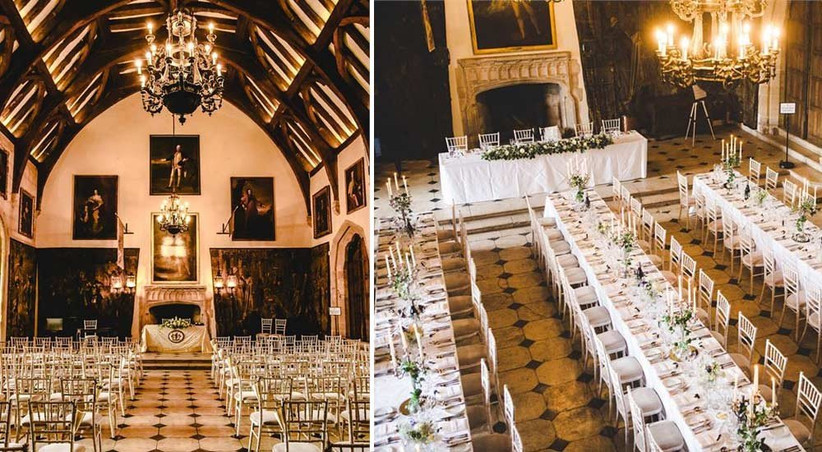 Berkeley Castle still retains its medieval grandeur and the splendid Great Hall is sure to impress with its spectacular high ceiling and classic artwork.
Tower Bridge – London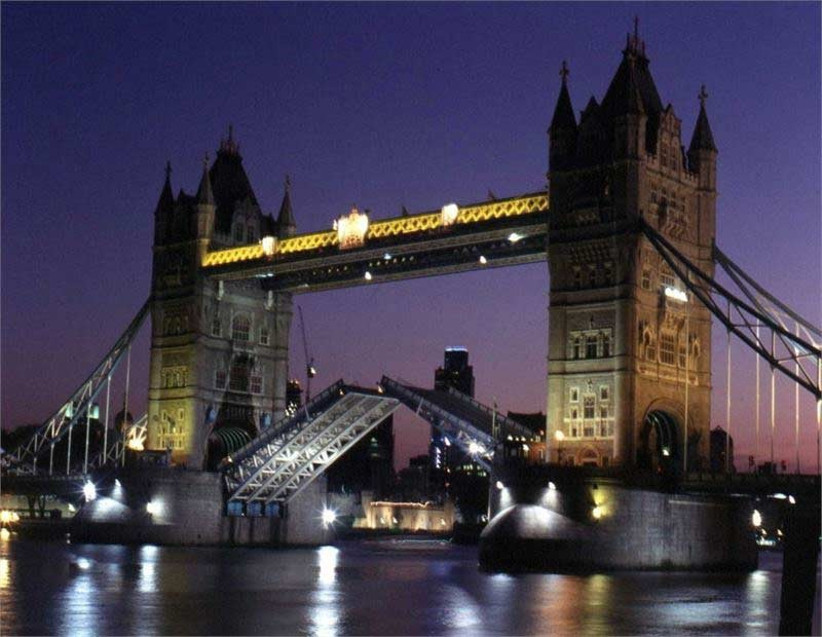 You'll no doubt recognise London's iconic and historic landmark, Tower Bridge, but did you know that you can get married here?
This world famous bridge houses four venue spaces, each one with its own unique character. If you want to really blow your guests away then you can hold your reception high up along the Walkways – situated 42 metres above the River Thames and there's even glass floors!
If you haven't quite got the head for heights, you can opt to have your reception in Tower Bridge's pretty Victorian Engine Rooms.
Chicheley Hall – Buckinghamshire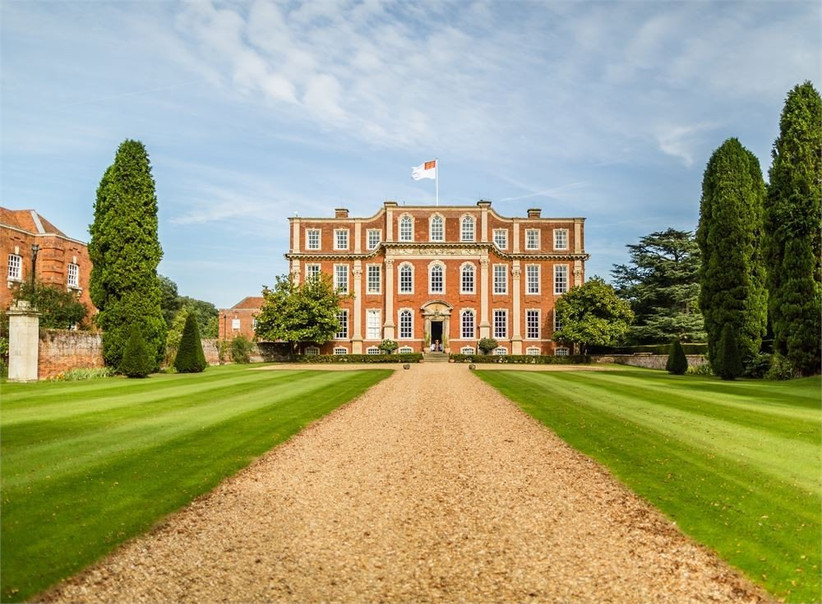 If manicured grounds, impressive architecture and luxurious accommodation are high on your venue checklist, then the Grade I listed Chicheley Hall firmly ticks all these boxes.
This Georgian country house boasts 80 acres of land and formal gardens, complete with a lake for some pretty outdoor photo opportunities.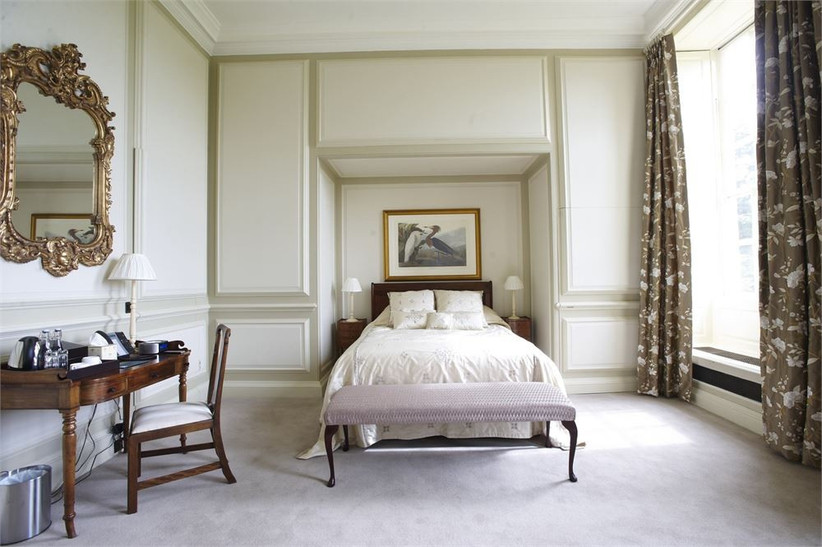 Whether you choose to have a marquee outside, an intimate reception in the house's dining room or a grand wedding breakfast in the Wolfson Centre, Chicheley Hall has a lovely variety of spaces for your day.
One Marylebone – London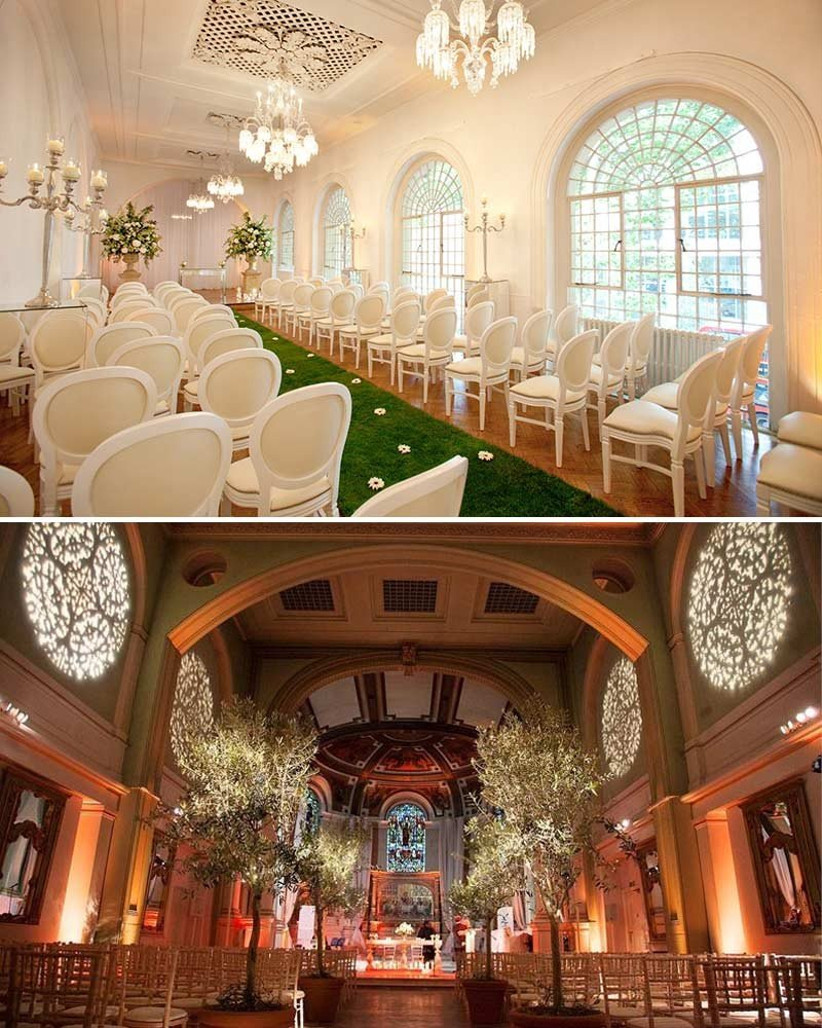 The stylish One Marylebone venue in London is the definition of timeless glamour. If you're looking for a setting with a rich history yet all the luxuries you'd expect from a modern venue, then this Grade I listed former church may well fulfil your wedding needs.
The deconsecrated church was originally designed by the architect Sir John Soane and it has recently been restored to its former glory. Not only does One Marylebone have three versatile spaces and a picturesque courtyard, it's also near Regents Park if you fancy some pictures there.
Compton Verney – Warwickshire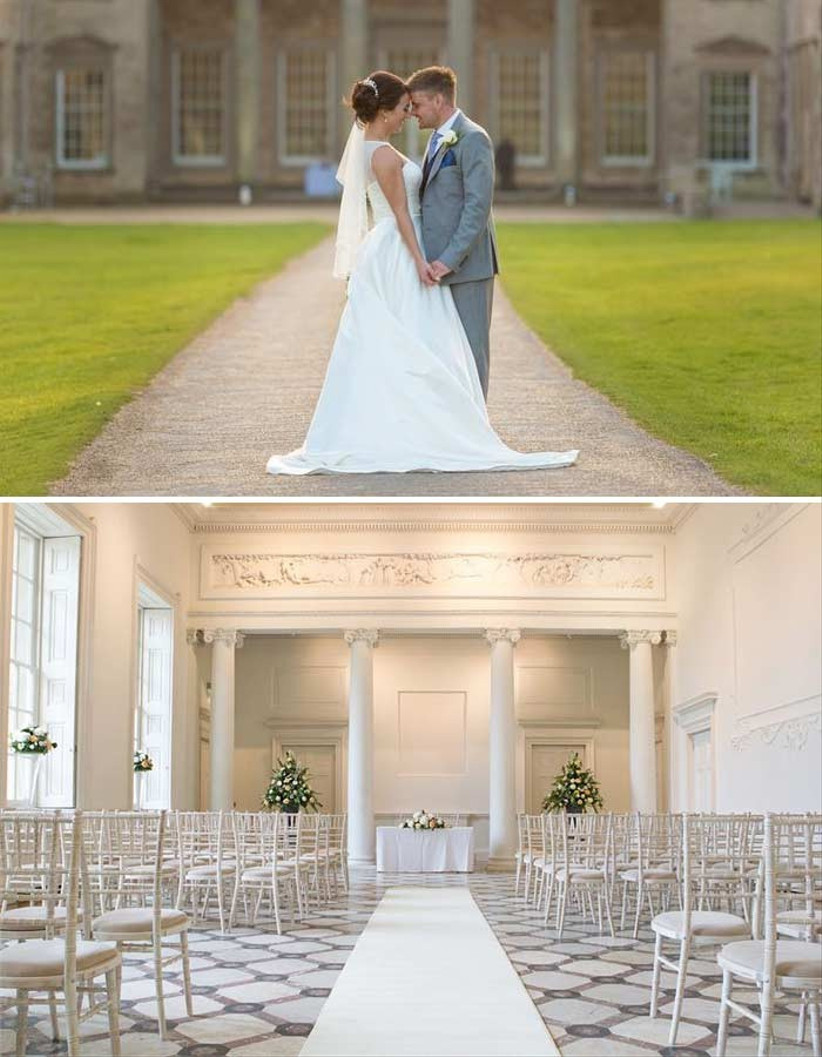 The beautiful Compton Verney in Warwickshire is a wonderful place to say your 'I dos'. The renowned art gallery is housed in a Grade II listed Georgian mansion, making it both a unique and historic wedding venue for your big day.
Only one wedding a day is held here, so you'll have the team's full attention and you and your party can enjoy the venue and artwork all to yourselves. The 'Capability Brown' landscaped parkland is perfect for a marquee or some stunning photos.
Hampton Court Palace – London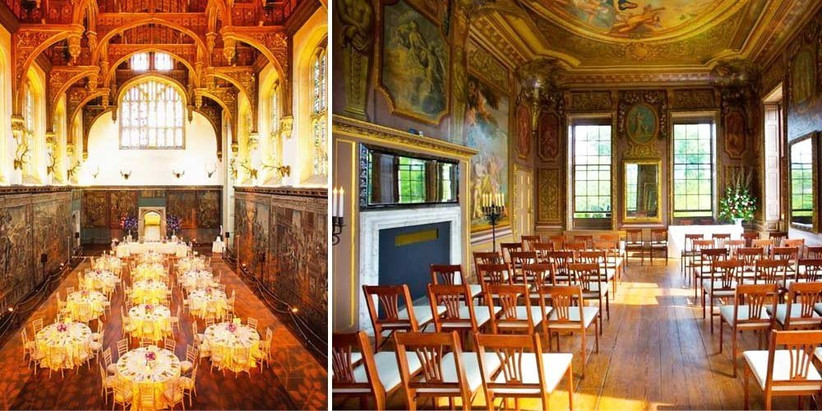 We can't think of anything more spectacular than getting married in Hampton Court Palace, one of the UK's most iconic venues that boasts centuries of royal history.
The Palace's breath taking Tudor architecture will wow your guests and the perfectly tended to gardens are a delightful setting for outdoor drinks.
The Palace is able to host weddings of all sizes, but if you really want to go all out then The Great Hall is your best bet – it can host up to 400 guests and you'll love dining under the original painted ceiling.
Warwick Castle – Warwickshire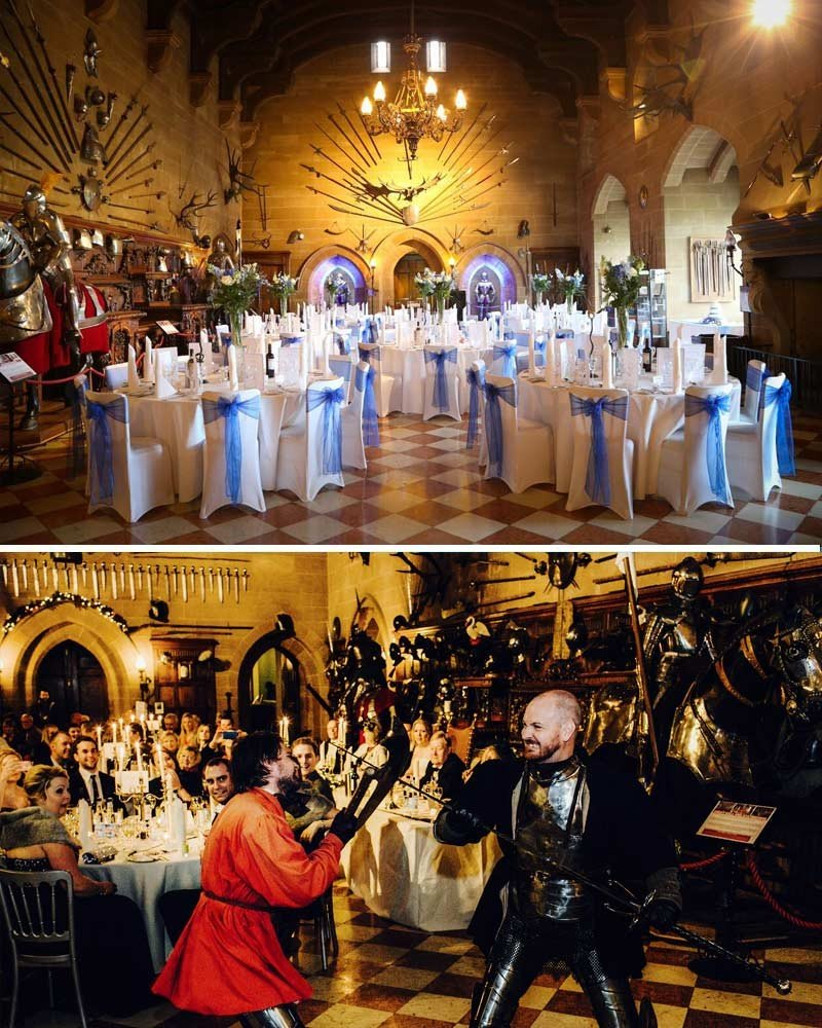 Image credit: (Top) Pete Blanchflower; (Bottom) Steve Gerrard
If you want a wedding venue that has lots to offer other than just pretty spaces, then the historic Warwick Castle is the perfect backdrop.
Lavish events and royalty have been hosted at the castle for years, so getting married here means that you'll become a part of its rich history.
Alongside the grand surroundings, Warwick Castle also offers incredible food that is second to none and a variety of packages to suit your preferences. You may even get to witness a battle between knights in shining armour whilst you tuck into your wedding breakfast!
Knebworth House – Hertfordshire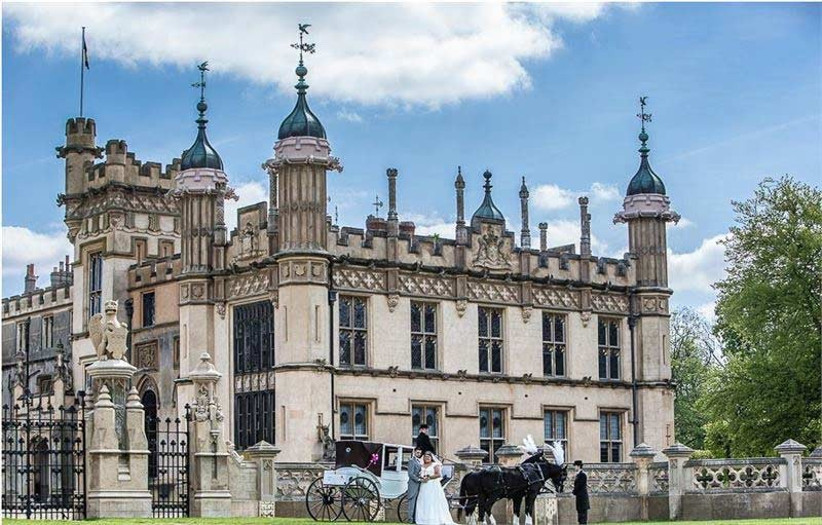 Renowned as one of England's finest stately homes, Knebworth House has built up a seriously impressive guest list over the years – it includes the likes of Queen Elizabeth I, Charles Dickens and even Mick Jagger!
Knebworth House was first inhabited in 1490 by the Lytton family who still, nineteen generations later, reside there.
The 16th Century barns provide a beautifully rustic setting for wedding parties and you could even opt for the Garden Gazebo if you're having a summer celebration.
The Crypt at Bleeding Heart – London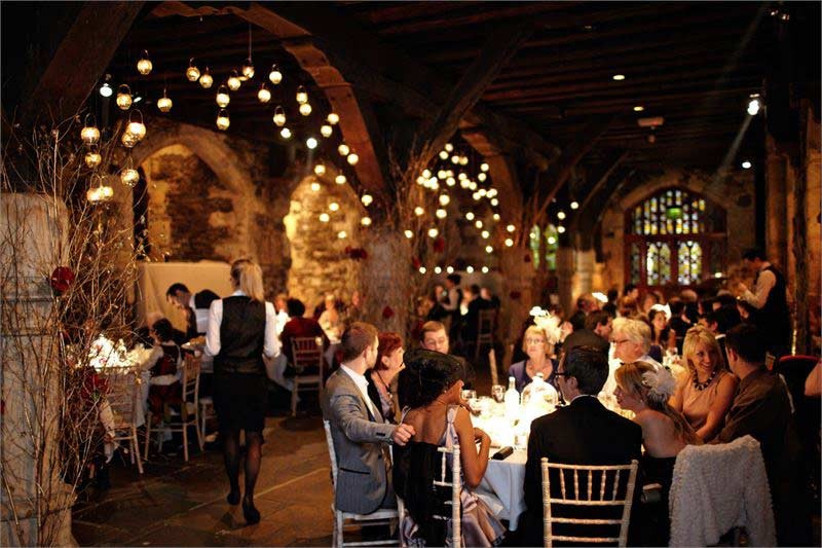 Don't be put off by the unusual name of this quirky London venue, it's actually a beautiful and highly historic setting for an unforgettable wedding.
With stone floors, beamed ceilings and stained glass windows that date back to the 12 century, The Crypt at Bleeding Heart has seen its fair share of parties.
King Henry VIII even held a three day feast here in 1531! Although it sounds scary, the ambience of The Crypt is amazing and it looks magical when lit up with fairy lights.
If you want to browse more stunning venues but only if they have rooms to stay in, then take a look at our pick of stylish wedding venues with accommodation.