The 28 Best Historic Wedding Venues in the UK
We've rounded up some of our favourite historic wedding venues. Full of character and grand features, you'll be more than a little tempted to make these venues part of your own history.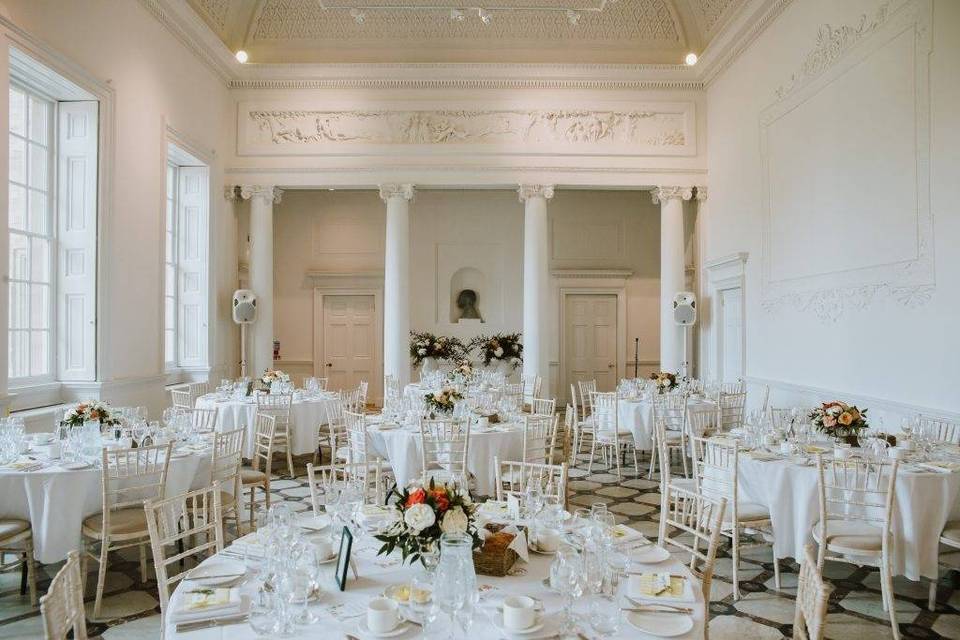 From grand palaces to Victorian hotels and centuries-old castles, there's a wealth of historic wedding venues on offer up and down the country, each with its own incredible story to tell. Tempted to take your own story to one of them?
Francesca Cribb, Head of Marketing at Farnham Castle explains why historic wedding venues are a great choice: "With inspiration and creativity, any wedding venue can be transformed to be the location of your dreams, but if you choose to hold your wedding at an historic wedding venue, it's likely that you will have a great advantage and a fantastic head start.
"When castles were built many years ago, they were created with celebrations in mind. They were designed with large rooms, high ceilings, over-sized fireplaces, extreme grandeur and exquisite grounds, which nowadays make for the ultimate wedding celebration venue.
"You, of course, don't have to love history to book an historic wedding venue and you may be pleasantly surprised at how light, spacious and spectacular these hidden gems dotted across the whole of England are. Your family history as a couple could have the perfect beginning at an historic wedding venue!"
To help you find the right historic wedding venue for you, we've rounded up our pick of the best below. Get ready to begin your first chapter as a married couple.
READ MORE:
Dovecliff Hall Hotel is a beautiful, classically styled wedding venue located in Burton Upon Trent. This estate boasts Georgian architecture and lush gardens, creating an idyllic ambience for special events of all types. Here, you and your partner can share your happily-ever-after celebration with up to 90 loved ones.

After exchanging heartfelt vows in the venue's conservatory, receptions can be held in the elegant, banquet hall-style Charrington Suite. Thoughtfully curated table settings and floral arrangements will add to the sophisticated setting's charm.
Find Out More
2. Farnham Castle – Surrey
Nestled on the border of Surrey and Hampshire, within five acres of picturesque grounds set high above the historic market town is Farnham Castle. Here, you can marry in a civil ceremony in the Lantern Hall which dates back to Norman times, The Winchester Suite, The Library, The Great Hall, or outdoors under the arch of The Fox's Tower.
There are also two Church of England chapels onsite, should you wish for a religious service or blessing.
After the "I dos" you can enjoy drinks on the magnificent grounds, snap wedding photographs and enjoy the spectacular views from the castle's elevated position. Your wedding breakfast can be enjoyed by up to 200 seated guests in The Great Hall and 100 more can join you for dancing.
READ MORE: The Ultimate Guide to Castle Wedding Venues: 22 of the Best
3. Fulham Palace – West London
Set in cosmopolitan West London yet surrounded by tranquil gardens and boasting a stunning riverside location, Fulham Palace offers couples the best of both worlds. You can marry in one of the beautiful licensed rooms in a civil ceremony here or say "I do" in the private chapel located on the grounds.
Wedding receptions usually take place in the Great Hall, a beautifully decorated and dramatic space that's simply perfect for wedding celebrations. The space can accommodate 90 guests for a sit-down meal and 150 for an evening reception. You're also welcome to use the marquee for up to 180 seated guests.
4. Addington Palace – Surrey
Addington Palace is a gorgeous Georgian mansion located just 12 miles from Central London. Once the setting of Henry VIII's courtship to Anne Boleyn, today it opens its doors as an idyllic setting for your special day.
You'll have exclusive use of the entire property and estate (that's a whopping 163 acres) for your wedding weekend so you and your guests won't be short of places to explore and celebrate.
There's the bright and airy Winter Garden chapel which provides an ideal spot to exchange your vows, or the elegant wood-panelled Great Hall to name a few.
After you've said 'I do', the hall can then be transformed into a fabulous banqueting area where you and up to 150 guests can enjoy a delicious wedding breakfast or three-course meal. At Addington Palace you'll truly feel like royalty!
5. Gloucester Blackfriars Priory – Gloucestershire
Gloucester Blackfriars Priory is a 13th century medieval priory nestled in the heart of the city. Following a sympathetic restoration, the priory has been transformed into a light-filled and quirky wedding venue complete with Britain's best preserved medieval library and a magnificent courtyard garden.
Weddings here range from intimate affairs with just 10 guests to grand parties with up to 250 in attendance thanks to its choice of magnificent rooms.
All wedding parties will be treated to the award-winning food and drink here as well as the first-rate service offered by staff.
6. Stanbrook Abbey – Worcestershire
This grade II-listed 16th century former abbey prides itself on being an exquisite wedding venue with indulgent touches aplenty. It perfectly blends historic and contemporary architecture resulting in a space which is sure to leave your heart aflutter.
Stanbrook Abbey is set just a stone's throw from the Cotswolds and surrounded by rolling hills, historic villages and picturesque foot paths – you certainly won't be short of photo backdrops!
The estate offers complete flexibility to choose from a small and intimate affair or something much larger. For a big celebration, the Callow Great Hall is perfect.
After your ceremony, take to the terrace for reception drinks and photographs on the lover's swing before enjoying a spectacular wedding breakfast and retiring to one of the many luxurious on-site suites. There's no better place to spend your first night as newlyweds.
7. Botleys Mansion – Surrey
Just how stunning is Botleys Mansion? One of six exclusive and romantic venues by Bijou Weddings, Botleys is a spectacular 18th Century Grade II listed Palladian mansion which was restored in the early 2000s.
It caters for weddings with 60 to 250 guests across various stylish entertaining spaces, making it the perfect venue for your ultra-glamorous Surrey wedding.
Botleys is only 30 minutes away from London, and from the moment your guests make their way down the winding driveway they'll be completely blown away by its grandeur.
We love the range of unique features, including an elegant fountain and sweeping staircase, which make for gorgeous photo backdrops. There are also 11 ensuite bedrooms for your nearest and dearest, plus a luxurious get-ready suite!
8. Blenheim Palace – Oxfordshire
With a rich history that spans across 300 years, some of the grandest spaces we've ever seen and a highly experienced wedding team it's no wonder the likes of Rochelle and Marvin Humes chose Bleheim Palace as the setting for their star studded wedding day.
Home to the 12th Duke and Duchess of Marlborough and birthplace of Sir Winston Churchill, this special venue makes a wonderful setting for weddings.
You won't be short of a photo opportunity or two here as there are stunning spaces both inside and outside the venue, including picturesque parkland and the spectacular Great Hall.
9. Notley Abbey – Buckinghamshire
Built in the 12th century, Notley Abbey was once the home of Laurence Olivier and Vivien Leigh. It's steeped in history, class and elegance and would make the perfect venue for your sophisticated wedding day!
It was fully restored in the early 2000s and is available for exclusive hire during all seasons. Not only would the gardens and floor-to-ceiling windows make it perfect for a summer celebration, but the exposed brickwork and cosy corners make it a beautiful winter wedding venue too.
For your all-important wedding breakfast, we love the Monks' Refectory. It dates back to 1192 and traditionally hosted the daily meals of the Augustine Monks who lived on site. See, we told you this place was steeped in history!
The space seats up to 172 guests, with capacity for more of your loved ones to join you for evening celebrations. Oh, and since this venue will be yours exclusively for 24 hours, you'll have free-run of the onsite accommodation… and you can enjoy a hearty breakfast the following morning! What a treat.
10. Hampton Court House – Surrey
11. Battersea Arts Centre – London
If you're looking for an unusual wedding venue in London that has plenty of history, then the Battersea Arts Centre may tickle your fancy.
The authentic Victorian town hall is filled with history and quirky charm and the personal approach offered by the staff ensures you and your guests will feel right at home from the moment you arrive.
The eclectic Victorian architecture, grand décor and theatrical history is perfect if you're a couple who love the arts.
To-be-weds can make a stunning entrance down the large marble staircase and there are loads of fantastic spaces for weddings of all sizes.
12. Glenmore House – Surrey
This romantic wedding venue has been welcoming guests since 1921. Full of character and charm, Surbiton venue Glenmore House has all you need for a timeless and classic wedding day.
As well as getting to enjoy the splendid Georgian architecture, you and your guests will also get to savour delicious food from the expert team of chefs.
The ballroom is a beautiful and traditional place to have your wedding breakfast with its glittering chandeliers, minstrel galleries and large dance floor. However if you do want to bring things back to the modern day, the adjacent bar is like a glitzy West End night club.
13. Stockton House – Shropshire
Built in 1702 as a Rectory to St Chad's church, Stockton House has been a family home for over 300 years, and is now available as a truly special wedding venue.
You and your guests will arrive via a tree-lined country lane with panoramic views of the Shropshire countryside, before entering the grand reception hall. With antique furniture and oil paintings, it's a spectacular space to host your drinks reception that's steeped in history.
You'll be blown away by the mouth-watering menus available. From four course meals and sharing feasts to tasting menus paired with wine and vegan buffets, there really is something to suit all.
14. Fawsley Hall Hotel, Northamptonshire
Fawsley Hall Hotel was originally built to entertain monarchs, including Elizabeth I in 1575, and now you can follow in the footsteps of royalty by hosting your wedding day there.
Within the parkland you'll find the old stable block Knightley Court, which offers its own private bar, and the historical Great Hall Courtyard framed by Georgian Portico stone arches.
There's 60 bedrooms to choose from for an overnight stay, including the Stable Spa Club Room and the Deluxe Double. Our recommendation? The Queen Elizabeth master suite comes with a four poster bed and a luxe bathtub.
15. The Royal College of Physicians of Edinburgh – Lothian & Borders
This Edinburgh venue is one of our favourite city wedding venues for many reasons. Situated just a stone's throw from Edinburgh Castle (photo opportunity alert), this beautiful establishment effortlessly combines historic elegance with contemporary charm.
The Royal College of Physicians of Edinburgh consists of several magnificent celebration settings where milestone memories can be made. Whether you choose to drink, dine, and dance with loved ones in the Great Hall or the Library, you're sure to have an unforgettable day. With the help of the venue's talented wedding coordinator, you can curate an event that aligns with your exact vision.
READ MORE: 15 of the Best Wedding Venues in Edinburgh
16. Carlton Towers – Yorkshire
If a glamorous wedding venue in the north of England is what you and your partner are after, then look no further than Carlton Towers. This incredibly enchanting establishment is a privately owned Victorian country house that has been hosting weddings for over 30 years.
The Gothic-style appearance of the house is perfect if you want your setting to blow your guests away – plus there are three grand Victorian staterooms available for your reception.
Each is dripping with period features such as wood panelling, chandeliers and ornate fireplaces that set the scene perfectly for a fairy tale wedding day.
17. De Vere Grand Connaught Rooms – London
The Grand Connaught Rooms has been the headquarters of the Freemasons since 1717, and is now one of London's most sought after venues in Covent Garden.
The soaring arched ceilings, crystal chandeliers and sophisticated dining spaces will make you feel like a million dollars on your wedding day.
The Grand Connaught Rooms is also ideal if you're looking for Asian wedding venues – the Grand Hall is the crown jewel of the venue and it can accommodate up to 550 guests.
As well as grand spaces, this magnificent venue also offers the services of a dedicated wedding coordinator who will be on hand to help with everything from menu choices to music and entertainment, ensuring every detail is taken care of and all you need to do on the day is enjoy the sumptuous surroundings.
18. St Pancras Renaissance Hotel – London
Famous English poet Sir John Betjeman once called this Victorian building "too beautiful and too romantic to survive", but it now stands today as the elegant St Pancras Renaissance Hotel.
With its red brick gothic exterior, intricate carved stonework, rich paintwork and grand staircase, this impressive venue promises a unique and impressive setting. FYI – the Spice Girls also filmed the video for 1996's 'Wannabe' on the hotel staircase!
If the stunning architecture and fun pop culture history isn't enough to tempt you, we predict the state of the art spa, sumptuous bedrooms and first rate catering service will be!
READ MORE: 23 of the Best Hotel Wedding Venues in London
19. Chicheley Hall – Buckinghamshire
If manicured grounds, impressive architecture and luxurious accommodation are high on your venue checklist, then the grade I listed Chicheley Hall firmly ticks all these boxes.
This Georgian country house boasts 80 acres of land and formal gardens, complete with a lake for some pretty outdoor photo opportunities.
Whether you choose to have a marquee outside, an intimate reception in the house's dining room or a grand wedding breakfast in the Wolfson Centre, Chicheley Hall has a lovely variety of spaces for your day.
Plus, the historic hall also offers 48 luxurious en-suite bedrooms, meaning you and your guests won't have far to go before you can kick off your dancing shoes after the night's festivities.
20. Grand Junction Wedding Venue – London
The charming Grand Junction Wedding Venue in London is located in Paddington, on the site of St. Mary Magdalene's Church. Initially built over 200 years ago, the central hall is a stunning, 19th-century masterpiece. It was even the site of one of Hugh Jackman's scenes in the 2012 Les Misérables film adaptation!
If you're looking for a setting with a rich history, then this venue will surely check all your boxes.
Beneath the venue's first floor is the Undercroft, a stylishly unique underground space that's ideal for cocktails and canapes. At this enchanting destination in the heart of London, you can share your day with up to 200 loved ones.
21. Compton Verney – Warwickshire
The beautiful Compton Verney in Warwickshire is a wonderful place to say your 'I dos'. The renowned art gallery is housed in a Grade II listed Georgian mansion, making it both a unique and historic wedding venue for your big day.
Only one wedding a day is held here, so you'll have the team's full attention and you and your party can enjoy the venue and artwork all to yourselves. The Capability Brown landscaped parkland is a real highlight here and it's also perfect for a marquee as well as some stunning photos and summer drinks receptions.
22. Warwick Castle – Warwickshire
If you want a wedding venue that has more to offer other than just pretty spaces and an impressive façade, then the historic Warwick Castle is the perfect backdrop.
Lavish events and royalty have been hosted at the castle for years, so getting married here means that you'll become a part of its rich history.
Alongside the grand surroundings, Warwick Castle also offers incredible food that is second to none and a variety of packages to suit your preferences. Plus, you may even get to witness a battle between knights in shining armour whilst you tuck into your wedding breakfast!
23. Knebworth House – Hertfordshire
Renowned as one of England's finest stately homes, Knebworth House has built up a seriously impressive guest list over the years – it includes the likes of Queen Elizabeth I, Charles Dickens and even Mick Jagger!
Knebworth House was first inhabited in 1490 by the Lytton family who still, a whopping nineteen generations later, reside there.
The grand interiors provide the perfect setting for traditional weddings while the 16th Century barns make for a beautifully rustic setting for wedding parties. During the summer months you could even opt for the stunning Garden Gazebo.
24. The Crypt at Bleeding Heart – London
Don't be put off by the unusual name of this quirky London venue, it's actually a beautiful and highly historic setting for an unforgettable wedding.
With stone floors, beamed ceilings and stained glass windows that date back to the 12th century, The Crypt at Bleeding Heart has seen its fair share of parties.
King Henry VIII even held a three-day feast here in 1531! Although it sounds scary, the ambience of The Crypt is amazing and it looks truly magical when lit up with fairy lights.
25. The HAC – London
The HAC is an 18th-century mansion and Armoury House set in a six-acre garden just a stone's throw from Moorgate in the bustling centre of London.
The Long Room in Armoury House offers the perfect setting for both ceremonies and receptions for up to 150 guests. With oak panelling, stone fireplaces and large windows boasting magnificent garden views, it's an unforgettable wedding backdrop.
If you're after something even larger, the Prince Consort Rooms can seat up to 350 guests and has proven a popular choice for Asian and Kosher weddings.
26. Friends of Windmill Gardens – London

Searching for a historic wedding venue with a touch of contemporary charm? Then look no further than the Friends of Windmill Gardens in South East London. This Grade II listed windmill has been thoughtfully preserved by the local community. When hosting your big day here, it will create an aesthetically pleasing backdrop for festivities and wedding photos.

This quirky venue is ideal for nearlyweds planning intimate celebrations. Tables and chairs for up to 50 people can be set up inside the windmill, and cocktails and canapes for 60 guests can be held on the lush grounds beside it.
27. Kirkstall Abbey – West Yorkshire
This landmark wedding venue has been standing for over 860 years. At Kirkstall Abbey, you and your partner's one-of-a-kind love story can become a part of the Grade I listed marvel's robust history.
Dramatic, majestic, and enchanting, the venue offers a memorable setting for weddings and other occasions. Heartfelt vows can be exchanged in the open air within the original on-site Cistercian church. A variety of other romantic spaces are available for ceremonies and receptions alike.
28. Moreton House – Devon
Say "I do" surrounded by classical elegance at Moreton House. Surrounded by lush grounds, the estate offers an idyllic setting for special occasions of all types.
At this intimate countryside wedding venue, couples can share your blissful day with up to 100 guests for an evening reception. Throughout the house, you'll be able to enjoy sophisticated design details and expansive windows as you celebrate.
Accommodation a deal-breaker for you? Take a look at our pick of stylish wedding venues with accommodation.