Cheap Wedding Decorations Starting From Just 89p!
From as little as 89p, these cheap wedding decorations look *way* more expensive than they actually are...
We have included third party products to help you navigate and enjoy life's biggest moments. Purchases made through links on this page may earn us a commission.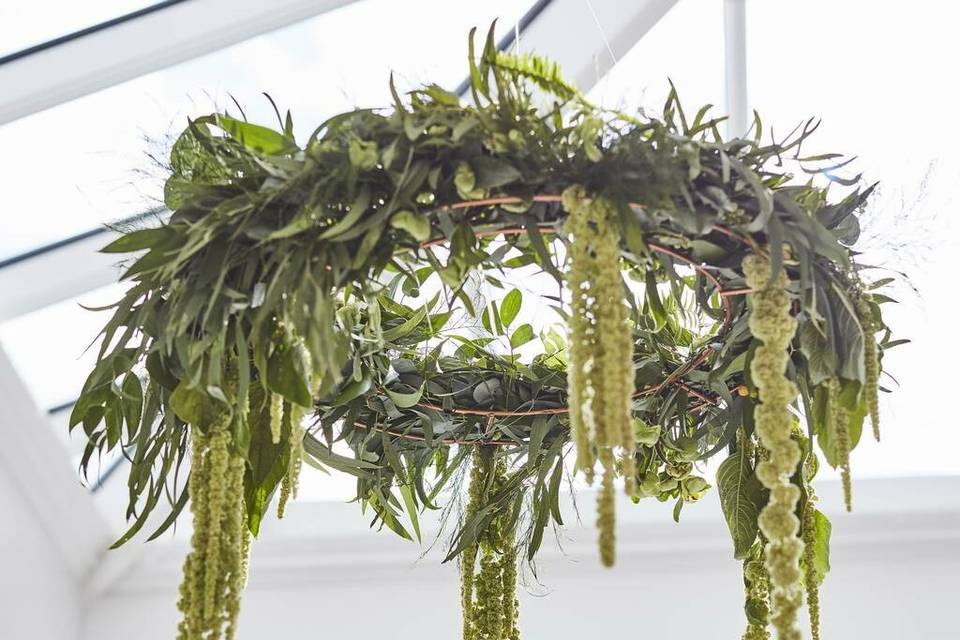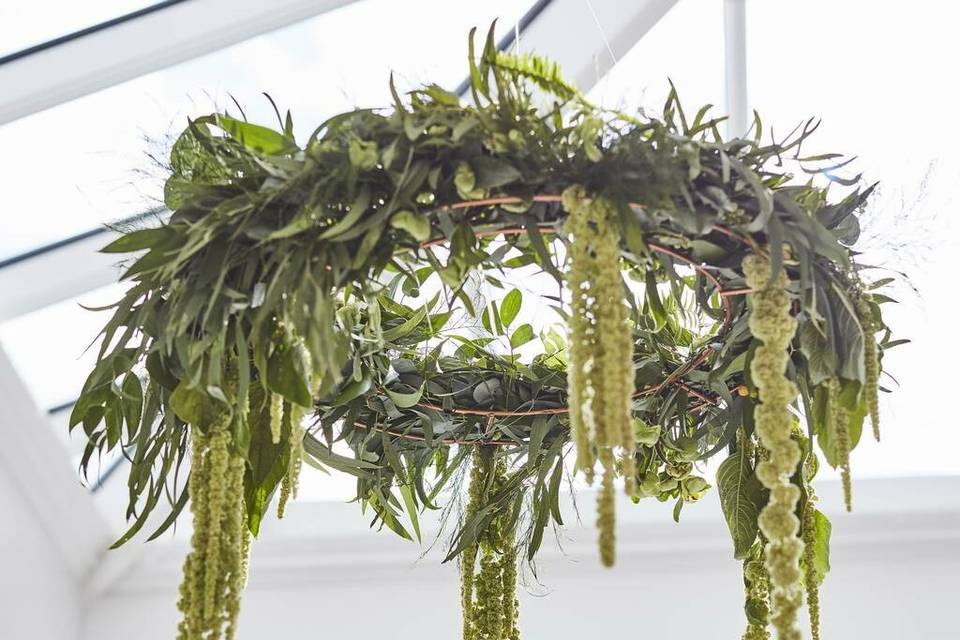 Wedding venue decor doesn't have to cost a fortune. There are so many cheap wedding decorations out there - some that need a little DIY love, and some that are just ready to go.
To help you decorate your wedding venue cheaply, we've uncovered more than 30 wedding decorations for less than £20 - yes, you read that right. Decorate your wedding for less than the cost of a weekly food shop and have your guests completely wowed.
From wedding pew décor and cheap table runners, to personalised wedding signs and cheap wedding table decorations - these décor items look far more expensive than their price tag and are versatile enough to suit a multitude of different wedding styles.
30+ Cheap Wedding Decorations Under £20
With the cost of living ever increasing, it's important to save wherever you can and who'd have thought wedding décor would be an area where you can cut costs? As well as cheap décor items, we also have 3 expert ways that you can save money on your wedding décor. Get ready to save…
Cheap Wedding Table Decorations
1. Rustic Burlap Wedding Table Decoration - £15, Hitched Shop
The best way to decorate your wedding table cheaply is to invest in a stylish wedding table runner. It's the perfect way to dress up any wedding table without blowing the budget and this rustic burlap design, is a complete bargain at just £15
READ MORE: Our Favourite Wedding Table Decoration Ideas
2. Sequin Wedding Table Runner - £17, Hitched Shop
While we're on the topic of gorgeous wedding table runners, we couldn't not show you this glamorous sequin design. Perfect for a stylish wedding, this cheap wedding table décor costs just £17 and is perfect for adding a hint of glam to your wedding breakfast tables, as well as your dessert table and other areas in your venue.
3. Vintage Wedding Table Place Mat - From £0.89p, Hitched Shop
Planning on having a vintage wedding theme? If so, this vintage place mat is the perfect way to decorate your wedding tables cheaply. Starting at less than £1, this budget wedding table décor is way cheaper than it looks and can be bought in a range of styles and colours.
READ MORE: Timeless Vintage Wedding Ideas
4. Wooden Heart Table Confetti Decoration - £3.99, Ginger Ray
Adding to the rustic theme are these adorable wooden love heart confetti decorations from Ginger Ray. They are a cheap wedding decoration that will go far in terms of adding little touches to your wedding tablescape. The wooden confetti can be scattered across your tables at the meal, as well as around a number of different areas at your reception.
5. Fairy Light Bottles for Wedding Tables - £12.95, The Little Boys Room
A gorgeous DIY wedding decoration, these fairy light bottle toppers are a great way to make a statement centrepiece for your tables without spending a fortune. At just £12.95 for three LED corks, these come in at a little over £4 per item. All you need are a set of batteries and some recycled glass bottles and you're set to go.
To add a more personal touch, you could use bottles of yours and your partner's favourite wine or gin instead of plain ones.
READ MORE: 36 Super Unique Wedding Table Plan Ideas
6. Faux Floral Decorative Table Garland - £16.99, Ginger Ray
Embrace the botanical wedding theme by using a faux floral garland like this cute style, in lieu of a table runner. Adorned with faux white roses and faux eucalyptus leaves, this pretty table decoration costs less than £20 and can be repurposed for a number of other events after your wedding.
7. Cut Glass Candlestick Table Decorations - £7.25, Clem & Co
Candles create such a romantic ambience that is perfect for wedding celebrations and these cut glass designs are no exception. The candlesticks come in one size (10cm tall, 8cm wide at the base) and you have the choice of blue, forest green, amethyst or clear glass.
Cheap Wedding Chair Decorations
8. Romantic Chiffon Wedding Chair Decoration - from £5.59, Etsy
Looking for the perfect way to decorate your wedding chairs on a budget? This white chiffon is a simple yet effective way to decorate your wedding chairs without splashing out on expensive fabric or decorations. You can choose from a variety of lush colours and have them come with chic rhinestone ring wraps in gold or silver.
9. Hessian Mr and Mrs Wedding Chair Decorations - £4.50, Etsy
Whether you're after a pair of Mr & Mrs, Mr & Mr or Mrs & Mrs wedding chair signs, these hessian decorations are the perfect pick for a rustic wedding theme. At less than £4, they are a cheap way to dress up your wedding chairs and make you stand out as a couple at your wedding breakfast.
READ MORE: Ikea Wedding Decor Hacks You Haven't Thought Of
10. Floral Organza Wedding Chair Sash - From £2.99, Etsy
Amp up the romance at your wedding breakfast or ceremony with these whimsical chair sashes. Prices for this stunning floral design start at £2.99 and are available to buy in a number of different colours including lilac, green, and pink.
11. Woven Wedding Chair Decoration - From £16, Etsy
We love the unique style of this tulle chair sash. The way the material is woven between the bars on the chair is so unique and creates an amazing texture. Starting at just £13.34, this is a really cheap way to decorate your wedding chairs. The sash is available in tulle, chiffon or silk and can be purchased in several colours.
12. Chiffon Chiavari Wedding Chair Sashes - From £12.60, Etsy
Available in a choice of ten different colours, these Chiavari chair sashes are a budget-friendly way of dressing up your wedding chairs. Suitable for both wedding ceremony and wedding breakfast chairs, the gorgeous sashes come in a range of packs from sets of two to sets of 50.
READ MORE: 20+ Sensational Ways to Dress Up Your Wedding Chairs
13. Ruffled Chiffon Wedding Chair Hood - From £4, Etsy
Continuing the chiffon theme are these adorable ruffled wedding chair covers from Etsy. The chiffon wedding chair hoods come in a choice of more than twenty colours and have an adjustable element to fit most chairs. If you're looking for a cheap way to decorate your wedding chairs, at less than £4 these are an amazing choice.
Cheap Wedding Aisle Decorations
14. Wedding Aisle Backdrop in Origami - £14.99, Ginger Ray
Give your wedding ceremony the perfect backdrop with this simple aisle decoration. Posed at the end of your wedding aisle, this minimalist origami backdrop is a beautiful piece of venue décor that won't take any attention away from you and your partner.
READ MORE: Wedding Aisle Runners and Decorations You Need to See
15. Chapel Pillar Candles for Your Wedding Aisle - From £4.99, The Flower Studio
Can you think of anything more romantic that walking down a candlelit wedding aisle? There is something so beautiful about natural candle light and these German chapel candles are the perfect pick to create a super sweet atmosphere. Available in three different sizes, this is a cheap way to decorate your wedding aisle.
16. Wisteria Garland Wedding Aisle Décor - £8.39, Etsy
Decorate your DIY wedding aisle arch with this gorgeous wisteria floral garland for the ultimate botanical look. Measuring 180cm, this decoration is the perfect length to wrap around a metal arch. Alternatively, this versatile cheap wedding decoration can be used as a wedding aisle runner to frame your walkway.
READ MORE: 45 Botanical Wedding Ideas to Help Recreate Stacey Solomon's Wedding Style
17. Galvanised Wedding Aisle Bucket With Handle - From £6.99, Hitched Shop
If you want to add a floral element to your wedding aisle, consider using these galvanised flower buckets and filling them with faux or real florals. Starting at just £6.99, they are available to buy as a single bucket, up to a set of 24.
18. Sage Palm Wedding Aisle Backdrop - £17.99, Ginger Ray
If you're into your neutral, pastel colours, this sage palm balloon garland could be the perfect aisle décor for you. Affordable and versatile, this cheap wedding aisle décor includes biodegradable balloons meaning you can have a more sustainable wedding without compromising on style.
READ MORE: Wedding Decoration Ideas That Will Transform Your Wedding Venue
19. Pack of Five White Confetti Wedding Balloons - £4.99, Ginger Ray
Sticking to the wedding balloon décor theme, this pack of five white balloons is perfect for adorning your wedding aisle. At less than £5, this wedding aisle décor set creates a romantic feel, is budget friendly and will have a big impact for the price.
Cheap Wedding Church and Pew Decorations
20. Botanical Wedding Pew Decoration - From £5.99, Etsy
Mark the end of each row at your wedding ceremony with this stylish botanical pew end. The white and green colour scheme is totally on trend - much like Stacey Solomon's wedding style! The cheap pew decoration ties onto a pew or chair end with a ribbon and can be adjusted depending on the set-up of your ceremony.
21. Pink and Green Pew Wedding Decoration - From £10.99, Etsy
Consisting of two pretty flowers and a whole host of greenery, this affordable pew decoration is the perfect addition to your wedding ceremony set-up. Available two buy with two or three flowers on each design, this versatile pew accessory can be bought as a single item or as a set of 14 for large celebrations.
22. Dried Flower Pew End Decoration - £15.99, Etsy
If you prefer real flowers as opposed to faux styles for an intimate celebration, this dried flower pew end could be the cheap wedding décor style for you. Made with quality preserved eucalyptus, blue wild thistle, dried burnt orange, and green florals, these pew ends look as gorgeous as they smell. This chic wedding decoration adds a whimsical touch to your ceremony style and can be repurposed as venue décor later in the day for those who want to decorate their wedding venue cheaply.
READ MORE: Eco Friendly Wedding Ideas for a Sustainable Celebration
23. Blush Pink Satin Pew End Decorations - From £9.50, Etsy
If blush pink or rose gold plays a part in your wedding colour scheme, consider these sweet satin wedding church decorations. Available in two styles (peony or peony and foliage), this chic wedding pew decoration is way more affordable than it looks.
24. Botanical Wedding Aisle Chair Decoration - From £11.95, Etsy
Perfect for adorning the end of each wedding chair row, this ivory and green wedding pew decoration is perfect for those planning a botanical-themed wedding. The foliage on this decoration is fresh and modern, and the ivory rose adds a romantic element. The ribbon used to attach the garland to your pew comes in a choice of twelve different colours so you can match it perfectly to your colour scheme.
25. Blue Foliage Rose Wedding Pew Decoration - From £11.95, Etsy
Looking for something to embrace the 'something blue' on your wedding day? This decoration is the perfect example of how a pop of colour can really transform your wedding aisle or pew and can be purchased in a number of different colours if blue isn't for you.
READ MORE: The Prettiest Spring Wedding Ideas
Cheap Wedding Venue Decorations
26. Wedding Venue Hanging Hoop Decoration - £16.99, Ginger Ray
Using wedding hoops like this one gives you and your partner an opportunity to create something completely bespoke and show-stopping for your wedding guests to gaze at. Whether you wrap it with stunning faux foliage as pictured here, rustic pampas grass or romantic fairy lights, the opportunities are endless when it comes to this cheap wedding décor accessory.
This pack contains three copper hoops and 4.5m of clear twine - meaning each hoop works out just over £5 a piece - bargain!
27. Orb Balloon Wedding Décor With Foliage Detail - £8.95, Etsy
Wedding balloons can have a big impact on wedding venue décor without the need to spend much on them. These giant orb balloons are a great way to add a pop of greenery to your wedding venue décor through the sweet foliage vine decoration. Each balloon measures 36" and has 50cm of foliage inside.
READ MORE: Our Favourite Wedding Balloon Ideas
28. White Floral Backdrop Venue Decoration - £19.99, Ginger Ray
The perfect backdrop for any stylish wedding, these white faux floral wall tiles can be constructed to create a lovely flower wall. Flower walls are so versatile and can be used as DIY wedding photo booths, backdrops for the end of your aisle or even as generic wall décor behind your cake table. Each tile measures 63cm x 45cm and is made from silk and plastic.
29. Rustic Wooden-Effect Wedding Welcome Sign - From £26.60, Etsy
Welcome your guests to your wedding venue with a wedding welcome sign that won't blow the budget. At less than £20, this wedding welcome sign is a complete steal and can be personalised with yours and your partner's names and wedding date.
The sign is made from MDF but has been given a wooden effect. Available to buy in A2 or A3, all you need is a frame or easel to display it and you'll have the complete look.
READ MORE: 45 Breath-Taking Rustic Wedding Ideas
30. Gold Hanging Hoop Venue Decorations - £13.99, Ginger Ray
Similar to the chandelier hanging hoop, these simple wall hanging hoops are a great and versatile way to decorate different elements of your wedding venue. Hang them on the wall or above each table at the wedding breakfast and adorn them with floral or fairy light decorations of your choosing. Each pack consists of three gold hoops measuring 12", 14" and 16", all made from metal and sprayed gold.
31. Metallic Orb Venue Décor Balloons - £9.99, Ginger Ray
If you're working to a metallic wedding theme, or planning a lavish and glamorous do, consider decorating your wedding venue with these mixed metallic confetti balloons. Each pack contains three glittering balloons in gold, silver and rose gold. The wedding balloons measure 45cm each way and contain specks of confetti inside for an extra-opulent look.
32. Personalised White wooden Letters - £4.35, Etsy
Having wooden letters of your and your partner's initials is a lovely way to personalise your wedding venue space. At just £4.35 each, you can get these initials and the '&' sign for less than £15. Alternatively, you may want to order more letters to spell out your new surname or combined surnames.
READ MORE: The Most Beautiful Wedding Welcome Signs
33. Artificial Peach Peony Wedding Venue Décor - £9.99, TKMaxx
Add softness and florals to your wedding venue with some artificial flowers. These peach peonies come with the glass vase which you can reuse after the wedding and measure 19cm tall.
3 Ways to Decorate a Wedding Venue Cheaply
If you're wondering how you can decorate a wedding venue cheaply - there are certain cheap wedding decorations that will make your budget (and décor) go much further.
1. Greenery and foliage creates a beautiful botanical wedding style without necessarily blowing the budget. Faux foliage and greenery can be bought really cheaply from Not on the High Street, Etsy, the Hitched Shop and even Ikea. If an Ikea wedding hack was good enough for Stacey Solomon's wedding - it's good enough for us...
2. As well as using faux foliage, decorating your wedding venue with decorations you can sell after the wedding is another great way to keep your costs down. Faux flowers, floral garlands and props don't encounter much wear-and-tear at a wedding and there are sure to be other couples who will benefit from your wedding purchases.
3. While we're on the topic of re-using, you can also purchase wedding décor second hand from people who have got married or even those who have thrown baby showers, wedding showers and birthday parties. A lot of celebratory décor can be used for a number of different occasions so you can benefit from stylish hand-me-downs from a range of events to help decorate your wedding venue cheaply.
Where To Buy Cheap Wedding Decorations
The good news for couples who are budgeting is that there are so many places to buy cheap wedding decorations. Online, you can find cheap wedding decorations on websites such as the Hitched Shop, Not on the High Street, Etsy and eBay. If you're after an in-person shop, we'd recommend a rummage through the gorgeous and unique items stocked at TKMaxx and Homesense.
To help keep your wedding budget under control, we have some genius wedding budget hacks from real couples and a sneak peak into the hidden wedding costs you won't be expecting!