25 Super Smart Hacks to Help You Save for Your Wedding
These wedding budget hacks could be the difference that helps you afford your dream wedding, without having to compromise!
We have included third party products to help you navigate and enjoy life's biggest moments. Purchases made through links on this page may earn us a commission.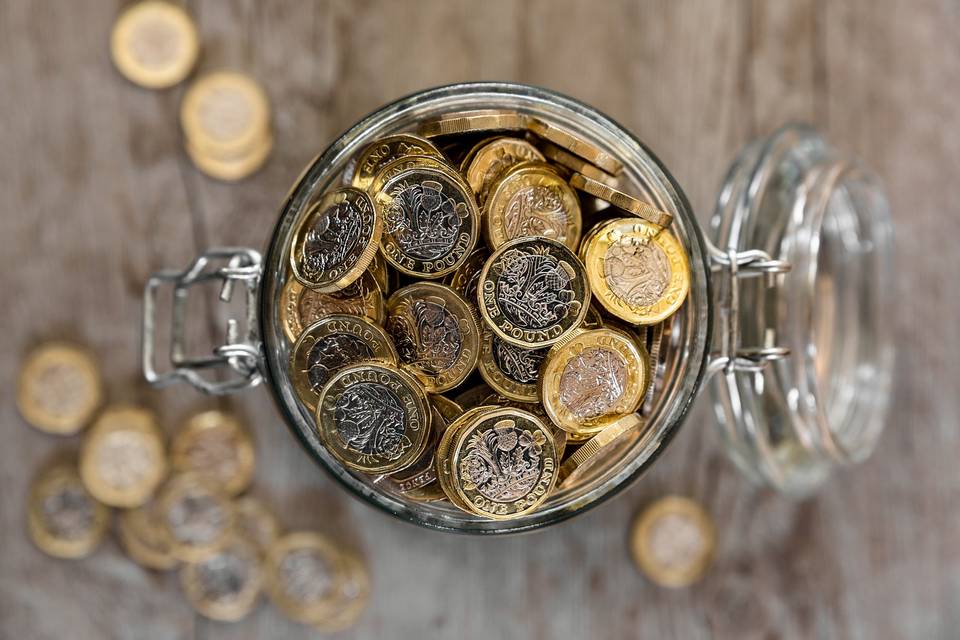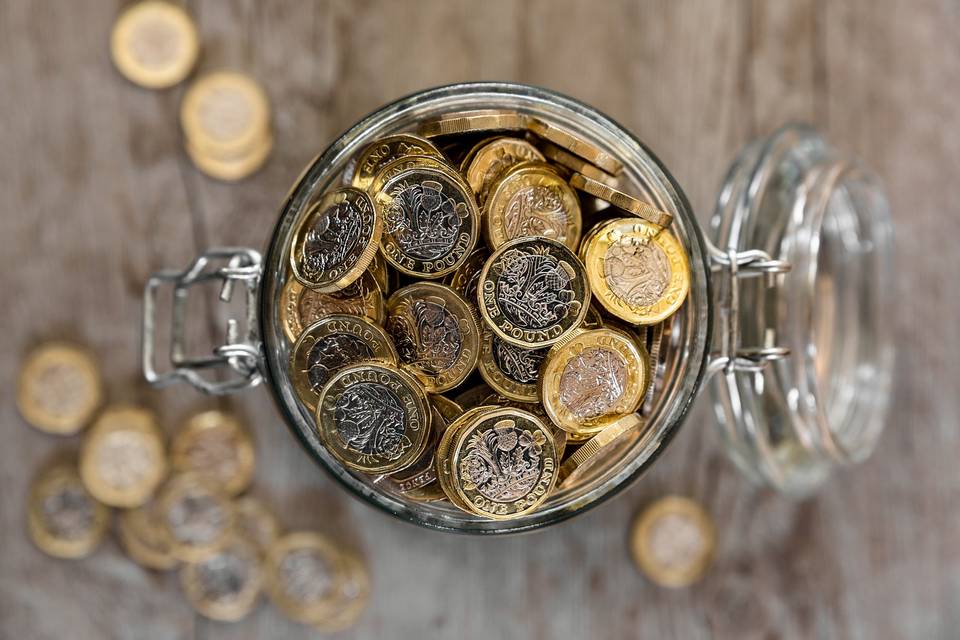 Planning a wedding is expensive. We all know that. But as we've been helping couples plan their weddings for more than 20 years, we've got a few tricks up our sleeve to help your wedding budget stretch further.
These 25 wedding budget hacks will ease the strain and leave you some leftover cash for extra honeymoon treats! More importantly, you won't need to sacrifice any style or your guests' experience.
From taking advantage of cashback sites to tricks for invitations and flowers, you'll save up for your wedding so much faster.
1. Track Your Budget
It sounds too simple, doesn't it? But actually it's often overlooked because of how simple it is. First, you'll need to come up with a realistic wedding budget – you can read our seven step process of how to do that here – and then you'll need to make sure you're sticking to it. The simplest way to do that is to input everything into a spreadsheet, and we mean everything. Even those few packs of £2 hair clips for your bridesmaids will add up.
Make a spreadsheet on Google Sheets that both you and your partner can edit. Set up at tab for each of your major spends, e.g. venue, catering, décor, entertainment, outfits, flowers, with one column for what you've allocated for it, and another with every one of your spends so far. You can use the AutoSum function to add up your spending as you go along – simple!
2. Skip Summer Saturdays
Image: Holkham Hall by Andy Davison
Saturdays are the most sought-after days to marry, which means venues can charge a premium. If you really want to save a significant amount of your budget, choose an alternative day of the week. Fridays and Sundays will have a slight reduction, but Monday to Thursday venue hire is normally a fraction of the Saturday cost. Throw in marrying in the off-season (usually from October to March) and you can get a real bargain. We investigated just how much you could save and found it's over £10,000!
A weekday might be awkward for some, but as long as your nearest and dearest can make it, the saving might be worth it.
READ MORE: 23 Things to Give Up Now to Save for the Big Day
3. Be Savvy with Your Banking
You're spending the money anyway so why not make a profit from it! There's a few simple ways to do this:
Sign up to a cashback website and get money back for purchases you're already making! Some of the most popular are TopCashback and Quidco
Set up a new bank account to put your wedding savings into and choose one with a great perk, like a voucher, free cash or free insurance
Put venue/supplier deposits on a 0% interest credit card (as long as you can afford to pay it back in full) and you'll be able to spread the costs while you save up. Credit cards are also protected on purchases between £100 and £30,000 so you know your money is safe is the company goes bust
Find out if your job is part of a work perks scheme. Many will have discounts arranged with big brands, so you could save money on everything from your monthly phone bill (every penny helps) to money off your honeymoon or bridesmaid dresses
If it's time to renew with your TV/energy/gas/phone provider, head to a switching service and see what benefits you could get for moving company – again it could be free cash or a voucher
4. Beg, Borrow and Steal
Don't actually steal though. That's a crime and we don't endorse it. But borrowing is a key way to keep your budget under control.
If you have friends that have already got married, they'll probably have a heap of décor – or even a veil or tiara – they'd be happy to lend you or sell on the cheap. You'll need something borrowed for your wedding anyway so try and borrow where you can to keep costs down.
5. Consider Pre-Loved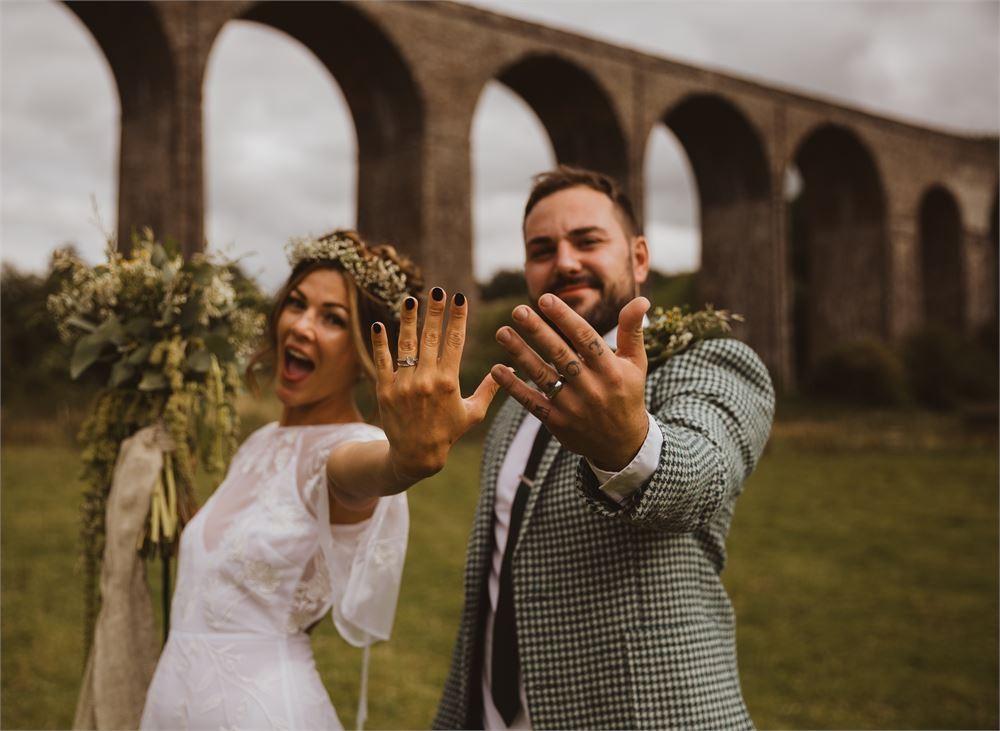 Image: Courtney Marie Photography
Why not consider shopping for a pre-loved wedding dress? Head to sites like Stillwhite, Bridal Reloved or Preloved; visit Brides Do Good's new London boutique or see what gems have come up on Oxfam's wedding dress page.
You could snap up your dream dress for a fraction of the cost and you'll know it was only worn once, for about 12 hours. It makes sense if you're on a tight budget, or you've fallen for a gown that costs more than your venue hire and catering put together.
For gents, hiring suits is a fantastic option. Prefer to buy? The high street has lots of great choices, like M&S, River Island, Zara Man, Topman and ASOS.
READ MORE: Hidden Wedding Costs You Need to Know About
6. Call in Favours
Does your aunt make awesome cakes? Got a friend with a fancy car? Don't be afraid to ask Auntie Jane if she wouldn't mind making your wedding cake in place of a gift, or Lee with the sweet wheels if he'll drive you to the ceremony. Just tell them it's OK to say no if they don't feel they can do it.
The key roles you can call in favours for are: chauffeur, cake maker, florist, DJ/entertainment and master of ceremonies.
7. Be Economic with your Stationery
Wedding invitations and stationery are not only pricey, but all that paper isn't great for the environment. Here's how to save:
Splurge on the front of the invitation, but keep everything inside simple and plain – it's a big money saver if you're inviting 100 people
Swap envelope liners for a colourful envelope. They'll look great and can tease your colour scheme
Send save the dates or RSVPs on specially printed postcards: less envelopes, less paper, less stamps, less money!
Opt for a wedding website that has all the details on and where guests can email you RSVPs, rather than have pages of inserts in your invite
Skip individual menu cards and put one on each table (jazz it up in a nice frame if you want to)
Order all your stationery together, from invites to orders of service, and you'll save on the postage
8. Use the Same Ceremony and Reception Venue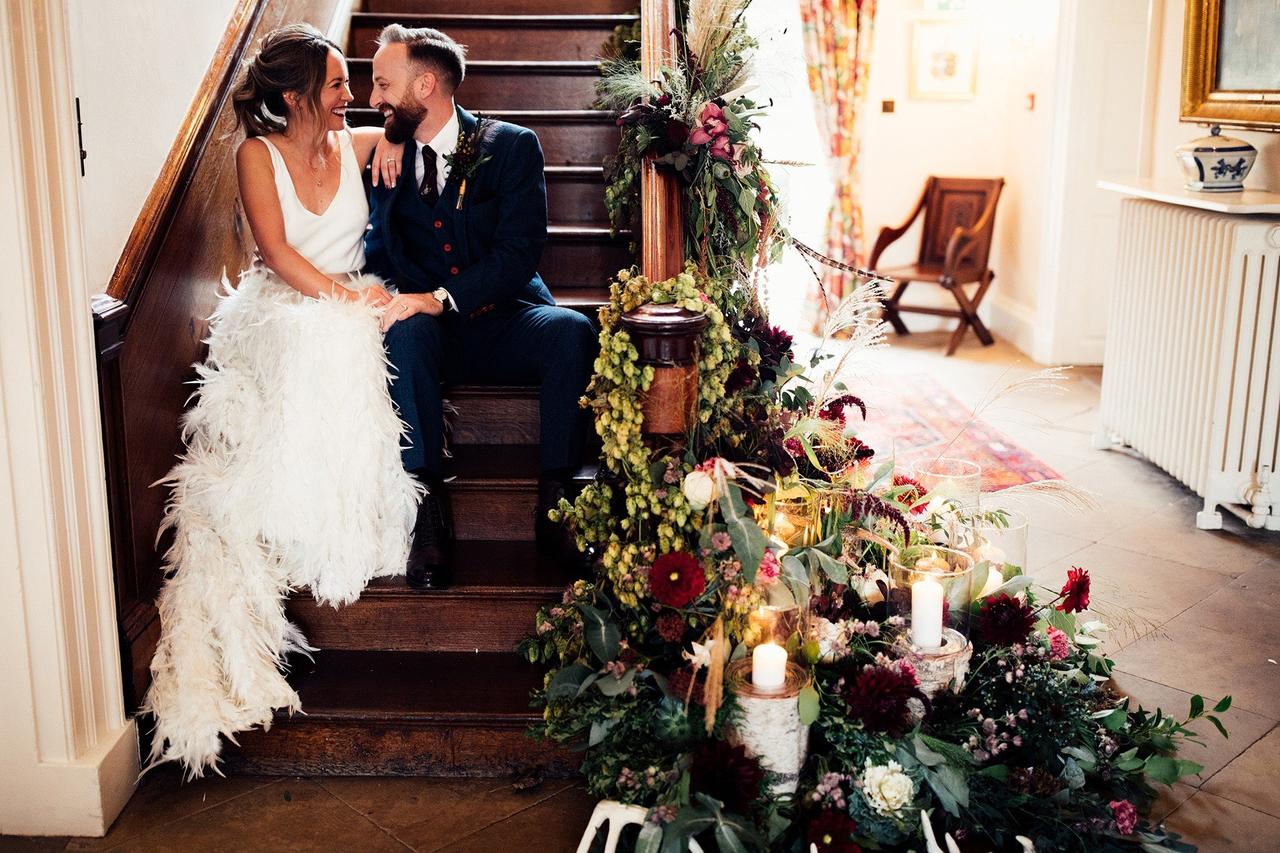 Image: Harry Michael Photography
Another simple one, but it'll save you on transport and décor costs. Flowers can be moved from the ceremony room to decorate the reception area during your cocktail hour, saving you on floristry costs, and you might avoid two venue hire fees. Guests won't need to move from one place to another, meaning you don't need to organise group transport and less of them will get lost (it happens!).
Bonus: choose a venue that doesn't need much decor. Courtyards, gardens, restored barns and stately homes filled with old portraits and antiques don't need much to make them look spectacular. In December, most venues will be decorated for Christmas too.
9. Don't Ask, Don't Get
There's no harm in getting lots of different quotes from everything from a DJ to hairdresser. These can then be useful for negotiating if there's one you really like – and remember negotiating isn't always about getting money off, it could be getting an extra hour of the DJ's time or simple hair styling for your bridesmaids thrown in for free. We've got a full guide to negotiating with venues and suppliers here. The worst the supplier can say is no, and if it's yes, fantastic! Take a deep breath and be bold.
READ MORE: 17 IKEA Wedding Decor Hacks
10. Avoid Preferred Suppliers
Plenty of venues are happy for you to bring in your own caterer, DJ, photographer, bartender, etc. It might mean sacrificing a venue you love, and will definitely require a bit more legwork to find quotes and book, but it could save you several thousand pounds to bring in your own suppliers rather than use the venue's preferred suppliers.
11. Become a DIY Guru
The more you can DIY, the lower your costs will be. Just don't go overboard and bite off more than you can chew. Pick things you're good at – like sewing wedding bunting or simple bits of calligraphy – and have fun.  You could even sell on your efforts after and recoup some costs.
We have tutorials for DIY wedding makeup, confetti cones, a guide to making your own wedding bouquet, DIY wedding favours, tips on how to make a flower crown and even framing your bouquet after the wedding. How creative are you feeling?
12. What Do You Really Need?
Image: Pinterest
Remember this mantra: I don't need everything I've seen on Pinterest.
There's no shame in wanting a nice wedding car, but if that's the case, do you need the DIY cocktail stand, the popcorn bar and the singing waiters? It might all look amazing on a Pinterest board but who really has the money for all those things? Write a list of non-negotiables with your partner and be strict with yourself on the rest.
13. Find a No Corkage Venue
You may have never heard of corkage until you start wedding planning but it's a crucial thing to ask about. If you find a wedding venue with no corkage, you could save yourself a significant amount of money as they won't charge you to bring in your own alcohol and you won't have to use the alcohol the venue provides (and charges for).
You could do a booze cruise to France to stock up; take advantage of supermarket offers on wine and Prosecco; or local breweries will often let you buy barrels. The key is to avoid spirits: wine and beer are the way forward.
READ MORE: How to Plan a Wedding for £5,000
14. Get Creative With Catering
Just because every wedding you've ever been to consisted of a three-course wedding breakfast followed by wedding cake and tea and coffee and then an evening buffet, you don't have to do the same. Consider marrying later in the day and serve a big (less expensive) buffet for the day and evening guests. Think about cheaper meal options too – serve fun food like a BBQ or pizzas from a wood-fired van for the main and give your guests wedding cake for dessert. Skip tea/coffee and petit fours and that's even more money.
We've got a big list of alternative food and drink ideas, from Pieminster pies to big vats of paella. It's delicious and much cheaper than a sit-down do.
15. How Much Do You Like Cake?
Image: Pinterest
We love a good wedding cake, but if you're not fussed then that's money you don't need to spend. We're not saying get rid of the sweet element entirely (we're not monsters!) but think outside the box. A wedding cake alternative can save you lots of money and will really amaze your guests. We love the idea of a tower of doughnuts in place of a wedding cake, or a stack of brownies which can be served up with vanilla ice cream. How about an American-style cookie bar with jugs of ice cold milk?
If you're set on a cake, don't dismiss the supermarket. Waitrose and M&S have wonderful wedding cake options for a fraction of the cost of a cake maker. You can embellish with fresh flowers, fruit or truffles if you want to change the look. Truthfully, you just need the one layer to cut for the photos and you can get your venue to cut up cheaper sheet cakes to lay out for guests.
READ MORE: The Best Decor for £10 or Less
16. Ditch the Favours
Let's have a show of hands: how many favours from weddings you've attended do you have in your home right now? How many did you forget to pick up? Thought so. Chances are, if it can't be scoffed immediately (or downed in one), it'll be forgotten as your guests focus on chatting, eating and then partying. So skip the wedding favours – no one will notice.
If you're a stickler for etiquette, don't miss our round up of the best wedding favours for £1 or less – they're actually nice too.
17. Make Your Own Entertainment
A wedding DJ or band is great to get everyone on the dance floor, but if you consider yourself a music maestro, you could do it yourself. If you have a big library of music, you can make a wedding party playlist – although bear in mind, this will be about five hours' worth of music!
Got a local university? Ask around for student DJs, saxophonists, jazz bands or string quartets that might be happy to play for a smaller fee. You can even find other entertainment, like a (good) amateur magician to caricaturists for your cocktail hour.
18. Rent a House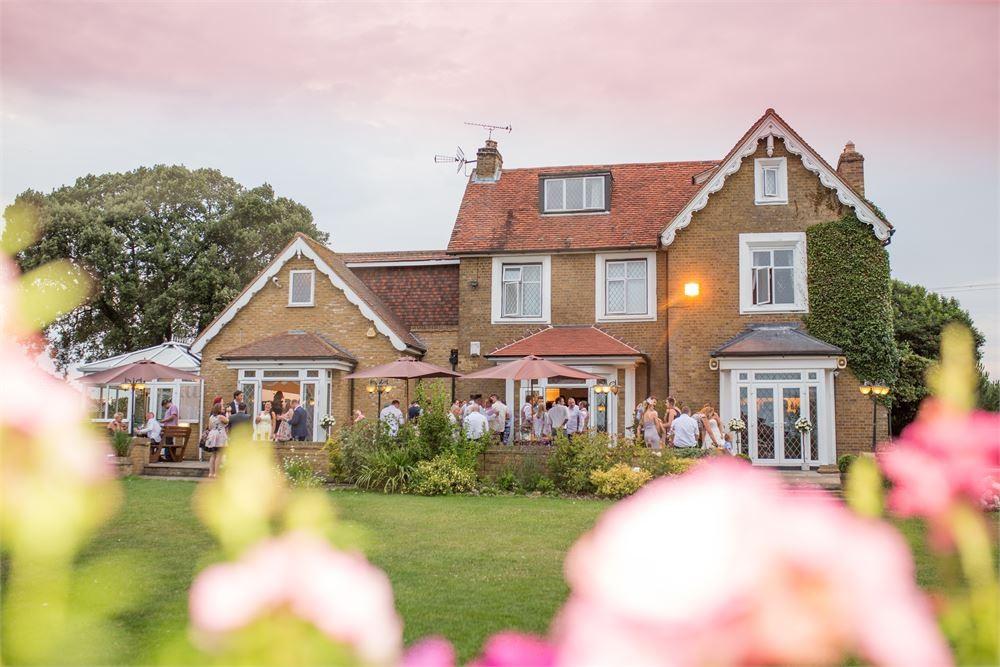 Image: The Old Rectory
Not fussed about a traditional wedding? How about renting a house for a weekend and throwing your wedding there? It will save you on accommodation costs and you'll be able to bring in your own caterer. A celebrant will be happy to come and perform your ceremony, and you'll have no issue with timings or venue restrictions.
19. Be Frugal with Your Wedding Party
Bridesmaids and groomsmen are a wonderful part of the wedding and we'd be loathe to tell you not to have them (even if it will drastically cut down on costs of suits, dresses, hair, makeup and thank you gifts…). Instead, ask your friends if they'd be happy to contribute by buying their own dress/suit and doing their own hair and makeup. If anyone doesn't have the money to be part, give them a special role to show they still mean a lot to you – like a reading or one of the witnesses to sign the register.
READ MORE: Does a DIY Wedding Actually Save You Money?
20. Insure Yourself
While getting wedding insurance is an outlay at the start, it's a super smart move. You'll be covered in case of an accident and won't lose your deposit if you need to change the date of your wedding. In the unlikely event a supplier or dress boutique goes into administration, you'll be protected. It's better to be safe.
21. Opt for Seasonal and Local Flowers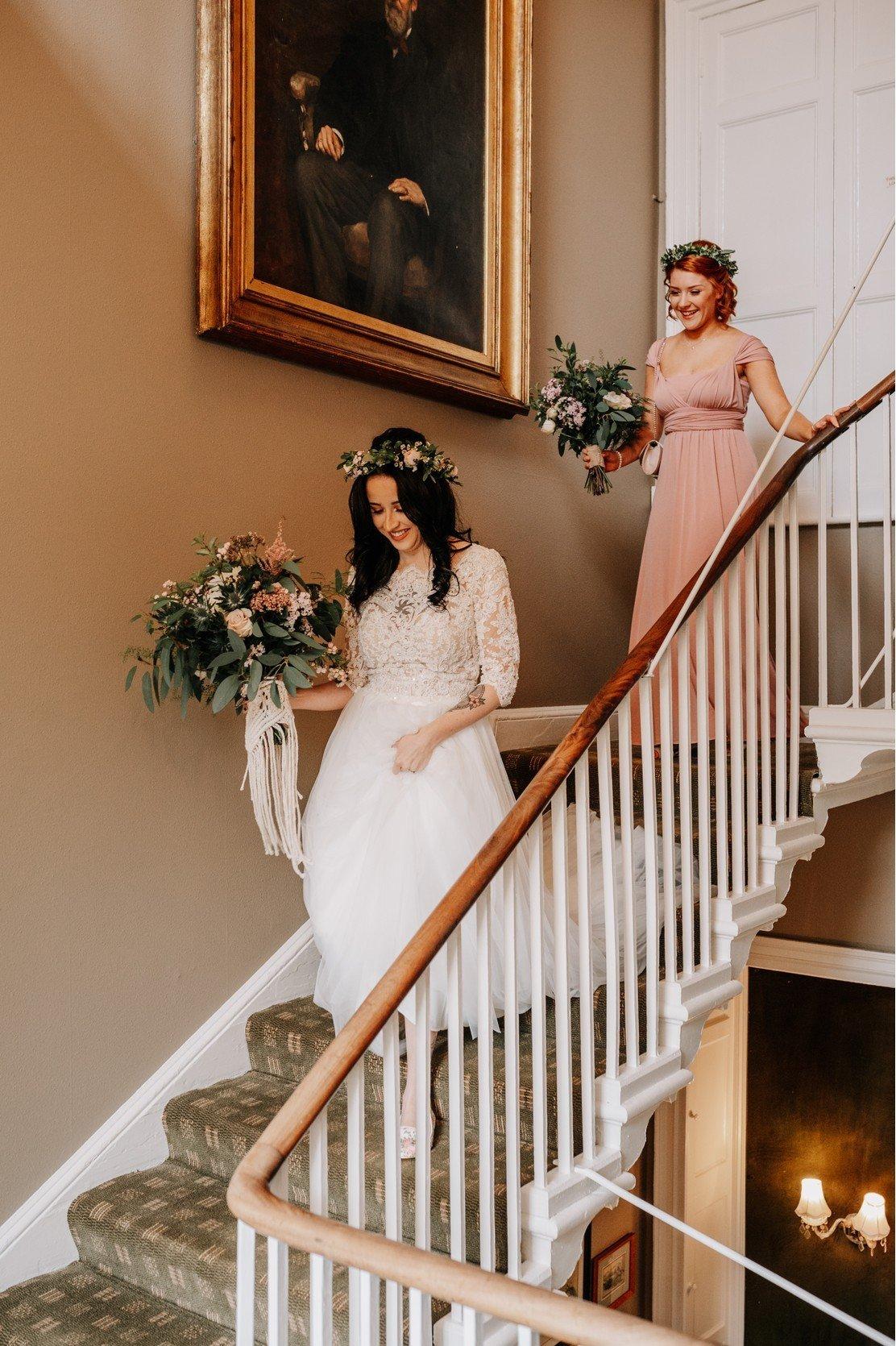 Image: Birches and Pine
Flowers can transform even the barest of venues, but you don't have to spend a huge chunk of your budget if you're smart with your choices.
If you have your heart set on wedding flowers, check out our seasonal guide to wedding flowers. If your flowers of choice are in season and not flown in from abroad, they'll be much cheaper
Reuse your flowers from your ceremony room as centrepieces, on your card table or on the bar, and place bridesmaids bouquets in vases and dot them around. Remember you can replace flowers down the aisle with alternative décor like lanterns with candles, balloons and pampas grass that can also be recycled in the reception venue – it adds romance and lowers flower costs
Ask your florist to suggest cheaper versions of flowers you love e.g. garden roses are great dupes for peonies and much more affordable. Stick with bouquets and arrangements made up of one type of flower and you'll save even more as the florist can buy in bulk
Use more foliage in your arrangements; it's beautiful and inexpensive, plus it adds volume. Similarly, cheap fruit like apples and pears as a centrepiece arrangement is great for autumn, while lemons work amazingly for summer
Head to a supermarket or flower market on the morning of your wedding and pick up bunches of cheap blooms, like gypsophila or daffodils, to DIY your centrepieces
Artificial flowers look just as good as real ones these days and there's no chance of allergies. You can hire items like flower arches and table runners from companies like Blooming Essentials or buy an artificial bouquet
Go for potted plants as centrepieces and around the room. They're more environmentally friendly and can be given away as gifts to friends and family after the day
Bridesmaids don't need to carry a full bouquet. It looks very modern and chic (as well as being cheaper) for them to carry a single stem of an orchid or calla lily
Alternative buttonholes can be found cheaply on Etsy and save you splashing out on flowers for the groomsmen. Tip: pocket squares are just as good!
Go for several statement floral displays to create impact. Your florist can use cheaper filler flowers in these and you only need a few large, standout blooms for dimension, colour and texture. Set them in areas where guests will mingle and take photos
READ MORE: How to Plan a Wedding for £10,000
22. Switch a Photo Booth for Polaroids
Photo booths normally cost around £500-£700, and you can save that in a snip by DIY'ing your own photo booth. Buy a Polaroid camera, lots of film, set up a backdrop and make some props: we have a complete how-to here.
23. Make the Most of What's Included
Image: Pinterest
The venue's tablecloths might not be the most inspiring but it can be pretty easy to transform them. Rather than renting nicer linens, buy cheap fabric and use it as a rustic table runner, tied up with twine at the ends
Roll up plain napkins and top them with a sprig of rosemary or a wildflower to instantly make them more pretty
Fill the venue's free centrepiece vases with lemons, baubles, pine cones, coloured sand, pebbles, acorns, conkers, moss, apples, glass stones, pretty much anything you want that works with the season and top with a few simple flowers
Make a lounge area using furniture from other parts of the venue, then you only need to buy a throw to put over the sofa and chairs than source the furniture yourself
24. Watch Out for Delivery Charges
Delivery charges can add up, so if you're planning to do lots of smaller purchases from one place, it could be worth buying an annual delivery subscription. For example, ASOS' Premier Delivery is £9.95 a year vs £4 for each standard delivery (although free for orders over £30), so if you get your bridesmaid a dress, order shoes, a honeymoon outfit, and bits and bobs for the groomsmen all separately, it could cost.
Amazon Prime is also a fantastic investment. It costs £79 a year – and there's a 30 day free trial – but you can share your free, next-day shipping with up to four family members who live at the same address. This is ideal if someone you know (who's willing to take in your orders, like your parents) has Prime as you can use their free delivery. Prime has lots of other benefits too like free movies and music!
READ MORE: The 45 Best High Street Wedding Dresses
25. Cut the Guest List
We left this one for the end because it's a real toughie for people to do. However, you can't argue with the fact that the lower the headcount, the lower the costs. Your venue, food and drink will take up about 50% of your budget, so you slash this cost – and perhaps choose a smaller venue – if there's less people.
Even if you're now feeling more clued up about your wedding budget, make sure you read about the hidden costs you need to consider when planning a wedding.