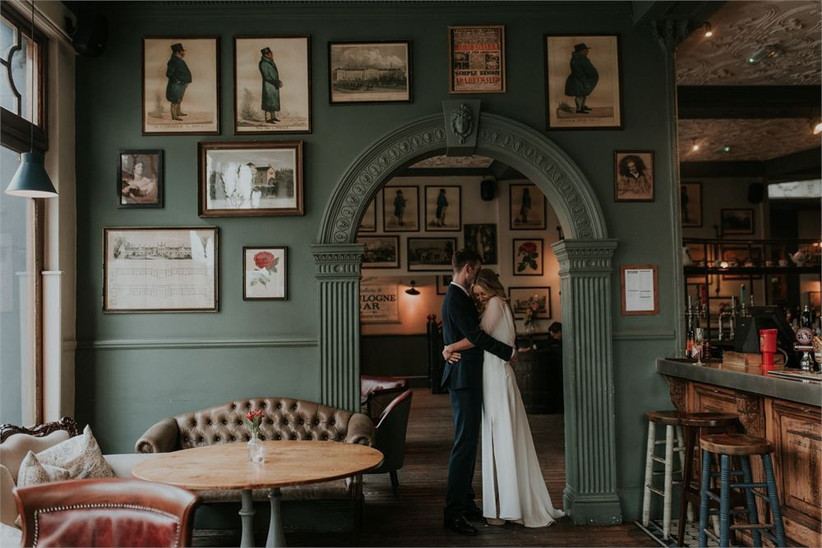 You might think finding a cheap wedding venue in London is almost impossible. After all, it's one of the priciest cities in the world and not exactly known for big bargains.
But don't give up too fast, there are actually plenty of excellent value spots in London to host your big day – if you know where to look! From pubs and restaurants to some of the capital's most iconic venues, you can definitely find somewhere you love that won't break the bank.
Read on to check out our round-up featuring 19 of our favourite cheap wedding venues in London – we think you'll be pleasantly surprised at how far your budget will stretch in the city!
1. Trafalgar Tavern – Greenwich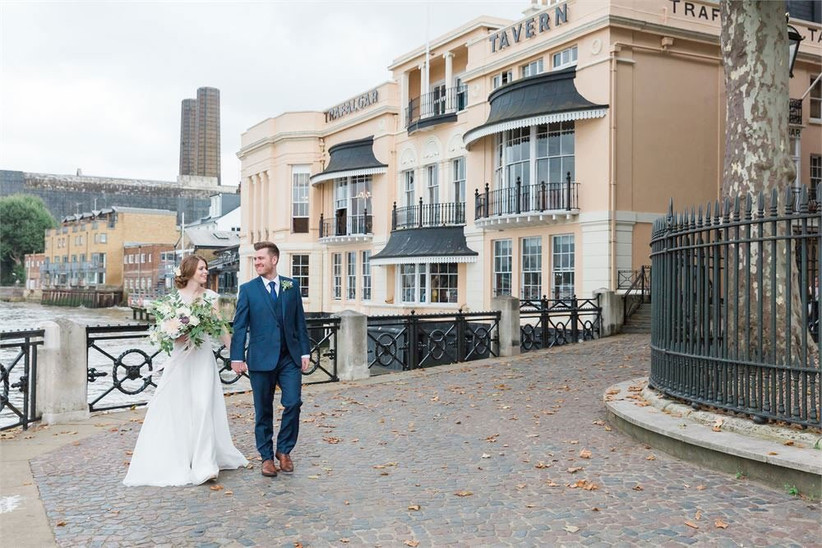 A former haunt of Charles Dickens, this historic tavern has heaps of character and charm, not to mention understated elegance. Beautiful balconies and bay windows look out over the Thames, guaranteeing gorgeous wedding photos, while inside their newly-refurbished rooms are full of Regency grandeur.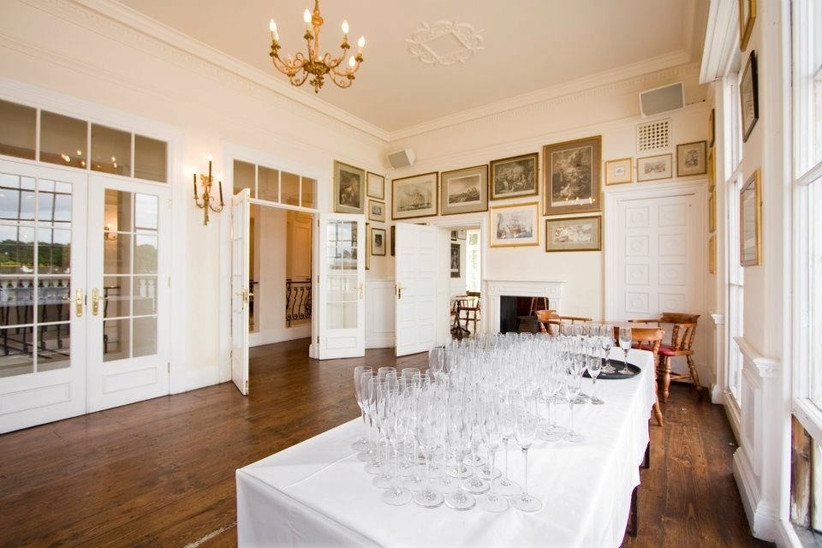 The Trafalgar Tavern is an affordable wedding venue anyway, but they offer an amazing Twilight Package that is £3,795 for 50 guests with a buffet or hog roast included in a private room from 7pm until midnight.
READ MORE: The Best Wedding Venue Deals
2. Gatti's – Moorgate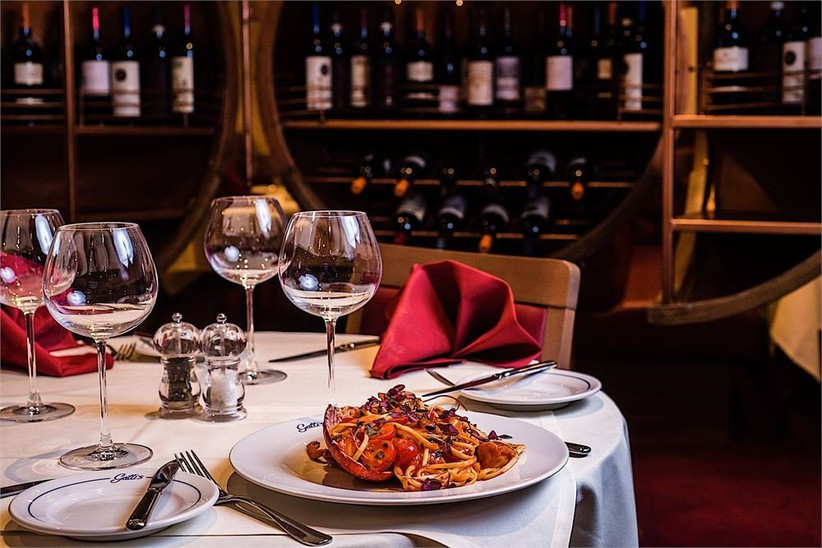 Calling all foodie couples! If marking your marriage with some of the best food and drink in town is a top priority, you're going to want to check out Gatti's. Offering fantastic deals on wedding breakfasts as well as an unbeatable selection of wines and Champagnes, this venue is sure to impress even the fussiest gastronomic connoisseurs among your party.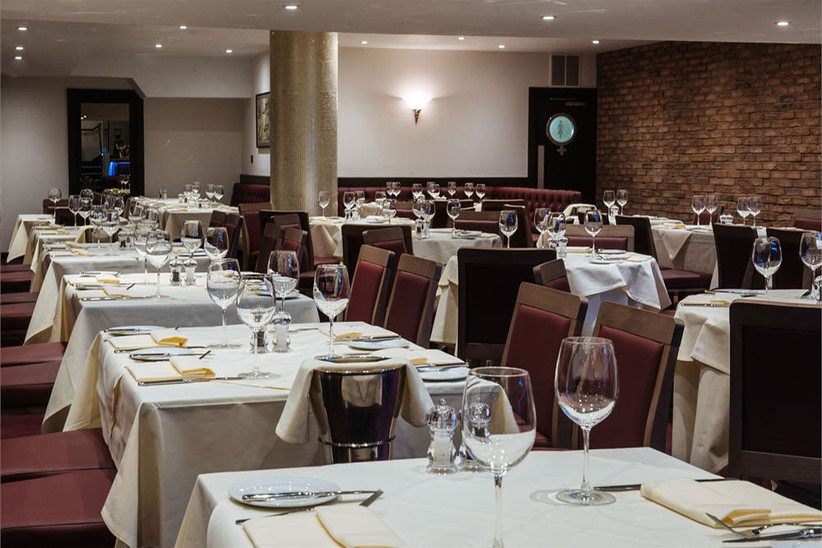 This Italian restaurant in the heart of London is offering their standard four-course wedding meal for just £50 per person and their premium offering, which includes seared scallops and and fillet of beef, for £75 per person. Blending traditional Italian cuisine with romantic décor and an elegant bar, you'll step out of the hustle and bustle of London into your own Little Italy.
3. Walthamstow Wetlands – Walthamstow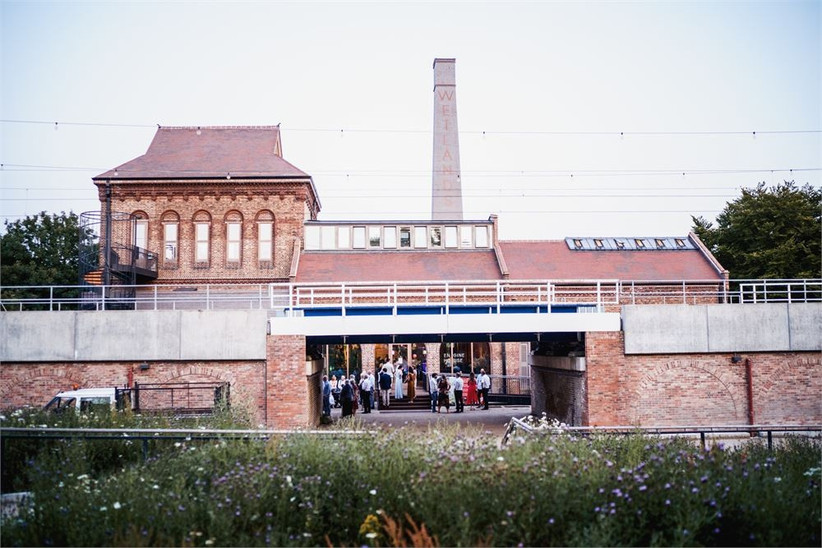 A little oasis nestled in the heart of the big smoke, Walthamstow Wetlands is Europe's largest urban wetland nature reserve. Combining the popular industrial style with a fascinating natural landscape and the convenience of being located just 15 minutes from central London, this is a truly unique wedding venue.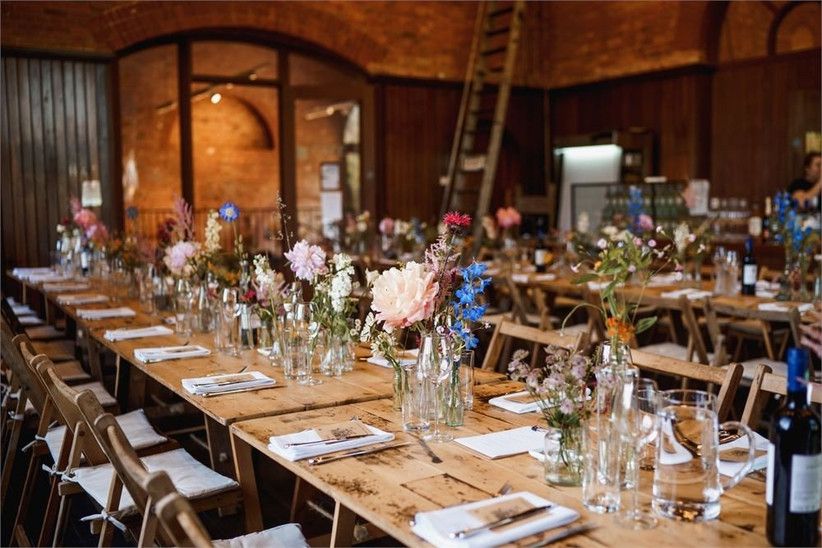 Walthamstow Wetlands offers two event spaces to couples; The Engine House, with capacity for 250 reception guests and a hire cost of £3500, and The Turbine Room, with a sit-down capacity of 70 and a standing capacity of 120 and a cost of just £390 – bargain!
READ MORE: 17 of the Best Wedding Venues in London
4. Regent's College – Regent's Park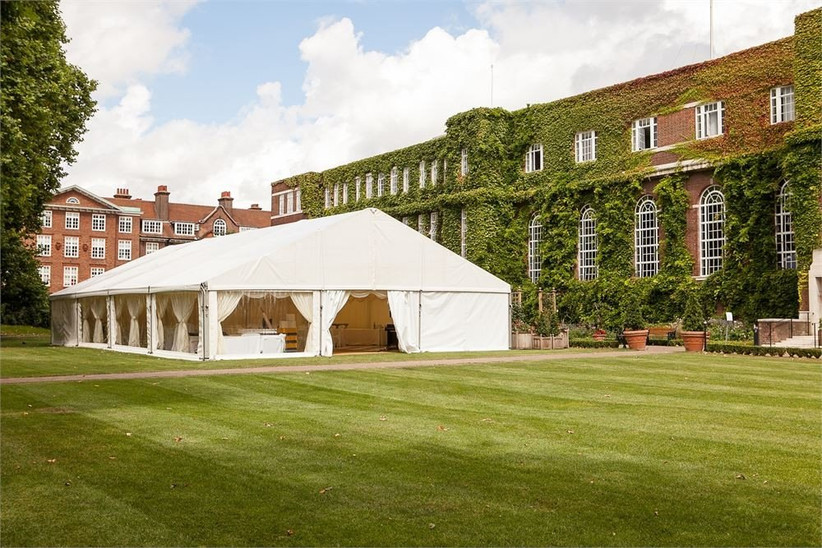 Set in the heart of one of London's most beautiful parks, the stunning Regent's College feels a million miles away from the city around it. The formal gardens and beautiful lakes make the perfect backdrop to your wedding photos; the lawns are ideal for a summer drinks reception; and there's even a secret garden for a secluded shoot of the happy couple!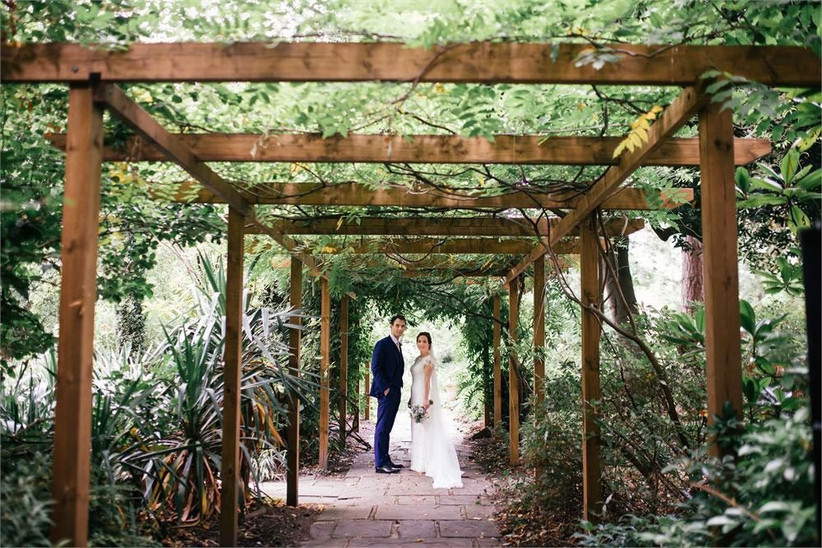 The college can host everything from a lavish marquee reception for up to 500 guests to an intimate dinner for as little as 30 guests. Their packages start at £130 per person and include a two-course hot or cold fork buffet, hire of one of their indoor spaces and sound equipment set-up.
5. Queen Mary University London – Mile End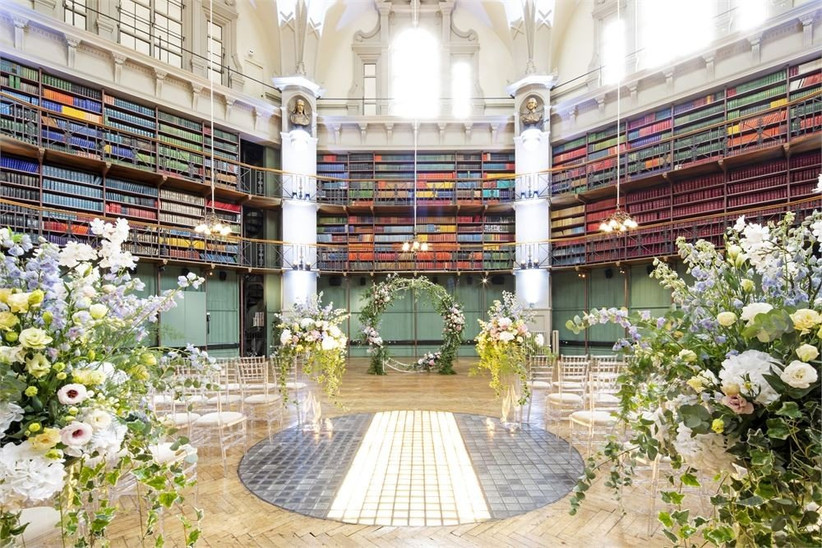 With a library to rival the one featured in Beauty and the Beast, the book lovers among you will let out a little squeal of joy as soon as you set foot in this hidden gem! You can marry in the impressive Octagon at Queen Mary's University, where colourful books line the walls and a beautiful domed ceiling sits above you.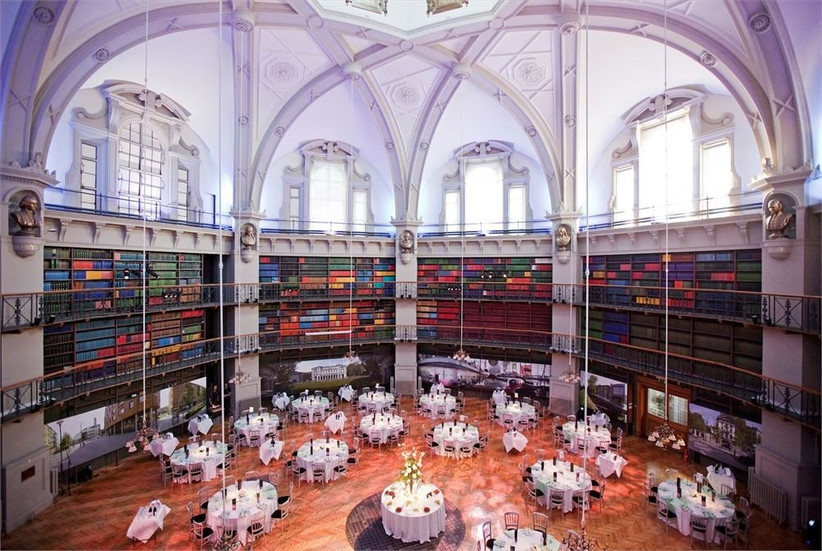 It's a unique venue for your ceremony and reception and their reception packages start at £90 per person for a minimum of 100 guests and includes wine, toast drinks and a two-course fork buffet – pretty reasonable for the area and venue size, if you ask us.
READ MORE: 15 of the Best Small Wedding Venues in London
6. London Rowing Club – Putney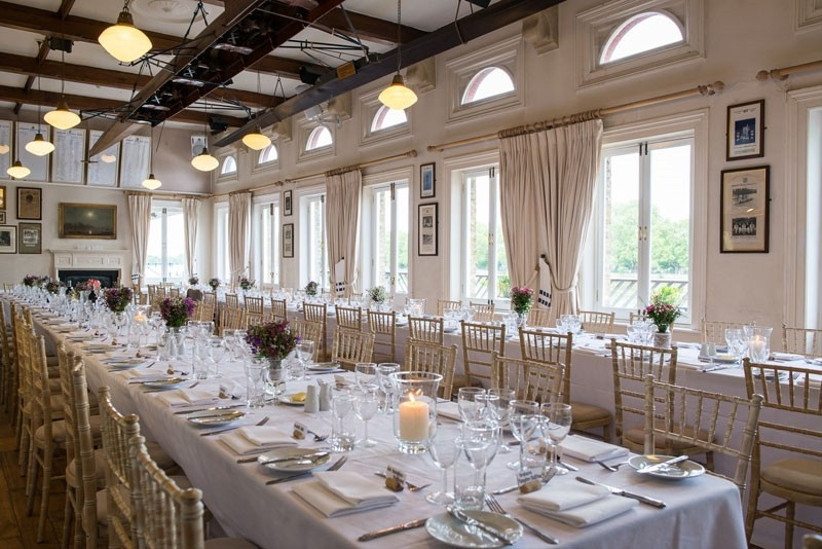 Set on Putney Embankment, this famous rowing club has space for up to 100 seated guests in the Long Room or 250 evening guests across the entire venue. A 20-metre long balcony gives you panoramic views over the river Thames, while the walls are adorned with interesting rowing memorabilia and pictures – a fascinating backdrop for your wedding snaps!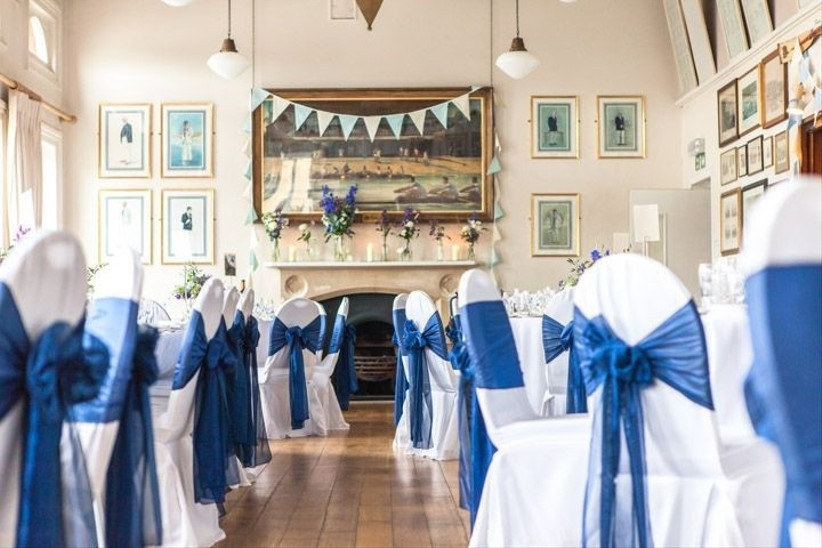 Full of character and offering a warm, homely vibe, London Rowing Club allows you to choose everything from a finger buffet to banquet style feasting to fit your budget. Plus, there's no minimum spend at the bar!
7. The Bull and Gate – Kentish Town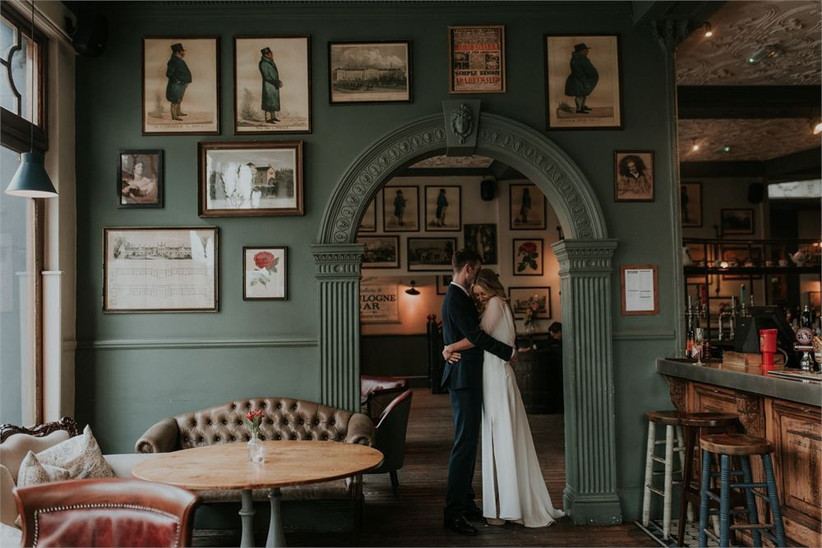 Located in one of London's most dynamic areas, this quirky and stylish pub wedding venue has two beautiful spaces to host your wedding. The dining room will fit 80 seated guests, while the opulent Boulogne bar can fit 35 seated and 60 standing.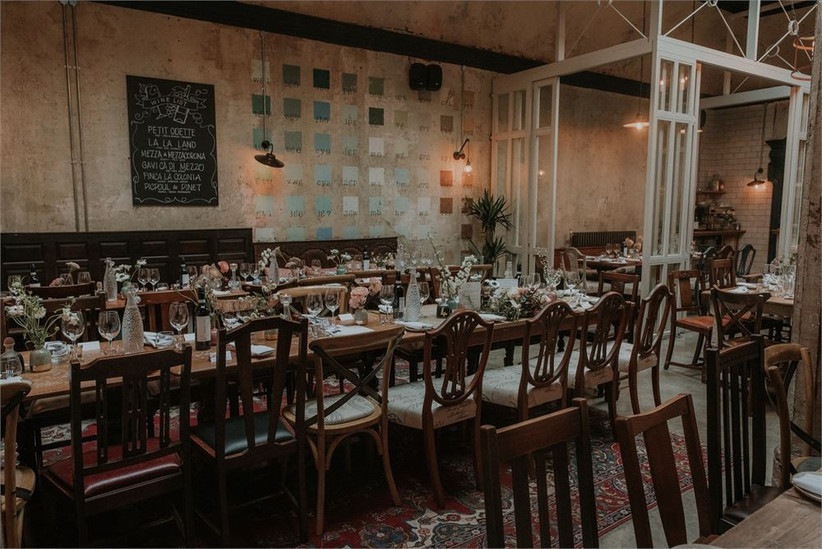 With venue hire starting from £50 for the bar and £500 for the dining room, their packages begin at just £83 per person for a delicious menu including king scallops, braised Dorset lamb shoulder, and sticky toffee pudding.
READ MORE: The Most Unusual Wedding Venues in London
8. Bromley Court Hotel – Bromley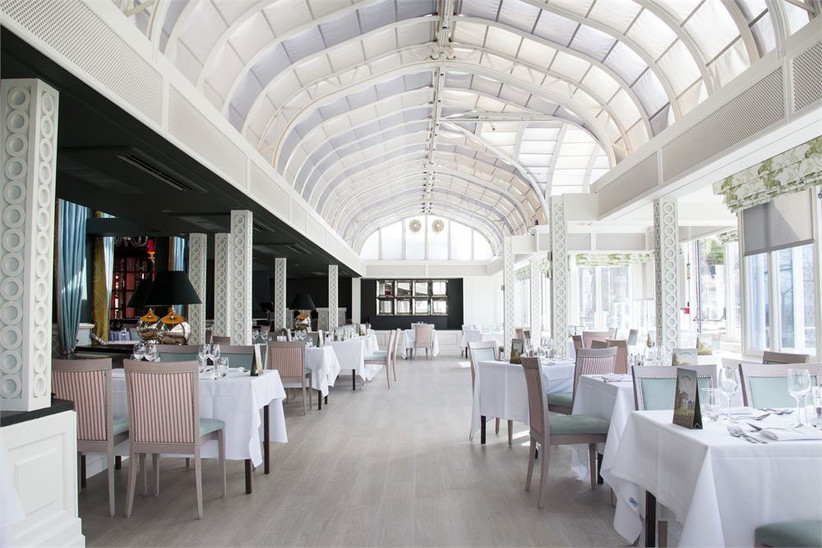 Sitting in two acres of landscaped gardens in south east London is Bromley Court Hotel, the ideal wedding venue for couples looking for a peaceful setting with the convenience of the city. With 117 bedrooms, it's an excellent choice if you have guests coming from further afield who need to stay over.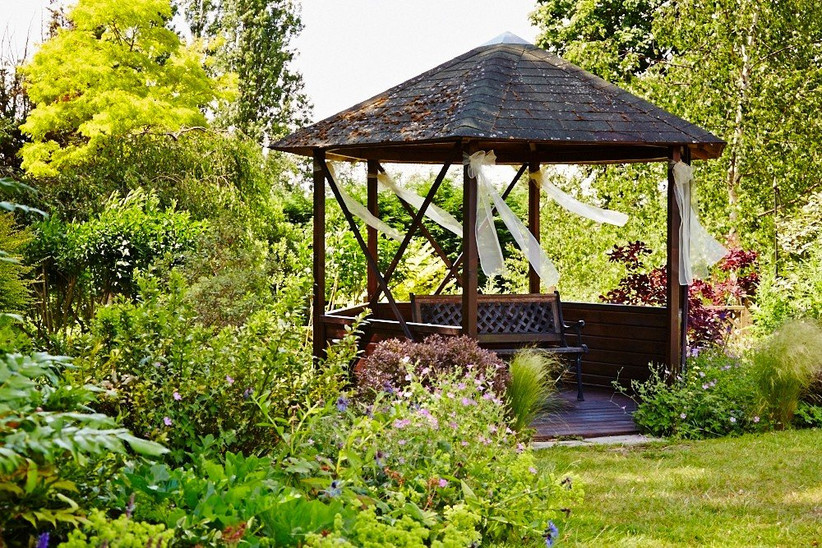 The venue's packages start at £99 per person and this includes venue hire, a three-course wedding breakfast, wine and sparkling wine for the toast, an evening buffet, accommodation for the bride and groom and even floral arrangements for the tables!
9. Asylum Chapel – Southwark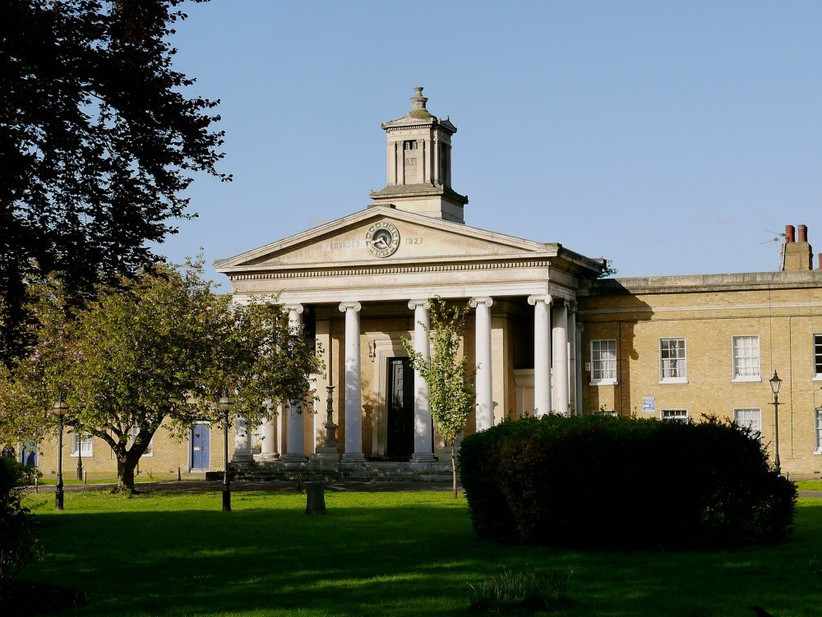 The grade II listed Asylum Chapel is a spectacular venue for civil marriage and partnership ceremonies for up to 120 guests. The unfinished walls and exposed brickwork give the venue a hauntingly romantic feel that will appeal to couples dreaming of an atmospheric, candlelit ceremony.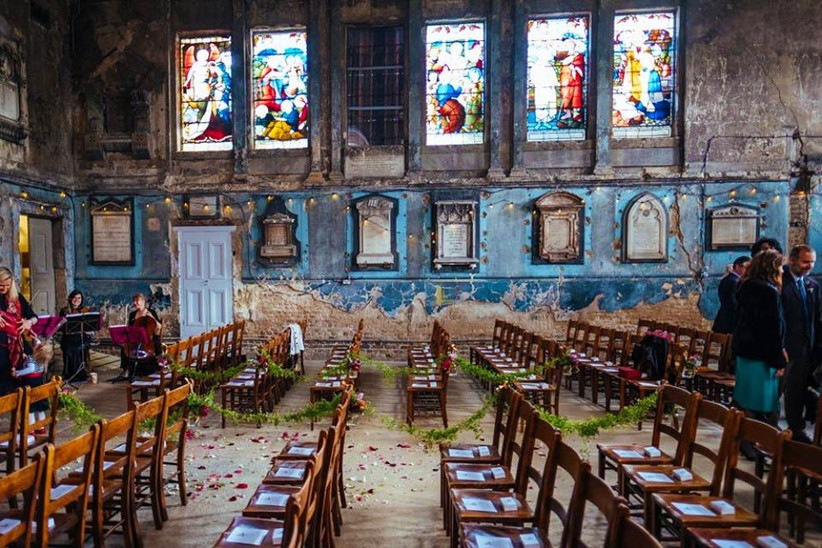 Couples can also enjoy post-ceremony drinks and canapés here and the team at Asylum Chapel are more than happy to recommend nearby reception venues with similar vibes. The venue also offers a list of recommended suppliers including florists, photographers, musicians and caterers. Hire prices start at £1,400 for a weekday wedding and include tables, chairs and candles.
READ MORE: The Coolest East London Wedding Venues
10. The Grange – Ealing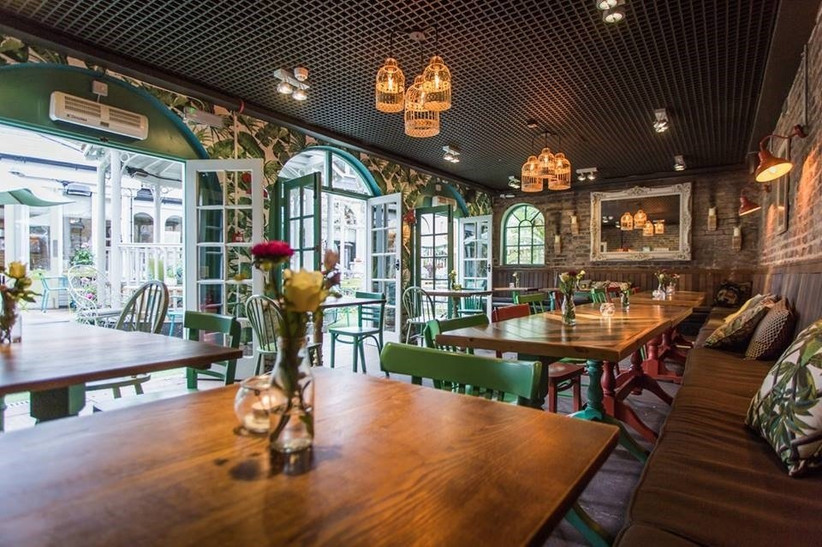 This vibrant gastropub features quirky décor and a best of British menu your guests will love. There's lots of beautiful space across the pub that work for every season. For a winter wedding use the Reading Room with crisp views across Ealing Common. In warmer months, use The Summer House – perfect for intimate weddings with its exposed brick walls and quirky palms.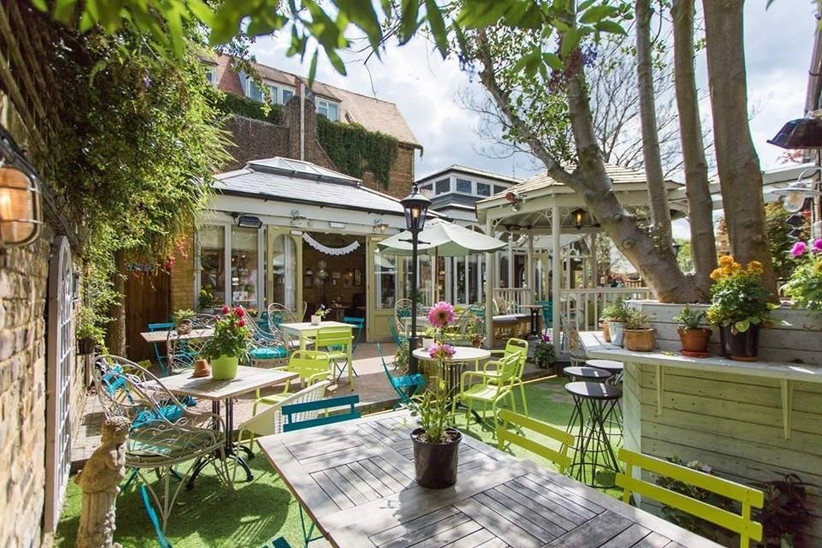 You're also welcome to use the the Conservatory and Garden at The Grange, meaning you can accommodate up to 120 guests. Exclusive venue hire starts from £250, with two-course menus from just £21 per person – total bargain!
11. Lovekyn Chapel – Kingston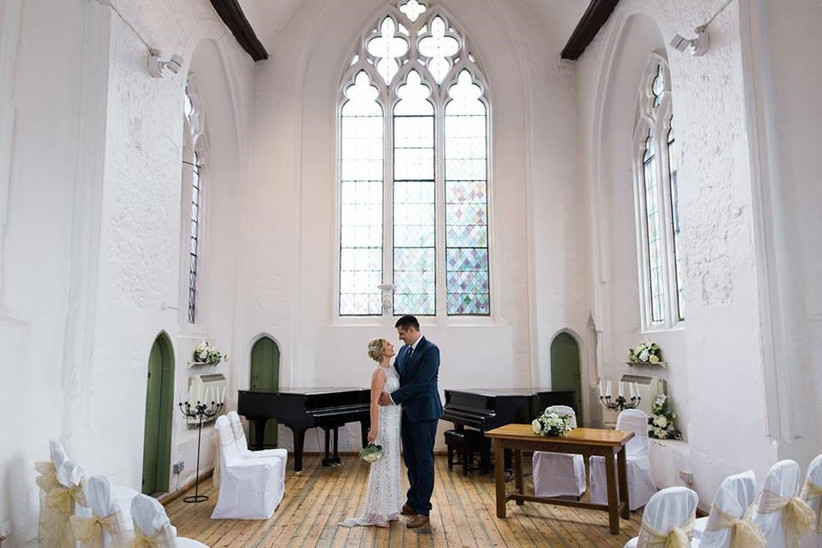 If you're looking for a truly cheap wedding venue just a stone's throw from London, Lovekyn Chapel in the heart of Kingston is perfect. This intimate medieval chapel is licensed for non-religious civil ceremonies for up to 60 guests. Featuring a grand piano, wonderful acoustics, stained glass windows, free silk flower decorations and a courtyard garden to serve drinks, it's got so many wonderful features.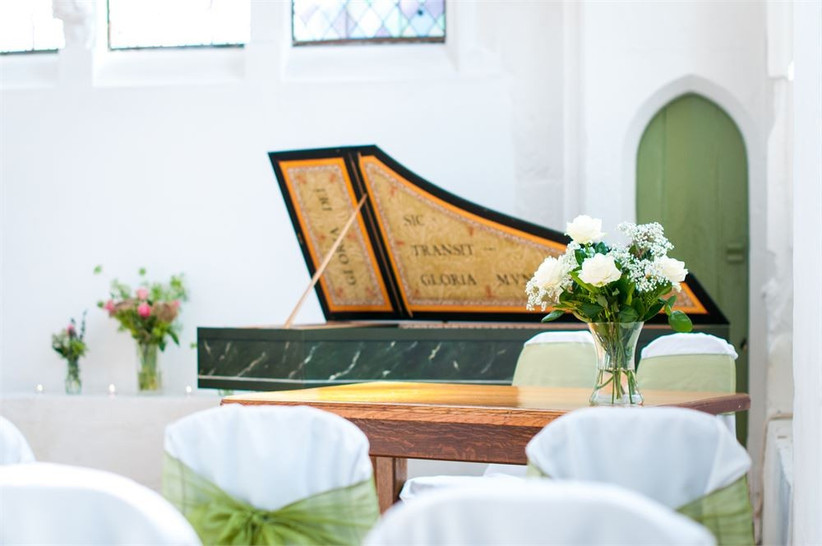 This isn't a reception venue, but hire for the ceremony and an hour's champagne reception afterwards is only £480 for 62 people – an absolute bargain! Plus, you'll be near to lots of nice pubs and restaurants in Kingston to continue the celebrations.
READ MORE: These Are Officially the UK's Best Wedding Venues
12. The Deck at the National Theatre – South Bank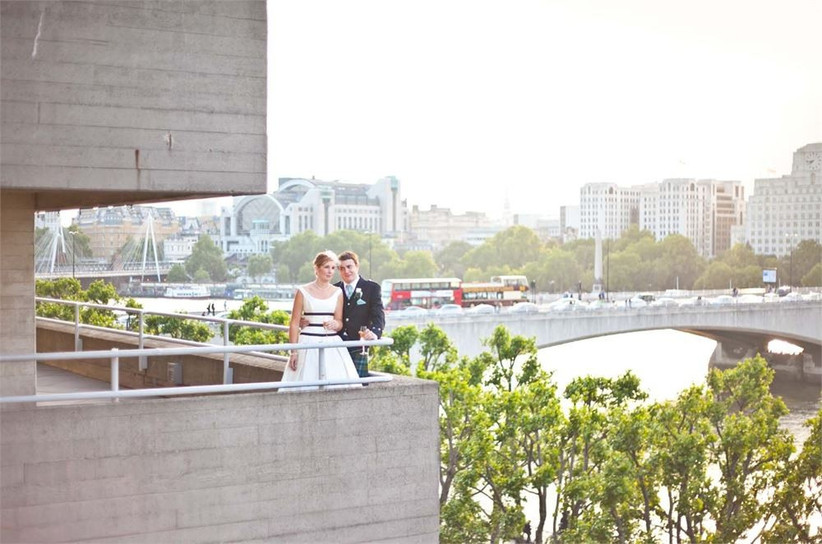 You might think the iconic venue of the National Theatre will be far beyond your budget, but think again. The newly-refurbished Deck is found on the roof, offering panoramic views over London from its riverside outdoor terrace and inside the event space.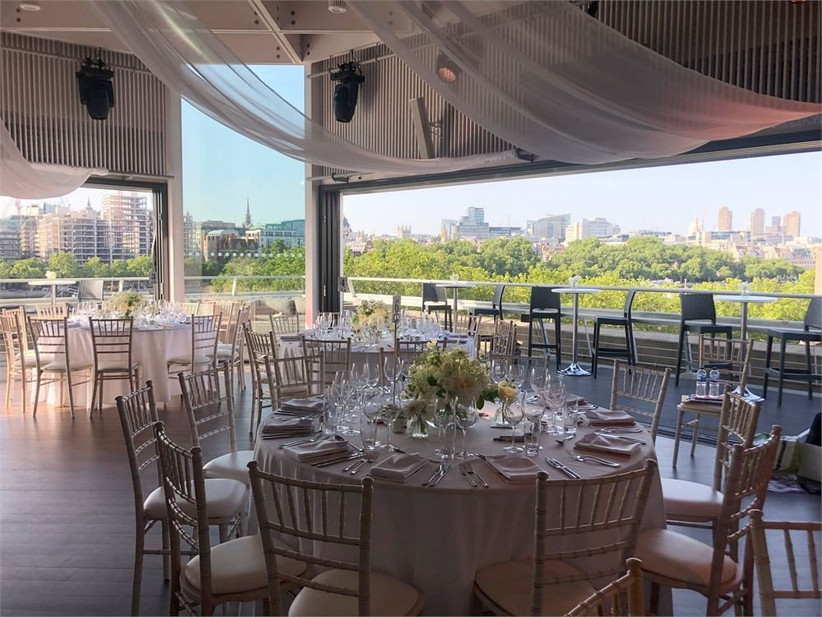 The Deck can host up to 200 guests standing and is perfect for an al fresco summer wedding. Venue hire starts from just £3,000 which is much more affordable than you might expect from such an iconic city centre wedding venue.
13. Linden House – Hammersmith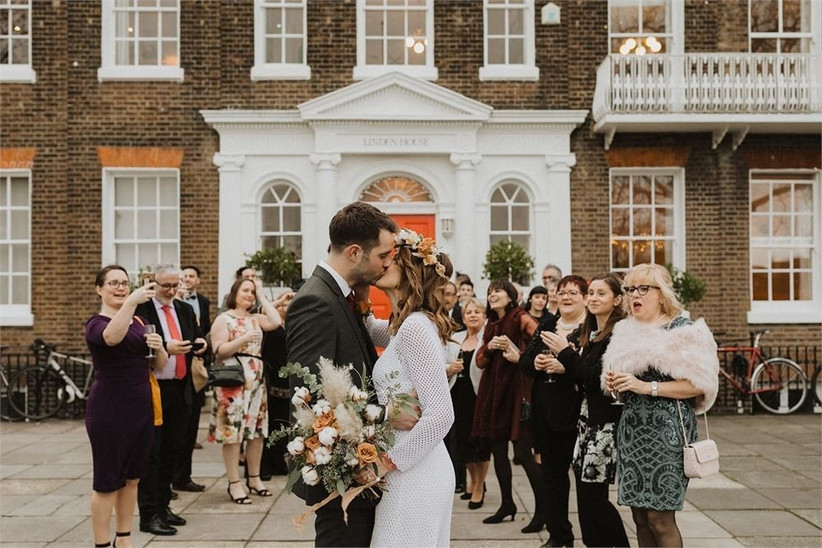 This Grade II-listed Georgian townhouse stands on the banks of the River Thames. With dramatic river views, a beautiful facade and rooms full of charm, this is a wedding photographer's dream – and pretty perfect for the couple too!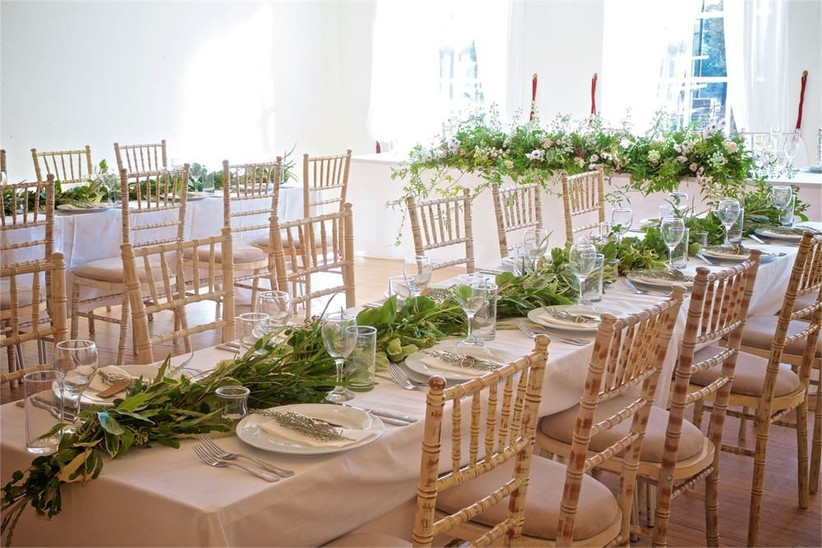 Linden House have their own excellent caterers able to whip up everything from three-course banquets from £55 a person to an afternoon tea spread, but you can bring in your own fave suppliers for an extra cost.
READ MORE: The Best Pub Wedding Venues
14. Kachette – Shoreditch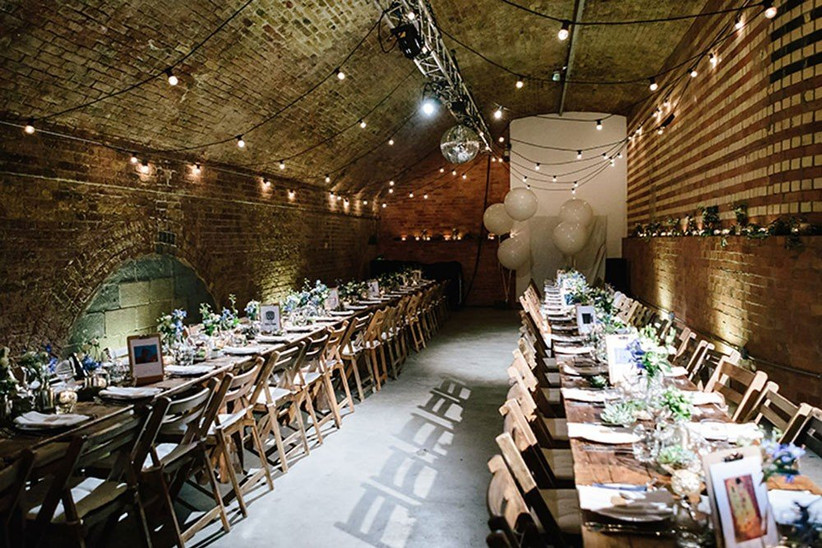 Shoreditch is one of the trendiest parts of London and Kachette lives up to the hype. Housed in the former ticket hall of the old Shoreditch railway station, this warehouse-chic event space features exposed brickwork, polished concrete floors and exposed rigging.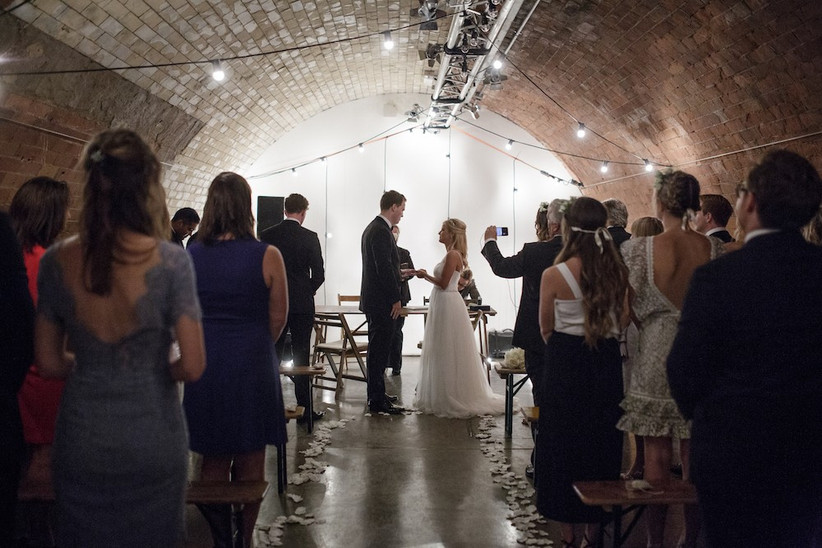 Laden with bags of vintage charm, you can choose between two arches or both, depending on your number of guests. Dry hire for the quirky Arch 1, which seats 60, starts from £3,500 + VAT.
15. Peckham Springs – Peckham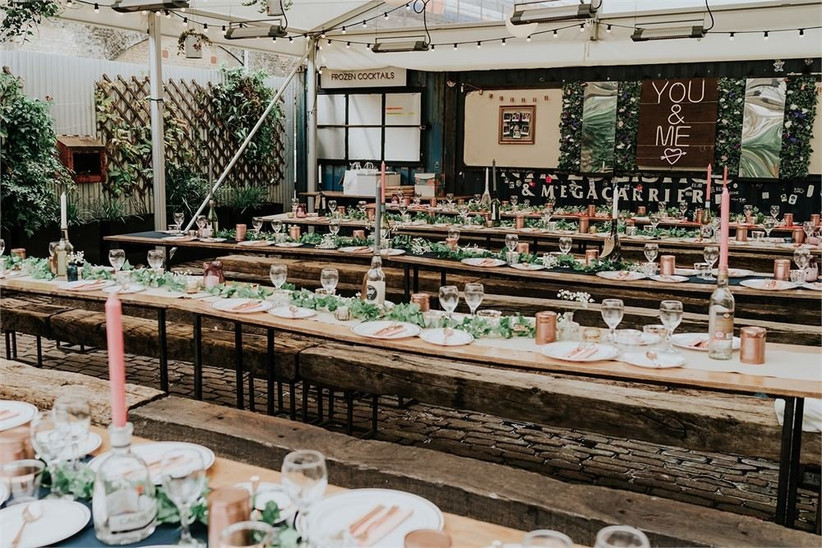 Situated in the heart of South London, Peckham Springs is a real hidden gem of a wedding venue. Featuring indoor and outdoor spaces, including a gallery and performance space as well as a covered and fairy lit courtyard, Peckham Springs is a flexible and versatile venue that can easily accommodate up to 250 guests.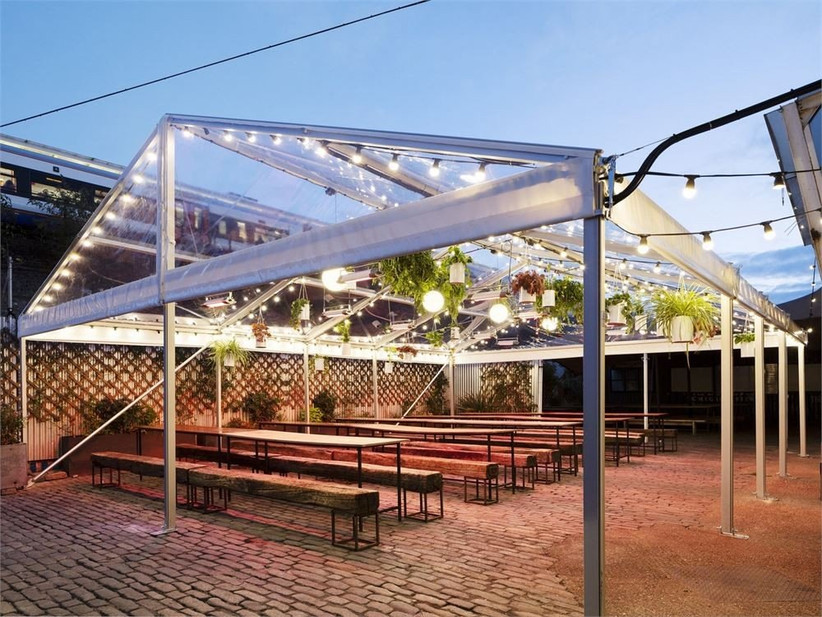 The events team will guide you through the process and help you to make the most of the spaces on offer here. In fact, an event manager comes as part of the package when you book. Hire prices start at £3,500 and bookings also require a £3,000 minimum spend, but included in the cost is security, bar staff, DJ equipment, chairs, tables and glassware. 10% to 20% discounts on hire fees are also offered on low-season dates.
16. Hackney Town Hall – Hackney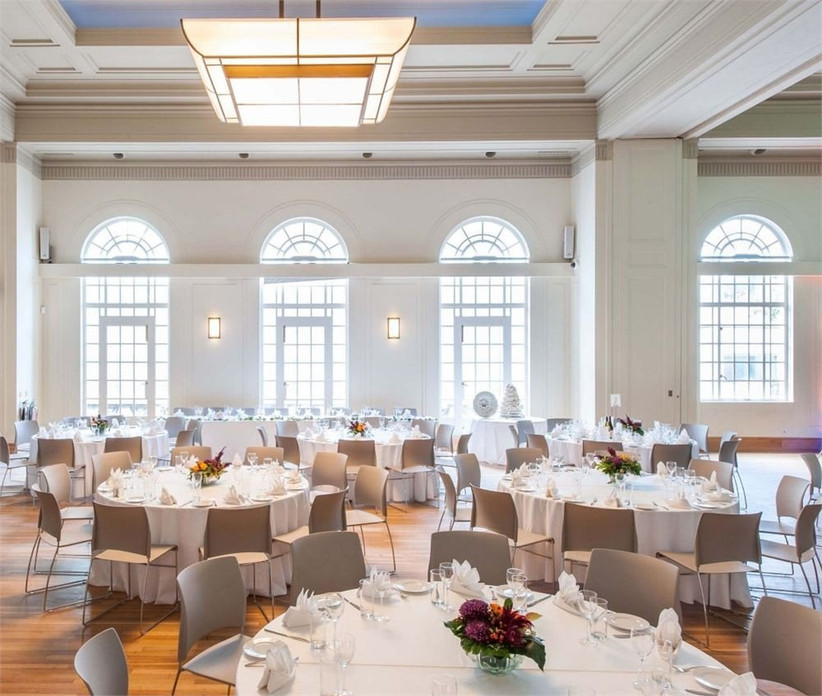 This 1930s-built, Art Deco building is the perfect wedding venue for discerning couples wishing for vintage vibes in the city. Large windows and light, neutral colour schemes make this a bright and airy space that will lend itself to any wedding theme.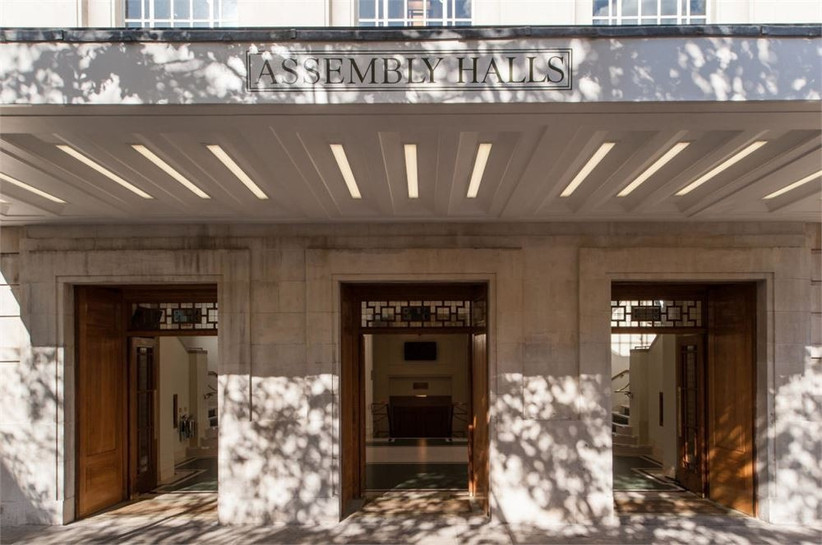 Hackney Town Hall is made up of five different event spaces, including the Council Chamber and Committee Rooms, both of which are available for ceremony-only hire for £395 and have a capacity of 100. There are also two Atria spaces, which are stunning double height areas with a quirky outdoor feel and glass roof. A wedding ceremony for 200 or sit down meal for 125 here comes in at £795. Finally, the Assembly Hall, with capacity for 300, can be hired for up to 10 hours for £4,100.
17. Heist Bank – Paddington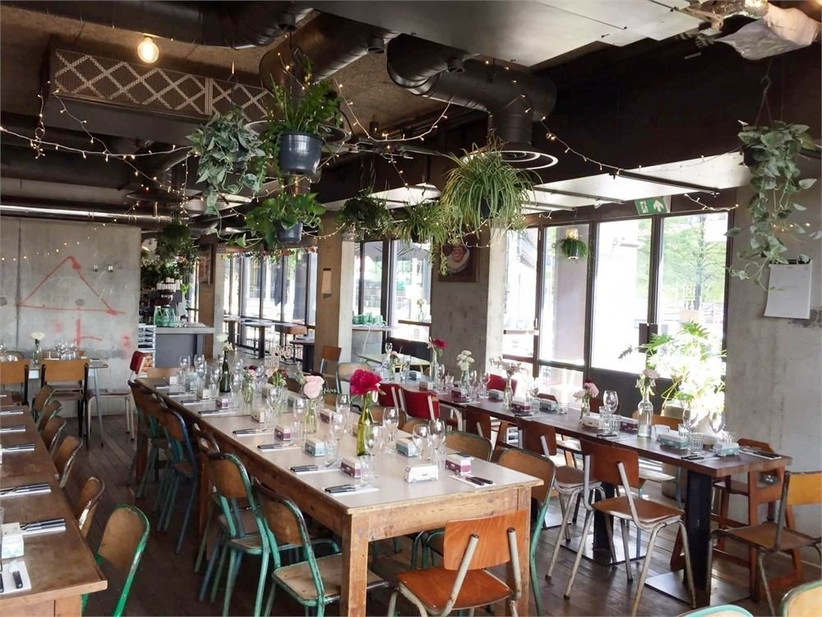 Situated in West London, Heist Bank is a quirky hidden gem for weddings and parties. The contemporary and industrial space is the ideal choice for couples looking to get that laidback, cool, Instagram wedding vibe that so many of us are lusting after. Think fairy lights, mismatched furniture and rustic pizzas and you're along the right lines.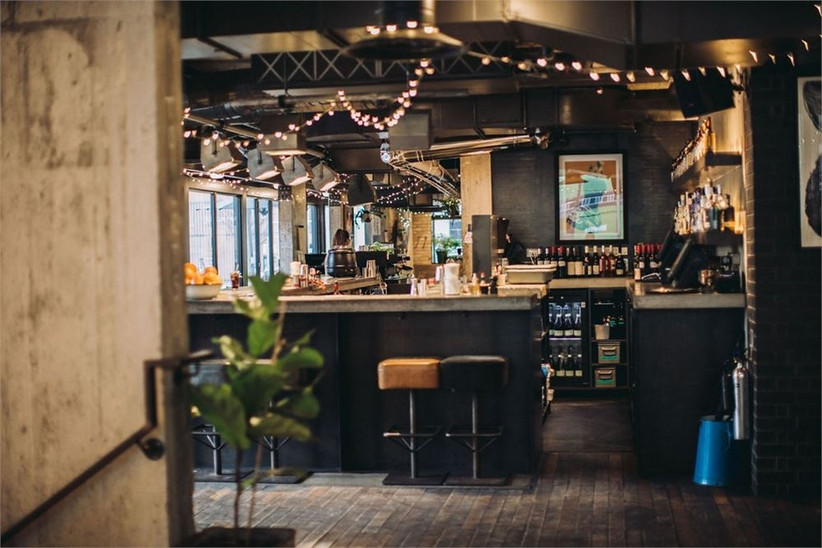 Hiding beneath the Pinterest-worthy restaurant and bar is a retro games room featuring karaoke equipment, a vintage foosball table, pinball and a classic Nintendo 64, giving couples ready-made entertainment for their guests. The venue can hold up to 100 in the restaurant alone and 140 across the entire downstairs space. Minimum spend on the entire space is £5,000 to £7,000 from Thursday to Saturday.
18. First Option Studio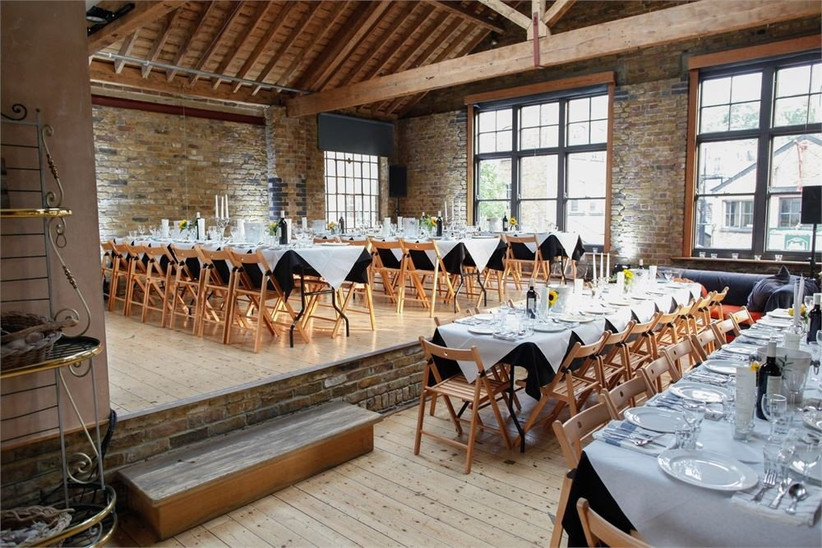 If stately homes and fancy hotels just aren't your thing and you'd prefer something a little more relaxed and quirky, you'll love First Option Studio. Nestled in London's super-cool Shoreditch, this old Victorian zip and suspender factory is sure to fascinate guests and set the scene for the industrial-chic celebration of your dreams.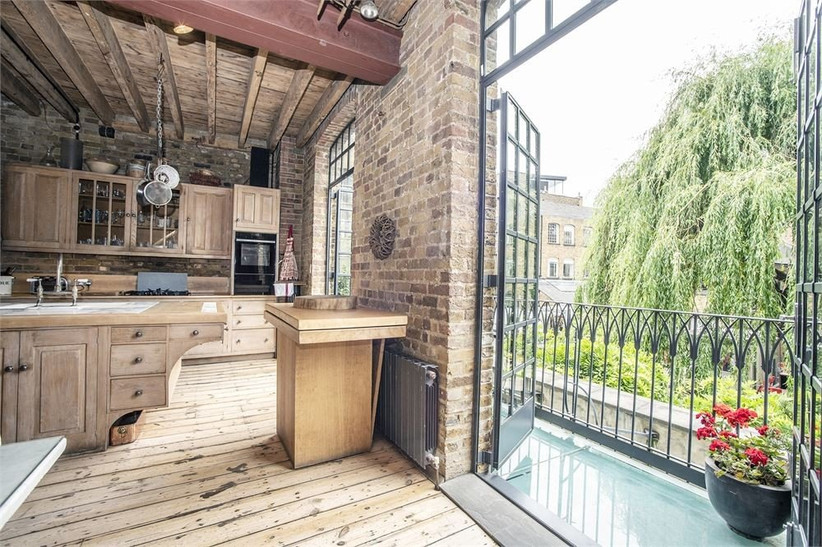 The venue is situated within easy travelling distance of many churches and registry offices and boasts a private courtyard to host post-ceremony drinks in. First Option Studio works in partnership with the brilliant Disappearing Dining Club, who will be only too happy to put together a delicious wedding breakfast menu. Hire cost here is set at £3,000 and includes exclusive use of the venue from 9am until 11.30pm.
19. Burgh House & Hampstead Museum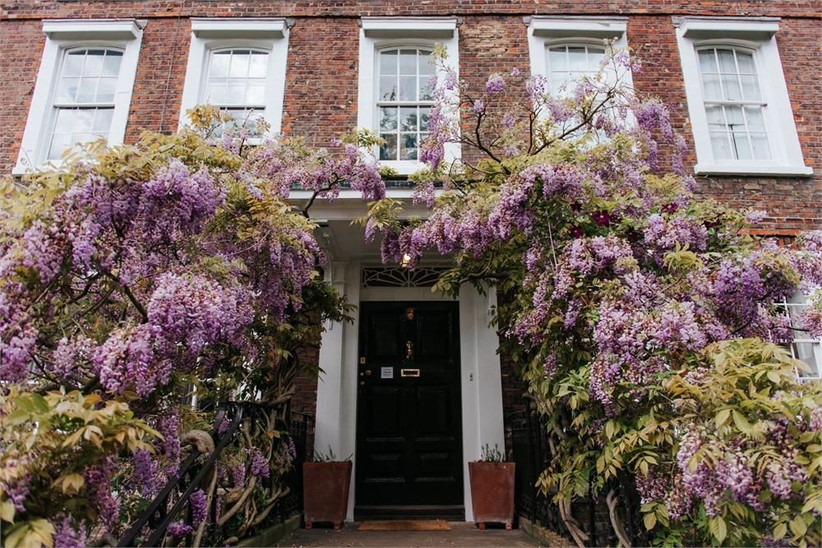 Host your wedding in the affluent and leafy Hampstead while helping a good cause by getting hitched at Burgh House & Hampstead Museum. This characterful Grade I-listed building is entirely funded by weddings and private event bookings and all proceeds help to ensure visitors can access art and culture here for free!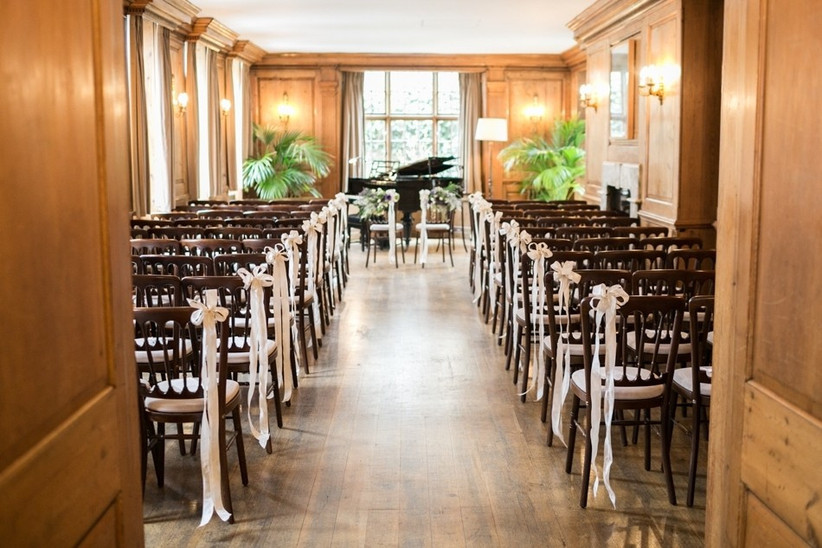 Dry hire prices start at £650 for the first hour and £350 for every hour after that and in return you'll get use of the stunning Music Room or Library for your ceremony and the modern Peggy Jay Gallery for your reception. Catering is available on-site and you can choose anything from elegant afternoon tea to a lavish full three-course wedding breakfast.
If you're looking for some brilliant budget-stretching tips to save money on your wedding, don't miss our 25 brilliant budget hacks and the complete breakdown of how to plan a wedding for £10,000. There's also the hidden costs you need to start planning for.