How to Make a Wedding Budget: 7 Easy Steps to Staying on Track
It's easy to get caught up in wedding planning and forget your bank balance might not match the ideas in your head. Here's how to come up with a wedding budget and actually stick to it!
We have included third party products to help you navigate and enjoy life's biggest moments. Purchases made through links on this page may earn us a commission.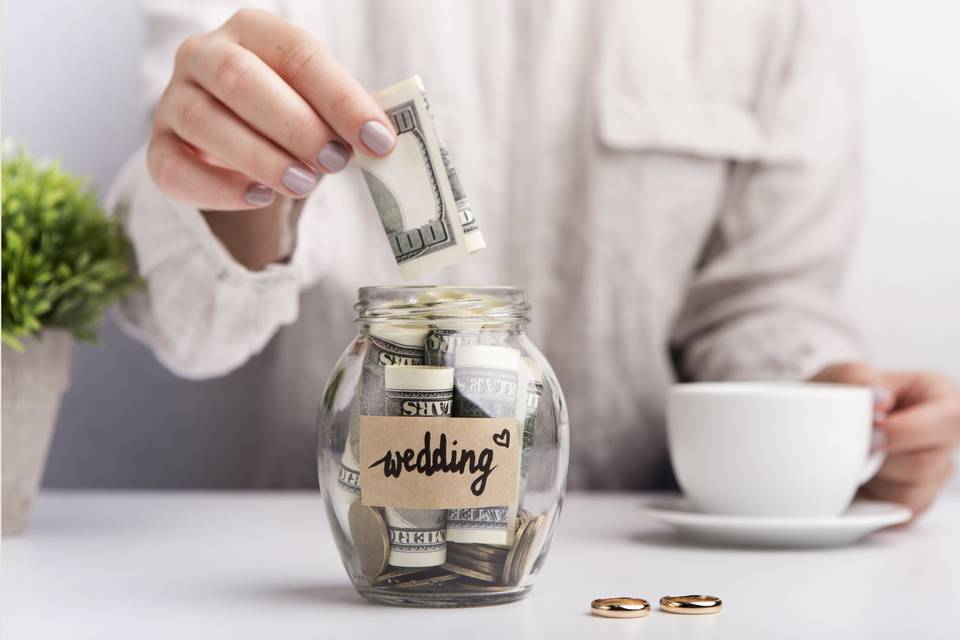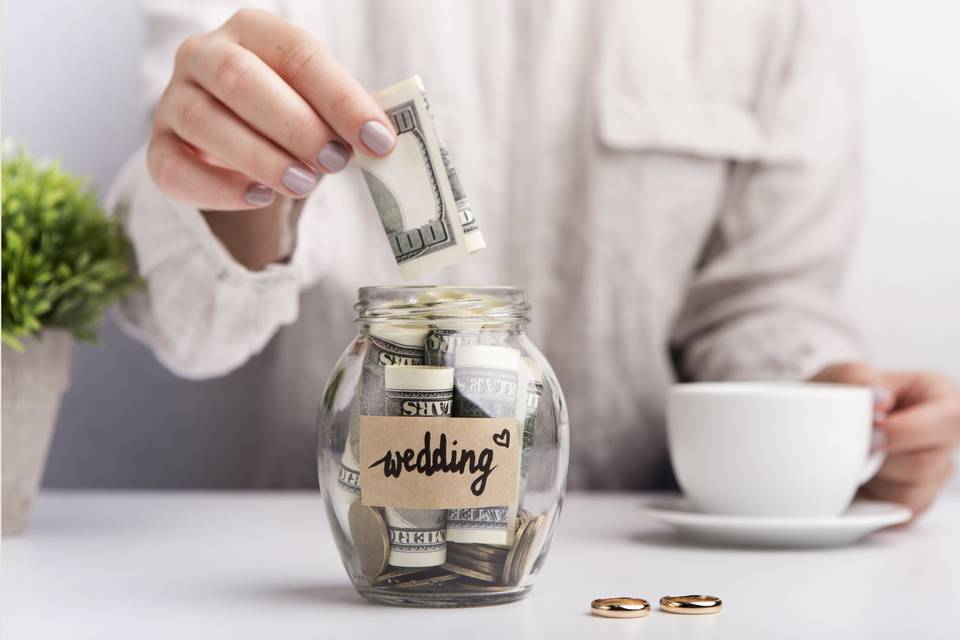 In all the excitement of getting engaged, it can be easy to throw yourself into planning without actually knowing how much you have to spend, but you'll find the process way more enjoyable if you set a wedding budget.
The average UK wedding now costs £17,300, but that doesn't mean you need that much to have a spectacular wedding. It's all about making your budget work for you – and that starts with knowing what your wedding budget is.
We've come up with a seven step guide to working out a realistic wedding budget that makes you feel happy about what you're spending and saving. The hardest part is sticking to it! Remember that no wedding is worth starting your married life in unmanageable debt – you and your friends and family will love the day no matter what. Handily, we've got lots of tips on how to save money too, so you can get the day you want for the budget you have.
READ MORE
How to Plan a Wedding Budget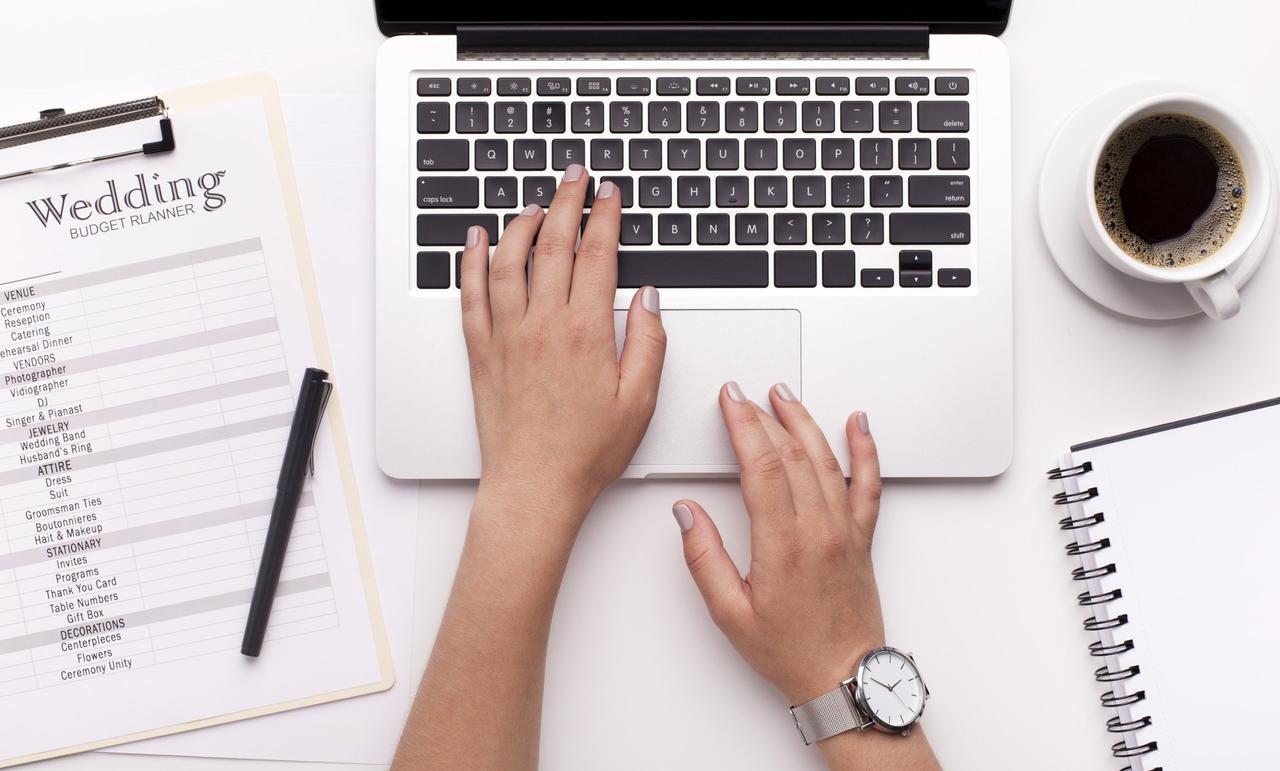 Step One: Have an Honest Chat With Your Partner About What You Can Afford
The last thing you want on top of the pressure of planning a wedding is anxiety about where you'll find the money to pay for your venue or supplier, or regret about how much you spent. It can be easy to get swept away with the idea of a 'once-in-a-lifetime' day, but the only way you get through it with as little worry as possible is to be honest and realistic. Start with what kind of wedding do you both want? Expectations may need to be managed depending on budget.
How much do you have in savings? How much of this are you willing to put towards the wedding? You should always keep an emergency fund to cover things like a car breakdown or new boiler, plus it's best not to dip into a special saving fund you've been building, like a house deposit.
Write down exactly how much take-home income you both get each month. Take away all your financial commitments that won't change, e.g. rent/mortgage, gym membership, transport costs, food budget, a holiday you've already booked. On top of all the above, you'll want to treat yourself to dinners out or movies with friends, a nice bottle of wine at the weekend and birthday gifts for friends and family, so set aside a realistic amount for that.
What's left is the amount each month you have to spend or save for your wedding. The best thing is to put this into a separate bank account as soon as your salary comes in so you won't be tempted to use some. We'd recommend splitting this up even further and putting a small amount into your emergency fund too. Say you have £3,000 in savings and you can save £400 a month, you now know it'll take you 18 months to save up for a £10,000 wedding.
The majority of your costs will come upfront. It might not be the full amount, but it could be 50% to secure your venue, for example, so it's worth starting to save before you begin booking – even if it's tempting to rush into planning. There are such things as wedding loans but it's key to make sure you both feel comfortable about taking on a loan and that you have a clear plan and timeline for paying it off.
Step Two: Find Out If Anyone Else Is Happy to Contribute
It can be a tricky conversation but you'll want to have the money chat with your parents early on. It's no longer expected that the bride's family will pay for the wedding, but it's worth seeing if either set of parents will help you financially or pay for a specific cost, like the dress or flowers. In fact, according to the Hitched National Wedding Survey, in 2021 61% of wedding costs were covered by the couples' parents.
We have a full breakdown of the rules and etiquette of parents paying for your wedding, including the best ways to gift money to avoid inheritance tax. There are five main ways to broach the topic too: the most popular of these is to indirectly ask if they'd like to be involved in wedding planning and see if they mention money, or outright asking if they'd be happy to help. Don't forget to let them know how grateful you are for their generosity – a little thank you goes a long way during the stressful planning process.
Step Three: Create a Rough Guest List
The size of your guest list will determine roughly how much you need to be aiming to save.
If it's 20-50, you can look for smaller venues that offer an intimate and personal space at a cheaper price e.g. a private room in a pub or restaurant. Most venues easily cater to guest lists of 50-100, so do some research to find out how much venues in your area charge and what the cost per head for catering might be. Often guide prices will be listed on websites if you don't want to make contact just yet or chat to married friends to see what they paid. If you want around 80 guests on an all-inclusive wedding package of £90pp, you can use that £7,200 as the starting point for a rough budget.
Above 150 guests, you'll need a larger venue and will need to accept this will cost you more – not that there aren't smart ways to save like a midweek wedding, going for dry hire, or not hiring a venue exclusively.
Should you realise that you can never afford to pay for all those guests, you either need to 1) give yourself more time to save, or 2) cut down your guest list to a more realistic figure. Remember that on top of this you'll have all the other major costs. If you're not sure what those look like, here's the average spend on the top wedding costs in 2021:
Venue hire – £7,600
Wedding dress - £1,300
Photography - £1,200
Groom's attire - £500
Catering per head - £65
Bridal hair - £80
Bridal makeup - £70
If you look at this and feel a little panicked, there are ways to cut down your costs, i.e. go for an all-inclusive package, or doing your own wedding makeup.
READ MORE: How to Plan a Wedding for £25,000
Step Four: Set Aside 10-15% of Your Budget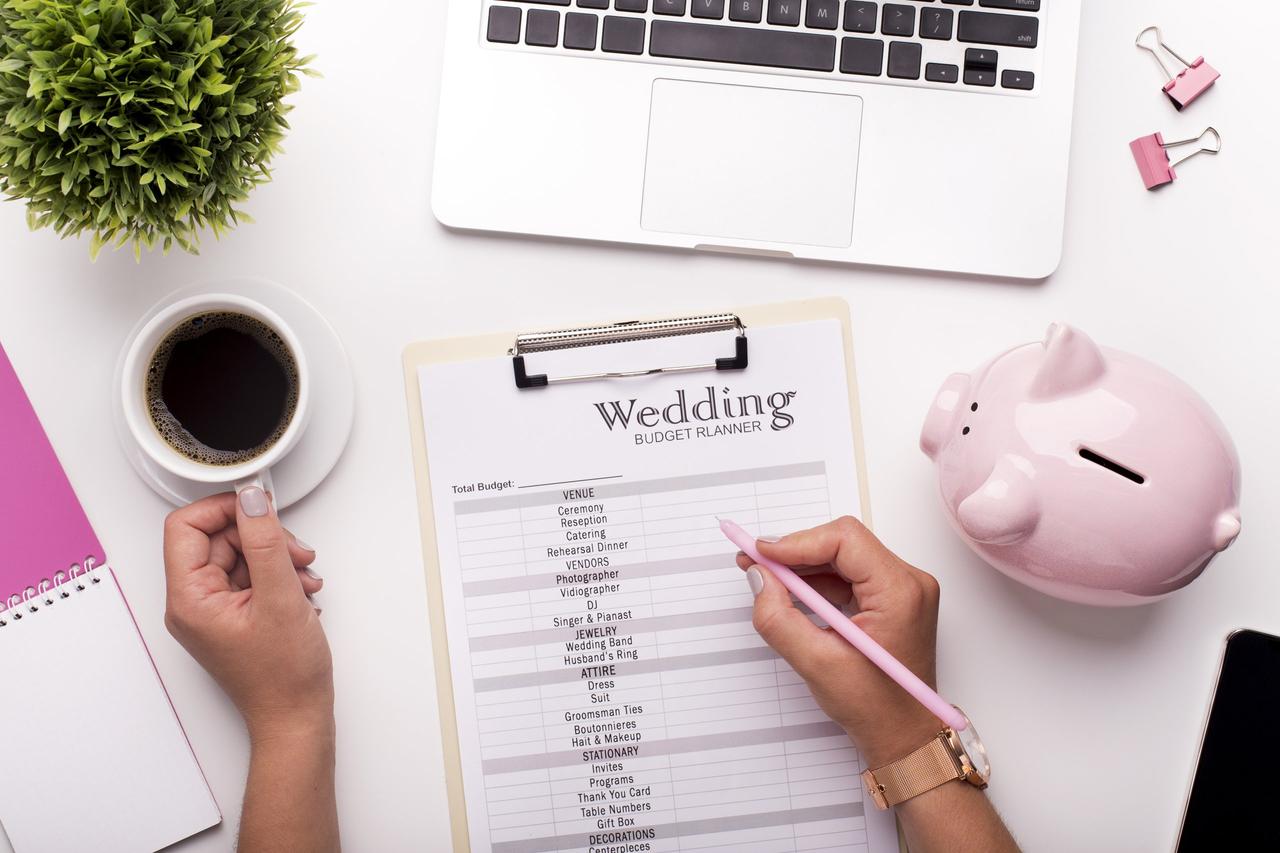 Once you've worked out how much you can save, whether you'll have any financial help from family, and how far your money will stretch, you have a rough budget.
Little costs are going to pop up when you least expect them so you always need to have a contingency fund that you don't touch. Set aside around 10-15% of your budget and pretend it doesn't exist. If you have a £30,000 budget, this means you'll approach your planning with a reduced budget of £25,500 to £27,000 in your head.
You'll want around £500 spare for the wedding day too: just in case the cars don't turn up and you need taxis, a replacement bridesmaid dress needs to be found, and for the food and celebratory drink you need to provide for your wedding party on the day. Don't use it? That's £500 for your honeymoon!
Step Five: Block Out Your Biggest Costs
Your venue hire fee will inevitably be your biggest cost. Traditional wedding budget wisdom says take your budget and cut it in half – this amount should cover your wedding venue hire, plus your food and drink charges. If your overall budget is £25,500, you'll have £12,750 for your venue, food and drink.
Knowing this, you can find out quotes for hire and cost per head from venues you're interested in and see whether they fit in your budget. See the key questions to ask your wedding venue here.
Be aware that not every venue will offer the same kind of package. For a tipi wedding, you may find the cost of toilets, a dance floor, a catering tent with an extra power supply and your furniture will all need to be taken into account separately. A hotel wedding is more likely to cover most of your venue and catering costs, but you may find it's extra for cake cutting and a cheese tower, for example. Find out all the associated costs upfront and adjust your budget accordingly. Discover the best wedding packages in the UK for more ideas.
Enquire about every cost with your suppliers so you're not caught out by any hidden charges. This includes VAT, delivery, service and corkage.
15 Things You Might Forget to Budget For
On-the-day wedding stationery: order of service, menu and place cards
Marriage licence/registrar fees
Corkage (here are some of our favourite no-corkage wedding venues)
Wedding party gifts (the parents should get something too, even if it's just a bouquet)
Hen or stag party costs (see our favourite cheap hen do ideas here!)
Extra reception décor, like lighting hire
Honeymoon wardrobe
Stamps for your invites
More than one hair and makeup trial
Clean-up costs
Outfit alterations
Hotel room the night before the wedding
Unexpected guests (random plus-ones do happen!)
Post-wedding extras: thank you cards, preserving your wedding dress
READ MORE: How to Plan a Wedding for £32,000
Step Six: Prioritise the Rest of Your Budget
The remaining half of your budget is for everything else, including outfits for you and your wedding party, the wedding rings, stationery, flowers and décor. Here's how to do it:
Draw up a list of non-negotiables with your partner. We'd highly recommend a good wedding photographer be top of this list. What about an open bar? Fancy invitations? A firework display? Photo booth? Live music for the evening reception? It can be anything from a Rolls Royce to drive you to the ceremony to only having a summer Saturday wedding. If you can't imagine marrying without this thing, you need to be prioritising the budget for it and looking elsewhere to save.
However, be sensible about non-negotiables: pick two or three otherwise you really will have no budget left. This means you can't keep going over £500 here and there. An extra £500 for the outfit of your dreams needs to be cut somewhere else.
It's helpful to make another list of things you really aren't that fussed about e.g. centrepieces, a massive cake, expensive wedding rings. It'll help you see when you start tracking your budget if you're spending more than you need in this area.
Book your priority vendors first (venue, photographer/videographer, catering, band/DJ) so you can continually adjust how much you have to spend in other areas as you proceed.
Step Seven: Stick to Your Budget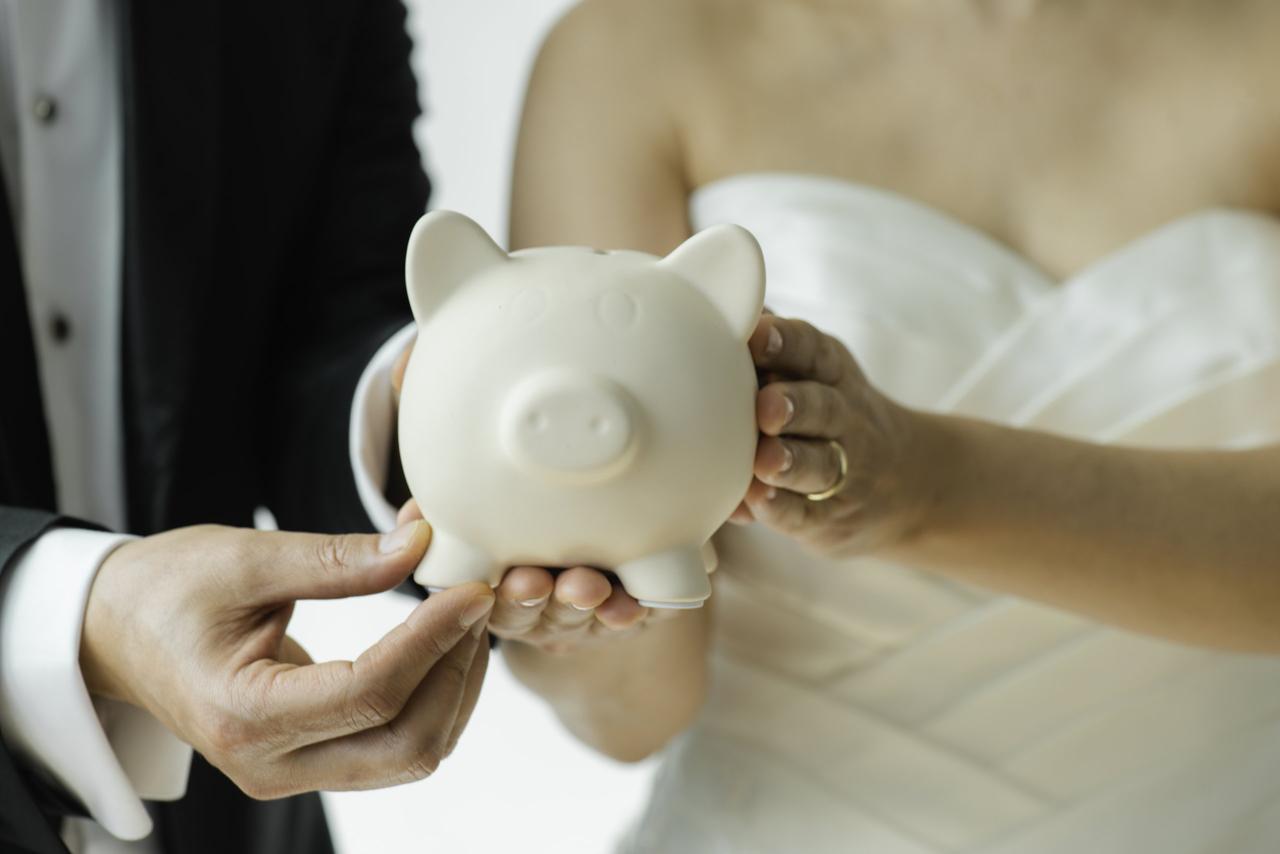 Tracking your budget is the only fail-safe way of making sure you don't go over it. Boring, but true. But, how do you create a wedding budget? You can create and manage your wedding budget with the Hitched free wedding budget planner.
How to Set a Wedding Budget:
Download the Hitched app - it's free!
Enter your predicted budget and the app will estimate how much you should allocate for each supplier. You can add or remove anything from your budget and create new categories as needed.
You'll then be able to monitor and track your costs and get a breakdown of your wedding spending.
Better yet, you can watch your pending payments so you don't miss anything important! The last thing you want is to be paying a penalty fee for late payments.
How to Have a Dream Wedding on a Budget: 5 Savvy Money Tips to Make Your Money Go Further
Sign up to cashback websites, where you'll get paid for buying products you were already going to buy! You can even get cashback credit cards which give you an extra 5% cashback on purchases you're already making. The thing to remember: go for the cheapest deal, not the best cashback offer.
Use a 0% interest credit card. This is a great way to pay a deposit for a supplier, and your deposits will be protected if the company goes bust. However, make sure you can pay the balance in full by the end of the 0% period or you could go into debt.
Set up a separate bank account and take advantage of new account offers. Some banks will give you £100 for setting up a new account or free travel insurance, which could cover your honeymoon.
Supermarkets are your new go-to. Whether that's M&S for your wedding cake, or joining a loyalty scheme that can see you earn some serious points if you're stocking up on all your wine and prosecco for your reception.
Don't part with your cash before you need to. Before you pay a penny to your venue and supplier, make sure you're 100% certain it's right for you. Don't feel pressured into paying deposits then and there – go away (with a quote in writing), put it into your spreadsheets, and then come back.
What is a Realistic Budget for a Wedding?
How much you spend on your wedding will be proportional to a number of factors; you and your partner's savings, how much you can realistically set aside from your current income taking into account typical monthly payments, and any contributions from family or friends.
You may be tempted to boost your cash flow with credit cards and loans, but don't go overboard if you aren't able to pay this back within a 12-15 month time frame.
Is £20,000 a Good wedding Budget?
£20,000 is a generous amount to have as your wedding budget, however it is really easy to over-spend in places so keeping track is still vital. With £20,000 allocated to your wedding you're looking at a venue hire budget of approximately £8,600, £1,400 for photography and £80 per head on catering.
Is £3,000 a Good Wedding Budget?
With a £3,000 wedding budget being just 17.6% of the average wedding cost in 2021, sticking to it might seem tricky, but it's not impossible! You can plan a wedding for £3,000 by cutting costs in typically expensive areas. Consider opting for an affordable wedding venue, a high street wedding dress and DIY décor.
Got your budget planned? Here's where to turn to next:
The Ultimate Wedding Planning Guide
Your 18 Month Wedding Planning Countdown Checklist
25 Wedding Budget Hacks to Help You Save
The Complete Guide to Negotiating with Your Venue and Suppliers