Wedding Spend Breakdown: How to Plan a Wedding Budget
Our guide outlines how to breakdown your wedding budget - whatever it may be - and how to plan a budget you can *actually* stick to!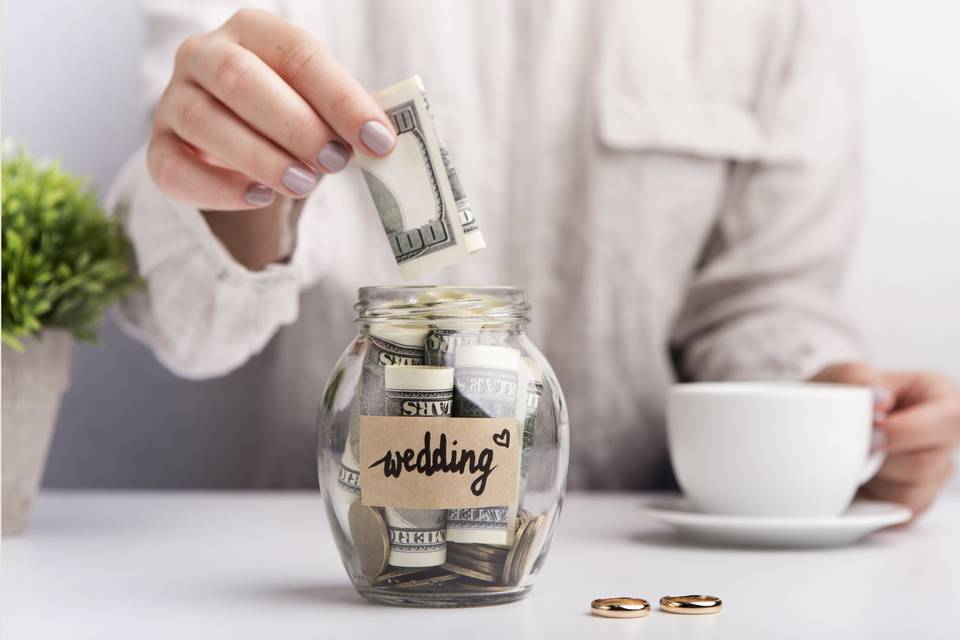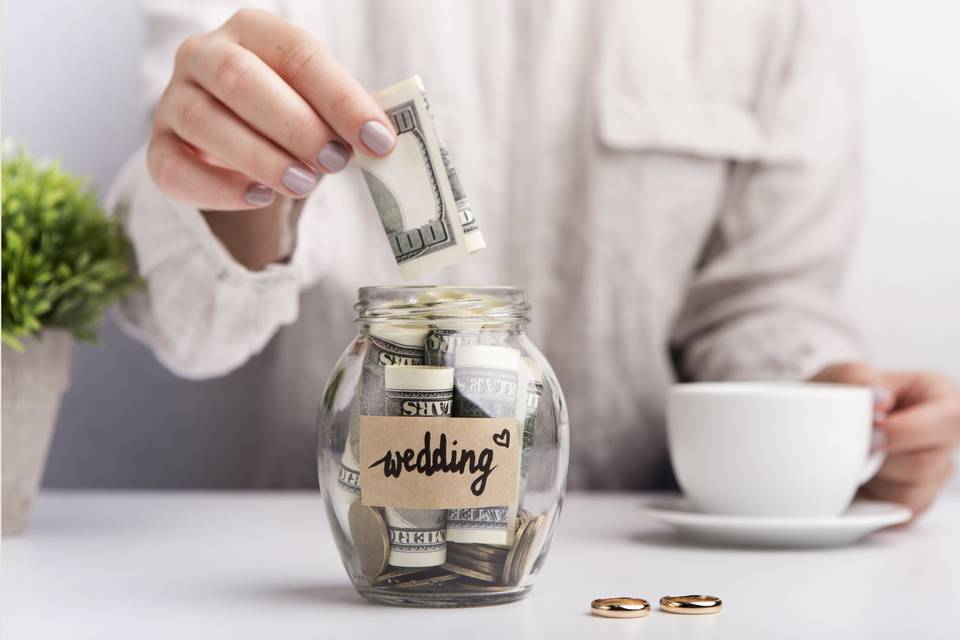 In all the excitement of announcing your engagement and planning the engagement party, it can be easy to throw yourself into wedding planning without considering your wedding budget.
But hear us when we say no couple should begin planning without sitting down and discussing the wedding budget. We're talking step one here!
The average UK wedding now costs £18,400, but it's important to remember that's just an average wedding budget and there are lots of variables - people may spend more, but equally, you can spend much less and do a wedding on a budget. It's all about making what you can afford work for you – and that starts with knowing what your wedding budget is and making a wedding budget breakdown.
To make the process of budgeting for a wedding easier for you, we've come up with a complete guide that includes everything you need to help you plan, set and breakdown your wedding budget to ensure nothing is forgotten about.
Whether you're planning a wedding for £3,000 or have a wedding budget of £20,000, our wedding budget breakdown will help you plan your budget perfectly.
Please note - this is a guide designed to help advise you as you plan based on the average UK wedding. Feel free to adjust the spends to suit your needs and wants!
Hitched and the materials and information it contains are not intended to, and do not constitute, financial or tax advice and should not be used as such. You should always consult with your financial and tax advisors about your specific circumstances.
Wedding Budget Breakdown: How to Plan a Wedding Budget
Our guide will help you to set and plan a wedding budget you can afford, as well as guide you on how to breakdown the cost of a wedding by section. As most couples won't have done this before, it can be hard to know which aspects of wedding planning require more of your wedding budget than others. How much does a wedding photographer cost? What are average wedding cake prices?
Fear not, as uncomfortable as money talks can be, we promise you that planning a wedding budget properly will actually make your wedding planning journey much more enjoyable. By knowing what your limits are, you will be able to enquire with wedding suppliers and book visits at wedding venues that you know you can afford.
We've even included tip son how to do a wedding on a budget for those with less to spend. Ready to get started?
Wedding Budget Breakdown Planner
A great way to keep track of your wedding spend is with a wedding budget spreadsheet. You can easily make one with a free service like Google Sheets, and input the formulas you need to adjust your spends, however our free wedding budget tool does this all for you!
Update your costs and payments as you go to easily keep track, and adjust the estimates to suit your actuals. You can even download your wedding budget breakdown so you can easily input it into a budget spreadsheet, if that's more your thing, with all the hard work done for you.
This includes the main things many couples include in their wedding budget, but you can add and remove sections to suit your needs, and adjust the prices to align with what you're able to spend and how you want to breakdown your budget.

The Ultimate Wedding Budget Breakdown
To help you breakdown your wedding costs, we have created a guide which outlines what percentage of your wedding budget should be allocated where. Our guide gives examples based on how real couples divided up wedding budgets (according to our UK average) to give you a super clear idea of what your budget allows you.
Our guide is based on average wedding budgets spent by thousands of couples, but it's important to remember that every couple's priorities will be different. If the wedding cake and catering are way more important to you than your outfits and hair and makeup, your wedding budget breakdown will favour the food and catering.
Your budget can be personalised in any way you want, but this guide gives you a great idea of how wedding budget breakdowns are traditionally split by cost.
Please note that this budget breakdown includes honeymoons and wedding rings, which you may decide to treat separately to your wedding budget. If you decide to do this, you'll need to adjust the percentages accordingly.
Venue, Ceremony and Catering: 50% of Your Wedding Budget
50% may sound like a lot, but there's a much to cover in this section. Your ceremony and reception costs will cover your venue hire for both your ceremony and reception - so it's worth deciding early on if you're planning to host the whole wedding in one place or if you're getting married at one location and then having the reception at another.
This chunk of the budget also needs to cover wedding catering for both the ceremony and reception, including any drinks, canapés and snacks you're planning to provide. Some couples hire outside catering for evening food - all of which will come under this cost umbrella.
No matter what your wedding budget is, you'll need to set aside roughly £500 for your legal ceremony costs if you're planning to have a legal wedding. This should cover the license and any paperwork you need, but if you're planning to hire a wedding celebrant, that will likely be a separate charge.
We know, it sounds like a lot - but can you really put a price on getting married to the person you love? Whilst planning every detail yourself may seem exciting at first, an all-inclusive wedding package can take a lot of the stress out of the process. Many venues will have tiers to their packages with price ranges per head which makes it a lot easier to work out what your spend will be once you know your guest list.
Wedding Stationery: 1.5% of Your Wedding Budget
Wedding stationery and invitations are a really important part of wedding planning. Your budget for wedding stationery needs to cover more than just your invitations - it includes the cost of your save the dates, wedding invitations, RSVP cards, envelopes, thank you cards and any on-the-day wedding stationery you may need like menu cards, table plans and place cards.
There are no rules to say you need all of the above wedding stationery by any means, you can choose which aspects are right for you and drop the ones that aren't. If your wedding stationery budget is small, you could consider using a wedding website to communicate things such as your save the dates information, RSVPs and other wedding details that will save you money on postage.
It's also worth remembering stationery costs that are often forgotten such as thank you cards, envelopes and paying for postage (including sending a return stamp with your RSVPs!) - we've got a guide here to ensure you avoid making any wedding stationery mistakes. We also have a complete wedding stationery checklist to ensure you don't miss anything off the list.
If you're spending the average of £18,400, this would mean spending just over £275 on your wedding stationery - but you should alter this sum to suit your own needs!
Wedding Flowers and Décor: 4% of Your Wedding Budget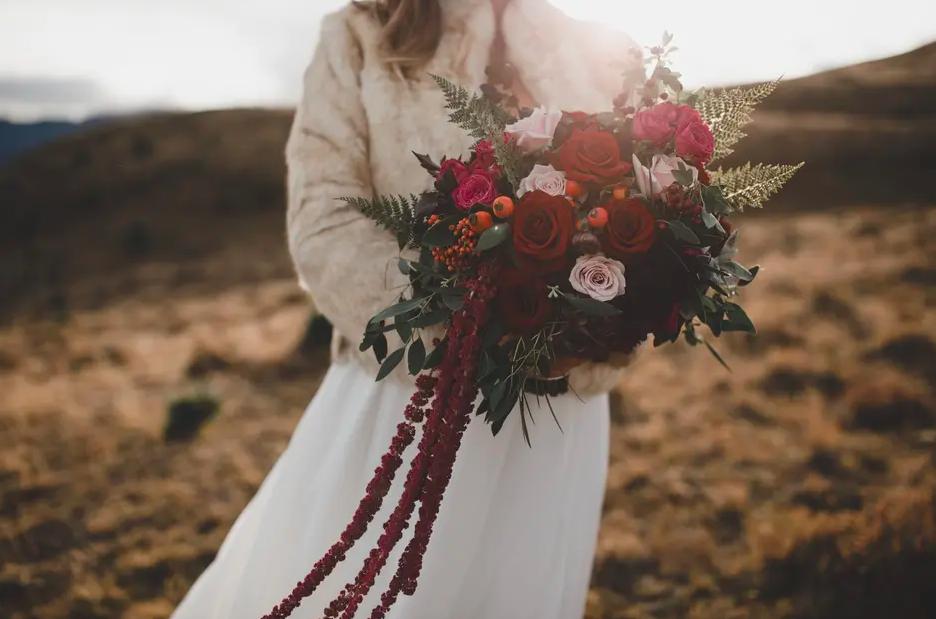 Your budget for wedding flowers and décor can cover such a wide range of things so if you are dealing with a smaller wedding budget, you'll need to prioritise. When it comes to wedding flowers, you need to decide who is having a bouquet - do you need one for each bridesmaid, flower girl and maid of honour? Buttonholes, table centrepieces and larger floral instalments all come under this umbrella too.
When it comes to wedding florist prices, the cost of your order will be determined by a number of different factors. Wedding floristry orders that include things such as hanging flowers and floral wedding arches can easily exceed £1,000 - but that doesn't mean you can't spend less if your budget doesn't stretch that far. And if flowers are the most important thing to you, increase your spend proportion accordingly!
If your budget for flowers and décor isn't big, opt for a wedding venue that requires little to no added decorations and consider DIY options for any extras.
Photography & Videography: 10% of Your Wedding Budget
After your wedding venue and reception costs, we recommend spending the second largest chunk of your wedding budget breakdown on your wedding photography and wedding videography. Aside from your memories, the photographs and videos taken at your wedding day will be what you look back on in years to come and reminisce your amazing day.
You might be wondering 'Do I need a videographer?', especially if you've booked a photographer, but we strongly suggest you consider it. Is there such a thing as too much coverage from your special day? What's more, the more people you have professionally shooting your wedding day, the more likely you are to have every single aspect captured on tape.
Many couples spend upwards of £1,500 on their wedding photography and videography even with smaller budgets as they see this as a huge priority and we completely agree with them. If you're on a really tight budget, ask your wedding photographer what the options are - some offer half-day or smaller packages, especially out of wedding season.
Find Your Wedding Photographer
Wedding Cake: 3.5% of Your Wedding Budget
For some people, the wedding cake will be much more of a priority than others, but allocating between 3% and 3.5% to your wedding cake as a rule of thumb is a great place to start. Wedding cakes have a practical purpose as well as a decorative one.
Your wedding cake needs to be large enough to feed all of your guests, so couples planning a wedding with 100 guests on a £5,000 budget will need to order a large but simple wedding cake.
If you have a large wedding budget, but fewer guests, you will be able to spend more on the decoration of the cake. Sugar work and more intricate designs cost more because they take much longer to create and more unusual wedding cake flavours can be more expensive than more traditional flavours as the ingredients are less common.
Find Your Wedding Cake Supplier
Music & Entertainment: 4.5% of Your Wedding Budget
Before we get into this, wedding music and entertainment are two separate things that need to be considered in this section of the wedding budget breakdown - but if your budget is small, it can be combined into one. Wedding music is usually your wedding band, DJ or iPhone playlist if you're doing a DIY job.
Wedding entertainment covers a much broader variety than just music - we're talking fireworks, circus performers, magicians, alpacas (yep, we have those on our site!) - if your budget permits, wedding entertainment can mean anything! Our something different suppliers offer super unique wedding entertainment you will definitely want at your wedding!
And again - if the entertainment is a huge part of the experience for you, you'll want to adjust your wedding budget breakdown accordingly, and cut back in other areas if you need to.
Find Your Wedding Entertainment
Wedding Transport: 2.5% of Your Wedding Budget
Wedding transport covers how you, your partner and the entire wedding party get to the wedding venue. It also covers transport costs if your ceremony and reception are taking place in two different venues as you will need to arrange transport to get your guests from one to the other.
If you are staying at the wedding venue the night before, or manage to arrange carpooling instead, you may be able to put your wedding transport budget allocation into an area that is a bigger priority for you. If you have always dreamed of turning up to your wedding in a unique or unusual wedding car - you may want to increase this part of the budget.
Wedding Rings: 3% of Your Wedding Budget
Exchanging your wedding rings is one of the momentous parts of your wedding ceremony and buying the rings is one of those hidden wedding costs many people forget about. If, like some couples, you don't want to include wedding rings in your overall wedding budget, you can reallocate the 3% to another section.
Couple Wedding Outfits: 9% of Your Wedding Budget
Whether it's a wedding dress, wedding suit, stylish wedding jumpsuit, or women's wedding suits you're after, you want to try and allocate close to 10% of your overall spend to your wedding outfits. Some will want to spend much more than this on their wedding dress or suit, but be mindful that costs will have to be cut from elsewhere to make this happen.
It's also worth noting that this budget breakdown doesn't take into account bridesmaid dresses, wedding party suits, flower girl and page boy outfits and wedding party accessories. If you're planning on paying for those, you'll need to factor that into your budget breakdown.
Wedding Favours: 1% of Your Wedding Budget
Wedding favours are one of those cute on-the-day details guests love to receive - but they don't have to cost a fortune. We have a number of wedding favours for £1 or less that would make it super easy to stick to this 1% budget allocation.
Wedding Hair & Makeup: 1% of Your Wedding Budget
1% may not feel like a lot, but as we said, you can personalise your budget breakdown if one area is more important to you than another, and if you're not including your .
The average UK wedding costs £18,400 which would give you around £185 for your hair and makeup. This would cover a simple style, if you are looking to get hair and makeup done for just yourself, but it might not include a trial ahead of the day - speak to different wedding beauty vendors to find out prices, packages and deals.
Couples who want to pay to have this done for the wider wedding party may want to increase the allocation or consider buying some wedding hair curlers and styling your own looks.
Find Your Hair & Makeup Supplier
Honeymoon: 10% of Your Wedding Budget
Allocating 10% of your wedding budget to your honeymoon gives you something really exciting to look forward to in order to help you avoid those post-wedding blues.
Some couples avoid planning a honeymoon straight after their wedding to give themselves time to save for it separately, this is a smart way to allocate more of your wedding budget breakdown to other areas related to the actual wedding itself.
If you are keen to go on a honeymoon, but want to spend less than 10%, there are a number of cheap honeymoon destinations that feel far from budget! Alternatively, you could consider a minimoon in the UK until you have saved up enough to go on a larger holiday - or say pass to a honeymoon altogether.
Some couples don't include the honeymoon in their overall wedding budget, and instead have a honeymoon gift list for guests to contribute to. Others ask for money as a wedding gift - but your honeymoon spend could depend on how much money your guests give as a gift.
Your choice will depend again, on priorities. One of our budget breakdown couples prioritised their honeymoon so much, they spent more on it than they did on their entire wedding. Read about their £5,000 wedding and £8,000 honeymoon here.
How to Plan a Wedding Budget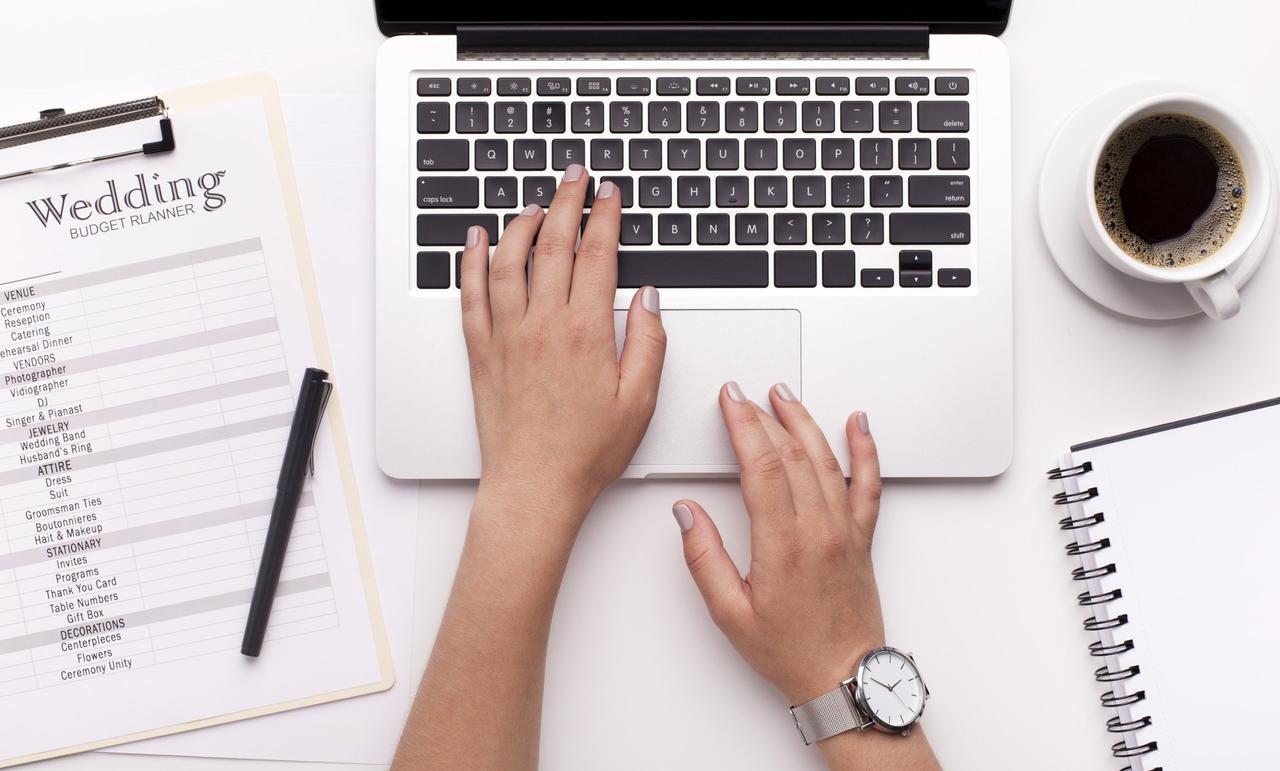 Now you're familiar with the average wedding budget breakdown, it's time to decide how much you and your partner can afford to spend. Doing a wedding on a budget, or simply panning a wedding budget of any size can feel stressful, but we guarantee you it will make the wedding planning process so much easier!
We've come up with a seven step guide to working out a realistic wedding budget that makes you feel happy about what you're spending and saving. Remember that no wedding is worth starting your married life in unmanageable debt for – you and your friends and family will love the day no matter what.
And luckily for you, we've got lots of tips on how to save money too, so you can get the day you want for the budget you have.
1. Decide What You Can Afford
The last thing you want on top of the pressure of planning a wedding is anxiety about where you'll find the money to pay for your venue or supplier, or regret about how much you spent. It can be easy to get swept away with the idea of a 'once-in-a-lifetime' day, but the only way you get through it with as little worry as possible is to be honest and realistic.
Start with what kind of wedding do you both want? Expectations may need to be managed depending on budget.
How much do you have in savings? How much of this are you willing to put towards the wedding? You should always keep an emergency fund to cover things like a car breakdown or new boiler, plus it's best not to dip into a special saving fund you've been building, like a house deposit.
Write down exactly how much take-home income you both get each month. Take away all your financial commitments that won't change, e.g. rent/mortgage, gym membership, transport costs, food budget, a holiday you've already booked. On top of all the above, you'll want to treat yourself to dinners out or movies with friends, a nice bottle of wine at the weekend and birthday gifts for friends and family, so set aside a realistic amount for that.
What's left is the amount each month you have to spend or save for your wedding. The best thing is to put this into a separate bank account as soon as your salary comes in so you won't be tempted to use some. We'd recommend splitting this up even further and putting a small amount into your emergency fund too. Say you have £3,000 in savings and you can save £400 a month, you now know it'll take you 18 months to save up for a £10,000 wedding.
The majority of your costs will come upfront. It might not be the full amount, but it could be 50% to secure your venue, for example, so it's worth starting to save before you begin booking – even if it's tempting to rush into planning.
2. Discuss Who's Paying
It can be a tricky conversation but you'll want to have the money chat with your parents early on. It's no longer expected that the bride's family will pay for the wedding, but it's worth seeing if either set of parents will help you financially or pay for a specific cost, like the dress or flowers. Discover how to ask your parents for a wedding contribution here.
In fact, according to the Hitched National Wedding Survey, in 2022 63% of couples had contributions from friends or family to help pay for their wedding.
We have a full breakdown of the rules and etiquette of parents paying for your wedding, including the best ways to gift money to avoid inheritance tax. There are five main ways to broach the topic too: the most popular of these is to indirectly ask if they'd like to be involved in wedding planning and see if they mention money, or outright asking if they'd be happy to help.
Don't forget to let them know how grateful you are for their generosity – a little thank you goes a long way during the stressful planning process.
3. Sort The Guest List
The size of your guest list will determine roughly how much you need to be aiming to save.
If it's 20-50, you can look for smaller venues that offer an intimate and personal space at a cheaper price e.g. a private room in a pub or restaurant. Most venues easily cater to guest lists of 50-100, so do some research to find out how much venues in your area charge and what the cost per head for catering might be. Discover the coolest pub wedding venues.
Often guide prices will be listed on websites if you don't want to make contact just yet or chat to married friends to see what they paid. If you want around 80 guests on an all-inclusive wedding package of £90pp, you can use that £7,200 as the starting point for a rough budget.
Above 150 guests, you'll need a larger venue and will need to accept this will cost you more – not that there aren't smart ways to save like a midweek wedding, going for dry hire, or not hiring a venue exclusively.
Should you realise that you can never afford to pay for all those guests, you either need to 1) give yourself more time to save, or 2) cut down your guest list to a more realistic figure. Remember that on top of this you'll have all the other major costs. If you're not sure what those look like, here's the average spend on the top wedding costs in 2022:
Venue hire - £8,400
Wedding dress - £1,350
Photography - £1,300
Videography - £1,150
Wedding band and/or DJ - £1,050
Wedding flowers: £1,050
Invitations and paper goods - 300
Catering per head - £70
Wedding hair and makeup - £155
Wedding party hair and makeup - £85
If you look at this and feel a little panicked, there are ways to cut down your costs, i.e. go for an all-inclusive package, or doing your own wedding makeup.
4. Set Aside Some of Your Budget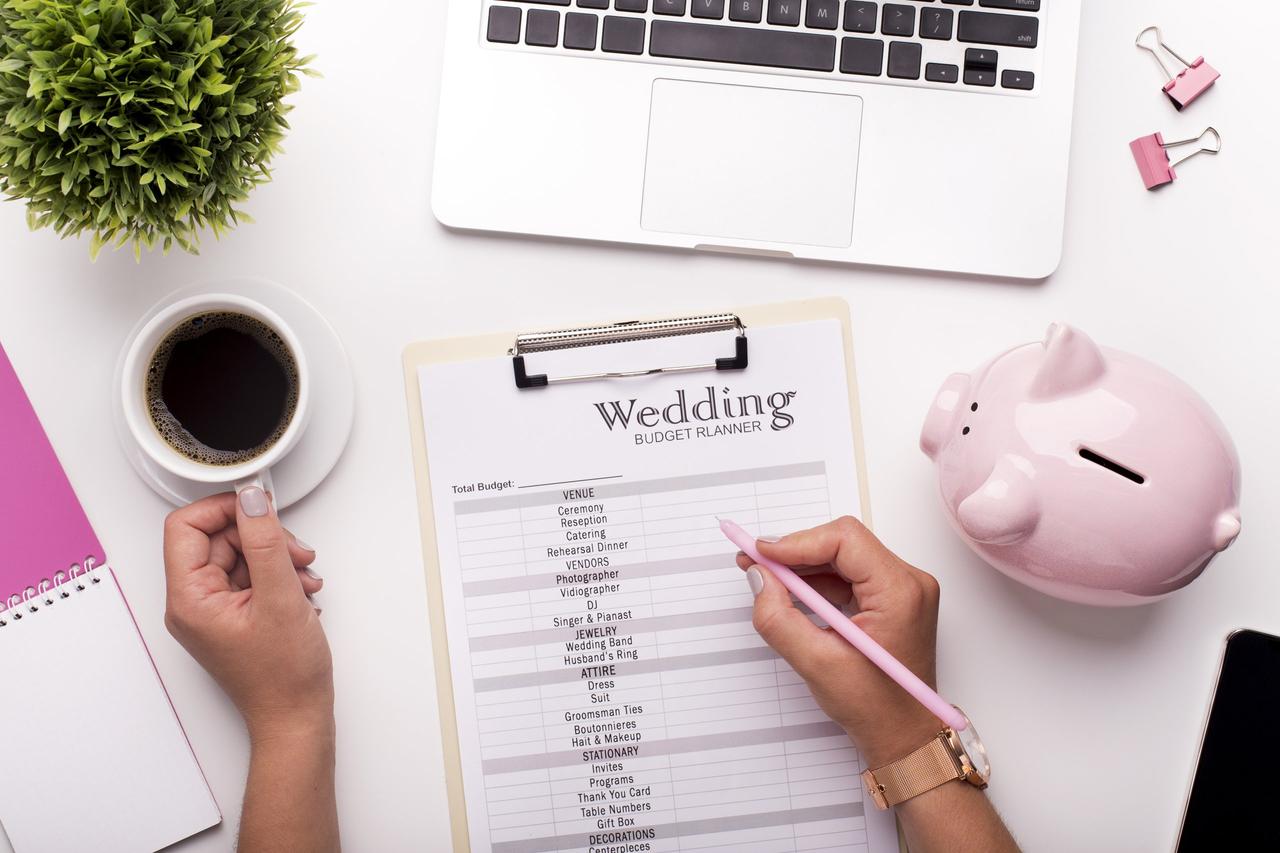 Once you've worked out how much you can save, whether you'll have any financial help from family, and how far your money will stretch, you have a rough budget.
Little costs are going to pop up when you least expect them so you always need to have a contingency fund that you don't touch. Set aside around 10-15% of your budget and pretend it doesn't exist. If you have a £30,000 budget, this means you'll approach your planning with a reduced budget of £25,500 to £27,000 in your head.
You'll want around £500 spare for the wedding day too: just in case the cars don't turn up and you need taxis, a replacement bridesmaid dress needs to be found, and for the food and celebratory drink you need to provide for your wedding party on the day. Don't use it? That's £500 for your honeymoon!
5. Block Out Your Biggest Costs
Your venue hire fee will inevitably be your biggest cost. We'd always advise that you take your budget and cut it in half – this amount should cover your wedding venue hire, plus your food and drink charges. If your overall budget is £25,500, you'll have £12,750 for your venue, food and drink.
Knowing this, you can find out quotes for hire and cost per head from the venues you're interested in and see whether they fit in your budget. See the key questions to ask your wedding venue here.
Be aware that not every venue will offer the same kind of package. For a tipi wedding, you may find the cost of toilets, a dance floor, a catering tent with an extra power supply and your furniture will all need to be taken into account separately. A hotel wedding is more likely to cover most of your venue and catering costs, but you may find it's extra for cake cutting and a cheese tower, for example. Find out all the associated costs upfront and adjust your budget accordingly. Discover the best wedding packages in the UK for more ideas.
Enquire about every cost with your suppliers so you're not caught out by any hidden wedding costs. This includes VAT, delivery, service and corkage.
Things You Might Forget to Budget For:
On-the-day wedding stationery: order of service, menu and place cards
Marriage licence/registrar fees
Corkage (here are some of our favourite no-corkage wedding venues)
Wedding party gifts (the parents should get something too, even if it's just a bouquet)
Hen or stag party costs (see our favourite cheap hen do ideas here!)
Extra reception décor, like lighting hire
Honeymoon wardrobe
Stamps for your invites
More than one hair and makeup trial
Clean-up costs
Outfit alterations
Hotel room the night before the wedding
Unexpected guests (random plus-ones do happen!)
Post-wedding extras: thank you cards, preserving your wedding dress
6. Decide Your Priorities
The remaining half of your budget is for everything else, including outfits for you and your wedding party, the wedding rings, stationery, flowers and décor. Here's how to do it:
Draw up a list of non-negotiables with your partner. We'd highly recommend a good wedding photographer be top of this list. What about an open bar? Fancy invitations? A firework display? Photo booth? Live music for the evening reception? It can be anything from a Rolls Royce to drive you to the ceremony to only having a summer Saturday wedding. If you can't imagine marrying without this thing, you need to be prioritising the budget for it and looking elsewhere to save.
However, be sensible about non-negotiables: pick two or three otherwise you really will have no budget left. This means you can't keep going over £500 here and there. An extra £500 for the outfit of your dreams needs to be cut somewhere else.
It's helpful to make another list of things you really aren't that fussed about e.g. centrepieces, a massive cake, expensive wedding rings. It'll help you see when you start tracking your budget if you're spending more than you need in this area.
Book your priority vendors first (venue, photographer/videographer, catering, band/DJ) so you can continually adjust how much you have to spend in other areas as you proceed.
7. Stick to Your Budget
Tracking your budget is the only fail-safe way of making sure you don't go over it. Boring, but true. But, how do you create a wedding budget? You can create and manage your wedding budget with the Hitched free wedding budget planner.
How to Set a Wedding Budget
Download the Hitched app - it's free!
Enter your predicted budget and the app will estimate how much you should allocate for each supplier. You can add or remove anything from your budget and create new categories as needed.
You'll then be able to monitor and track your costs and get a breakdown of your wedding spending.
Better yet, you can watch your pending payments so you don't miss anything important! The last thing you want is to be paying a penalty fee for late payments.
What is a Realistic Budget for a Wedding?
How much you spend on your wedding will be proportional to a number of factors; you and your partner's savings, how much you can realistically set aside from your current income taking into account typical monthly payments, and any contributions from family or friends.
You may be tempted to boost your cash flow with credit cards and loans, but don't go overboard if you aren't able to pay this back within a 12-15 month time frame.
Is £20,000 a Good wedding Budget?
£20,000 is a generous amount to have as your wedding budget, however it is really easy to overspend in places so keeping track is still vital. With £20,000 allocated to your wedding you're looking at a venue hire budget of approximately £8,600, £1,400 for photography and £80 per head on catering.
Is £3,000 a Good Wedding Budget?
With a £3,000 wedding budget being more than £15,000 lower than the average UK spend, sticking to it might seem tricky, but it's not impossible. You can plan a wedding for £3,000 by cutting costs in typically expensive areas. Consider opting for an affordable wedding venue, a high street wedding dress and DIY décor.
How to Do a Wedding on a Budget?
If you're hoping to do a wedding on a budget and want some tips and tricks to ensure you don't go over your limit, we have an entire guide which includes 17 ways to save on your wedding, as well as a roundup of budget-boosting swaps that'll help you save money on your special day.
Got your budget planned? Great! Now it's time to make good use of our complete wedding planning checklist which details what you need to have done and by when, as well as our wedding planning guide which covers absolutely everything you'll need on your journey to getting wed!