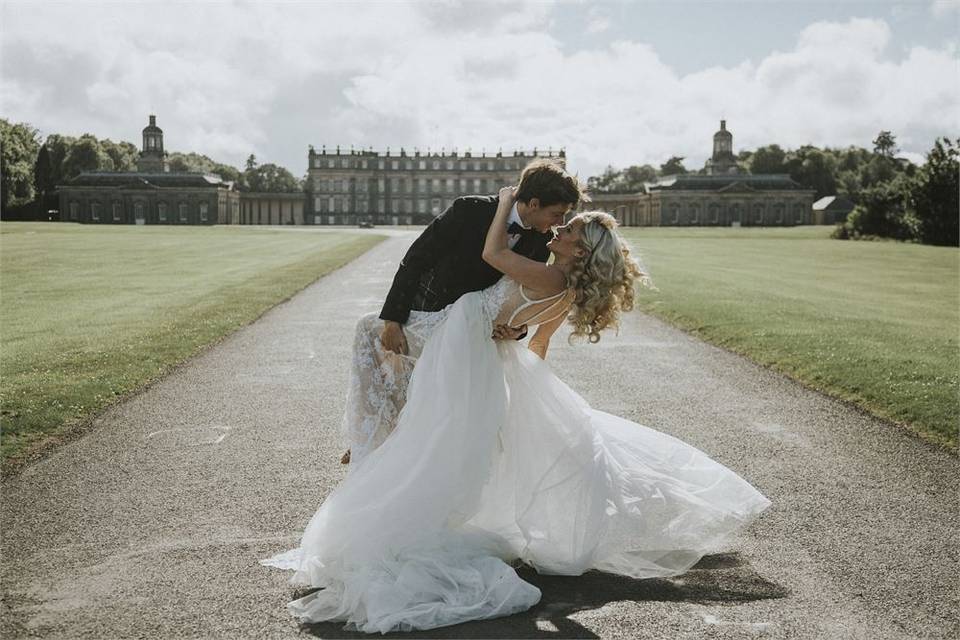 Whether you're planning an elegant stately home wedding or festival-style nuptials, Scotland has plenty to offer engaged couples.
From dreamy castle wedding venues to rustic venues and whimsical woodland retreats, the variety of wedding venues in Scotland is astounding.
To help you narrow down the choice, we've rounded up the best Scottish wedding venues for anyone planning their nuptials north of the border.
READ MORE:
1. Harvest Moon – East Lothian
Have you ever considered a beach wedding? Scotland has some of the best beaches in the world and Harvest Moon on the coast of Tyninghame is one of the most beautiful, unusual spots to tie the knot.
You can host a weekend-long celebration either at their Luxury Safari Tent site on the white sand beach (with its own 'Arabian Night' honeymoon tent) or you can say your vows at their treehouse site.
The treehouse and woodland site looks out over the striking Bass Rock and there's a separate honeymoon treehouse for the newlyweds! If you want to start married life looking out to sea from the comfort of your own four poster bed on the beach or treehouse suspended in the air, look no further. This will be a wedding unlike any other!

2. Raemoir House – Aberdeenshire
If you're looking for a dramatic backdrop to your day, the Georgian mansion of Raemoir House is fabulous. Panelled wood rooms, cosy sofas and an open fireplace add to the vintage charm of this lovely estate and make it perfect for a winter wedding as much as in summer.
Raemoir House is home to multiple areas for ceremonies and receptions. Picture an intimate ceremony in the Woodland Cathedral before retreating to one of the many rooms within the manor house. If you're envisioning a candlelit, fairytale-esque evening, then Raemoir House could be for you.
3. Hopetoun House – Edinburgh
Hopetoun House can host up to 250 guests so it's ideal for a large guest list. This grand stately home is an elegant and romantic setting for any Scottish wedding and is within easy reach of the capital.
As they only offer a restricted number of weddings a year, your wedding will be tailored to your exact requirements and you'll get the support you deserve at every stage of the process.
You can host your reception in either the Adam Ballroom, Tapestry Room or Tiger Hall, with access to the splendid State Apartments for your photos.
Their award-winning, exclusive catering partner Heritage Portfolio specialises in local, seasonal dishes, and uses plenty of the produce grown and reared on the estate's land. You can be guaranteed of a delicious wedding breakfast at Hopetoun. Afterwards, guests can rest their weary feet in their two four-star holiday cottages.
4. Kilmartin Castle – Argyll
In the West of Scotland sits the beautiful gem that is Kilmartin Castle. This tranquil venue is the perfect spot for snug celebrations with only your nearest and dearest. The castle welcomes up to 10 people for weddings, where couples and guests will find a mix of 16th-century charm and contemporary comforts.
The happy couple and their guests will be able to stay in the four guest rooms on the grounds, which feature copper bathtubs, wooden stoves, and walk-in rain showers. Between the views of rolling hills and the cosy alcoves throughout the venue, we have a feeling you'll never want to leave.

5. Arniston House – Midlothian
Steeped in over four centuries of Scottish history, Arniston House is a stunning stately home wedding venue. Just 11 miles from Edinburgh, it's incredibly easy to reach yet feels worlds away as you drive up to the 450-year-old mansion house, set among beautiful grounds.
The elegant mansion house boasts plenty of function spaces, but our favourite is the Orangery which is bathed in natural light and looks over the whole estate. If you want to make full use of the grounds, host a marquee wedding on the lawns with a fireworks display against the house. Your guests will be talking about this venue for years to come.

6. Teasses Estate – Fife & Angus
This garden venue might be the perfect spot for you to tie the knot if you have a green-fingered special someone in your life. Licensed for civil ceremonies, this gorgeous venue features a lovely greenhouse where you can host your festivities. If you're looking to host a larger celebration, the venue is happy to accommodate a marquee for up to 150.
The beautifully-kept gardens will serve as a picture-perfect backdrop for your special day. Though the scenery and uniqueness of this location almost top the list, our favourite thing about Teasses Estate is that their head gardener will actually grow your wedding flowers for you, should you decide to book the venue.

7. Scone Palace – Perthshire
If you want a fairytale wedding, there's nowhere quite like Scone Palace. This enchanting castle is found just outside of Perth and boasts the longest room in Scotland – the aptly named Long Gallery. Imagine how special a walk down the aisle will be in that room!
After your ceremony (which can be held in lots of opulent rooms throughout the castle), there's only one place you'll want to host your reception, in the stunning State Dining Room.
Scone Palace is the perfect place to end your wedding with a bang. You can throw a fireworks display in the grounds, overlooking the Perthshire countryside. To cap off a fairytale day, the newlyweds can spend the night in the castle's grandest bedroom. You'll truly feel like royalty for the day – with your own palace too.

READ MORE: The Best Sporting Wedding Venues
8. The Old Manse – Inverness
Set on the world-famous Loch Ness, The Old Manse is a countryside venue steeped in old-world charm. Built in 1850, this traditional venue is a three-storey haven that will have you feeling like you've stepped right into a storybook.
Couples can exchange their vows in a modern, civil or religious ceremony in the Bona Church, located on the grounds of The Old Manse. After the ceremony, guests can gather outside under a marquee provided by the venue to enjoy the expansive views of Loch Ness.
If you opt for a smaller celebration, you can host your dinner in the Loch Ness Dining Room with 10 of your closest friends and family.

READ MORE: Wedding Venues With Chapels
9. Norton House Hotel & Spa – Edinburgh
Situated just outside of Edinburgh, Norton House Hotel and Spa is a majestic wedding venue bursting with Scottish charm. It's set in 55 acres of pristine, tree-lined grounds and perfectly blends historic touches with 21st-century comforts.
Whether you're dreaming of hosting a small and intimate wedding or something large and lavish, there will be a space at Norton House which works. The Ballroom is one of our favourite spaces – it holds up to 140 guests for a wedding ceremony and breakfast and up to 200 in the evening.
The venue is fully licensed for religious, humanist and civil ceremonies. In fact, religious ceremonies are frequently carried out on the rhododendron-fringed lawns – a lovely idea if you're hoping to make the most of your summer wedding.
If that wasn't enough, Norton House boasts a fantastic selection of accommodation ideal for both you and your guests to retire to once the celebrations are over. Oh, and the hotel's beautiful spa is ideal for post-wedding pampering.

READ MORE: 50 of the Best Spas in the UK
10. Cambo House & Estate – Fife & Angus
Bursting with charm, beauty and romance, Cambo House and Estate in Fife and Angus is a truly special Scottish wedding venue. Home to 17 bedrooms, three cottages and two luxury glamping tents for you and your guests to stay in, it's definitely a vibrant and unique place to tie the knot.
Cambo House and Estate offers a variety of different locations on site for couples to host celebrations in. From a whimsical woodland area with an open fire to the beautiful Victorian entertaining rooms – there's no style of wedding that this venue can't accommodate.

READ MORE: 23 Cool Wedding Venues With Accommodation
11. Carfraemill - Lothian & Borders
Carfraemill, a romantic setting nestled in the Lammermuir Hills, is the perfect location for couples who have been dreaming of a rural wedding venue. Surrounded by pastoral countryside and idyllic farmland, this spot allows you and your loved ones to enjoy some peace and quiet in luxury.
Whether your dream day is a grand affair or an intimate gathering, this property can accommodate soirées with up to 400 guests.
Once your celebrations in the stunning marquee, ballroom or private room have begun winding down, you and your guests will be invited to extend your stay in the property's elegant guest rooms. What's more, the team of chefs will craft delicious fare, providing you with an unforgettable culinary experience as you make memories with friends and family.
12. Springkell – Dumfries Galloway & Ayrshire
Couples who are looking for a grand wedding venue in Scotland should definitely consider Springkell, a beautiful Palladian mansion near Lockerbie. This magnificent Scottish wedding venue is available under exclusive-use terms and offers the perfect backdrop for a stunning and memorable celebration.
The beautiful venue offers three different wedding packages and can accommodate up to 400 wedding guests, meaning you don't even have to consider cutting down the guest list because of space limitations!

The Wedding Room needs to be seen to be believed - you'll fall in love with the grand Italian marble-framed mirror, fabulous décor and beautiful views across the gardens as soon as you see it.
READ MORE: Large Capacity Wedding Venues
13. Logie Country House – Aberdeen and Deeside
The biggest struggle will be getting guests to leave the beautiful Logie Country House after your wedding! The magnificent 17th-century castle underwent a huge renovation in 2009 that added amazing features like an indoor infinity pool, outdoor hot tubs, cinema and 15 sumptuous bedrooms.
With exclusive use over three days and nights, your guests can take full advantage of all that's on offer (including a private island and ancient woodlands to roam).
Able to host up to 150, if you're looking for that perfect mix of grandeur and history alongside relaxation and cosiness, Logie Country House is the perfect choice of wedding venue.

14. Cluny Castle – Aberdeen & Deeside
Dating back to the 14th century, Cluny Castle is a historic wedding venue situated on over 200 acres of unspoiled, beautiful Aberdeenshire farmland. While this is a castle wedding venue, the décor inside Cluny Castle is much more modern than most castles.
The dramatic and enchanting chapel is elegantly decorated with stained glass windows and dark oak pews, making it one of the prettiest places to get married in Scotland.

READ MORE: Historic Wedding Venues
15. Dunkeld House Hotel – Perthshire
If a hotel wedding venue in Scotland is what you're looking for, you're bound to love the adorable Dunkeld House Hotel in Perthshire. This romantic Scottish wedding venue is home to breathtakingly serene views of the majestic River Tay, providing a stunning setting for those all-important wedding pictures.
Not only does Dunkeld House Hotel offer fantastic wedding packages and services, they also host hen and stag weekends. What better pre-marital retreat than this incredibly beautiful Scottish hotel?

READ MORE: The Best Castle Wedding Venues in the UK
16. Carrick Castle – Argyll and Bute
Set on the west shore of Loch Goil, the 14th century Carrick Castle is bursting with rustic charm and sweeping views of the Scottish landscape, so you'll be spoilt for choice for photographs.
You can even say 'I do' outdoors overlooking the glittering loch, while they have a fantastic selection of spaces to pick from if you want an indoor ceremony, from a barn to marquee to intimate rooms.
Able to host up to 160 guests, there's also three cottages for guests and a luxurious newlyweds cottage so you could turn it into a slightly longer stay for your nearest and dearest. With a blank canvas to create your perfect day, this is an excellent choice for couples looking for a rustic but smart venue.
17. Gleddoch Hotel, Spa & Golf Club – Central & Glasgow
If you're planning a wedding in Scotland and want a city wedding venue that's easily accessible for all of your guests (and looks amazing!), why not consider the fabulous Gleddoch Hotel, Spa and Golf Club? Located just 20 minutes from Glasgow, this beautiful wedding venue has so much to offer in terms of facilities.
They have everything from manicured lawns for the wedding pictures and outdoor ceremonies, to a spa and golf course for a post-wedding day retreat. Having been recently refurbished in 2016, it's perfect for couples who want a modern wedding venue.

READ MORE: Wedding Venues in The City
18. Borthwick Castle – Lothian & Borders
If you're looking for a traditional wedding venue that is quintessentially Scottish, you'll love the style and ambiance at exclusive-use venue, Borthwick Castle. The charm and history at this wedding venue is impossible not to love and they even have a church on site for couples wanting religious ceremonies.
If all that wasn't enough, quirks such as the dreamy spiral staircase that looks like it's been plucked out of a Disney film and the breathtaking Great Hall are bound to seal the deal for you.

19. Dunskey Estate – Dumfries and Galloway
With an estate featuring acres of rugged Scottish countryside and a dramatic coastline, Dunskey Estate is a wedding venue with wow factor.
The stunning Edwardian castle is guaranteed to impress guests and create a romantic atmosphere for your wedding day, whether it be a small and intimate ceremony or a large celebration with up to 80 guests.
You can say 'I do' indoors with a stone fireplace as your backdrop or outdoors within the surrounding woodland. After your vows, you can enjoy the range of beautifully refurbished spaces indoors and tuck into a bespoke wedding breakfast made by the highly experienced in-house chef.
20. Glamis Castle - Fife and Angus
Centuries-old Glamis Castle is a truly enchanting wedding venue that offers endless historic charm for those looking to host memorable wedding celebrations. Surrounded by idyllic views of the Grampian Mountains, you and your guests will feel as though you've stepped right into a storybook.
Suitable for weddings of up to 50 guests, this setting is a wonderful choice for those planning to host a more intimate celebration.
Once the home of Queen Elizabeth and The Queen Mother, this stately abode exudes refined and timeless elegance.
Once you have exchanged vows in the Drawing Room you will be invited to host a celebratory meal in the Victorian Dining Room. Throughout the carefully maintained grounds, you and your loved ones will be treated to captivating views of natural beauty at every turn.
21.

Riddle's Court - Edinburgh

In the vibrant city of Edinburgh, Riddle's Court is a unique setting that offers timeless elegance in a convenient location. Once used as a banquet hall for royal events, the venue now welcomes couples as they celebrate their joyous wedding day.

Up to 60 guests can gather with you on your long-awaited wedding day in this remarkable hideaway.

The hardwood flooring, eye-catching chandeliers, and panelled walls of the property exude stately elegance. After an unforgettable wedding day, you will be invited to stay in the King's Chamber, a room steeped in historic charm and luxury.
22. The Old Church Ayrshire - Dumfries Galloway and Ayrshire
This unique setting affords couples the opportunity to bring their dream wedding celebrations to life. The Old Church Ayrshire is an exclusive event space that can accommodate weddings of up to 36 attendees.
With both indoor and outdoor gathering spaces, elegantly appointed dining rooms, and comfortable accommodations, every element of your day will be carefully considered.
Throughout the property, its historic charm can be enjoyed at every turn. With stained glass windows and original pews, the venue offers a contemporary take on traditional features. Couples are welcome to host a romantic service on the covered deck, set to the backdrop of the rolling hills of the countryside, and then retire to the dining area for a wonderful meal.
23. Duns Castle - Lothian & Borders
Are you ready to step back in history, to be transported back to a time of elegant banquets and grand affairs? Duns Castle allows guests to escape the hustle and bustle of daily life and to celebrate their love story in the charming halls of a royal abode.
You will be invited to host an intimate wedding celebration with up to 100 attendees at this exclusive property.
Every room of this opulent estate is a time capsule of royal grandeur, perfect for those looking to host their day in an unforgettable setting. Once your reception in the 14th-century dining hall has concluded, you and your loved ones will be welcome to stay in the property's luxurious guest suites.
24. The Royal College of Physicians of Edinburgh - Edinburgh
Every inch of The Royal College of Physicians of Edinburgh exudes luxury, opulence, and elegance. Located in the heart of Edinburgh's New Town on Historic Queen Street, this property offers an unforgettable experience in a convenient and vibrant location.
Both wedding ceremonies and receptions of up to 150 attendees can be accommodated throughout a number of immaculate event spaces.
From the glow of the chandeliers against the warm tones of the hardwood interior to the familiar smell of well-loved books, this venue will have you feeling as though you've stepped straight into a dream.
25. Ednam House Hotel - Lothian & Borders
In the idyllic town of Kelso, tucked away in the heart of the Scottish Borders lies Ednam House Hotel - a historic Georgian country house where couples can host the wedding event they've always dreamed of. Surrounded by lush greenery and peaceful waters, this is the perfect setting for a fairytale wedding.
Couples are welcome to host events of up to 180 guests at a number of event spaces throughout the estate.
After an outdoor ceremony under the romantic gazebo, you and your loved ones will be invited to warm up by the grand fireplace while you indulge in a delicious meal. Overnight accommodation is available for the happy couple and their guests, allowing you to extend your celebrations.
26. Winton Castle - Lothian & Borders
If you're dreaming of a romantic venue with historic architecture, grand celebration spaces, or awe-inspiring countryside views, Winton Castle offers all of this, and more. This 500-year-old manor is one of Scotland's most precious hidden gems, surrounded by carefully maintained grounds and wooded meadows.
The castle offers couples the choice of a number of carefully curated packages for wedding celebrations of up to 400 attendees.
You'll be invited to gather for your ceremony in the peaceful, romantic gardens the grounds have to offer. Receptions can be held in the castle itself in any one of the luxuriously decorated ballrooms.
27. Murthly Estate - Perthshire
The atmosphere at Murthly Estate is magical, whimsical, and truly unforgettable. When you celebrate your joyous day here, you're sure to feel at home.
Surrounded by peaceful countryside, you and up to 250 loved ones can enjoy the idyllic serenity this property has to offer.
Historic charm abounds throughout the property, from its traditional chapel to the walled garden and every detail in between. Couples will be assisted by the venue's team of dedicated event specialists, but will have the freedom to host the wedding celebration of their dreams.
28. Alladale Wilderness Reserve - Ross-shire
Have you dreamed of escaping to the peaceful countryside to celebrate your day with only your nearest and dearest? If so, Alladale Wilderness Reserve may be the very location you've always envisioned.
Uninterrupted views of rolling hills, lush forest, and endless skies await you and up to 20 of your loved ones for an unforgettable stay in the traditional Scottish Lodge.
This cosy, comfortable, and luxurious setting offers guests the use of a number of facilities to make their stay enjoyable. Pre-wedding preparations can include a visit to the sauna or the fully-equipped gym, while post-wedding celebrations will feature a delicious feast prepared by the property's highly trained culinary team.
29.
Kinmount House - Dumfries and Galloway
The spectacular early 19th century Kinmount House boasts a fascinating history, including its use as a hospital during the First and Second World Wars, and a promising future thanks to its fantastic wedding offering. You can wed here in the house, Orangery, Victorian Bathing House or the Italian Garden before enjoying a spectacular reception for up to 220 guests.
Their purpose-built space, Kinmount Pavilion, recently opened and will give the historic Kinmount House a modern space for couples keen to party with all of their loved ones. Once the party's over, up to 42 guests can kick back in Kinmount's luxurious accommodation and enjoy the surroundings for that little bit longer - bliss!
30. Ballogie Estate – Aberdeen & Deeside
We just love the charming and romantic feel that oozes from the Ballogie Estate. Surrounded by beautifully manicured gardens, this gorgeous wedding venue can cater for weddings of up to 150 people and even has six en-suite rooms so your nearest and dearest can spend the night.
Whilst the outside marquee can cater for larger weddings, indoors the stunning orangery can hold just 50 guests for couples who want a more intimate, personal wedding.

READ MORE: 75 Amazing Unusual Wedding Venues
31. Lews Castle – Outer Hebrides
Couples who really want to impress their guests with a wedding in Scotland should seriously consider hosting their nuptials at Lews Castle. On the Isle of Lewis, just off the north coast of Scotland lies this incredible castle wedding venue surrounded by crystal clear waters and rich history.
The dramatic backdrop of Lews Castle paired with the fantastic wedding team and flexible approach make this Scottish wedding venue a real contender for anyone looking to get married outside of England.

READ MORE: The Best Foodie Wedding Venues
32. BAad Glasgow – Glasgow

Sitting in the heart of Glasgow's iconic Barras Market is Barras Art and Design, better known as BAad. This versatile space is bursting with industrial-chic décor and flooded with natural light, making for a truly unique venue just a stone's throw from the city centre.
With a heated internal courtyard and a reclaimed parquet mezzanine area, there's no shortage of character-filled spots for photos. Food comes courtesy of the award-winning A'Challtainn Fish Restaurant and Bar, with a focus on seasonal, sustainable, local produce. Every moment of your big day will be memorable at BAad.

For more Scottish inspiration, be sure to check out our full list of amazing wedding venues in Scotland!