REVEALED: The 15 Most Popular Wedding Venues of 2023
We've crunched the numbers and the results are in - here are the top 15 most popular UK wedding venues in 2023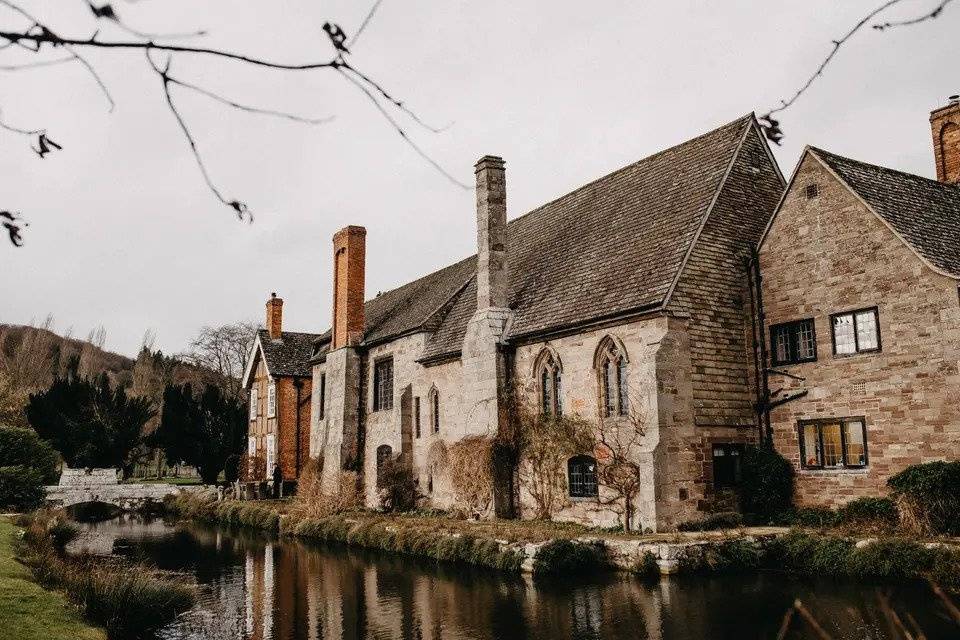 Every year at Hitched we crunch the numbers to discover the most popular wedding venues in the UK.
We've looked into our data to determine which of our wedding venues were most popular with nearlyweds in 2023, and have rounded up the top 15 to inspire you.
15 Most Popular Wedding Venues on Hitched 2023
So if you're looking for a wedding venue that everyone will love, you're in the right place. Barn wedding venues still remain popular - the top three are all barns, but there are plenty of stately homes and even a stunning castle wedding venue to inspire you.
1. Brinsop Court - Herefordshire
For the second year in a row, Brinsop Court is our most popular wedding venue in the UK!
Couples who'd like somewhere unique should look to Brinsop Court Manor House and Barn. This historic estate features a 12th century moated manor house (yes, there's a moat!), over 800 acres of ancient woodland, and a new, modern event barn.
Inside the manor are three ceremony rooms, bursting with character and history. The Banqueting Hall has a vaulted ceiling, oak floor and a large fireplace filled with candles to serve as the focal point for your ceremony. The Elizabethan Library is a room with a rich history for a heartfelt vow exchange, and the elegant Queen Anne Dining Room offers beautiful views across the Wordsworth lawn.
During the day this venue can accommodate up to 180 guests, and at night this number grows to 250 for dancing and fun. If any guests have a little too much fun, the venue boasts some onsite glamping accommodation.
When asked about the secret that makes Brinsop Court the most popular wedding venue with UK couples, marketing executive Natasha Allin explains: "Brinsop is a totally unique wedding venue and offers endless bespoke options for every moment of our couples special day.
"Here at Brinsop we pride ourselves in investing in our couples' dreams, every detail is personal and carefully considered, our coordinators take the time to get to know our couples and understand their wedding vision, as we recognise the importance of perfection on such a momentous day."
2. Dodford Manor - Northamptonshire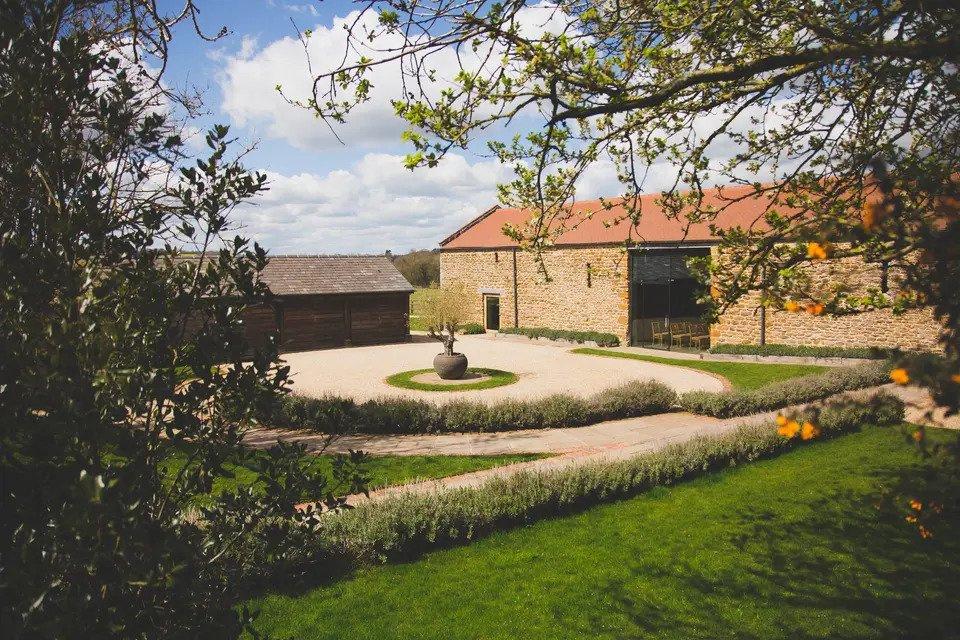 Dodford Manor has moved up from position three in 2022 to become the second most popular wedding venue on Hitched in 2023.
You'll find Dodford Manor's lovingly restored collection of country house barns among 20 acres of rolling Northamptonshire countryside. If you're looking for the perfect mix of a historic setting with bags of ambience and contemporary style and facilities, this is a wonderful choice.
Your day will begin by getting ready in the Grain Store, their luxurious preparation room with large mirrors everywhere to get ready with your entourage. The historic Mortain Barn is the setting for your civil ceremony: a flagstone floored barn with soaring rustic wooden beams and flooded with natural light. They can change up the configuration for the room easily so it's perfect for small weddings of 30 to large parties of up to 170.
The Oak Barn is the charming setting for your wedding breakfast. The amazing thing about this barn is that it can be effectively 'hidden' so there's a wow-factor reveal when guests are led into a previously unseen part of the venue. With a wall of glass overlooking the pretty views, it will have your guests gasping with delight.
Managing Director Simon Steel says "Dodford Manor is an understated and charming collection of historic barns and modern glazed oak barn, that make up a lovely rustic barn wedding venue, nestled in countryside. The barns and yards enjoy long-ranging views across rolling fields and grazing sheep drifting about the place, making a relaxed setting for wedding celebrations!"
3. Bredenbury Court Barns - Herefordshire
Bredenbury Court Barns remains in our top three most popular wedding venues for 2023. Nestled in the grounds of a charming country estate in the West Midlands among miles of rural countryside is this glass-walled wedding barn.
Their spectacular Atrium leads into the airy 1920s Orangery - the perfect place to exchange your vows. Then it's time to wine, dine and dance in the rustic Oak Barn, an atmospheric oak-timbered barn with panoramic views over the gorgeous grounds and beyond to the Malverns.
This magical venue is made for year-round weddings, with the gardens and terraces and ideal spot for al-fresco drinks in summer, and the cosy Atrium and Orangery welcoming you in on chillier days.
Perfect for intimate weddings of up to 40 to grand celebrations of 180, this friendly and enchanting barn venue is a wonderful spot for weddings. There's on-site accommodation so you can continue celebrations the next morning!
Managing Director Simon Steel says: "We are absolutely delighted that Bredenbury Court Barns is one of the top 10 most popular wedding venues! It is testament to our wonderful couples, their guests, lovely reviews and our amazing wedding team behind it all."
4. Pembroke Lodge - South West London
Built at the highest point in Richmond Park, the beautiful Grade II-listed Pembroke Lodge boasts some of the most spectacular views in London. If you're looking for somewhere with an amazing history, this is it, and you can become part of that if you choose to marry here.
Aside from the 11 acres of landscaped grounds around Pembroke Lodge, you'll have your pick of striking locations for photos as you take a walk into the park, which is home to around 650 deer.
Bridgerton fans will fall for the wisteria-clad front of the Lodge, but it's just as magical inside. The Belvedere is their biggest ceremony: a light and airy space that can fit up to 140 guests and is ready to be decorated just how you want. One of their newest offerings is outdoor weddings on the Belvedere Terrace, a dazzlingly beautiful spot to exchange vows, but also perfect for reception drinks.
Upstairs you'll find the more intimate Russell Suite, an elegant Georgian room which wows with large period windows, classic portraits and a marble fireplace.
Wherever you marry, you'll have the benefit of their talented in-house banqueting team handling the menu, and their wedding team - with a combined 50 years' experience - making your day run smoothly.
5. Farnham Castle - Surrey
Rounding out our top five is castle wedding venue Farnham Castle. Conveniently located close to London, the M3, M25 and A3, this is the ideal location for any couple looking to escape the city to celebrate their big day.
With five acres of stunning architecture and gorgeous gardens, Farnham Castle is Surrey's all-day celebration hotspot. Start off in The Gatehouse or The Pembroke where the wedding party can enjoy a private preparation space. The dreamy castle boasts unique locations to say I do - choose between the charming Lantern Room, Winchester Suite, Library, Great Hall, or the luscious gardens - as well as two on-site chapels for couples holding a religious ceremony.
The beautiful castle grounds are the perfect backdrop for your romantic wedding photos, before getting the party started in the Great Hall, ideal for 200 seated or 300 standing guests, or the Lantern Hall. The luxurious Honeymoon Suite is the cherry on top of a jam-packed wonderful day.
This spellbinding castle is guaranteed to make all your fairy tale wedding dreams come true - need we say more?
6. Merrydale Manor - Cheshire
The beautiful Merrydale Manor is a luxury country estate in the heart of Cheshire. The pièce de résistance is the purpose-built Merrydale Suite and Bar, a contemporary barn space which looks over the courtyard gardens at the back and the tranquil lake at the front.
Merrydale Manor is offered on an exclusive-use basis, so you and your guests will have access to the entire estate, which includes the manor house, lush parkland, manicured gardens, and a pretty lake. You'll be spoilt for backdrops to your wedding photos!
After you've danced the night away, head to their boutique on-site accommodation. Each room is individually decorated and is full of little luxuries like walk-in showers and Egyptian cotton towels. You can wake up with your closest friends and family to a delicious breakfast and debrief about the night before.
Owner Michael Irlam says "It's great to hear we have been selected in the top 10! We are a family run venue with a small team who take great pride in what we do so to be voted in the top 10 is a great compliment to all of us."
"Our team has a real understanding of the importance of bringing dream weddings to life; we are as passionate about our couples wedding day as the couples themselves."
7. Colshaw Hall - Cheshire
At number seven, we have Colshaw Hall. This gorgeous exclusive hire venue offers peace, privacy and luxury, right in the heart of the Cheshire countryside.
Owner David Irlam shares that: "It's not just a beautiful setting or exclusivity that makes Colshaw Hall so popular. We have always led the way, understanding what's required to help a couple's dream come true. Spaces like The Den, Makeup Lounge, Bridal Lodge and Peel Suite make Colshaw Hall stand out. We can't wait to introduce more additions in 2024!"
There are over 300 acres of private land here, all for you and your guests to enjoy and make the most of, with gorgeous Japanese gardens, magnolia gardens and walled gardens perfect for photos, drinks and canapes or romantic walks between events.
The building itself is nothing short of a wonder. This Grade II-listed Tudor-style Manor House boasts three reception rooms, and seven en-suite bathrooms, as well as a dedicated Makeup Lounge and the Den featuring ping pong tables and table football for the ultimate pre-ceremony hanging out.
When the big moment arrives, head to The Stables, which can seat 40-160 guests in a gorgeous setting with oak beams, marble flooring, leaded windows and impressive views of the garden and lake. After you've said I do, head over to the Peel Room for a fun-filled wedding breakfast and a grand celebration. When the dancing begins, the stylish bar is there to serve all your thirsty needs.
If you're feeling overwhelmed with planning your celebration, never fear - when you book at Colshaw Hall, you'll receive a wedding coordinator on hand to help everything run smoothly.
8. Bourton Hall - Warwickshire
This picturesque wedding venue is new to our annual report of the most popular wedding venues in the UK.
Bourton Hall is an Italianate style mansion, surrounded by beautiful countryside. It has plenty of history and an air of timeless elegance, which is why so many Hitched couples adore it.
It's fairly new to weddings - hosting its first wedding celebration in 2020, but has quickly become a favourite with couples, thanks to the variety of options it offers to couples. You can marry in the former chapel, or outdoors under the portico, before celebrating in the Draycote Bar & Disco.
There are plenty of luxury en-suite bedrooms on site too, so you and your guests can stay over and continue celebrating together.
9. The Venue at Sandy Cove - Devon
The Venue at Sandy Cove has returned to our round up of the most popular wedding venues! This incredible wedding venue is set in its own cove on the top of a cliff, offering a unique setting for your wedding celebration.
It is surrounded by beautiful beaches all within five minutes' drive of the venue, so you'll have plenty of options for your wedding photos. One feature couples can't get enough of is the option to have your ceremony in the cliff-top gazebo, with the Sky Walk Platform.
This platform is wrapped in glass and provides amazing views, as well as the perfect backdrop for photographs.
The venue offers state-of-the-art tech for weddings, as well as beautiful views of the coastline and incredible food and drink. There's also on-site accommodation and a swimming pool, spa and more so you can make a real wedding weekend out of your visit.
The team at the venue explain why they believe they are so popular with nearlyweds: "The Venue at Sandy Cove sits in a stunning location with breath-taking views across the sea, the rugged and dramatic Atlantic Coast and Exmoor – just the most perfect and magical backdrop for amazing photos and memories.
"Exuding beauty, tranquillity and romance, we are one of the leading venues in the South West."
10. Leez Priory - Essex
Leez Priory is a new entry for 2023! This Tudor-era wedding venue has got plenty of historic charm, and can host up to 110 for a daytime celebration, with space for 250 in the evening.
If you choose to celebrate your wedding at Leez Priory, you'll also have exclusive access to 25 bedrooms on-site, allowing you to stay on with plenty of your guests to really make the most of your celebrations.
You can work closely with the team at the venue to bring your dream wedding vision to life, and your own personal wedding manager will be on hand to support you as you plan.
There's a lot to love about Leez Priory, but the wedding suite deserves a special mention - the four-poster bed and jacuzzi will make you never want to leave!
11. Tunnels Beaches - Devon
Dreaming of a seaside wedding in the UK? Tunnels Beaches could be the one for you - this venue offers its own private beach, so it's not hard to see why it's a favourite for Hitched couples.
Enjoy uninterrupted views of the sea and Lundy Island - whether you marry indoors or outdoors - before partying the night away with your loved ones. There's also a 1am late license, making it a compelling choice for party animal couples.
There is lift access and facilities for wheelchair users, and gently sloping paths and tunnels for easy access for guests, as well as four luxurious self-catering houses. Altogether, there are 33 en-suite bedrooms on site.
12. Gosfield Hall - Essex
This luxurious wedding venue in rural Essex provides a glamorous setting for weddings. Gosfield Hall can host weddings of up to 250, with plenty of options for your celebration.
Couples looking to make a big impact will love the 120-foot long aisle - ideal for a dramatic entrance, as well as the large ballroom which is the ideal setting for your reception.
There are 23 suites and on-site lodges, allowing lots of your loved ones to stay on with you, and you'll work with the venue's talented event staff to design and bring to life the wedding celebration of your dreams.
13. The Ashes Barns & Country House - West Midlands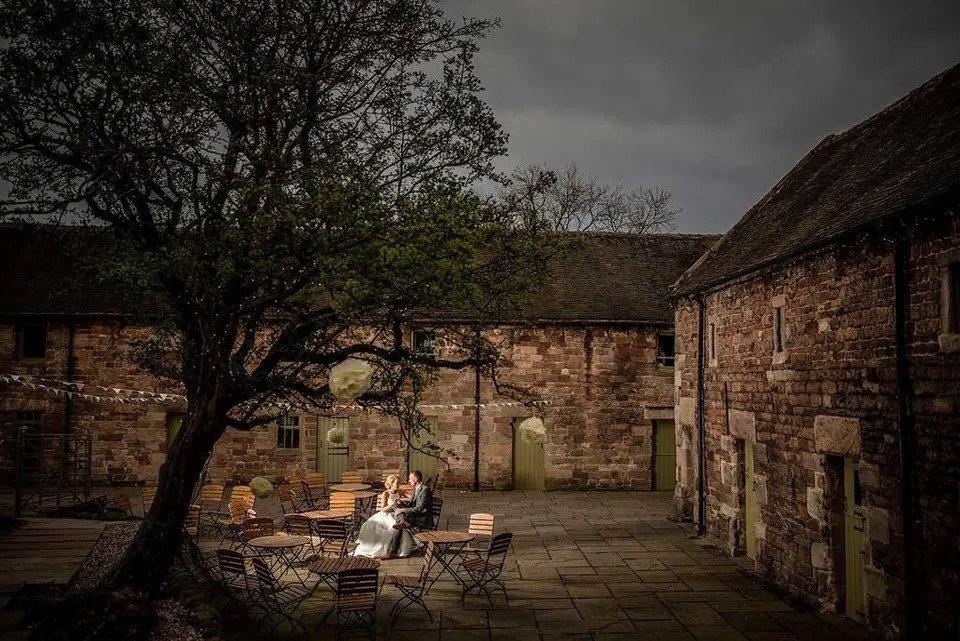 Presenting another lovely barn wedding venue! If you're planning a rustic wedding, then The Ashes Barns is a must. Available solely for exclusive use, this West Midlands rural venue caters for up to 150 guests and gives you the opportunity to supply all your own drinks with no corkage fees - go wild!
Exclusive hire of a 50 acre estate means that you and your guests will be the focus of everyone's attention. Personalisation is key here - you'll have the chance to decorate the venue in your own personal style, with the help of the attentive Estates Team and Event Manager, as well as tailor the menu to you and your guest's tastes.
If you're after a beautiful countryside venue that gives you the freedom to express yourself, then The Ashes Barns is the place for you.
14. Botleys Mansion - Surrey
Botleys Mansion is a luxurious wedding venue situated just 30 minutes from London. There is capacity for 60 to 500 guests, making it a versatile space for any kind of celebration.
The rooms are beautifully decorated with elegant features such as chandeliers and pastel colour schemes, and the sweeping staircases make for amazing wedding photos.
You and your guests can enjoy bottomless Pimms or prosecco around the fountain as you celebrate your marriage and mingle, before taking your seats for a lavish reception.
Botleys will also work with you to create a weekend wedding experience, if that's something you are interested in, to allow you to truly make the most of your celebrations - there are 11 bedrooms available on-site, including a luxurious suite for the newlyweds.
15. North Mymms Park - Hertfordshire
This Grade I listed wedding venue rounds out our list of the most popular wedding venues! Located under 20 miles from London, it's perfect for couples who want an venue that's easy to get to, but surrounded by tranquility.
The team at North Mymms Park pride themselves on being an excellent venue for multicultural couples, with space for up to 400 guests. They also have a range of special offers and late availability so even if you're working to a limited budget, there are options for you.
It's a dry-hire venue, so you can bring in your own supplier team and ensure your day is totally personalised to you. There are also 27 guest rooms on site, including a sumptuous honeymoon suite - it's easy to understand why it's so popular with Hitched couples!
The Most Popular Wedding Venues 2022
Here are last year's most popular wedding venues on Hitched!
Brinsop Court
Bredenbury Court Barns
Dodford Manor
Farnham Castle
The Ashes Barns & Country House
The Mills Barns
Pembroke Lodge
North Mymms Park
Merrydale Manor
Colshaw Hall
The Most Popular Wedding Venues 2021
Curious about the most popular wedding venues from 2021? Here they are...
Bredenbury Court Barns
Pembroke Lodge
The Mill Barns
Dodford Manor
Merrydale Manor
The Oak Tree of Peover
Brinsop Court
Hidden River Cabins
The Venue at Sandy Cove
Great Fosters
Want to browse even more venues? Visit our wedding venue section to find your dream wedding venue now!