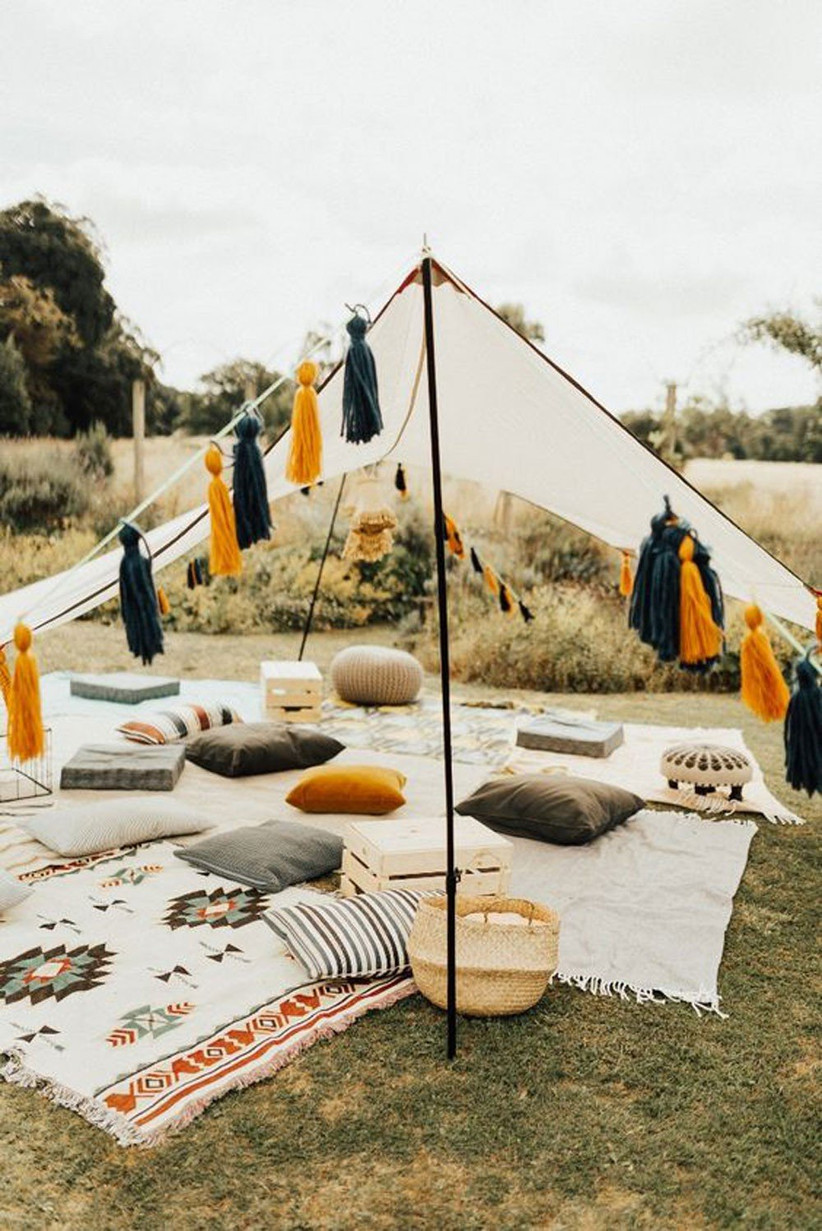 According to our latest National Wedding Survey, the average cost of a wedding now stands at just under £32,000. That might sound like a lot of money, but when you consider the cost of your dress, venue hire, alcohol and everything else that it takes to host a wedding, you can soon see how everything adds up.
It can be easy to forget your budget completely when you're in the throes of making your dream wedding a reality, so to help cut the costs we've compiled a list of 51 free wedding ideas. They'll look fab and your bank balance will seriously thank you.
READ MORE: The Ultimate 17 Step Wedding Planning Guide
Free Wedding Planning Ideas
Let's start right at the beginning. You've got engaged (congrats!) but you want to use planning tools which won't cost you a penny. You also don't want to part with too much money before you've even got to spending on the big day. Here's our top tips to save serious money on wedding planning…
READ MORE: The Most Creative Ways to Announce Your Engagement
1. Use the Hitched Wedding Planner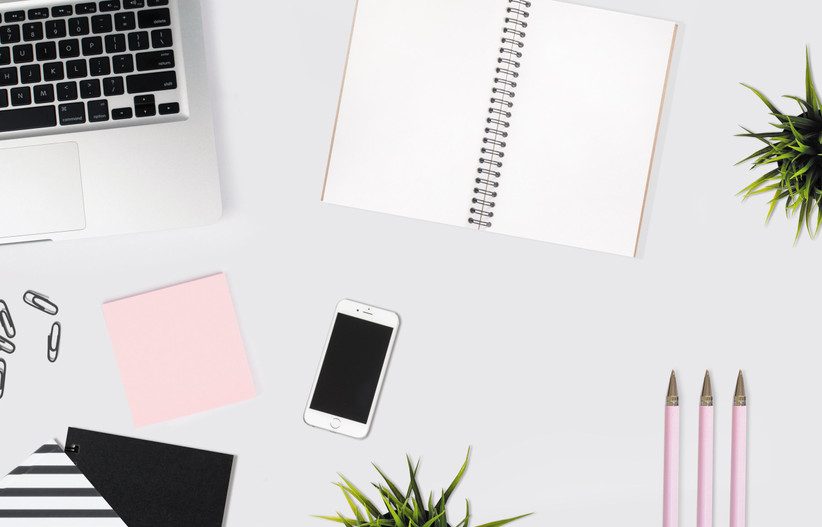 Become a wedding planner in your own right with the help of the free Hitched Wedding Planner. Online wedding planners like this one are great for planning your budget, creating your table plan, searching for inspiration, writing a virtual to-do list and more. There's no reason to pay when you can get all the tools you need for nothing!
2. Download Free, Printable Wedding Stationery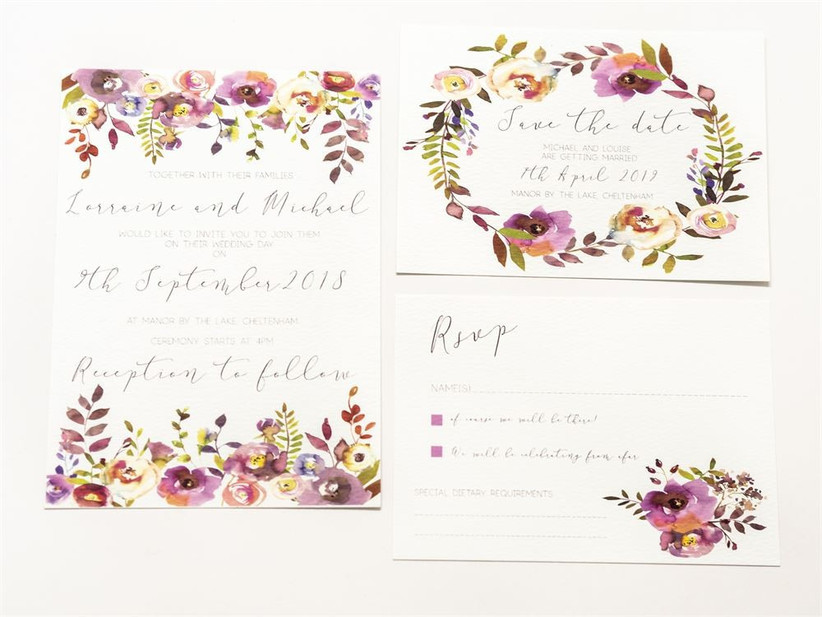 Image: Rose & Willow
Download free, printable stationery online. Wedding invitations can be a big cost that you might not want to incur, so why not consider downloading an invite design online and getting it printed onto high-quality paper?
READ MORE: How to Make Your Own Wedding Invitations
3. Consider Electronic Invites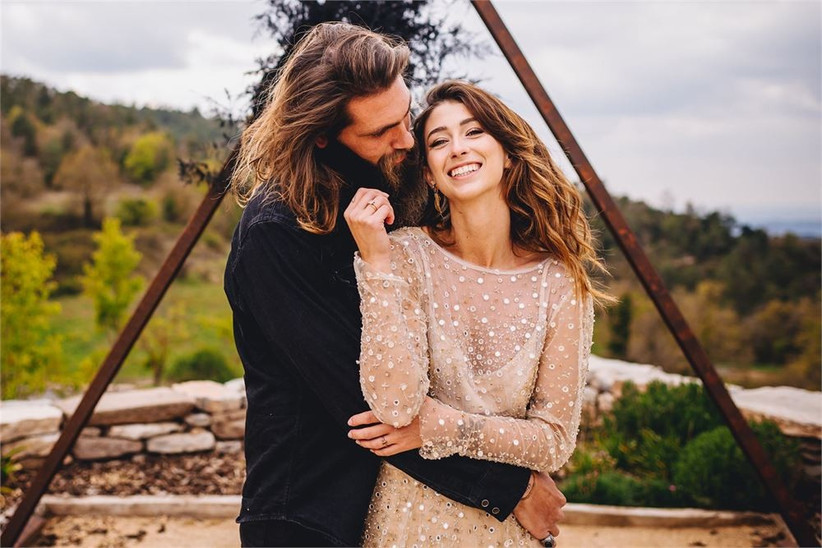 Image: Art & Story
Save on the cost of postage entirely by sending electronic wedding invitations to your guests. You could send them something simple via email with a link to your wedding website for more information!
This is a particularly great idea if you're planning an eco-friendly wedding.
4. Consider Free Hen Party Games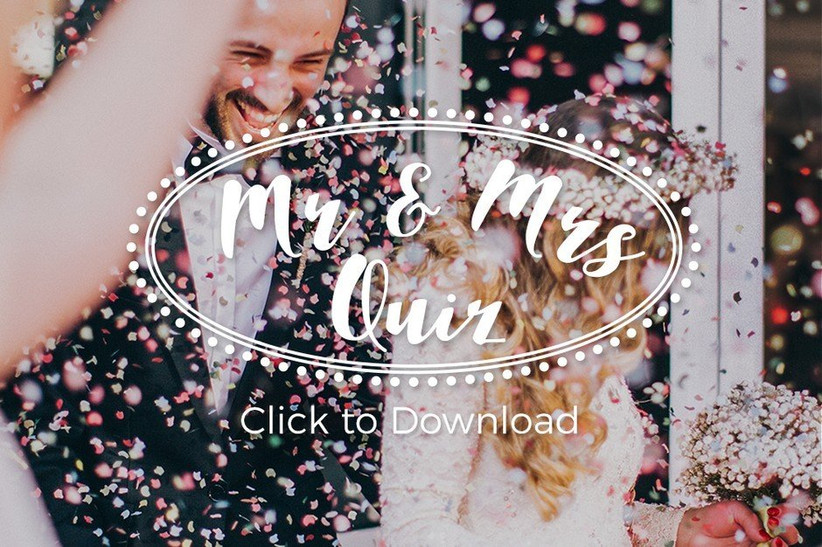 Consider free hen party games for your hen do entertainment. There are so many fun games like hen party bingo which can be downloaded online for the big night.
How about downloading our PDF of Mr & Mrs questions by clicking on the picture above? Just make sure your hens have asked your partner for their answers beforehand…
5. Opt Out of Buying Bridesmaid Gifts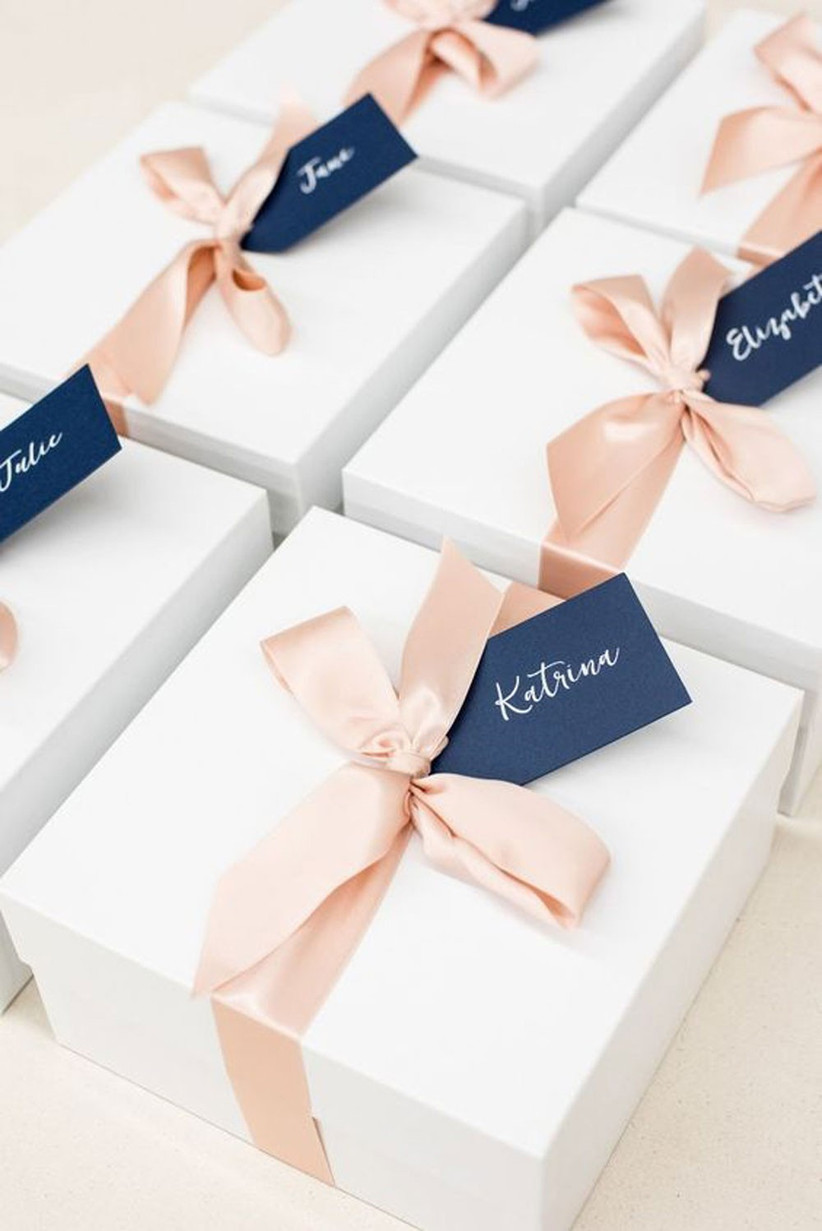 Image: Pinterest
Opt out of buying your girls bridesmaids gifts, and instead write them heart-felt thank you notes.
Tell them you'll take them out for dinner after your first year or six months of marriage on a bridal party reunion evening. Your bank balance will have had time to replenish by then!
6. Borrow a Friend's Car as Transport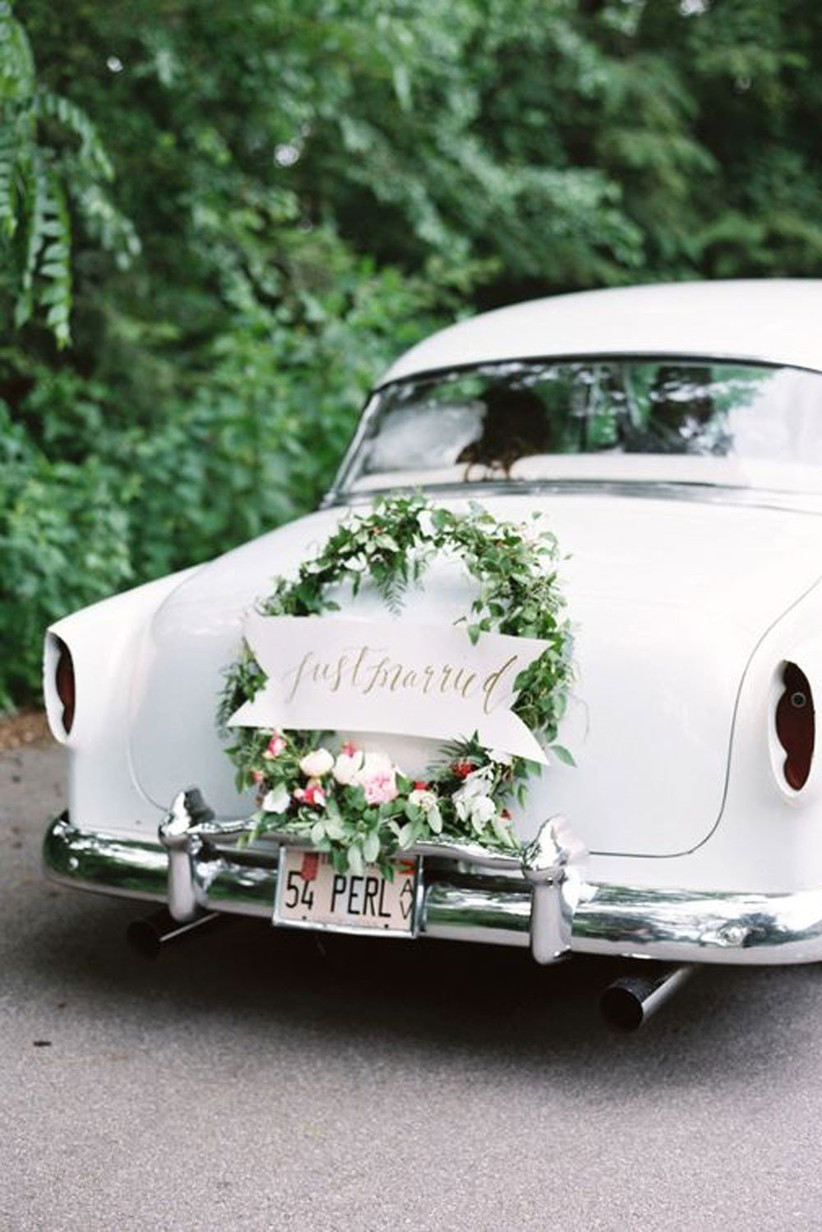 Image: Pinterest
Borrow a friend's fancy car to get you to your ceremony and save on transport and vehicle hire costs. They might even be happy to drive you!
How gorgeous is this vintage car decorated with wild flowers?
READ MORE: 25 Unusual Wedding Transport Ideas
Free Wedding Décor Ideas
Don't want to spend a bomb on wedding venue décor? Fear not! These free ideas will have your wedding venue looking fabulous for a fraction of what you expected.
READ MORE: The Ultimate Guide to Wedding Themes
7. Write Your Menu on a Mirror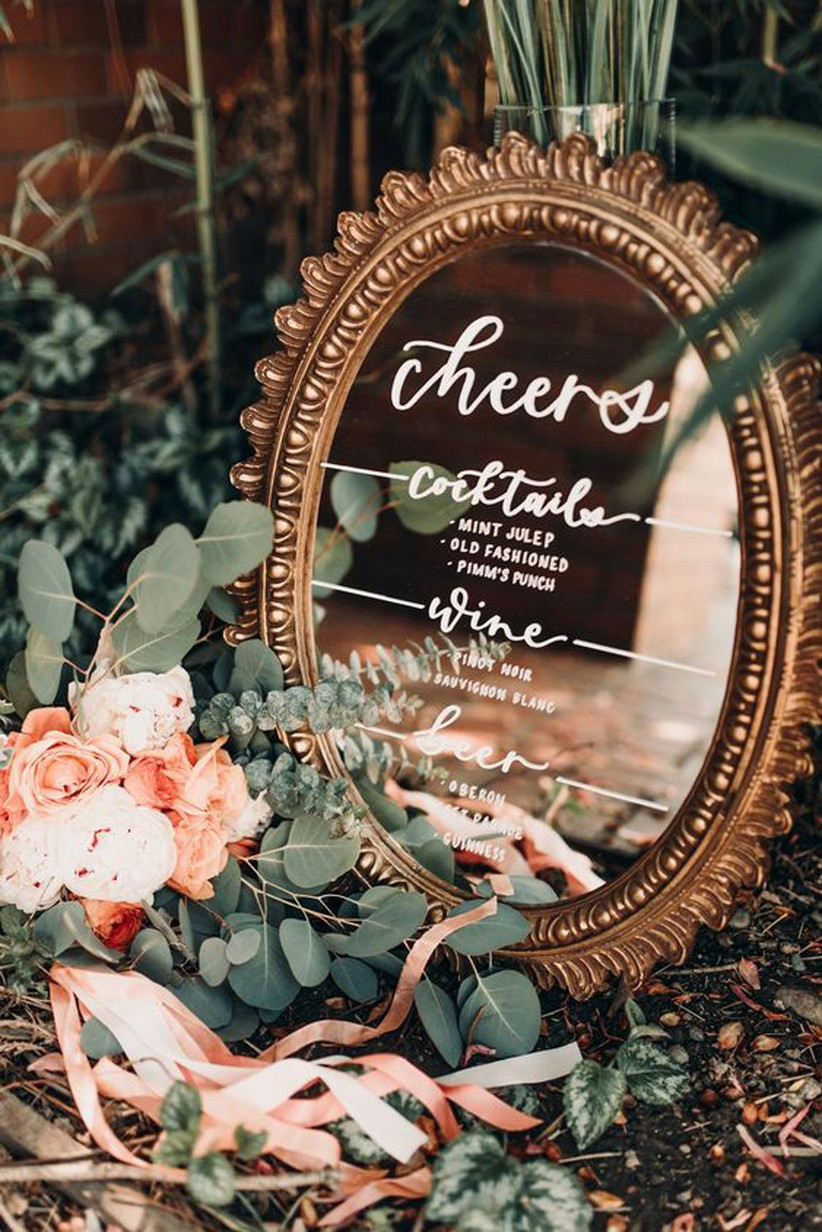 Image: Pinterest
Write your menu for food, drinks or both on an old, vintage mirror.
In fact, you could write almost anything on an old mirror – from your seating plan to your 'order of the day'!
8. Use Family Photos as Table Centerpieces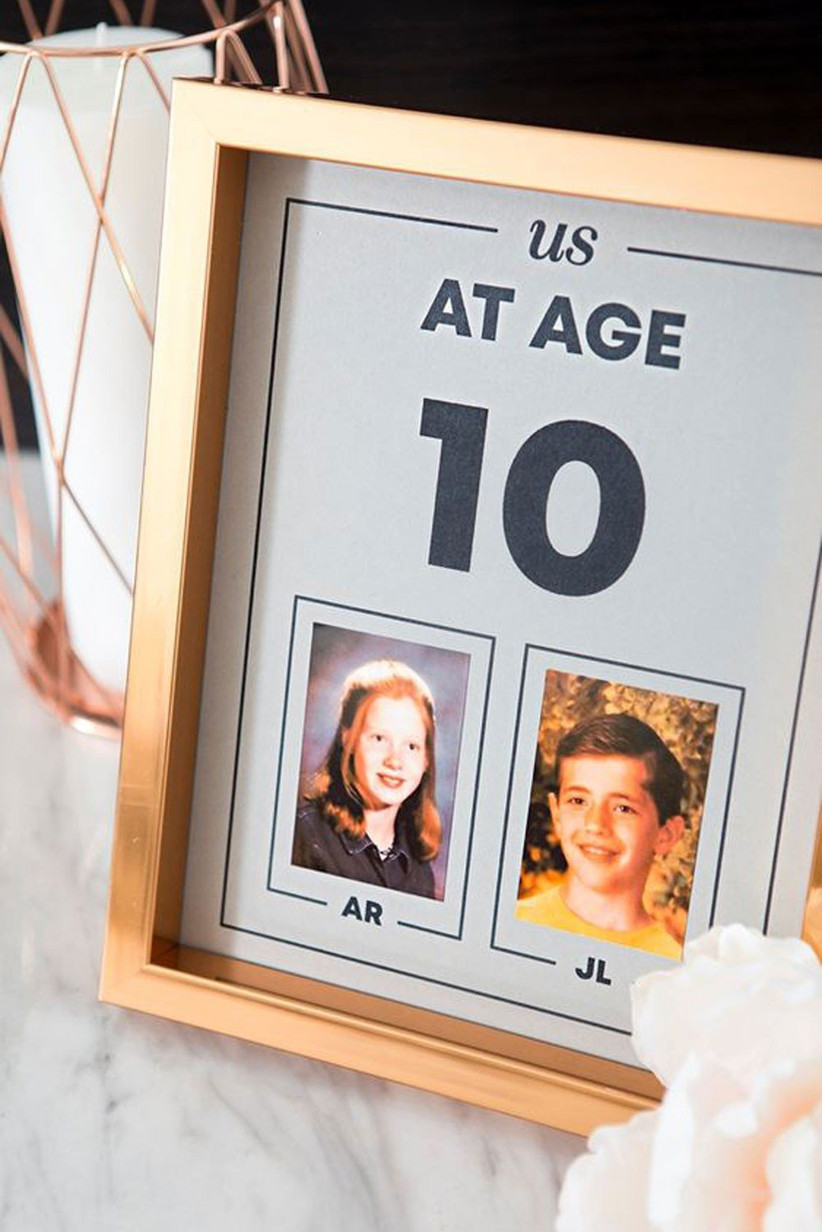 Image: Pinterest
Use old framed family photographs as the centrepieces for your tables, or photographs of the two of you at different ages.
Your table names could correspond with the age you were in the photo or the year it was taken.
9. Decorate Tables with Photos of Yourselves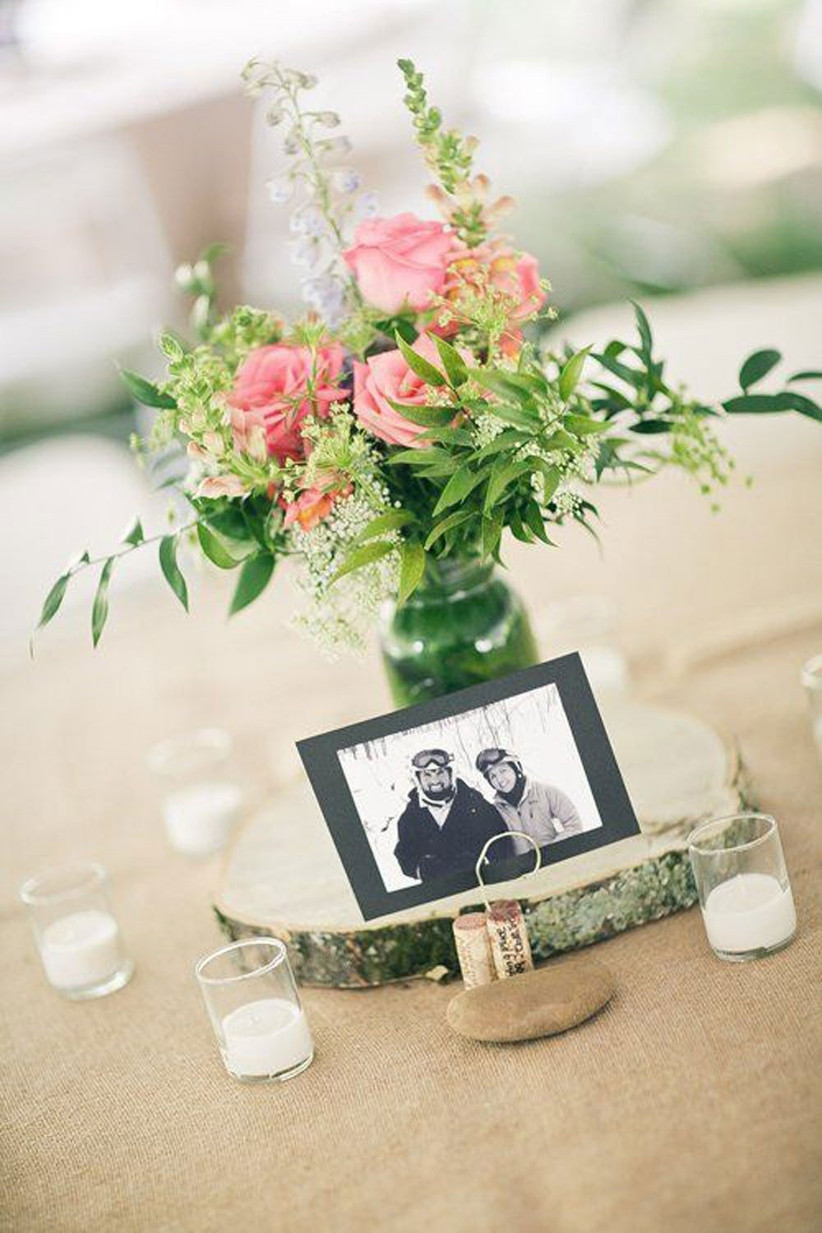 Image: Pinterest
If you can't find enough old photos, you could use photographs of yourselves in each year of your relationship as cute, personalised centrepieces.
READ MORE: 50 DIY Wedding Centrepiece Ideas
10. Use Old Books as Centrepieces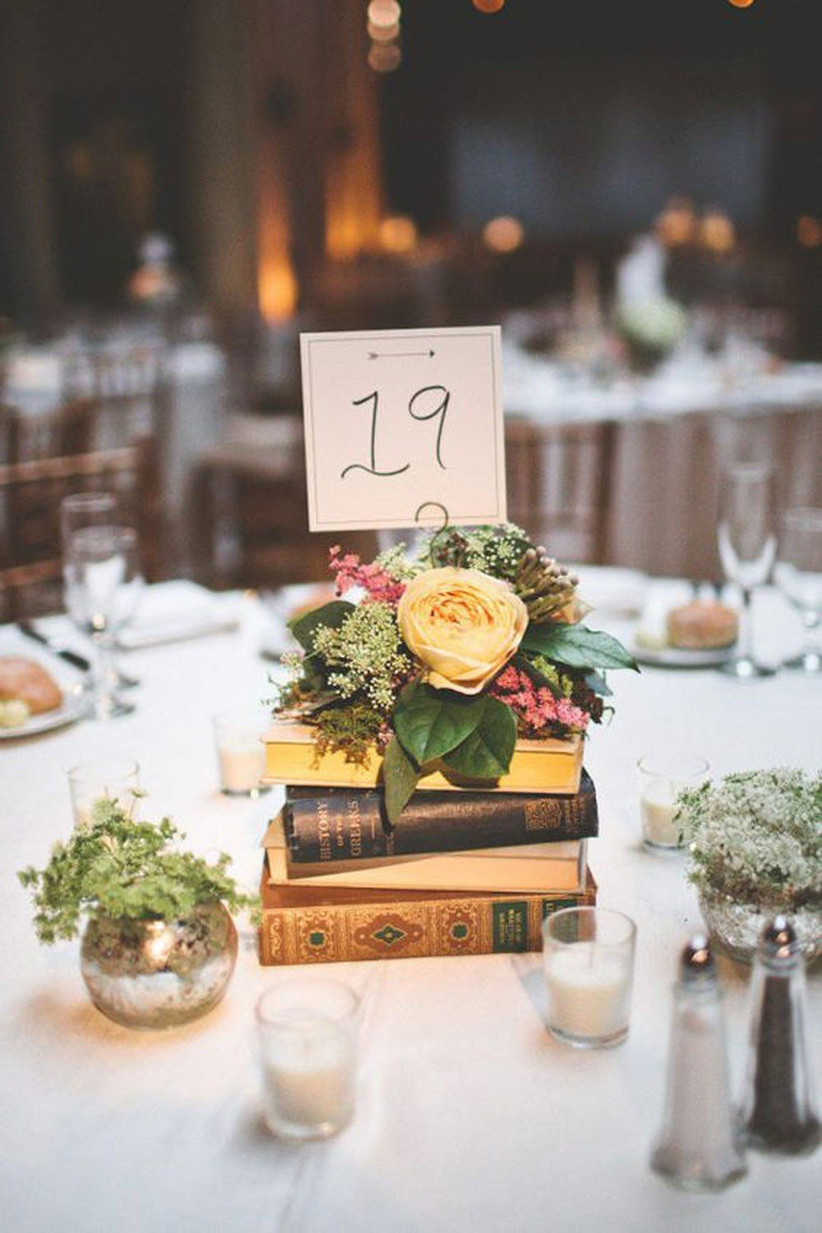 Image: Pinterest
Why not use stacks of your favourite books as unique, stylish centrepieces for your tables? The more romantic the story, the better.
This idea would work particularly well at a winter wedding!
READ MORE: The Cutest Wedding Readings from Children's Books
11. Pin up Photographs Instead of Bunting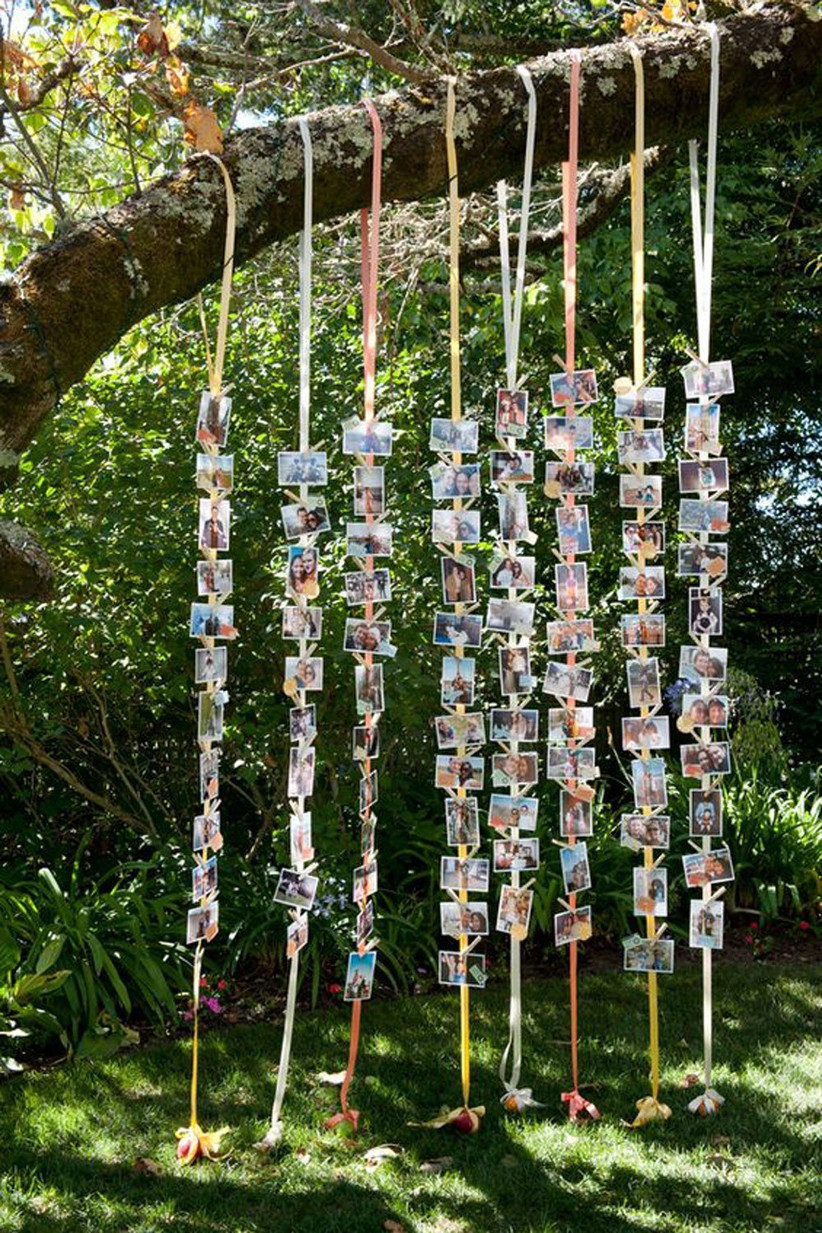 Image: Pinterest
Paint wooden clothes pegs, hang some string across the reception area and pin up photographs of you with your guests. This is a super-cute alternative to bunting!
12. Create Scroll Centrepieces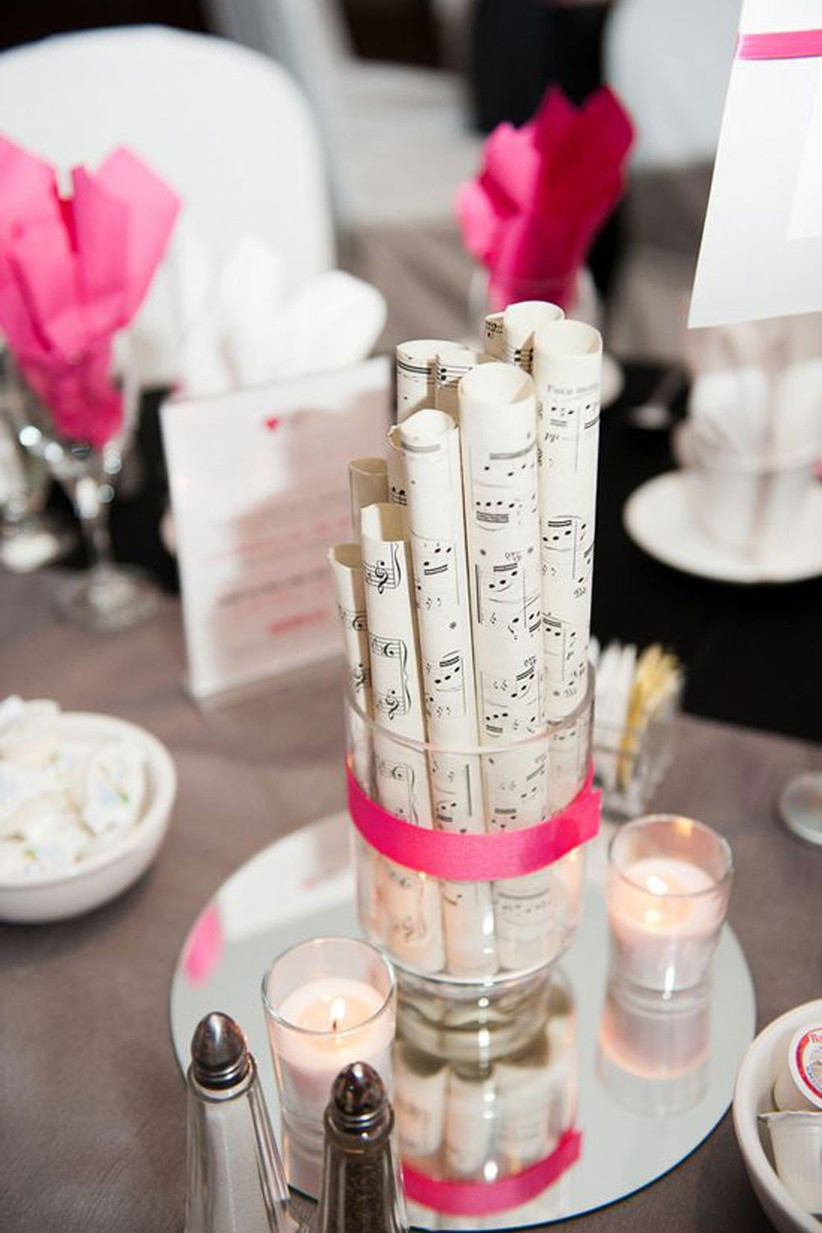 Image: Pinterest
Print your wedding vows and make them into scrolls, then place them in glass vases for lovely centrepieces.
You could even print the sheet music for the song you walked down the aisle to instead!
READ MORE: 130 of the Best Songs to Walk Down the Aisle To
13. Create a Cosy Outdoor Seating Area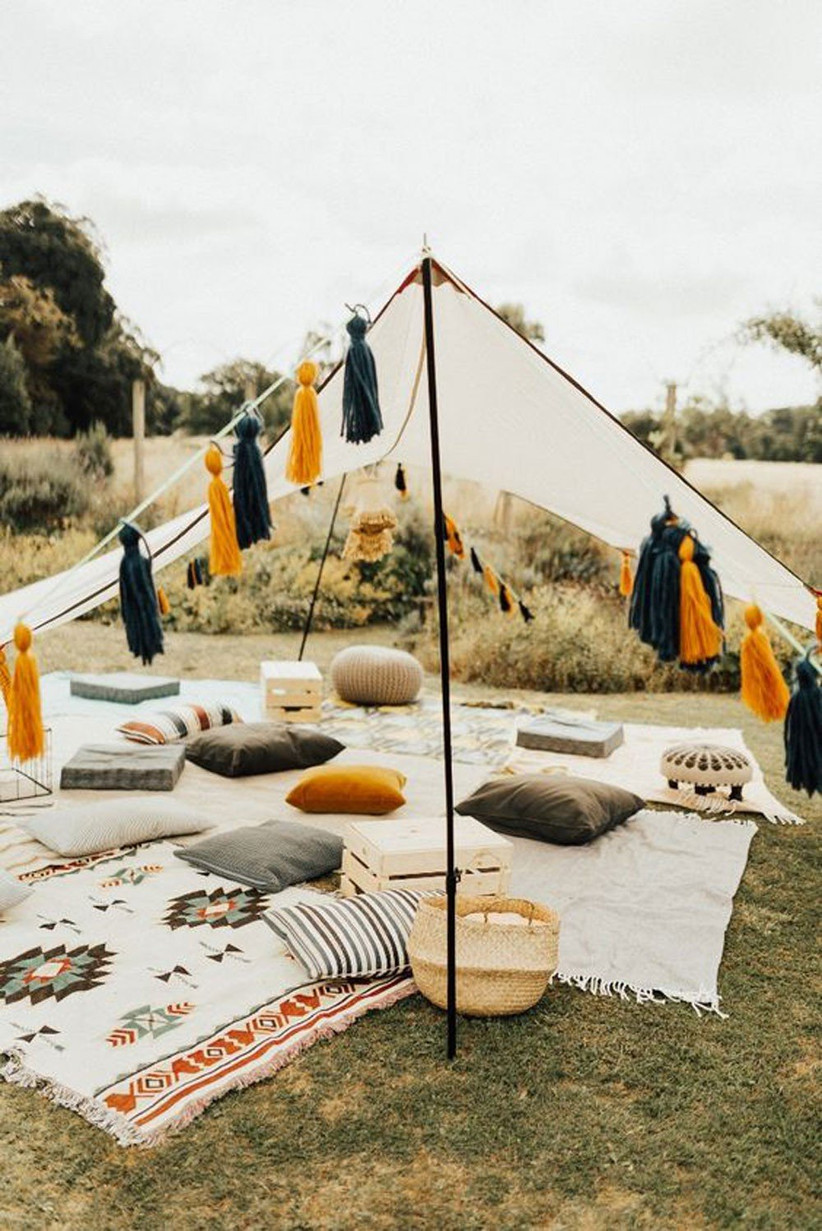 Image: Pinterest
Having an outdoor wedding? Collect cushions and blankets from your home to create a comfortable, bohemian outdoor seating area under the trees.
You could even source some old wooden crates to put them on top of, if you wanted to lift the seating area above the ground!
14. Fill Vases with Pine Cones or Branches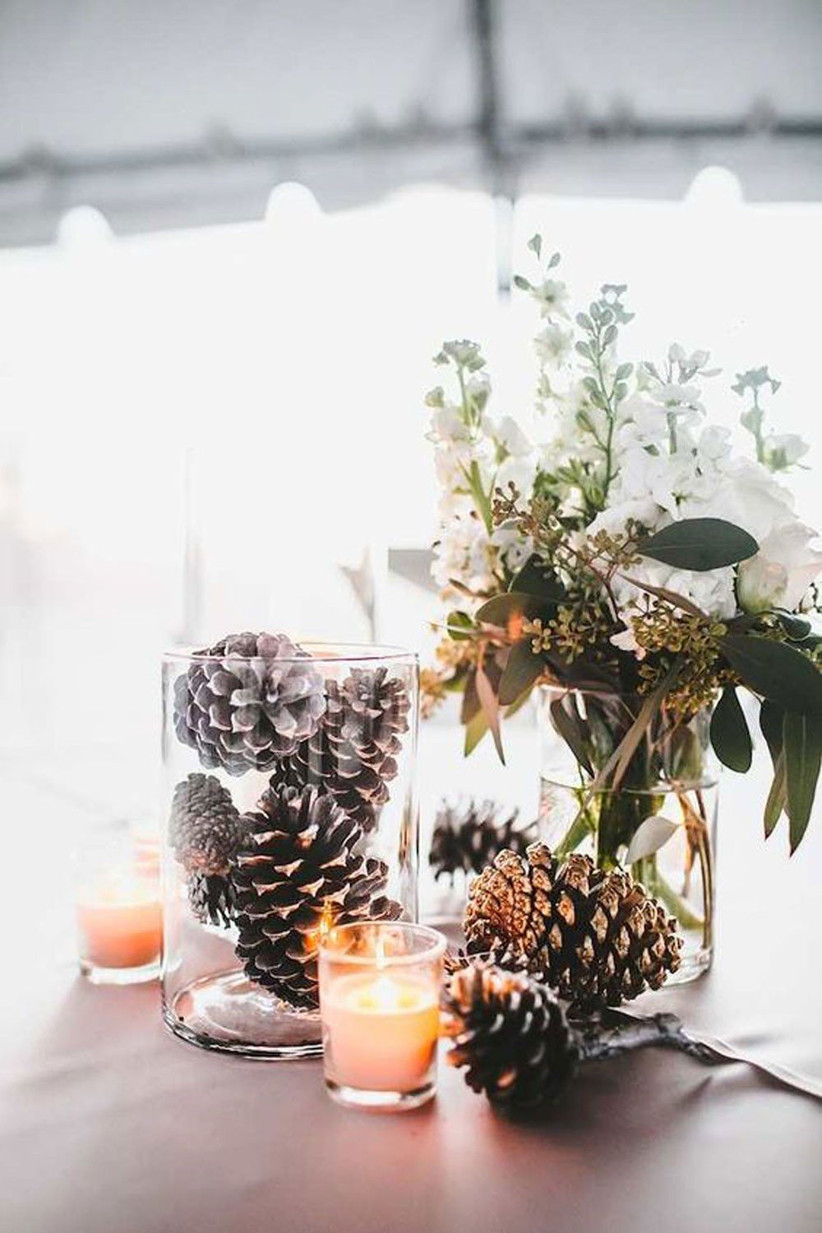 Image: Pinterest
In the autumn, fill vases with acorns and pine cones as centrepieces, and in the winter, use rustic branches with fake snow.
READ MORE: 47 Autumn Wedding Ideas
15. Make Your Own Confetti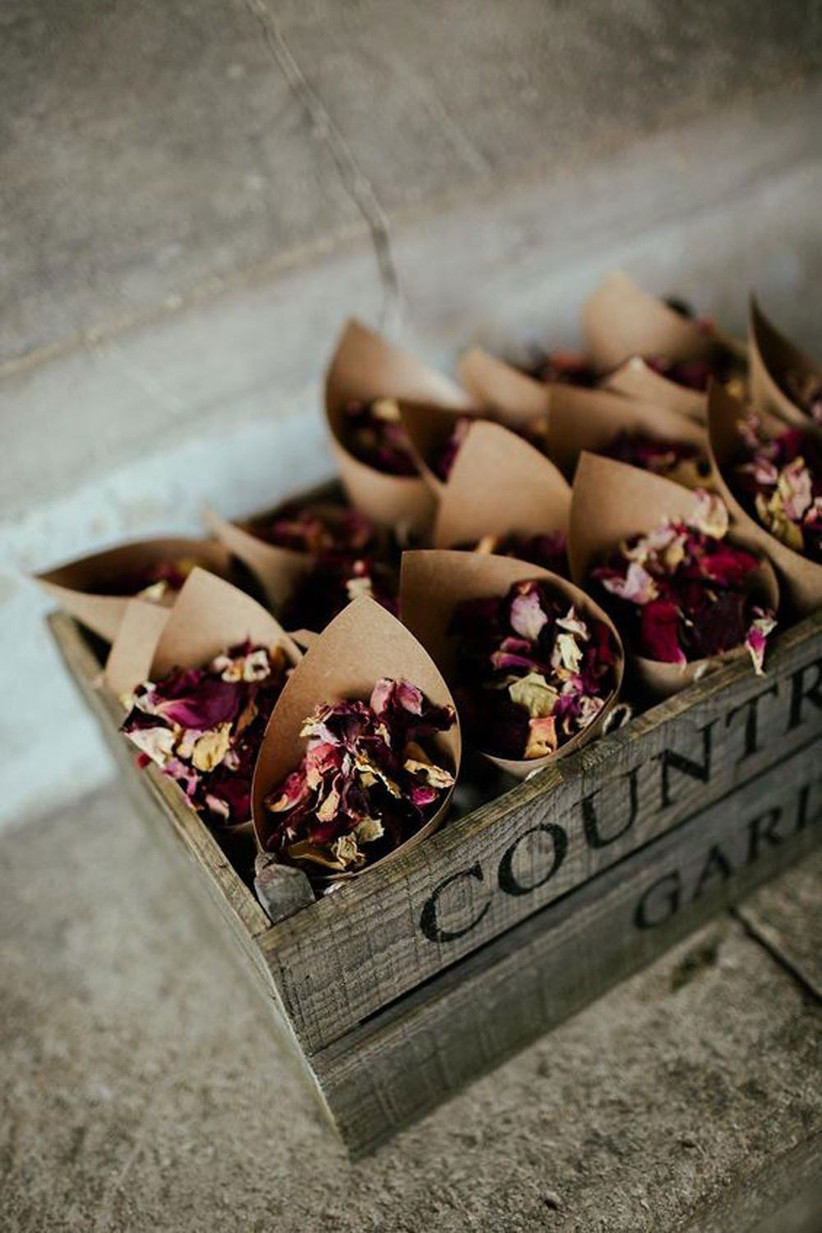 Image: Pinterest
Make your own free confetti by collecting wild flowers a month before your wedding, drying them out and using the petals. This is a great idea if you're hosting an eco-friendly wedding, since it'll biodegrade in no time!
If you fancy making your own confetti cones, too, click for our exclusive guide.
READ MORE: How to Preserve Your Wedding Flowers
16. Collect Pebbles to Use as Place Names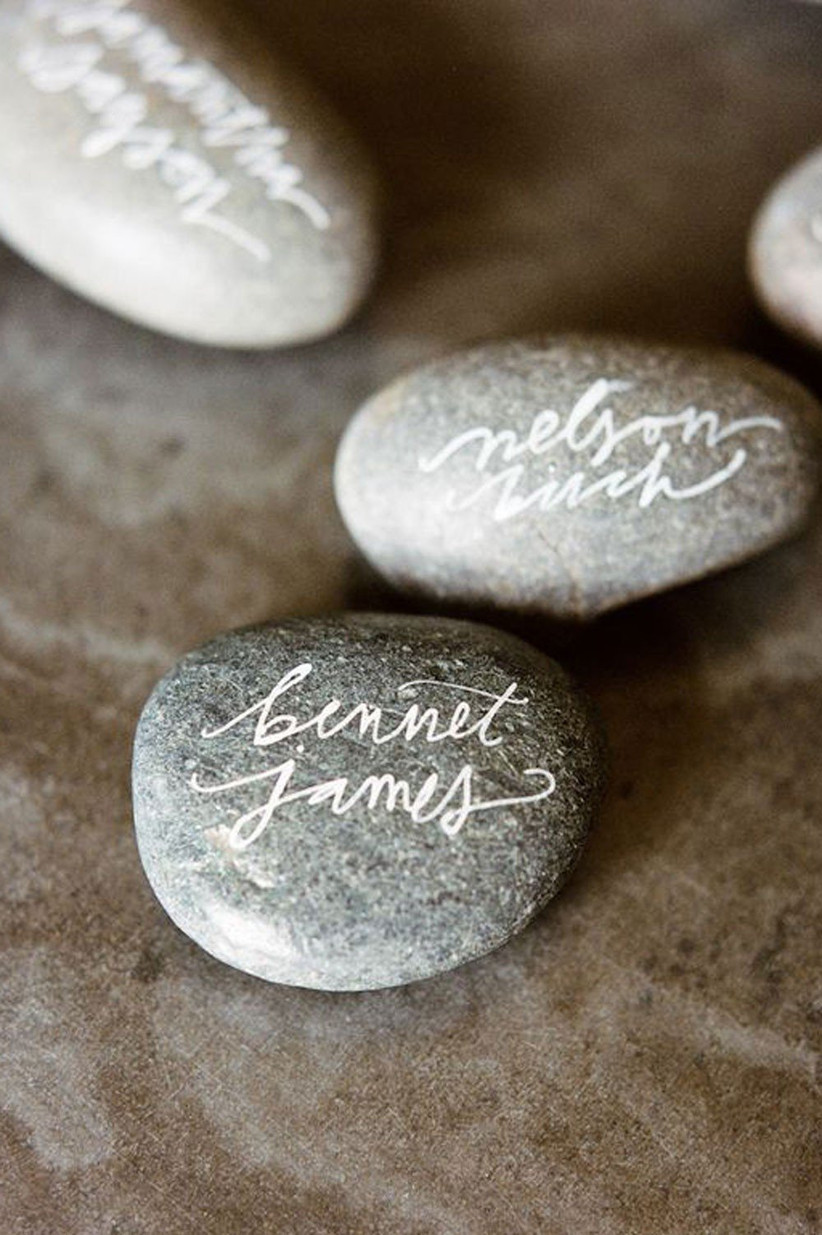 Image: Pinterest
If you're getting married in the summer, why not head to the beach to find pebbles and shells to use as place cards?
You can write your guests' names on them in permanent marker – they'll look so cute!
READ MORE: 19 Picture Perfect Seaside Wedding Venues
17. Save Spirit Bottles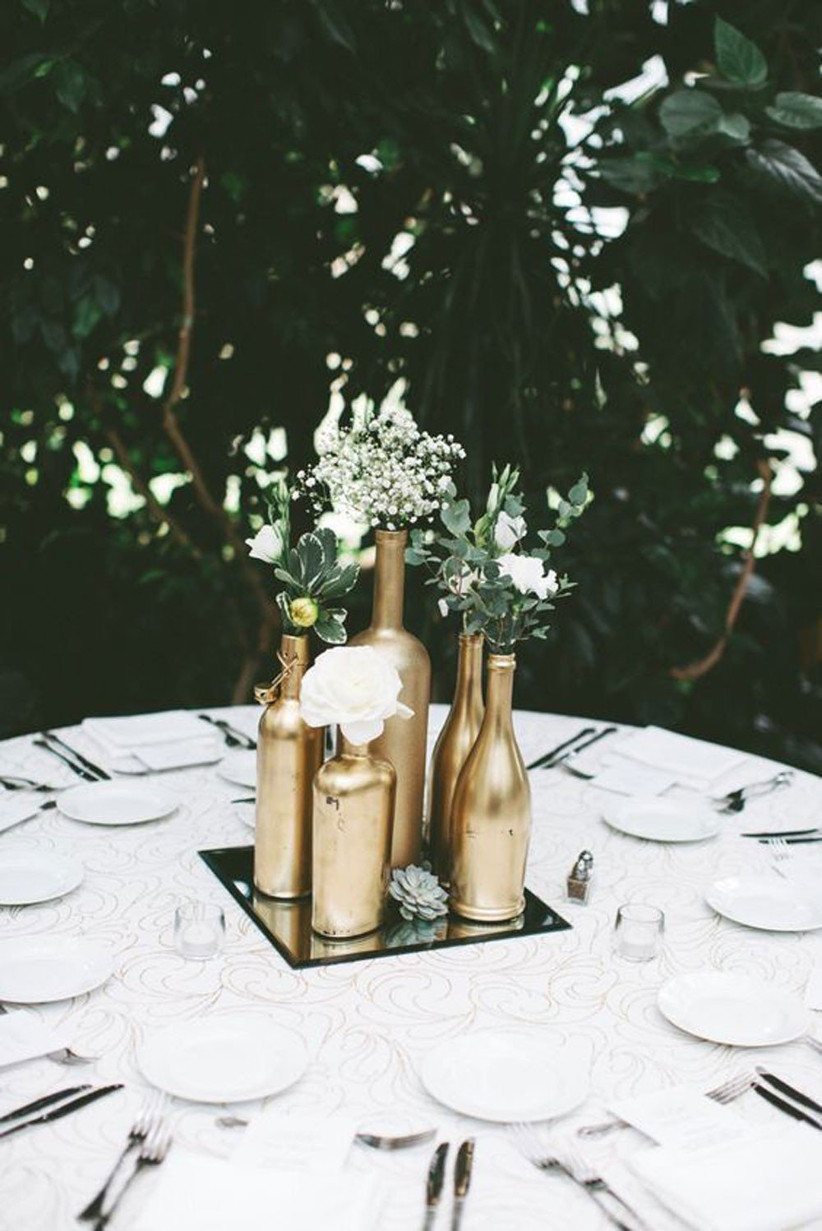 Image: Pinterest
Save your wine or spirit bottles for a unique addition to your wedding tables or outdoor wedding décor.
You could even spray-paint them gold to make them look that little different…
18. Make Your Own Pom-Poms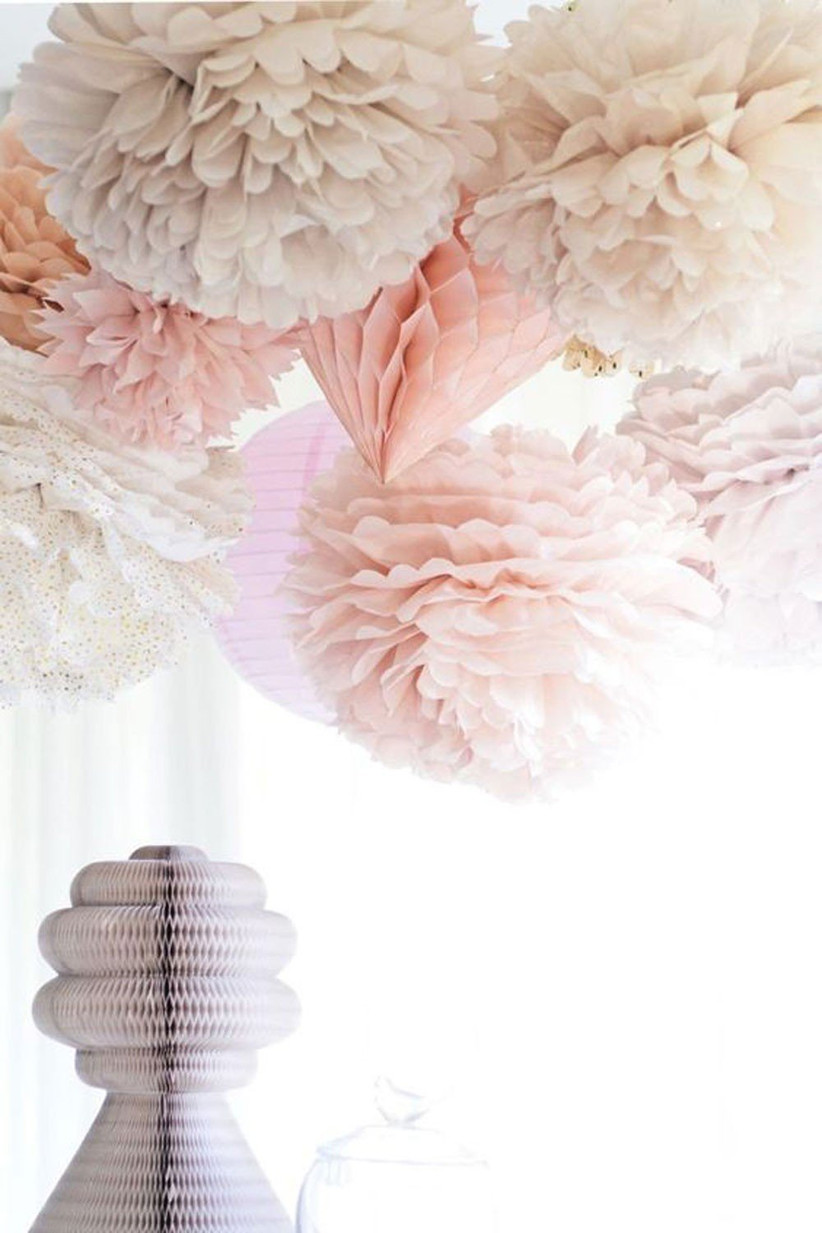 Image: Pinterest
Create pom-poms out of coloured tissue paper to hang from the ceiling! You could even make mini pom-poms and stack them in clear vases for colourful centrepieces that'd work perfectly at a festival themed wedding.
19. Create Your Own Table Runner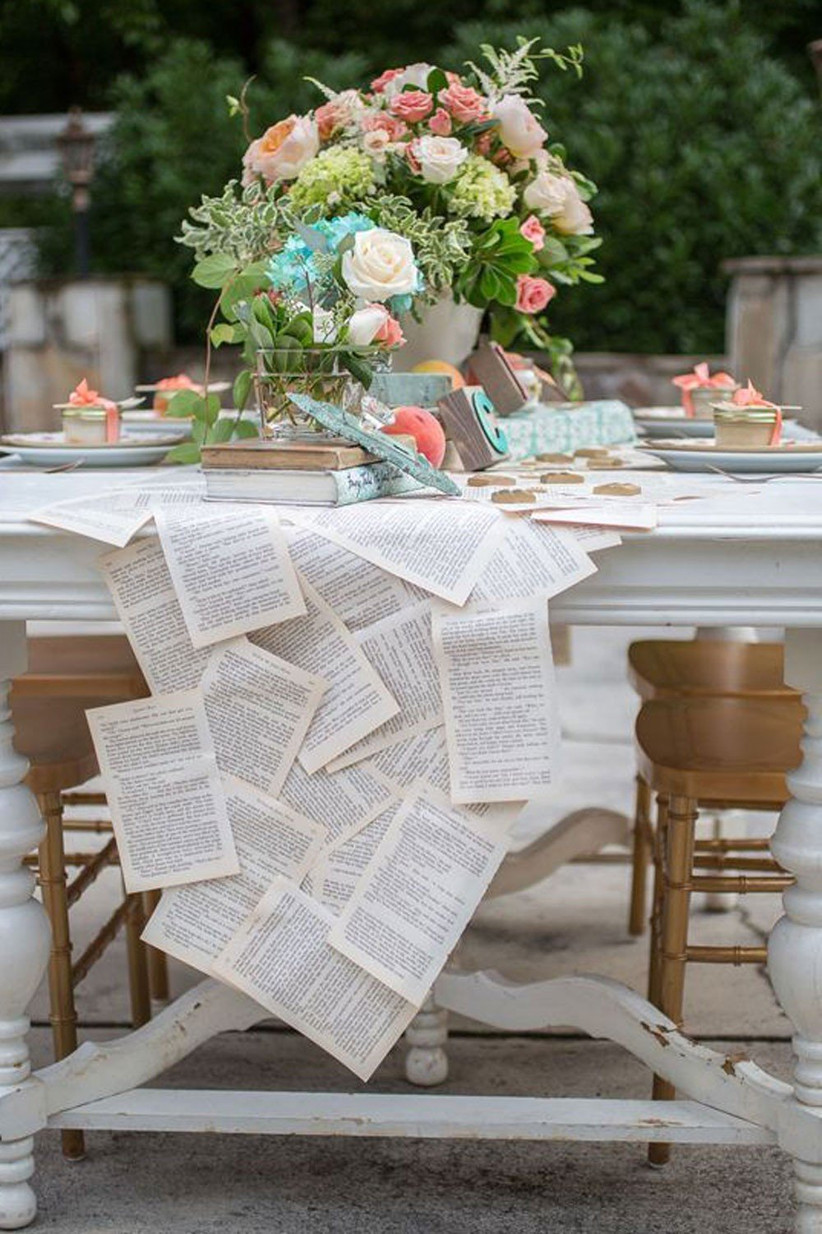 Image: Pinterest
Tear out pages from romantic books then stick them together for a unique table-runner.
If you're including romantic quotes from literature in your wedding readings, it's a nice idea to use pages from the same book.
READ MORE: 45 Rustic Wedding Ideas You'll Love
20. Make Your Own Wedding Signs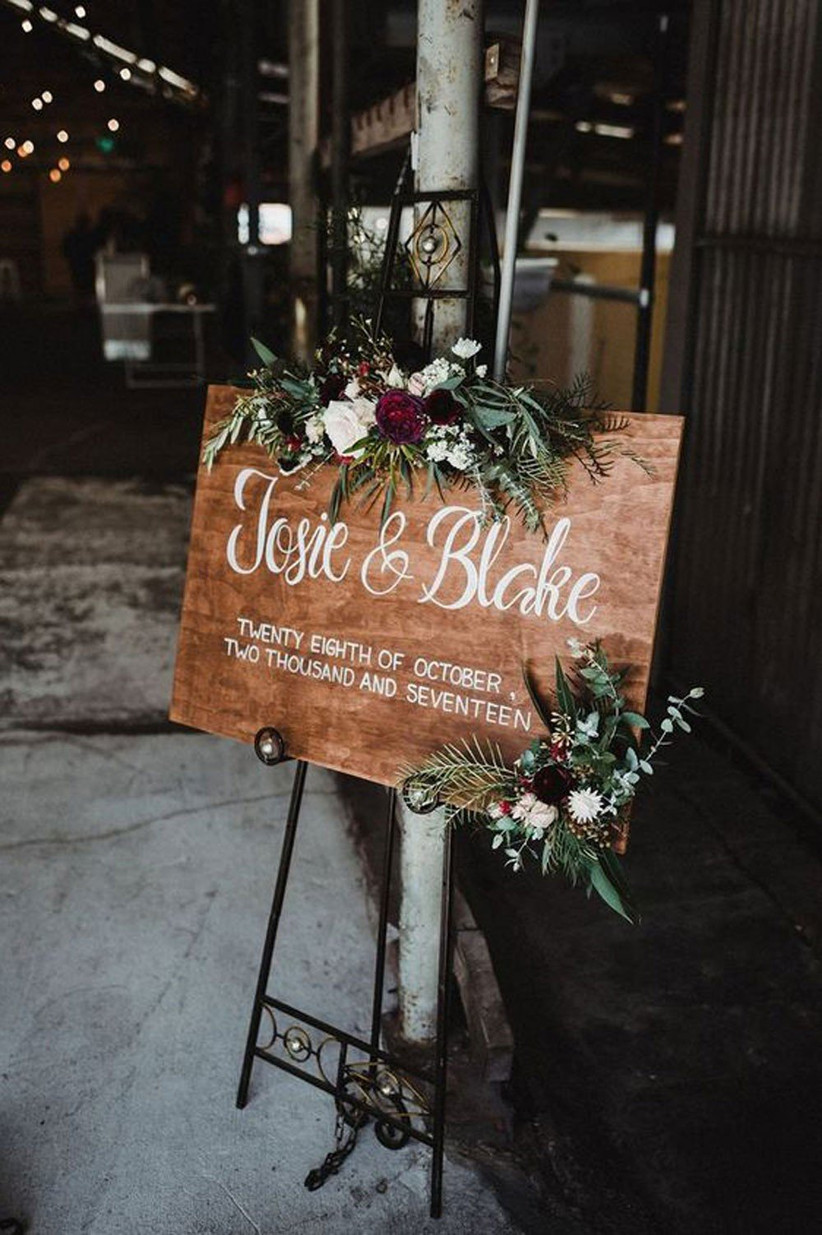 Image: Pinterest
Salvage scraps of wood (from a skip or a neighbour's DIY project) and make your own wedding signs.
We love this personalised wedding sign which has been elevated by the addition of beautiful wild flowers in the couple's colour scheme.
21. Collect Mason Jars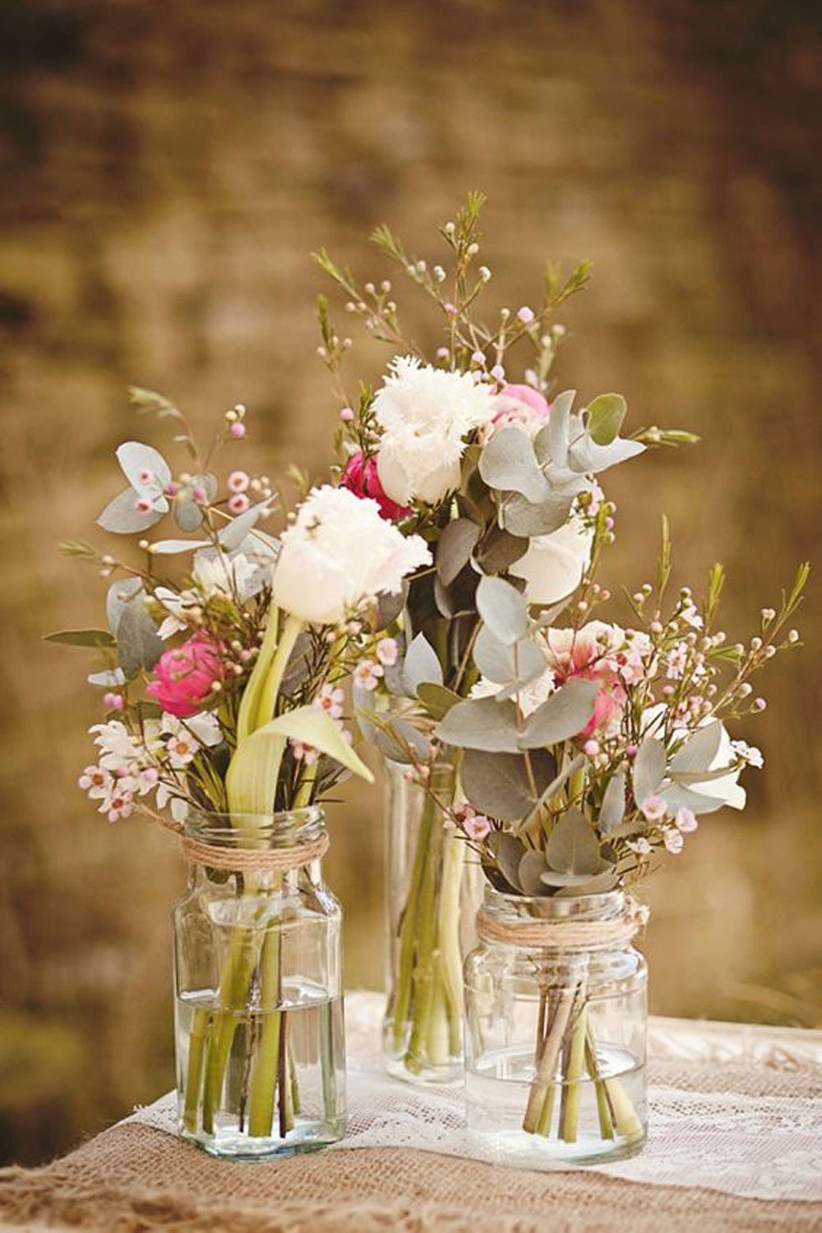 Image: Pinterest
Give your family and friends the mission of finding old jam jars and mason jars in the run up to the wedding, then place tea lights or flowers inside them.
They can be used as centrepieces or could be hung from trees at an outdoor wedding!
22. Hunt for Second Hand Goods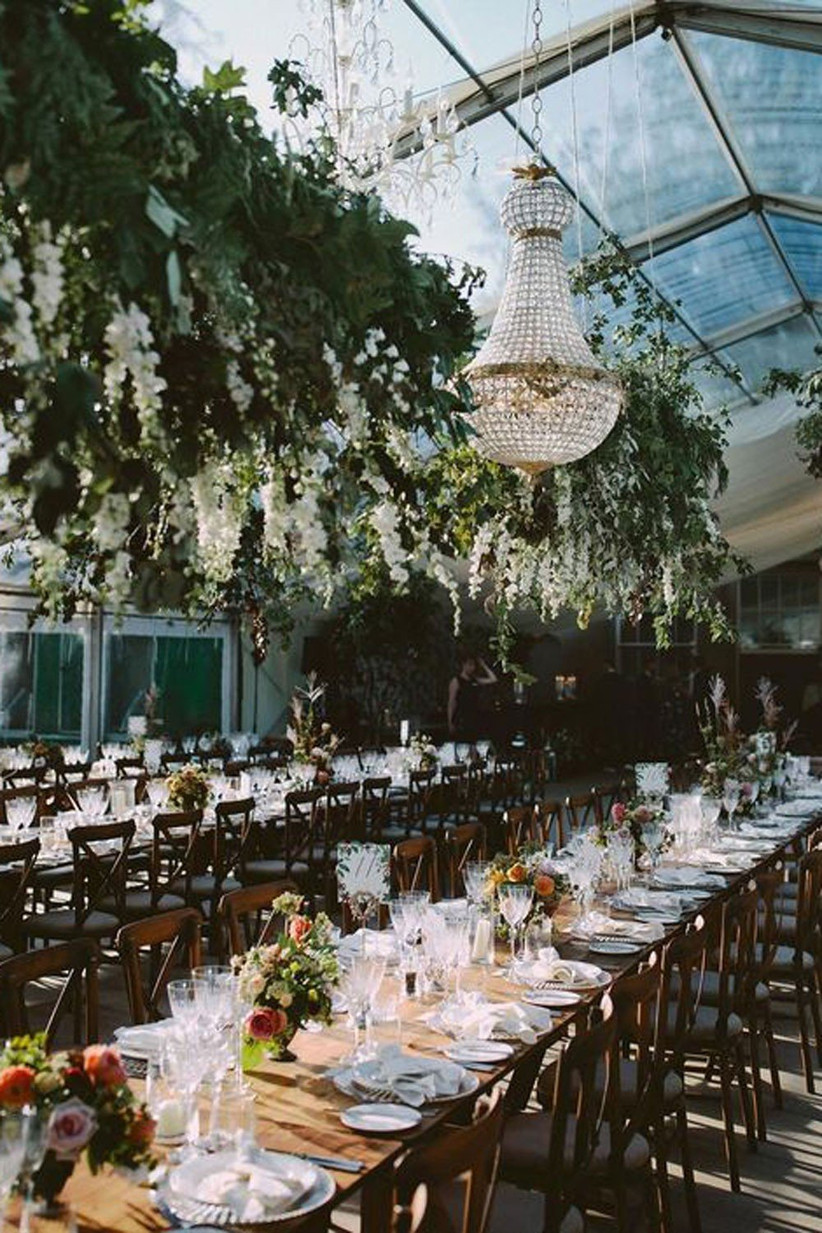 Image: Pinterest
Sometimes, Hitched forum users give items from their weddings away for free on our 'For Sale' thread. Make sure you keep your eyes peeled!
23. Make Your Own Flower Garland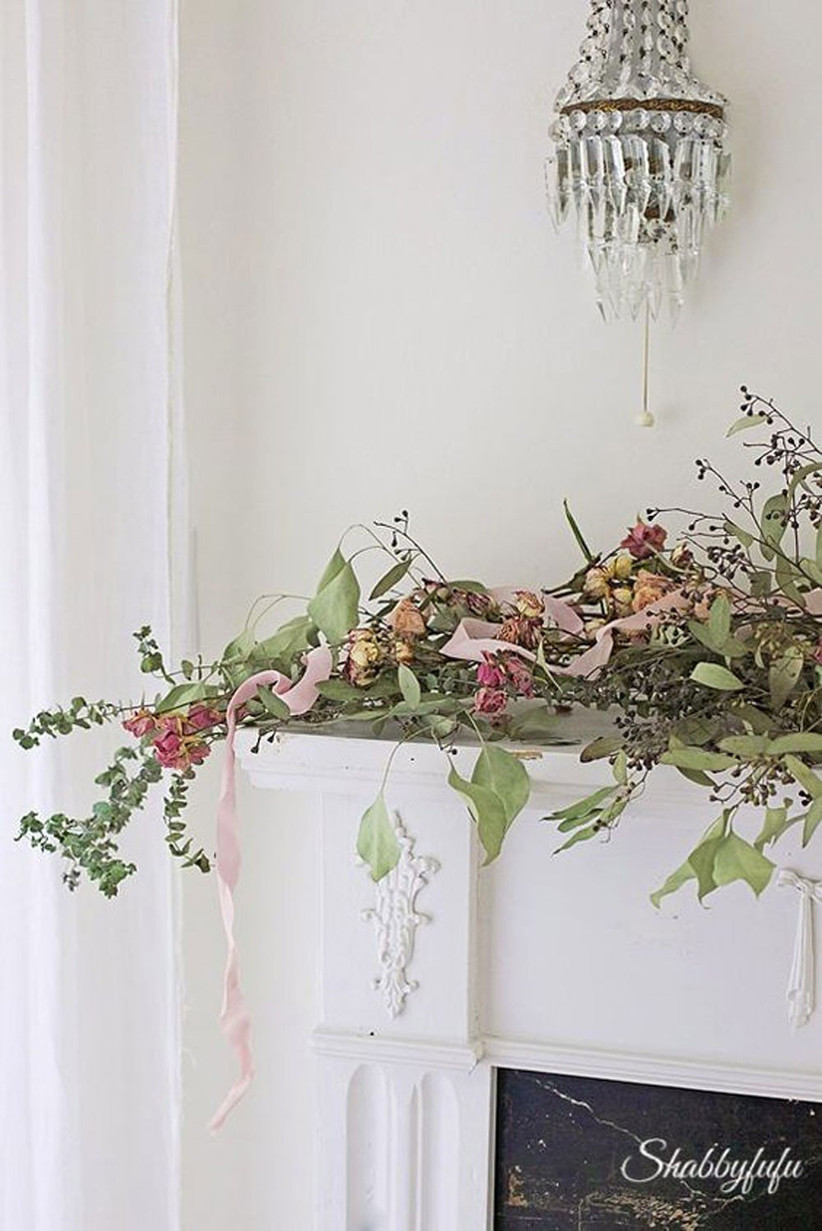 Image: Pinterest
Save all of the bunches of flowers your loved one gets you in the run up to the big day, dry out the petals and sew a string through them to make a flower garland for the top table.
READ MORE: The Best Online Flower Delivery Services
24. Create Wine Bottle Centrepieces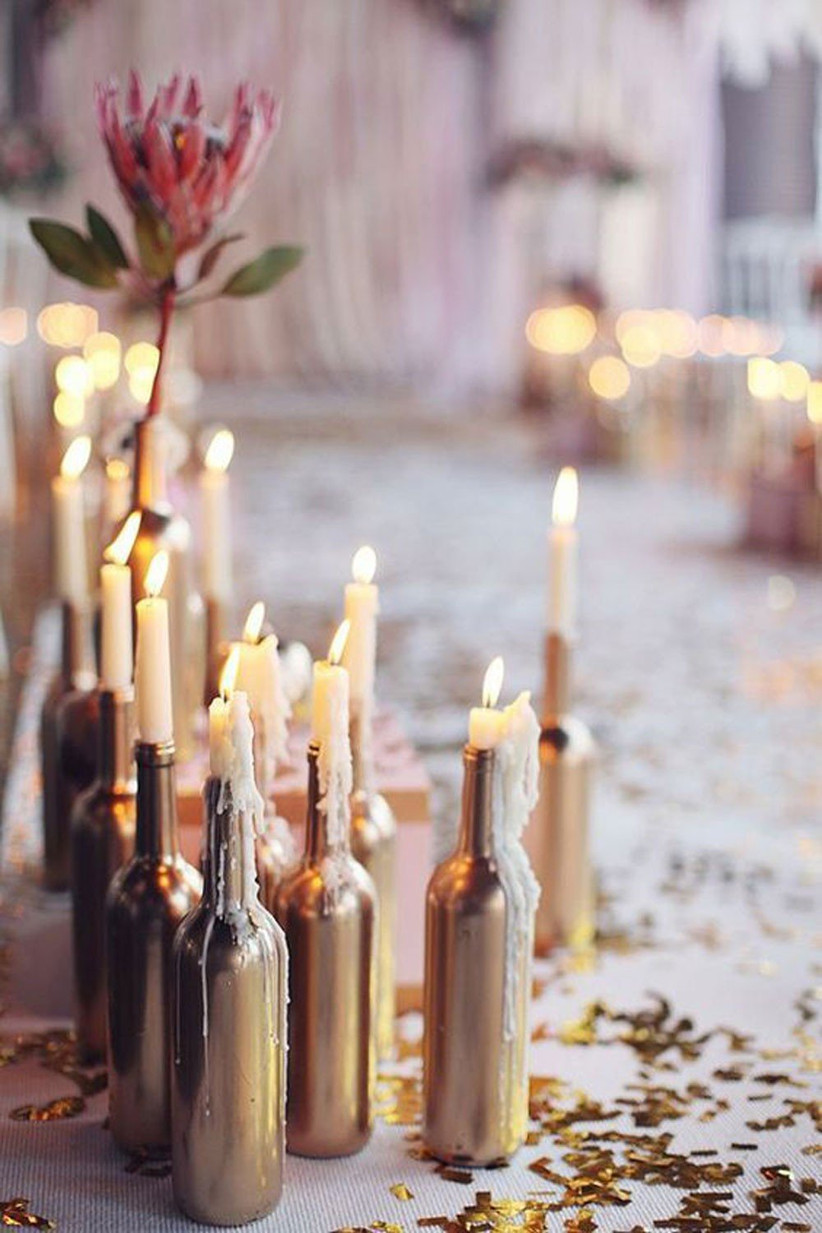 Image: Pinterest
Create centrepieces with old wine bottles. Melting tapered candles into the neck and letting the wax drip down would give them a lovely finish at a winter wedding.
25. Make Log Place Cards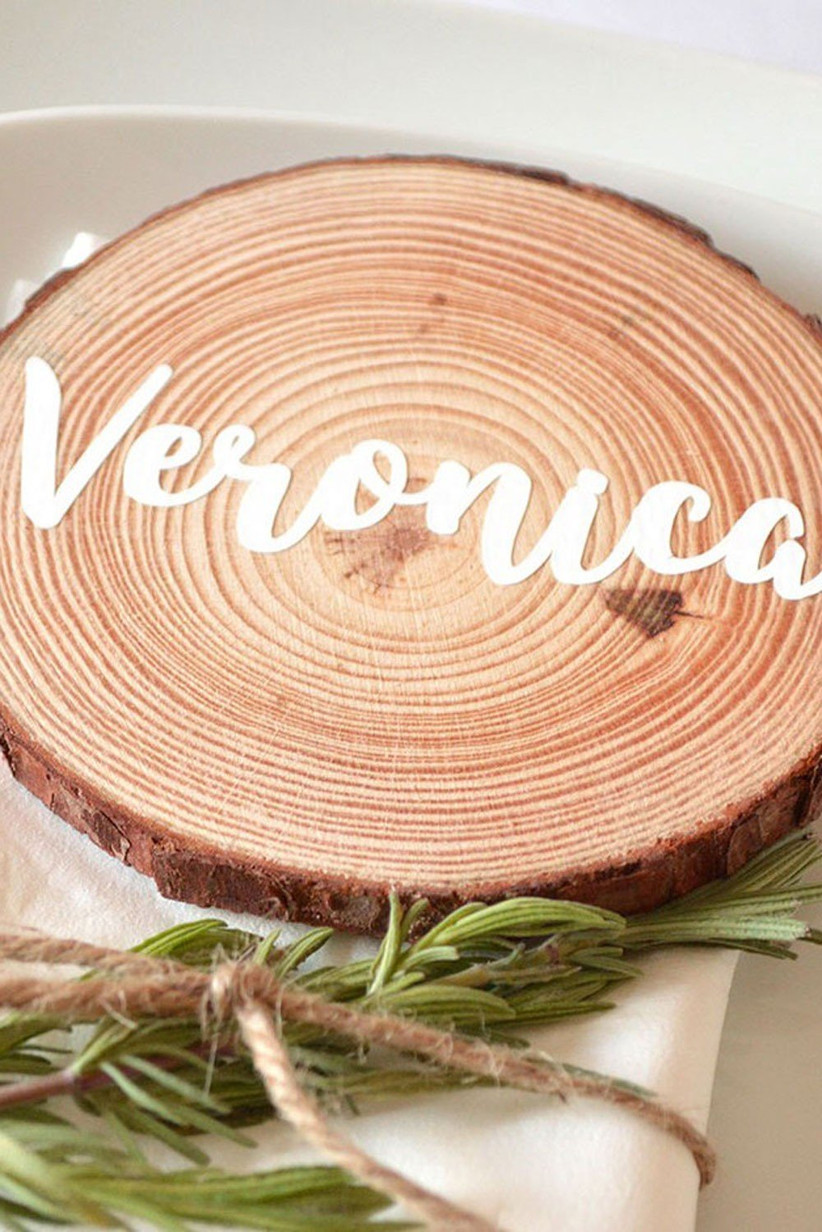 Image: Pinterest
Cut log slices to use as place cards or cake toppers.
26. Use Pinterest as Much as Possible!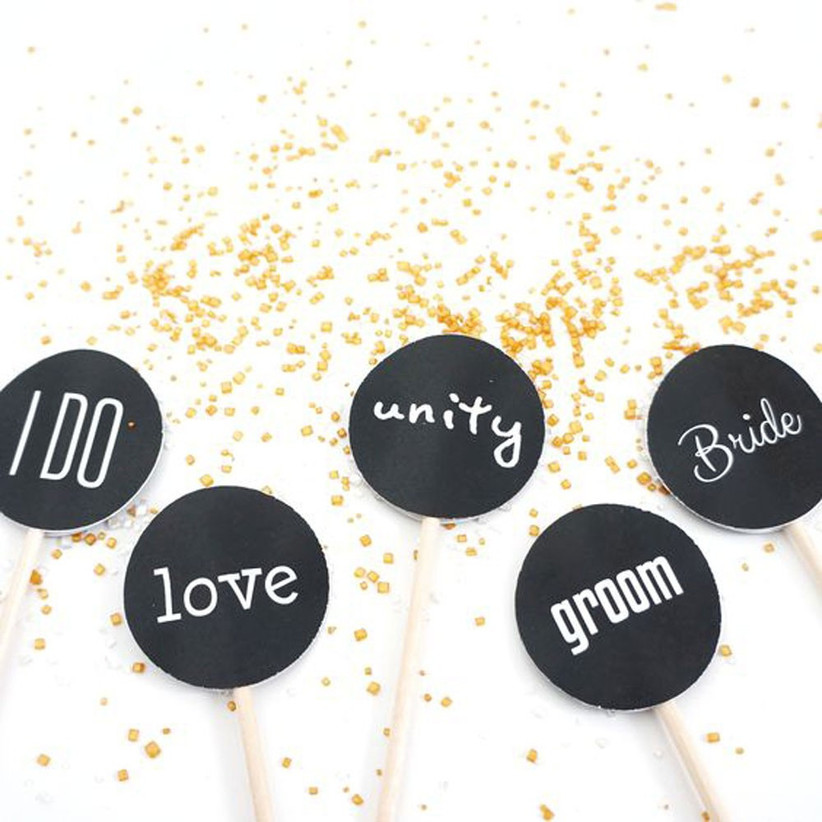 Image: Pinterest
Search Pinterest for free downloadable resources like banners and cupcake toppers. There are hundreds – you're sure to find something which fits your theme!
27. Use Vintage Teacups as Candle Holders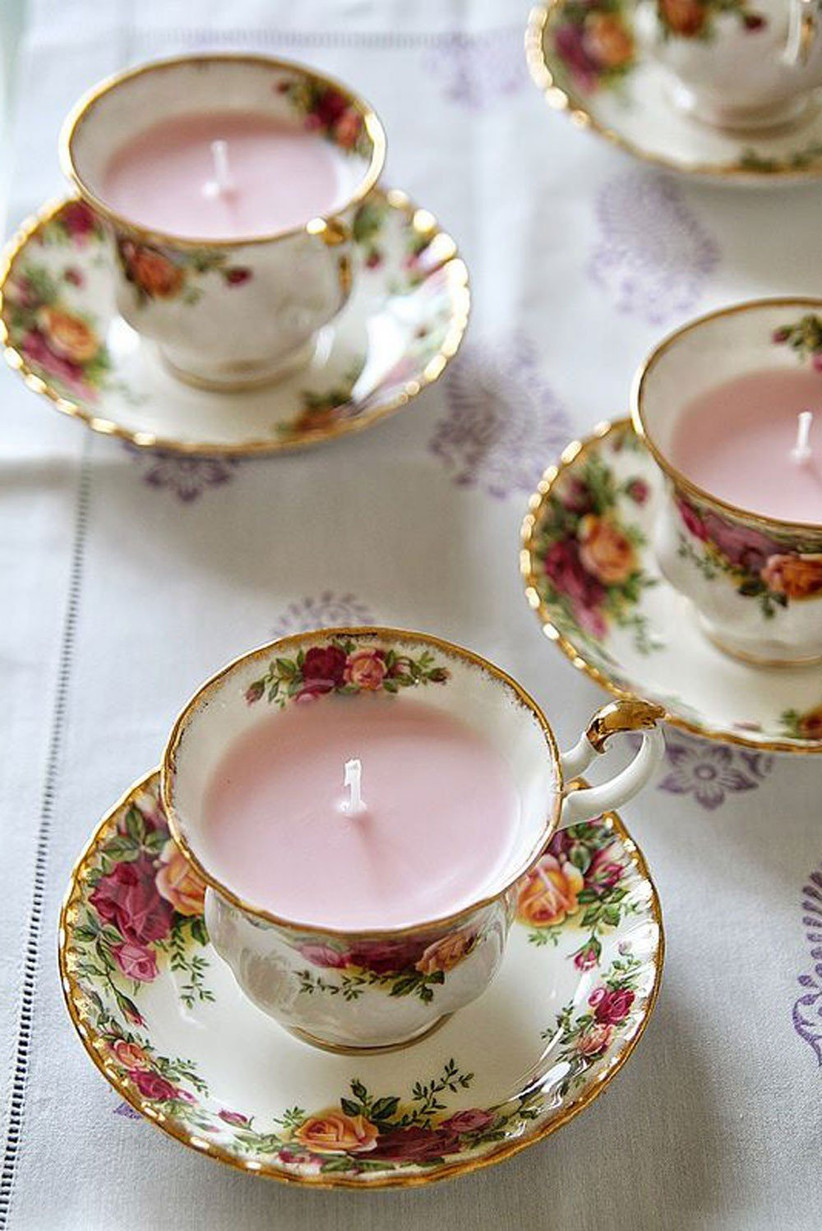 Image: Pinterest
Use vintage teacups as tea light holders and place on tables for lovely, soft lighting. The perfect addition to your vintage-themed wedding, if you ask us!
READ MORE: 17 Beautiful Vintage-Inspired Wedding Dresses
28. Decorate Cupcakes with Pipe-Cleaners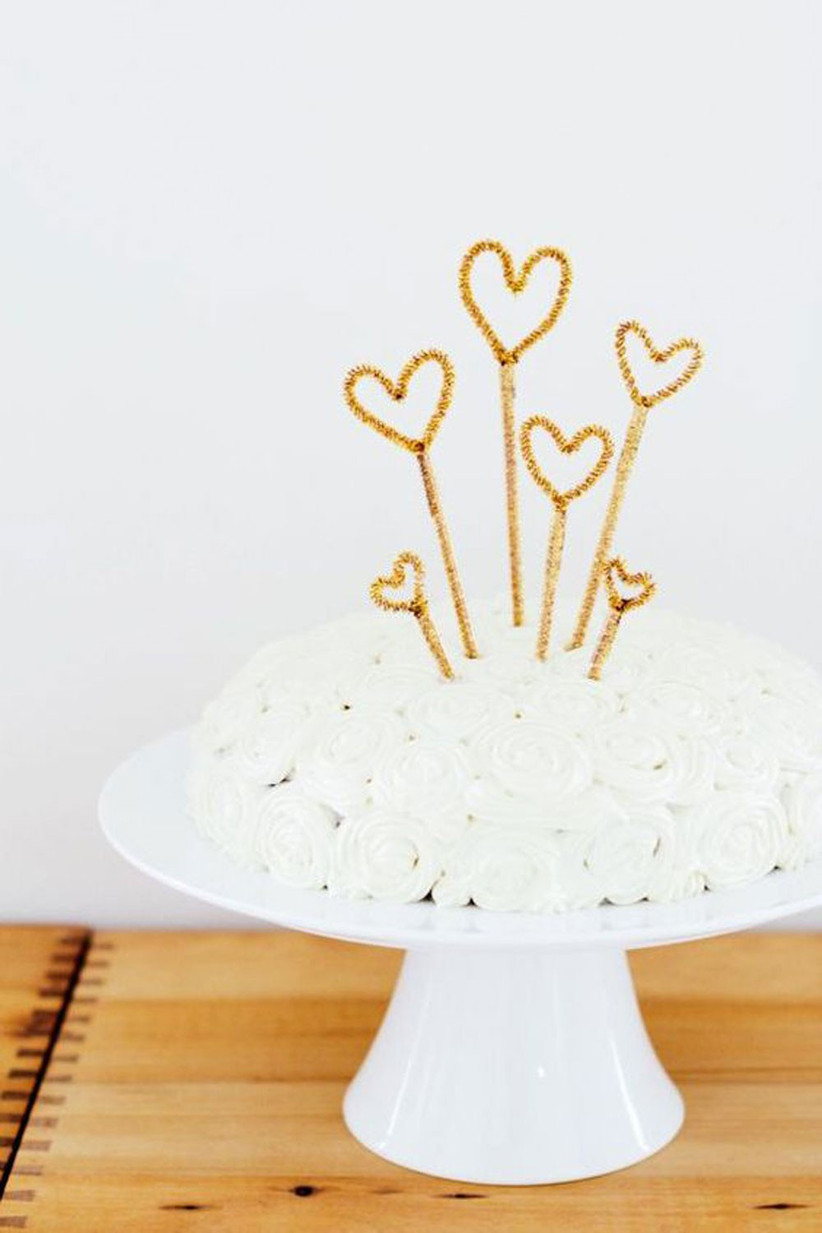 Image: Pinterest
Shape pipe-cleaners into hearts to decorate your wedding cupcakes or even your main wedding cake! We love these gold cake toppers – they look so chic despite costing next to nothing.
29. Decorate Chairs with Ribbon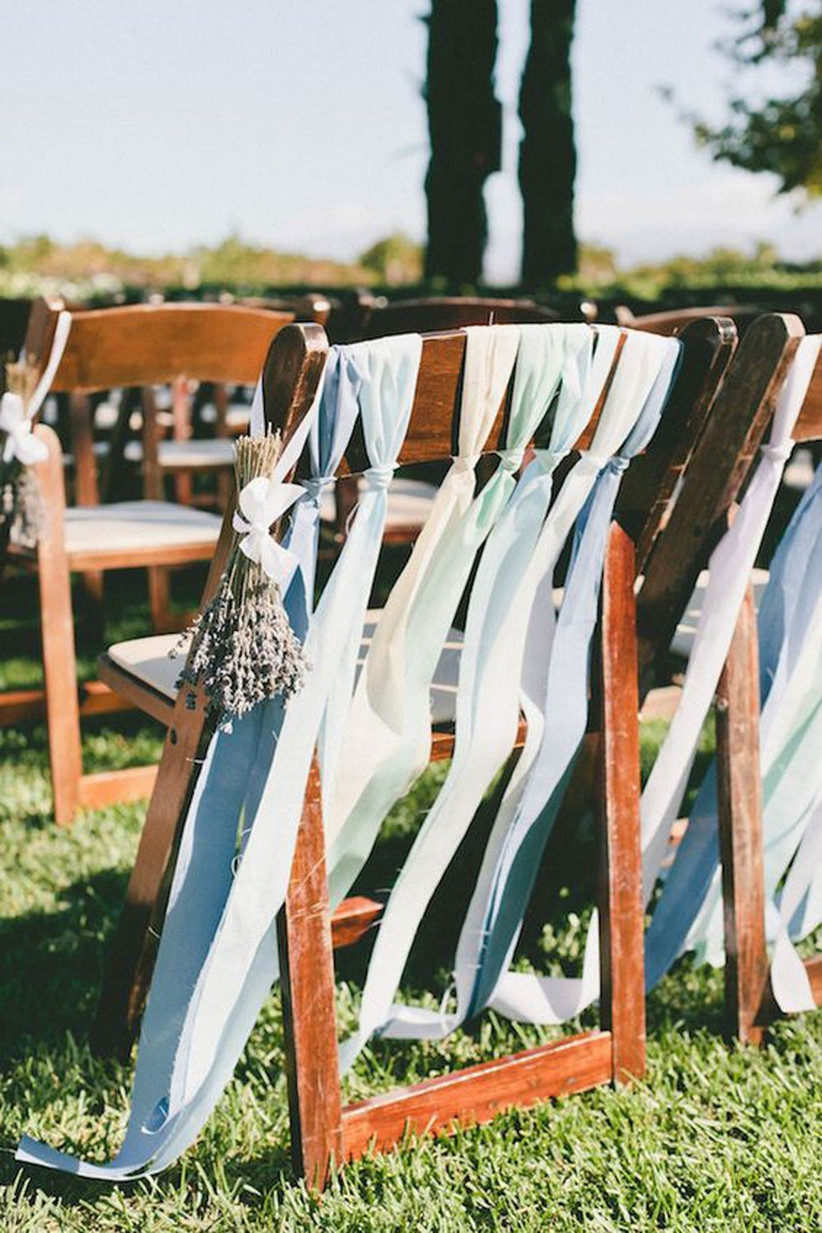 Image: Pinterest
Don't spend extra on chair covers – decorate them with off-cuts of ribbon instead!
This is a particularly pretty effect if you're hosting an outdoor ceremony. How fab does this chair look?
30. Reuse Your Bouquets as Reception Décor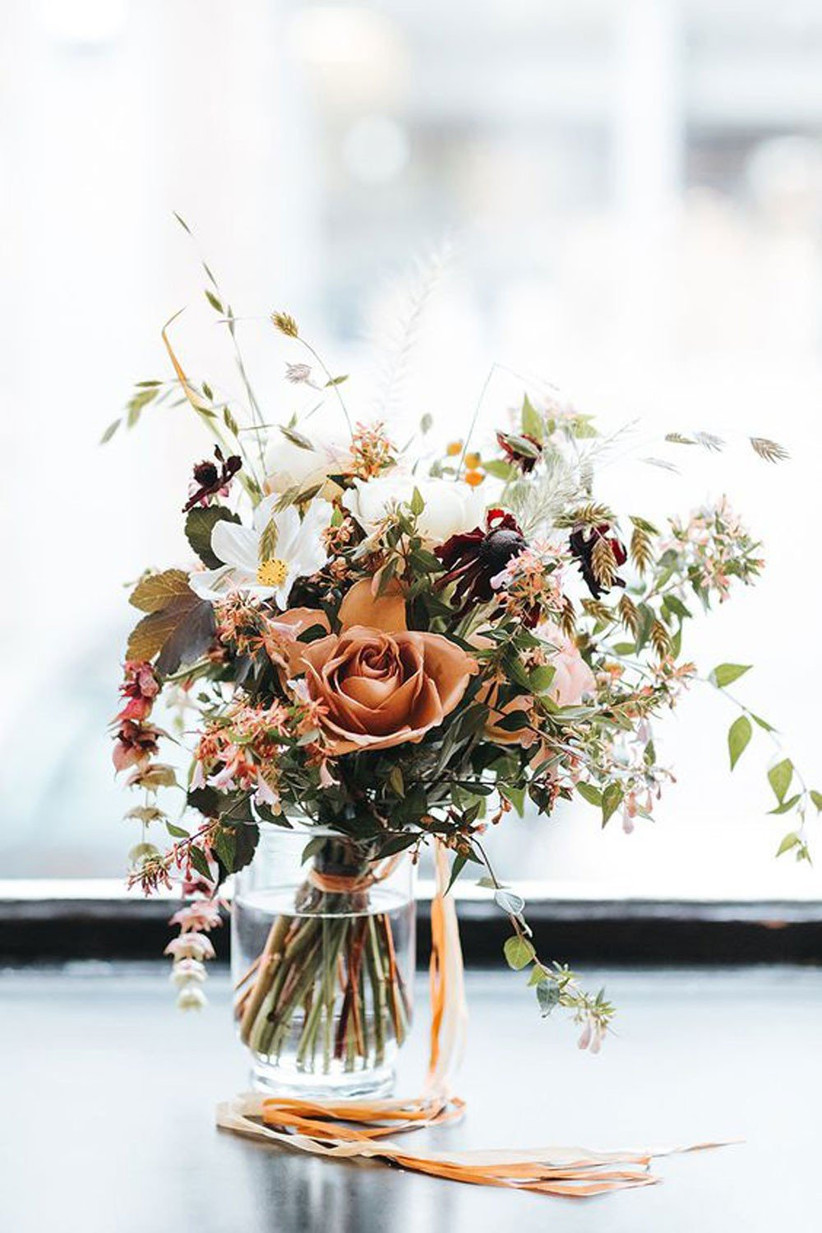 Image: Pinterest
Use your flowers and the bridesmaids' flowers as top-table wedding décor.
Simply put out vases that are filled with water, and drop them in there when you arrive at the reception!
31. Consider Leaf Place Settings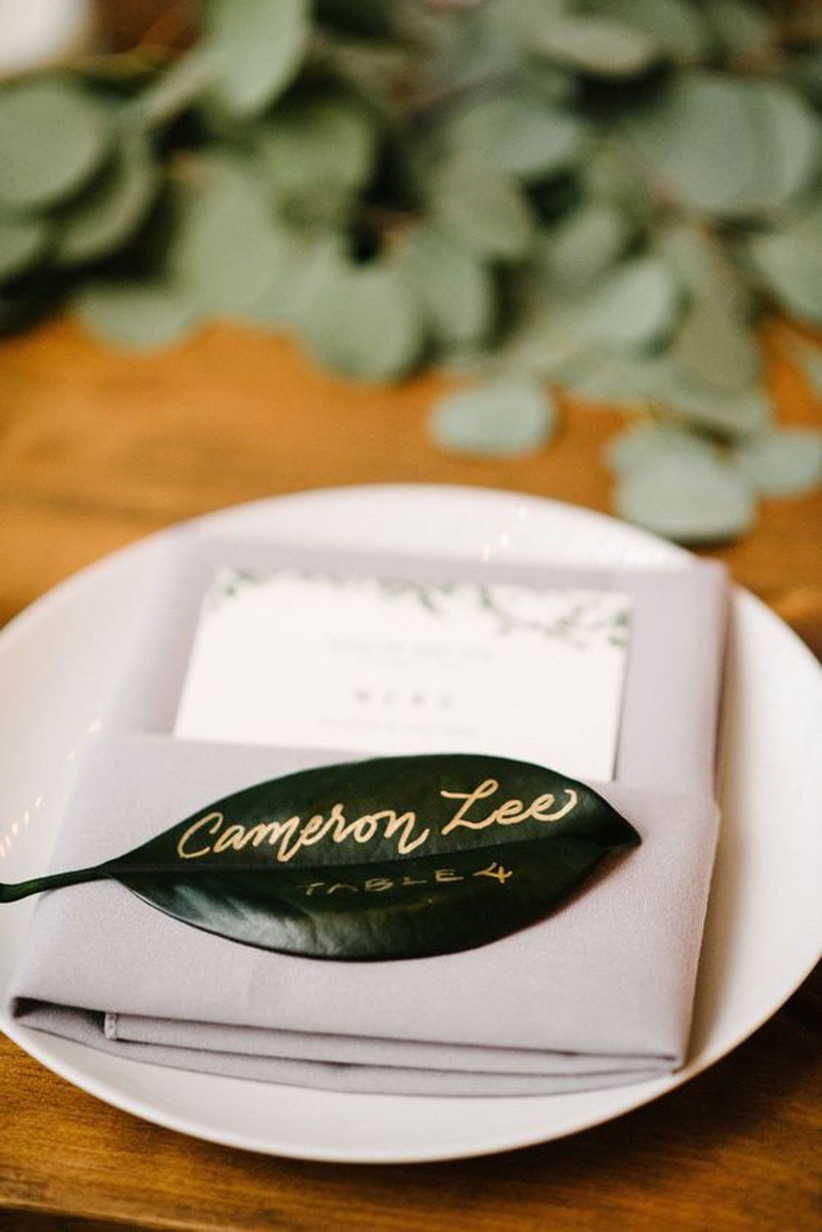 Image: Pinterest
Write guests' names in gold pen on leaves for pretty, bohemian place settings. How beautiful do these look? It's time to get practicing your handwriting…
Free Wedding Dress and Accessories Ideas
You don't have to buy everything you wear on your wedding day brand new – you're only going to be wearing it once, after all! Here are some ways you can cut costs on your wedding outfit…
READ MORE: How to Choose a Wedding Dress
32. Wear a Second Hand Wedding Dress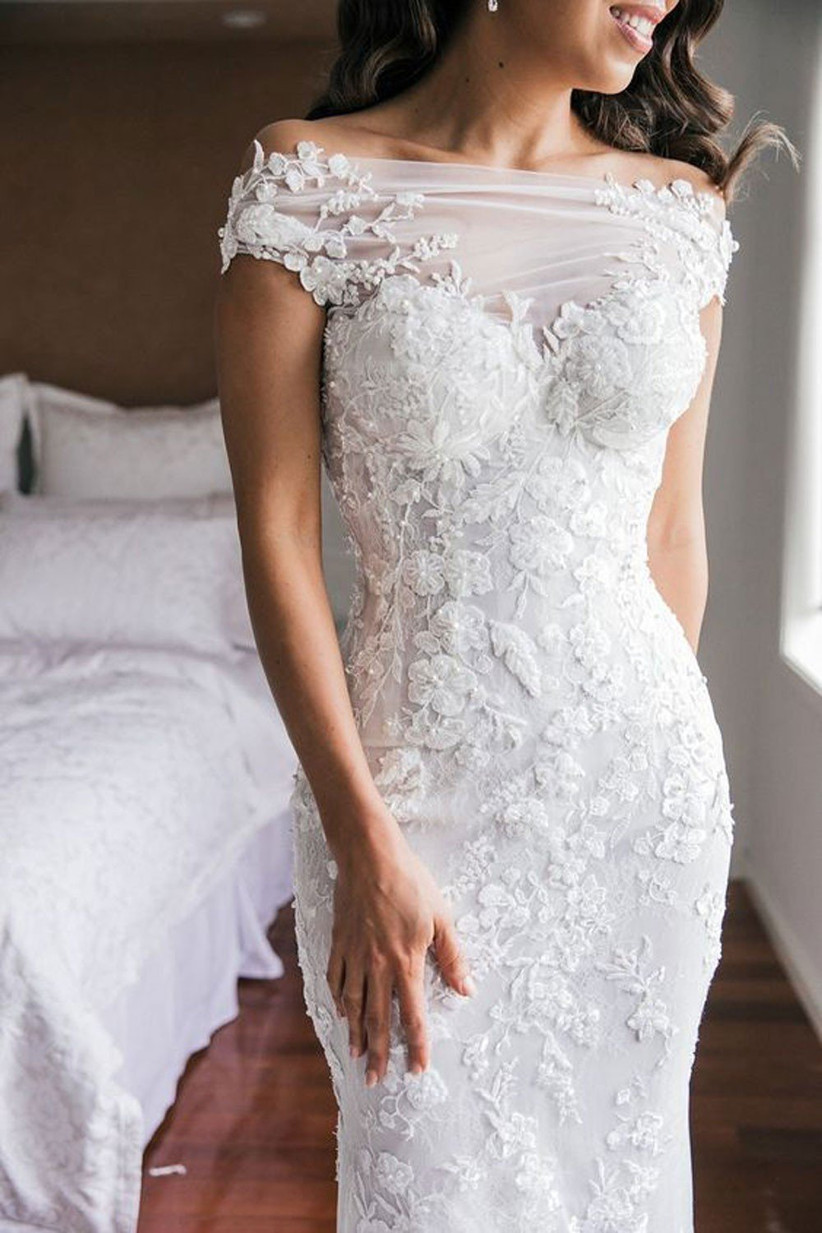 Image: Pinterest
Use a hand-me-down dress from your mum or grandma, then find a friend who's good at sewing to adjust it or sew a new gown from the old material!
There's no reason why a second-hand dress can't look just as beautiful as a new one.
READ MORE: Everything You Need to Know About Selling Your Wedding Dress
33. Hold a Wild Flower Bouquet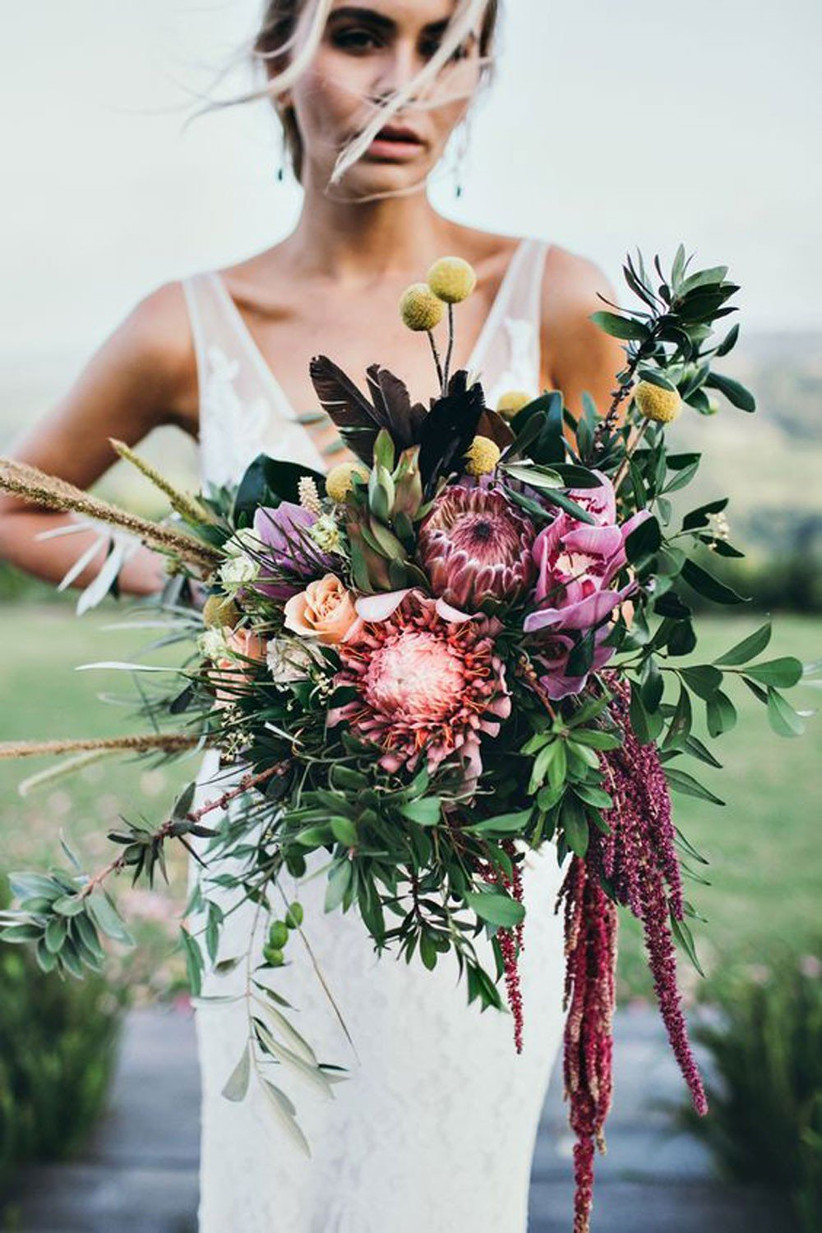 Image: Pinterest
Have fun collecting wild flowers for your bouquet and tie loosely with string.
This idea is perfect for a rustic wedding at a barn wedding venue.
34. Borrow Your Wedding Clutch Bag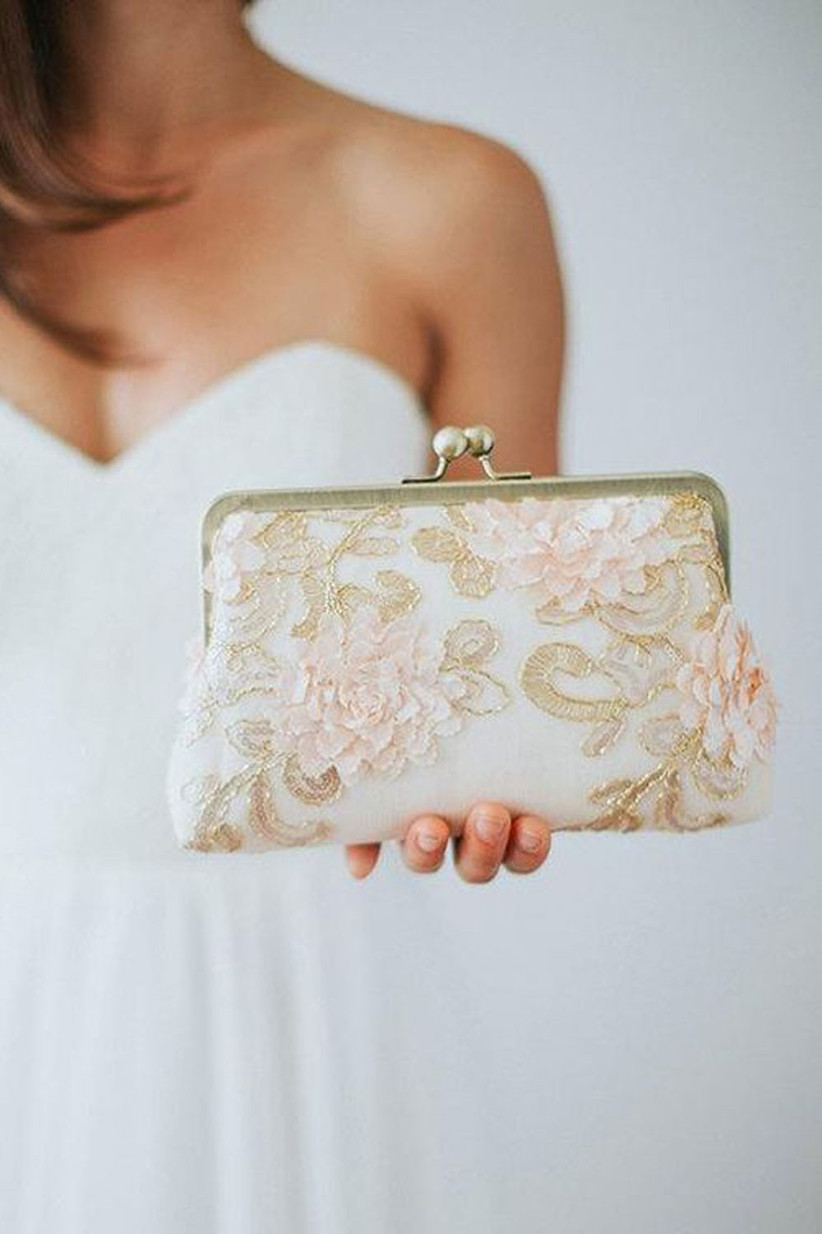 Image: Pinterest
If you're on the look-out for a clutch bag to carry your wedding day essentials, why not adopt the "something borrowed" tradition and use a relative's old purse or clutch bag?
It'll add a lovely vintage touch to your wedding day get-up, and will save you money!
READ MORE: Beautiful Bridal Clutch Bags for Brides with Serious Style
35. Make Your Own Bridal Garter
Image: Pinterest
Make your own garter with off-cuts of lace from your dress.
If you hadn't considered wearing a bridal garter before, here's everything you need to know.
36. Borrow Your Veil & Jewellery
Image: Pinterest
Borrow a wedding veil or jewellery from a friend or family member – this is something else that can double up as something borrowed!
37. Wear a DIY Flower Crown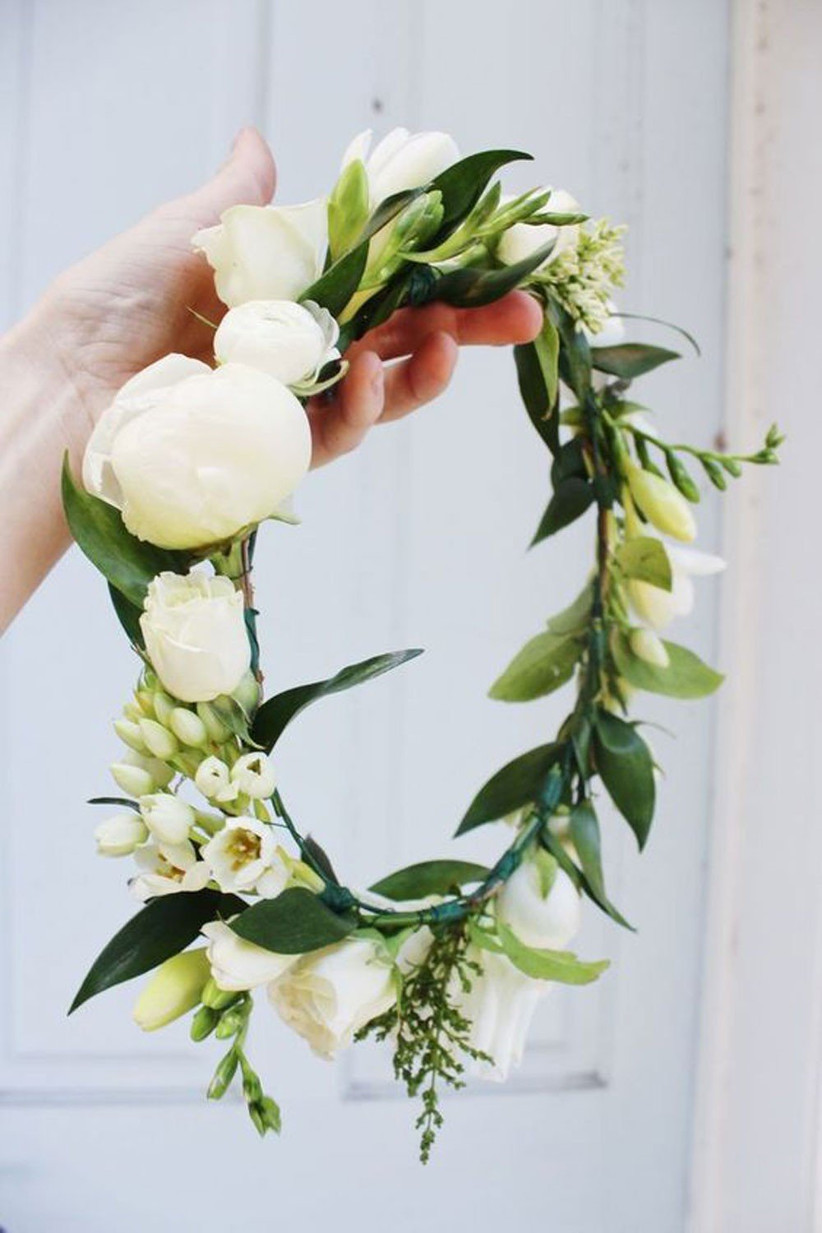 Image: Pinterest
Make your own flower crown with wild flowers as an alternative to an expensive tiara.
All you'll need is some green garden wire and fresh flowers!
Free Wedding Favour Ideas
Lots of couples are skeptical about spending lots of money on wedding favours, particularly when many guests will forget to take them home! If you've still got your heart set on giving wedding favours to your guests, choose one of these free wedding favour ideas…
38. Print out Photos of Your & Your Guests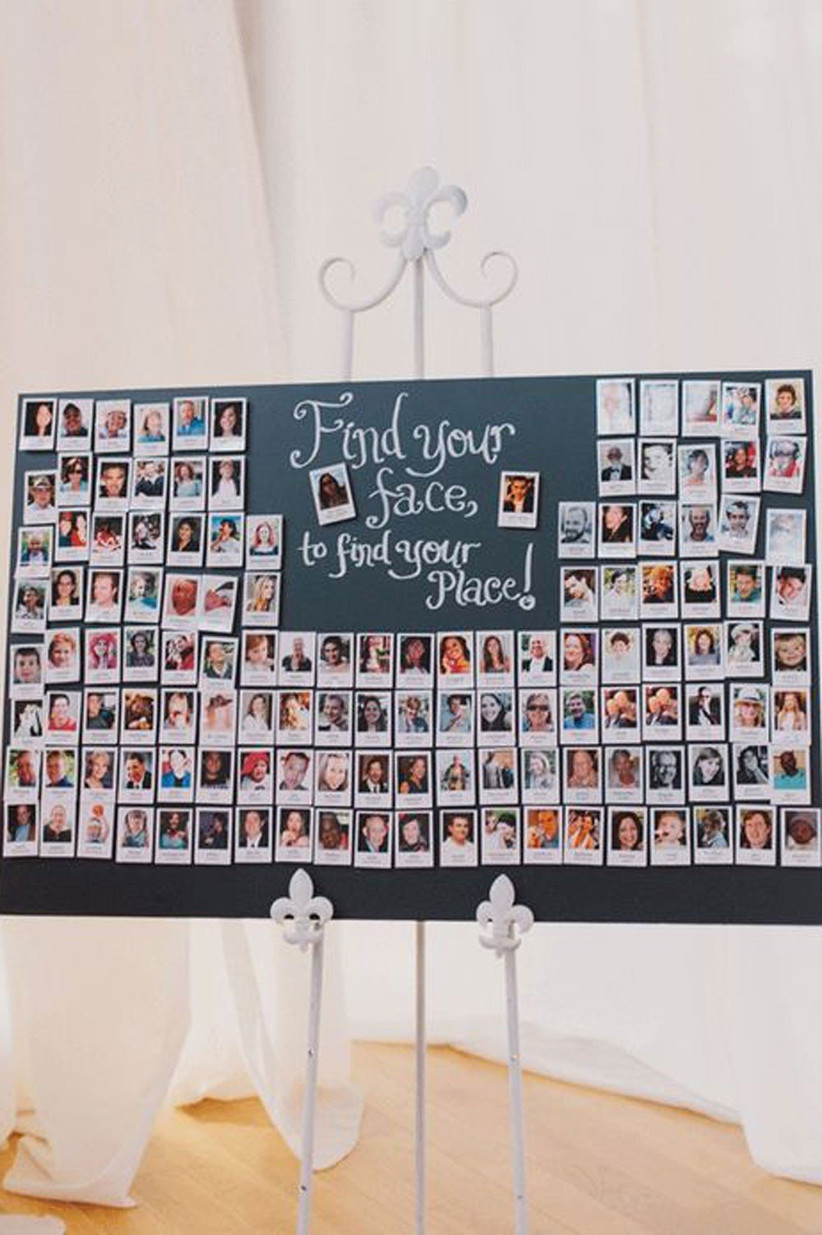 Image: Pinterest
Print out photos of you and each guest – they can be used as place cards and wedding favours.
We love the way this couple have pinned up all of the photos on a display wall with the quote "find your face to find your place". Underneath each picture are details of where they should sit.
39. Write Personalised Thank You Notes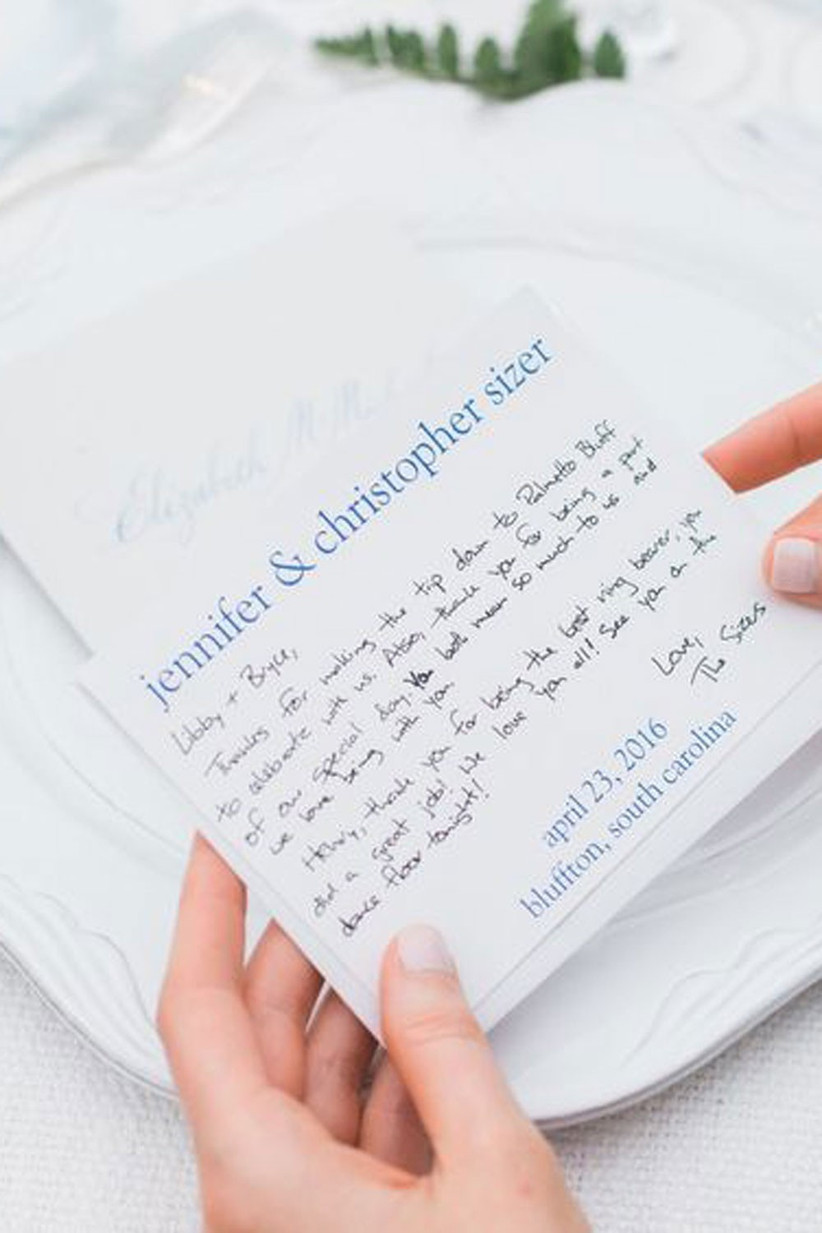 Image: Pinterest
Write personalised notes to each of your guests detailing your favourite memory with them. So cute and totally worth the effort!
READ MORE: A Guide to Writing Thank You Cards
40. Make Your Own Edible Wedding Favours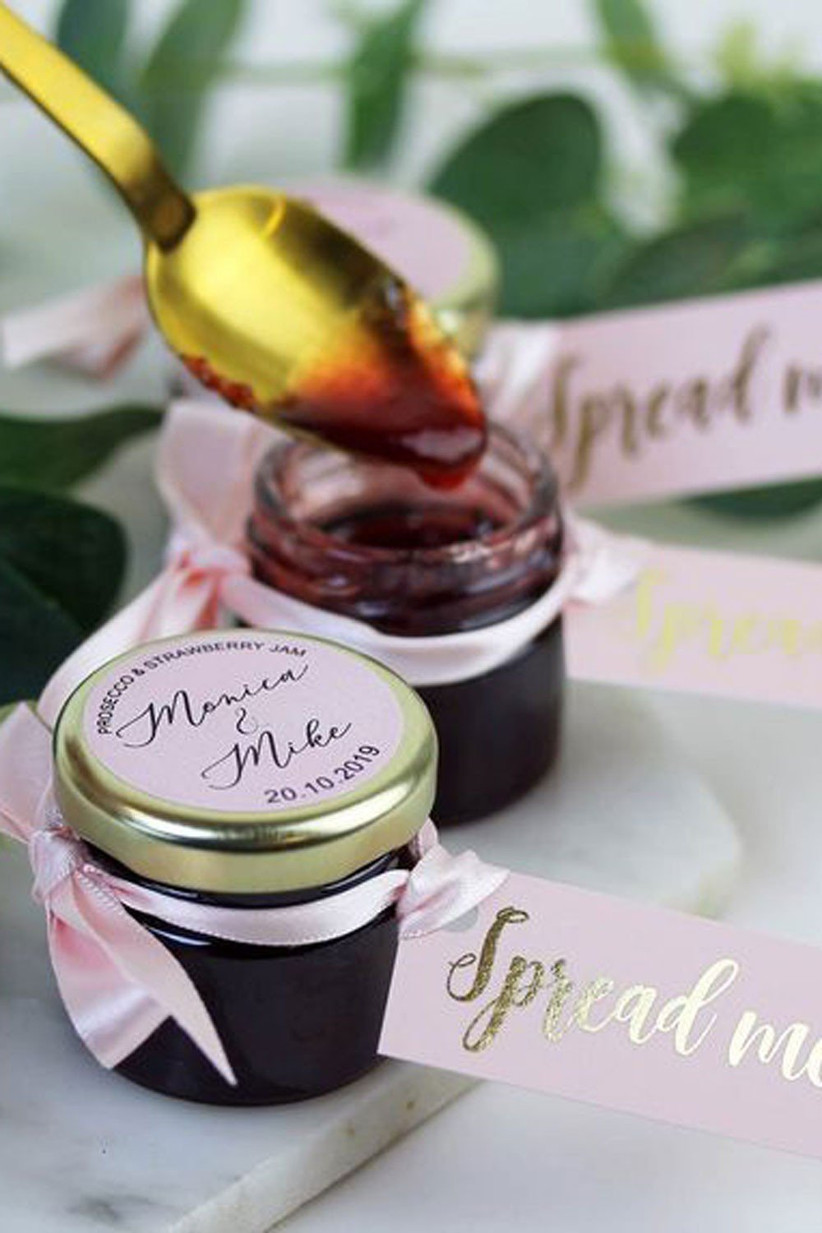 Image: Pinterest
Making your own edible wedding favours is a lovely idea which costs next to nothing.
Check out our round-up of the best DIY wedding favours if you're after inspiration, but we love the ideas of baking your own macaroons or making your own lemon curd and jam. Most of our ideas use things you'll already have in the cupboard!
41. Spray Paint Pine Cones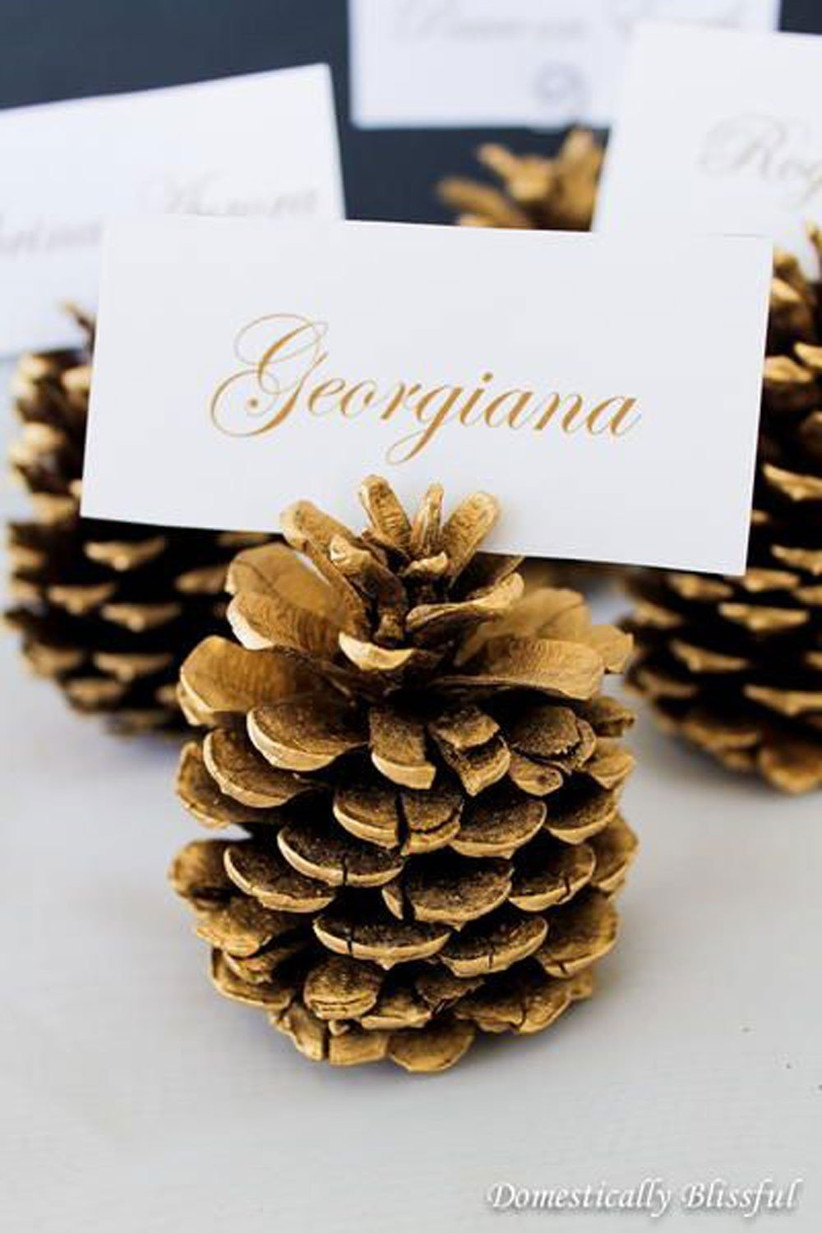 Image: Pinterest
If you're getting married in the autumn, save up pine cones and leaves then spray paint them. You could even write the guest's name on a label and attach it!
42. Make Your Own Shots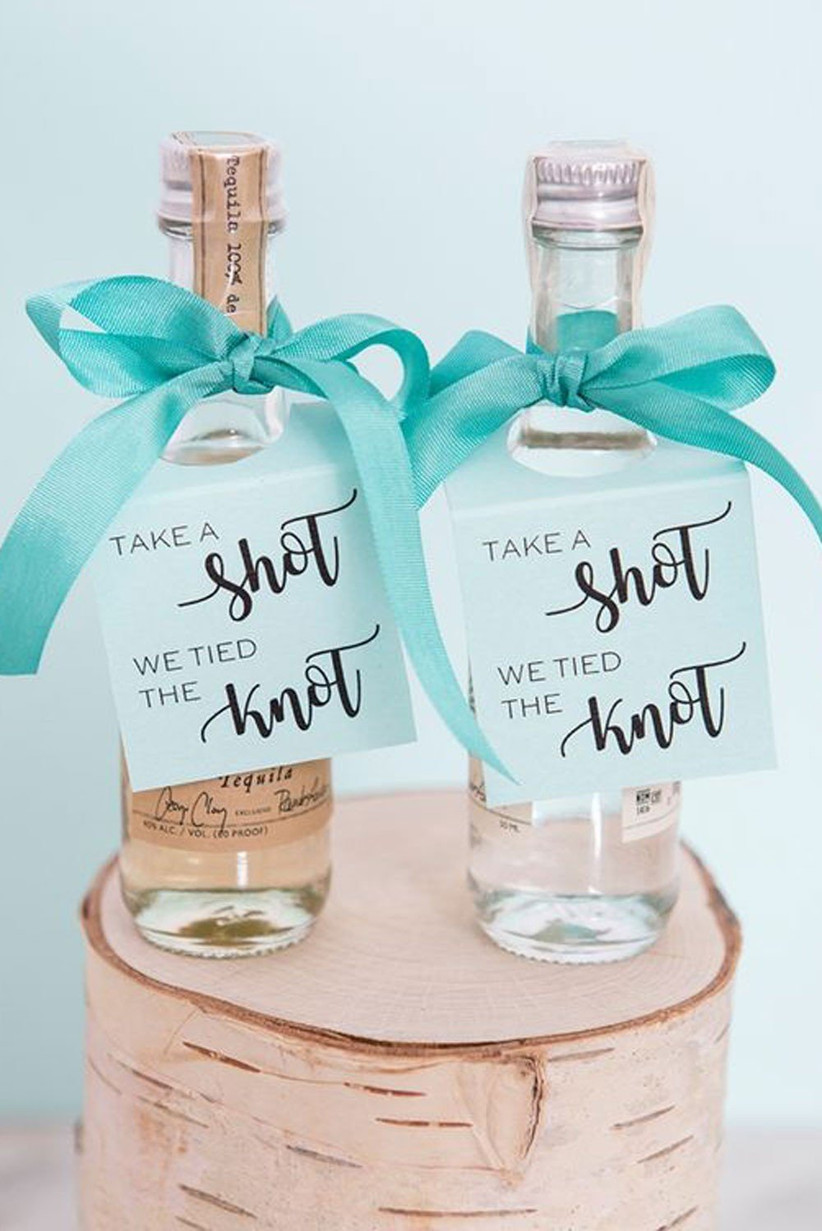 Image: Pinterest
Do you have lots of ends of bottles of vodka or gin? Save them up, infuse them with fruit and herbs and serve them as wedding favour shots.
You could even make your own labels and write something fun like "take a shot, we tied the knot" as decoration!
Free Wedding Food and Entertainment Ideas
Wedding catering is one of the most expensive parts of the day, and wedding cakes and entertainment don't come in cheap, either! Take a look at these free ideas for your food and entertainment…
READ MORE: The Best Alternative Food & Drink Ideas
43. Bake Your Own Wedding Cake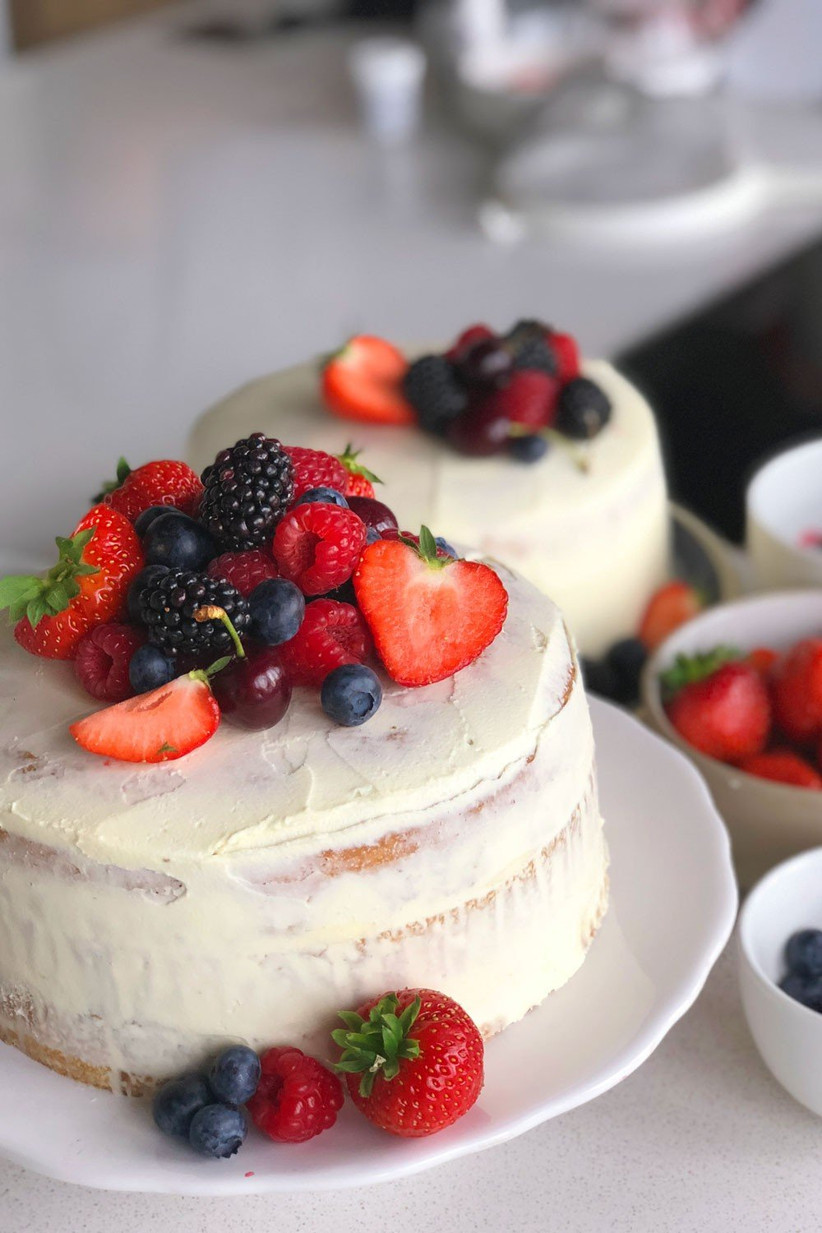 Image: Instagram / @hitcheduk
Be brave and make your own wedding cake from scratch using ingredients you've found in your cupboard. You could try making a Victoria sponge cake, a fruit cake, or you could save money on butter cream and décor by making a 'naked cake' dusted with icing sugar and fresh fruit grown in your garden.
Oh, and if baking it entirely from scratch seems a little too much to handle, you could buy a plain Victoria sponge from the supermarket and ice it by following our tutorial. So on-trend and so delicious!
44. Don't Provide Catering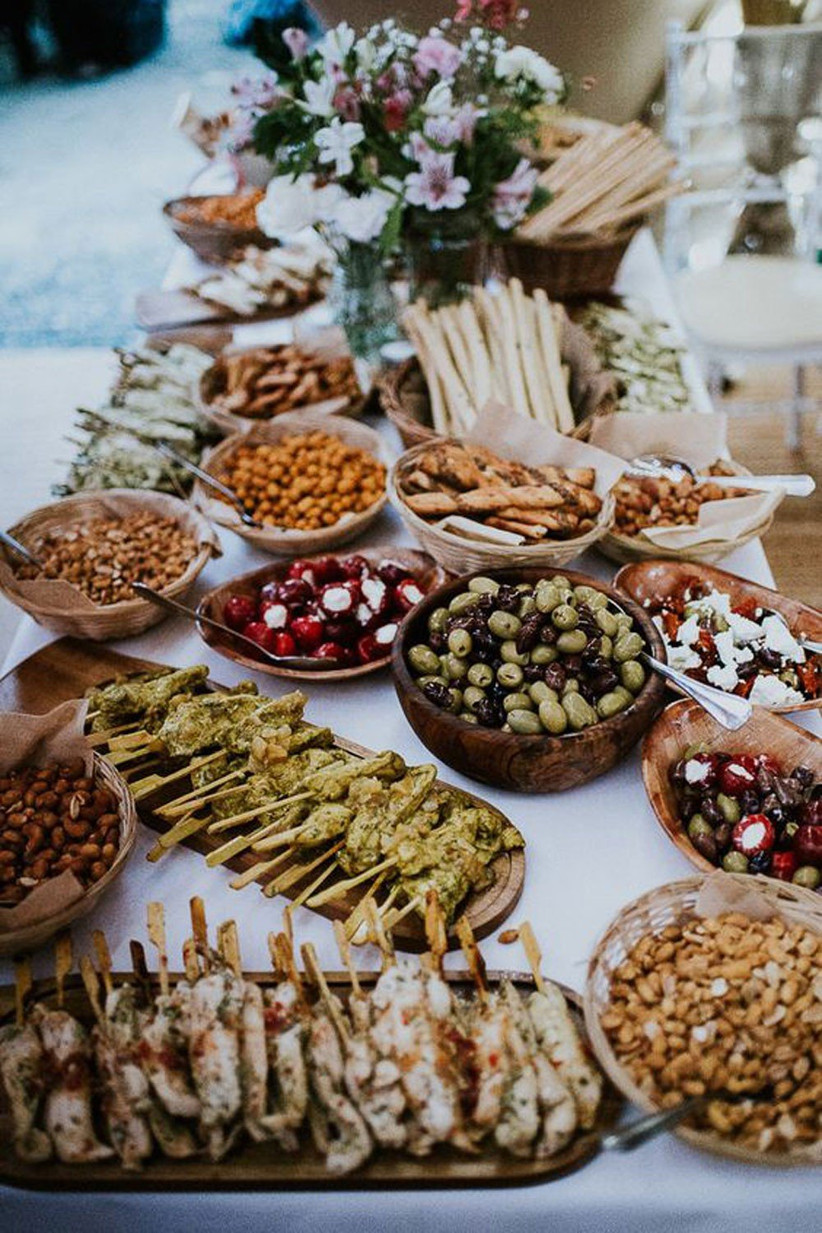 Image: Pinterest
Be even braver and don't cater for your wedding at all. Instead of gifts, ask your family and friends to bring a dish of food each then display them in a lovely way on a buffet table.
How delicious does this spread look? We know where we'd be spending the entirety of the evening…
45. Host an Afternoon Tea!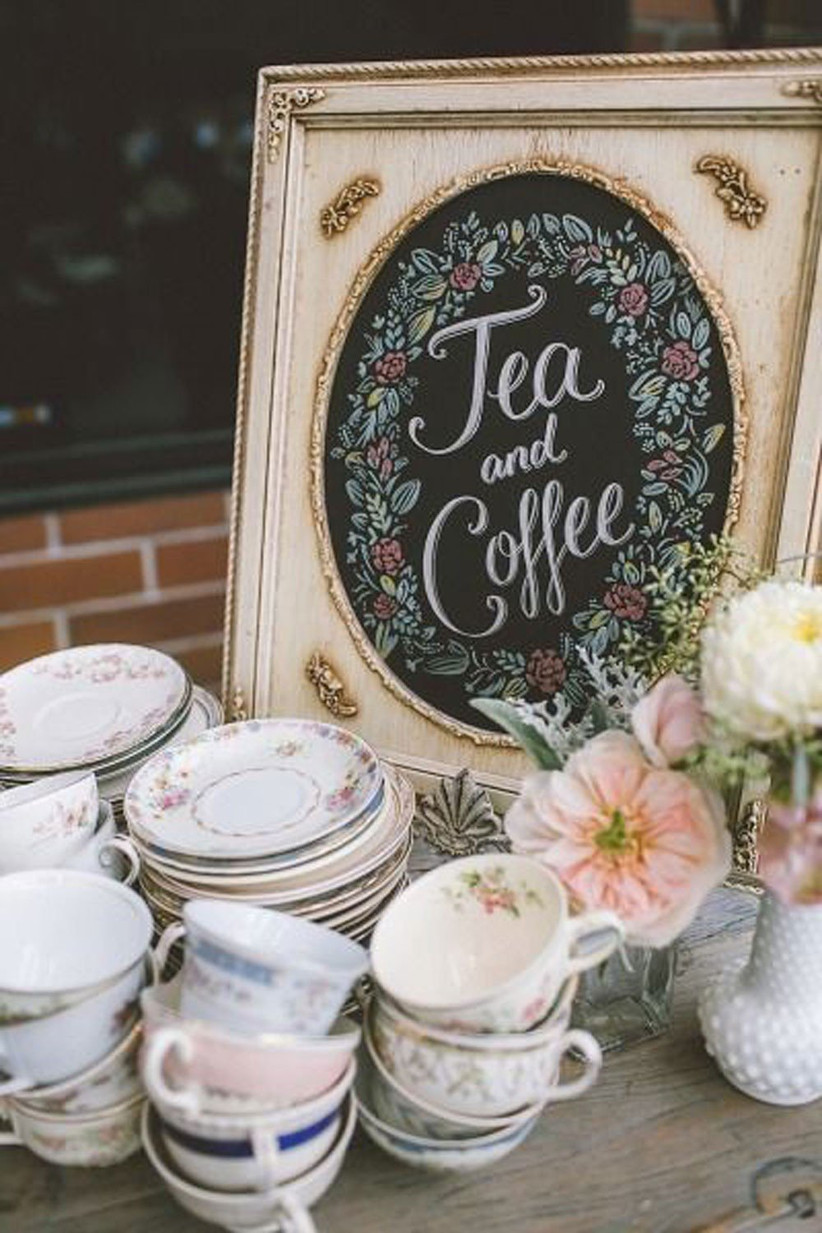 Image: Pinterest
We love the idea of hosting an afternoon tea. Bake scones yourself, make finger sandwiches and ask family and friends to dig around their cupboards for tea pots, saucers and cups.
The mismatched crockery will give it a super cute Alice in Wonderland vibe. What's more, someone you know is bound to have a chocolate fountain, so scrap paying for desserts and finish up the tea with a trip to the chocolate fountain table!
46. Put Board Games on Tables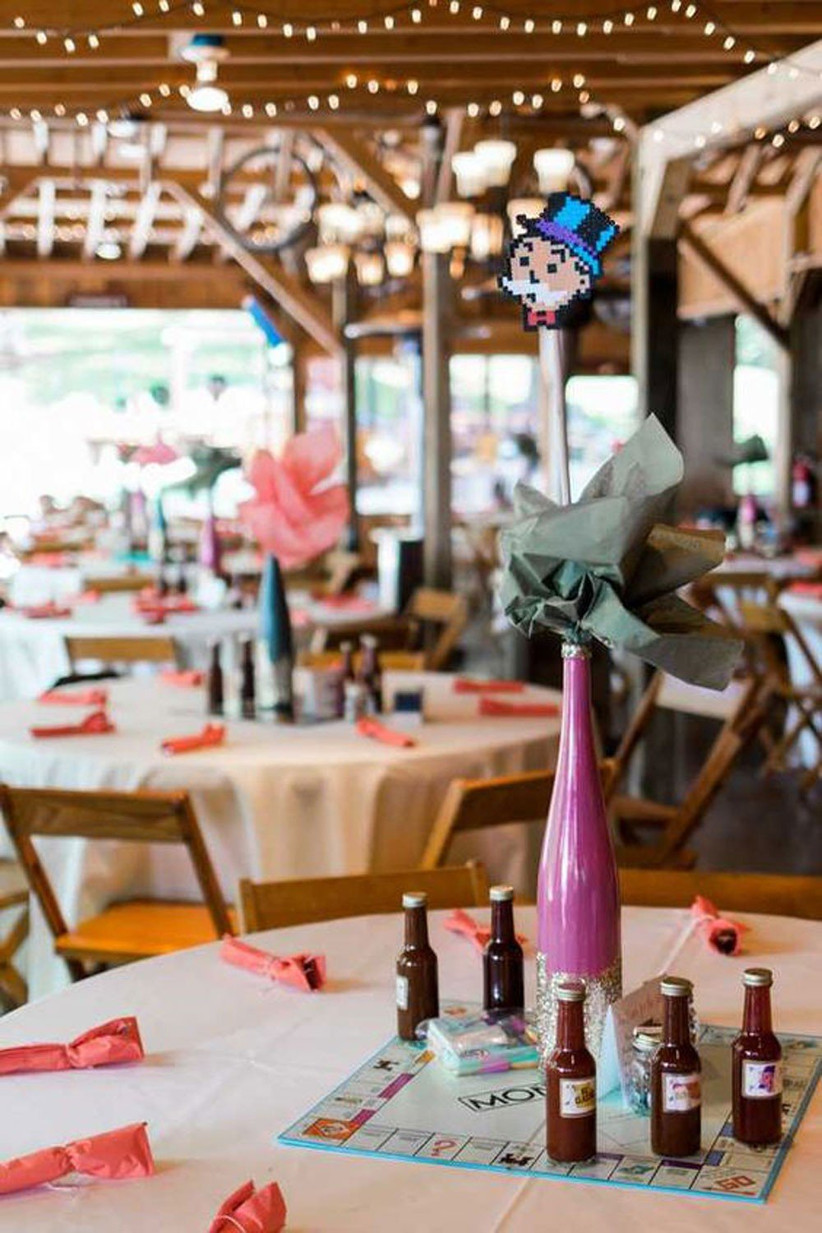 Image: Pinterest
Ask one person from each table to bring a board game to the wedding – they make great, post-dinner activities! You could even name the tables after the game which will be played, and guests can rotate throughout the evening.
You could also draw kids games like hopscotch on the patio at your wedding venue as great entertainment.
READ MORE: 25 Outdoor Wedding Games to Entertain Your Guests
47. Make Your Own Photo Booth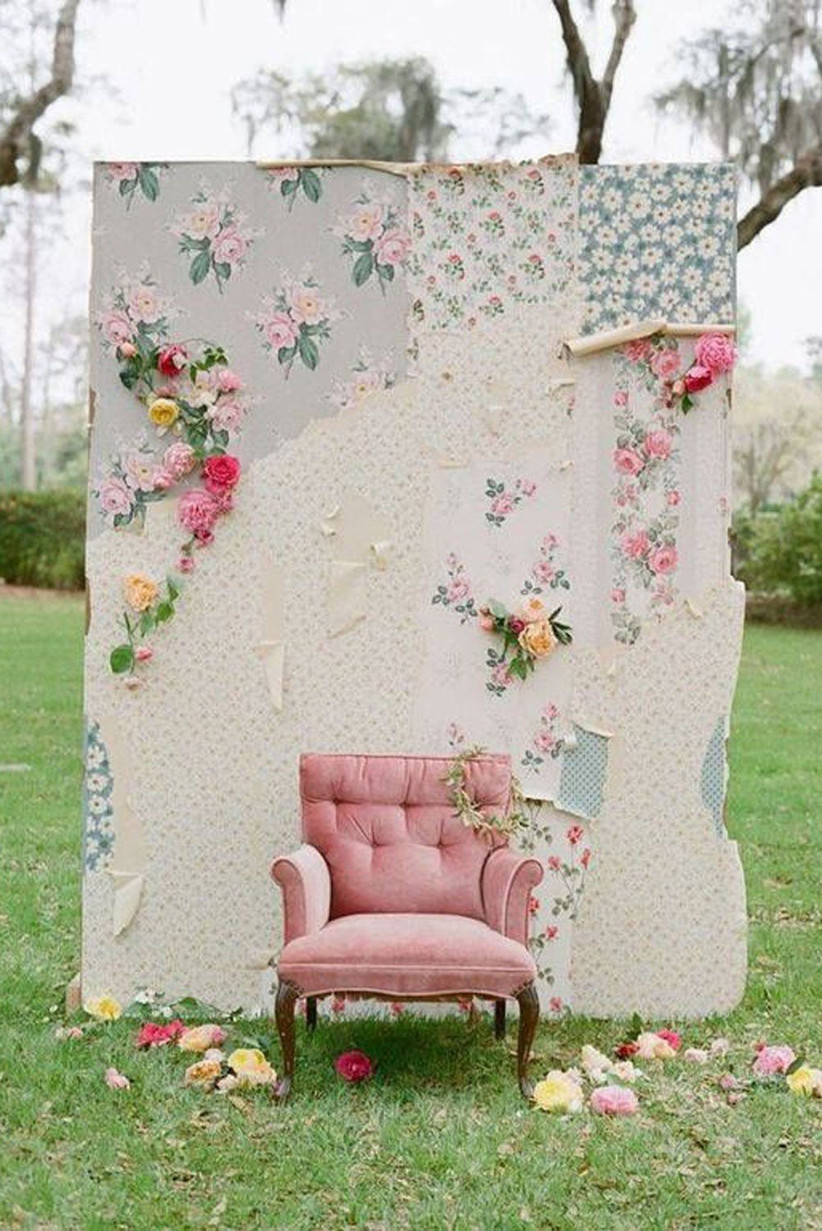 Image: Pinterest
Set up your own photo booth against a wall and collect hats and glasses from around your house to use as props. You don't even need a camera – you could use an iPhone or iPad!
48. Ditch the DJ for a Spotify Playlist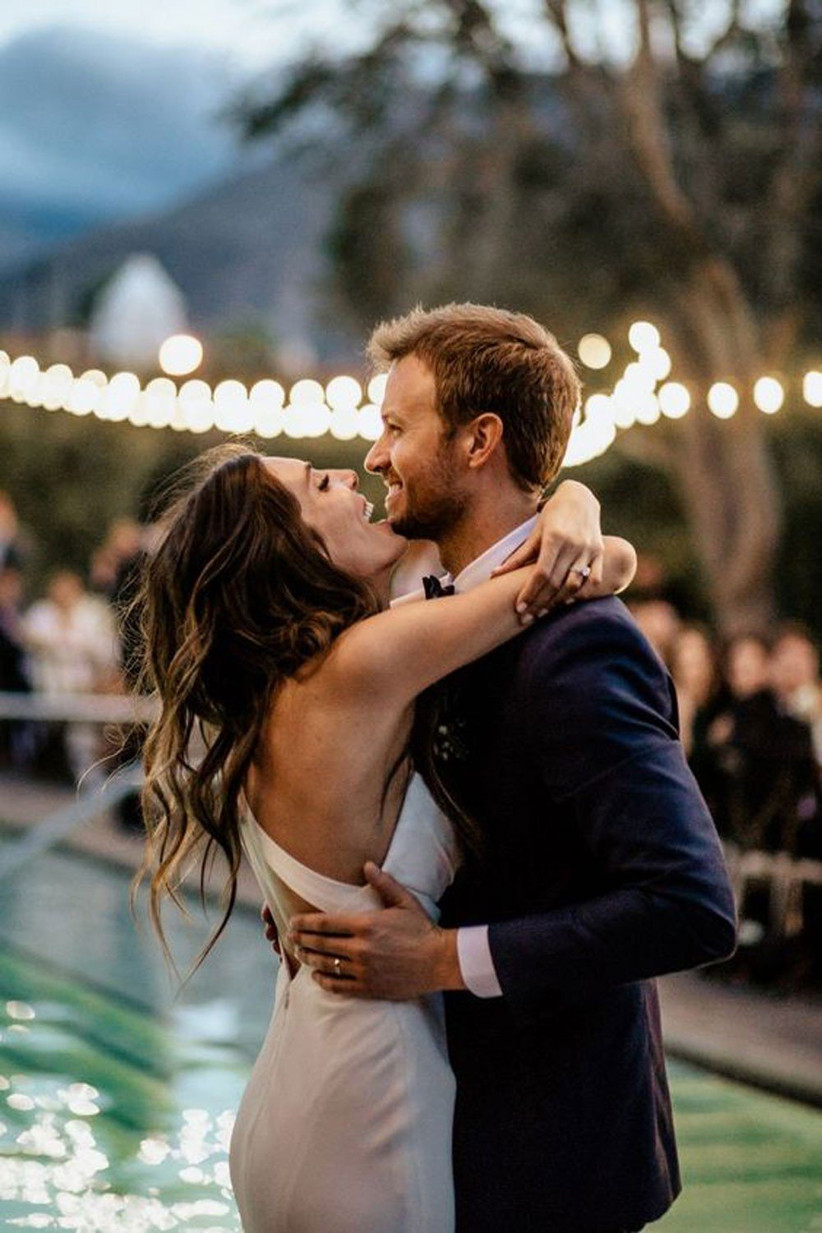 Image: Pinterest
Want to get everyone on the dance floor? Ask all of your guests to write their favourite dance song on their RSVP. If you can't afford a DJ but your venue has a speaker system, you could use the requests to create a Spotify playlist which everyone will love!
Click here for our ultimate wedding playlist if you don't quite get enough requests.
49. Enlist the Help of Music Students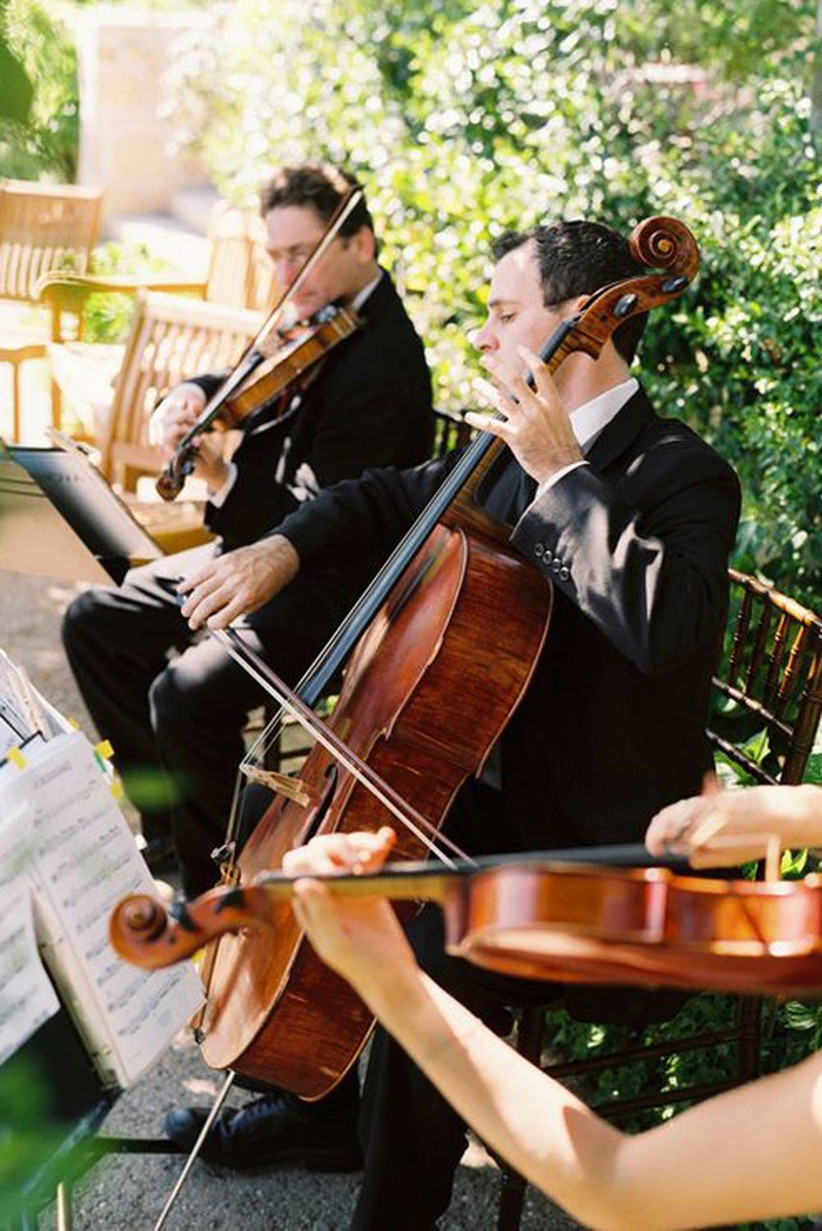 Image: Pinterest
Contact a local university or college – ask if there are any students who are studying a particular instrument, or who sing, as a free alternative to hiring a wedding band.
They'll usually be keen to help out, since it's a great experience and will build their portfolio!
50. Set up a DVD Den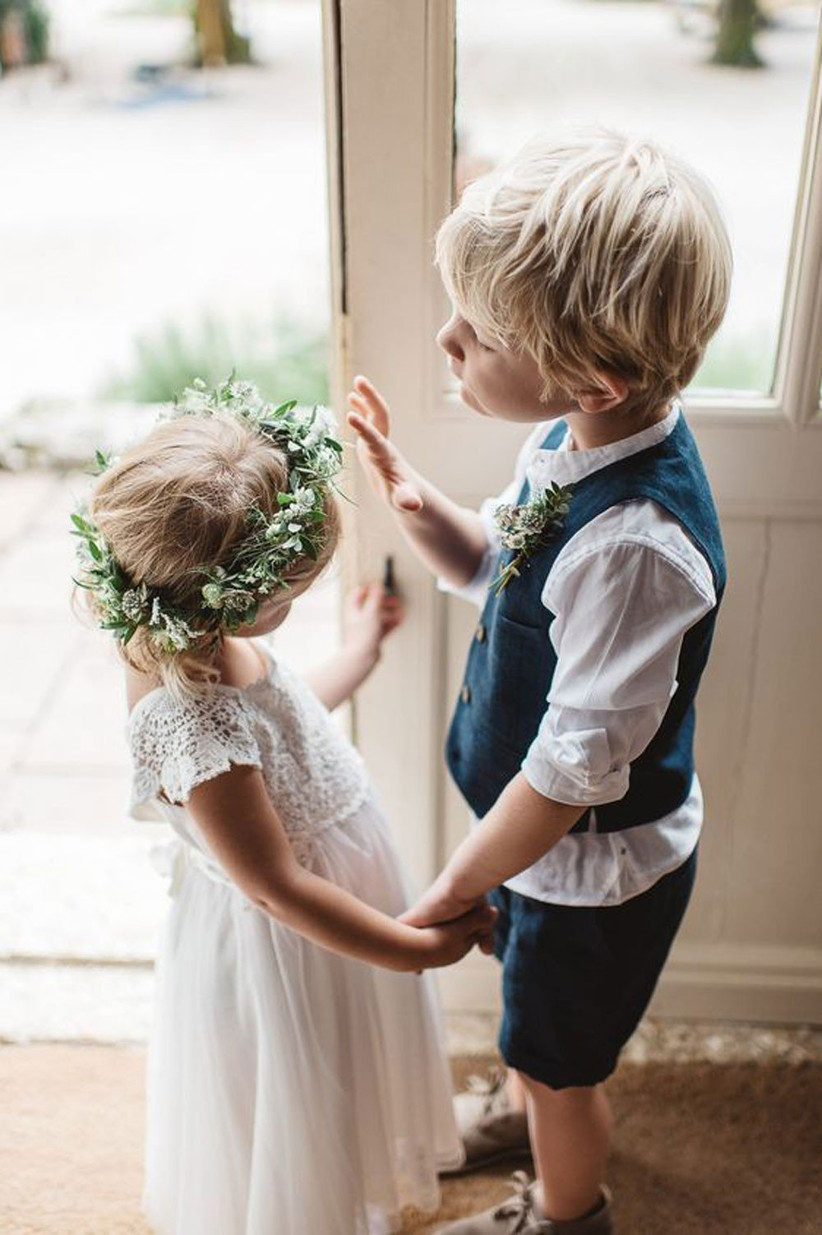 Image: Pinterest
Set up a DVD den in a small room off the side of your wedding reception space for a sure-fire way to keep the children at your wedding entertained!
51. Host a Pub Quiz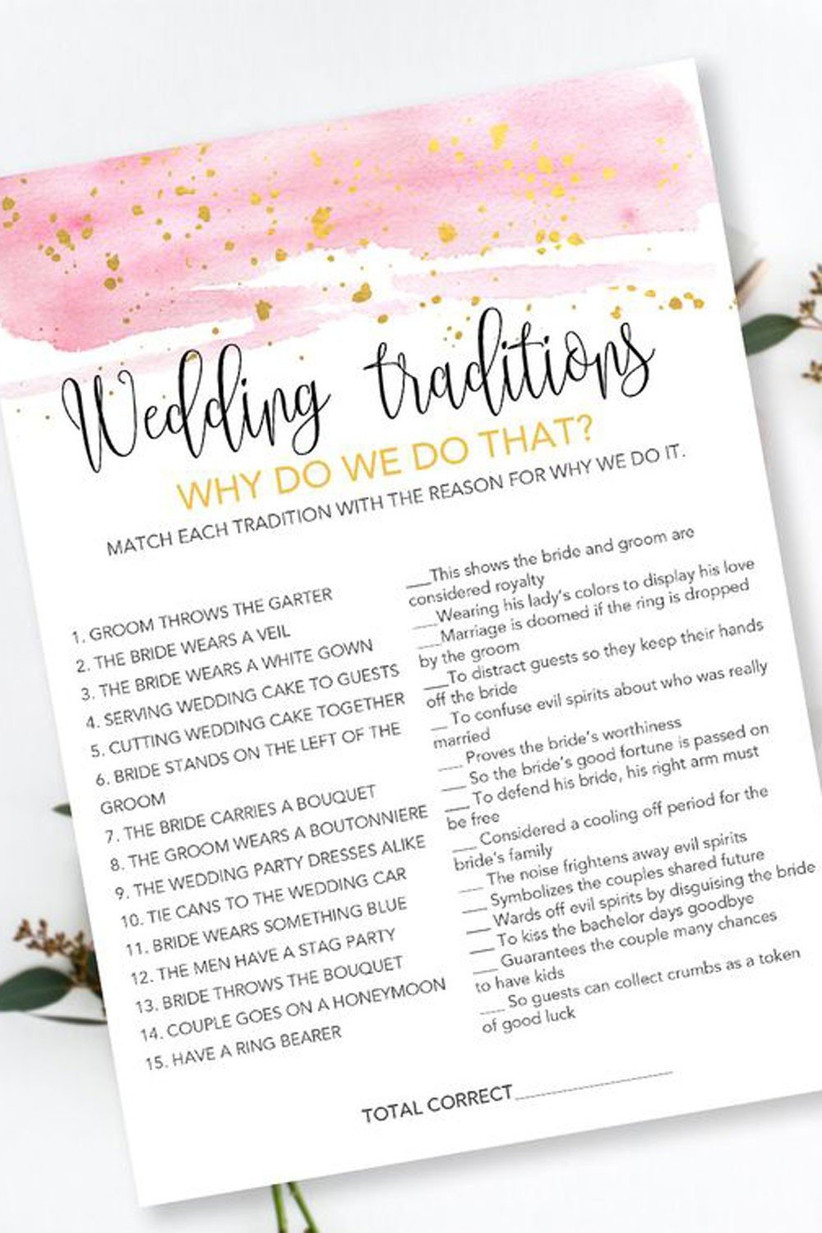 Image: Pinterest
Print off some pub quiz questions and scatter them across the tables as a fun ice-breaker for during the wedding breakfast. You could even consider hosting a "How Well Do You Know the Couple?" Mr & Mrs style quiz between courses…
READ MORE: The 30 Best Wedding Songs of 2019
If you're still on the hunt for the best ways to boost your budget, take a look at our favourite wedding favours for under £1! There are so many cute options.