14 Amazing Wedding Balloon Ideas
We've rounded up all the fun and creative ways you can use balloons in your wedding - from confetti balloon centrepieces to your getaway car.
We have included third party products to help you navigate and enjoy life's biggest moments. Purchases made through links on this page may earn us a commission.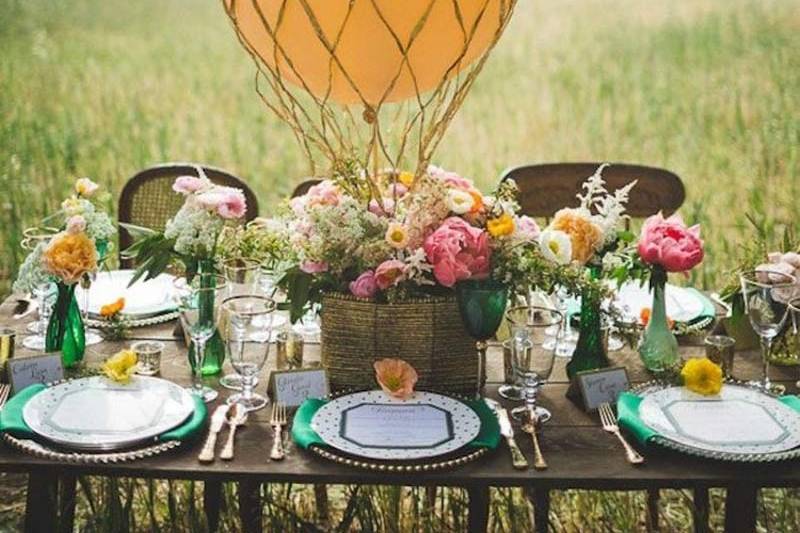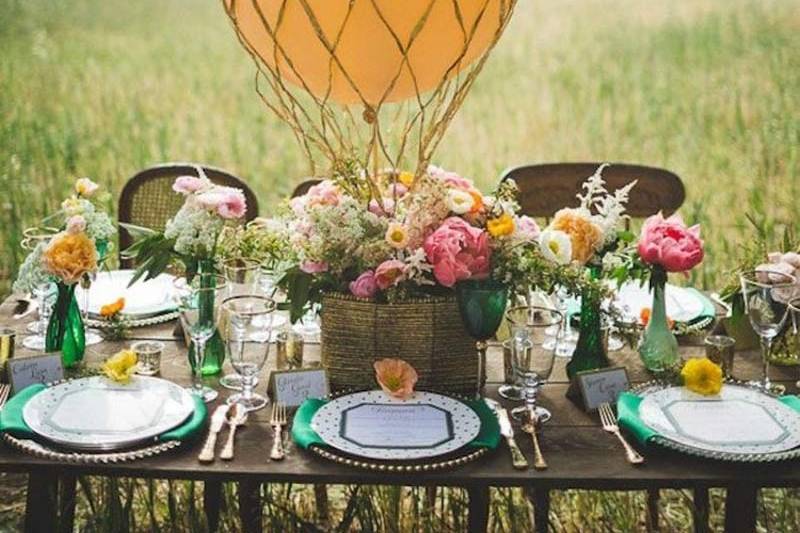 Wedding balloons are one of the hottest trends in wedding decor this year and can totally transform your venue.
No matter how big or small your venue, a stunning display – like these gorgeous confetti balloons below – around the entrance or dance floor, as a ceiling display, or incorporated into your centrepieces is a gorgeous finishing touch and will draw the eyes of all your guests.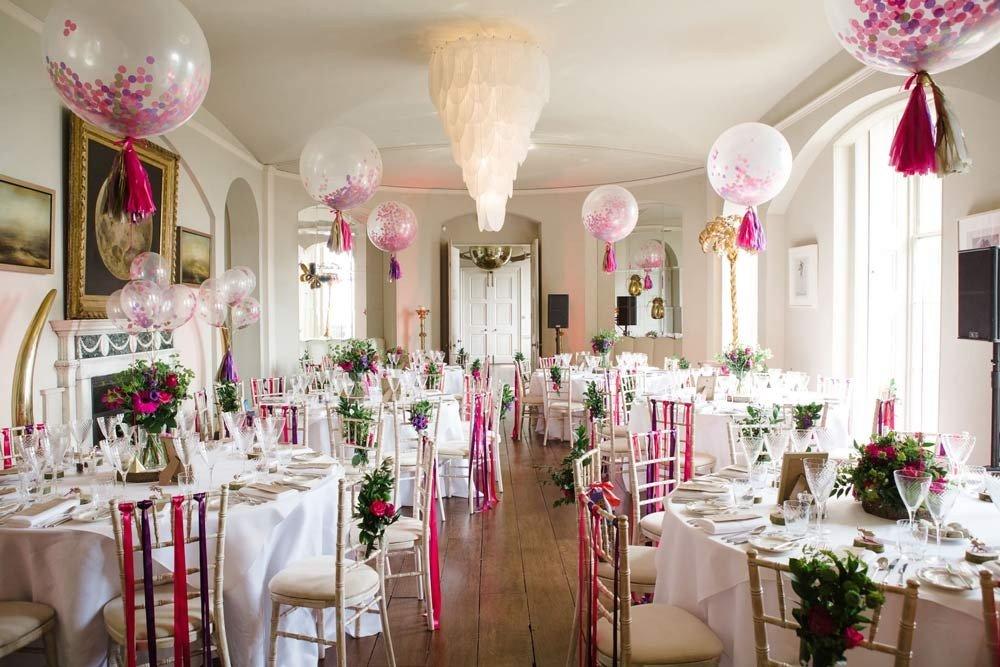 Image: Bubblegum Balloons; Photographer: Lucy Davenport
It's not just limited to the reception too. Wedding balloons can be a fabulous flourish as aisle decorations and adorning the getaway car (and confetti balloons make great hen party decorations as well!)
Whether they're filled with confetti or personalised and oversized, there's balloons to suit every wedding and lots of creative ways to use them!
Wedding Balloon Ideas For Your Ceremony
Aisle Decoration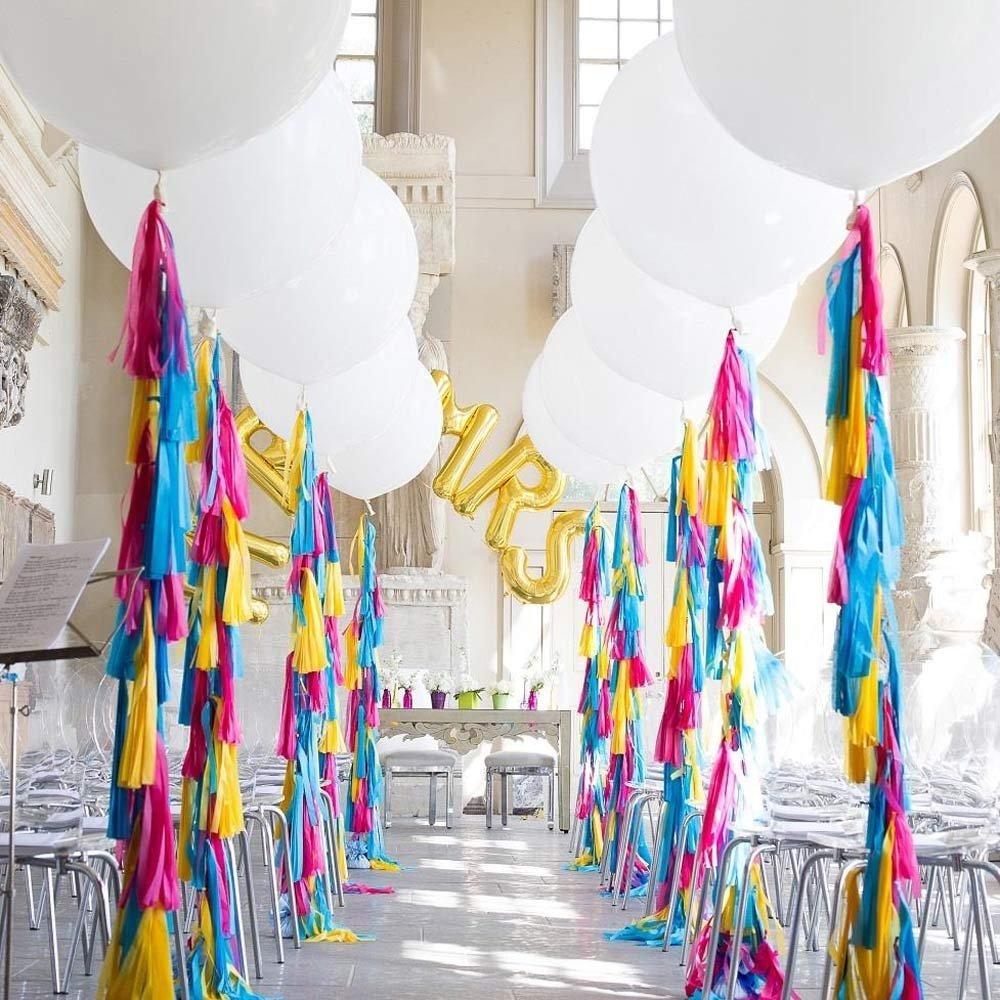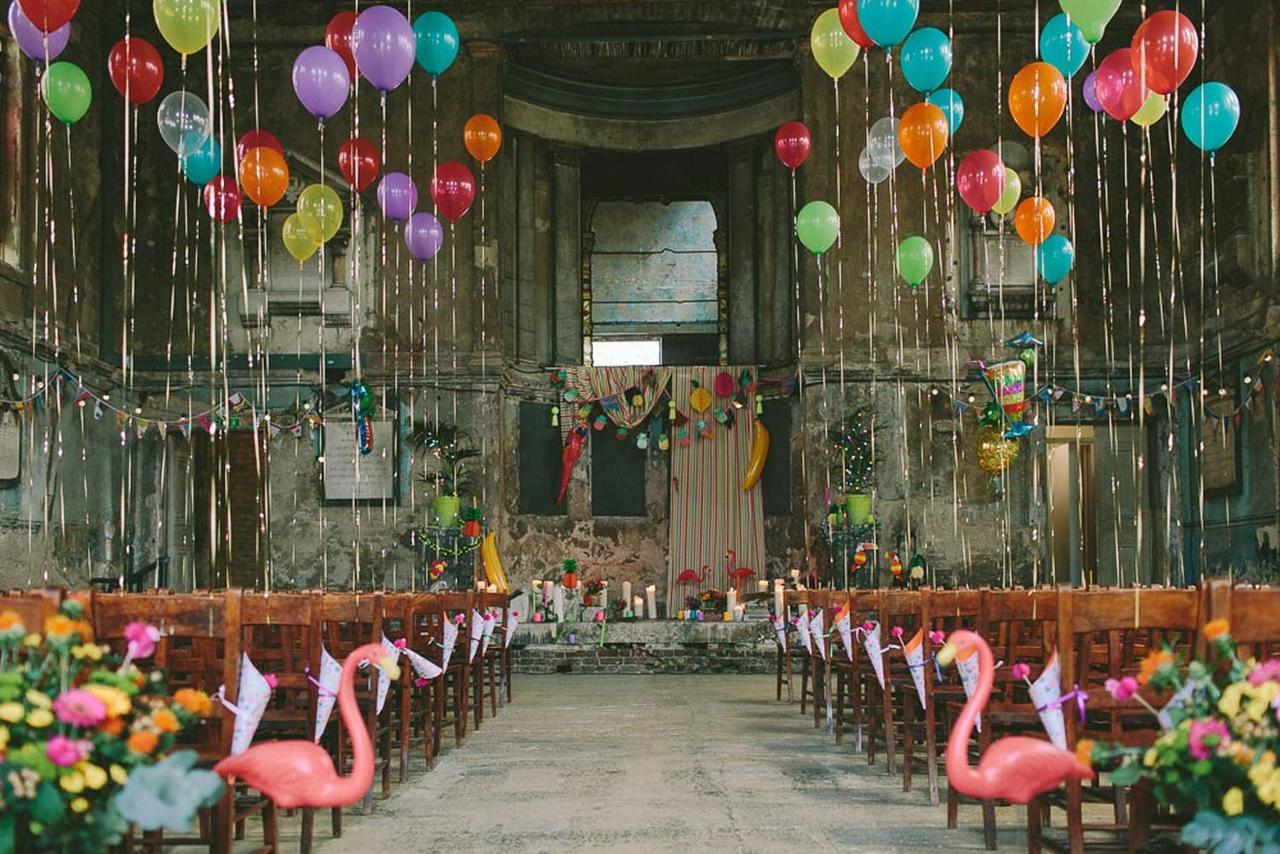 Images: Bubblegum Ballons (top) and We Heart Photography (bottom)
Balloons are a cost-effective way to reinvigorate your ceremony room, bringing a pop of colour to a neutral-coloured venue or a quick touch of elegance to a venue where you might not have much say in how it's decorated, like a registry office. These balloons will look gorgeous in any snap of you walking down the aisle and are a really easy way to establish your theme.
During Your Portraits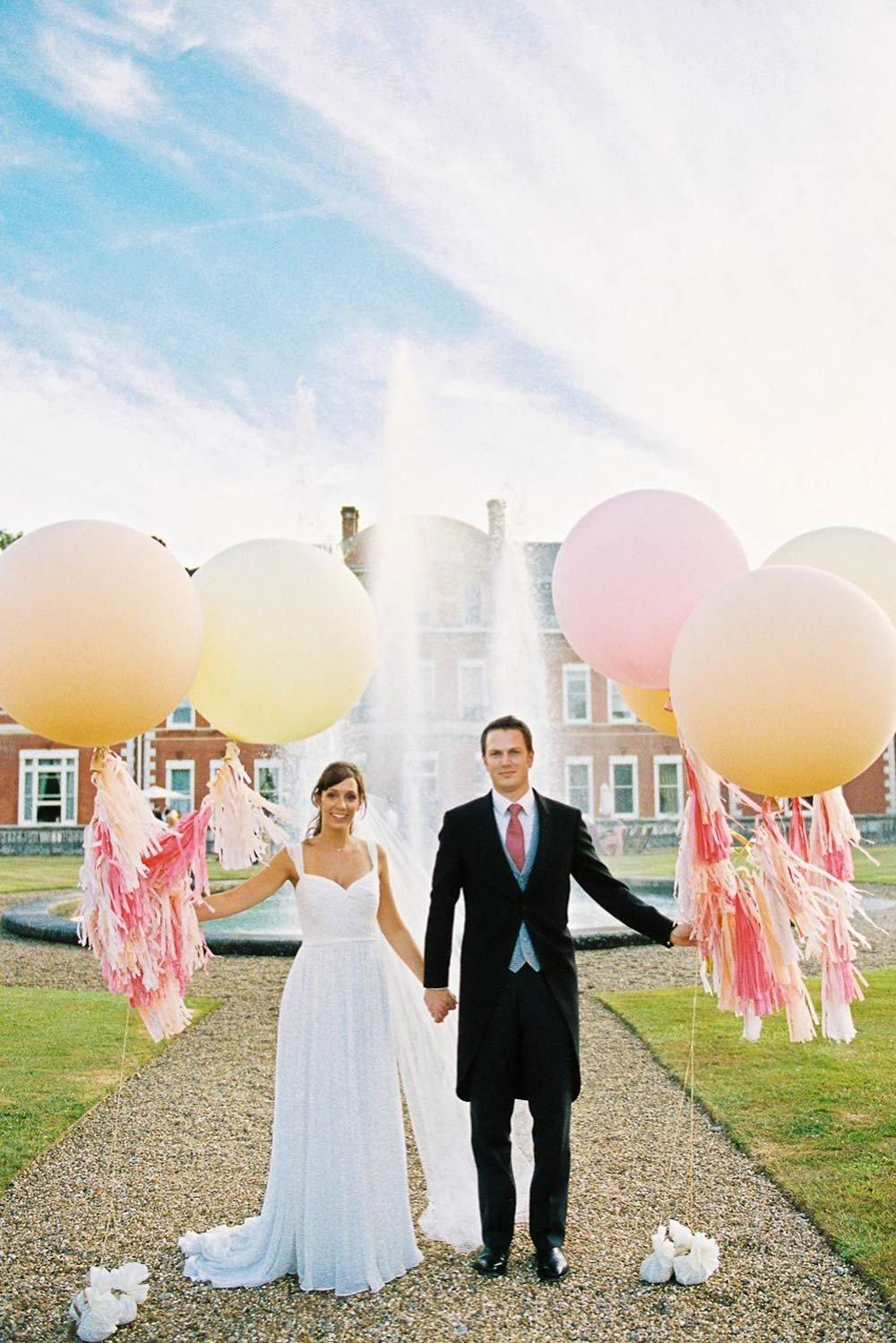 Image: Bubblegum Balloons
Add a whimsical touch to your wedding portraits with oversize balloons for the bride and groom to hold. These pastel colours are ideal for a spring or summer wedding, or try metallic foil balloons for a glamorous autumn or winter wedding look.
Wedding Balloons For Your Reception
Entrance Installation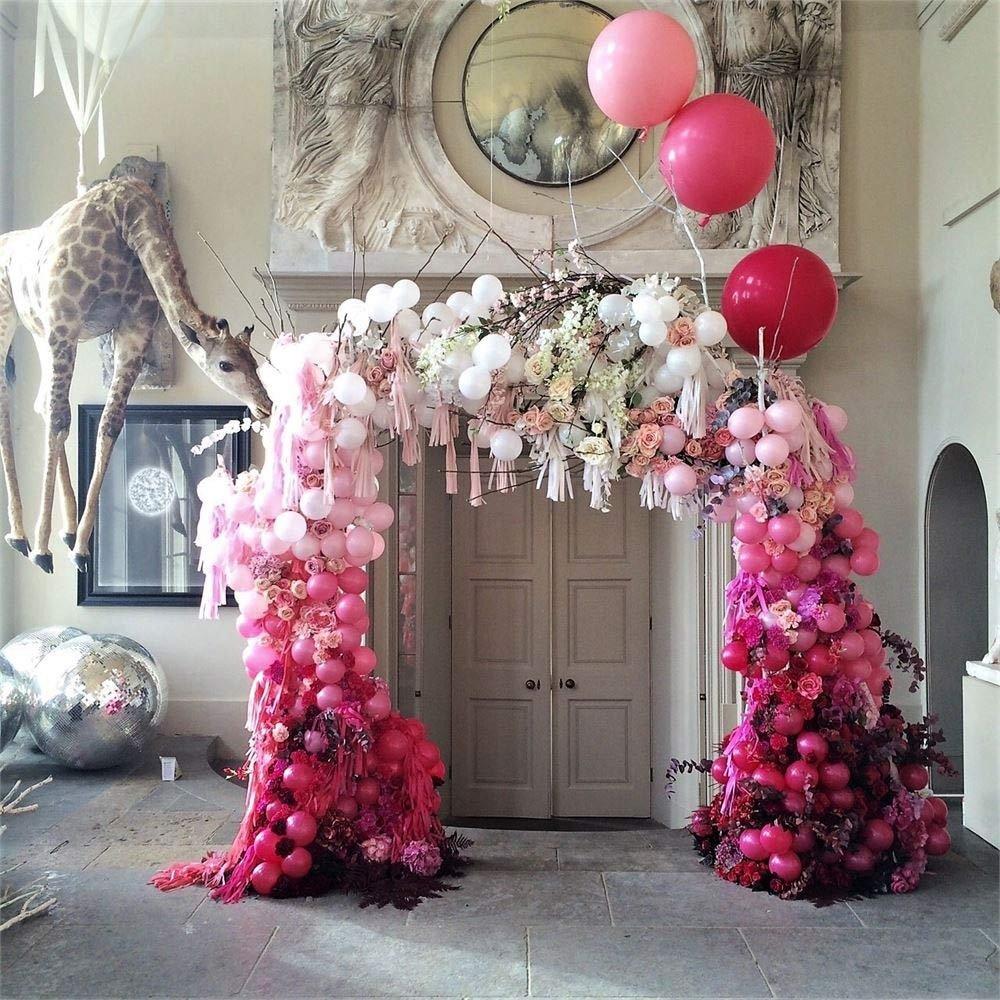 Image: Bubblegum Balloons
We're in love with this ombre-pink balloon and flower arch that will guide your guests into your reception room. It's a stunning, Insta-worthy spot for the couple to pose in front of and a fantastic talking point! Combine it with a really unusual touch, like this giant giraffe, for the most memorable entrance your guests will ever have seen.
Statement Ceiling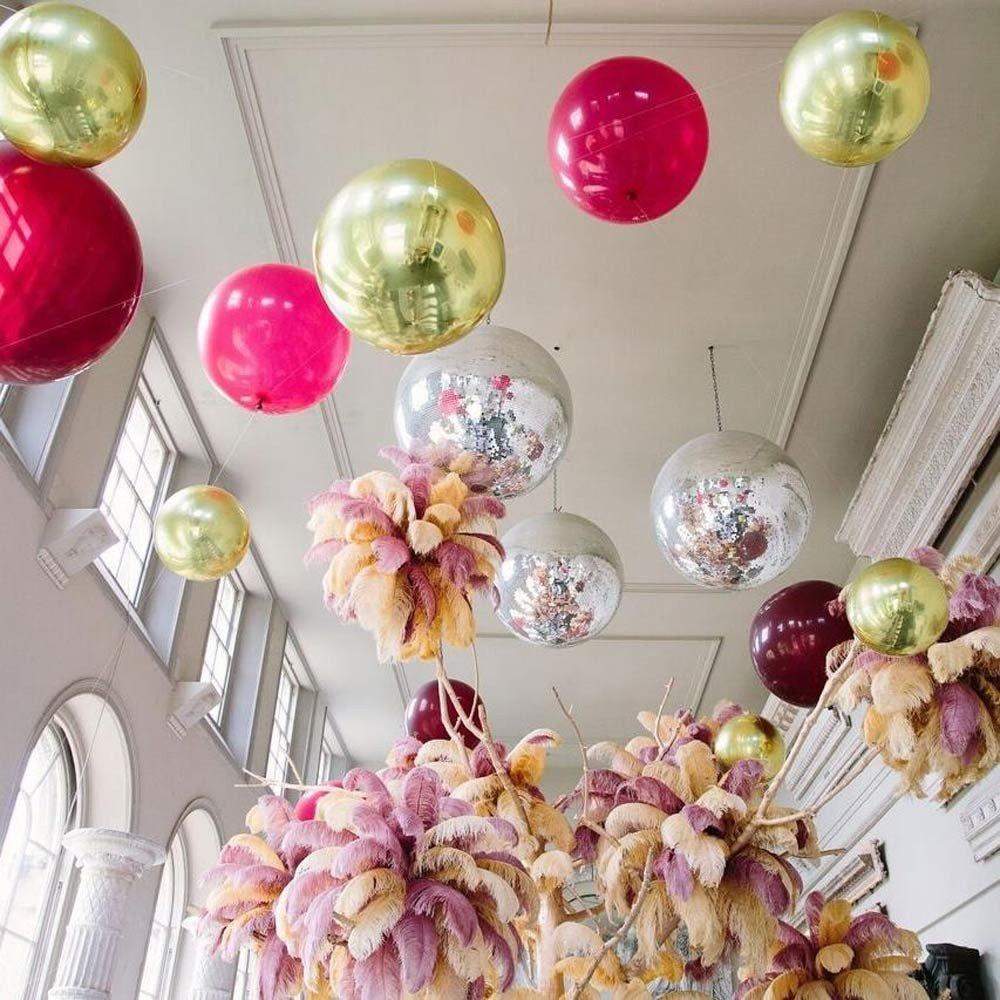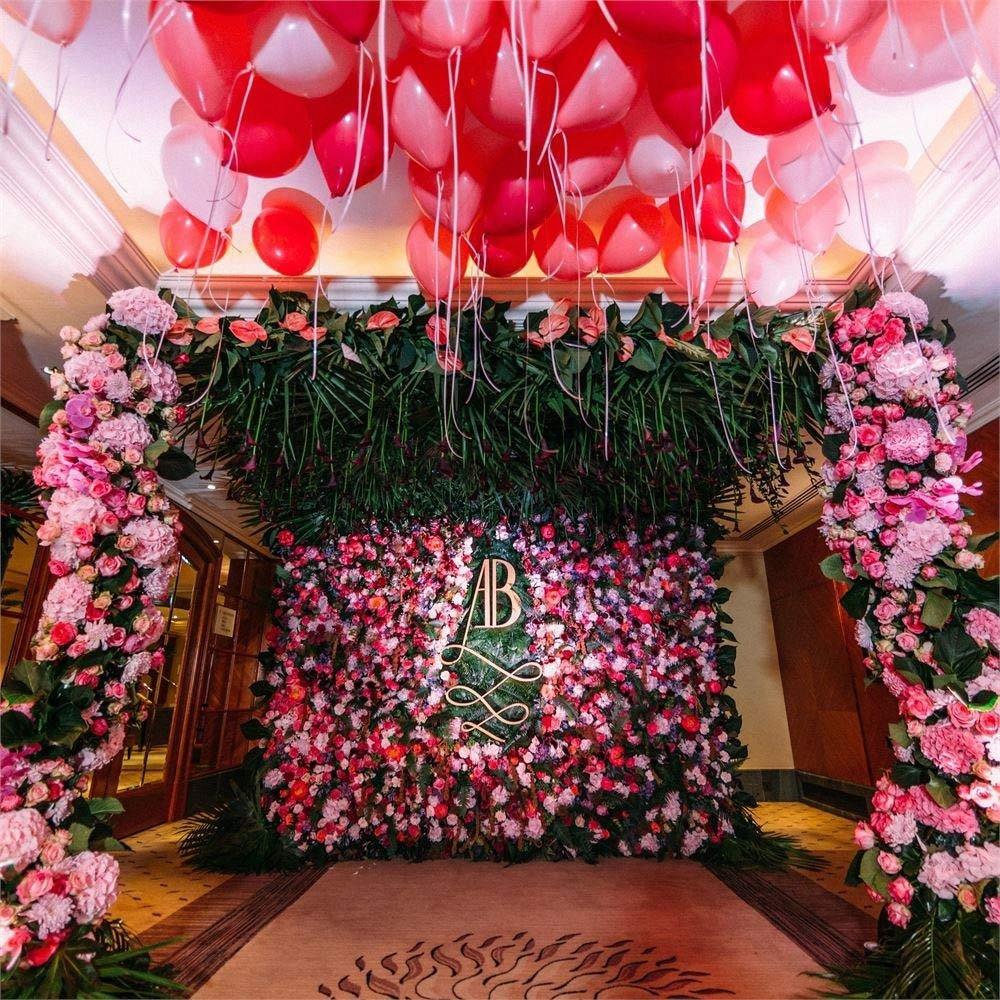 Images: Bubblegum Balloons
Pinterest called statement ceilings one of the biggest wedding decor trends for 2018 and it's easy to see why. Whether it's individual hanging balloons or this cluster canopy, a statement ceiling is a fabulous way to decorate your reception venue. You need to make sure if your balloons aren't attached to the ceiling that the company you purchase them from is using high-quality balloons, such as qualatex, which will stay up for 18 hours, or treating them with Hi-Float – otherwise you'll be raining balloons on the heads of guests by dessert!
Top Table Decoration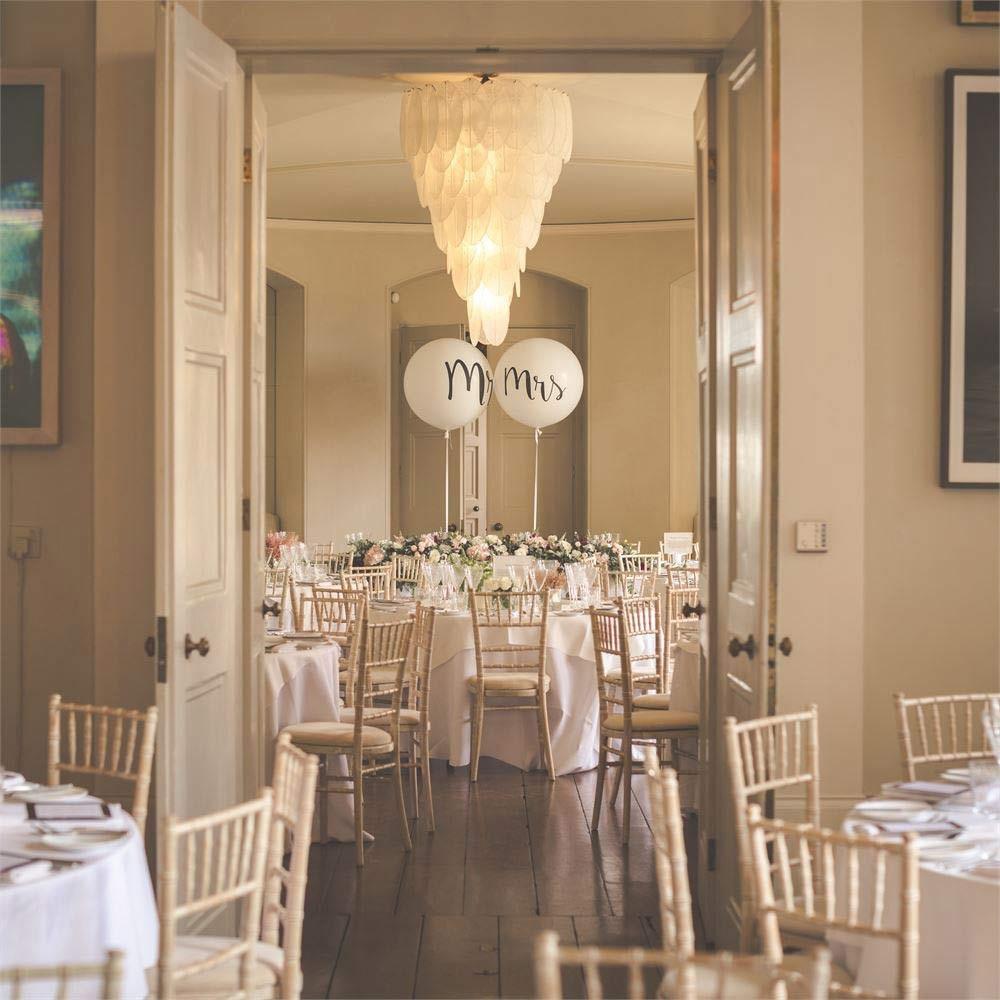 Image: Bubblegum Balloons
Giant "Mr and Mrs" balloons make a wonderful touch to your top table and are even better if you get them personalised with the bride's new surname (if she's changing it!). Tie them to the back of the couple's chairs and have them take pride of place on the top table.
Stunning Centrepieces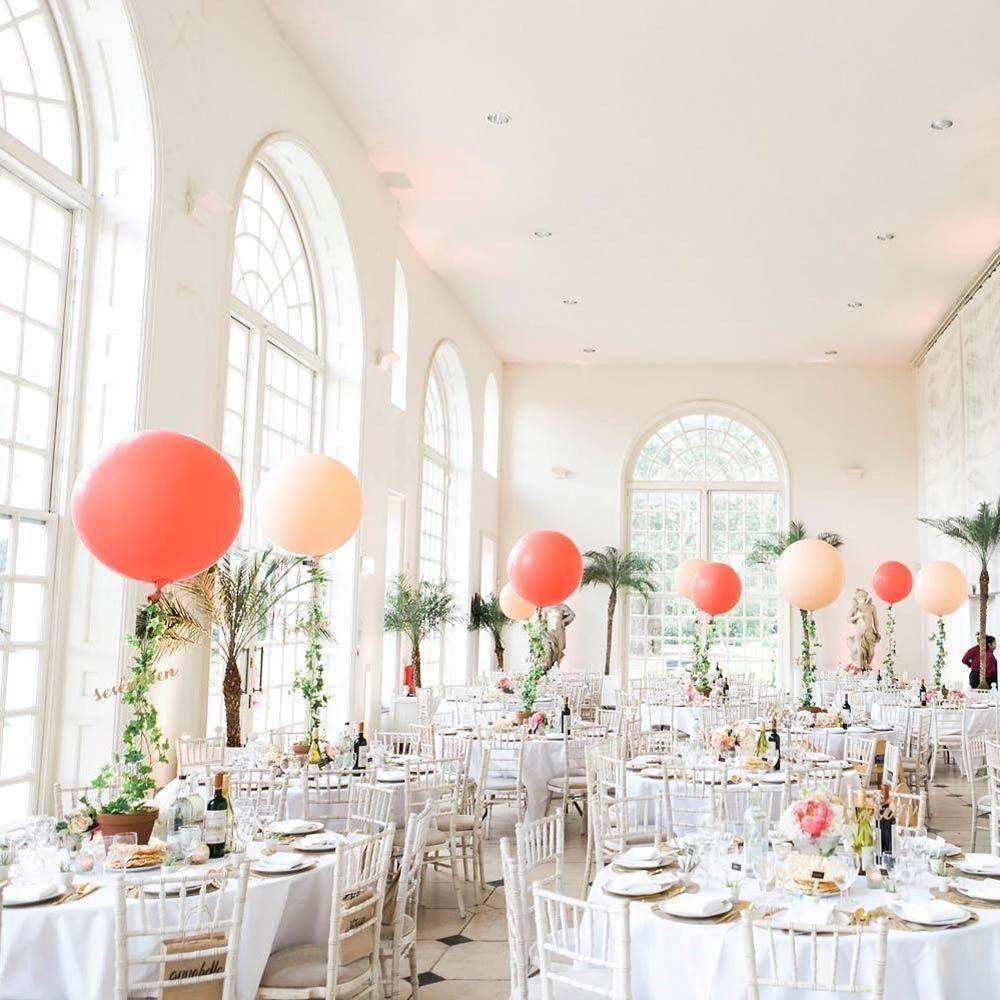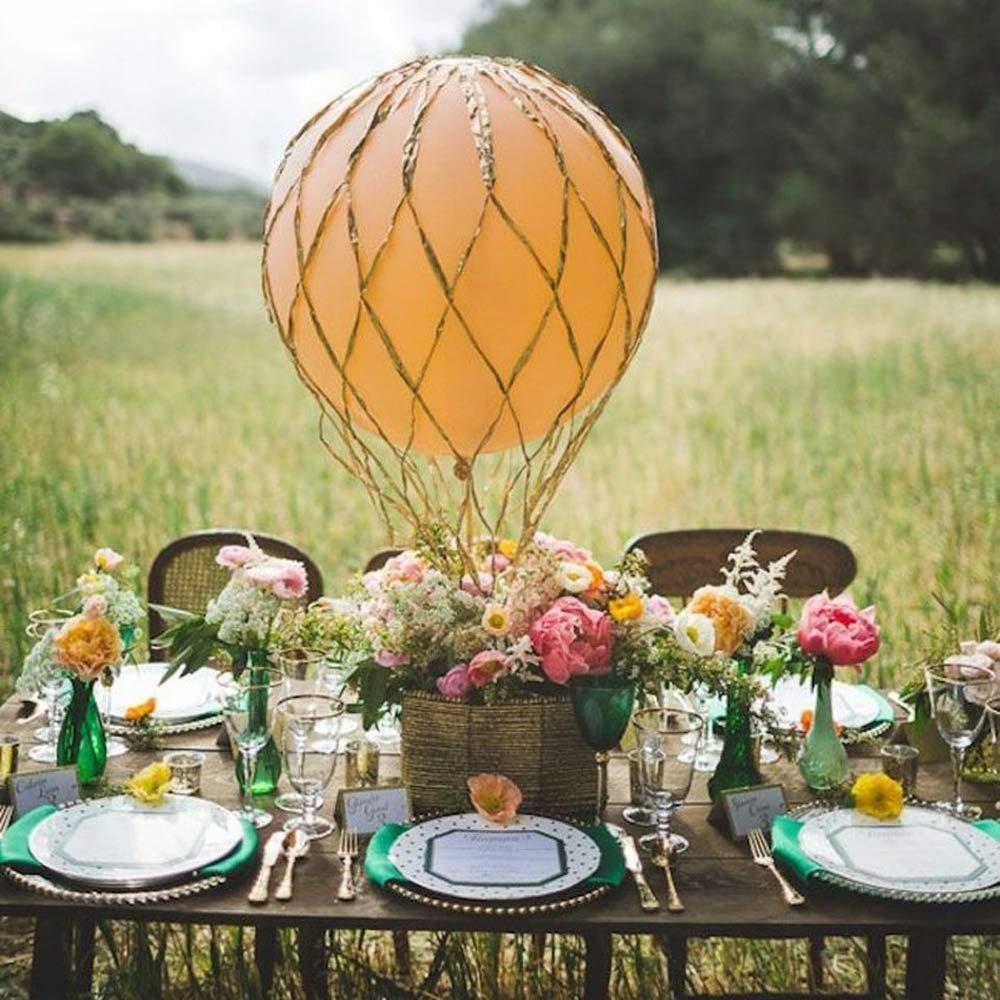 Images: Bubblegum Balloons (top) and Pinterest (bottom)
There's so many impressive ways to use balloons in your centrepieces. These ivy clad balloons at the top are being used to carry the table numbers and the added height looks really dramatic in your wedding photos. For a delightful and unique way of using balloons, try turning them into this hot air balloon centrepiece which works really well for a rustic outdoor or barn wedding.
Cake Table Decoration
Image: Etsy
Use balloons to spell out your feelings above the cake table (for both cake and your partner). This rose gold 'love' balloon from Etsy is such an easy way to make a statement look, surrounded by lots of simple foliage. Just imagine the pictures of you cutting the cake with this balloon in the background!
Getaway Car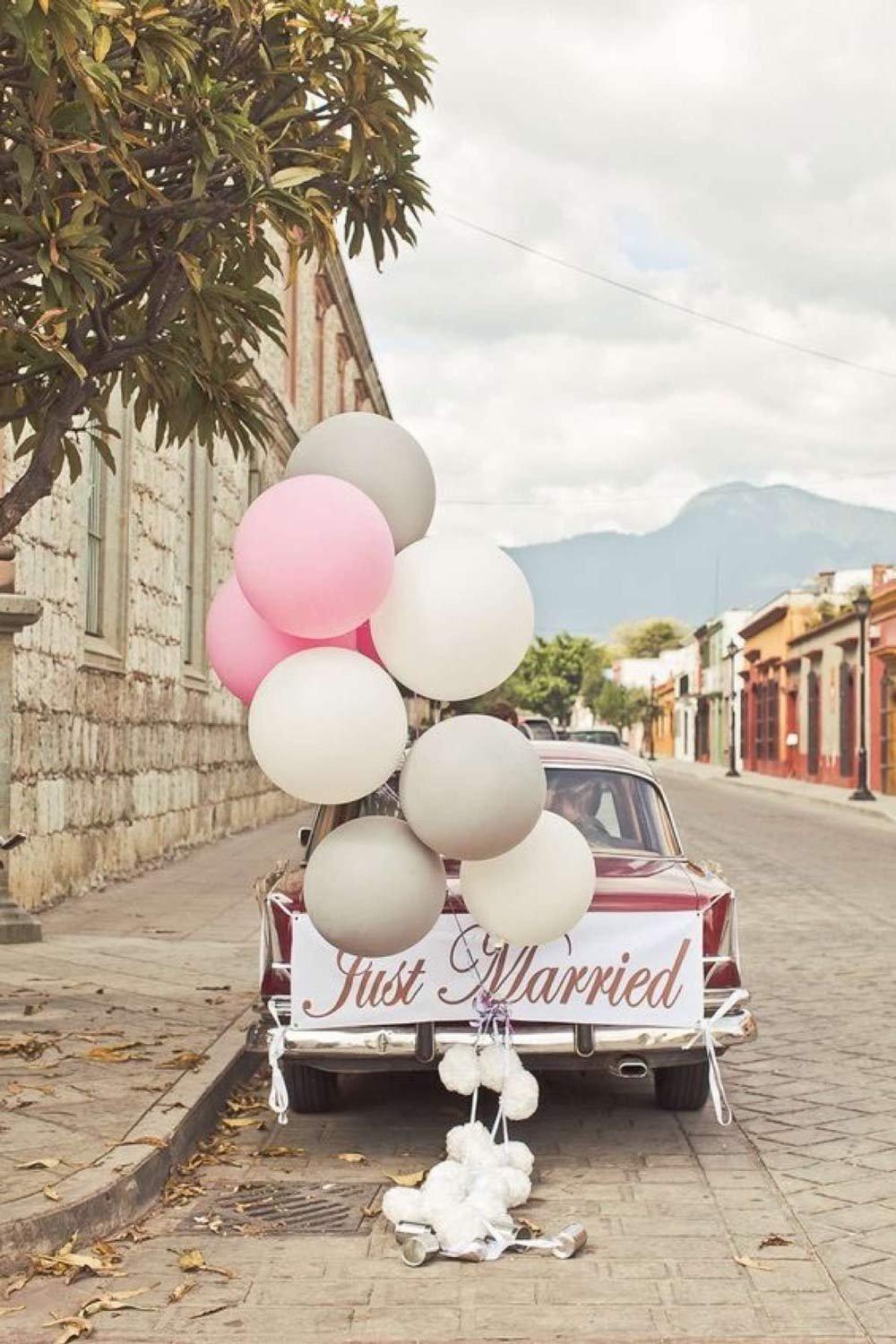 Image: Pinterest
Adorn your wedding car with plenty of balloons along with the ubiqitous tin cans and you'll make quite the picture as you drive off. Arrange with your wedding photographer how to get the best shots of you exiting the car as you arrive at the ceremony, as a couple before you head to reception or at the final send-off at the end of the night for some unmissable photos.
Our Favourite Wedding Balloons
Just Married Balloons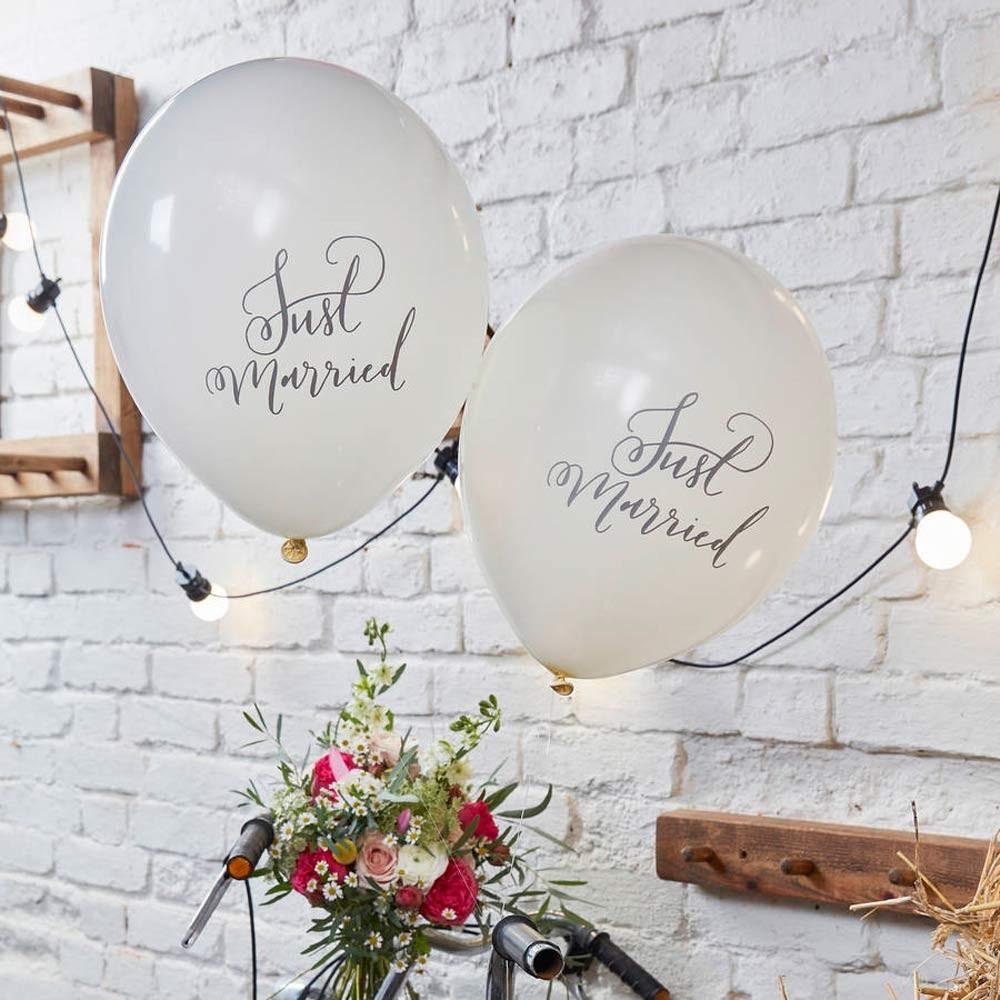 Image: Ginger Ray
These nifty balloons would look perfect dotted aorund the wedding venue or tied to the car as the newlyweds head off!
Giant Balloons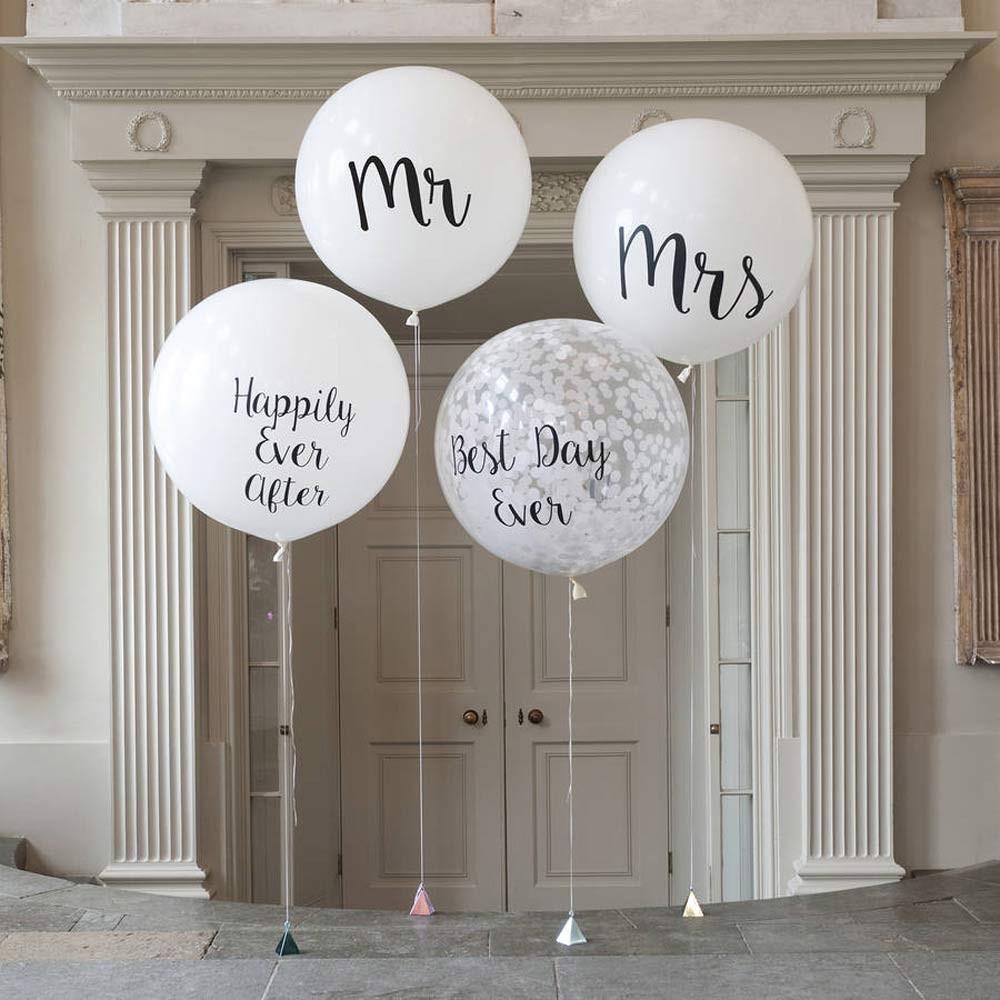 Image: Bubblegum Balloons
At three feet, these giant balloons will really add the wow factor to your wedding decor and come in same-sex designs too so there's no wedding these won't suit!
Confetti-Filled Balloons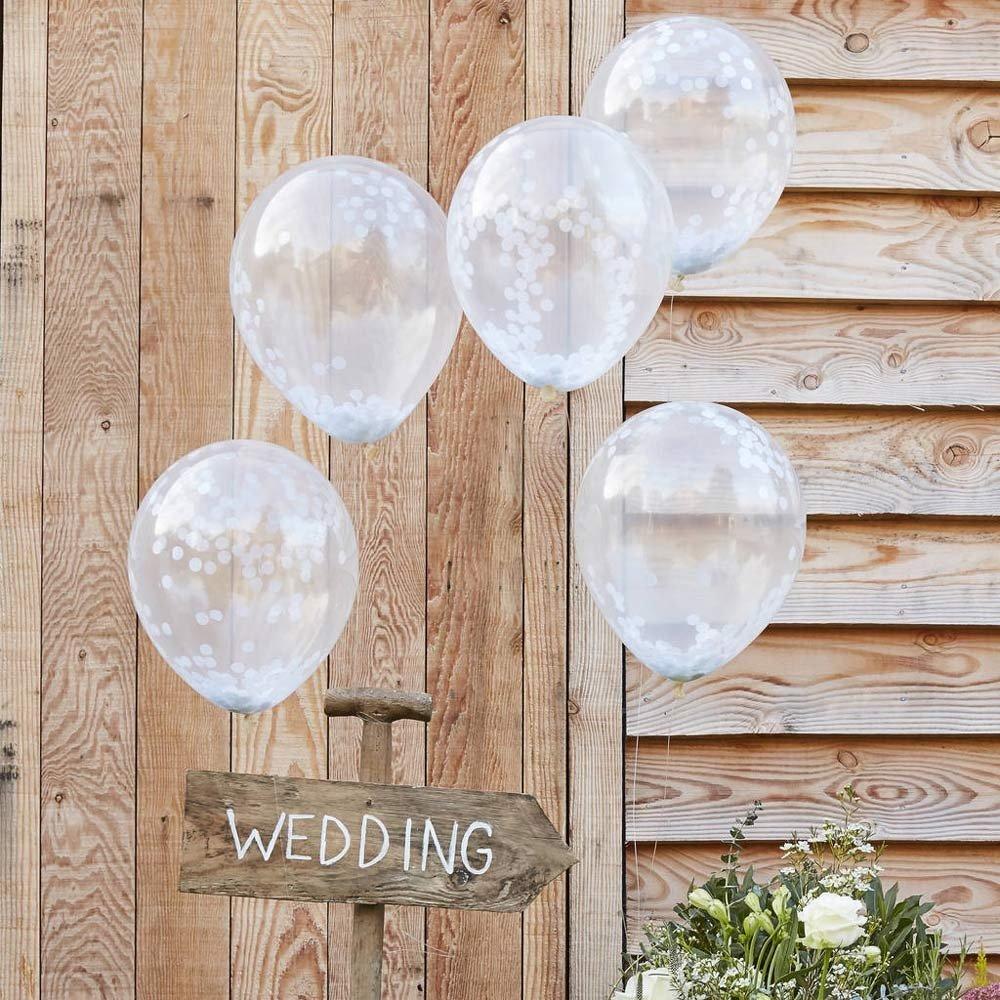 Image: Ginger Ray
Add a romantic feel to your decor with these chic white confetti balloons that young guests will love to shake.
Feather Wedding Favours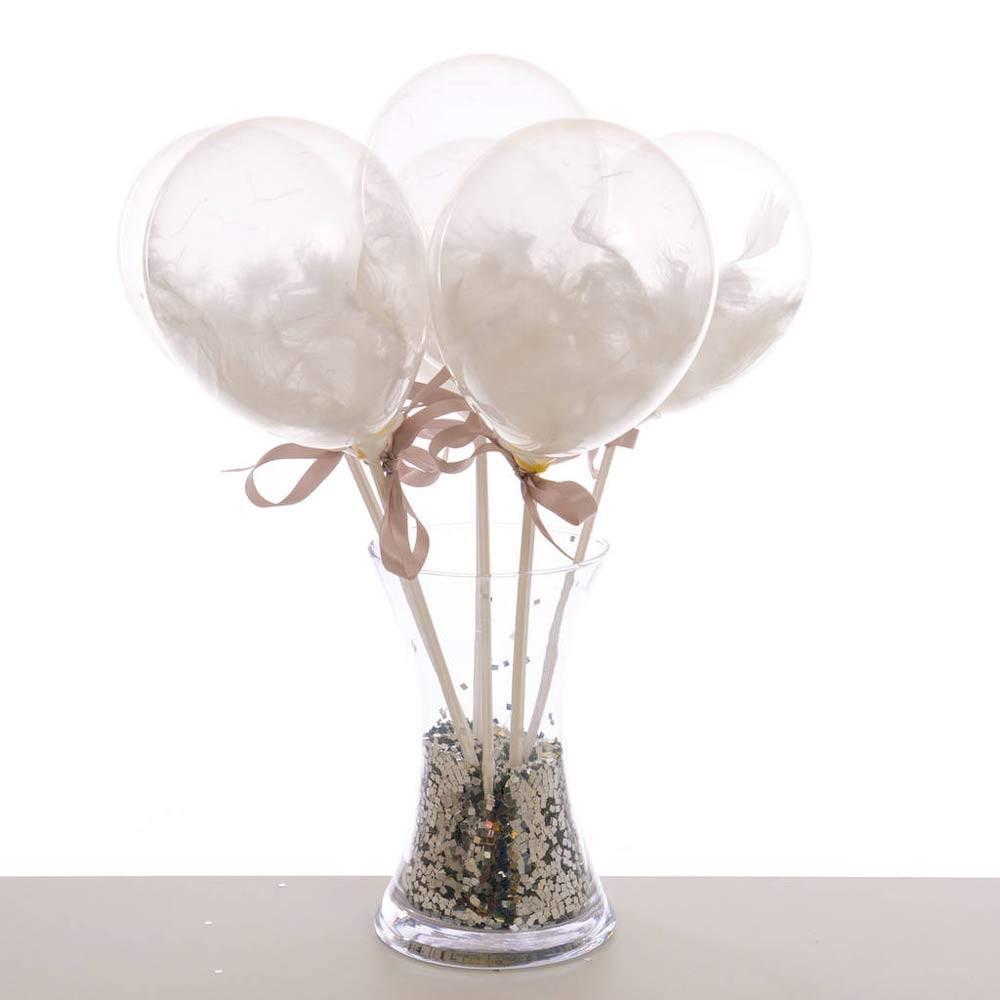 Image: Bubblegum Balloons
Place these in the middle of your tables as part of a bigger balloon centrepiece or as cute party favours – we adore the feather filling as an alternative to confetti!
Foliage-Filled Balloons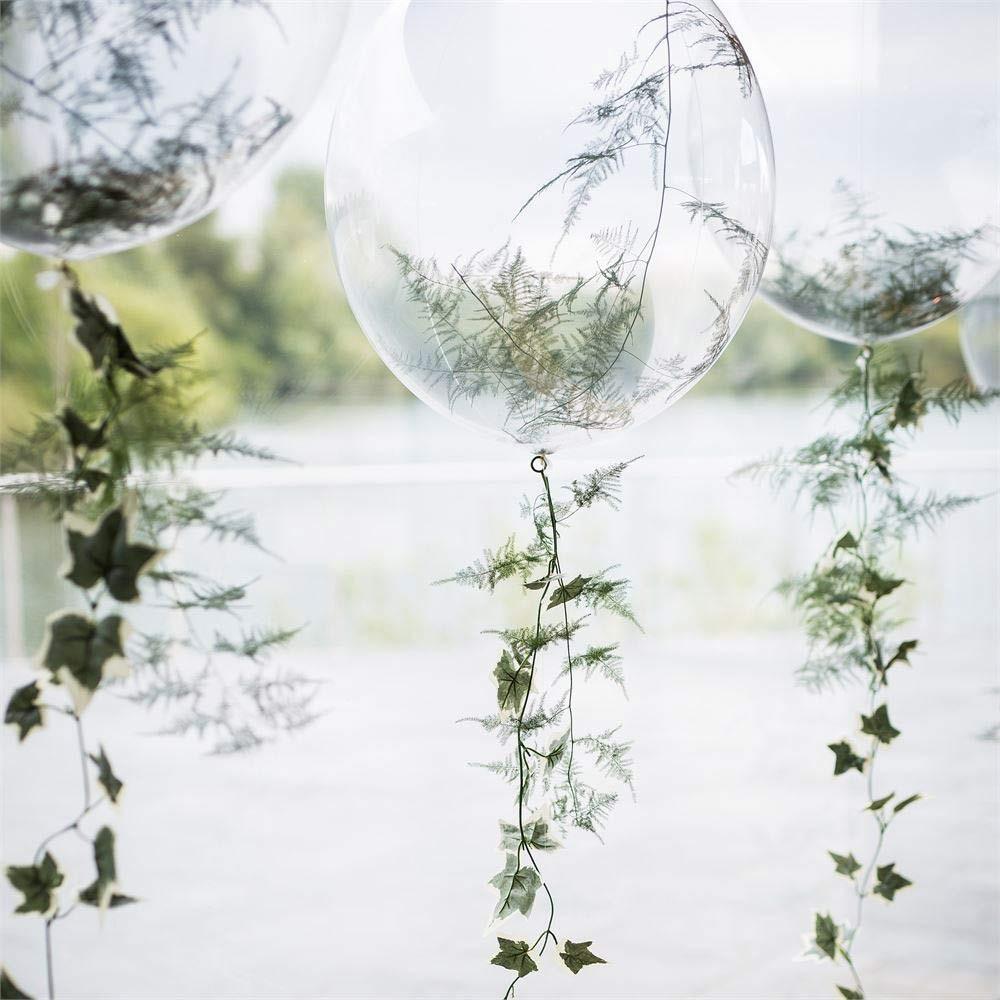 Image: Bubblegum Balloons
Filling your balloons with foliage instantly adds visual interest and you can adapt with your favoured kind of flower or leaves. These fern balloons with ivy tails are an elegant, ethereal touch.
For more wedding decor ideas, check out these vintage-inspired ideas or wedding table decoration inspiration. You can always find hundreds of ideas in our reception decor galleries too!