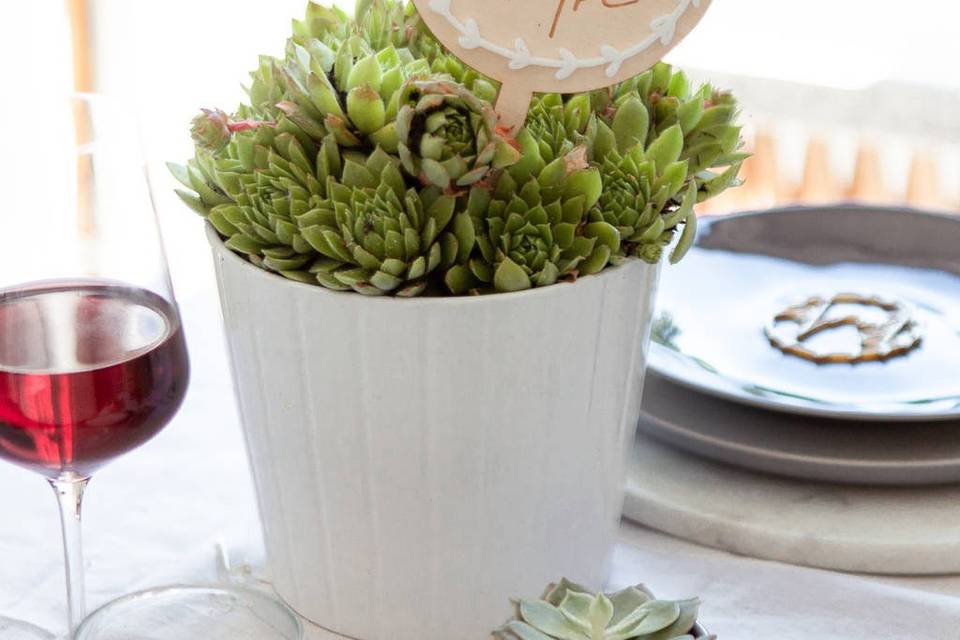 Thinking up creative table names is a fun way to add personality to your wedding and to reflect you both as a couple. Whether you choose wedding table names that embrace your wedding theme or opt for something silly to add even more fun to your wedding reception, let this list of 47 table name ideas inspire you.
1. Flower Names
Keep your spring or summer wedding feeling super pretty with tables named after all your favourite flowers – your top table could then be named after the main flower in your bouquet. These table name cards from Project Pretty would be perfect for your floral theme.
2. Herbs
Name your tables after some of your favourite herbs using these personalised table names from Sophia Victoria Joy. You could even include your named herb as part of the centrepiece for that table to give a fragrant finish.
3. Your Favourite Poems or Poets
If you want to embrace the romance then choose writers of your favourite poems as your table names and then put a poem from that author on the back of each menu or place setting.
4. Special Dates
Do you have some special dates that mean a lot to you? Name your tables after the date you met, got engaged, your birthdays and other days that mean something special. The top table can then be your wedding date! These wooden date table names from Forget Me Not Wed are so cute.
5. Sweets and Treats From Your Childhood
If you both love sweets then how about a different sweet table name with a bowl of them in the centre of the table? It's an easy wedding centrepiece idea too! Think wagon wheels, bon bons and flying saucers to get your started.
6. Bands and Singers
Are you both music fans? Then you could name your tables after your favourite bands and singers. This pretty wooden table name from Ivy Cottage Homeware shows how you can make any table name fit with your theme.
7. Your Favourite Songs
If you love the idea of a music theme then how about your favourite songs? You could include the song you walked down the aisle to and your first dance song.
READ MORE: Find Your Perfect Wedding Songs
8. Books You Love
Are you a pair of bookworms? Then naming your tables after your favourite books is a fun idea.
9. Your Favourite Films
Are you both movie buffs? Celebrate your love of the silver screen by naming your tables after your all-time favourite films. We adore these elegant wreath style table names from Clouds and Currents, perfect for a rustic themed wedding day.
10. Famous Actors and Actresses
Sticking with the movie theme, how about the names of your favourite actors or actresses? We are more than happy to be seated at the Zac Efron table…
11. Your Favourite Disney Films
Do you have fairytales and sparkle running through your veins? Then name your tables after your favourite Disney films, characters and words. We love this Hakuna Matata print from Oso Twee.
READ MORE: Disney Wedding Dresses for a Fairytale Wedding
12. Periodic Table
Get your geek on with a periodic table plan – like this one from Rodo Creative. It's a little more complex than your usual seating plan but we think it will look great in your photos.
13. Football Clubs or Players
Football fans – this is one for you! If you are a lover of the beautiful game then naming tables after football teams (or the players from your favourite team!) would be a great idea.
14. Months of the Year
Are you having 12 tables? Why not name your tables after months of the year, with the top table being the month of your wedding.
15. Cities
Locations are always a popular choice for wedding table names – why not choose some of your favourite cities.
16. Your Favourite Places in the UK
If you have lived in a few different places in the UK or you are both from different towns or cities then why not name your tables after these special places in your life? We love these personalised wooden table names from Postbox Party.
17. Street Names
Keeping with a location theme, why not get more granular and name the tables after roads and streets that mean something to you?
18. Beach Inspiration
Are you having a beach themed wedding? Why not use words that relate to the beach – like wave, seashell, mermaid and more!
19. Woodland Animals
If you are planning a magical woodland wedding then these hand drawn woodland cards from Paper North Co have 16 different design options and come in a range of sizes.
READ MORE: 36 Wonderful Woodland Wedding Ideas
20. Your Favourite Designers
Bridal fashionistas might love the idea of naming their tables after their favourite designers, such as Louis Vuitton and Coco Chanel.
21. Game of Thrones
Do you see yourself as a Lannister or more of a Stark? Name your tables after the key families and characters in Game of Thrones and use these stylish cards from Wonder Parties.
22. Your Favourite Artists
Get creative and name your tables after some of your favourite artists. These gorgeous wedding table name cards from Ink On Paper Designs can be printed with your choice of foil and personalised with any words you want.
23. Children's Books
Name your tables after the favourite books of your childhood, we quite like the idea of being on the Hungry Caterpillar table!
24. Places in the City of Town You're Getting Married In
Keep things local and name your tables after places and streets around your wedding venue.
25. Wine
This is our kind of table! These rustic table names from Less Than Three feature all different types of wine.
26. Gin
Be inspired by naming your tables after all different types of gin – you could then use the relevant gin bottle as a centrepiece for each table. Plus you can get an awesome table plan like this one from Emmy Designs!
READ MORE: Ginspiration – 9 Ways to Have a Gin Themed Wedding
27. Cocktails
Keeping with an alcohol theme, maybe your tables could be named after your favourite cocktails. These cards from Yellowstone Art Boutique can be placed on the tables – perhaps along with the ingredients to make that cocktail.
READ MORE: The Best Wedding Cocktails
28. Animal Breeds
Are you a dog lover? Or are your more of a cat person? Why not name your tables after your favourite breeds?
29. International Words for 'Love'
Keep with a romantic theme by naming your tables after the words I love you in a variety of languages. You could include the French – J'taime, Greek – S'agapo, Italian – Ti amo.
30. Ski Inspired
If you are a couple that loves to ski – or perhaps you met at a ski resort? – then this skiing-inspired table plan from Rodo Creative would be perfect for you. You can even personalised the two people at the front to look like you.
31. Beaches Around the World
Do you just love a beach holiday? You could name your tables after some of the most famous beaches around the world.
32. Iconic Monuments
Keeping with a geographic theme, name your tables after some of your favourite monuments. You could include places you have seen or places you plan to see and use these cards from Love Paper Co.
33. The Cast Names From Your Favourite Soap or TV Show
If you are serious soap fans then this idea will be so much fun! We love the idea of an Ian Beale table (maybe complete with fish and chip centrepiece?).
34. Magical Places
Add some magic to your big day with these magical table name cards from Julia Eastwood.
35. Zoo Animals
Are you getting married at the zoo? Then naming your tables after your favourite zoo animals would be a great idea!
READ MORE: Our Favourite Zoo and Safari Wedding Venues for Animal Lovers
36. Colours
Name your tables after all your favourite colours – we love these pantone colour cards from Amazon (and the top table could be your main wedding colour!).
37. Vintage Inspired
Having a vintage themed wedding? What about words such as lace, pearl and birdcage.
38. Photos
Get creative for forget words entirely – your tables could be labelled with your favourite photos instead.
39. Lyrics From Your Favourite Songs
If you're a musical couple then lyrics from your favourite songs would be a unique take on a music theme.
40. Trees
Be inspired by nature and name your tables after your favourite trees – these cards from Paper and Inc are made from recycled paper.
41. Retro Games
If you love retro board games then why not name your tables after them? Think Cluedo, Monopoly, Operation or Connect4.
42. Star Constellations
Was your relationship written in the stars? Then name your tables after star constellations using these cards from Rachel Emma Studio.
43. Comic Book Characters
Whether you're a Marvel or a DC fan, name your wedding tables after some of your favourite comic book characters.
44. Christmas
Are you planning a winter wedding? Then naming your tables after festive words – such as ivy, snowflake, and holly – would fit beautifully with your theme.
45. Lord of the Rings
Lord of the Rings fans – these rustic table names from The Dribbly Yak would be perfect for you!
46. Your Favourite Foods
Foodie fans this is for you! Name your tables after all your favourite foods – you could even include foods that are on your wedding breakfast menu.
47. Cheeses
Keeping to a food theme – tables named after cheese would be so much fun. You could use these cheese markers from Rocket and Fox to name each of your tables.
READ MORE: Mouth-Watering Cheese Wedding Cakes
Once you've decided on your wedding table names, you can get working on the table plan. Don't miss our selection of the most beautiful table plan ideas.