Wedding Decoration Ideas: 35 Ways to Transform Your Venue
From rustic wedding decorations to floral installations, these are the best ways to decorate your wedding venue.
We have included third party products to help you navigate and enjoy life's biggest moments. Purchases made through links on this page may earn us a commission.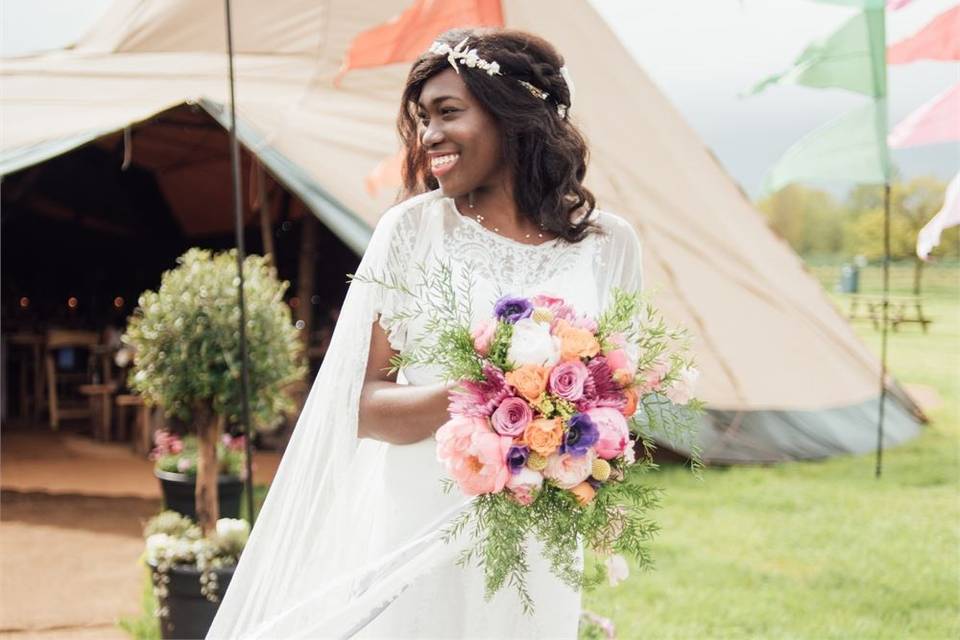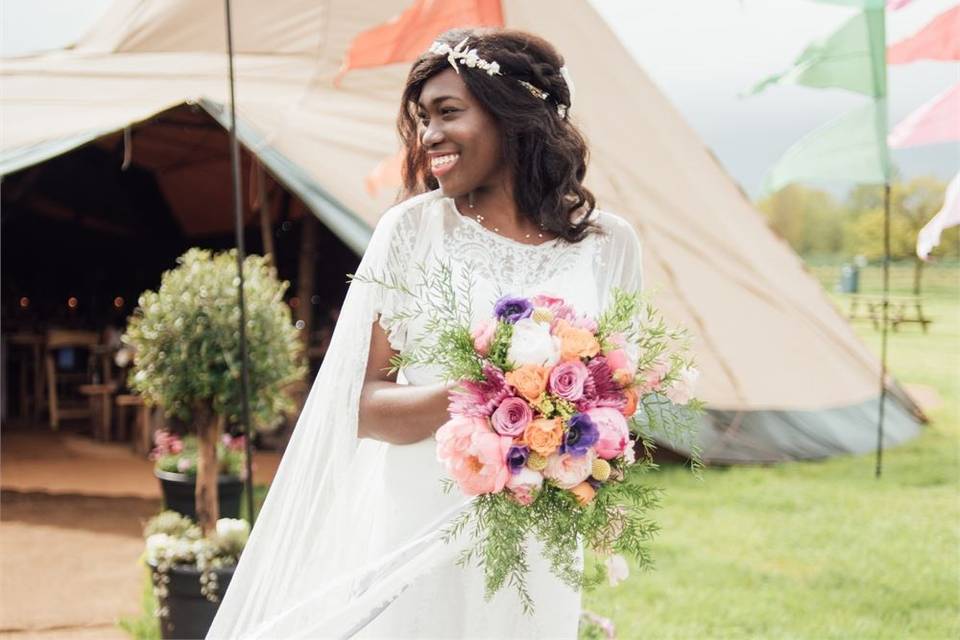 Whether your wedding venue is a blank canvas or already comes with some decoration, there's so many amazing touches you can add to make it personal to you.
We've picked 35 amazing wedding decoration ideas that'll transform your space, with lots of DIY ideas to keep the cost down too.
From rustic suitcases to Moroccan-style lounge areas, bunting to vintage bikes, lanterns to neon signs, the hardest thing you'll have to do is pick between all these incredible wedding decoration ideas.
Don't miss our wedding table decoration ideas too – there's so much you can do there that we've kept this focused on just the decorations that are going to bring your venue to life!
NB: We have included third party products to help you navigate and enjoy life's biggest moments. Purchases made through links on this page may earn us a commission.
Wedding Reception Decoration Ideas
1. Giant Letters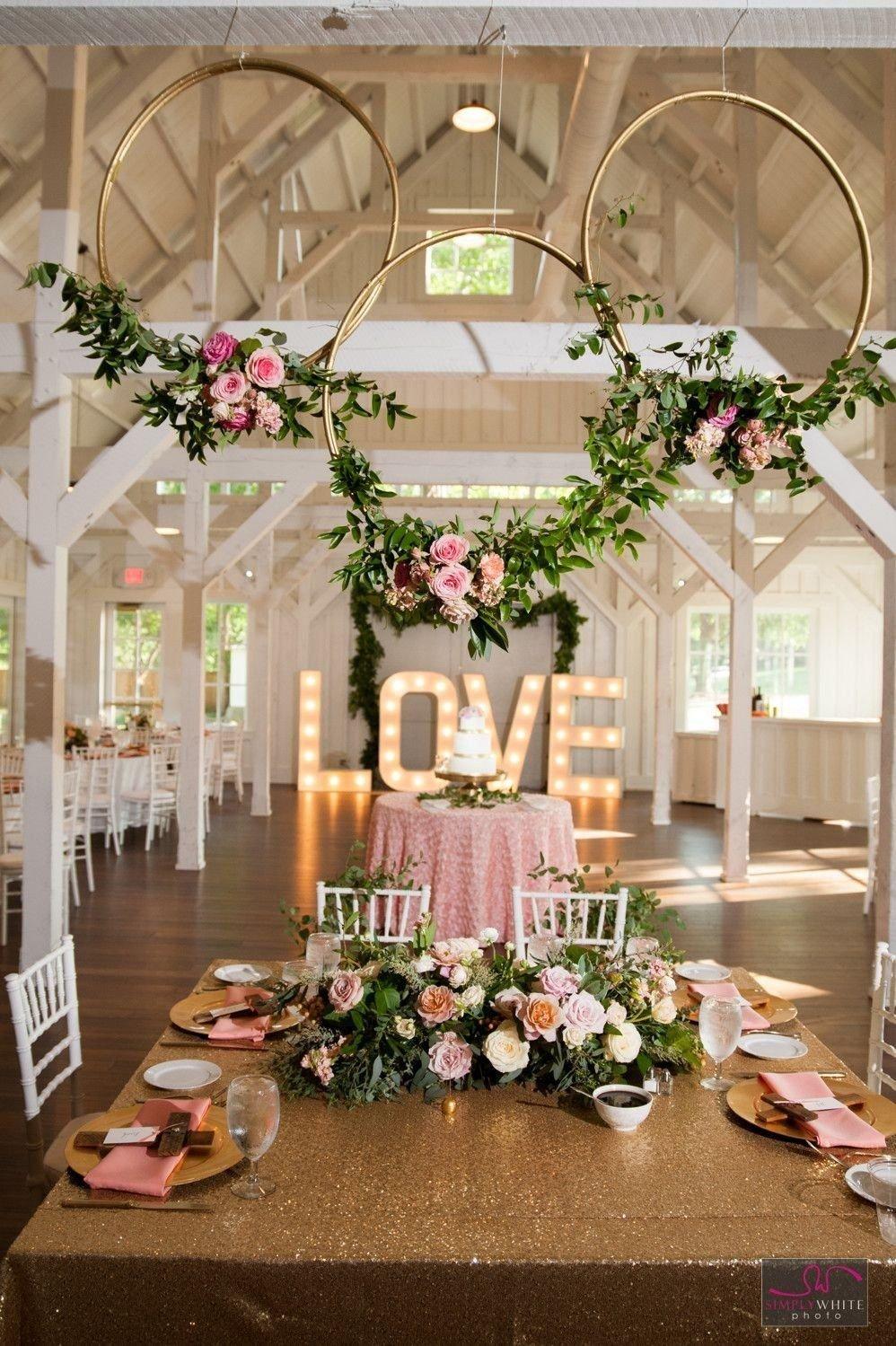 Image: Pinterest
Light-up letters are still a hugely popular choice for weddings, but you can also get wooden or acrylic ones. They come in giant and mini versions: choose the classic 'love' or your initials.
READ MORE: 15 Incredible Wedding Balloon Ideas
2. Balloons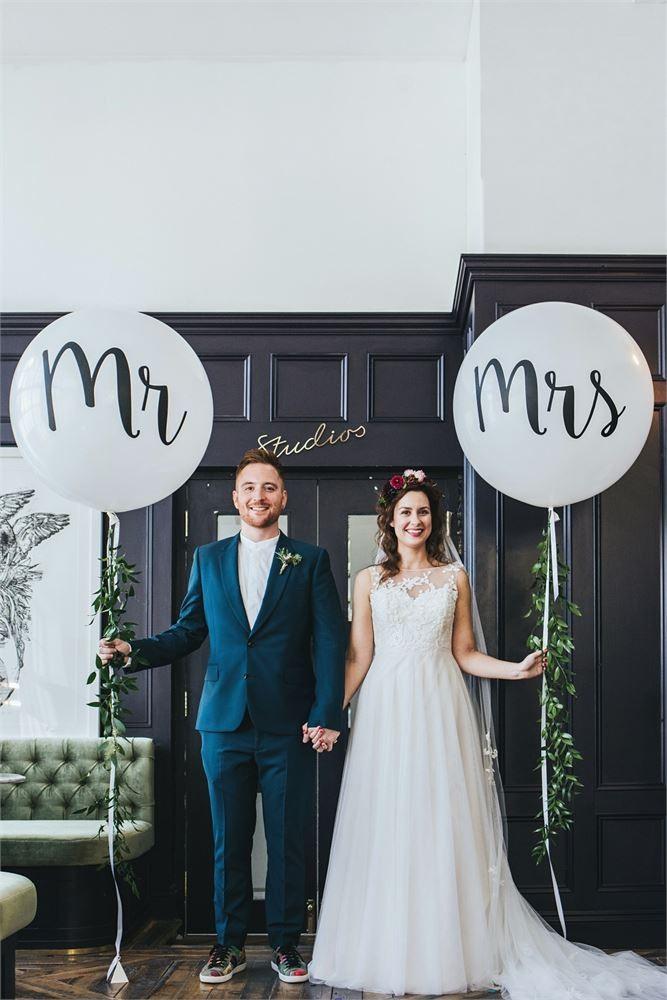 Image: Bubblegum Balloons
Balloon installations are amazing to bring a simple space to life. You can also incorporate balloons into centrepieces or top table decoration or just have two huge balloons like these above.
3. Sweet Tables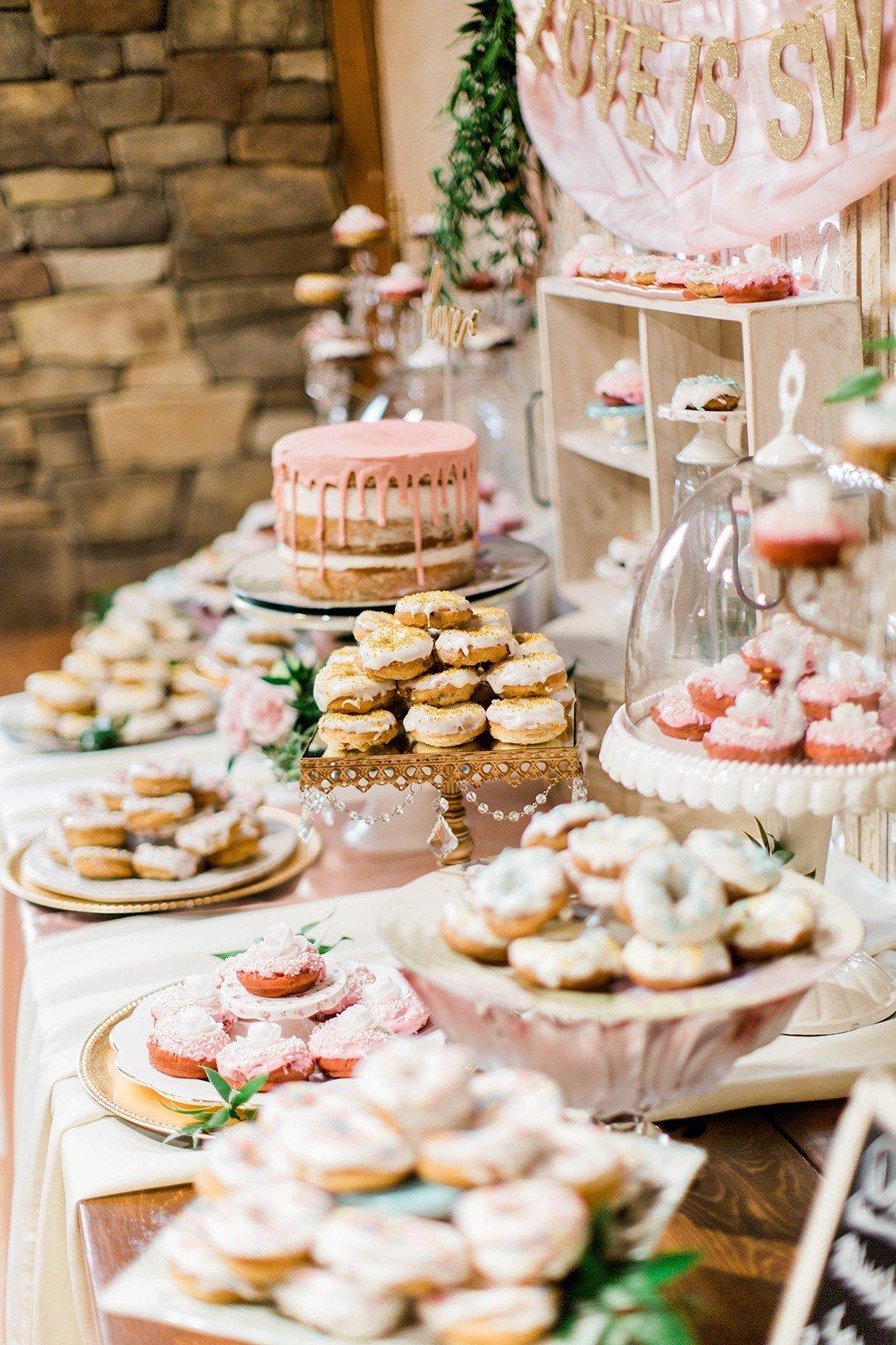 Image: Pinterest
Tables laden with sweets, cake pops, macarons, doughnuts, cupcakes, fruit skewers and more are visually so exciting as well as providing dessert for your guests. Pots of fresh herbs, garlands and confetti on the table make it a beautiful focal point for your reception room.
4. Photo Walls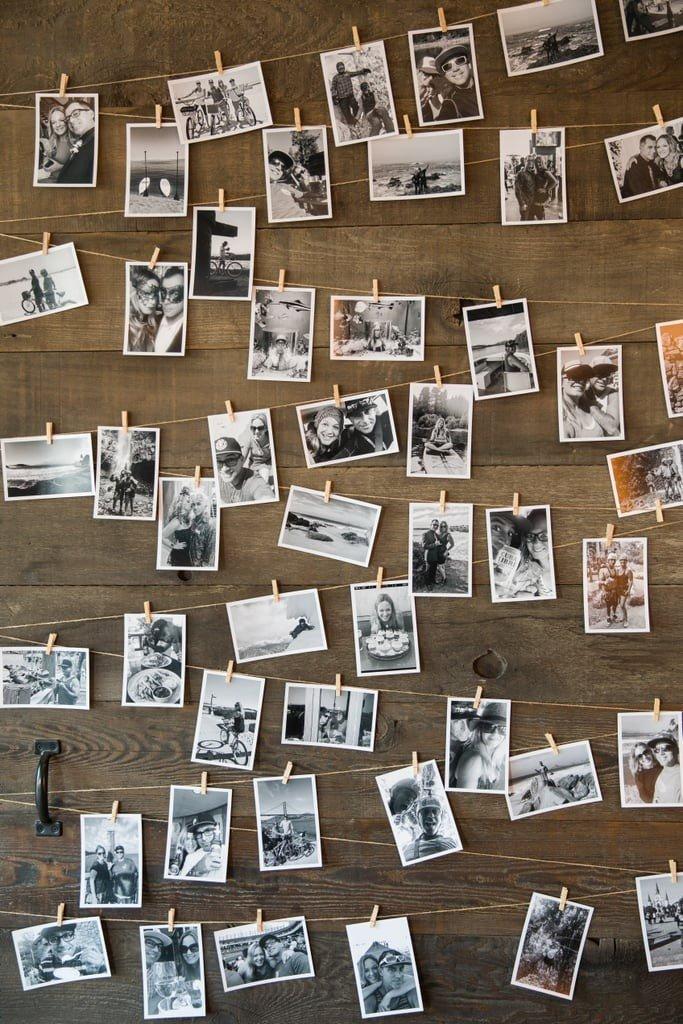 Image: Pinterest
Jazz up a wall so easily by stringing your favourite couple photos across it. It's an instant, easy bit of decor – and even more effortless if you buy this twine and mini pegs kit that has all you need for only £5.99!
5. Fairy Light Trees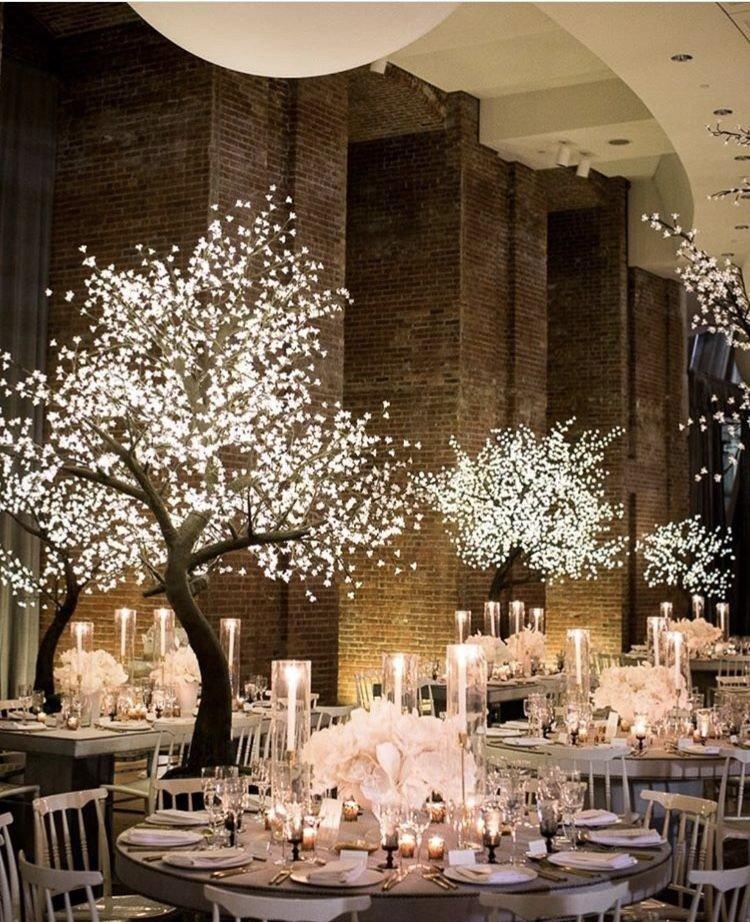 Image: Pinterest
For a glamorous wedding, hire LED cherry trees to dot around the ceremony room, or even smaller ones as centrepieces in each table. If it's a winter wedding and it's dark early, use these outside to guide people into the venue and create atmosphere.
READ MORE: The Best Wedding Decor Items Under £10
6. Chair Decorations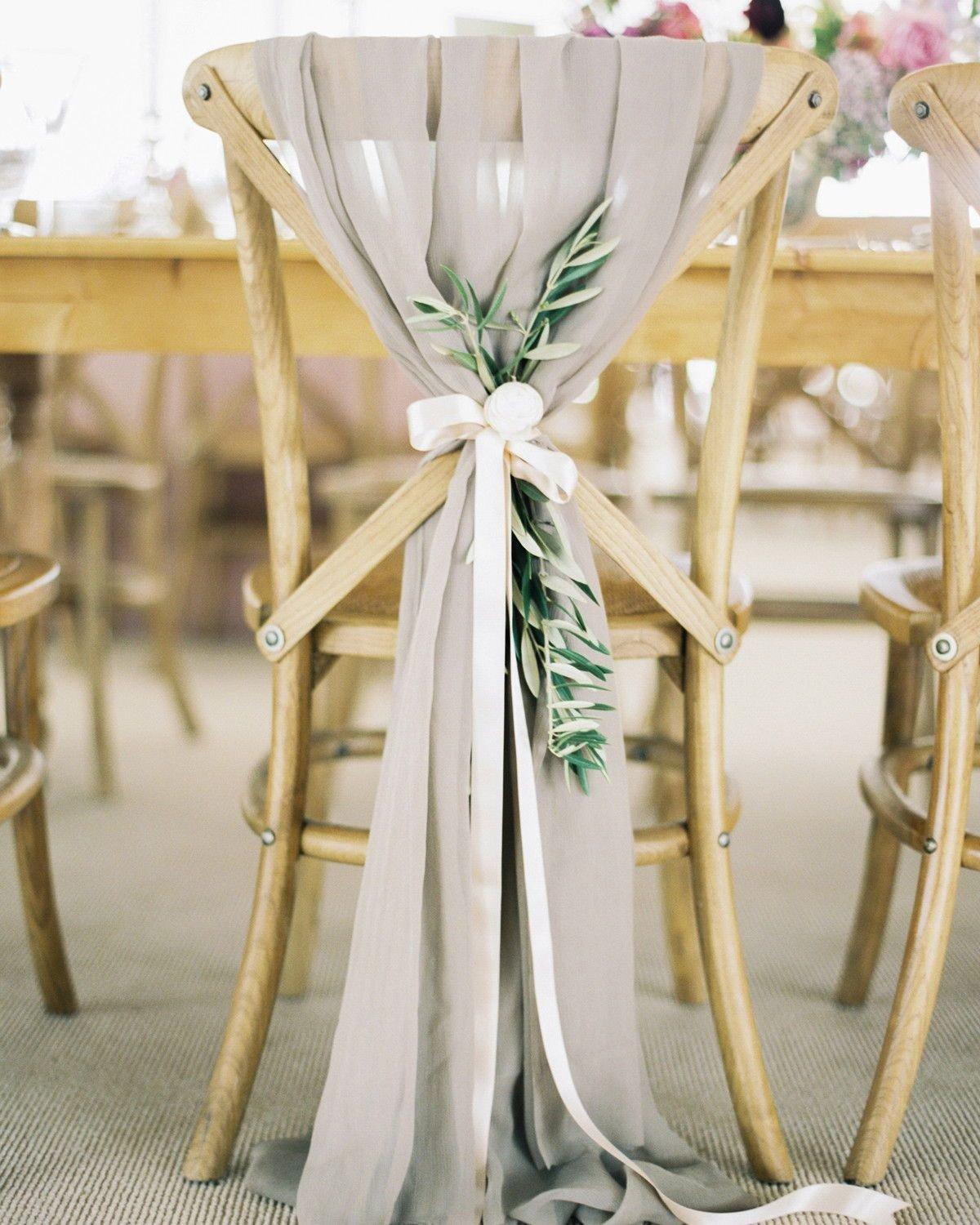 Image: Pinterest
Not every venue has the cutest chairs, let's be honest. A little bit of fabric, some ribbon and a sprig of foliage can completely change the look of them.
7. Table Plans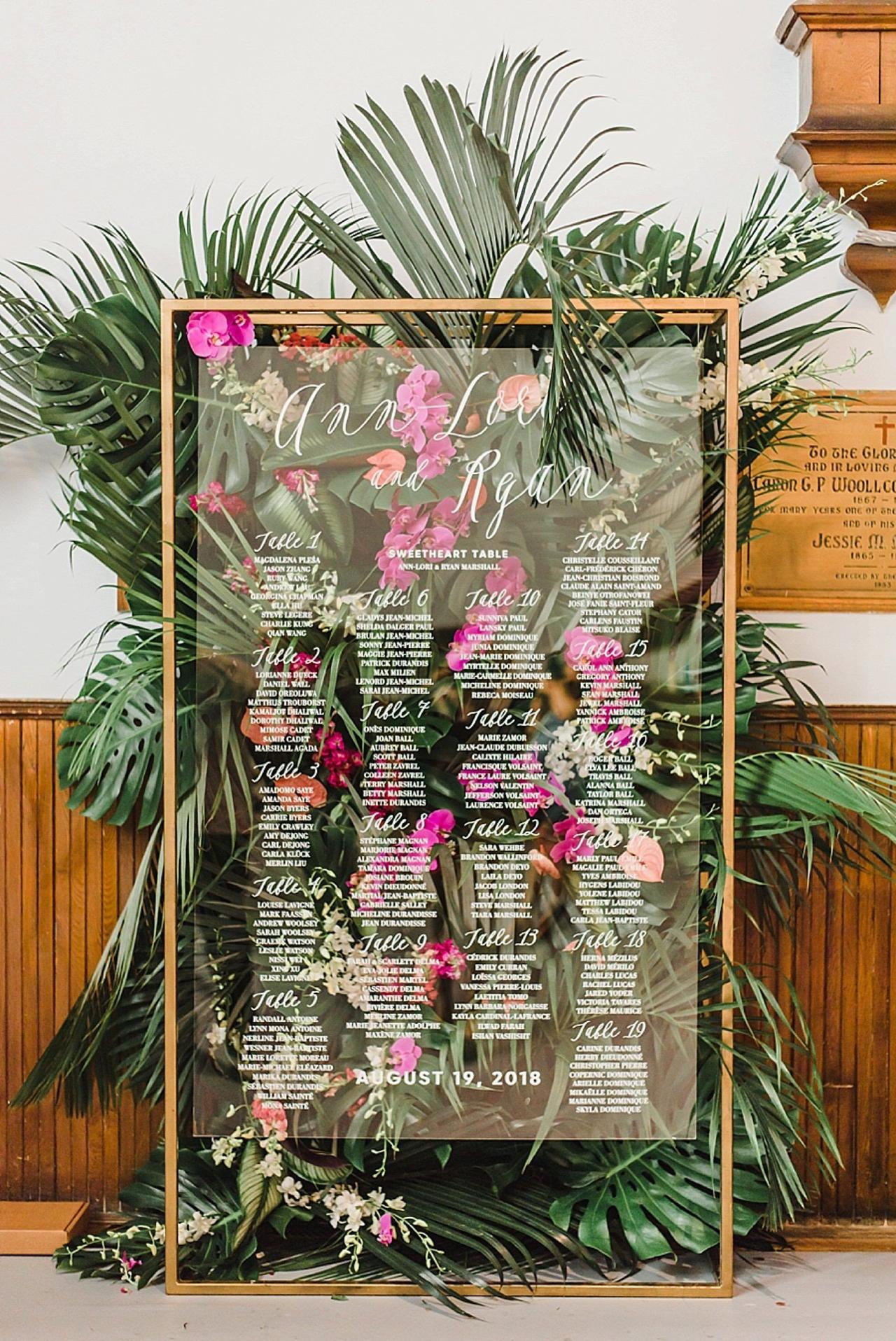 Image: Pinterest
We can't even begin to cover the huge variety of cool table plans you can choose. We're obsessed with acrylic for timeless seating charts, but it should really be influenced by your theme and your table names.
READ MORE: Amazing Wedding Table Plan Ideas
8. Coloured Glassware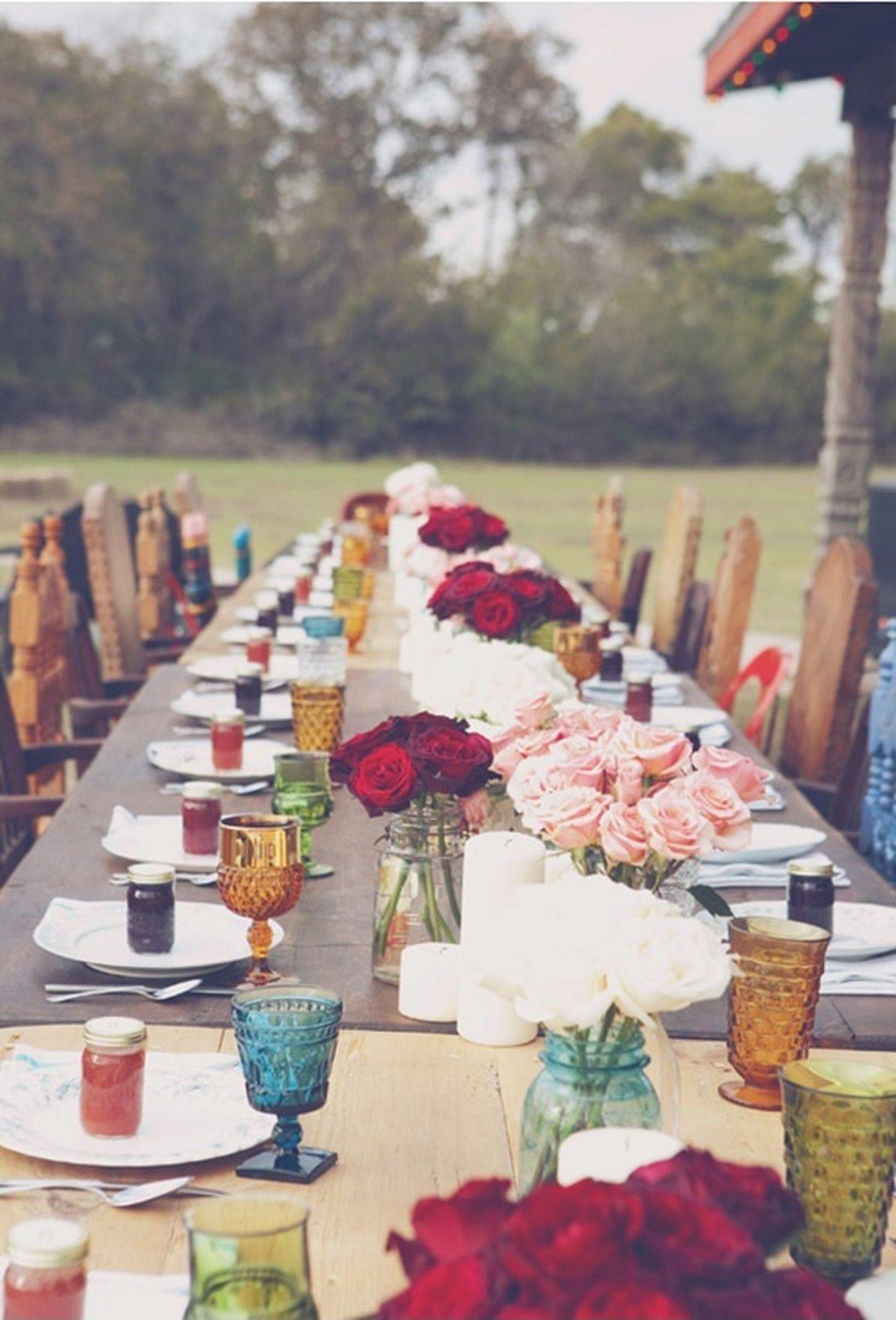 Image: Pinterest
Glasses in mismatched jewel tones instantly brighten up a table and work so well with flower centrepieces. If you're going for a very boho, relaxed vibe, these breathe a breath of fresh air into your decor.
9. Post Boxes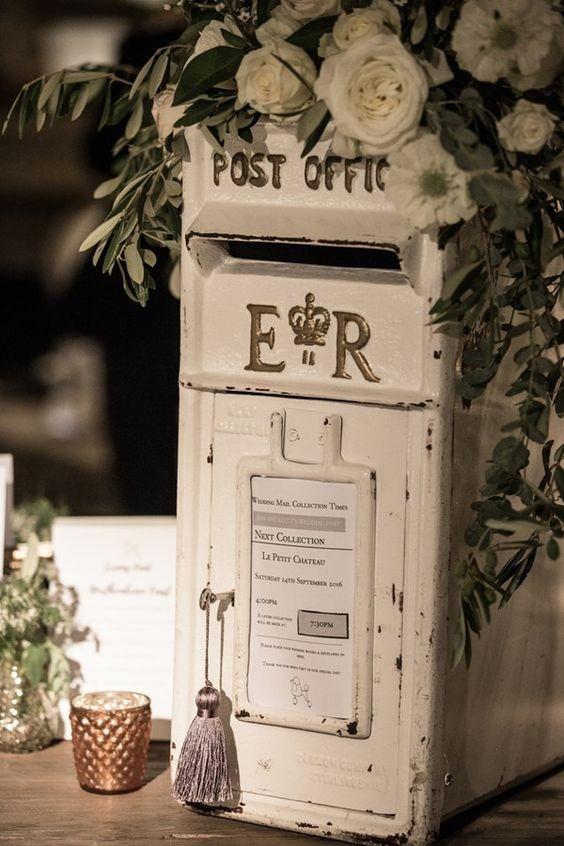 Image: Pinterest
A card box is pretty essential at a wedding and a post box is a really lovely way to do this. Set up a card table by the guest book and get one in a style that suits your theme. Find loads of card boxes and post boxes on Etsy.
10. Flags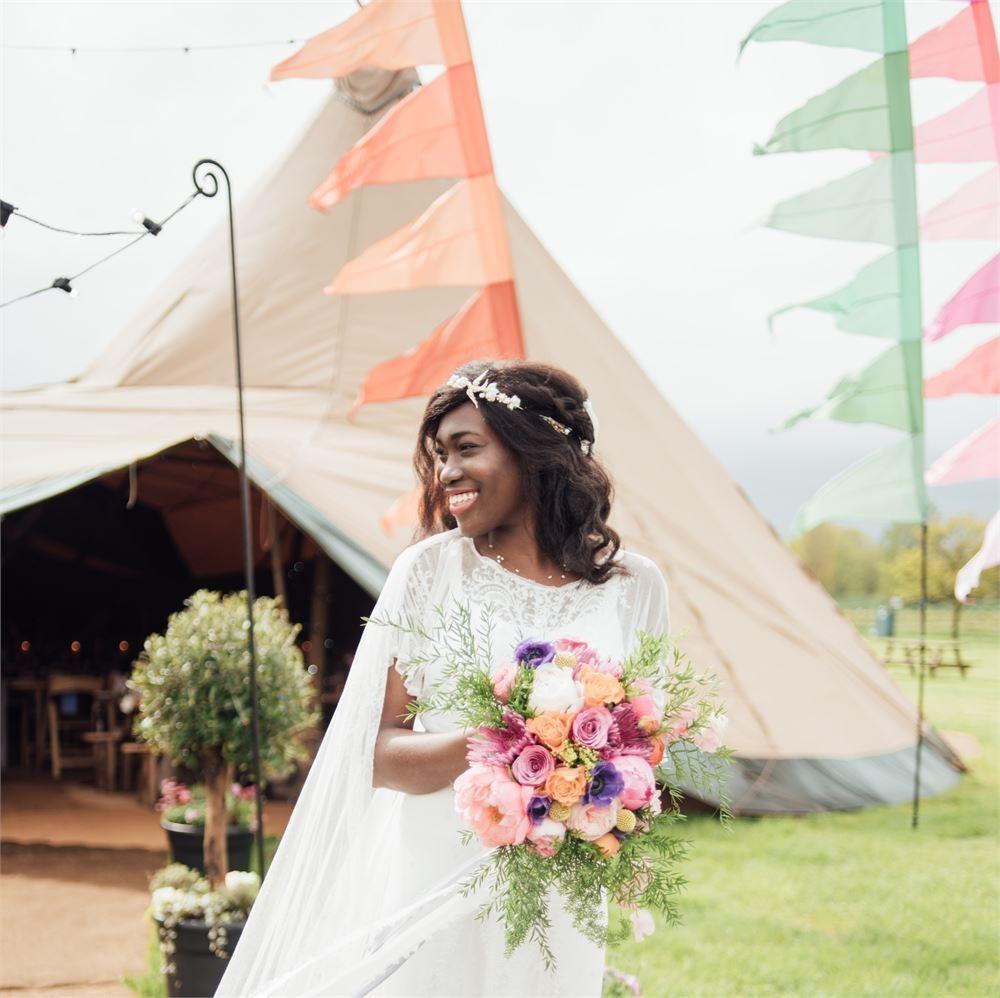 Image: The Event Flag Hire Company
For festival or tipi weddings, these giant silk flags will add some flourish to your space. You can get handmade glittery ones, pastel or vibrant flags from the amazing The Event Flag Hire Company so there's no type of wedding these won't look incredible at.
READ MORE: 45 Breathtaking Rustic Wedding Ideas
11. Neon Signs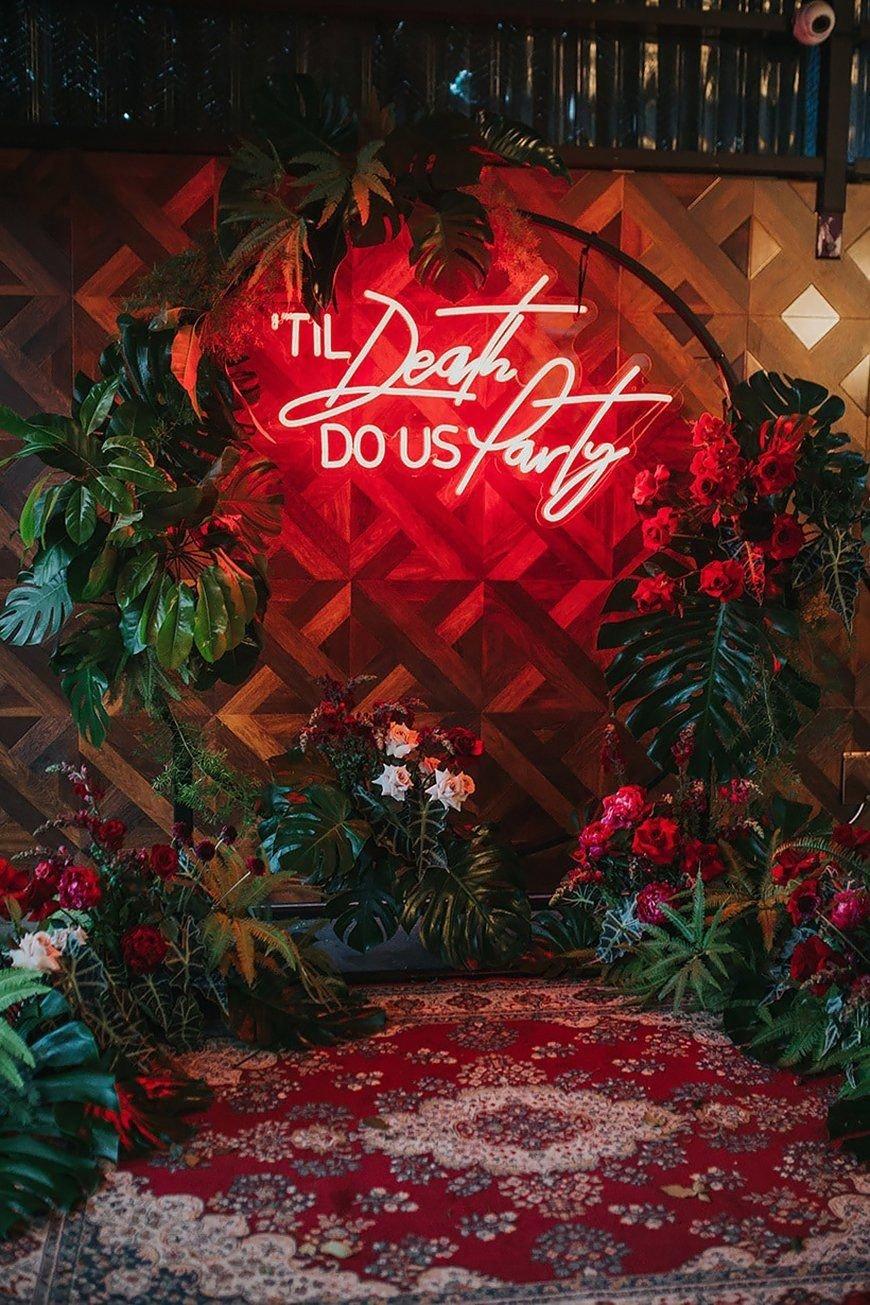 Image: Pinterest
Hire a neon sign if you want a large message, or buy smaller neon signs to place strategically round your venue and turn them on as the lights go low and everyone begins to dance.

Rustic Wedding Decoration Ideas
12. Stacked Wooden Crates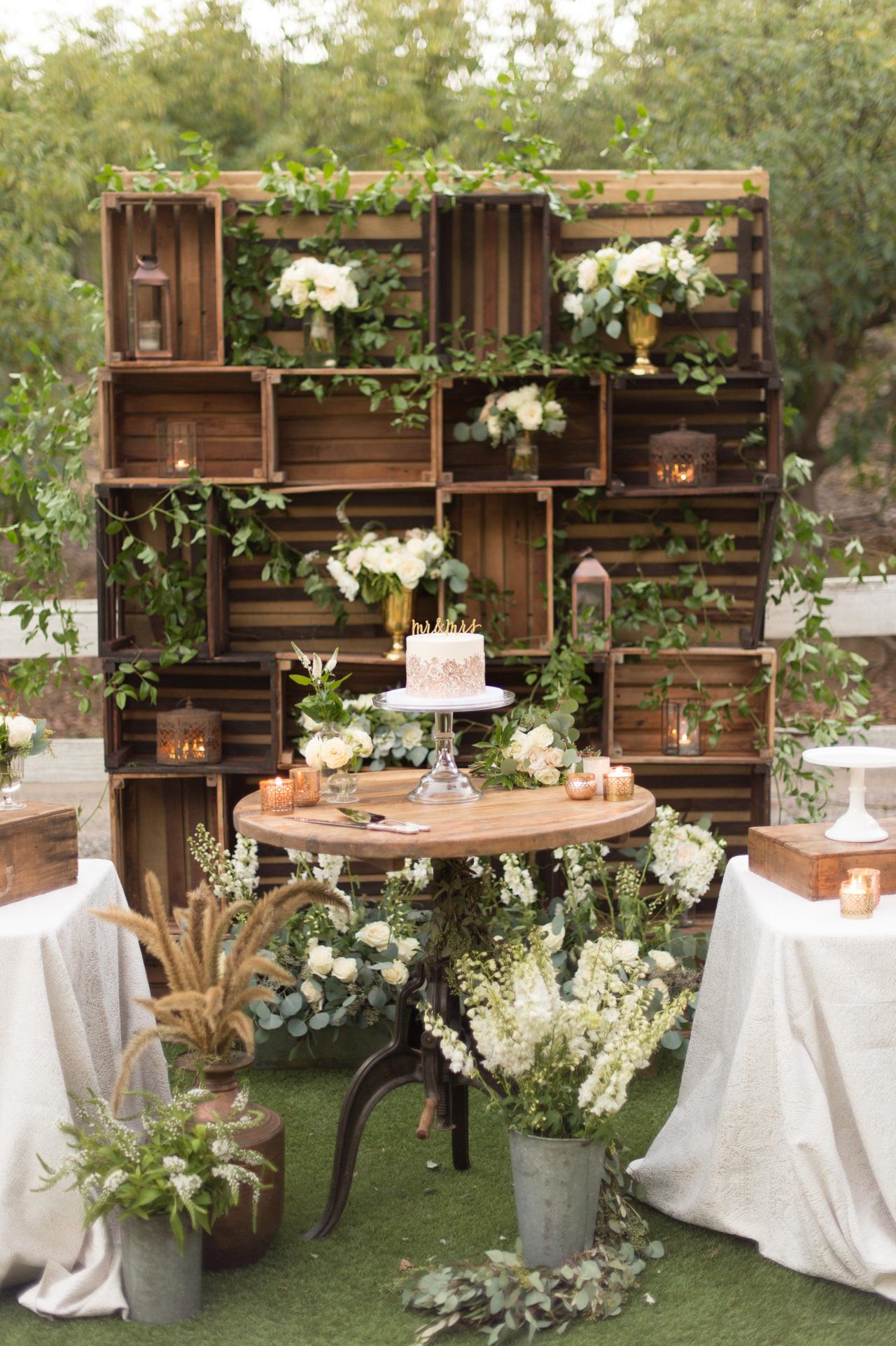 Image: Pinterest
Got an ugly wall that needs covering or just want to make a cute rustic feature? Stack wooden crates on top of each other – it can be only a couple, you don't need to do a whole wall! – and fill some of the gaps with flowers and others with cute decorations like a lantern.
We adore these vintage wooden apple crates which have real character to them.
13. Feature Furniture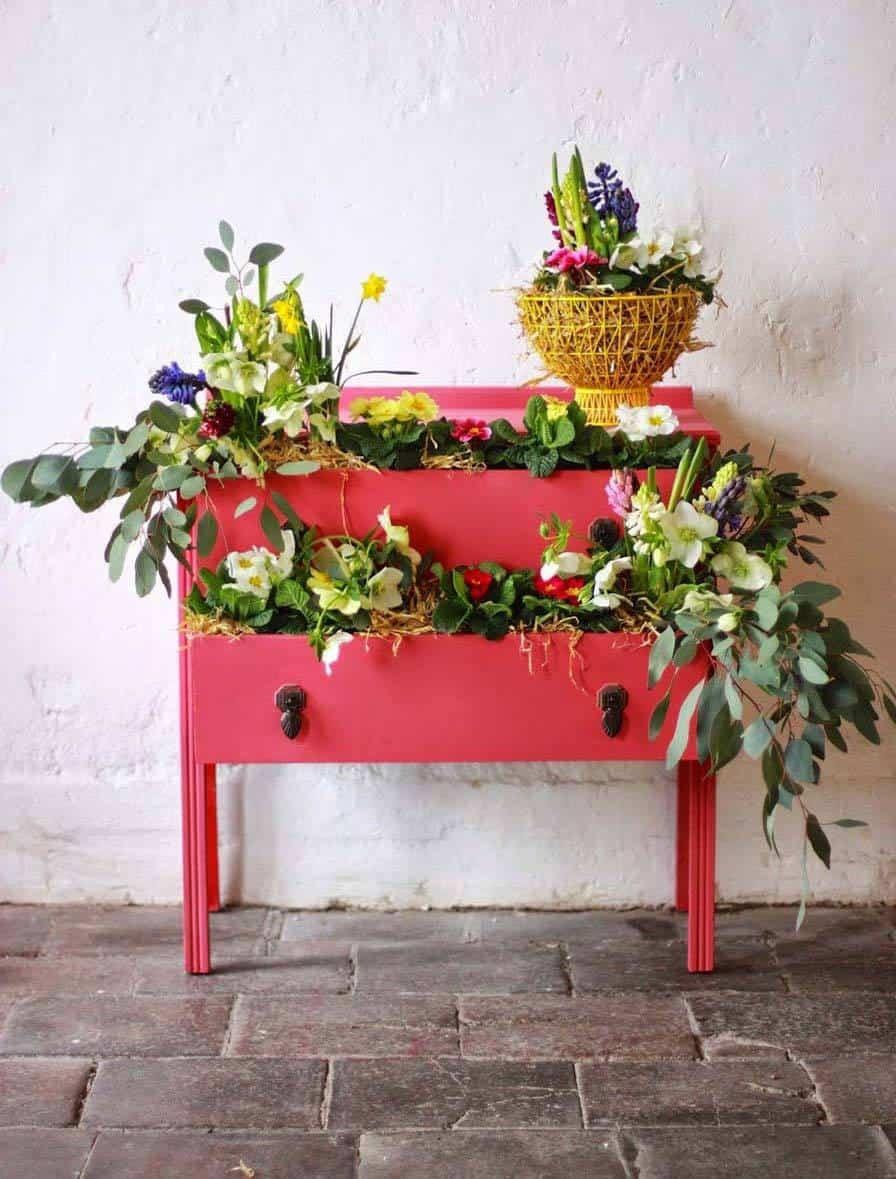 Image: Pinterest
Paint an old dresser a really bright colour – or an antique effect, depending on your theme – and fill the drawers with seasonal flowers. Let them flow over the side and fill the room with scent. A chest of drawers works so well, but an old wardrobe or vanity table will look amazing too.
14. Ladders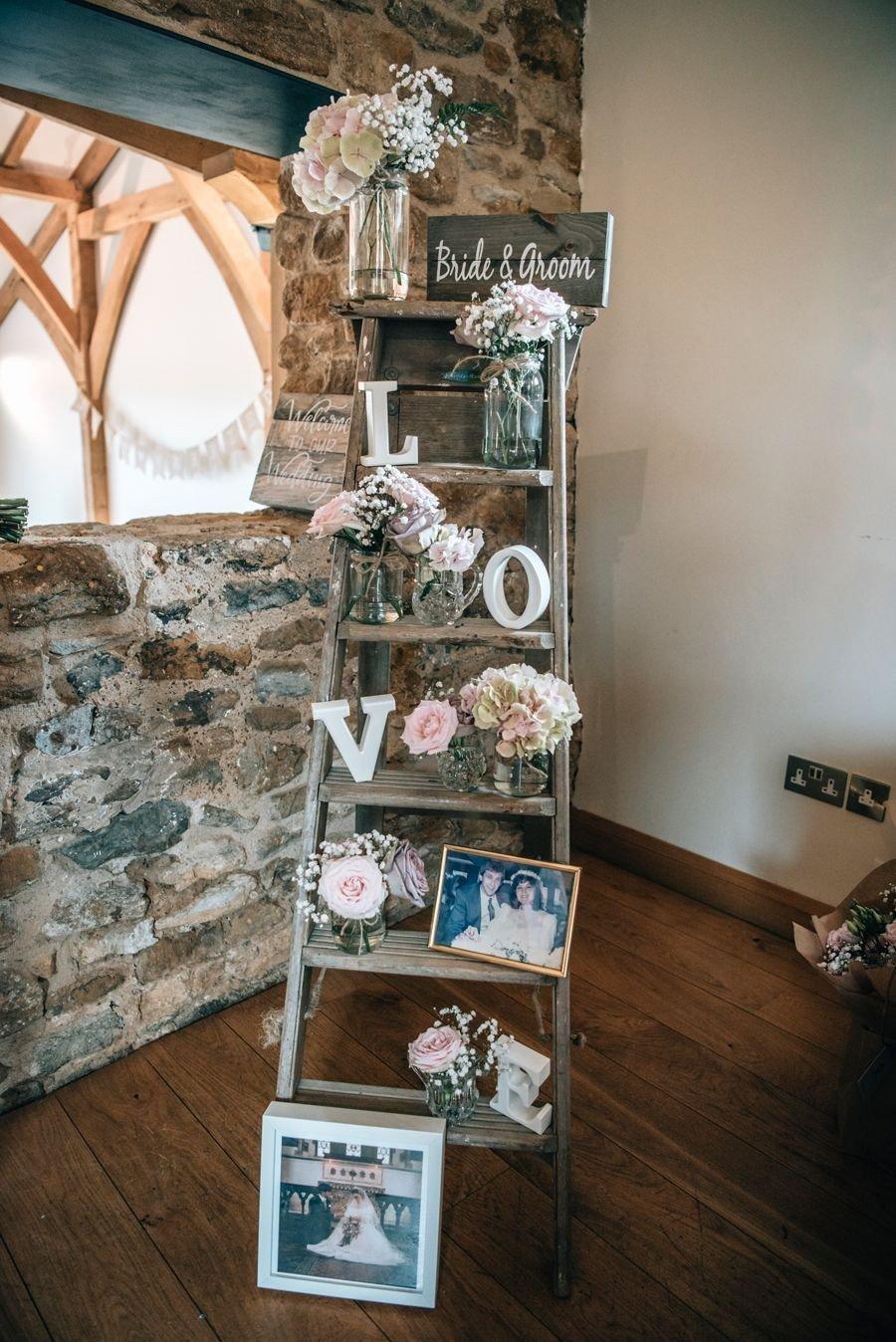 Image: Pinterest
There really is no limit to what you display on a ladder: photographs, candles, cupcakes, glasses of champagne, flowers, initial letters, even blankets at a winter wedding. This rustic white-washed shelf ladder is perfect.
READ MORE: The Must-Have Wedding Signs For Your Big Day
15. Wedding Signs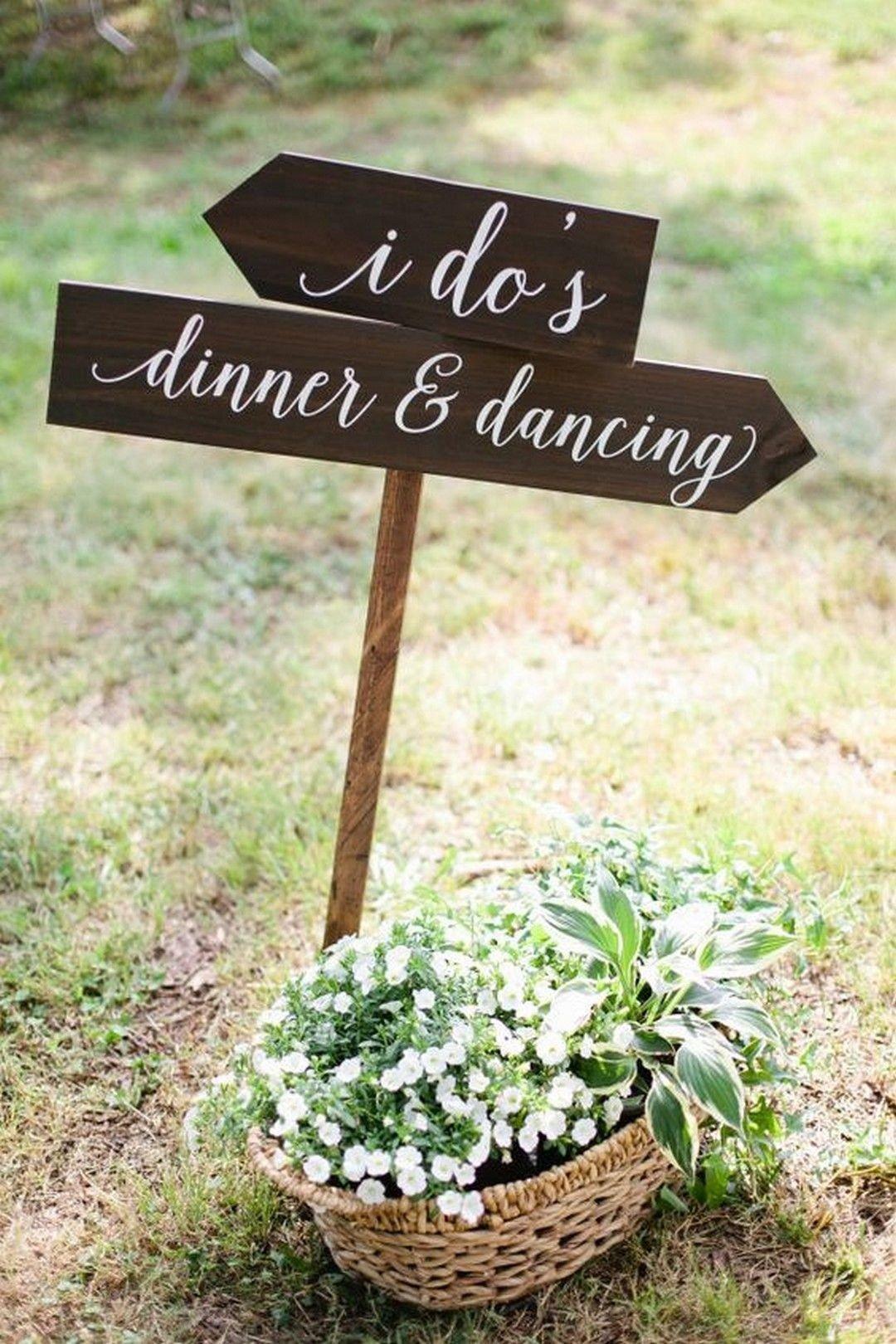 Image: Pinterest
Arrow signs help your guests to find their way around easily and they're just cute! This Ginger Ray set is ready made for you, but you can also DIY some with chalkboard or wooden arrows.
16. Fairy Lights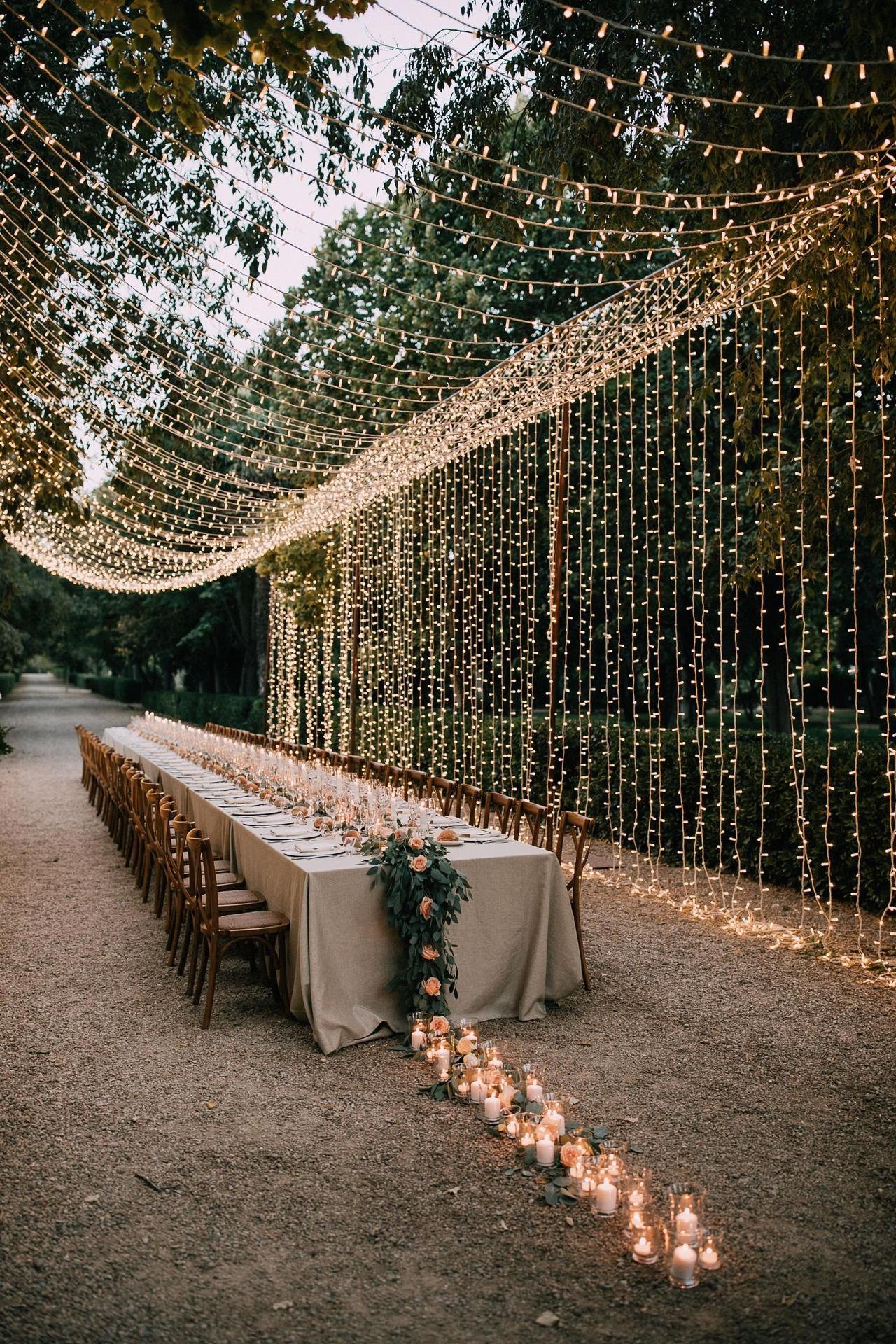 Image: Pinterest
Is it really even a wedding if it doesn't have fairy lights? They're such an easy way to transform both the inside and outside of your venue. Outside, string through trees or across a courtyard to make it more homely. Inside, weave them across the ceiling, around columns, fill lanterns, create a whole wall of them as a backdrop. So versatile, so cheap! Try these cosy warm white lights.
17. Chalkboards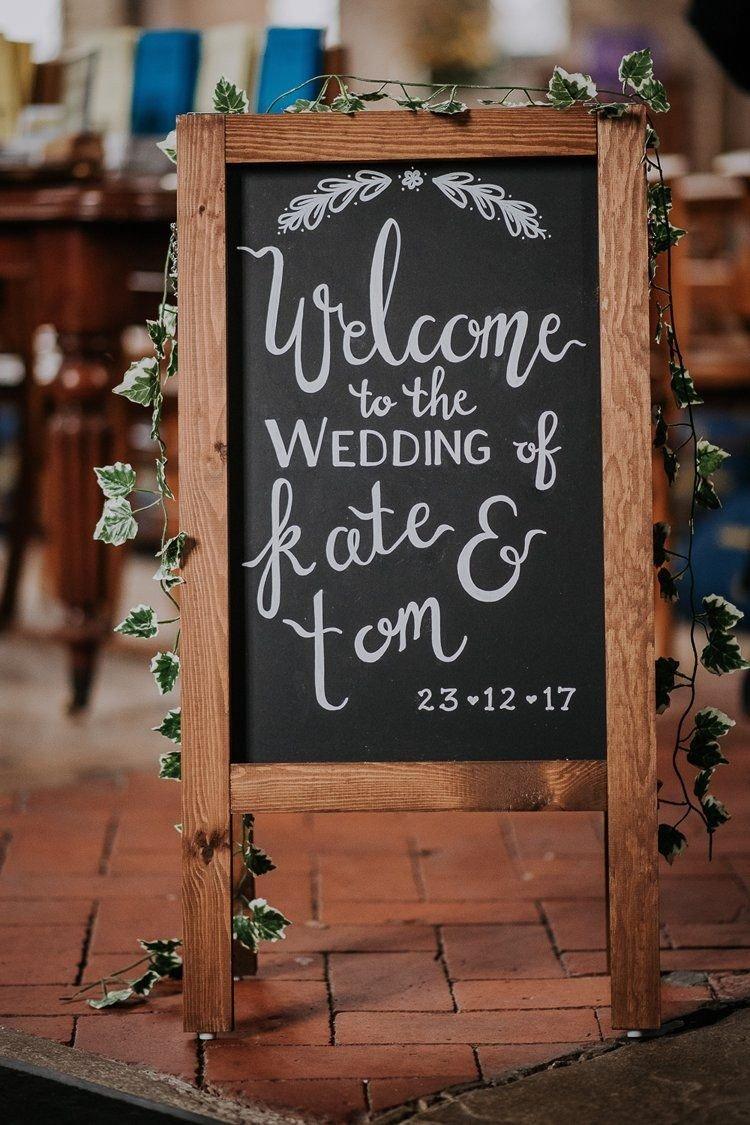 Image: Pinterest
Chalkboards are really easy to DIY as signs to welcome people to your wedding, display your menu or your seating chart. If you're having your reception at a pub or restaurant wedding venue, they might have one you can borrow for free!
18. Mirror Signs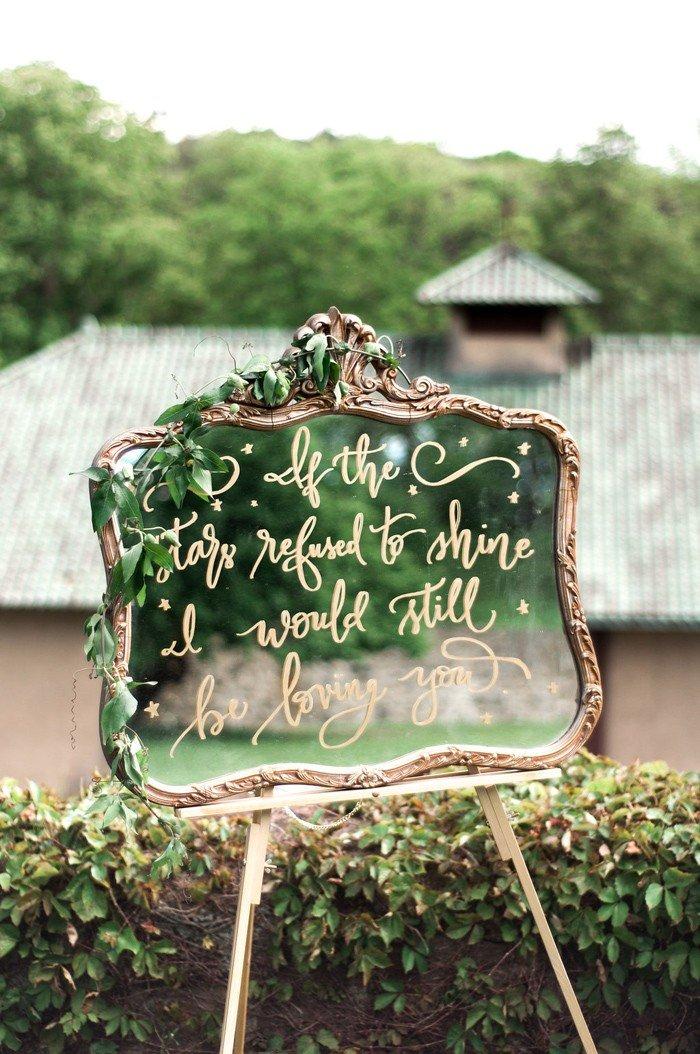 Image: Pinterest
Use mirrors in the same way as a chalkboard. You can find old ones in prop stores, vintage furniture shops or even charity shops.
READ MORE: 17 IKEA Wedding Decor Hacks
19. Vintage Suitcases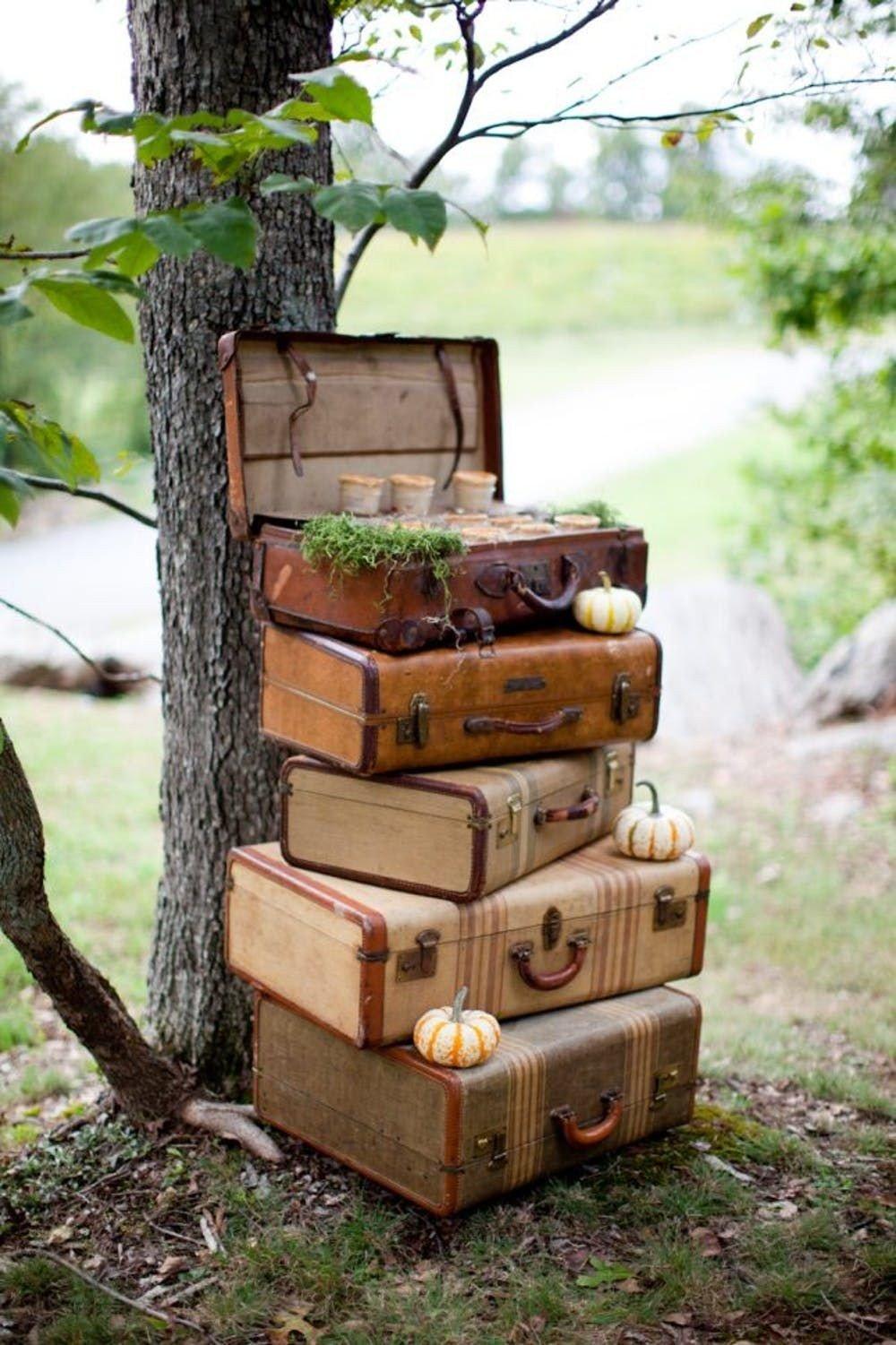 Image: Pinterest
If you both love travelling, channel that with rustic vintage suitcase or trunk stacks. It's a great idea to collect cards in too. Just put one on your table with the guest book and let guests put cards and presents in there. If you want something a little more chic, choose this set of three stacking pastel retro suitcases.
20. Book Centrepieces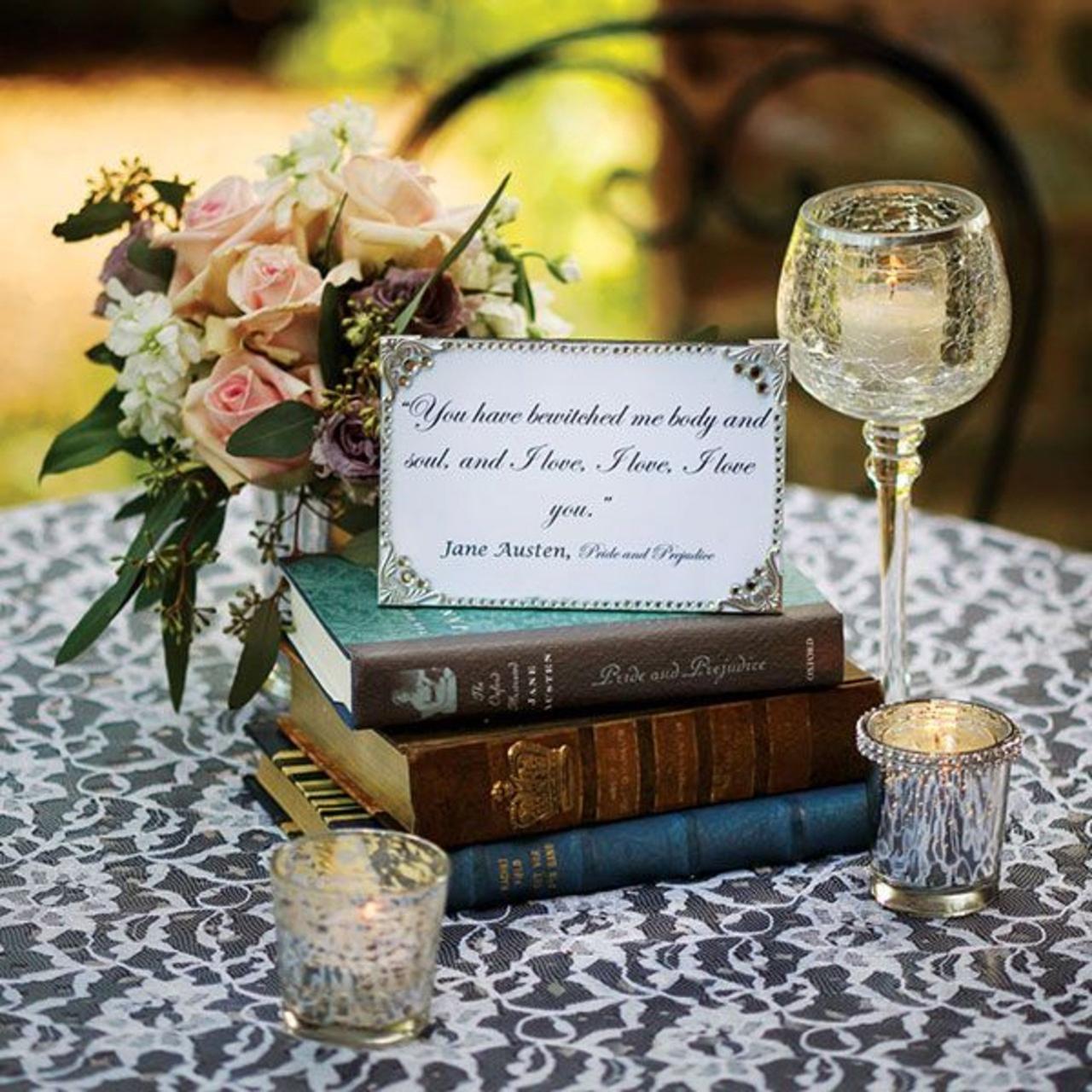 Image: Pinterest
Stacks of secondhand books are fantastic as centrepieces but they add interest to any tables in your reception venue. They're ideal rustic wedding decorations because you can turn unloved old books into something beautiful.
21. Moroccan-Style Lounge Area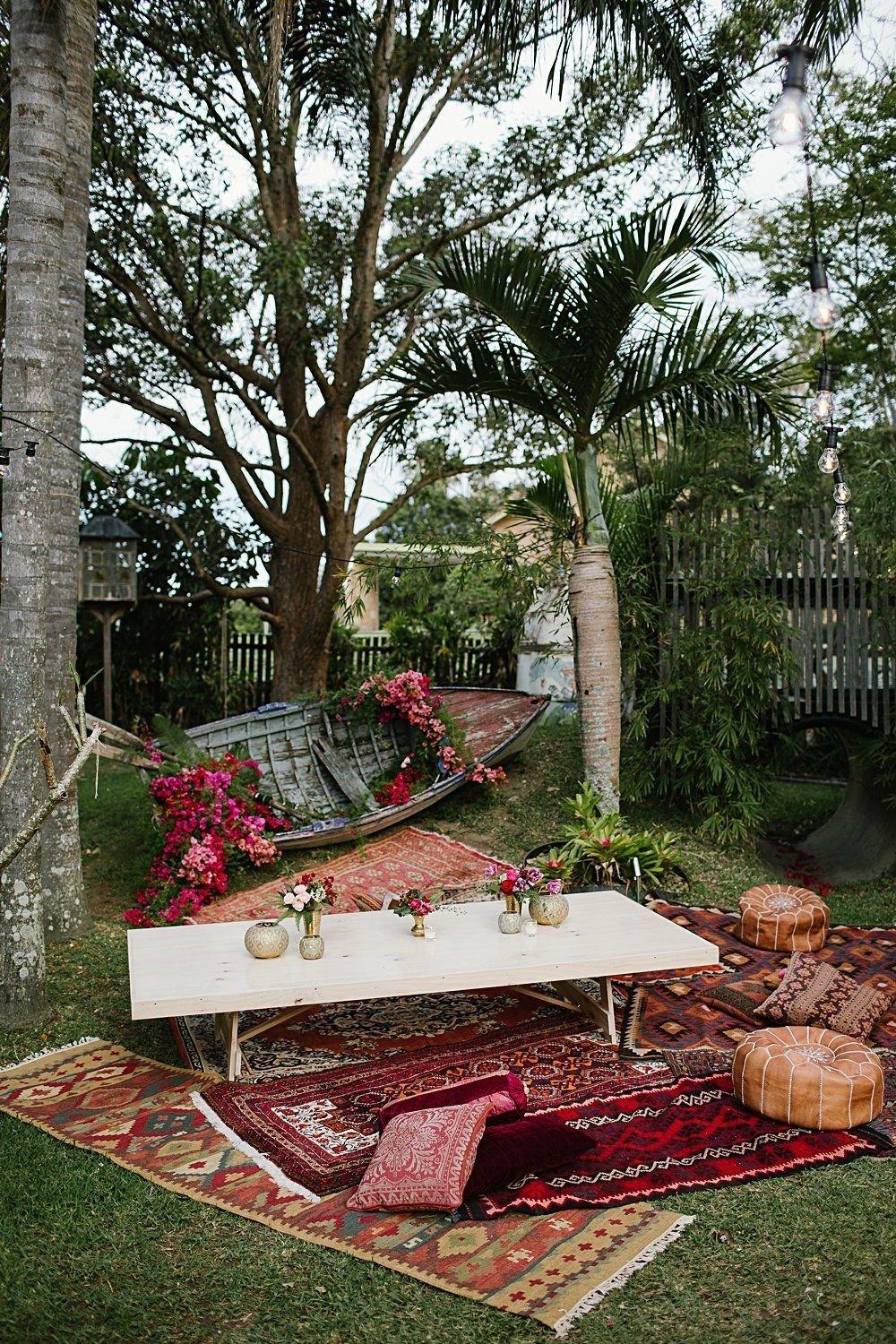 Image: Pinterest
A Moroccan-style lounge area is so simple to put together but is perfect for a rustic or boho wedding. Simply throw a selection of colourful rugs on the floor with patterned cushions. You can add a table in the middle for drinks and to display candles, and wicker chairs around the edge if your guests would prefer not to sit on the floor.
22. Velvet Furniture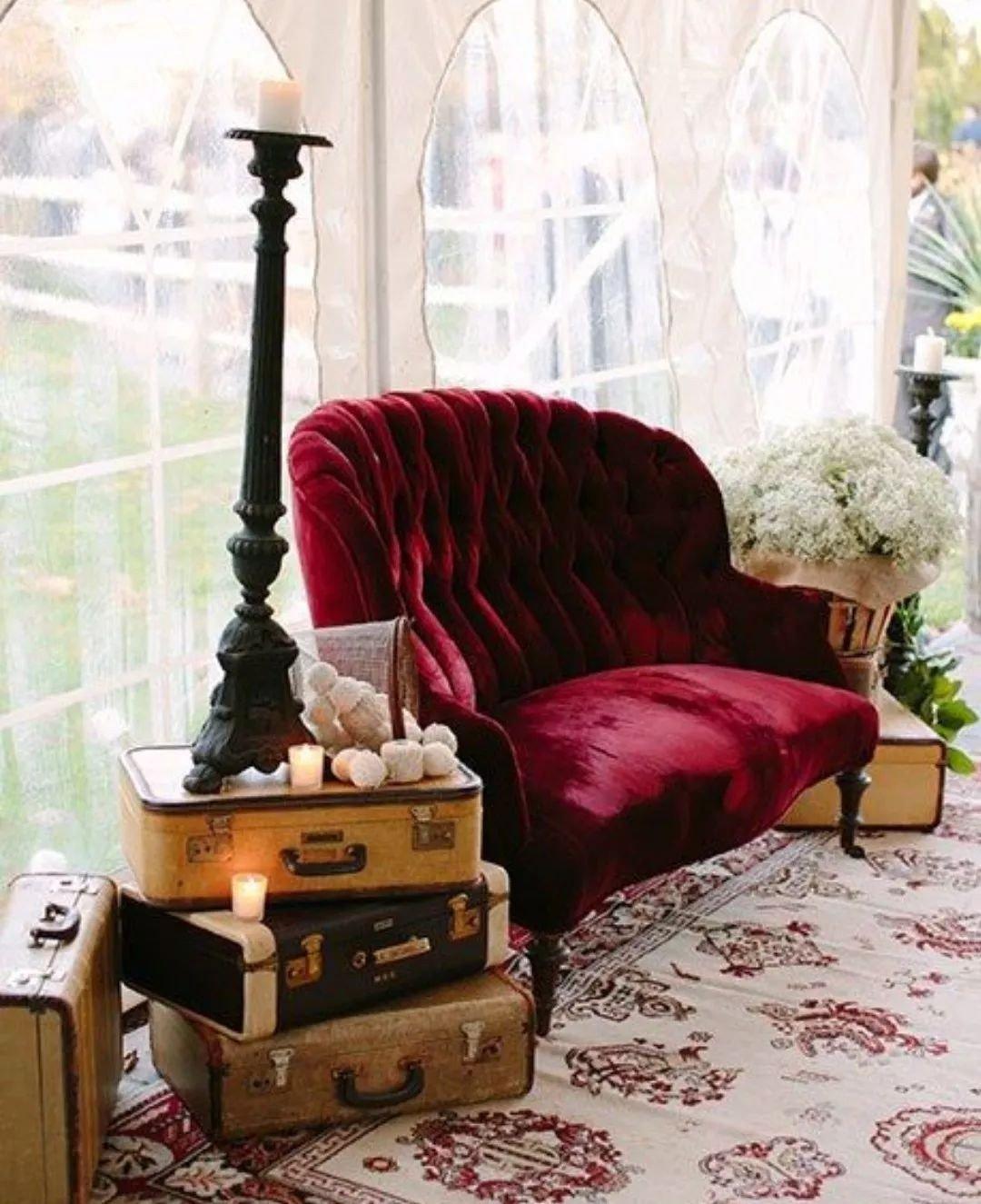 Image: Pinterest
Velvet is a perfect wedding fabric because it looks amazing in pictures and adds great texture to reception decor. How cute is it to add this velvet sofa as a seating area for those tired from dancing? Or you can use it for drapes, table runners, arches, chairs and hanging ribbons.
READ MORE: 21 Vintage Wedding Decor Ideas
23. Candles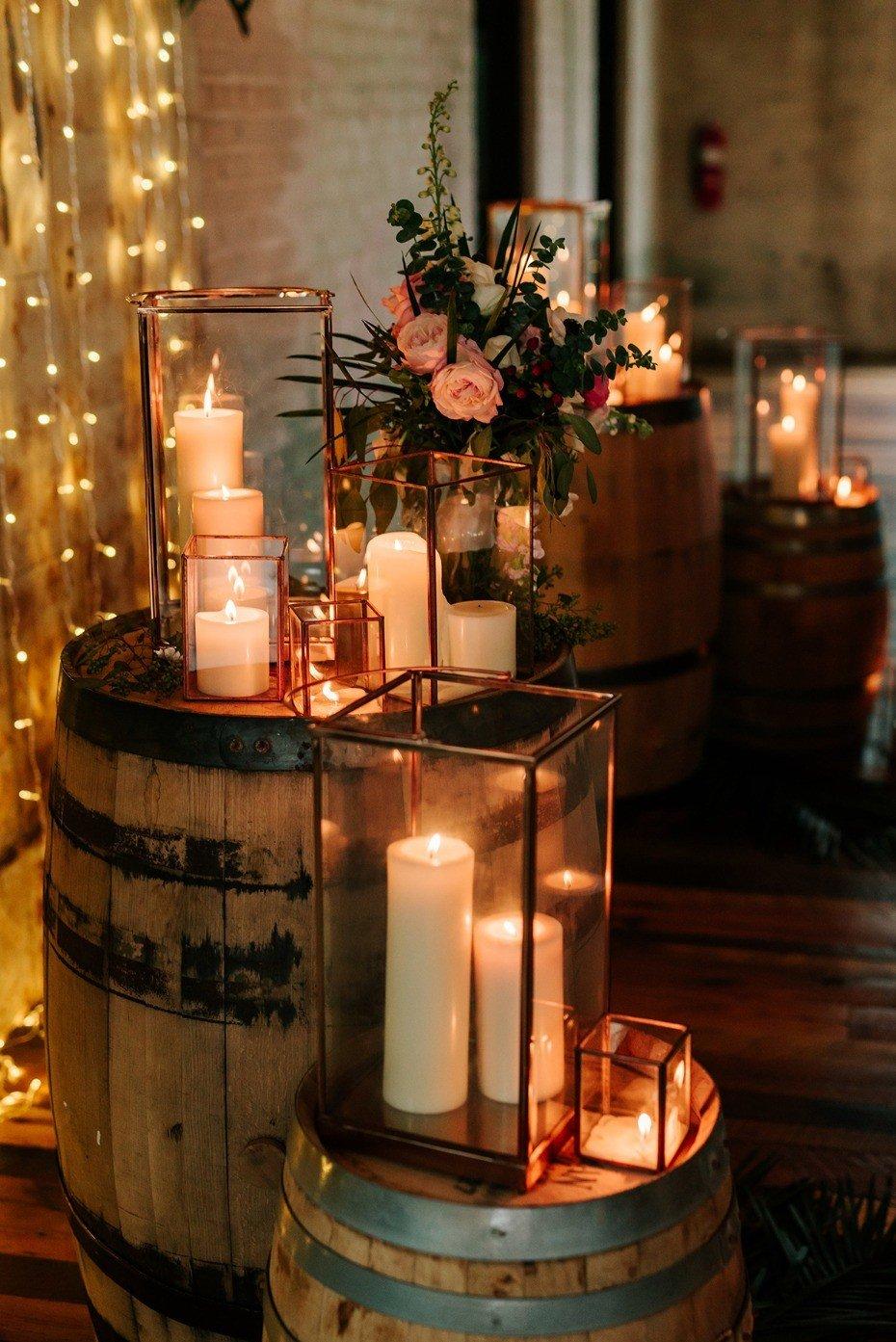 Image: Pinterest
First thing's first, always make sure your candles are safe. Display them in lanterns or glass jars so they can't be knocked over or the flame catch anything. And check your venue is OK with candles, otherwise buy LED ones. If you can use them, they add so much character and atmosphere to aisles, tables, staircases and more.
24. Wall Hangings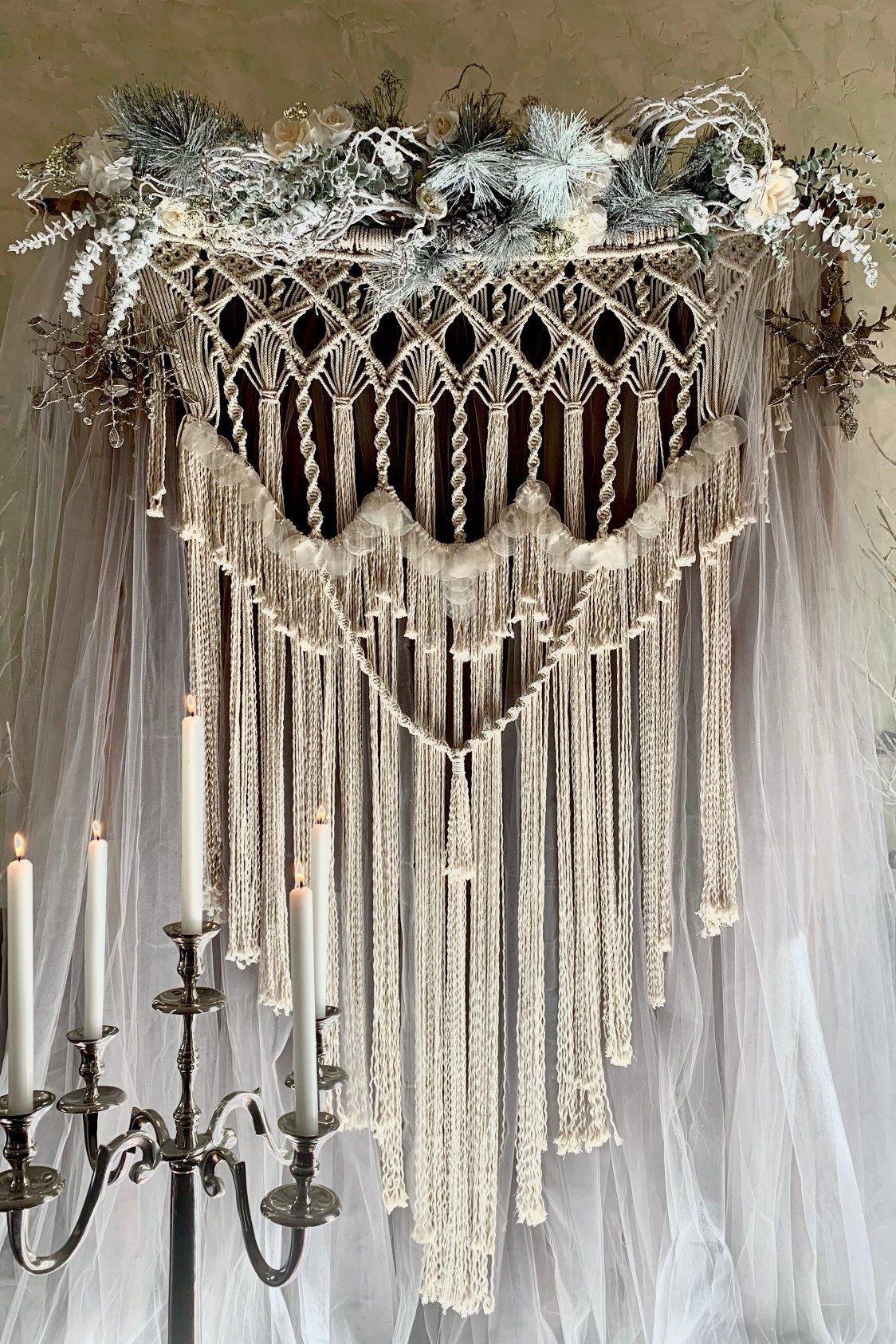 Image: Pinterest
From tapestries to macrame, wall hangings are effortless wedding decorations. With boho and rustic vibes aplenty, wall hangings can transform a room.
25. Vintage Bikes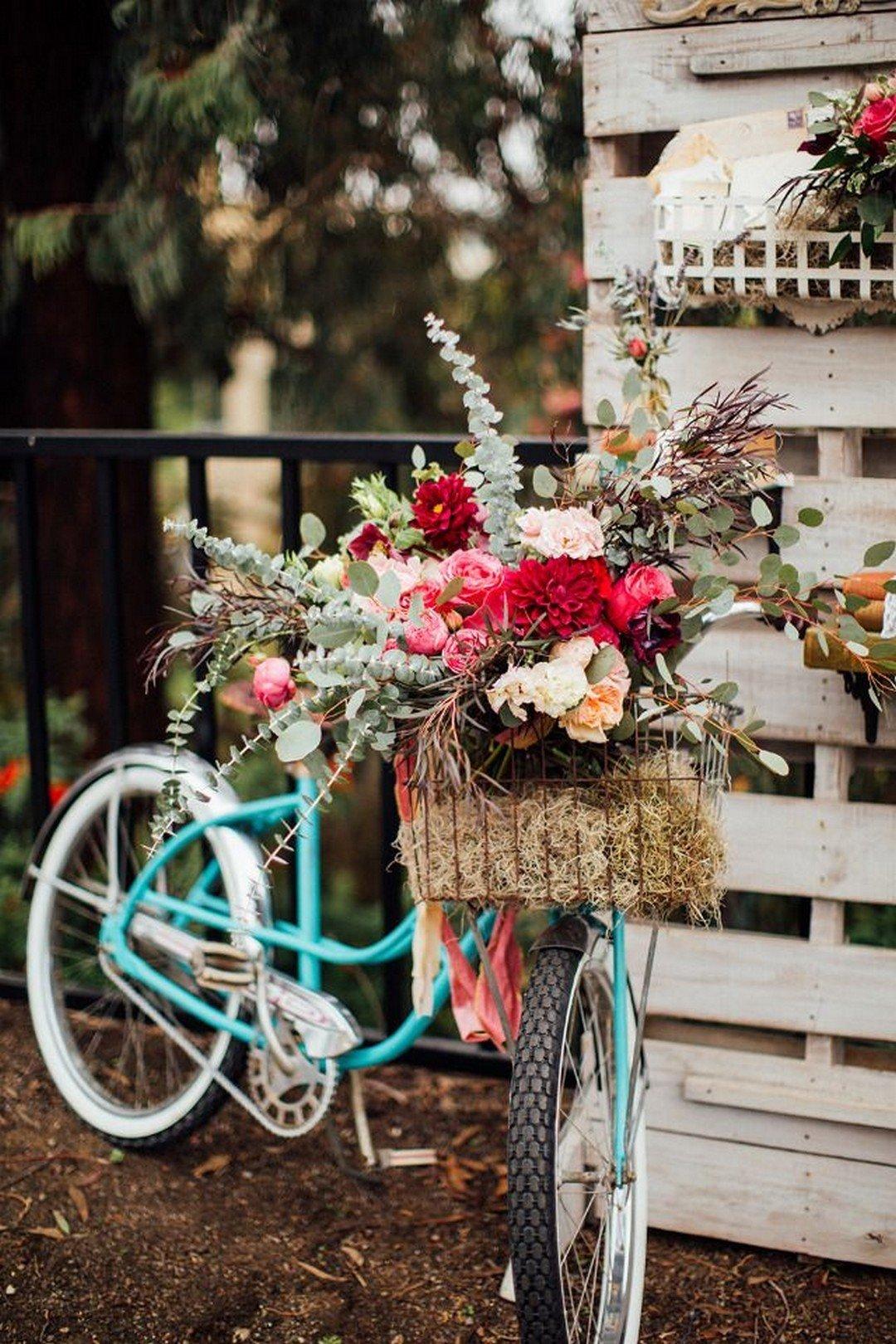 Image: Pinterest
Use to hang wedding signs, tie colourful ribbons from handlebars and fill the front basket with flowers. Bikes are amazing props for the happy couples to ride on and pose for photos.
26. Rustic Bar
Image: Pinterest
Your venue may already have a bar, but if you're having an outdoor wedding or they'll let you set up a serving area just for hosting your signature cocktails, a bar creates a statement focal point. Find a large rustic side dresser and place lots of empty bottles of liquor around with a display of pre-mixed cocktails in the middle. Look on eBay, Etsy, Gumtree and others for vintage pieces.
READ MORE: The Most Gorgeous Flower Garlands
27. Wedding Bunting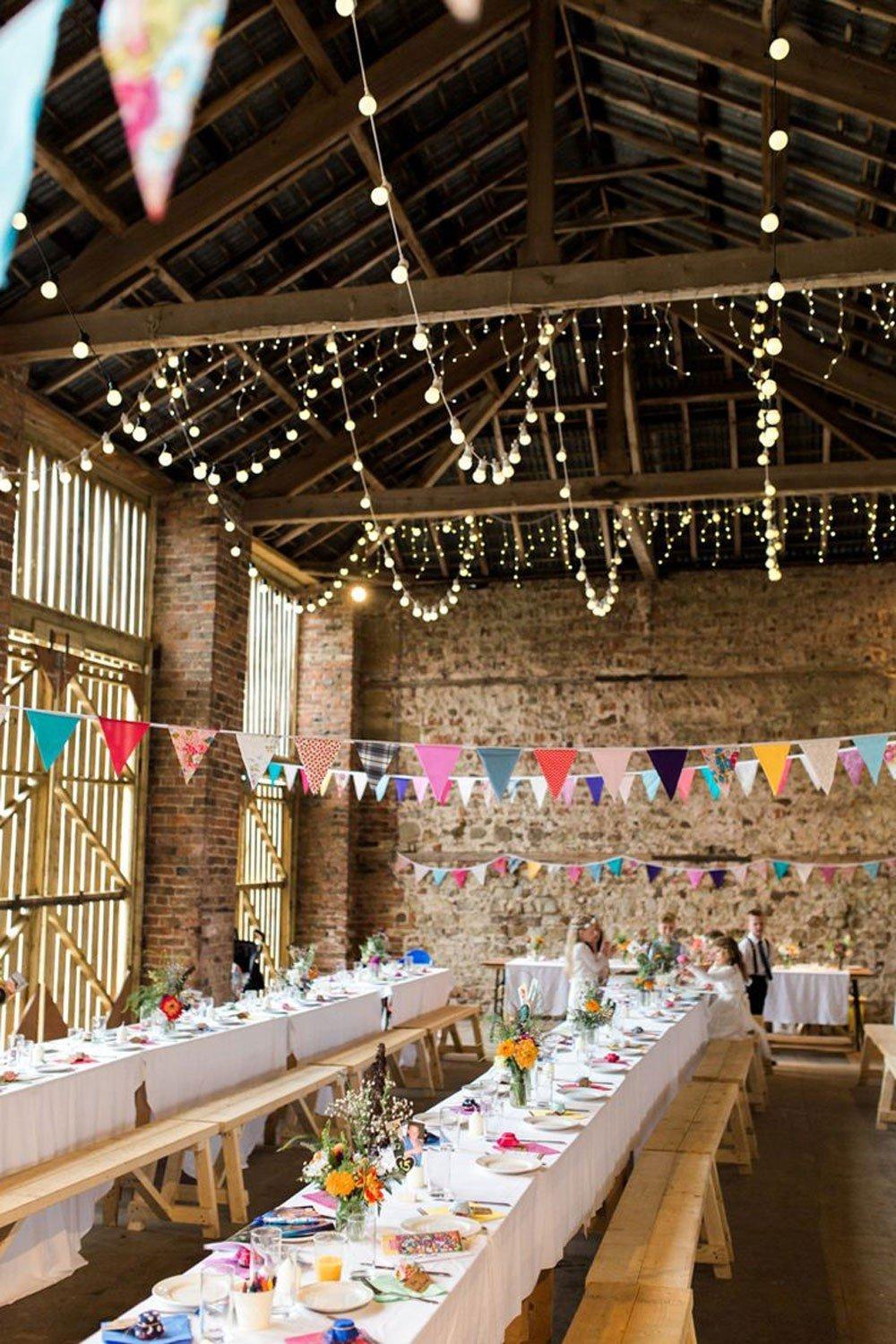 Image: Pinterest
Zhuzh up a room with strings of bunting. We've got a DIY bunting tutorial if you're crafty and want to make it yourself, but there's loads of great bunting you can buy online in amazing fabrics and patterns. This multicolour bunting is one of the bestsellers on Amazon for a reason.

Ceiling Decoration Ideas
28. Chandeliers and Lighting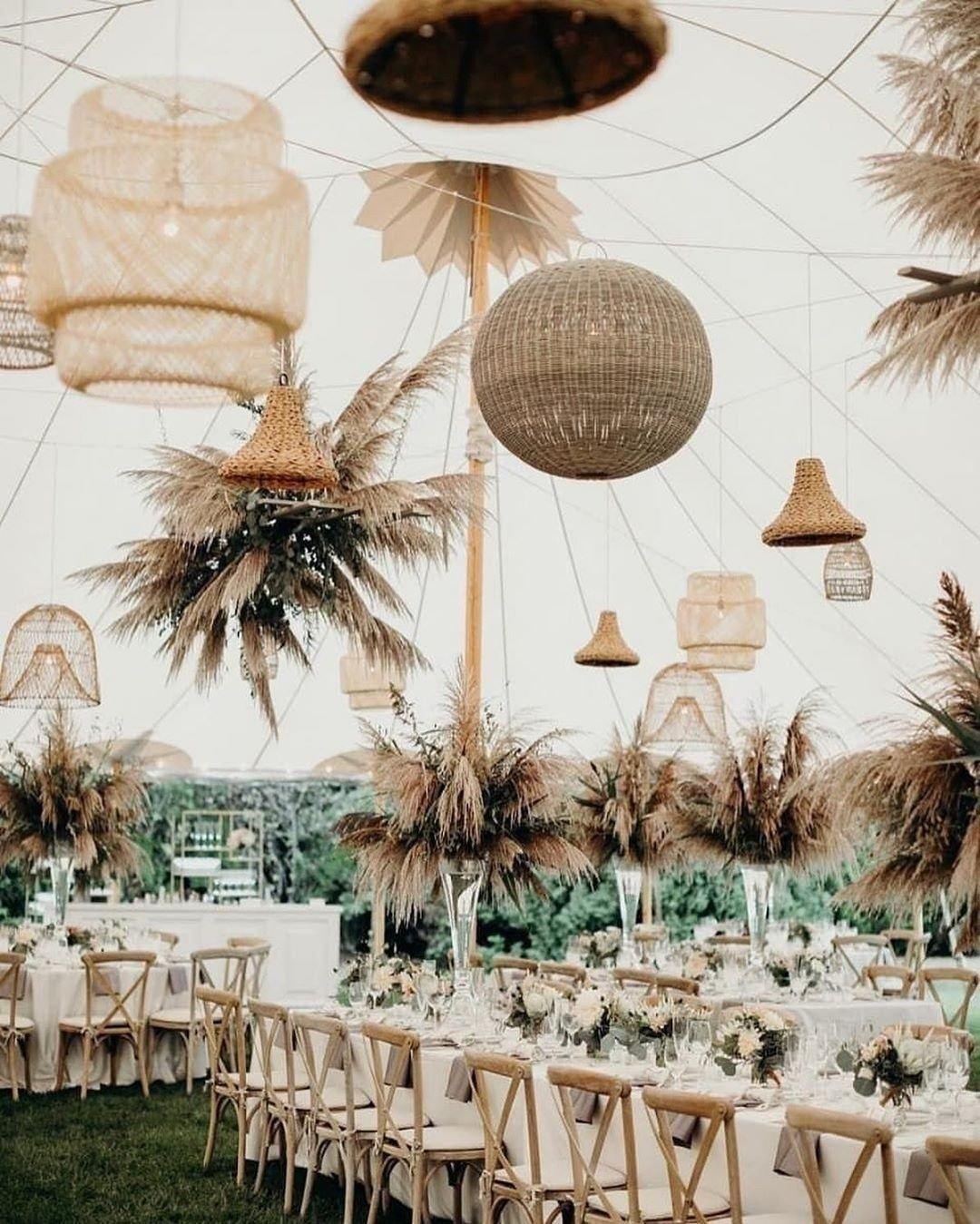 Image: Pinterest
Chandeliers and lampshades of all different shapes and sizes add height and interest to a room. If you aren't a huge fan of your venue's floor or carpeting, it's handy to have something to keep guests looking up.
29. Paper Lanterns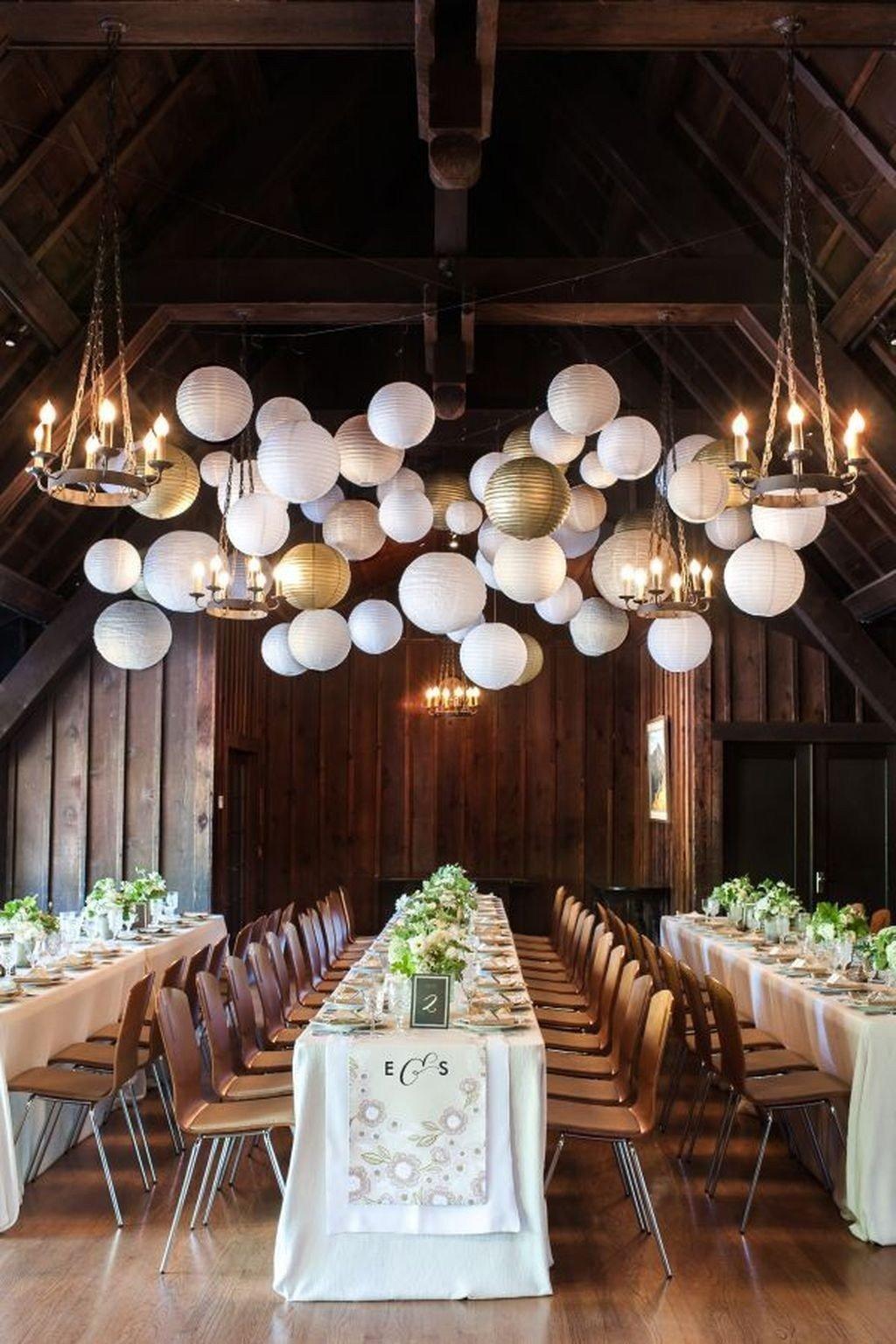 Image: Pinterest
Hang different heights of paper lanterns from ceilings. It looks great if you mix up white and metallic lanterns.
READ MORE: 31 Ways to Decorate Your Aisle
30. Drapes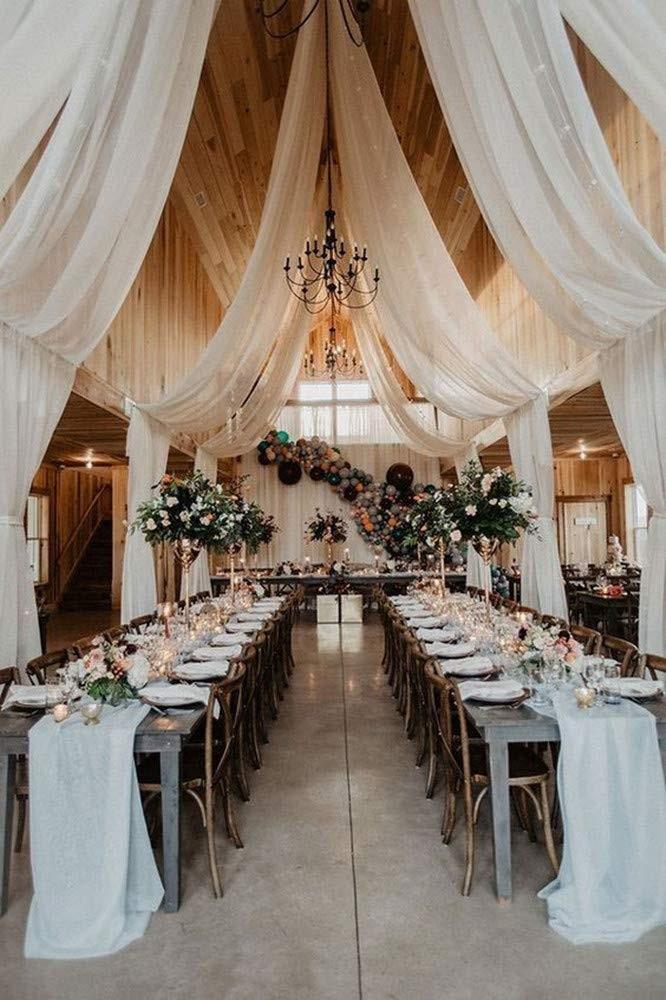 Image: Pinterest
If your venue has high ceilings, a really easy way to fill the space and create a lot of soft, beautiful texture is to hang drapes from the ceiling. IKEA has a brilliant range of fabrics you can buy by the metre to DIY these, from exciting patterns to sweeping white mesh.
31. Pom Poms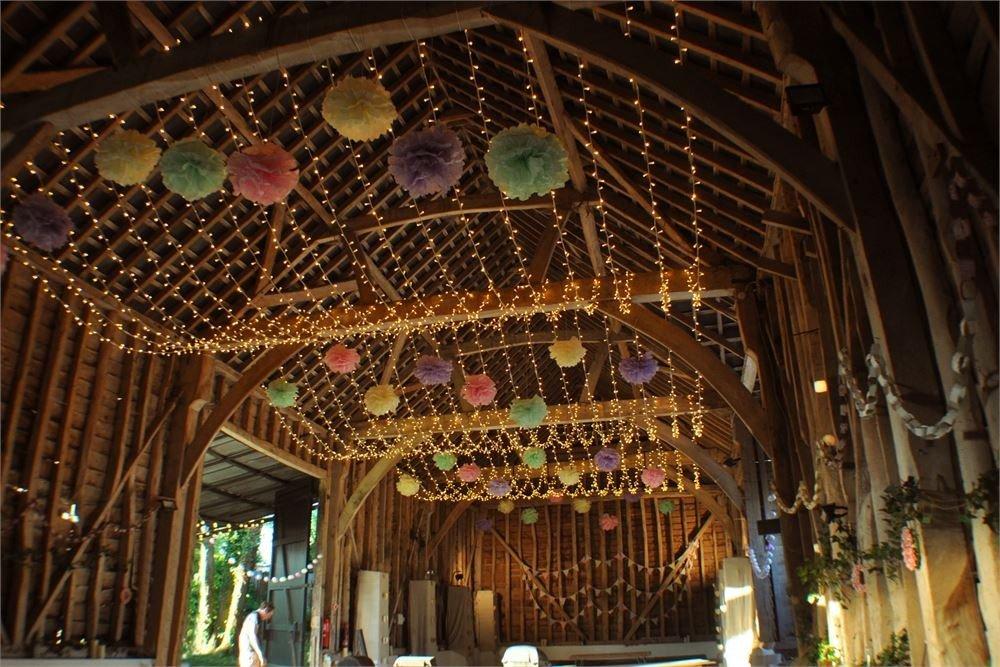 Image: Oakwood Events
Pom poms can add a burst of vibrant colour to a blank canvas venue. They can be incorporated into hanging displays around the room, but they look amazing as a rustic decoration against traditional beams in barns and incorporated into ceiling installations in pastel or bright colours with fairy lights.
This set of 40 ready-to-make poms poms from Amazon are only £12.99 and come in sets of colours from bright to pastel, and seasonal themes to a gorgeous rose pink selection.

Floral Installations
32. Flower Arches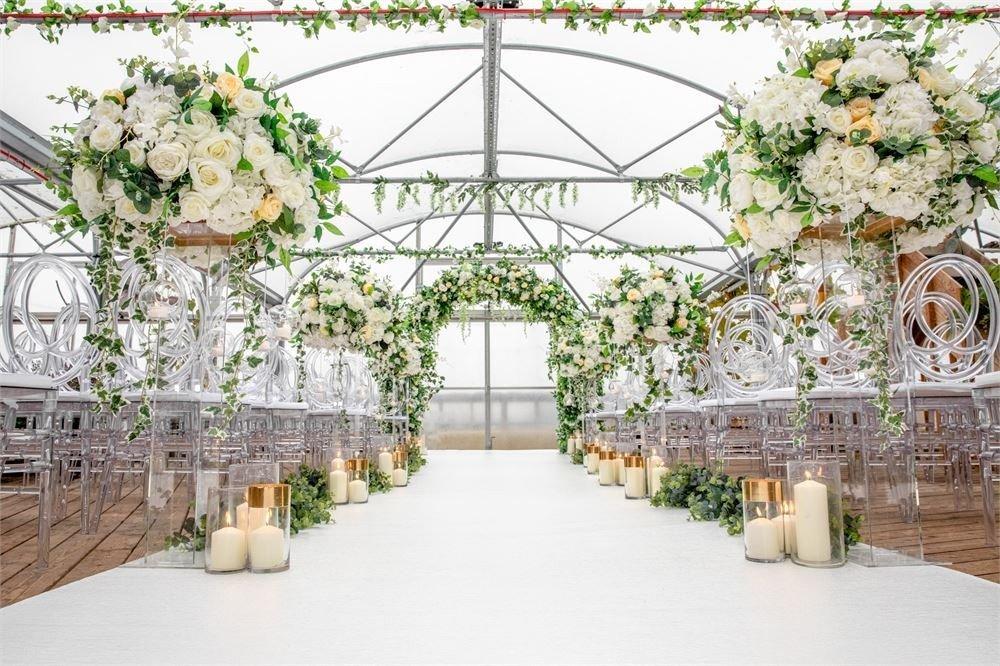 Image: Anaiah Grace Events
An easy way to totally transform a ceremony room is with a floral arch. Your florist can make you an incredible one using your colour scheme, or you can actually rent them really easily (for cheaper). The Blossom Company do an incredible range of silk flower arches, centrepieces and backdrops with fresh foliage mixed in.
READ MORE: 25 of the Prettiest Spring Wedding Ideas
33. Floral Hoops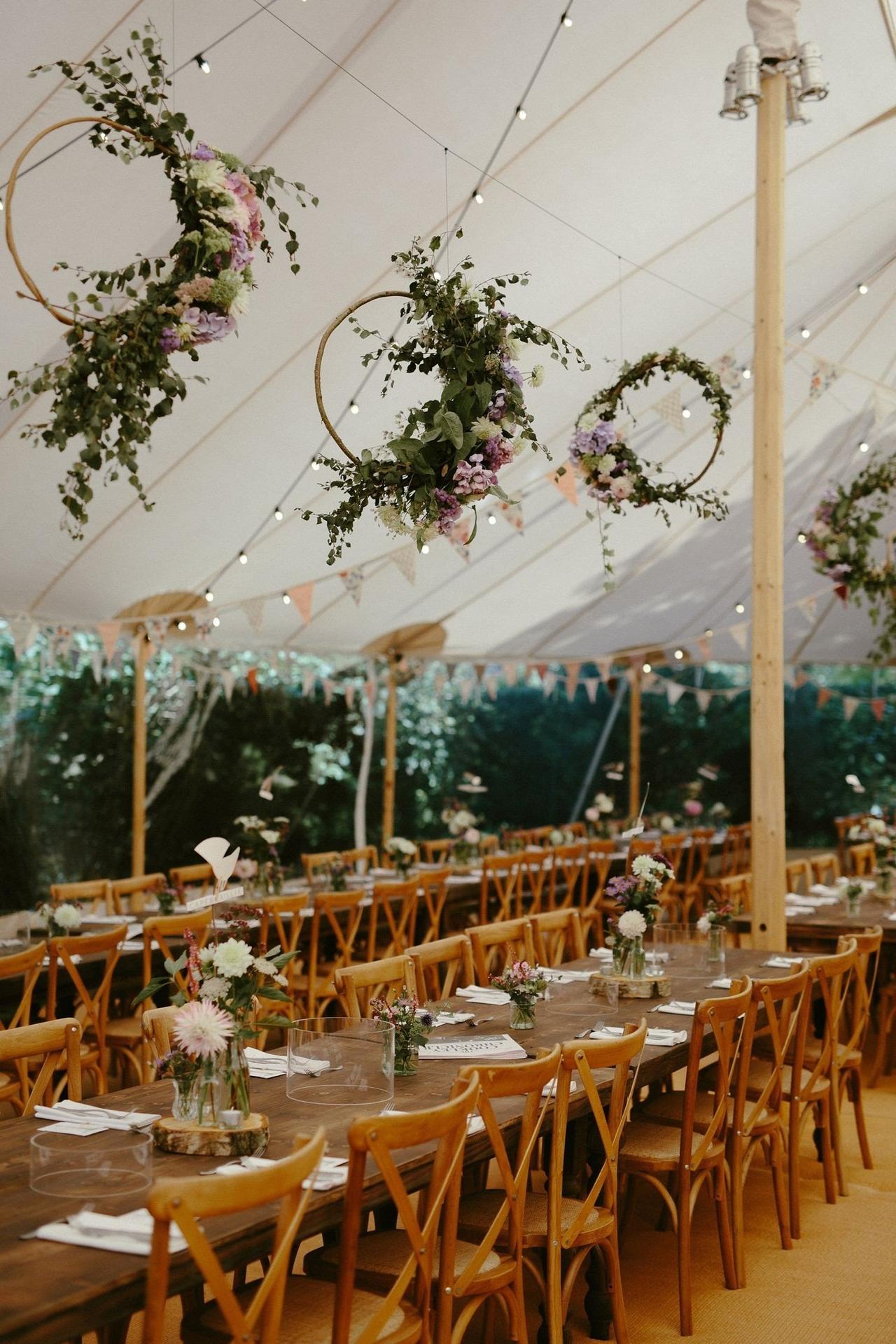 Image: Pinterest
Floral hoops have an almost fairytale, ethereal charm to them. They're playful, whimsical and truly breathtaking when done right.
34. Flower Walls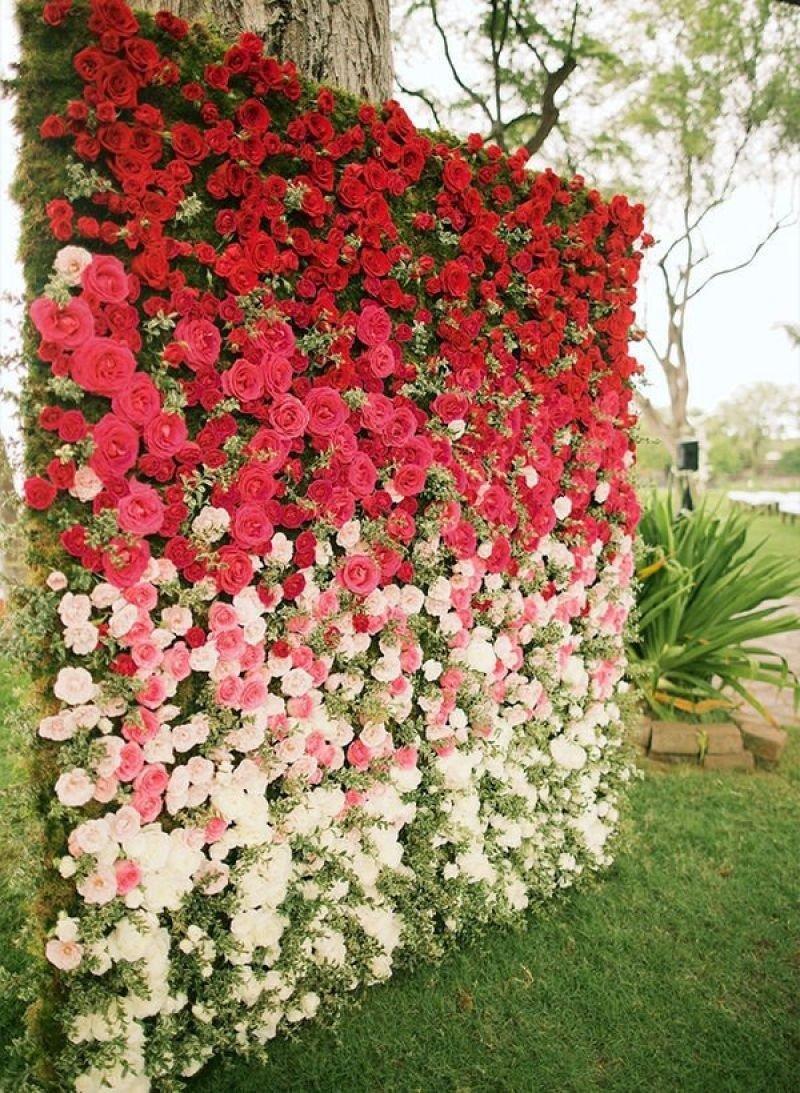 Image: Pinterest
This is how you do ombre! Flower walls are the perfect wedding photo backdrop and quickly add so much beauty to a venue. You can hire them or have your florist make one, but a hired one will be much cheaper.
35. Suspended Flower Installations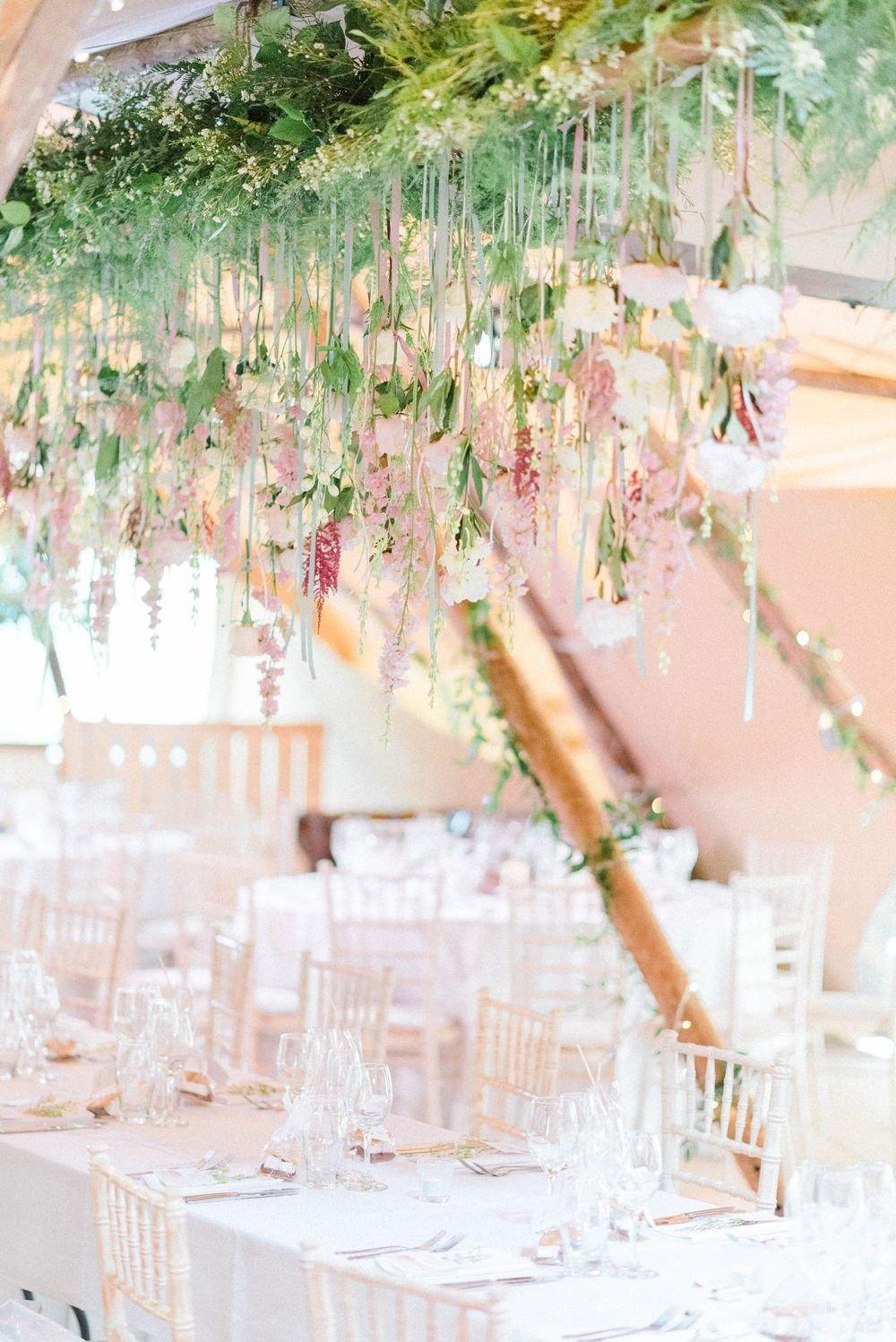 Image: Pinterest
Suspend wildflowers from the ceiling above tables, especially in tipis, marquees, tents and yurts. It adds a boho, festival vibe to any wedding reception space.
READ MORE: 27 Sensational Ways to Dress Up Your Chairs
If you want to decorate your venue but you want to avoid excess plastic and rubbish, check out our eco-friendly wedding ideas.