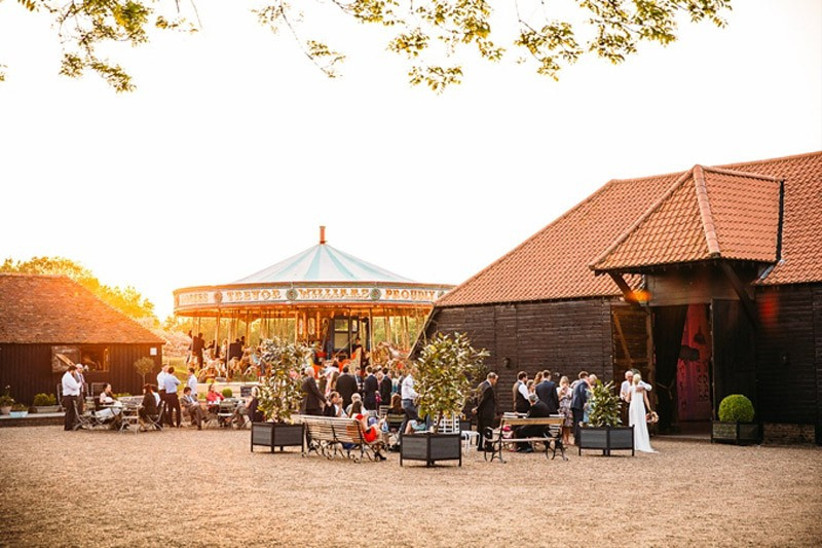 If wedding entertainment is high on your list of priorities when planning your big day, why not consider giving your guests a real thrill by booking a wedding venue with a funfair?
We've picked out five funfair wedding venues to inspire you if you want to treat your guests to something a little different on your wedding day. If you can't find a wedding venue with a funfair near you, why not look into hiring funfair attractions to add something extra to your reception?
Kent wedding venue Marleybrook House, former home to legendary cabaret star Eartha Kitt, has its own Vintage Fayre! The venue will set it up for you – we recommend keeping it a secret until the day so you can see your guests' faces when you arrive!
There are retro side stalls including an original 1940s High Striker to test strength and swing boats from 1890. Set up next to hay bales, apple crates and a vintage tractor, it will take you back in time.

Visit Marleybrook House's website for more information.
Image credit: Matilda Wedding Photography
If you're looking for a unique wedding venue in the Midlands, the Ironbridge Gorge Museums in Shropshire are a good choice. This includes Blists Hill Victorian Town, which is a recreation of a working Victorian town complete with a funfair.
The funfair is set up opposite where most receptions take place and you and your guests can enjoy chair-o-planes, coconut shys, swing boats, and on certain days, a magnificent Victorian carousel featuring galloping horses. Imagine the wedding picture opportunities!

To look into having your wedding in a Victorian town, visit their website.
Home to The Hop Farm Festival, The Hop Farm also has a funfair which you can use at your wedding. It includes the amazing 'giant jumping pillows' to bounce away on, as well as an amazing vintage carousel, amongst other things.
The Kent wedding venue is popular for those who want a wedding with a fun, unique twist!

For more information head over to Hop Farm's website.
The Garden Room at Syon Park lends itself perfectly to wedding receptions with a fun twist.
This stunning wedding reception venue comes complete with adjacent outside space, set within acres of idyllic parkland. The gardens can be used for welcome drinks, giving your wedding day the wow factor from the very start. The gardens can also be used to host a fun fair to entertain your guests, complete with rides, side stalls and candy floss.
A light and airy reception room comes complete with contemporary furnishings and an understated colour scheme, enabling you to keep it traditional or create a personalised look for your special day.

Get more details by visiting The Garden Room at Syon Park's website.
Preston Court has a lot to offer when it comes to your wedding – there are large gardens with lakes, lawns and a magical island that boasts a regency wrought iron bridge – so you can marry outside in the garden or in front of a magnificent fairground organ, located in the barn.
There is a full scale and fully operational Victorian carousel, complete with galloping horses and chariots – lots of fun for your guests and amazing for pictures – and a Victorian showman's wagon which is used as a dressing room on the day. The fairground organs can be played on the day, and there is a selection of fairground games available too!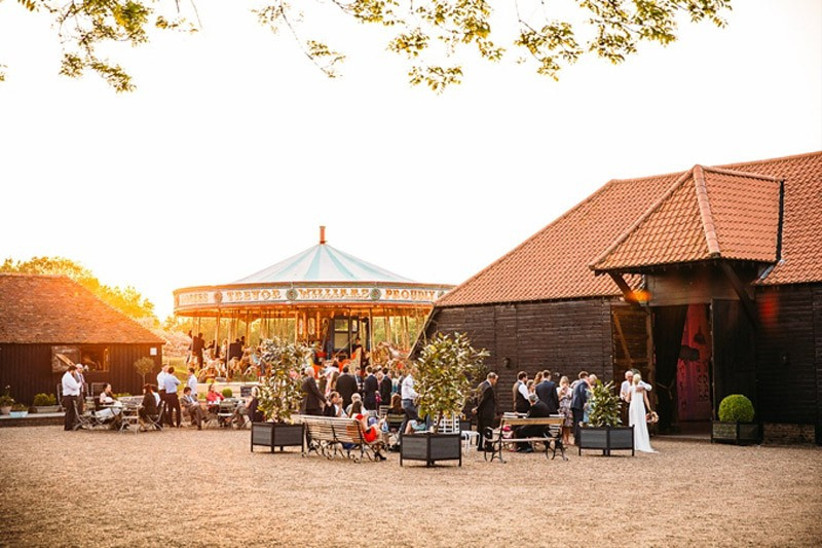 To find out more, visit Preston Court's website.