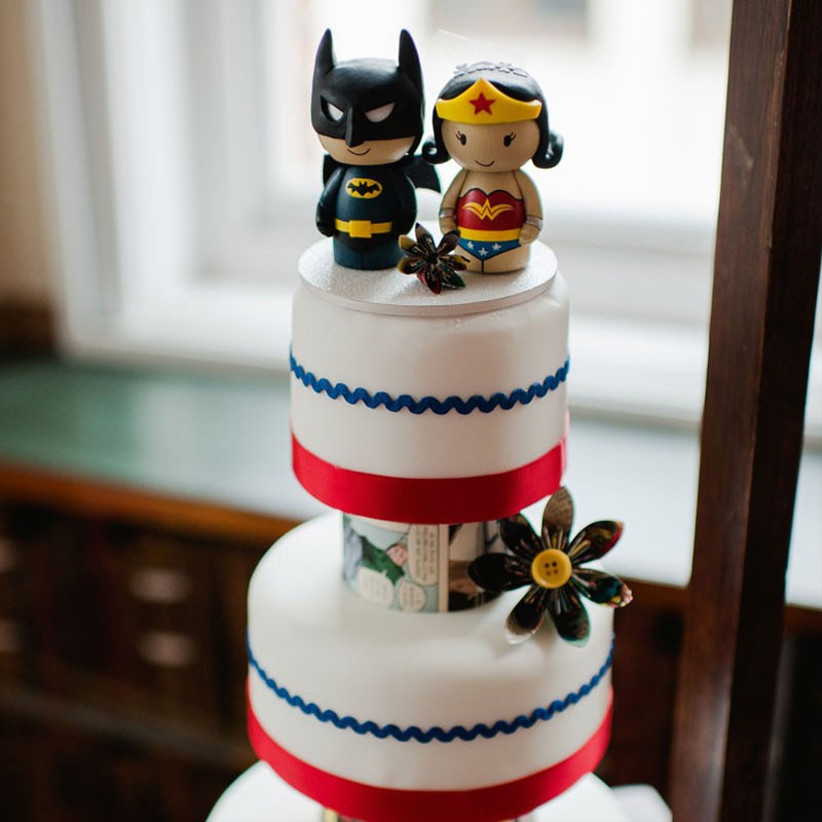 Whether you're giving your day some serious KAPOW factor with a superhero wedding theme, or are just trying to compromise with your groom over his Avengers addiction, then look no further than our pick of the best superhero wedding cakes.
These super sweet treats will make your guests 'marvel' in envy and they're a seriously creative way to include your favourite heroes in your big day.
Secret Superhero Wedding Cakes
First up is this hidden superhero cake, photographed by Ten Foot Tall Photography. If you're thinking of getting your man a separate groom wedding cake, then consider a compromise with a design like this – where tradition and superheroes go hand in hand.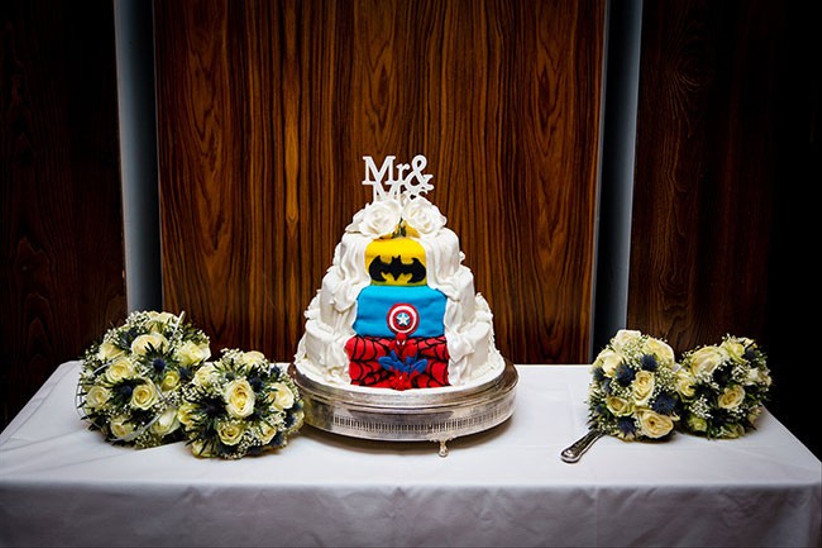 Nothing seems too surprising about this cake just by looking at its traditional front half, however, turn it around and you'll be blown away when you see that the Avengers have gatecrashed the design! We love that each tier has been decorated with a different hero – you could even pick different wedding cake flavours for each one so that the inside of the cake is just as much of a surprise.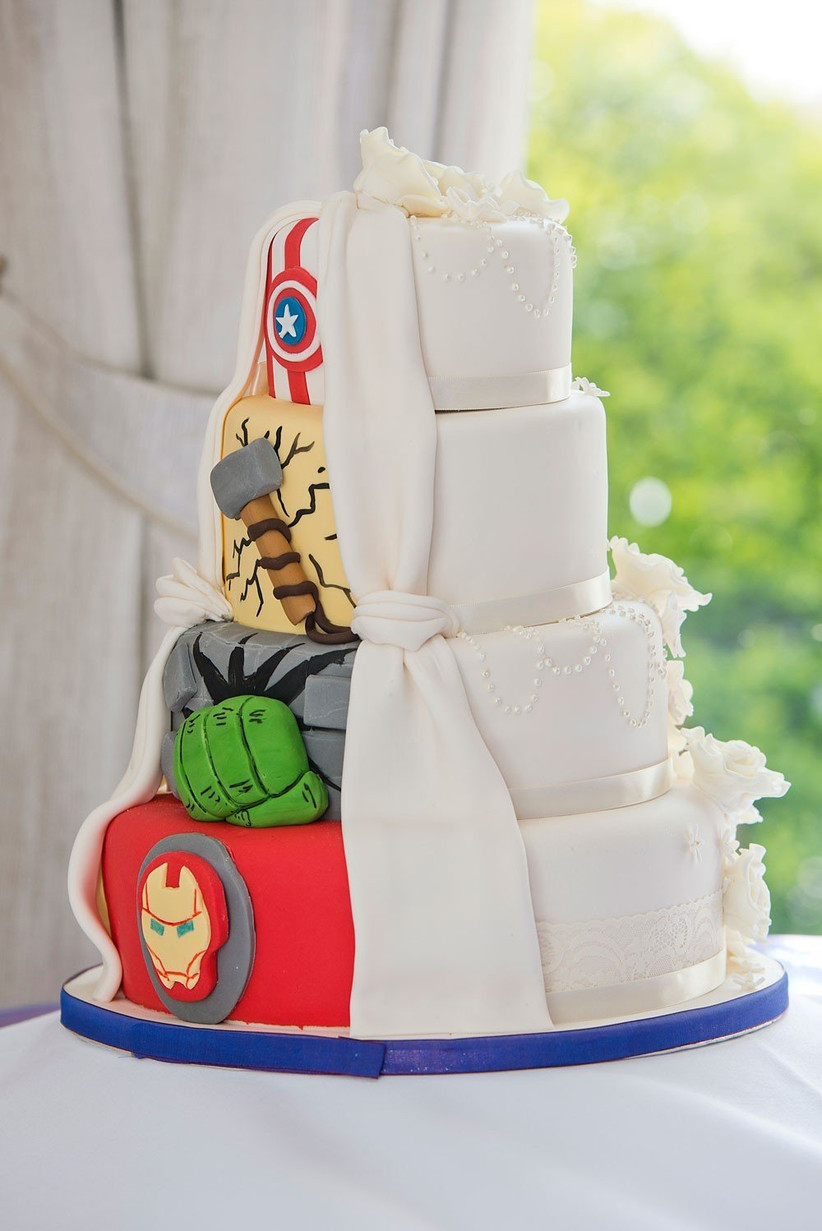 Image credit: Discovery Photographic
Comic Book Inspired Wedding Cakes
This delicious three tiered design by French Made is perfect for couples who love their comic books. This alternative wedding cake features a comic book print around the wedding cake stand and lots of cute paper cake toppers by The Origami Boutique. If it's good enough for Thor then it's good enough for us!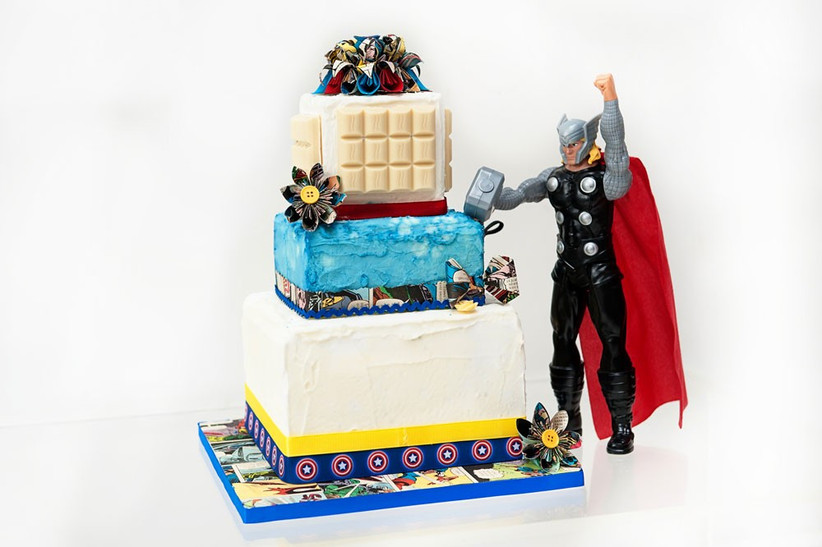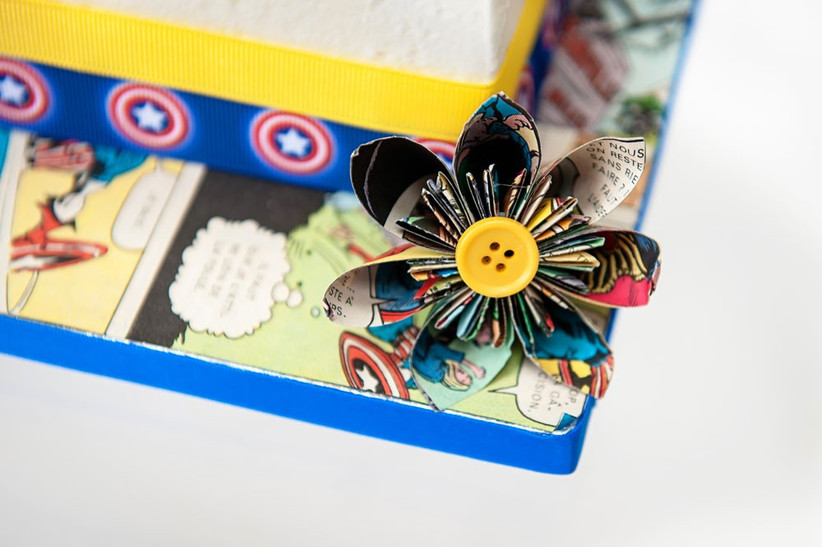 Image credits: Kat Forsyth Photography
French Made designed another amazing superhero wedding cake and this time it's this super cute Batman and Wonder Woman creation. It features cute paper wedding flowers made from the pages of comic books and pops of red and blue. Can we also talk about how adorable those cake toppers are?
For grooms who want to rock a corsage inspired by these comic book flowers, we have plenty of unique ideas in our alternative buttonholes guide.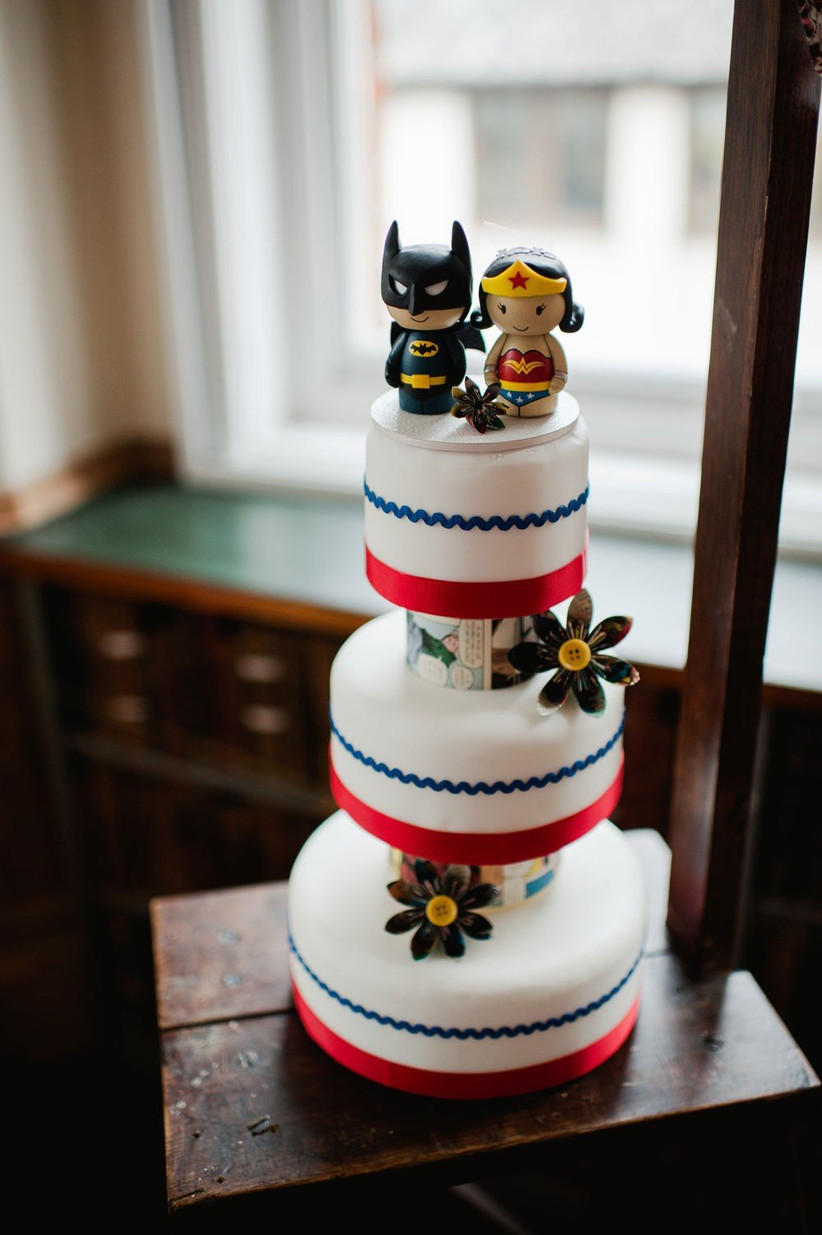 Image credit: Alexa Loy Photography
Bold Superhero Wedding Cakes
To give your guests the full on superhero experience, this tasty design from Krumblies would be a suitable wedding cake alternative for those adverse to tradition. From the dramatic Batman topper to the Hulk fist bursting through the icing, there's nothing we don't love about this amazing wedding cake.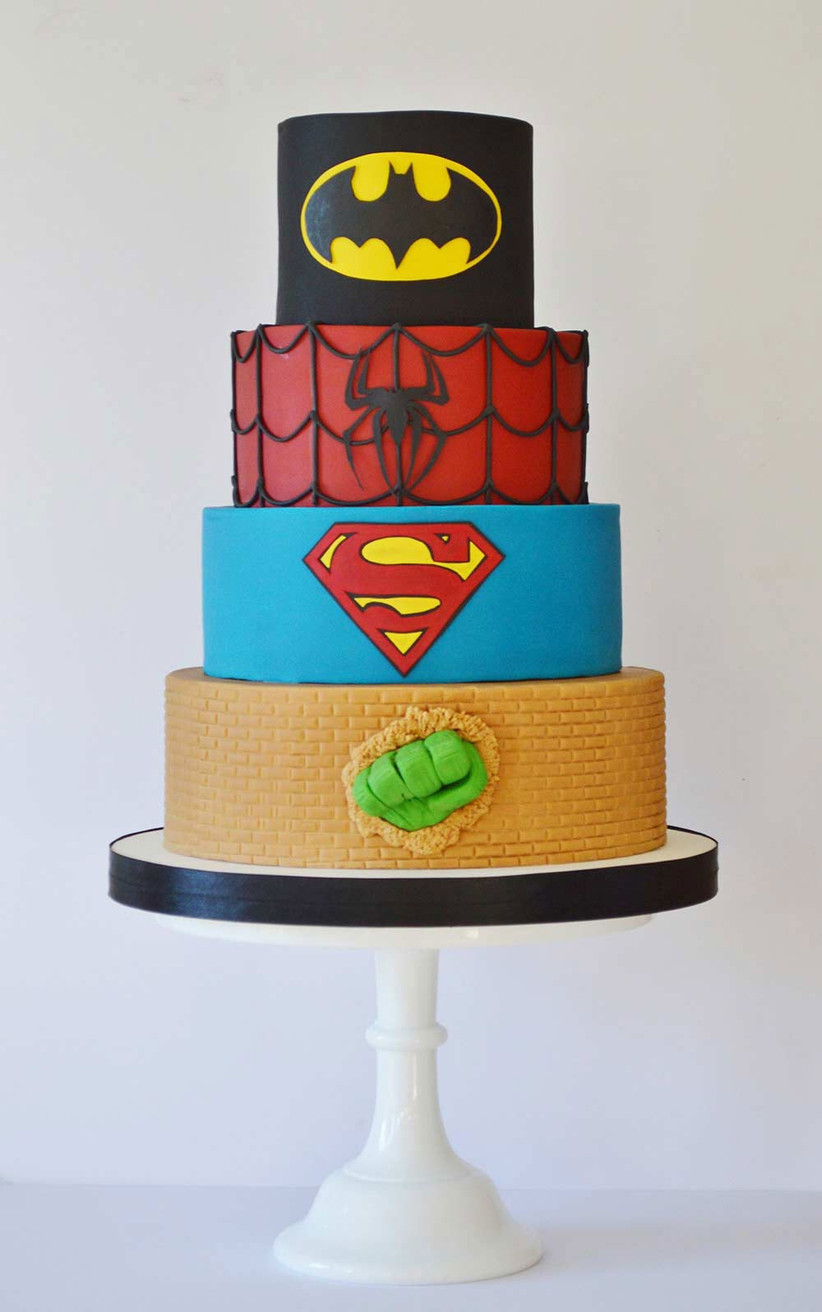 This superhero wedding cake has been given a sophisticated edge with chic, monochrome icing. Made by Sugar Perfection, it features a medley of iconic superhero logos and is topped off with an edible version of the hammer from Thor – we love.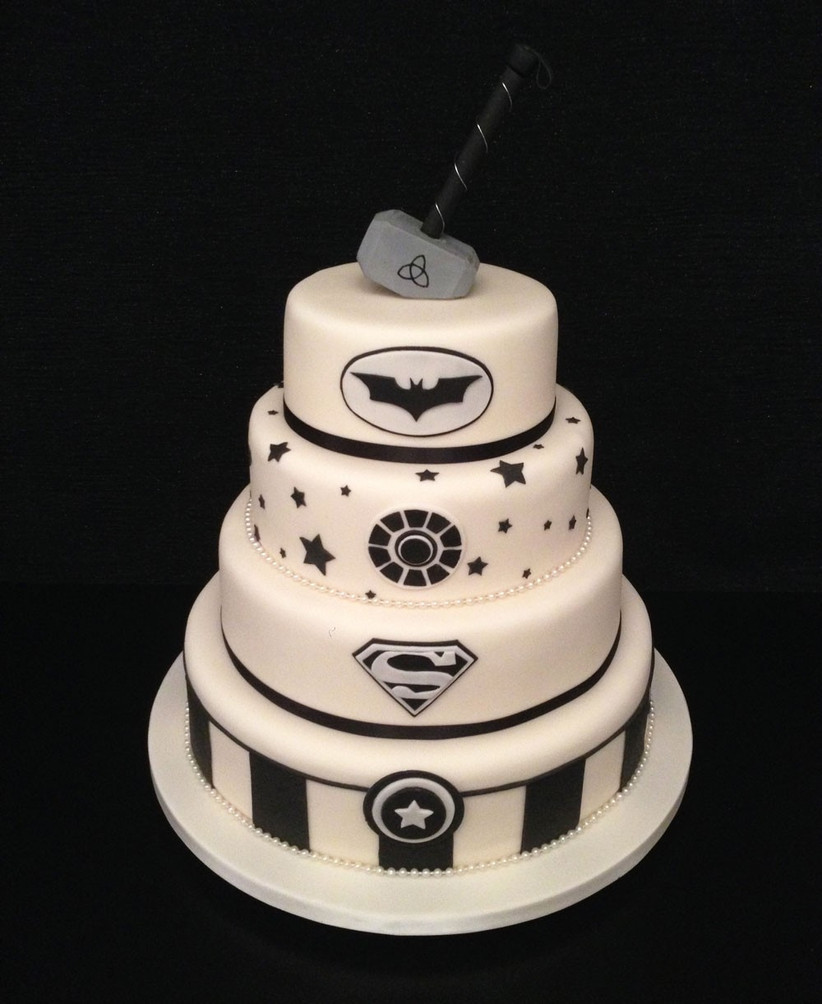 If he's your Superman, show him how much he means to you with this awesome comic book cake from Cakes by Miriam. The loud and proud 'I DO' decoration gives the cake a funky retro feel with its old school comic look. The perfect cake for a pair of loved up real life superheroes.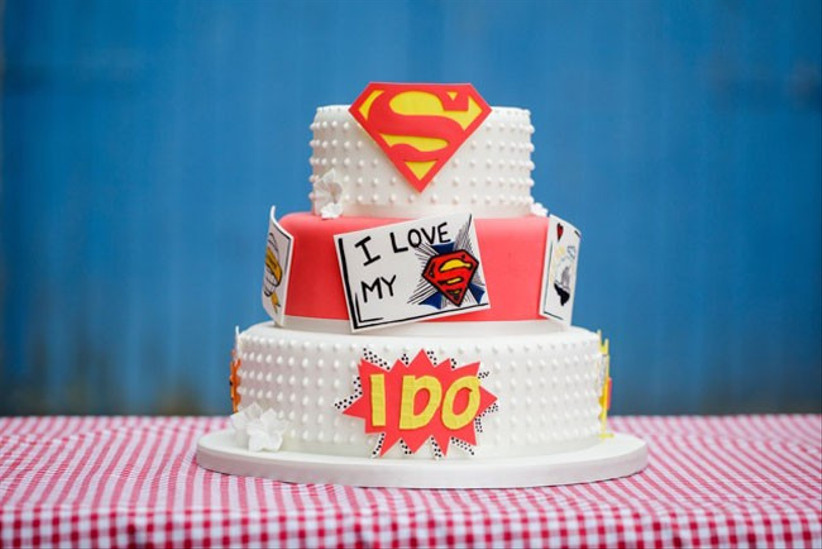 Image credit: Donal Doherty Photography 
If Wonder Woman is your kind of style icon, then this glamorous cake from Emerald City Cupcakes should be high on your wedding wish list. Show your love for your very own Captain America by taking note from the super sweet and unique wedding cake topper.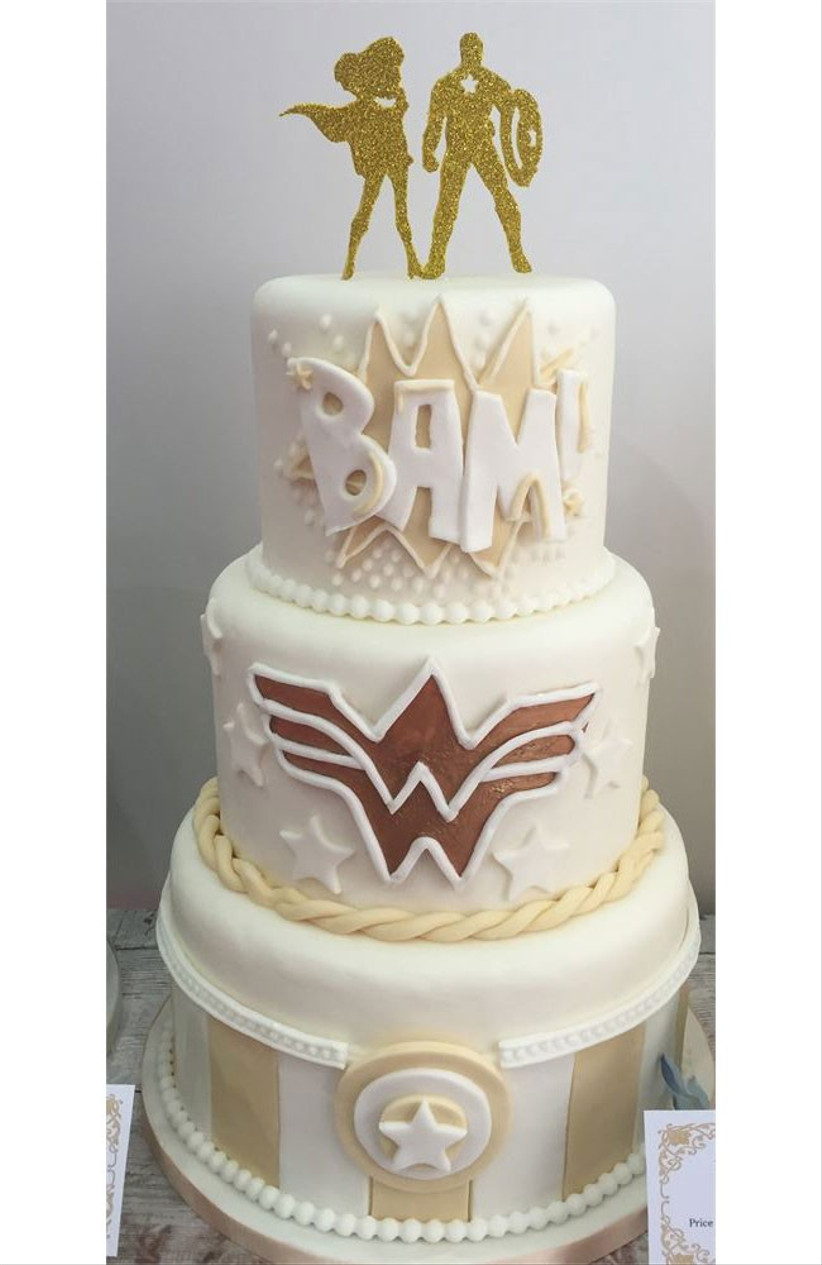 Subtle Superhero Wedding Cakes
Alice and Rick's Superman themed real wedding made us want an unusual wedding theme so badly. Their unique wedding cake was made by Sweet Serenity and although it was white, it had a twist in the form of a Superman logo and comic book middle tier.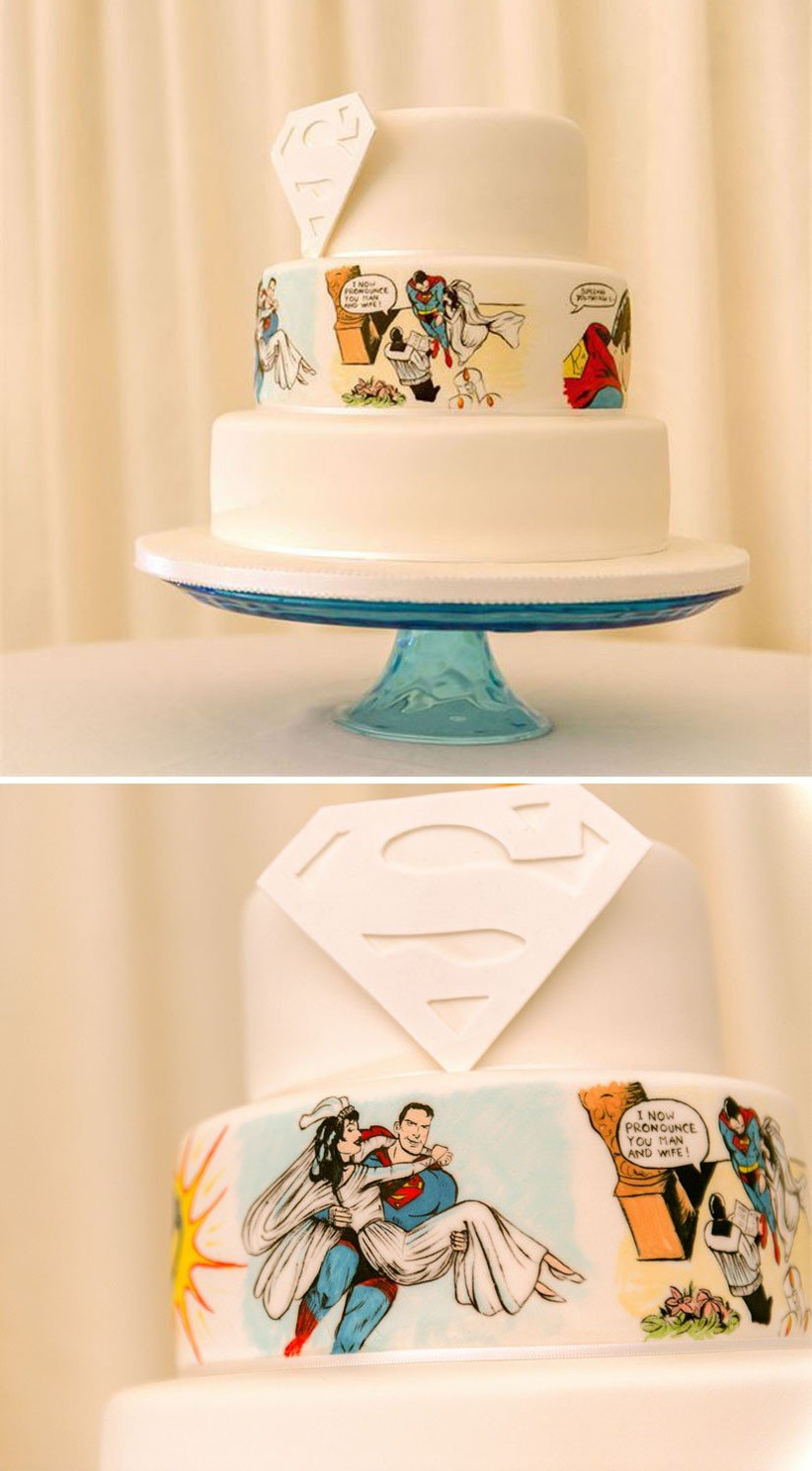 Image credit: Samantha Davis Photography
This is without a doubt one of the prettiest superhero wedding cakes that we've ever seen. If you want a floral wedding cake and he wants something comic book themed, then this treat by Kasserina Cakes is your compromise. The Superman shirt tier is ingenious and the Batman logo is ever so subtle, balancing out nicely with the floral decoration.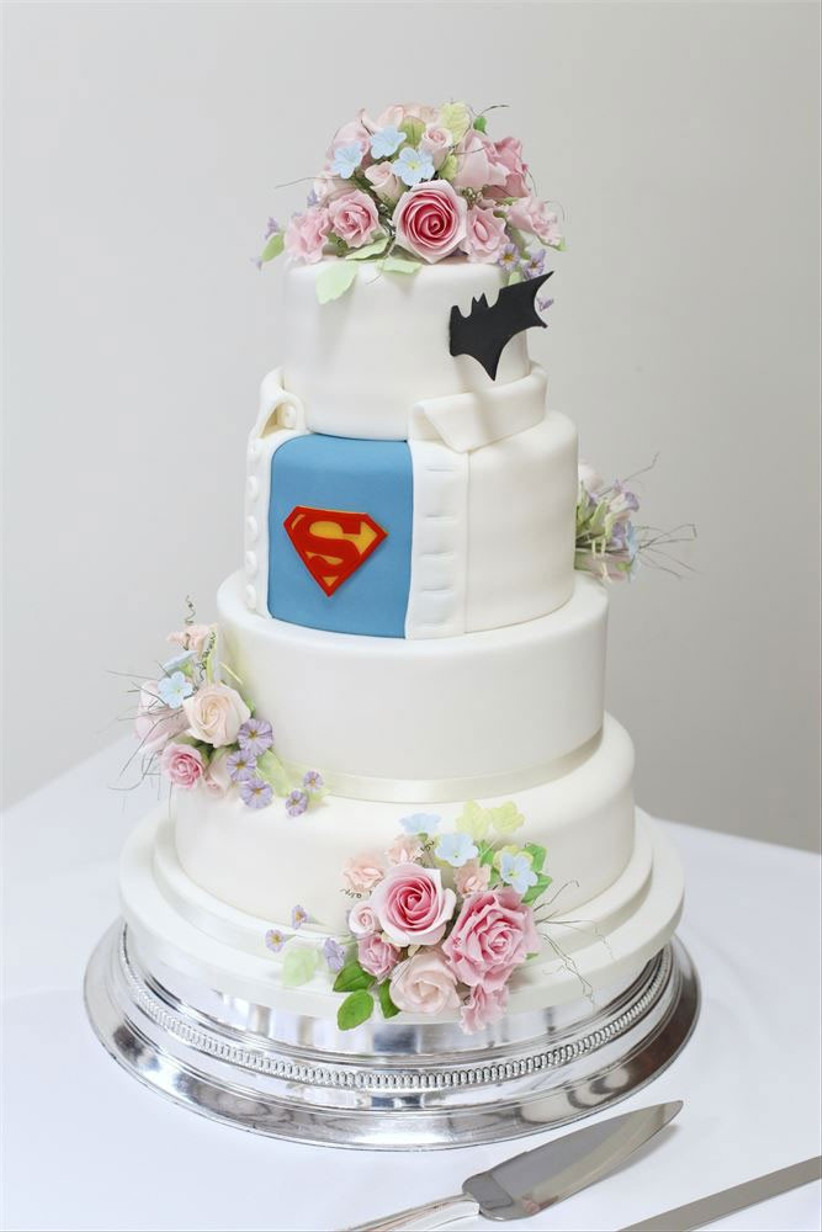 Superhero Wedding Cake Toppers
Okay, so shining a Batman light into the sky may not be feasible for your wedding day, but you can still top your wedding cake off with this personalised movie wedding cake topper from Plasticsmith.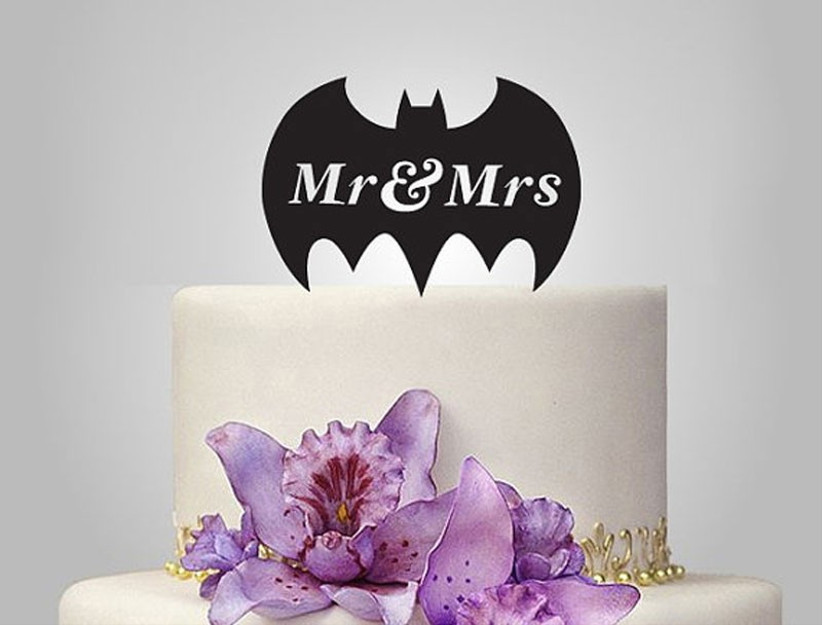 If you adored the comic book flowers that French Made included with their cakes, then get ready to jump for joy at these cool and creative ones from Muscari Whites Florist. Twisted to look like a rose, the vintage comic book pages will give a splash of colour to your wedding cake.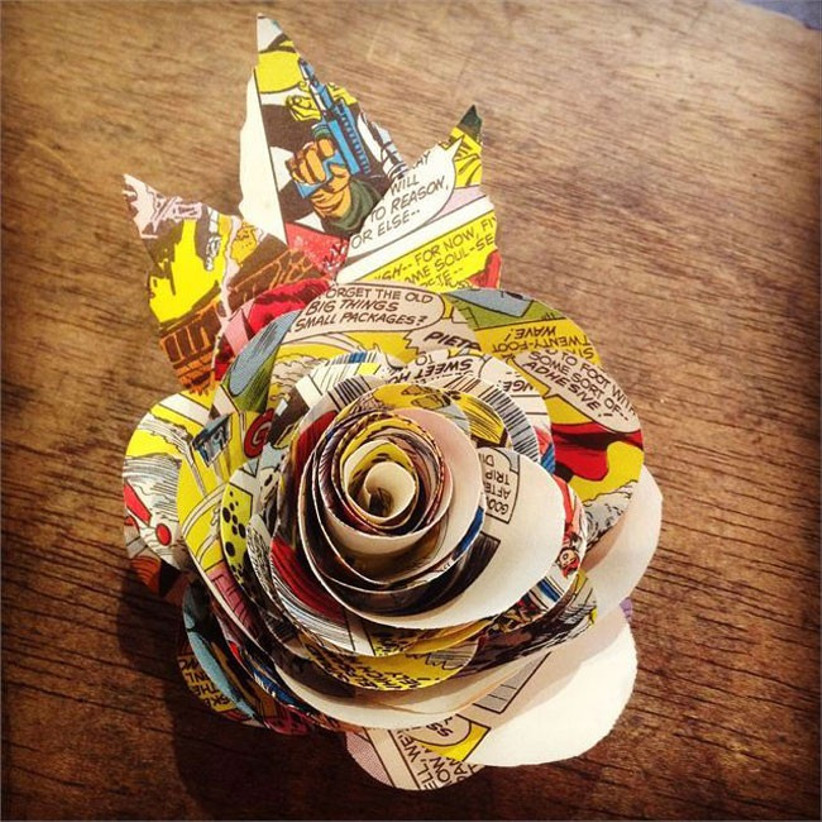 If you're planning which personalised wedding ideas to include in your day, consider this awesome silhouette cake topper from Dreamsgarden. If you're the perfect pairing like Batman and Catwoman, then this topper was made to satisfy your superhero addiction. It would also be a great way to jazz up a simple buttercream wedding cake.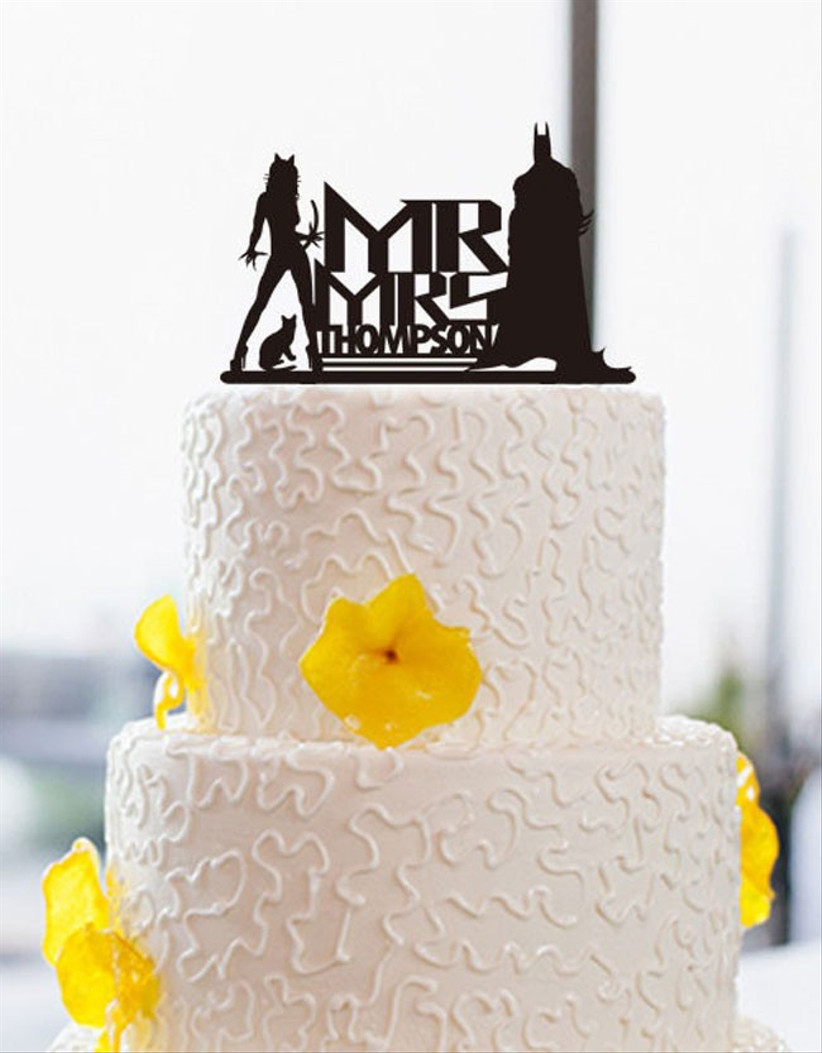 If you're having a wedding dessert table of epic proportions, give it an in-your-face pop of colour in the form of these comic book cake toppers from Ginger Ray. They're the perfect addition if you're filling your wedding cake display with cupcakes.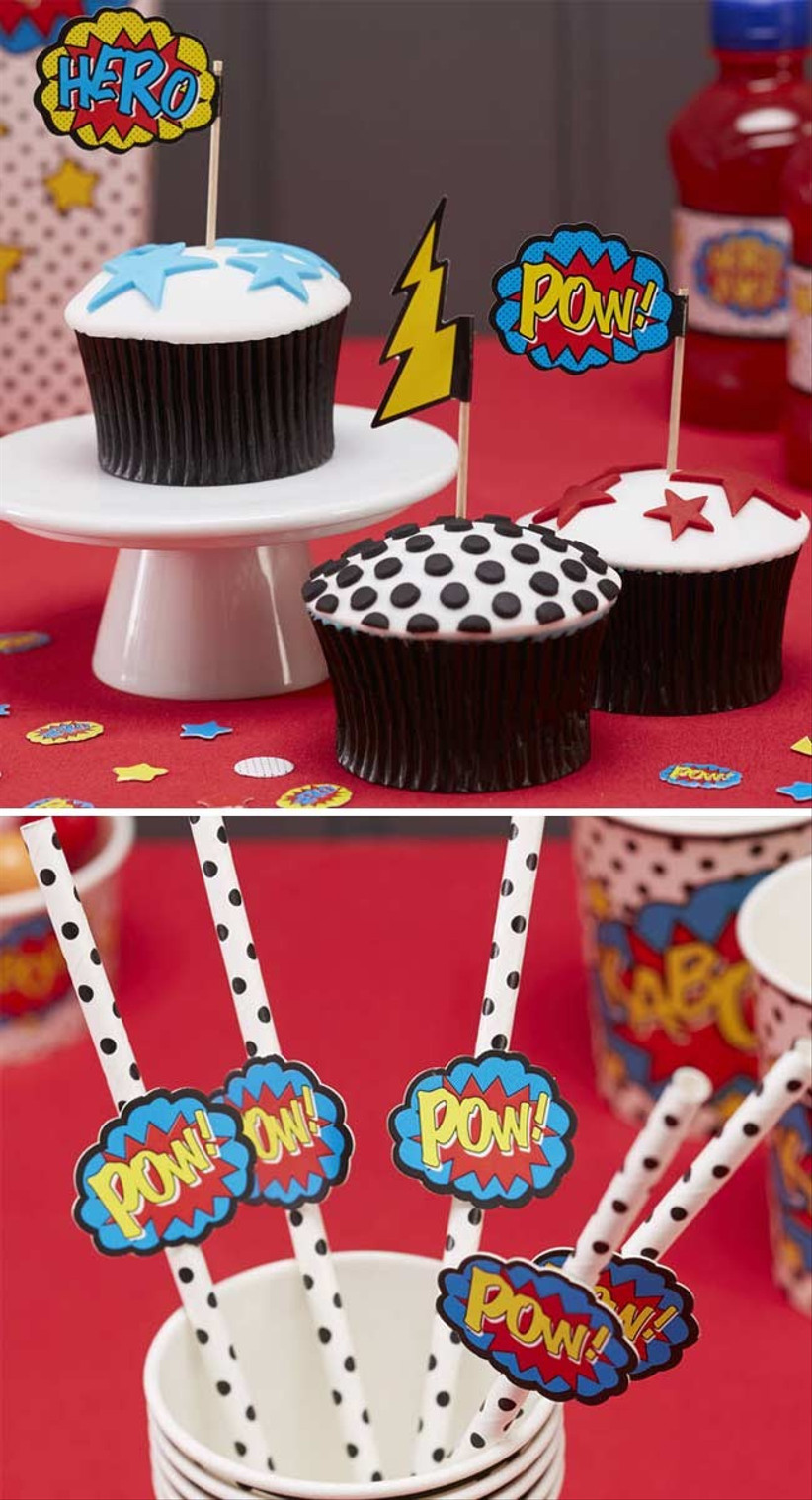 Image credit: Not on the High Street
The Incredibles is one of our favourite ever Disney films – if you're obsessed with the film just as much as we are then you need these super cute cake toppers from TinyLittleGeeks. You can add your names too for extra personalisation.
For more inspiration like this, check out our edit of amazing Disney wedding cakes which would sprinkle some magic over your big day.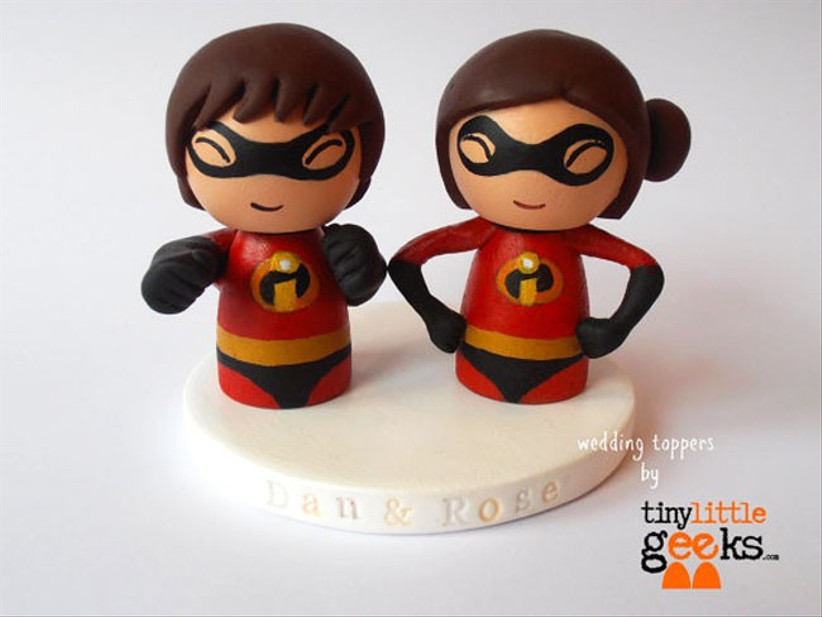 And Finally, If You're Team Villain…
Okay, okay, so the Joker isn't exactly a superhero, but we had to include this incredible and unusual wedding cake from Sweet as Sugar! If you've got a little bit of a villainous streak within, this is the perfect cake to astound your guests with.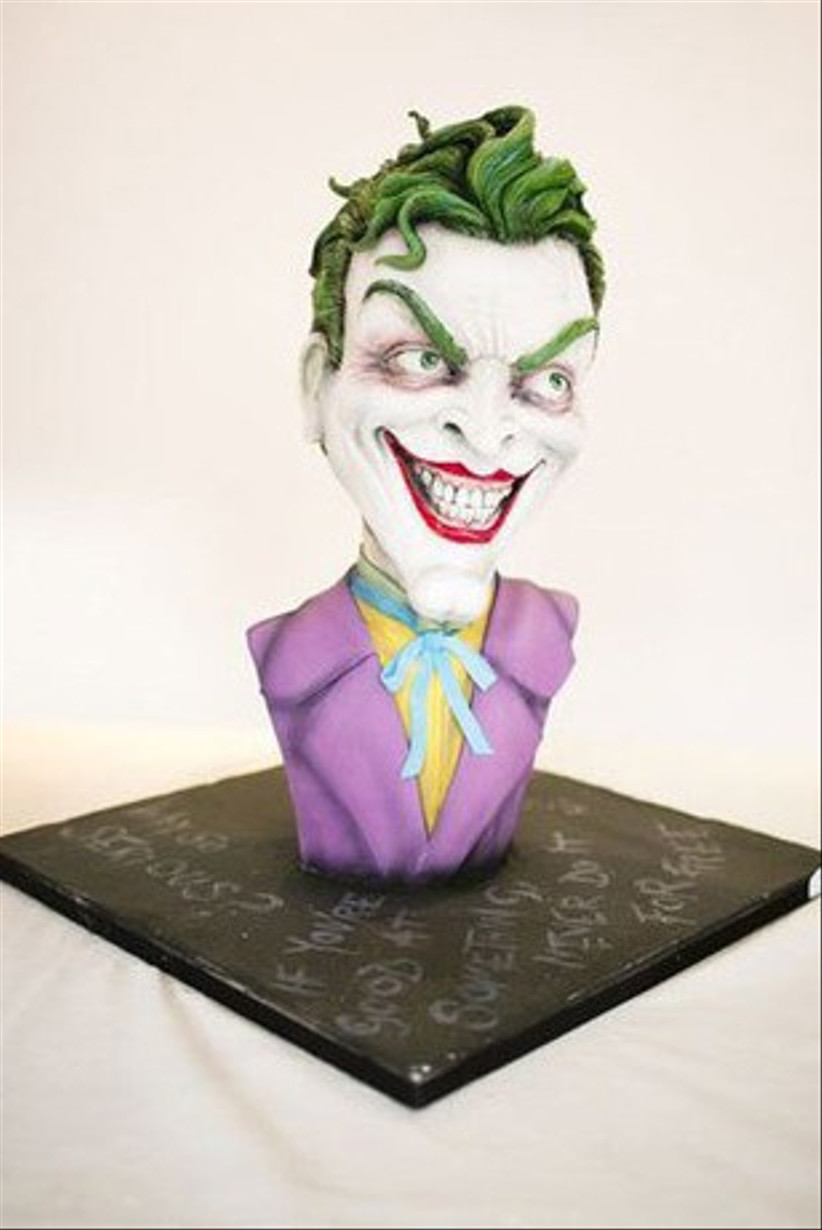 To see more cool and quirky ideas for your cake (and more superhero cake toppers!), take a look at these hilarious wedding cake toppers which will give your guests a giggle.