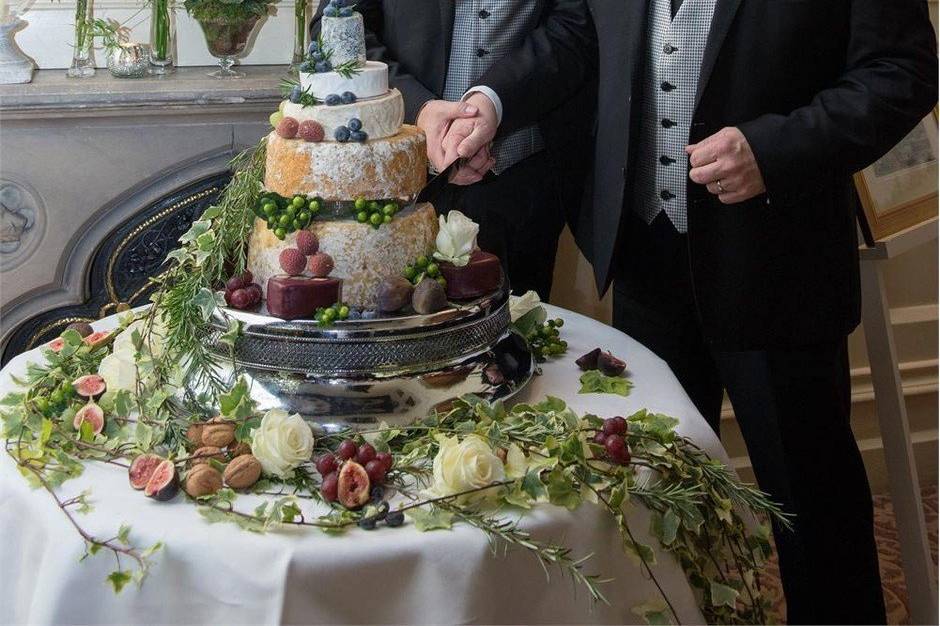 It might come as a shock, but apparently not everyone has a sweet tooth. If you can't stand fruit cake and the thought of frosting gives you toothache, then why not consider a cheese wedding cake instead?
Cheese wedding cakes are the perfect alternative for those who prefer savoury flavours, they look amazing at rustic weddings and can double up as your evening buffet too. Crackers at the ready, we've got a list of some amazing wedding cakes made from cheese to inspire you!
Tesco Cheese Cake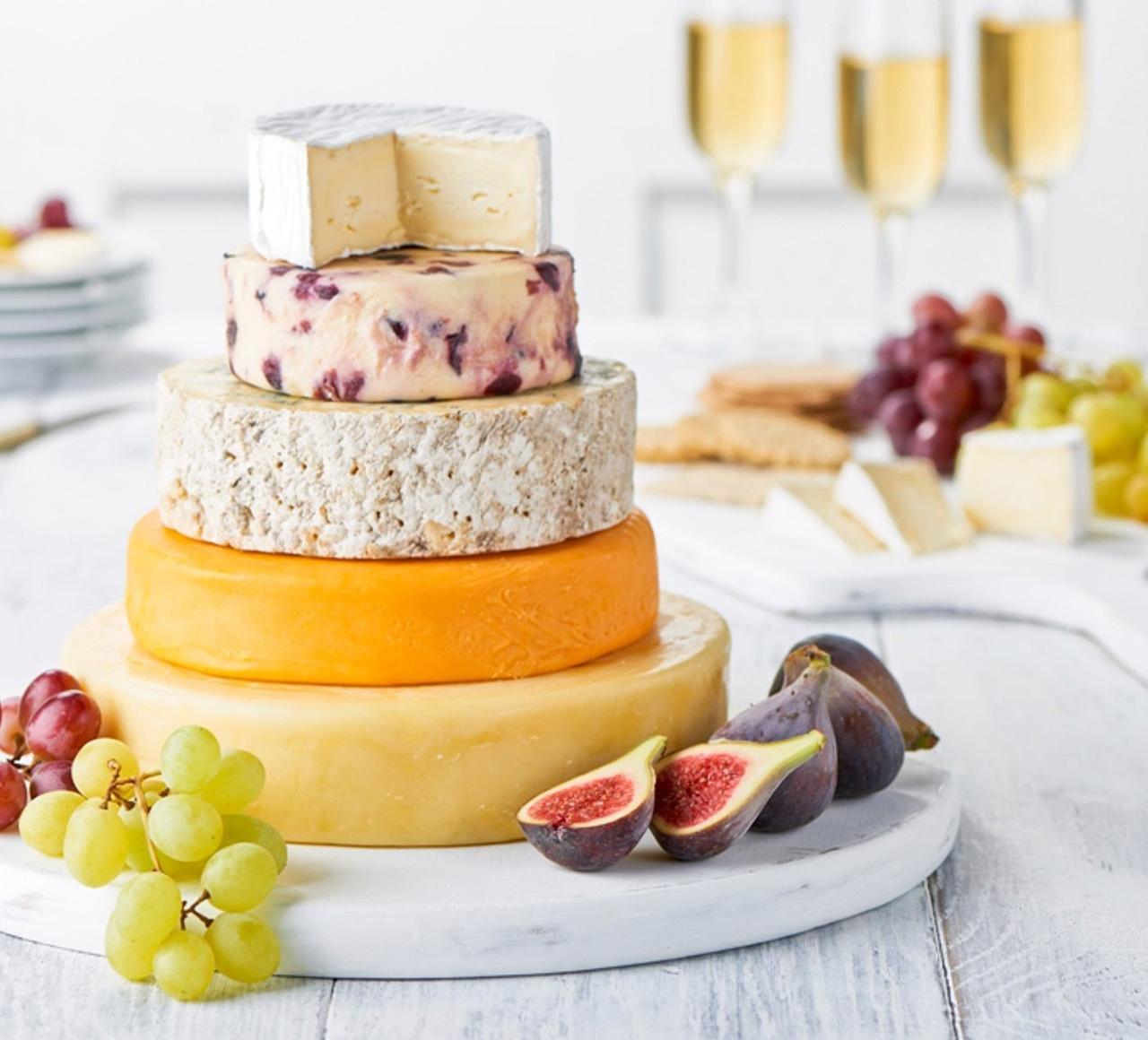 Better get down to your local Tesco quick sharp, because they're selling this incredible five-tier cheese celebration cake for just £30. Each tier of the cake is made from five different types of cheeses, so your fave is bound to be in there somewhere.

At the bottom sits Coastal cheese, then Red Leicester, Blue Stilton, Wensleydale with sweetened dried cranberries and sweetened dried blueberries, and topped off with St Endellion Blue full fat soft mould ripened cheese. Yum!
Fresh Fruit
This elegant wedding cheese cake is from Francesco and Paul's real wedding – by pairing fresh figs, grapes and walnuts with the cheeses it makes it feel like a dessert whilst still being savoury.
The couple's sophisticated choice of wedding cake perfectly matched their seriously stylish wedding!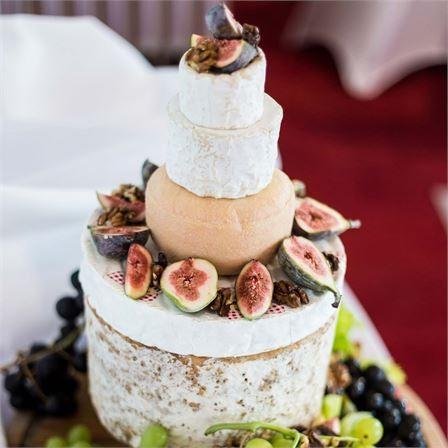 A Centrepiece
If you want a classic wedding cake, but hate the idea of a cheese-less wedding, consider cheese centrepieces for your guests to nibble on.
They've definitely got to be the quirkiest wedding centrepieces we've seen yet and they'd be pretty easy to make yourself!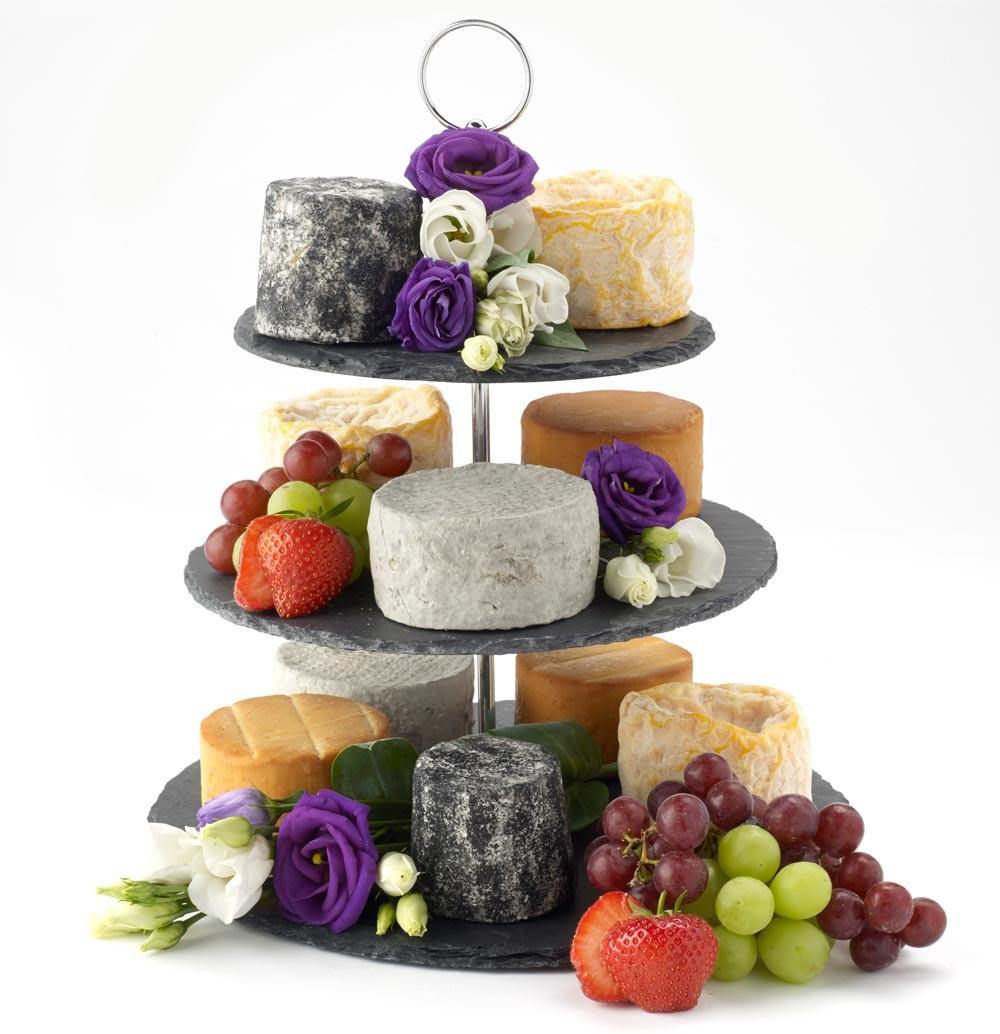 Image credit: Paxton and Whitfield
Go Elaborate
This cheese cake is seriously fancy! Complete with artfully draped ivory and irresistible cheddar hearts coated with a rich red wax, it's a real show stopper for anyone who loves cheese.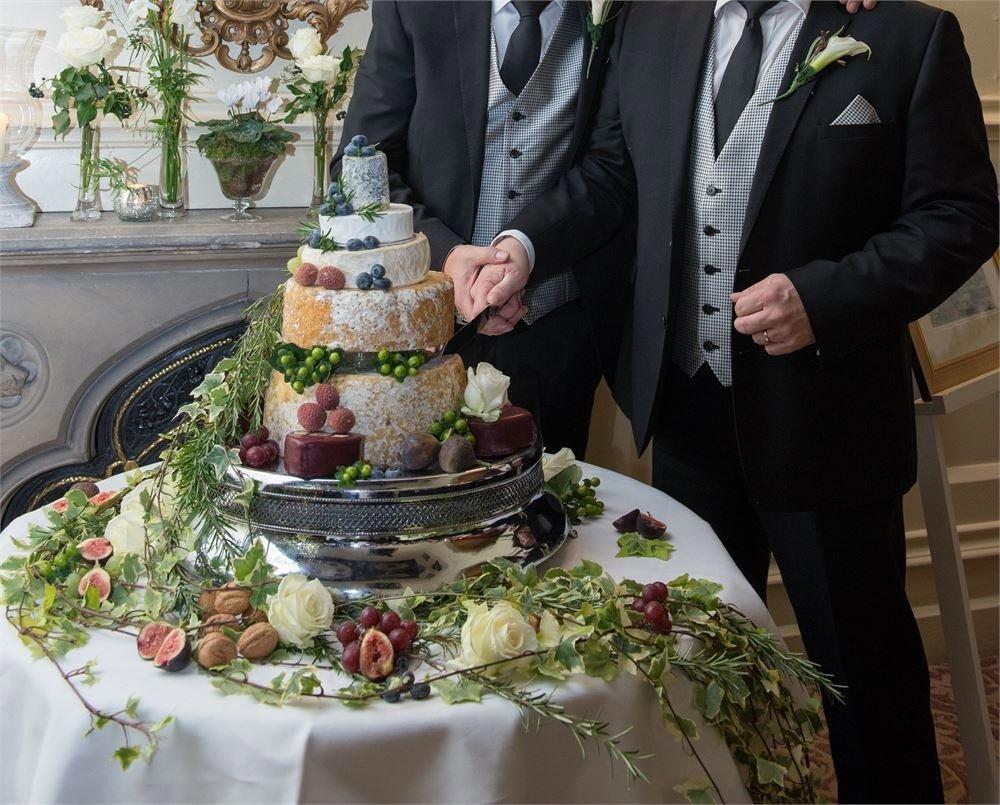 Image credit: Louise Avery Flowers
Add a Heart
If you heart cheese let everyone know by picking out a heart shaped cheese to top your cake! We love this heart shaped brie! The hessian wrap also adds a stylish rustic feel to the cake.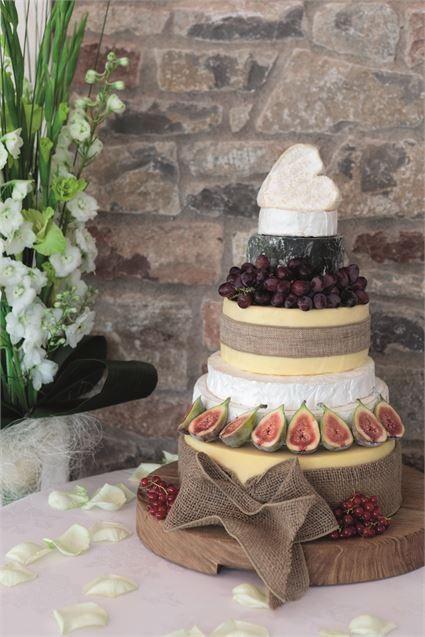 Image credit: Aldwick Court Farm Vineyard
A Summery Feel
Cheese and strawberries? It might not be the first flavour combination you think of but you have to admit it looks pretty – the Churchill cheese cake is ideal for smaller wedding parties and the lighter colours make it super summery. We love the single flower topping off the cake.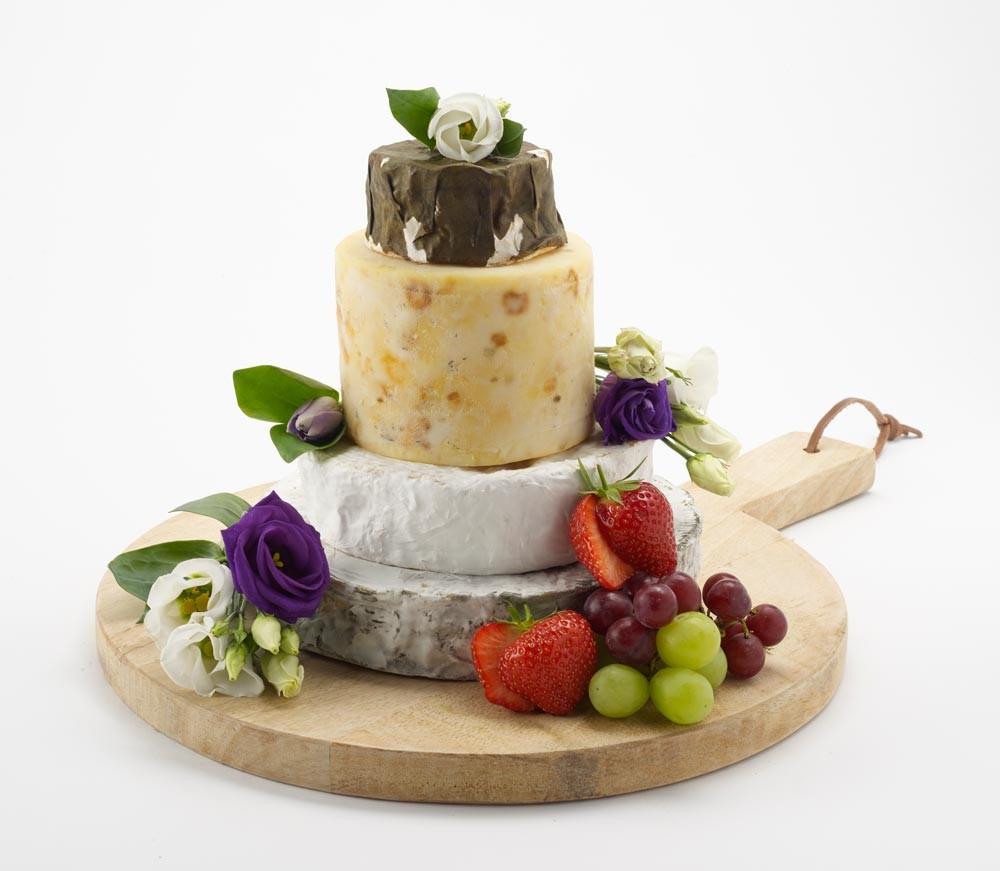 Image credit: Paxton and Whitfield
Lots of Colour
Picking a wedding cake that is made from cheese doesn't have to limit your colour palette. This cake includes Wensleydale cheese studded with cranberries, a vibrant yellow base and lots of fresh fruit. We just want to dive in right now, cracker in hand!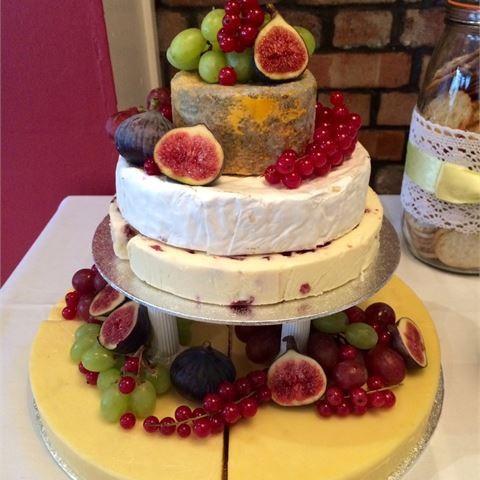 Image credit: The Square Club
Add Pork Pies
Ruth and Linden had an amazing idea when they decided to do away with cake stands and use mini pork pies to prop up the different cheeses. This cheese creation is a meal in itself.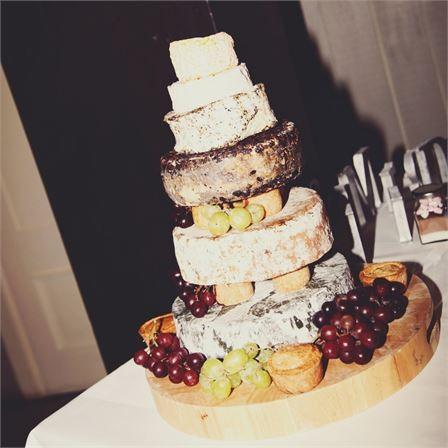 Cupcake Style
Laura and Peter's wedding cake included a top tier of cheese styled to look like a cupcake, complete with cherries on top. This is a great way to approach it if you still want a traditional feel.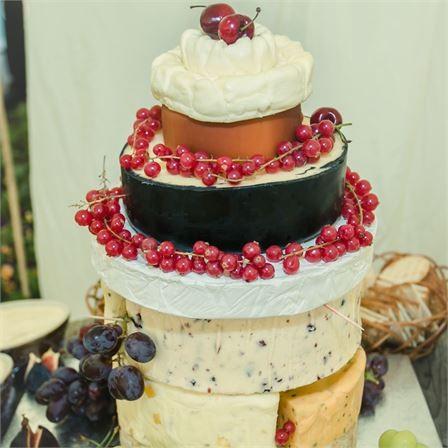 Super Simple
This cheese stack is super simple – it only features three flavours but it looks amazing. It's a great choice if you're planning a smaller wedding or you want it in addition to your traditional wedding cake – there's no such thing as too much cake.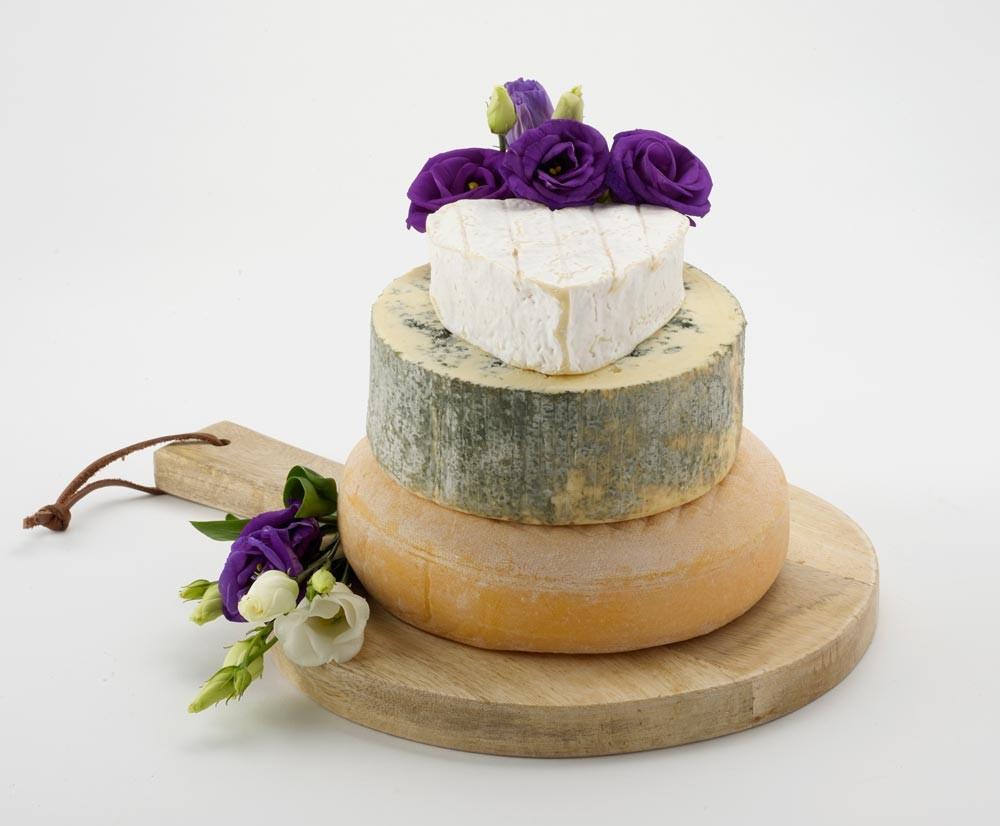 Image credit: Paxton and Whitfield
If you've decided you want a cheese wedding cake, talk to your supplier to find out which cheeses will work best – you can make a custom stack of your favourites, or order a ready-made one with varieties to suit all palates.
Your supplier will also be able to advice what to serve your cheese wedding cake with – which fruits and what types of crackers and wine should you consider?
If you want a traditional wedding cake to serve alongside your cheese stack, for those who aren't a fan of dairy, browse our inspiration gallery which is full of gorgeous wedding cakes!