51 Beautiful Wedding Aisle Decor Ideas
Make your wedding aisle a thing of beauty with our guide to the best wedding aisle décor ideas and finishing touches for every kind of ceremony - from rustic chic to sleek and contemporary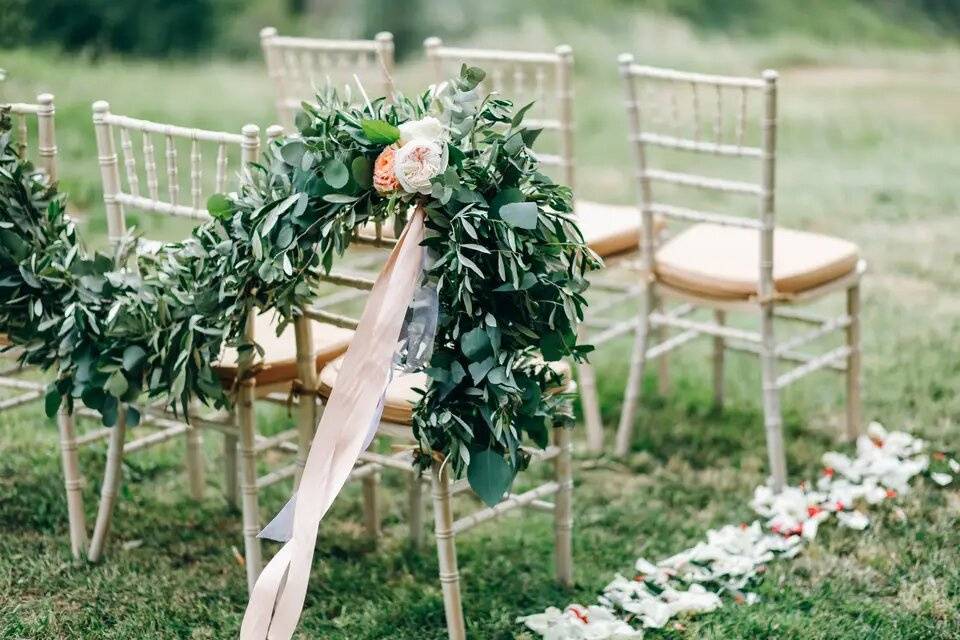 The wedding aisle is at the heart of your day. It's where you'll walk towards the person you love most in the world; it's where you'll take your first walk together as newlyweds. And yet it's easy to overlook wedding aisle décor. We say, take some time to make this special space as beautiful as it can be.
You don't have to bust the wedding budget to do so - sometimes all you need are a few finishing touches, such as a wedding aisle runner and lanterns. Of course, if you want to go all-out with some amazing wedding aisle flowers, we're totally on board with that, too!
Emma Philpot from wedding design company JF Styling, gave us an insight into 2022's biggest wedding aisle décor trends, commenting: "Floor florals are a big thing this year, as are long runners, small displays on the ground next to chairs and fresh flower posies tied to chairs. Fresh foliage is also playing a big part too for upcoming weddings this year, along with botanical feels and natural tones which complement this."
Wherever you're saying 'I do' - church, barn, beach or anywhere else - we've curated the best wedding aisle décor ideas. These beautiful decorations cover every budget and style, and are easy to make your own, so you can take inspiration for your own unique day.
READ MORE
1. Choose Cherry Blossom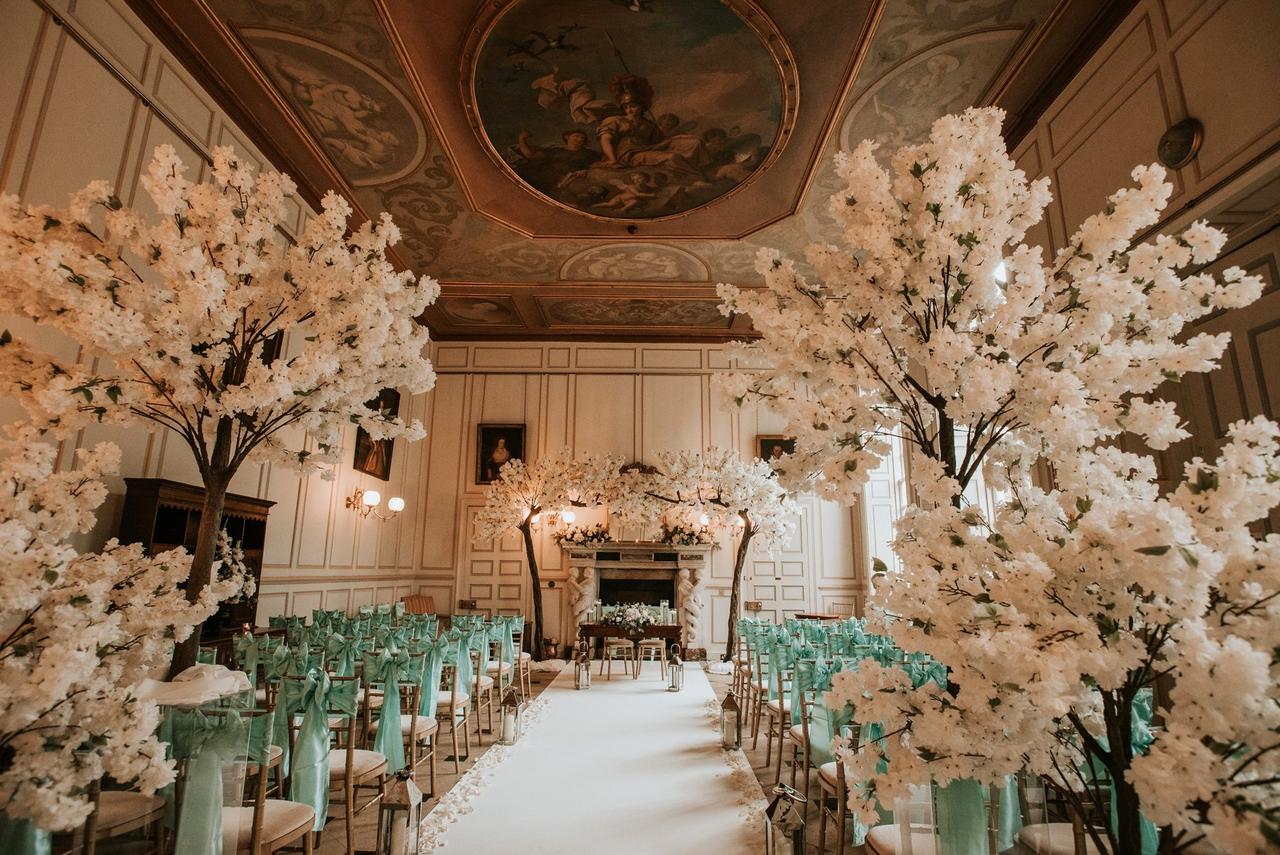 A tree-lined aisle is a wonderful way to bring the outside in. For extra romance, we love flowering cherry blossom trees. If you or any of your guests suffer from hay fever, good quality artificial trees are available to hire from suppliers like Twilight Trees.
2. Festival Ready Flags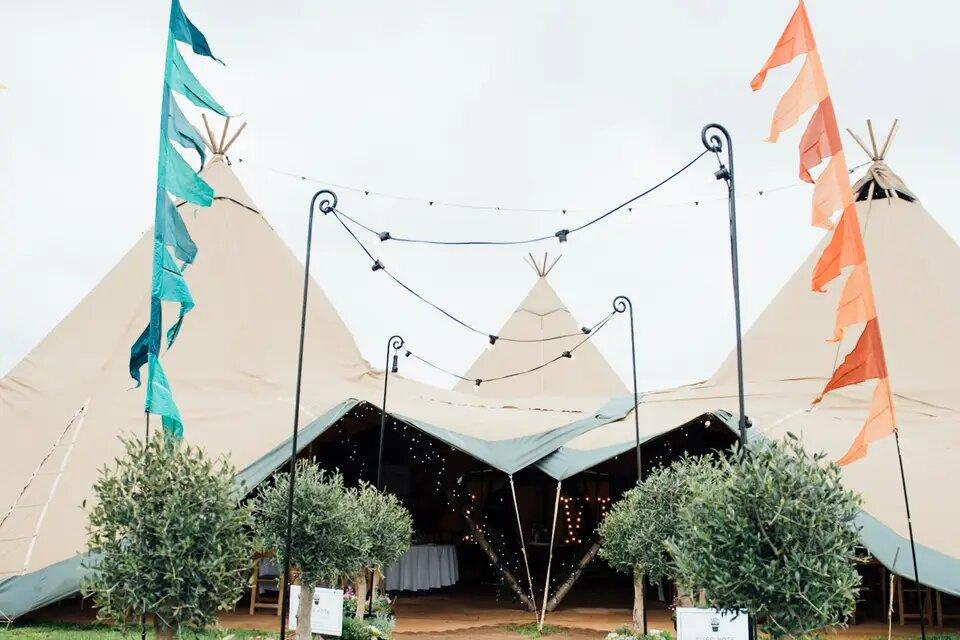 Festival wedding venues are on the rise, involving a more casual affair and relaxed décor. Bring some bohemian spirt to your special day with these fun flags from The Event Flag Hire Company.
3. Whimsical Wisteria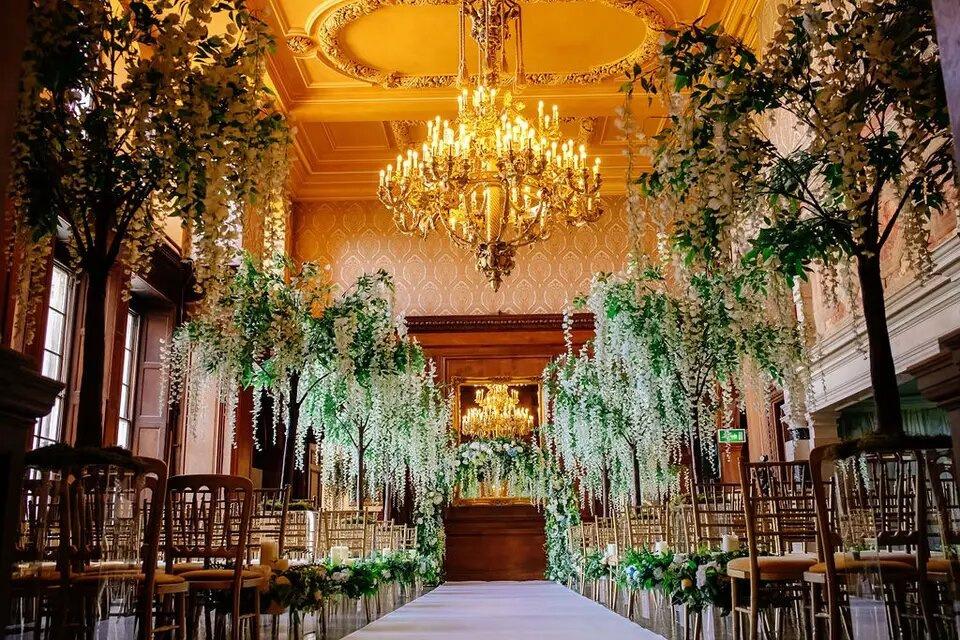 There's something so romantic about a wedding aisle decorated in white wisteria (and it's giving us major Twilight wedding throwbacks). You don't have to buy the real deal - save money with this affordable white artificial wisteria from Ginger Ray.
4. Bring in Balloons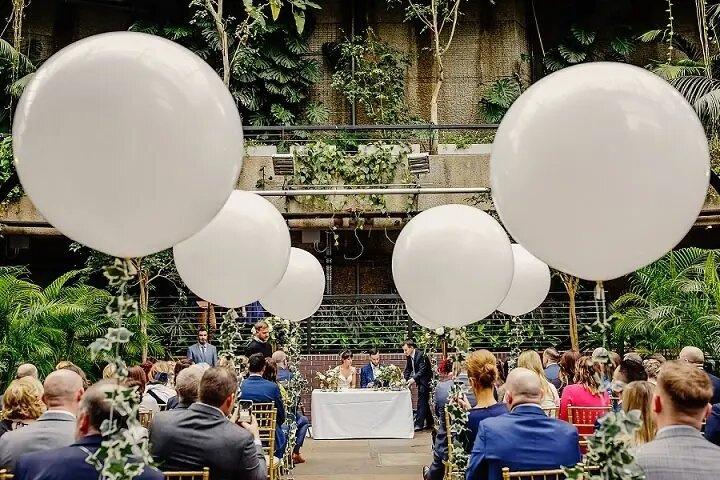 Balloons inject a sense of playfulness into your wedding ceremony. Bubblegum Balloons create bespoke balloon installations like these gorgeous oversized inflatables that will have all your wedding guests talking.
5. Rustic & Relaxed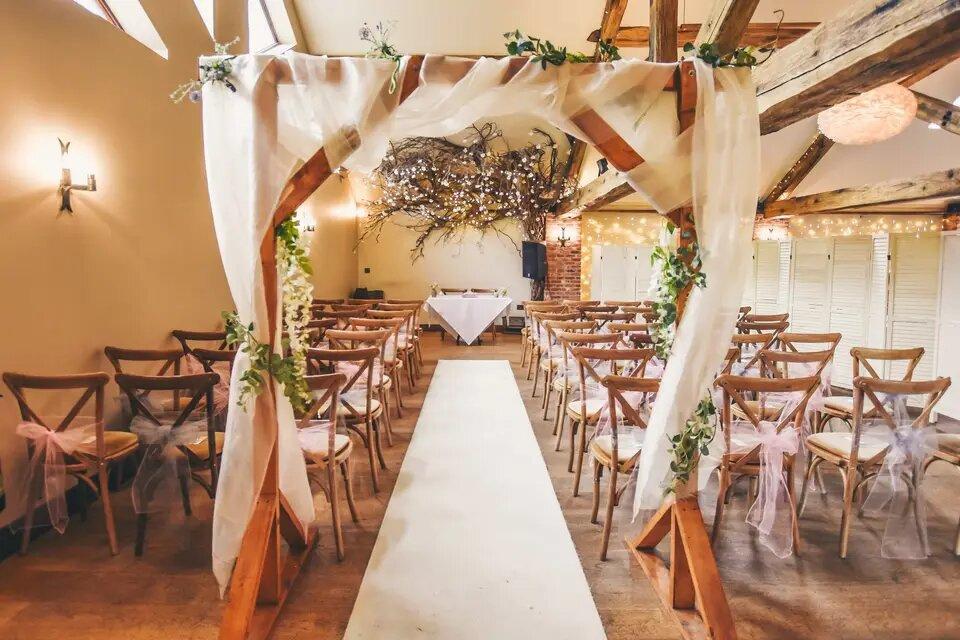 If you're getting wed at a rustic wedding venue it's easy to give your wedding aisle a shabby chic upgrade with the addition of wooden chairs, fairy lights and branches.
READ MORE: 45 Beautiful Wedding Tablescape Ideas
6. Introduce Pampas Grass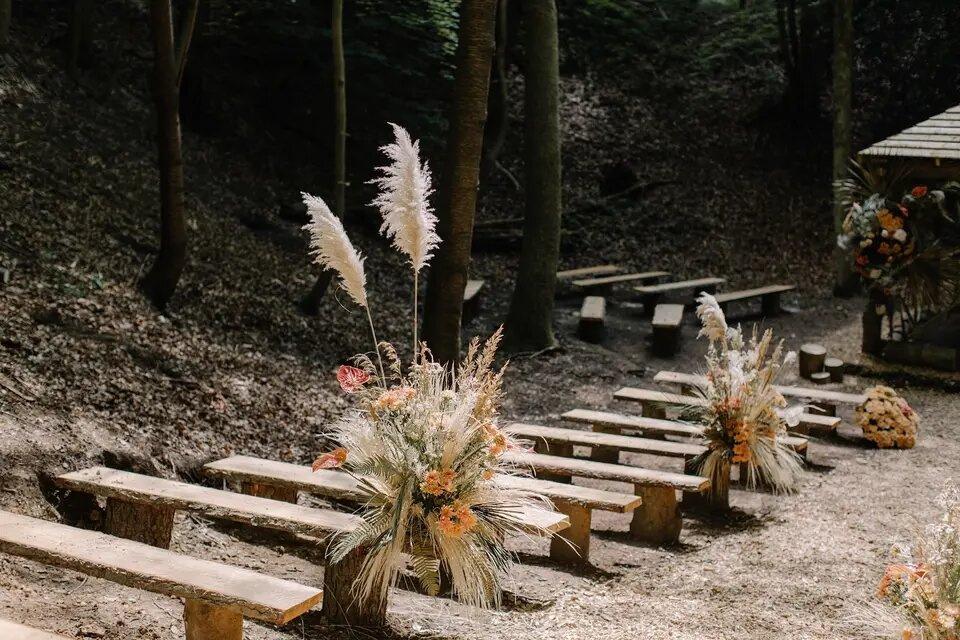 Pampas grass has become one of the hottest décor trends for weddings, so if you want to give your aisle a contemporary feel, this is how you do it.
7. Add Elegant Floral Vases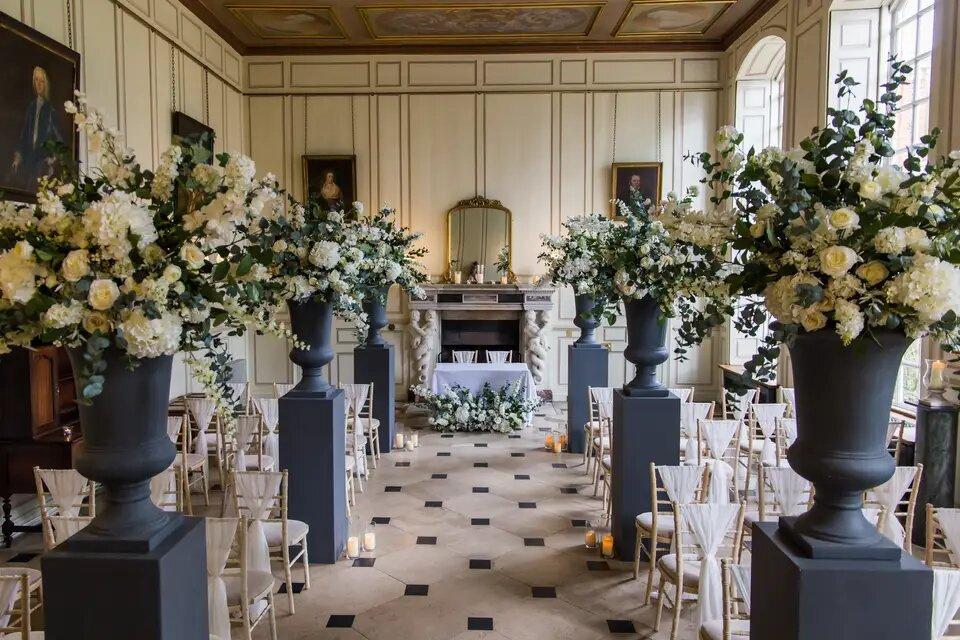 Bold and beautiful, these column flower vases would suit a wedding at a manor house perfectly. They add a gorgeous luxe touch that glamorous couples would adore.
8. Use Flowers to Line the Aisle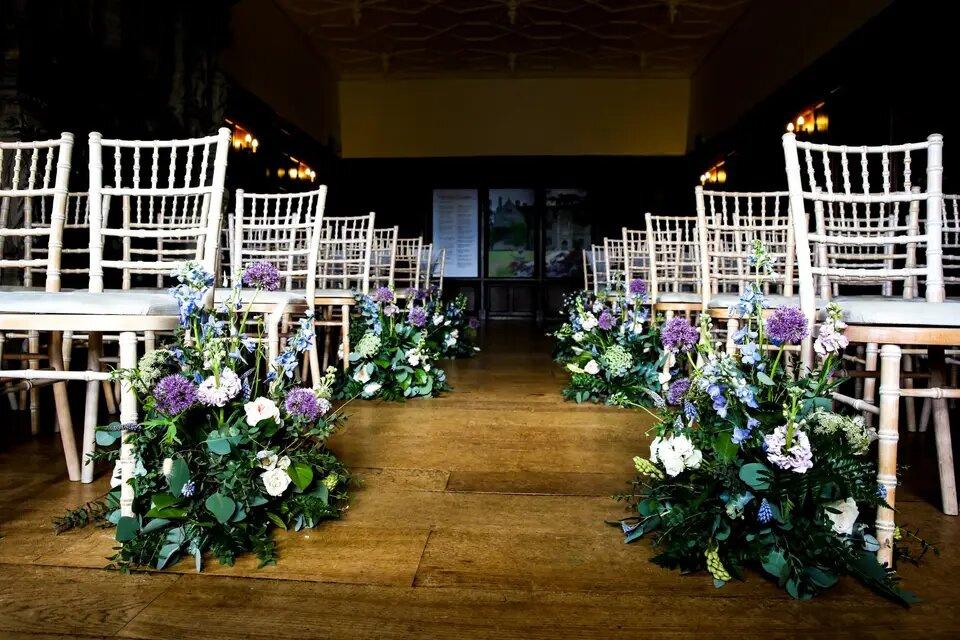 Having flowers all the way along the edges of the aisle is a lovely way to add colour, fragrance and texture. We recommend sweet peas, jasmine and freesia for a soft and romantic scent.
9. Scatter Petals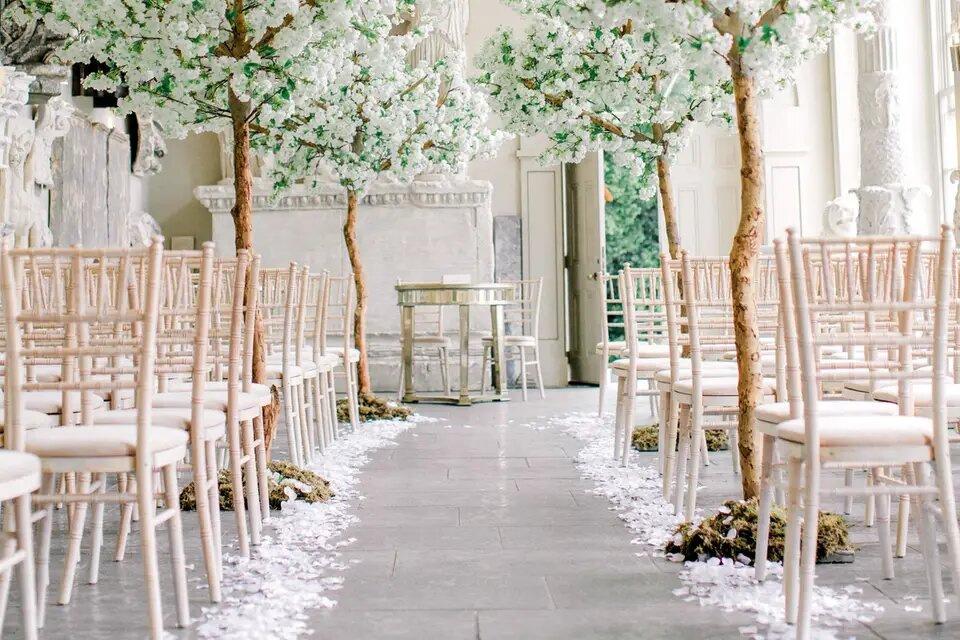 If you'd prefer to keep your wedding aisle simple, a generous scattering of petals is a pretty pick and can easily be made DIY.
10. Line With Logs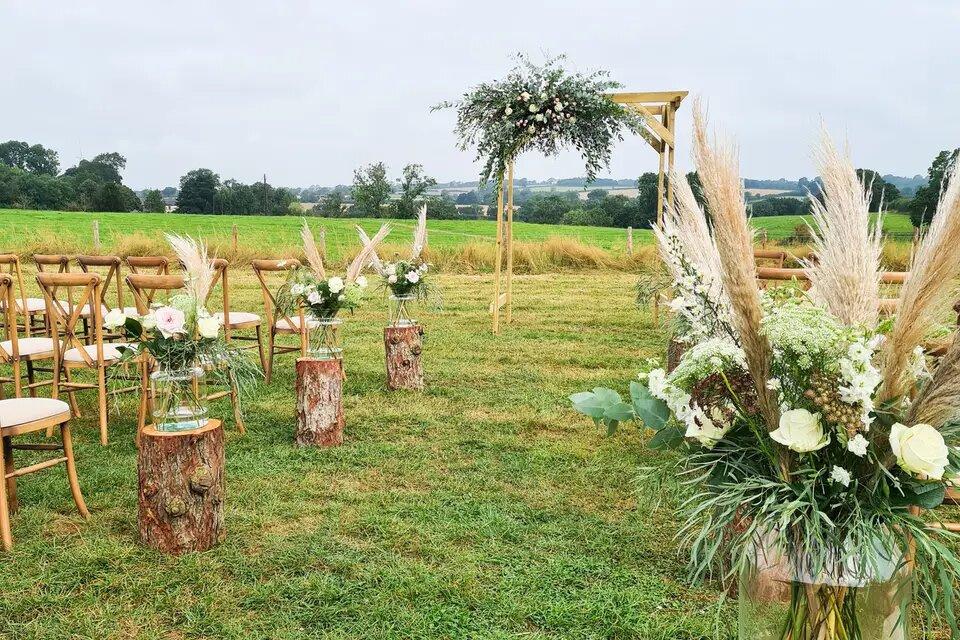 These log platforms give the illusion that they're growing straight out of the ground at this alfresco ceremony. They're a lovely, natural way to create a wedding aisle.
READ MORE: 31 DIY Wedding Decoration Ideas
11. Light it Up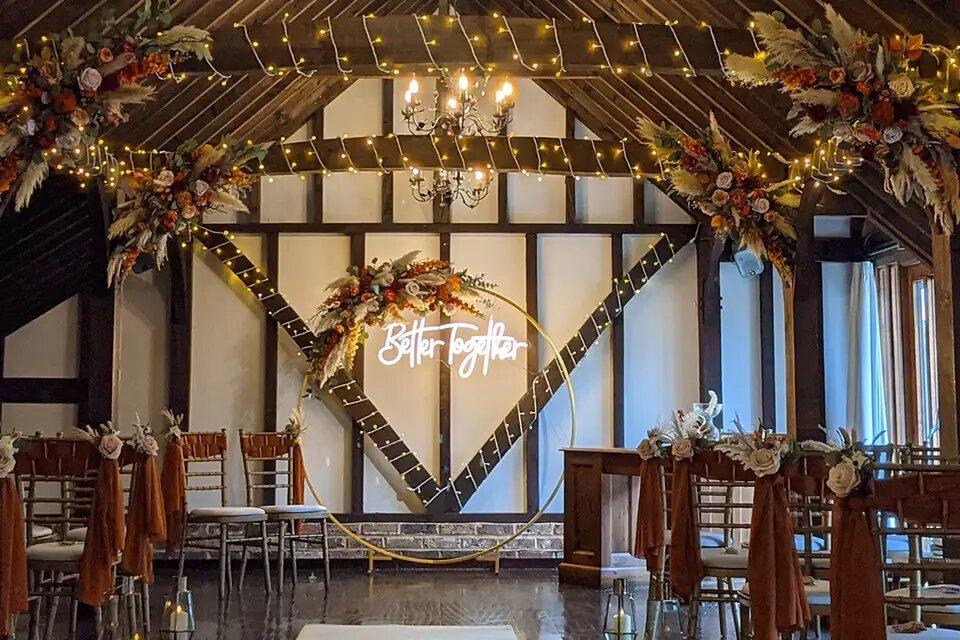 Wedding aisle décor ideas don't come much cooler than a neon sign. We're predicted some pretty amazing photographs next to this nifty prop.
12. Drape the Chairs or Pew Ends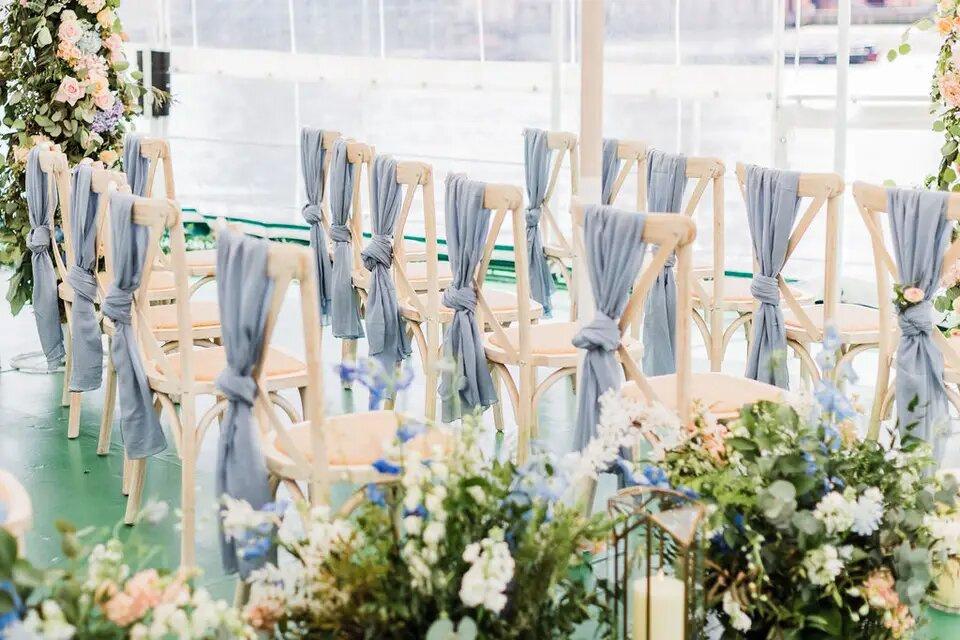 Draped fabric adds a luxe feel without costing the earth. This baby blue hue would be ideal for a spring wedding, paired with peach, green and yellow.
13. Think Seasonally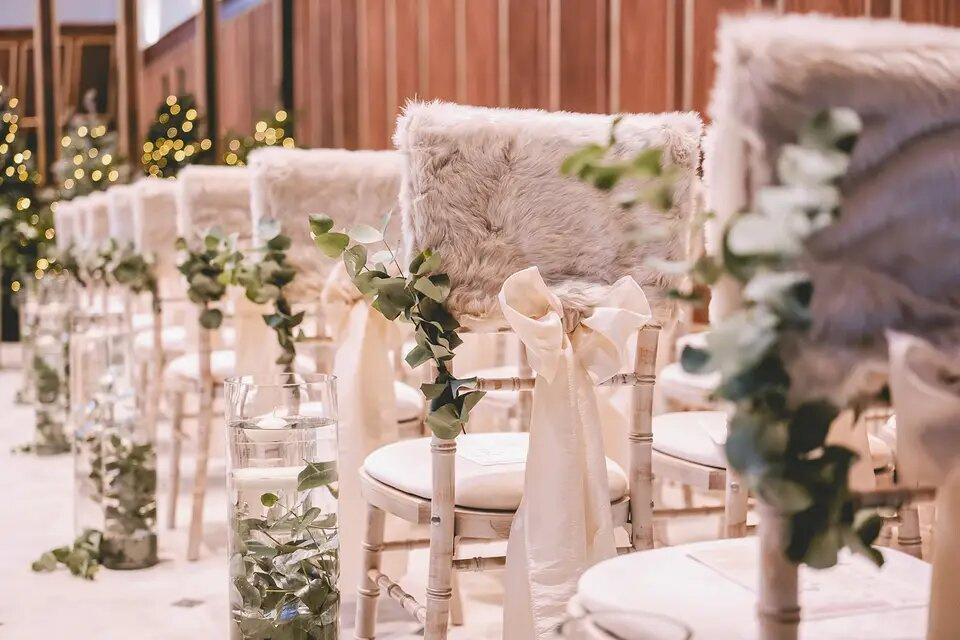 Use a colour palette and texture that speaks to the season - these beautiful bows, twinkling trees and fluffy covers immediately say winter wedding.
14. Green Trees Add Freshness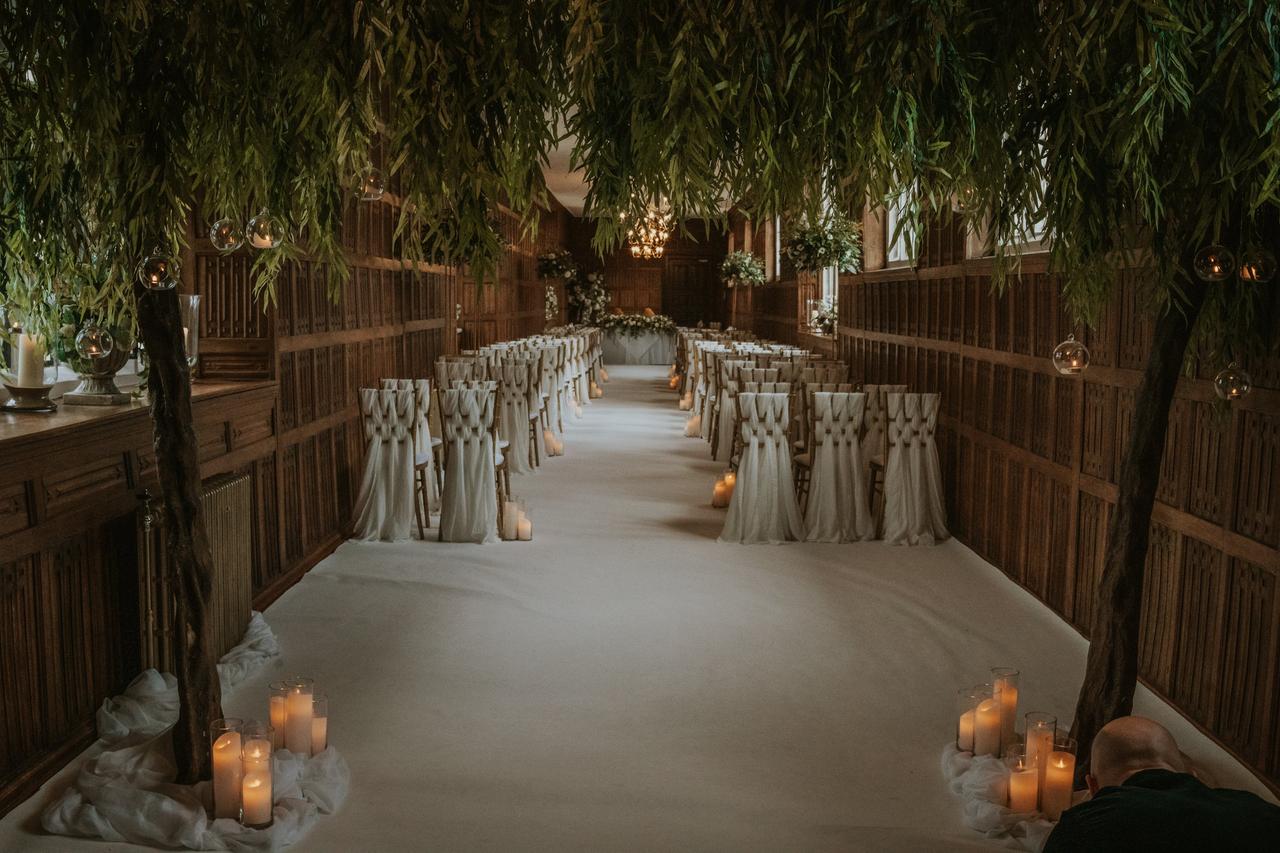 Trees on either side of the aisle feel so fresh and they'll also draw the eye straight to the end of the wedding aisle to the happy couple.
15. Don't Discount Greenery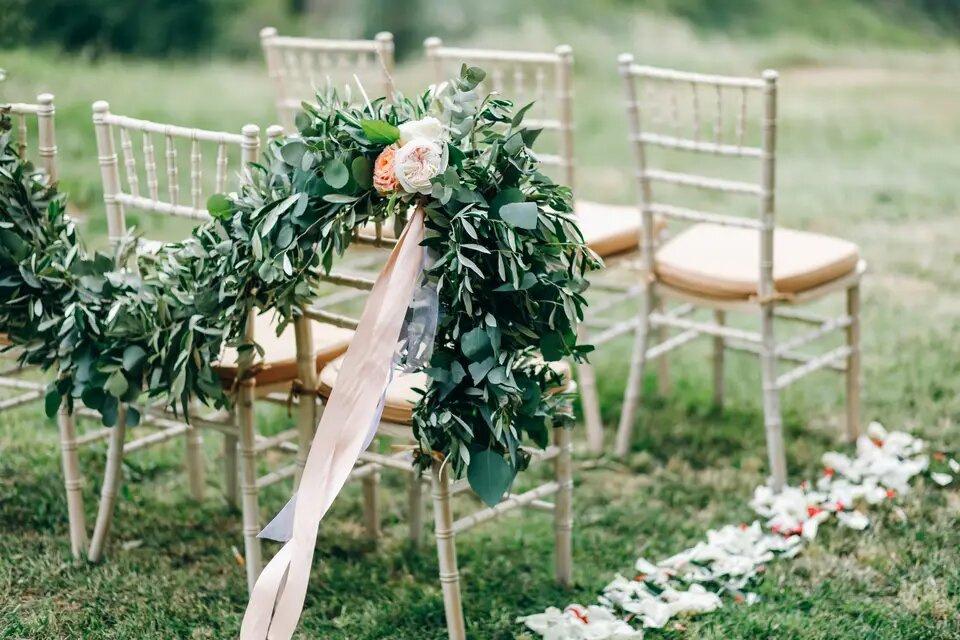 Greenery is considerably less expensive than flowers but makes for fabulous wedding aisle décor that brings a natural feel. Learn how to make a DIY greenery garland that you can drape over chairs with our handy guide.
READ MORE: 19 Ikea Wedding Décor Hacks
16. Make an Entrance... Literally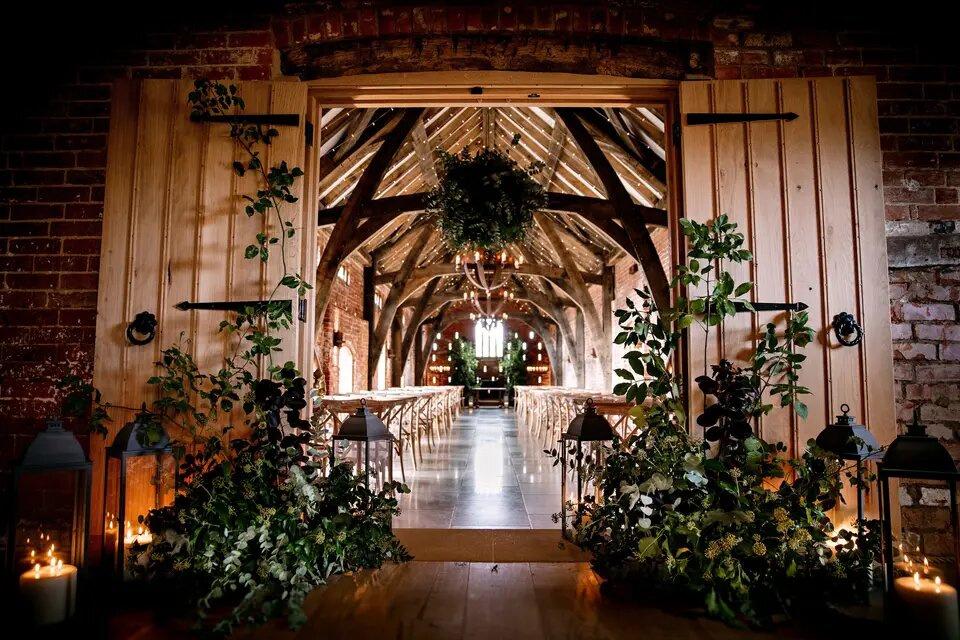 Creating an entrance to the wedding aisle makes your first steps feel even more special. Adorn with greenery, candles or even a wedding arch bursting with flowers.
17. Go Boho With Rugs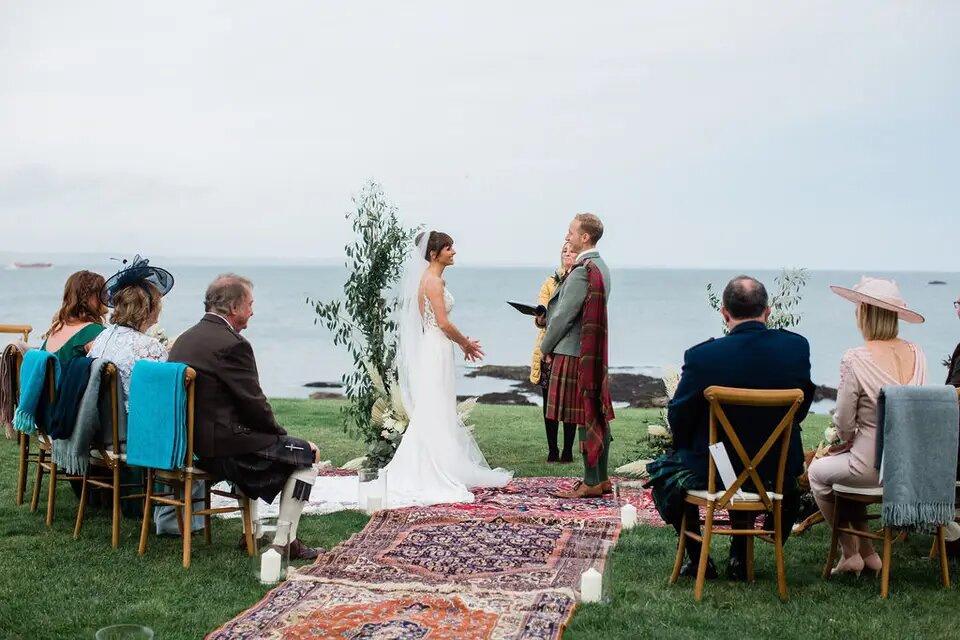 Mismatched patterned rugs create an eclectic, boho feel. Plus, if you're getting married on grass, it'll stop heeled wedding shoes from sinking into the soil. Win, win!
18. Consider Your Seating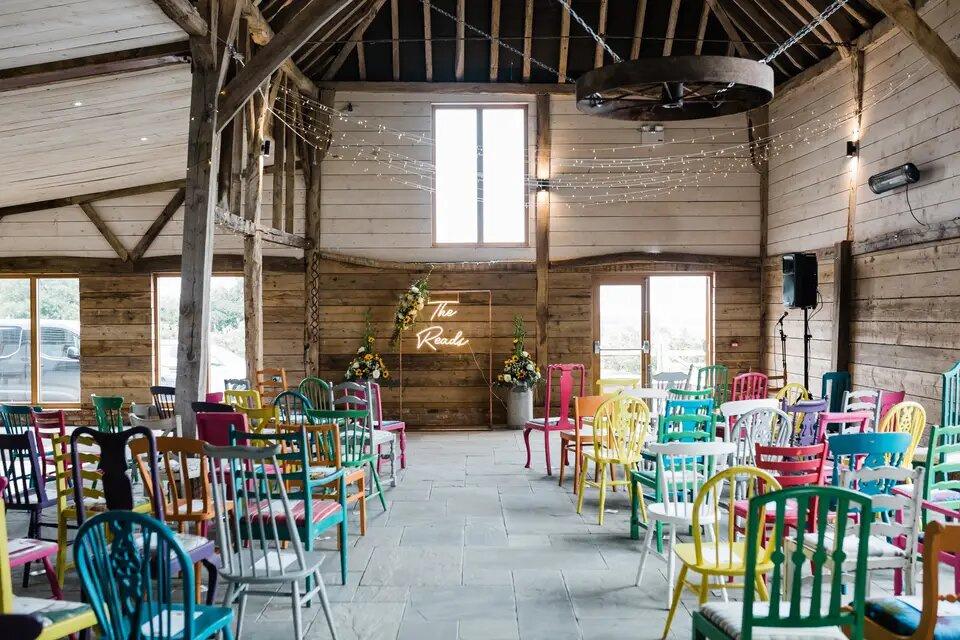 Your ceremony seating makes a big difference to the way your wedding aisle looks. Hay bales, for example, are great for a rustic celebration and colourful chairs add a playful feel to the room.
19. Don't Be Afraid of Simple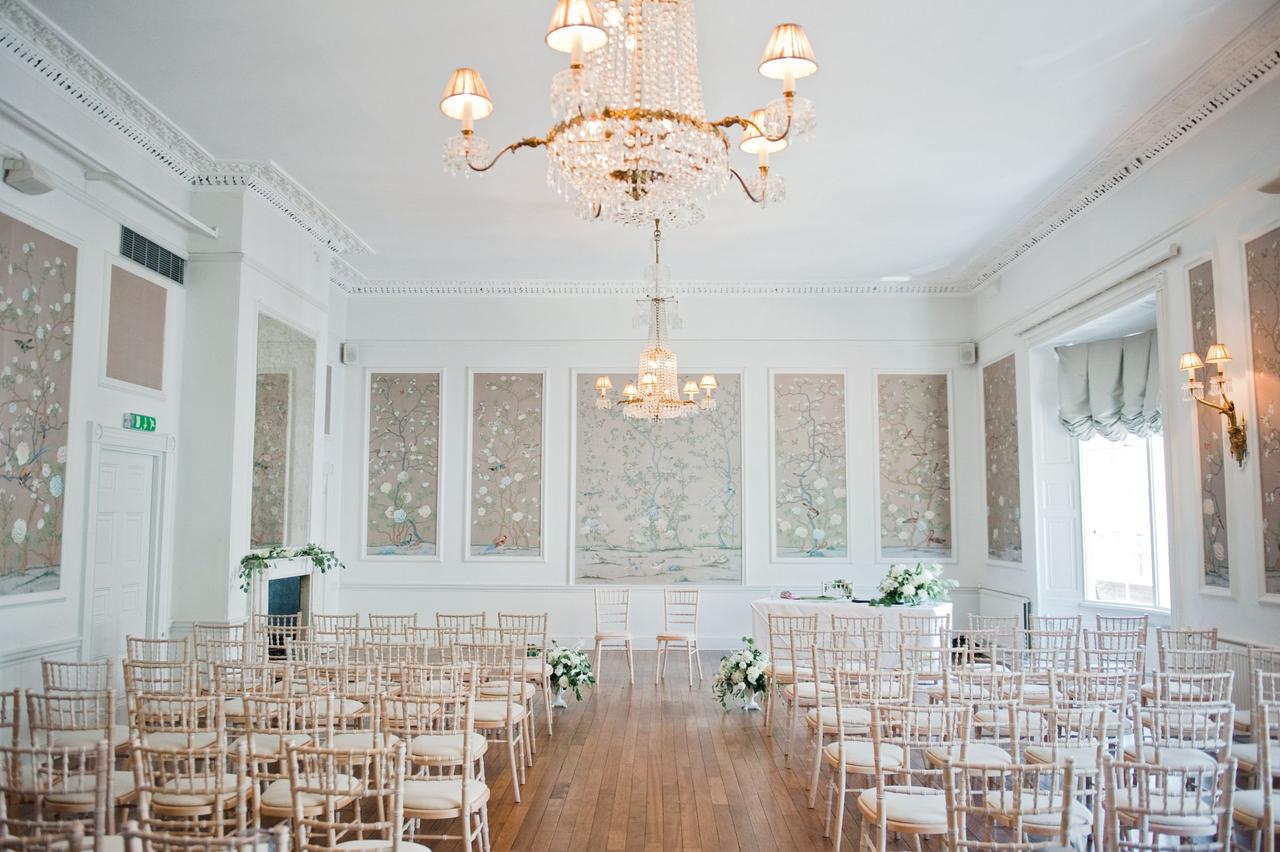 If your ceremony room is already beautiful, keep your aisle look simple - just a couple of chic floral arrangements will do the job.
20. Think About Signage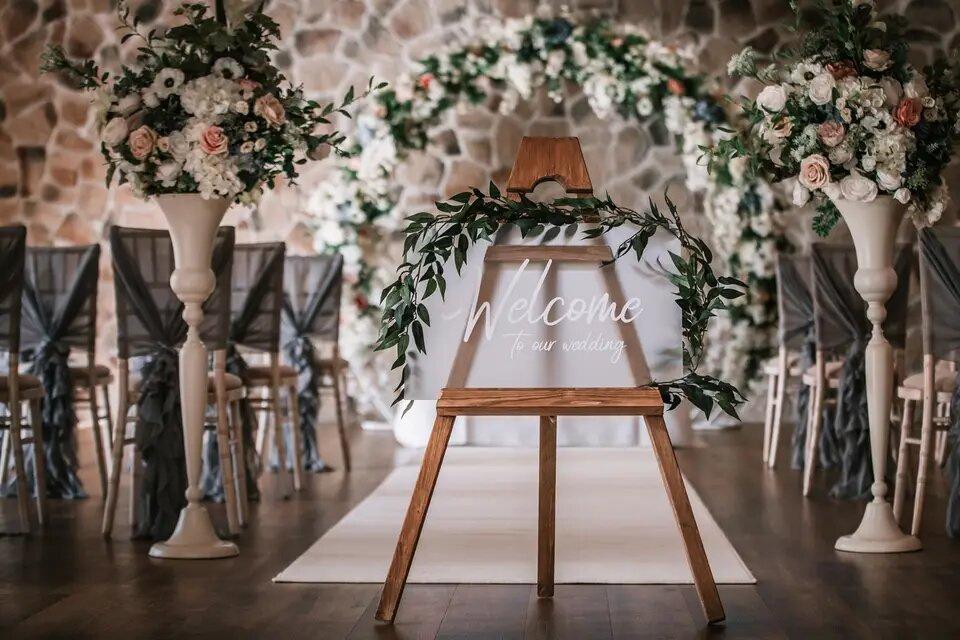 Have a sign at the entrance to the aisle - we really like the sentiment of this. Just remember you'll need to brief a wedding guest to remove it as you arrive!
READ MORE: 50 Chic Wedding Welcome Signs
21. Play With Light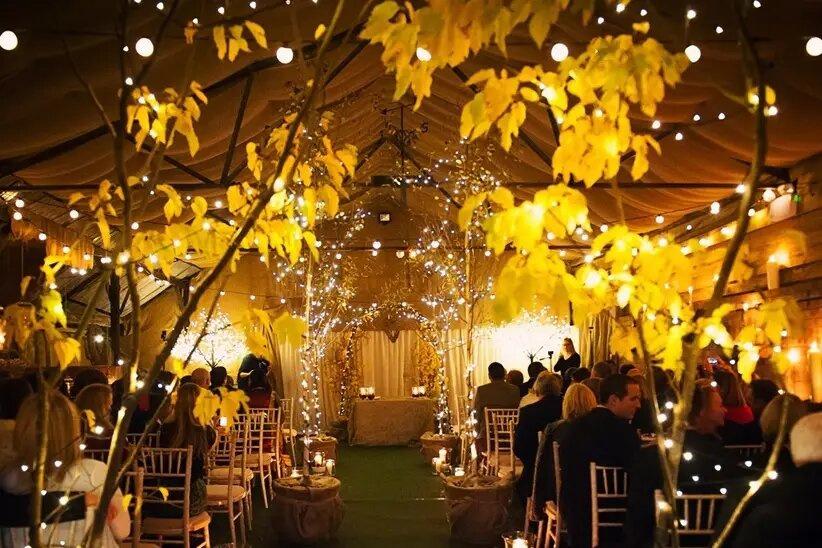 Is your ceremony taking place in a darker space or are you having a twilight wedding? Embrace that! Use lighting to make the aisle the focal point.
22. Add Some Ribbons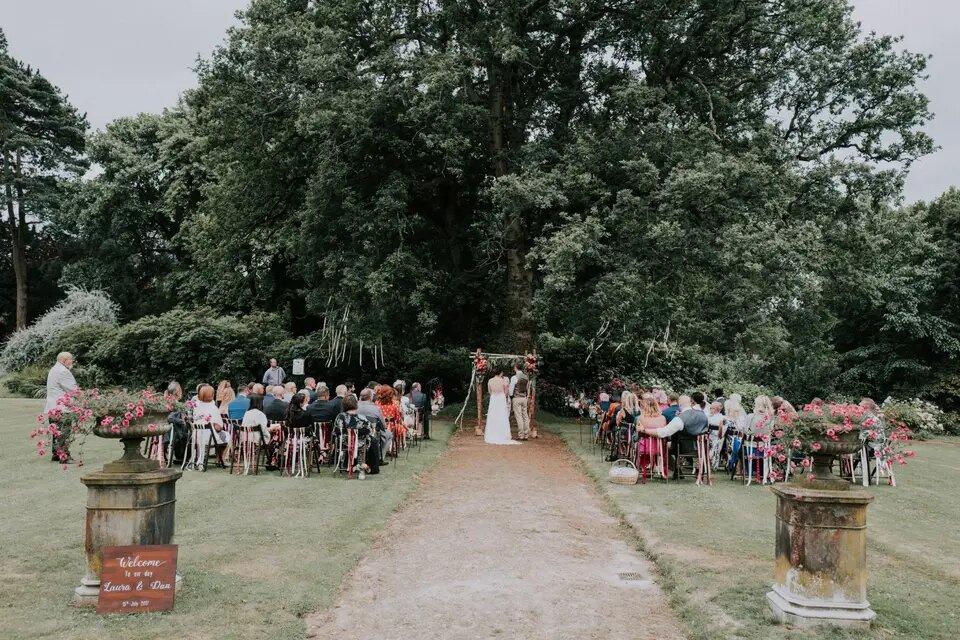 Perfectly tied ribbons are a lovely way to add character to your ceremony chairs. We adore how this couple have also tied ribbons on overhanging tree branches.
23. Drape Colourful Fabric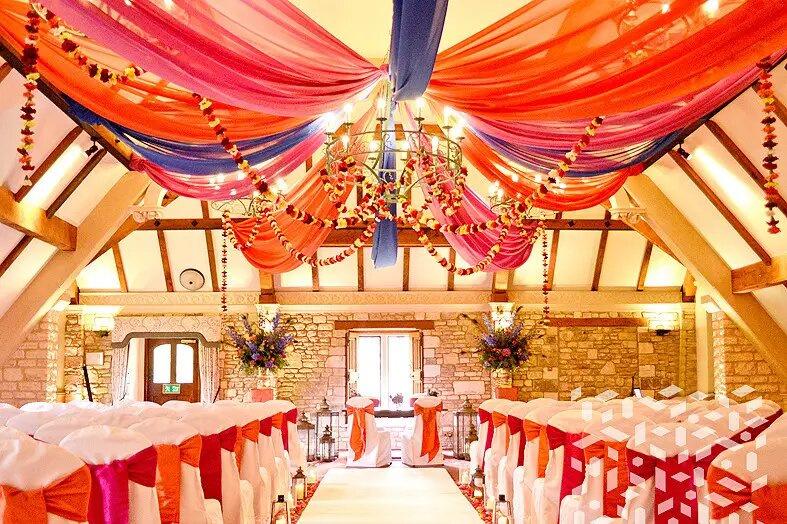 Bring life to your ceremony space by draping vibrant fabric and garlands from the ceiling or beams. It'll make a serious statement and we're obsessed.
24. Use Mason Jars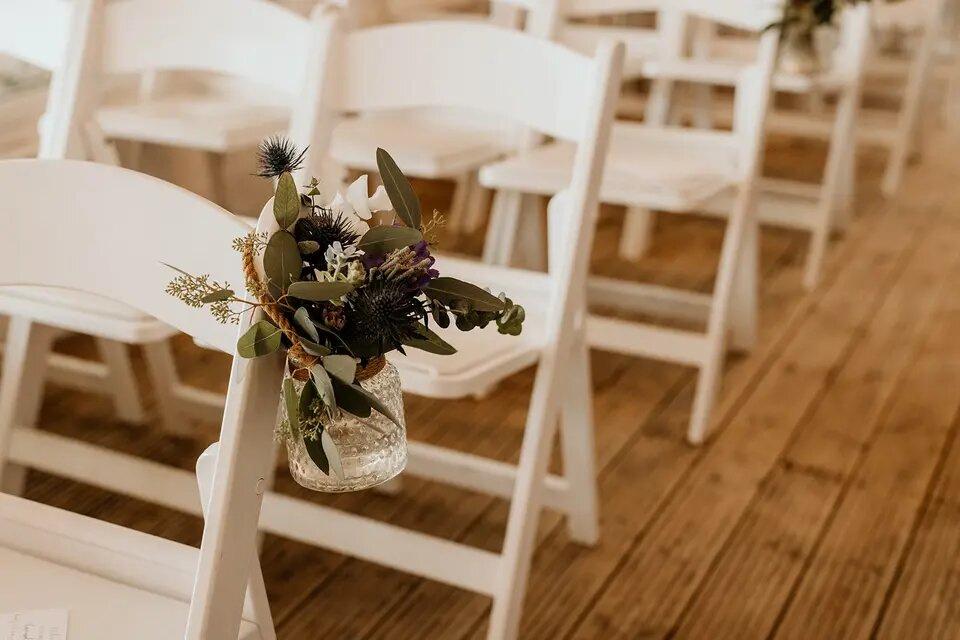 Mason jars containing a single bloom or a posy can look very effective, whether you attach them to chairs or hang them from stakes along the aisle.
25. Choose a Runner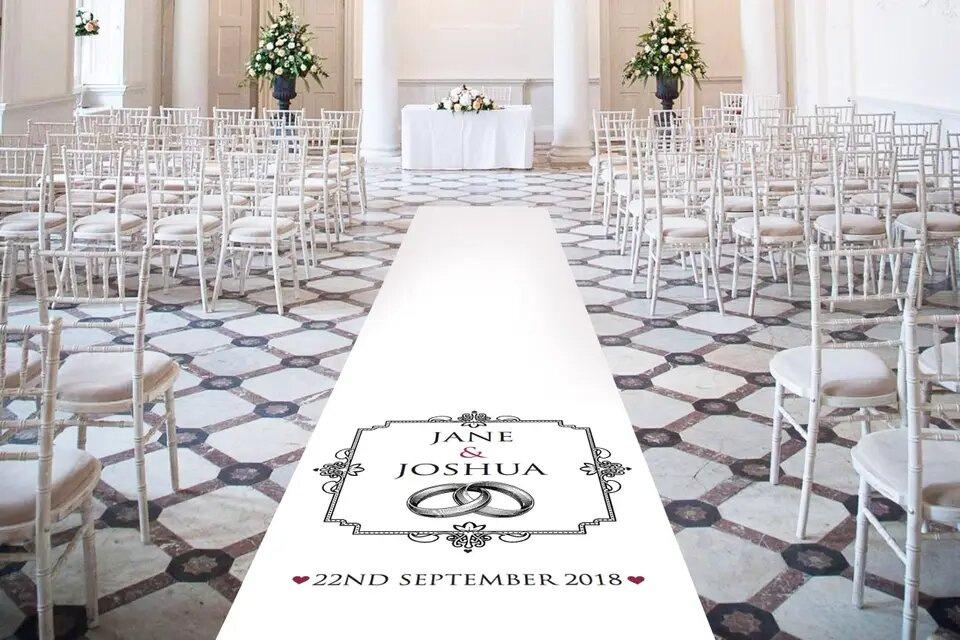 You can get wedding aisle runners customised with your initials, wedding date or monogram for extra personalisation from Brides To Be.
READ MORE: 23 Things You Can Rent Instead of Buying for Your Wedding
26. Touch of the Tropics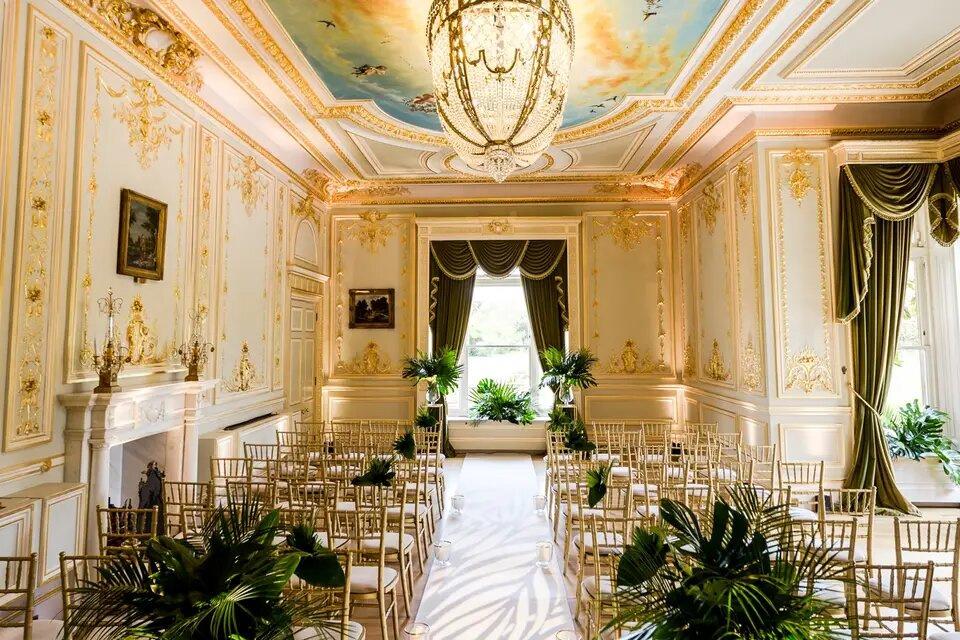 Tropical botanicals don't have to be saved for sunny climes and coastal settings - placing them in a formal space as seen here will give a fresh feel.
27. Hang a Fairy Light Curtain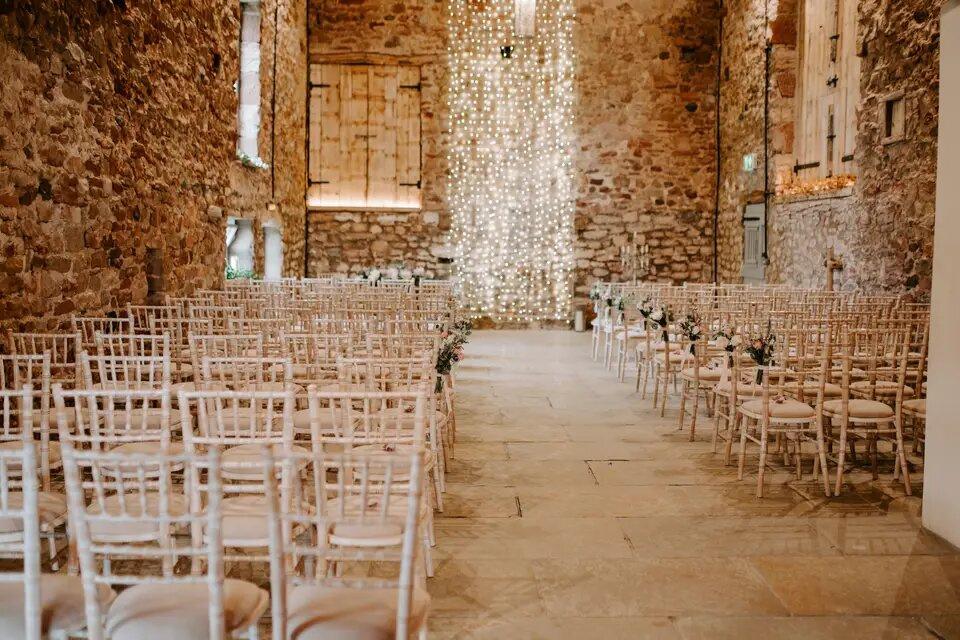 When you're walking down a stone aisle you'll want to add some warmth and an easy way to do so is by hanging a fairy light curtain. Not only will it make for great photos, but will add a wow-factor without having to decorate the entire room.
28. Be Generous with Candles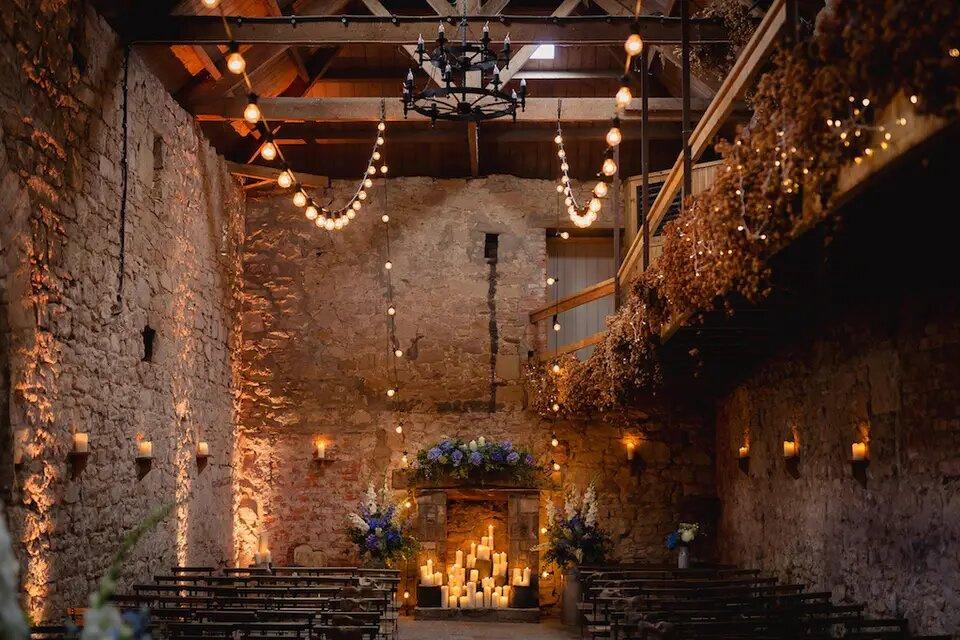 Candlelight is always romantic and a favourite of wedding stylists. The lighting will be perfection if you use a mix of tealights, pillar candles and candelabras.
29. String Lanterns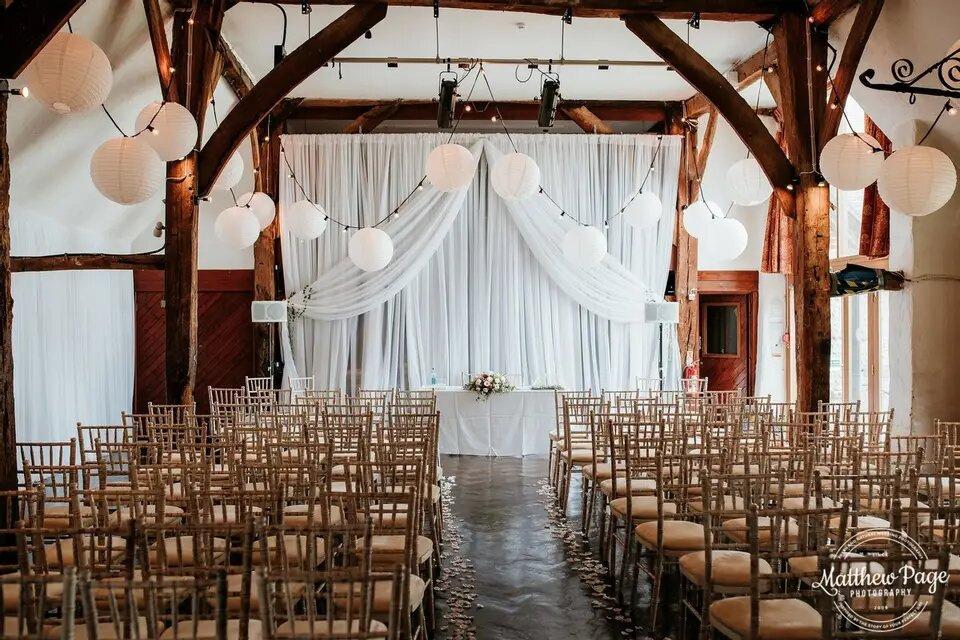 Add a cosy feel to the ceremony by tying strings of lanterns over the aisle. It's a great way to bring the wedding aisle to life without obscuring guests' views.
30. Match the Setting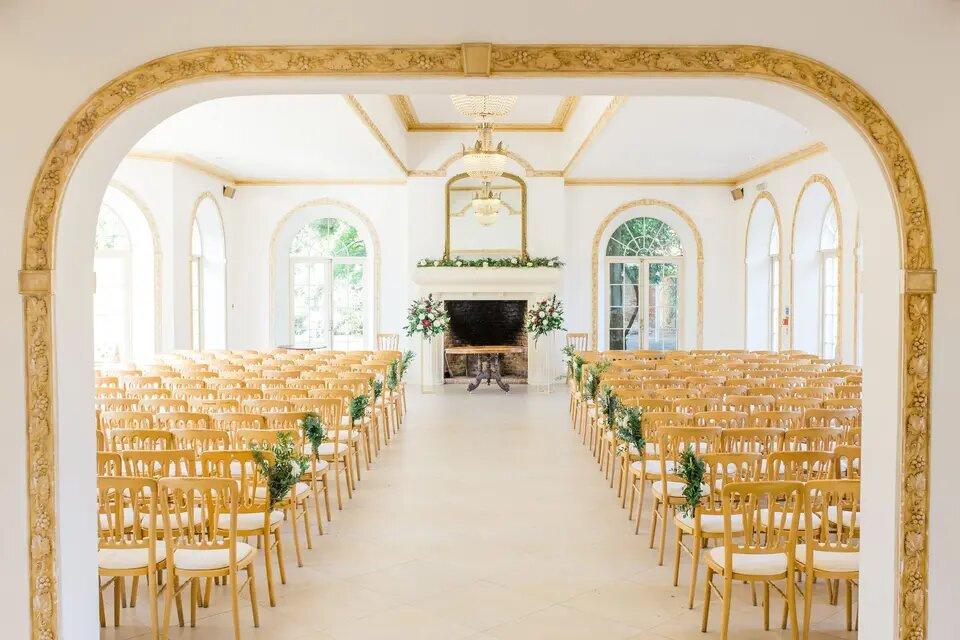 When your ceremony room is as ornate as this one you can afford to scale back on décor and simply match your chairs to the main features. A few sprigs of greenery will add a romantic touch.
READ MORE: Why Dried Wedding Flowers Make The Coolest Wedding Décor
31. Fabulous Feathers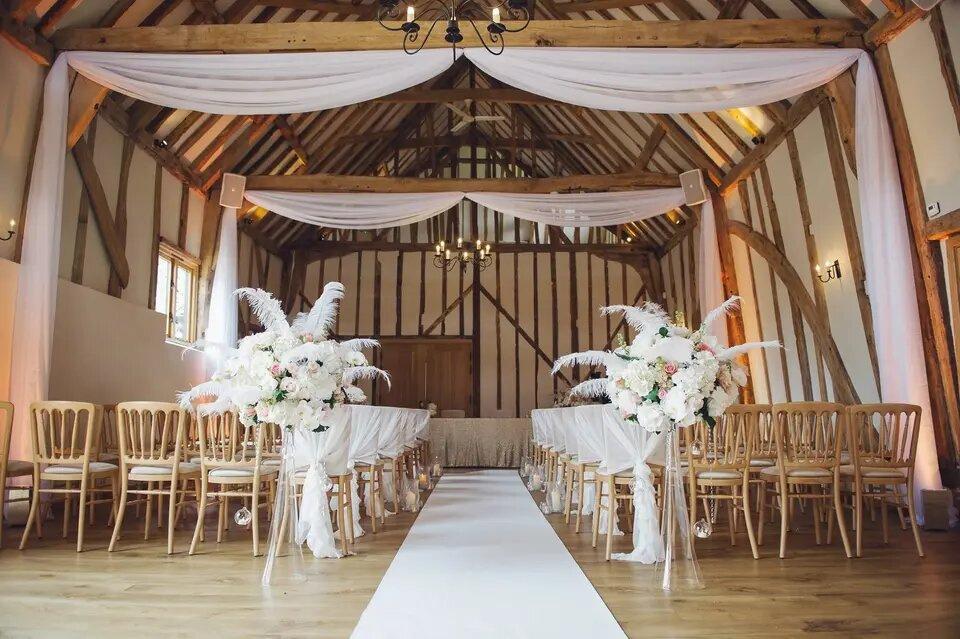 Adorn the start of your aisle with two eye-catching flower arrangements - these ones have been taken to the next level with the addition of gorgeous white feathers.
32. Fairy Tale Forest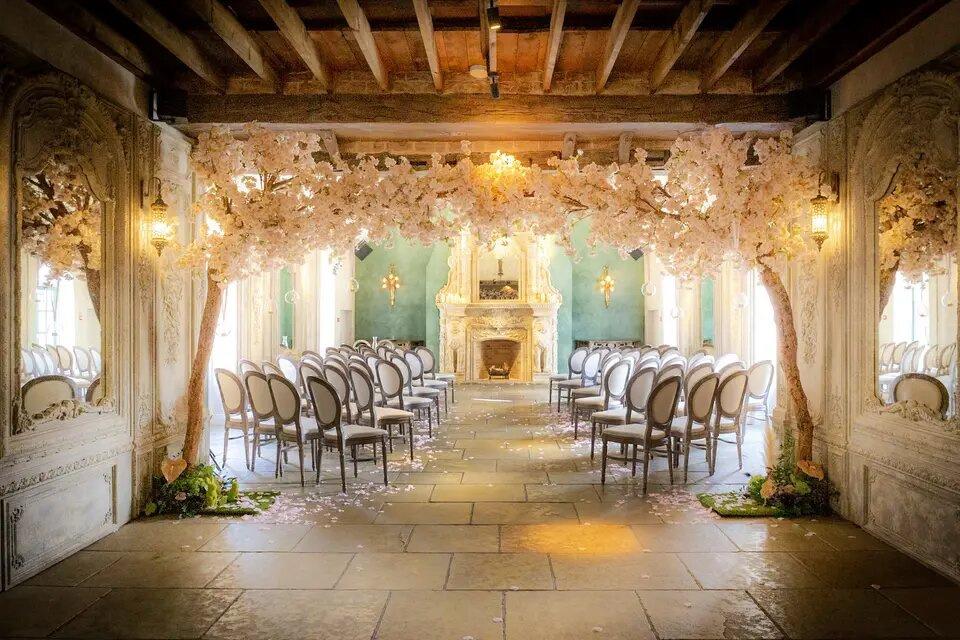 Elevate a story book setting by scattering cherry blossoms down the aisle and decorating tree stumps with moss. Glass elements, such as these hanging baubles, also work particularly well as they will reflect light in the most ethereal way.
33. Keep It Clean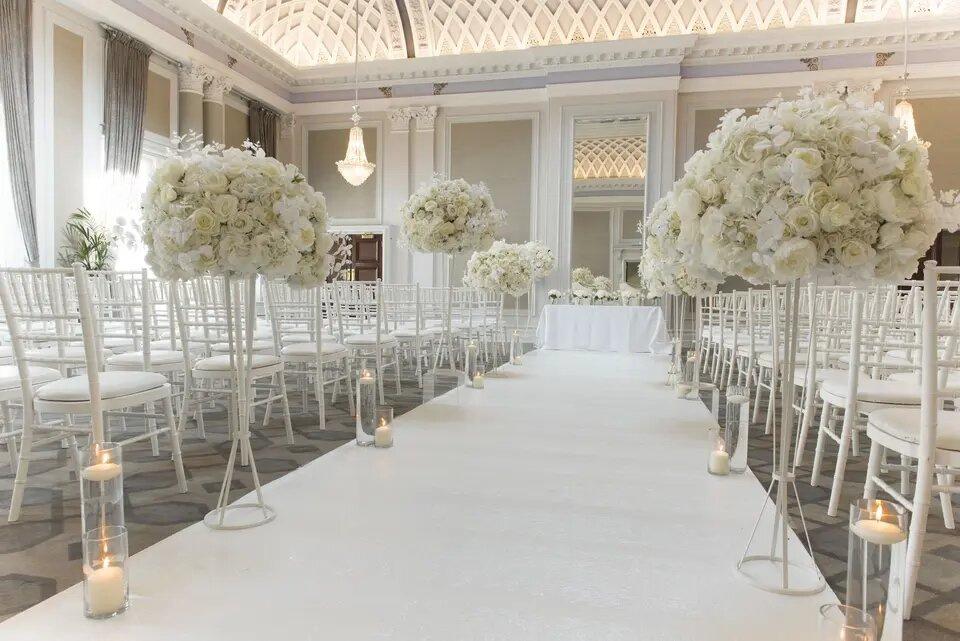 If you love the look of all-white interiors this one's for you - a design that is all about sleek and contemporary luxury.
34. Upgrade Your Lanterns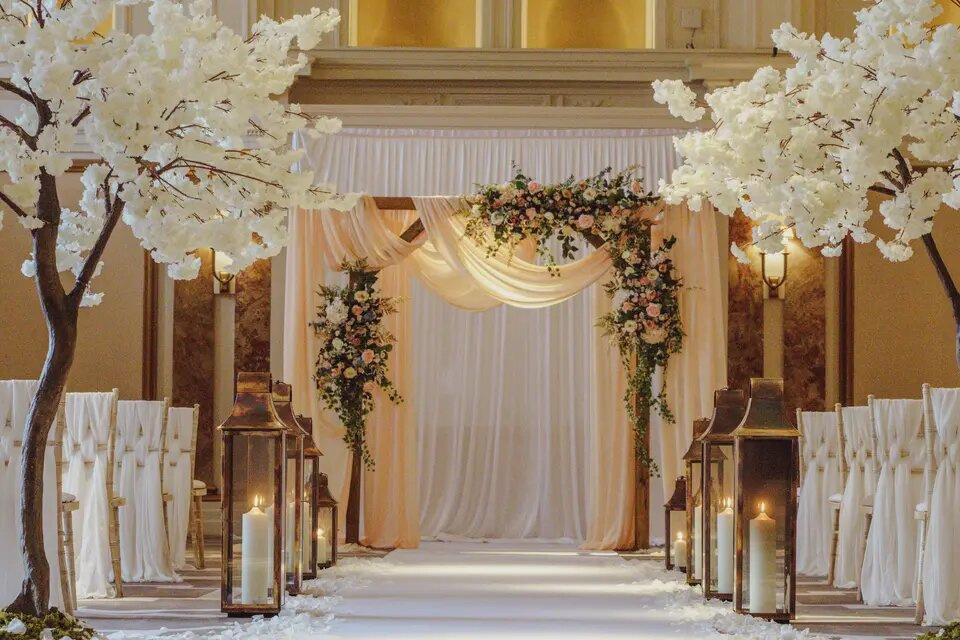 There's definitely a place for plain lanterns, but for a more opulent effect, line your aisle with ornate, antique-effect versions.
35. Line With Leaves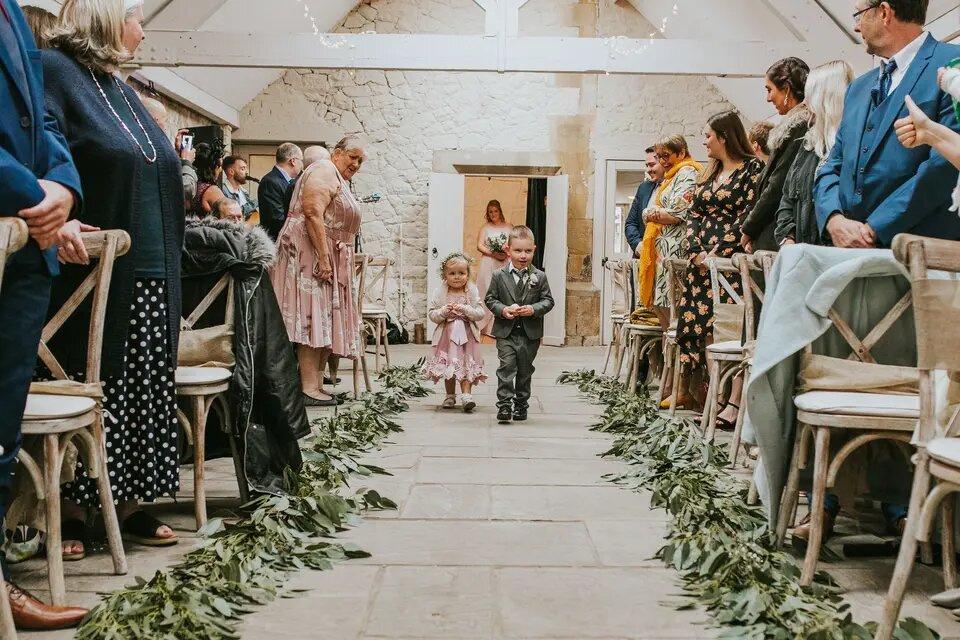 Adding design elements to the ground will draw attention down the aisle and give a relaxed atmosphere. It's also one of the most budget-friendly wedding aisle décor ideas!
READ MORE: 35 Wedding Decoration Ideas to Transform Your Venue
36. Ivy For Impact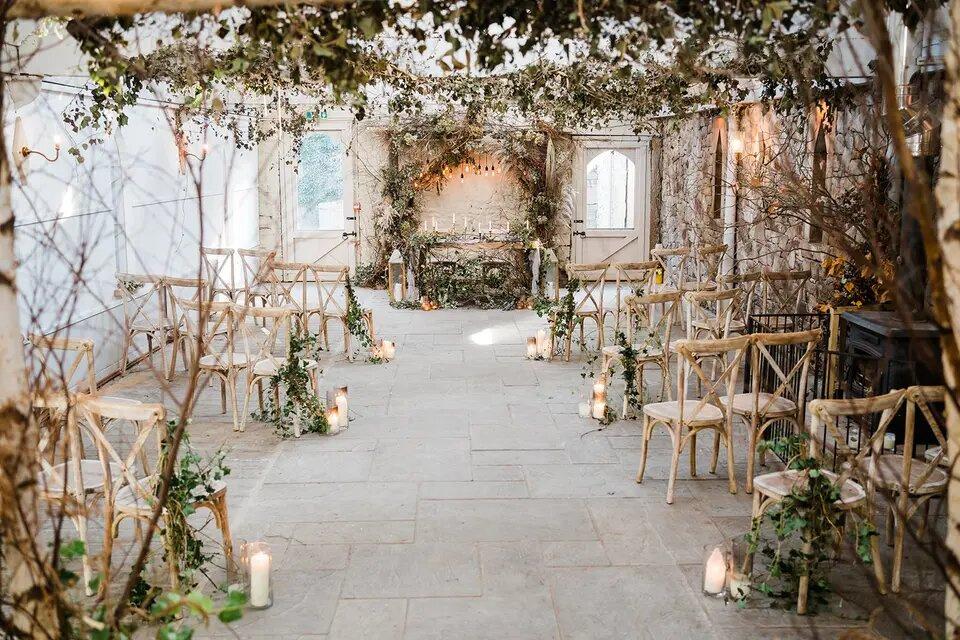 To create a natural and romantic setting, entwine ivy vines overhead and up chair legs - it'll look like they've been growing there for years. We love how well these wooden chairs complement the rustic room.
37. Pop Of Colour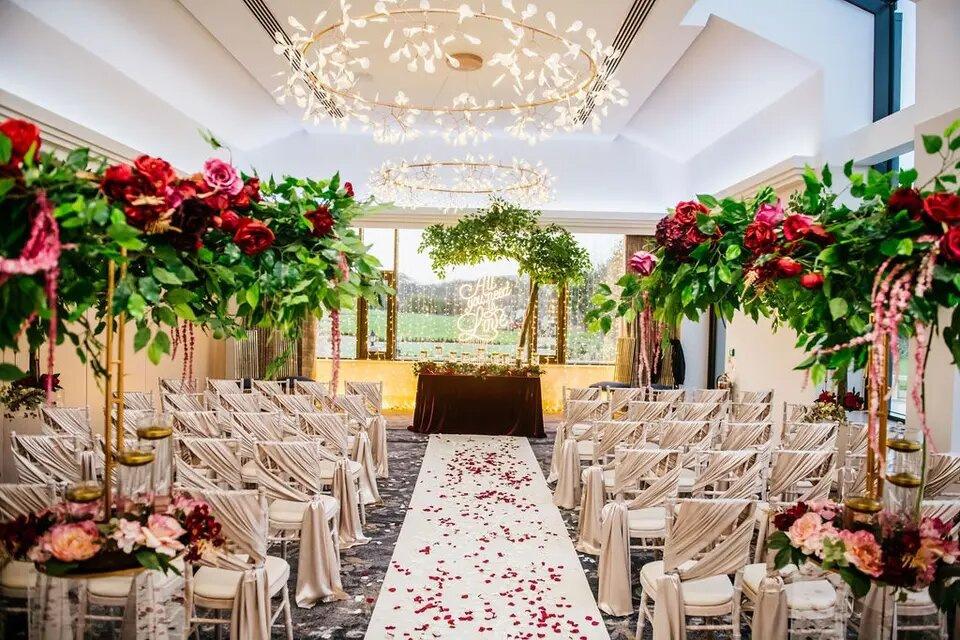 If you have a set colour scheme, keep it as a focal point to your wedding day by introducing it into your wedding aisle décor too. Your bridesmaids will look fantastic if they are dressed cohesively with the setting.
38. Style With Sunflowers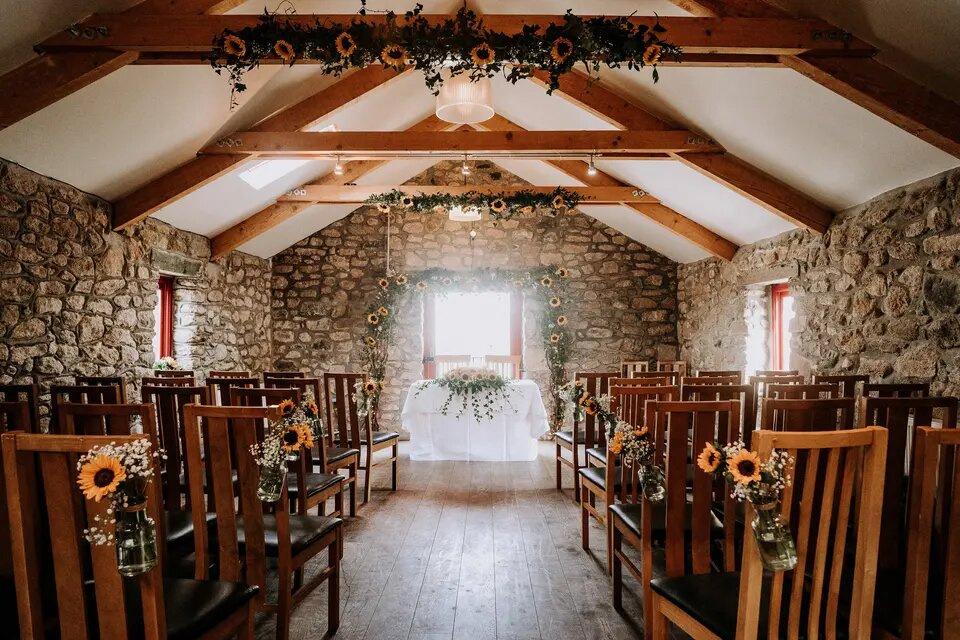 Sunflowers are particularly suited to weddings set in the countryside and as they are a large headed, relatively affordable flower, you can use them in abundance to create a real statement. Don't forget your matching sunflower wedding bouquet too!
39. Scale It Back for Impact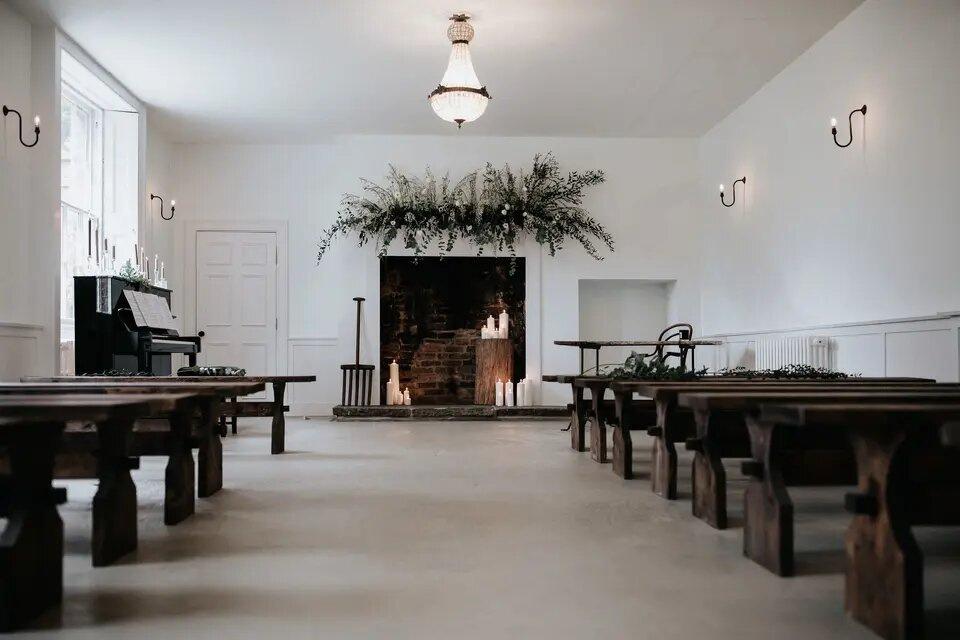 You'd be surprised how much of an impact scaling back on your wedding aisle décor can have. All that's needed to bring this ceremony room together is a few pillar candles and a green garland.
40. Keep It Cosy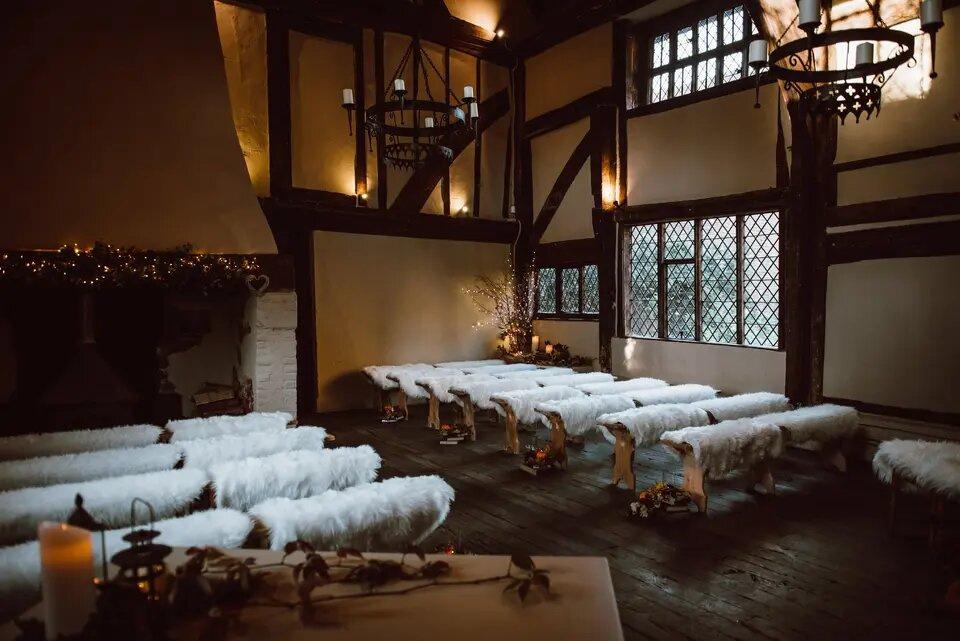 Planning a Christmas wedding? Keep your guests cosy (and comfortable) by draping faux fur throws over benches and popping a few twinkling fairy lights in the corner for atmosphere.
READ MORE: 36 Beautiful Vintage Wedding Décor Ideas
41. Look Up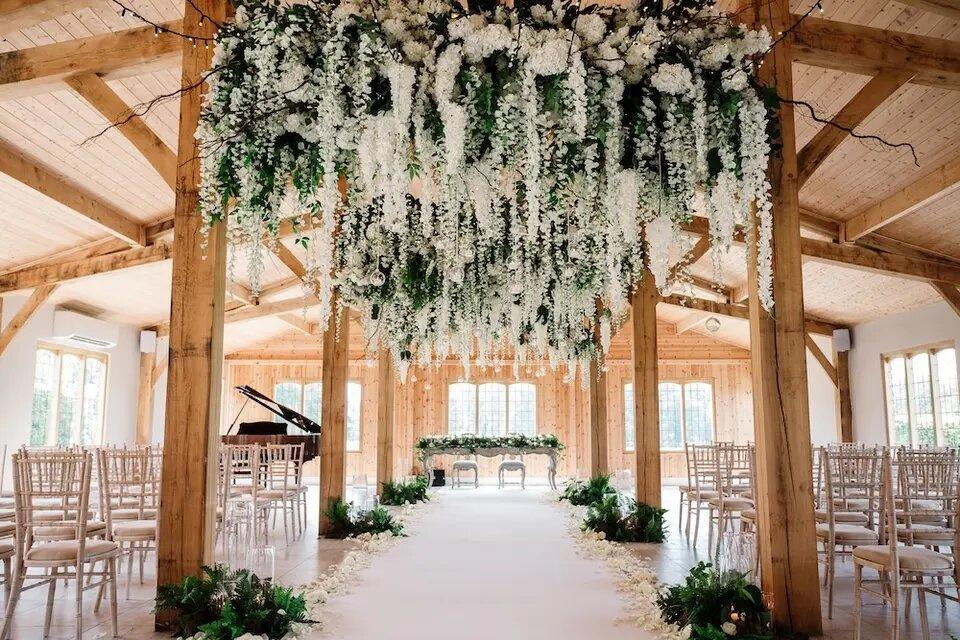 Talk about an epic installation! Take your wedding blooms to new heights by opting for hanging flowers in order to create an immersive and intimate scene - this idea will no doubt impress.
42. Make it Monochrome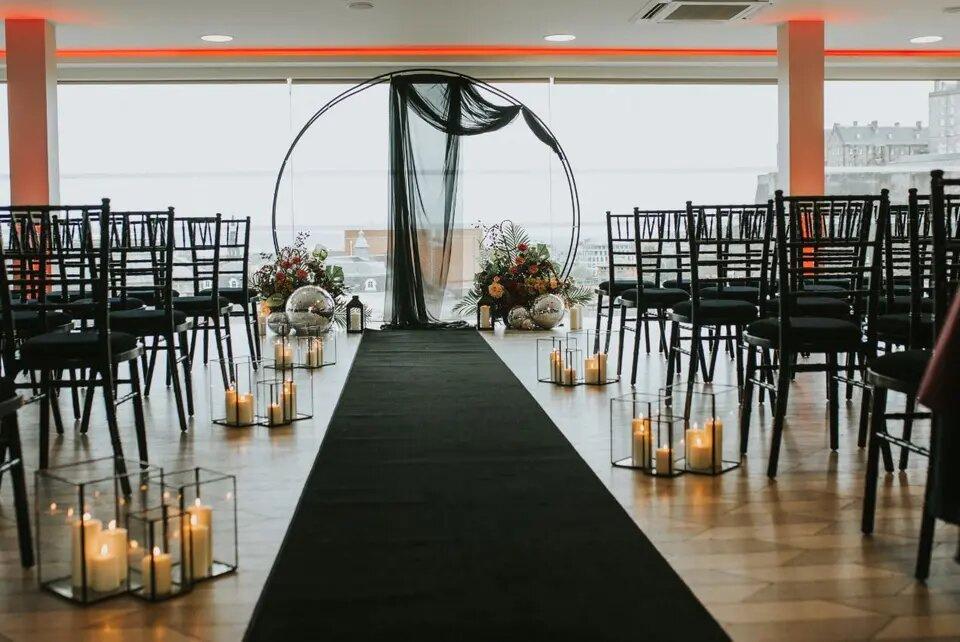 An edgy take on tradition, this couple have given their wedding aisle a monochrome makeover. Black chairs and a dark wedding aisle runner create a stylish look. Oh, and those disco balls are simply dreamy.
43. Bring in Bunting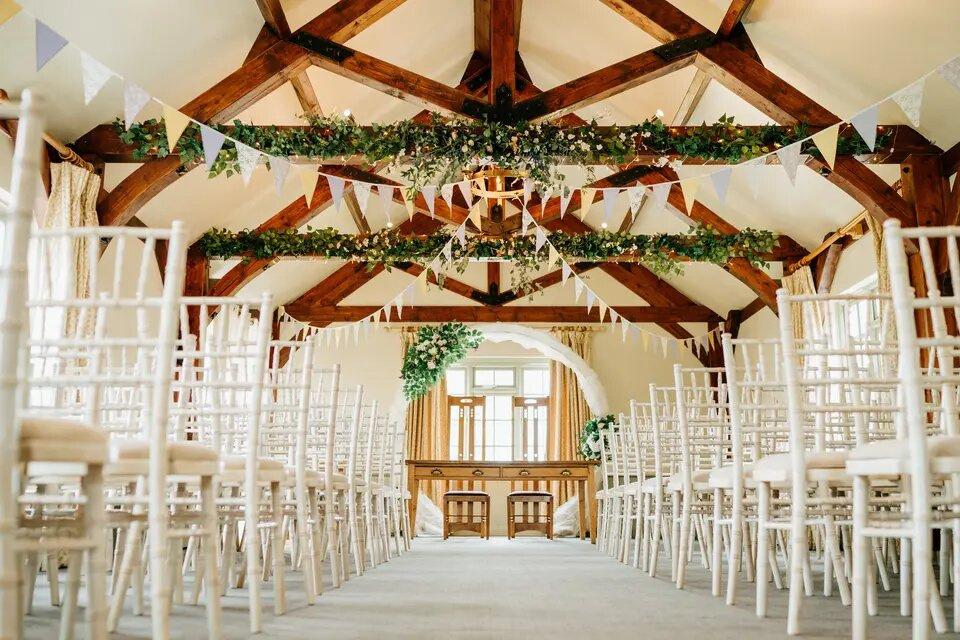 Did someone say summer garden soiree? If you want a country feel to your wedding, bunting can easily be made yourself with cuts of fabric and hung up from wooden beams.
44. Rustic Plant Pots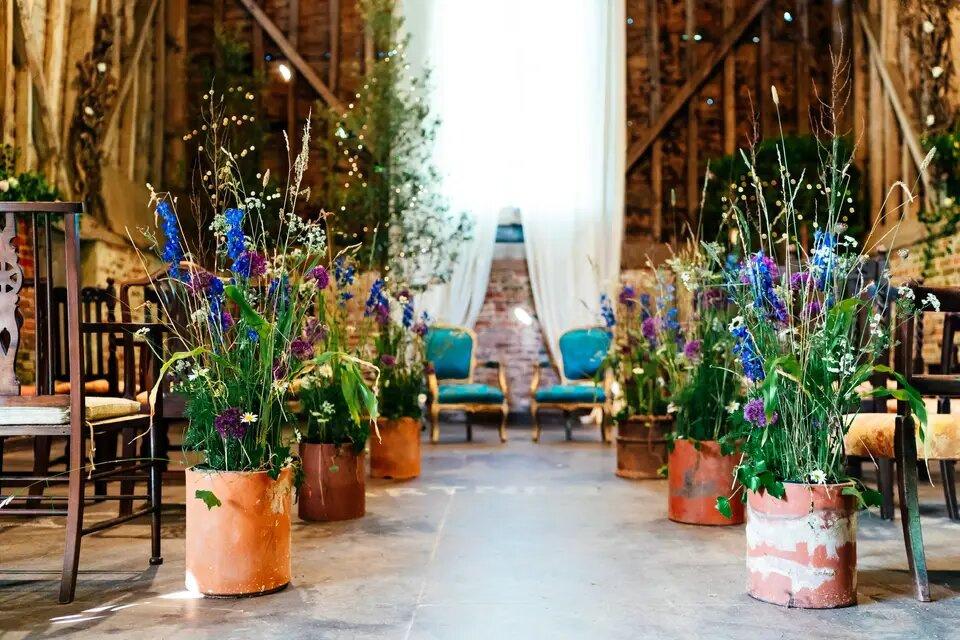 Using potted plants means you can move décor from the ceremony to the reception which will save on your flower budget. Plus, they look stunning!
45. Source Unusual Glassware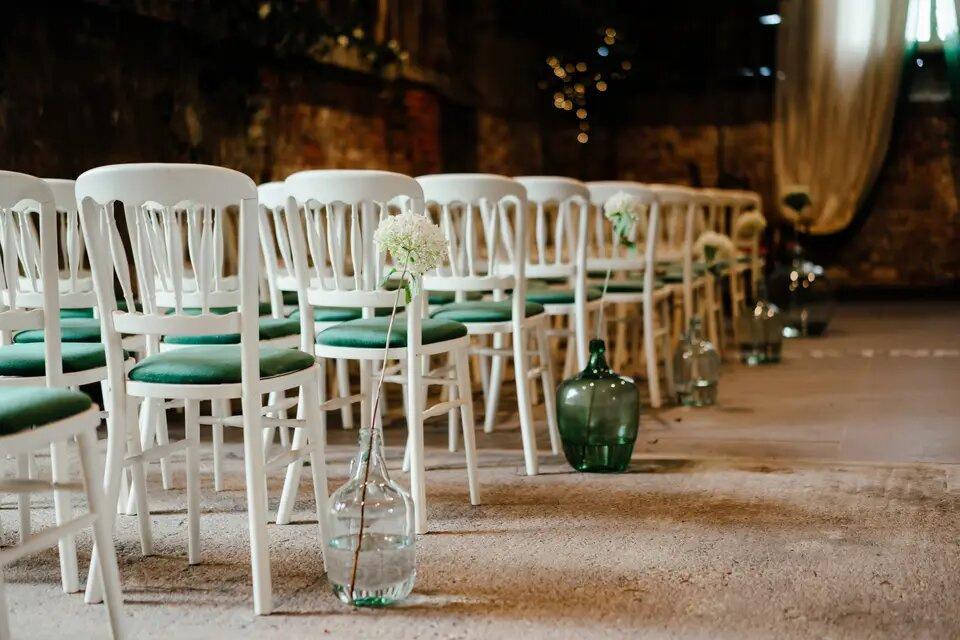 Popping unique and quirky vases at the end of chair aisles to display your flowers will mean you then don't need as many stems per vase to make an impact. Check out your local charity shops for some bargain buys.
READ MORE: How Much Do Wedding Flowers Cost?
46. Natural & Chic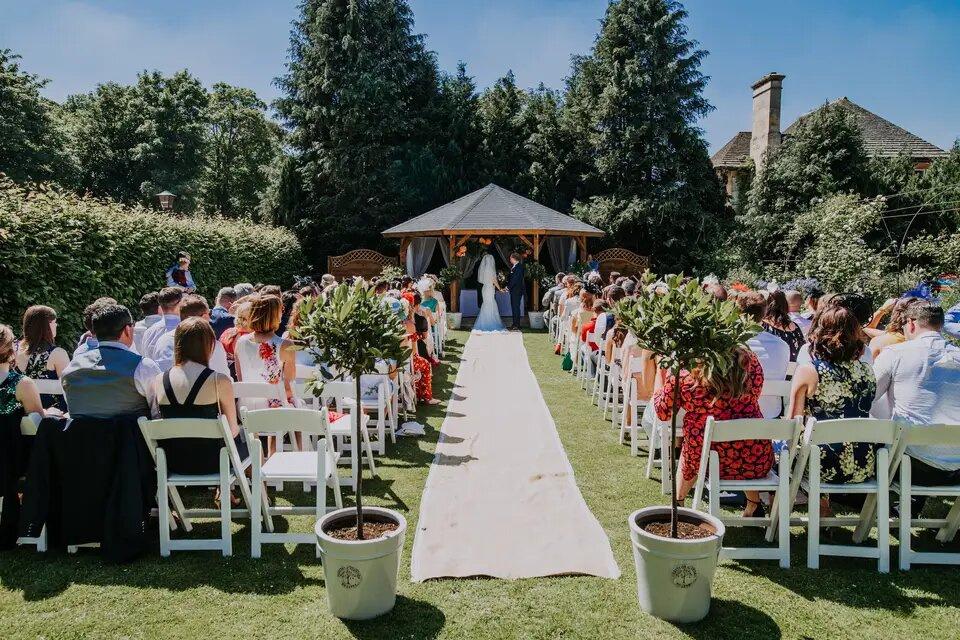 Keep the natural state of your wedding location in mind - in this case only two potted trees and a relaxed runner are needed to dress the aisle.
47. Embrace Neutrals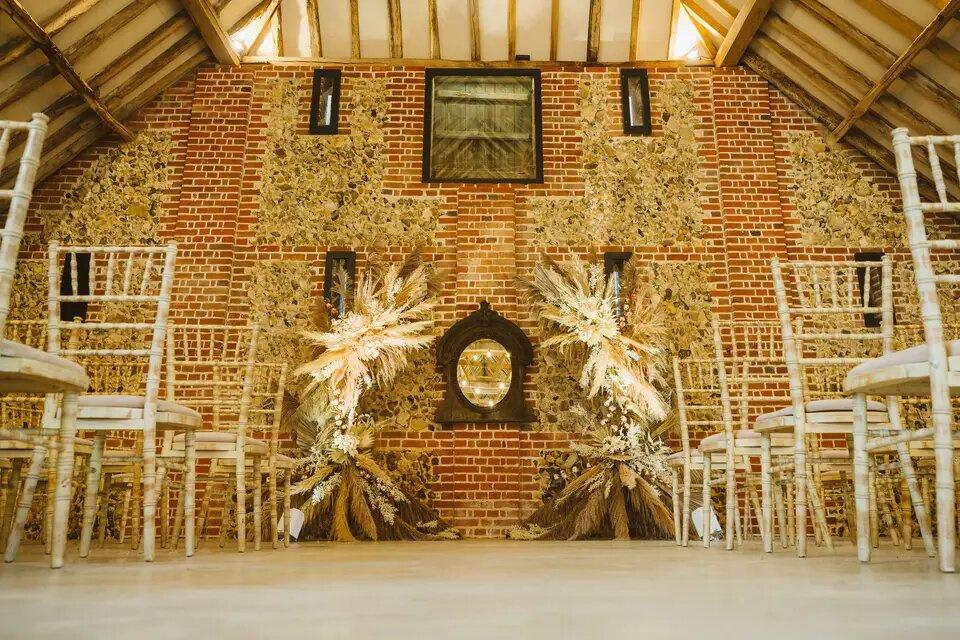 A timeless look of creams, beiges and browns will never go out of style and create a peaceful atmosphere. Just what you need to calm any pre-vow nerves!
48. Opt For Taller Blooms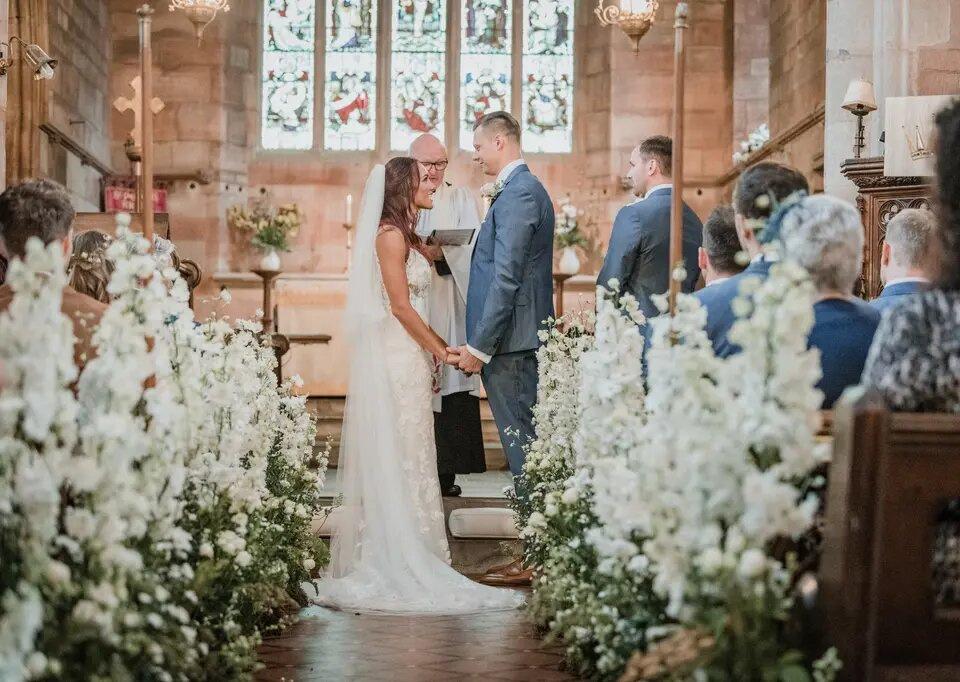 If you're getting married in a spectacular space such as this church, choose tall flowers that draw the eye up and complement the setting - delphiniums are a lovely pick.
49. Beachy Touch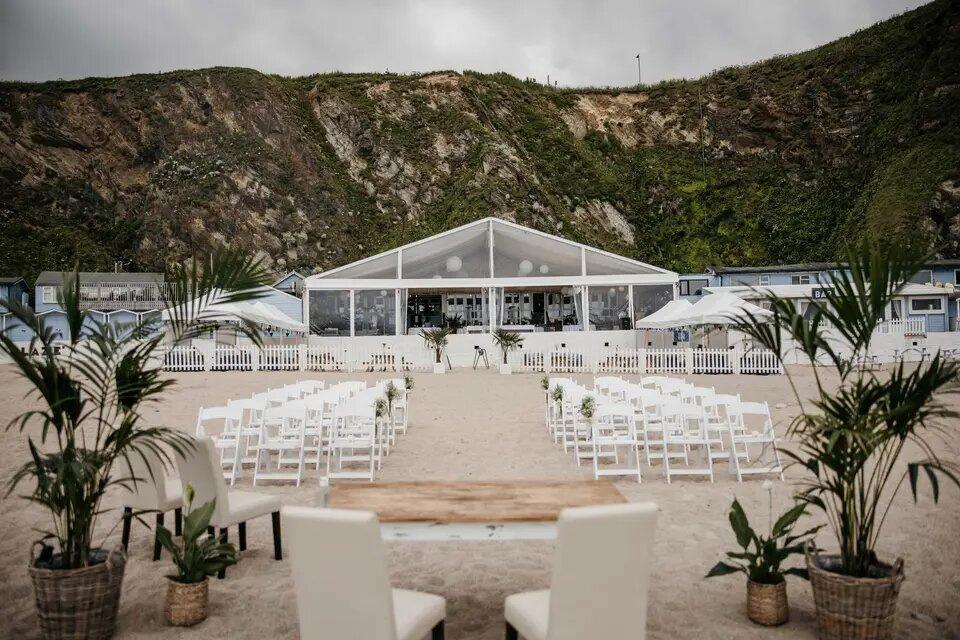 We love how dreamily serene this beach wedding set-up feels thanks to deck chair style seating and palm fronds. The end of the aisle has also been given a little lift to save any sinking.
50. Pull the Look Together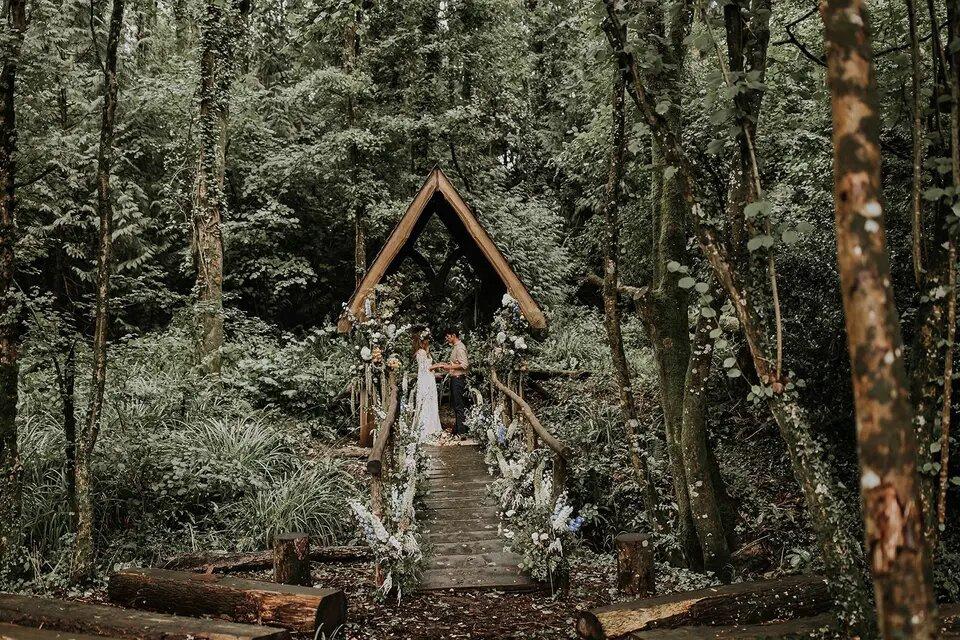 Work in harmony with your ceremony space - you don't need to add much when you have nature doing all the hard work for you. This woodland wedding venue has plenty of greenery which is mirrored in the floral arrangements.
READ MORE: 63 Outdoor Wedding Ideas You'll Fall in Love With
51. Select Statement Blooms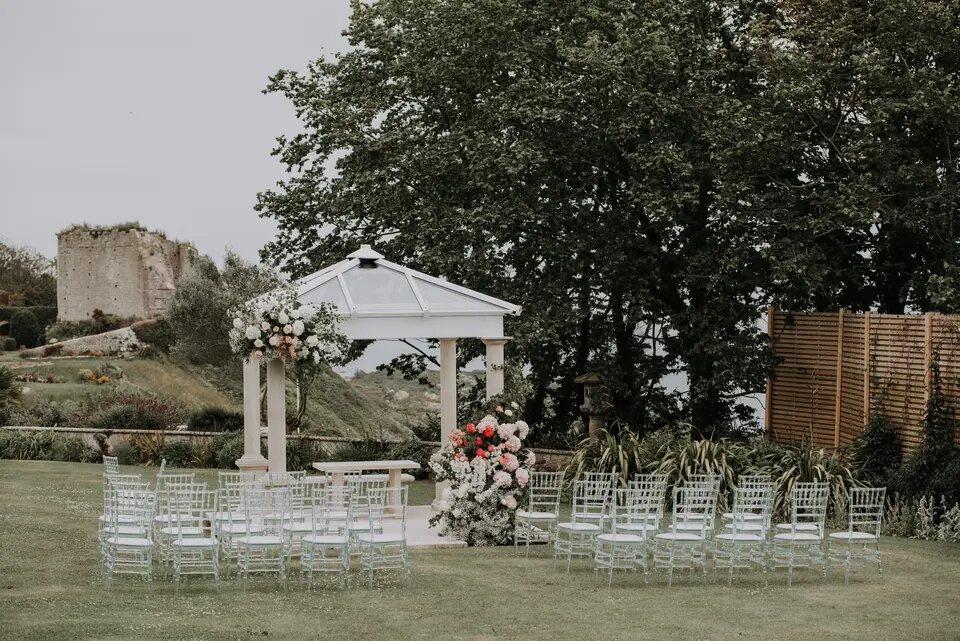 Rather than decorate the entire aisle, make a statement with huge blooms at the base. Clear ghost chairs are stylish while not distracting from the countryside surroundings.
How Should You Dress a Wedding Aisle?
Your wedding outfit and the season you are getting married in might make a difference to how you dress your wedding ceremony aisle.
Emma Philpot from wedding design company JF Styling suggests you should "always take into consideration the style of dress you will be wearing! If you have a big ballgown and lots of petals and candles on the floor, you could end up taking that up the aisle with you! Also, base your décor on the time of year as well. Don't have candles in the middle of the summer as you won't see the effect of these at all as it'll be too bright!"
Should You Base Your Wedding Aisle Décor on Your Venue & Location?
Your wedding day is exactly that - your day, so although you should take into consideration the venue, décor is very much a personal choice.
"A lot of our couples try to portray their personalities through their décor for their weddings and aisle décor is no exception. Don't pick something that is too over the top and extravagant if you are more minimalistic and prefer something simple and elegant. Don't pick something that is very rustic if you are getting married in a stately home as this may not look right, but having said that, if you are more of a boho kind of couple, you would have picked a venue that complements your style. This is why hiring a stylist is a massive benefit to couples who wish to maximise the styling for their wedding and make sure it all fits in nicely, as we quite literally have seen it all," says Emma.
As well as sorting your aisle style, make sure you get the music you want with our edit of the 120 best wedding ceremony songs.