Your wedding day is all about showing off your beautiful outfit, whether it's a wedding dress, suit, skirt and top, or jumpsuit. And while this will be ultimately the star of the show, sometimes having a cover-up on hand is a necessity, especially given the unpredictable British weather and evening chill.
But fear not; just because you'll be covering up, doesn't mean you can't look just as chic. In fact, these days, your options are endless when it comes to bridal jackets. You could choose a stylish satin blazer, or what about a super cool leather number? Then there's denim, or even something furry and cosy for winter weddings.
There's also the option to have your bridal jacket personalised; many designers on sites such as Etsy now make this easier than ever. A personalised bridal jacket is the ultimate keepsake from your big day.
Whether you want to keep things to a budget and shop on the high street, or splurge on a high-end design or personalised number, we've selected 20 of the very best bridal jackets to invest in now.
NB: We have included third party products to help you navigate and enjoy life's biggest moments. Purchases made through links on this page may earn us a commission.
READ MORE
1. Etsy Pearl Embellished Wifey Jacket — £74.99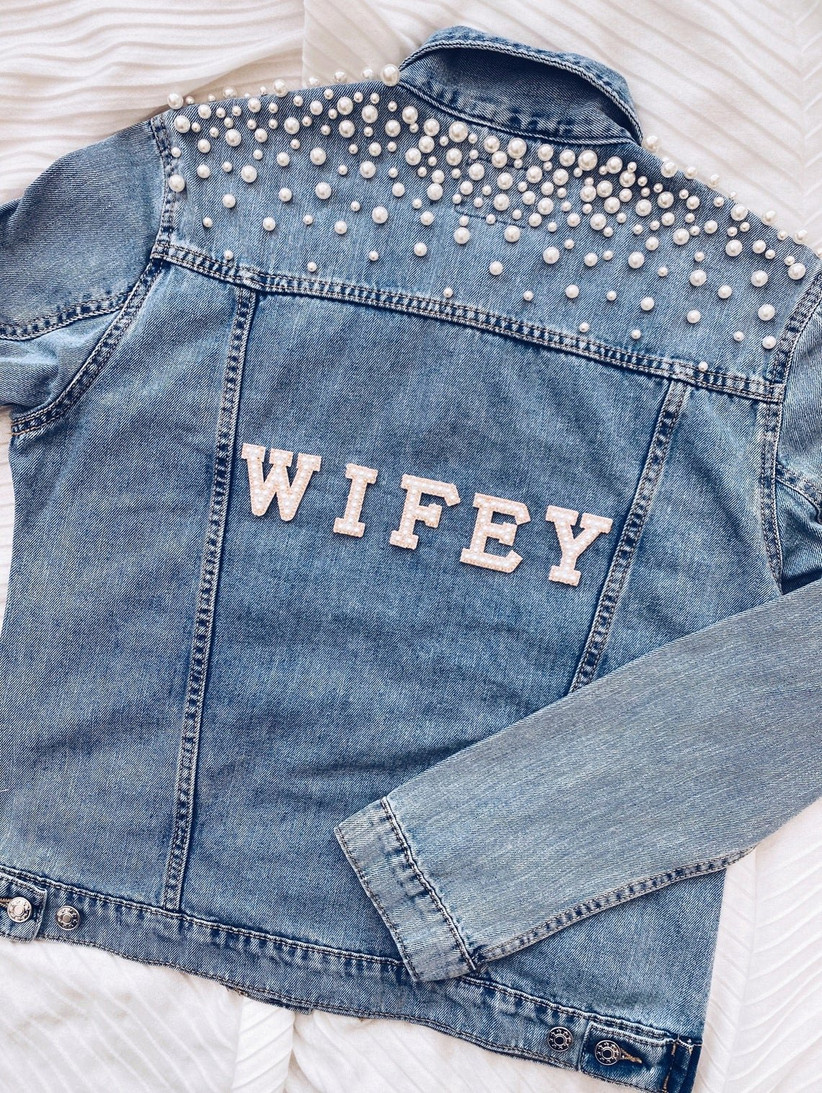 This is great value for such a fab design. Denim jackets are totally on trend for 2021 and look amazing on top of everything from boho gowns to sleek modern dresses. Great for throwing on for couple photos or before your first dance.
2. Topshop Ivory Crop Double Breasted Suit Blazer — £45.99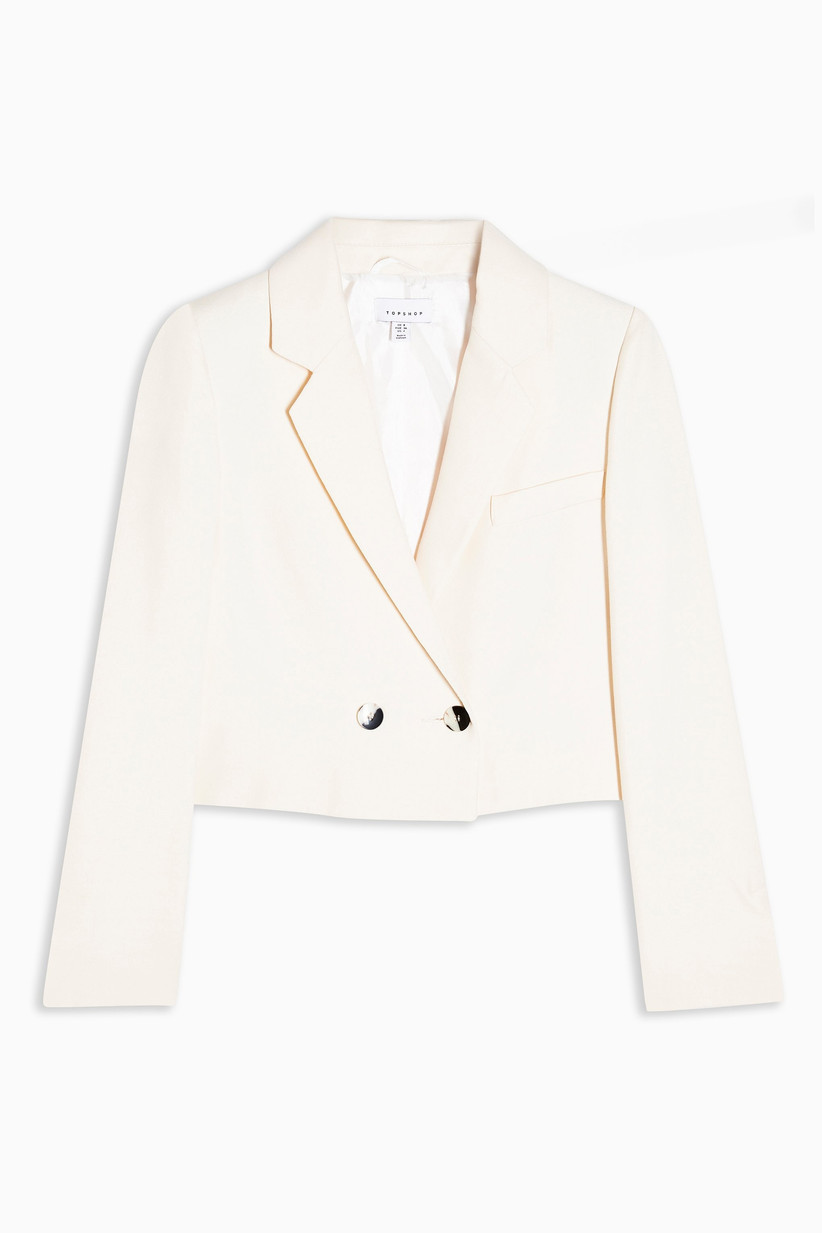 Just imagine this cropped jacket with a pair of high-waisted ivory trousers and a silk camisole. It's perfect for a chic city wedding or complementing a full skirt. Beautiful.
3. Gauge81 Seattle Cotton-Blend Blazer — £395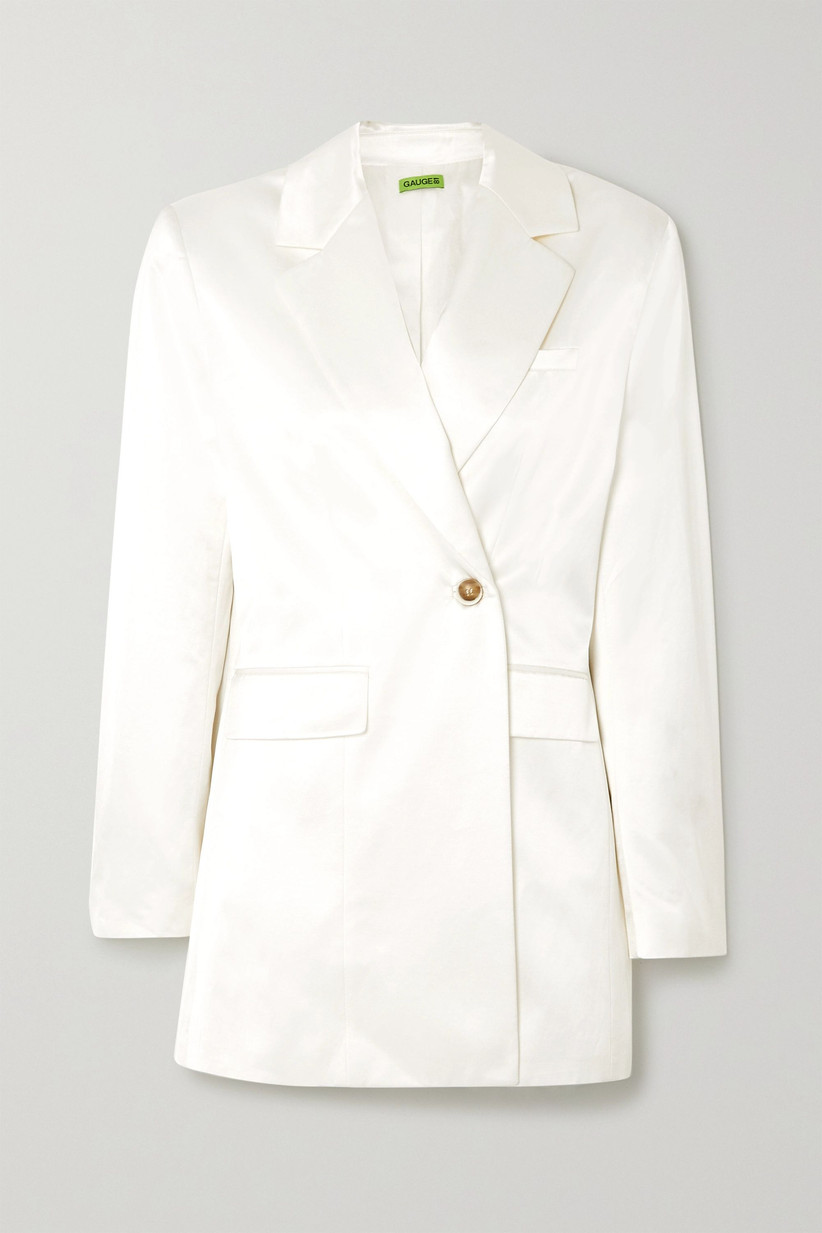 If you need something much longer, this jacket is a great option, and has a lovely lightweight fabric for warmer months. We're imagining this with a bridal maxi skirt and super high heels!
4. Etsy 'Death Do Us Part' Biker Jacket — £95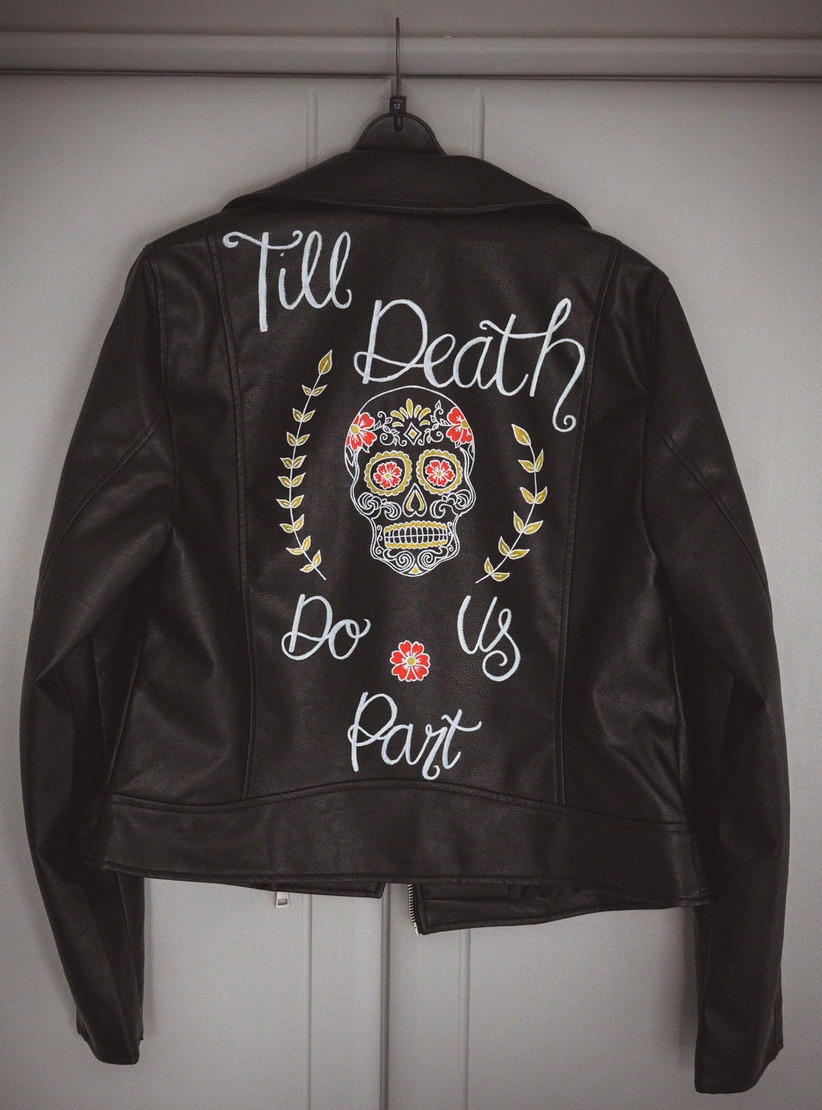 You can personalise these hand-painted faux leather jackets with whatever you want, but we love this 'Death Do Us Part' biker look which will add some serious edge to a floaty dress.
5. Etsy 'Just Married' Embroidered White Denim Jacket — £99.50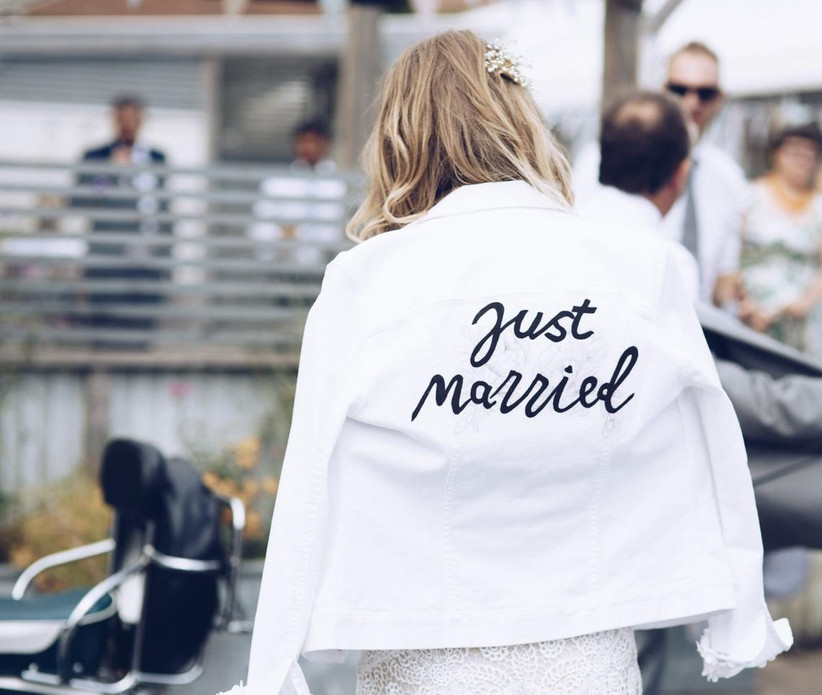 These beautifully-embroidered denim jackets come in three designs: Just Married, Wifey and Bride. There's some seriously cute lace appliques at the turned up sleeves too.
6. Frame Striped Linen-Blend Blazer — £600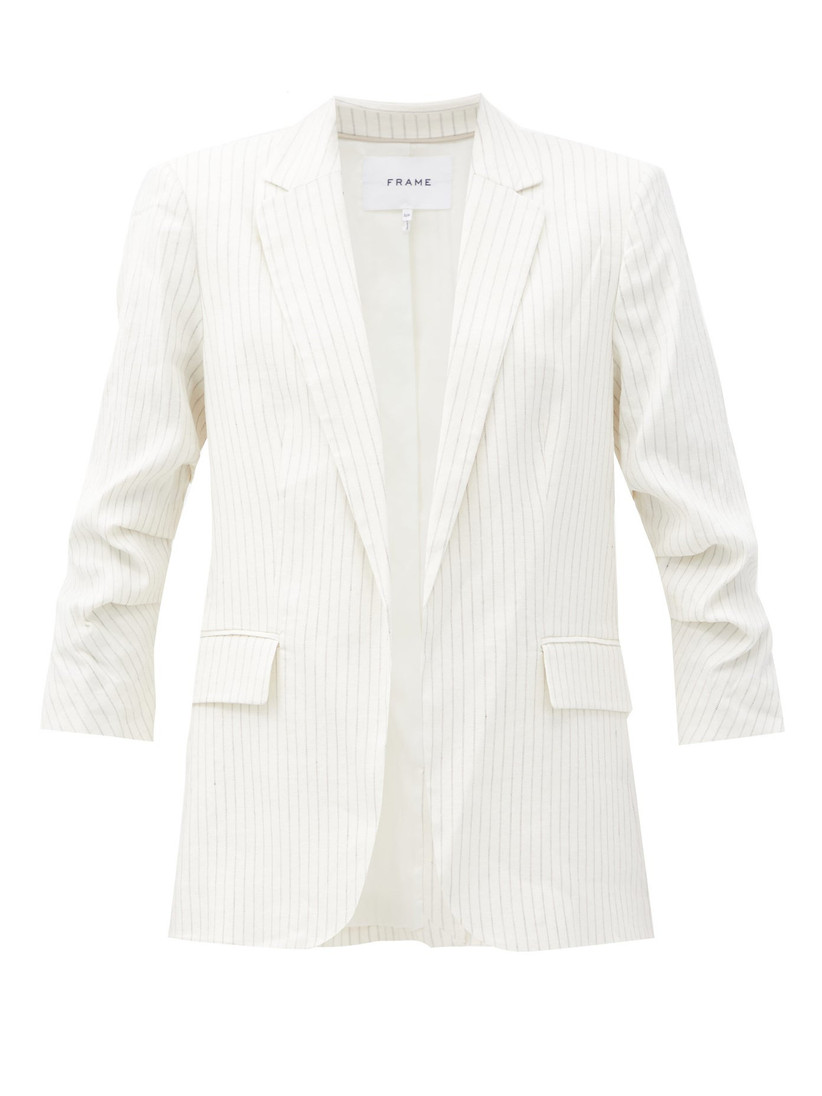 A lovely linen-blend blazer, this would look just as good with jeans and espadrilles on honeymoon as it would on your wedding day! In other words, it's absolutely worth the money. This would look super cute with a short wedding dress or at a destination wedding.
7. Rixo Charlie Sequin Stripe Crop Jacket — £235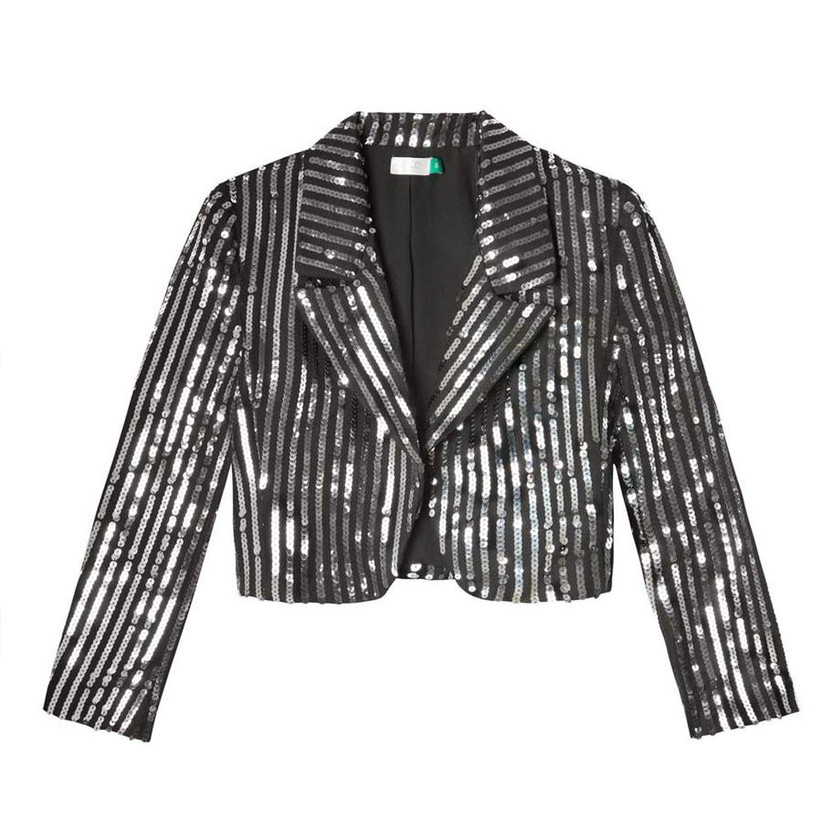 Glitzy, stripy, cropped: this on-trend jacket looks seriously cool slung over shoulders as you dance the night away. The sequins catch the light and make you sparkle all night long.
8. Etsy Customised Leather Jacket — £100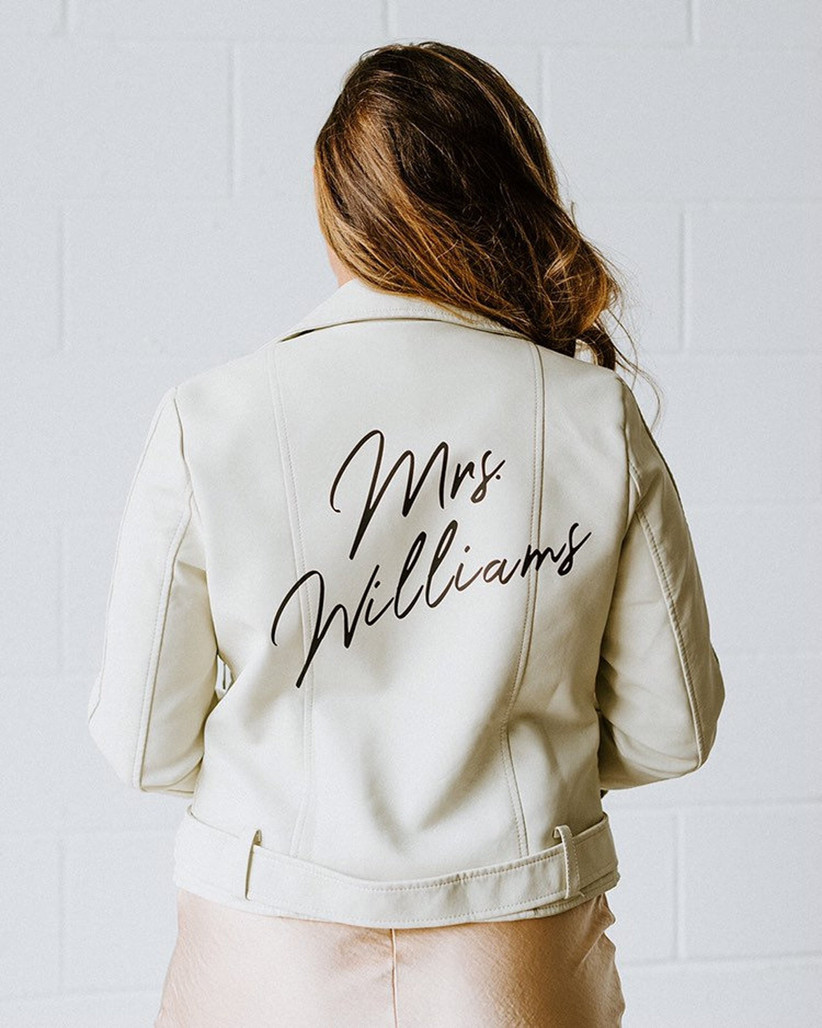 We love this design, which is uber classy and elegant! The cream jacket in particular is ideal for your wedding day, but it comes in sleek black too.
9. Monki Classic Denim Jacket — £50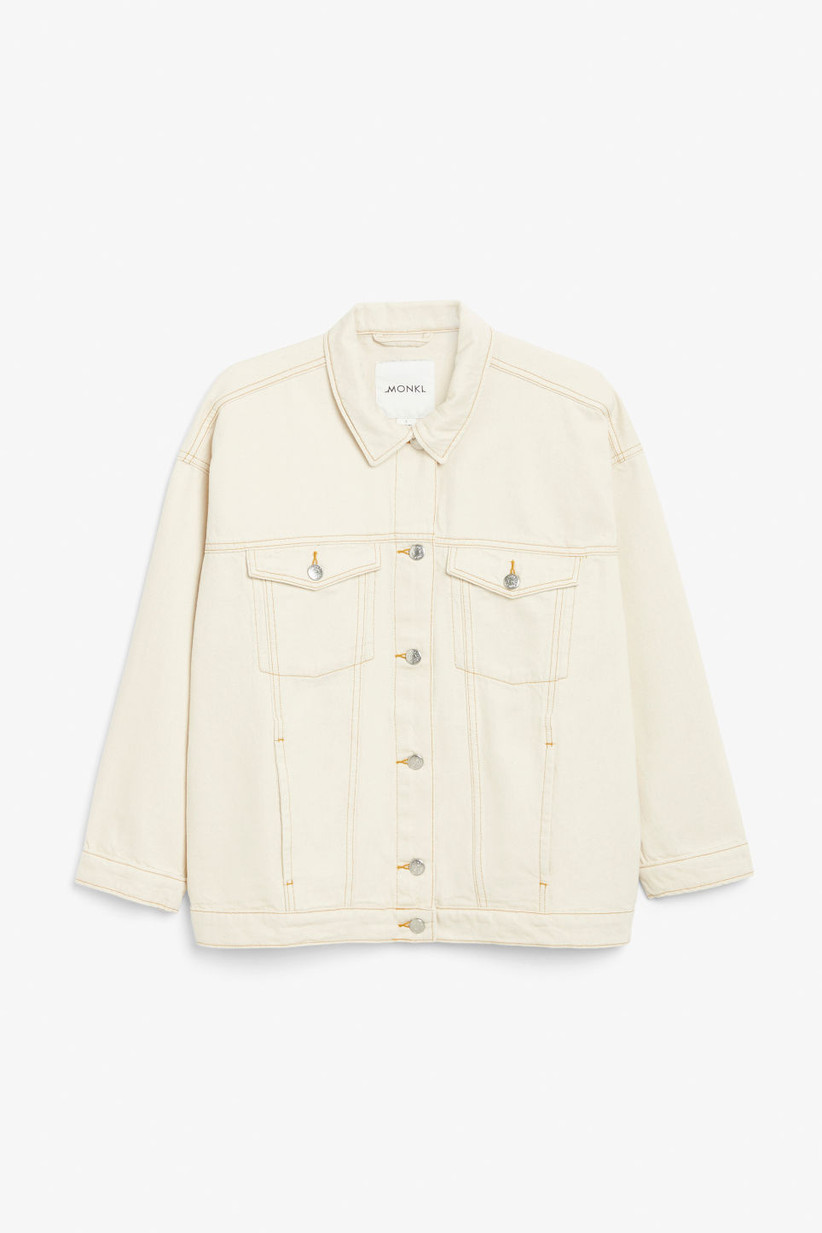 Want to make it a little more casual? Pick a simple denim jacket, which you will wear again and again. This off-white shade is super cool, too. It's the perfect androgynous shape which complements a super feminine dress.
10. Needle & Thread Regency Garden Jacket — £250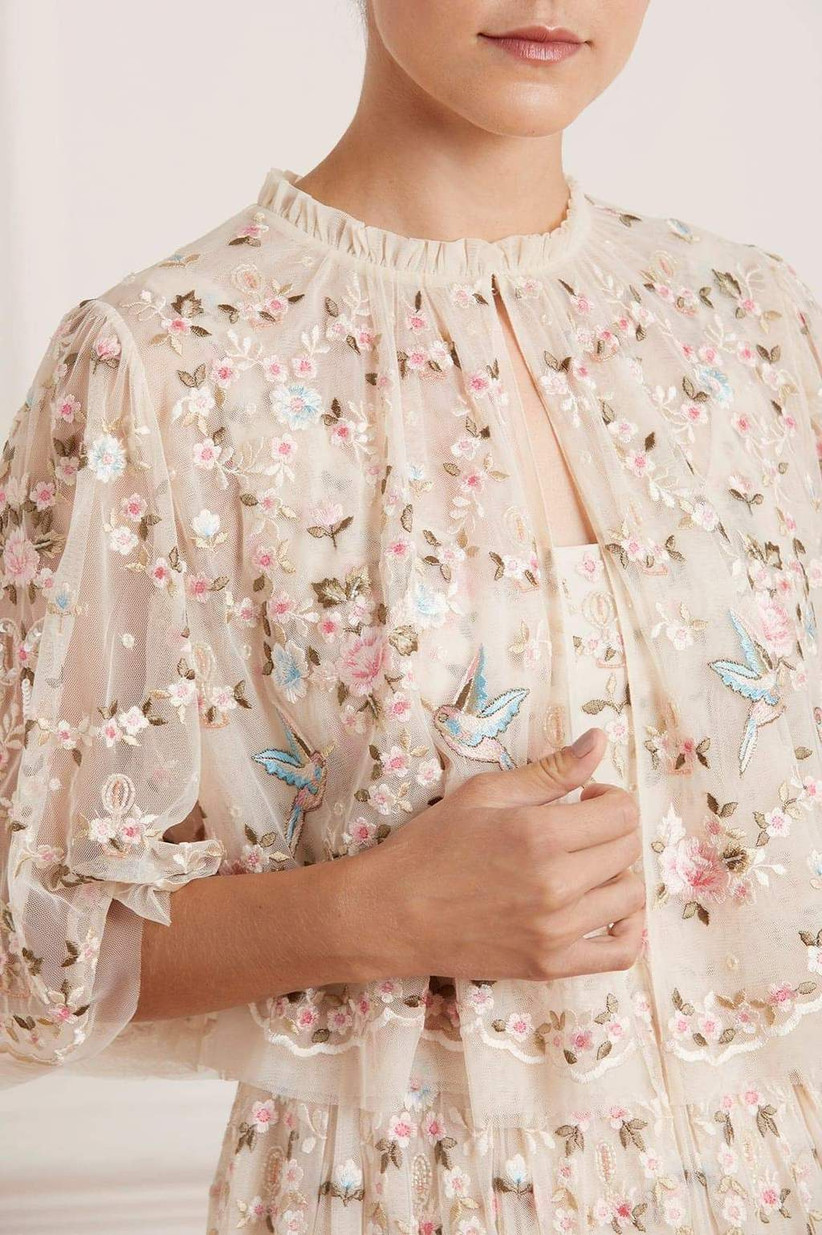 How beautiful is this embroidered Champagne jacket. It's embellished with birds, hot air balloons and florals in gorgeous pastel shades. It's so light and delicate and ideal for warm summer nights.
11. Etsy Custom Painted Leather Jacket — £125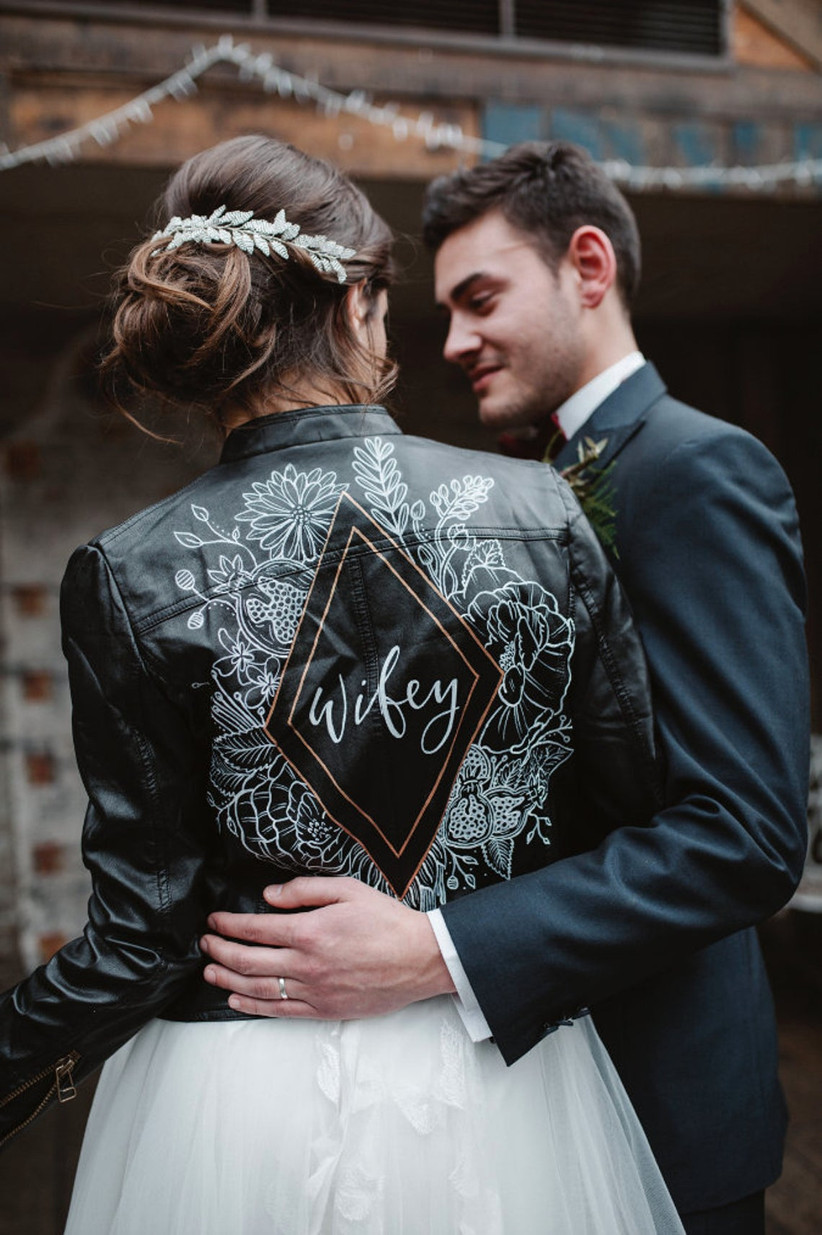 The diamond pattern on this jacket sets it apart. You can choose it have it semi or fully customised and it comes in an equally as pretty presentation box. You can choose the design, but it really suits a boho vibe.
12. Monki Cropped Boxy Jacket — £40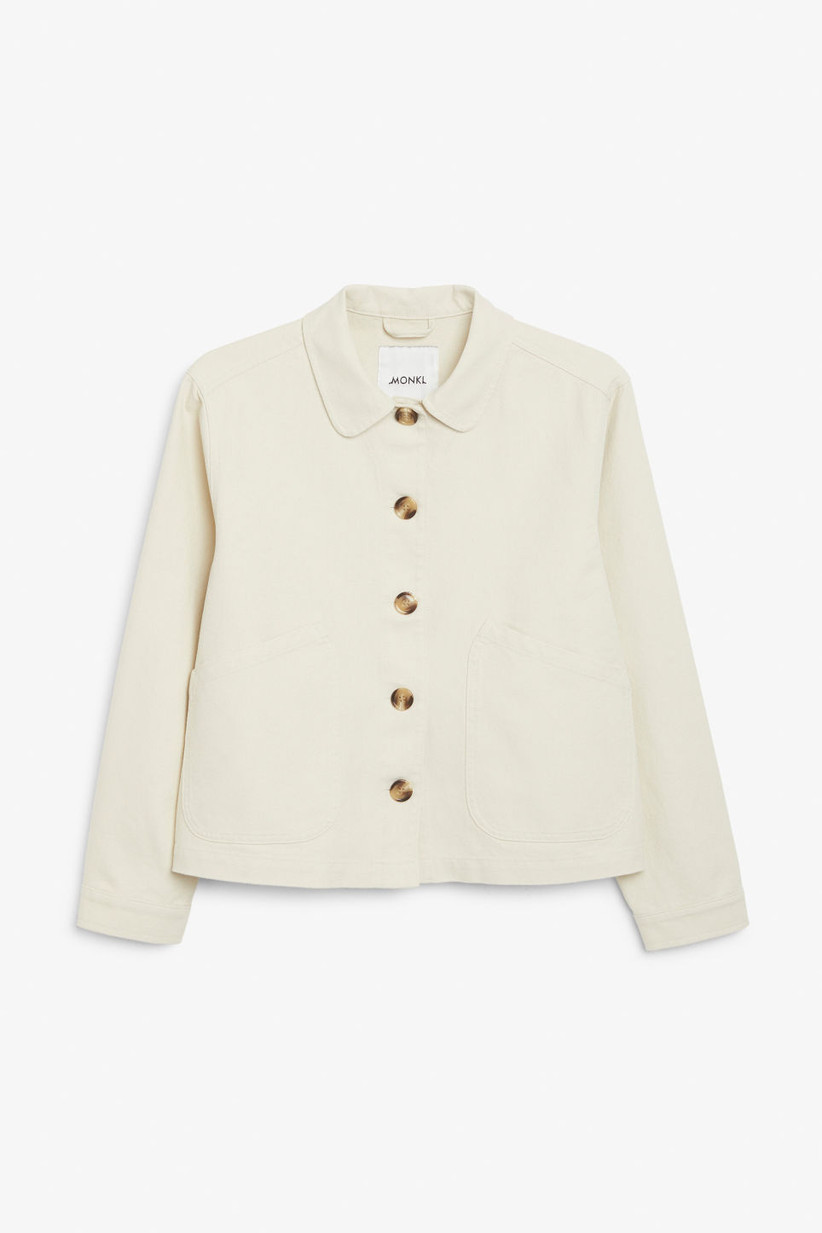 A cropped style with a boxy fit, this jacket has a cotton and linen mix fabric that makes it a great spring or early autumn option that will provide an element of warmth.
13. Topshop Ecru Leather Shacket — £169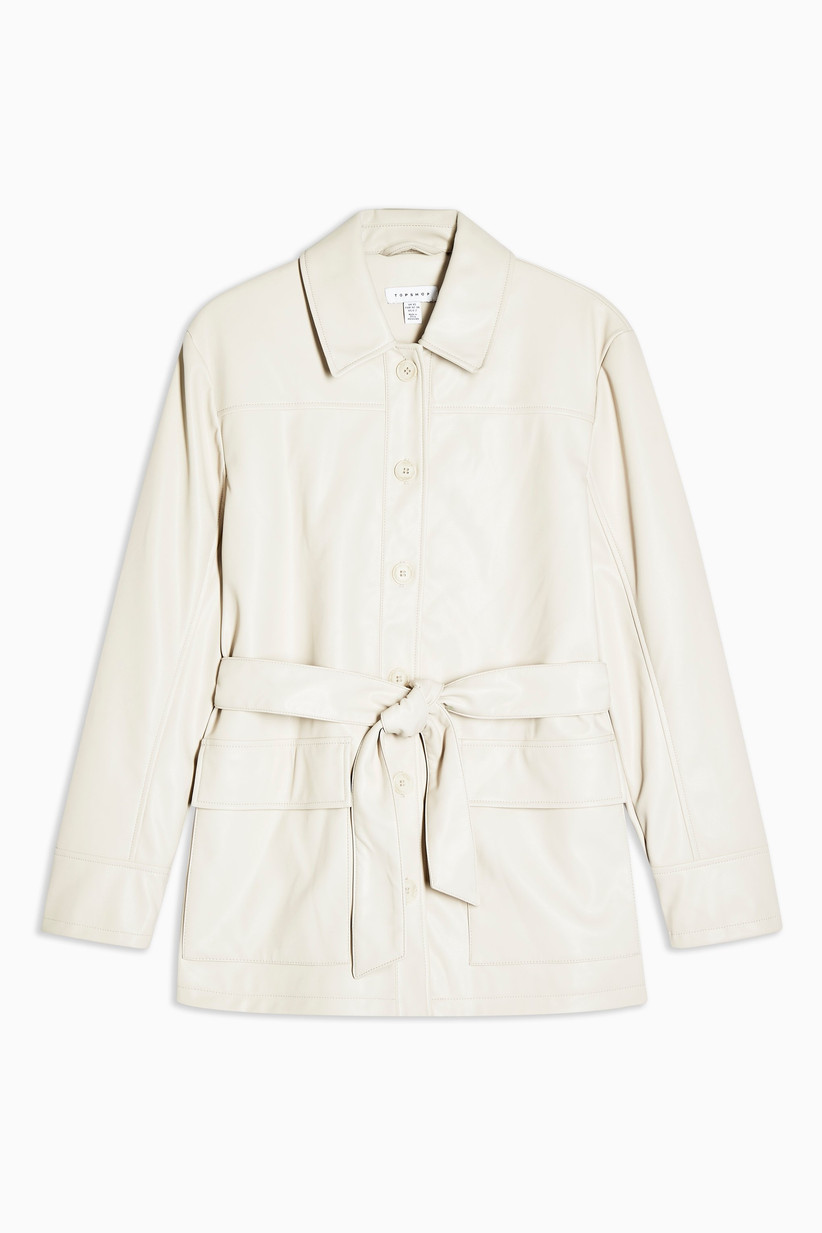 How cool is this very fashion-forward leather jacket? Leather jackets don't only look great in black, and this ecru version is great for a wedding cover up.
14. Marella Sequin Blazer - £205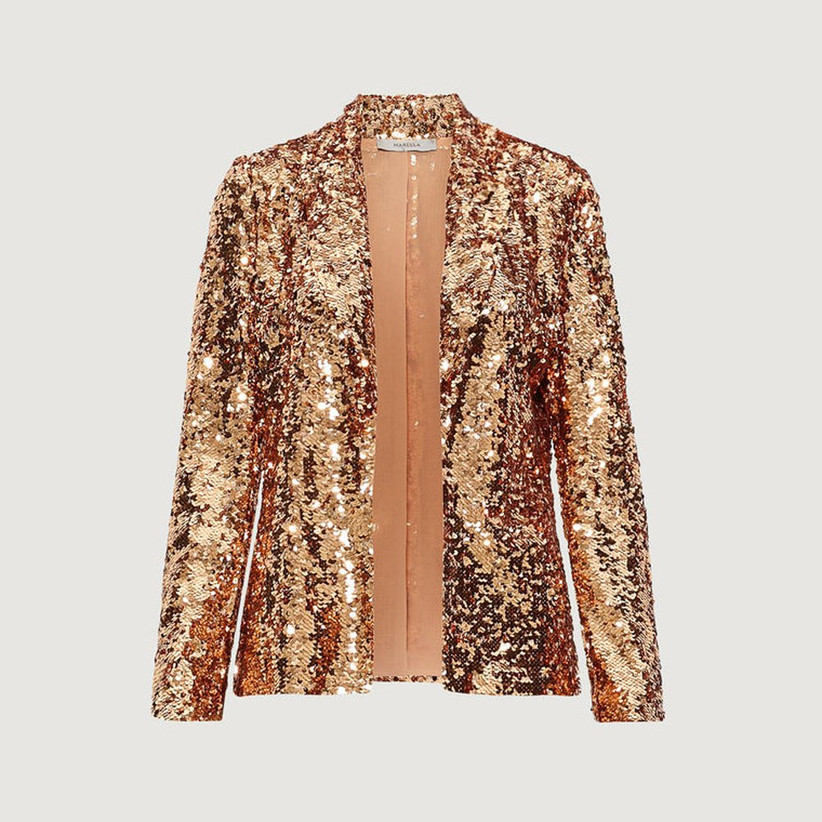 If you love being the centre of attention, there's nothing that'll keep you in the limelight like a sequin-covered jacket! This rose gold colour is warming and uber glam.
15. Molly Goddard Louden Velvet-Tie Tulle Shawl — £450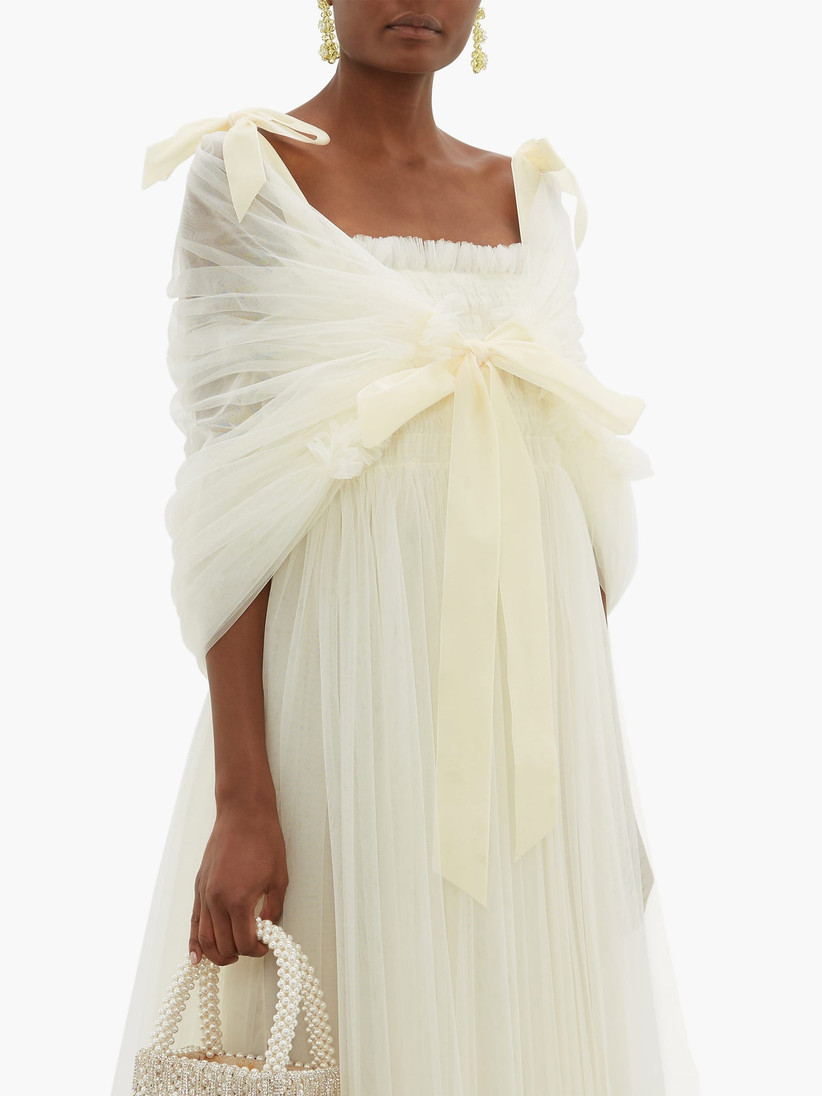 If a traditional jacket isn't appealing to you, opt for a more delicate shawl like this one, which is made from beautiful tulle with velvet ties.
16. Amazon Handmade Bride Denim Jacket — £42.90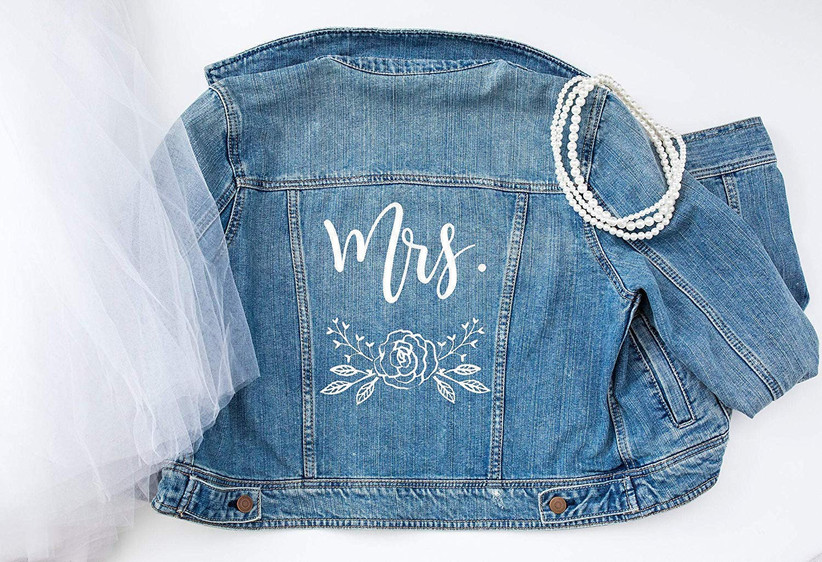 If you want something specially designed for your wedding day, you could always opt for a style that's much more personalised like this cool 'Mrs' denim jacket. You can even choose to add your new surname to it.
17. Galvan Cannes Sequinned Crepe Jacket — £795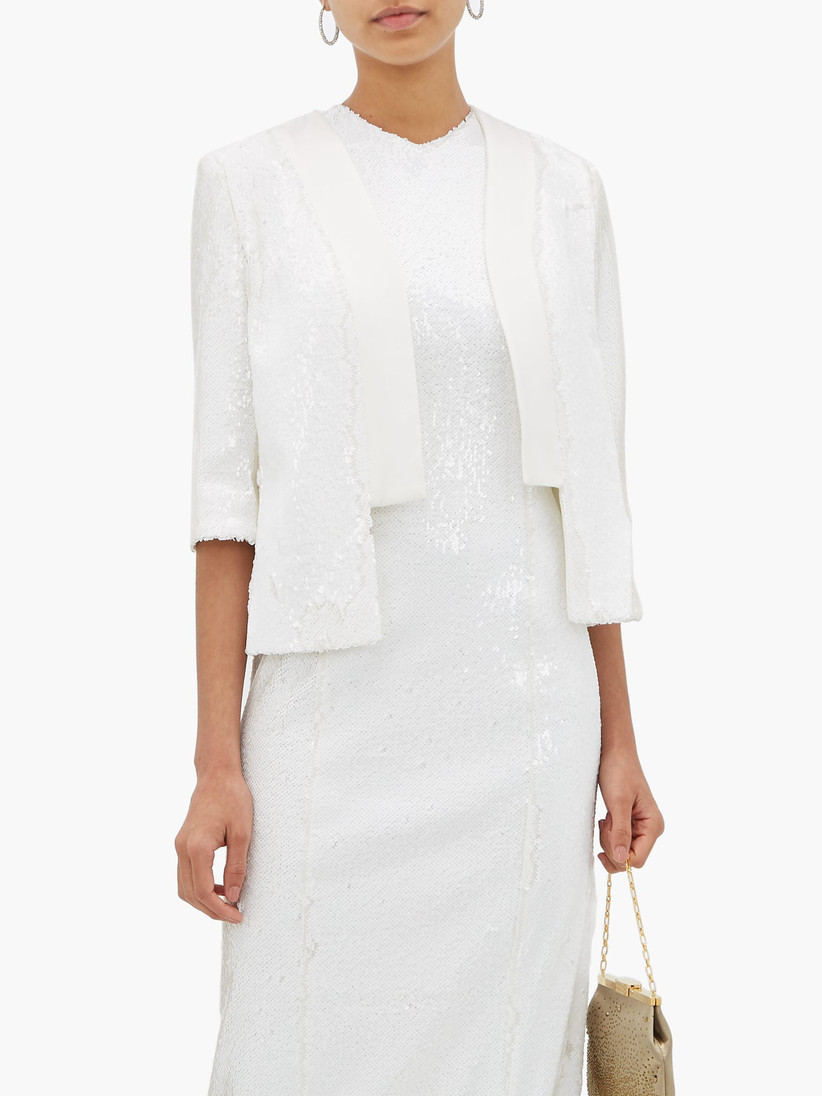 A clean cut design with sequins and sophisticated lapels make this jacket a glorious option for your big day.
18. Reformation Alvarado Blazer — £265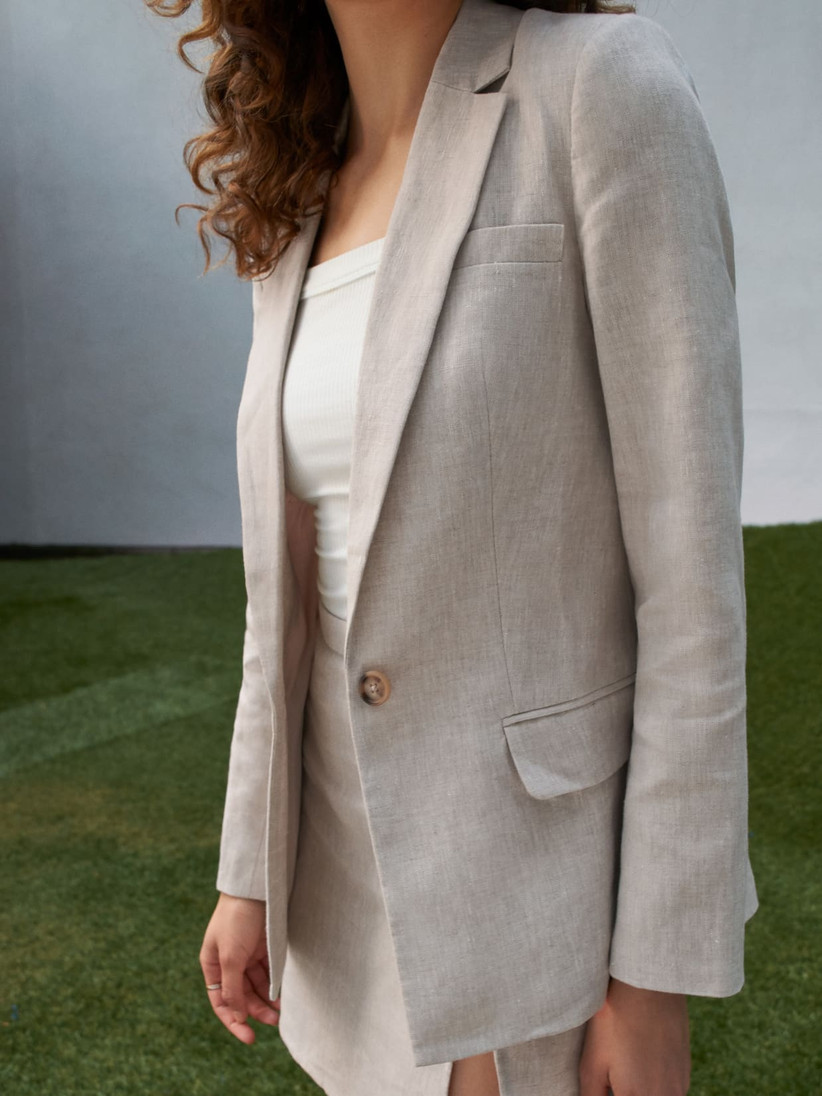 You don't absolutely have to have a white jacket for your big day — why not mix it up with this classy oatmeal blazer, which would look especially chic with a simple slip dress.
19. Etsy Pearl Embellished Denim Jacket — £134.95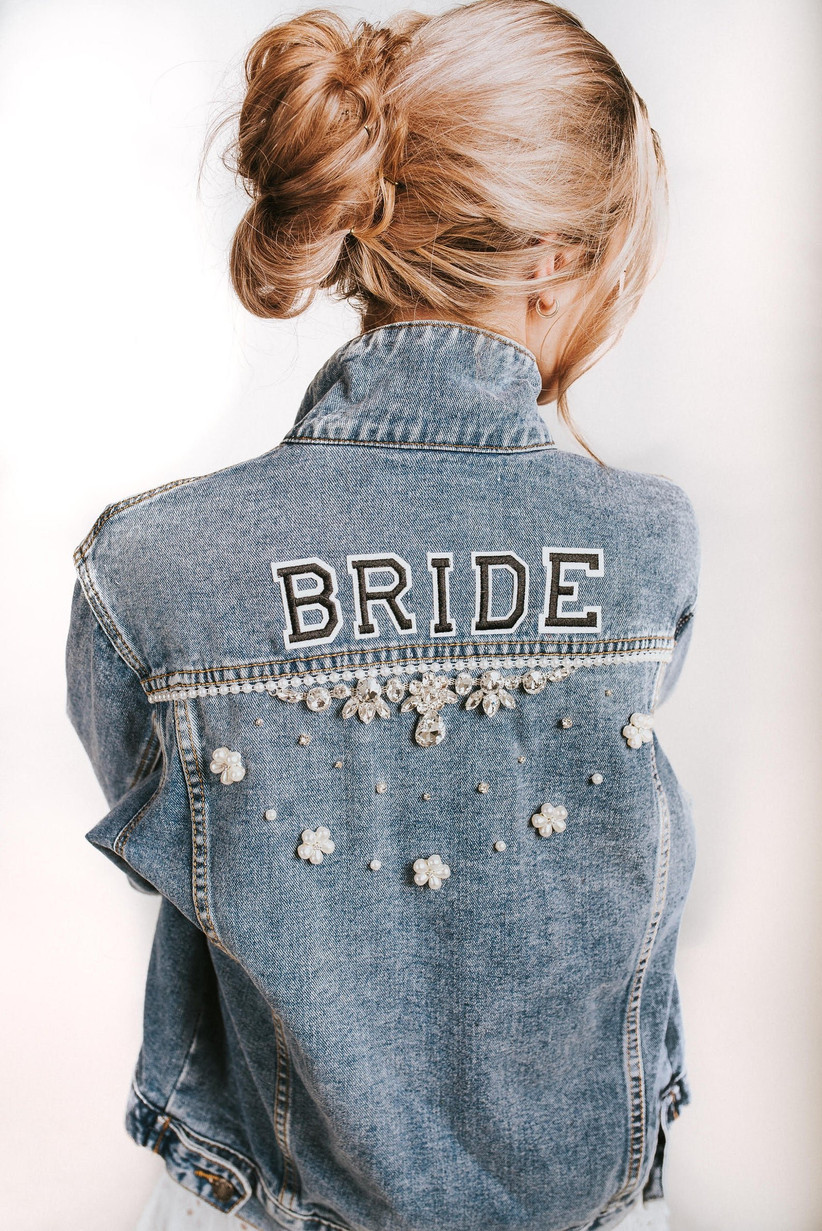 Ok, now this is a cool jacket! Made from vintage-looking denim and embellished with ivory pearl trim, this Letterman-inspired jacket looks super youthful, cool and fun.
20. Reiss Briar Shimmer Jacket — £160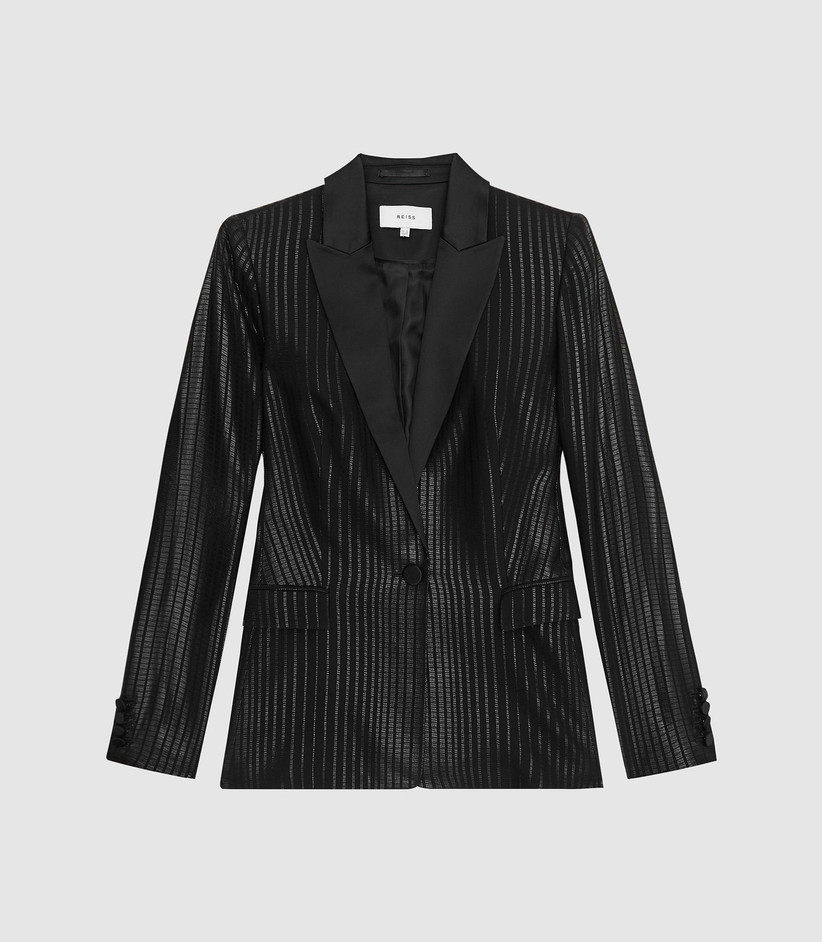 This slim-fit silhouette jacket features understated shimmer stripes and elegant contrasting lapels. It's perfect to throw on top of a jumpsuit or bridal separates, especially if you've got a black tie theme.
21. Nasty Gal 'Just Hitched' Fringe Jacket — £120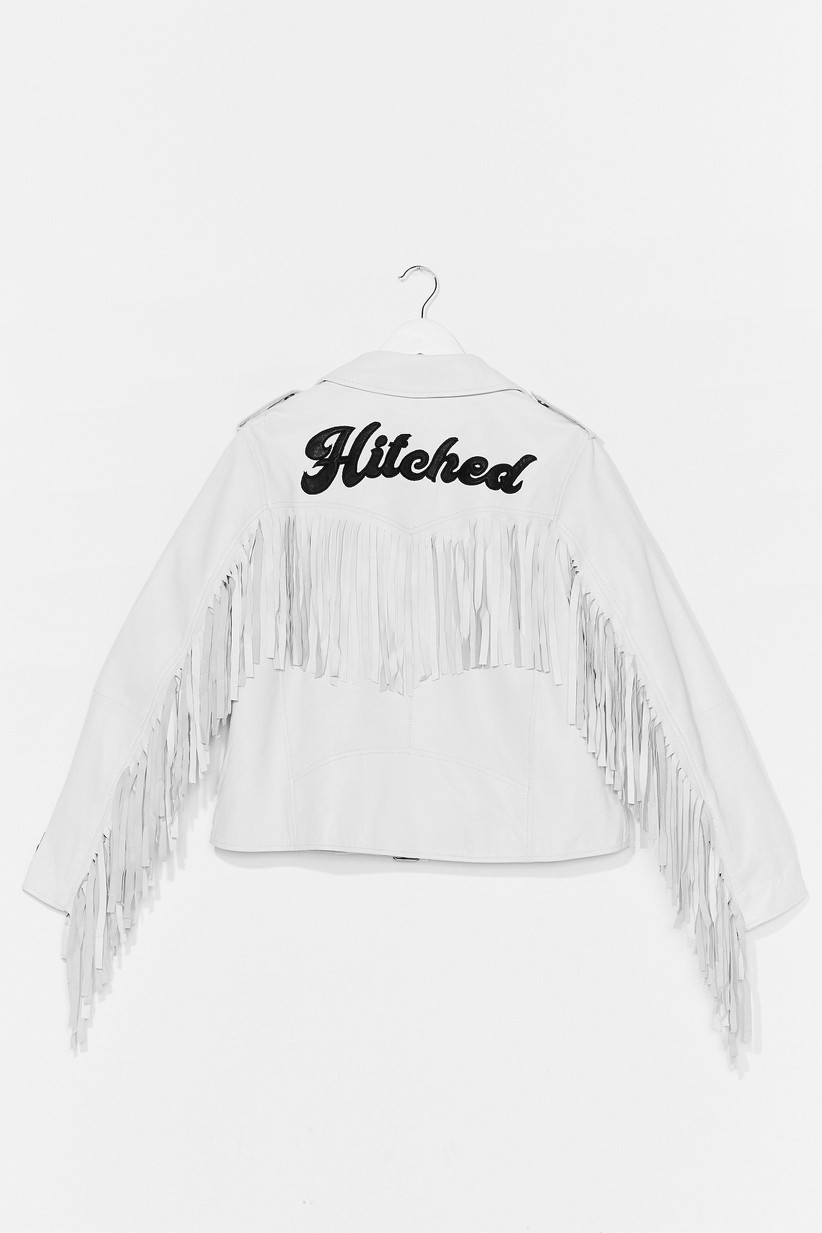 Want to make a statement? This white leather jacket is for the bold at heart. It has on-trend fringing all across the shoulders and down the arms, with 'Hitched' appliqued across the back.
22. Sadie Sadie Personalised Hand Painted Denim Jacket — £320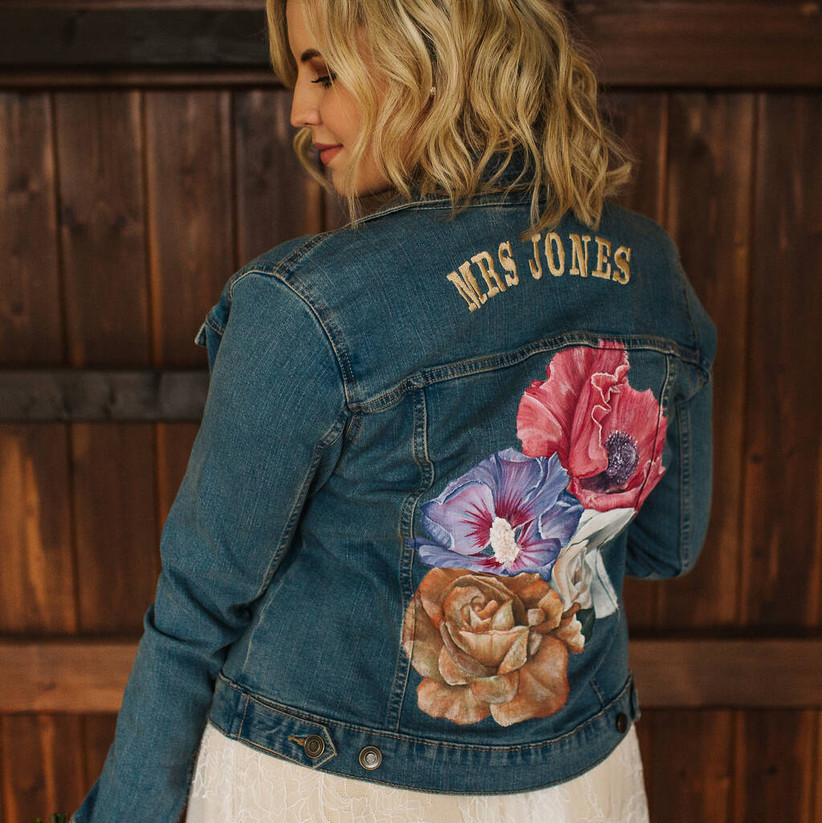 These lovely made-to-order jackets can be designed in any way you choose (within reason!) which justifies the price. Get some cute matching denim jackets for your maid of honour and bridesmaids too for a special touch.
23. Marks & Spencer Tailored Patch Pocket Jacket — £35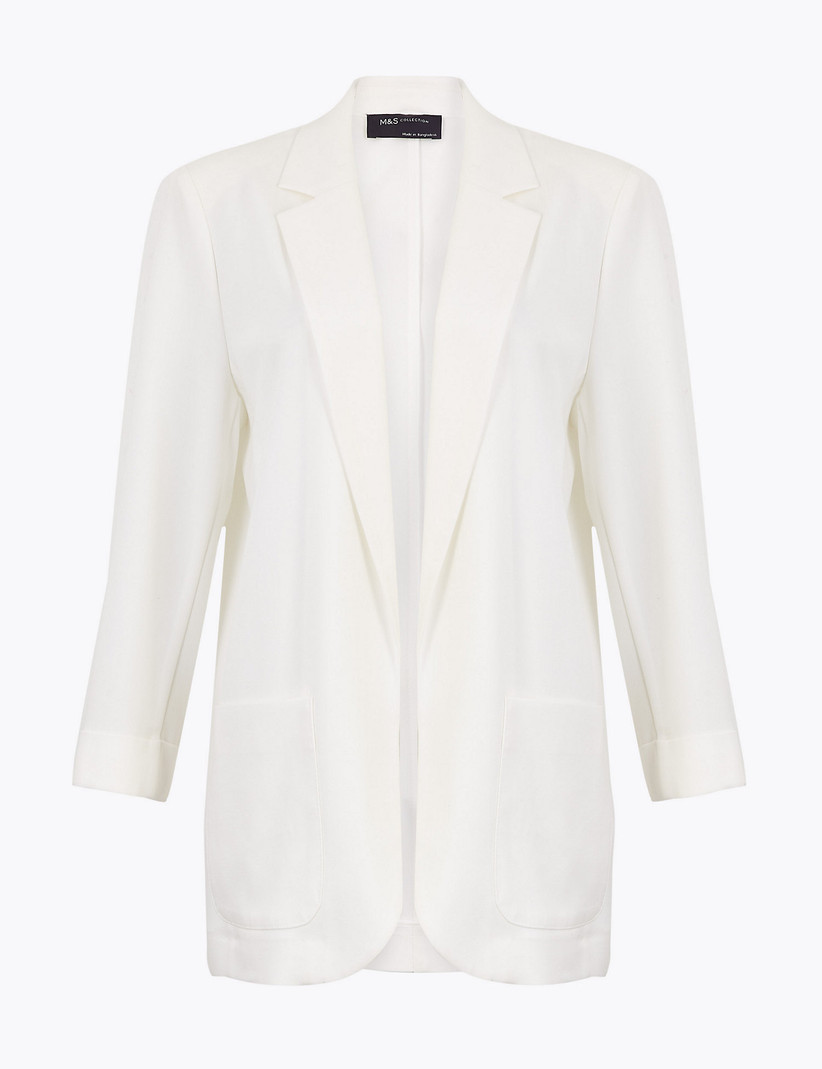 A gorgeous long-line blazer that will flatter any dress or shape, this simple M&S piece is affordable enough to buy for your bridesmaids too!
24. Gap Cropped Icon Denim Jacket — £54.95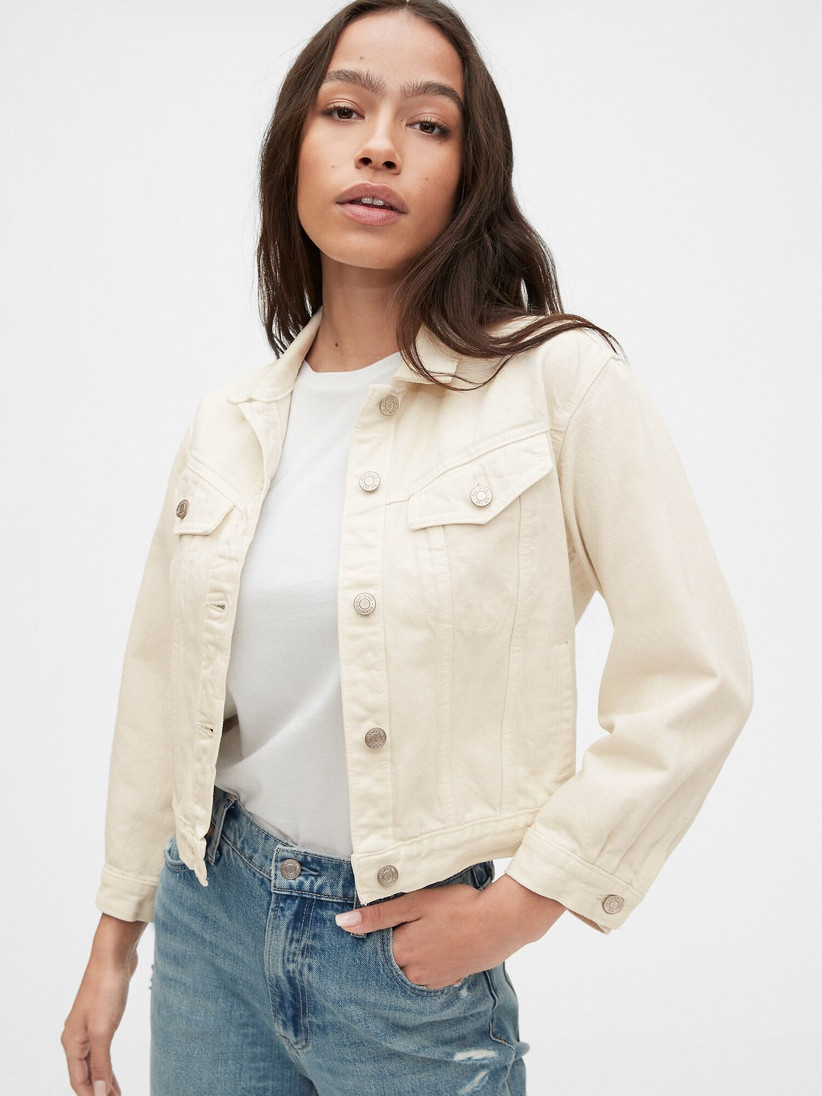 A cropped silhouette will allow dresses with nipped-in waists to still be seen. And with a light denim material, this Gap number is a great choice for warmer weddings.
25. Reiss Rosalyn Cropped Jersey Zip Through Jacket — £125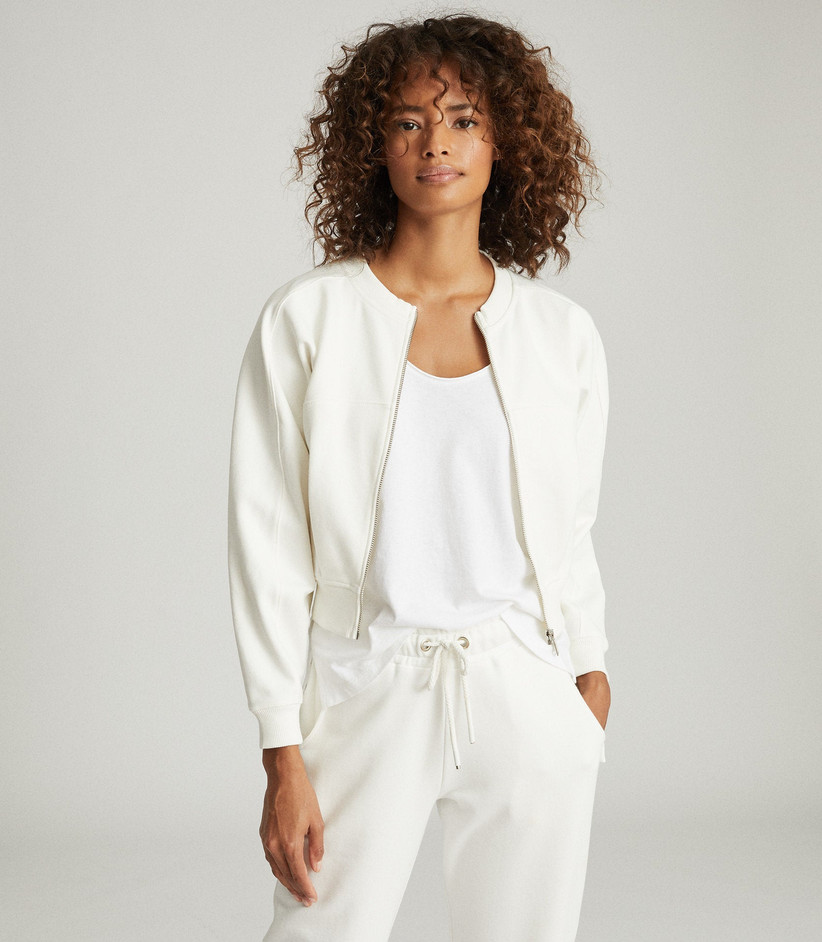 You don't have to necessarily wear a super smart jacket on your big day; this varsity-style jersey cover-up from Reiss is still lovely and will keep you feeling stylishly warm.
Looking for something equally as beautiful for your feet to finish your outfit? These 23 high street wedding shoes look seriously high end!