How to Plan a Wedding: A 33 Step Guide to Wedding Planning
Wedding planning needn't be stressful - not when you have a handy wedding planning guide like this to help you, anyway!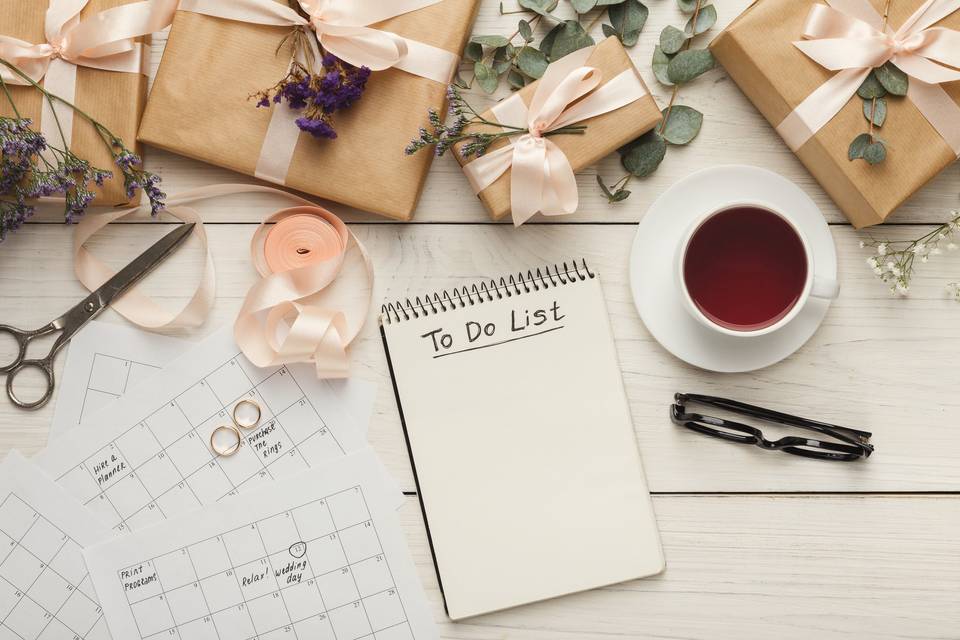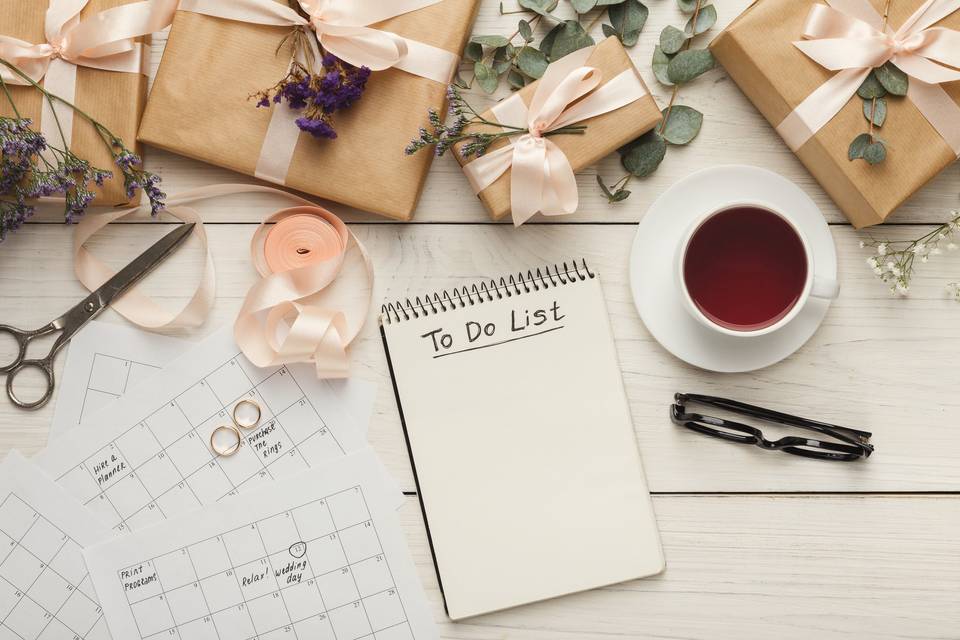 Once the excitement of announcing your engagement draws to an end, it's time to start thinking about wedding planning!
You might be wondering how to plan a wedding, but before we get into the nitty gritty of it all, there really is no right or wrong way to plan a wedding in the UK or abroad.
However, what we can give you is a simple wedding planner guide that'll help you stay organised and ensure you genuinely enjoy this exciting time - and as well as this useful guide, our wedding planning checklist will help you every step of the way.
Wedding Planning: Your Step by Step Guide to Planning a Wedding
Our step-by-step wedding planning guide covers all of the most important wedding planning tasks that every couple should have on their to-do list.
This simple guide to wedding planning will support you right from setting that wedding budget to the wedding day itself - we've got you completely covered!
How to Start Planning a Wedding?
From figuring out your priorities and beginning your vendor search, to organising transport and knowing when to send the invites out, this step by step guide to wedding planning will ensure no stone is left unturned when it comes to your special day.
Follow this simple guide on how to plan a wedding to guarantee an easy, simple and most importantly, fun wedding planning process! And don't forget, you can download our free wedding planning app to help you plan on the go.
How Long Does it Take to Plan a Wedding?
According to our latest National Wedding Survey, it takes the average UK couple between 12 and 24 to plan a wedding.
"A minimum of 12 months gives couples a comfortable time frame to plan a wedding, as vendors like wedding venues, popular photographers and videographers often get booked up quickly," explains Rima Barakeh, Hitched Deputy Editor and bride-to-be.
"Things like ordering bespoke wedding dresses can take the best part of a year to design and order in, so having time on your hands will give you more flexibility when wedding planning.
"Having said that, weddings can be planned on much shorter time scales if couples are willing to be flexible, and there are often deals and wedding packages up for grabs for those working with a shorter time frame. Couples who are planning small or elopement weddings will also be able to work to a much shorter time frame."
A Step by Step Guide to Planning a Wedding
No matter your timeframe, here we have your ultimate wedding planning guide to help you plan the day of your dreams. It details all the things you need to know about how to plan a wedding in the UK, although many of these can be used for those planning destination weddings abroad, too.
1. Set a Budget (and Stick to It!)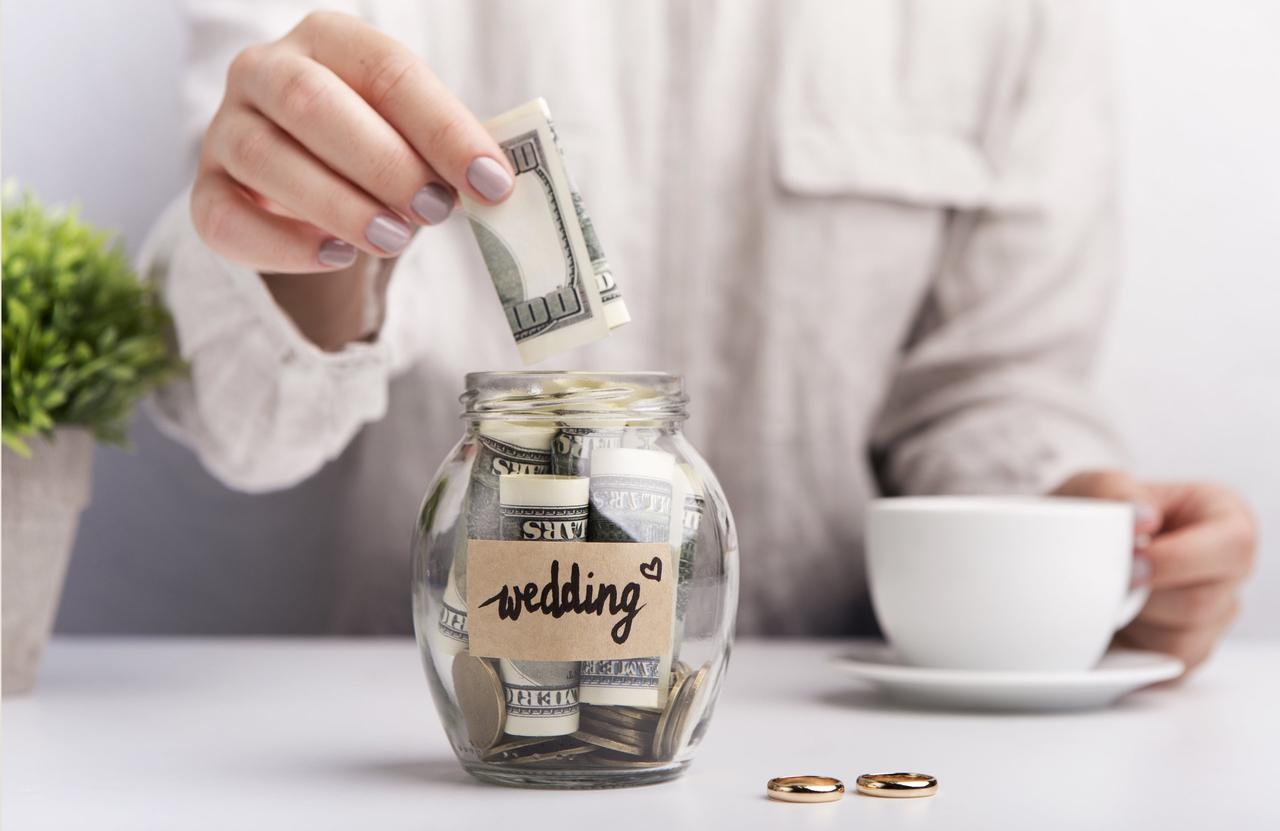 One of the first things to think about when planning a wedding is your wedding budget and how much you can afford to spend.
We've broken down planning your wedding budget into seven simple steps, but the key things you need to do are sit down together and have an open discussion about your finances. How much can you both afford, will anyone else be contributing, and how much will you be able to save over the coming months?
If you think that your parents may help pay for the wedding, it's helpful to talk to them early in your planning stages so you know exactly what they might be able to contribute. Not planning a wedding budget can lead to avoidable financial wedding stress later on in the process.
The Hitched Budget Planner will be a helpful tool to help you estimate and record your spending.
We also have plenty of money saving tips and ideas to help save the pennies and make the most of your wedding budget once you've planned one.
2. Discuss Your Priorities
Going into wedding planning blind as to what yours and your partner's priorities are is not the recommended thing.
One of the most important parts of any wedding planner guide is to both sit down and discuss what is most important to you when it comes to wedding planning. Priorities will differ from couple to couple, but some common priorities are:
Whatever your priorities are as a couple, once you have decided them together, write them down somewhere.
They are a great thing to be able to refer back to if you are trying to save money during wedding planning or choose between two things.
It helps you to stay focussed on what's really important to you and will ensure you have all the main ingredients to your dream wedding.
3. Get Organised
Getting yourself organised, whatever that may mean for you, is key to ensuring your wedding planning journey is smooth sailing.
From buying a planner book and downloading the Hitched app, to making a wedding budget plan (remember step 1?) and getting that wedding planning checklist printed and on the fridge - feeling organised at the start will set you up so well for the remainder of the journey.
Hitched Expert Tip: "Before you start doing anything, pick a timeframe that works for you," says Rima Barakeh. "Don't pressure yourself to get married within the year if that will be too much of a rush.
"As we said, between 12 and 24 months is the average but take as long as you need and talk to other married couples. Ask them what worked and what didn't. After all, experience is the greatest teacher.
"My wedding date is almost two years away from my engagement, but I'm not planning anything until the 12-month mark as I'm prone to changing my mind, however for some, the ideal timeframe to plan a wedding would be the more time - the better - so figure out what works for you."
4. Research Wedding Styles
Before you start booking anything, you'll want to collect lots of wedding ideas and inspiration so you can narrow down the style of your big day. There are so many sources of wedding planning inspiration out there which can make everything a bit overwhelming, but remember they are just ideas.
Just because you love lots of different things, it doesn't mean you need to have them all at your own wedding.
As well as looking at inspiration on social media and checking out celebrity weddings, take a look at some examples of real weddings to see what real UK couples have done.
5. Choose Your Wedding Style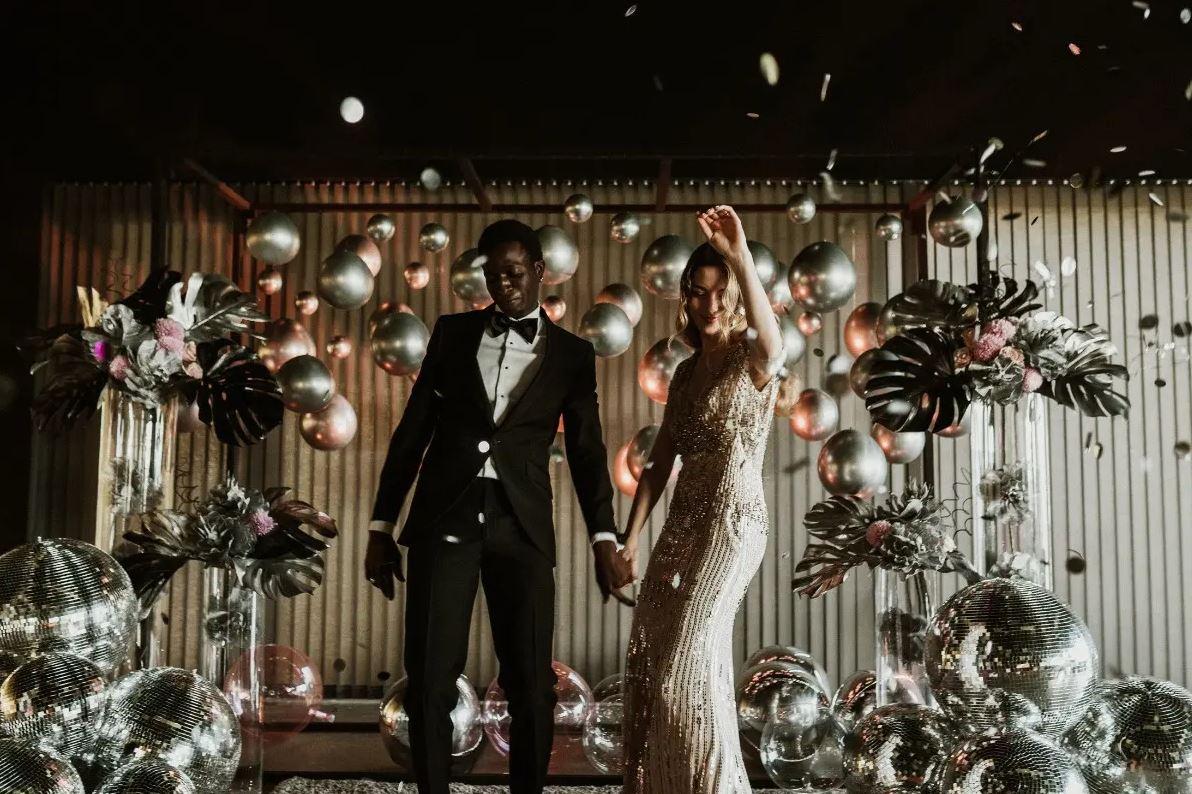 After a little time browsing, it'll become clear what style of wedding is for you, and the fun part of wedding planning can begin.
Whether you choose a few key colours or an actual wedding theme (like a festival theme or a vintage theme, for example), it's important to choose a style or colour scheme to base your wedding around.
Making supplier decisions will be much easier once you know what kind of wedding you're planning, and what you're after, and it will then be much easier to ensure everything matches.
Hitched Expert Tip: Nina Beer, wedding consultant, expert and one half of the What Not to Do When Planning a Wedding podcast advises, "It's simple, ensure your wedding style is something you both love and will still love in 50 years' time.
"It's an opportunity to bring out your personality, and individualise your wedding - it should be an enjoyable part of planning your day.
"With that said, be mindful of trends that you could start to think were a flash in the pan, and keep your options open as you discover more of what is possible for your day. You won't know all the possibilities at the start so be flexible as you go through your wedding planning journey."
6. Make a Wedding Planning Checklist
Okay, so you have your budget, know your style and have a list of priorities that you definitely want at your wedding - now it's time to get that wedding planning checklist sorted.
We have a to-do list on the Hitched app and website which can be tailored to your wedding needs. You can use that, or you can take ideas from online checklists and use them to create your own bespoke one.
Whichever way you decide to do it, having one comprehensive list of everything you need to do will help you to manage both your time and your budget better.
If you're making your own, don't panic about remembering absolutely everything - you can always add extra bits and bobs to the list as you go.
Hitched Expert Tip: "Work as a team with your other half – don't try and do all of the wedding planning yourself, and remember that communication is key," says Zoe Burke, leading UK wedding expert and Editor of Hitched.
"You can also delegate to friends and family you trust if, after making the checklist, you are feeling overwhelmed."
7. Set a Date
Deciding when you want to get married will have a domino effect on so many other aspects of your wedding planning. When deciding this, you want to consider what season/weather you want on your wedding day and what day of the week you want to get married.
When thinking about specific dates, there are some wedding dates you'll want to avoid due to sports event clashes, unlucky numbers and national holidays. It's also worth remembering that the date you choose for your wedding can impact your budget significantly.
We go into much more detail in our wedding season article, but getting married on a Saturday in August will cost you much, much more than if you get married on a weekday in January or February.
Deciding on your wedding date will also allow you to book a wedding venue, send save the dates, and get the ball rolling with suppliers.
8. Make a Wedding Guest List
Where do you start with planning your guest list? The truth is, you have probably already thought about it and you know the key people you want to invite, however, you might need to a bit of time to decide who to invite to the day versus the evening and what to do about the wedding guest list drama such as plus ones and the ever-pressing issue of whether or not to invite your colleagues...
Hitched Expert Tip: Nina adds, "The pressure to invite the whole world and their children is real, but remember that how you feel on your big day will largely come down to who you are surrounded by. So, ensuring that these are the people who mean the most to you, will be there for you during both the highs and the lows.
"This is hard though if say, your parents have influence over the guest list (especially if they are financially contributing) but see if a compromise can't be reached. If you keep communicating with them as to why it is important to you then they should understand that the significance of the day is the commitment you are both making."
9. Find Your Perfect Venue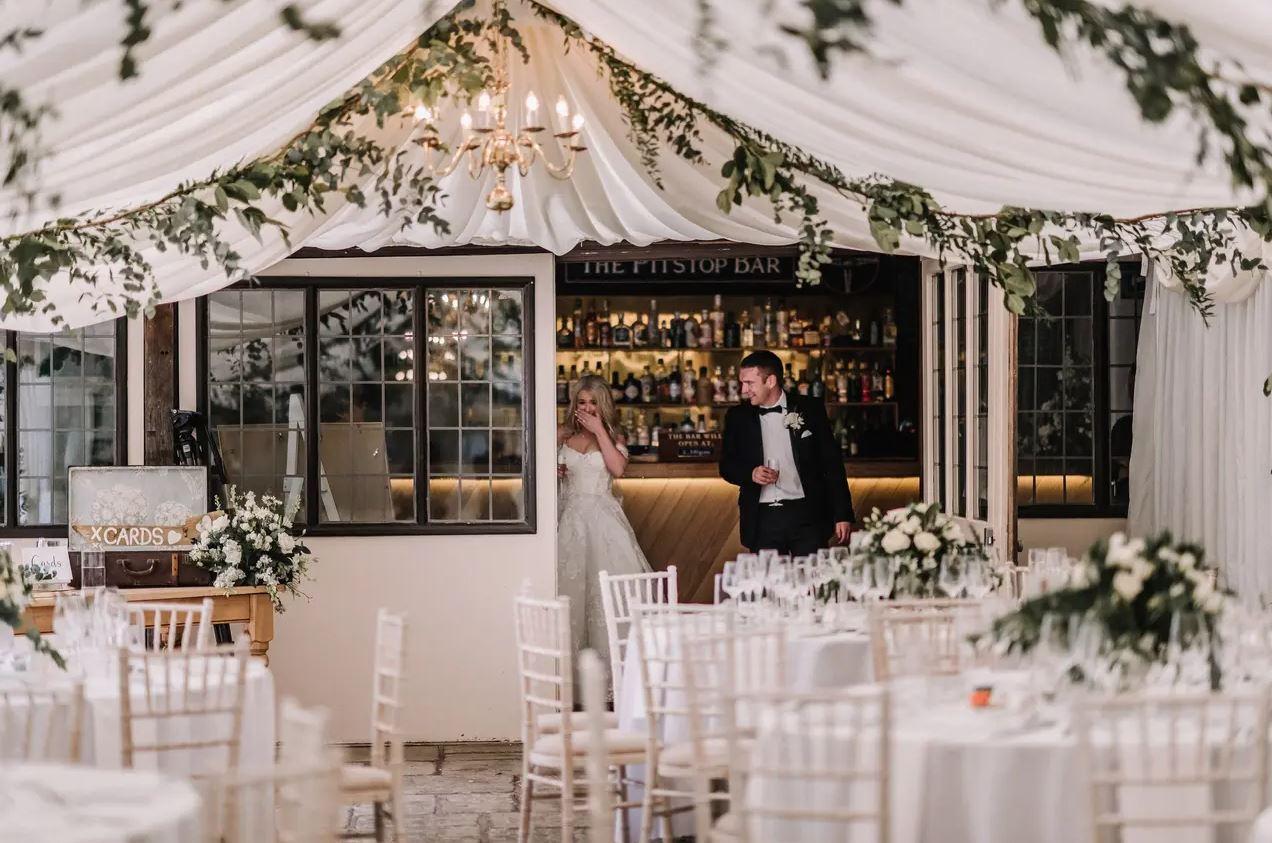 Once you've set a budget and decided on a theme, you can start to think about choosing a wedding venue which fits in with it all. Securing and booking your wedding venue will determine your wedding date, location and your maximum guest numbers, so make choosing your venue a priority.
Before you start the hunt for your venue, sit down together and talk about what you both want from your wedding and what type of venue will fit with the theme you've chosen. This is where you go back to your wedding vision and priorities. If one of you is picturing a fairy-tale castle wedding venue and the other is dreaming of a rustic barn venue then you may need to compromise.
Think about other important factors such as whether you want to have a wedding venue with accommodation, whether you want to use your own caterers and what your evening guest number is likely to be. All these factors will play a part in determining which wedding venue you choose.
Hitched Expert Tip: "You can use the Hitched wedding venues section to browse beautiful wedding venues throughout the UK and beyond," advises Rima.
"You can search by county or style, as well as filtering by practical features such as catering options, capacity, parking and more. This helps you to find a wedding venue that ticks all of your boxes, both visually and practically."
10. Send Your Save the Dates
Although you've probably already told everyone your plan for wedding celebrations, now is the time to make it official.
Your wedding invitations should be sent out approximately three to six months in advance of your big day, but it's never too early to choose a design, style or stationery supplier that you love.
In order to give your guests as much notice as possible, we'd recommend sending out save the date cards as soon as the venue is booked to announce your wedding and ensure your guests keep that date free, with an 'official invitation to follow' note.
Hitched Expert Tip: Nina adds, "as soon as you have the date and location, it's a great idea to get those save the dates out. That way people can earmark the date and know not to book anything else in.
"Doing so as early as possible also enables you to start to get an early gauge of anyone who isn't able to make it already."
11. Choose Your Main Wedding Suppliers
Of all the things in our wedding planning guide, this is probably one of the most important steps, as choosing your wedding suppliers will shape the overall theme, style and cost of your wedding.
Start by making a list of all the suppliers you're going to need to hire. Your wedding venue may already have a list of recommended suppliers which is a great place to start, but make sure you widen your search if you want something a little different before you book and pay deposits.
Here are your main suppliers to look for:
Contact the wedding suppliers you think suit your wedding style and then sit down with your partner and spend some time comparing prices and services to find what suits your style and your budget. Don't be afraid to shop around.
Hitched Expert Tip: "Only choose wedding suppliers you're comfortable with and who understand your style and vision," says Zoe.
"The last thing you want is a photographer who you don't gel with as they'll be around all day, and they should feel like a friend to you both. Read reviews, find out about cancellation policies and get clued up on their payment methods – it's always better to be safe than sorry."
12. Decide on Additional Wedding Suppliers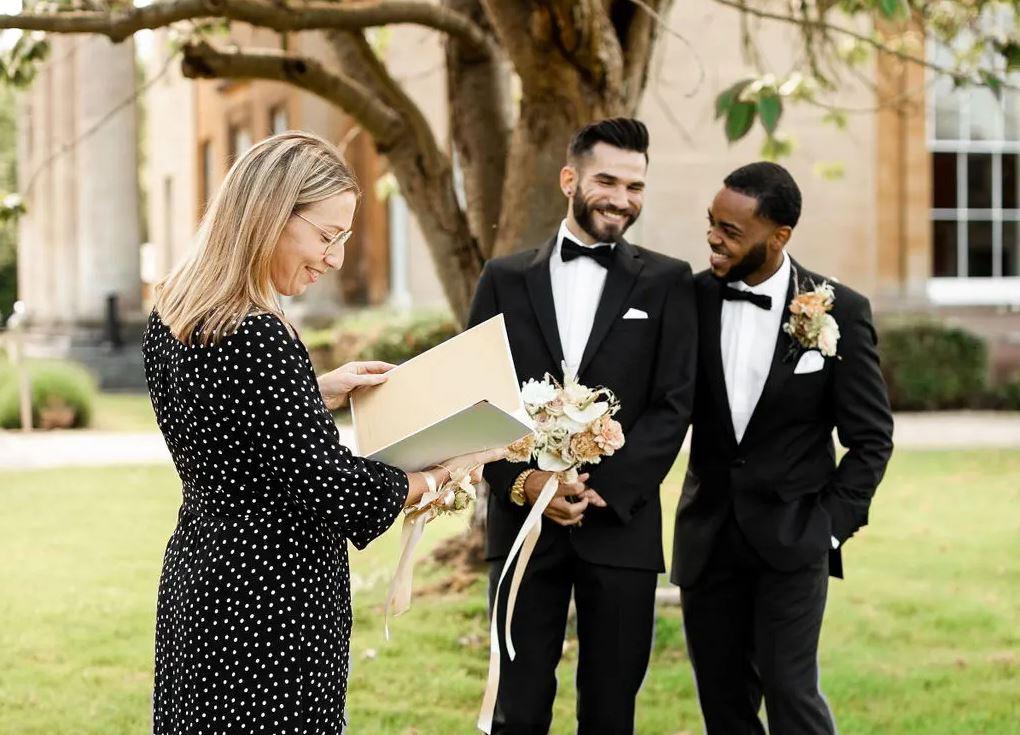 Aside from the wedding suppliers many people have at their wedding, choosing additional and unique wedding suppliers can really set your day apart from the rest.
When deciding on extra suppliers, it'll help to visit our suppliers page and the sections below to find some amazing wedding professionals who you'll most certainly want at your big day.
Find everything from dog chaperoning companies and wedding firework display artists, to circus performers and incredible floral arch companies.
13. Set Time Aside to Review Contracts
Before you agree to any wedding supplier, or venue for that matter, it's really important to take some time to review the contracts. These contracts are legally binding and you want to ensure that you, and your supplier, are both fully protected by them.
Nine times out of ten there won't be anything you want to amend, but hiring wedding suppliers and venues often involves handing over a lot of money, for the most important day of your life, so guarantee yourself that peace of mind and check over all of your contracts before signing on the dotted line.
It may not be the most fun part of planning a wedding, but it's one of the most important.
14. Buy Wedding Insurance
According to our latest National Wedding Survey, the average UK wedding costs £18,400.
Now, a budget of almost £20,000 may seem like a lot but when you consider the cost of your venue, catering, alcohol, the dress and the many other wedding essentials, you'll soon see how much they add up to.
While it's not very romantic to think about what might go wrong with your wedding, it's always best to be prepared. Purchasing wedding insurance from the moment you start spending money on your wedding could really help with peace of mind for both your wedding and honeymoon spend.
Wedding insurance can also be a great way to reduce stress throughout your wedding planning journey – it's one less thing to worry about!
Hitched Expert Tip: Even if you are dealing with friends, family friends or friends of friends who are doing you a bit of a favour or a special deal, get everything to do with your wedding in writing.
Having an email trail will really help in the very unlikely situation that something doesn't quite go right.
15. Make it Legal
One of the most necessary wedding planning steps (for some, anyway!) is the task of making things legal. In the midst of dreaming about colour schemes and wedding reception playlists, you also need to make time to get your marriage license.
This might not be one of the first things you actually need to do, but it should be in the back of your mind from the off-set. Research what you need and start to gather the necessary marriage documents from early on in your wedding planning process.
This is also important if you're planning a humanist or celebrant wedding in England or Wales, where they're not legally binding - you'll need to sort your official ceremony to ensure you're legally married.
If you're planning on getting married abroad, the paperwork you need is likely to be different and slightly more complex. Just remember, marriage licenses are typically only valid for a couple of months so you'll need to plan accordingly.
16. Choose Your Wedding Party
You may instantly know who your maid of honour, bridesmaids, ushers, best man, flower girls and page boys will be, or you might need a little bit of time to think about it. When making these decisions, it's important to understand what the different wedding roles consist of. Who do you trust to carry out the important duties?
If you're not sure then don't feel rushed into your decision. Think carefully about who will be the best people to support you and your partner on this special day and in the run up to it.
You may also want to consider the cost as your wedding party will need outfits, bouquets, buttonholes and thank you gifts, so the more people you have, the more this could impact your budget.
One of the most fun parts of wedding planning is often asking your chosen friends if they'll do you the honour of being part of your wedding party, so plan this out and make sure you have your phone to capture the moment.
Below are the traditional roles most commonly imposed at a wedding, along with what their duties entail. But don't feel like you need to be shoehorned into a particular set up - you can have gender neutral wedding roles like a bridesmate, flower boy, mate of honour and all kinds of alternative roles that suit you and your crew best.
17. Arrange Transportation and Wedding Accommodation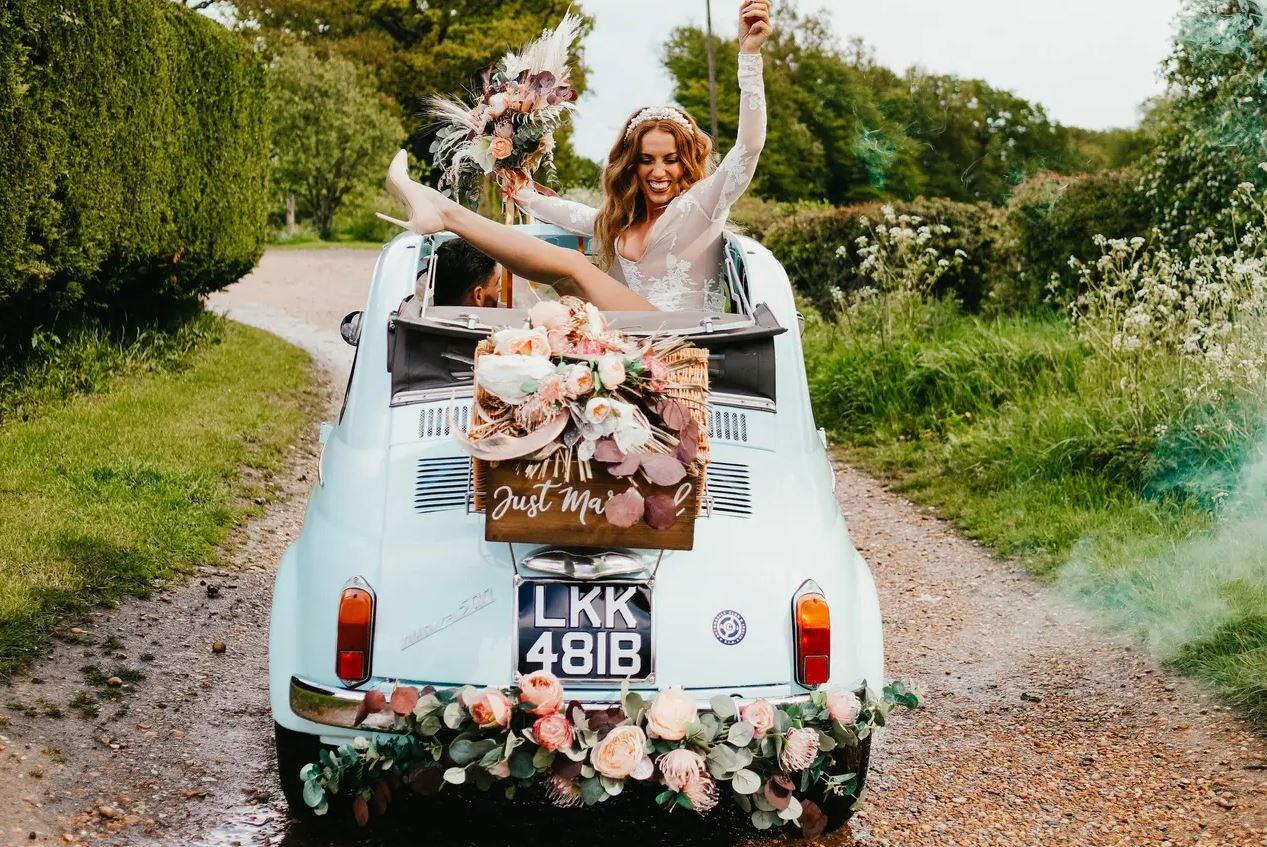 With your venues and suppliers sorted, it's time to think about the practicalities for planning your wedding day. You need to think about how you, your wedding party and your guests will arrive at the wedding. Thinking about an unusual wedding car?
Research transport links so you have some information handy for your wedding website and when guests ask you. It's also worth checking ahead to see what the parking situation is at your venue.
If you're getting married at a wedding venue with accommodation, how many rooms are there, and will some of your guests need to find their own accommodation?
If so, it's always a nice touch to research nearby hotels and even negotiate a group rate if you know you'll have lots of people staying over.
If you're getting married locally, perhaps a few local taxi numbers would be good to have handy for guests who aren't such a whizz with Uber, or prefer to book something in advance.
While these wedding planning tasks may not seem all that fun - unless you're the Monica-from-Friends type - doing research and organisation like this ahead of sending your wedding invitations out will mean you have the answers at hand when the questions from your wedding guests come piling in.
18. Make a Wedding Website
If you want a hub where your wedding guests can find all the information they need about your big day in one place, making a wedding website is a no-brainer. Not only does it save you answering questions about parking or local hotels one-by-one, but it can also save you money on your wedding stationery. Discover the best wedding websites here.
Rather than turning your wedding invite into a wedding leaflet by cramming a load of information onto there, keep all of your wedding info on your wedding website.
It's also a great way to make announcements to all of your guests without having to contact everyone individually. If there are planned strikes or roadworks on the day of your wedding, you can post solution-based updates there.
Finally, if you don't want to pay postage for all of your guests to RSVP by mail, you can set up a RSVP section on most wedding websites where people can submit their RSVP, food menu choices and also access your wedding gift list. What's not to love?
19. Send Wedding Invitations and RSVPs
With the majority of wedding planning and organisation taken care of, you can now send out your wedding invitations and RSVPs. Having already posted your save the dates, it's likely that anyone who can't make the wedding will have informed you by now that they have a date clash.
There are certain things you need to include on your wedding invitations such as location, RSVP information, menu choices if applicable and other practical notes.
If you want to avoid guest list drama, ensure your wedding invitation wording is really clear as to who is invited, whether or not a plus one is included, and whether they are invited as an all-day wedding guest or just for the evening.
The clearer you are now, the less awkward conversations you'll have coming your way.
Hitched Expert Tip: "If you're posting wedding invitations, you may be able to cut costs by posting a number of invites to one person who lives near some of your other guests," says Rima.
"For example, if you have lots of family in Scotland who you want to invite, and they all live near each other, consider sending to just one address and asking someone trustworthy to distribute them."
20. Buy Your Wedding Dress Dress, Bridesmaid Dresses & Groomswear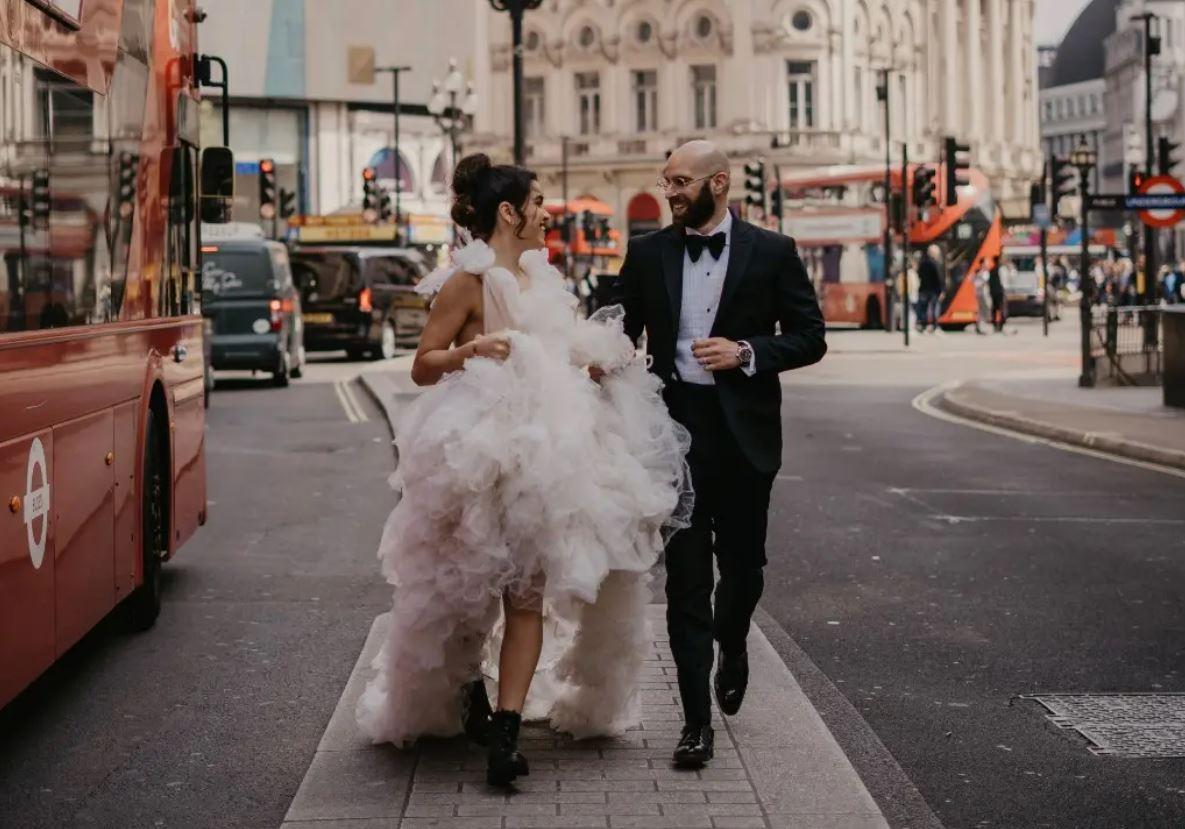 Choosing your wedding dress will be one of the most exciting and emotional parts of your wedding planning. A lot of designer wedding gowns can take up to six months to make, so give yourself plenty of time to find the dress of your dreams.
Browse our list of bridal shops near you to find inspiration.
Once you have chosen your wedding dress, you can think about bridesmaid dresses that will complement your wedding gown, and groomswear that will suit the style of your big day.
If you're not in the market for a wedding dress, shop for affordable wedding suits, or non-binary wedding outfit ideas instead.
21. Check In On Your Wedding Budget
Whether it's ad-hoc checking in here and there, or a weekly reminder of where you're at with your cash flow, we want to stress the importance of regular check-ins on your wedding budget.
Remember at the beginning of the wedding planner guide when you spent all that time planning it out and working out costs and what you can afford? Well what's the point if you just forget about it altogether?
We understand it can be daunting to see costs add up, but checking in on your budget throughout wedding planning will not only help you to keep your spending on track, but it enables you to remain in control of your wedding planning process and spending.
Hitched Expert Tip: "Make sure you're keeping track as you buy items and book suppliers for your wedding," advises Zoe.
"Either set yourself up a spreadsheet or buy a wedding planner book and be consistent with noting everything down. The Hitched app is great for this also! Make a folder for print-outs as you get receipts too, or take photos and add them to a specific folder on your phone or computer."
22. Create a Wedding Gift List
Some decide to do this before they send out their wedding invitations, but that's completely up to you. If you decide to set up your wedding gift list afterwards, you can always update your wedding website with the details so everyone knows what you'd like.
Although it may feel strange telling guests what you want as a gift, it will actually make the whole process easier for them. Your guests are going to want to buy you a wedding gift, so save them the stress of trying to decide what to buy and create a wedding gift list.
If you ask your guests for money and they're not sure how much to give, we have a brilliant wedding gift calculator which advises people on how much to spend depending on their relationship with you and their own financial situation.
Hitched Expert Tip: "If this is something you're really not comfortable with, consider giving your guests a list of charities you'd like them to donate to on your behalf - people will always want to give you something so it's better to be upfront about yours and your partner's wishes," recommends Rima.
23. Buy Your Wedding Rings
One of the most fun and exciting tasks on the wedding planning guide is the job of shopping for your wedding rings!
There's not much to advise here - decide a budget beforehand and choose the ones you like. Why not make a day of it and have some non-wedding planning time together?
24. Collect RSVPs and Create a Table Plan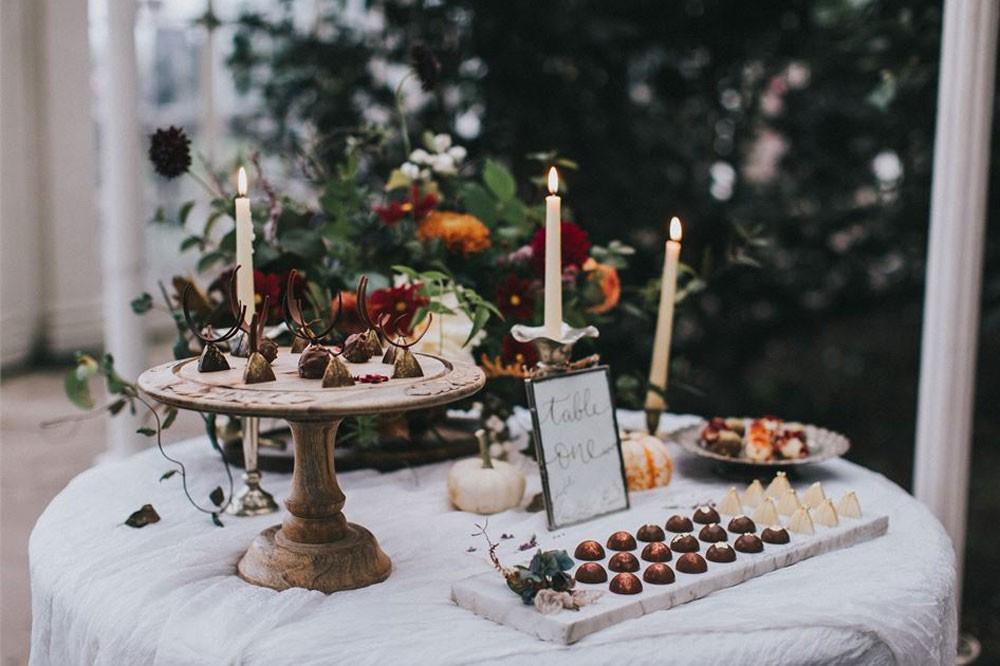 You have sent your wedding invites and now you are awaiting your RSVPs. Although you will have given your guests a deadline, be prepared that there may be a few guests that you need to chase up!
Once you have your final numbers, you will be able to start working on your table plan. The table plan may seem a daunting prospect, but the Hitched Table Planner will help make it feel more manageable. Put your wedding guests into family and friend groups and then play around with your tables to see who will fit where.
It may also be worth considering whether you have any guests that will need easier access in and out of the room, such as those with young children or the elderly, as you might want to seat those guests nearer the doors.
Once your table plan is complete then it's time for the fun bit… you can get creative and think about what table names you are going to use and how you are going to display your table plan.
Hitched Expert Tip: Speaking to this, Nina says: "Honestly, anyone can sit with whoever they want, however, just remember that these people will be sitting together for a good few hours, if not more, so if you want to be kind, make sure it is people they like.
"Personally, I think in order to create a great atmosphere quickly, and a lot of memories for your guests, they will have the best time sitting with friends and family they know and love rather than going with, say, people who are merely their age or from the same location."
25. Create a Schedule of the Day's Events
At this point, it's important to create a schedule for the day's events. Not only will this give you and your suppliers something to work from, but it'll remind you if there's anything you've forgotten. What's more, writing everything down will help you create your 'Order of the Day' cards or signs which you might want to match with your wedding invitations.
On your schedule, include things like when your vendors will arrive, what time the ceremony will take place, what time you'll take photos and what time you'll sit down to eat. You can also include what time the first dance will happen and what time you'll cut the cake.
Be sure to give a copy of your run of events to your photographer, venue, maid of honour, DJ, ushers and anyone else who should be in the know!
Hitched Expert Tip: "Consider figuring out a social media strategy for your big day," suggests Zoe. "Is it important to you that no-one is distracted by their phones, or that day guests don't post photographs until the evening guests arrive?"
Check out our guide on how to have an unplugged wedding for more information.
26. Decide on Toast, Speeches and Readings
This is something that you need to give people plenty of notice for. No maid of honour speech or best man toast should be written the day of!
Decide who you want to do your speeches, readings and toasts - this is also a really nice way to include those people who weren't chosen for a main wedding role. They can still feel they played a big part in your day despite the fact they aren't in a bridesmaid dress or walking you down the aisle.
Hitched Expert Tip: "Make your wedding personal and don't get too bogged down by tradition," says Zoe.
"If there's something traditional to weddings which you're keen to get rid of, then do! The best weddings are always the ones which showcase the couple's personalities - and this goes for the speeches and readings too!"
27. Arrange Stag & Hen Nights
Hopefully your awesome wedding party and amazing I-do crew will have this covered, but make sure you know if there's anything you need to prepare for, pack or pay for so you can factor this into your planning and your budget.
You also want to ensure that the timings suit both you and your partner – gone are the days where stag and hen parties take place the night before the wedding (eek!) so make sure the dates and arrangements are appropriate.
28. Book Your Honeymoon
Booking your honeymoon will be one of the most fun parts of your wedding planning – you are basically planning your dream holiday!
If you have planned your honeymoon costs and budgeted for them then you can book something straight away, or you may have chosen to use your gift list to subsidise some of your honeymoon. If this is the case, you might want to wait until after the wedding to book.
If you are still feeling budget conscious, then you could always plan a minimoon for straight after the wedding – giving you a few days to escape, relax and enjoy your newlywed status. You can then spend some time after the wedding saving towards a bigger trip later in the year that will be your official honeymoon.
Hitched Expert Tip: "Honeymoons don't have to cost the world, we scoured the globe and found some incredible cheap honeymoon destinations that look and feel like a totally expensive and luxurious holiday," says Rima.
29. Write Your Vows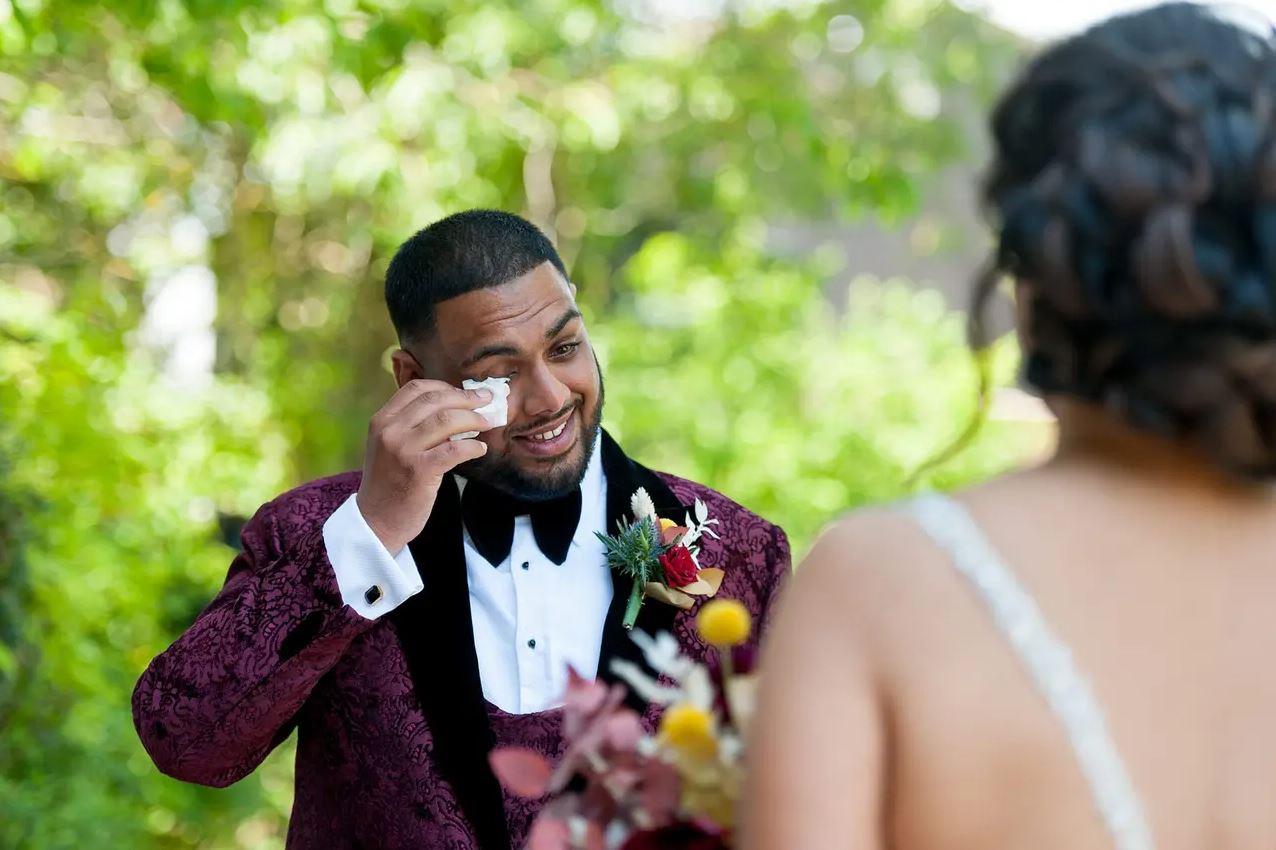 With the big day fast-approaching, it's time for you and your partner to start thinking about your wedding vows. Whether you're the type to write yours down in a wedding vow book, or speak straight from the heart, it's still worth writing some notes or key pointers so you have some prompts on the day.
30. Check in With Your Wedding Venue and Suppliers
Within the week leading up to your wedding, we'd recommend arranging calls with your key wedding suppliers and your venue just to iron out any last minute requests and so you can enter your wedding day with complete peace of mind.
31. Arrange Final Fittings
As you near closer to your wedding day, it's important to ensure you have your final fittings booked. If you know you had a lot of alterations on your wedding dress or suit, try to book your final fitting in around two weeks before your wedding so you have plenty of time for any additional or last minute alterations. It's important to factor your alterations into your budget too.
Hitched Expert Tip: On the topic of wedding fashion, Nina adds, "De-label everything before the day. The last thing you want to do is try to scrape white bits of paper off the bottom of your new shoes or find scissors to cut the tags or vents on your suit.
"Try to do as much beforehand to make the morning as stress free as possible. Oh and definitely learn how to tie a bow tie beforehand too, YouTube is your friend."
32. The Finishing Touches
Now you have all the main things covered, it's time to think about those little details.
Decide on your wedding songs and wedding readings for the ceremony, and order any thank you gifts that you want to give to those who have really helped during the planning process.
If you have additional budget leftover then you might also want to buy some last minute additional décor items.
The joy really is in these little details, so enjoy piecing together all the finishing touches!
Hitched Expert Tip: As well as the first dance song, Nina had a corker of a tip for nearlyweds, explaining: "A lot of time and effort is put into what song will be played for your first dance but think even more carefully about what your second song will be.
"If the song after your first dance isn't an all-out banger then you can guarantee half your guests will leave the dancefloor and go back to the conversation they were just having. You want to create a lot of fun and a great atmosphere right from the start."
33. Squeeze in Some Non-Wedding Time
Though the past year(s) may have felt like everything revolved around the wedding - there's so much more to it than that. That's why we'd always recommend taking some time, just the two of you, to talk about your marriage. What do you want from it? What do you picture it looking like? What are you most excited for in the future?
Weddings are amazing, but it's a marriage that you're really after.
Hitched Expert Tip: "Consider some annual leave the week before your wedding off work to organise any last minute details and spend some quality time with your partner - or for a cute and cosy date night," suggests Zoe. "The last thing you want is to feel stressed when your wedding day finally arrives!"
We hope our wedding planning guide has given you a great outline of what you need to do to plan your special day.
For more detailed help, sign up to Hitched and use the wedding checklist to create your full list of tasks and set yourself deadlines – it will be much easier to plan your day by doing lots of small steps and don't be afraid to delegate jobs to other people.