The 15 Most Common (and Completely Avoidable) Wedding Stationery Mistakes
From not proof reading the copy to not giving enough information - we're here to make your wedding stationery experience SO much easier!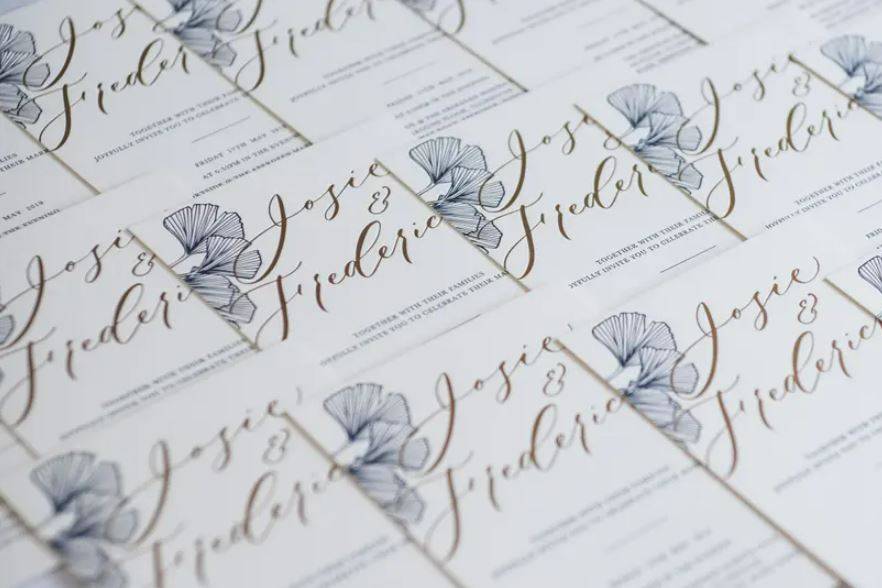 Choosing your wedding stationery is like being a kid in a candy shop. So many beautiful designs, so many gorgeous choices, so many inserts and fonts galore - where to start? The truth is, ordering your wedding stationery has so many facets to it.
From save the date cards and the wedding invitations, to getting the wedding invitation wording right and the wedding stationery timeline - there's quite a lot to consider. Not to mention the admin involved in those darn RSVP replies.
Needless to say it's no simple feat, but we're here to shine a light on the mistakes some people make with their wedding stationery - including simple ways you can avoid them, because as with many aspects of wedding planning, there's room for error in a number of different places.
15 Common Wedding Stationery Mistakes and Tips on Avoiding Them
We're not here to scare you with mistakes and horror stories, no, that's not the Hitched way. We're here to give you the low down on common wedding stationery mistakes, and advice on how you can completely avoid them.
There are tips, tricks and wedding stationery insider secrets that will help you to make your wedding stationery experience as seamless as possible - what more could you want?
1. Spelling and Grammar Mistakes
This is the number one wedding stationery mistake to avoid - but we get that it's hard! Even as writers, we make spelling mistakes and grammatical errors - we're only human. And no one knows better than us that noticing your own mistake is nigh on impossible. So our advice is to get as many eyes as you can on your invites before you click 'order' or confirm with your stationery supplier.
Your stationery designer will look and check for errors, but things such as the spelling of names and unique wedding venues is something they may not spot as it's pretty personal and spellings of names and places vary so much.
Top Tip: Check, check and check again. However, if your invites do end up going out with a little mistake - own it. If people notice, which they may not, it's nothing a group text or mass-email can't fix and no doubt you'll laugh about it afterwards.
2. Not Ordering Enough
This is such an easy mistake to avoid and, although it may cost you a smidge more on the initial order, you'll be so grateful when you realise you forgot a couple of people on the list or you want to invite a few extra faces. It's even more important if you are handwriting your wedding invitations - if you make a mistake you'll need spares for a re-do.
This is also really useful if a guest loses their wedding invitation and wants an original to keep, and it gives you some extra to keep in a wedding memory box that you can look back on in years to come. Whatever the reason, having 10-20 extra wedding invitations is always a good idea.
Top Tip: It's better to order extra with your initial batch, as a lot of wedding stationery suppliers will have a minimum order value or minimum order count so needing just two or three extra could see you ordering a whole batch.
3. Saying No To Samples
A lot of wedding stationery suppliers will offer samples for a small cost, some even for free. These samples are really important not only for you to see the design in real life, but also for you to get a feel of the paper and resources themselves.
If you're a stickler for luxurious stationery like we are here at Hitched HQ, you'll know that how an invitation feels and looks to the naked eye can make all the difference. This also avoids any confusion or miscommunication when the final order is confirmed and delivered.
It benefits both you who gets a sneak peak at the design and style, and the supplier who avoids having an unhappy customer. Win, win we say.
Top Tip: Once you have the sample and are happy, you can use it as a swatch for your wedding décor, bridesmaid dresses and even wedding flowers so you can colour match everything perfectly. You can get free wedding stationery samples when you order through Hitched!
4. Forgetting the Extras
Wedding stationery isn't just an invitation in isolation, there's many 'accessories' required and if you've forgotten any of these things you are certainly not alone. You'll likely need stamps to post them, stamps for guests to return RSVPs, wedding envelopes, menu cards and the actual RSVP insert (it's happened…).
Top Tip: If you're ever unsure, speak to your wedding stationery supplier, they are experts, they know what they're doing and they will be more than happy to answer your questions.
5. Not Factoring in Extra Costs
Planning your wedding budget is no easy feat - we totally get that - but when budgeting for your wedding stationery, ensure you include the cost of postage if you are sending physical invitations. As well as the cost of postage, it's important to budget for all of your wedding stationery not just the invites.
This can include, but is not limited to, save the dates, wedding invitations, order of services, thank you cards (for suppliers and your venue too!), seating plans and more. No one is saying you have to have everything, just ensure everything you *do* want is included in the budget mapping.
Top Tip: Our guide to making a wedding budget takes you the whole budget planning process and includes wedding costs that may be forgotten about.
READ MORE: How Much Do Wedding Invitations Cost?
6. Picking a Random Style
Your wedding stationery is the first glimpse your friends and family will get at your wedding theme. It gives everyone a taste of what's to come whether that be the style, colour scheme or overall vibe.
Choosing the design of your wedding and overall look isn't something you want to rush, but by the time your save the dates go out you should have at least a broad idea of the kind of look you want to go for.
Top Tip: If you're unsure, think of what styles suit you as a couple. At the very least, your wedding stationery should reflect yours and your partner's style.
7. Bad Timing
Knowing when to send save the dates and wedding invitations is so important and it's an area that so many couples tend to trip up on. Sending invitations, RSVPs or save the dates too late (or too early - that's a thing as well) can cause unnecessary stress when planning.
You need to ensure you give your guests enough notice to make plans and arrangements for your wedding, as well as ensuring that as many people as possible can make your date. Another reason to time your invitations well is to give you enough time for all of the back and forth on corrections and feedback you may have for your stationery supplier.
Tweaks to designs and amendments to the copy can take time and the last thing you want to do when making changes to invitation wording is feel rushed doing so.
Top Tip: Though we offer advice on the timeline, this will vary depending on the size and scale of your wedding. If you're getting married abroad people will need much more notice to book flights and hotels than if you are getting married at your local pub wedding venue.
8. Having an Overly-Busy Design
Your wedding invitations are going to be full of important information. Clogging up your wedding invitation with lots of heavy visuals and cramming every floral bright pattern you possibly can will only distract your guests' eye from the important details they should be reading. The phrase 'less is more' couldn't be more appropriate!
Top Tip: This doesn't mean you can't still have a colourful wedding invitation that is bold and unique - you just want to make sure any important information is both easy to read and easy to find on your design.
9. Lack of Details
Wedding guests like to know exactly what to expect at a wedding and providing as much information as you can on your wedding invites is super important. The location, date, timings, accommodation situation, gifting, catering and other aspects of your wedding can all be noted on your wedding invitation.
Top Tip: By giving people as much information as possible, you're also reducing the amount of questions from family and friends. Giving them plenty to digest will often answer questions before they've even been asked.
10. Being Vague With RSVPs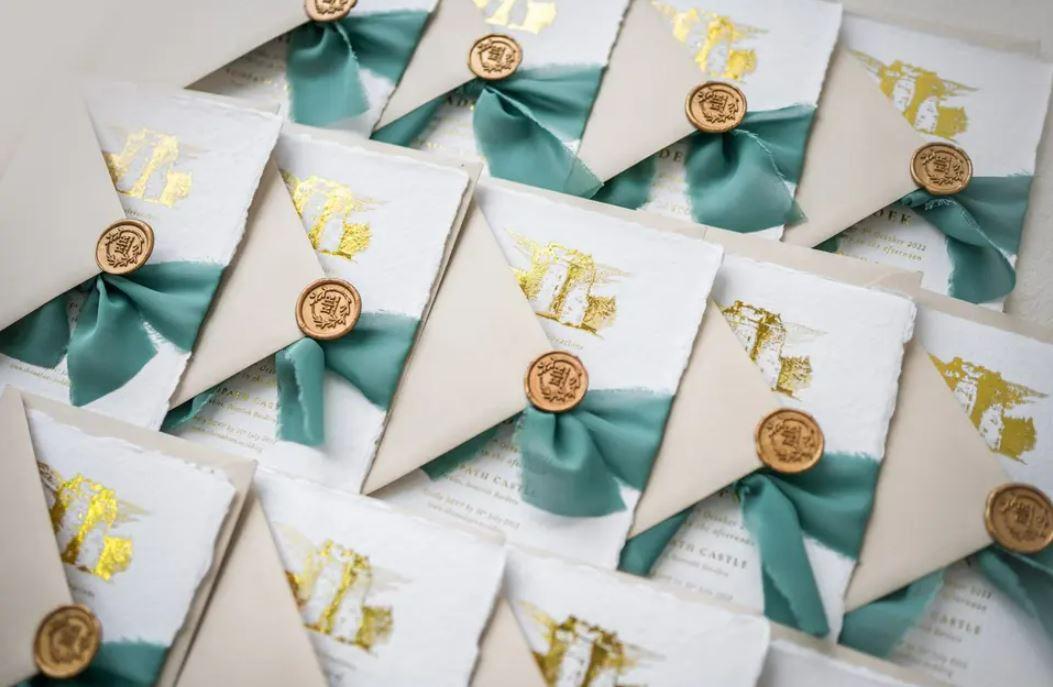 Don't be afraid to be strict and clear with your RSVP notes - guests like to know exactly what they need to do and by when. When it comes to RSVP instructions, you need to be clear about how you want your wedding guests to RSVP (via post, email, text or another way) and when the deadline is. If you are giving menu choices, ensure you have clear deadlines for that as well.
Top Tip: It's important to note that no matter how clear and concise you are, there will always be those guests who RSVP late and need chasing. Remember that this happens to almost everyone so your wording isn't to blame!
READ MORE: How to Word Your RSVP Cards
11. Gradual Posting
Ensure that when you are ready to post your wedding invitations, you have all of the addresses and information needed to post everything in one go. By giving out invitations at staggered times, you can encounter a number of issues, one being that people will hear whispers of some invitations being received and wonder if theirs is on its way or not.
The easiest and most stress-free way to post your wedding invitations is all at once. It also means you won't have the job looming over you for too long and you won't accidentally forget to post any if you do it in one go.
Top Tip: If you need to collect everyone's address to send your wedding invitations out, create a dedicated wedding invitation email and message all of your guests asking for their addresses. This helps to avoid clogging up your regular email.
As well as that, you can also bulk post invitations to one address if you have a group of friends or family who all live close together. One person receives the bundle and can disperse the invites to each household for you.
12. Breaching Copyright
If you're planning on making your own DIY wedding stationery, or downloading printable wedding invitations, be really careful not to breach a brand or designer's copyright. A lot of sites such as Etsy and Not on the High Street offer printable wedding invitations at a lower cost, but it's important to pay the initial fee so you legally have the permission to use their design.
Top Tip: Even if you can access a wedding template or design without paying, it's important to show wedding stationery suppliers you really appreciate their designs - and the best way to do that is to pay up! And not only that, but if you are found to be in breach of copyright, it can cost you a lot of money to rectify the problem.
READ MORE: The Best Websites to Order Wedding Invitations
13. Forgetting the Thank Yous
Where are your manners, hey? Along with save the dates, RSVP cards and the wedding invitation itself, it's so important that you remember to order matching thank you cards for after the wedding. Whether you're thanking people for coming or for their generous wedding gifts, the sentiment is really important to a lot of people.
Top Tip: We'd always advise ordering your thank you cards along with your initial stationery order to ensure everything matches and so that you can include it in your initial wedding budget. After forking out lots of money on your amazing wedding, spending is probably the last thing you want on your post wedding to do list.
14. No Stamps For Replies
Though many couples now request that guest RSVPs are sent via text or to a dedicated wedding email, it's important you include stamps if you are asking your guests to send their replies the old fashioned way.
Being a wedding guest can be expensive so guests having to pay for their own stamps to post an RSVP, especially during a busy wedding season, may delay their response. How many times have you had that one letter you must post, but never actually get around to doing it? Do everyone a favour and make it as easy as possible for people to get back to you.
Top Tip: Unless you're completely set on people posting their RSVPs, we'd recommend jumping on the modern bandwagon of a text, email or RSVPing through your wedding website. Its so much less admin for you, and it's easier for your friends and family.
READ MORE: How to Save Money as a Wedding Guest
15. Clarity!
We can't shout about this one enough - it's absolutely vital that you clarify who the invite is for, and what part of the day they are invited to. In fact, when asked on Instagram, not getting enough information on the invite was one of the things that annoy wedding guests the most.
Addressing a wedding invitation to 'The Smiths' could mean you are unknowingly inviting your friends, their four children, the mother in law and brother who lives with them.
Top Tip: Be specific about each individual that is invited, whether there is a plus one included with the invite and what part of the day they are invited to. We have plenty of advice on invitation wording etiquette to help you articulate your invitations in a clear and helpful way.
Now you have the mistakes out of the way, here's our favourite wedding money poems to pop inside your invites.