20 Fabulous Hanging Wedding Flower Ideas (& How to Create Your Own)
Take your wedding blooms to new heights by opting for hanging flowers. We've got you covered on everything you'll need to know about this beautiful trend, from expert tips and inspirational ideas to an easy guide on how to create your own
Hanging flowers can totally transform the way a certain space at your wedding venue looks, turning it into a truly breathtaking floral setting. Whether you choose to display them above the dining tables, hanging from the ceiling in your ceremony room or dotted around an outdoor marquee, hanging flowers are bound to impress your guests and provide a spectacular backdrop for your special day.
It's not just Hitched HQ who are big fans of the hanging wedding flower trend; Ariana Grande chose to suspend strings of flowers from the ceiling on her wedding day and Gina Hardy, Head of Events at McQueens Flowers, is also on board. 'The impressive nature of a suspended floral design is perfect for a wedding', she says. 'These spectacular installations are a wonderful way to make a focal point - they also create a really immersive, intimate ambience - setting the scene for your guests.'
Thinking of taking your floral decorations up a level? Gina gives us the lowdown on everything you'll need to know about hanging flowers, plus we've included some hanging wedding flower ideas to get you inspired.
Oh, and don't forget to check out how to make your own simple hanging wedding flowers below! McQueens even have a suspended floral installation workshop that you can try ahead of the big day
READ MORE
Which Flowers Work Best for Hanging Décor?
You'll want your flowers looking as fresh as possible, so Gina recommends dried flowers and foliage. 'We'd recommend opting for a design that can last the duration of the event without a water source - dried flowers and foliage are perfect for this. Should it be an essential design feature to have more delicate blooms included, you'd need to adapt your mechanics to allow for a source of water.'
Where's the Best Place for Hanging Flowers at a Wedding?
It's really important to think carefully about where you want your flowers to hang in your wedding venue. For example, you won't want a large display hanging from a weak ceiling!
However, depending on the size and shape of your hanging flowers there are so many wonderful options. 'Perhaps you would like your guests to dine under a canopy of fragrant eucalyptus, or maybe you'd like to draw attention to your beautiful cake with a gorgeous flower-cloud floating above it?', suggests Gina. 'These impactful installations are a great way of transporting guests to your own little world so choose a location where your loved ones can really take in the beauty you've created for them to enjoy!'
How Versatile Are Hanging Wedding Flowers?
The beauty of this trend is its versatility! No matter what theme or style of wedding day you've opted for, you can easily incorporate hanging flowers into your décor. 'If you want to evoke a glamorous ambience, abundance and colour play a key part for example. If you want your guests to feel like they're stepping into an enchanted wonderland, ethereal textures and curious silhouettes are essential. The possibilities are endless!'
Hanging Wedding Flower Ideas
1. Hanging Floral Hoops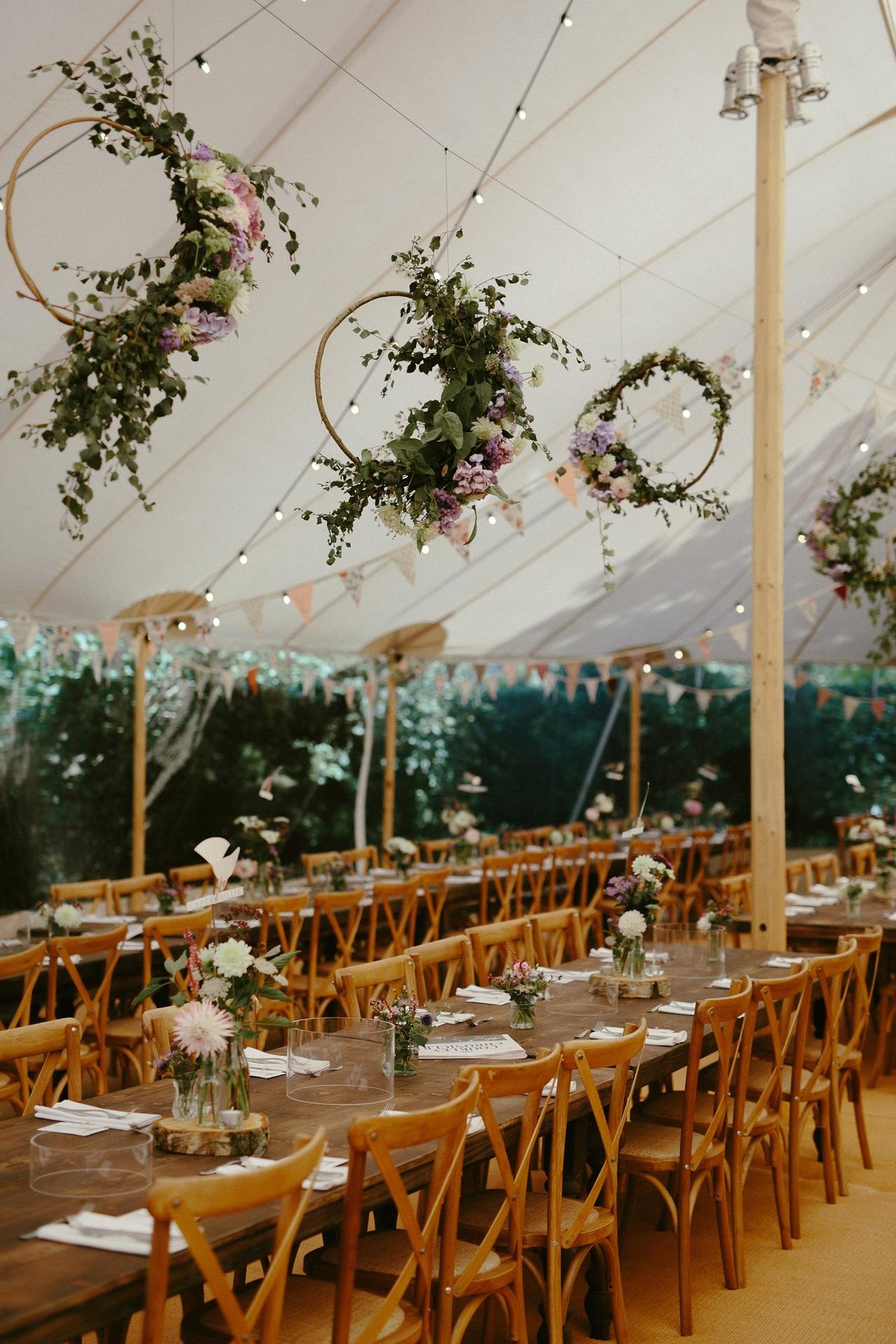 Hanging flower hoops, wooden furniture and log slices give this marquee wedding setting a really rustic feel. We love how the florals used in the hanging hoops match the table décor and the soft colour palette is so romantic.
2. White Wisteria in Woodland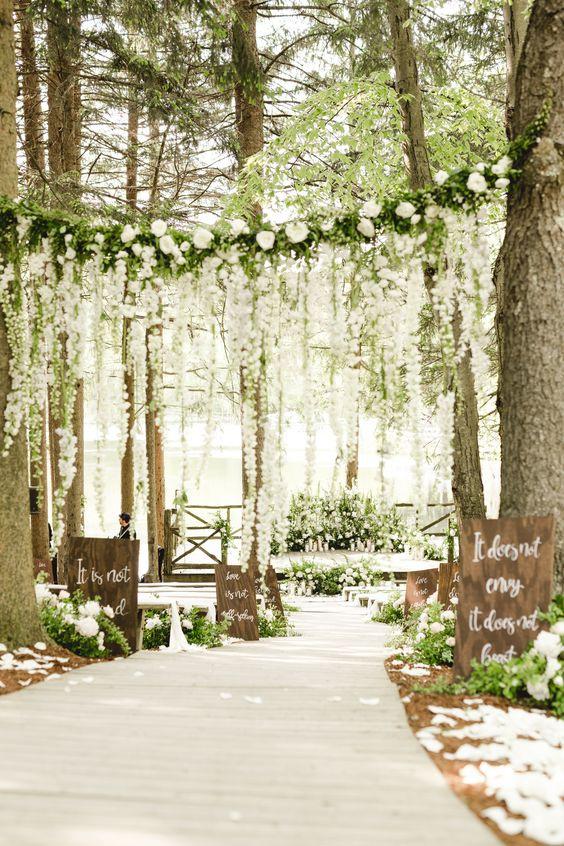 Wisteria lends itself perfectly to hanging wedding flower displays and this spectacular white wisteria woodland ceremony is undeniably stunning. The fresh flowers create an elegant and whimsical entrance which will be made even prettier if petals fall as you walk towards the altar.
3. Hanging Door Flowers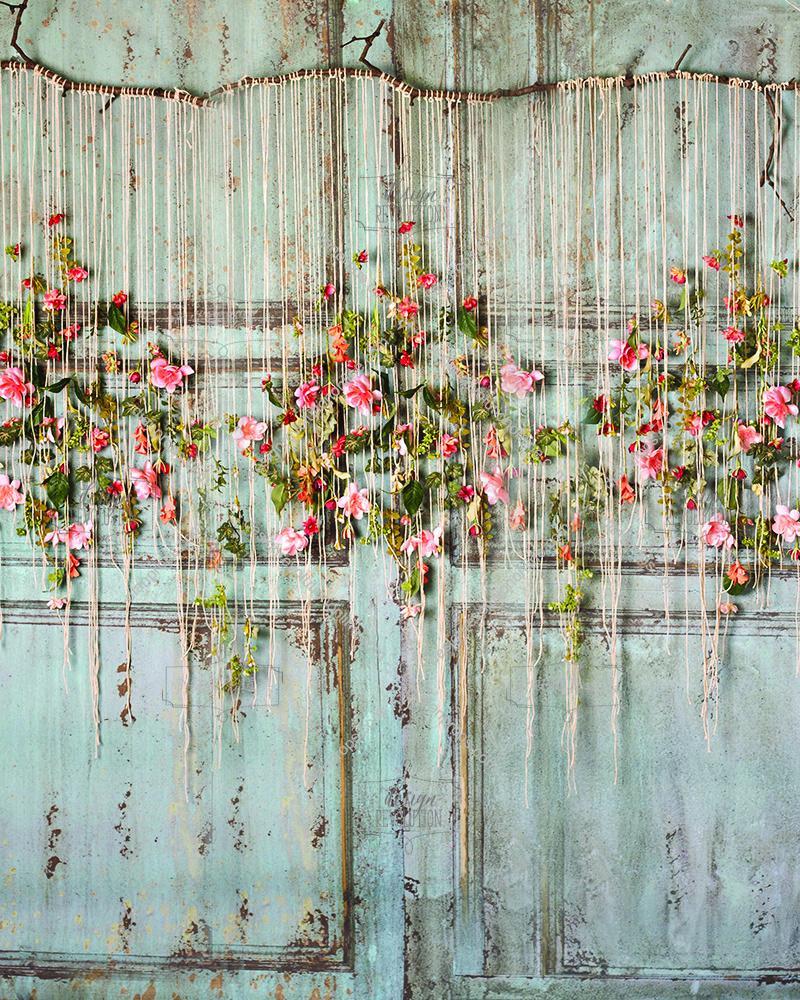 If your wedding venue doesn't allow for heavy hanging floral installations, this door display is a beautiful alternative. Simple yet stunning, it'll make a brilliant backdrop for your wedding photographs and we reckon all your guests will want a shot for Instagram in front of it.
4. Bright Floral Chandeliers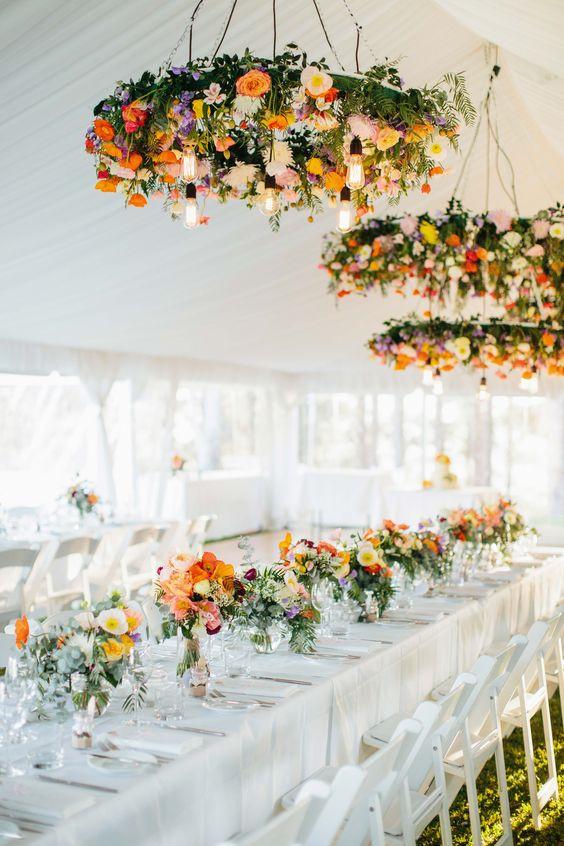 Floral chandeliers are a big trend in the world of hanging flowers and this bright version is gorgeous. You won't need to splash out on lots of other decorations if you opt for these, they'll make enough of a statement on their own.
READ MORE: 35 of the Prettiest Peony Bouquets
5. Hanging Flower Baskets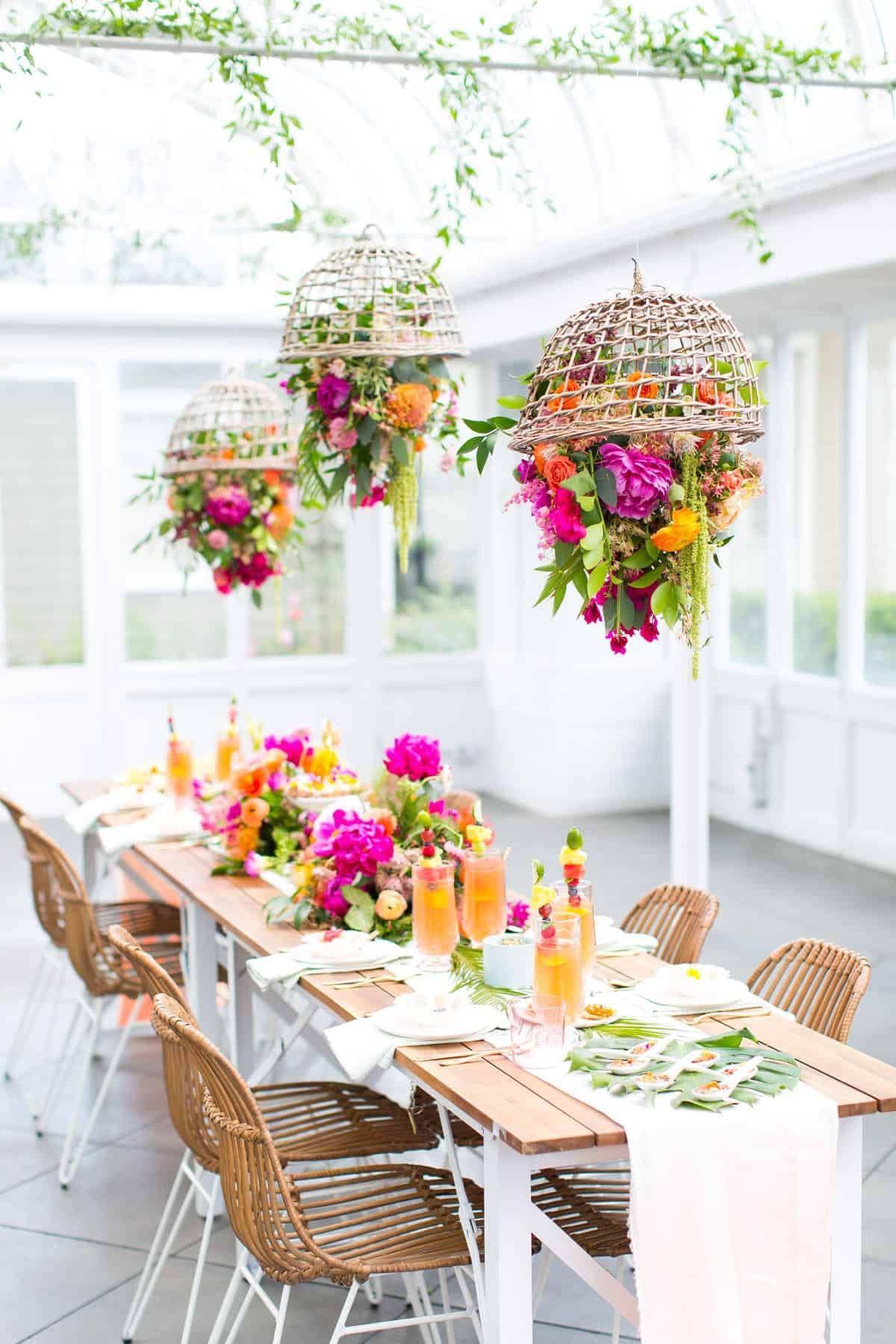 These hanging flower baskets are seriously adorable! We reckon they'd be ideal if you're planning a spring wedding filled with pastel blooms, or a destination celebration bursting with tropical flowers.
6. Gazebo with Hanging Floral Ceiling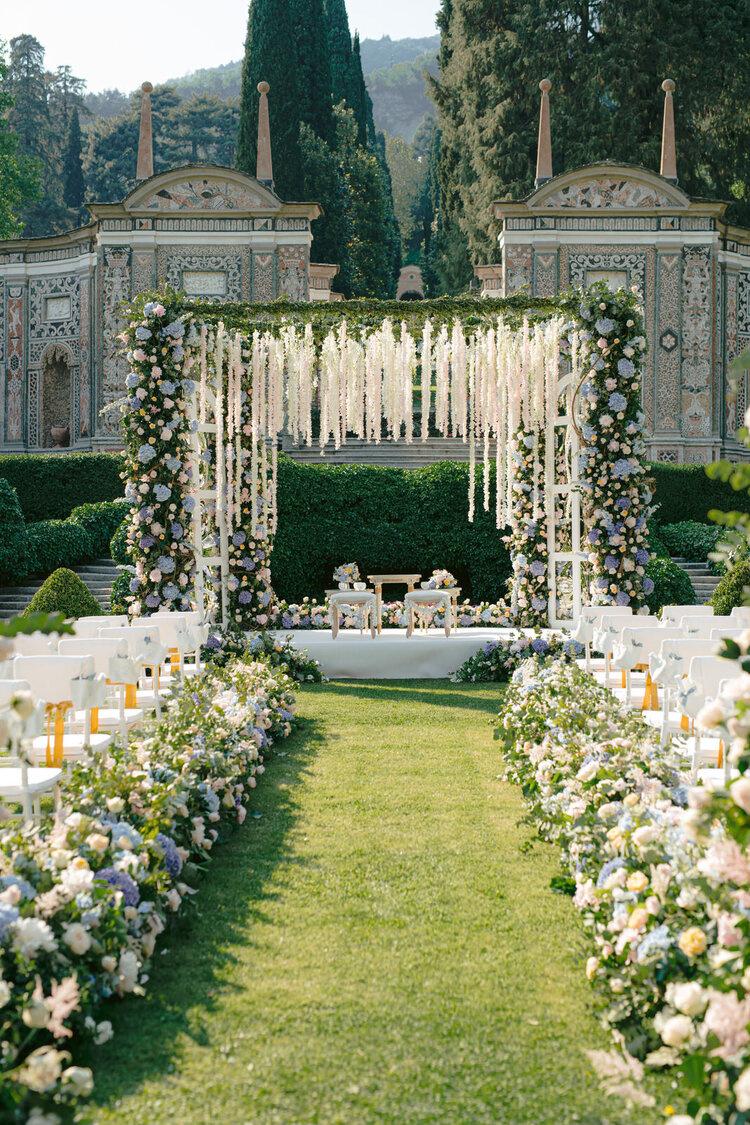 Wedding ceremony set-ups don't get much more breathtaking than this flower-filled extravaganza. Exchanging your vows under a canopy of hanging white flowers will be a magical moment that'll be hard to beat.
7. Hanging Tulips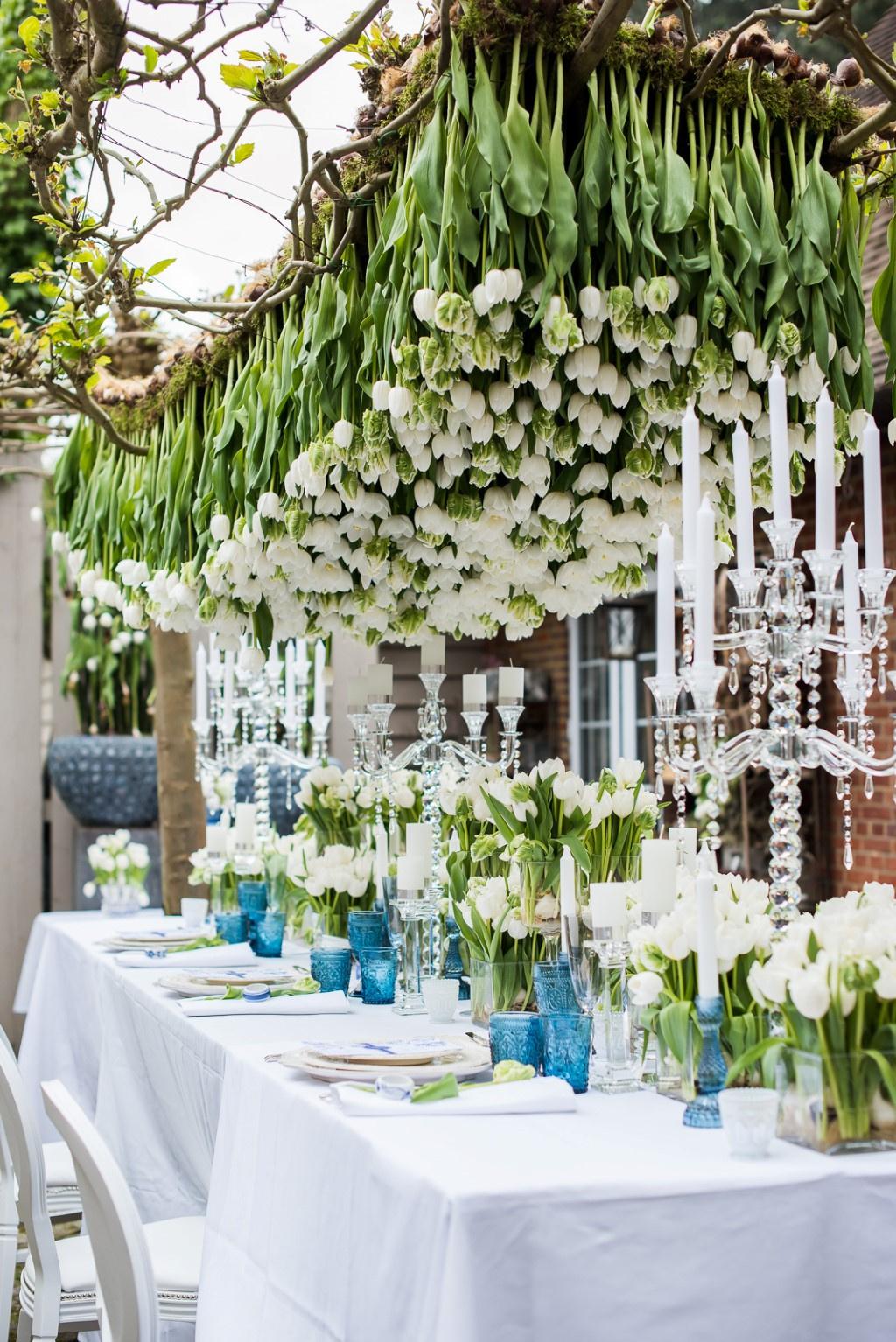 Tulips are a unique choice that we bet guests won't have seen at a wedding before. Stick to a spread of hanging white flowers like this wedding for a fresh feel or opt for sunset shades of pink, red and orange if you prefer brighter blooms.
8. Pink Flowers with Glass Baubles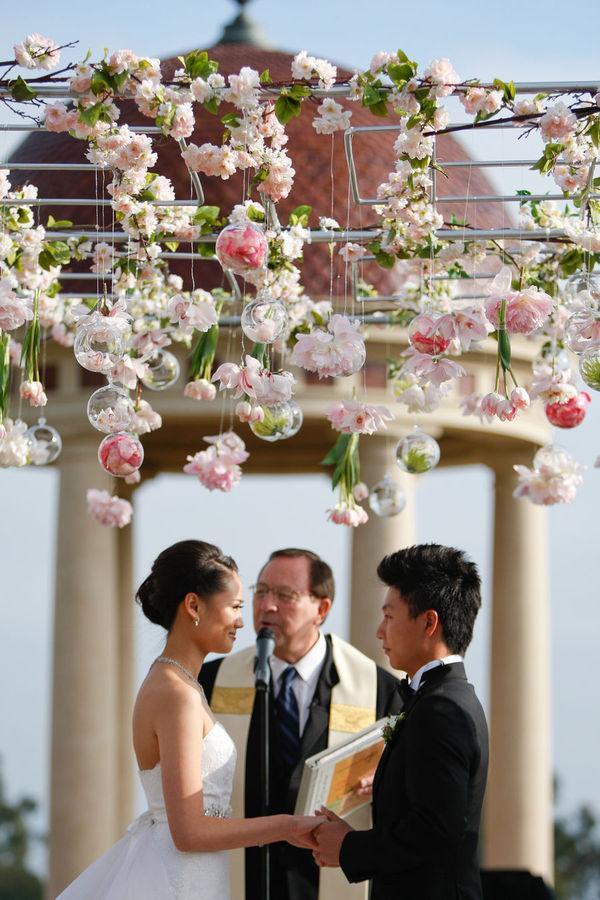 Adding glass baubles to this pretty and romantic hanging floral display has created texture and a unique touch. This couple have filled the glass globes with matching flower petals but if you're having an evening ceremony popping fairy lights in them will look fabulous.
9. Greenery Hanging Table Display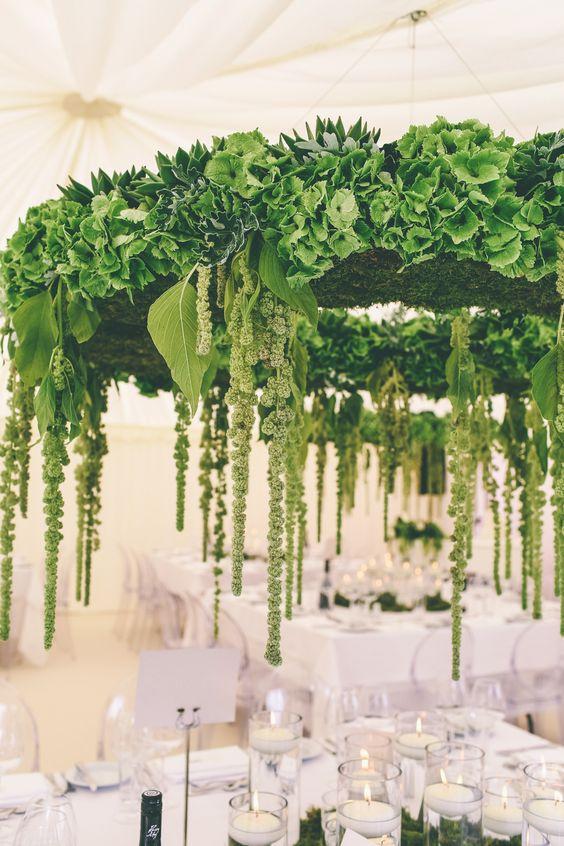 You don't have to opt for vibrant hanging wedding flowers, a lush green display looks sophisticated and stylish. Verdant Hydrangea and hanging Amaranthus complement each other perfectly if this is the colour palette you're going for.
READ MORE: 22 Stunning Sunflower Wedding Bouquet Ideas
10. Extravagant Red Table Display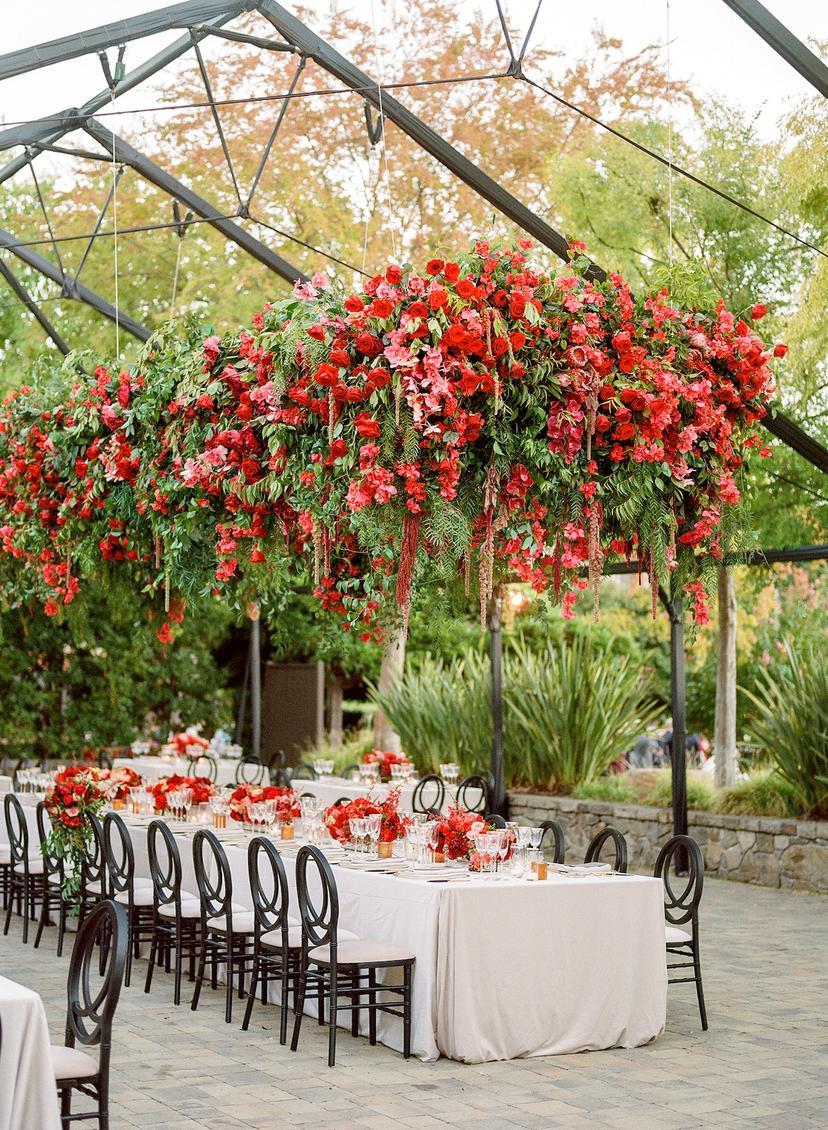 If your wedding venue has a sturdy roof such as this stainless steel frame, don't be afraid to go big and bold with your hanging flowers! We adore the vibrant red blooms used here mixed with softer tones of pale pink suspended above the dining tables.
11. Minimalist Single Stems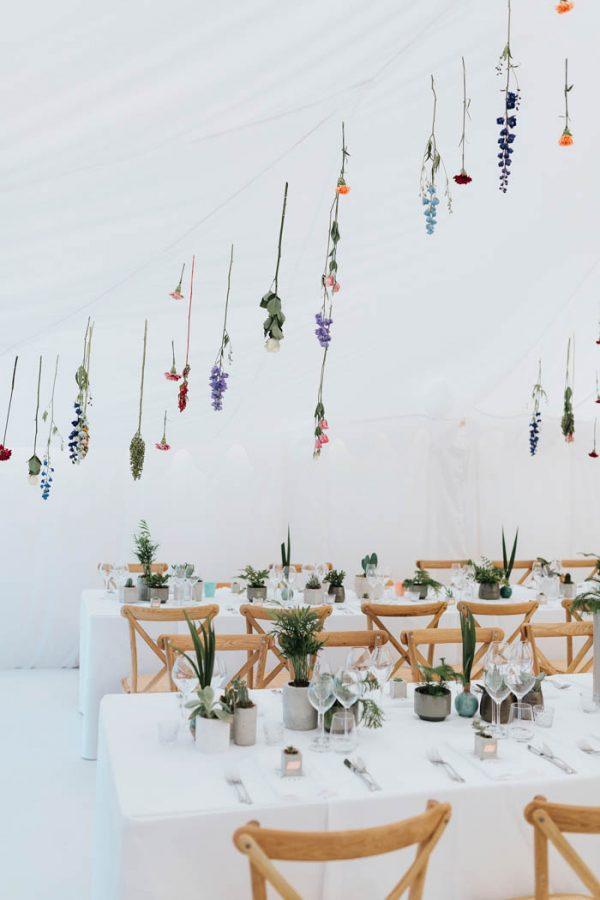 Equally, a minimalistic single stem approach to hanging wedding flowers can look just as pretty and still make a statement. This gorgeous display is reminiscent of Ariana Grande's wedding décor and will be a lovely addition if you're planning understated wedding tables.
11. Hanging Bulb Vases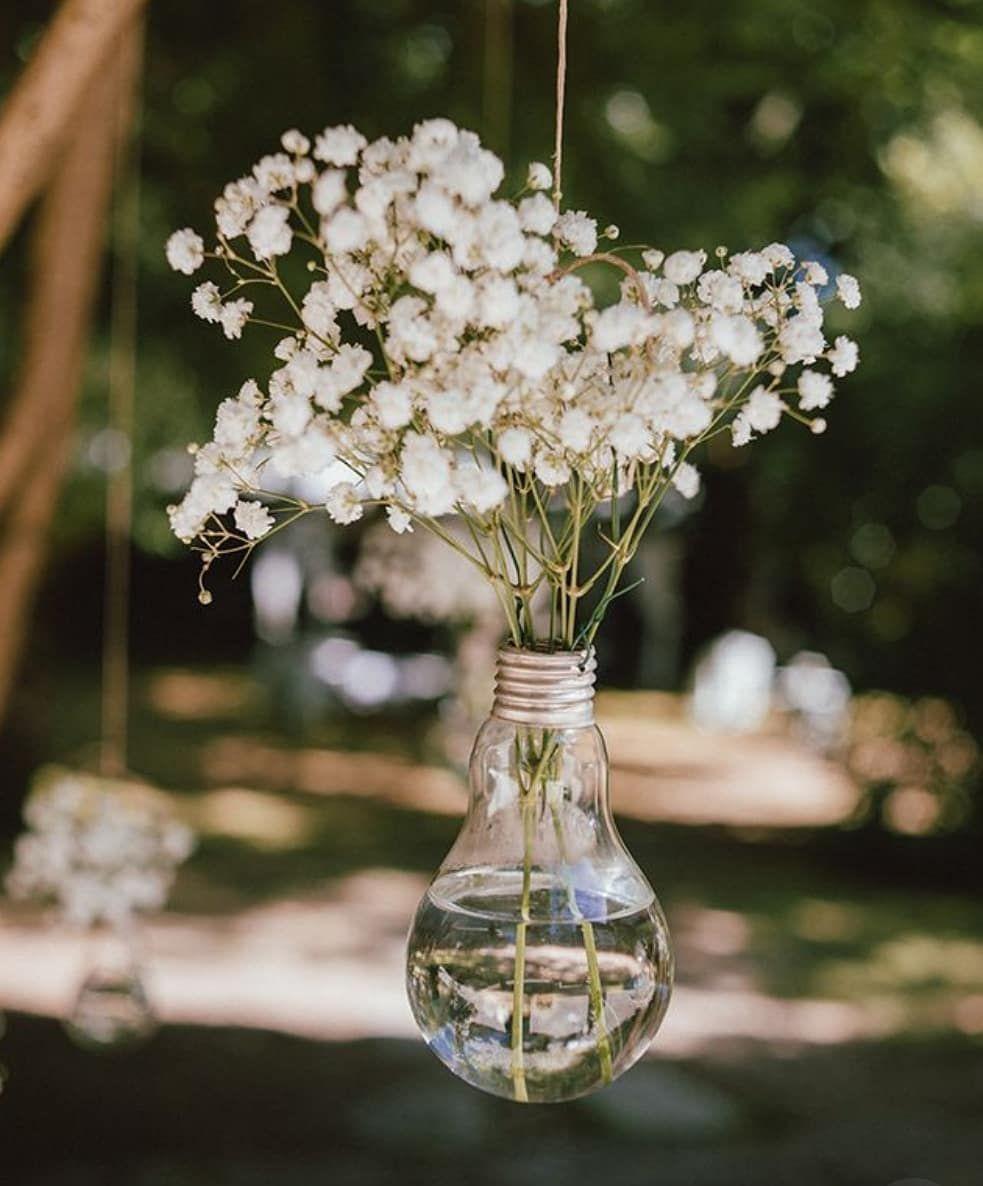 Planning a wedding in the warmer months? Keep your hanging floral decorations looking their best by popping them in a water filled bulb vase. They'll look as pretty as they are practical.
13. Suspended Floral Curtain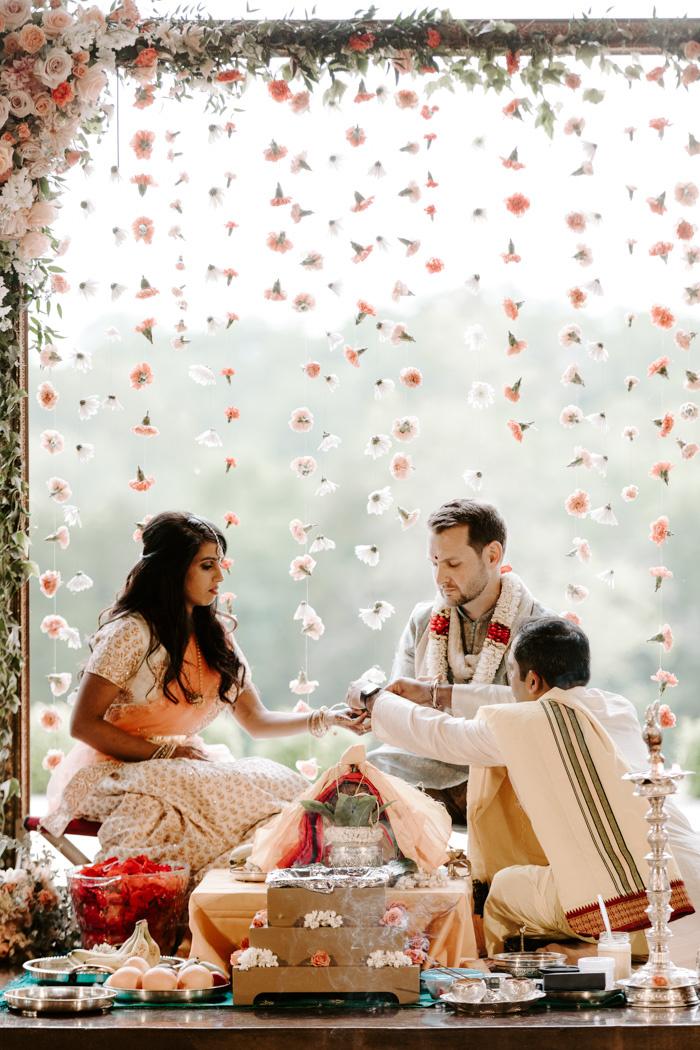 An outdoor ceremony will look wonderful with a curtain of suspended flower buds behind you as you exchange vows. These flowers are tied together with clear string creating the illusion that they are floating in air!
14. Hanging Floral Sprigs with Disco Balls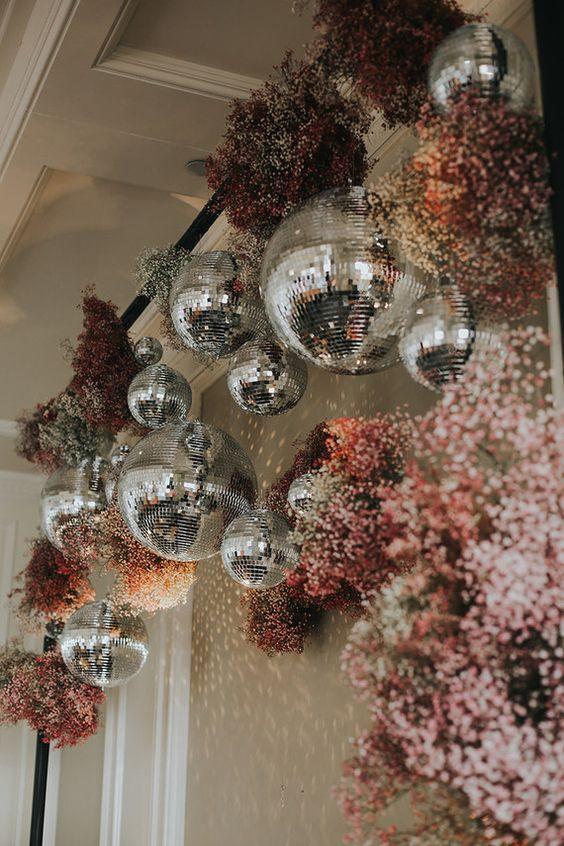 Here at Hitched we love disco ball wedding decor, and what better way to upgrade your hanging flowers than by including a few of these sparkling treasures in the mix? We recommend you don't go too wild on the flowers and only add a few gorgeous sprigs.
15. Strings of Blooms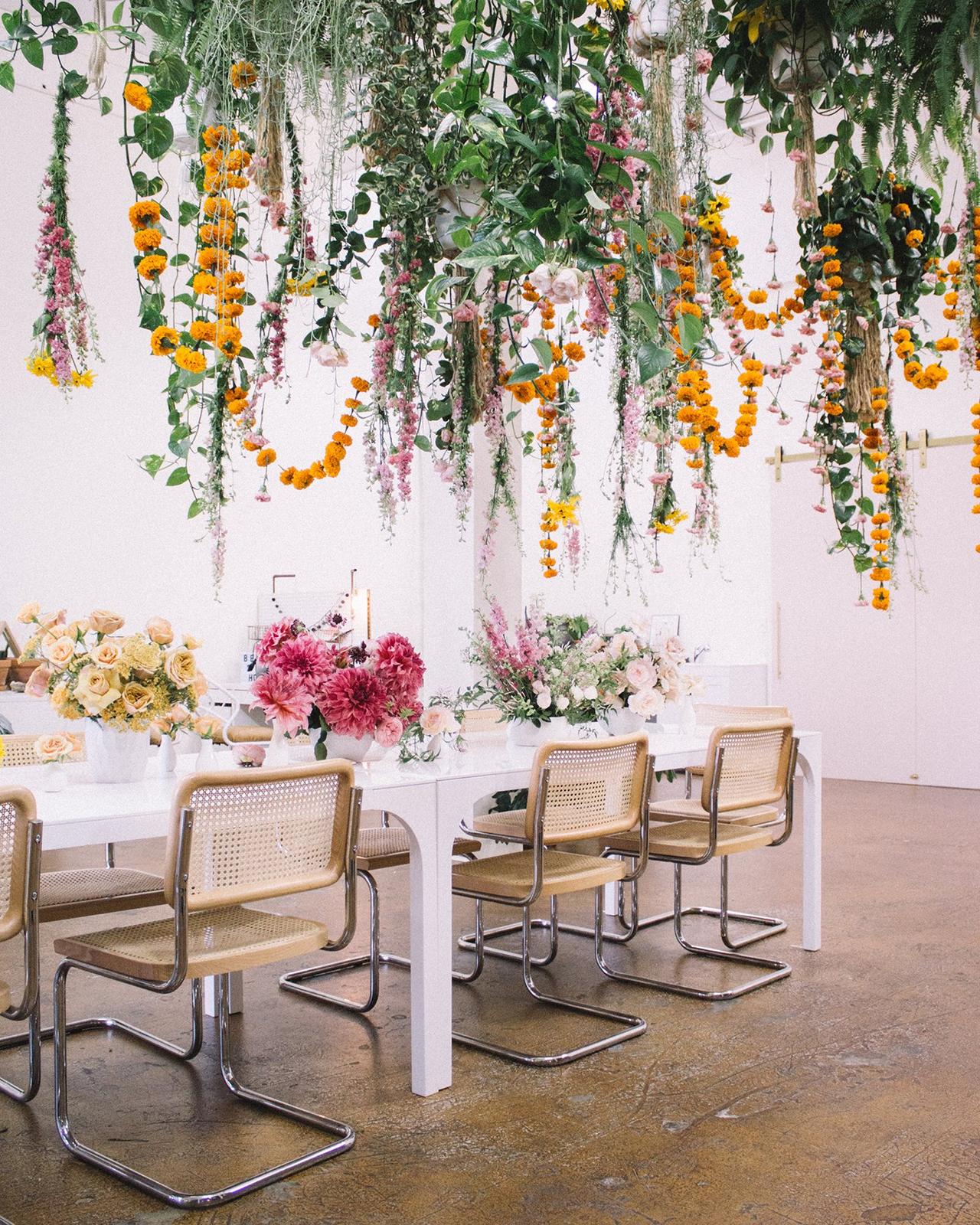 This gorgeous hanging flower display reminds us of strings of daisy chains and we're here for it. Whether you opt for a canary yellow creation like the above, or a delicate daisy delight, this decoration will look fabulous.
READ MORE: 23 Creative and Beautiful Wedding Arch Ideas
16. Spring Marquee Hanging Flowers with Ribbons

Nothing says spring wedding quite like a garden marquee and one decked out with hanging flowers takes it to another level. The trailing ribbons pair perfectly with this display and look so sweet.
17. Hanging Flowers with Light Bulbs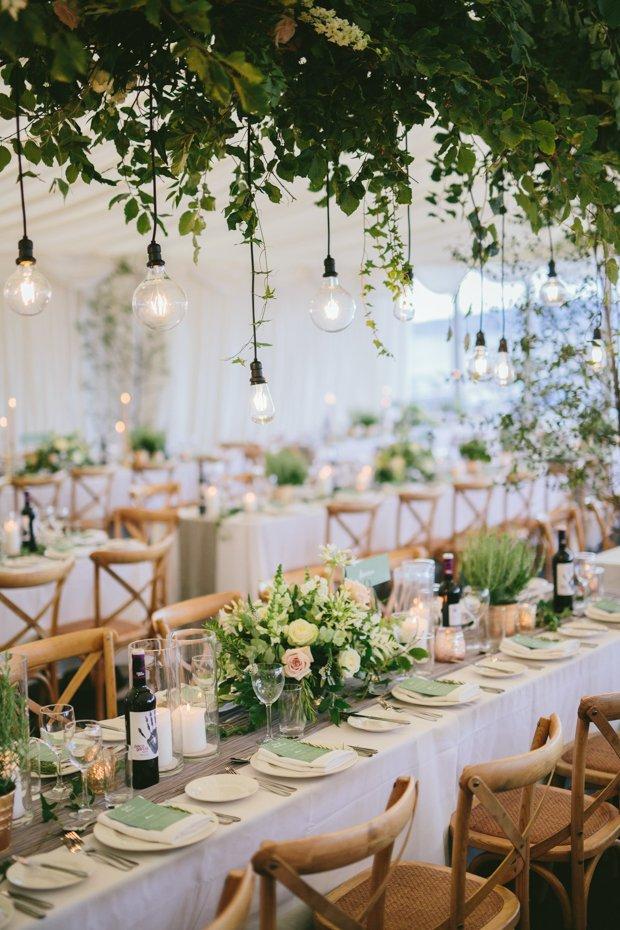 Lighting shouldn't be overlooked when planning your wedding - it can create a lovely ambience if you get it right. This hanging flower display has incorporated industrial-style light bulbs into it which will add a gorgeous glow to the space when the sun starts to set.
18. Elevated Dancefloor Display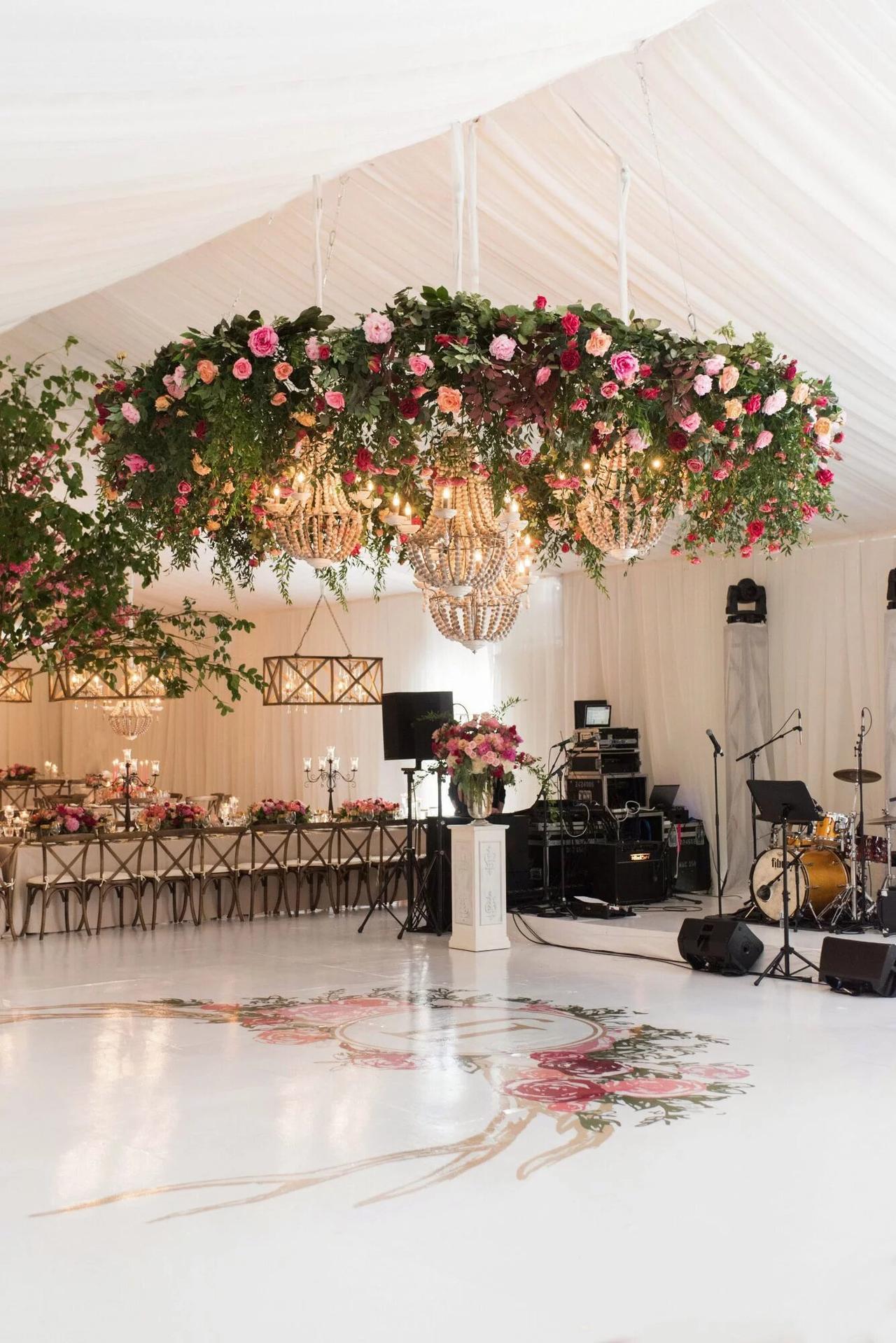 Your first dance is a key moment in your wedding day so you'll want it to be special as it can be. Ensure all eyes are on you and your partner by having an impressive floral hanging chandelier above the dance floor.
19. Modern Dried Floral Grass Table Display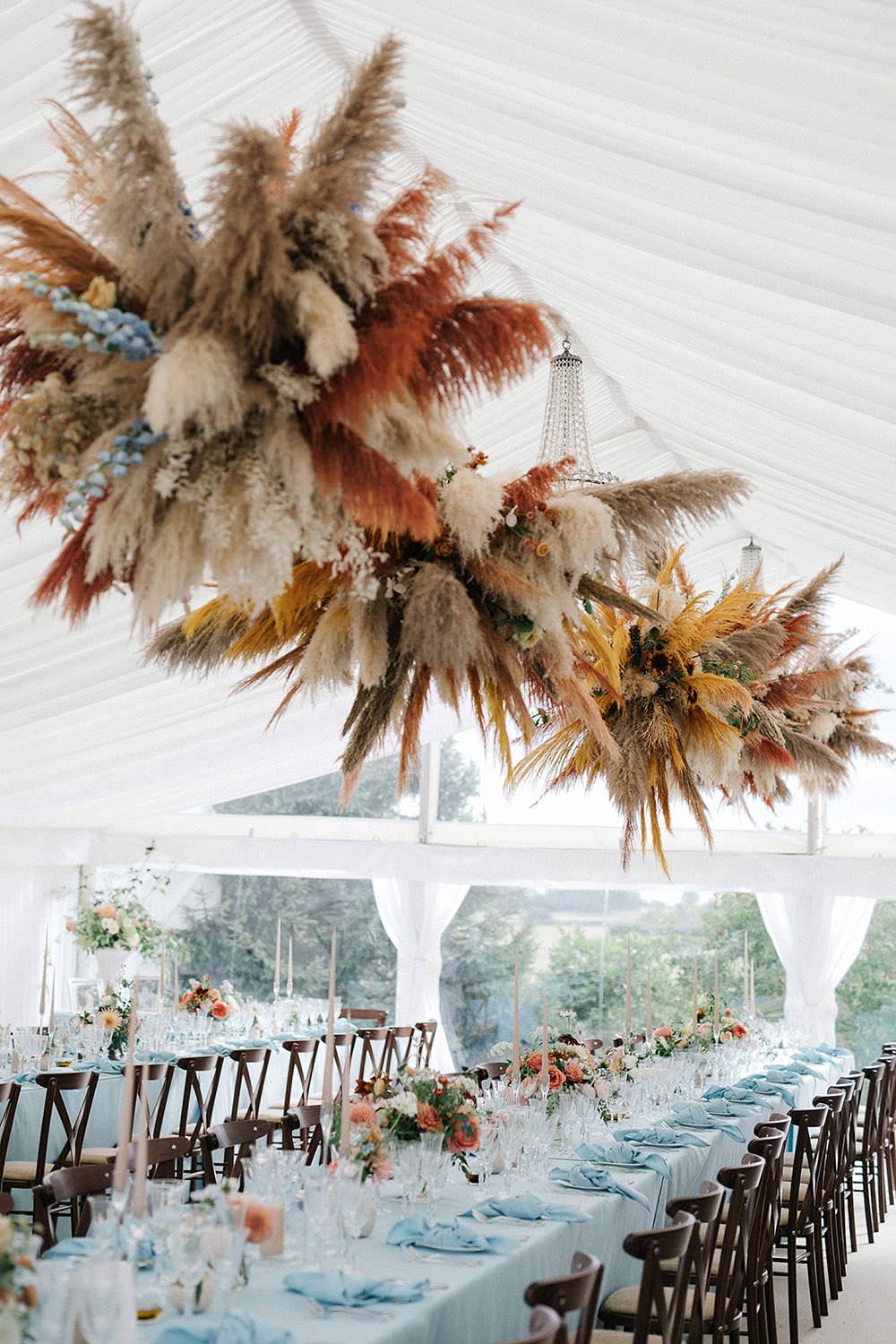 For something a little different, why not go for a contemporary display of pampas grass in neutral shades of brown, orange and cream hanging above your dining tables? It'll draw your guests' eyes up as they eat, making the space feel bigger.
20. Hanging Foliage & Rose Doorway Arch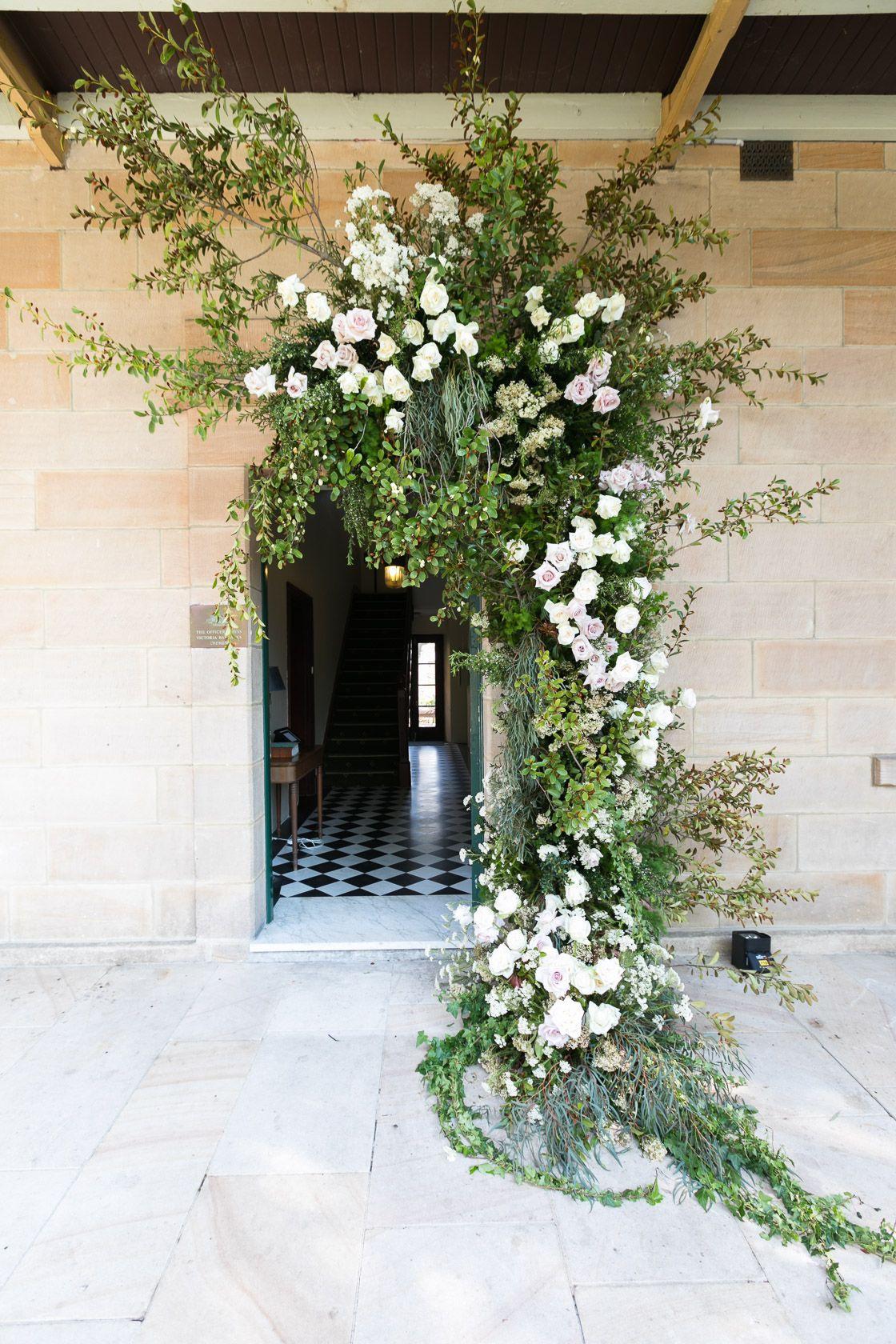 As soon as your guests make their way into your wedding venue through a fabulously decorated door they're bound to be impressed. Foliage with a few bursts of your chosen flower works best if you want a hanging display as the branches will trail over the doorway without being too much.
How to Make Your Own Hanging Wedding Flowers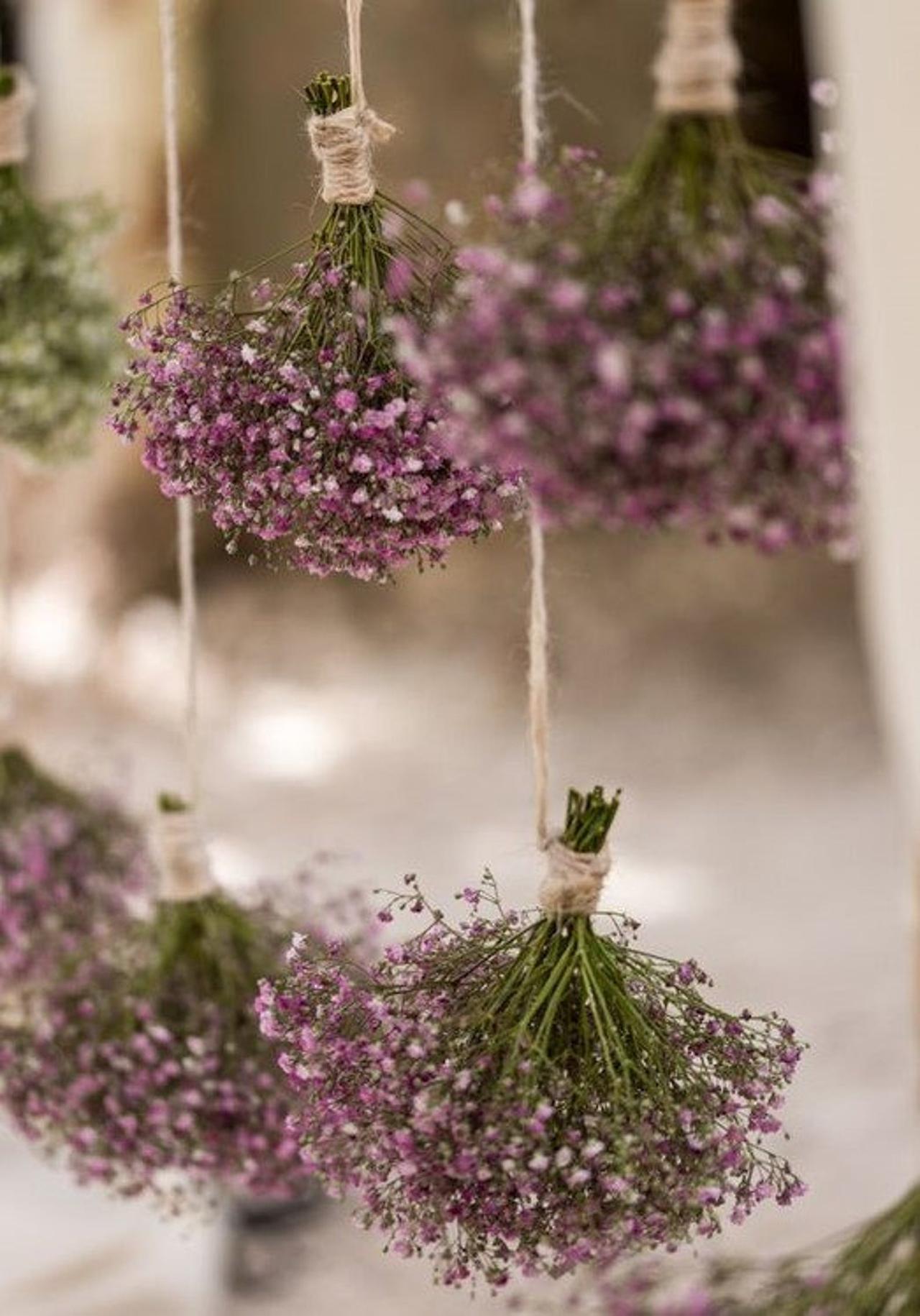 If you're feeling crafty you can even create your own simple hanging flowers for your wedding day. We recommend opting for dried blooms for a DIY job as they'll keep no matter how far in advance of your wedding day you make them. Scissors at the ready...
You Will Need
A couple of bunches of your chosen flowers
Twine or clear string
Floristry wire
Floristry tape
Scissors
Clothes hanger (optional if you want dried flowers)
Allow 1 ½ hours assembly time and at least two weeks in advance of the wedding if you require dried flowers.
Step One
Cut your flowers to your desired length. Strip your stems, removing excess leaves and any damaged petals. You don't want too many leaves as this will add bulk to your display and might look messy.
Step Two
If you're opting for a bunch of hanging flowers, wrap florist's wire around the ends of a few flower stems to keep them together. For single stem hanging flowers skip this step.
Step Three
Stick floristry tape around the wire - this will disguise the wire and also create some stickiness which will be important when you add the string.
Step Four
Cut a long piece of twine or clear string depending on your taste. Remember to consider how low you want your flower display to hang - the lower you desire, the longer the string.
Step Five
Wrap the string around the floristry tape so it can no longer be seen, leaving enough excess string so the flower will hang.
Step Six
If you want fresh flowers, your hanging decorations are ready to be hung! For dried flowers, tie the ends of the strings connected to the stems onto a clothes hanger.
Step Seven
Place the hanger into a dark and cool wardrobe - this will dry your blooms but ensure they keep their colour. After two weeks your dried hanging flowers will be ready to go!
Feeling green fingered? Decorate your wedding tables with a DIY foliage garland.