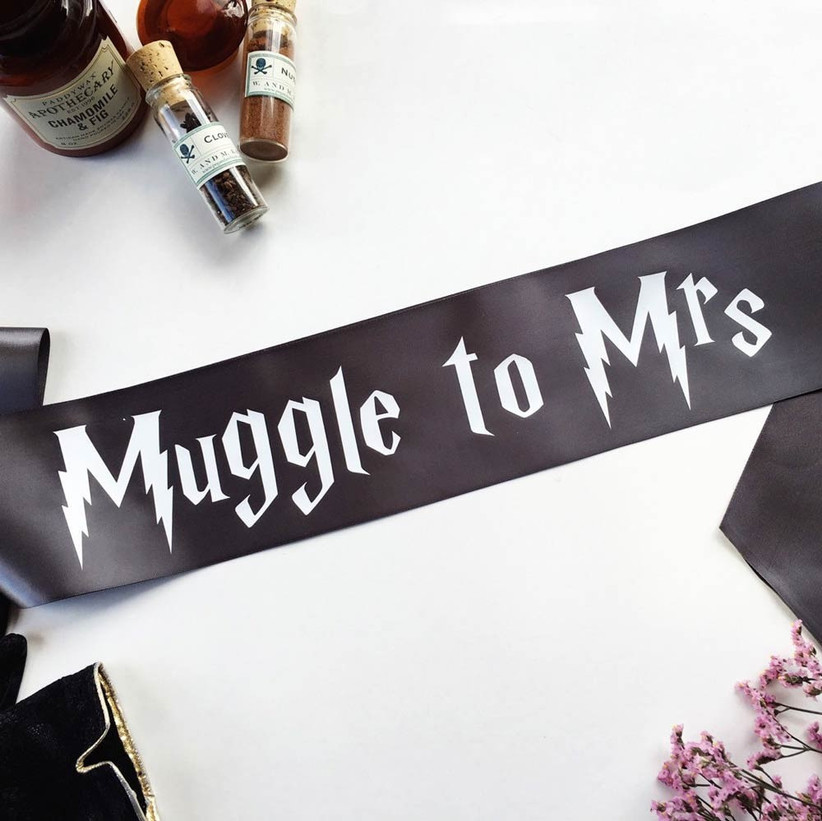 We were inspired by the Harry Potter superfans Cassie and Lewis in our unusual wedding themes feature who had an amazingly detailed Harry Potter themed day at the Midland Hotel in Manchester, so we've come up with 19 ways to include a bit of Hogwarts in your happy ever after.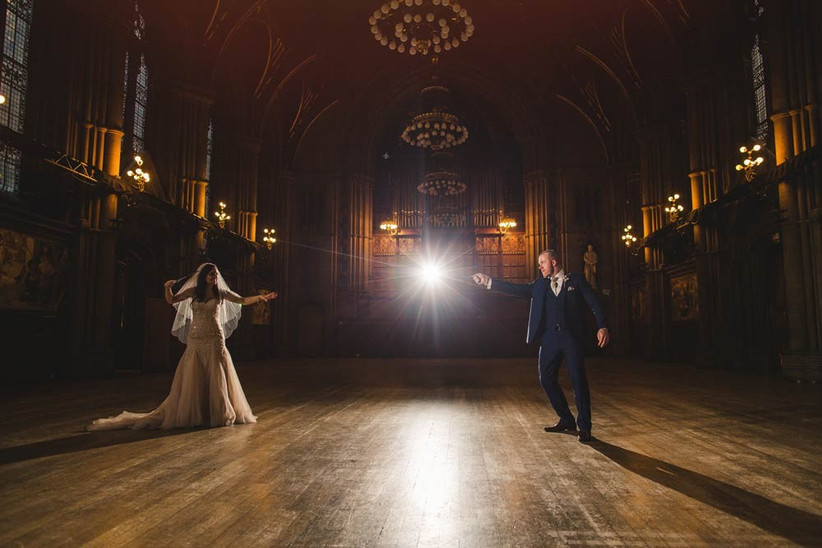 Image credit: Kelly Clarke Photography
Harry Potter Hen Party
If you're not going totally Harry Potter with your wedding theme (or even if you are), why not use it as the basis for your hen party? Travel in style in this 'Muggle to Mrs' top from 86 Level St Design, and have your bridesmaids rock the 'Bride's Witches' tees.
Alternatively, you could go for this slightly more subtle bride top, complete with lightning bolt, whilst your best girls wear the 'Hogwarts Hottie' ones, from Wedding Posh.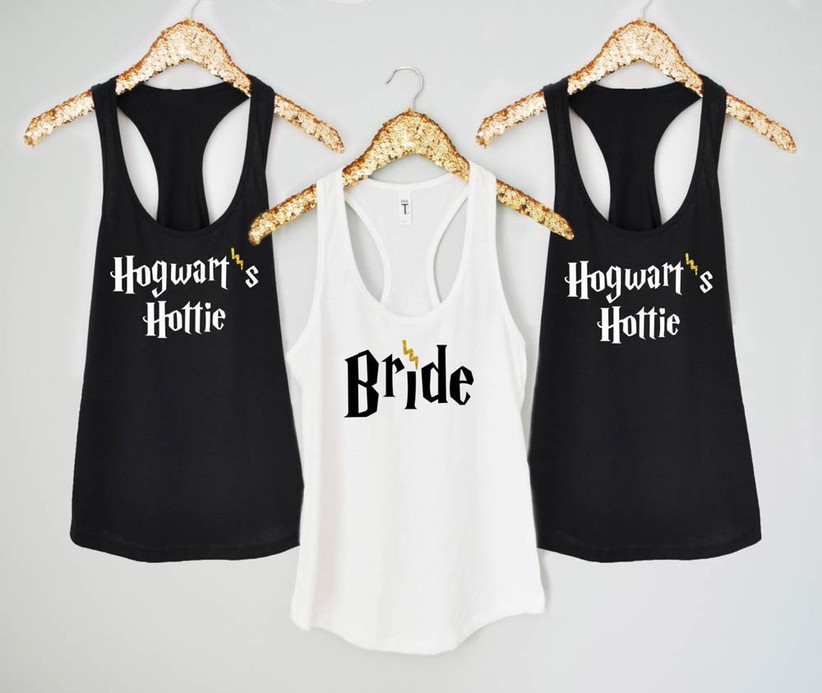 This 'Muggle to Mrs' sash from Shades of Pink BTQ is a classy hen party accessory that will add the perfect finishing touch to any hen party costume.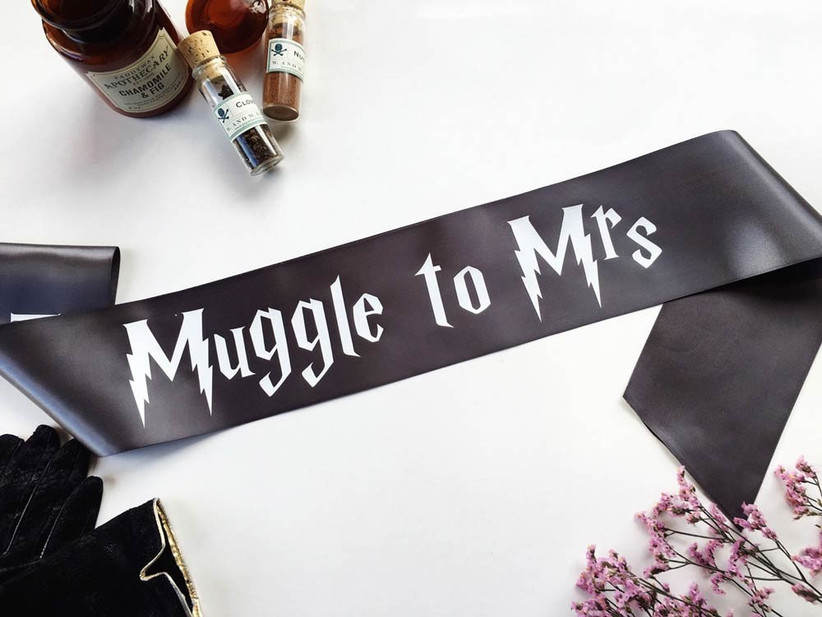 Marauder's Map Style Stationery
Get your guests excited from the get-go with these amazing Marauder's Map style wedding invitations from You're Invited by Amanda. These alternative wedding invitations will be on display in your guests' homes for years to come.
Hogwarts House Footwear
Cassie, whose wedding featured in our unusual wedding themes feature, had these incredible customised wedding shoes, which were decorated with the names of two Hogwarts' houses – Gryffindor and Slytherin – we love the sneaky 'mischief managed' message on the soles. Her groom, Lewis, matched the look with some cheeky groom socks.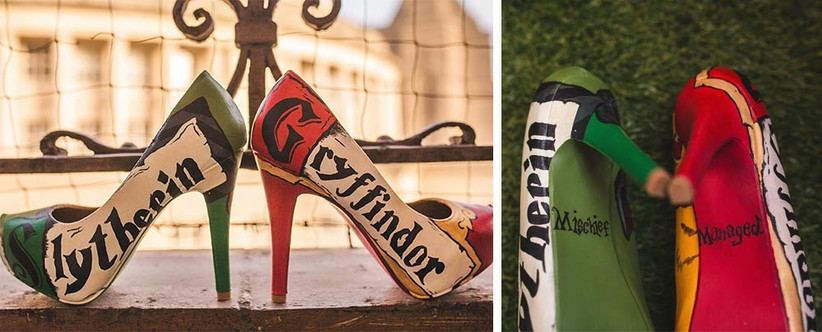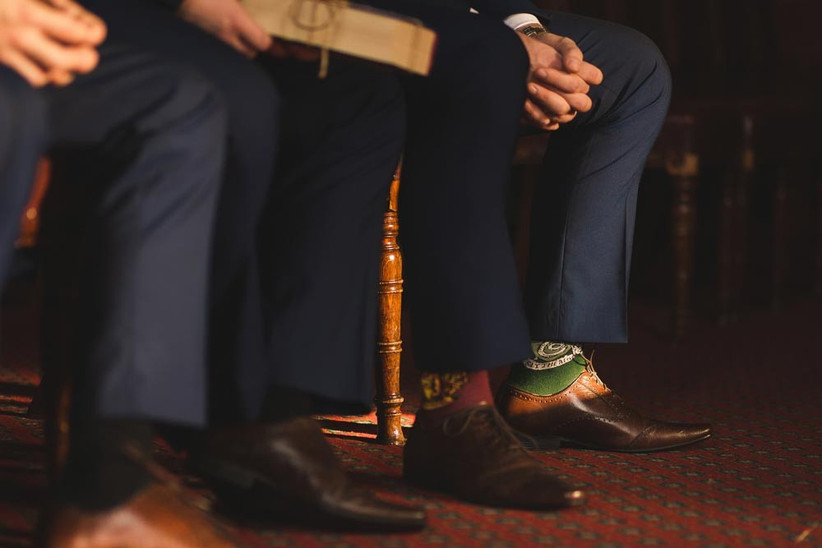 Image credits: Kelly Clarke Photography
Book Bouquet
If you're looking for ways to have a book themed wedding, consider having a bouquet made from pages of your favourite Harry Potter book. It's the perfect way to include your favourite love story in your wedding.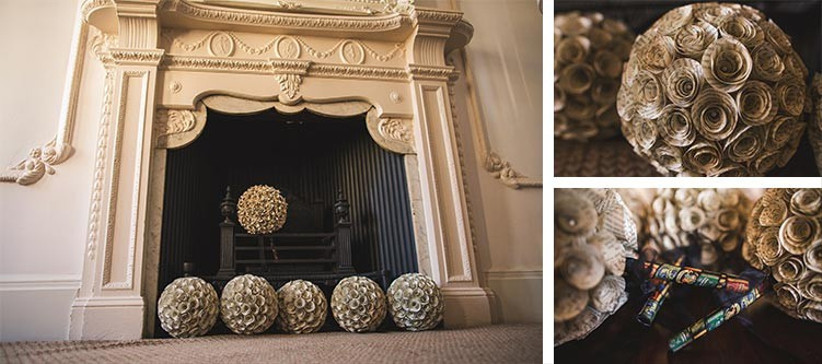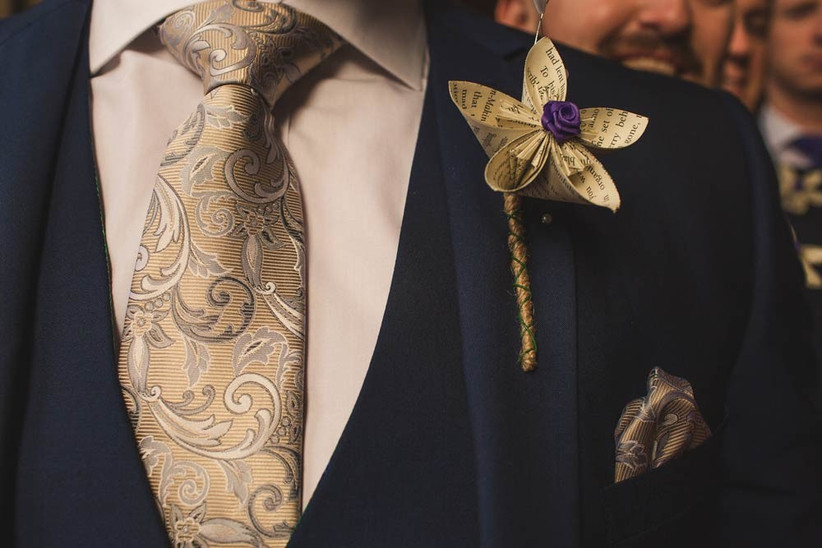 Image credits: Kelly Clarke Photography
Gryffindor Garter
A cute way to surprise your partner on your wedding day is with a themed garter – go for a Harry Potter style one to stay on theme, like these from Ooh La La Boudoir.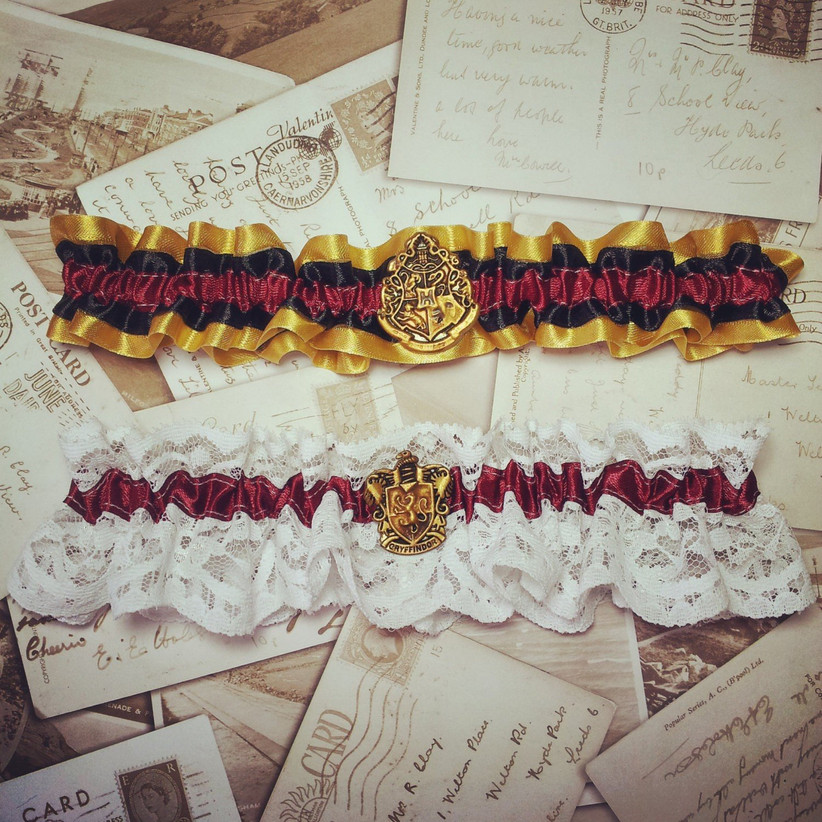 Harry Potter Snapchat Filter
Our recent survey of brides and grooms revealed that 62% of couples are updating their Facebook status to married within 24 hours of their wedding. If you're a modern couple and are feeling social media savvy, you can download a custom Snapchat filter from Honeyduke Designs complete with the word 'always'.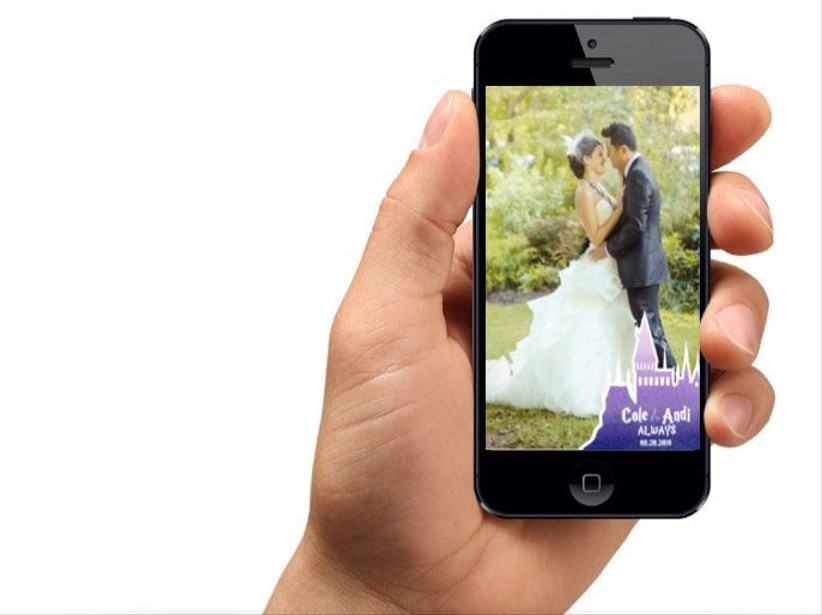 Deathly Hallows Manicure
Want to get creative with your wedding nail art? Be inspired by this amazing bridal manicure which features the Deathly Hallows symbol.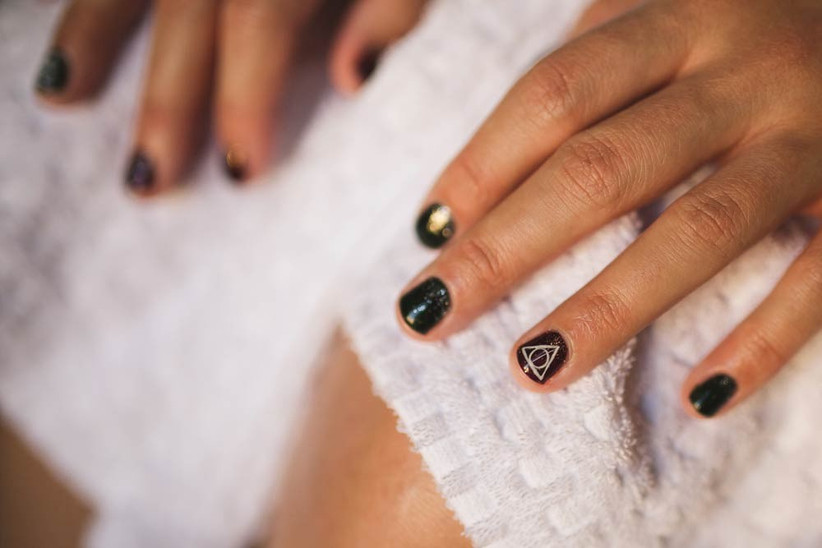 Image credit: Kelly Clarke Photography
Hogwarts Acceptance Letter Ring Box
Want to make your proposal seriously amazing? Use this ring box which is cleverly designed as a stack of Hogwarts acceptance letters – a dream come true for all Harry Potter fans. If you're already engaged, why not use it instead of a ring bearer pillow?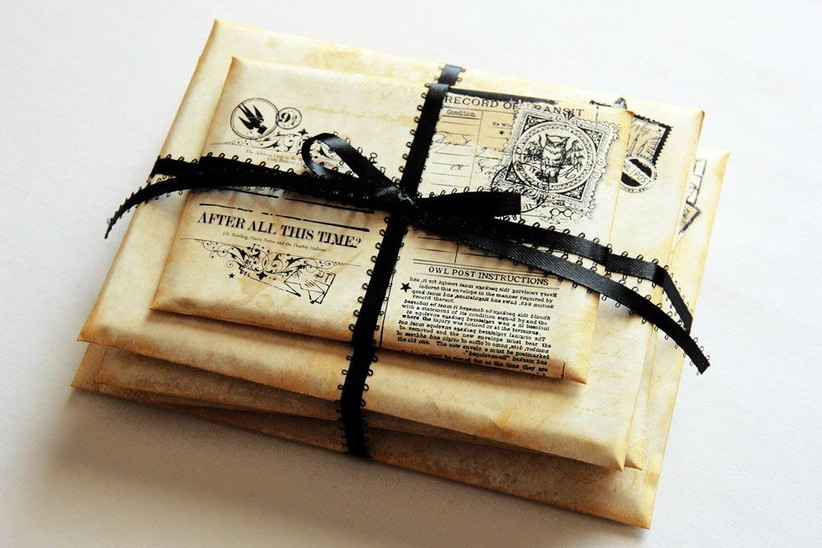 Image credit: So Glad Girl
Harry Potter Book Ring Box
Alternatively, you could hollow out a section of your favourite Harry Potter book and store your rings in there – the best man definitely can't forget that for the ceremony!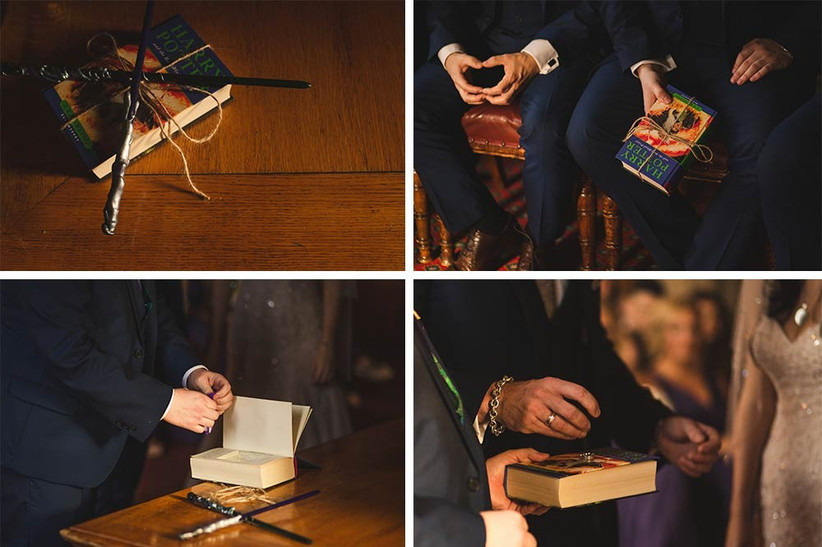 Image credit: Kelly Clarke Photography
Harry Potter Confetti
This heart-shaped 'Just Married' wedding confetti features pictures of the sorting hat, the golden snitch, the Nimbus 2000, wands and Hedwig. It'll look amazing in your wedding pictures, or scattered across the top table. Another option is to use shapes cut out from pages in the books.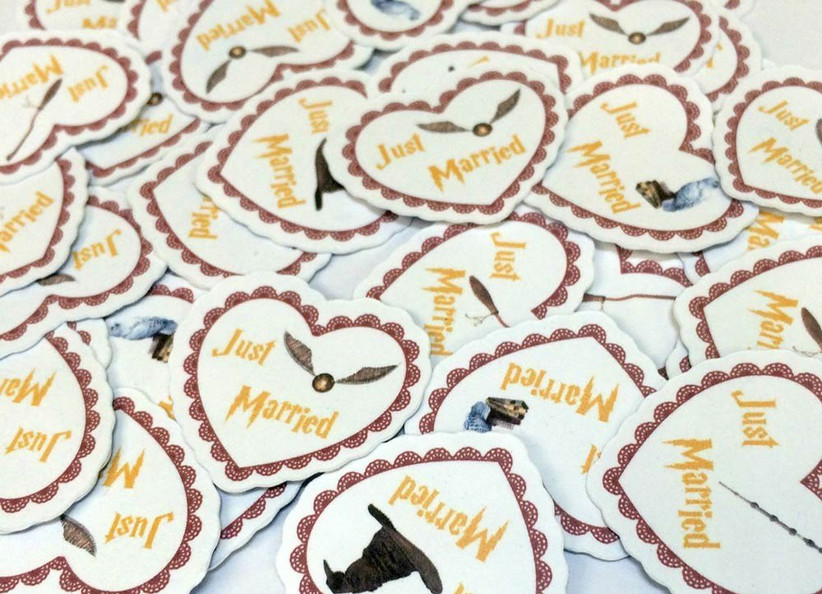 Image credit: Toad Hollow NJ
Harry Potter Table Décor
Use pages from the books to make Harry Potter themed table runners, and collect together vintage bottles and jars which you can label as potion bottles – we love the level of detail this couple went to, they really embraced the spirit of Hogwarts.

Image credit: Kelly Clarke Photography
Azkaban Wanted Posters
It might sound a little odd to have wanted posters at your wedding, but hear us out. You can use them to identify key members of your bridal party – and they'll look pretty cool on display at an alternative wedding venue.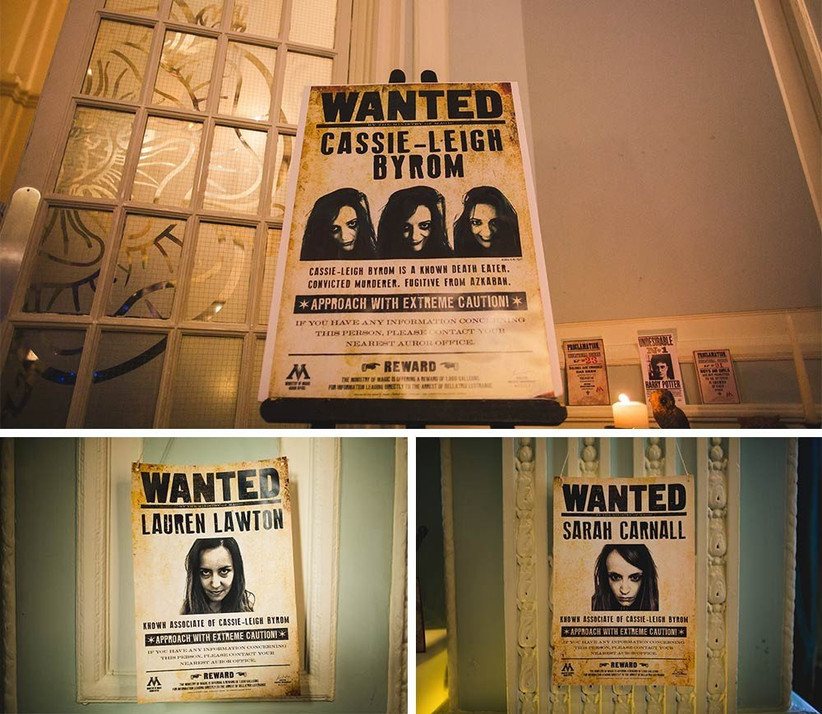 Image credit: Kelly Clarke Photography
Mr and Mrs Champagne Flutes
Toast your marriage with some Harry Potter themed champagne flutes – these glasses from Glass Cannons are etched with 'Mr' and 'Mrs' in a Harry Potter inspired font. They would make for a great wedding present idea for a HP obsessed couple too.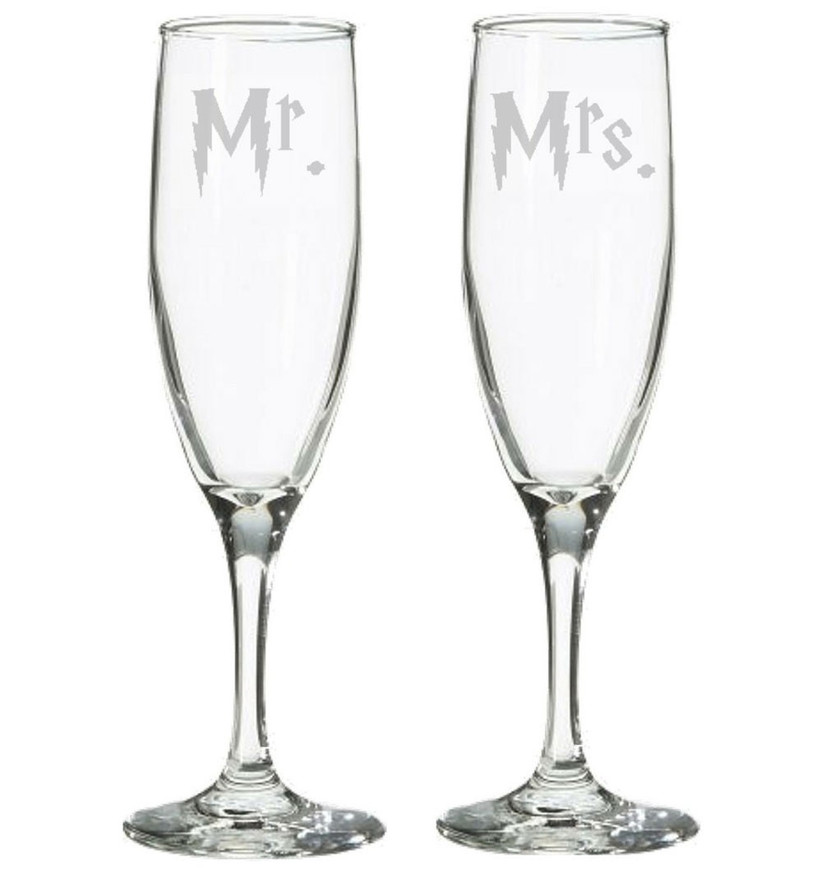 Harry Potter Themed Table Plan
Make the wedding table plan fun by incorporating your favourite book – you can name your tables after houses at Hogwarts, your favourite characters in the books (we'll sit at the Dobby table, thanks) or the actual books.

Image credit: Kelly Clarke Photography
Harry Potter Wedding Cake
A Harry Potter wedding theme is the perfect excuse to go for an alternative wedding cake! Whether you opt for a simple cake with a creative cake topper or you go for an elaborate design that really takes the theme on board, your guests will be delighted.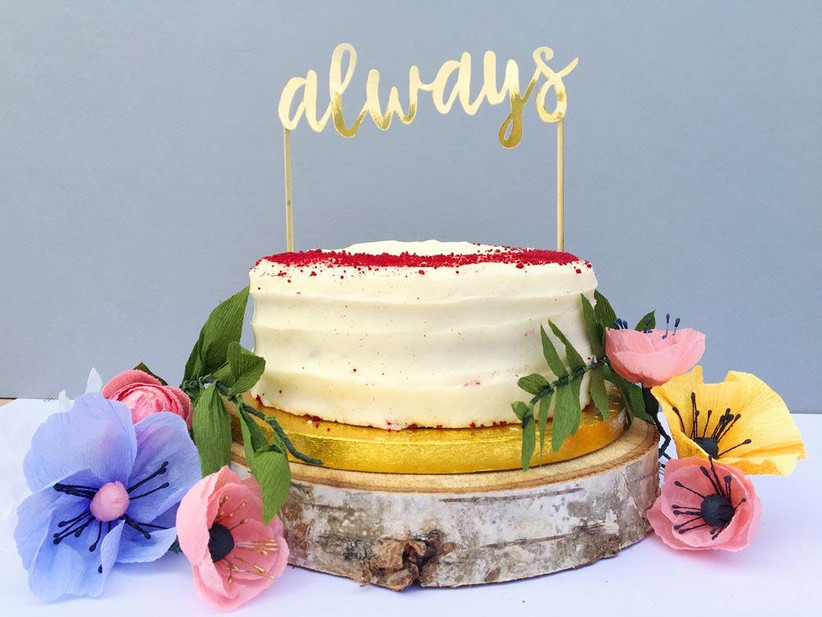 Image credit: Rachel Emma Studio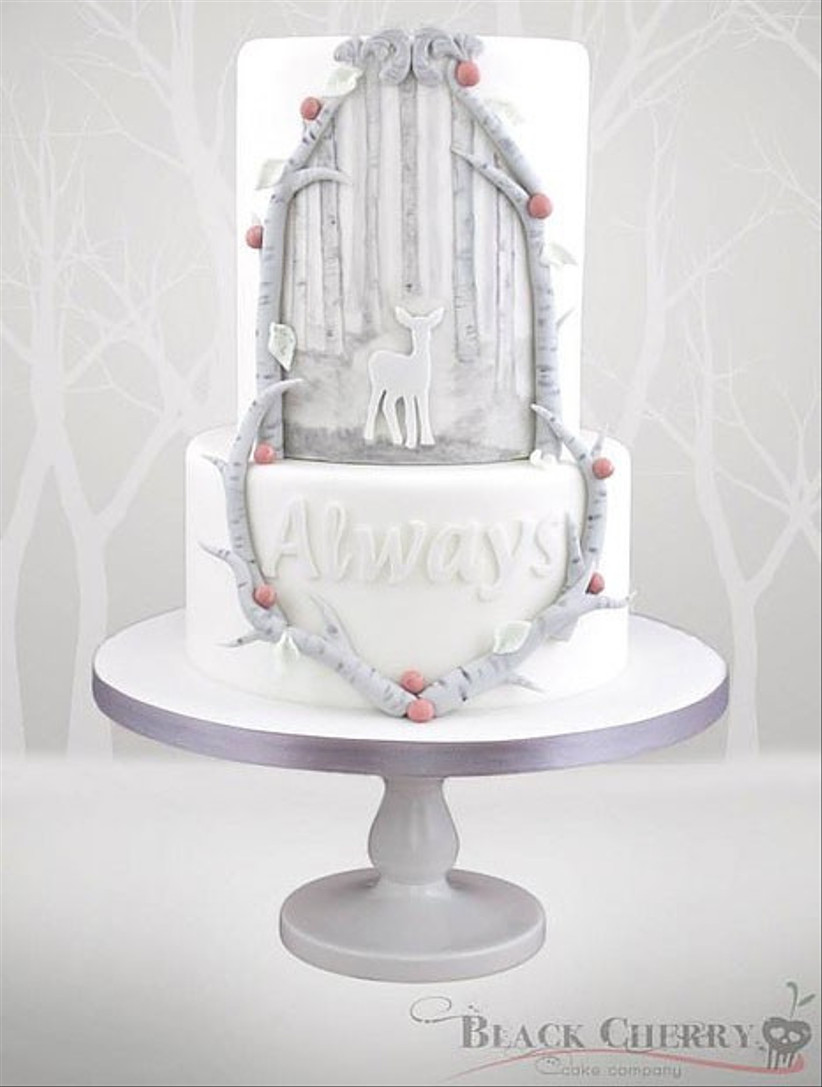 Image credit: Black Cherry Cake Company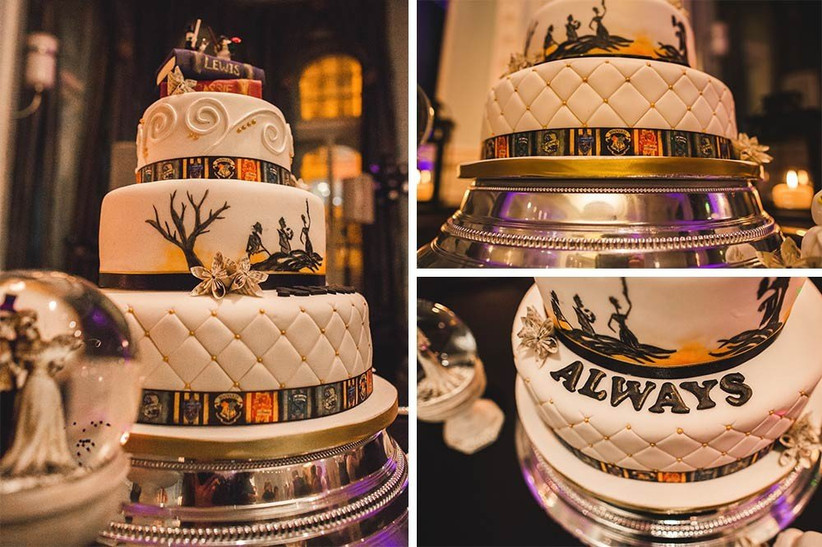 Image credit: Kelly Clarke Photography
Honeydukes Sweet Buffet
Planning on having a sweet buffet at your wedding? Give it a Harry Potter twist by having a Honeydukes theme. You can lay out chocolate frogs and fill jars with Bertie Bott's Every Flavour Beans.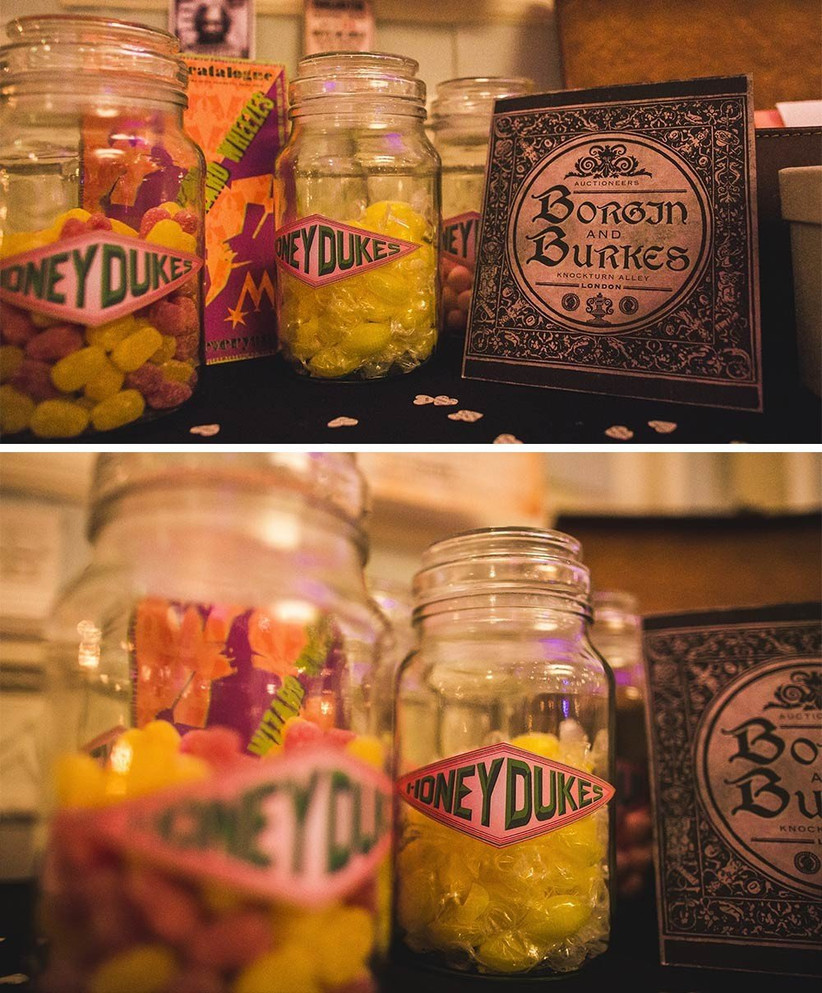 Image credit: Kelly Clarke Photography
Harry Potter Cufflinks
Add a subtle hint of HP to your groom's wedding day look with some Harry Potter cufflinks – we love these, captured by Kelly Clarke Photography.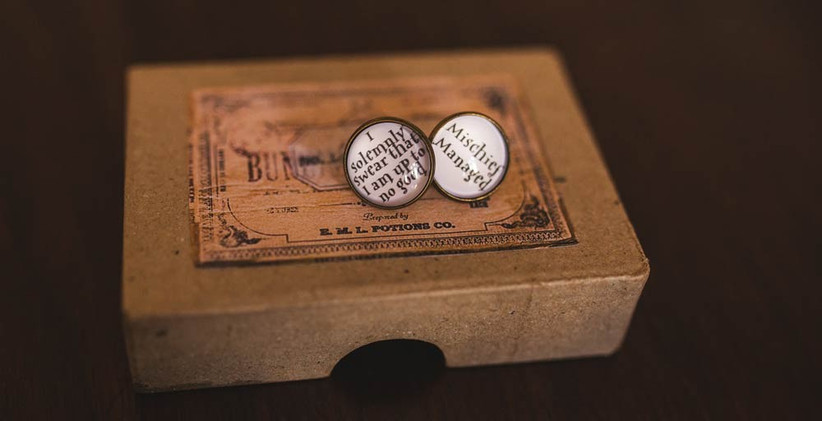 Golden Snitch Wedding Favours
This is an amazing idea, especially if you're looking for wedding favours under £1. Bulk buy Ferrero Rocher chocolates and add paper wings to them – leave one at every guest's seat and everyone will have their own edible golden snitch!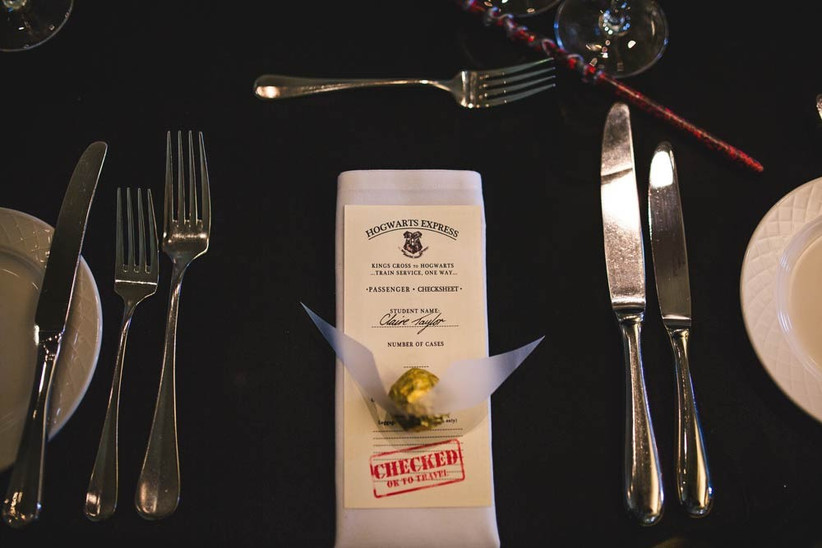 Image credit: Kelly Clarke Photography
Felix Felicis Cocktails
Serve up some 'liquid luck' as your wedding cocktails or hand it out for the toasts – you could serve up some polyjuice potion too and let your guests take their pick.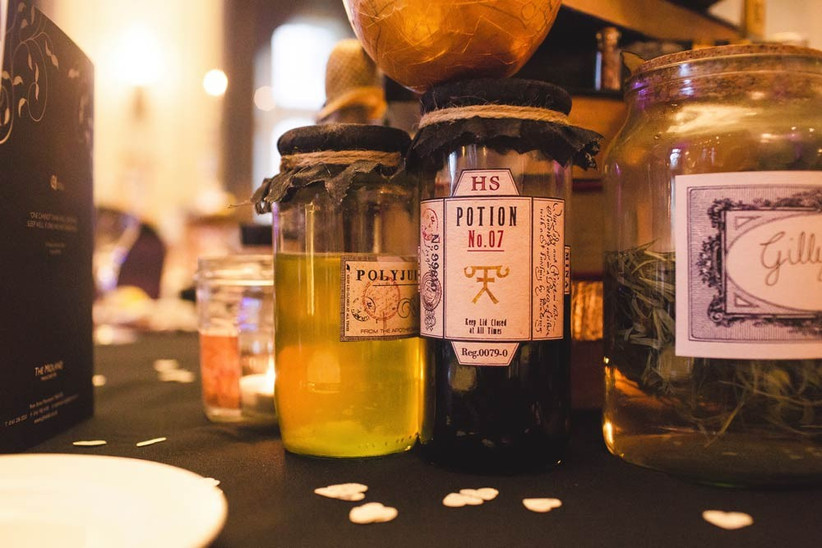 Image credit: Kelly Clarke Photography
Fancy saying your vows in a Harry Potter-esque wedding venue? Make sure you check out our edit of the best wedding venues from TV and film.