25 Harry Potter Wedding Ideas That Are Totally Magical
Love Harry Potter? Why not go all out with a Harry Potter themed wedding? We have 19 magical ideas to inspire you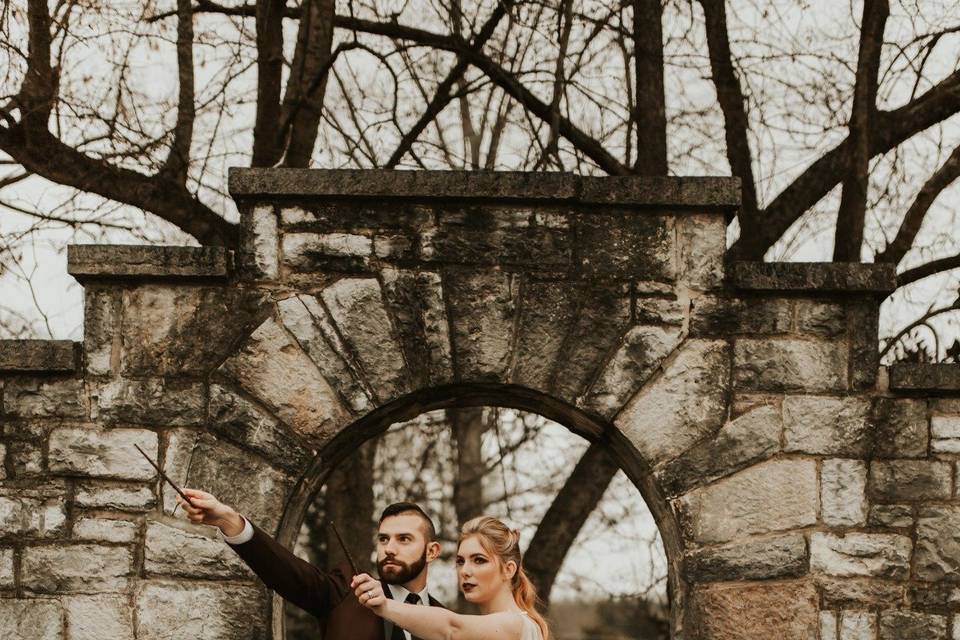 You might have missed out on receiving your Hogwarts acceptance letter, but you sure don't have to miss out on turning your wedding day into a spell-binding celebration. Harry Potter wedding themes are a really popular choice (according to
Pinterest's most popular wedding themes
, Harry Potter comes out top), as it's a lovely way to add a touch of magic to your wedding day.
Whether you want to subtly nod to the series, or you'd rather all of your guests sipping on butterbeer while reading the Daily Prophet, we've got 25 magical Harry Potter wedding ideas to incorporate into your big day. From enchanting shoes fit for the Yule Ball, to dessert tables that wouldn't look out of place at Honeydukes, these ideas are perfect for all Potterhead couples.
So, get your wands at the ready and start scrolling our favourite Harry Potter wedding ideas to get inspired.
READ MORE
1. Hogwarts Wedding Invitations
Get your guests excited from the get-go with these amazing Hogwarts style wedding invitations from Unmeasured Event. These alternative wedding invitations will be on display in your guests' homes for years to come.
2. Harry Potter Book & Wand Ring Box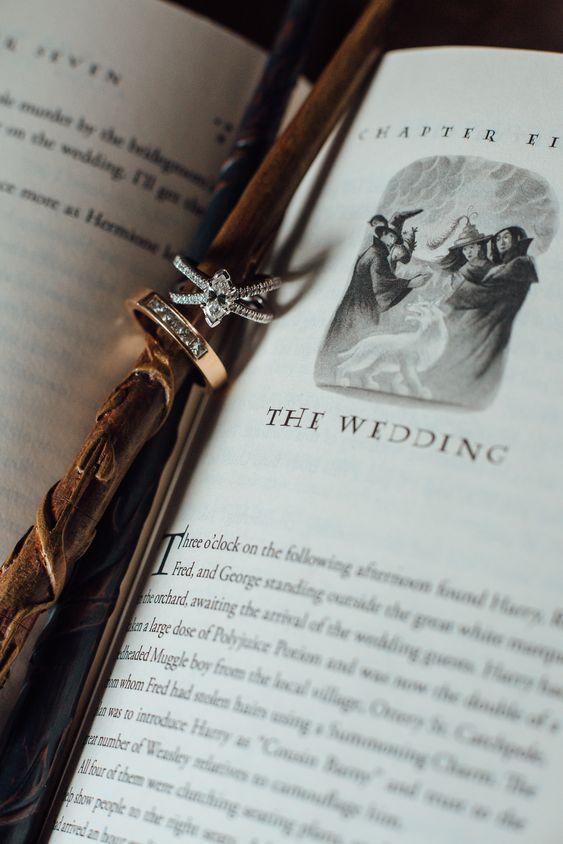 Ditch the traditional ring box for your favourite Harry Potter book and store your rings in there, or even take it one step further by popping them on a wand as well. The ring bearer definitely can't forget that for the ceremony!
3. Harry Potter Table Décor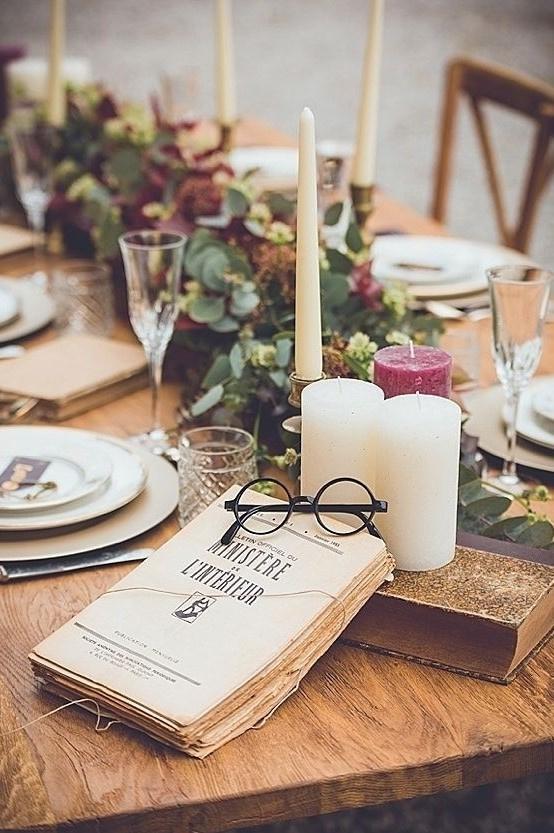 Use pages from the books, collect together vintage bottles which you can label as potion bottles, scatter gothic style candlesticks and opt for moody florals - the possibilities are endless! We love the level of detail this couple went to, they really embraced the spirit of Hogwarts.
4. Harry Potter Table Names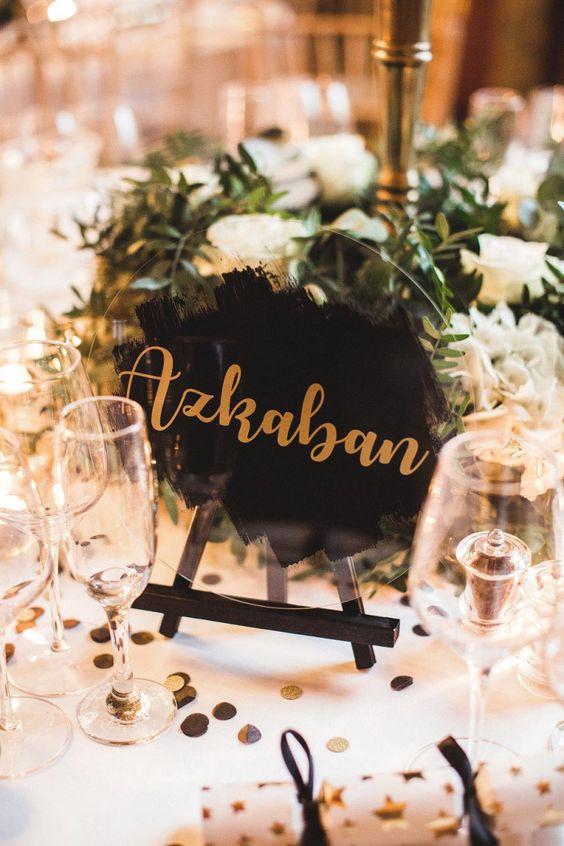 Looking for a Harry Potter wedding idea that isn't too obvious? Name your tables with locations that appear in the series. From Azkaban to Hogsmeade, there's so many to choose from.
5. Mandrake Centre Piece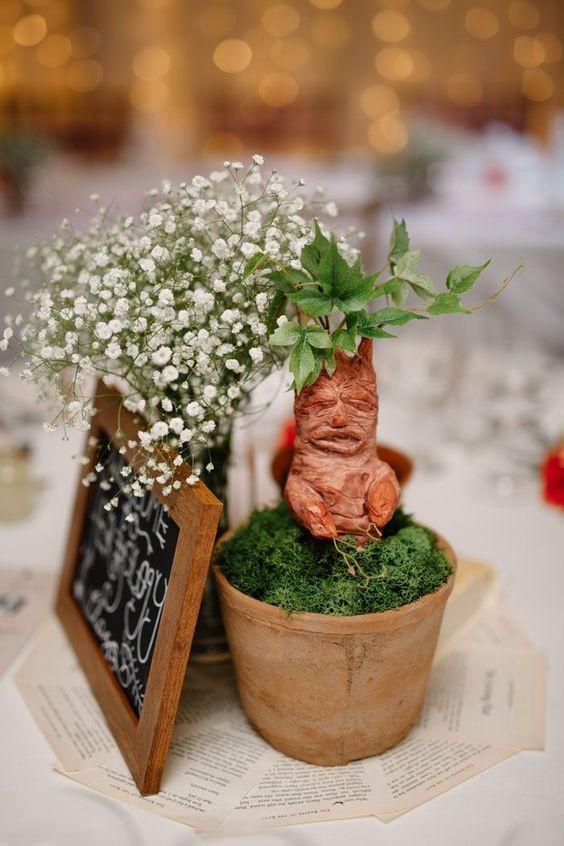 How charming is this Mandrake table centre piece? Thankfully it won't sound like the real deal, but it sure does look sweet! This idea would be even more fitting if you choose to get hitched in a greenhouse style wedding venue.
READ MORE: 24 Gorgeous Garden Wedding Venues in the UK
6. Harry Potter Themed Table Plan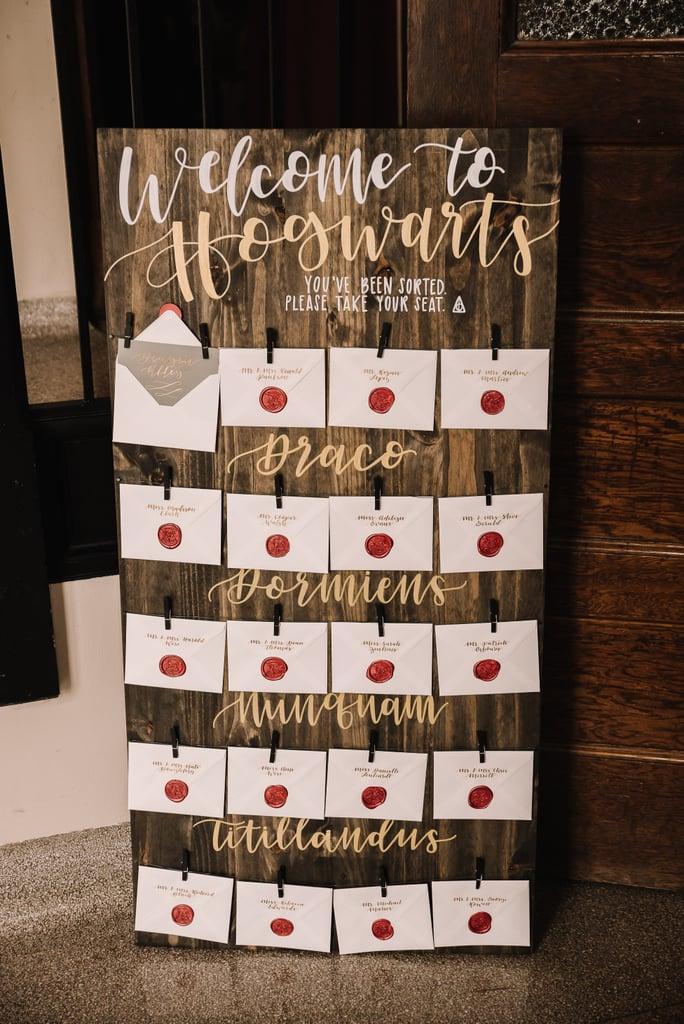 Make the wedding table plan fun by using Hogwarts acceptance letters for your guests to open – you can name your tables after houses at Hogwarts, your favourite characters in the books (we'll sit at the Dobby table, thanks) or the actual books.
7. Harry Potter Wedding Cake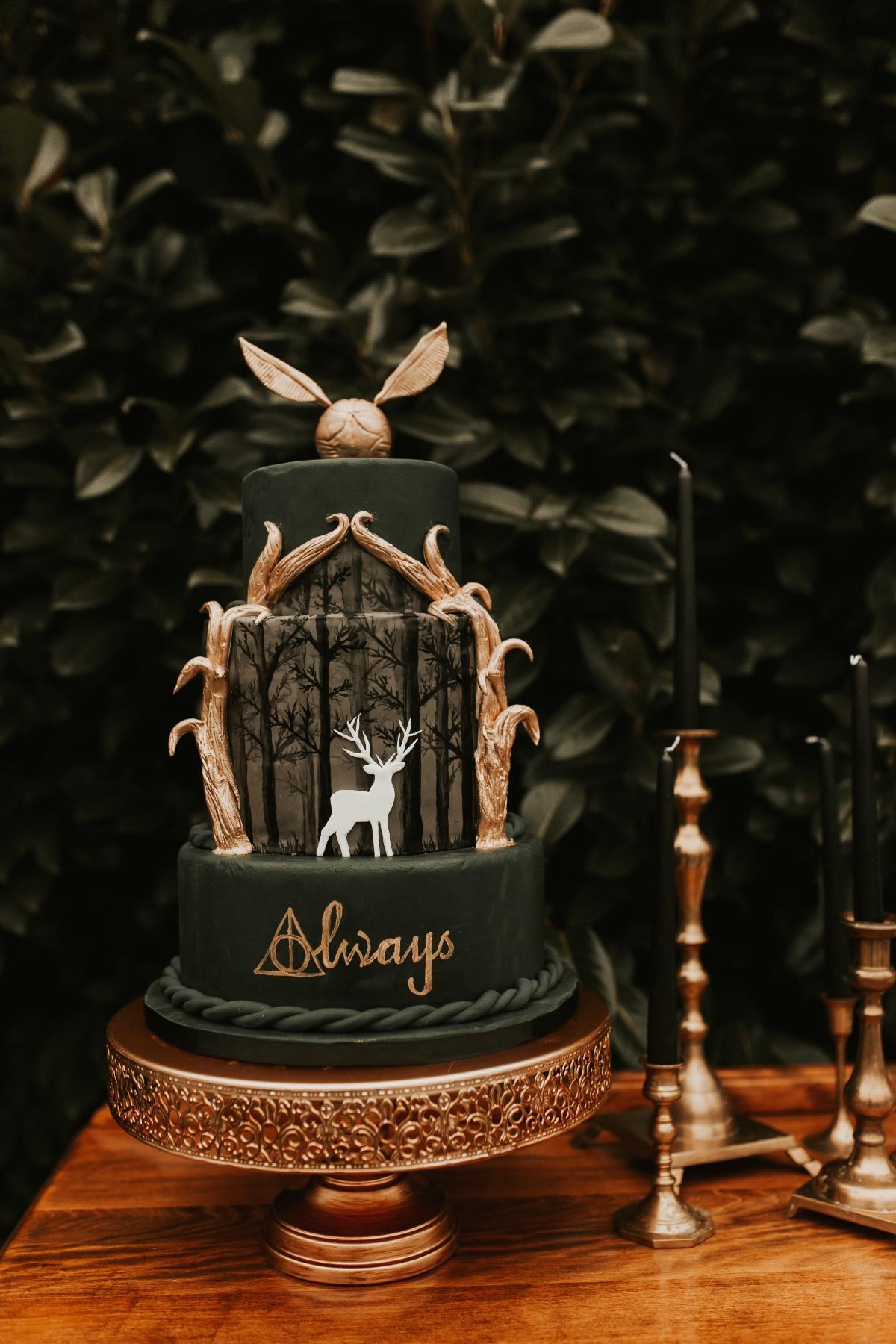 A Harry Potter wedding theme is the perfect excuse to go for an alternative wedding cake! Whether you opt for a simple cake with a creative cake topper or you go for an elaborate design that really takes the theme on board, your guests will be delighted.
8. Patronus Cake Topper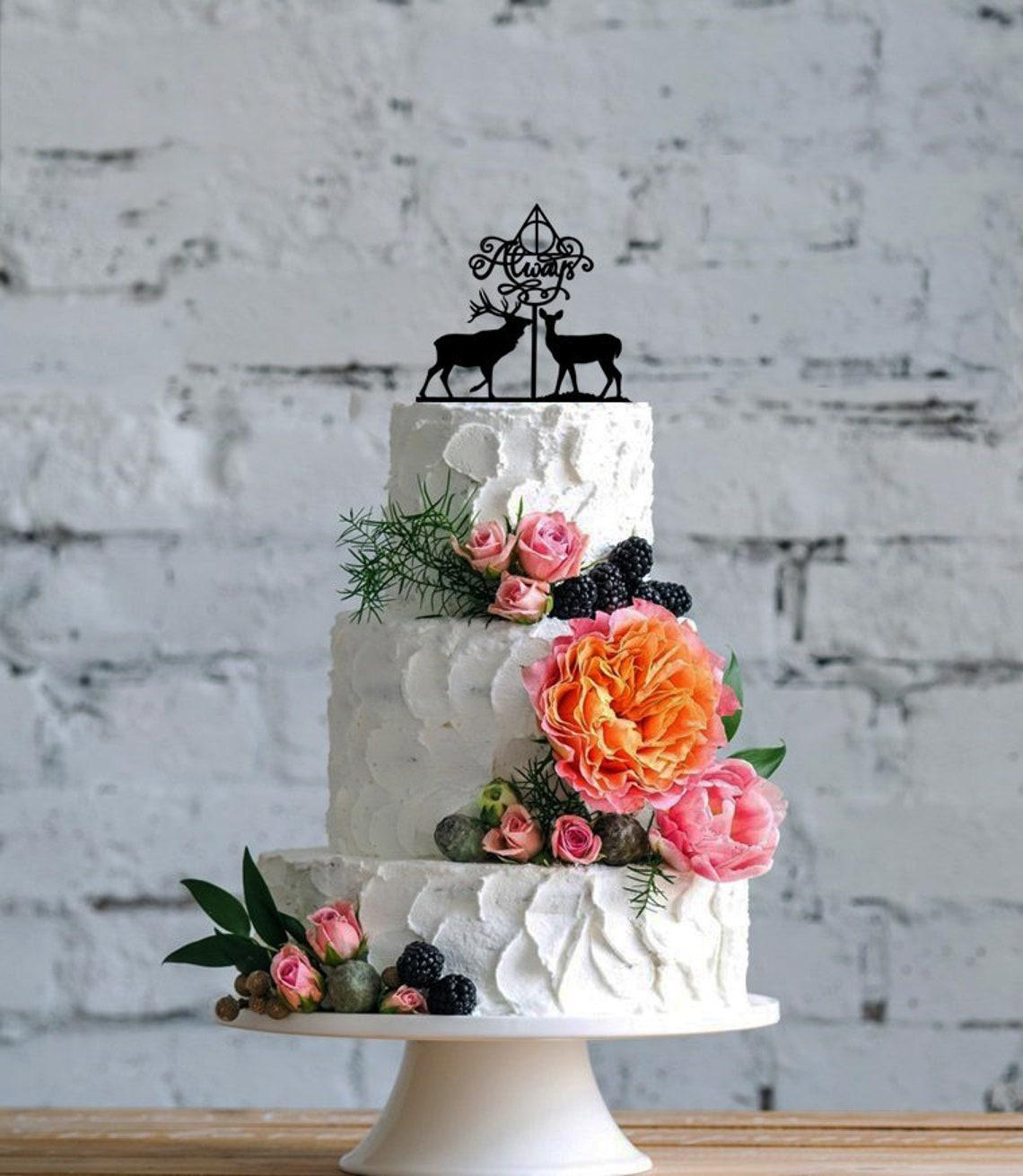 Speaking of cake toppers, check out this Patronus inspired creation. It's a subtle reference that muggles might not understand, but true Potterheads will pick up on instantly.
9. Honeyduke's Chocolate Frogs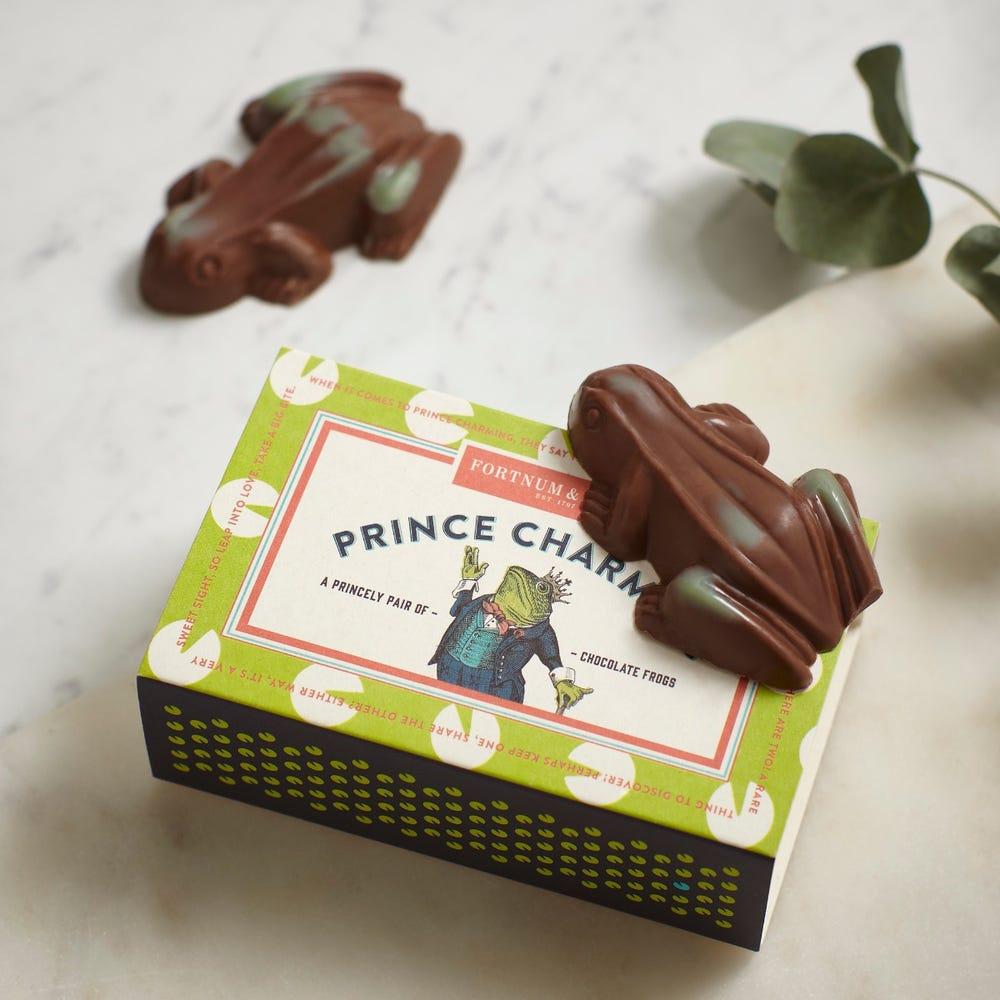 Planning on having a sweet buffet at your wedding? Give it a Harry Potter twist by having a Honeydukes theme. You can lay out chocolate frogs and fill jars with Bertie Bott's Every Flavour Beans.
10. Harry Potter Cufflinks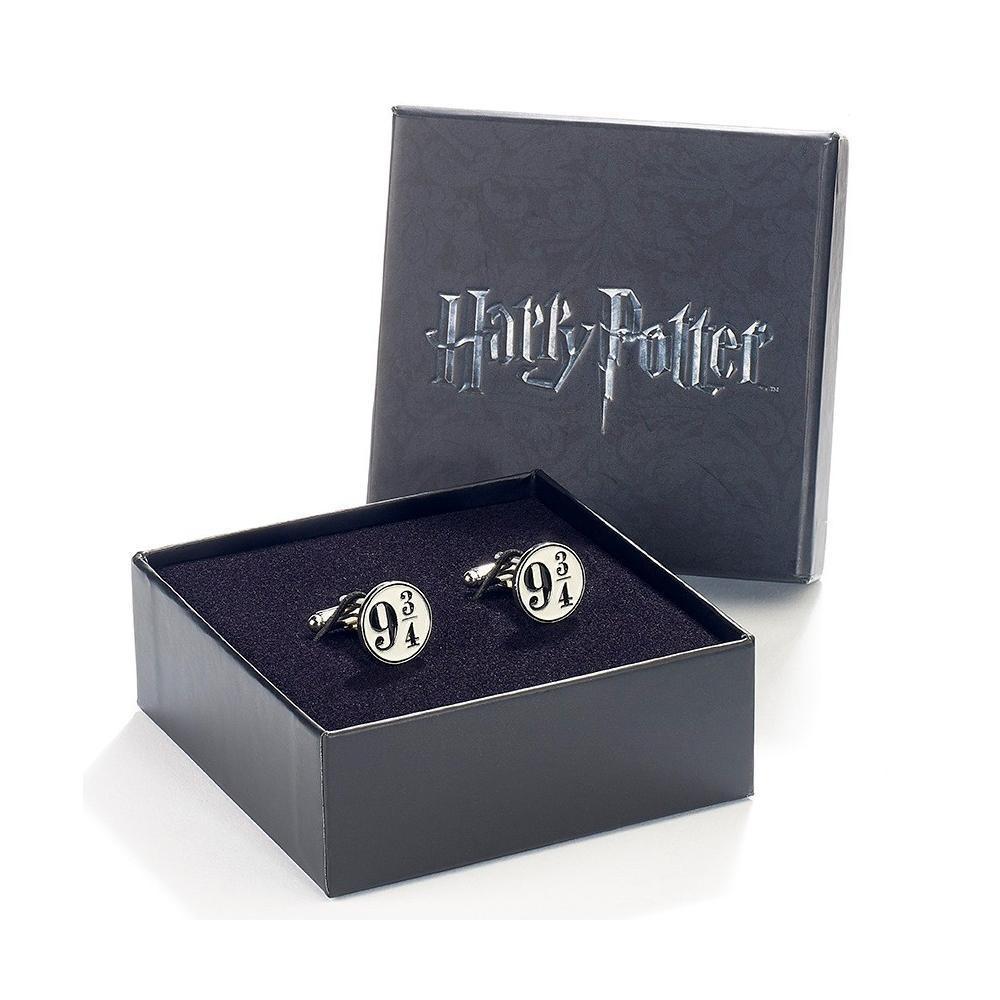 Add a hint of HP to your wedding day look with some Harry Potter cufflinks – we love these Platform 9 3/4 cufflinks from Geek Outlet and expect they'll be worn long after the wedding day.
11. Golden Snitch Wedding Favours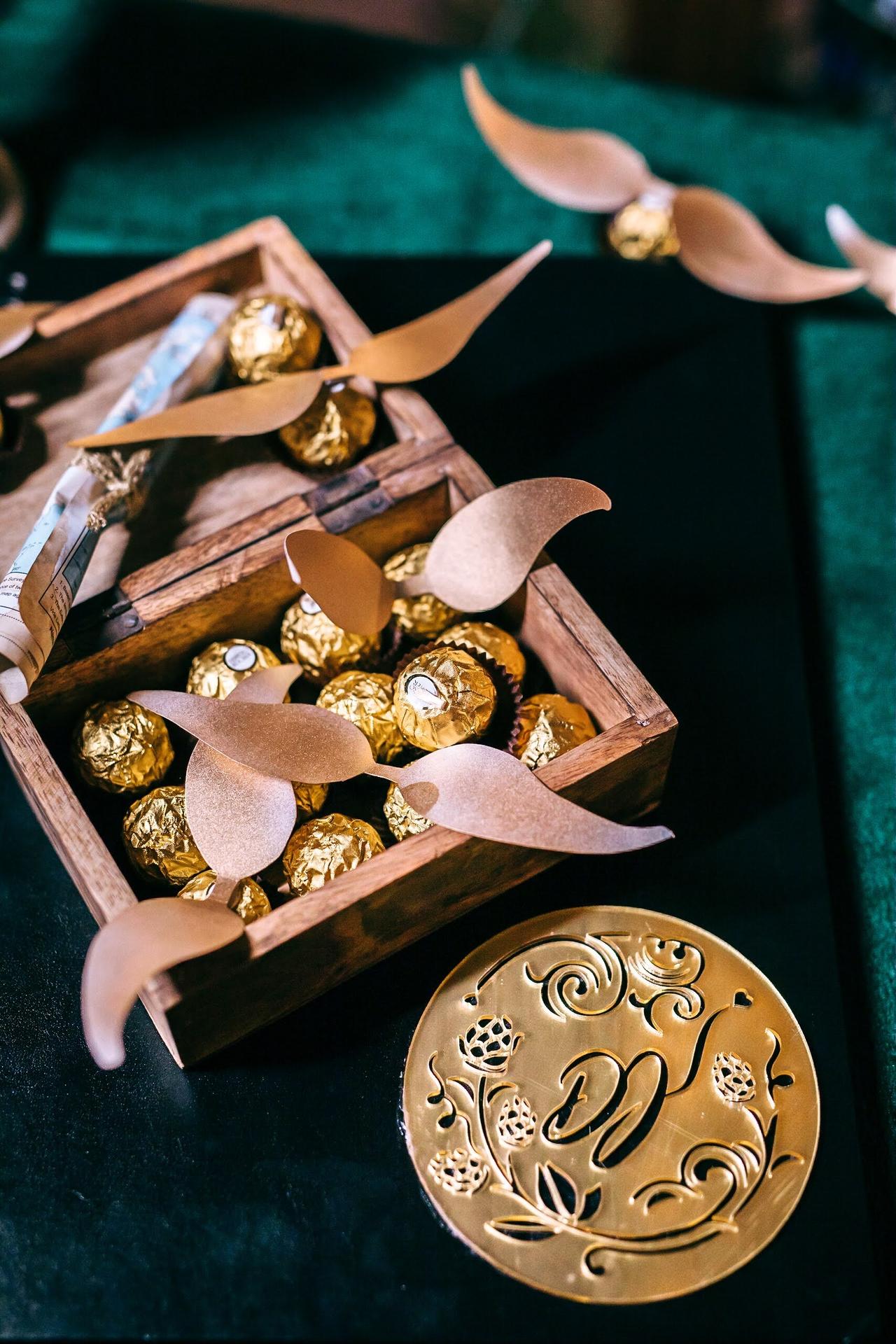 This is an amazing idea, especially if you're looking for wedding favours under £1. Bulk buy Ferrero Rocher chocolates and add paper wings to them – leave one at every guest's seat and everyone will have their own edible golden snitch!
READ MORE: 43 Cheap Wedding Favours
12. Glasses & Key Wedding Buttonhole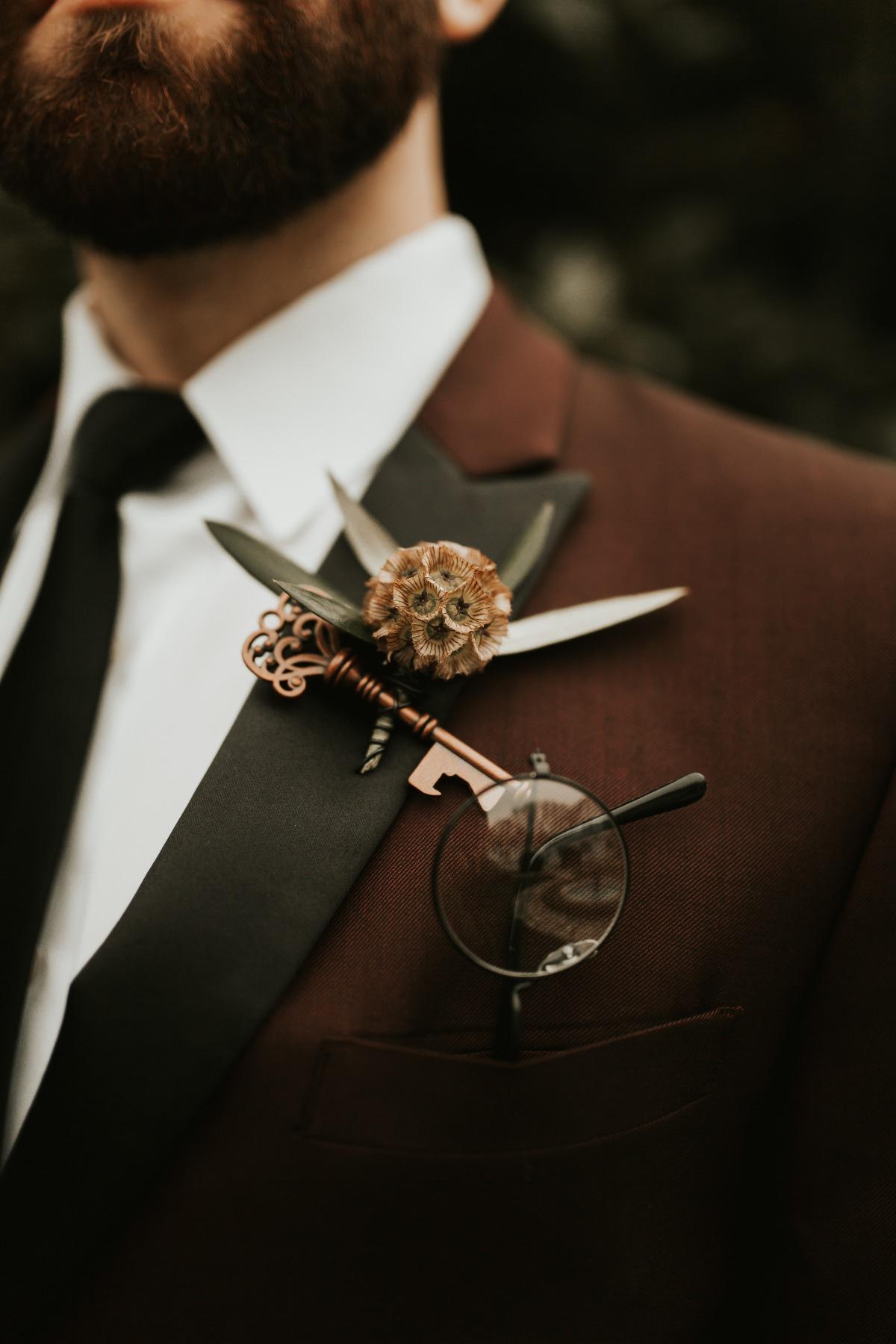 This unique wedding buttonhole idea looks so sleek and chic. The addition of a key and the iconic glasses is a really clever and creative way of incorporating some magic into your big day.
13. Sorting Hat Gift Sign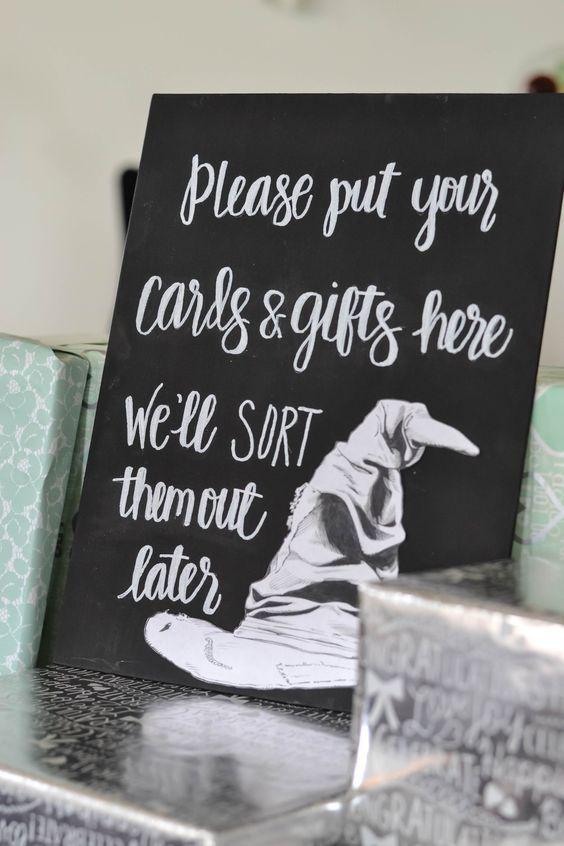 For a funny play on words that is sure make your guests giggle, consider having a sorting hat gift sign. It'll tell everyone where they should put any presents in a fun and original way.
14. Signature Potions Cocktail List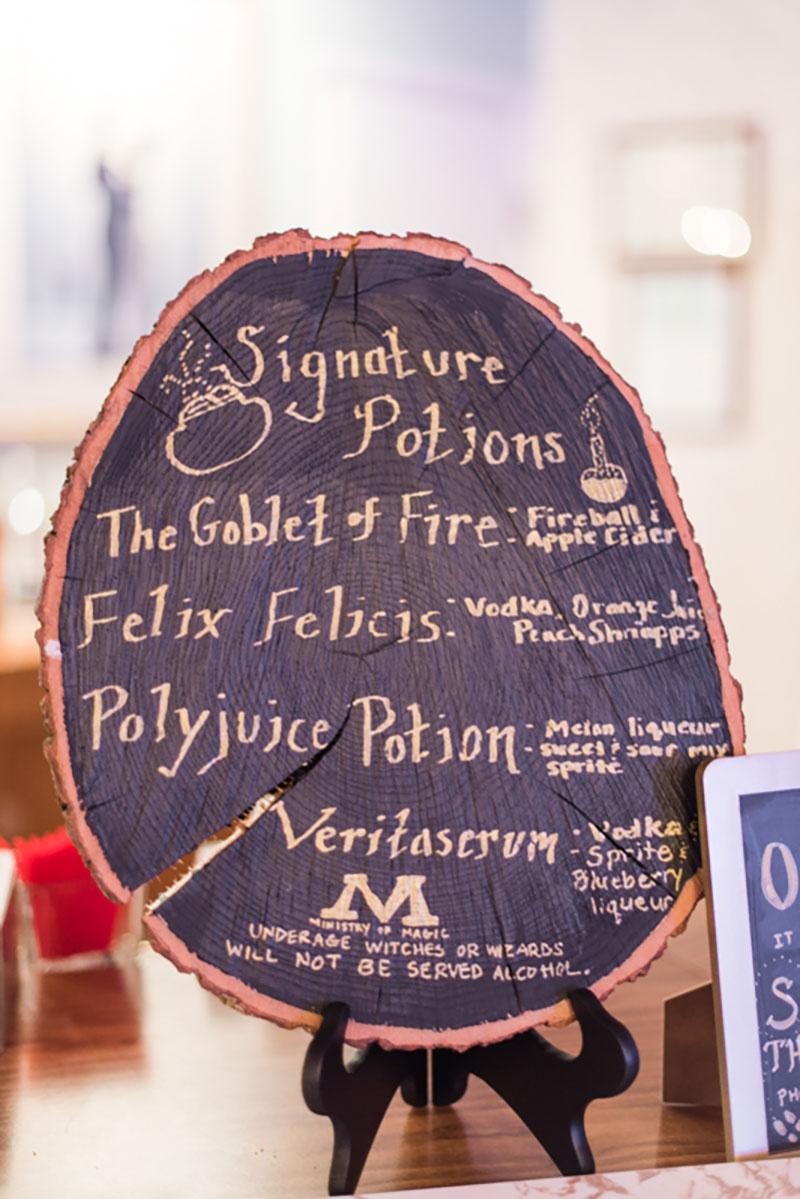 You'll have so much fun conjuring up recipes for your Harry Potter themed cocktails if you go for this wood slice sign. When it comes to your special day, you might need a little Felix Felicis 'Liquid Luck' to ensure the day runs smoothly!
15. Golden Snitch Cocktail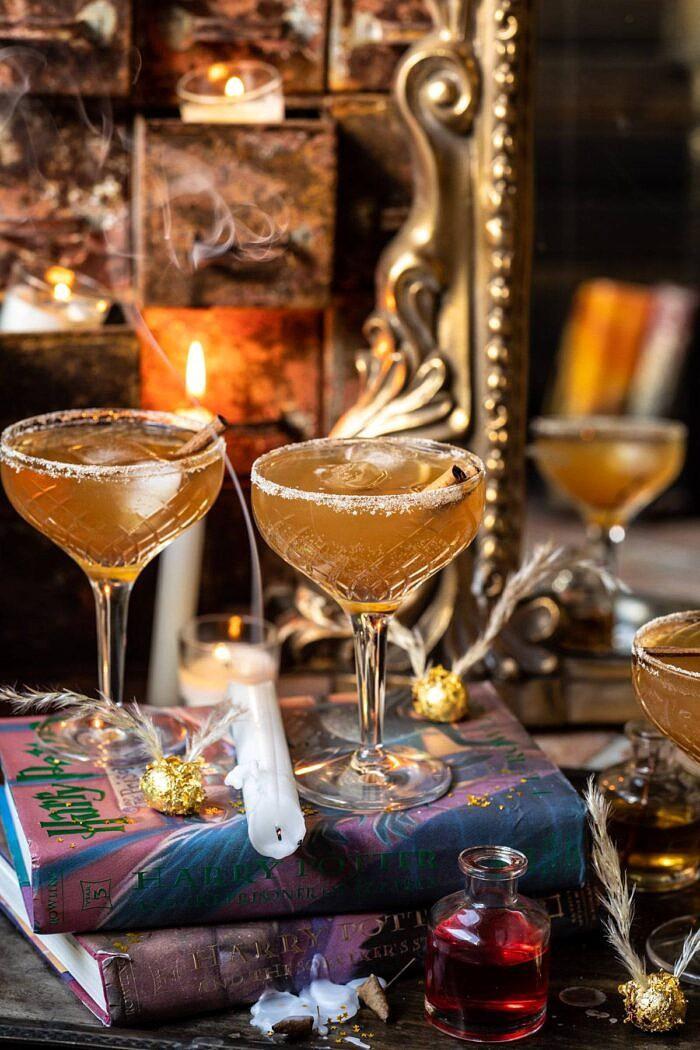 Give yourself a headstart on the cocktail making with this golden snitch cocktail. Simply mix a dash of cinnamon, maple syrup and lemon juice into some prosecco for a bubbling potion that will look as good as it tastes.
16. Daily Prophet Information Cards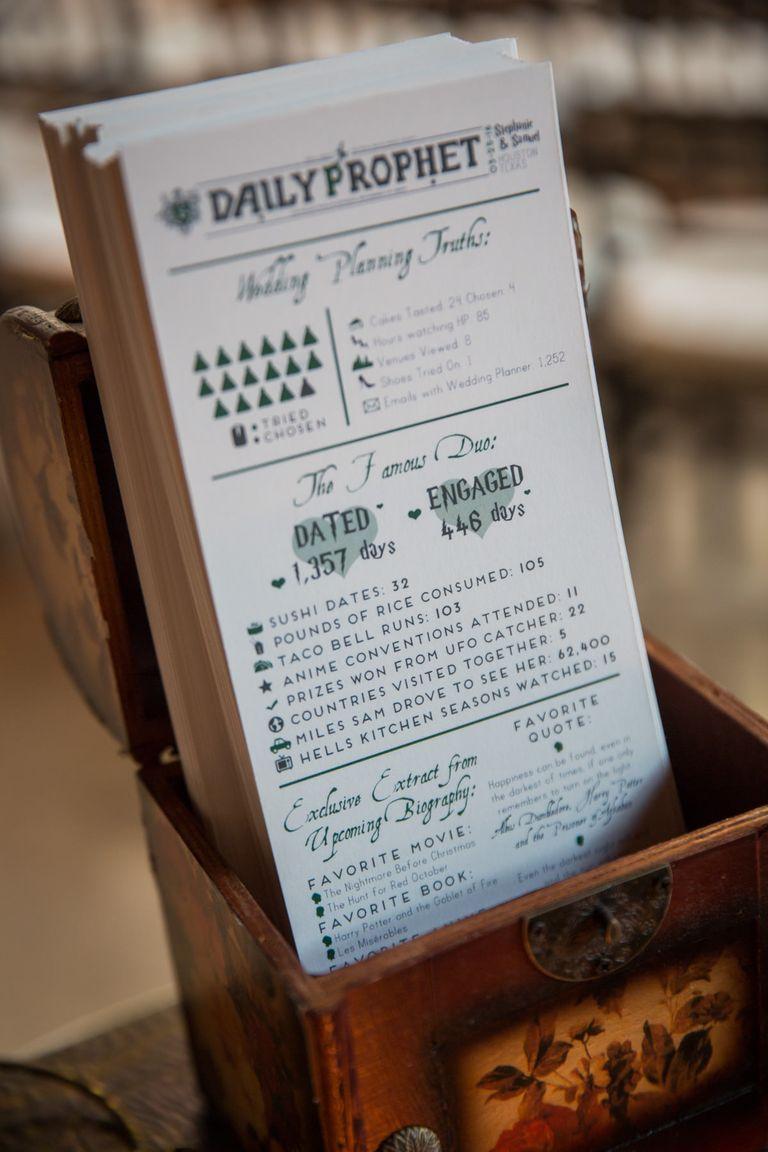 News just in from Rita Seeker, this wizarding newspaper is the perfect way to inform your guests of a few fun facts about you and your partner, plus what the rest of the day entails.
READ MORE: 15 Genius Alcohol Alternatives for Your Wedding Day
17. Owl Ring Bearer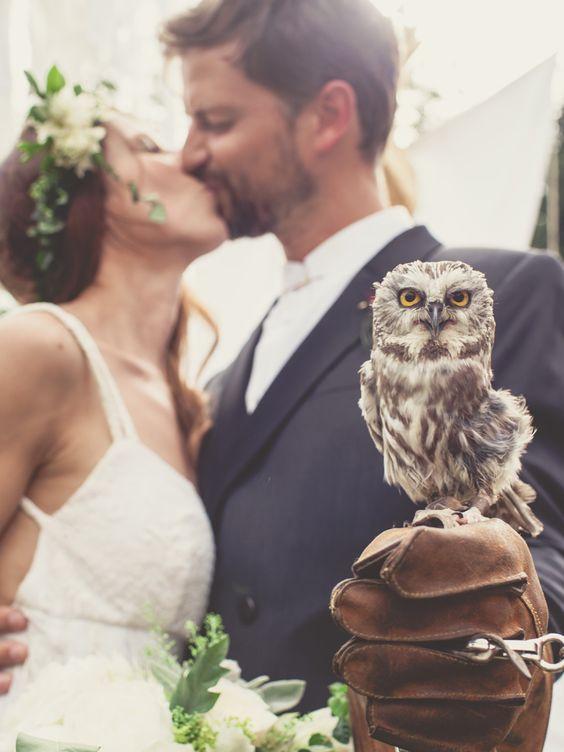 Would a Harry Potter themed wedding really be complete without Hedwig delivering your rings down the aisle? Check out Apollo Falconry to find out more.
18. Scroll Guest Book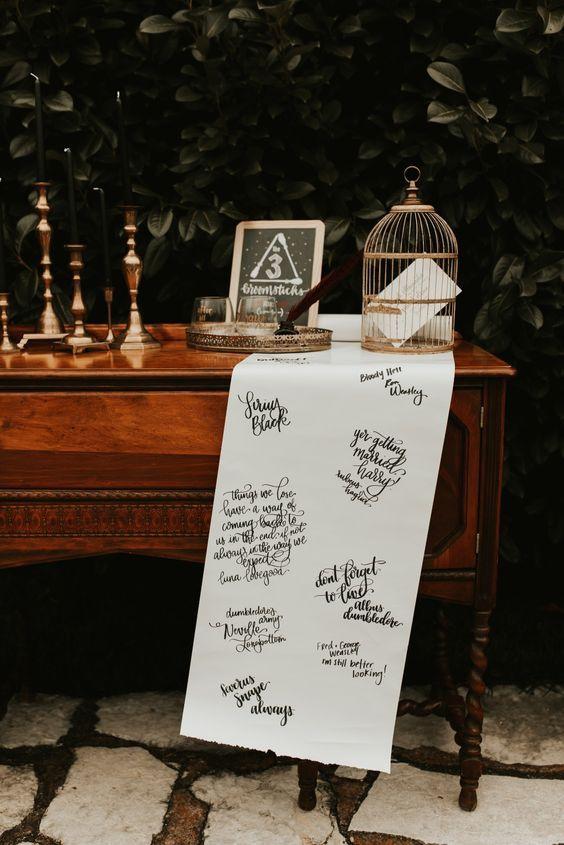 Lay out this scroll (and a quill and ink!) at your reception in place of your guest book and have friends and family leave you a special message. Harry Potter contains some lovely quotes about love that you could also include on there.
19. Have You Seen This Wizard Photobooth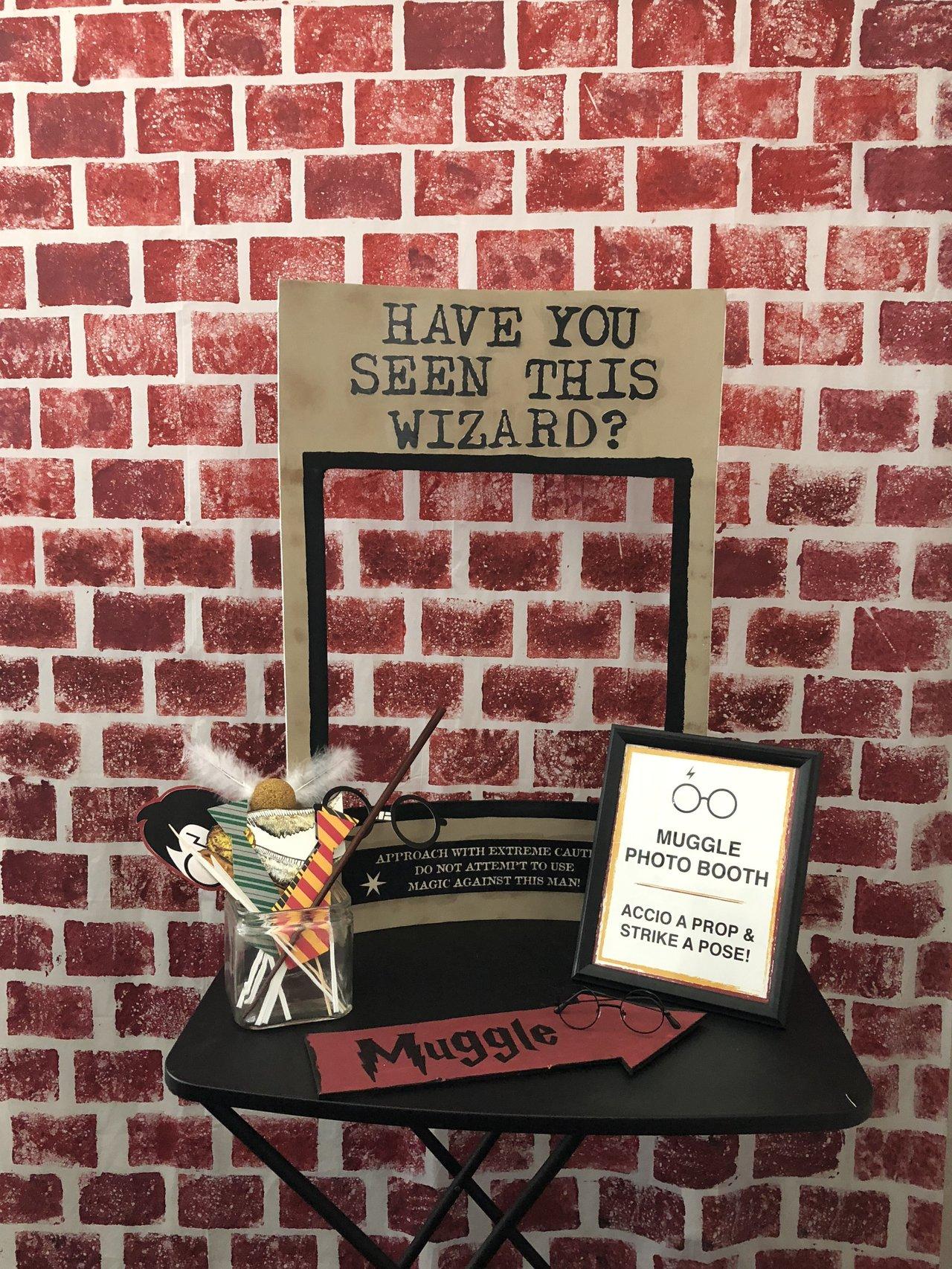 We love the idea of having a photobooth at your wedding packed with fun props that everyone can take silly pictures with and this Harry Potter version will make for some seriously memorable snaps.
20. Harry Potter Footwear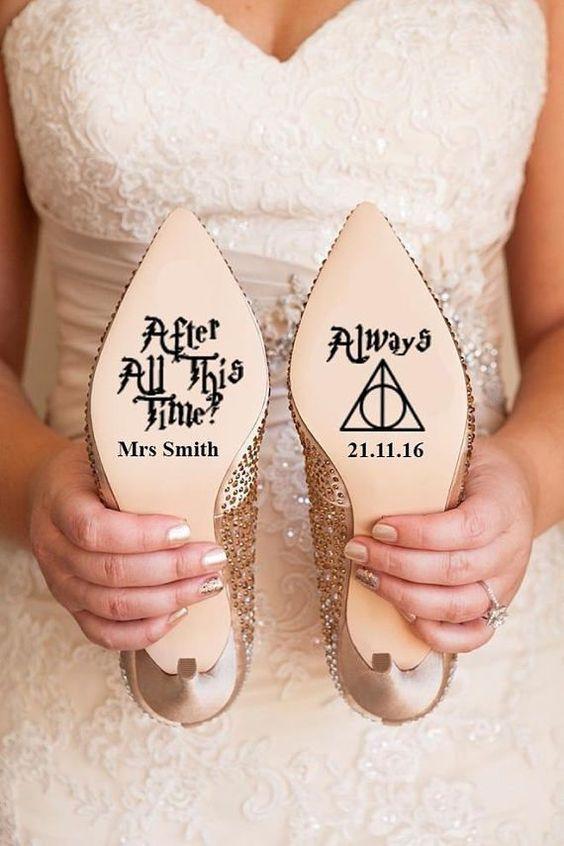 Give your wedding shoes an adorable Harry Potter inspired upgrade by writing a cute quote and your wedding date on the sole. Even if only you and your partner know about this sweet touch, it'll make a meaningful keepsake.
21. Always & Forever Ceremony Décor

Arguably one of the most famous lines from Harry Potter, 'Always' is not only perfectly fitting for a wedding, it's also a big clue into your magical theme and will look beautiful hung up in gold at your ceremony.
READ MORE: 45 Beautiful Tablescape Ideas
22. Wand Table Place Decoration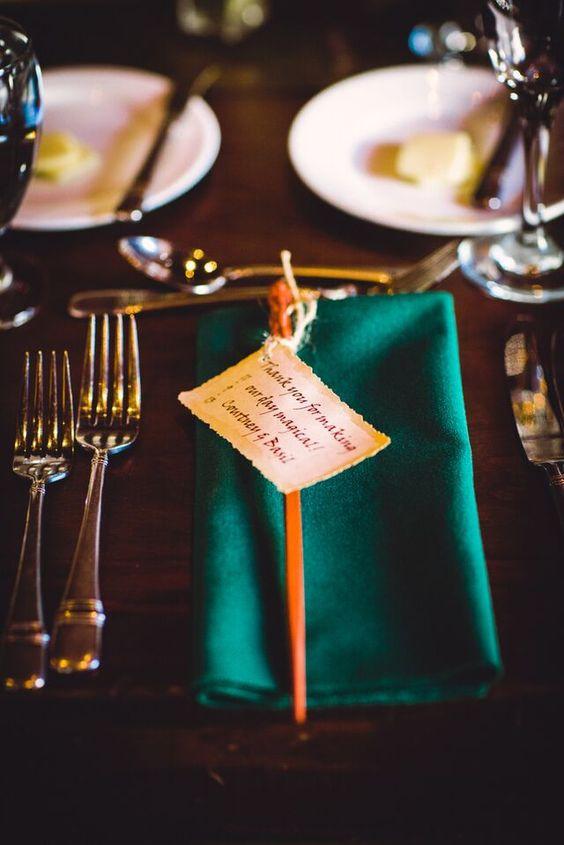 A magical combination of a wedding favour and a table place decoration, leave each of you guests a wooden wand for them to discover when they sit down to eat. This idea will be a real winner if you're having children at your wedding.
23. Flying Key Décor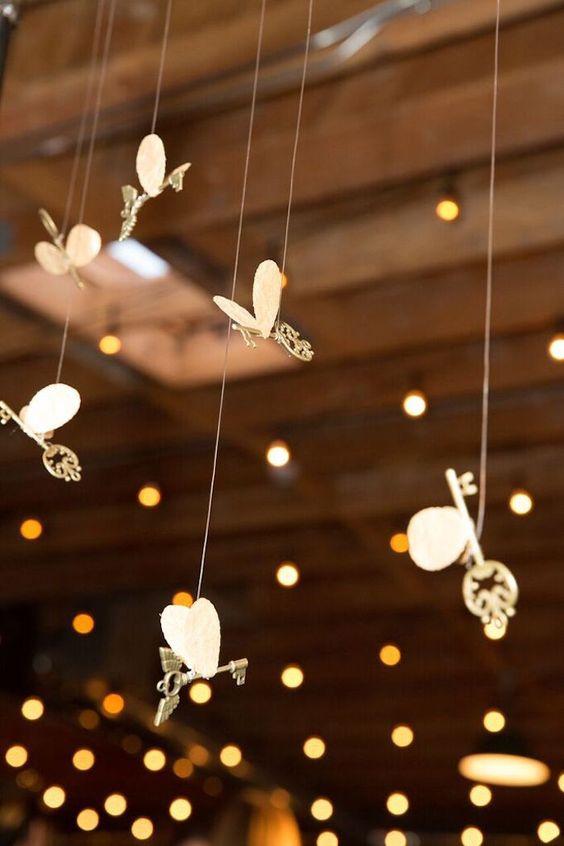 If you decorate your wedding venue with flying keys and fairy lights, trust us, the space will be transformed into something that looks truly enchanting and straight out the pages of the first book. They're super easy to make yourself, all you'll need is some keys, string and some cut-out paper wings.
24. House Inspired Florals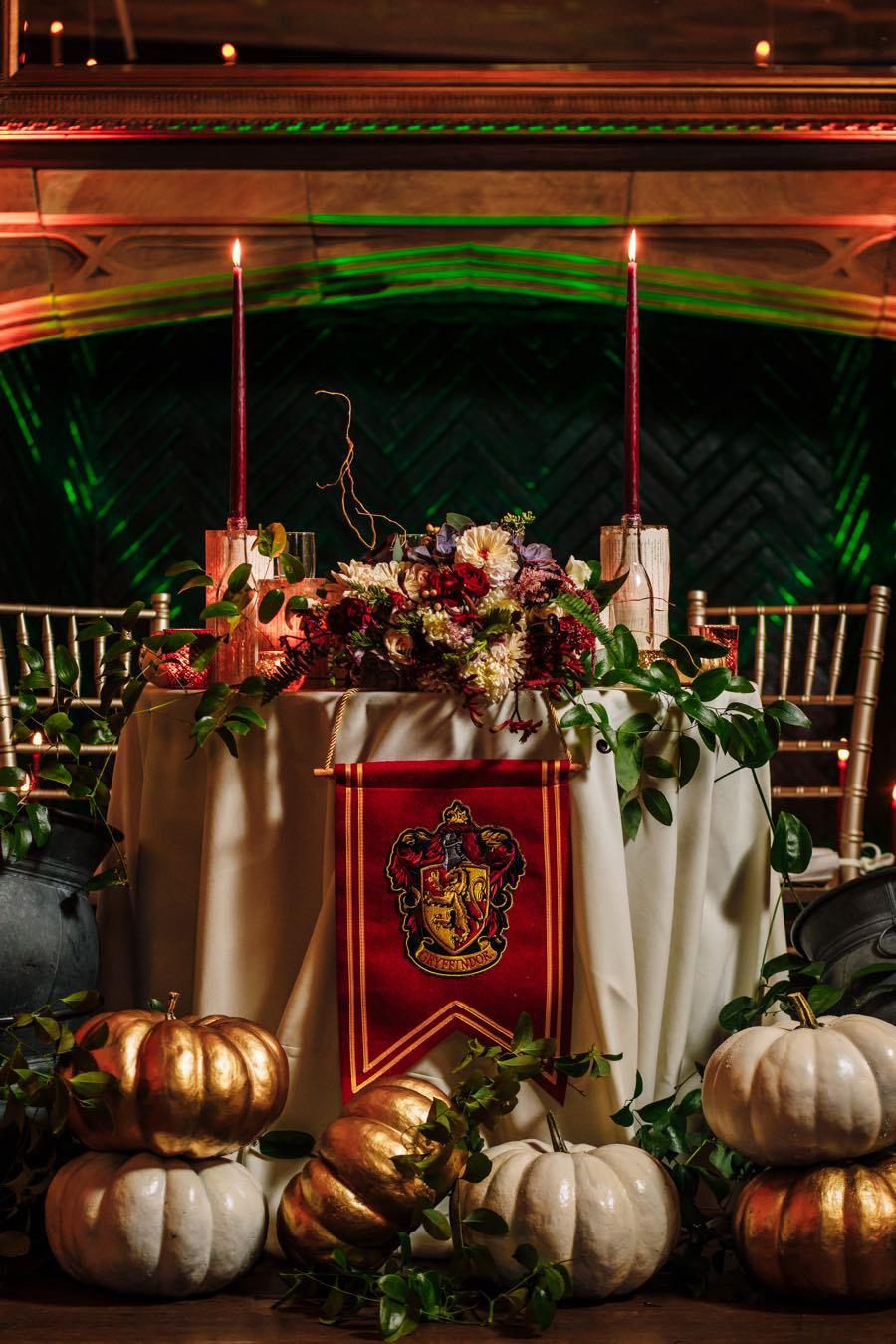 Whether you're a Gryffindor, Slytherin, Hufflepuff or Raveclaw, show your house colours by having colour coordinating blooms, candles and flags to match.
25. Sparkler Wands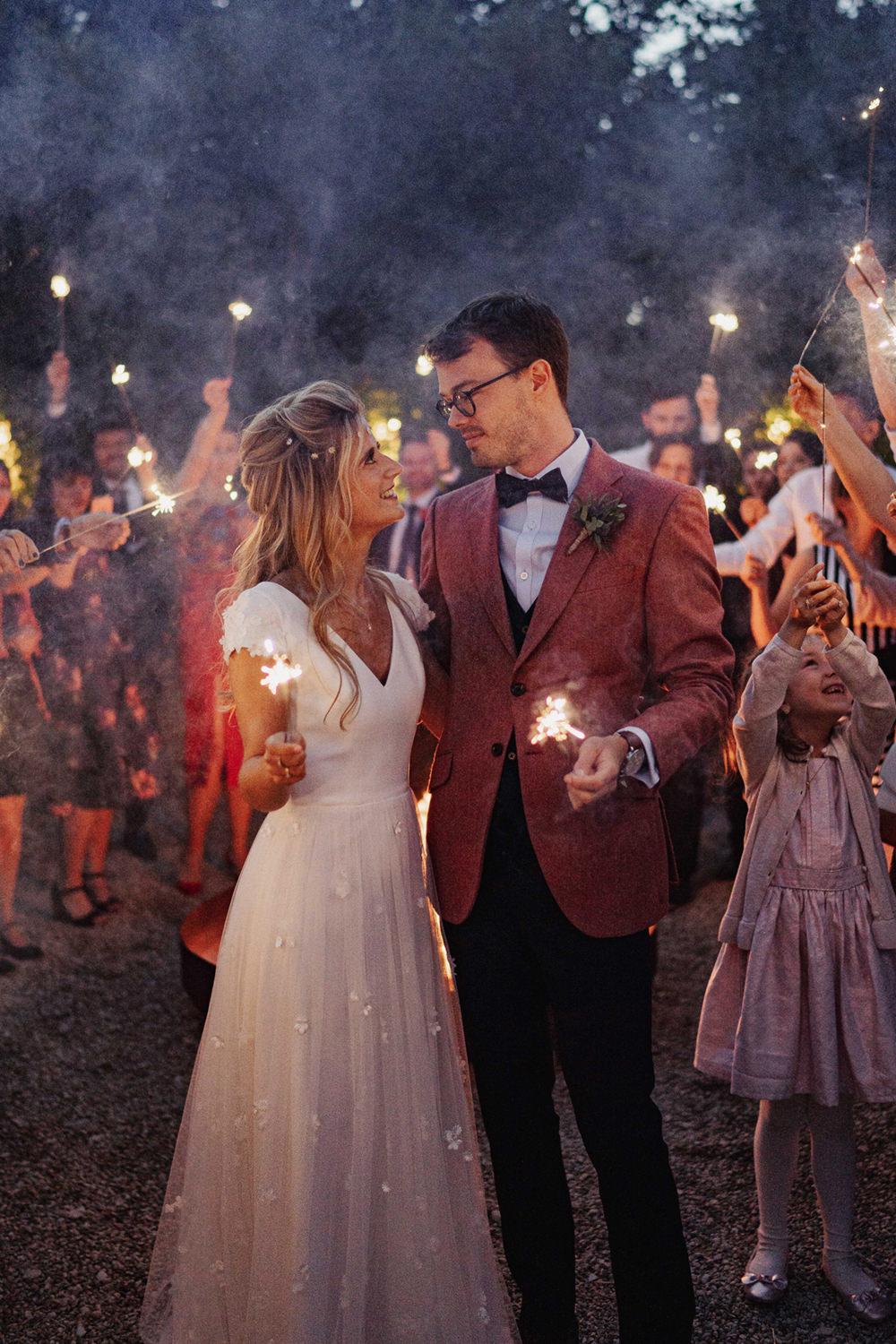 End the night by raising your wands to the sky! Well, they're sparklers but they'll make a spectacular wedding photograph if you and your partner stand in the centre surrounded by your loved ones.
Fancy saying your vows in a Harry Potter-esque wedding venue? Make sure you check out our edit of the best wedding venues from TV and film.