Wedding Anniversaries: Your Year-by-Year Wedding Anniversary Gift Guide
Ensure you get the perfect wedding anniversary gift for your partner or a couple with our ultimate guide to wedding anniversary years and what each milestone year means!
We have included third party products to help you navigate and enjoy life's biggest moments. Purchases made through links on this page may earn us a commission.
Wedding anniversaries are a special chance to celebrate reaching another milestone in your marriage - but it's so tricky to keep up with all the wedding anniversary years. What do they all mean?
Each of the wedding anniversaries has a different traditional meaning and gift associated with it, depending on how many years you're celebrating. There are also wedding anniversary stones associated with each year, like diamonds for your 60th.
Whether you're celebrating one of the milestone wedding anniversaries, or know someone who may be reaching one of the key wedding anniversary years, our guide to wedding anniversaries has everything you need to know - including the difference between the UK's traditional anniversary gifts and those in the United States.
Our year-by-year anniversary gift guide features both traditional wedding anniversary gifts, and modern takes on each of the anniversary years with advice from the 1st wedding anniversary all the way up to the 90th! Read on to learn everything you need to know about wedding anniversary milestones and their meanings.
READ MORE: 137 Wishes to Write in Your Anniversary Card
What are the Wedding Anniversary Gifts by Year?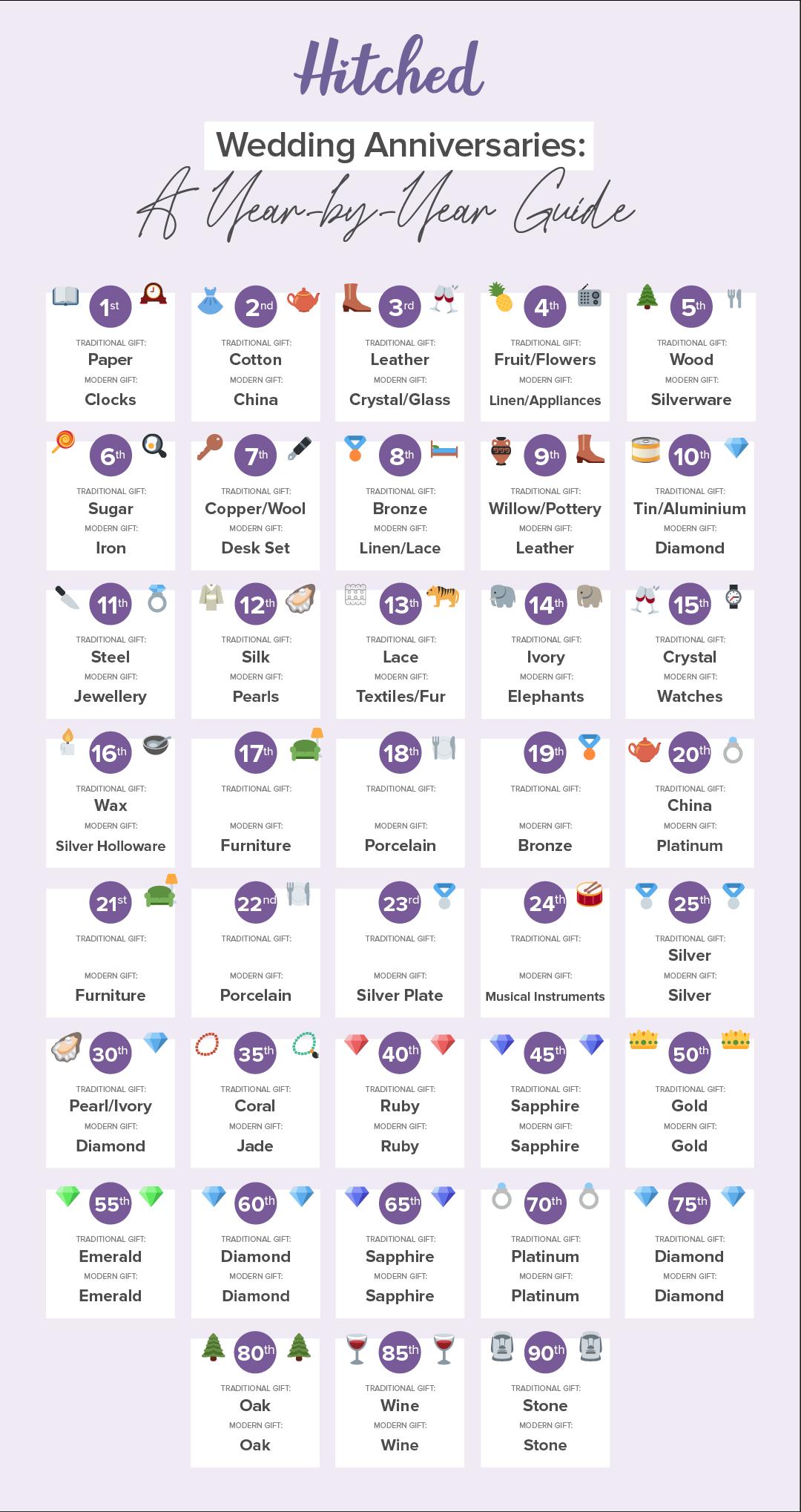 Take a look at our list of wedding anniversary years – from the 1st to 90th. We've listed the traditional anniversary gifts by year, and some suggestions for modern alternatives associated with each year's theme.
Those celebrating wedding anniversaries in the UK, can follow this list, but if you're celebrating in the United States, or buying an anniversary gift for a couple living across the Atlantic, be aware that there are a few minor differences. For example, US wedding anniversaries only go up to 75 years, silk can replace linen, and swap china for pottery. But it's your wedding anniversary - so ultimately you can celebrate with whatever traditional gifts or alternatives that suit you!
The Ultimate Wedding Anniversary Guide and Gift Ideas
1st Wedding Anniversary – Paper
Whoever devised the meanings of anniversaries probably figured newlyweds would be pretty broke after paying for the wedding – so the traditional first gift of paper is nicely affordable. Paper also represents your new marriage as like a blank sheet ready to be coloured in!
Our favourite twist is to give tickets to an experience – print them out and it totally counts as a paper gift. Virgin Experience Days offer everything from a trip to London landmarks like the Shard to a romantic break away for two. We love the food and drink experiences – there are so many different cuisines, classes and experiences to choose from, you could spend your entire first year of marriage trying them all out.
READ MORE: 1st Wedding Anniversary Gift Guide
2nd Wedding Anniversary – Cotton
Cotton is made from lots of thread woven together and the longer you are married the more your life becomes intertwined. It represents how marriage brings couples closer together and the material is both strong and flexible, symbolising adaptability and a strengthening relationship. There are plenty of sweet cotton anniversary gift ideas, like personalised pillowcases or co-ordinating robes (check out The White Company), which you can snuggle down in.
If your partner loves to give or receive flowers, then these cute cotton blooms from Little Foundry will be their favourite gift and they'll last a lifetime. You can also order a sweet personalised oak charm to go with them. The modern alternative to cotton is china.
READ MORE: 2nd Wedding Anniversary Gift Guide
3rd Wedding Anniversary – Leather
Leather is durable, strong and has a sense of resiliency - three things that a marriage should also have. Traditionally, it has been used as a material to protect things, like couples protect one another. As your marriage matures your relationship becomes much stronger, so giving your partner a leather gift for 3rd wedding anniversaries is a perfect way to represent this.
If you're looking for a timeless leather anniversary gift, then a classic handbag, purse or wallet from Mulberry is perfect. The Bayswater handbag is a staple from Mulberry, but a purse, wallet or leather iPhone case are also brilliant. Ideal leather anniversary gifts also include a belt or hip flask – Aspinal of London have lots of gorgeous leather gifts and accessories that can be monogrammed to make them even more personal.
READ MORE: 3rd Wedding Anniversary Gift Guide
4th Wedding Anniversary – Fruit & Flowers
As your marriage blossoms and your partnership ripens following four years of marriage, it makes sense to give an anniversary gift of flowers or fruit.
This has to be one of the most romantic wedding anniversary years. Roses traditionally represent how much your love has blossomed so take your present-giving to the next level by naming a rose after your love. You choose the name, it's officially registered, and then you receive a pack of seeds to grow your own roses. Bloom and Wild offer a huge range of gorgeous bouquets or flower gift subscriptions for 4th wedding anniversaries if your fingers aren't quite so green.
Flowers not their thing? The modern alternative for 4th wedding anniversary gifts is appliances. Is there anyone whose morning wouldn't be improved with a brand new coffee machine?
READ MORE: 4th Wedding Anniversary Gift Guide
5th Wedding Anniversary – Wood
The idea of using wood to celebrate your fifth wedding anniversary comes from the fact trees were seen to be strong and symbolised wisdom. Your marriage is solid and you have deep roots that are entwined. How wise you both are by the time you celebrate this wedding anniversary year!
A romantic sign to hang in your home will be a cute gift for your other half or, even better, is this miniature wooden signpost marking all the major moments in your journey together. From your first date to when you bought a house, it's a great way to tell the story of the first five years of your marriage.
If you're feeling sentimental about your wedding day, why not celebrate with a bottle of the wine you had on your big day presented in a personalised oak box? Or choose a wooden photo frame to give your wedding pictures a new lease of life.
READ MORE: 5th Wedding Anniversary Gift Guide
6th Wedding Anniversary – Sugar
Life is thought to be getting sweeter by the time you reach your sixth wedding anniversary, so you and your partner can indulge in some sweet treats - this has to be one of the best wedding anniversary years, right?
Hotel Chocolat have some delicious and seriously stylish gift ideas, while Virgin Experience Days have amazing afternoon tea deals across the country.
The modern alternative to sugar is iron. Why not choose something romantic like this iron-influenced wall art featuring the sheet music from your first dance? A timeless cast iron casserole dish is brilliant gift idea for someone who loves cooking - it will last you for decades.
READ MORE: 6th Wedding Anniversary Gift Guide
7th Wedding Anniversary – Copper & Wool
Or for something wool, The White Company have some gorgeous cashmere throws that are perfect for snuggling under while you watch a film. If you'd rather go for the modern alternative for a 7th wedding anniversary gift, it's a desk set…yes, really! Suited best to those who are now part of the working-from-home crew, these gifts are symbolic of the pride in the work you've done together as a married couple. Brose the amazing selection at Paperchase for the perfect, modern 7th wedding anniversary gift.
READ MORE: 7th Wedding Anniversary Gift Guide
8th Wedding Anniversary – Bronze
Bronze is chosen for eight years of marriage as it's very strong – in fact, it's a mixture of two metals (copper and tin) that are stronger together than separately. Traditionally, it was said to hold healing powers and represents good health and the sustenance that you give each other as a couple.
Choose a keepsake that will take pride of place on a shelf forever, like this miniature bronze stag statue - they even do a gorgeous spaniel one for dog-loving couples. Alternatively, you could gift these gorgeous copper initial cufflinks or, for a couple, a personalised copper framed print.
The modern alternative is linen and lace. There's nothing nicer than slipping into fresh, clean sheets at night and your partner will love some elegant linen bedding from Marks and Spencer. Just make sure it's a fancy set like these and add some rose petals for the perfect mood-setter.
READ MORE: 8th Wedding Anniversary Gift Guide
9th Wedding Anniversary – Pottery or Willow
Pottery and willow are the two traditional gifts to celebrate nine years of marriage. Pottery is moulded by hand and the painstaking process results in a work of art, whereas willow is flexible but strong and can be woven to create beautiful things - representing team work and harmony within a relationship.
This willow picnic hamper is the perfect 9th wedding anniversary gift - take it on a date and toast to making it almost a decade in wed. If you would prefer to go for pottery, then how about a pottery-making lesson for two?
Leather is the modern alternative, so if you didn't get leather gifts for your third anniversary now is the time.
READ MORE: 9th Wedding Anniversary Gift Guide
10th Wedding Anniversary – Tin
Tin was used to store and preserve things which is why it is used to mark ten years of marriage. When another metal is coated in tin, it prevents it from corroding and can prolong the life of what it's storing. Mark a decade of a strong and resilient marriage by giving a tin inspired gift.
This garden accessory from Not On The High Street can be personalised with your initials and will look amazing in your garden.
If tin isn't your thing, you might like to know the modern alternative is diamond. We're lusting after the Monica Vinader rose gold Riva diamond hoop ring, which will look perfect alongside your wedding and engagement ring.
READ MORE: 10th Wedding Anniversary Gift Guide
11th Wedding Anniversary – Steel
While it might be tempting to opt for the modern gift of jewellery for your 11th anniversary, the traditional gift is steel – valued for its durability and strength. Entering a second decade of marriage (it's not as scary as it sounds!), you might immediately think of a watch, stainless steel cufflinks or a hip flask, but there are lots of interesting gift ideas out there.
Think outside the box: horseshoes are made of steel, so what about a horse riding experience day? Skis also have steel edges – what about a ski break? If you want to stick with the theme, a personalised tie clip, swiss army knife or cocktail shaker set, like this personalised one, are great.
READ MORE: 11th Wedding Anniversary Gift Guide
12th Wedding Anniversary – Silk
The elegance of silk and its interwoven threads symbolises the way a couple's relationship has strengthened over 12 years and reminds the couple to luxuriate in finer things of life.
Silk represents 12 years of marriage for couples in the United Kingdom. This luxurious material symbolises protection, security, comfort, and the strength of a relationship, represented by the interwoven threads silk contains.
Silk pyjamas, robes or lingerie are a romantic gift to give to your partner, and, as fine linen counts too, a linen shirt or accessory would also work perfectly. These gorgeous cream silk pyjamas can come monogrammed too.
The modern equivalent is elegant pearl. We love everything from Olivia & Pearl who specialise in contemporary pearl jewellery. For men, mother-of-pearl works great as an inlay into gifts like fountain pens, shaving kits, cufflinks – even on a Fender guitar.
READ MORE: 12th Wedding Anniversary Gift Guide
13th Wedding Anniversary – Lace
The interlacing fibres of lace (and the modern equivalent of textiles or fur) represent the close bond that couples have at 13 years into their marriage.
Lace can make for very sensual gifts and you can't go wrong with lace underwear from a brand like La Perla, Boux Avenue, Stella McCartney and Lounge Underwear.
The modern take on 13th wedding anniversary gifts is fur. Real fur is out of the question for most - but textiles and faux fur are great materials for gifts. They represent the warmth and comfort most will feel after 13 years of marriage. Consider gifts such as faux fur-lined gloves, a silk scarf or a leather jacket. A rug or throw, briefcase or handbag, or even something out there like a camping trip in a canvas tent all count as well.
READ MORE: 13th Wedding Anniversary Gift Guide
14th Wedding Anniversary – Ivory
Ivory historically was the traditional symbol for the 14th anniversary, however this is no longer the case due to animal rights issues - ivory is problematic as often elephants are poached for their ivory tusks. Instead, the elephant or the colour ivory is often taken as the 14th anniversary theme, with elephants reflecting the stability, patience and dignity inherent in a long marriage, and the colour ivory having an association with weddings.
We love this personalised ivory leather photo album that you can add your names, wedding date or another special date to and fill with pictures of your life together, as well as this personalised ceramic ivory token.
If the symbolic elephant is more your vibe, consider these adorable elephant tea light holders or a gorgeous personalised elephant anniversary cushion for your sofa or bedroom.
READ MORE: 14th Wedding Anniversary Gift Guide
15th Wedding Anniversary – Crystal
Crystal is the traditional wedding anniversary gift for couples who have been married for 15 years. Crystal is a luxurious product, chosen for its clarity and purity: as a transparent product it represents how the couple sees each other clearly after 15 years together.
Crystal jewellery will always be a welcome gift – we love this matching necklace and earrings set from Goldsmiths.
For those who aren't a fan of crystal, the modern anniversary alternative is to give a watch. Beaverbrooks has several beautiful rose gold watches that actually use crystal – a win-win! For the gents, there are loads of stylish watches on offer that will last a lifetime. We've got some great wedding watches you can be inspired by!
READ NOW: 15th Wedding Anniversary Gift Guide
16th Wedding Anniversary – Wax
Yes, you read that right, wax. And the modern gift is silver hollowware (which basically just means any tableware that isn't flat). Both of them might seem tricky things to buy for, but that isn't the case at all.
Wax for your 16th wedding anniversary represents how you've moulded your lives together after this many years; wax can melt, bend and change shape, just as you have to be flexible to make a marriage work. This is why luxury candles are such a lovely gift idea: try Jo Malone, Diptyque and Neom. It's especially nice if you choose a scent that was also in your wedding flowers.
For silver hollowware, what about a Champagne and wine cooler or a silver and glass carafe?
READ MORE: 16th Wedding Anniversary Gift Guide
17th Wedding Anniversary – Furniture
There's no traditional option for this anniversary year, the modern 17th wedding anniversary gift is furniture. If you bought a new bed or sofa a few years into your marriage, now's the time to refresh your space. We adore adding a love seat into a living room – it's so cosy and romantic – or perhaps you want to redecorate your bedroom as an anniversary treat and buy a new bed frame.
Think outside the box with this one too. How about adding a cool dresser, like this one from Anthropologie? If you love being outside, what about some garden furniture? A lovely new coffee table or dining room table are ideal if you like having guests over.
READ MORE: 17th Wedding Anniversary Gift Guide
18th Wedding Anniversary – Porcelain
Both the traditional and modern 18th wedding anniversary gift, Porcelain is long-lasting and durable, just like your marriage after 18 years together. Made by clay being heated to an extremely high temperature, there's something special about a beautiful material coming from such humble beginnings. It's incredibly elegant too, and lends itself to everything from jewellery to home accessories.
After 18 years, you'll know exactly how the other one likes their brew, so a porcelain teapot could be just the ticket, like this sweet teapot with matching serving bowls. There's so many bits for the home that come in porcelain too, which you can match with your colour scheme. Try a large porcelain pendant lamp for your lounge or bedroom, or what about some new door numbers for outside your house.
READ MORE: 18th Wedding Anniversary Gift Guide
19th Wedding Anniversary - Bronze
There's only a modern 19th wedding anniversary gift, and that's bronze. Hopefully, you haven't exhausted the bronze gifts from your eighth anniversary!
Cufflinks, watches, sculptures, vases and jewellery are all excellent options. If you're looking for something a bit different, we adore this engraved sun dial which makes a statement focal point for a garden. Gardening lovers will also love this plant pot buddy - a little bronze hedgehog ornament to adorn your pots. The snail one is pretty great too.
If you're into florals, the 19th wedding anniversary flower is the chrysanthemum - you can order a gorgeous bunch from Bloom & Wild.
READ MORE: 19th Wedding Anniversary Gift Guide
20th Wedding Anniversary – China
To celebrate two decades of marriage, the 20th wedding anniversary traditional gift is china. Now, china is fragile but, when looked after properly, it can stand the test of time. After two decades together, you may have your moments (who hasn't!?) but if you take care, your relationship can stand the test of time.
Giving each other china based gifts is a good way to remind yourselves of that – we love this personalised china plate and these super cute matching china mugs!
Couples with more expensive tastes will be pleased to know the modern alternative for 20 years of marriage is platinum. Ernest Jones have a wonderful selection of platinum earrings and eternity rings.
READ MORE: 20th Wedding Anniversary Gift Guide
21st Wedding Anniversary – Brass
Toast to your 21st wedding anniversary by swapping brass anniversary gifts. Brass is the modern 21st wedding anniversary and, surprisingly, there isn't a traditional option. The most common modern gifts are brass or nickel, so think along the lines of brass jewellery or a brass watch and you can't go wrong!
A brass bottle opener or a personalised brass photo print will also go down a treat, we promise.
READ MORE: 21st Wedding Anniversary Gift Guide
25th Wedding Anniversary – Silver
Silver the traditional and modern gift for the 25th wedding anniversary year. Silver is a precious metal, and no matter how old it is, if it's treated properly and polished regularly, it will continue to gleam. There is no modern alternative, showing how timeless silver is as a 25th anniversary gift.
Of course, you could buy silver jewellery, cufflinks or a watch as a gift – and they'd be very well received! But for something a little more sentimental, we love this stunning infinity photo frame by Vera Wang for Wedgwood. Give it to your loved one with a treasured wedding photo or family photo inside.
As an alternative, what about a personalised Champagne bottle to an engraved sterling silver bookmark?
READ MORE: 25th Wedding Anniversary Gift Guide
30th Wedding Anniversary – Pearl
The 30th wedding anniversary gift for three decades of committed marriage is the timeless pearl. Pearls are a symbol of hidden beauty – they are cultivated over time within the not-so-pretty oyster, but once you open it up you find something precious inside. After three decades together it's unlikely you'll appear the same as you did when you first met, but it's what's inside counts.
Pearl-inspired anniversary gifts are the way to mark this occasion and we love this stunning pearl rose gold plated bracelet from Not On The High Street.
Diamonds are considered to be the modern alternative for 30 years of marriage. Treat your loved one to a special piece of pearl jewellery. An eternity ring or a pair of gorgeous pearl earrings would be the ideal gift to mark 30 years.
READ MORE: 30th Wedding Anniversary Gift Guide
35th Wedding Anniversary – Coral
Coral is known for marking a couple's 35th wedding anniversary. It's a very precious substance and was once believed to have magical properties to protect against illness and danger. It is still precious and protected today so think carefully when it comes to choosing a coral-inspired anniversary gift and maybe choose something inspired by the beautiful colour or shape of coral as opposed to the real thing.
You can either choose a white decorative piece of coral or one in a gold hue or take a more practical approach and book an incredible holiday somewhere where you can scuba dive in a coral reef. Be sure to book with a trusted retailer that runs sustainable and environmentally-friendly excursions.
The modern alternative is jade, still a vibrant colour but more environmentally friendly. This bright and sustainable jade bracelet from Wolf & Badger is a beautiful statement gift.
READ MORE: 35th Wedding Anniversary Gift Guide
40th Wedding Anniversary – Ruby
The wedding anniversary gift to celebrate your 40th year wed is none other than the gorgeous ruby. Red is a colour often associated with love, and a rich red ruby is the perfect way to symbolise your love. Whether you want to do the traditional anniversary or the modern, look for ruby-inspired gifts as the stone is used for both.
This beautiful ruby ring is made using ethically sourced materials so you can feel good about saving the planet at the same time as wearing it. For a suit accessory, why not opt for a wonderful pair of ruby cufflinks would be a great addition to their wardrobe.
READ MORE: 40th Wedding Anniversary Gift Guide
45th Wedding Anniversary – Sapphire
For a 45th wedding anniversary, the traditional (and modern) gift given is stunningly blue sapphires. Beautiful blue sapphires were once the preserve of royalty, making them a luxurious, aspirational item. Give the gift of sapphires to celebrate an impressive 45 years together, as it's used for traditional and modern anniversary celebrations.
This sapphire and diamond cluster pendant from Goldsmith's is a perfect choice.
If you'd like somewhere to store all the beautiful jewellery and accessories you've been given across the years, then a leather valet tray or a stylish leather watch and jewellery case is fantastic for beside your bed or to take away with you.
READ MORE: 45th Wedding Anniversary Gift Guide
50th Wedding Anniversary – Gold
After a lifetime together, there's only one gift that can do it justice – gold. Gold is the gift associated with 50th wedding anniversaries. One of the most precious metals, gold symbolises lots of things, including prosperity and strength. Agai gold is used for modern and traditional anniversaries so buy your loved one a timeless gold anniversary gift.
You don't have to opt for jewellery though - there's plenty of other options out there like this gold decanter! It's perfect to serve wine, spirits or even water from. You can purchase matching Art Deco-style glasses that look great with it.
READ MORE: 50th Wedding Anniversary Gift Guide
55th Wedding Anniversary – Emerald
The anniversary gift for 55th wedding anniversaries is emerald. Green is considered to be the most calming of all colours, and represents growth. After 55 years together your life may not be as hectic as it once was, but you've grown together so give emerald or emerald-inspired gifts to recognise that.
These emerald leaf earrings by World Three Studio is a stylish statement.
An emerald wedding anniversary blanket is a timeless gift that any couple would enjoy.
READ MORE: 55th Wedding Anniversary Gift Guide
60th Anniversary – Diamond
60th wedding anniversaries are celebrated by giving diamond-themed gifts. As one of the strongest materials on Earth, diamonds flourish under pressure and are extremely hard-wearing – just like your relationship will be after six decades of marriage. It is considered to be invincible and is associated with love and wealth.
After 60 years of happy marriage, you'll have a wealth of experience and love so celebrate with diamond-inspired anniversary gifts.
Alternatively, a personalised 60th anniversary print is a lovely piece of artwork to add to your walls. You can also buy a 60th anniversary photo frame and fill it with pictures from your wedding day. If you want to go outside of tradition, you can buy a gift set with a newspaper from the day of your wedding and a vintage bottle of Bordeaux.
READ MORE: 60th Wedding Anniversary Gift Guide
65th Anniversary – Sapphire
Just like your 45th, your 65th anniversary calls for sapphire gifts. You simply can't go wrong with some jewellery or a watch inlaid with sapphire, nor with a lovely bottle of Bombay Sapphire gin and some special new crystal glasses.
You can book a tour round the wonderful Bombay Sapphire distillery in Hampshire too if you're big gin fans.
READ MORE: 65th Wedding Anniversary Gift Guide
70th Wedding Anniversary – Platinum
Platinum is a metal that resists wear and is incredibly hard to tarnish, making it the perfect pick for 70th wedding anniversary gift. It's one of the rarest metals, making it exclusive and is a symbol of endurance. What better way to describe 70 years of marriage? Celebrate by giving each other platinum gifts.
Featuring a diamond on a delicate platinum chain, this will become an heirloom you'll want to pass down to your children and grandchildren.
READ MORE: 70th Wedding Anniversary Gift Guide
What Can I Do For My Wedding Anniversary?
If our gift ideas above don't automatically spark an idea, there are lots of romantic activities you can do for your anniversary. Here are 25 anniversary date ideas you'll both love – some of them are free so you'll be able to celebrate even if you have no money.
READ MORE: 21 Sweet Ways to Celebrate Your Anniversary at Home
What are the Major Wedding Anniversary Years?
The first few years of your marriage up to 10 years are all considered major anniversary landmarks. After that, the big celebrations usually come every 5 and 10 years.
The anniversary where the traditional gift starts becoming more precious is your 25th, when silver is the traditional material. Any anniversary from 30 years upwards is incredibly special. Ruby marks your 40th anniversary, gold for your 50th, diamond for your 60th and platinum for your 70th.
These precious gems also correspond to your "anniversary colours". If you can't afford real silver for your 25th anniversary or something emerald for your 55th, you can instead get your other half a gift or experience that incorporates those colours.
READ MORE: The Most Thoughtful Anniversary Gifts for Couples
Do you think things have changed since you walked down the aisle? Read our article of things that change after saying 'I do'.