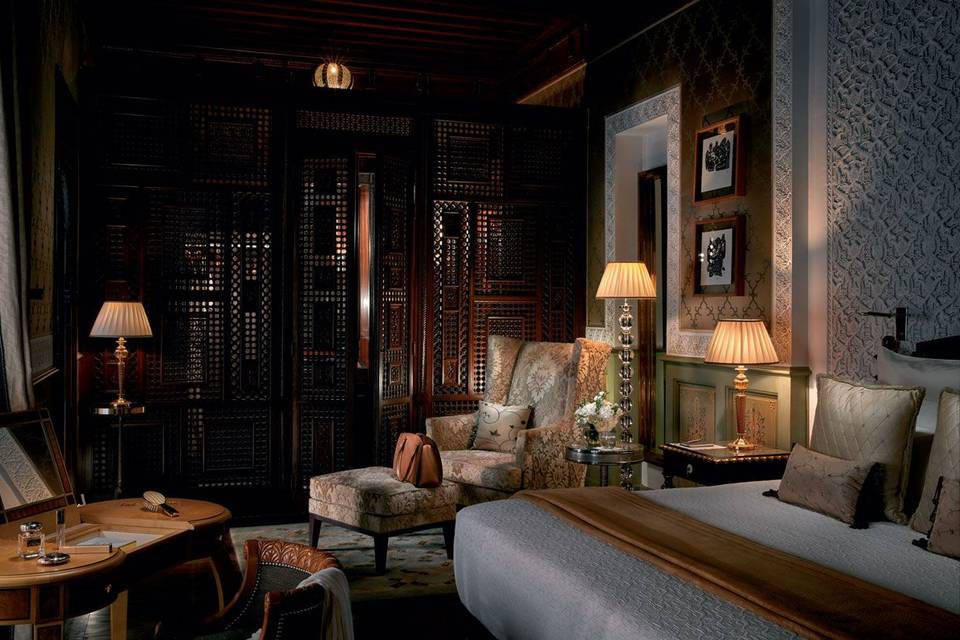 If there's ever a time to indulge yourselves, it's on your first holiday as newlyweds. That's why we've collated the very best honeymoon suites the world has to offer.
These are the spaces that allow you to cocoon yourselves in luxury and enjoy being married. After all, what else are honeymoons for? Don't forget those extras that can really elevate your romantic break. We're talking deliciously pampering in-suite couple's massages, breakfast in bed, and private dinners on your secluded terrace.
You'll find some real surprises on our honeymoon suite hotlist. Don't imagine that we've simply gone for the most expensive, tricked-out options - character matters to us as much as the best sound system or comfiest bed. We've also taken into account the overall loveliness of the hotel or resort. Saying that, many of these honeymoon suites are on the higher end of the budget scale. However, they aren't necessarily out of reach - consider staying in a less expensive hotel or resort for most of your honeymoon then upgrading to a special suite for one or two nights, to go out on a high.
READ MORE
1. Suite El Cabo at Cap Rocat, Mallorca, Spain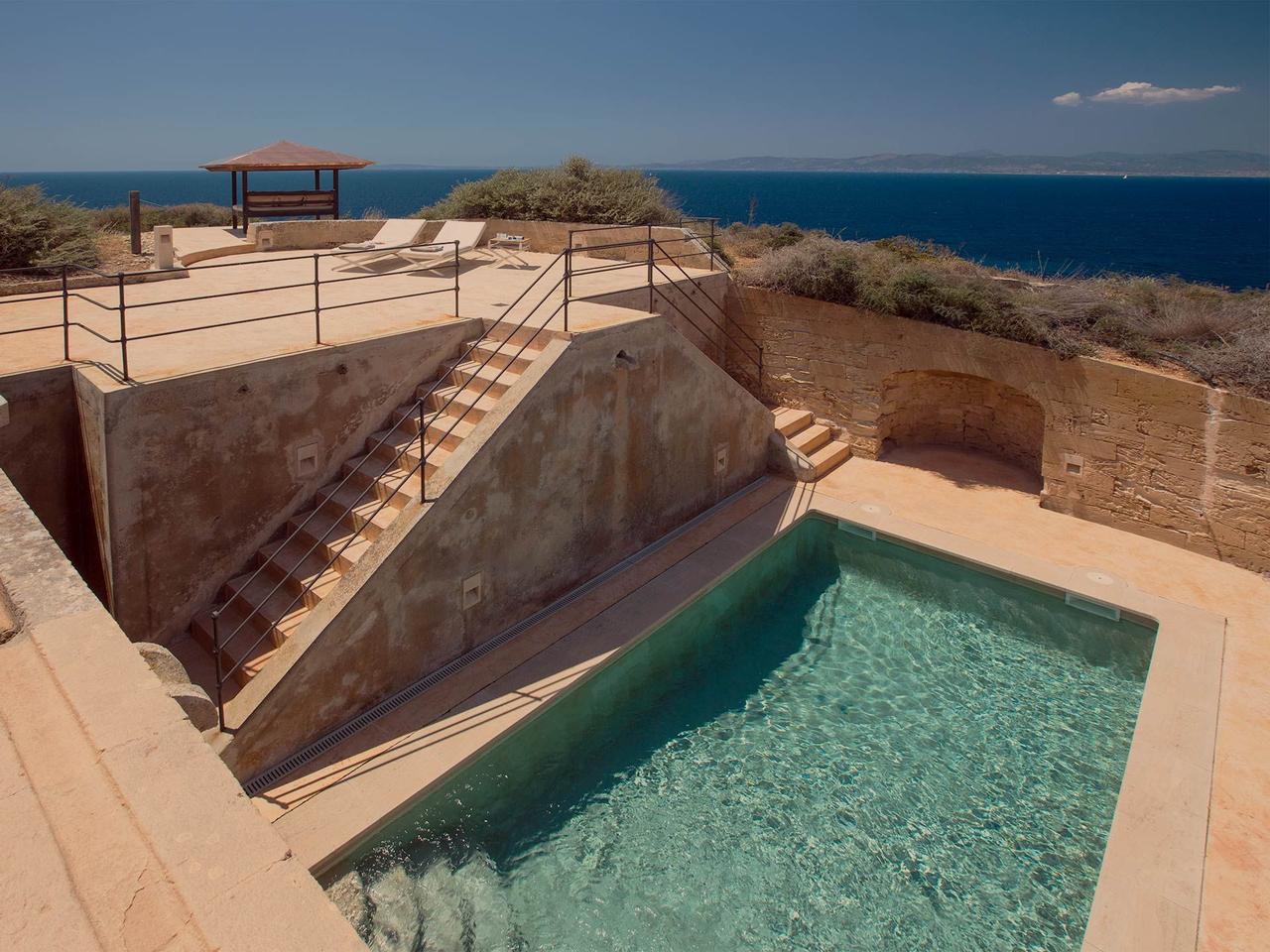 One of the things we look for in a honeymoon suite is outside space. The interiors matter, of course, but particularly in a hot country, we think it's vital to have somewhere to soak up some vitamin D without other people around. Suite El Cabo, at converted military fortress Cap Rocat, has excellent outside space. You can relax by the private pool, or on one of three terraces with stunning views of the Bay of Palma. Of course, the living space is divine, too. The feel is light and airy - open plan and with vaulted ceilings.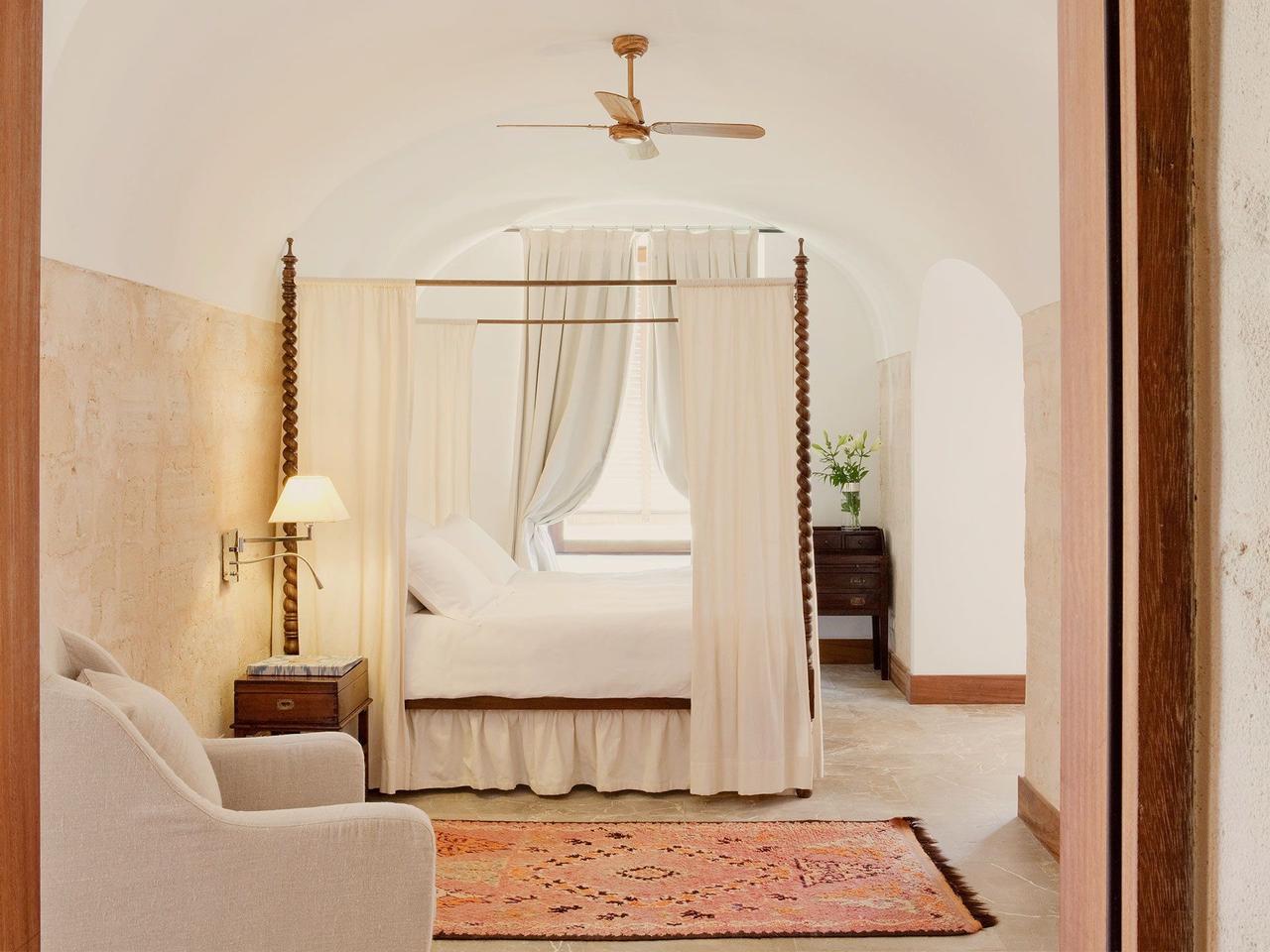 2. Pacific Suite at Post Ranch Inn, California, USA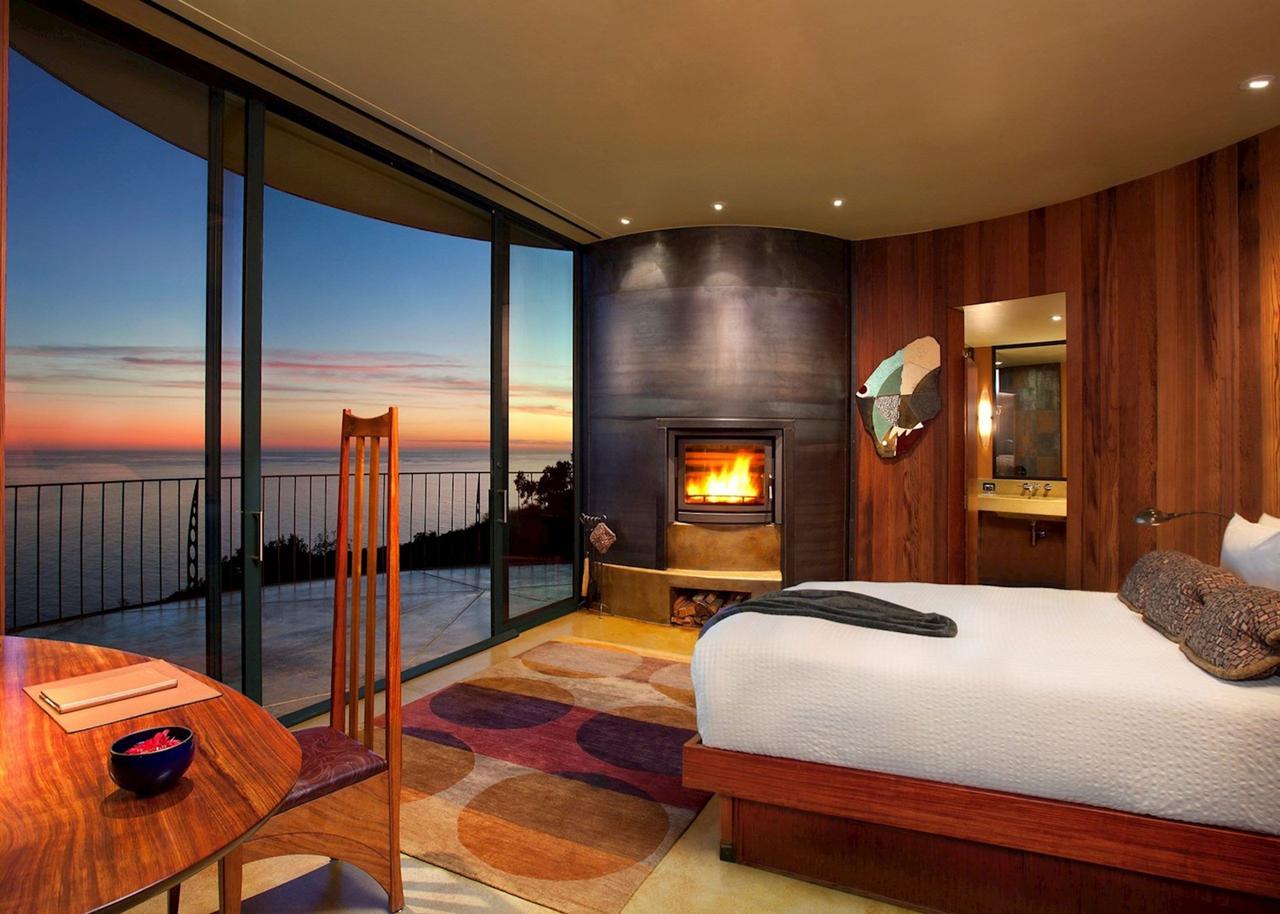 When it comes to honeymoon suites, we're very particular about the surroundings - after all, you want something beautiful to wake up to (apart from each other). Post Ranch Inn has stunning vistas of Californian coastline and cliffs, and each room is designed to make the most of these views, but our favourites are the two Pacific Suites. These have private entrances, large decks with outdoor hot tubs and plenty of space inside and out. The hotel sits on a coastal cliff overlooking the Pacific Ocean, giving it a wonderful feeling of away-from-it-all seclusion. There are complimentary activities to explore the great outdoors, such as stargazing and guided nature walks.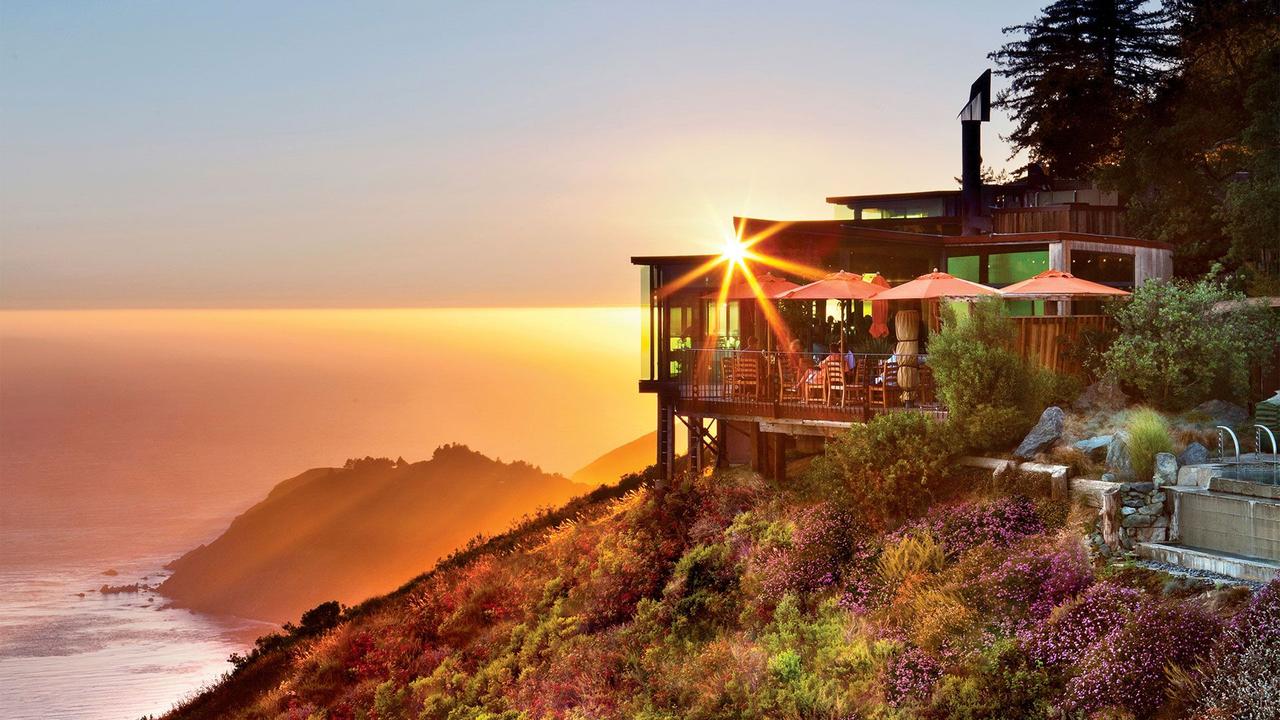 3. Deluxe Suite 101 at Cour des Vosges, Paris, France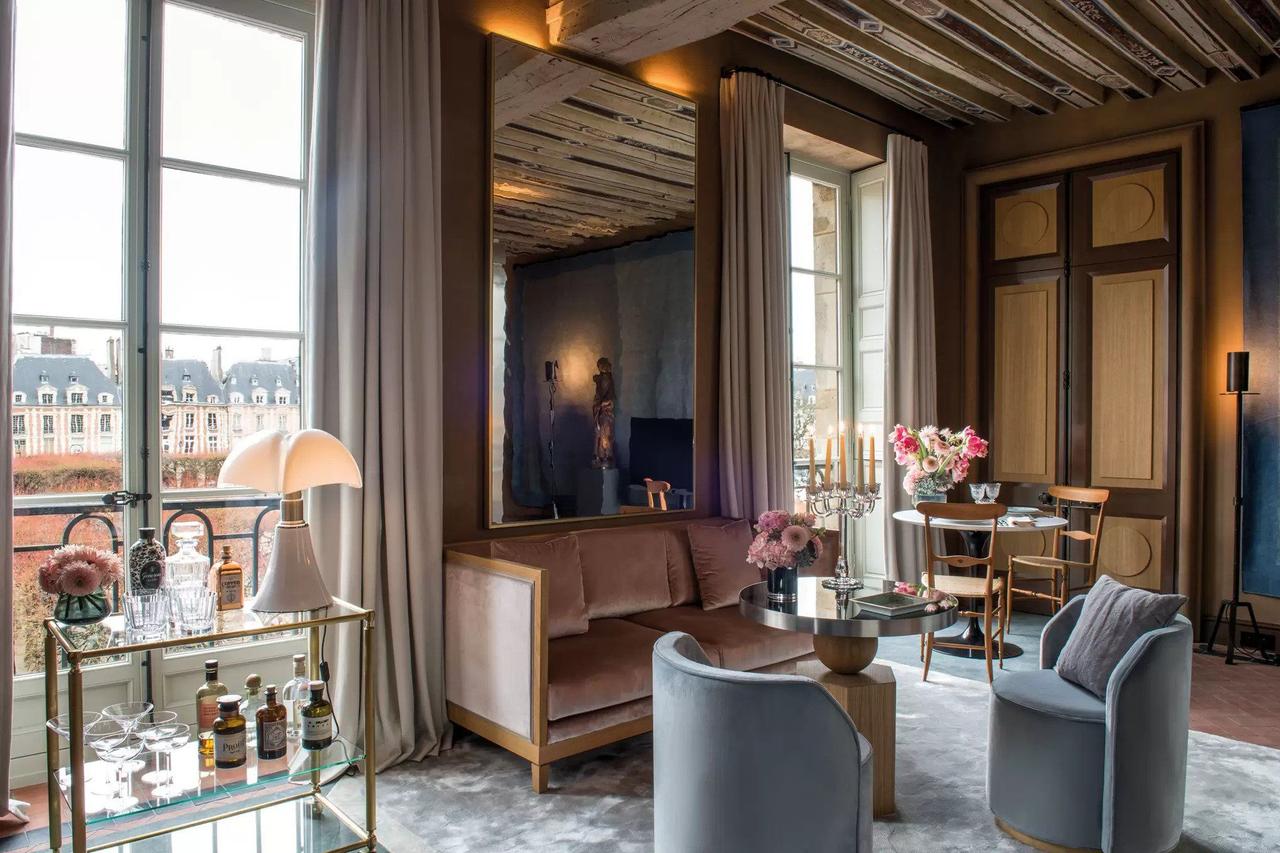 There was considerable excitement about Cour des Vosges ahead of its opening last year, a lot of that due to its location on the city's oldest square, the Place des Vosges in the Marais district. But while the setting may be delightful, what's inside is just as pleasing. There are twelve rooms and suites, each of which blends the 17th-century aesthetic of the building with 1970s design details. All the spaces are enchanting, but suite 101 is particularly lovely, with 16ft ceilings giving a sense of space. There's a serene Roman bath on the lower levels, and you can have spa treatments in-suite courtesy of cult brand Orveda.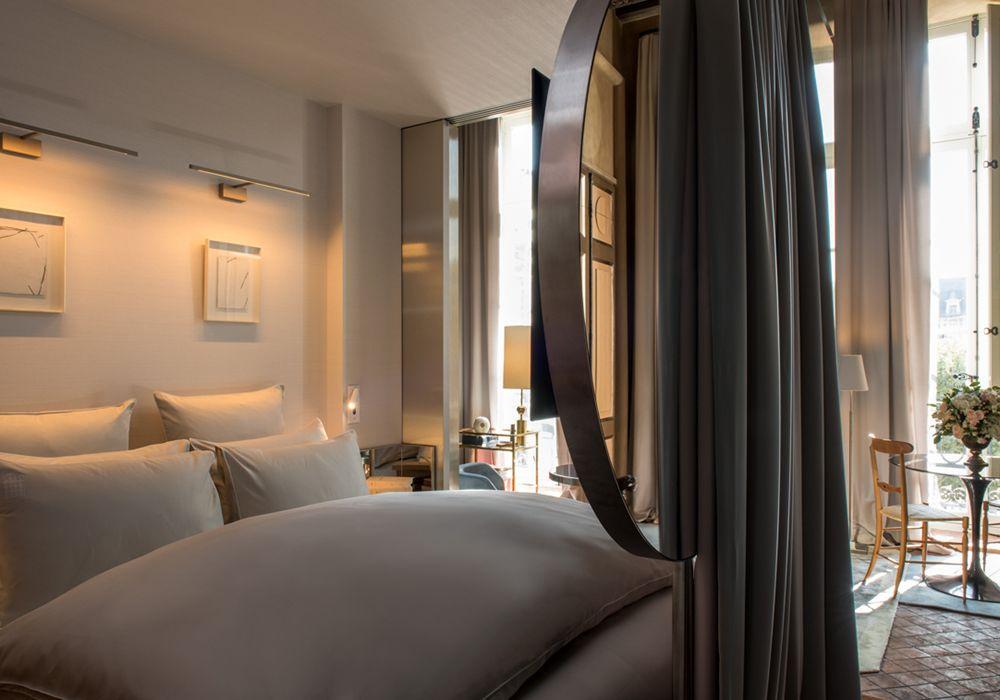 4. Premier Riad at The Royal Mansour, Marrakech, Morocco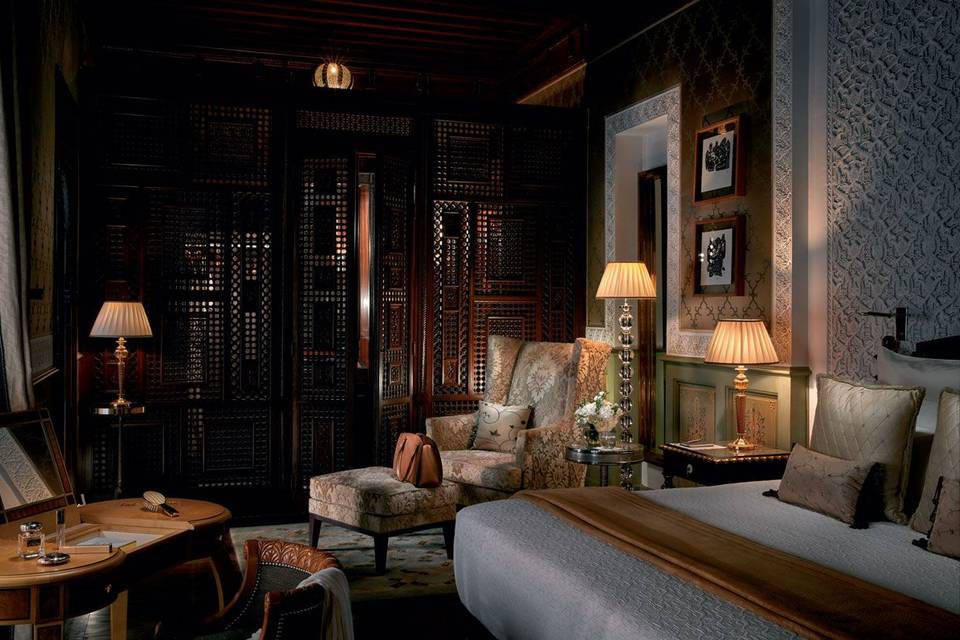 Marrakech is one of our favourite places for a city honeymoon - but after a day shopping in the bustling souks and exploring mosques and palaces, you definitely need somewhere serene to repair to. That's where The Royal Mansour comes in. Rather than rooms, this opulent hotel is made up of a series of private riads. There are several to choose from, but we like the one-bedroom premier riads for couples. You get three floors to yourselves, including a light-filled patio, living and dining rooms, bedroom, marble bathroom and roof terrace with pool. Everywhere you look, you'll find luxury, from flower arrangements regularly refreshed by florists to silk sheets on the bed. Divine.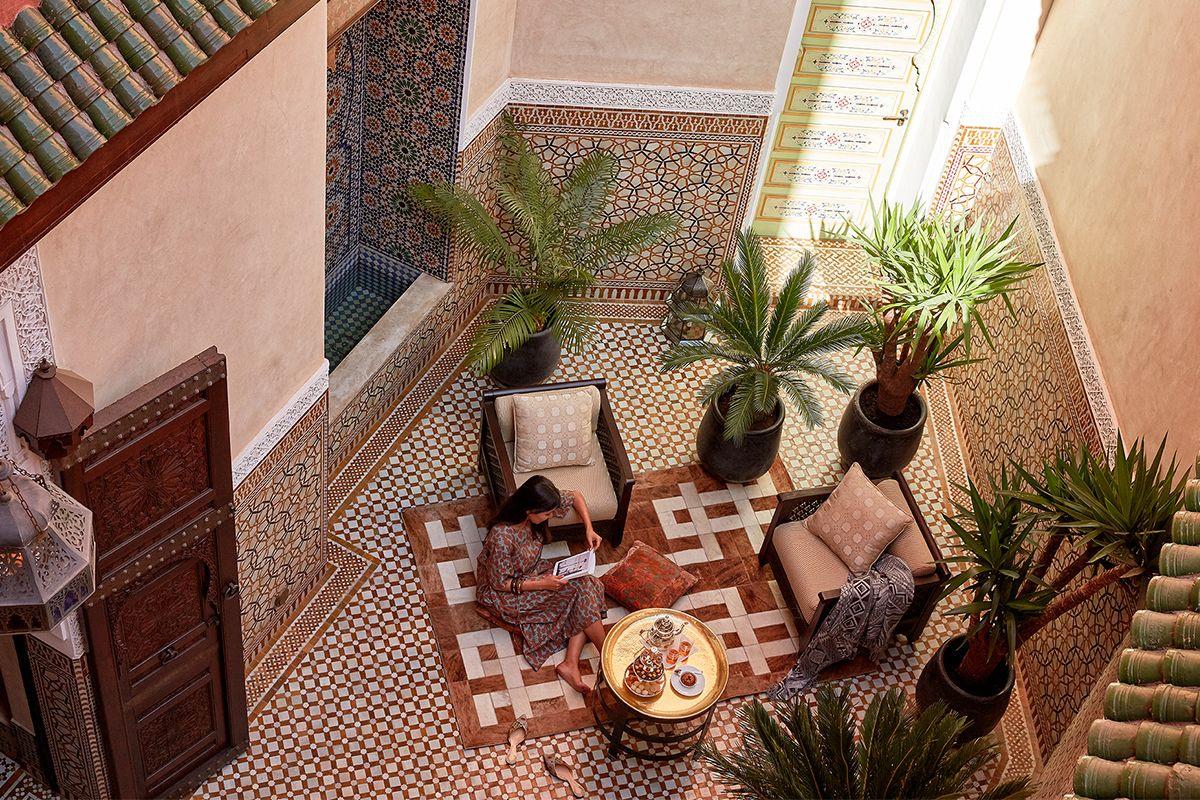 READ MORE: 6 Hot Honeymoon Trends and Where to Experience Them
5. The Oak Suite at Foxhill Manor, The Cotswolds, UK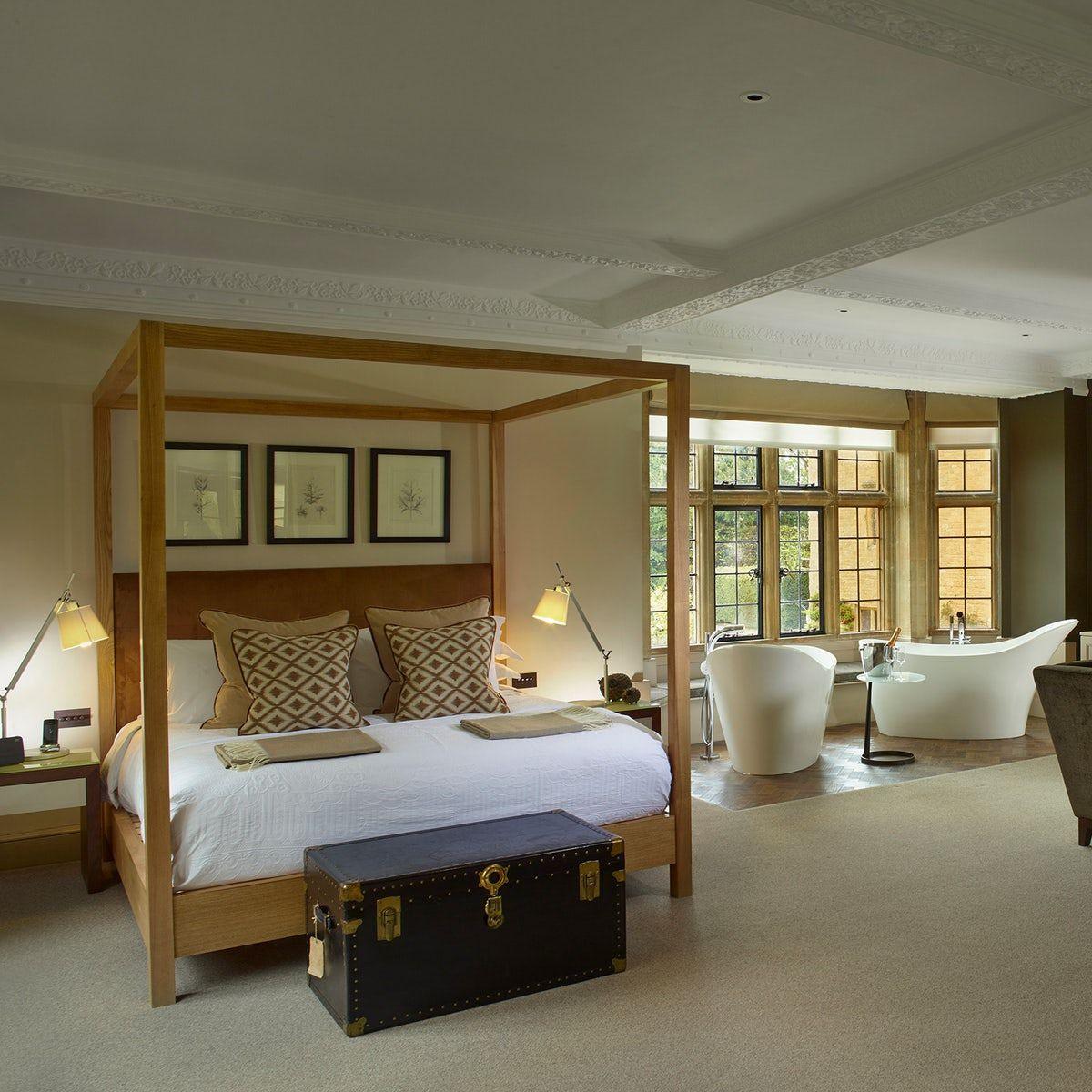 The Oak suite at Foxhill Manor is a firm honeymoon favourite, not least because it has two freestanding baths by the bay window. Picture it: you, your beloved, bath bubbles and some bubbles of the drinkable kind, with views of the beautiful Cotswolds countryside spread out before you. Once you can tear yourselves away from your bathtime idyll, you'll find yourselves in one of the finest hotels in the Cotswolds. This is a laidback-luxe country house with a mission to ensure guests get exactly what they want from their stay. Seriously - you can drop by the kitchen to come up with a bespoke menu that you can eat wherever you want, then pop to the well-stocked wine cellar and select a bottle to go with it. It's even suitable for mini-moons with dogs.
6. Deluxe Junior Suite at Belmond Grand Hotel Timeo, Sicily, Italy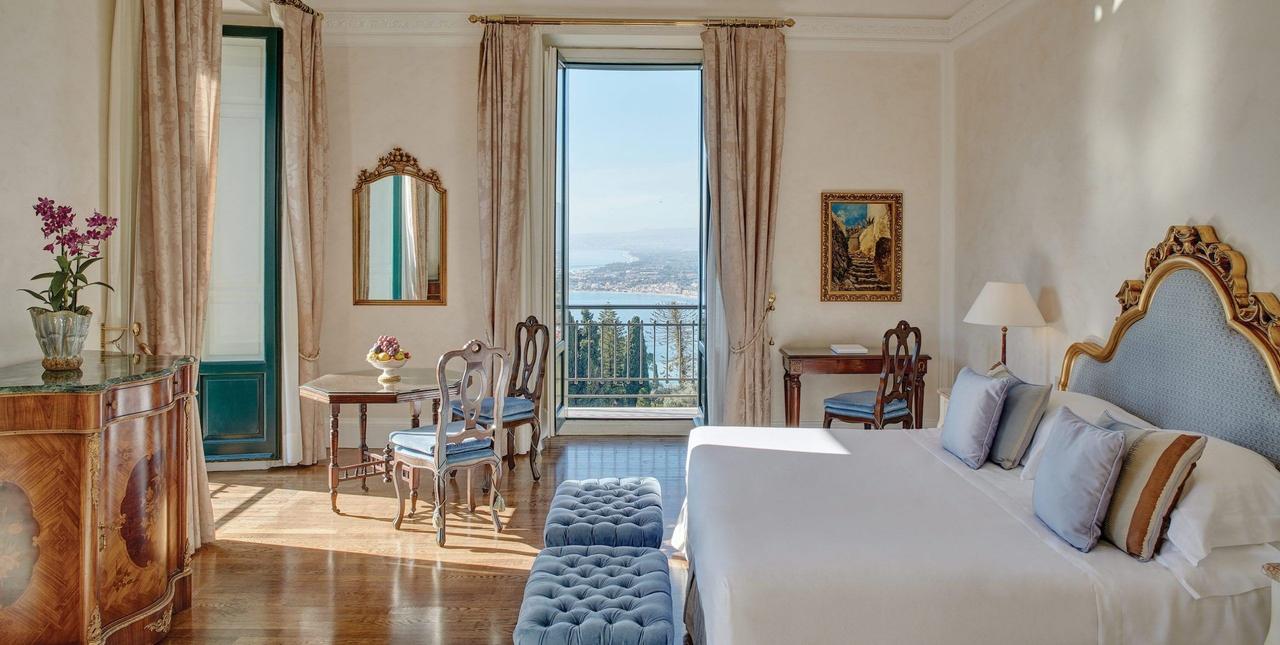 The suites at Belmond Grand Hotel Timeo are ravishingly designed, from the marble bathrooms to the baroque furnishings. The junior suites have sea-view balconies - outdoor breakfast is a lovely way to begin each day of your honeymoon. The hotel itself is a grand Sicilian classic, with sensational views towards Mount Etna - these are best enjoyed from the Literary Terrace, cocktail in hand.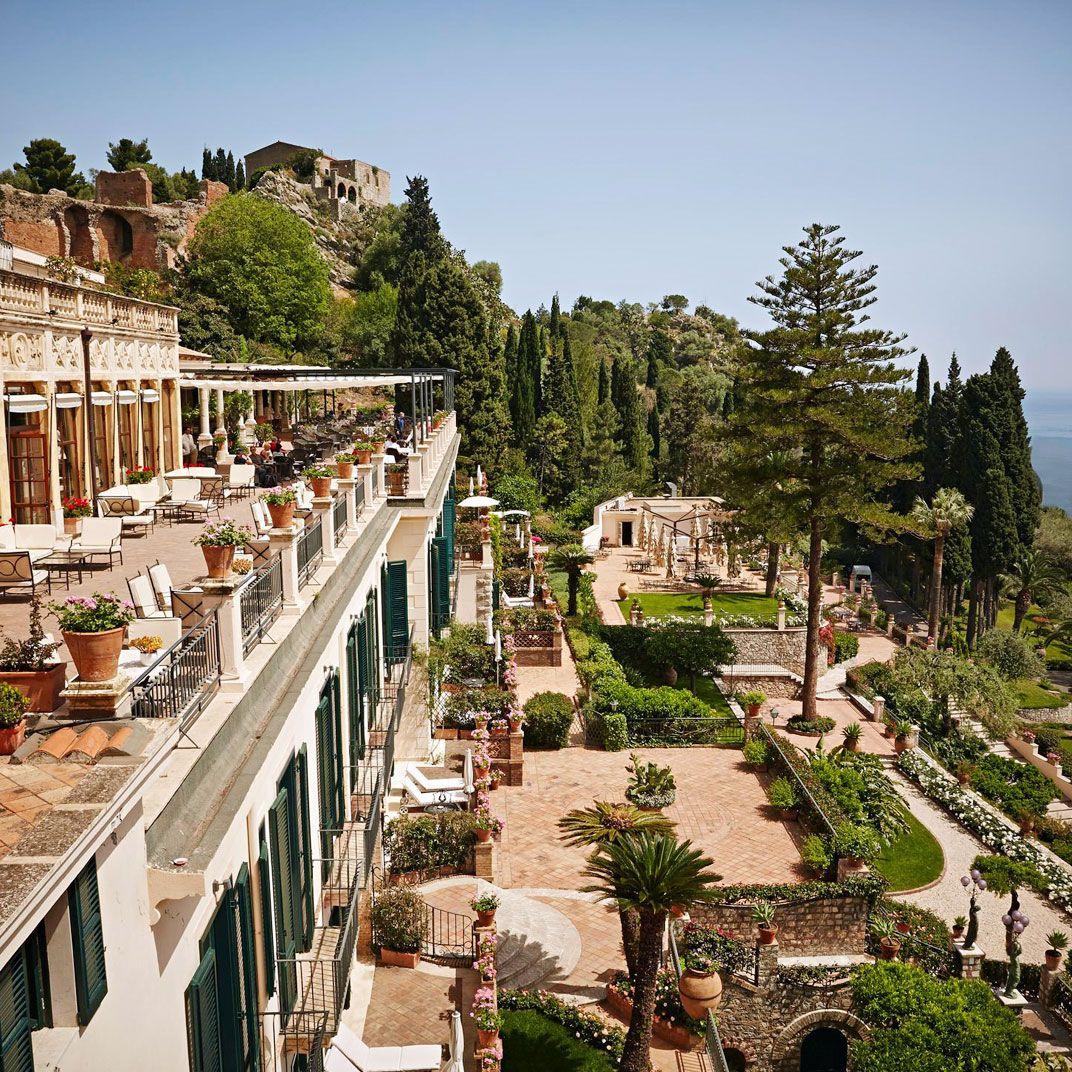 7. Water Villa with Pool at One & Only Reethi Rah, The Maldives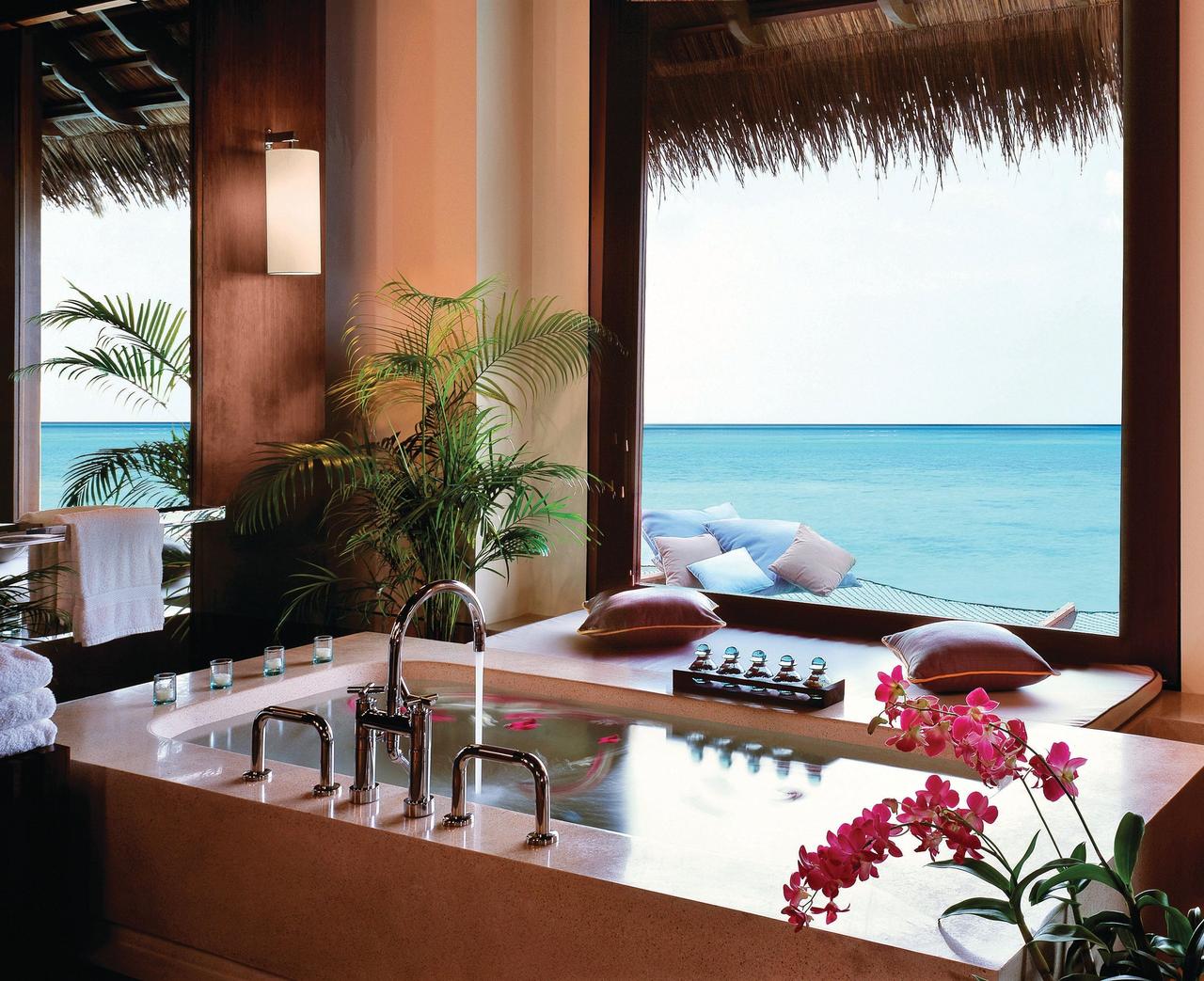 The Maldives is known for over-water villas, and we're particularly keen on those at One & Only Reethi Rah. The water villas make the most of the ocean surroundings - the bathrooms with a view are truly spectacular. You can book private yoga sessions in your over-water suite, as well as private dining from breakfast to dinner. Make sure you book a villa with a private pool for maximum honeymoon indulgence. The food here is exquisite - make sure you book dinner at Tapasake, which brings Peruvian influences to Japanese dishes.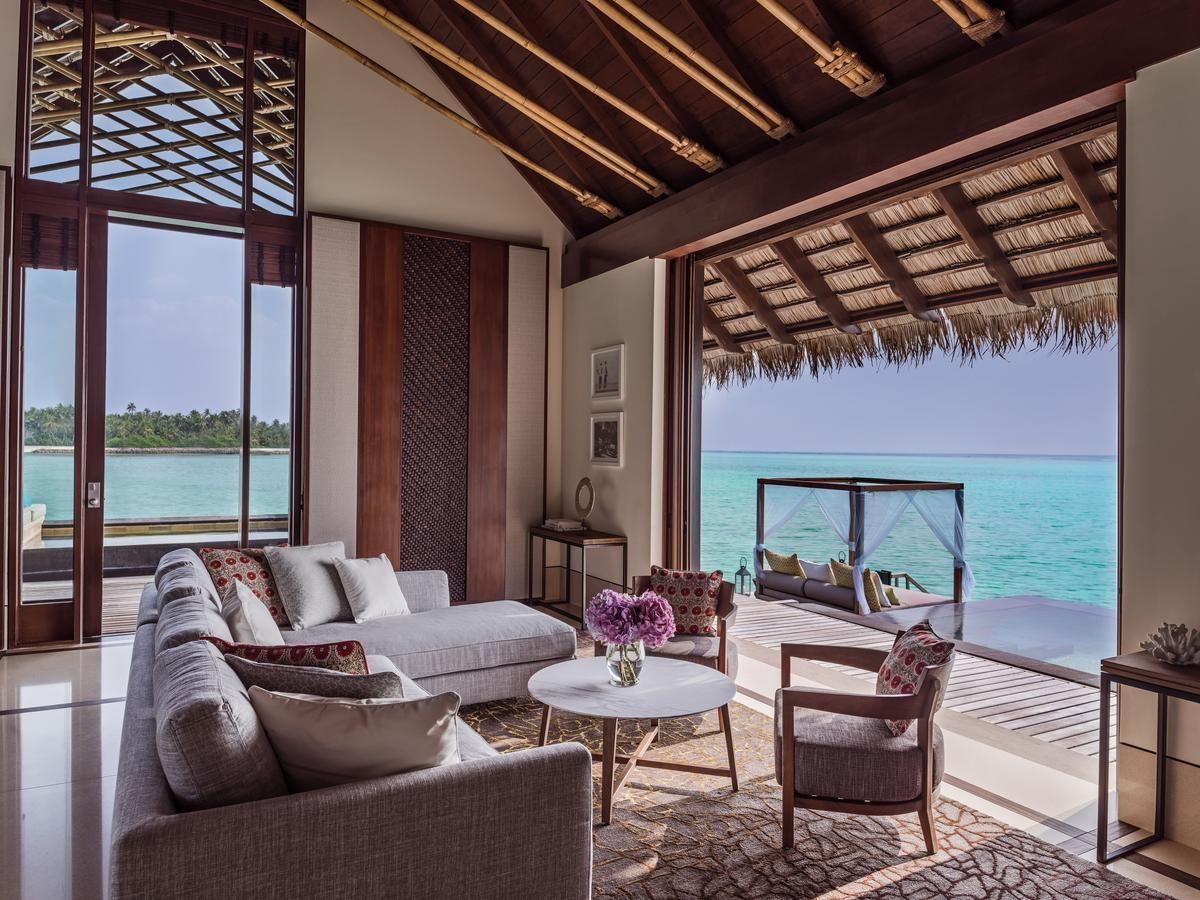 8. Lear's Loft at The Zetter Townhouse Marylebone, London, UK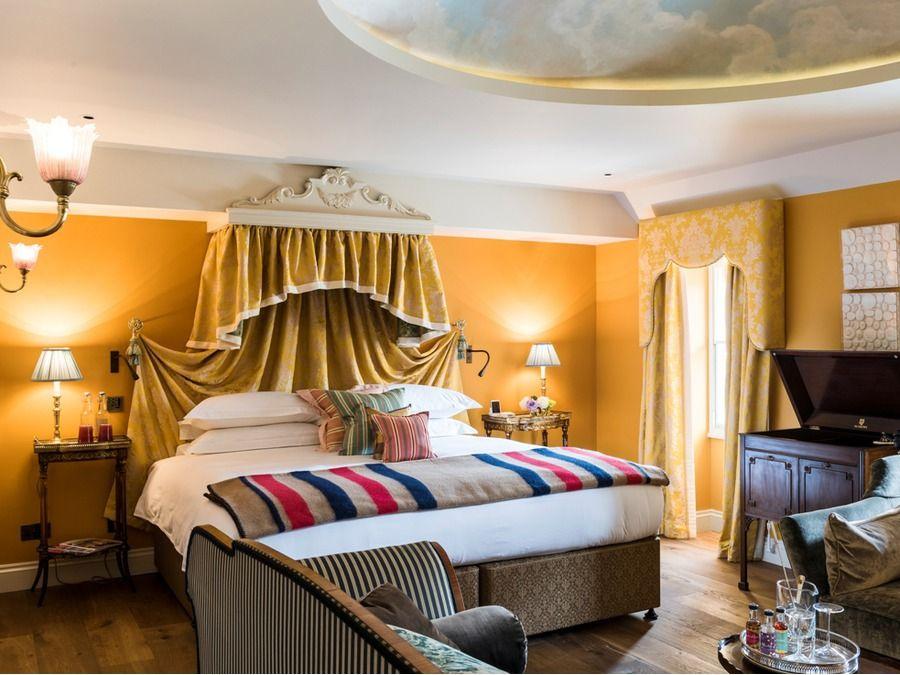 Both outposts of the Zetter Townhouse - Clerkenwell and Marylebone - are known for their eclectic, quirky styling that manages to feel inviting rather than hectic. This is particularly true in Lear's Loft at the Zetter Townhouse in Marylebone, their penthouse suite named after Owl & The Pussycat author Edward Lear. Antique furnishings and a bold colour scheme work together perfectly, and thoughtful touches abound, including a Roberts radio, bottled gourmet cocktails and a Sonos sound system. What makes this suite even more special is the private roof terrace with rolltop bath - that's a honeymoon luxury we can definitely get behind.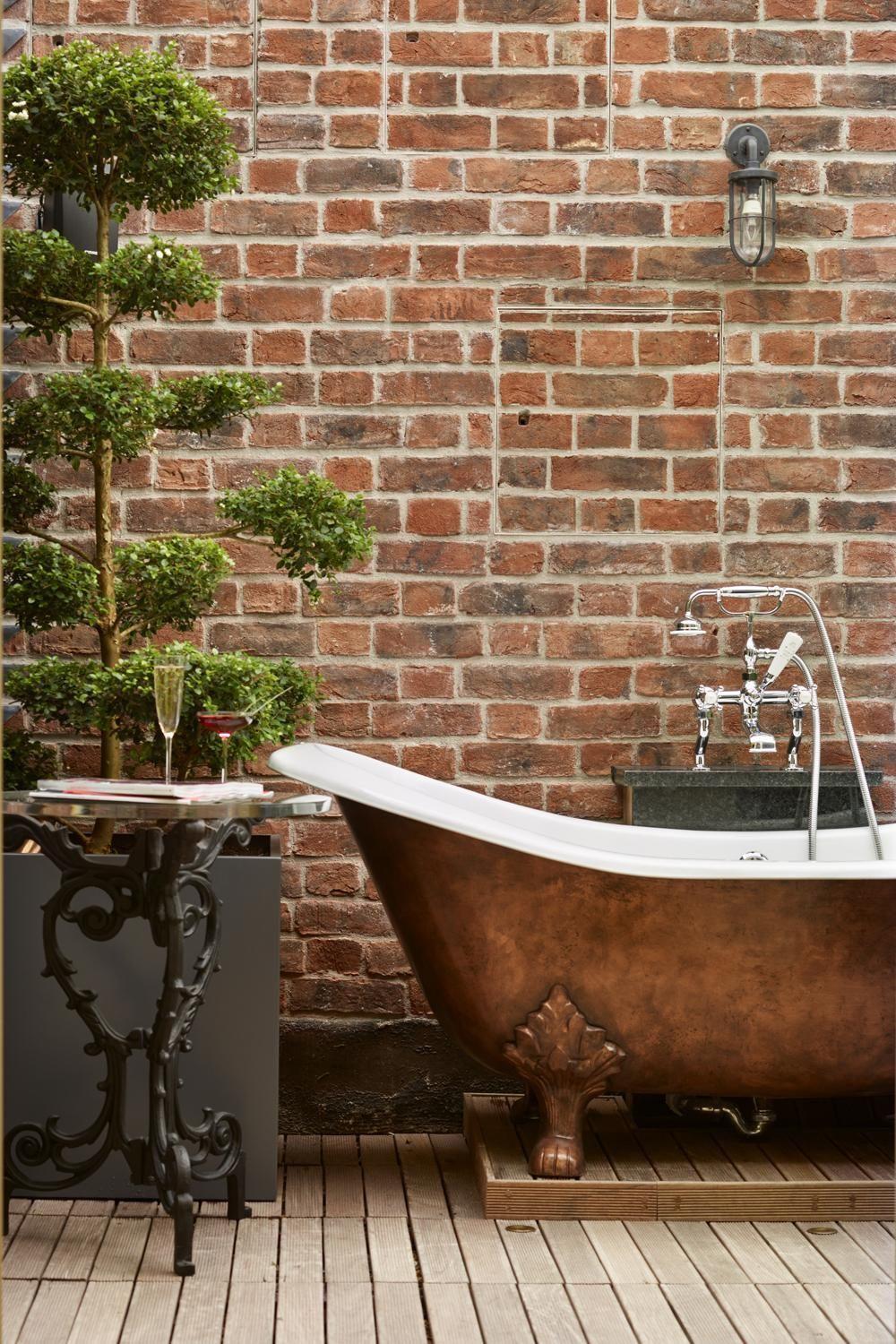 READ MORE: 30 Amazing Places to Mini-Moon in the UK
9. Bay View Coastal Pavilion at Freycinet Lodge, Tasmania, Australia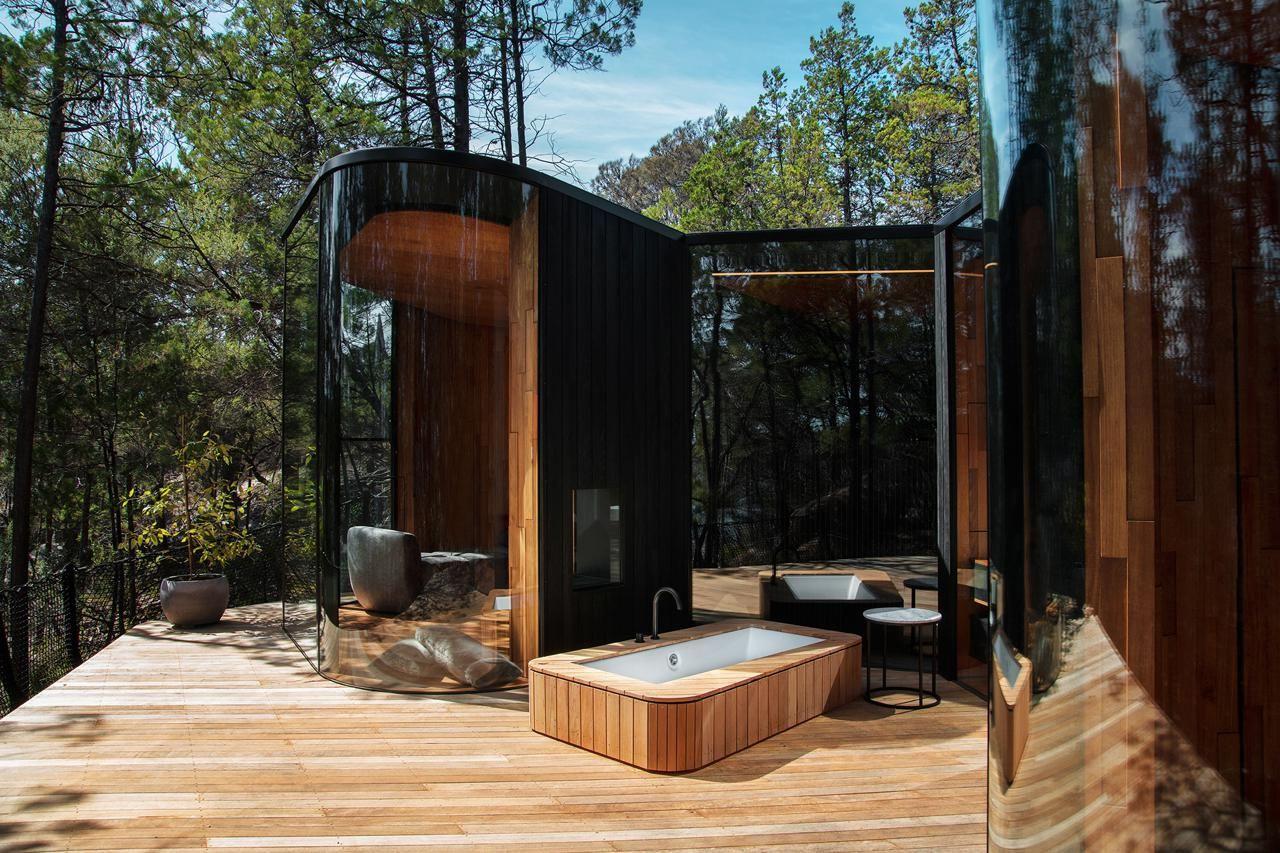 Lovers of contemporary design will be in paradise when they see the coastal pavilions at Freycinet Lodge. Sleek and edgy, they nevertheless work harmoniously against the surrounding bushland and are filled with natural light thanks to those floor-to-ceiling windows. Book a bay view pavilion for magical coastal views. Located in Tasmania's Freycinet National Park, the lodge is a lovely place for getting back to nature while still enjoying plenty of creature comforts.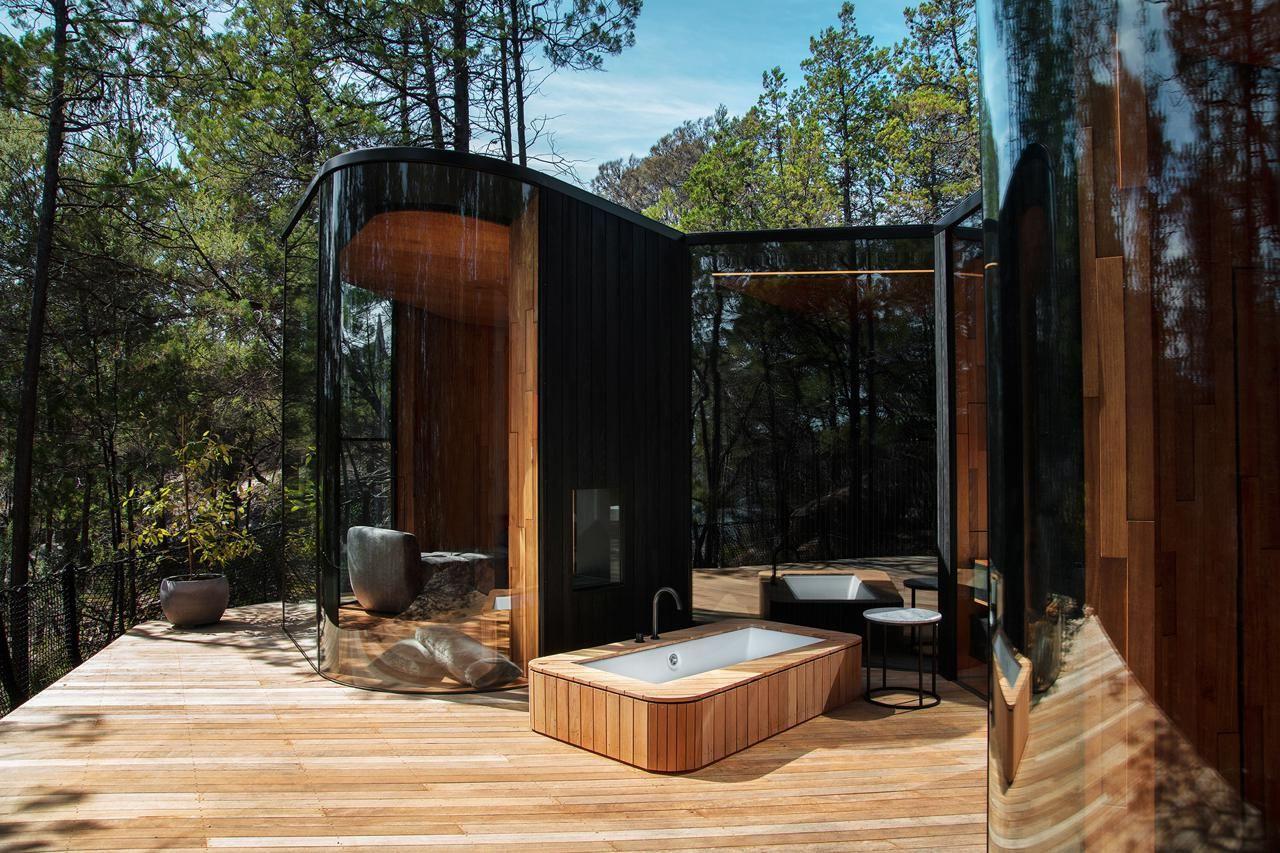 10. Prestige Suite at Il Borro, Tuscany, Italy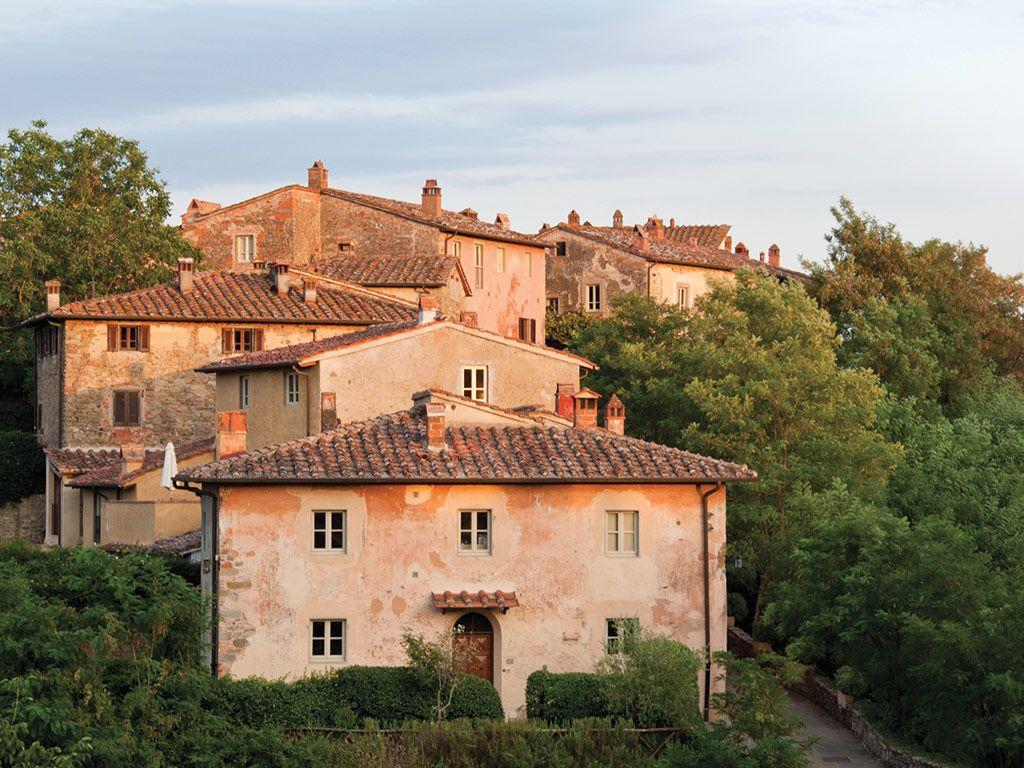 Il Borro is a family-run estate and winery in the Tuscany countryside. Accommodation is available in farmhouses, villas and the luxurious main house. However, we'd suggest booking a suite in the estate's magical medieval village, for an atmospheric stay. There's a real village atmosphere, with a central piazza and and craft studios, but there are also luxe facilities including a spa and two pools. The suites are packed with personality, and each is individually decorated.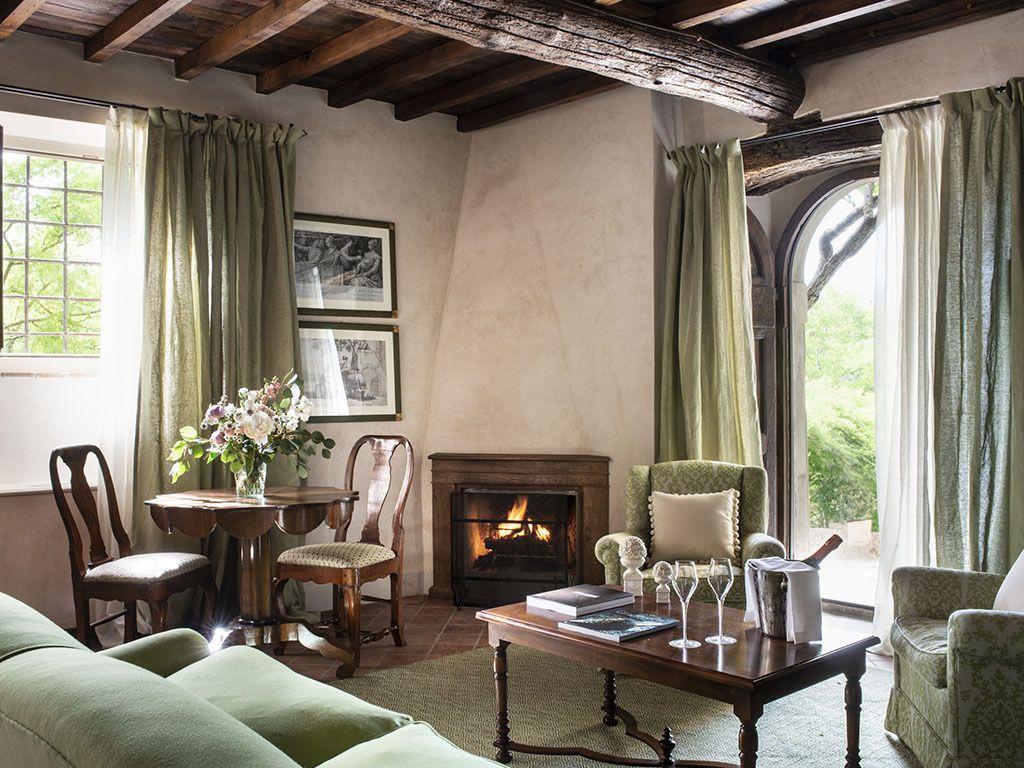 11. Amangiri, Utah, USA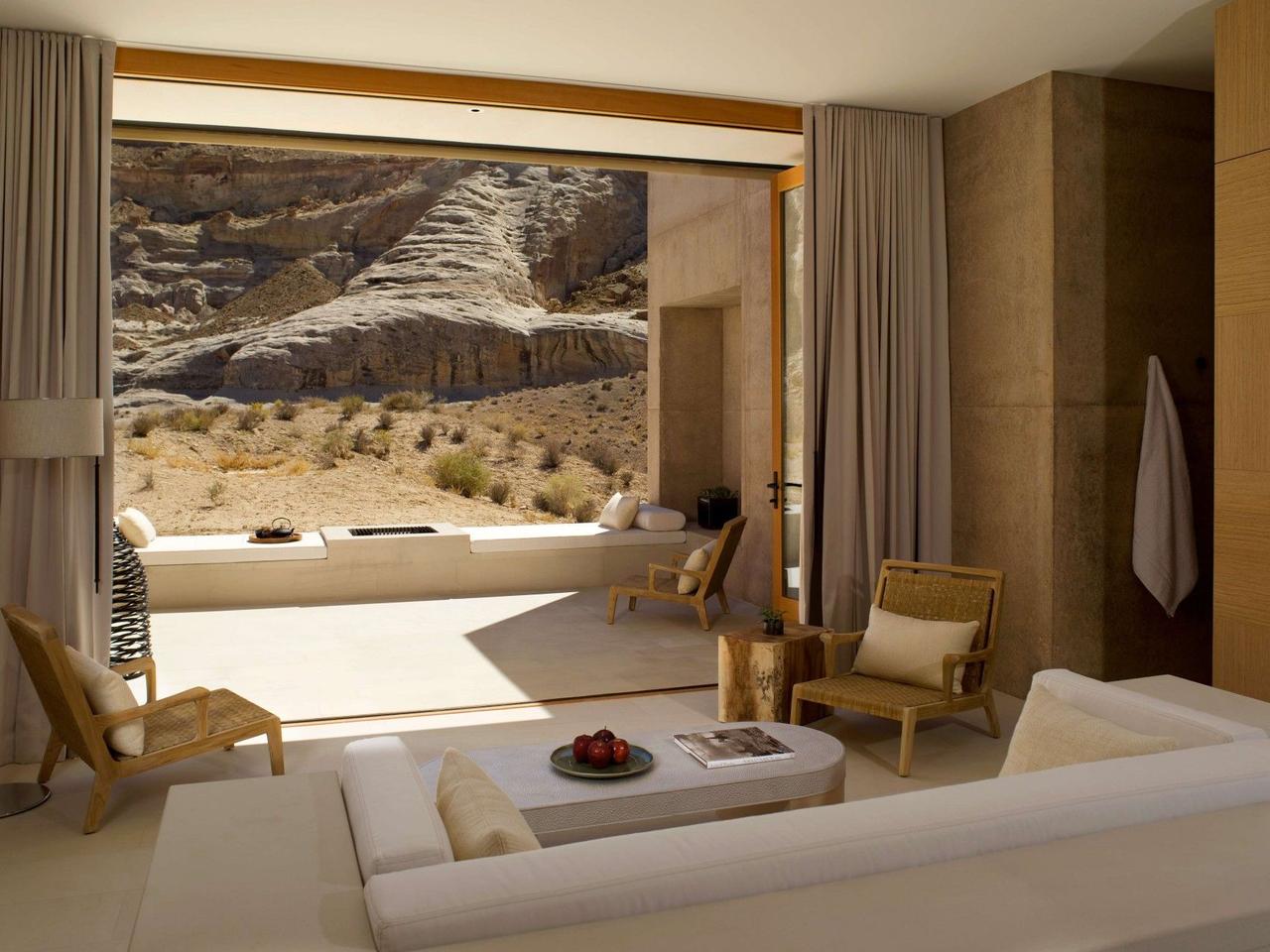 Amangiri is a desert hotel like no other, thanks to its spectacular modernist design. The interiors are as striking as the exterior architecture, with a pared-back yet luxe aesthetic. There are seven types of suites, and which you pick depends on your honeymoon priorities - plunge or lap pool? Is a roof terrace a must-have? Do you want to face the sunset? All suites have inspiring desert views, and outdoor living areas with fireplaces. There's a heated swimming pool and Jacuzzi, and an impressive spa - ideal for unwinding after a day of desert activities.
12. Suite de la Ville at Hotel de la Ville, Rome, Italy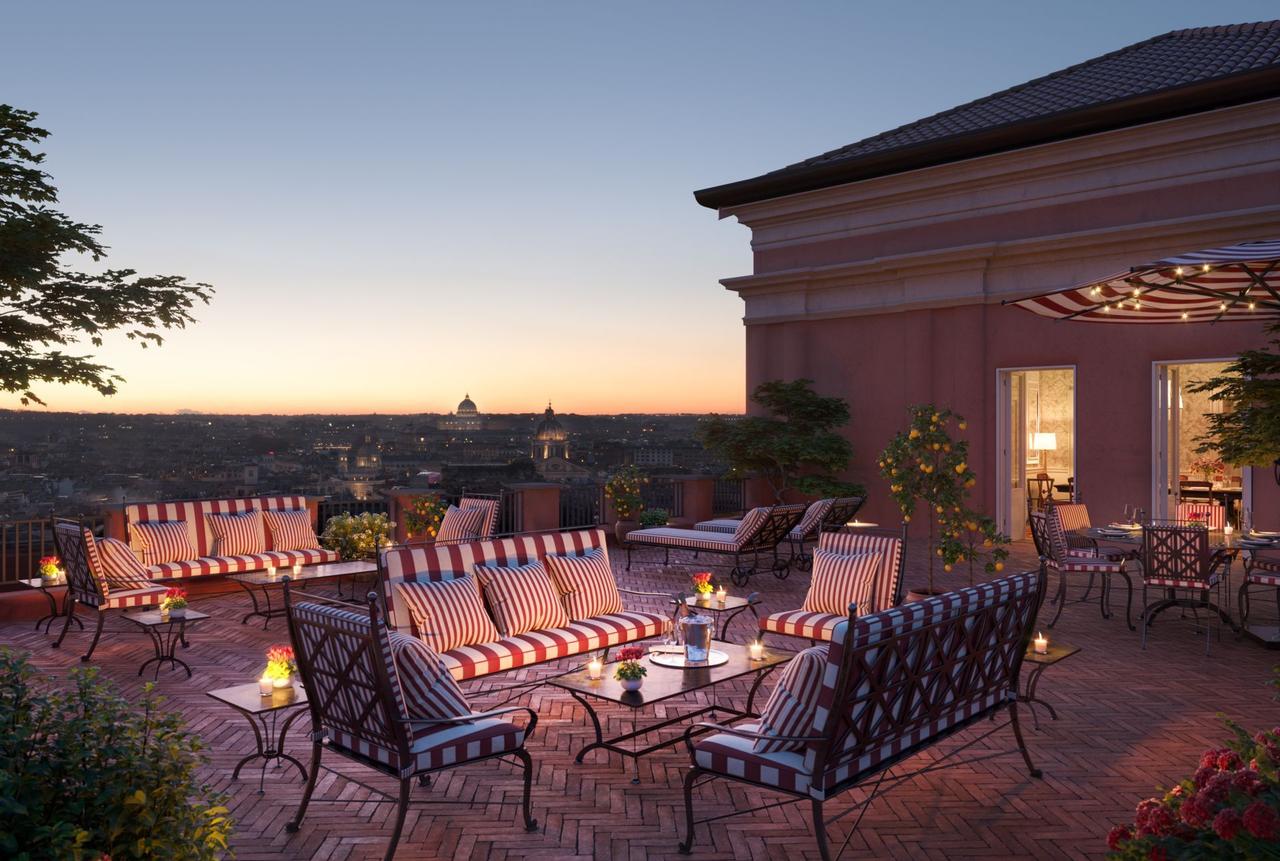 There's much to admire about Hotel de la Ville's largest signature suite, from the lavish furnishings to the vast marble bathroom. But it's the two generous terraces that really have our attention. Visit Rome in fine weather and we bet you'll spend most of your time out there - once you've exhausted the city's sights, of course. As a Suite de la Ville guest, you get a Mercedes airport transfer, in-suite check-in, three-hour limousine service, among other benefits. The hotel is a glamorous affair, set in an 18th-century palazzo atop the Spanish Steps, so you're perfectly placed to get to know this vibrant city.
READ MORE: Italy Honeymoon: Your Complete Guide
13. Heron Superior Estuary Suite at Lympstone Manor, Devon, UK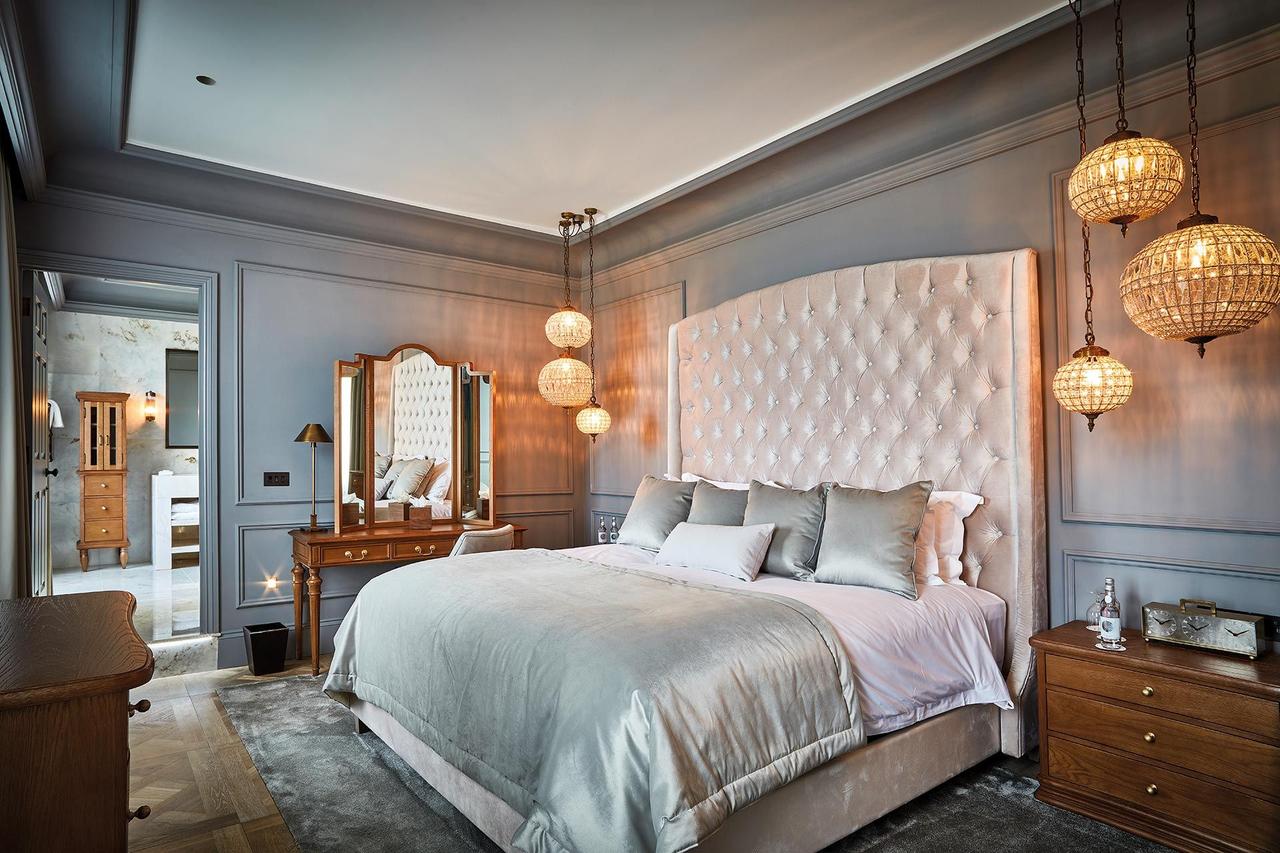 We really rate this wonderful hotel. A stay here involves fantastic food, romantic country walks and alluring bedrooms - all of which come with a complimentary gin tray, which pretty much seals the deal. As far as honeymoon suites go, we thoroughly recommend the alluring Heron. As well as being perfectly designed, this suite comes with that honeymoon-perfect feature: the double bath.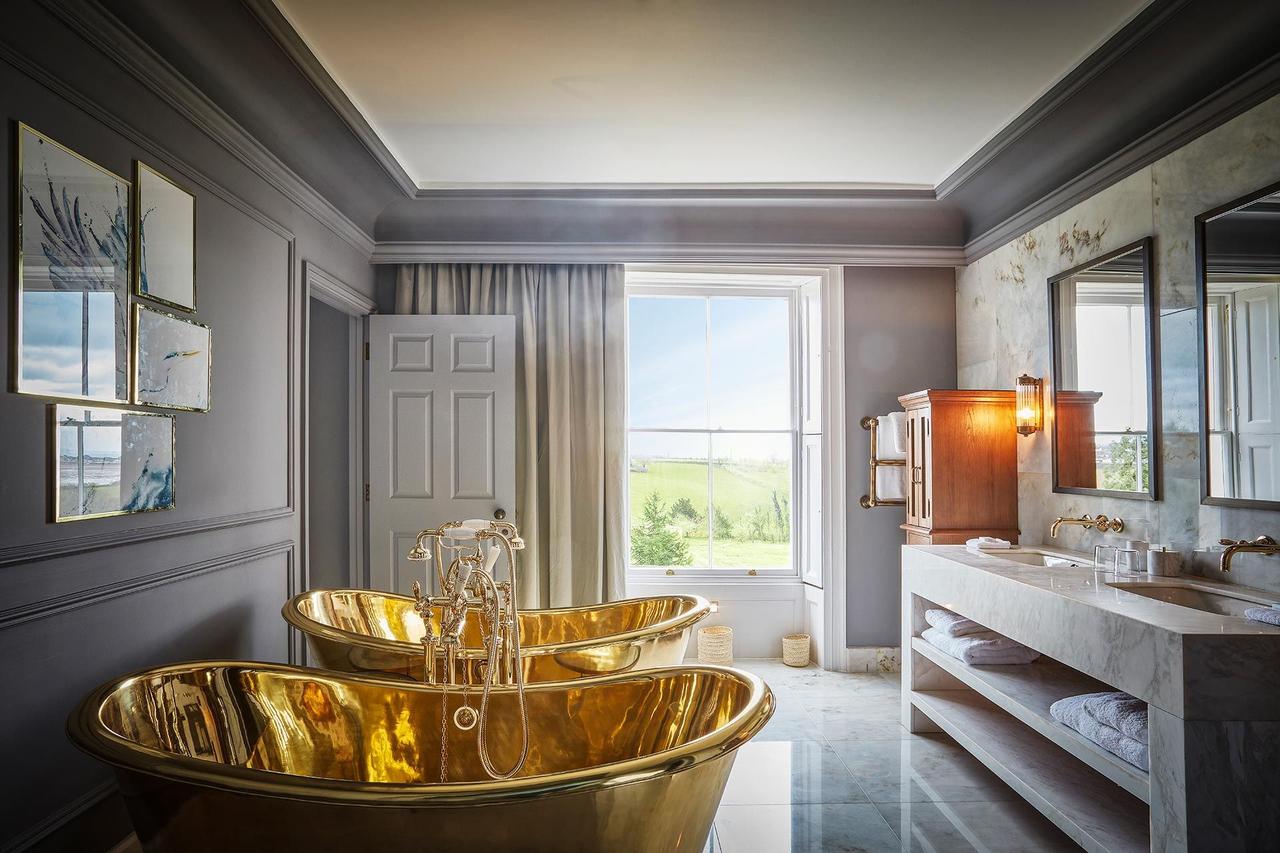 14. Deluxe Ocean Front Suite at Fasano, Rio de Janeiro, Brazil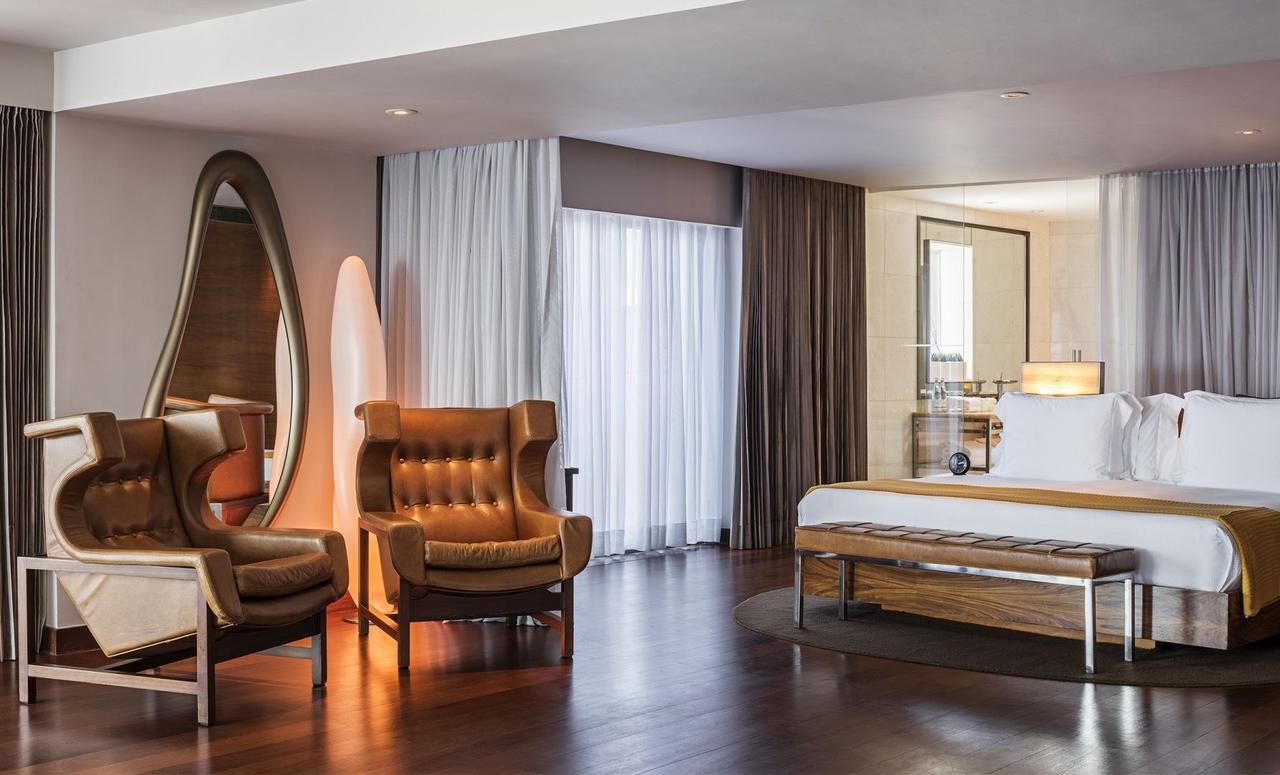 No trip to Brazil is complete without a stay in Rio de Janeiro. Of all the city's beachfront hotels, Hotel Fasana has the edge thanks to its cool aesthetic - it was designed by Philippe Starck, after all. Make the most of the hotel's location by iconic Ipanema Beach by booking an ocean front suite. There's a private balcony, and luxe touches including a private bar and 300-thread-count Egyptian cotton sheets. We imagine you'll want to put in some time at the hotel's rooftop infinity pool.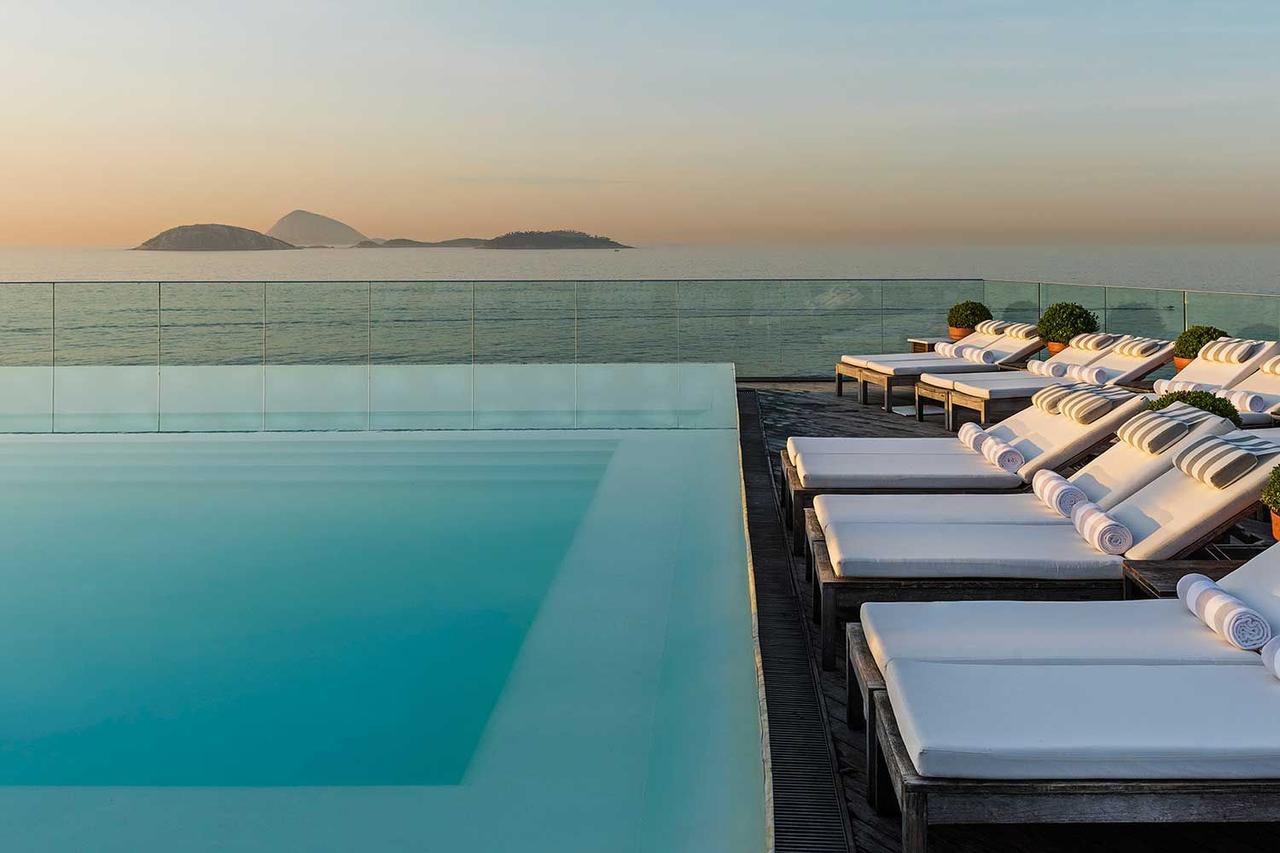 15. The Skybox Loft at The Ludlow, New York, USA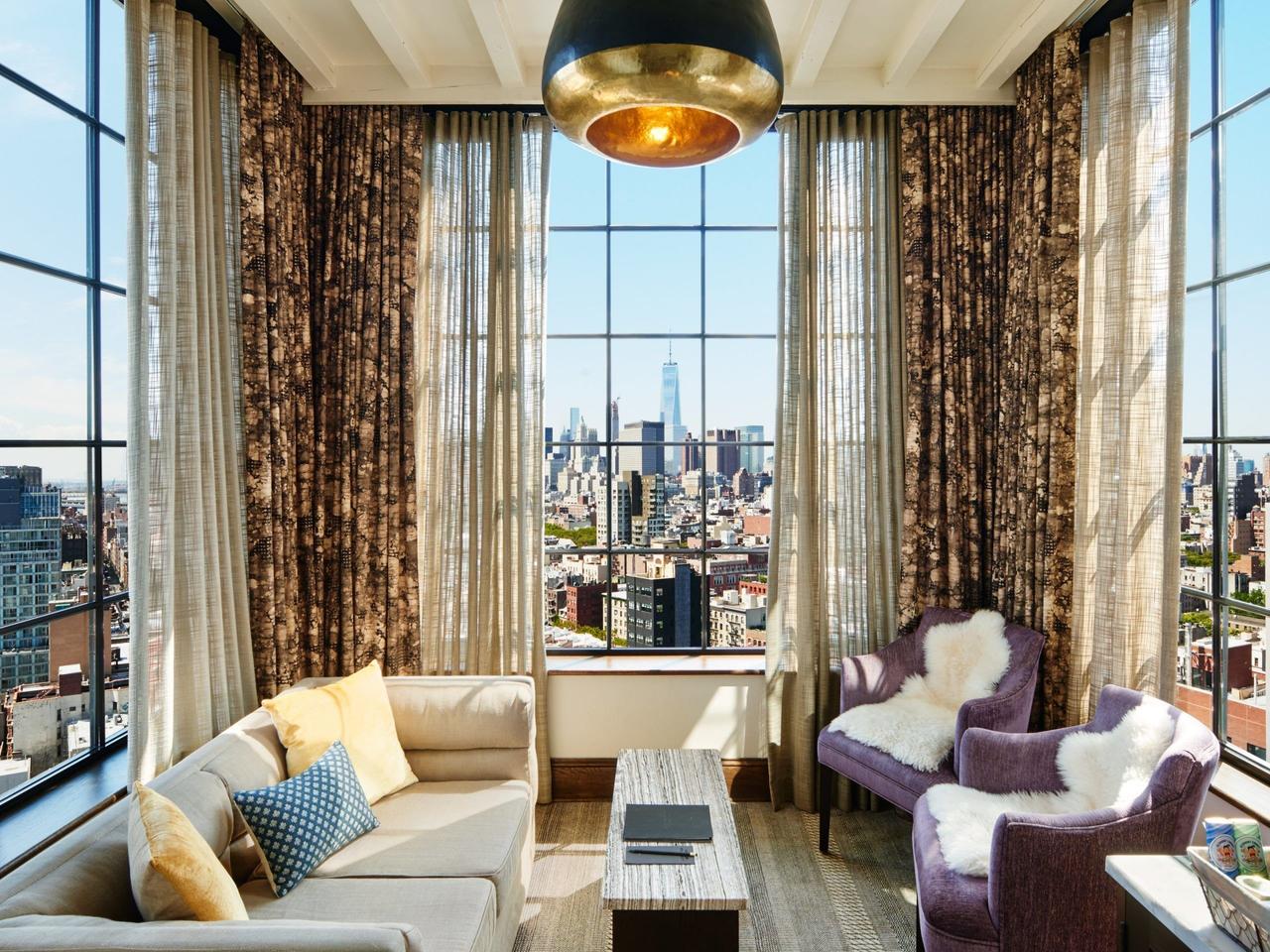 New York City is filled with intimidatingly cool hotels, so we decided to bring you something that's high-style but a little more laidback. The Ludlow is located in the Lower East Side, and the design aesthetic that was scorching-hot when it first opened in 2014 has stood the test of time: think oak-panelled walls, chandeliers and leather sofas. For the real Lower East Side experience, choose one of the lofts - the Skybox, to be precise, which has a sitting area with fantastic views and a balcony. Make sure you fit in a cocktail at the lobby lounge before dinner at the hotel's renowned bistro Dirty French.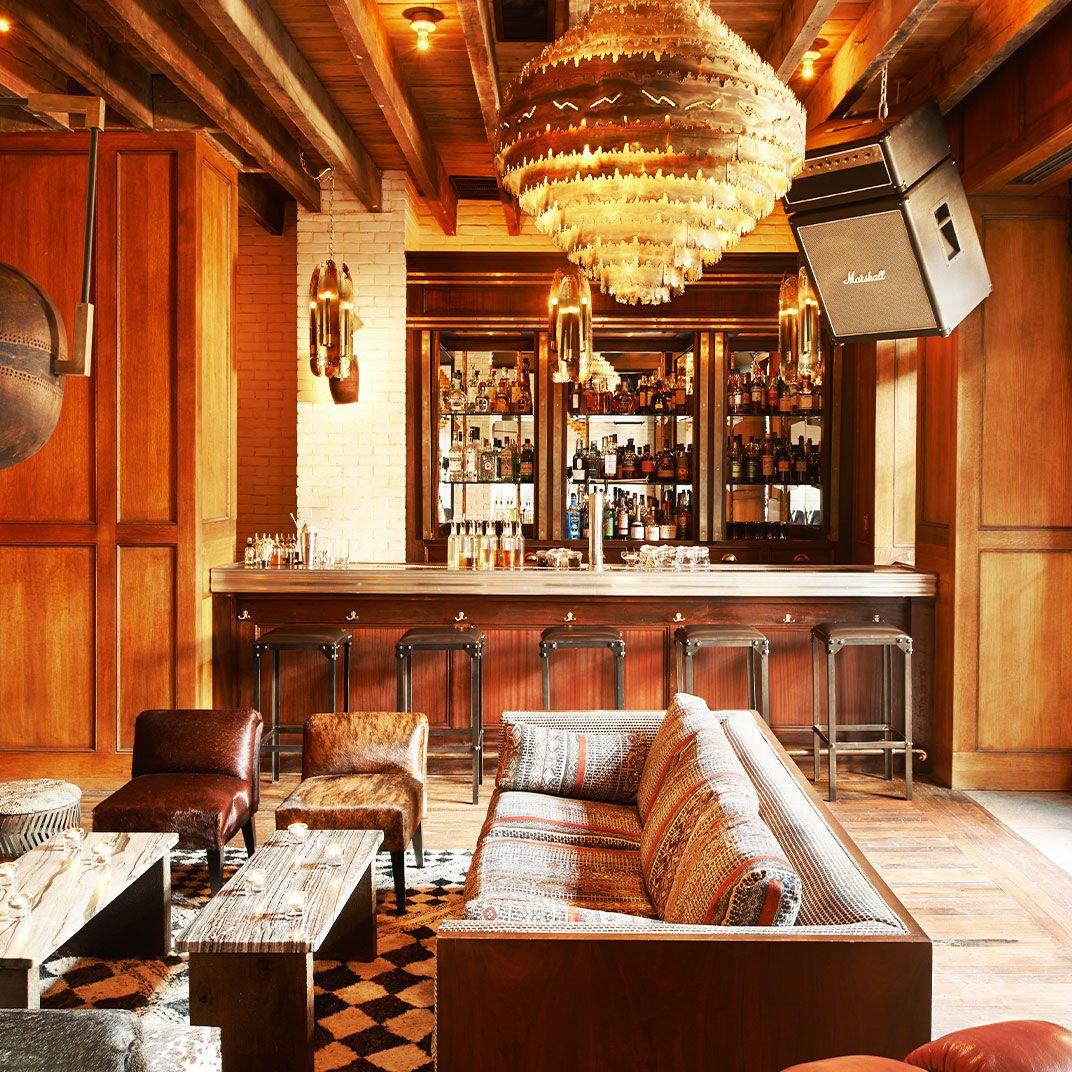 16. Bert's Box at The Pig, New Forest, UK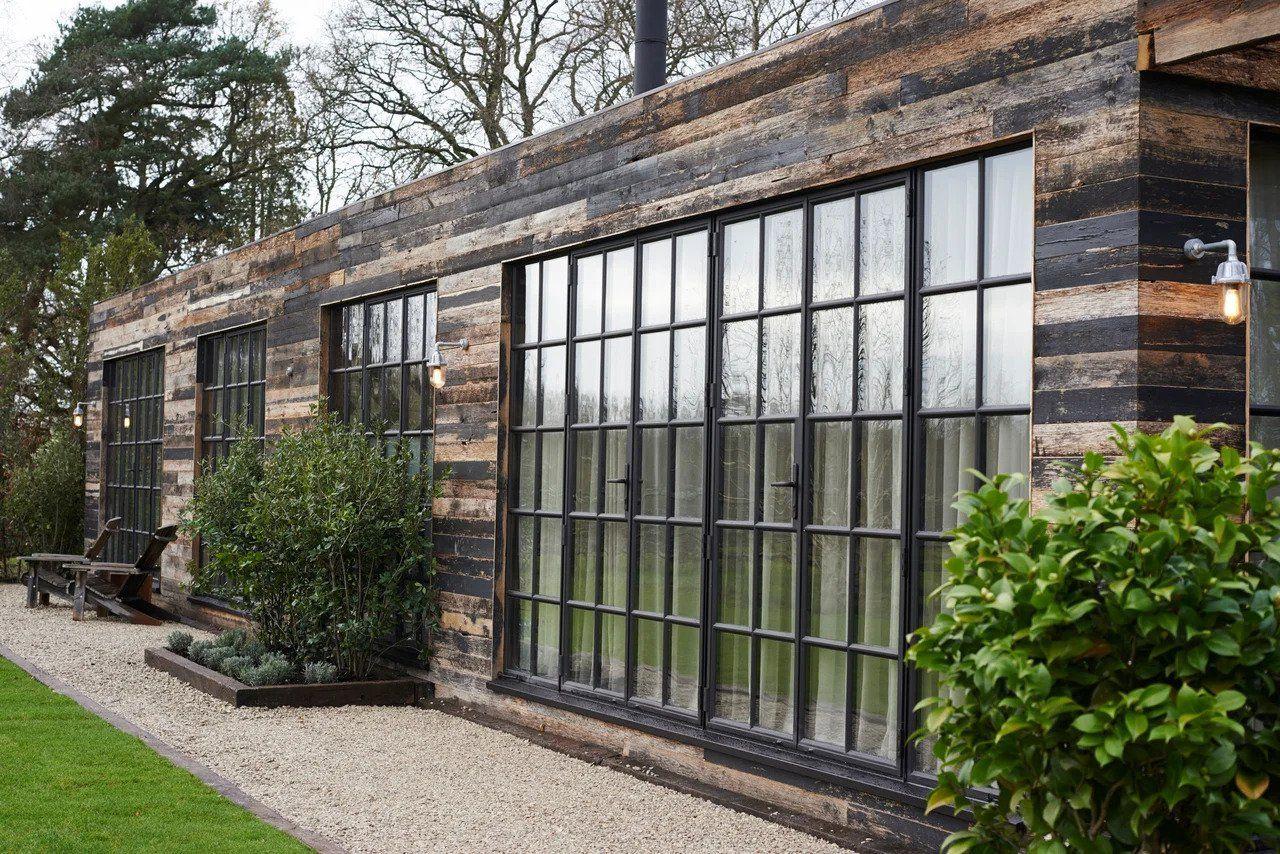 The Pig hotel mini-chain is known for cosy-chic styling and excellent food. At the original New Forest Pig Hotel, the rooms are as delightful as expected, but we recommend the on-site Bert's Box for a honeymoon. This purpose-built forest hideaway is full of charm, and as it has its own kitchen, it's the perfect compromise if you can't choose between hotel and self-catering. Do leave your honeymoon idyll to try the hotel's garden-to-plate dishes and enjoy a Bamford facial in the mini spa.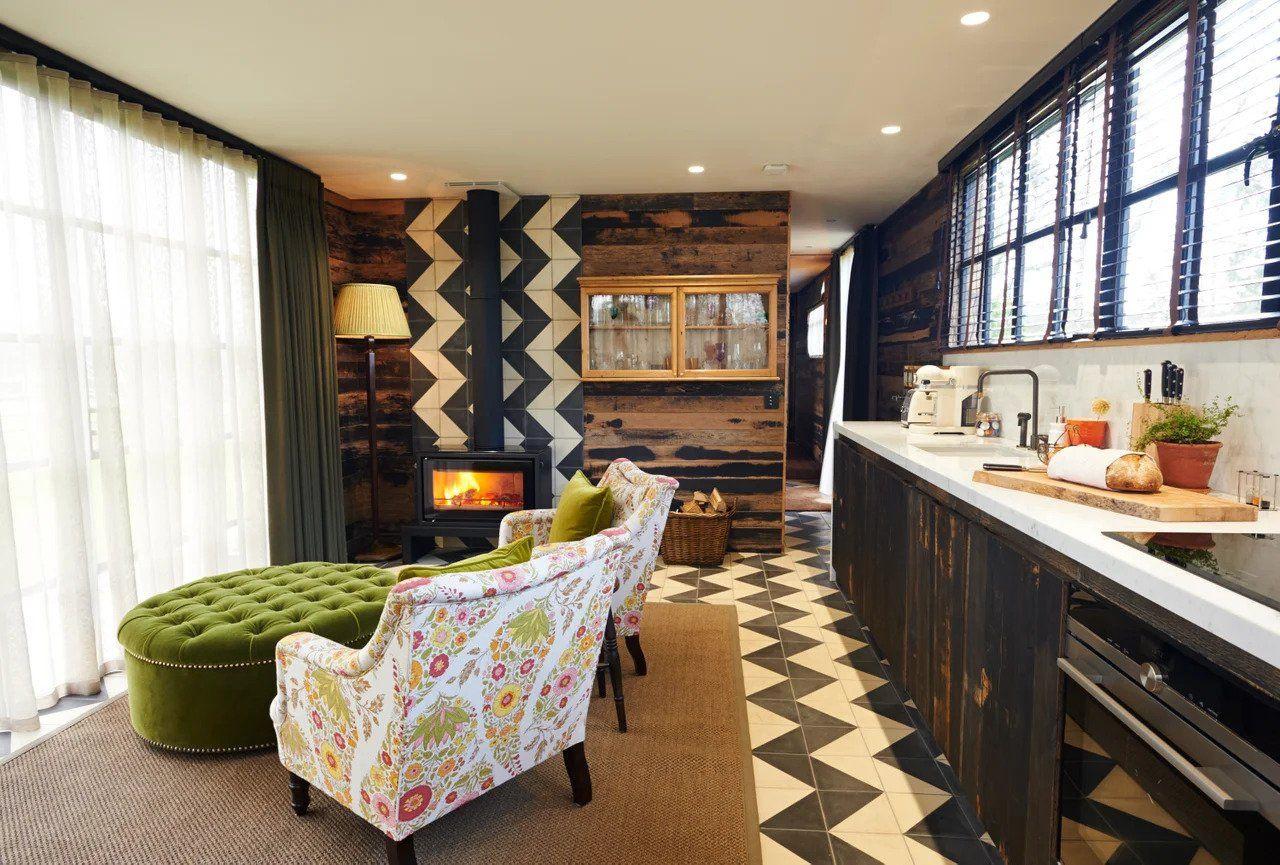 READ MORE: 21 Game-Changing Honeymoon Packing Hacks
17. Loisaba Star Beds, Kenya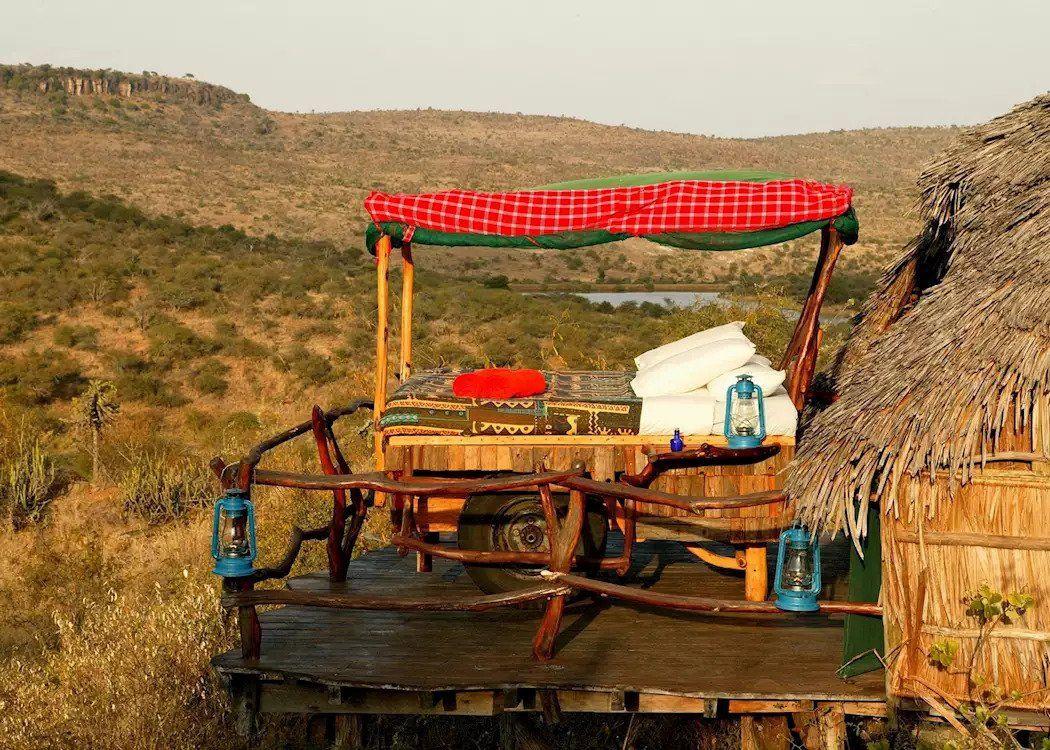 Star beds have steadily gained in popularity at safari resorts - and one of the pioneers of this romantic experience is Losaba Star Beds camp. Stay in one of the raised thatched cottages, and every night you can have your four-poster bed wheeled out onto a platform to sleep under the stars and wake with the sunrise. The cottages themselves are individually designed to reflect the beauty of the African bush. There are a variety of back-to-nature experiences at the resort, from classic game drives to the more unusual camel safaris. You can also spend time with the in-house anti-poaching team to learn about their work.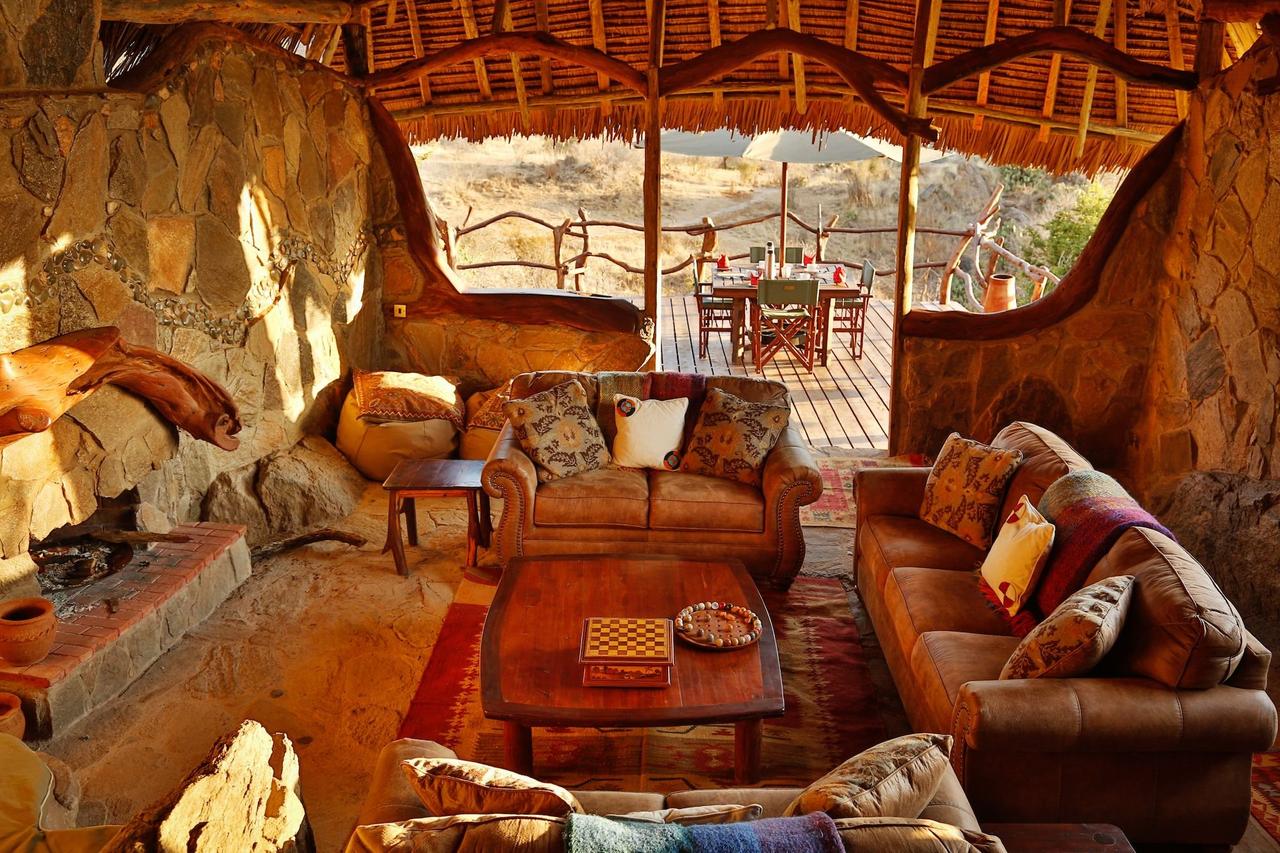 18. Spectacular Suite at W Hotel, Barcelona, Spain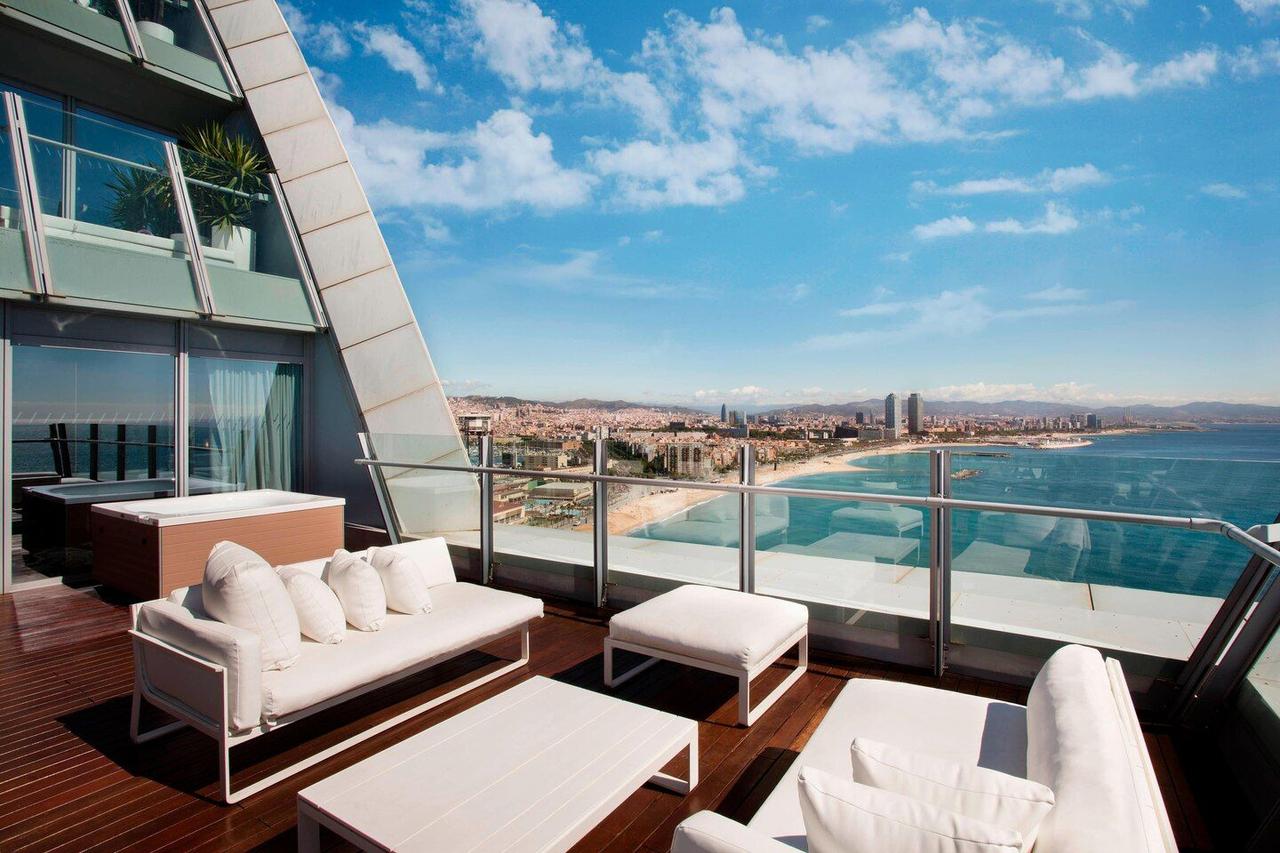 We do love a city that combines beach life with plenty of culture - and Barcelona is among the best. For a luxe urban adventure, it has to be the Spectacular Suite at the W Hotel. The space lives up to its name, with a generous private terrace, incredible views from the floor-to-ceiling windows and an ice-cream-soft king bed. The hotel's beachfront location means you're perfectly placed to enjoy some time on the golden sand as well as having easy access to the city's iconic sights.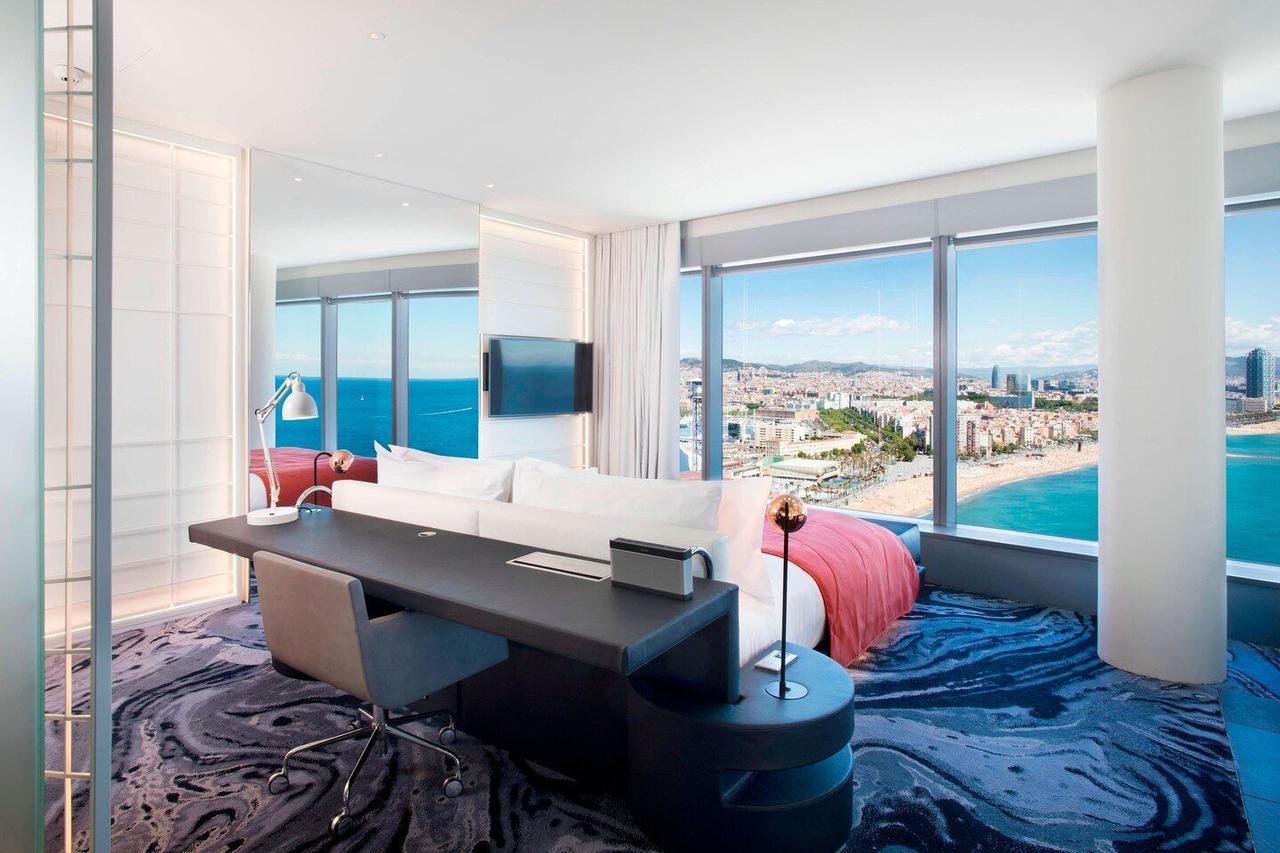 19. Royal Suite at The Fife Arms, Scottish Highlands, UK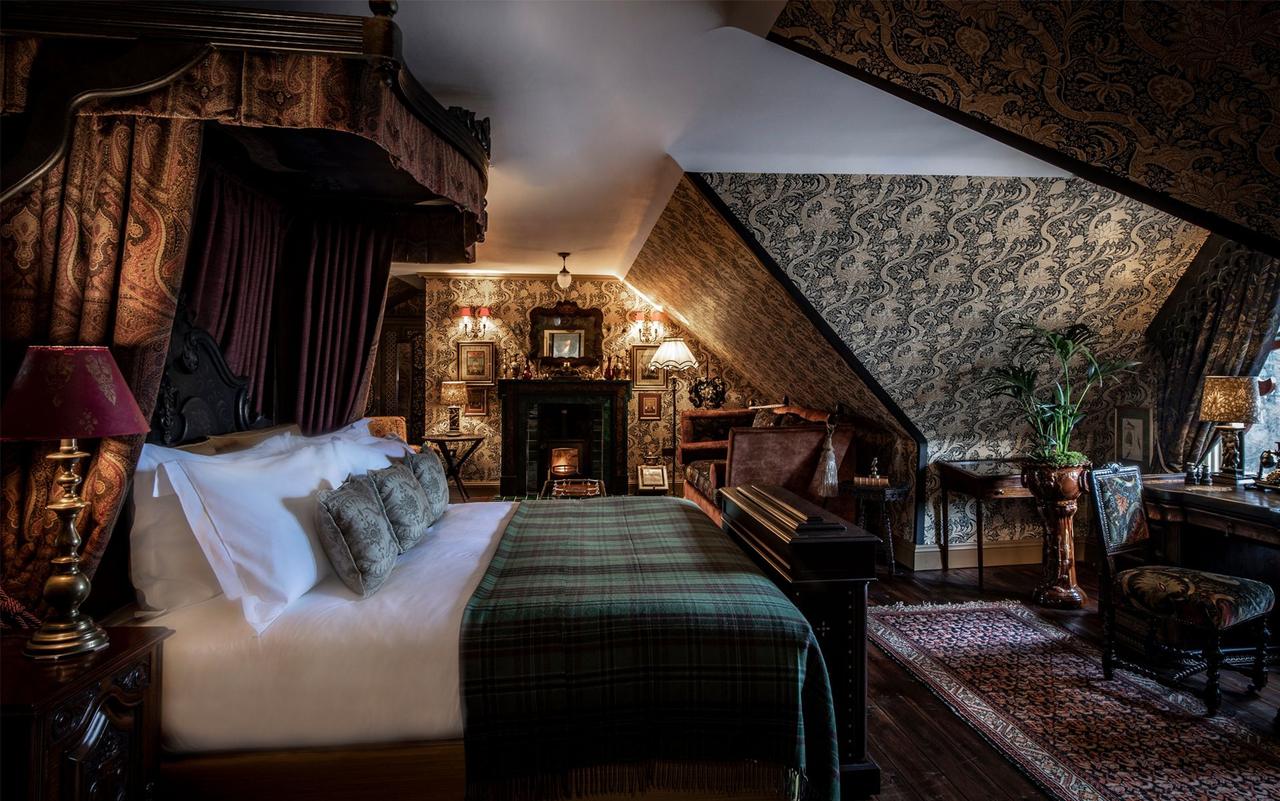 Former Victorian coaching inn The Fife Arms is now one of the UK's hottest hotels. Expect opulent, imaginative interiors and acclaimed food, all within the stunning setting of the Scottish highlands. The Royal Suites are particularly indulgent, with antiques and artworks aplenty, as well as luxe features such as rain showers and freestanding baths. Each suite is themed around a notable historical figure who has visited the area.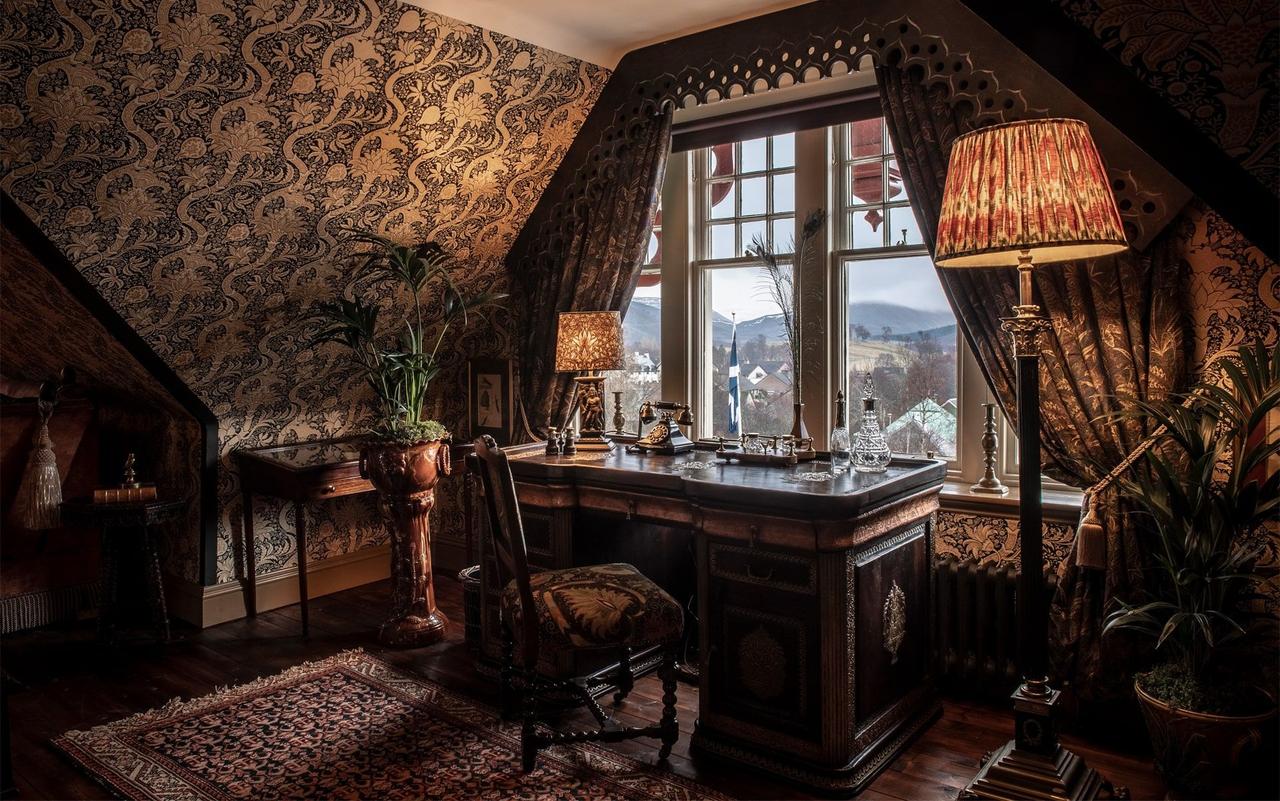 20. Bird's Nest Pool Villa at Keemala, Phuket, Thailand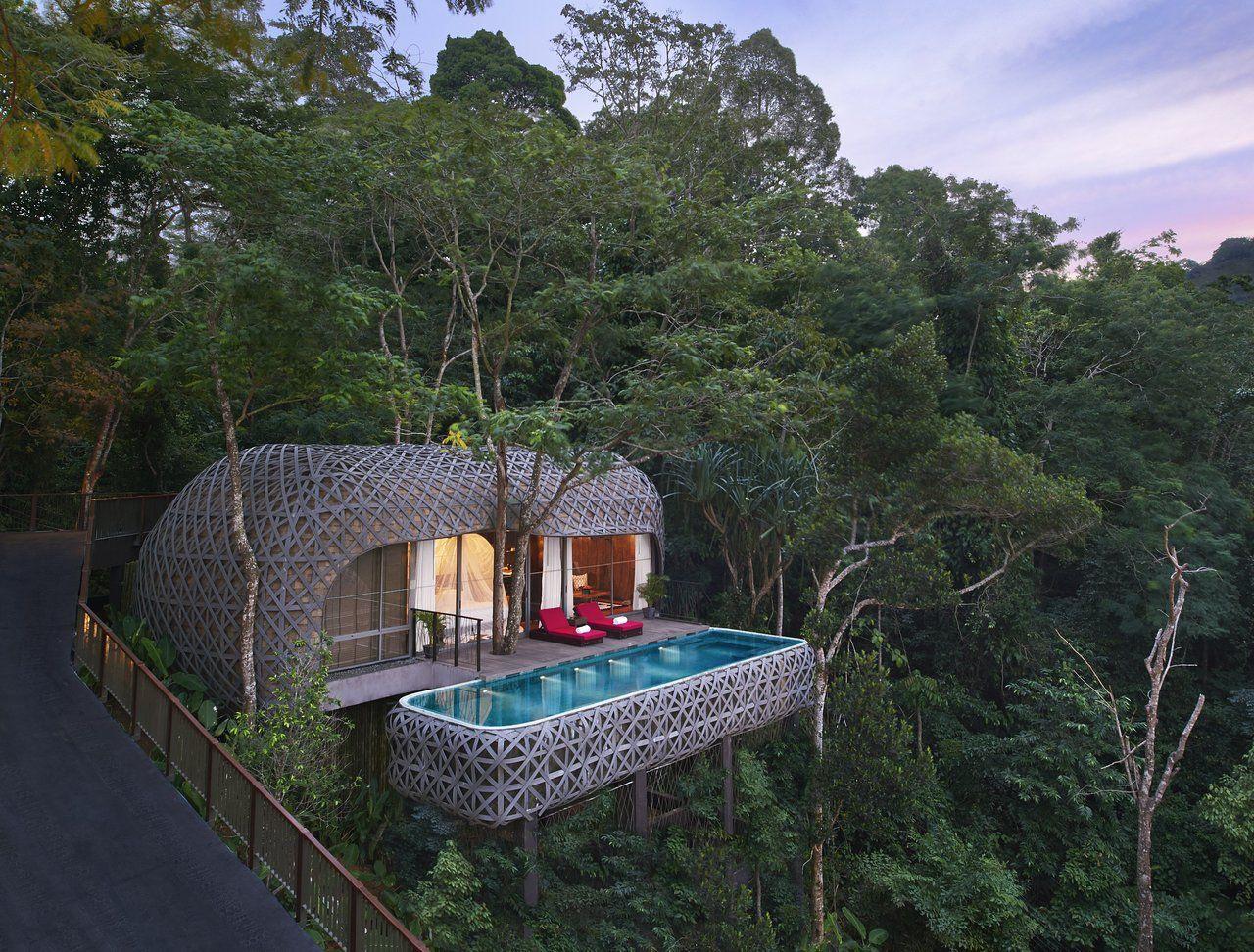 Live the high life in one of the bird's nest pool villas at delightful resort Keemala. These incredible elevated spaces are set within verdant rainforest - like a luxe take on treehouses. You'll want to spend most of your time outdoors in and around your private pool, but the villa's interiors are fabulous too, with oversized beds and huge bathrooms.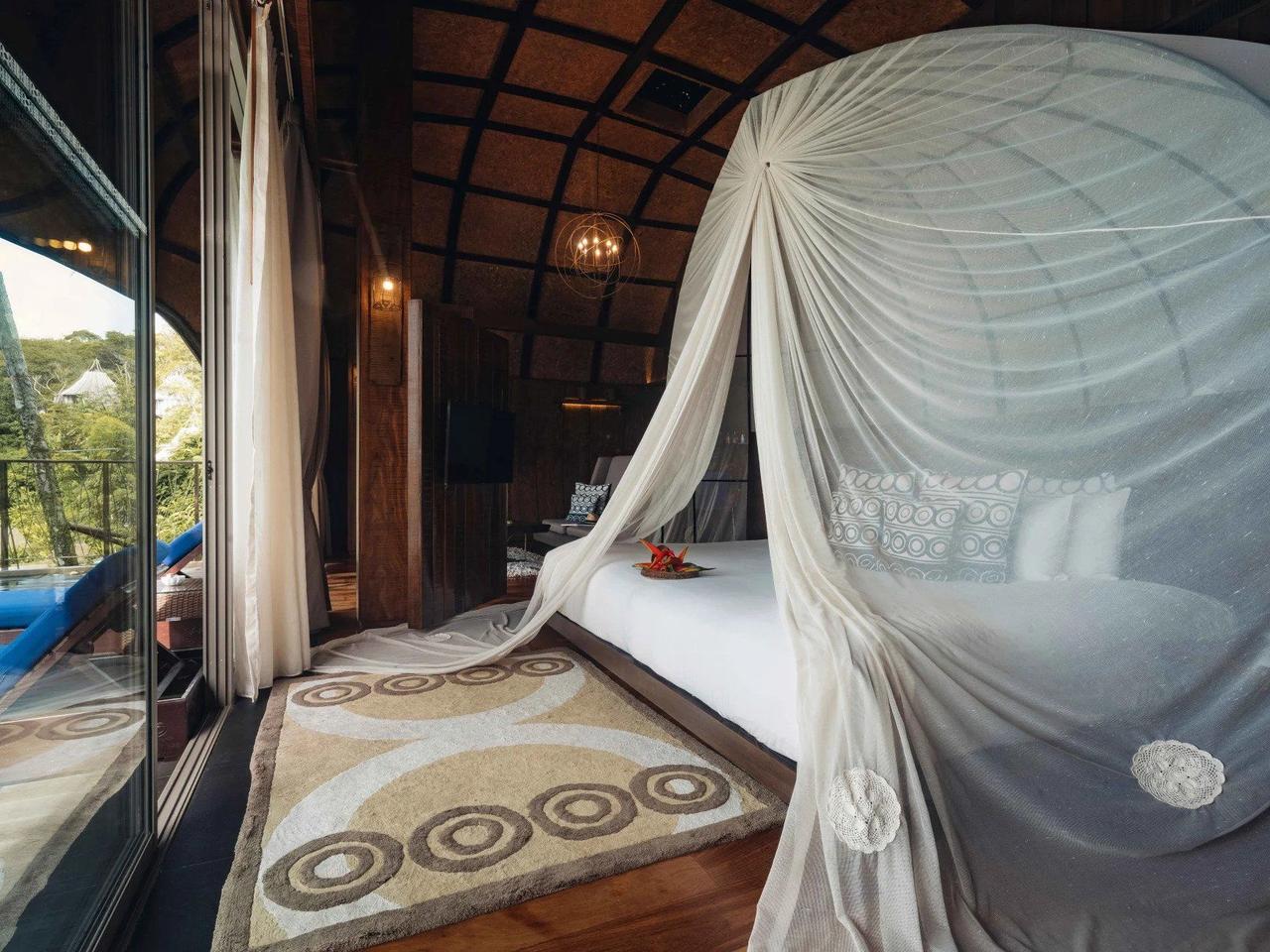 READ MORE: Thailand Honeymoon: Your Complete Guide
21. Deluxe Suite at Crillon Le Brave, Provence, France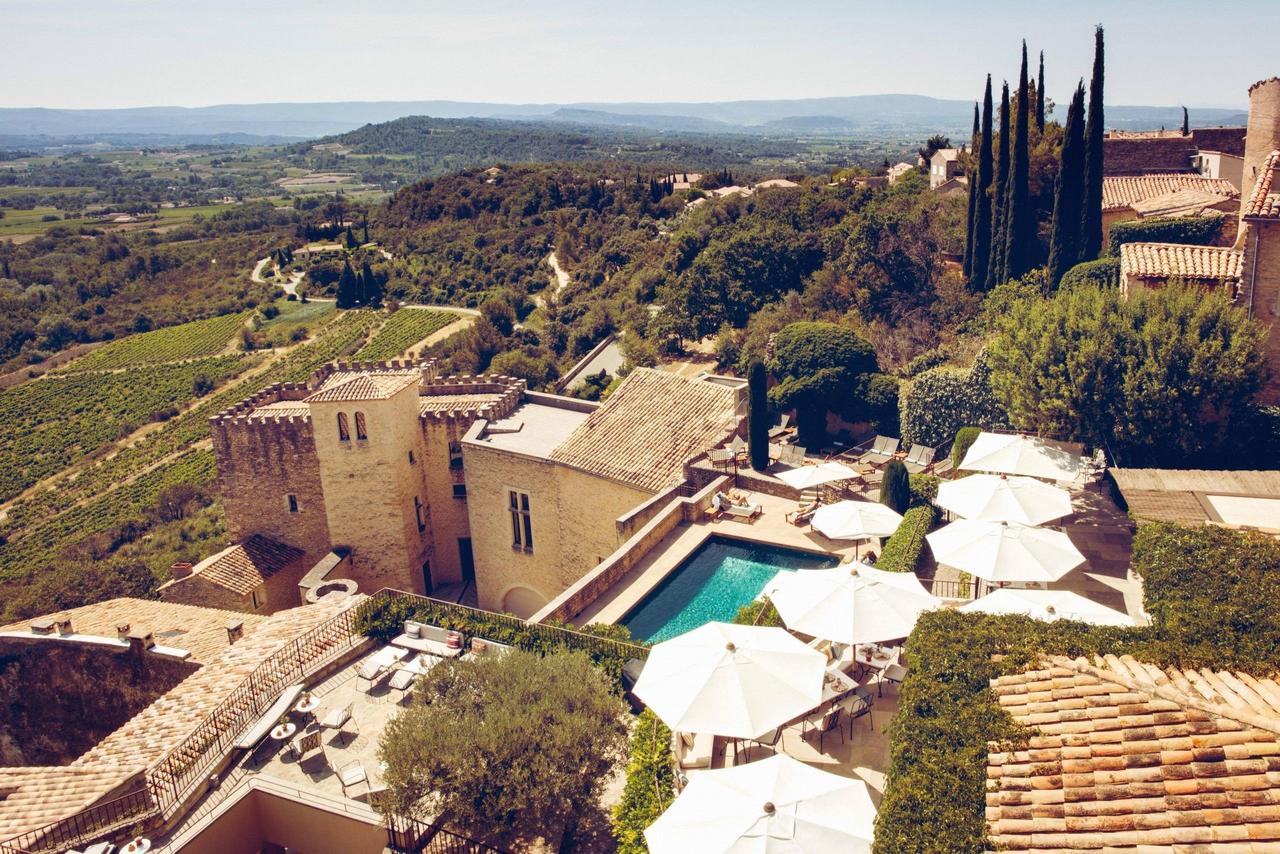 Surrounded by olive groves and lavender fields, Crillon Le Brave has the feel of a tranquil sanctuary before you've even stepped foot through the door. The interior styling is chic and soothing, with natural earth tones throughout. Choose one of the beautiful deluxe suites for extra space to unwind. A treatment in the candlelit spa and a few laps of the heated outdoor pool will see off any remaining wedmin-related stress.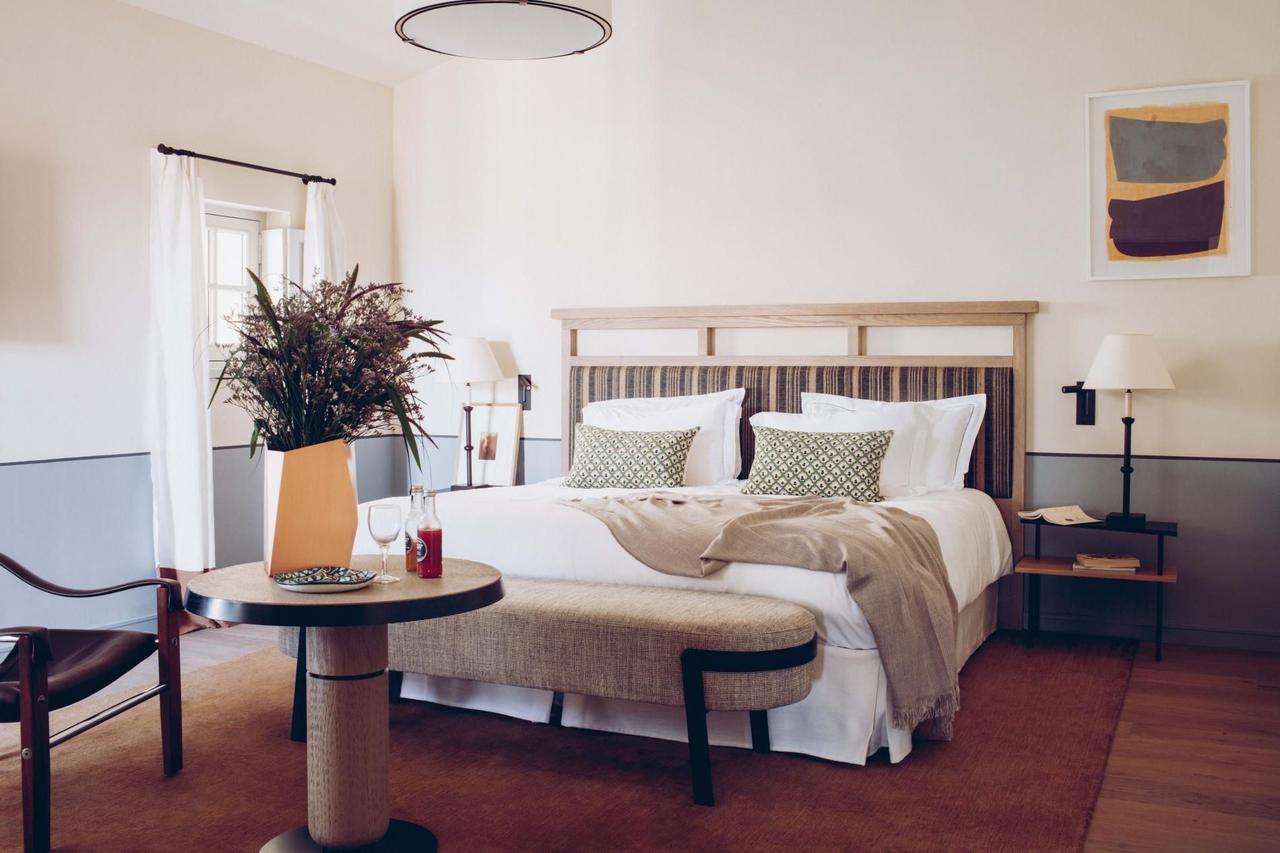 22. The Sanctuaries at Jade Mountain, Saint Lucia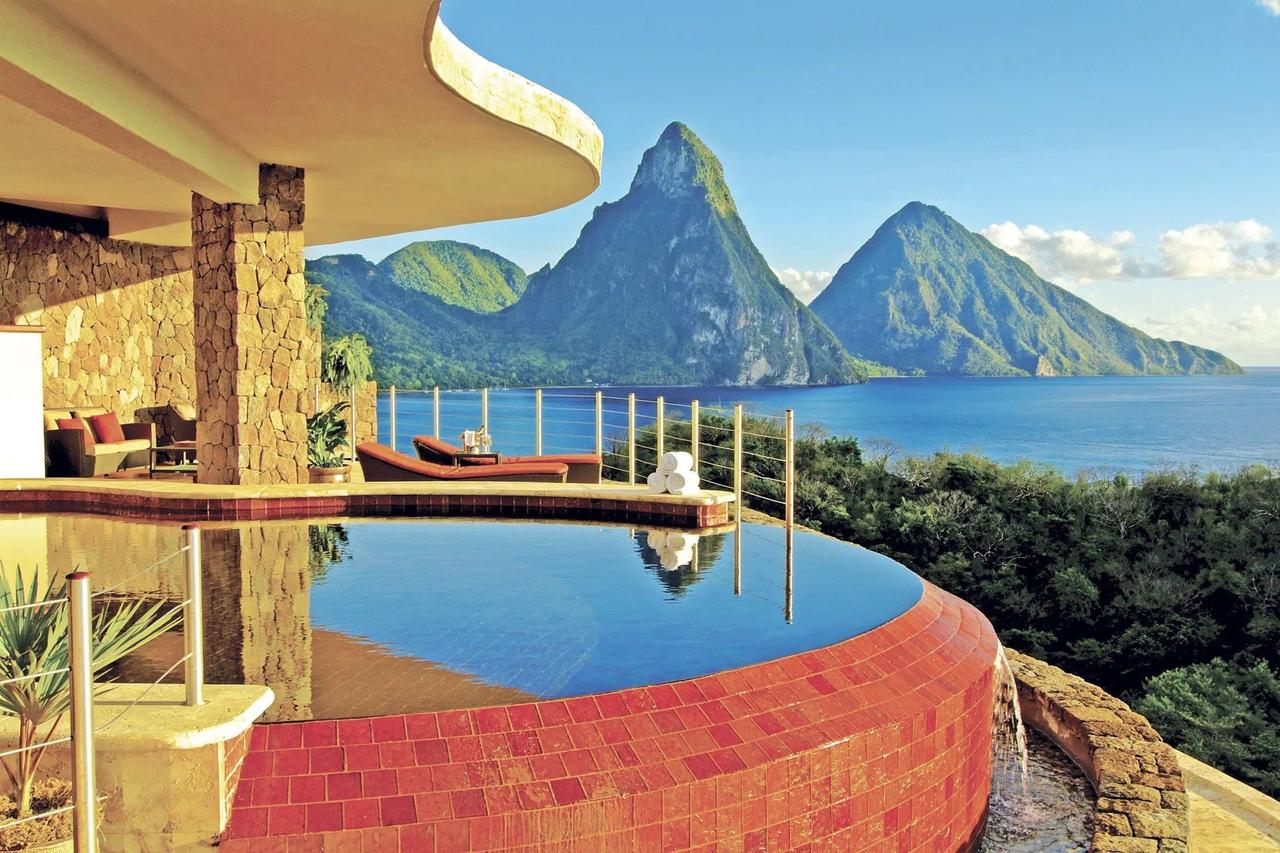 The sanctuaries, as Jade Mountain's suites are known, are easily among the finest spaces in the world for honeymoons. In each, the fourth wall has been removed, which means the stunning surroundings of Saint Lucia greet you every morning. Make sure you choose a sanctuary with an infinity pool - trust us, once you've had a pool in your bedroom, you'll want to install one at home. We suggest enjoying the glorious Saint Lucia sunsets with a glass of fizz on your private terrace.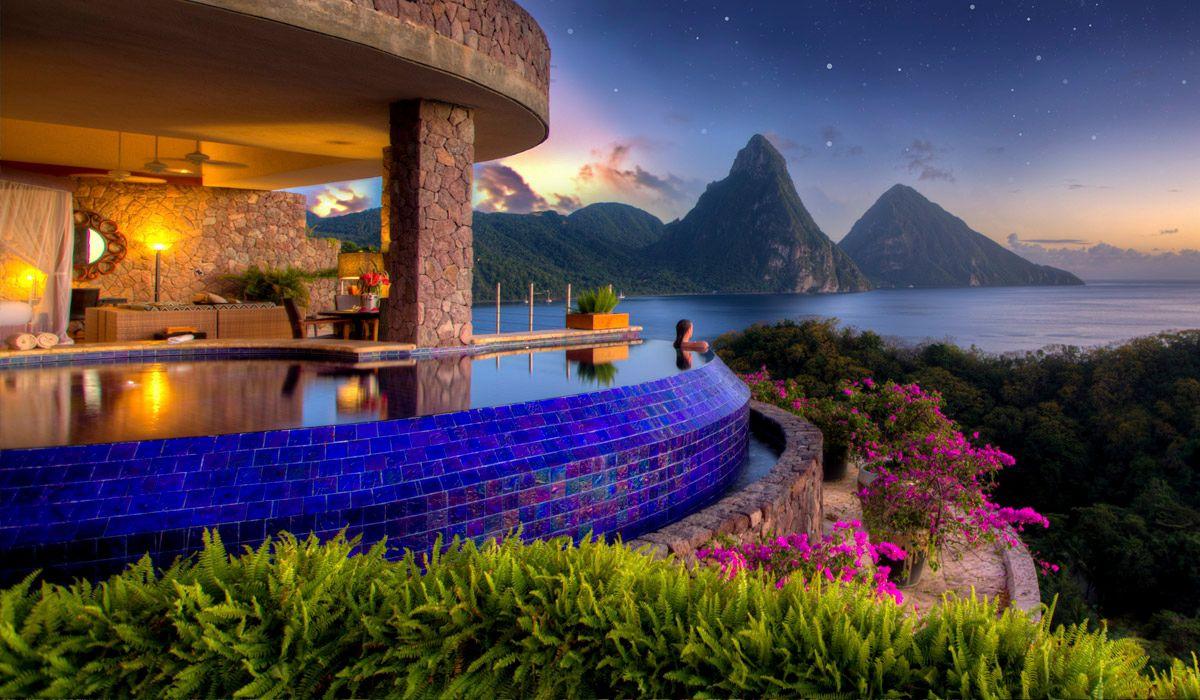 23. 40 Winks, London, UK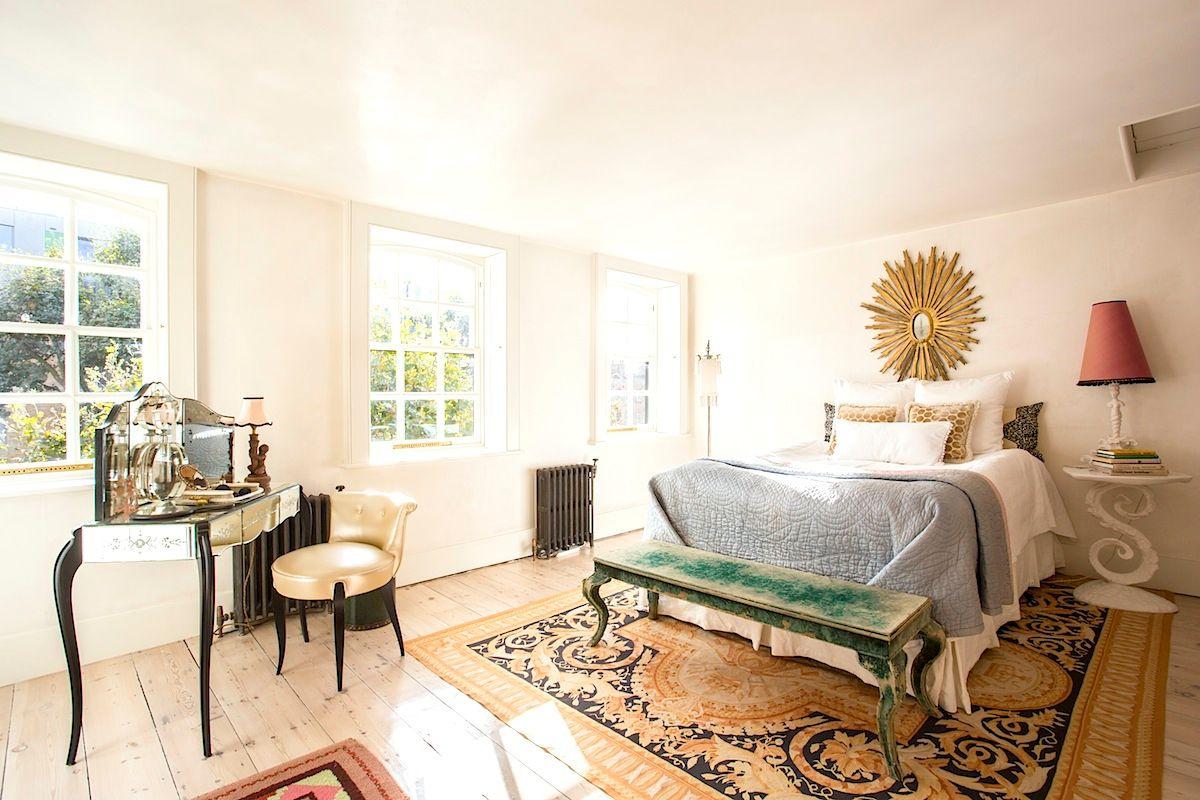 For a uniquely stylish London honeymoon, it has to be 40 Winks. This deliciously designed East London townhouse has just two bedrooms, a single and a double. You can book both - the 'double deluxe' package - for a more private, bespoke experience. This isn't a hotel in the traditional sense, but it's all the better for it.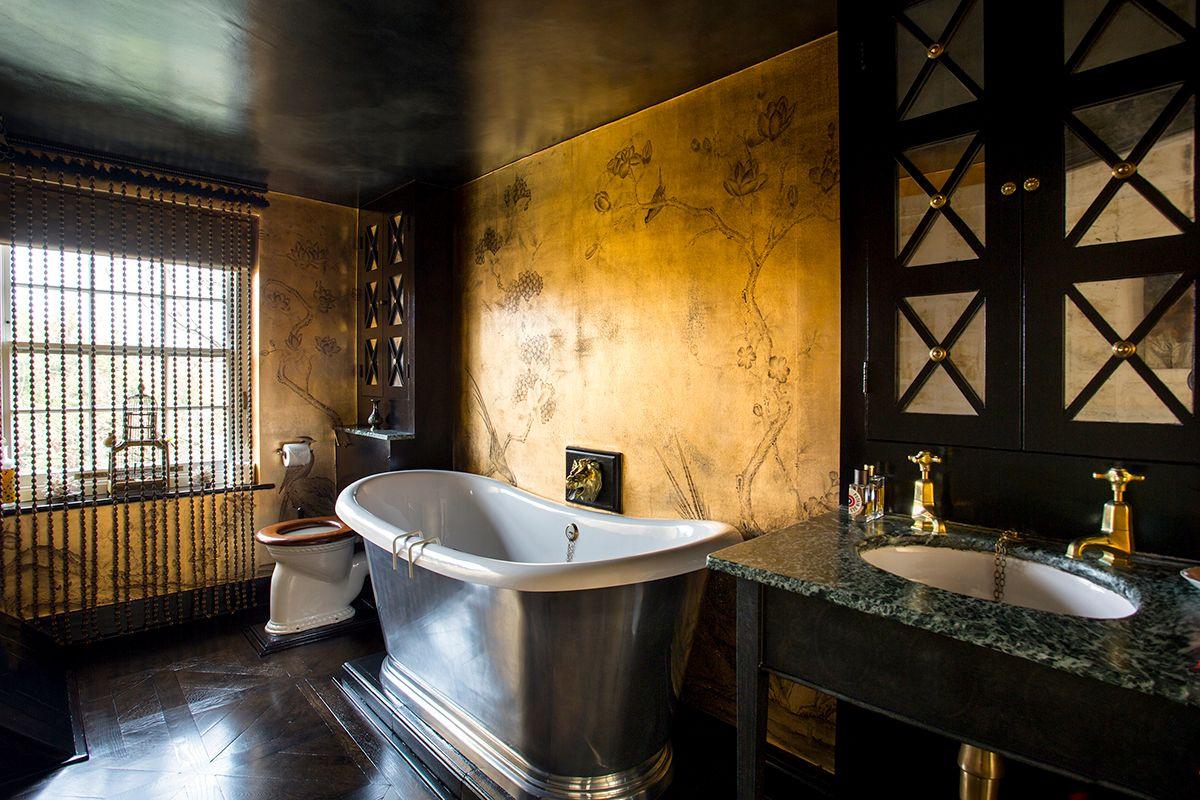 24. Villa Suite at Casa Chameleon, Las Catalinas, Costa Rica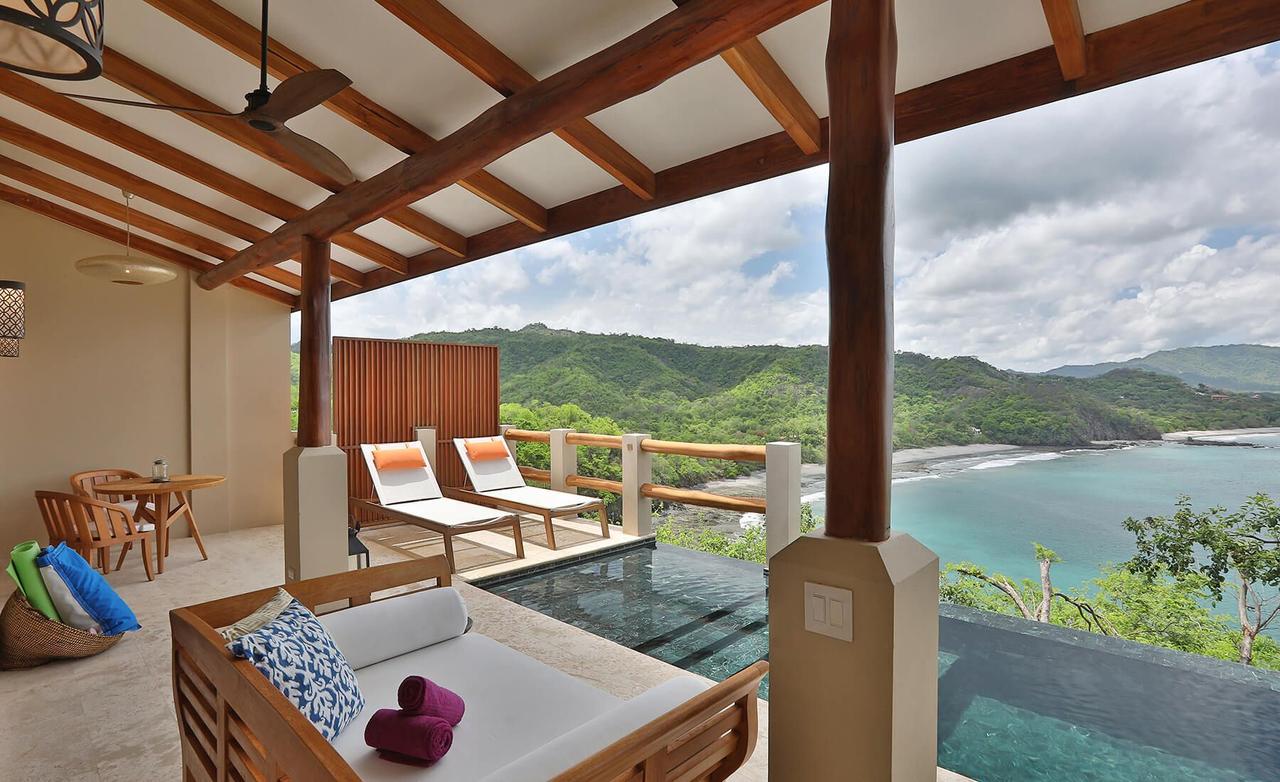 There are just 21 villas at award-winning resort Casa Chameleon in Las Catalinas, giving it a wonderfully serene atmosphere. Each villa faces the ocean and have plunge pools, but budget allowing, upgrade to a villa suite for some extra space. If you can tear yourself away from your private villa, the resort has a fabulous infinity pool, and there are yoga classes on the deck.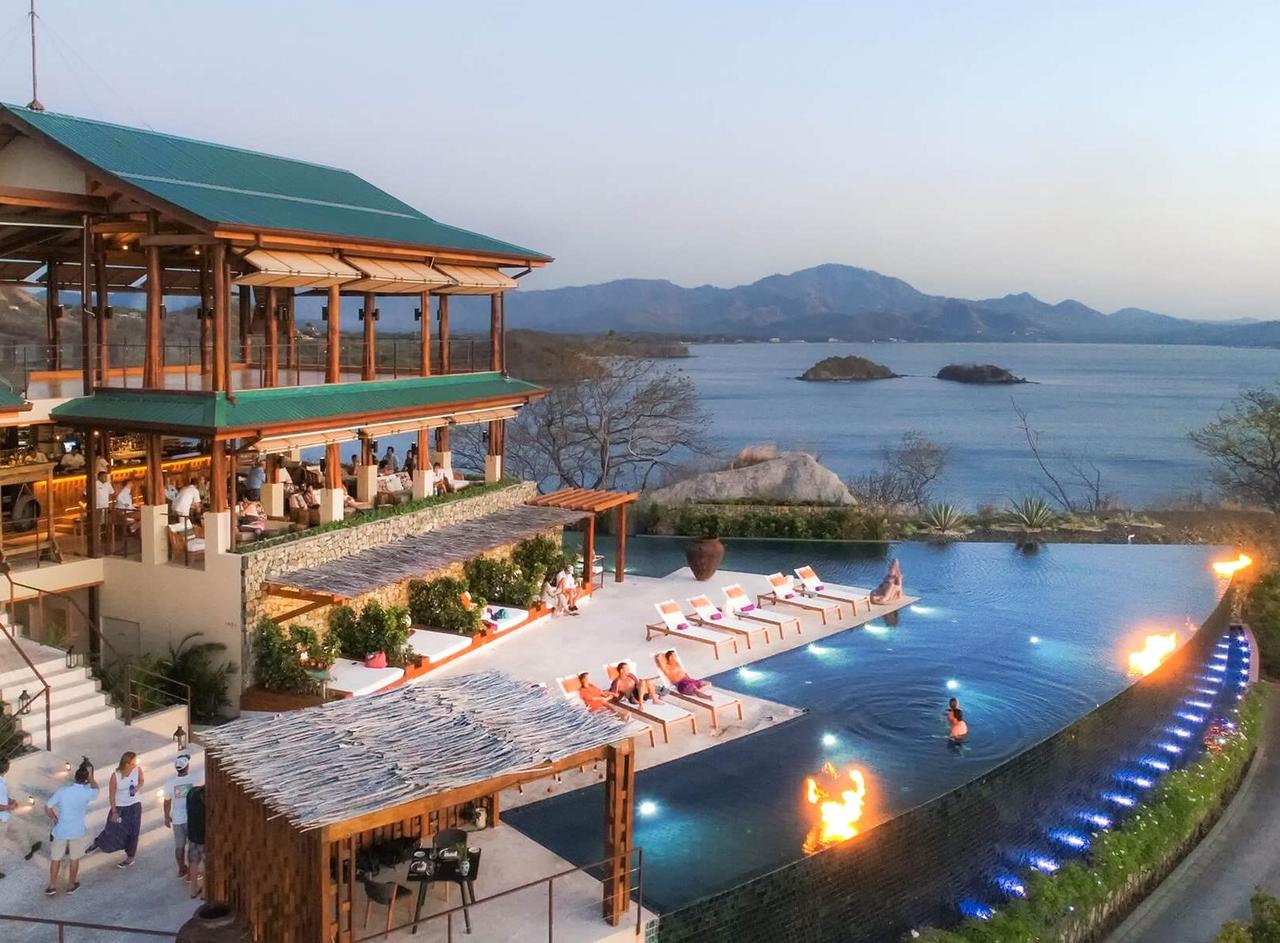 READ MORE: 15 Stylish His and Hers Suitcases for Your Honeymoon
25. Executive Suite with Pool at One & Only The Palm, Dubai, UAE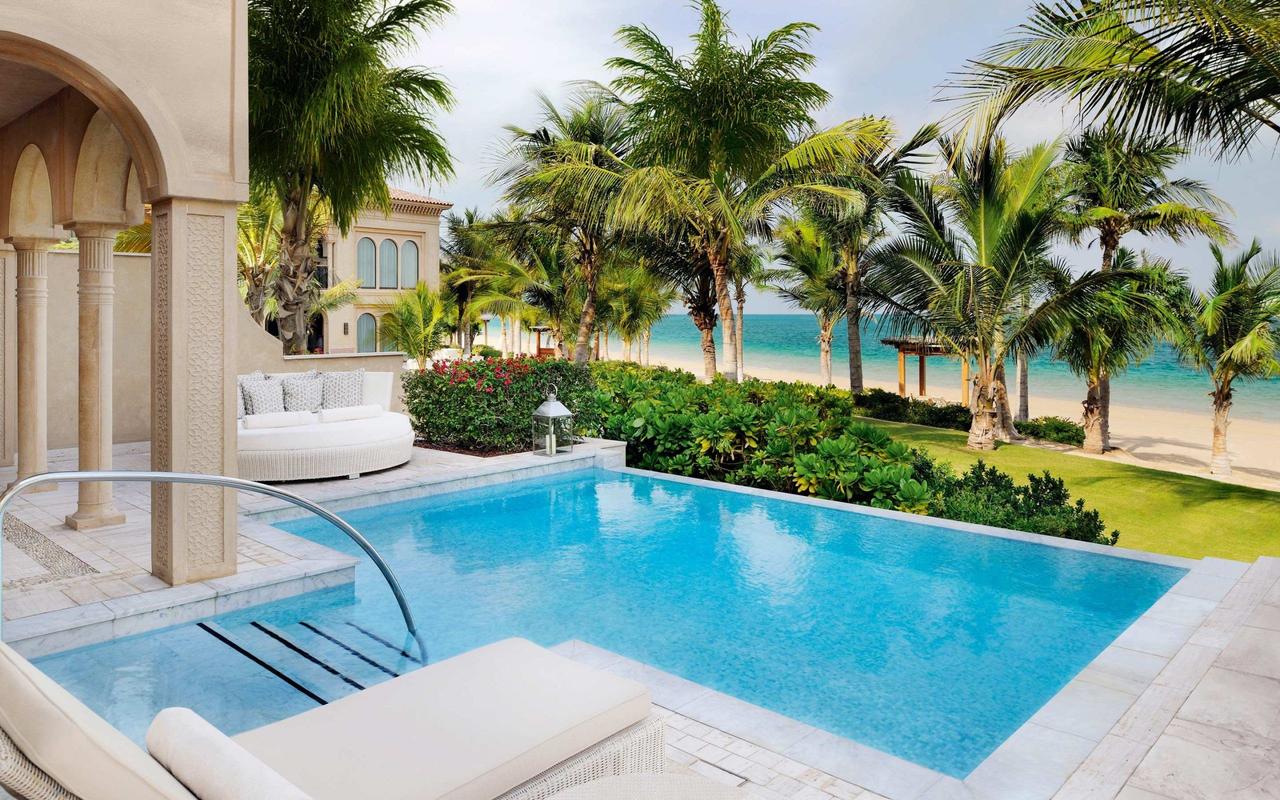 One & Only The Palm is a Dubai favourite for good reason. The beachfront location is excellent, and the facilities are seriously impressive, from the ESPA spa and enormous pool to the three acclaimed restaurants. What's more, the accommodation is very inviting, with neutral tones and nods to Moorish architecture. For an indulgent honeymoon experience, book an executive suite with private pool, which has plenty of space both inside and out. The hotel can arrange a variety of activities to make the most of a stay in Dubai, including desert safaris and city tours. Or you could just while away the days beside your private pool - your choice.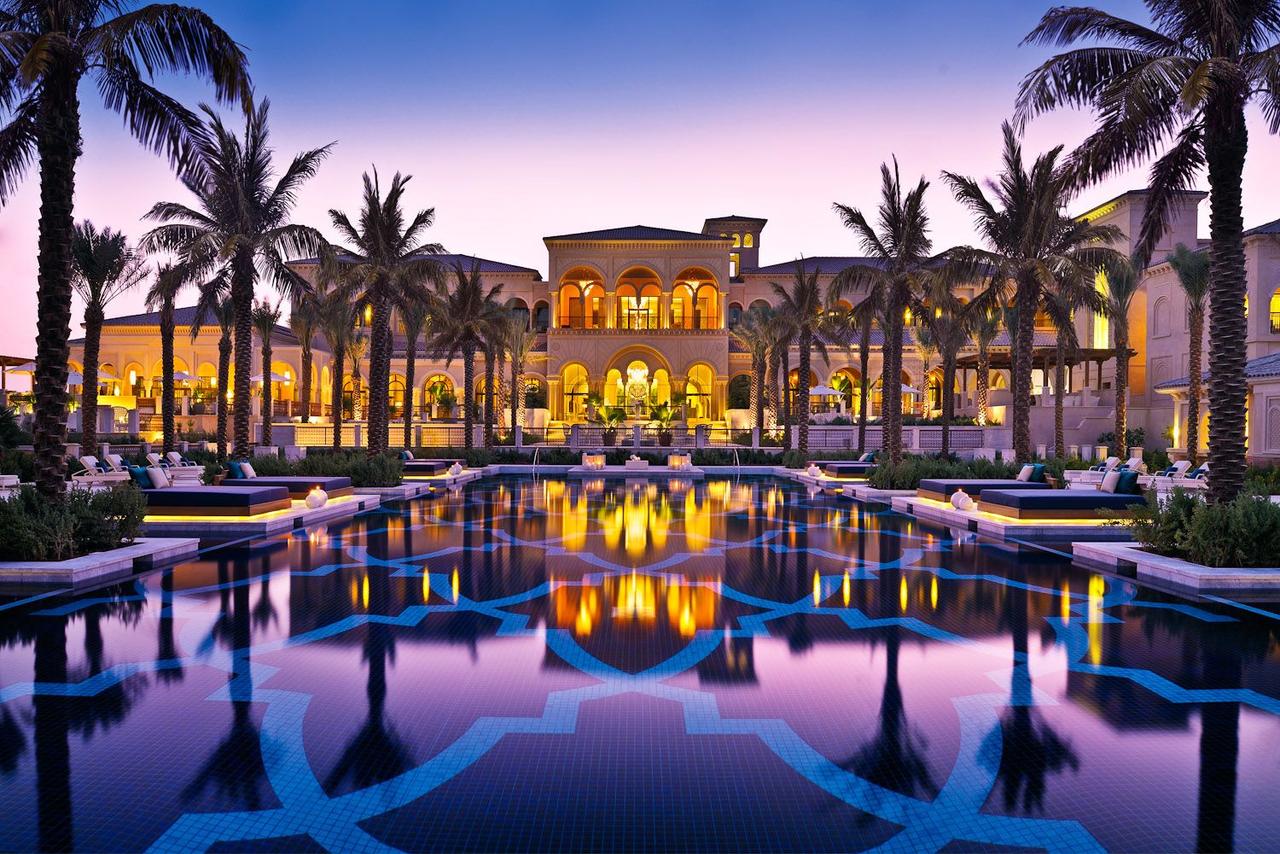 26. The Cortesin Suite at Finca Cortesin, Malaga, Spain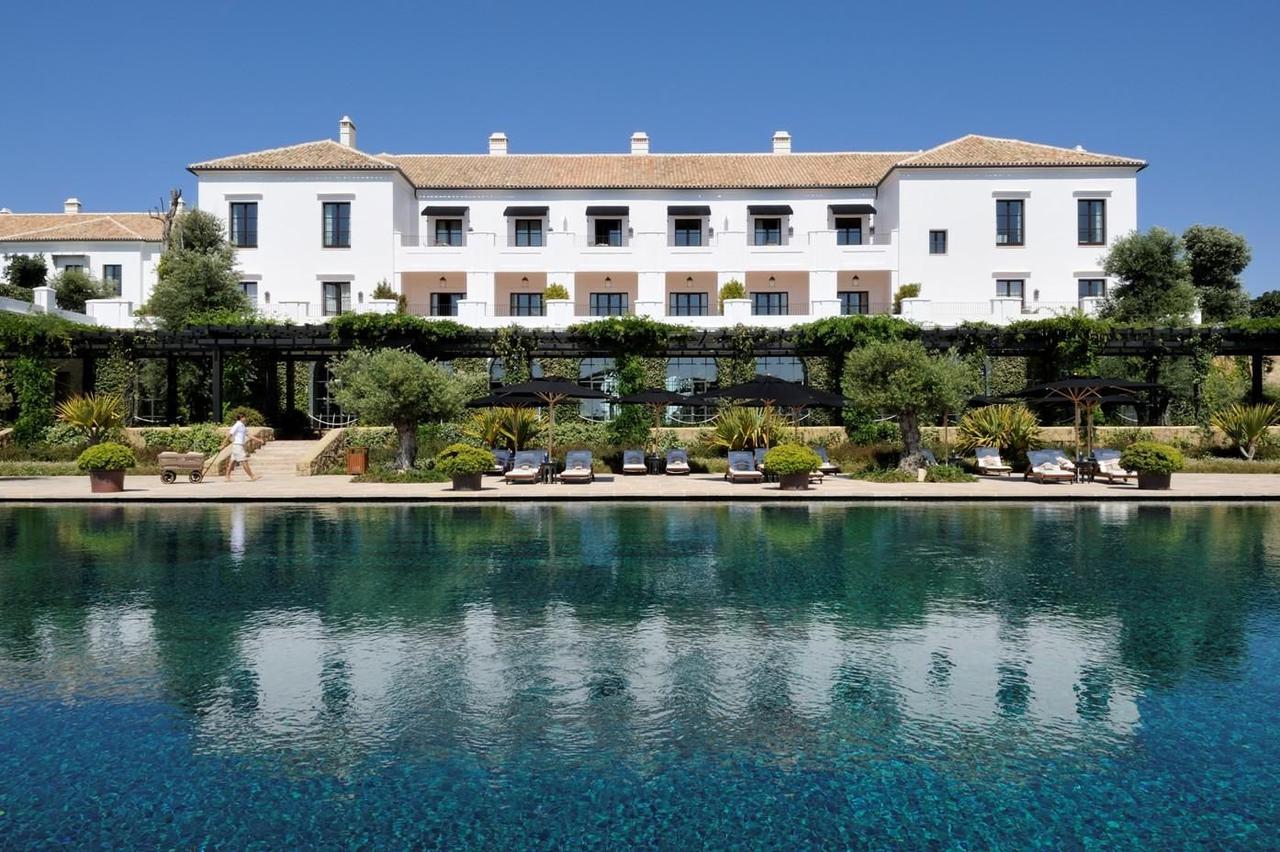 Finca Cortesin is one of the finest places to stay in Europe. If that makes you assume it's super-glitzy and glamorous, don't - the hotel's supremely welcoming and laidback atmosphere is a large part of what makes it feel so special. The Cortesin Suite is a case in point. The styling is deliciously chic, but you still feel at home in this high-ceilinged space, with two bedrooms, a living room and a huge bathroom. The food at Finca Cortesin is phenomenal, from the sumptuous breakfasts to dinner in justly renowned Japanese restaurant Kabuki Raw. There's a wonderful spa, and if either of you is a golf enthusiast, the course will have you in raptures.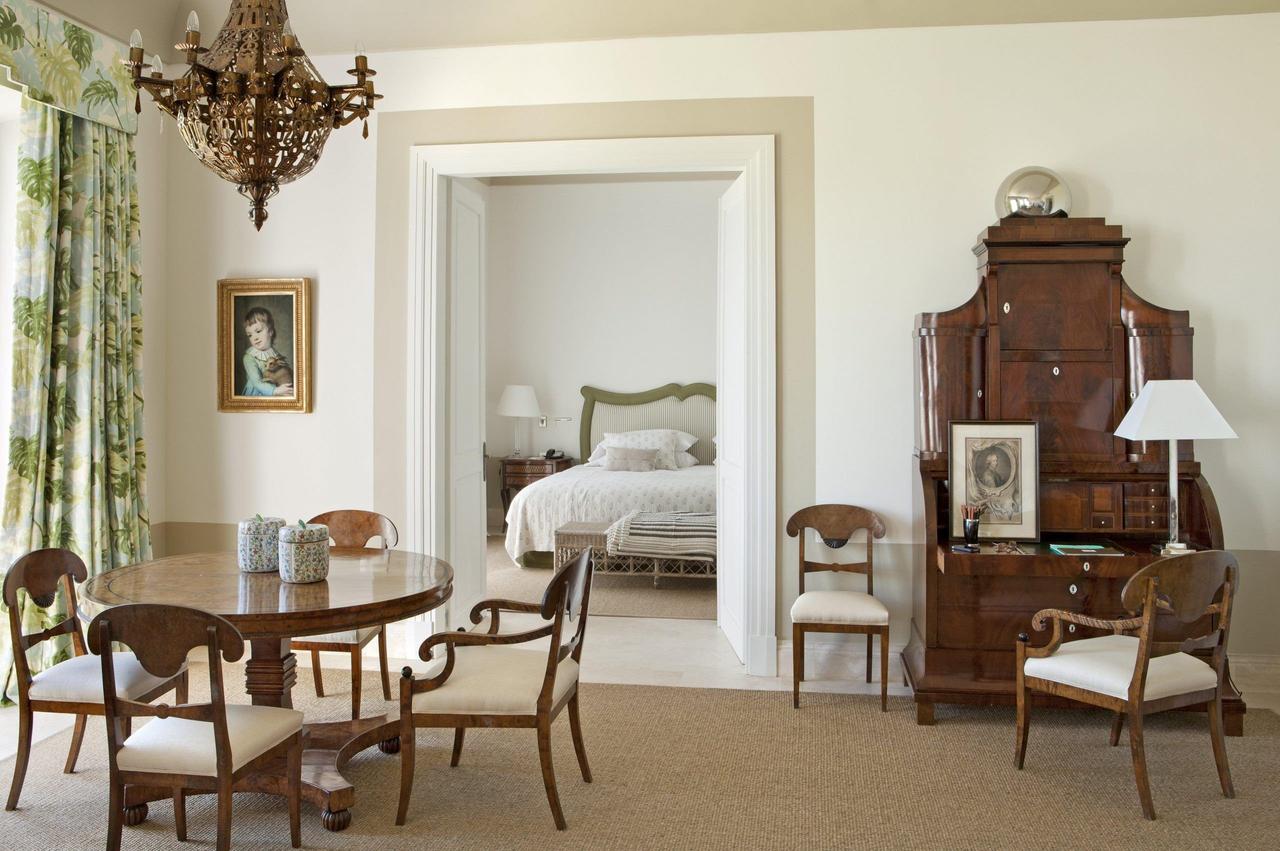 27. The Presidential Suite at Hotel Esencia, Tulum, Mexico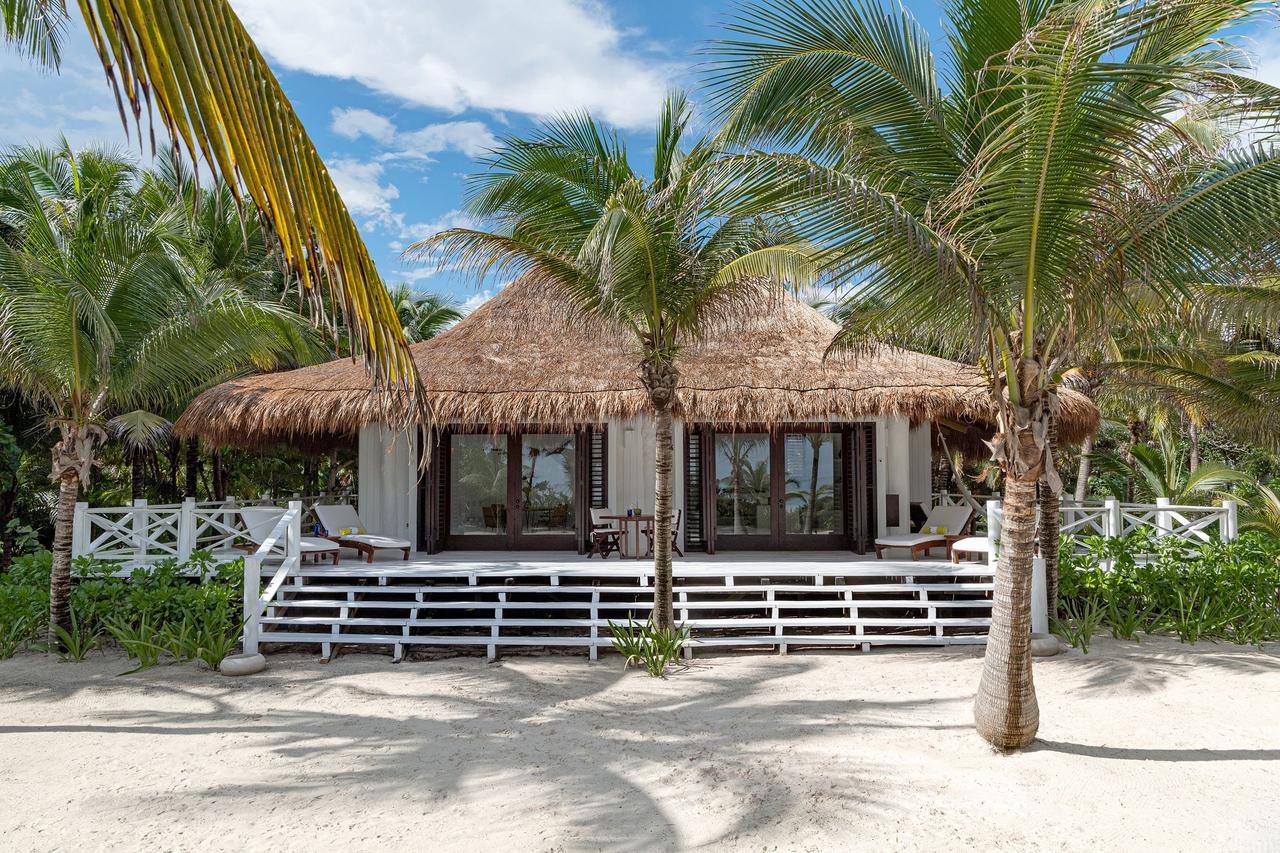 This suite is in fact a standalone bungalow at the glorious Hotel Esencia, and it's ideal for honeymooners whose priority is privacy. You get 120ft of private beachfront, as well as a generous terrace that's ideal for romantic dinners à deux. Inside, it's a luxurious affair, with plenty of space throughout the bedrooms, living area and bathrooms. If you're staying in the suite, you can enjoy butler service.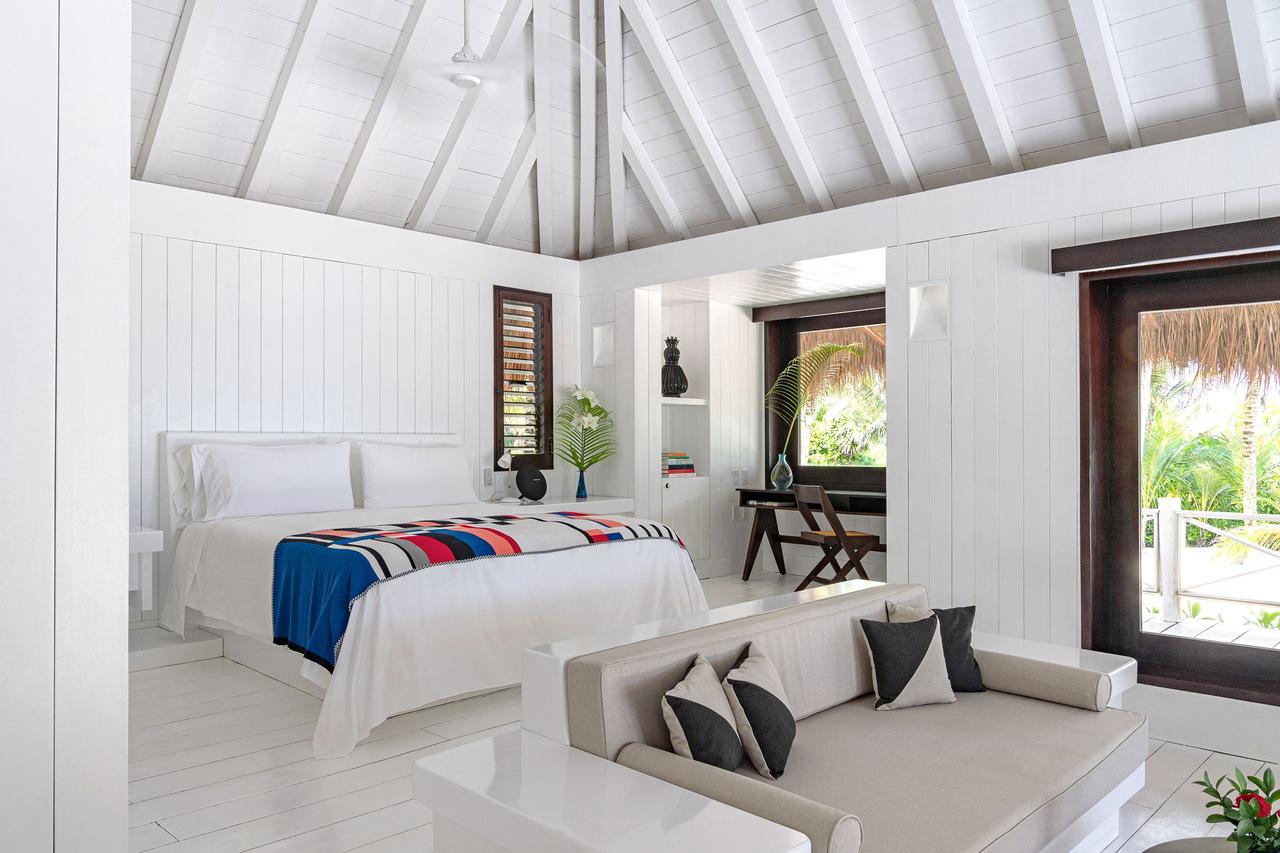 28. The Josephine Suite at Royal Champagne Hotel & Spa, Champillon, France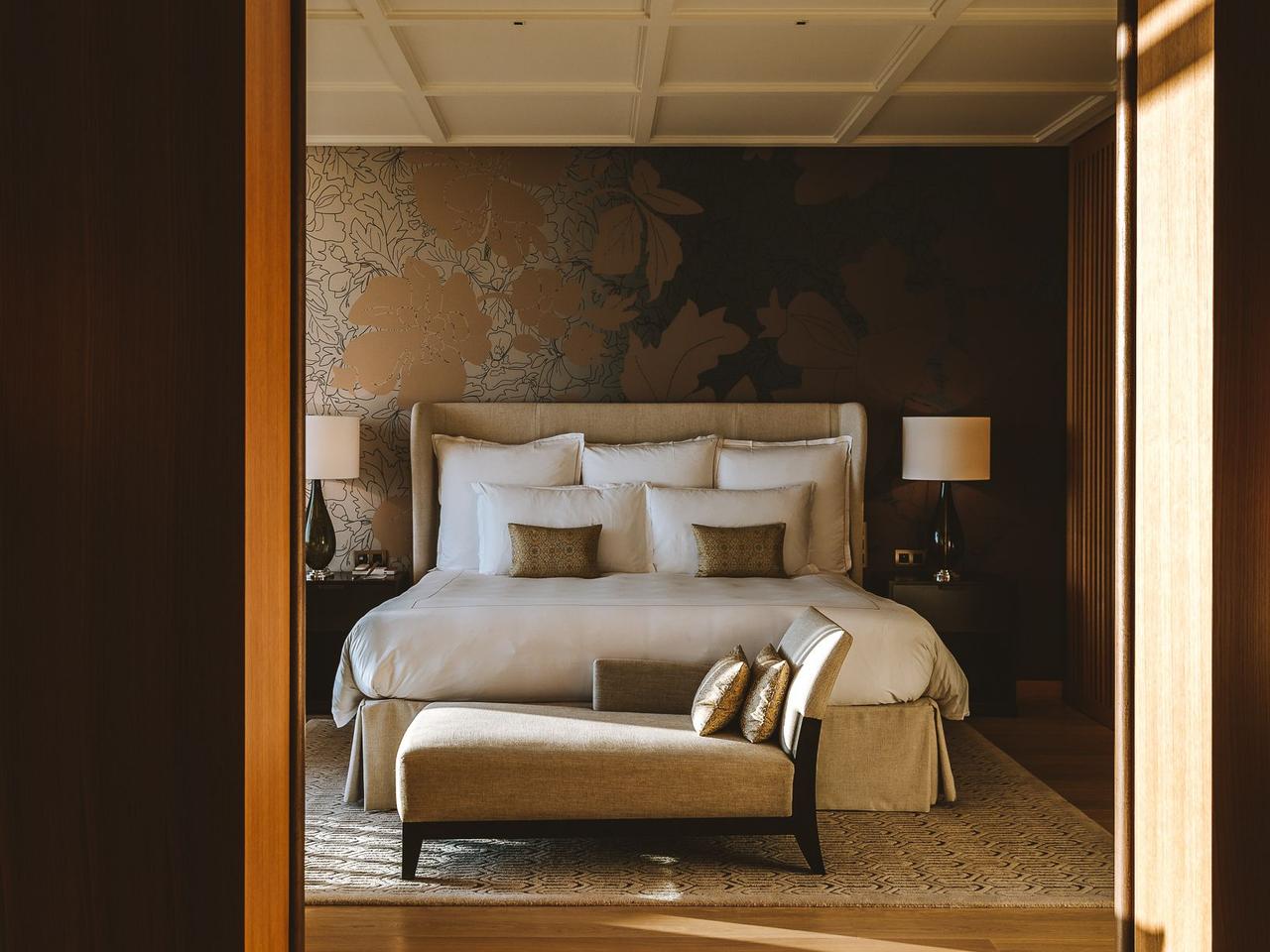 This award-winning hotel has everything you'd want for a special honeymoon in France. It has the setting - picturesque vineyards as far as the eye can see - the fabulous cuisine - French delights made from fresh, local produce - and, of course, lots of the best quality champagne! All the accommodation is beautiful, but we thoroughly recommend treating yourselves to a stay in the Josephine suite, with its soothing interiors, separate living area and terrace. A stay here is all about indulging in life's great pleasures, whether enjoying the sunset from the infinity-edge pool or unwinding with a treatment in the blissful spa.
READ MORE: Romantic City Breaks in Europe: 15 of the Sweetest Places to Visit with Your Other Half
29. Baros Suite at Baros Maldives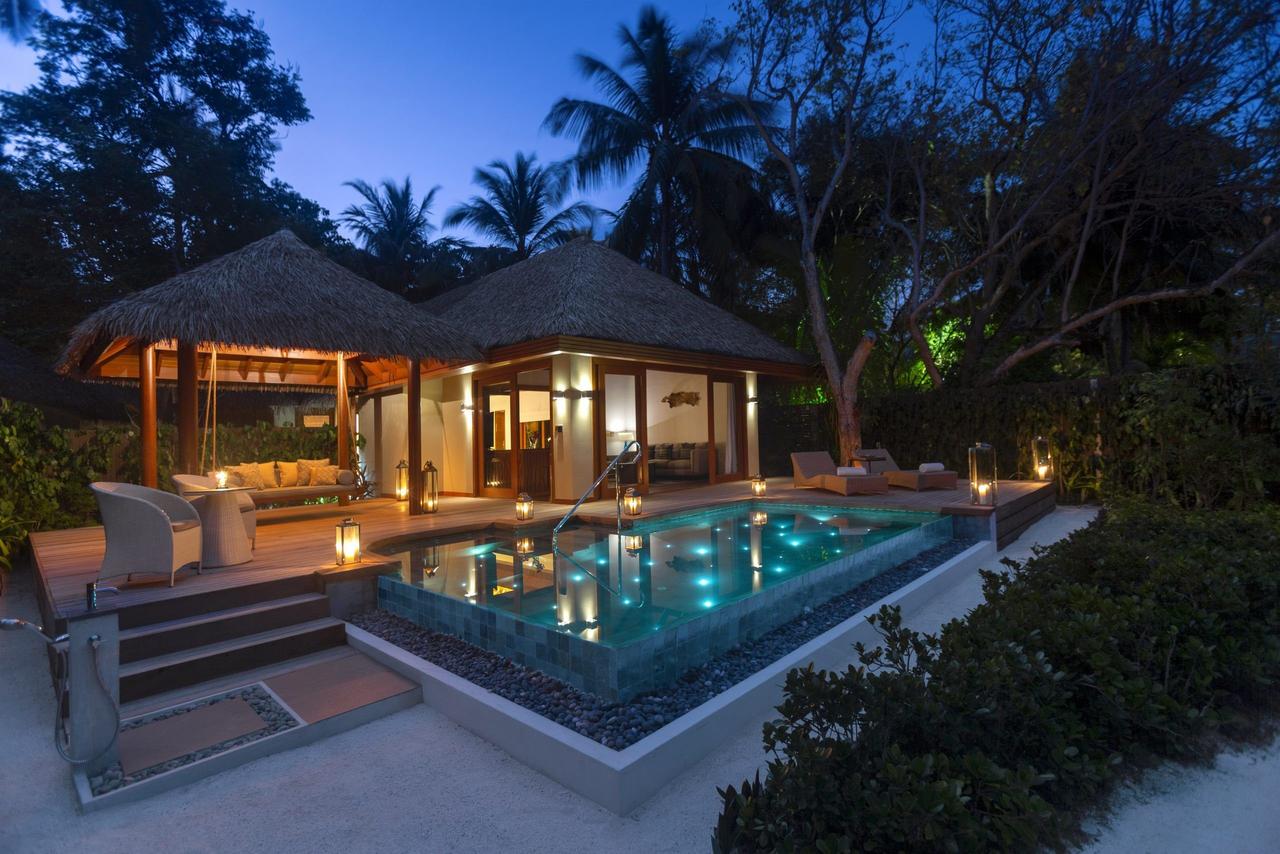 If you're looking for romance in the Maldives, you need to know about Baros. This heavenly resort is the sort of place that makes everyday cares melt away. The villas are havens of tranquility, surrounded by jungle and with white sand stretching in front of you. The Baros Suites come with private pools, and inside you'll find high-ceilinged spaces and luxe touches. You'll have your own butler on call 24/7. While the option of private dining means you effectively don't have to leave your glorious villa, we do recommend you venture out to explore the delights of the wider resort, from dolphin-watching excursions to spotting tropical fish in the lagoon from a transparent canoe.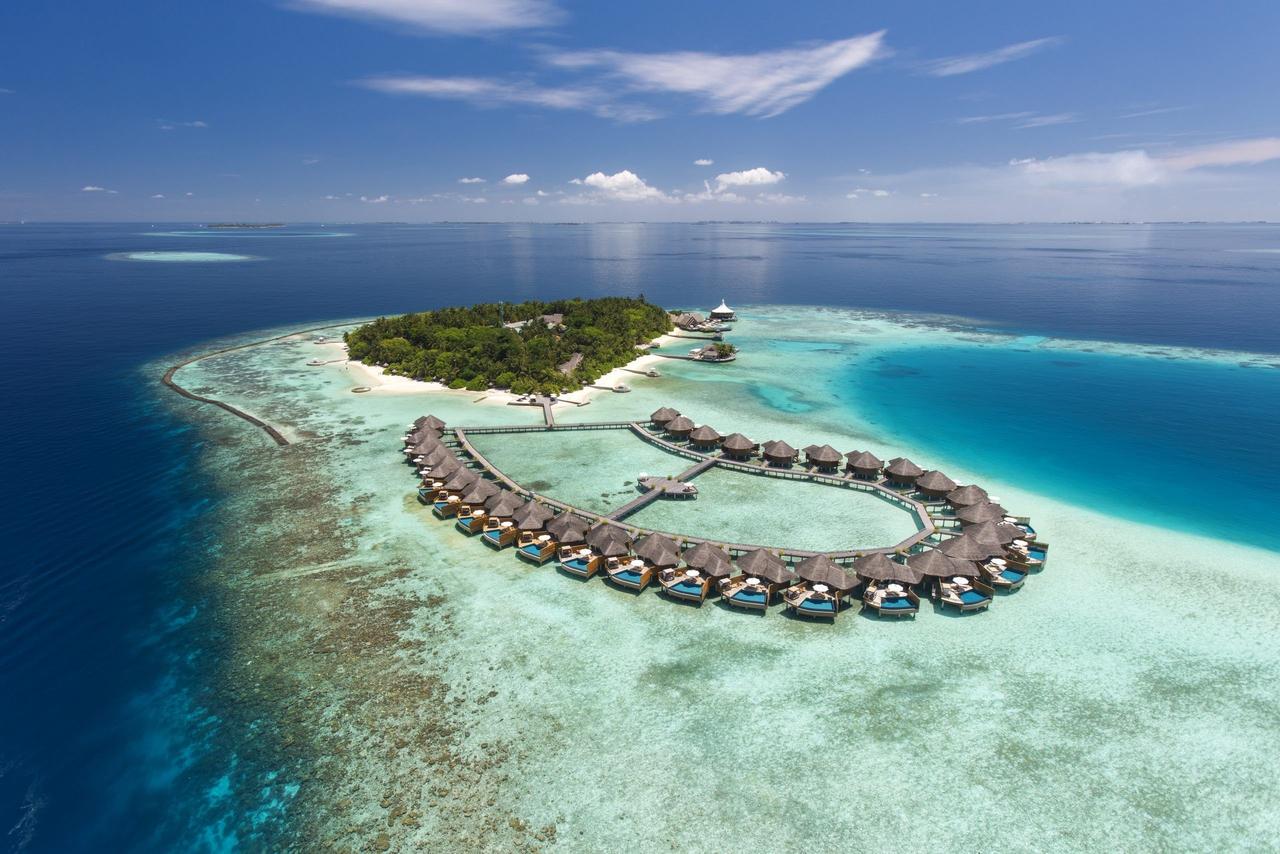 30. Llamrei Stable Room at The Newt, Somerset, UK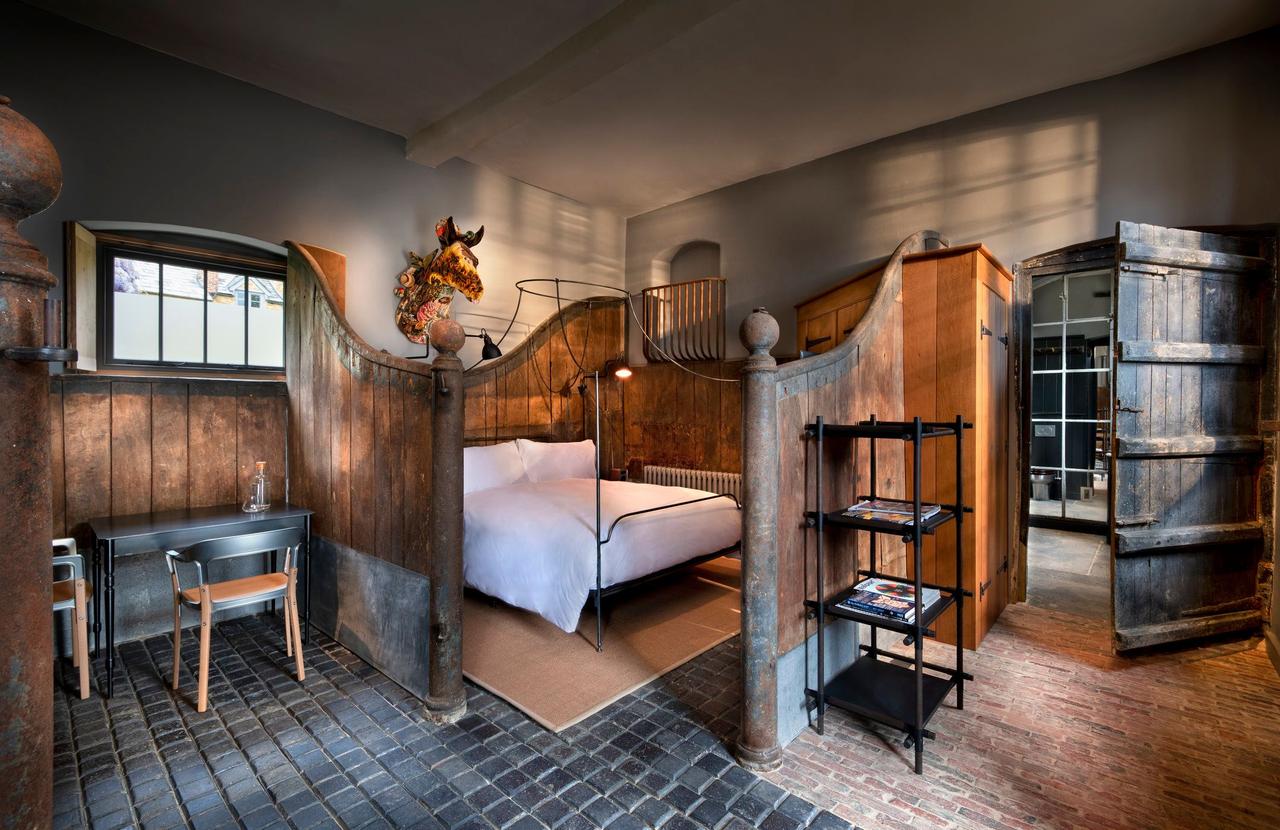 It was quite the challenge to pick just one suite at this wonderful country hotel. In the end, we were seduced by the charm and character of the rooms in the stable yard, away from the main house. We love the nods to the building's original purpose, mixed in with contemporary styling. Head to the hotel's main house for excellent dining that includes just-picked local fruits and vegetable. There's a spa with hammam, and an indoor-outdoor pool. We'd recommend a garden tour - in inclement weather The Newt provides wellies and hats for this, which is a charming touch.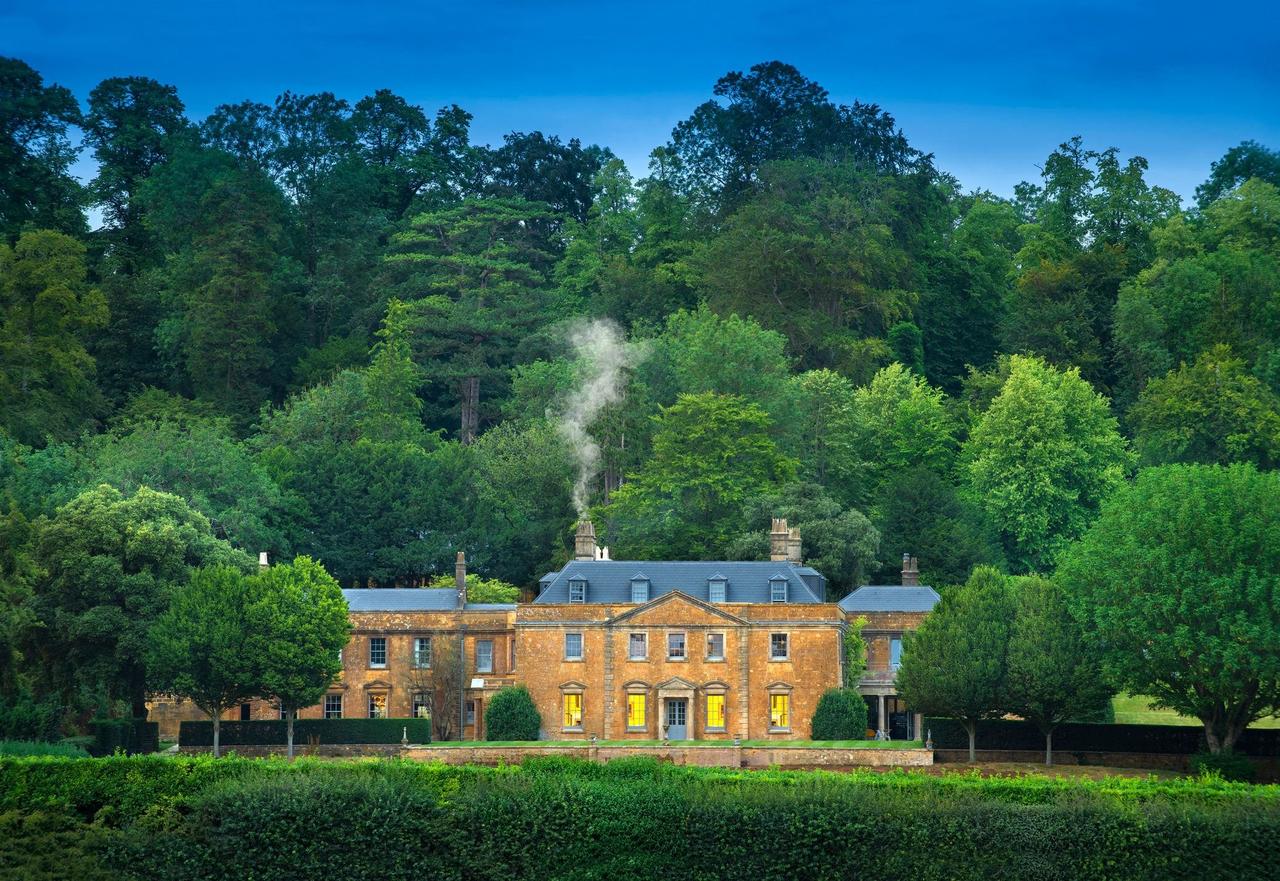 31. Overwater bungalow at Bawah Reserve, Indonesia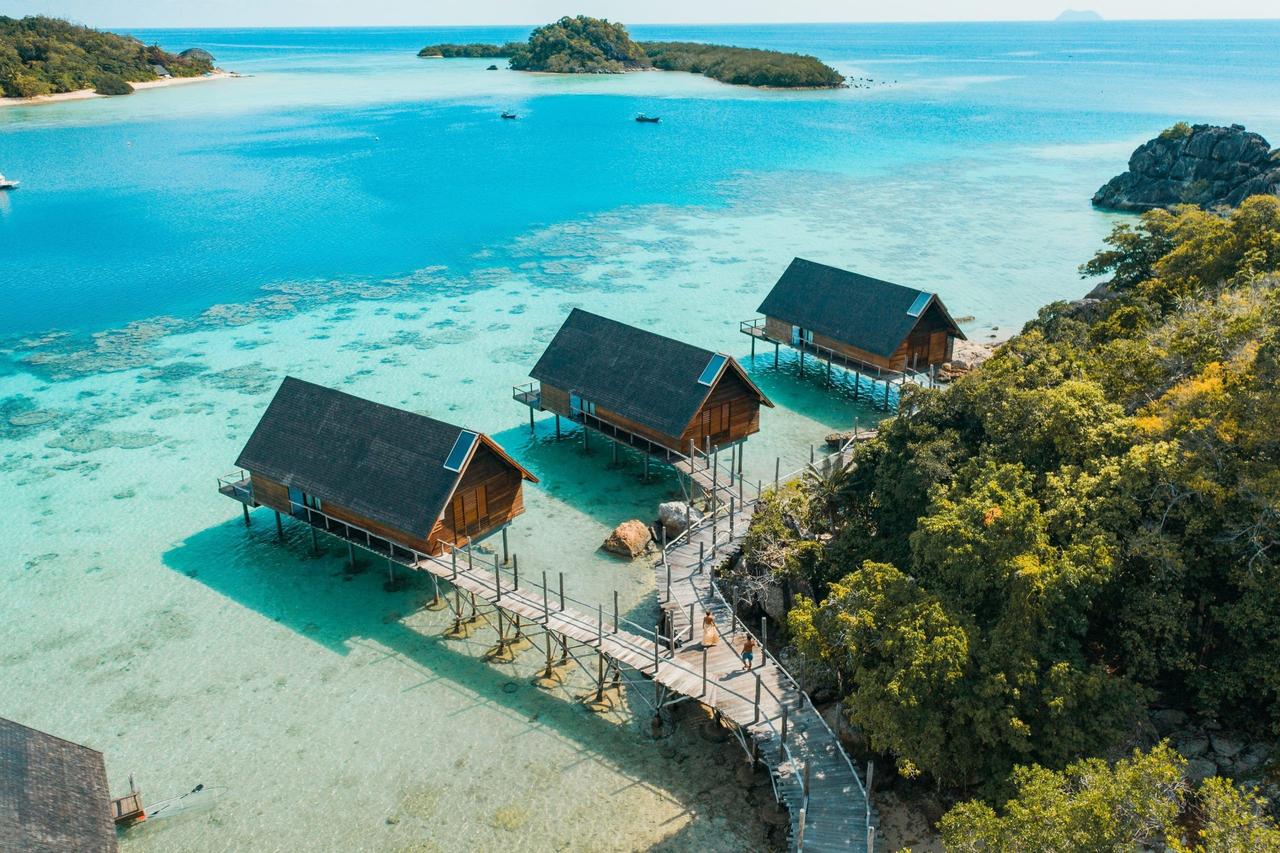 Set across six secluded tropical islands, Bawah Reserve is ideal for a luxury honeymoon in a lesser-known destination. The overwater bungalows have direct access to the sea - imagine waking up and jumping straight into crystal-clear waters, then basking in the sun to dry off on your private deck. The resort has a fantastic all-inclusive package - as well as the expected food and non-alcoholic drinks, you also get a spa treatment per day, access to yoga and Pilates classes at the Wellness Centre, and laundry, among other services.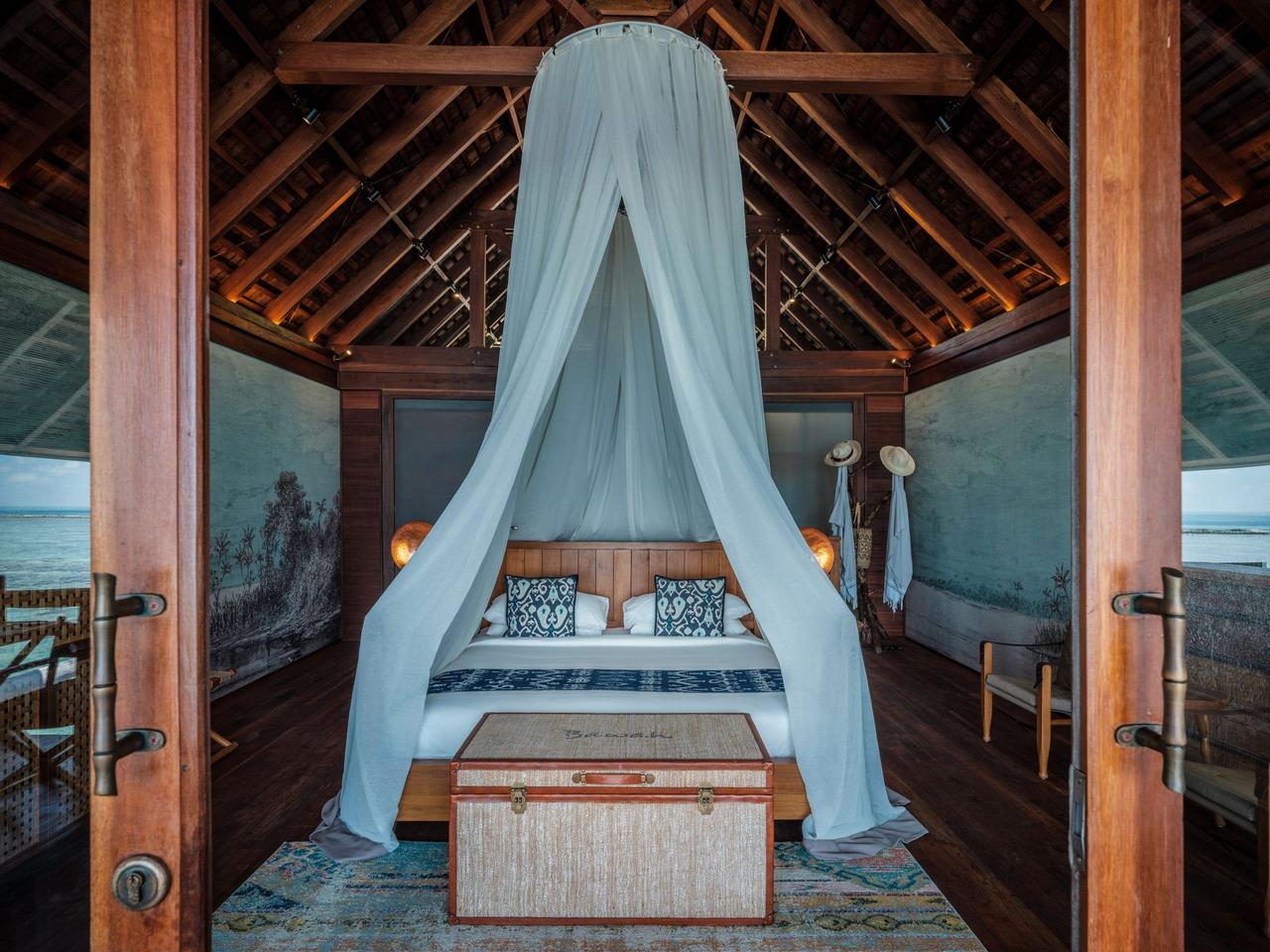 32. Hillside Suite at Singita Sasakwa Lodge, Tanzania
We'd never have thought it possible for a suite to equal the spectacular scenery of the Serengeti plains - and yet Singita Sasakwa Lodge have pulled it off with their new Hillside Suite. Set away from the main lodge, it was created to give a feeling of perfect privacy, with unforgettable views.
The sumptuous suite has nature-inspired interiors, two outdoor decks and a pool. You'll enjoy a private game vehicle - trust us, there's nothing quite like a private safari - and butler service. Find out more Looking to up your honeymoon spend? We explain what to give up in order to help your honeymoon fund.