Unusual Wedding Food Ideas Your Guests Will Love
Amaze your guests with these unusual wedding food ideas - but be warned, this article will make you feel hungry!
We have included third party products to help you navigate and enjoy life's biggest moments. Purchases made through links on this page may earn us a commission.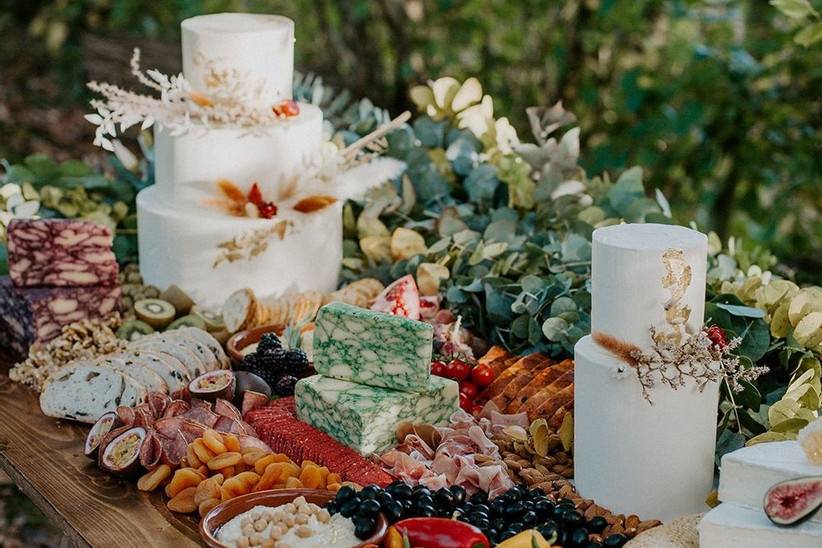 Your wedding food is one of the things your guests will remember most from the day.
Of course, they're keen to see you get married, and spend time talking and toasting with you. But in terms of overall enjoyment, the catering is key - everyone remembers good (and bad) meals. That doesn't mean you should panic. In fact, planning your wedding menu should be fun! Just as you can use décor to personalise your ceremony and reception, you can use your wedding food to reflect you as a couple.
Are you a laidback pair? Choose a menu of your favourite simple culinary pleasures. Love to travel? Choose a cuisine you both adore from around the world. When you're thinking about what to ask your wedding venue, make sure you establish what the catering situation is. Some venues allow you to bring in outside caterers, but others require you to use their in-house team. You may find there are set menus that you can tweak to make them unique. Whatever the situation, you'll need to work closely with your caterer so you're both on the same (menu) page - and it's essential to have at least one tasting before the big day.
To help you give your guests a fabulous feast, we explain some of the dos and don'ts of wedding food, as well as providing culinary inspiration in the form of unusual new catering trends. Bon appétit!
READ MORE
What Foods Are Served at Weddings?
Different cultures serve different foods - but you don't have to be bound by tradition, if that doesn't suit you. In Western wedding culture, classic wedding food is a three-course sit-down meal or a substantial buffet. However, there are lots of other options, as well as ways to put your own twist on proceedings. For example, the typical menu would include at least one meat option, but we're seeing couples going for all-vegetarian or vegan wedding food.
What Should You Not Serve at a Wedding?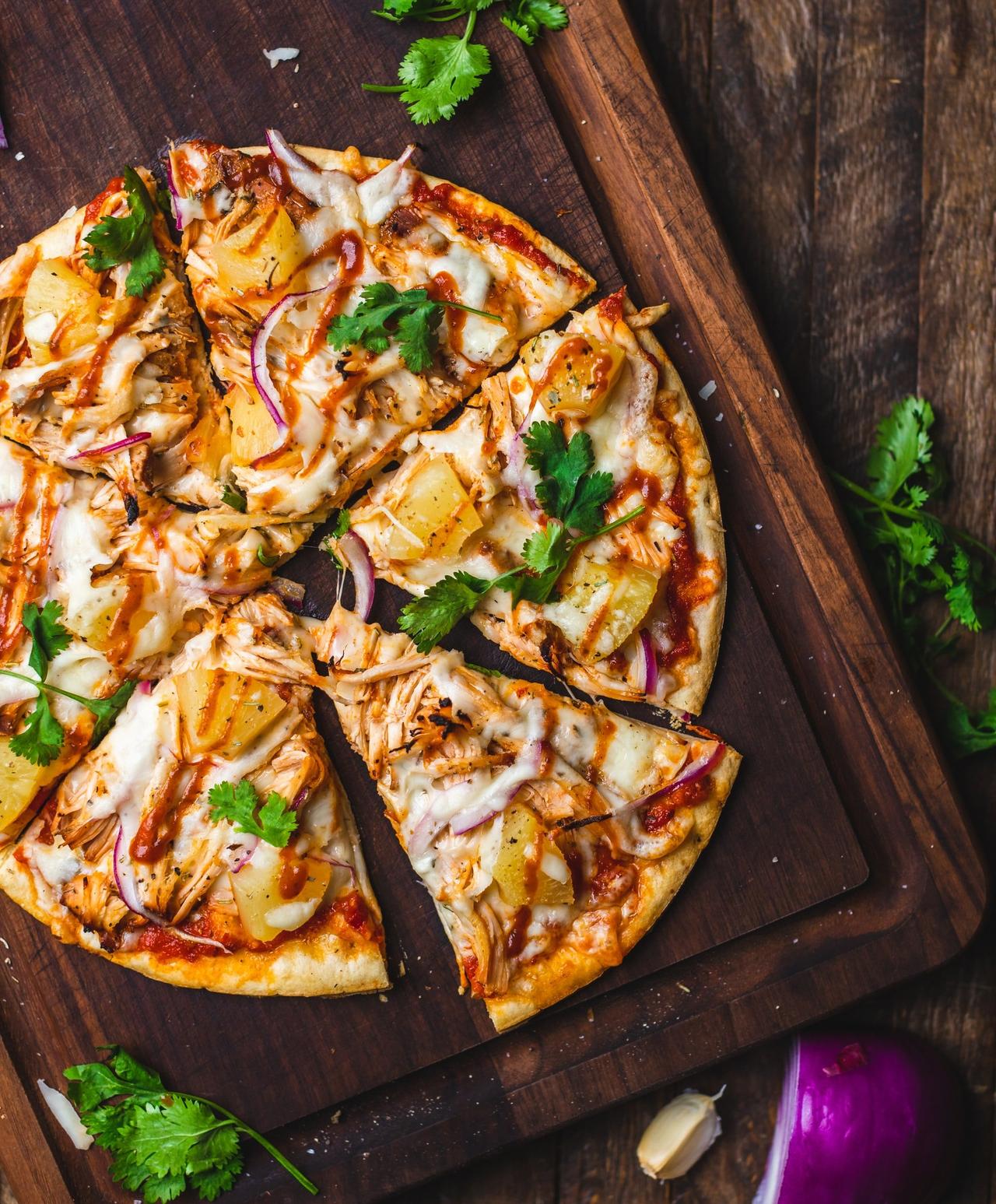 In theory, no food is out of bounds at a wedding, so long as it's what the couple enjoys. Want to include pizza in your wedding? Why not?! Fancy serving a hearty afternoon tea? Go ahead! The only thing we'd say is that you should consider your guests. We don't mean tying yourselves in knots trying to cater to individual preferences. But if, for example, you know the majority of your guests prefer simple dishes, it's unlikely they'll thrill to a menu of complex French fine dining or a spread of fiery Sri Lankan delicacies. Allergies must be taken very seriously. Ask your guests to tell you about any allergies with their RSVP and make sure these are passed on to your caterer. This might mean you can't have any dishes that include, say, nuts on the menu, but guest safety comes first.
What Is the Cheapest Food to Serve at a Wedding?
You really can give your guests a good feast on a budget. Opt for dishes that use seasonal, locally sourced ingredients as far as possible. Not only will this make your day more eco-friendly, it should help to keep wedding food costs down. Opting for vegetables over meat will also save money. However, if you're a keen carnivore, ask your caterer which meat dishes work best using cheaper cuts.
How Do You Calculate Food for a Wedding?
Your caterer will work out how much food you need, whether that's for a sit-down meal or buffet, and including any canapés at the drinks reception. That's why they ask for the final guest numbers several weeks before the wedding. Your wedding food is, of course, a per-head price, so in order to get the most from your budget, you might consider a small wedding. In general, it's better to have fewer guests and a generous spread than a huge guest list and less food.
READ MORE: 35 Stylish Small Wedding Ideas for an Intimate Day
What Time Is a Wedding Breakfast?
This depends on the time of your ceremony. In most cases, you'll go straight into the drinks reception, and then it's time for the wedding breakfast. Think carefully about your wedding day timeline - you don't want to leave a block of time with nothing for guests to do.
Ideas for Wedding Food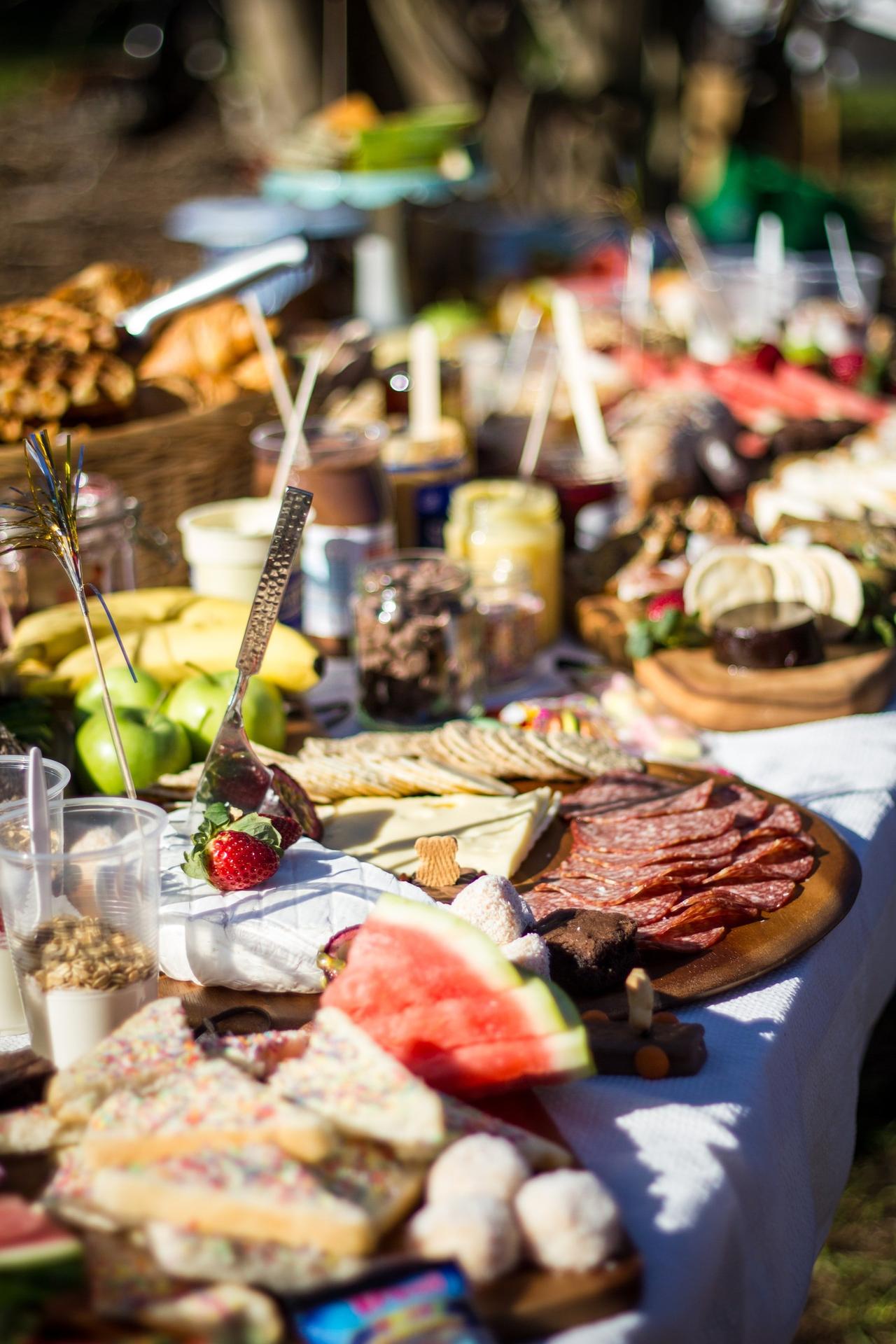 When you're planning your wedding menu, consider the following factors:
What are our favourite foods? Obvious, yes, but important.
What will our guests enjoy?
What type of food will suit our wedding style?
How will our preferred type of dining work in our venue? For example, is the reception room large enough for a sit-down meal? If we're having a buffet, grazing tables or food trucks, where will guests sit to eat?
What type of food best suits the season?
READ MORE: Fabulous Wedding Venues for Foodie Couples
Traditional Wedding Food Ideas
If you're having a sit-down wedding breakfast, it's usual to have three courses - you can certainly have more, but that will increase the price. If you're getting married in the UK, a menu of British classics usually goes down well. As a twist on the traditional meat-based main, you could nominate one guest per table to do the carving, complete with aprons and chef's hats! It's known as a "host a roast". Really, any cuisine will work for a sit-down wedding breakfast, so long as the meal starts with a lighter plate, moving into the substantial main and ending on a delicious pudding. If you want to save money, you could consider serving your wedding cake as dessert.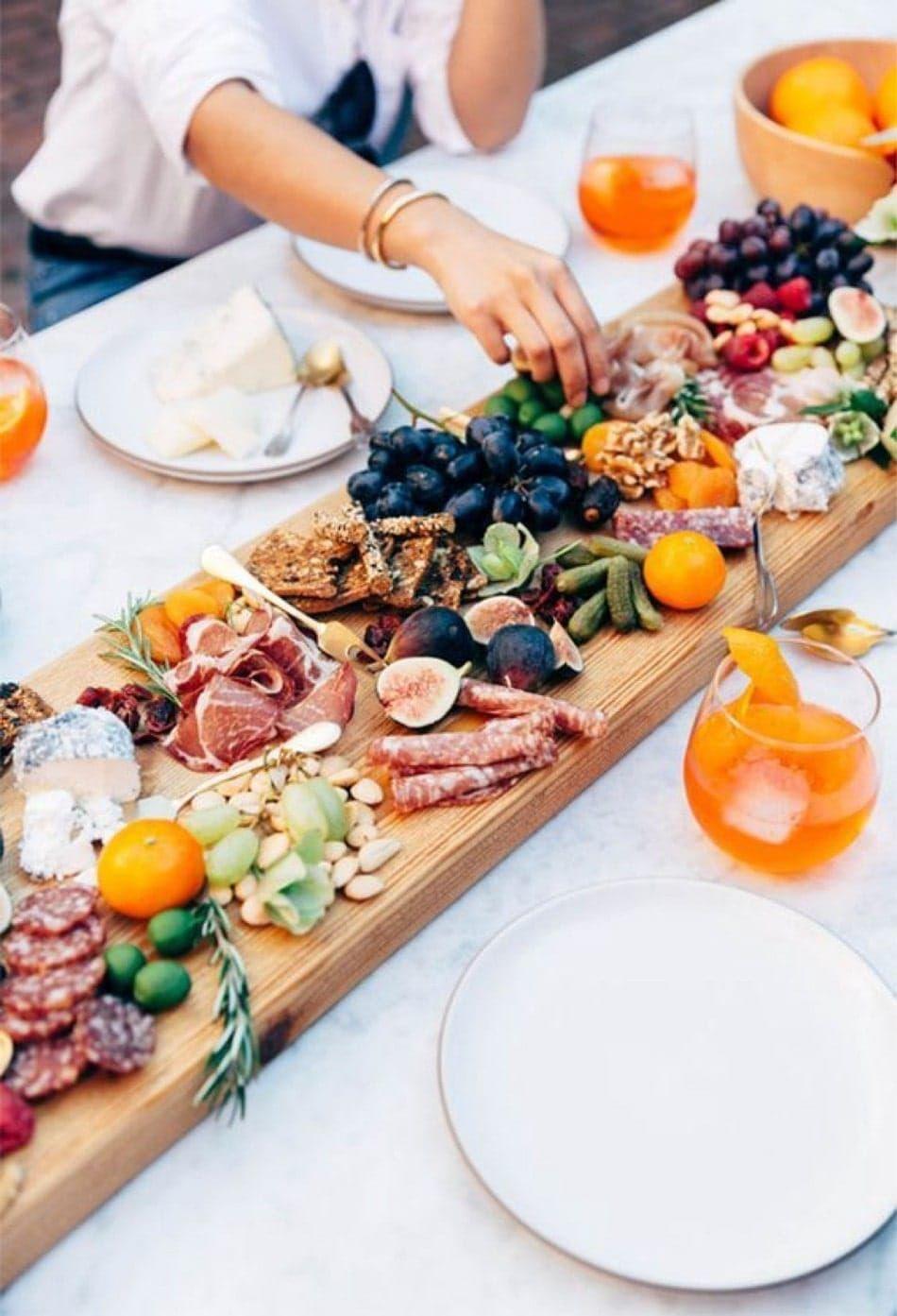 As an alternative to the usual starter, you could have sharing platters in the centre of the tables for guests to help themselves.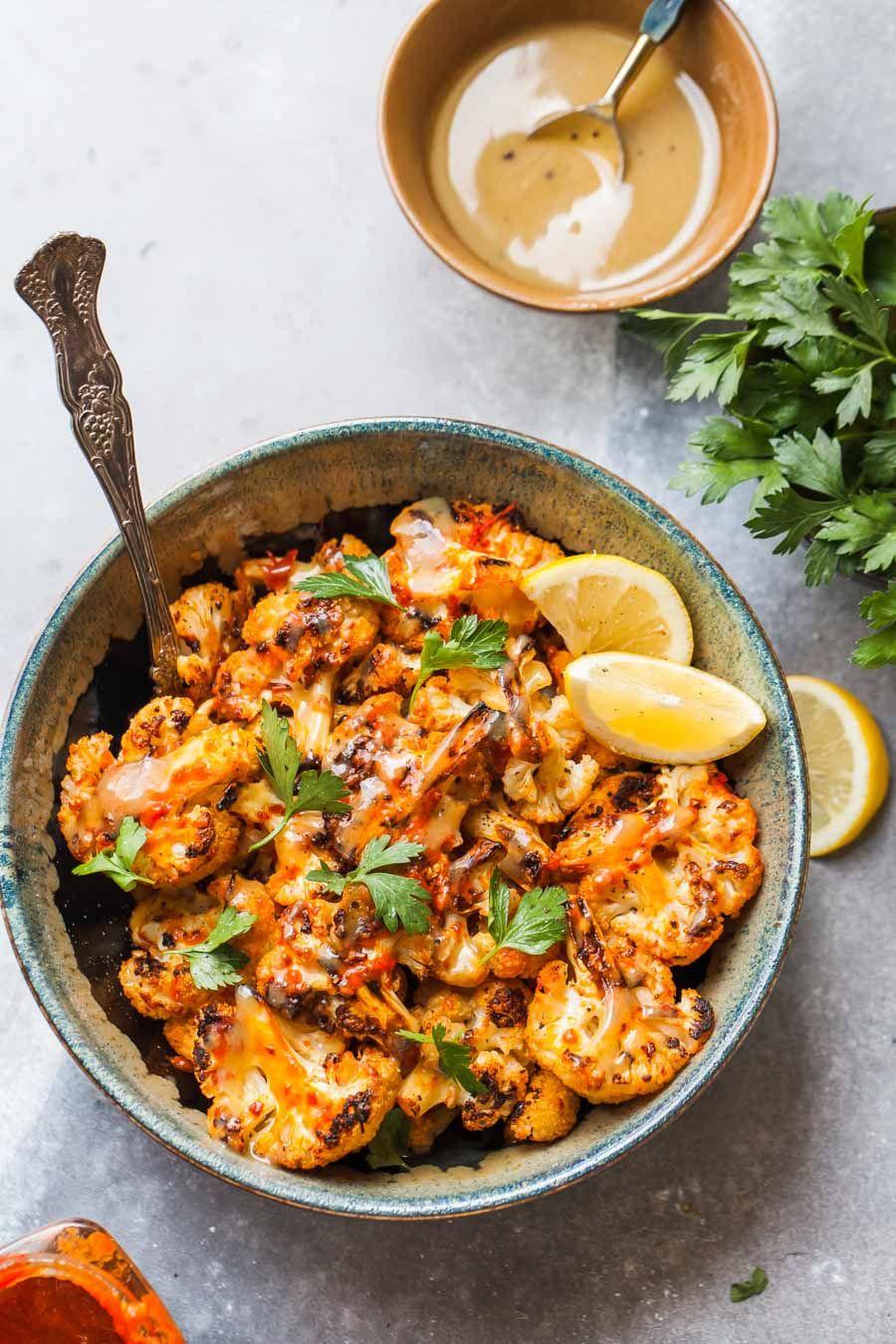 To create a laidback, communal atmosphere, you could also have "family dining" as your sit-down wedding breakfast. This involves guest passing round platters and helping themselves, rather than being served. If you want to have a plated main, you could always just have the side dishes served family-style.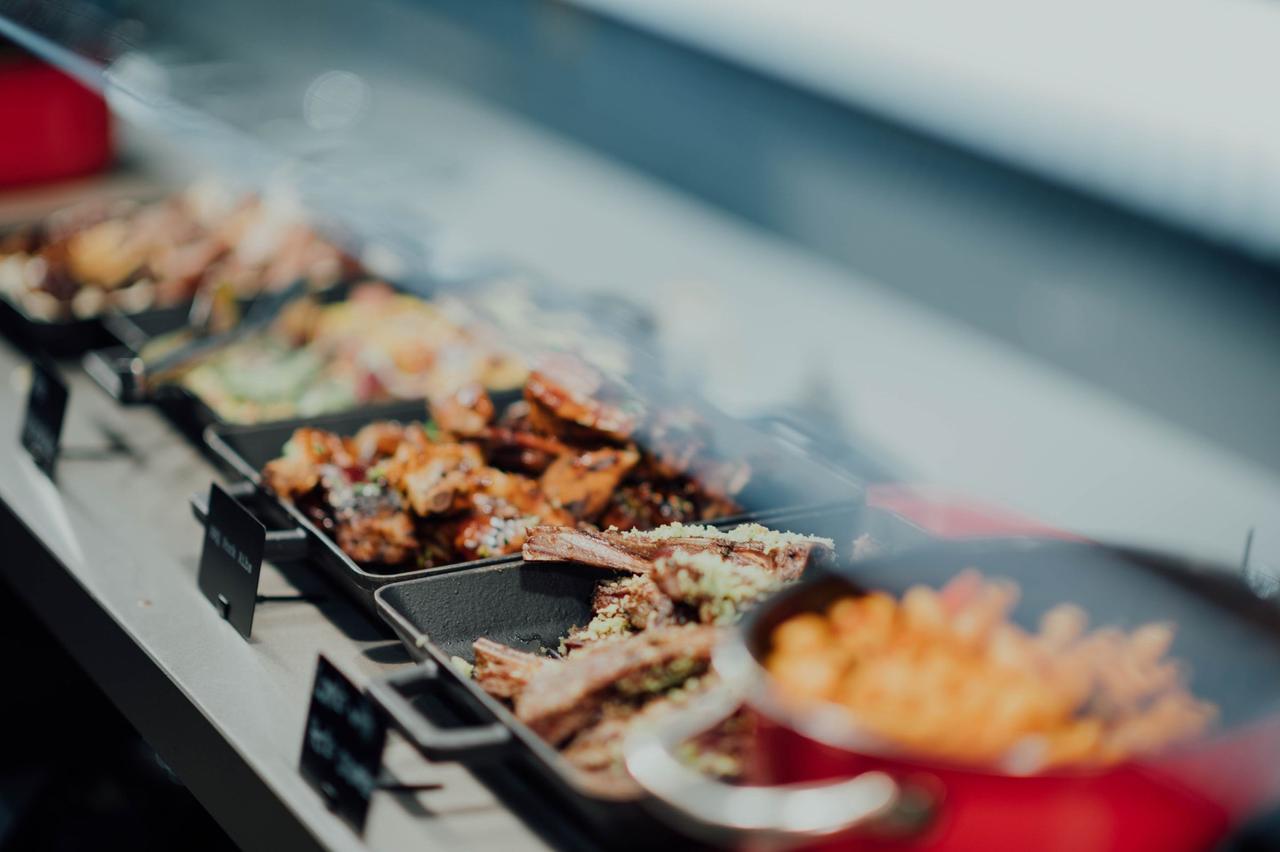 If you'd prefer a buffet, there are two main options. A fork buffet is, as you'd expect, made up of dishes you have to eat with cutlery. A finger buffet contains dishes you can eat with your hands, such as sandwiches, quiches, tacos, mini burgers - that kind of thing. Just make sure there are places for guests to sit and eat. There are few culinary situations less relaxing than attempting to juggle plate, wine glass and cutlery while standing.
READ MORE: 3 Easy DIY Food Wedding Favour Ideas
Unusual Wedding Food Ideas
There's been in explosion in alternative, creative wedding food ideas in recent years, so if you feel the traditional model won't work for you, there will be plenty to inspire you.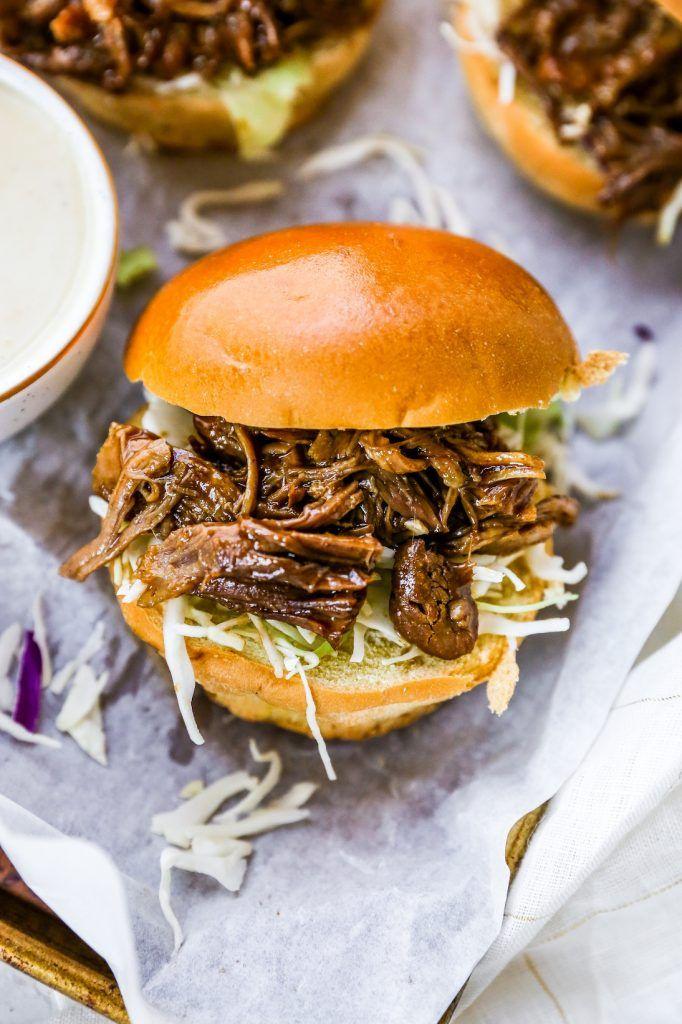 A hog roast is a lovely option for alternative wedding food - oh, that first bite of a pulled pork bun!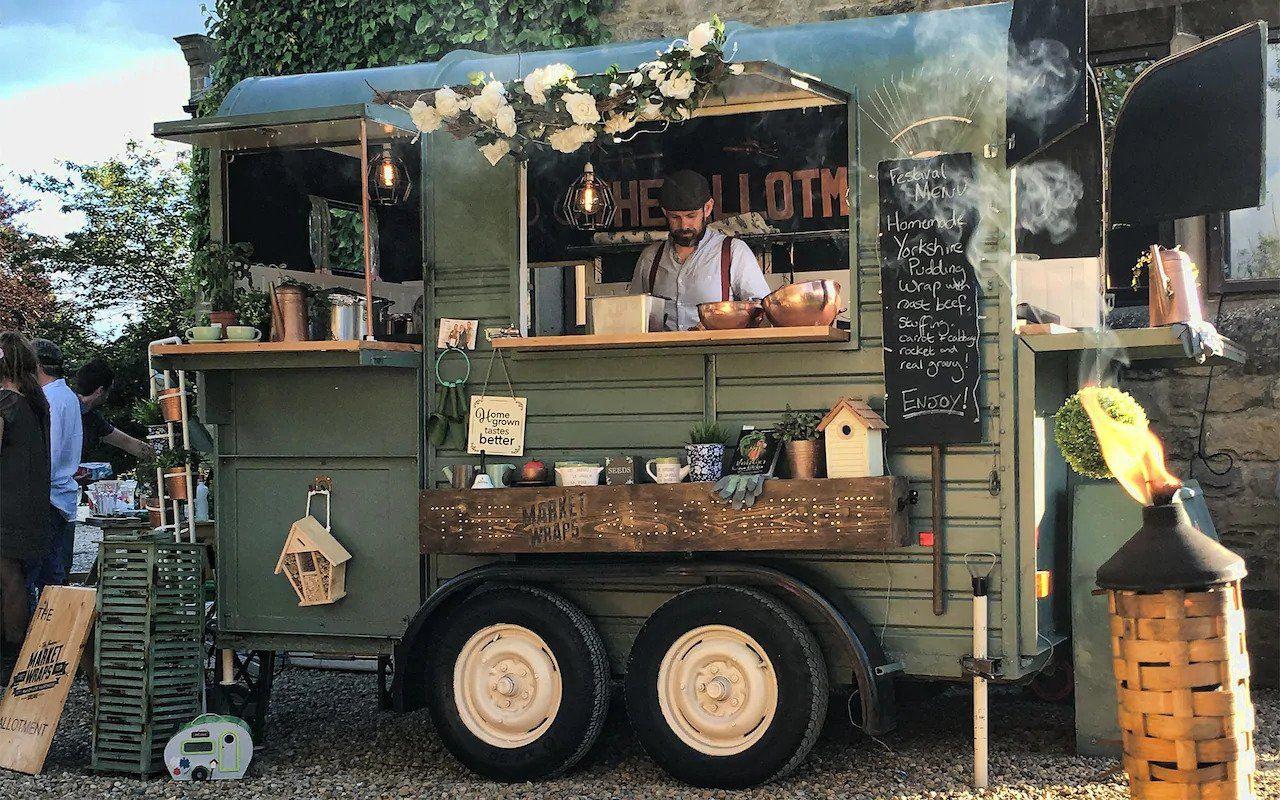 Street food trucks are a great way of creating a laidback, festival feel. To avoid queues building up, you may well need more than one - if that's the case, mix up the types of cuisine to give guests plenty of choice.
READ MORE: 75 Unusual Wedding Venues: The Best Unique Venues Across the UK
You can get everything from Mediterranean to Vietnamese, Mexican to mac 'n' cheese.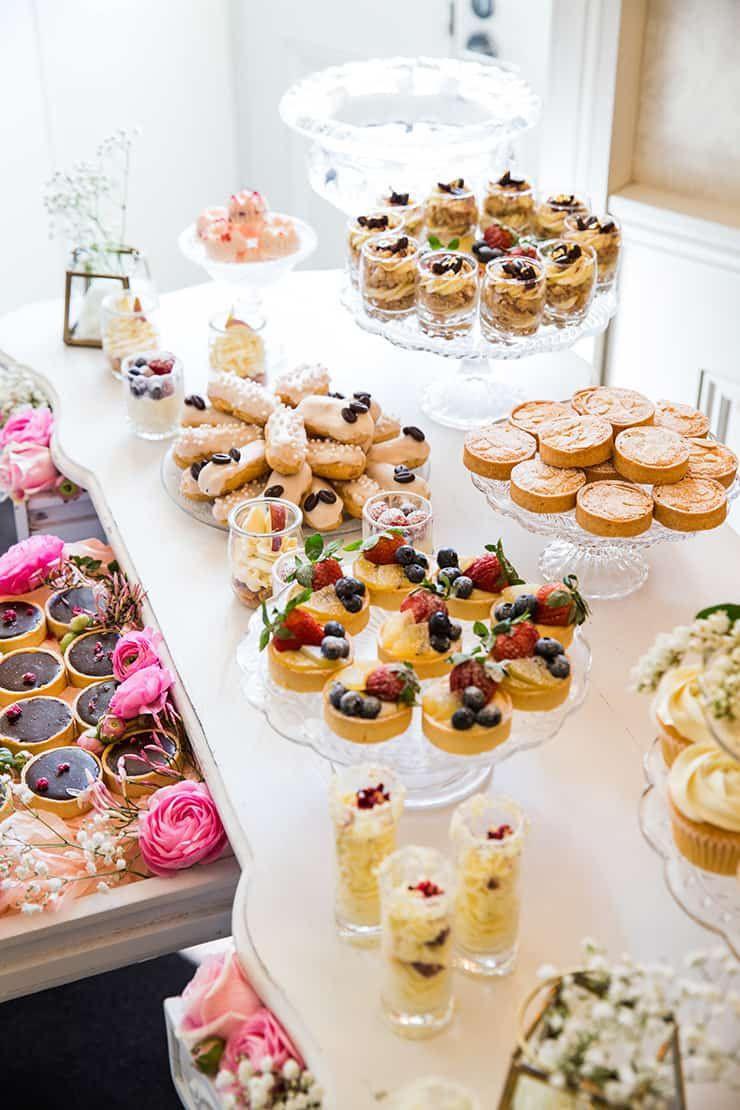 A substantial afternoon tea is another lovely way to feed guests. Just make sure there's enough to fill them up - hearty sandwiches alongside the patisserie. Think about how you want to serve the afternoon tea: buffet-style for a relaxed feel, or make it more formal with stands on tables and a seating plan?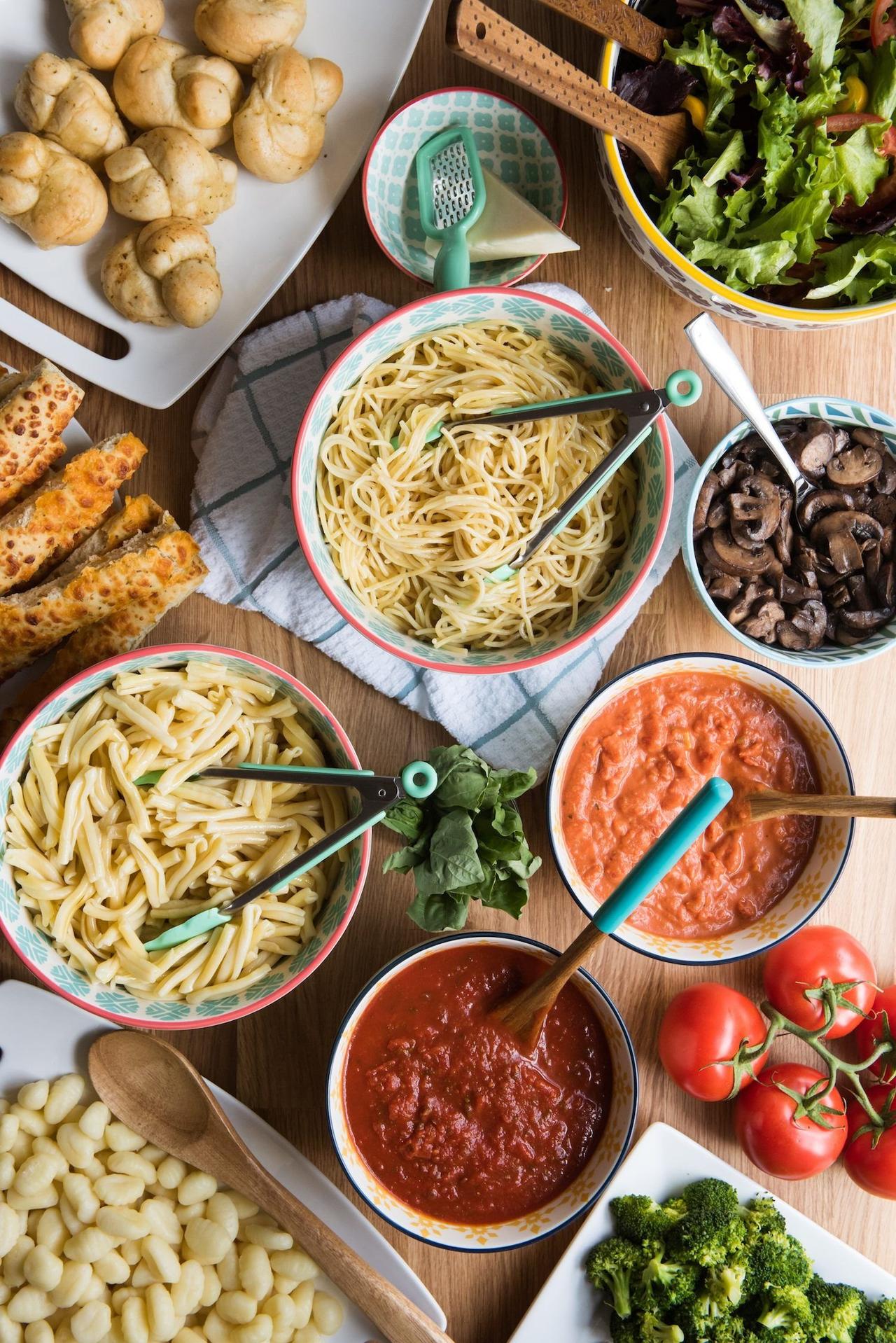 If, like us, you believe there is no finer food for a hearty feast than pasta, you could set up a DIY bar as an alternative to a buffet. Guests help themselves to the type of pasta, sauce and toppings they want. This has a tendency to get messy, but so long as you're happy with that, who cares?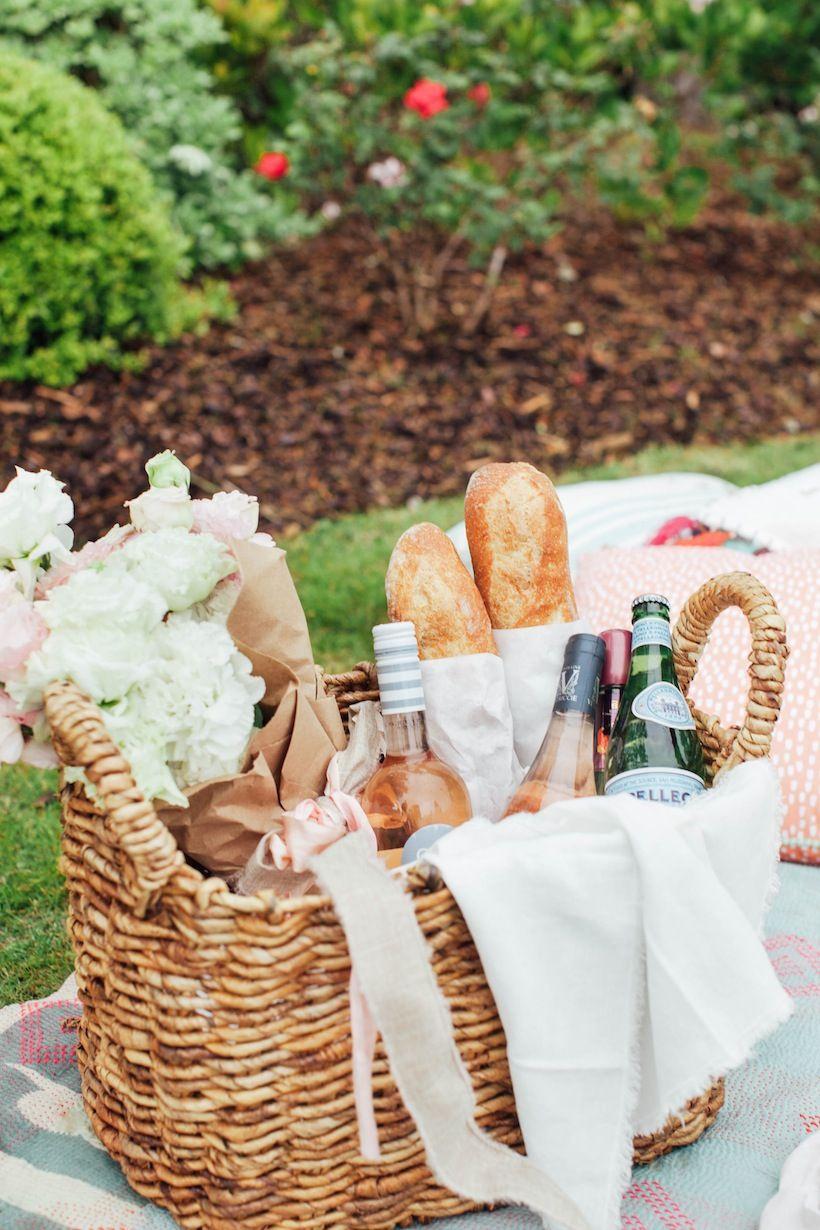 If you're having a smaller guest list, a picnic is a lovely idea for a summer wedding. Either pack individual baskets, or ask guests to fill their own from a buffet of picnic staples, from substantial salads to cheese and bread.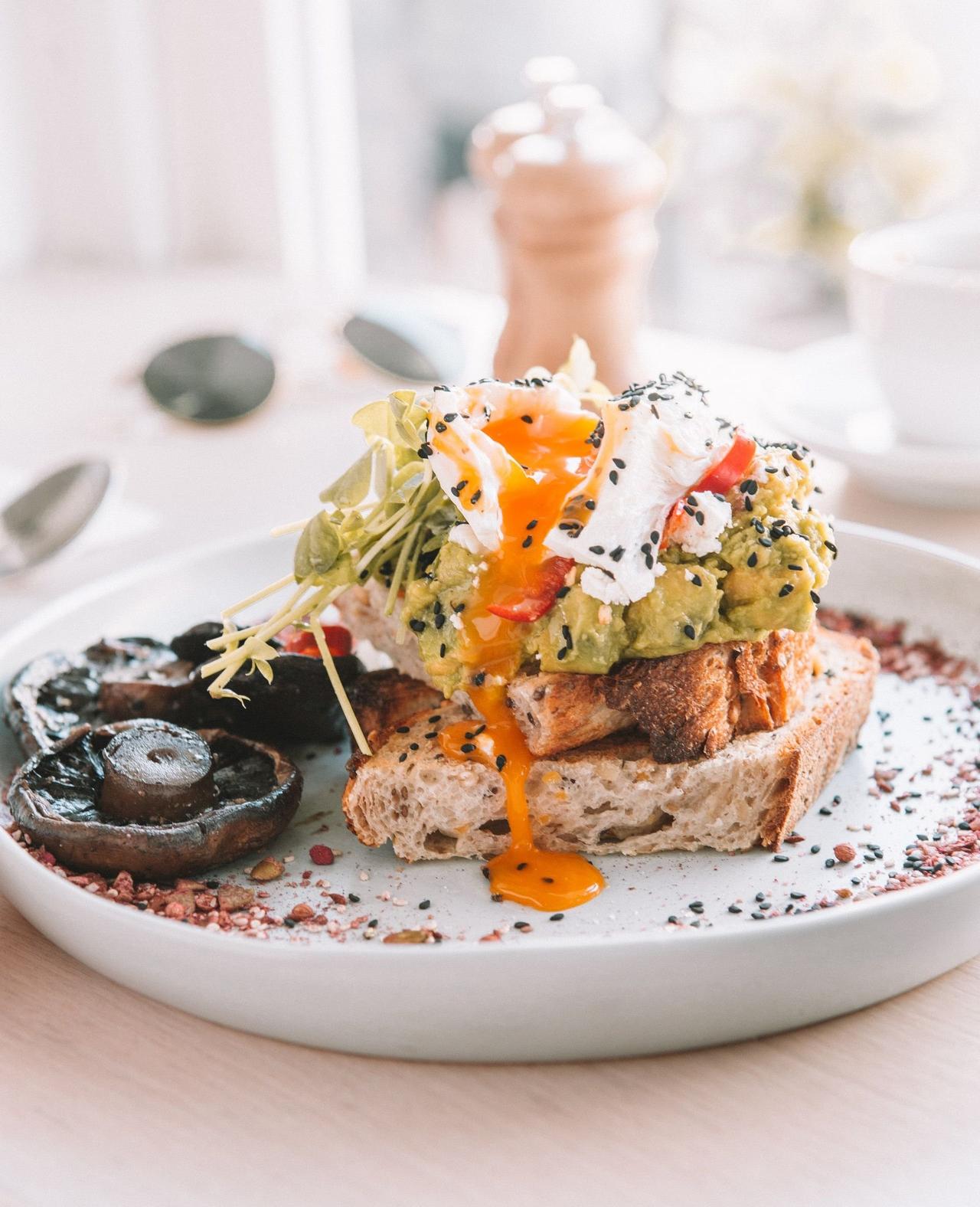 If brunch is your favourite meal, why not have that as the theme for your wedding breakfast? Whether as a buffet or sit-down meal, there are plenty of indulgent and filling options - eggs and avo on sourdough, we're looking at you - followed by the fluffiest of pancakes for pudding.
READ MORE: 17 Breakfast Ideas for the Morning of Your Wedding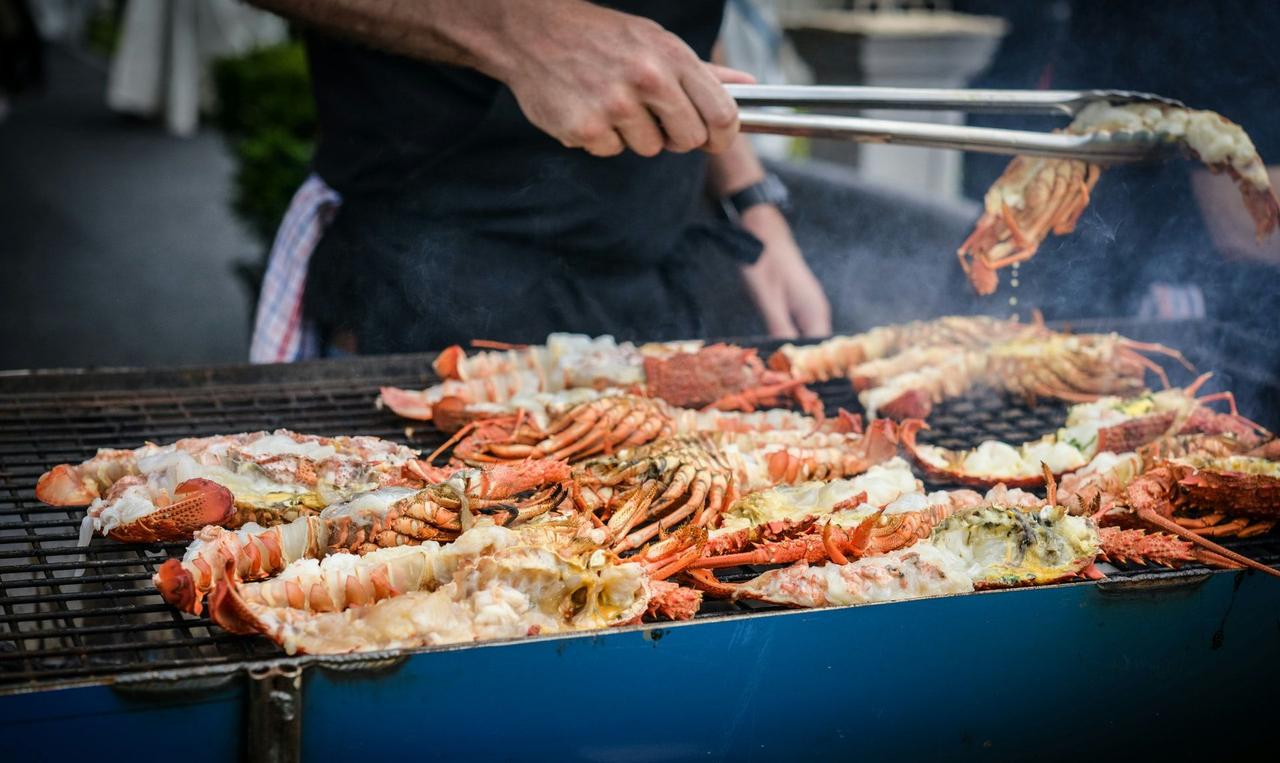 Barbeque is a lovely option for laidback wedding food - and it's not just about meat. Luxe up your menu with some grilled seafood, and include delicious vegetarian dishes such as cauliflower steak, chargrilled aubergine, paneer skewers and stuffed mushrooms.
Evening Food Ideas
You don't have to provide evening food. However, it's a nice idea if you're having evening-only guests. What's more, if you have the wedding breakfast early, your day guests will start to get the munchies, so serving something mid-to-late evening will keep them going.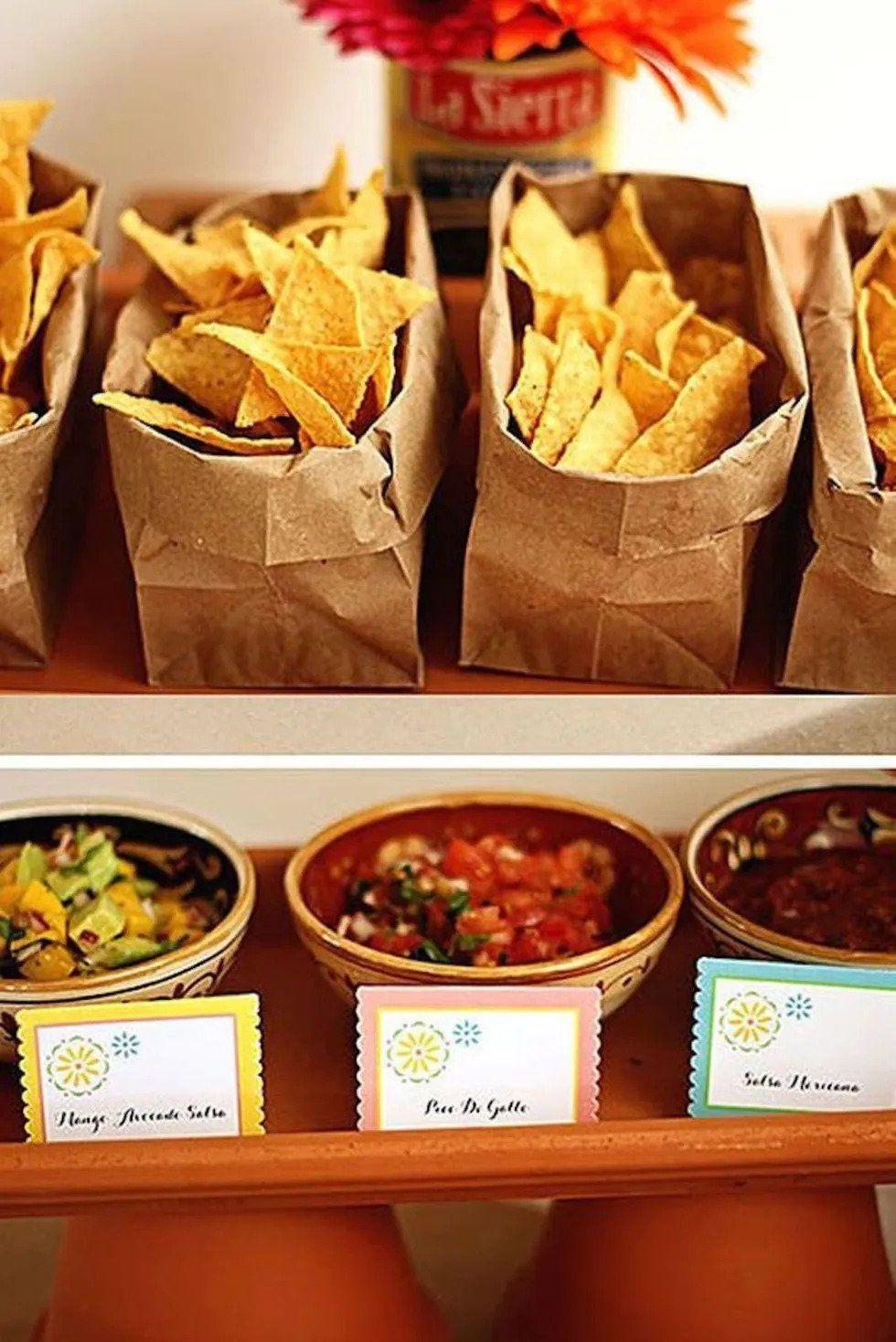 DIY stations - where guests assemble their own snacks - are a good way to combine wedding food and entertainment, giving guests something to do as they mingle. As it's for the evening, when guests are likely to be eating on their feet, think about food that's easy to put together and carry by hand, such as tacos.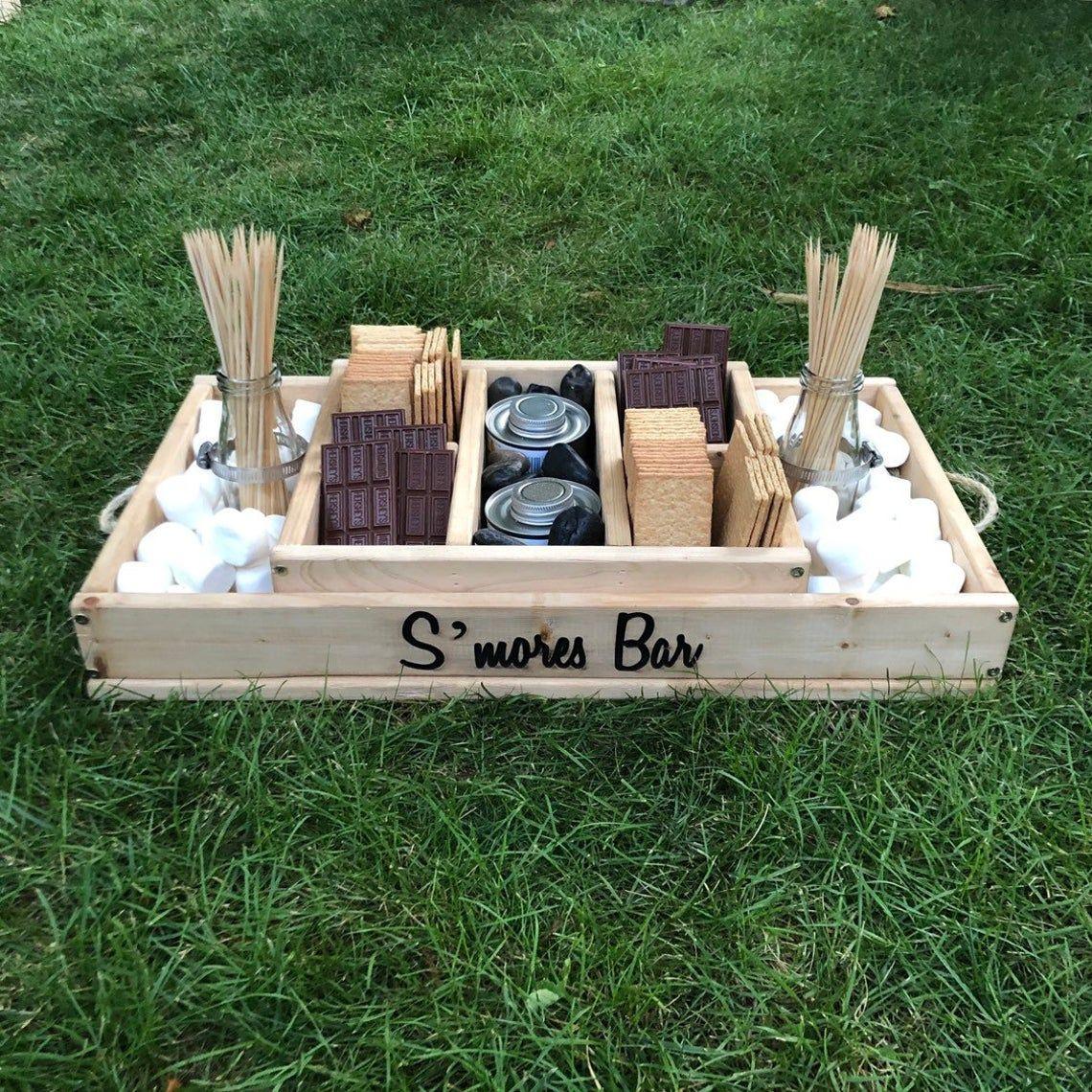 Sweet DIY food stations also work well in place of pudding, letting guests move around after the meal and putting them in a party mood. You could set up a build-your-own-sundae station, with ice cream, sprinkles and sauces. If you're having fire pits, you could set out kits for toasting marshmallows - s'mores, in the USA - with chocolate, crackers and sticks.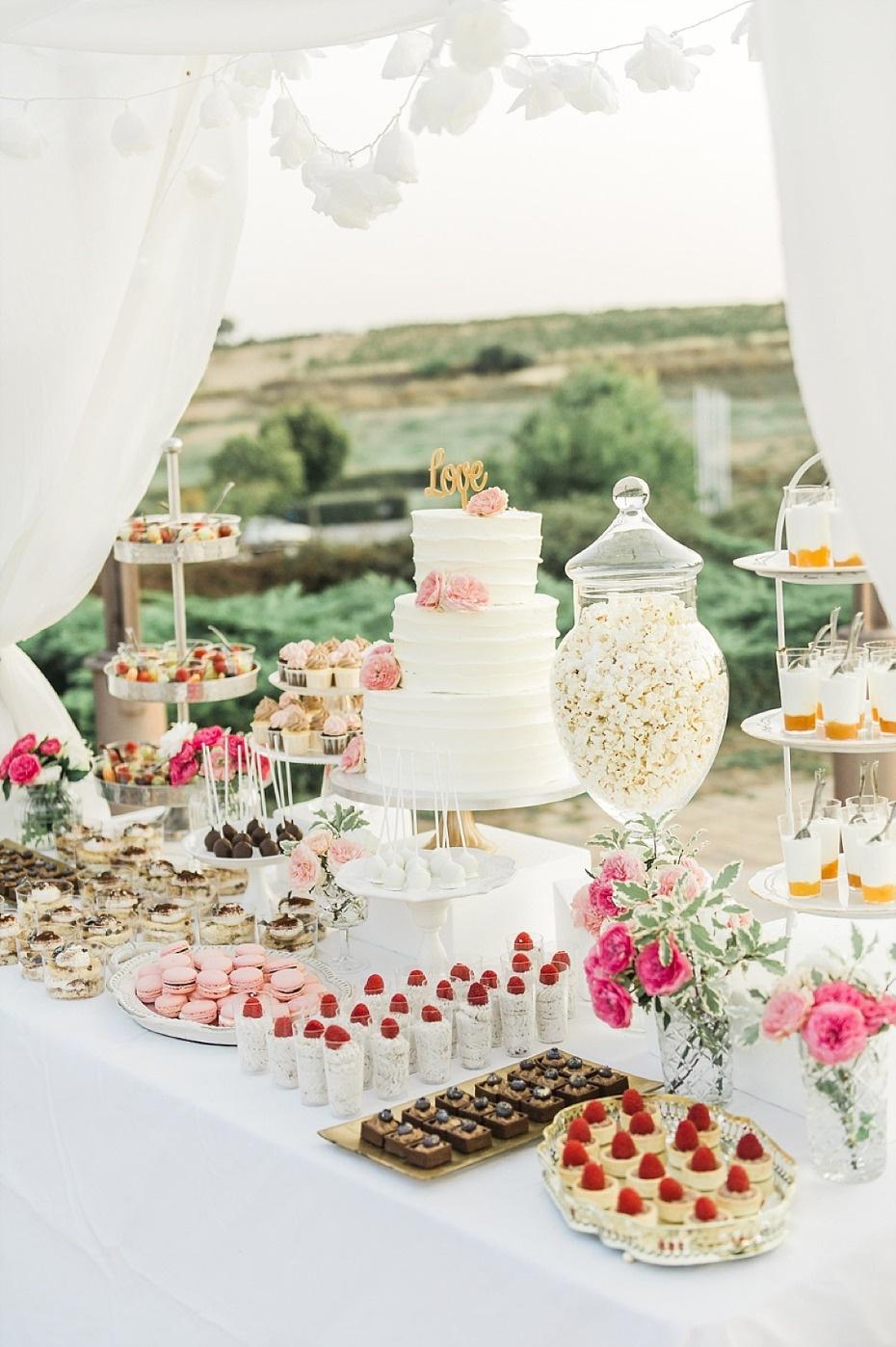 Of course, you don't have to include the DIY element. A straightforward dessert table, filled with cakes and delicious bakes, will be just as likely to delight your guests, or perhaps a doughnut wall for snacking.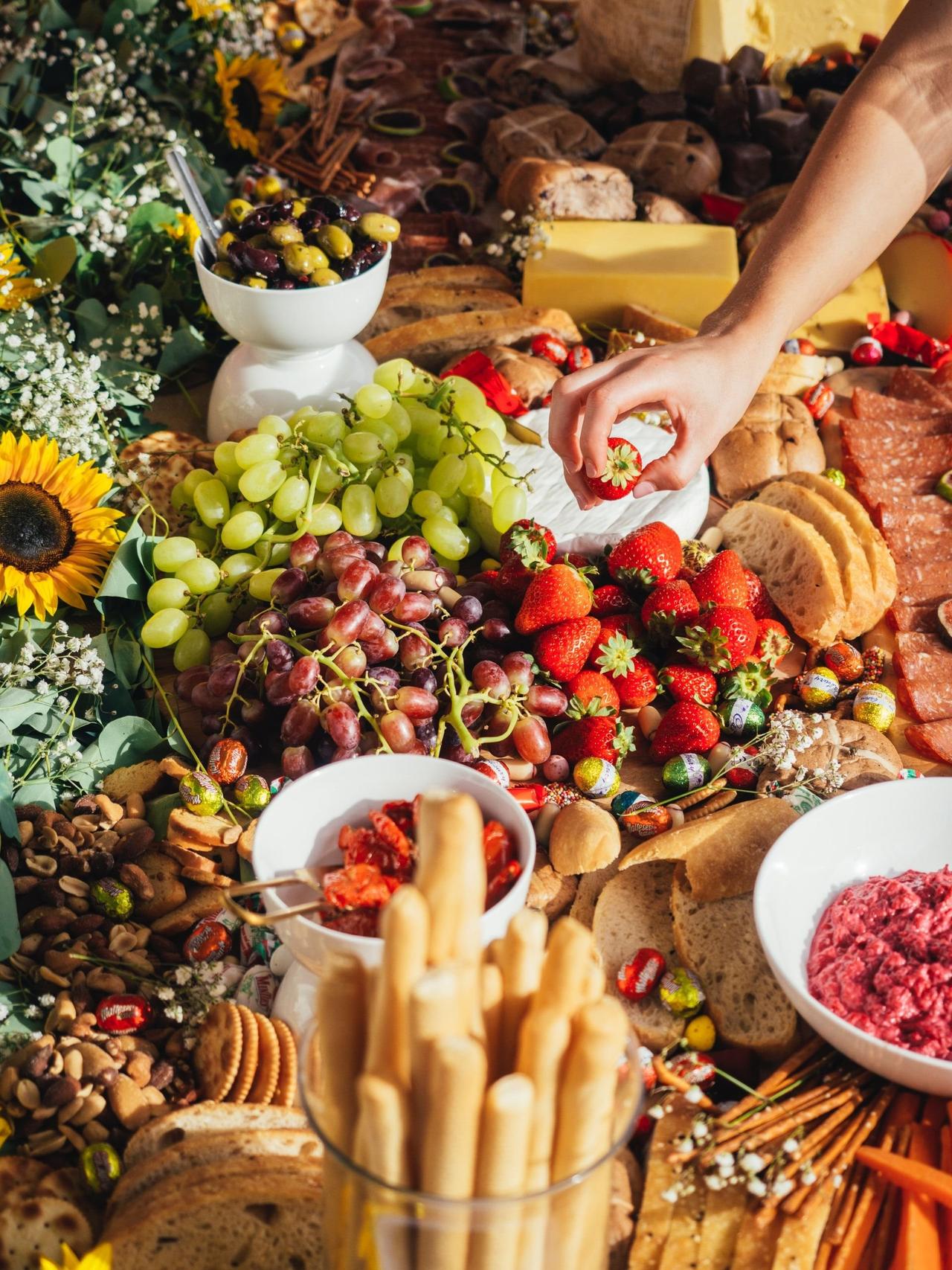 Grazing tables are a fresh take on the wedding buffet, and work wonderfully well as evening food. These are collections of snack-y edibles, such as fruits, dips, olives, bread, cheeses and charcuterie - beautifully presented to tempt guests to fill their plates.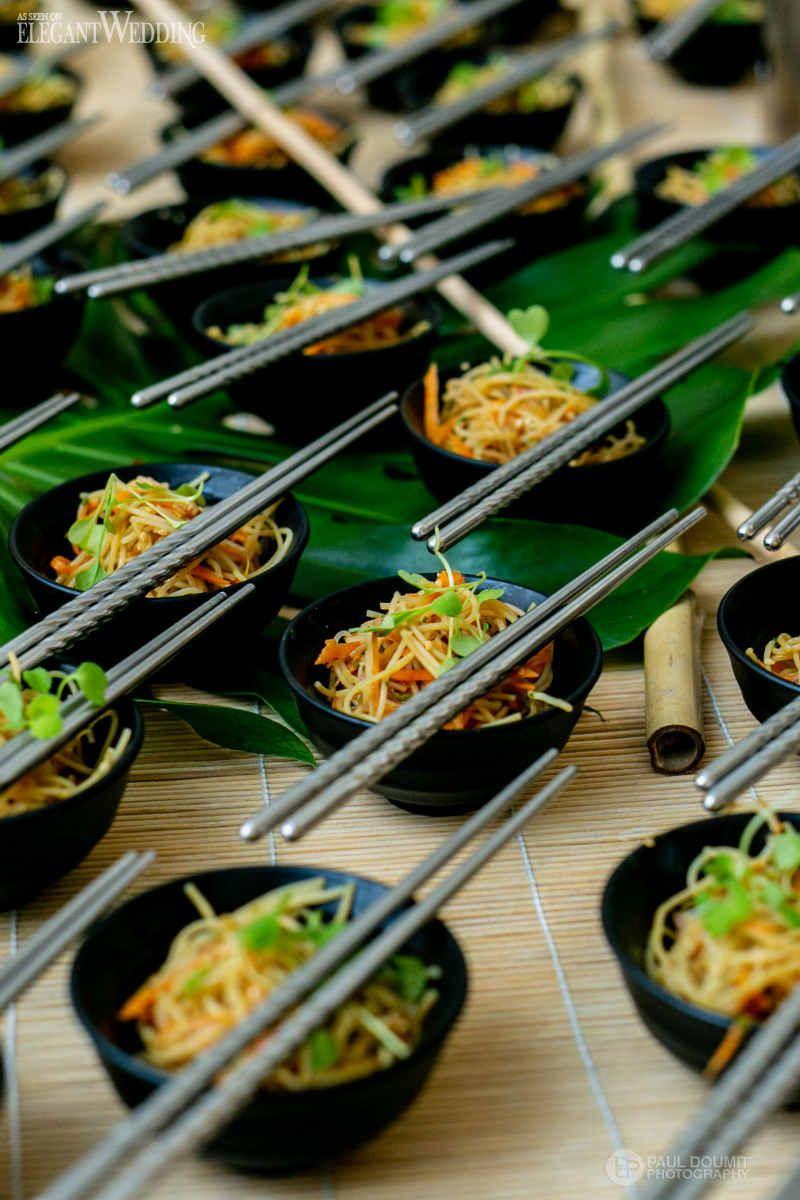 Bowl food can work well as an evening snack. These are miniature versions of main courses, served like canapés by staff circulating around the venue.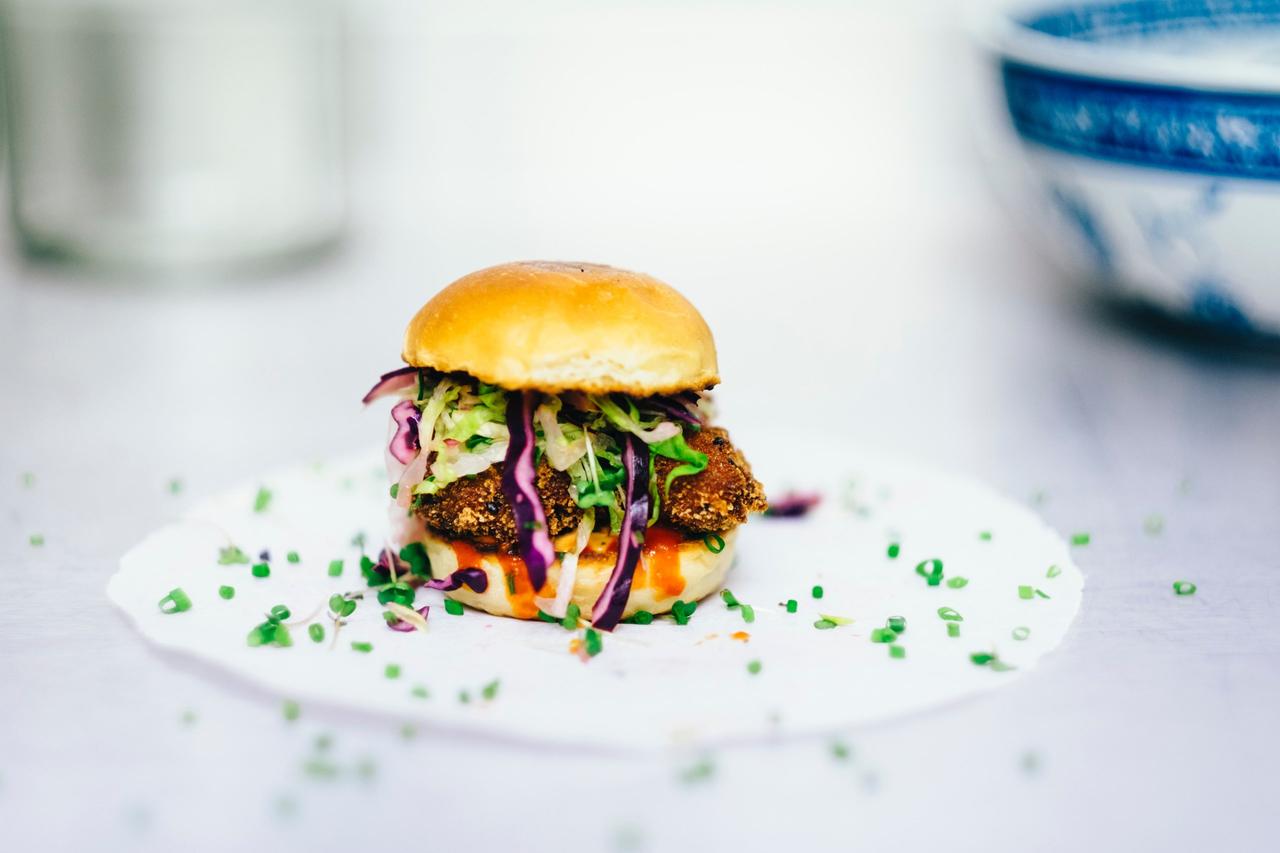 On the more filling end of the scale, comfort foods also work well, such as burgers and bacon sandwiches. This is particularly true at a winter wedding. Just make sure you include options for any vegetarian and vegan guests. Similar to the DIY food stations, you could have your caterer set our the burgers or sandwiches along with toppings, so guests can customise their evening food.
Once you've sorted your wedding food, keep on top on the rest of your to-dos with the ultimate wedding checklist.