Grazing Tables: 18 Ideas and How to Make Your Own
From charcuterie to sushi to desserts, you'll love these delicious grazing table ideas, bursting with all the best things in life!
We have included third party products to help you navigate and enjoy life's biggest moments. Purchases made through links on this page may earn us a commission.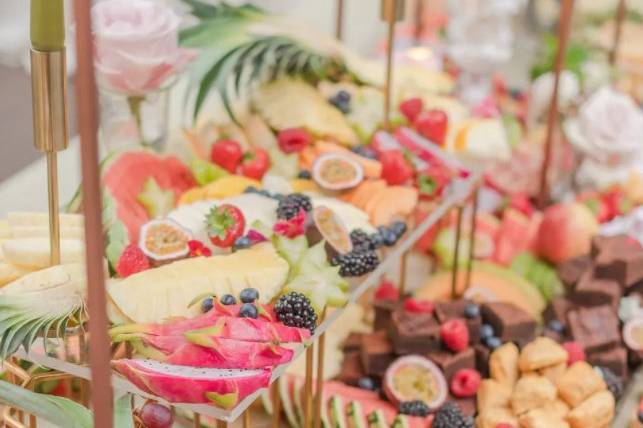 What better way to get guests mingling than with a foodie feast at your wedding in the form of a grazing table? This
wedding trend
burst onto the scene in 2019 and is only getting more popular. (Who could ever say no to a charcuterie board?)
Colourful and fun, grazing tables are perfect for replacing the canapés during your cocktail hour. Guests can meet and chat while they pick from a table piled high with meats, cheese, olives, fruits, bread and dips. It's also a fabulous alternative to late-night buffet snacks after hours on the dance floor and, of course, you can always go for a dessert grazing table instead of serving individual puddings.
While grazing tables lend themselves best to snacking, there's no reason you can't serve your main course family-style in the middle of your tables too. The possibilities are pretty endless, but we've picked out some of our favourites for you!
The keys to a great grazing table are abundance and personality – make sure it includes things you love as a couple and get creative with how to display it. We've got all the top tips for making your own grazing tables at the bottom of the article.
18 Delicious Grazing Table Ideas
Whether you choose a professional grazing table company or DIY your own, your delectable display will be talked about for months after your wedding. Here is some of the best grazing table inspiration and ideas you can incorporate into your own! Browse even more wedding caterers here.
1. Classic Charcuterie Table
Log slices of cured and smoked ham, salami, sausage and chorizo scream 'eat me'. The classic charcuterie flavours have been elevated with this board from Worcestershire's Little Graze Company, thanks to fresh fruits, veggies and falafel for any non-meat eaters, while texture comes from crisp crackers. Make a rustic display like this one with wooden palettes, a statement wildflower bouquet at the centre and bundles of woody herbs like rosemary and sage.
2. Wine Barrel Cheeseboard Table
We love using wine barrels in your grazing table. You could either balance a wooden board between two barrels to create a single long display, or dot individual barrels around the cocktail reception so guests can graze as they move. We love the different heights on this table by Grape + Fig, the stark white pillar candles and contrasting wild foliage, gorgeous gold cheese knives and that beautifully sliced pear.
3. BBQ Grazing Table
Delicious chicken skewers and veggie kebabs fresh off the BBQ are fabulous for a grazing table. It adds theatre to the display and is more filling than a cold table so it's ideal if you have quite a wait until the wedding breakfast or served at the end of the night. This table from London's Blame Frank is displayed with olives, herbs and tomatoes for colour, with different dips and sauces that your guests are sure to love.
You can go as far out with a BBQ grazing table as you like – roasted joints of meat or a hog roast and all the trimmings work brilliantly as sharing-style mains too.
4. Brunch Grazing Table
If you're having a morning wedding, what about a brunch grazing table? This is also ideal for ordering to your suite while you and your bridesmaids are getting ready or for serving the day after your wedding if guests are staying over. This platter from The Grazing Guys in West Yorkshire is filled with fresh pastries, fruit and granola, with single flowers adding pops of colour.
5. Down the Centre Grazing Table
Grazing tables don't have to be separate to where your guests are mingling. Instead of big floral centrepieces, create drama with a savoury feast down the centre of your tables, like this one from Didi and Dot. For this banqueting-style table, you'll want to repeat the same foods so everyone gets a taste of everything regardless of where they're sitting. Bread baskets dotted down the centre are an easy way to mark out where the produce begins to repeat. Tuck bunches of herbs and foliage at the edges of the tray underneath the food and source lots of gorgeous ceramic and earthenware bowls to dollop sauces and dips from.
6. Seafood Grazing Table
Having a seaside wedding? What about having a seafood grazing table? It's a luxury, for sure, but splurging on one of these will be so worth it. You can serve hot and cold in one table as long as you keep them separate. We'd recommend raised platters of fresh seared prawns, while oysters, crab, smoked salmon and more are piled on ice, with tons of fresh lemon, herbs and vinaigrette.
7. Sushi Grazing Table
If you want to go even more extravagant than seafood, try a sushi grazing table. Order in platters of sushi and sashimi and arrange across different boards or in beautiful geometric patterns with bowls of picked ginger, wasabi, soy sauce and pickled daikon.
8. Vegan Grazing Table
Vegan food is a massive trend for wedding menus in 2022, so go for fresh and exciting plant-based grazing boards. Vietnamese spring rolls packed with avocado and a peanut dipping sauce, falafel, hummus, bruschetta, crudités, artichoke hearts, vegan cheese and more make for a vibrant and tasty spread.
9. Rustic Dessert Grazing Table
How stunning is this set-up! Northamptonshire-based catering company Portfolio Events uses a hollowed-out wooden log to display some of the dessert selection, while upturned boxes and boards add height to the grazing table, giving everything from the meringues to the individual puddings time to shine.
10. Exotic Fruit Grazing Table
Colour is incredibly important for a visually appealing grazing table. This exotic fruit table by Graze Life embraces shades of pink, green, yellow, orange, red and purple. We love the look of the sliced, skin-on pineapple as the centrepiece to this platter, with halved blood oranges, kiwis and passion fruit to show their fabulous centres and fruits like lychees and strawberries left whole. It's a feast for the eyes and would look so appealing at a summer wedding.
11. Upturned Basket Display
If you're looking for a creative way to serve your grazing table that's visually interesting, use upturned baskets with faux marble toppers, like this table from Cranberry & Thyme. You'll create lots of height and can weave fresh or dried flowers through the basket. An abundance of fresh fruit can balance out heavy, salty flavours and add colour.
12. Fruit and Honey Details
This snapshot of one of Graze Life's tables shows just how important the details are. Owner Michelle Reddyhoff explains, "Honeycomb displayed on brie is an absolute must-have add-on for your graze. The sweet and savoury combination is amazing! And the honeycomb dripping on the cheese really adds that wow factor to your graze." Add fresh figs, slices of apple, dried apricots and walnut halves for more flavour contrast and texture.
13. Frame With Foliage
Frame an entire grazing table with a fragrant border of eucalyptus and foliage. The verdant colour of this grazing table from Graze and Gorge looks so good against the mellow yellows and reds of the cheese, fruits and vegetables. It's a great value way to make your table look 1000 times more special.
14. Stick to a Colour Theme
If you're having a strong colour palette for your wedding, like a winter white, translate that through into your grazing table. The pinks, reds and chocolatey brown of this grazing table from Kalm Kitchen in Surrey look stunning with the flowers that are threaded through the décor.
15. Fill Spaces with Popcorn
If you've got extra space on a savoury or sweet grazing table, fill gaps with sweet or salty popcorn. Like above, it looks totally moreish tumbling out of a container down your table, and you could even add a scoop and some bags so guests can take some to go!
16. Pizza Party Table
A pizza grazing table is a great alternative to an evening buffet. Two J's Woodfired Pizza in Durham is sure to serve up a crowd-pleasing spread of pizzas made from locally sourced produce. Serve them across rustic log slices with bowls of basil leaves, bottles of olive and chilli oil and little dishes of other toppings scattered across the table.
17. Rainbow Grazing Table
Theme your grazing table around rainbow colours for a theatrical display. Everything from glossy pomegranate seeds to mini pickles features on this spread from Rainbow Grazing Co. If you've got any rainbow décor, you need one of these too.
18. Minimal Setting for Maximum Impact
Not every grazing table needs to be bursting at the seams if you go for a contemporary look. Something like these three stark table designs gives lots of impact thanks to the backdrop, height and foliage. Use what you already have, if your venue has a backdrop to die for, and place a grazing table there. There'll be just as much impact without needing metres and metres of tumbling food.
How to Make Your Own Grazing Table
A grazing table is a fantastic guest experience to add to your wedding. A professional grazing table company will take the stress out of planning and arranging a grazing table and are adept at dealing with dietary requirements and allergies. However, if you're feeling creative and love food, you can make one yourself! Michelle from Graze Life gives us some tips on what makes a wow-worthy table.
Step One: What Type of Grazing Table Do You Want?
Savoury, sweet or a mixture? Here's our shopping list of the produce you'll need to make a fantastic charcuterie grazing table, which is the easiest type as it lasts well at room temperature.
Pick and choose what you like from this; the aim is a balance between savoury, sweet, soft and crunchy, with plenty of sharp pickles and chutneys.
Cured meats
Cheese (soft ones like brie and hard ones like Parmesan or mature cheddar)
Olives
Freshly baked bread or baguette
Artisan crackers, breadsticks and crostini
Hummus
Falafel
Pesto and tapenade
Pickles and cornichons
Vegetable crudités
Artichoke hearts
Sun-dried tomatoes and cherry tomatoes
Stuffed peppers
Balsamic vinegar and olive oil
Chutneys/membrillo
Fresh figs, grapes, apple, pear, blueberries, strawberries
Dried figs and apricots
Almonds and walnuts
Pretzels
Gourmet extras like posh scotch eggs, pâté, prawns or a Graze Life favourite – the sweet potato pakora
For a dessert grazing board, Michelle says she will include, "soft gooey brownies topped with chocolate ganache, white chocolate mousse pots, butter biscuits, soft fluffy mini cupcakes with creamy buttercream topping, and other various chocolate treats." Mix these indulgent bits with fresh fruit, marshmallows and popcorn to balance the table.
Step Two: How Much Food Will You Need?
The amount of food you'll need will depend on your guest numbers and when you're serving the grazing table. Remember that this is often a replacement to canapés, where you'd normally only serve 3-5 per person, so your table doesn't need to be huge. If it's for an evening buffet, in place of something like bacon rolls, you'll want a more substantial table.
For a canapé-equivalent board, as minimum amounts you should plan out 2-3 slices of meat per person and roughly 30-60g of cheese. Michelle suggests adding a little more if you'd like to enjoy some the next day as a newly married couple!
Step Three: Safety First
The boring bit, but if you're dealing with food, you can't make your guests ill. Michelle recommends following Food Standards Agency rules to wear gloves, tie your hair back and make sure your food is stored correctly before serving. Guidelines say chilled food should only be kept out at room temperature for a maximum of four hours and hot food for two hours, as bacteria can begin to grow after this. Your venue will be able to advise you on all of this if it has a food hygiene certificate.
Step Four: Style Your Table
"Paying attention to the small details is absolute vital to the overall look of the entire graze," says Michelle. You want your grazing table to look insanely delicious. They lend themselves so well to a rustic set-up that incorporates different textures, colours, heights and scents – here's some ways to do that:
Drape thinly sliced ham into piles, fan out salami and chorizo and roll up thicker cuts like bresaola to give visual variety
Use tumbling bunches of herbs to add scent and colour, either in terracotta pots or tucked underneath and around plates
Log slices make a fantastic rustic base for serving cheese, breads or pots of dessert – we love this large one from Amazon for only £21.99
Use upturned gold or rose gold wire baskets to balance platters, log slices or marble trays on; here's a rose gold pair we love
Create layers of height with pillar candles and tapered dinner candles in either pure white or jewel colours. Tealights look amazing in burgundy, emerald and sapphire-coloured glass holders (just don't light them anywhere someone might lean over with a sleeve!)
Grazing tables need centrepieces too, whether that's a tumbling vase of wildflower, an amazing sliced sourdough loaf or entire pineapple!
Terracotta tapas dishes make great little serving dishes for small mounds of olives
Think about what you'll lay down on top of your table to actually put the food on – fresh banana leaves are an amazing tropical twist or wooden chopping boards are great too
Mini Le Creuset-style ramekins with lids are great for serving dips in as they can be covered while prepping the table; we love this orange and cherry red set
Place a large piece of honeycomb on top of your cheese with a honey drizzler so that it drips tantalisingly down the side
Pair dried fruit with fresh fruit next to it, e.g. dried apricots on a bed of almond should sit next to halved figs, peaches or a bunch of grapes
Try to add some seasonal influence: festive chutneys in winter, ripe berries in summer, sunny spring flowers, autumnal pears or even decorative pine cones
To stop double-dipping, make sure you have plenty of cheese knives and spoons for doling out bites – we love this set of chic stainless steel and wood cheese knives. Dessert tables will need bamboo skewers or mini forks so you can dip your doughnut bites and strawberries in melted chocolate sauce
Scatter edible flowers across all the food, this looks even more amazing if it's contrasting colours, e.g. yellow pansies against the rich purple of beetroot hummus and orangey-red nasturtiums against green olives
Mini chalkboards make cute signs for labelling food (necessary for any allergies or dietary requirements!) and for making food puns (even more necessary)
The key is to make sure there's no empty spaces so just fill, fill, fill. Crackers, nuts, popcorn and small berries like blueberries are ideal for plugging gaps
Step Five: Enjoy!
If you're looking to get more food into your day (who isn't?), why not try one of these 11 amazing ways to include doughnuts in your wedding?