23 Creative and Beautiful Wedding Arch Ideas (and How to Make Your Own)
Stylish brides will adore these colourful and inspiring ideas for wedding arches!
We have included third party products to help you navigate and enjoy life's biggest moments. Purchases made through links on this page may earn us a commission.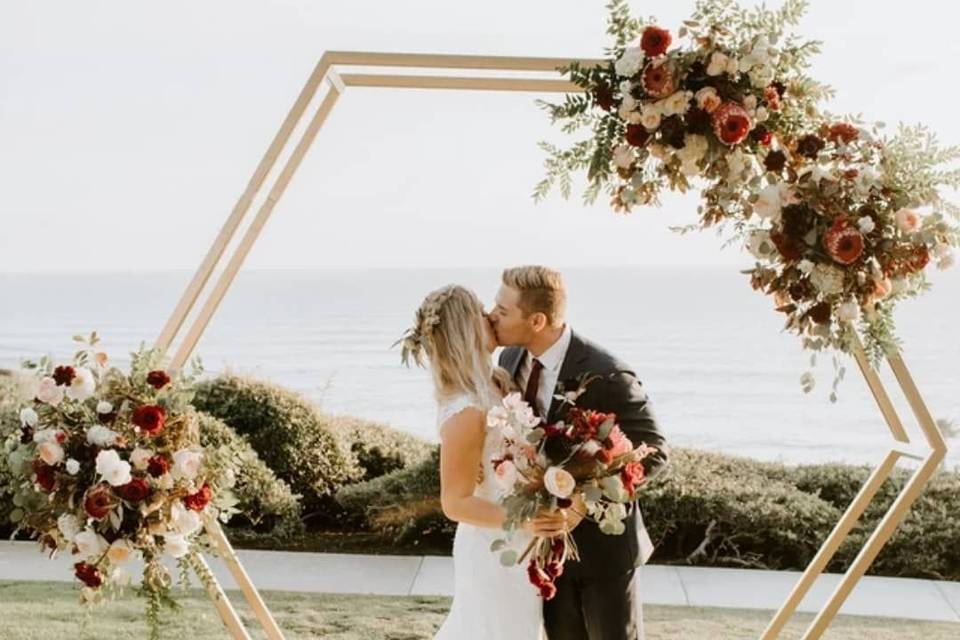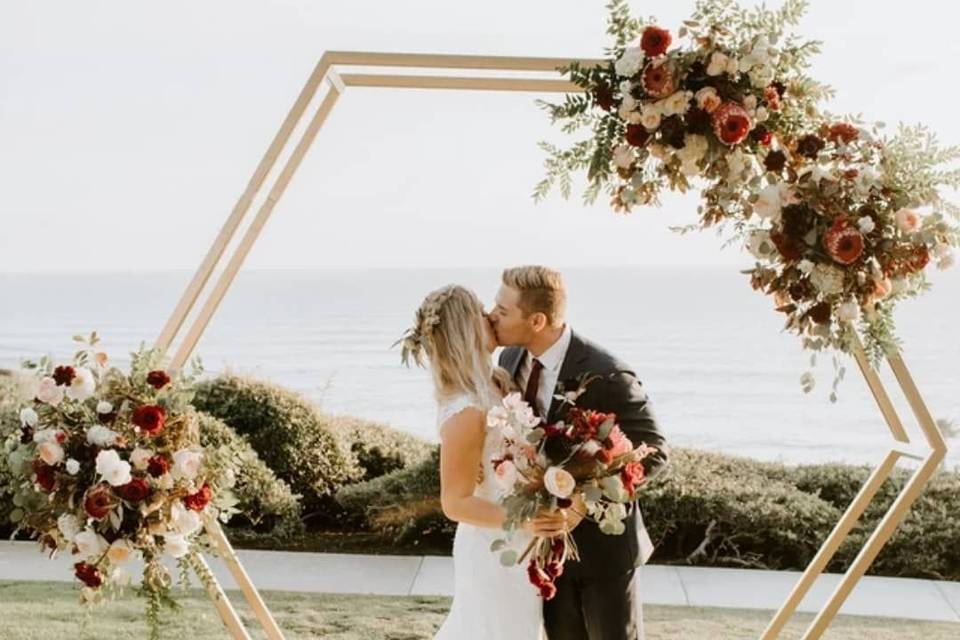 If you're a bride who's looking for ways to decorate their wedding reception, why not use a wedding arch to add something special? From flower arches to balloon arches, they're a fantastic way to decorate your ceremony space and enhance your décor and colour scheme.
Having a wedding arch is the perfect way to impress your guests and equally suits both a rustic and glamorous style wedding. Below we've got a guide to the type of wedding arch styles you could have at your wedding. Plus, there's tips for creative couples who are thinking of making their own wedding arch.
Flower Arches
1. Colourful Flower Arch

Image: Pinterest  
There are so many options when it comes to a flower arch. This beautiful one has been entwined with brightly-coloured flowers, foliage and greenery, making it perfect a gorgeous summer or early autumn wedding.
2. Rustic Wedding Arch With Dried Flowers
Image: Pinterest
This wire-framed wedding arch has the most beautiful rustic wedding flowers adorning it. We love how messy and wild the flowers are, hanging down from the arch. It creates a lovely, natural-looking frame around the couple who have the pleasure of standing underneath it.
3. Flower Wall Wedding Arch
Florist: Fine Flower Company
We adore this wedding arch creation with a difference. The florist has used pink and white flowers to create a stunning square arch in front of a flower wall, filled with hundreds of ivory flowers. It creates the most amazing background for a wedding ceremony, and really complements the pastel wall colour at Botley's Mansion.
4. Welcome Arch
Image: Pinterest
This wedding arch is used like a gate to welcome guests into the church and really brings the room to life. We love the use of green shrubbery with pink and white flowers. Having the same arrangements on the chairs and at the altar ties the whole spring theme together. It proves you don't need your arch at the front of the venue.
5. Outside-In Wedding Arch
Image: Kew Gardens 
We adore the botanical theme that comes with this wedding arch at Kew Gardens. Their ceremony room is an actual glasshouse and there is no better way to decorate such a room than bringing the outside inside with flowers and greenery. If you have windows or a glass wall that looks out over flowers or shrubbery, try to use the same plants in your wedding arch so nature seems to flow through from outside.
6. White Wedding Arch
Image: Pinterest 
White floral arrangements have a stylised look which is seriously glamorous and this wedding arch is no exception. We love how one side of the wooden archway has been covered while the other has been left bare for a rustic finish.
7. Church Wedding Arch
Image: Pinterest 
Having a floral arch as decoration as you enter and exit the church is definitely something to consider when booking a religious ceremony. The floral arrangement looks picture perfect and really gives the church a summer feel, which will be beautiful in the wedding pictures.
8. Circular Floral Wedding Arch
Image: Pinterest 
A circular arch gives a different dimension to a flower arch. On a circular arch, you can really experiment with different flowers and foliage, and it's almost like a spotlight frame on you. We love the pretty pink, red and blush flowers creeping up the sides of this flower arch.
Balloon Wedding Arches
Balloons don't just have to be for kids' parties or birthdays. Attached to an arch or forming the arch itself, they can look amazing. Use different coloured balloons and flowers for a dramatic look, or match them to your bouquet or wedding colour scheme.
9. White Balloons with Foliage
Image: Pinterest 
We love how this balloon arch design matches the bride's bouquet. The white balloons accentuate the white roses, while the added foliage and smaller gold balloons really give it a standout, celebratory look.
10. Flowers in Bloom Balloons
Image: Pinterest
If you can't quite decide if you want balloons or flowers, then this design is the ideal choice. Different sized colourful balloons have been placed on the arch while co-ordinating flowers have been woven in between them. The balloons give shine and texture that might work better than just flowers in your venue.
11. Half and Half Arch
Image: Pinterest 
If you want to get both the effect of the balloons and the flowers, then something similar to this design is perfect. Starting in the centre, the balloons get bigger down the length of the arch, while the other half is decorated with foliage and flowers. It looks pretty and you can choose to stand on either side for different wedding photo backdrops.
Modern Wedding Arches
12. Hanging Lights Arch
Image: Pinterest 
This simple look is so easy to create but has such an amazing effect. Hang fairylights from an already existing archway, or from a wooden or wire archway – it looks amazing, especially at night
13. Tunnel Wedding Arch
This tunnel of wooden branches makes for the most beautiful rustic photograph backdrop. The vines and flowers that have been twirled around make it look even more gorgeous. Although this arch at River Cottage is already incorporated into the venue, we'd advise any couple having a woodland wedding theme to try and recreate the look.
14. Bright Lights and Pretty Flowers
Image: Pinterest 
This gorgeous circular wedding arch uses both flowers and lights – and will look Instagram worthy in the background of any couples wedding photos. For this effect, add light bulbs which go up the inside of the arch, then decorate the side with flowers to suit your theme.
15. Macramé Wedding Arch
Image: Etsy 
Couples who dream of having a festival wedding full of boho vibes and outdoor fun will fall head over heels in love with this macramé wedding arch. The fabric is perfect for this theme and we love the draping tassels and flower installation at the corner of the arch.
16. Chandelier Wedding Arch
Image: Pinterest 
For woodland wedding lovers, this arch is exquisitely made from intertwining twigs and branches which spike upwards as well giving it a lovely height. The shape and style of it gives anyone who stands underneath it a beautiful woodland border – which will definitely have you looking amazing in your wedding photographs. It's easy to DIY if you know someone handy with wood and electrics; they'll need to thread wiring for the chandelier through the wooden frame.
17. Geometric Flower Arch
Image: Pinterest 
Any couple that wants something a little different will love this hexagonal design. The metal frame can then be decorated as much or a little as you want. We love how the minimalistic flowers on this design – giving it a very subtle, but pretty touch.
Wooden Wedding Arches
18. Draped Wooden Arch
Image: Pinterest 
This wooden wedding arch is so simple yet looks beautiful. The soft blush material set against the rich autumnal colours and rough wood gives the whole look a mix of sweetness and edge.
19. Wedding Arch With Lanterns
Image: Pinterest 
This wedding arch has two beautiful pillars made from wooden branches and decorated with stunning white flowers that are really eye-catching. The top of the arch has a more delicate structure with a gathering of branches that fan out. What sets it apart are the different heights and styles of pillar candles round the bottom, which add a warm glow.
DIY Wedding Arches
Are you a couple who love getting hands-on and doing things yourself? Why not get creative and try adding flowers, shrubbery or balloons to a wooden or steel archway. It looks absolutely breathtaking and will be so worth the effort.
20. DIY Flower Arch
Image: Pinterest 
Here's a step by step guide to building your own unique wedding arch, so you don't have to rely on expensive florists or wedding planners.
If you already have an archway in place, make sure you find out what you're allowed to tie or clip to it. To stabilise your freestanding archway, make sure its pushed fully into the ground, sand, or stabilise it with buckets of pebbles or sandbags. You don't want you hard work to topple over before you've tied the knot.
Decide between you what your theme will be – do you want wild flowers, like the pretty archway above? Will you match the bouquet? Do you want something a little quirky like lights or balloons incorporated?
If you decide on a flower archway, the next thing is to pick your flowers and foliage. Lots of greenery is a good base and covers the plain frame. Flowers can be then be intertwined among it.
Amazon is a great place to start when it comes to finding the frame, flowers and foliage for your wedding arch.
Wrap the foliage around the base and either choose a few sections to cover or go around the whole arch, using tie clips to pin them all in place. You can then start to add the flowers – either mixing up the colours or grouping them into sections.
21. DIY Balloon Arch
Image: Pinterest 
If you've chosen a balloon design, decide how you want your archway to look before you start to place the balloons, otherwise, you could end up with balloons everywhere.
Blow them up and start to attach them to your base, adding more depth as you go. Keep assessing your work as you go to make sure you don't overdo it. You should have different sizes of balloons, lots of big ones as a base and then smaller ones mixed among them.
Think about using a few different colours – white with gold, for example, or different pastel shades. We adore this pastel balloon arch kit which makes the whole things incredibly easy for you!
22. DIY Unique Arch
Image: Pinterest 
If neither of these styles suits you – inject some personality into your archway by hanging lights, chandeliers, loose flowers or pearls. It's your wedding – so any style goes!
If it's a floral wedding arch that caught your eye, be sure to check out our other floral wedding ideas – they are so pretty!