Bride Survival Kit 101: Everything to Include in Your Wedding Day Emergency Kit
Keep yourself feeling and looking beautiful throughout your wedding day by preparing a bride survival kit to have with you
We have included third party products to help you navigate and enjoy life's biggest moments. Purchases made through links on this page may earn us a commission.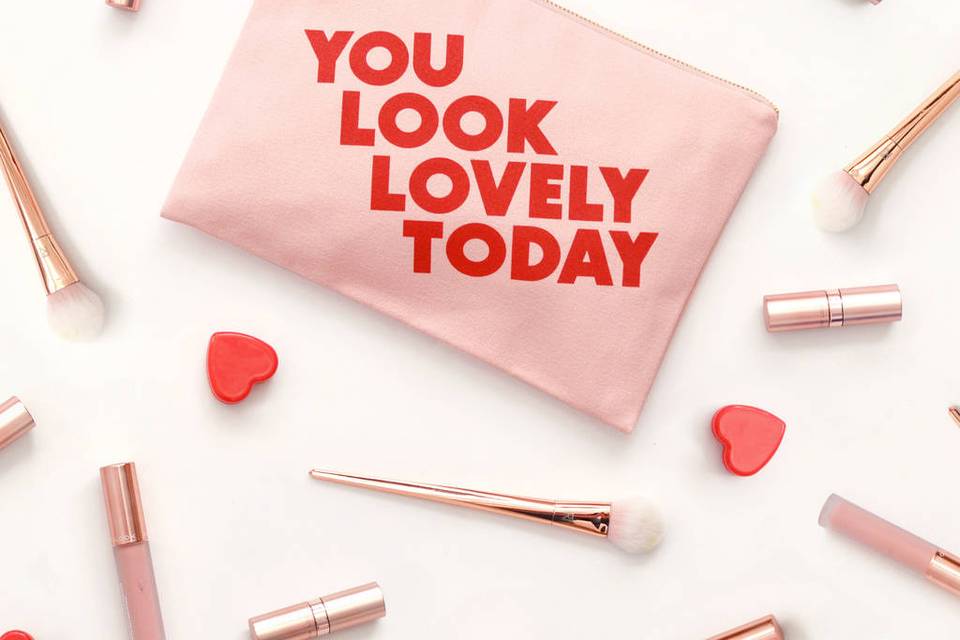 There are a lot of last-minute jobs to do the week before your wedding, which is why it's lucky that the essential task of putting together your bride survival kit falls to the trusted hands of your wedding party.
A bride survival kit is an emergency bag filled with all those little things you need to keep you looking and feeling your best right until the very last dance of the night. As much as we'd love everything to go perfectly on the day, there's always a chance that you'll get a blister or a headache, a button will fall off or your mascara might smudge. This kit includes everything you might need to solve any problem that arises, from broken nails to chafing thighs (summer weddings = sweat!).
Traditionally, putting together this little kit is the duty of the maid of honour or chief bridesmaid, but you could ask your mum or a close friend who isn't in the wedding party to keep it safe too. There's a lot of things you'll need, so you'll want to keep a bag with all the big stuff like a spare pair of flats, tampons, a hairbrush and extra tights in your prep room and then store it somewhere easy to reach for the reception, but have a little bag for the ceremony with bits like lipstick and tissues.
Below you'll find a full list of essentials to pop in your bride survival kit and the best emergency kit bags to store it all in. Not all of them might be needed for the bride, but if you'd got bridesmaids, then it's best to have everything just in case one person needs something!
READ MORE
What to Include in a Bride Survival Kit
Your best bet for travel-sized versions of things like deodorant and face wipes is to go to a pound shop or Primark. Their beauty sections are full of must-haves for weddings and they're fab to take on honeymoon if they don't get used.
Essentials
Paracetamol
Tissues
Face wipes (to tidy up eye makeup and lipstick smudges)
Mints or a small bottle of mouthwash
Plasters/blister plasters
Extra earring backs
Tampons/sanitary pads
Power bank
Compact mirror
Moisturising eye drops
Tweezers
Indigestion tablets
Sunblock (if you're marrying somewhere hot and sunny)
Hand warmers (if you're marrying somewhere cold)
Insect repellent (if it's midge season)
Hair and Beauty
Perfume
Mini deodorant
Hairspray
Dry shampoo
Hair pins
Lip gloss/lipstick (buy a match to what your makeup artist is using)
Concealer
Waterproof mascara
Setting powder
Oil blotting sheets
Nail file
False nail glue
Nail polish to match your nails
Clear nail varnish (to stop runs in tights)
False eyelash glue
Cotton buds
Anti-chafing stick (we love Body Glide under dresses in the summer)
Small hair brush
Clothing and Accessories
Needle and thread (this £3 kit from Amazon has everything you need)
Safety pins
Boob tape
Stain remover wipes
White chalk (to mask light stains)
Crochet hook (if your dress has lots of buttons)
Gel pads for feet (Scholl Party Feet get consistently good review)
Spare pair of flat shoes (for sore feet in the evening)
Spare tights
Small pair of scissors
Lint roller
Additional Extras for the Bag
While these aren't essentials, they'll be much appreciated on the day:
Rescue remedy
Lip balm
Straws (to avoid smudging lipstick while drinking pre-wedding Prosecco)
Granola bar
Copy of the day's itinerary and timings
Hair straightener or curler for evening touch-ups
Optional Groom Survival Kit
If there is a groom, then it might be useful to suggest a few things that his groomsmen should have on hand as they won't always have thought about it:
Shoe polish
Extra pair of shoe laces
Chewing gum
Lint roller
Hair gel/spray
Comb
Deodorant
Spare button, needle and thread
Spare cufflinks
The Best Bride Survival Kit Bags
Your emergency wedding essentials need a fabulous bag and we reckon we've found the perfect ones – from clutch bags you can keep hold of during the day to wash bags you can keep in the bathroom.
Velvet Quilted Makeup Bag - £12.99, Hitched Shop
This velvet quilted makeup bag is seriously soft and comes in five lovely pastel shades. It's personalised with the bride's initial and is great for taking away on honeymoon too.
'You Look Lovely Today' Canvas Makeup Bag – £22, Not On The High Street
Alphabet Bags are the queens of feel-good slogan bags that'll put a smile on your bride's face. They can be personalised and have positive messages on them to give you that extra boost each time you go to freshen up.
Bride Bag – £14, John Lewis
If you want your bride survival kit to match your bridalwear, then consider this luxury white clutch bag from Katie Loxton. The soft touch leather material is so elegant and the bag is nice and compact so that it can be kept discreet.
Bride Emergency Kit – £9.14, Etsy
Make it clear what your bag is for with this Bride Emergency Kit canvas pouch from Moonwake Designs Co. It's roomy and cute and would be perfect for storing all your essentials on the big day.
Mermaid Sequin Makeup Bag - £10.99, Hitched Shop
If your bride loves glitz and glam, this pretty pink sequin makeup bag will match her vibe perfectly. The sequins are actually reversible and it has a zip close which is ideal to keep all your essentials safe.
Personalised Wedding Date Makeup Bag – £17, Not On The High Street
We love that this personalised makeup bag from Rosie Willett Designs comes with your wedding date and your new married name on the front. It would be perfect for your special day and then you can use it for years to come as a reminder of your wedding.
Bride Ombre Wedding Pouch - £14, Not On The High Street
How pretty is this hot pink ombre canvas bag! It's such a nice keepsake for after the wedding too.
Bride to Be Survival Kit Box - £35, Etsy
For busy bridesmaids, you can buy your bride this lovely ready-made set. It contains a scented candles and "to have and to hold" matches, a bar of olive soap, rose petals for her wedding morning bath tub, lots of safety pins for last minute emergencies, and a lucky sixpence for her shoe.
Personalised Clear Plastic Makeup Bag - £13.99, Hitched Shop
You can find everything easily in this transparent plastic pouch, so if your bride is the kind who is always in a rush, this is a must-buy. It comes personalised with her name in iridescent or gold lettering.
Oh Sh*t Kit - £17, Etsy
Firstly, we love the cheeky name. Secondly, this kit has already got most of your essentials already covered. It includes everything from dry shampoo and deodorant to plasters and a nail file.
The Best Finishing Touches for Your Bride Survival Kit
A few special touches added to your bridal emergency kit will not only make you feel super prepared, it will also look great in your wedding pics.
Kiss the Miss Goodbye Compact Mirror – £13.99, Hitched Shop

Give this to your bride on the hen party and bring it back out on the wedding day. We love the cute 'Kiss the Miss Goodbye' message which is printed on luxe faux leather. The mirror comes in gold, silver or rose gold.
Happy Tears Handkerchief – £16, Etsy
It's safe to say that tissues are a wedding day essential for pretty much every bride. However, tissues aren't the most glamorous thing to carry so swap for an elegant handkerchief like this one. You can get it embroidered with your wedding date and in a thread colour to match your wedding palette.
Lime, Basil and Mandarin Cologne – £52, Jo Malone
Carry a miniature of your wedding perfume with you so you can have a quick spritz whenever you need. We love the fragrance of this classic Jo Malone spray which will get compliments from everyone you walk past.
READ MORE: Top Tips for Choosing Your Wedding Perfume
MAC Lipglass – £16.50, John Lewis
With so many pictures being taken all day long, a lipgloss top-up will be essential. Choose a shade to match what your makeup artist plans to use on you – we love this one from Mac.
Ginger Rose Ruby Mini Manicure Set – £26.95, Not On The High Street
This cute mini mani kit from Ginger Rose covers all your essentials – scissors, nail file and tweezers. It's personalised with your name and will look fab in your wedding photos!
8 Top Tips for Your Bride Survival Kit
Every bride is different, there is no 'one size fits all' bridal emergency kit that is right for everyone.
It's worth speaking to friends and close family members who have recently got married so they can give you an idea of what you might need. They'll probably tell you to include things that may have slipped your mind, like a bottle of water or a mini sewing kit just in case of dehydration or dress disasters.
Check your kit the night before the wedding to make sure that you have everything you need, this will leave you feeling confident and ready for the big day ahead.
You don't need to pack a whole handbag's worth of products as there's no way you or anyone else will want to be lugging this around all day. It's best to pick and choose your most needed products from the above list and pop them in an appropriate clutch bag.
If you're doing DIY wedding makeup and are using your own products, pop a few bits in your kit for top-ups throughout the day. If a makeup artist is doing your face then ask them what products they recommend for emergency top-ups on the day.
Your bridal party can help you collect all of the products for your kit and you could even enlist a bridesmaid to carry your emergency kit for the day.
Remember to opt for mini or travel-sized products when you're putting together your bridal kit so that you're not weighed down with a heavy bag. These travel-sized items are available from most supermarkets and are relatively cheap – good news seeing as you'll have just spent loads on planning your wedding.
Makeup and beauty essentials are good, but don't forget other important items that you might need in your kit too. Indigestion tablets are a good idea for after the wedding breakfast and you may be grateful of some plasters if those beautiful wedding shoes start hurting your feet.
In the run-up to your wedding, you'll want to follow this beauty prep timeline and swat up on these eight beauty treatments to avoid.