19 Stylish Wedding Trainers You'll Wear for the Big Day & Beyond
Who says you have to wear heels on the big day? These chic wedding trainers are every bit as special as a pair of stilettos, without any of the blisters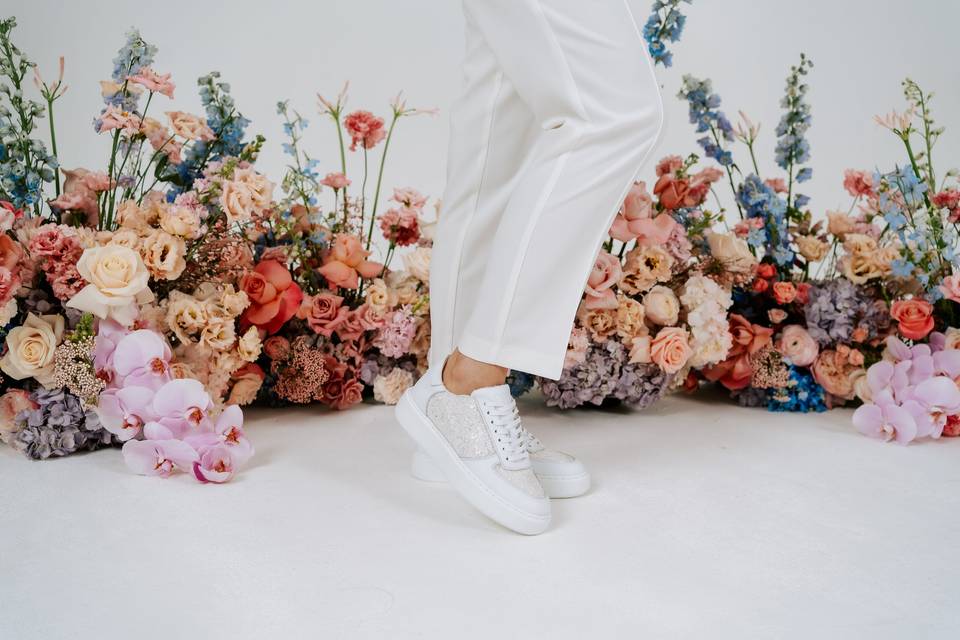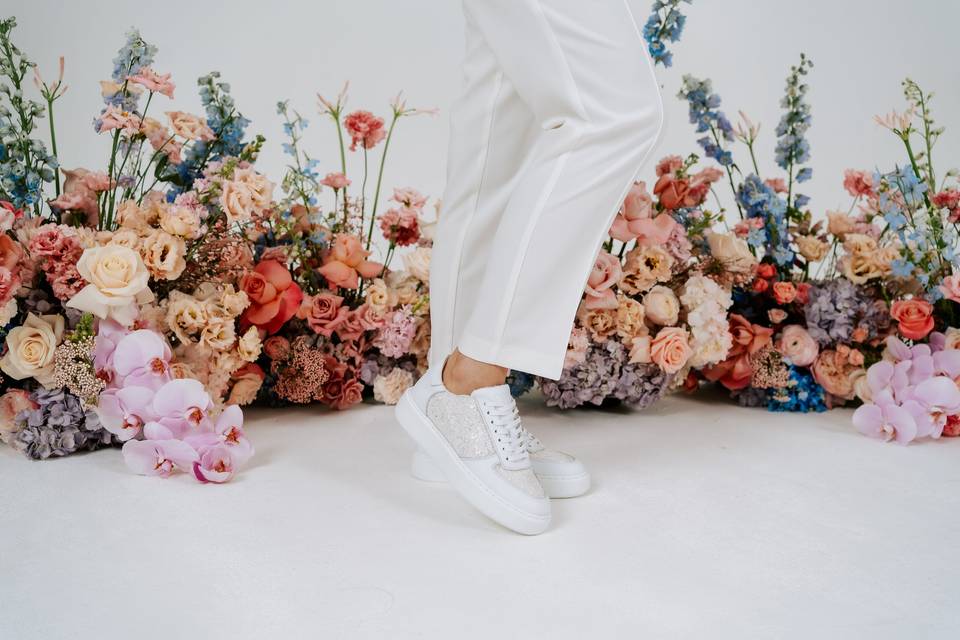 After a day spent in sky high heels, slipping into a chic pair of wedding trainers for the evening do is one of the most satisfying feelings. Plus it means you'll be able to stay on the dancefloor for way longer. But who's to say you can't wear bridal trainers for the duration of the big day?
Wedding trainers are a casual-cool addition to any W-day ensemble, whether they're hidden under a floor-length gown, peeping out from under a tea-length wedding dress or having their moment in the spotlight, paired with a sharply tailored wedding suit.
From glittery wedding trainers for princess brides, to personalised wedding trainers that feel extra special, these are the best wedding trainers to shop now
19 Wedding-Editor Approved Wedding Trainers for Brides
1. Heart Print Wedding Trainers: Reebok Club C 85 Heart Trainers in White and Pink, £75
These subtle heart print trainers are so cute it seems a shame to hide them under a long wedding dress. As well as looking ultra-romantic, these are comfy too, with a padded back which means zero rubbing.
2. Converse Wedding Trainers: Converse Chuck Taylor Valentines Trainers in Black With Heart Embroidery, £65
White Converse are a classic wedding choice, but these black ones will appeal to all the former emo-kids getting married. Yes, black's not an obvious choice, but when they're emblazoned with hearts, they make for the perfect wedding trainer. We can imagine Kourtney Kardashian wearing these for her wedding to Travis Barker.
3. Adidas Wedding Trainers: Adidas Originals Stan Smith Trainers in White With Pastel Triple Heart Detail, £52.45
Another classic trainer that's had a romantic makeover - you can't go wrong with Stan Smiths when it comes to an iconic design, but the addition of three embroidered hearts make these extra pretty.
4. Kate Spade Wedding Trainers: Kate Spade Vale Trainers, £125
Kate Spade can always be relied upon for the cutest, kitchiest footwear, and just imagine how lovely these heart-print bridal trainers would look peeping out from under a short wedding dress. Obsessed!
5. Cheap Lace Wedding Trainers: Monsoon Bridal Trainers, £26
These budget friendly trainers are the perfect wedding trainers to slip into once your heels get too uncomfortable. The lace detailing makes them a classic wedding choice.
6. Sparkly Wedding Trainers: Rainbow Club Shimmering Ivory Wedding Trainers, £89
Rainbow Club is famed for wedding shoes, so it makes sense they'd make a big-day perfect pair of trainers too. They're super comfortable and won't rub even if you don't have time to wear them in - that makes them a winner in our eyes!
7. Designer Wedding Trainers: Love Moschino Free Love Heart High Top Trainers in White, £193
A designer shoe is right of passage on your wedding day, so why not wear a pair of super-cool Moschino trainers? Pair with a wedding suit for a truly stylish look that nobody will be expecting.
8. ASOS Lace Wedding Trainers: ASOS DESIGN Dainty Floral Lace Up Trainers in White, £22
Weddings are a day for flowers, wouldn't you agree? Extend the theme to your feet in these fancy 3D trainers, with pop out blooms on the sides.
9. Vans Wedding Trainers: Vans Slip-On U-Paint Camo Daisy, £45.60
These colour-in Vans are perfect if you can't find any shoes to match your wedding colour scheme. Just shade the petals in with hues that correspond with your big day and you're good to go! Plus, if your wedding party wear the same, it could be a fun pre-wedding activity to colour your shoes in together.
10. Starry Wedding Trainers: Accessorize White Star Print Trainers, £30
We can't resist a star print, especially when it's as gold and pretty as this! It would fit with any star or celestial inspired wedding dress and we'd definitely wear these long after the big day.
11. Glittery Wedding Trainers: M&S Lace Up Leather Star Trainers, £45
Glitter AND stars? Now you're talking! We're very taken with these lace up leather trainers. Having owned many-a-pair of M&S trainers we're confident these would be comfy from the very first wear, and would last a long time too.
12. Gold Wedding Trainers: New Look Gold Lace Up Wedding Trainers, £12
Also available in silver, these budget-friendly lightweight slip-ons are perfect 'end of the night' trainers to rest tired toes. The perfect pick if you want cheap wedding trainers to switch over to for dancing!
13. High Street Wedding Trainers: New Look White Chain Trim Chunky Lace Up Trainers, £29.99
If you want to add extra inches to your height without wearing heels, these chunky soled babies from New Look are your answer.
14. Cool Wedding Trainers: River Island Purple Perspex Detail Trainers, £35
The clear panel on these high street trainers gives them a fashion-forward vibe that we're very on board with. Lilac makes them a pretty choice for spring too, though if it's not a colour you're having at your wedding, these also come in plain white.
15. Shiny Wedding Trainers: Superga Metallic Trainers, £65
Rose gold is one of those wedding colour themes that never goes out of style and we for one are glad. Superga canvas trainers are an everyday staple and this jazzed up metallic pair makes for the perfect special occasion shoe.
16. Embellished Wedding Trainers: White Pearl Wedding Trainers, £90.36
Etsy is a hot bed of superchic wedding trainers, but these pretty pearl detailed ones are our pick of the bunch. They come in 2, 3, 4 and 6 cm platform height, so if you want to add on extra inches they're a great choice. Pair with a pearl wedding dress to really nail that pearlcore trend.
17. Pink Sparkly Wedding Trainers: Custom Chuck Taylor All Star Lift Platform Glitter For You, £90
Converse have a service on site where you can customise your high tops to the exact glitter you want. We'd go for hot pink with silver glitter tongues, but that's just us….
18. Nike Wedding Trainers: Nike Air Force 1 '07, £99.95
These iconic Nike trainers never go out of style, so make for a fitting wedding trainer. They're not the daintiest trainers out there (look at that chunky sole!) so choose your wedding outfit wisely to stop them from overpowering the other elements of your ensemble. You can also design your own take on them, if you love the idea of custom kicks.
19. Karolina Trainers: Charlotte Mills, £120
These exclusive wedding trainers by Charlotte Mills are perfect for brides who want their wedding footwear to still have a very bridal feel. The white glitter panels add a glamorous touch to the Karolina sneakers.
If your wedding trainers are just for the evening, make sure you check out our edit of the best nude wedding shoes too!