The Ultimate Pet-Lover's Guide to Having Your Dog at Your Wedding
Obsessed with your pup? Our guide tells you everything you need to know about having your four-legged friend as the wedding guest of honour.
We have included third party products to help you navigate and enjoy life's biggest moments. Purchases made through links on this page may earn us a commission.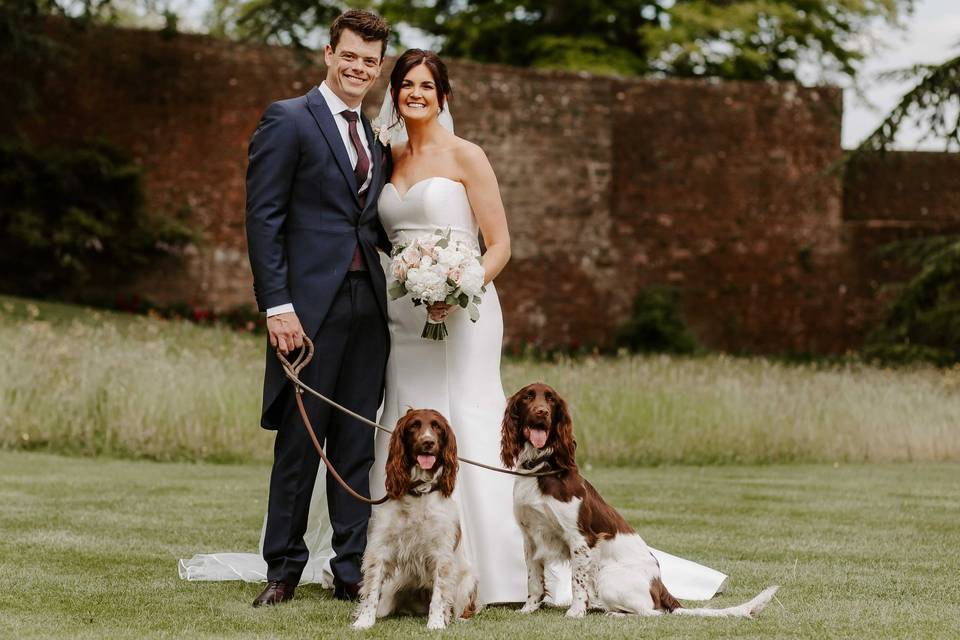 Dogs at Weddings: Everything You Need to Know
How would you feel about extending your guest list to include your dog? According to new research from Yappy.com, a quarter of nearlywed couples are planning to include their pet in their big day. As well as that, money.co.uk state that Google searches for 'pets at weddings' has risen by 200% in just one year!
We're not surprised, by the way... What better way to celebrate your wedding day than having your four-legged best friend by your side? Having dogs at weddings is the paw-fect scenario for many (just imagine the cute dog wedding outfits!), but there are some aspects of your wedding day that may effect your doggy plans.
For some couples, friends and family are the most important wedding attendees. For others, it's the dog! You know, that furry bundle of joy that's been by your side through all the highs and lows of your relationship? With dogs being one of the most popular pets in the UK, it's no surprise that so many owners want nothing more than to have their four-legged best friend by their side as they day 'I do'.
As lovely as the idea is, having a dog at your wedding isn't feasible for everyone. Read our guide to help you make the all-important decision.
Can You Have a Dog at a Wedding?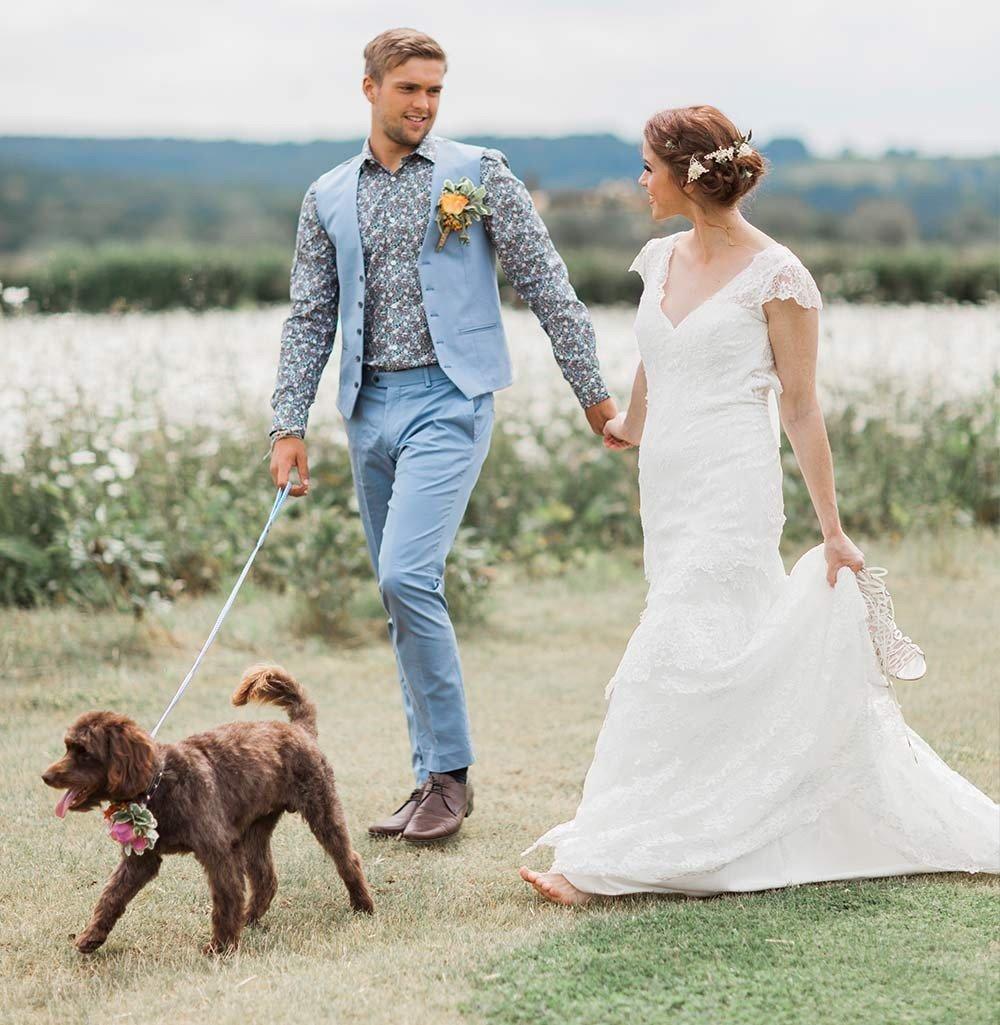 The short answer is yes - having your dog at your wedding is completely possible. However, there are a number of things to check and consider before you make the decision to have a pet-friendly wedding. From venue permission and allergies, to training and practise runs, here's everything you need to know about having dogs at weddings.
14 Things You Need to Consider Before Having Your Dog at Your Wedding
1. Check With Your Venue
Before anything else, you need to check with your wedding venue that they allow dogs on the premises. Most wedding venues will have a pet or animal policy they can share with you. Some pet-friendly venues will be more than happy to open their doors to animals, some will only allow pets to be outside (perfect if you're planning on having an outdoor wedding ceremony), and others won't allow pets on site at all.
If having your dog at your wedding is completely non-negotiable, this is something you should check with venues before you book and get tied into any contracts.
2. Allocate a Dedicated Dog-Sitter
When dogs are included in weddings, it's likely that their main role will be during the ceremony either as a ring bearer or walking the couple down the aisle - it makes for gorgeous wedding pictures! If that's your plan, make sure you have a trusty dog-lover, maybe someone from your wedding party, to keep your pup occupied in the in-between parts of the day. Ideally, this should be someone who knows your pet and who they are familiar with.
3. Remember The Walks
On an average day, most pet owners will take their dogs for walks at least twice a day. The structure of a wedding day doesn't always allow for rest-and-relax breaks, so ensure your dog has scheduled times throughout the wedding day to have a run around and let off some steam.
4. Consider Your Setting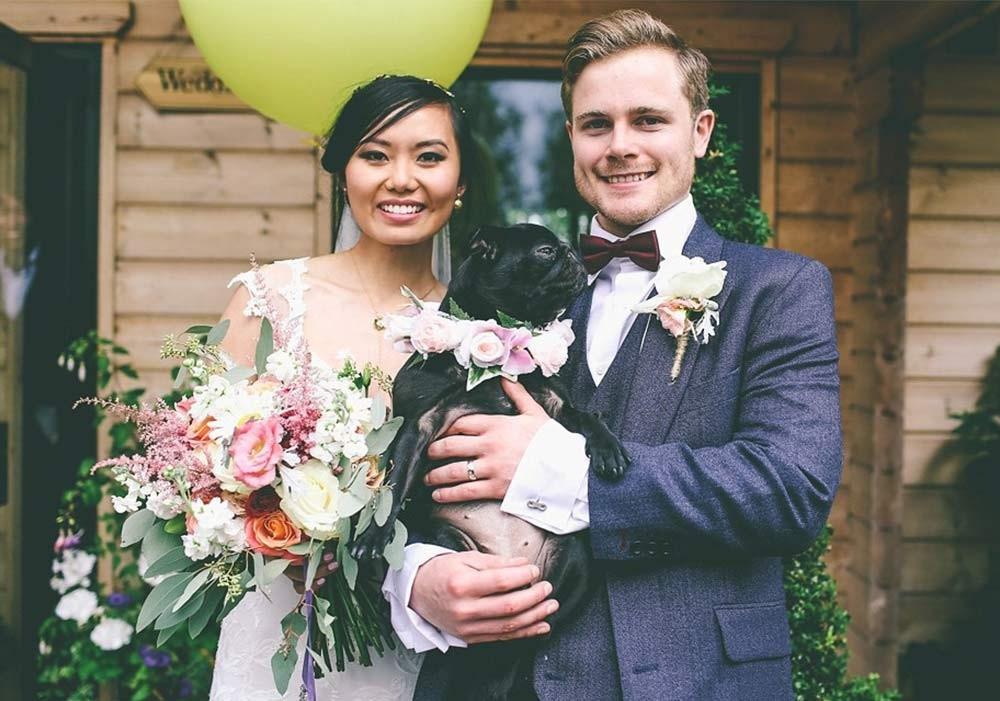 Speaking of walks and fresh air, think carefully about the venue you're getting married at. Inner-city wedding venues, and indoor weddings with little-to-no outdoor space may not be the best setting for a dog to spend an entire day. If you are getting married in a wedding venue that isn't particularly pet-friendly, consider arranging for your pet to be picked up after the ceremony.
5. Fed and Watered
Couples spend weeks, even months planning and deliberating over food and drink choices for the wedding guests - they are fully taken care of at wedding celebrations. Ensure this is the case for your pet, too. Does the venue have water and food bowls? Do you need to pack food or can the venue provide this? These are the questions you need to ask your wedding venue ahead of the big day.
6. Consider Your Pet's Personality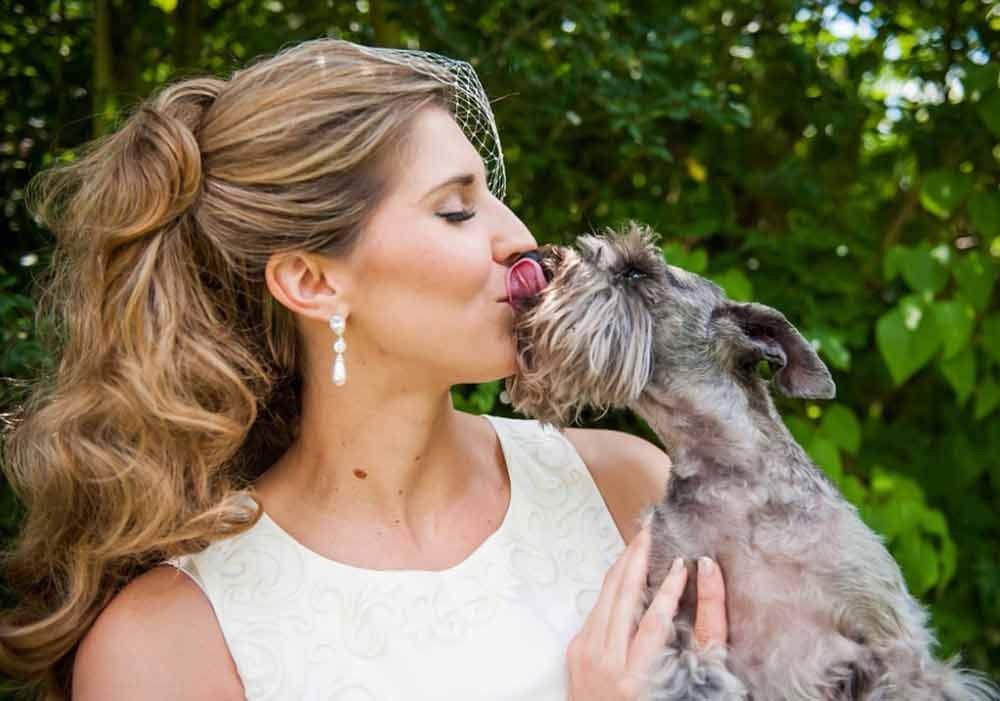 As much as having your dog at your wedding might be your idea of perfection, it may not be for your pet. If your dog is shy and doesn't like being around people, or if they're very overly energetic and excitable, it may not be the right fit to have them at your wedding. Alternatively, you may need to consider altering your day. If it's that important to you that your dog is present, consider cutting the guestlist and having a small, intimate wedding that they'll feel more comfortable in.
7. Think About Logistics
As we mentioned before, a lot of couples want their dog to be present for the ceremony, but not for the remainder of the day. You may want the dog to stay at home for the first part of the wedding and then join you for the lovely outdoor reception, or have the pup by your side for the entire day.
Whatever your plan is, make sure you organise the logistics of the day. Who is picking up and dropping off your pet? Do they have everything they need? Does everyone know the timings?
8. Pack Their Favourite Things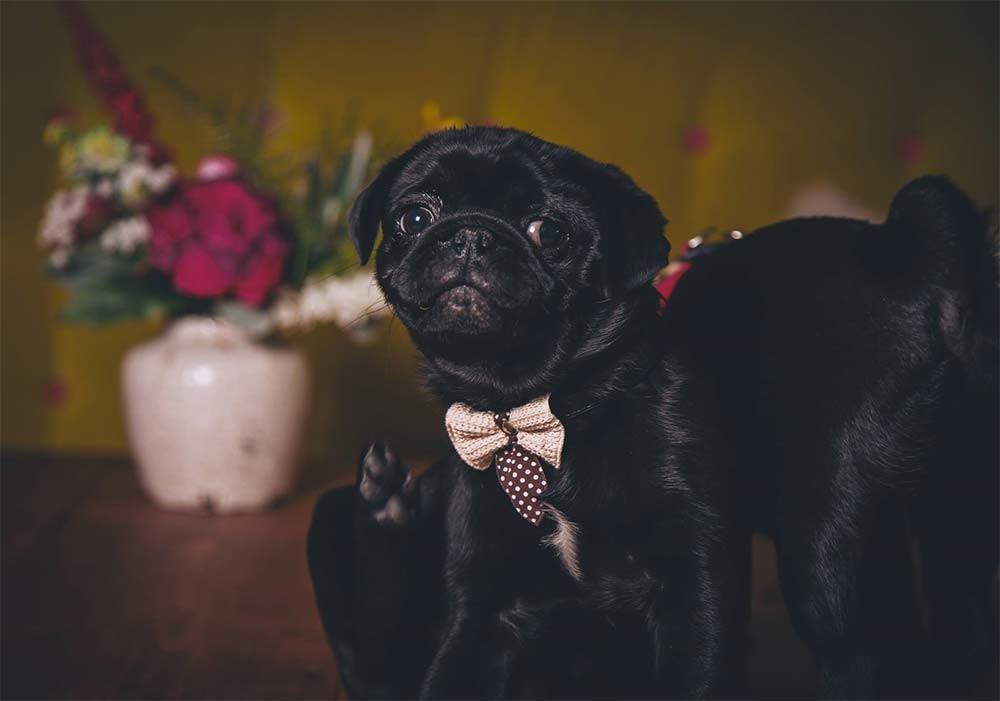 Dogs need to be entertained and most won't want to just mooch around a reception for hours on end. Pack your dog's favourite toys, snacks and a cosy blanket or dog bed to ensure your four-legged friend is entertained and comfortable at all times.
9. Think About the Outfit
Nothing says awesome wedding like a dog in a wedding veil or an adorable suit. There are loads of amazing companies out there that provide cute bow tie collars, doggy veils or even flower crowns. Whilst the outfits do look adorable, be mindful of weather. If you're getting married in the height of summer, you want to make sure your pet isn't too hot. Equally, some of these lovely pet outfits can be uncomfortable and aren't practical for pets to wear all day long.
10. Prepare Your Pup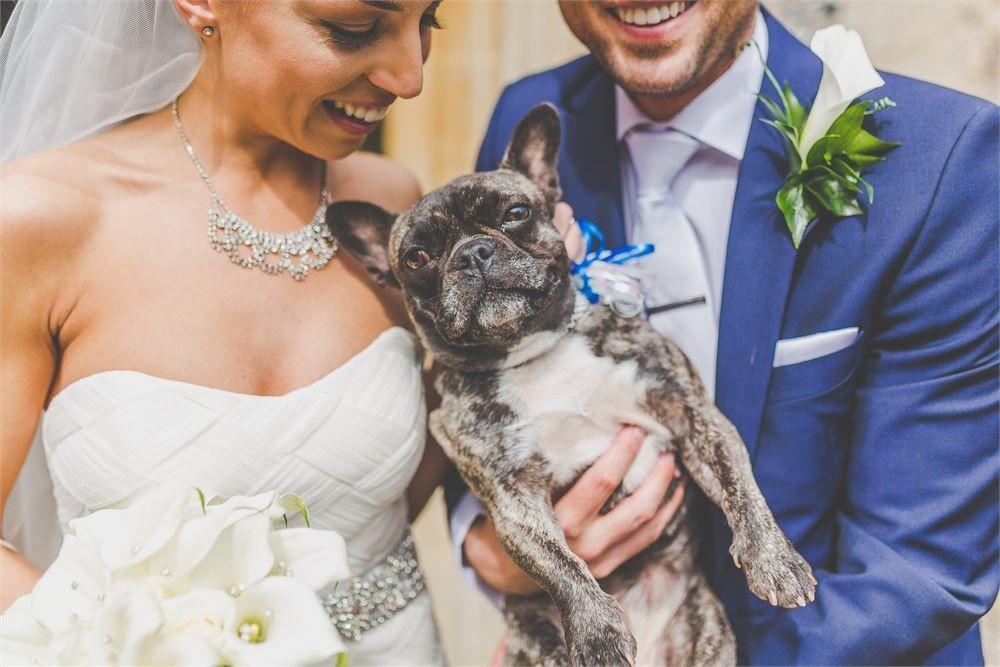 Not all dogs are well-accustomed to big groups of people so before the big day, take as many opportunities as possible to get your pooch out and about with larger crowds. Family BBQs or pet-friendly festivals are great opportunities to see whether or not your dog is comfortable at big events. We'd also advise some form of rehearsal or training to prepare your pet, especially if you're planning on having them as your ring bearer.
11. Do a Practise Run
If at all possible, try and take your dog to the venue for a bit of a 'practise run'. This is a chance to see whether or not there are any triggers for your pet such as loud noises, busy car parks or any other animals on site that could be an issue on the day.
12. Consider Allergies and Fears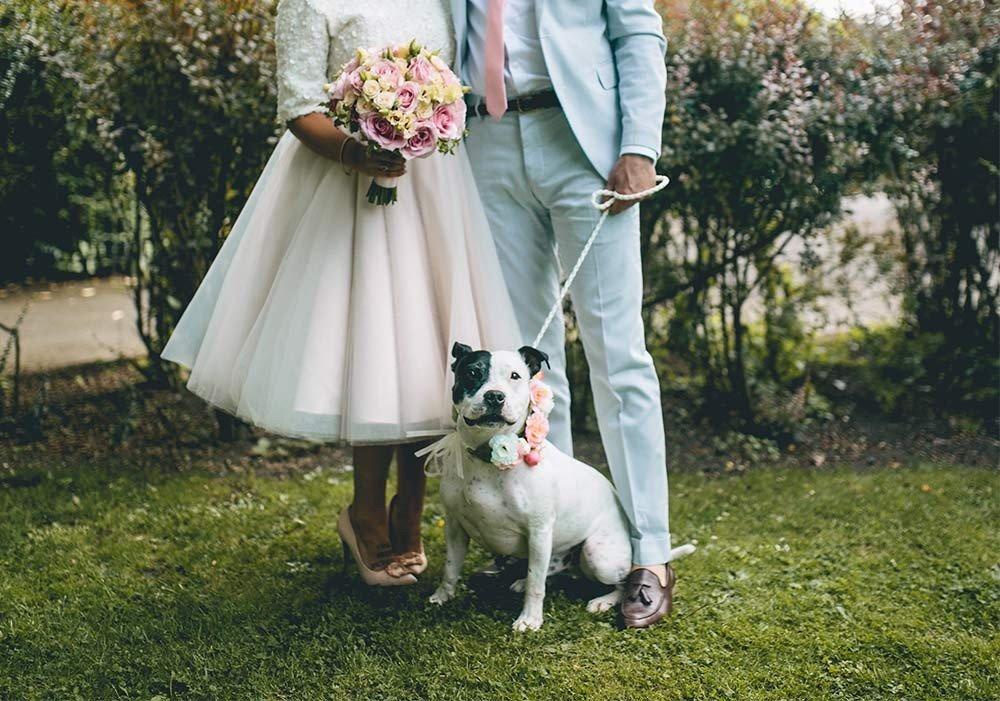 Do you have any wedding guests who are allergic to dogs? Do any of the staff at the venue, or your suppliers have an allergy or fear of pets? Is someone scarcely afraid? Whilst it doesn't have to be a 'them or the dog' situation, it's worth informing people so that they can take extra measures such as taking anti-histamine tablets and being aware that they should keep their distance on the day.
13. Look at it Through Your Dog's Eyes
Ultimately, when making this decision, you need to look at your wedding day through your dog's eyes. Is this going to be an enjoyable experience for them? Will they have a fun day? Is it feasible? Being able to include your beloved pet in your wedding is an amazing thing, but it has to work on a practical level for you, your guests, the wedding venue and most importantly, your pup.
14. Hire a Dog Chaperone
We spoke with the team over at A Pad 4 Paws who offer a dog chaperoning service. They were able to offer their expertise and advice on what to do with your dog when you get married and how to involve your furry friends in the big day.
What Do People Do With Dogs When They Get Married?
There are several options dog owners can choose from when deciding what to do with your dog on your wedding day. Hiring a dog chaperone can significantly improve both the owner and dog's experience during a wedding. Your dog can be brought to a chaperoning provider or the chaperoning provider can pick your dog up at a location, quite often this will be the venue itself. The chaperone will be fully equipped to tend to your dogs needs throughout the day with your dog's welfare being the top priority.
When the dog is no longer required at the wedding, the chaperone can pet sit with them at the venue until they are collected by a family member. Alternatively, the chaperone can take the dog back to their residence (which needs to be licensed) where they can remain for the night living in the house, if required. The following day they can either be returned to the venue or be collected from their overnight residence. Hiring a dog chaperone passes the responsibility over to someone else so you can enjoy your day knowing they are in the hands of a loving and caring pet professional.
Can Your Dog Walk You Down the Aisle?
The short answer to this question is yes - but there are some things you should consider. Aside from your venue, it's important that you check that the registrar or celebrant is happy and comfortable with have your dog in attendance. If your dog becomes agitated, having a chaperone can really come in handy. The chaperone can be on standby at the back of the ceremony room and come to your assistance and remove the dog from the ceremony and keep them happy.
Can a Dog Video Your Wedding?
According to a study by Guide Dogs UK, a staggering 94% of couples want to include their pet on their wedding day. So that, along with the fact that searches for 'wedding videographer' have risen by 2,300% since 2018, meant launching the UK's very first Vid-Dog-Grapher was a no-brainer for us (even if it is just a little joke).
Digby the Vid-Dog-Grapher offers couples a paw-some service, shooting wedding videos with bundles of energy and a natural bounce that only a Springer Spaniel could achieve. He's energetic, professional and loves mingling with guests.
Whilst Digby might not be available for your wedding, you could always give your canine a job on the big day and attach a GoPro to them for a dogs-eye-view of the day...
What Roles Do Dogs Have at Weddings?
There are a number of ways you can incorporate your dog in your wedding. Having your four-legged friend as a ring bearer, dog of honour, bridesmaid, best man, walking you down the aisle and posing in your private photographs are just a few ideas to consider. Some couples also like to have their dog at the wedding with no formal role - just enjoying the celebrations and roaming around, looking adorable as usual. Interestingly, in a number of states in the US, dogs can actually be your witness and sign with their paw print. Vegas wedding anyone?