Bridesmate, Mate of Honour and Wedding Party: Why It's Important to Have Gender-Neutral Terms in the World of Weddings
Want to include a non-binary pal in your wedding, or looking for a gender-neutral term for someone in your wedding party? Discover 'bridesmates' and more...
There are few occasions in life quite so steeped in tradition as a wedding, which can sadly make being part of the wedding party an anxiety-inducing time for the non-binary among us. However, don't fret as there are plenty of ways to include your non-binary pals in your wedding, without using dated, gendered terms. Introducing: the bridesmate.
From the omission of gender-neutral terms on wedding documentation to a lack of non-binary gifting options for the wedding party (once known as the 'bridal party'), we've got a long way to go when it comes to making weddings a safe space for non-binary nearly-weds and wedding attendees - even finding inclusive wedding cards (in 2022!) can prove to be a challenge.
"I've definitely felt excluded from traditions while planning my wedding day and I'm very nervous of being treated as my gender throughout the day," says Clarke Gostelow, who was assigned female at birth (AFAB) but identifies as non-binary and is getting married to their partner Adam in May 2022. "Anyone could slip up [and mis-gender me] during our wedding day and I'm honestly terrified of that being the only thing I remember from the day or being really upset."
Clarke and Adam will be having as much neutral language as possible used in their wedding ceremony and have added a statement to their wedding website asking people to respect names and pronouns to hopefully prevent anything ruining anyone's day.
READ MORE: The Ultimate Guide to Planning a Sten or Fox Do
One aspect Clarke has taken full control of is the role of their non-binary best friend in the big day. "I came up with the term 'mate of honour' and say 'wedding party' as opposed to bridal party," Clarke explains. Clarke isn't alone in revamping the traditional (and outdated) notion of the bridal party, with more and more nearly-weds making it their own, opting for bridesmates, bridesmen and mates and men of honour.
Georgia Tatum, 27, is getting married in September 2022, with her brother Tom by her side as chief bridesman. "Growing up I always knew my brother would be involved but assumed he would be an usher or part or the groom's party because that was 'the norm.' I am so thankful that society has started to squash those norms and I can choose to have my best friend as my chief bridesman.
"The people in your wedding party should be the ones who have been there and mean the most to you," Georgia continues. "I don't think gender should come into the decision at all."
Sophie Lowe, 28, who is getting married in 2023 agrees. "I hadn't actually put much thought into whether or not my bridesman would fit into the traditional bridal party or not. In my head, he was automatically going to play a big role in my day."
Read on for your guide to bridesmates, including outfit and gift ideas for all the gender-neutral people in your wedding party.
What Is A Bridesmate?
Bridesmate (or indeed mate of honour) is a gender neutral for your non-binary friends and family members who are a part of your wedding. The terms are alternatives to 'bridesmaids' and 'groomsmen'.
Bridesman and man of honour are other terms you might hear if you're having someone who identifies as male in your wedding crew – i.e. a brother or male best friend you can't imagine walking down the aisle without. On the other side of things, you might hear groomsmaid or best woman to refer to someone who identifies as female in the 'groom's party'.
It's important to have gender-neutral terms for people in your wedding party to make sure they feel included and comfortable as part of your day, rather than left out by the sometimes antiquated language used in weddings.
"I couldn't bear the thought of my whole family getting ready with me on my big day, but my brother being a groomsman and getting ready with my fiancé instead," explains Sophie. "He's been there for every big moment and it wouldn't feel right without him, so he's going to be my bridesmate. Him and my dad are going to coordinate suits and colours to complement the bridal party"
Non-Binary Wedding Outfits
Gendered wedding parties tend to have coordinated outfits, with all the bridesmaids in the same shade or style of dress, but with a non-binary bridesmate you can be more creative.
Bridesmates could all wear an element of the same colour to tie them all together, or they could all carry the same bouquet to identify them as one of your most-loved people.
If you're worried about your bridesmate's outfit, ask them what they would feel comfortable wearing, or suggest you go shopping together to find something they like and choose together so it fits your vision for the day.
"I've asked that all of my wedding party wear our wedding colours, but I'm not fussy on what they wear as long as they're comfortable," Clarke says. "It felt weird to me to dictate what other people are wearing."
READ MORE: We're a Same-Sex Couple & This is What We're Always Asked
Bridesman Outfit Ideas
When it comes to a male-identifying bridesman, the most popular option is to have him wear the same colour scheme as the bridesmaids – i.e. he wears a tie in the same shade the bridesmaids are wearing.
"There's not a lot of guidance out there for what a bridesman should wear, but it meant we could make up our own rules," says Georgia. "My brother and I looked at different options, such as making his suit the same colour as the bridesmaid dresses or putting him in a pattern, but ultimately this would have made him stick out and feel uncomfortable.
"We decided he will wear the same suit as my partner's party to tie everything together, but his buttonhole will match my bouquet and we are having his tie made out of the same material as the bridesmaid dresses.
"He now has a few aspects from both sides and has become the link between the two, which is lovely."
Gender Neutral Wedding Gifts
In recent years it's become customary for the 'bridal party' to wear matching personalised pyjamas and robes the morning of the wedding, or for the nearly-weds to give gifts such as 'bridesmaid' coat hangers, jewellery or mugs to their party.
The lack of gender-neutral or male-focussed favours is an issue Georgia has faced in the planning of her wedding. "The wedding industry has started to catch up with same sex weddings which is great, however it is still behind on a lot of other items," she says. "For example, it's easier to find outfits/ideas for your pets to be part of your wedding than it is for your brother to be a bridesman."
If you're struggling to find gifts for your non-binary bridesmate, we'd suggest eschewing gendered gifts altogether. Seeing everyone else wear a 'bridesmaid' gown while they don't have one could feel alienating. Instead we'd suggest gifts personalised with names instead of gendered-roles, to make sure everyone is involved. Or opt for gender-neutral gifts such as tops with 'I do crew' on.
READ MORE: Five Marriages That Changed History in the UK
I Do Crew Pillowcase - Not on the High Street, £13.95
You can customise this 'I Do Crew' pillowcase with your wedding party's names - it's a nice touch if you're looking for gifts to put out for your pals on your sten do too!
I Do Crew Wedding Socks - Not on the High Street, £12
These 'I Do Crew' socks are guaranteed to be a crowd-pleaser as who doesn't love getting socks? You can personalise them with the role and wedding date, meaning you can truly tailor them to your wedding party.
I Do Crew Enamel Pin- Etsy, £3.99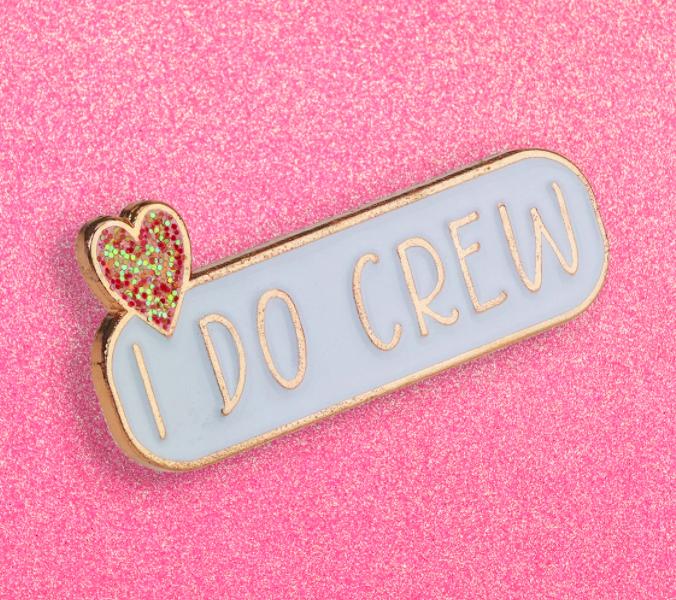 This cute, sparkly 'I Do Crew' enamel pin is perfect for stashing in gift bags for your wedding party!
I Do Crew Sweatshirt - Six Stories, £34
This cosy sweatshirt leaves no doubt about who is in your 'I do' crew! Your pals will never want to take them off.
Bridesman or Bridesmx Gift Ideas
You don't have to leave the bridesman or bridesmx out of the gifting - there are some really lovely options for the men or non-binary folx in your wedding party.
Bridesman Tee - Six Stories, £24
Bravo to Six Stories for creating this gorgeous 'bridesman' T-shirt, so your male friends can be just as included in your wedding party and celebrations.
Bridesmx Sweathshirt - Six Stories, £2.40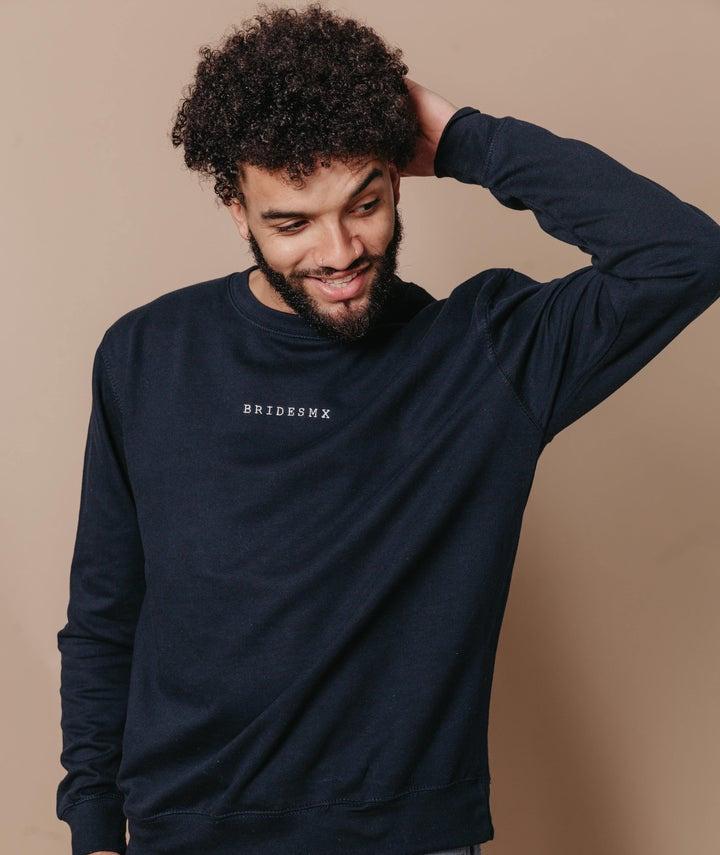 If your pal is non-binary, you can treat them to this gender neutral 'bridesmx' sweatshirt from Six Stories.
Bridesman Cufflinks - Etsy, £11.01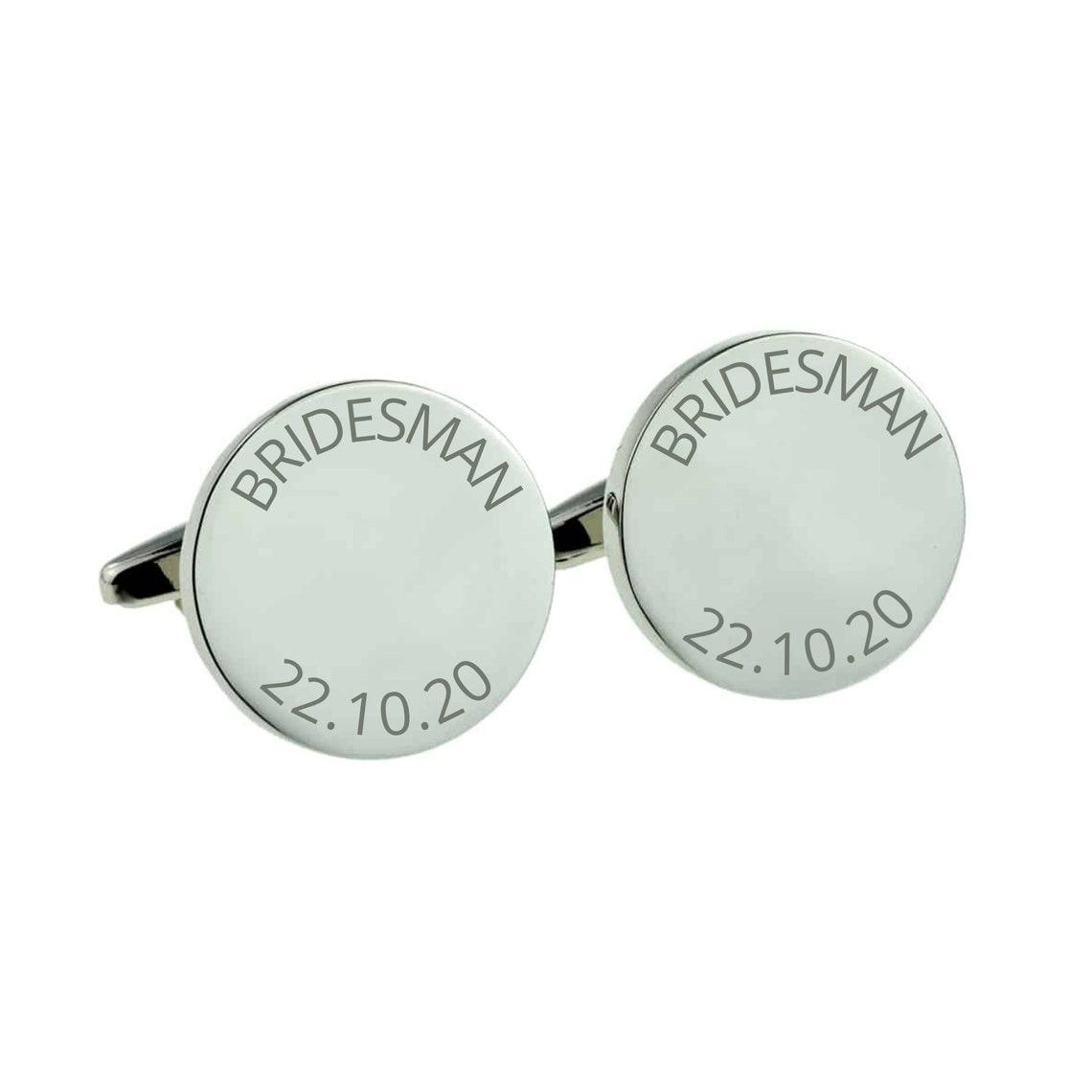 How lovely are these personalised bridesman cufflinks? They are something your friend will treasure forever.
Man of Honour Socks - Not on the High Street, £12
If he's worthy of being your man of honour, he deserves a vibrant pair of man of honour socks to wear!
How to Ask Someone Non-Binary to be in Your Wedding
The internet is awash with ways to ask someone to be your bridesmaid or maid of honour, but options are limited when it comes to gender-neutral proposals.
Whether you want to send a fancy balloon or a sweet card, look for gender- neutral, inclusive language such as 'will you be in my wedding party?' or 'will you be my mate of honour?'
Bridesmate Proposal Gift Box - Etsy, £13.80
How perfect is this bridemate propsal box? Your pal will be touched to receive this.
Gender Neutral Mate of Honour Card - Etsy, £3.75
This gender neutral, mate of honour card is the perfect way to ask your non-binary friend to play an important role in your wedding.
Gender Neutral Wedding Party Proposal Card - Etsy, £5.54
This lovely lavender proposal card can be customised with your friend's name and asks if they'll be in your wedding party - not bridal party, which is a nice, gender neutral touch!
I Do Crew Proposal Card - Etsy, £3.75
This cute 'I do crew' proposal card is complete with gorgeous rainbow-hued font - an extra nice touch, we think.
'Take a Shot' I Do Crew Proposal Card - Etsy, £3
This simple black card asks your friends to 'take a shot' at being in your 'I Do' crew - it'd be a nice touch to accompany it with a shot-sized miniature of their favourite tipple, or perhaps a shot glass?
Will You Be My Bridesman Cards
Personalised Bridesman Proposal Card - Etsy, £2.49
This cute bridesman proposal card depicts the bride being flanked by two men - a really nice way to make your male friends feel visible and included!
Man Of Honour Proposal Card - Etsy, £3.95
We love the simple style of this man of honour proposal card - it's so understated.
Will You Be My Bridesman Proposal Card - Etsy, £4.50
Less is more with this simple, rustic style bridesman proposal card - your friend will be delighted to receive it, we guarantee.
Now you've got your bridesmates sorted, why not start planning your sten do?