The Ultimate Wedding Planning Checklist: Your Complete Guide
Get on top of your wedmin with our complete 18-month wedding planning checklist! We've broken down the process into manageable tasks to tick off each month so it's as stress-free as possible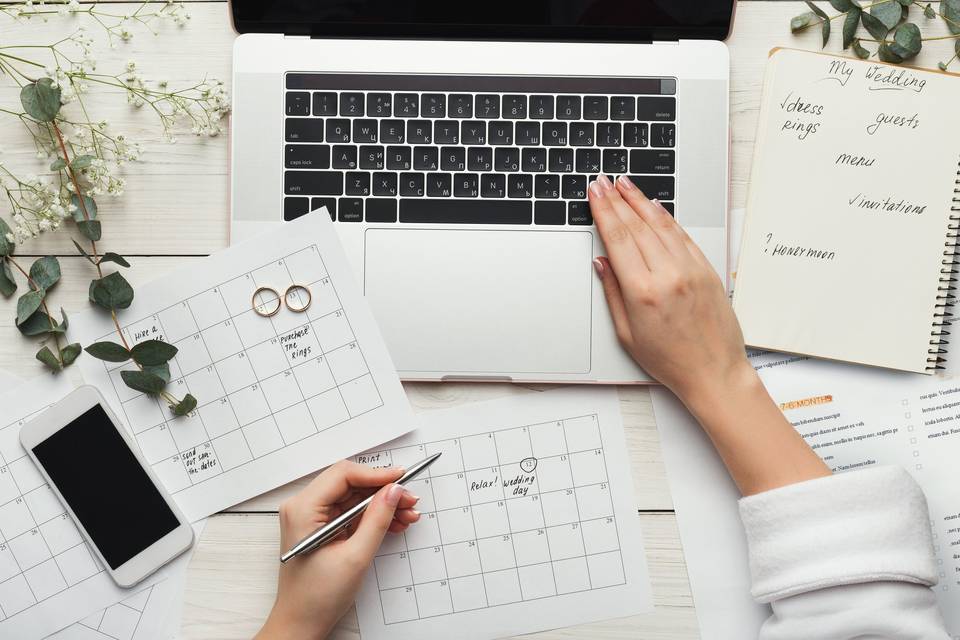 Congratulations on your engagement! Now comes the next step: planning the wedding. It can seem overwhelming, but with some organisation and a helpful wedding planning checklist like this one below, you'll find it can actually be a really fun process and go smoothly.
The average couple plans their wedding in 13 months but it depends on your timeline - some do it in as little as six weeks! We'd recommend you take at least 12 months to plan your wedding to make the process as manageable as possible. There's a lot to do, so breaking your to-do list down into monthly chunks can make everything seem that little bit more doable, taking away the stress and injecting the fun back into your wedding planning journey.
With this wedding checklist, we start at 18 months before the big day and work right up until the day itself, letting you know what you should book or decide upon. This timeline can be condensed down (or stretched!) to suit however long you've got to plan your wedding, but for much shorter timescales, check out our guides on how to plan a wedding in six months, three months, and six weeks.
To make it even easier, this list works hand-in-hand with the wedding checklist on the Hitched app. You can personalise your checklist with how long until your wedding, what tasks you need to do, and keep track by ticking them off as you go along. Here's our wedding planning checklist for each stage of the wedding journey:
Your Wedding Planning Checklist & Timeline: Month by Month
18 Months to Go: What's on the Checklist?

1. Write Your Rough Guest List
You can't determine a wedding budget or wedding venue until you know how many people you'd like at your wedding and how much money you're prepared to spend per head. Sadly, you can't invite everyone to celebrate with you, so think about who you couldn't get through the day without. It's often a good idea to get your parents to help with the writing of the guest list, as they'll be able to advise on distant relatives.
We've got a handy guide to how to put together your guest list and who to cross off immediately. If you're struggling to whittle down the numbers, you might want to consider a no-ring, no-bring rule.
2. Determine Your Budget
Starting your married life off in huge amounts of debt adds unnecessary strain, so you want to be honest about how much you have in savings, what you can save before the wedding, who might help out financially, and whether there's anything else (like a house or future family) that you need to be saving for too. It might not be particularly fun, but sit down and do some number crunching to decide how much you've got to spend on your wedding - here's how to do it in seven manageable steps.
Be realistic with yourselves and set up a shared spreadsheet which you can update every time something gets booked.
READ MORE: How to Ask Your Parents to Pay for Your Wedding
3. Provisionally Book a Venue and a Date
Choosing your wedding venue is probably the most important decision of your entire wedding planning process, and it is also the biggest cost. It determines everything from what your photographs will look like to which theme will work best. Wedding venues often get booked up well over a year in advance, so although you shouldn't make any rash decisions, you've got to act quickly. 18 months before your ideal wedding date, sit down and look through our venues directory which you can filter by venue style and location.
Book a handful of venue viewings for the spots which most appeal, then provisionally reserve a date at your favourite while you check on registrar availability (don't pay a deposit yet). This is the time to hire a wedding planner if you're getting one as they can help hugely with finding a venue.

4. Check Whether a Registrar or Church is Free On Your Wedding Date
It's all well and good reserving a wedding venue, but if there's no one free to actually marry you on your provisional wedding date then your plans will be pretty scuppered. If you're hoping to host a civil ceremony, you'll need to book a registrar. To book a registrar, search "book a registrar" along with the name of your county council and you'll be directed to the relevant page.
Once it's booked, you'll have 14 days to change your mind, but otherwise, you can go ahead and put down your venue deposit knowing there'll be a registrar there on the day. Be aware that some registry offices don't let you book a registrar earlier than a year in advance so you'll want to adjust your timeline if that's the case - you can still go ahead and put a deposit down on the venue, but you'll need to make a note to call and book the registrar as soon as the year rolls around.
If you're hoping to get married in a church, you'll need to check that church is free on your venue date. They'll often have requirements which you'll need to fulfil if you want to get married there, such as attending a certain amount of services in the run up to the big day or living within the parish.
Every parish is different, so do make sure you ask. You can find a full run-down of what else is available in our guide to how to get married - there are options to have a legal civil partnership, a humanist wedding or an independent celebrant-led ceremony too.
5. Confirm Your Wedding Venue
Now that your church or registrar is booked, it's time to get that wedding venue booking confirmed. Pay your venue deposit and begin getting excited for the big day!
6. Appoint Your Wedding Party
Perhaps the most fun part of your wedding planning is choosing and proposing to your wedding party. Depending on who you choose to be in your wedding party, there are lots of roles to be delegated like the best man and maid of honour to the ushers and bridesmaids. Think about who will be the most helpful, and don't ask someone just because they asked you! Once you've decided on your wedding roles, pop the question to them with a fun gift. Check out our round-up of the best bridesmaid proposal gifts here and the greatest best man proposal gifts here.
7. Buy Wedding Insurance
Although you don't want to dwell on the worst-case scenarios, it might be a good idea to consider taking out wedding insurance before you spend too much money. As with home and contents insurance, wedding insurance prices vary depending on the level of cover you choose. Your policy will often cover scenarios like your wedding dress getting damaged or your venue going bust. We'd always recommend getting your engagement ring insured or added to your home contents insurance as soon as it's bought. If you're confused about wedding insurance and Covid, we've got a guide for you here.
READ MORE: What is a Prenup and Do I Need One?
12-16 Months to Go: Your Wedding Planning Timeline

8. Choose Your Theme
Pinterest at the ready, it's time to decide on your wedding theme and colour scheme! This is such a fun wedding planning task which allows you to be totally creative. Your wedding theme should represent you as a couple, and can be anything from rustic or travel to festival or nautical. The sky really is the limit. We'd recommend creating a mood board to collate all of your ideas as well as saving anything you see and love on Instagram.
9. Book a Photographer and Videographer
The booking of some suppliers can be done a little closer to the wedding, but others book up quickly and should be sorted as soon as your venue is confirmed. Photographers and videographers are examples of those, so you should find one you love about 12-16 months before your wedding date. The latest you should leave it is a year before as the best get booked up quickly. Photographers and videographers make the wedding fun and create memories that'll last forever, so don't take the decision lightly.
10. Book a DJ or Wedding Band
Other suppliers who should be booked early include your DJ or wedding band, plus any musicians you'd like playing earlier in the day. They'll be the life and soul of your party, and since they can only attend one wedding per day, it's a good idea to book your favourite pronto.
11. Book Caterers If Needed
If the wedding venue you've booked is not going to be doing your catering, you'll need to consider hiring outside caterers. Think about the type of wedding breakfast you'd like – it can be a BBQ, hog roast or selection of sharing platters if you don't want something traditional – and go from there. We've got a whole host of recommended caterers from almost everywhere in the UK right here.
READ MORE: The Best Alternative Wedding Food & Drink Ideas
12. Book Your Florist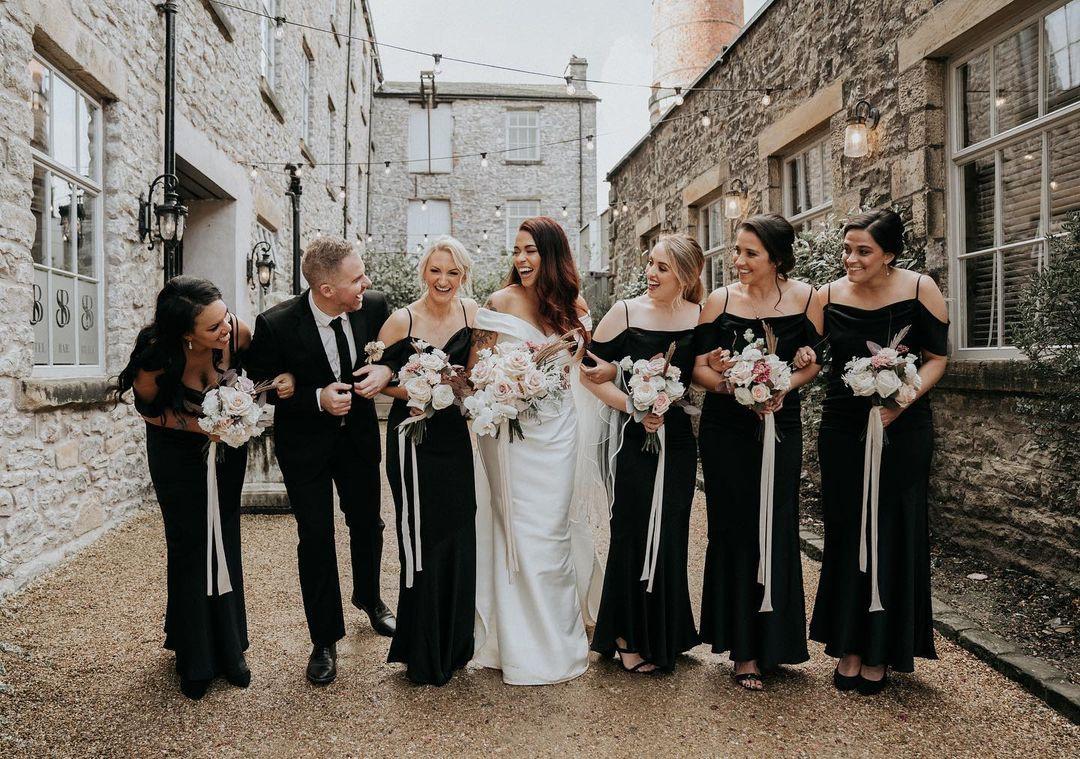 If you're not planning on DIY wedding flowers, it's a good idea to book your florist as soon as you know your theme and venue. Lots of florists will work on more than one wedding per day, but if you've got big ideas of flower arches and impressive floral installations, there's nothing to lose from booking them early. Don't worry – you don't have to know exactly what you want just yet, as you and your florist are likely to head on a venue visit together later on in the process before you get everything finalised.
13. Start to Consider Your Wedding Outfit
Suits can be found much closer to the wedding date, so this is only relevant if you're a bride. Think about the style of wedding dress you might want to wear on your big day. Look inside your wardrobe first and see what style you're drawn too, then research styles and designers on wedding websites and on Pinterest, and finally look around to see which boutiques stock the styles or designer you're after. You'll find that the dress shopping experience is a fun and exciting one, but unfortunately it can be harder if you're plus-size and going to high street boutiques. We'd recommend those brides find plus-size boutiques which will offer samples you can try on and a huge range of specialist designers, styles and sizes. You can find six essential rules for plus-size wedding dress shopping here.
If you're not sure what style of dress you'd like and would rather go with an open mind, find a local boutique and book an appointment to see what suits you. Hitched has lists of the best bridalwear shops in Essex, Liverpool, London and Manchester among others.
12 Months to Go: Your Wedding Planning Timeline for a Year

14. Register Your Intention to Marry
12 months before your wedding you should book and attend a meeting with your registrar. These can be booked for any time between one year and three months before your wedding date, but it's best to get it out the way. On the day, you'll register your intention to marry, pay for your marriage certificate (some parishes will only accept cash payments) and be given a form (or it'll be sent in the post shortly afterwards) which asks for all of your wedding ceremony details. You will then have up until six weeks before the wedding to return your ceremony details, so don't stress if you haven't sorted it already.
15. Send Out Your Save the Dates
This is where things get really exciting: it's time to send your save the dates to your wedding guests! This can be done anytime from 12 to six months before the wedding, but if you're marrying at a busy time - like a Saturday during the summer holidays - it's best to send them out as soon as you can. Just remember, you only send these to guests who are invited to the whole day, and not to evening guests. Your save the dates should outline your wedding date and whether guests can expect a wedding invitation or wedding website to follow. Check out our favourite unique save the date ideas here, from magnets to bookmarks.
16. Go Wedding Dress Shopping
The 12 month mark should see you attend your first wedding dress shopping trip if you're a bride. This allows plenty of time for alterations. Before you go, you should know your budget and buy some nude, seamless underwear. It's also a good idea to try and go on a weekday when bridalwear shops are quiet. Don't take too many people along with you; it's nice to have your mum and your MOH with you, but any more opinions will only throw you off-piste.
READ MORE: 29 Things You Need to Know Before You Go Wedding Dress Shopping
17. Go Bridesmaid Dress Shopping
If you're having bridesmaids, it's a good idea to go shopping for bridesmaid dresses after the wedding dress. One year in advance might sound like a lot, but with a (sometimes) large group of friends to organise, finding something which everyone loves can be a little tricky. Even if you don't actually purchase anything until six months before the wedding, an initial shopping trip well in advance can do no harm. This goes for finding suits for male bridesmaids too. At the same time as purchasing bridesmaid dresses, consider your flower girl outfits if you're having them.
10 Months to Go: What's Left on Your Wedding Checklist?
19. Find a Cake Maker

Finding someone to make your wedding cake can be done much closer to the wedding date than the booking of other suppliers needs to be. This is because cake makers can work on more than one wedding per day. Find a supplier who is based close to your wedding venue and who creates cakes which fit with your theme. If you're going for a rustic wedding you might want to consider someone who specialises in semi-naked wedding cakes, for example. Send them lots of photographs of the cakes you like, and head out to meet them in person before you finalise your design.
READ MORE: Questions to Ask Your Cake Maker Before You Make a Booking
18. Book Your Honeymoon Suite
If you haven't exclusively hired a hotel with accommodation, you should make sure the honeymoon suite at your wedding venue or a hotel nearby is booked. At the same time as doing this, book out a block of rooms for your closest family and friends so they've got somewhere to stay on the night of your wedding!
20. Meet With Your Florist
At the ten month mark you should meet with your florist to finalise your order. We'd recommend meeting them at your wedding venue, because although you're unlikely to have forgotten anything, they might be able to recommend different ways of elevating your floral design to really bring the space to life.
21. Decide on Your Ceremony Details
Your registrar should have sent a form to fill in with your ceremony details, so if you haven't already, you should start to think about filling it in. Don't panic though – you can send it off as close to up to six weeks before your wedding date!
You'll need to know everything from what song you're walking down the aisle to, to who's in your wedding party, who's giving you away, who your photographer is, what readings you want and whether you're writing your own vows or using the traditional ones. We've got lots of inspiration for all of those things, so don't feel overwhelmed. Take a look at our favourite non-religious wedding readings and our guide to writing your wedding vows.
Eight Months to Go: Your Wedding Timeline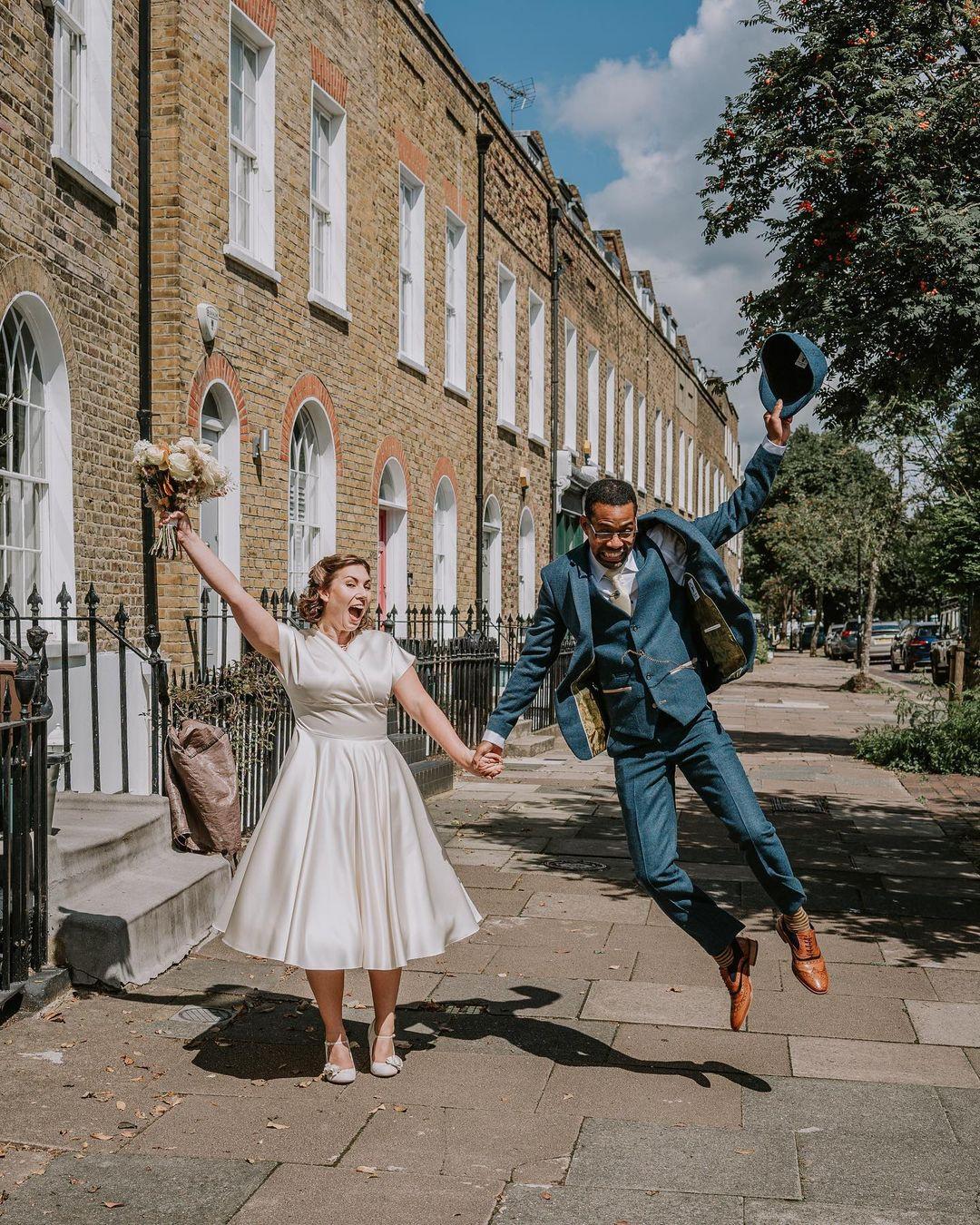 22. Start Ordering Décor Items
At the eight month mark, you should decide whether you're going to be decorating your wedding venue yourself or whether you need to appoint a décor stylist. If you decide on the latter, meet with an expert ASAP and offload all your ideas. If you're decorating the space yourself, this is a good time to scour the web for décor ideas and budget décor items which you can begin to order. Things to consider include fairy lights, centrepieces, table décor, wedding signs, chair covers, tablecloths, outdoor furniture, chairs and anything else you might need to make your venue look fabulous.
23. Curate Your Gift List
If you've decided to have a wedding gift list, now is the time to fill it; this is because it needs to be ready in time for the posting of your wedding invitations (more on that later). There are lots of advantages to creating a wedding gift list, including the fact that it saves guests the stress of deciding what to buy you and they won't waste money on gifts which you won't need or like. There are lots of online gift lists which will be a huge help, including Prezola and The Wedding Shop. If you're not too keen on the idea of a traditional gift list, there are other options: you can ask for money instead of gifts, set up a honeymoon fund or consider Prezola's Social Gifting scheme which won't cost your guests a penny.
24. Make a List of Recommended Hotels
Another thing to do before you send your invitations is to create a list of recommended hotels (covering a range of budgets) which are close to your wedding venue. You might want to speak to the hotels and ask if you can arrange a discount. This is particularly important if your venue doesn't have accommodation.
25. Book Your Transport
If your wedding ceremony isn't being held at the same place as your wedding reception, you'll need to arrange transport to get your guests from one venue to the other. Check out our round-up of the best alternative transport ideas for your big day. At the same time as booking transport for your guests, you should book the transport which will get anyone in the wedding party (who's not staying on-site the night before) to your ceremony. Our favourite ideas include vintage cars, a helicopter (check that your venue has a helipad) or a horse and carriage.

26. Create Your Wedding Website
Wedding websites are great way to keep your guests up to date with all the plans for your big day, and there are plenty of free options out there. Most also offer a personalised email address which is perfect for keeping your wedmin away from your regular inbox. If you choose to have a wedding website, you can keep your wedding invitations simple. All you'll need to provide is the date and location, plus the URL to your unique wedding website. Guests will be able to log on, get details of the day and RSVP paper-free! For this reason, you need to start curating your wedding website a couple of months before the invitations are sent.
27. Order Your Wedding Stationery and Invitations
With all of your details decided and two months to go before your wedding invitations need to be sent (NB: you only send them at six months if you haven't done save the dates), you should get your stationery ordered. We've got an amazing selection of wedding invitations ready to order here, plus templates for your invitation wording.
Most companies and designers will let you order a sample of your invite, so you don't need to do a mass order before being certain on design. Remember, stationery also includes orders of service, place cards, wedding signs and menus, so think about that too. If you're not sure what else you might like yet, let your designer know you might be in touch with a further order.
28. Book Your Honeymoon
If all of this wedding planning has got you feeling a little stressed out, now is a great time to book your honeymoon. Whether you're dreaming of jetting off to Bali or kicking back in one of these stunning Greek honeymoon hotels, thoughts of the sun will be a welcome break from those of table plans and RSVPs.
Your honeymoon is a chance to visit a bucket-list destination or you can see our round-up of the biggest honeymoon trends of 2022 for further inspiration. At the same time as booking, you should check whether you need any vaccinations or to renew your passport. Some destinations won't let you visit unless you have at least six months left on your passport, so if you don't, it's worth renewing.
This poses the question of whether you should renew your passport in your new name. If you've made your holiday booking in your old name, your passport should be renewed in your old name, too. You can keep your passport under your old name for as long as you want. If you've made your holiday booking in your new name, you'll need to renew your passport in your new name. The Government website advises on all of this.
Six Months to Go: The Final Countdown

29. Send Your Wedding Invitations
If you are not sending save the dates, wedding invitations should be sent around six months before your wedding day - and we'd always advise the more time, the better. If you have sent save the dates, you can leave sending your invites until about eight to 12 weeks before the wedding.
If you're not including all the finer details of the day on a wedding website, your wedding invitation should include details of your guest list, timings of the day, nearby accommodation recommendations, dress code, date and location. You should also provide an address for RSVPs to be sent to, and you should ask for any dietary requirements to be submitted with their response. It's also a nice idea to ask for a song request for the wedding DJ to play at the party.
30. Book Hair & Makeup Artists for the Big Day
If you or your wedding party are having makeup, search through our directory of hair and makeup suppliers and choose the ones whose work you like the best. Collect inspiration from Instagram and Pinterest and take it with you to your trials (which should be booked for any time between now and 3 months before the wedding).
For brides, one of the many beauty preparations you need to make before the big day rolls around is to have hair and makeup trials and book your preferred artists for your wedding day. While grooms typically won't use a makeup artist, don't forget about your hair. You might want to book an appointment at your barber shop the day before or the morning of the wedding to style your hair.
31. Buy Your Wedding Rings
With six months to go, you'll want to purchase your wedding rings. Take your time to make the decision, because you'll be wearing it every day forever! Also, make sure you choose something which complements your engagement ring (if you have one), and set a firm budget. Designing a bespoke ring is a lovely alternative idea to choosing something in a ready-to-wear collection, but it might take a little longer. We'd recommended starting the process a little earlier on if this is the route you choose to go down.
32. Purchase Your Outfit Accessories
Since you'll have chosen your wedding outfit now or know what you're planning to wear, you can start purchasing your accessories, like shoes, hair accessories, and lingerie. Grooms can buy shoes to start wearing them in, and pick things like their tie and cufflinks. This is such a fun step in your wedding planning checklist!
Four Months to Go

33. Start Crafting Any DIY Items
We'd recommend starting to craft any décor items or wedding favours for your big day four months before (unless they're edible, of course). DIY wedding décor can be a lot more time consuming that you might first think, particularly if you're having a large celebration. Enlist the help of your wedding parties and make a night of it – it's one of their duties, after all!
34. Buy or Rent Suits
For groom/s and members of the wedding party buying suits, they can be purchased at any point before the big day. If you're hiring suits, most groomswear suppliers won't let you rent it any further in advance than three months before the wedding. At the same time as shopping for your groomswear, consider your page boy outfits too.
35. Host a Wedding Party Get-Together
If your wedding party don't all know each other very well (or even if they do), it's a nice idea to arrange a get together so they can bond ahead of the hen, stag, fox or sten party. Consider a weekend brunch or hosting a cocktail and board games night.
36. Order Your Cake
If you haven't already done so, make sure your cake design is finalised at the four-month mark and get it ordered. Confirm whether you'll need to collect it yourself or whether the cake maker will deliver it to your venue, and at what point you need to pay.

37. Have Your Final Menu Tasting
Your venue will invite you to a menu tasting when you make your booking, but it's usually around this time. If you're using external caterers, ask them for a menu tasting at the four-month mark. You might be invited to a menu tasting evening with lots of other couples, or you may be invited to something more private. Either way, trying all of the delicious menu choices which the chefs have on offer will enable you to make your final wedding breakfast choices. Just remember – if you don't want a traditional sit-down three-course dinner, you don't have to have one! Hog roasts, sharing platters and BBQs are all fabulous options.
38. Decide on Timings for Your Day
It might seem like a minute detail, but now is the time to start thinking about the timings for your day. From when to start getting ready to the time of your ceremony, reception drinks, wedding breakfast and cutting of the cake, everything needs to be laid out ready to inform your suppliers and create orders of service (if you haven't already). You venue and photographer will be able to help, or you can use our wedding day timing templates.
Two Months to Go: Your 'Final Stages' Wedding Checklist

39. Contact Any Guests Who Have Not Yet RSVP'd
You're soon going to be sending your venue and suppliers final numbers, making place settings and creating your seating plan. If you sent your invites at six months out, the two month mark should be when you chase those who haven't RSVP'd for a definite answer. If you're sending out your invites now at the eight week mark, you'll need to give guests four to five weeks to RSVP. You can start chasing them three weeks before the wedding.
40. Attend Your First Outfit Fitting
Whether you've ordered a dream gown or a tailor-made suit, it's time to head to your first fitting about six to eight weeks before the wedding. This is an exciting appointment where any major alterations need to be decided (such as the adding of straps or changing length of legs/sleeves). Your final fitting will be the time to make smaller changes to the fit.
41. Buy Your Wedding Party Gifts
Start to think about gifts for your wedding party and immediate family to say thank you. If you are having them, bridesmaid gifts or gifts for your groomsmen that they can wear on the day are perfect to give out on the morning of.
42. Host Your Stag/Hen/Fox/Sten Parties!
After all that wedding planning, you totally deserve to let your hair down. The two-month mark is a great time to host your stag or hen parties, your sten party (mixed stag and hen) or fox party (gender-neutral party) which will get everyone even more excited for the big day.
There's not much you need to do here, since your chief wedding attendants are in charge of sorting everything out. Just turn up, have a wonderful time and forget about wedding planning for the night.
43. Sort the Finer Details
Two months before your wedding you should plan the finer details. Think about the below when working on your wedding checklist:
44. Attend a Ceremony Discussion Meeting
This step is optional, but you might wish to attend a ceremony meeting with your local council two months ahead of your big day. These meetings come at a cost (usually around £50), but they'll leave you feeling assured that everything to do with your wedding ceremony is decided upon.
You'll go through the schedule of the ceremony and everything you need to know about how the legal aspects of the day are going to work. You can choose to attend as a couple, come alone or attend with a family member or friend, and the meetings usually won't last much longer than half an hour.
One Month to Go: Your Wedding is Near!

45. Pay Suppliers in Full & Confirm the Running Order
With everything set in stone, it's a good idea to create a wedding day schedule to send to your suppliers. Florists and cake makers will need to know what time to arrive and drop things off, and entertainment will need to know when they can set up. Send your final wedding playlist to your DJ with details of your first dance and the song you want to end your wedding to. You should also make sure all suppliers have been paid in full if they haven't been already.
46. Break in Your Wedding Shoes
The last thing you want is blistered feet on your wedding day. Wear your wedding shoes around the house to break them in and ensure they're comfortable - this goes for brides and grooms!
47. Take Care of All Final Beauty/Grooming Appointments
With one month to go, there will be lots of beauty appointments to attend to ensure you look and feel your best on your wedding day. From eyebrow shaping to your final haircut, there's a lot to consider. Check out our bridal beauty countdown which details an entire beauty schedule starting six months in advance of your wedding date. This step is for grooms too. Consider if you'd like to book in for a facial, spray tan, haircut, waxing, beard trim and more.
48. Write and Order Your Seating Plan
With all of your RSVPs (finally) rounded up, you can write and order your seating plan. This is best left to the very last minute in case of any cancellations. Once you've created your seating plan, give your caterer a copy along with the final headcount and details of any dietary requirements (and where those with the dietary requirements will be sitting) the week before the wedding.
49. Call or Meet With Your Photographer
A month before the wedding you should call or meet with your photographer to inform them of any particular shots you'd like capturing. If you want group shots, you should let them know which ones, where and who will be involved. If you're after inspiration before making this call, check out our round-up of the 24 photographs we think you must capture on your wedding day.
50. Have Your Final Fitting!
Have your final dress or suit fitting two to three weeks before your wedding because your body shape is unlikely to change very much in those final weeks. There's still time for small alterations to be made, but this is not the time to ask for anything drastic! If there are no alterations to be made to your outfit, you'll usually take it home with you at this fitting. If there are, you'll go back to collect it a week before.
One Week To Go: Your Final-Stage Wedding Planning Checklist
51. Do Your Last Minute Tasks
There are lots of vital tasks to do the week before your wedding which shouldn't be forgotten about. Don't worry – everything major will be done by now – it's just a case of sorting the finer details. Here are a few things to think about, obviously they won't be relevant to everyone!
On Your Wedding Day: Your Wedding Day Checklist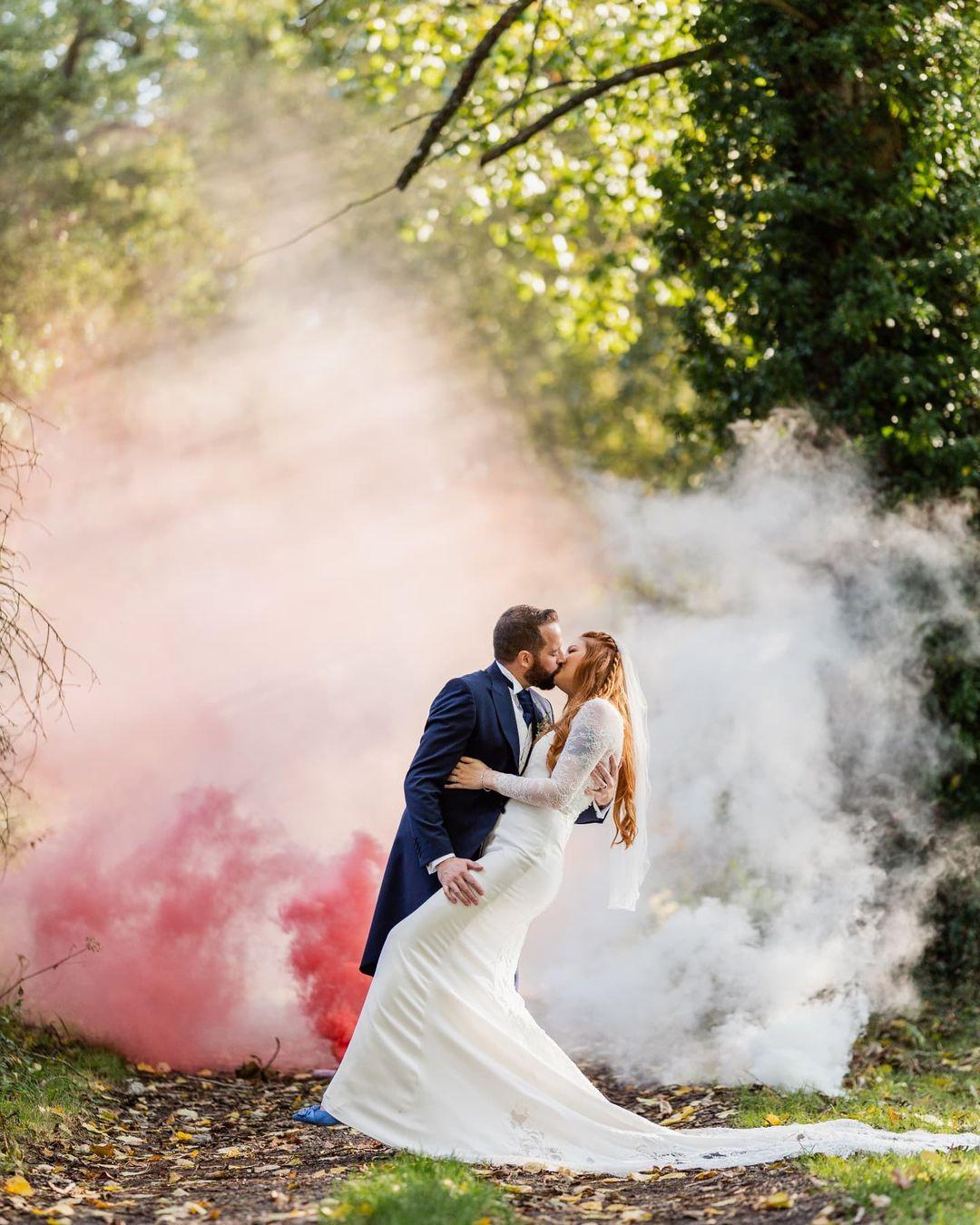 52. Get Ready
Now for the part you've been waiting for! It's time to get ready. For brides, create a schedule so that you can get your hair and makeup (hair first, makeup after) done with plenty of time to spare. You'll also need to account for touch ups and for your wedding party to get their hair and makeup done.
Grooms and their wedding attendants don't need to worry about this, but they still may wish to go to barber's on the wedding morning, and you'll need to work out your timings to make sure you're at the venue early to help if suppliers need it and to do some set-up.
53. Give Out Your Wedding Party Gifts
The giving of gifts to your parents, bridesmaids, best man and groomsmen (if you have them) is usually left until the thank you part of the speeches. That said, if your gifts are something you'd like the recipient to wear or carry with them on the big day, these are best given first thing in the morning. They'll be so thankful and will love using or wearing what you've bought them on the big day!
54. Meet the Registrar
One thing lots of couples don't realise about their big day is that they'll have to meet with their registrar before the ceremony begins. This is just for them to check you are who you say you are. The registrar will come to meet you in your preparation room 15 minutes before the ceremony is due to start, or when you arrive at the registry office if you're getting a car there. Being ready an hour before your ceremony will give you time to relax and have some photographs taken before you meet the registrar.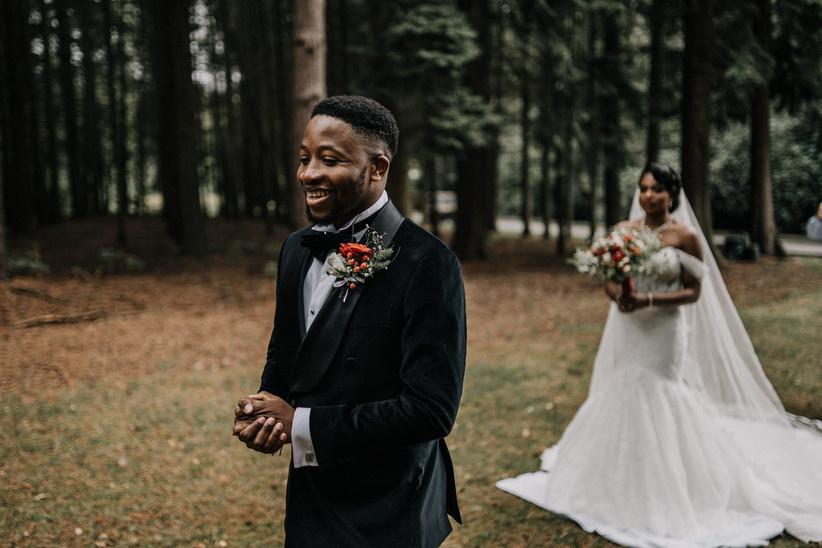 55. Have a First Look Shoot
Totally optional, but we adore first look shoots. This is when you and your partner see each other for the first time in your outfits. It takes place before the ceremony and is a chance to get amazing photos and calm nerves so the first time you see them isn't at the altar. Then it's time to marry!
56. Gather Your Thoughts After the Ceremony
Your wedding day will be overwhelming and fly by in an instant, so take five minutes after the ceremony to gather your thoughts and take in the fact that you're finally a married couple! It will be a really special moment.
57. Where Will You Keep Your Wedding Certificate?
One thing couples often forget is that they'll be handed their wedding certificate after their ceremony. Give someone the job of keeping it safe for the entirety of the day.
After Your Wedding Day

58. Change Your Name
Once all the fun of the wedding is over, you might want to consider changing your name to match that of your partner. You might even want to consider double-barrelling your names to create something totally new. We have an entire article about changing your name which will help you decide what to do. Whatever you choose, NameSwitch will make the process a whole lot easier.
59. Write Thank You Cards
Wedding thank you cards are almost as important as your wedding invitations. After guests have taken the time and effort (and spent money) to attend your wedding, it's only polite to say thank you. You can also thank them for any wedding gift they might have treated you to at the same time. Handwrite the notes, ensure the message is personal and put as much effort into the cards as you did with planning your wedding.
60. Arrange a Photograph Viewing Day
A few weeks after the wedding, your video and photographs will be delivered. It's a lovely idea to invite your nearest and dearest to your house to look at all of the photographs together. What better way to relive the day!
READ MORE: The Ultimate Post-Wedding To Do List
And there we have it! The ultimate wedding planning checklist which takes you from 18 months right the way through to your big day. Check out our ultimate guide to wedding anniversaries once your wedding is over.