Wedding Dress Alterations and Fittings: Everything You Need to Know
Wedding dress alterations are a key part of feeling your confident best. After all, every body is unique, so perfecting the fit means you'll be comfortable - and look amazing - from 'I do' to the end of the night.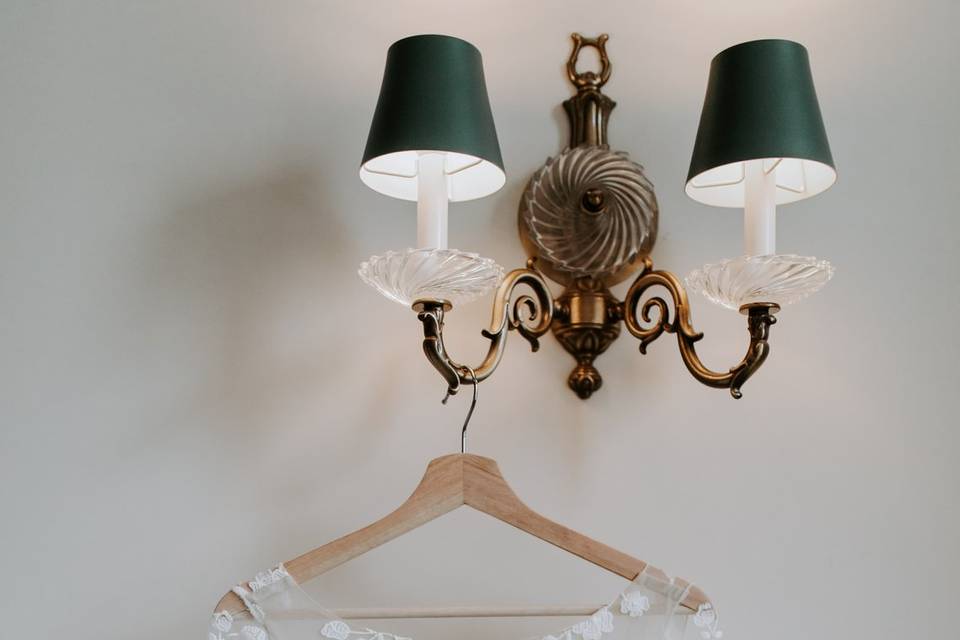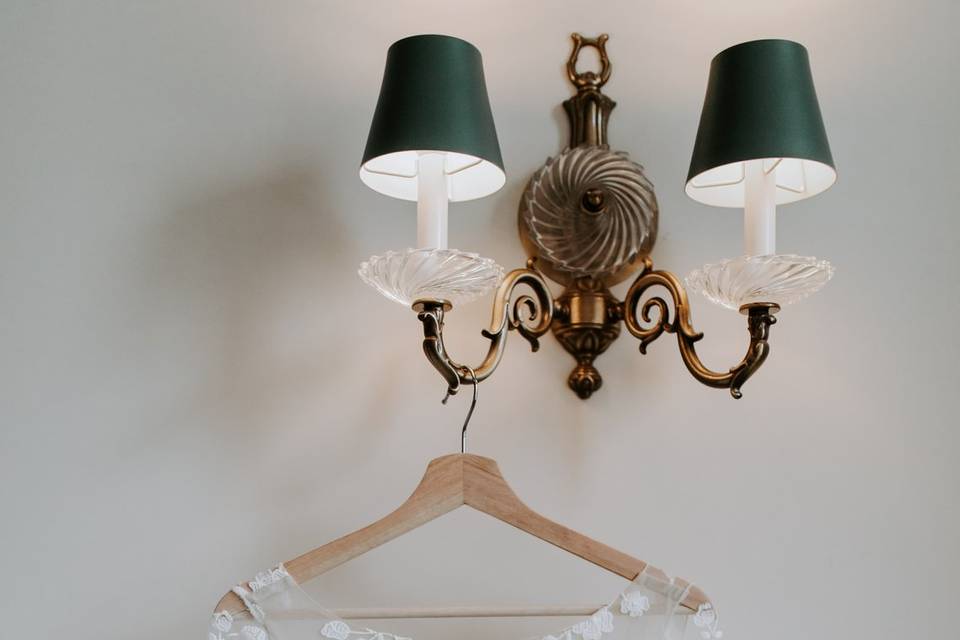 When it comes to building your bridal look, wedding dress alterations play a major role. And yet it's easy to underestimate the importance of the process.
Fitting appointments may not generate quite the same excitement levels as actually choosing the dress, or having your hair and makeup trial, or picking your accessories – and yet they'll make all the difference to your look.
"In general, unless they're bespoke or made to measure, wedding dresses are made in the most appropriate standard size for your measurements and then tailored to fit," explains designer Kate Halfpenny of
Halfpenny London
.
"Very few women's measurements fit a 'standard' size because we're all unique, and the fittings process is a time for us to sculpt your dress to your own gorgeous figure."
As well as ensuring that perfect fit, altering wedding dresses can also involve customising the design, from adding sleeves to creating a corset back.
What's more, there are practical alterations that help with your on-the-day comfort, such as having a bustle added to a wedding dress with a train so you can move around with ease.
The costs will vary depending on how much work is needed and where you are. However, given the importance of alterations to the overall look and feel, it's definitely worth building them into your budget.
We'll explain everything you need to know about wedding dress alterations, from what to expect during fittings to how to find your pro.
Wedding Dress Alterations: The Basics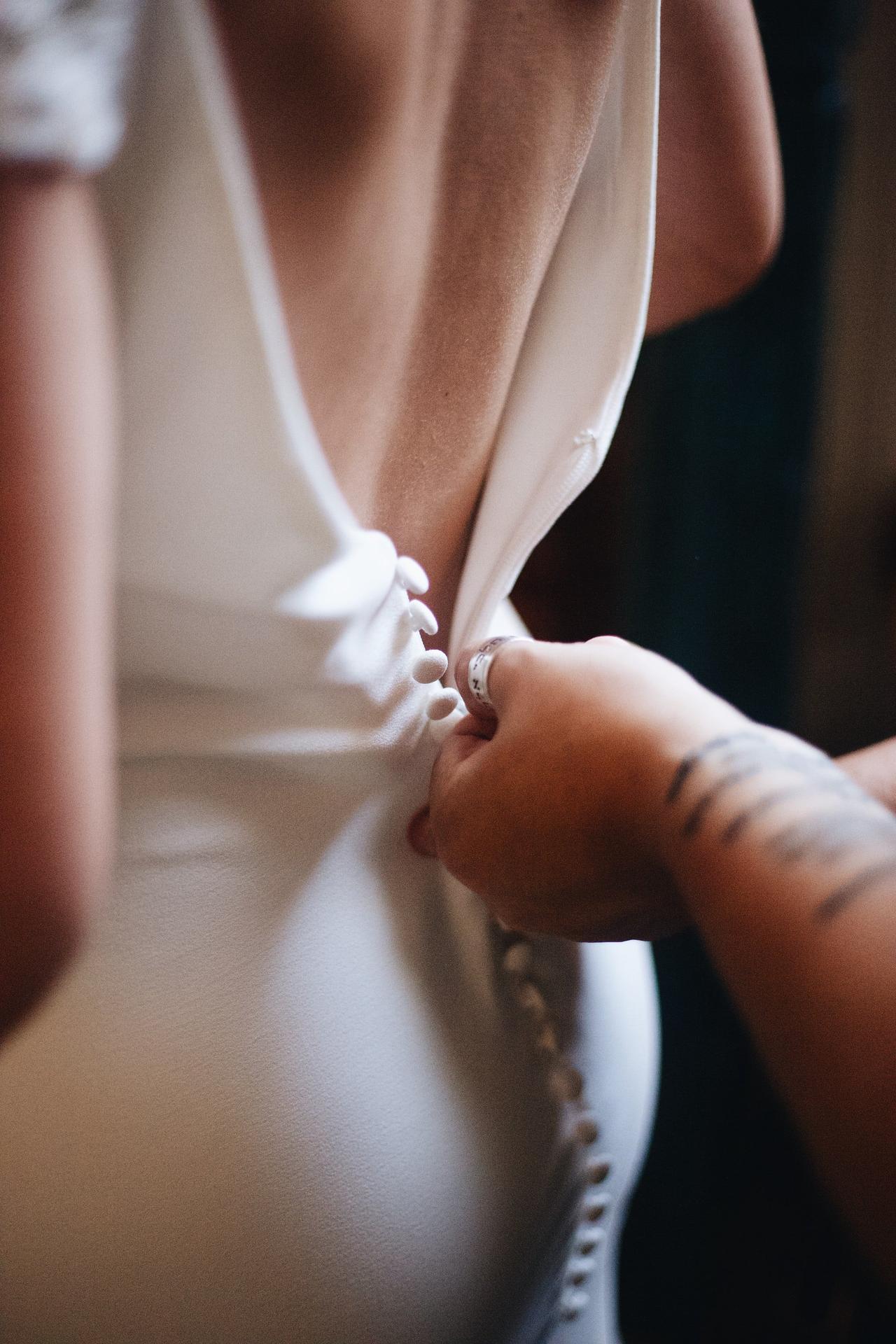 "We want you to feel like the very best version of yourself. You've found the perfect outfit to wear on your big day, so let's take the time and care to make those tweaks and go that extra mile." Kate Halfpenny
Does Every Wedding Dress Need to Be Altered?
If you're ordering a wedding dress from a bridal boutique, it's highly likely that you'll need to have some alterations. That's because most dresses are made to order, not made to measure, so adjustments will ensure it fits you perfectly.
"In general, all gowns will require some form of altering," says Millie Cowell of David's Bridal. "We all have beautifully unique bodies, and no one fits a dress like a mannequin!"
Remember, even if you're not buying your dress from a boutique, alterations can make a difference to the fit of a high street or vintage dress, too.

Where Do I Find Wedding Dress Alterations Near Me?
If you've bought your dress from a boutique, they may have an in-house wedding dress alterations service. This is normally the best option, as you'll be working with professionals who know your dress design well, and it'll help you stick to your fitting timeline.
If that service isn't available, almost all boutiques will be able to recommend a seamstress who specialises in wedding dress alterations.
If you've bought your dress second hand, from the high street or from a sample sale and it needs some adjustments, you can still ask your local boutique. Sometimes their alteration services aren't exclusive to brides who've bought dresses from the store or they'll know of reliable seamstresses.
You can also ask for personal recommendations in the Hitched forum.
How Much Do Wedding Dress Alterations Cost?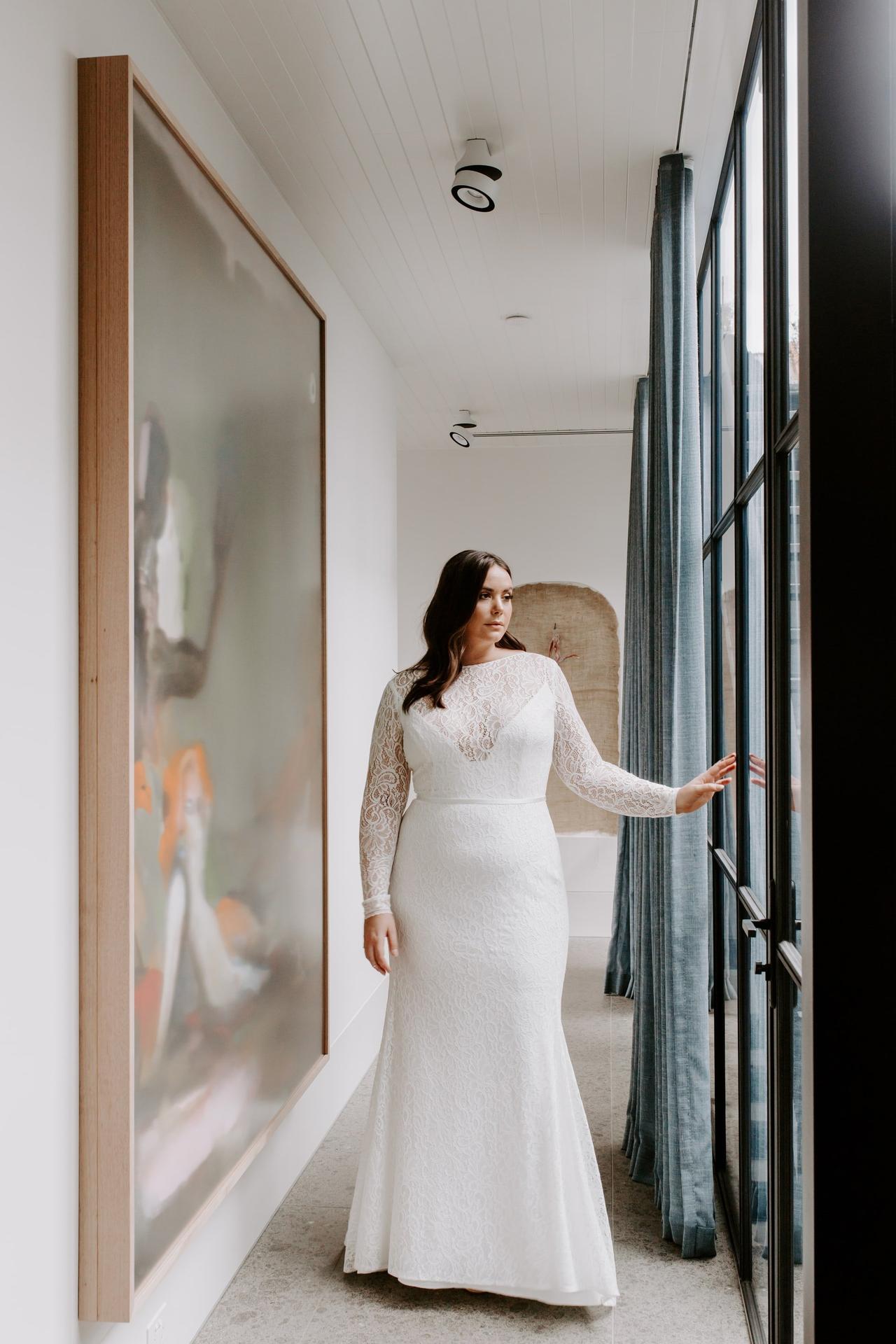 Wedding dress alteration costs will vary depending on what you need to have done and the style of your gown, but you'll need to factor them into your budget. Your boutique may be able to give you an estimate of alteration costs once you've chosen your dress, but that should be regarded as a guideline, not a set-in-stone price.
According to Patricia Orelaja of plus-size bridal boutique Heavenly Bodies Bridal, brides can pay as little as £60 for the most minor alterations at her shop, but for more extensive work (like a hemline and bodice) you can be looking at over £200. "As a guideline, the most expensive part of the fitting is usually the hem; our prices for this range from £70-£125," she says. "Brides have a free consultation and are not obliged to have their fittings with us – although almost all do!"
Bespoke changes like adding straps or extra beading will raise the price.
READ MORE: 30 Long-Sleeve Wedding Dresses
How Far in Advance Should I Get My Wedding Dress Altered?
"We advise for a first fitting to be 8-10 weeks prior to the wedding date, as this allows ample time for the tailors to work their magic and flexibility for the bride to attend her appointments," says Millie.
"The final fitting will be scheduled for 2 weeks prior to either the wear or travel date (for those who are planning a destination wedding).
"This ensures the most accurate fit but also time for any last-minute tweaks!"
How Many Wedding Dress Fittings Do I Need and How Long Do They Take?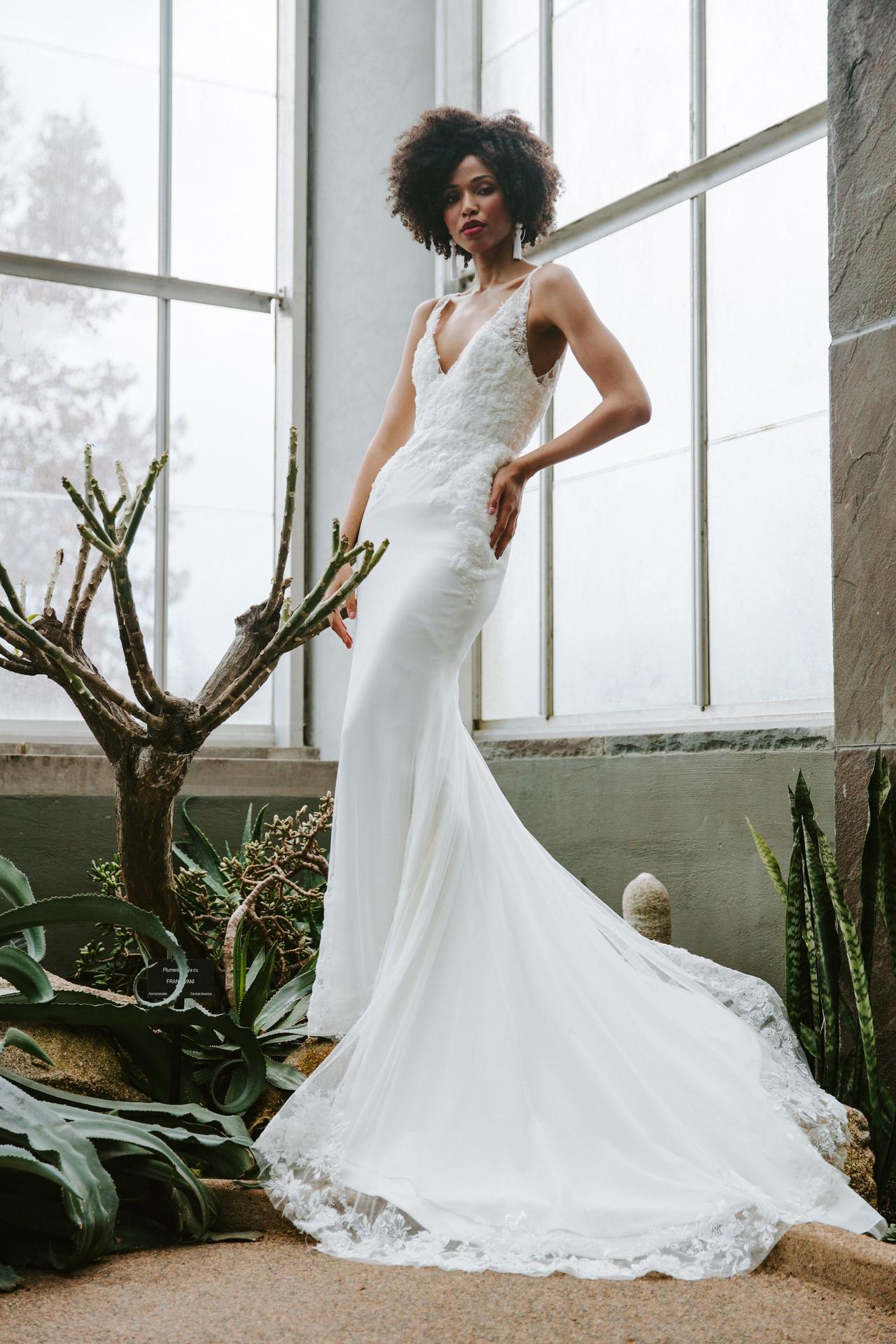 "At David's Bridal, each wedding gown fitting takes between 30 minutes to 1 hour," says Millie.
"Every bride will attend minimum 2 fittings but for more complex customisation it may take up to 4 separate fitting appointments."
What's Involved in a Wedding Dress Fitting?
First Fitting: You'll likely have ordered your dress months before, so in your first appointment you'll try it on again and the seamstress will see where it needs adjusting. It'll probably take an hour and will be the longest appointment: you're not only getting pinned, but meeting the dressmaker and discussing your requirements.
Some brides might be worried about being undressed in front of the seamstress, but there's no need – this is their job and seamstresses are very discreet.

Listen to the seamstress's advice – If they warn against a change or suggest a different one, it's for a good reason. Trust their experience and knowledge of the garments.

However, if what they're saying really doesn't match up with what you want, ask for a second opinion, particularly if you're not using a specialist wedding dress service – not everyone is as experienced with certain types of changes or working with certain fabrics, especially if they're less experienced. It isn't offensive to take the dress to a different seamstress for a second opinion; you will get what you pay for so make sure the seamstress is right for the job at hand.

Second Fitting: In the second appointment, the seamstress will normally add tacking (temporary) stitches to heck the fit and do any more tweaks before the final stitches or cuts are made.
Third Fitting: The final fitting is when you get to see yourself in the dress as it'll look on the day.
You'll take your dress home with you at the final fitting. Ask your boutique for advice about safely storing your dress at home ahead of the wedding.
READ MORE: 27 Vital Things to Do the Week Before Your Wedding
Types of Wedding Dress Alterations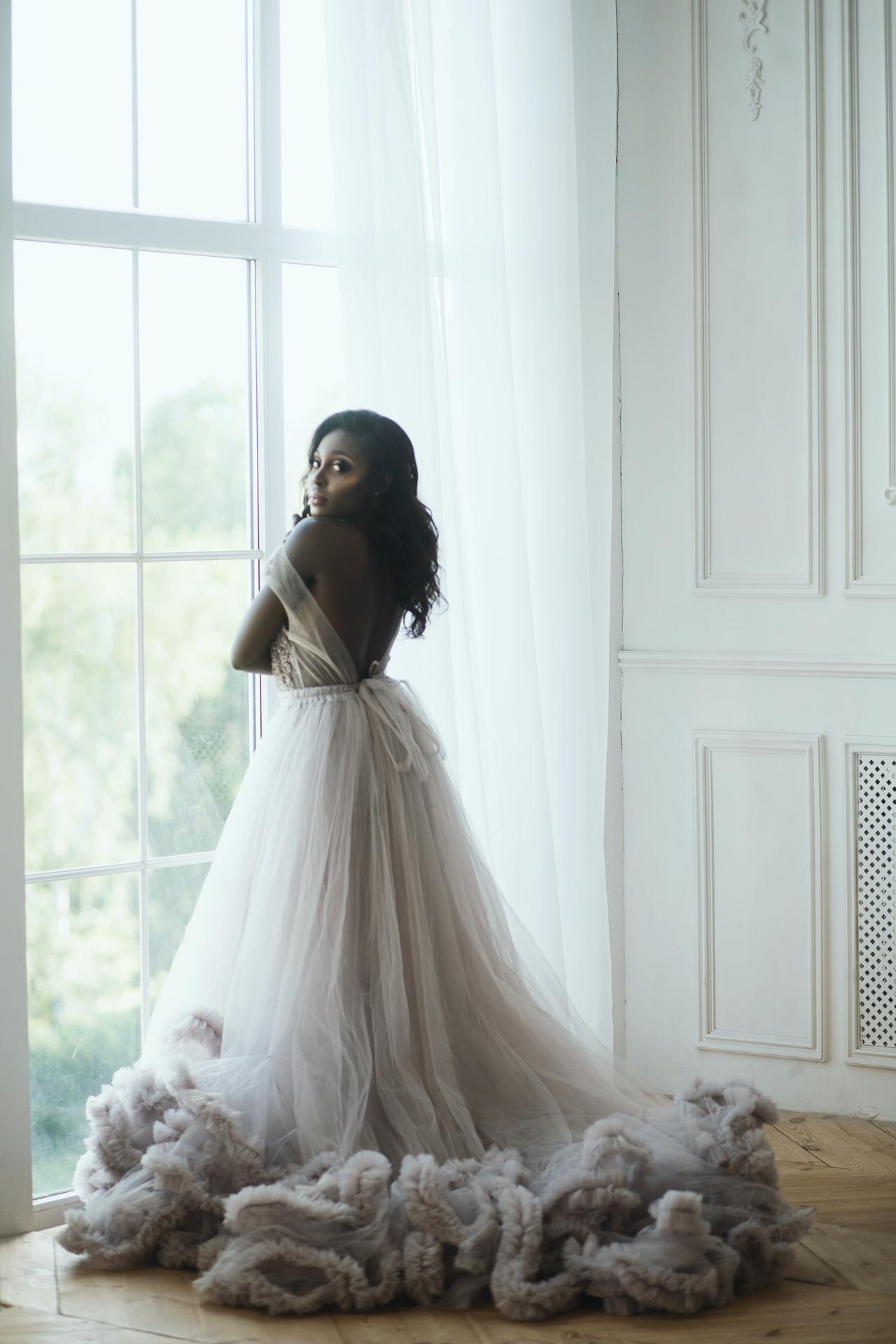 "Make the dress work for you, not you work out for the dress." Kate Halfpenny
What Are the Most Common Wedding Dress Alterations?
According to David's Bridal, the most common requests include:
Tailored fit on the hem, side seams and shoulders
Bespoke features such as adding pockets, corset backs and sleeves
Custom coverage with the addition of modesty panels
How Much Can I Alter My Wedding Dress?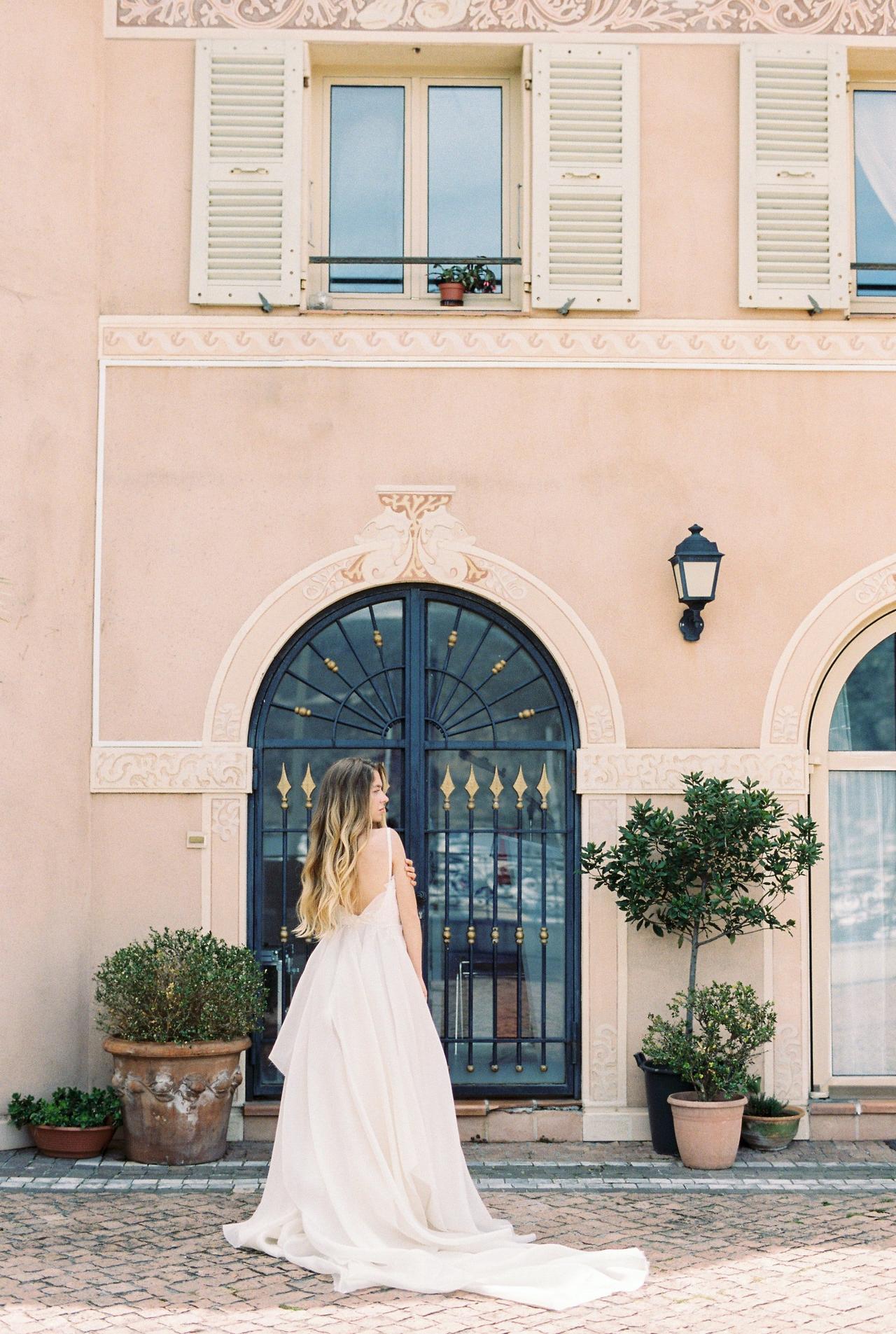 If you're keen to customise your dress, a lot depends on the design, fabric and any embellishments.
Talk to your boutique before you order the dress about what alterations you can make. If you want fairly extensive changes, it's safest to work with a seamstress who already knows your wedding dress design well.
Boutique Mirror Mirror London have a design studio and workroom on site. "Our team are able to customise most of our international designers' dresses and our own couture gowns to create an individual look. Adding or removing sleeves, making a new top or skirt and raising the front and/or back panels are just some of the design changes we've done."
READ MORE: The 36 Best Wedding Dress Shops in the UK
What Is a Wedding Dress Bustle?
'Bustling' is for wedding dresses that come with a train. Effectively, it's a method of lifting the train so it's easier for you to move around and dance.
"Most brides opt for a bustle as it is a way of securing the train to make the gown more practical for all day wear and, most importantly, for the first dance!" says Millie.
"The bustle is offered during the fitting stage as there is many ways that various dresses can be bustled, so you can pick the look you prefer."
Ideally, you'll need to bring a friend or family member along who can learn how the bustle works for the big day – self-bustling is very tricky...
Wedding Dress Alterations: On-the-Day Fittings Advice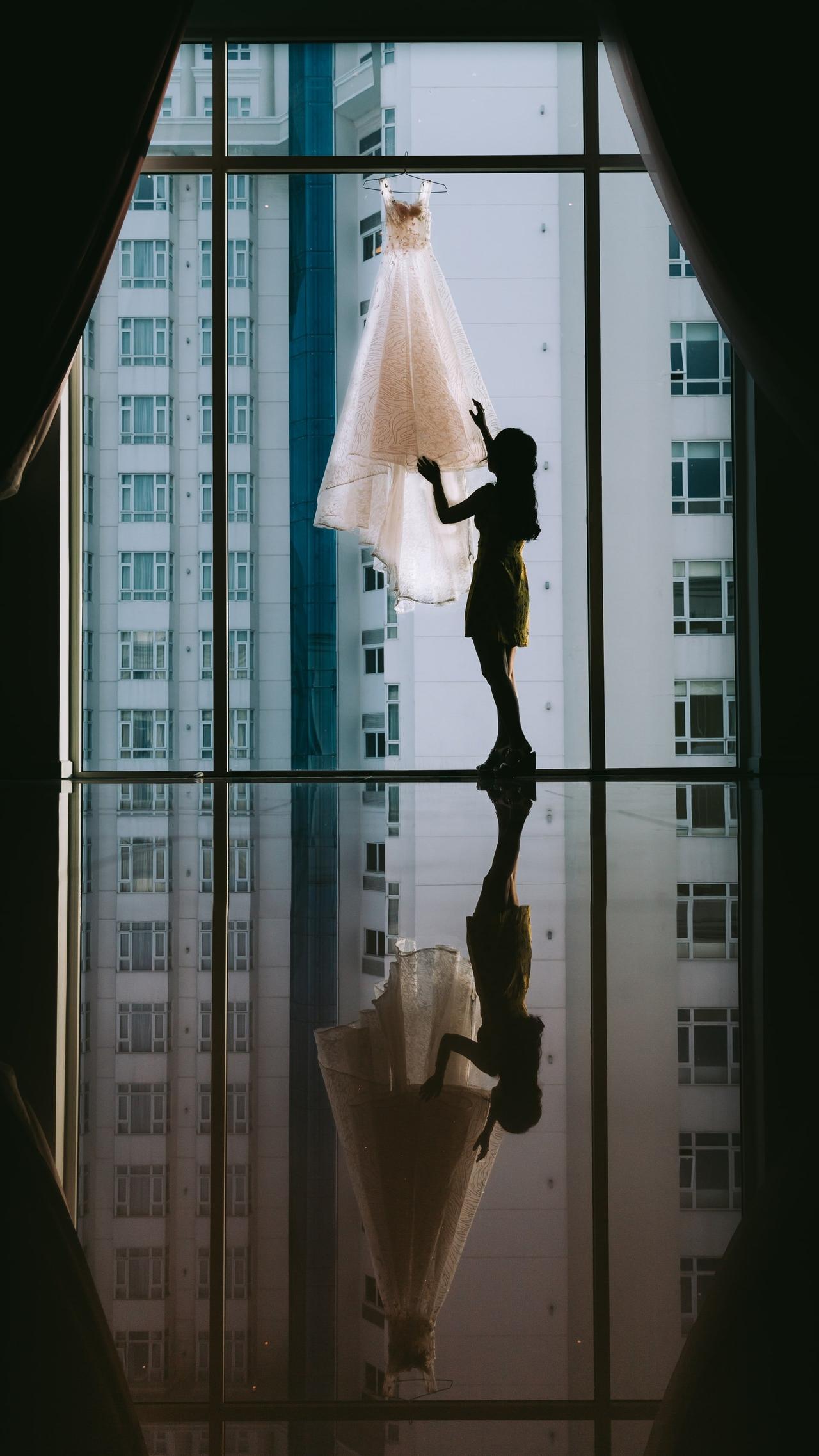 "The intention of alterations is to enhance the gown and create a finished look that enables a bride to be the very best version of herself!" Millie Cowell
What Will I Be Expected To Do During The Fittings?
Stand there and not move until you're asked to is key! The most important thing to do during your fitting is answer the seamstress honestly and communicate what you want.
Be realistic if something is too tight, rubbing or you don't quite like how it's fitting: their job is to make your dress as perfect as it can be, and you can help them do that by giving them as much information as possible.
Once it's been fitted, you'll want to move around in your dress as much as possible and try sitting down. Remember, wedding dress alterations are about comfort as much as style - you want to spend the day celebrating, not doing your best impression of a cardboard cut-out because your dress is so restrictive.
What If My Weight Has Changed Since I Ordered My Wedding Dress?
"It's ideal to try to maintain the same shape after ordering your dress to ensure a perfect fit, but these things happen," says Kate.
"Your dress is usually made in the size most appropriate for your measurements, so if you find those have changed dramatically, the first thing to do is keep calm and talk to your boutique before your appointment.
"At the time of ordering, if you suspect your body will change for any reason – pregnancy for example - then see if you can get measured closer to the wedding. You can normally let out or take in a wedding dress by one size, perhaps two; a more drastic change is tricky.
"It's incredibly difficult and time consuming to alter dresses across a spectrum of sizes, and it's best to avoid this," says Kate.
"Also, under no circumstances should you order a dress in a size you dream of being as that pressure on yourself is something you should avoid. Make the dress work for you, not you work out for the dress.
"Honesty is the best policy and the more notice we have the better to help us work with you to make your dress perfect for the big day."
What Should I Wear To My Wedding Dress Fittings?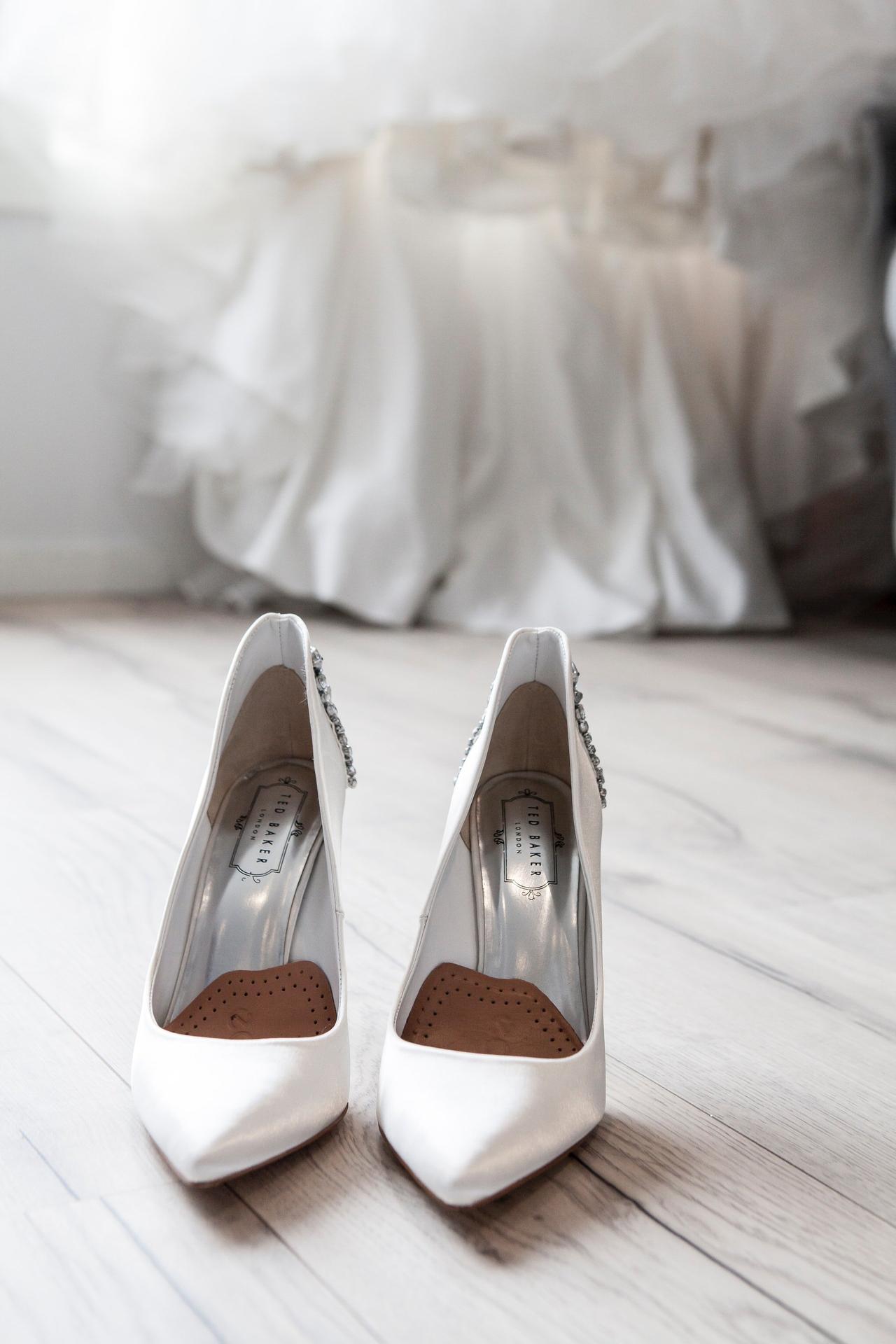 "The most common alteration is a length adjustment so it's essential you bring your wedding shoes to all your fittings," says Kate.
"It's also really important to bring underwear options suitable for the style of dress you've chosen. For example, if you've chosen a backless dress you may prefer to wear a clever invisible bra solution, or perhaps nipple covers. Your fitter would be happy to discuss these options with you and offer advice if needed."
READ MORE: 27 Nude Wedding Shoes for Elegant Brides
Who Should I Bring To My Wedding Dress Fittings?
It can be tempting to bring your whole bridal party along for a look at the dress but this isn't a good idea – most boutiques will advise ideally only one guest, certainly no more than two.
There's a good reason for this. A fittings appointment should involve plenty of communication with the seamstress without the distraction of well-meaning others.
If you'll need help getting in and out of your dress, or you're having a bustle, it's worth bringing a trusted friend or family member who can learn how to assist you on the day.
For your final fitting, we suggest bringing along your accessories, to give you a sense of the overall look. We've seen advice that you should also get your makeup done for your fitting, for an extra confidence boost, but we've not so sure about this and would actually advise keeping products to a minimum – a foundation streak or mascara splotches on your dress are not conducive to a stress-free fitting.
First fitting booked? Now you've got the practicalities under control, it's on to the pretty stuff! Start with our guide to wedding hair accessories.