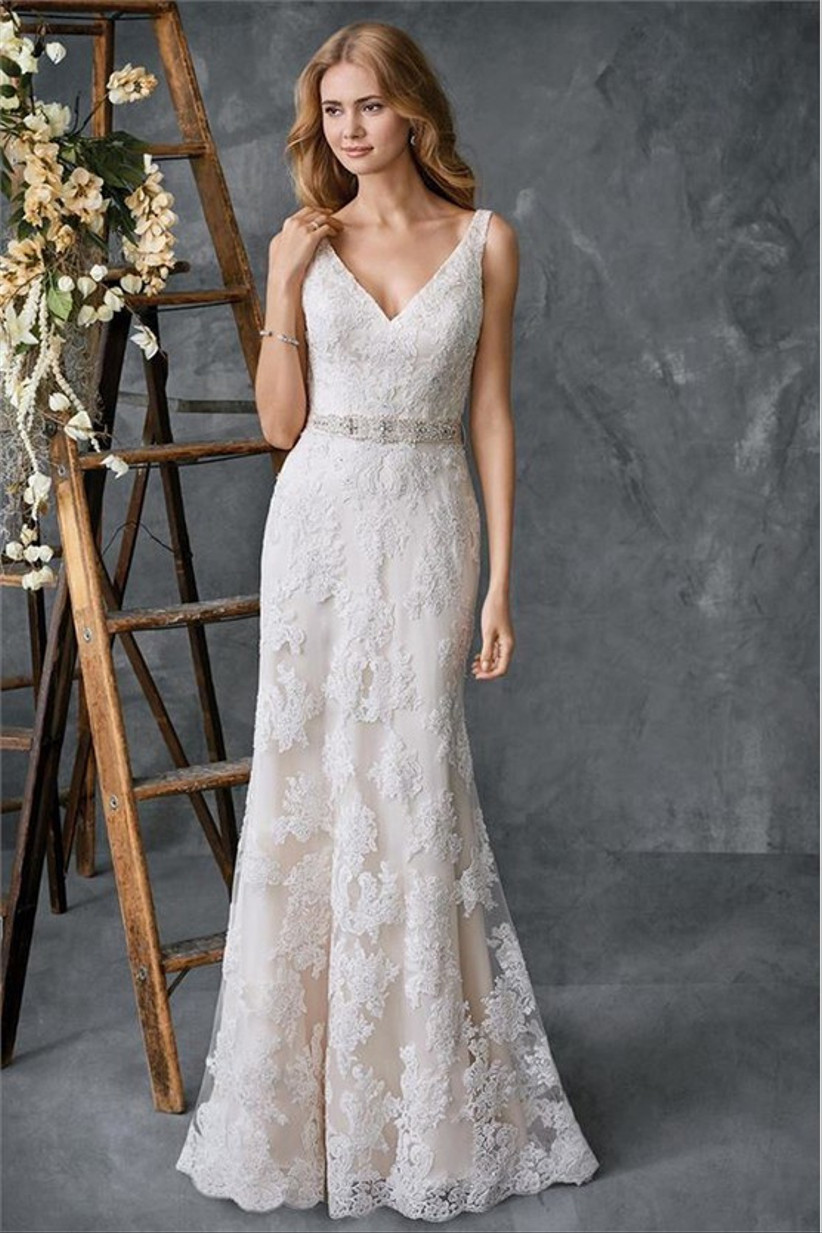 Wedding dresses aren't made-to-measure so almost every bride will need some wedding dress alterations to make hers fit perfectly.
Whether that's raising the hem, adding a bustle or taking it in a whole dress size, the fittings and alterations process is essential to making sure you have the perfect wedding dress on your big day.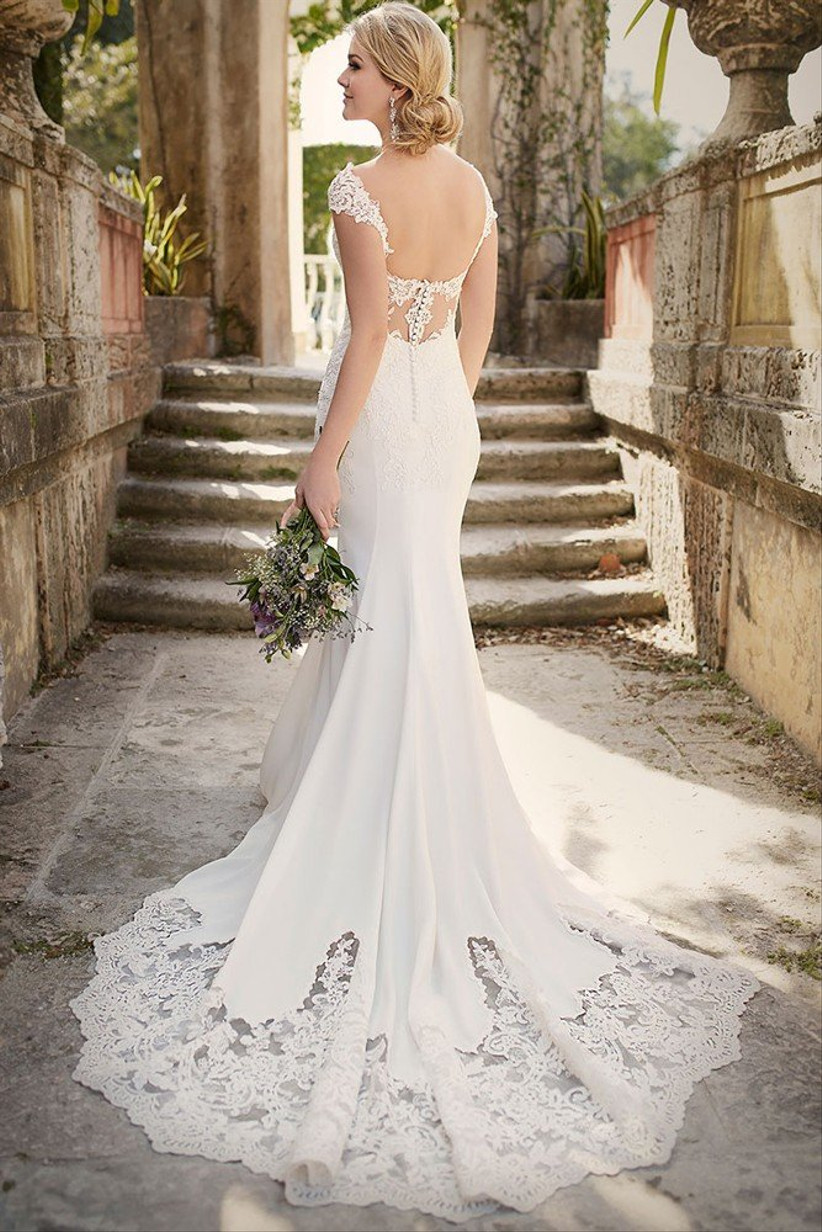 Image: Essense of Australia
However, if you've never had a fitting before then you're probably unsure of what to expect, how much wedding dress alterations cost, and even where to find wedding dress alterations near you.
From your wedding dress fitting timeline to what to wear to one, here's everything you need to know about wedding dress alterations.
READ MORE: 43 Huge Mistakes Brides Make When Choosing a Wedding Dress
How Many Wedding Dress Fittings Do I Need?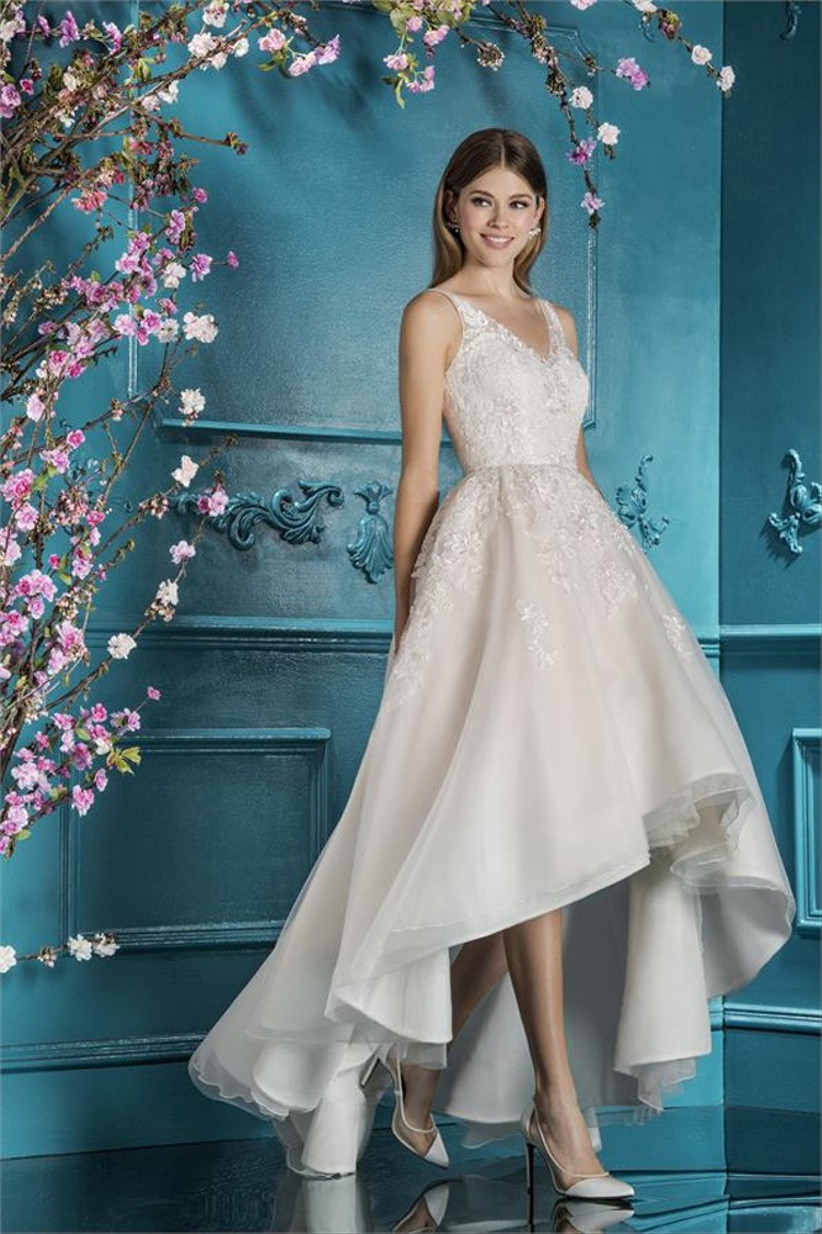 Image: Ellis Bridals
Most brides will need three fittings to get their dress perfect. The minimum you'll need is two – one to be measured and see what changes need to be made, and one to check the final fitting and take the dress home – but some brides can need even more.
Where Do I Find Wedding Dress Alterations Near Me?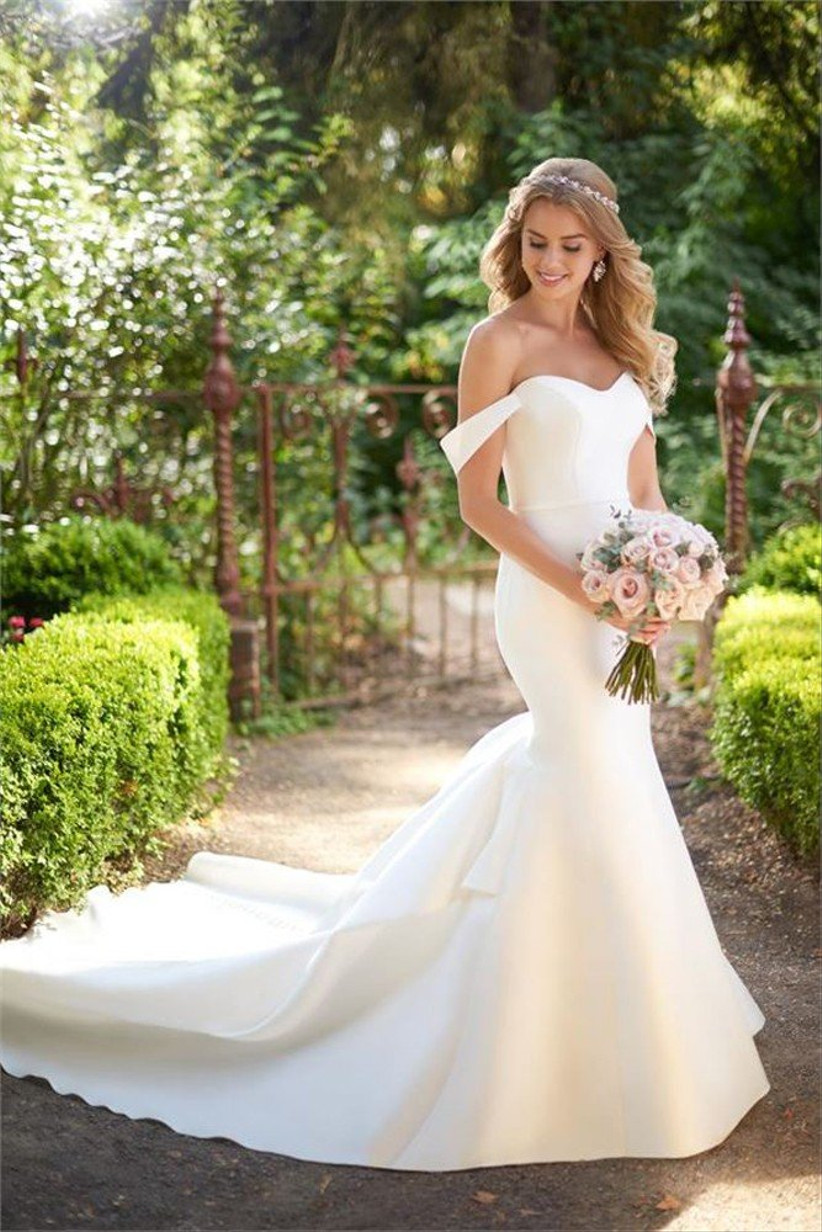 Image: Martina Liana
If you've bought your dress from a boutique, ask if they have an in-house wedding dress alterations service. This is normally the best value option, you'll be working with people you've met before, and it'll help you stick to your fitting timeline. If they don't, then almost all boutiques will be able to recommend a seamstress who specialises in wedding dress alterations.
READ MORE: Amazing Wedding Dresses Under £1,000
If you've bought your dress online and it needs some adjustments, approach your local boutique too. Often their alteration services aren't exclusive to brides who've bought dresses from the store or they'll know of reliable seamstresses. This might be essential if you've bought your bridesmaid dresses online as they often need slight adjustments too.
Ask the seamstress to show you photos of dresses they've previously altered so you can gauge the fitting on other brides.
When Should I Start Getting My Wedding Dress Altered?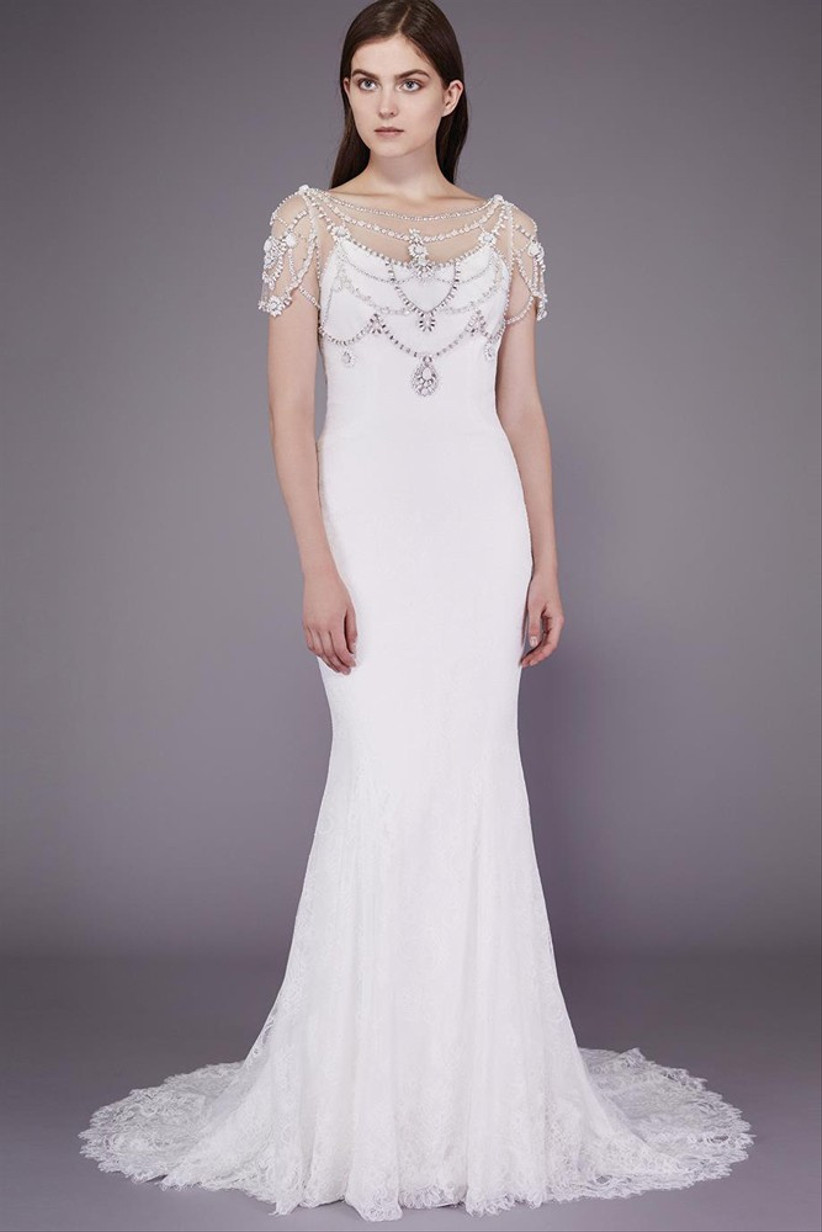 Image: Badgley Mischka
"It's usual to start fittings around six weeks prior to the weddings," says Deborah Kidd of Luxe Bride Outlet. However, if you know you want some major alterations done, such as sleeves or straps added or taking it the dress in extensively, think about booking in around two to three months ahead of the wedding to give time for a possible extra fitting.
READ MORE: Gok Wan Reveals His Wedding Dress Advice
What's Involved In Each Wedding Dress Fitting?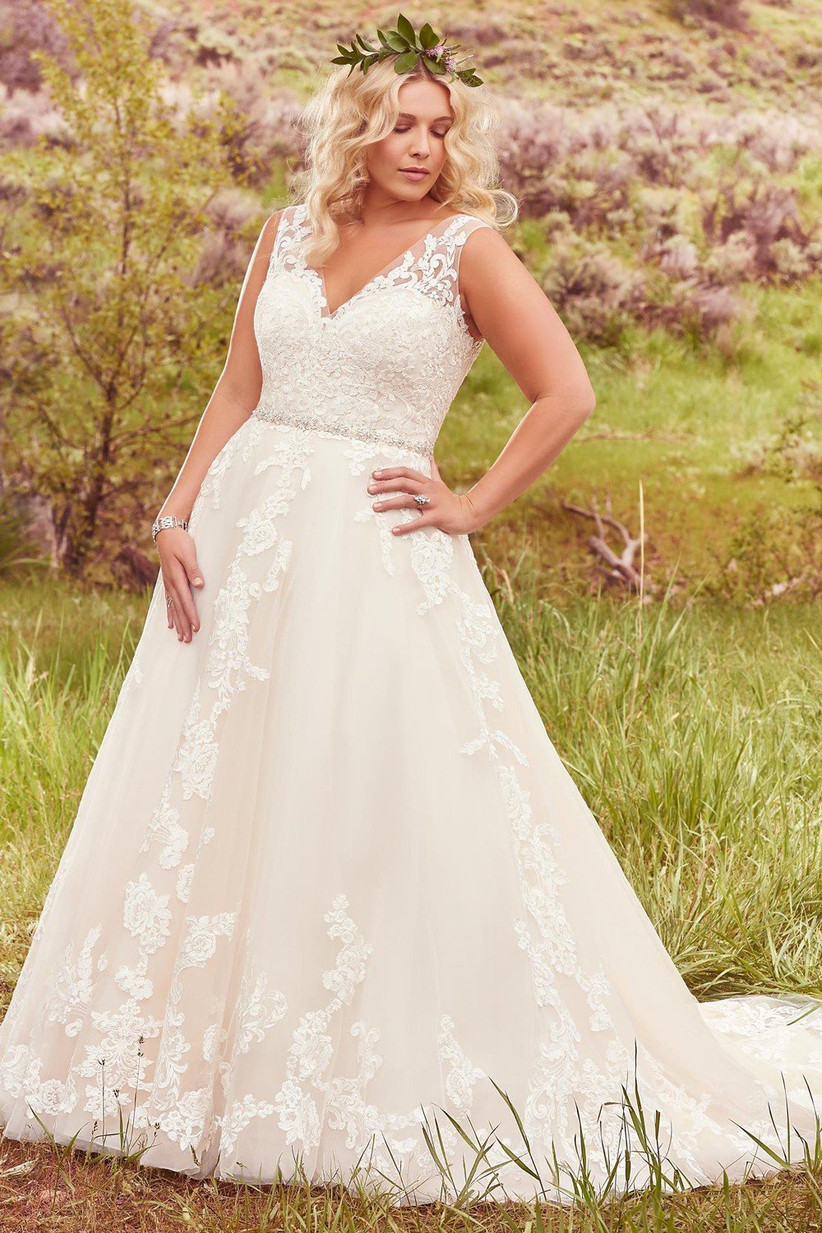 Image: Maggie Sottero
First Fitting
When: Six weeks before your wedding
What to expect: You'll have ordered your dress months before so in your first appointment you'll try it on again and the seamstress will see where it needs adjusting. It'll probably take an hour and will be the longest appointment: you're not only getting pinned, but meeting the dressmaker and discussing your requirements.
The fitting will be done in private, with only the seamstress and the bride in the changing room. You'll then come out onto the shop floor where there's more room to do the alterations. Some brides might be worried about being undressed in front of the seamstress, but there's no need – this is their job and seamstresses are very discreet.
READ MORE: The Most Beautiful Lace Wedding Dresses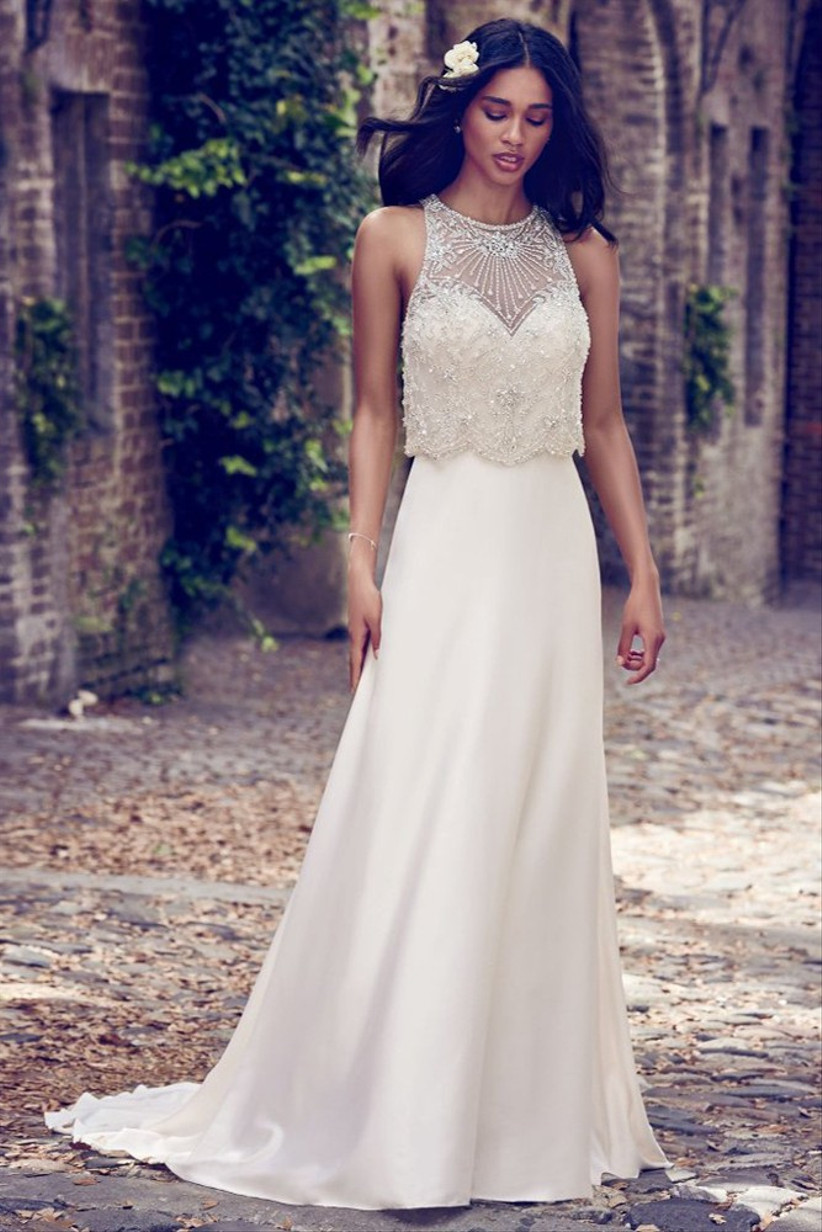 Image: Maggie Sottero
"The first fitting is to see the natural fit of the dress. The bridal consultant will ask lots of questions about the fit like, how tight would you like it? Is that comfortable? How is the hemline? Would you like it bustled in the evening? Are the beads rubbing? All of these are very personal: for example some brides like the hemline going across the toes, others like it touching the floor. It is important to be honest at this point as it makes alterations easier than having to change them later.
"We then have two fantastically talented seamstresses who will get to work pinning hemlines, straps and taking measurements so we can alter the dress perfectly for the bride," explains Daisy Keane of Fairytale Weddings, winners of best bridal boutique at the UK Wedding Awards 2018.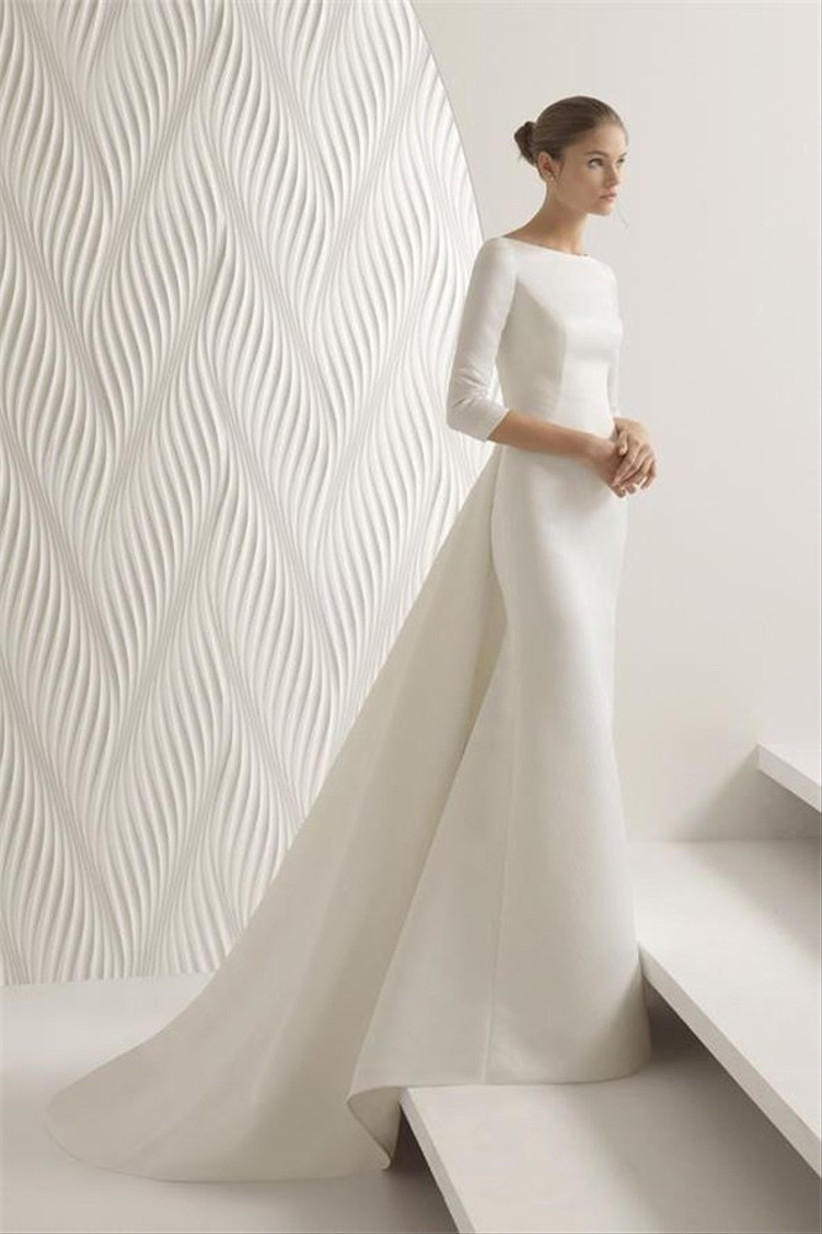 Image: Rosa Clara
Second Fitting
When: Three to four weeks before your wedding
What to expect: "In the second appointment we'll normally add tacking (temporary) stitches so we can check the fit and do any more tweaks before the final stitches or cuts are made.
"We also can use this appointment to make any bespoke changes, e.g. add belts, change sleeves, alter necklines. Around 60% of our brides make the dress bespoke to them by changing the original design," says Daisy.
READ MORE: 46 Gorgeous Wedding Hair Accessories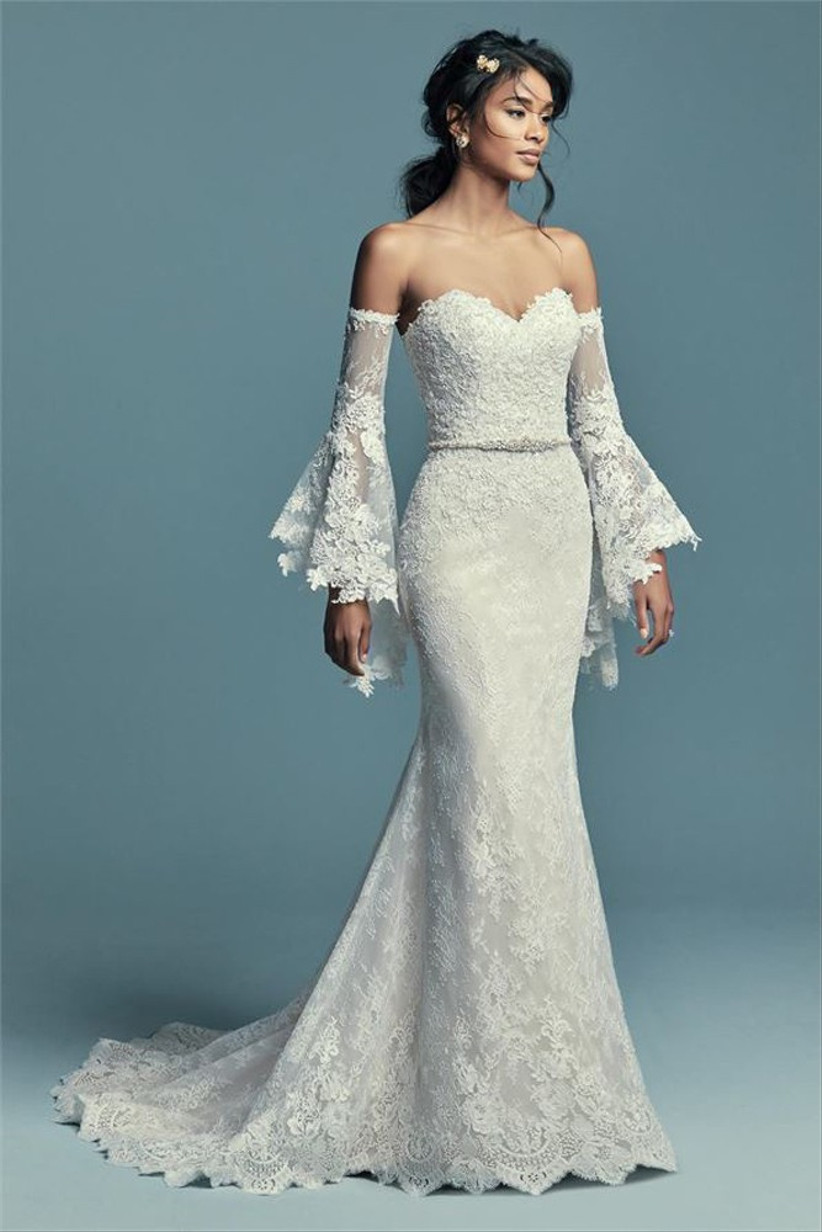 Image: Maggie Sottero
Third Fitting
When: Two weeks before the wedding
What to expect: "The final fitting is a lovely appointment where you get to see yourself in the dress as it'll be on the day.
"We advise brides to bring along whoever who will be putting you in the dress on the day. There can be a technique to getting the dress sitting correctly, layers laying perfectly and for doing the bustle in the evening that they'll need to be shown," says Daisy.
You'll take your dress home with you at this third and final fitting.
What Should I Wear To My Wedding Dress Fitting?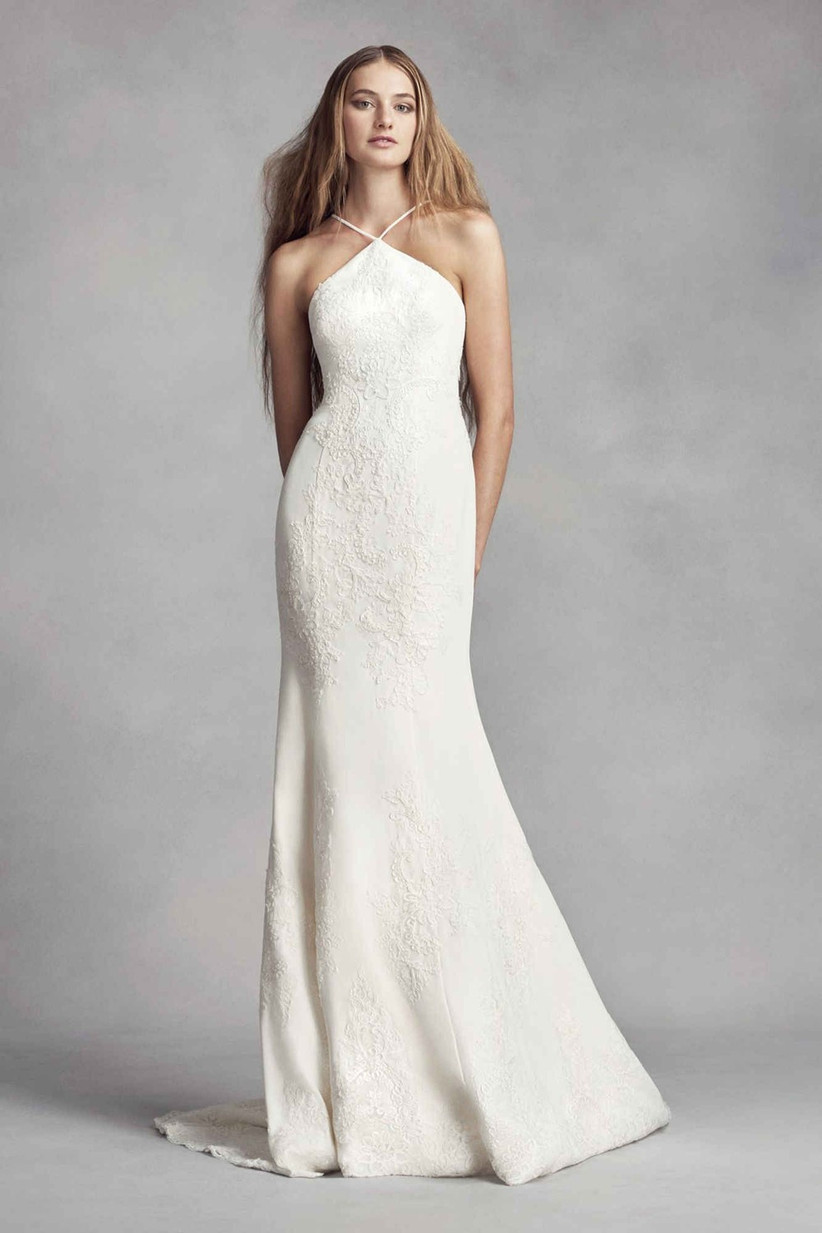 Image: Vera Wang White
"It is essential that the bride has her wedding shoes at the fitting," says Patricia Orelaja of plus-size bridal boutqiue Heavenly Bodies Bridal. "This will determine how much her dress is taken up and how safe and comfortable she feels when walking. We always get the bride to walk around the room once her dress has been pinned up. Some even dance at this stage!" If you're wearing flats, you'll need to bring them.
READ MORE: The Ultimate Flat Wedding Shoes
"She should also wear comfortable but supportive underwear and it should be exactly the same as she intends to wear on the wedding day," adds Patricia.  If you do plan on wearing a specific bra (and most dresses can have cups added in so you don't always need to), bring it with you. Ditto for shapewear which really will have an effect on how the dress hangs on your body.
What Will I Be Expected To Do During The Fittings?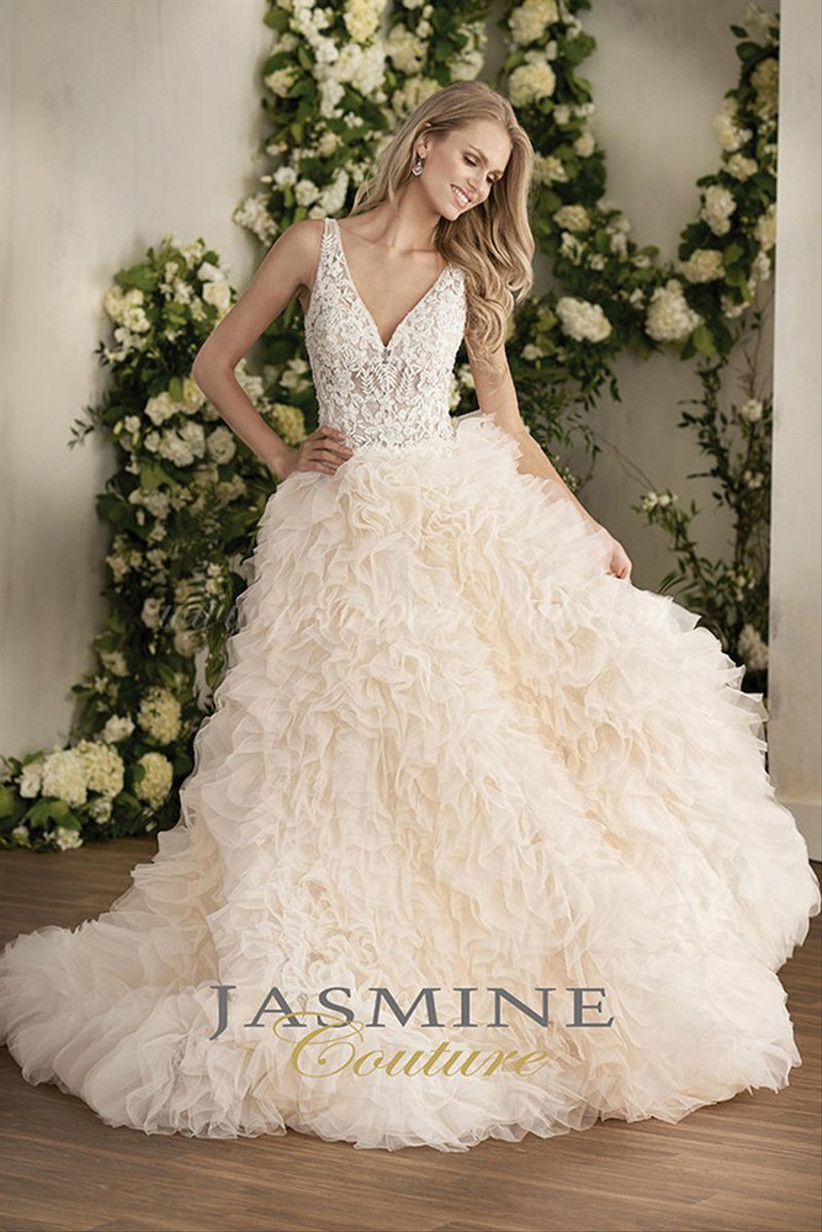 Image: Jasmine Couture
Stand there and not move until you're asked to is key! The most important thing to do during your fitting is answer the seamstress honestly and communicate what you want. Be realistic if something is too tight, rubbing or you don't quite like how it's fitting: their job is to make your dress as perfect as it can be.
Once it's been fitted, you'll want to move around in your dress, try sitting down and perhaps even try dancing, as Patricia suggested.
READ MORE: 16 Fabulous Black Dresses for Non-Traditional Brides
Deborah recommends this is the point to see how you'll manage the train, especially if you have a lot of steps to climb, and whether you'll need any adjustments to accommodate it for the first dance etc.
Should I Buy a Dress in a Smaller Size If I Plan to Lose Weight?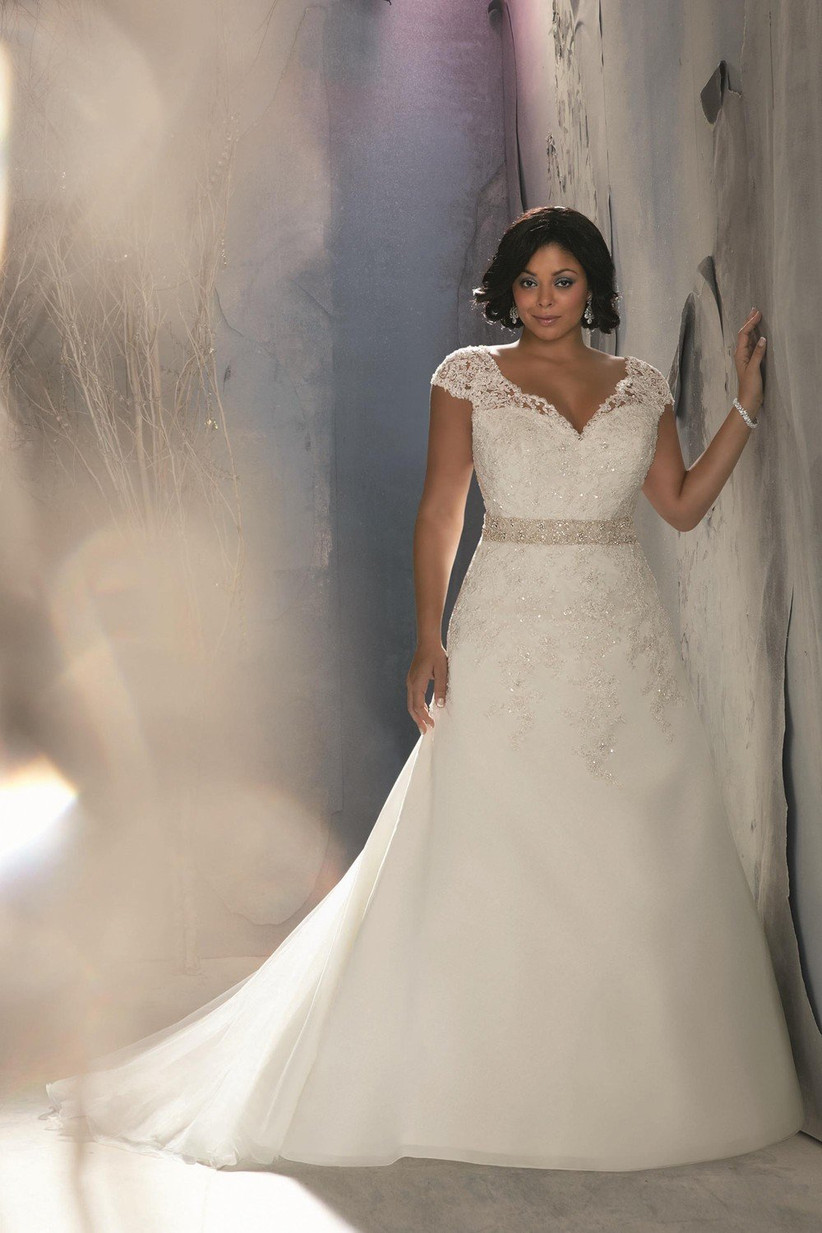 Image: Julietta by Madeline Gardner
Wedding planning is stressful and some brides do find that they naturally lose weight before the big day but don't put yourself under any extra stress by buying a dress in a smaller size. Daisy says at Fairytale Weddings they will not allow brides to order a dress more than one size smaller.
"If the dress is tight, and there's only a few pounds to lose to fit into the dress perfectly then this wouldn't usually be an issue, but to buy a dress in a smaller size with the view to slimming into it is not a wise plan. There is little point in adding the pressure of having to lose weight into the build up to the wedding day. Buy in your size or bigger, but not smaller," says Deborah of Luxe Bridal Outlet.
READ MORE: 2018 Wedding Dress Trends You Need To Know About
Don't fall into the temptation of buying a dress on sale that's either several sizes too big or too small. The labour-intensive alterations that would have to be done to the dress will eat away at whatever money you saved or you'll find yourself under pressure to drop weight quickly.
What If I Have Gained or Lost Weight Since I Bought My Dress?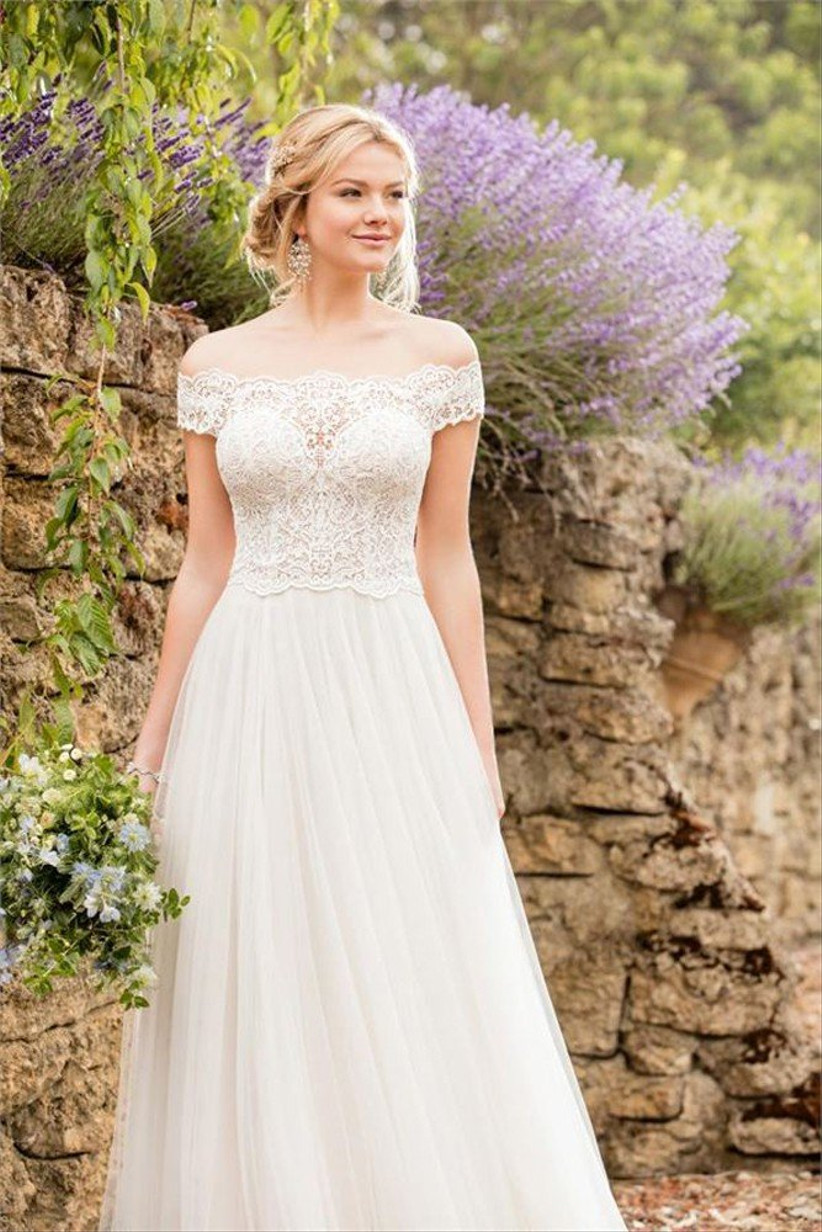 Image: Essense of Australia
Patricia of plus-size boutique Heavenly Bodies Bridal says that losing weight is not normally much of an issue. "Our seamstress can take a dress in two sizes if you do lose weight. Quite a few of our brides choose to lose weight. We are very supportive of any choices they make so we make sure that we have the fittings as close to the wedding as possible to allow them enough time to complete their weight loss journey. They will often then have their last fitting and pick up two weeks before their wedding."
READ MORE: 13 Perfect Plus-Size Wedding Dresses
Letting out a dress can be more problematic. If you dress has enough seam allowance, some can be let out by as much as a dress size, but often not much more. Certain fabrics, such as satin and velvet, will show up the original seam lines which can ruin the look of the dress.
If you plan to lose weight then factor this into the timeline of your wedding. It makes more sense to lose weight before you go dress shopping and then maintain that weight loss up until the wedding.
Who Should I Bring To My Wedding Dress Fittings?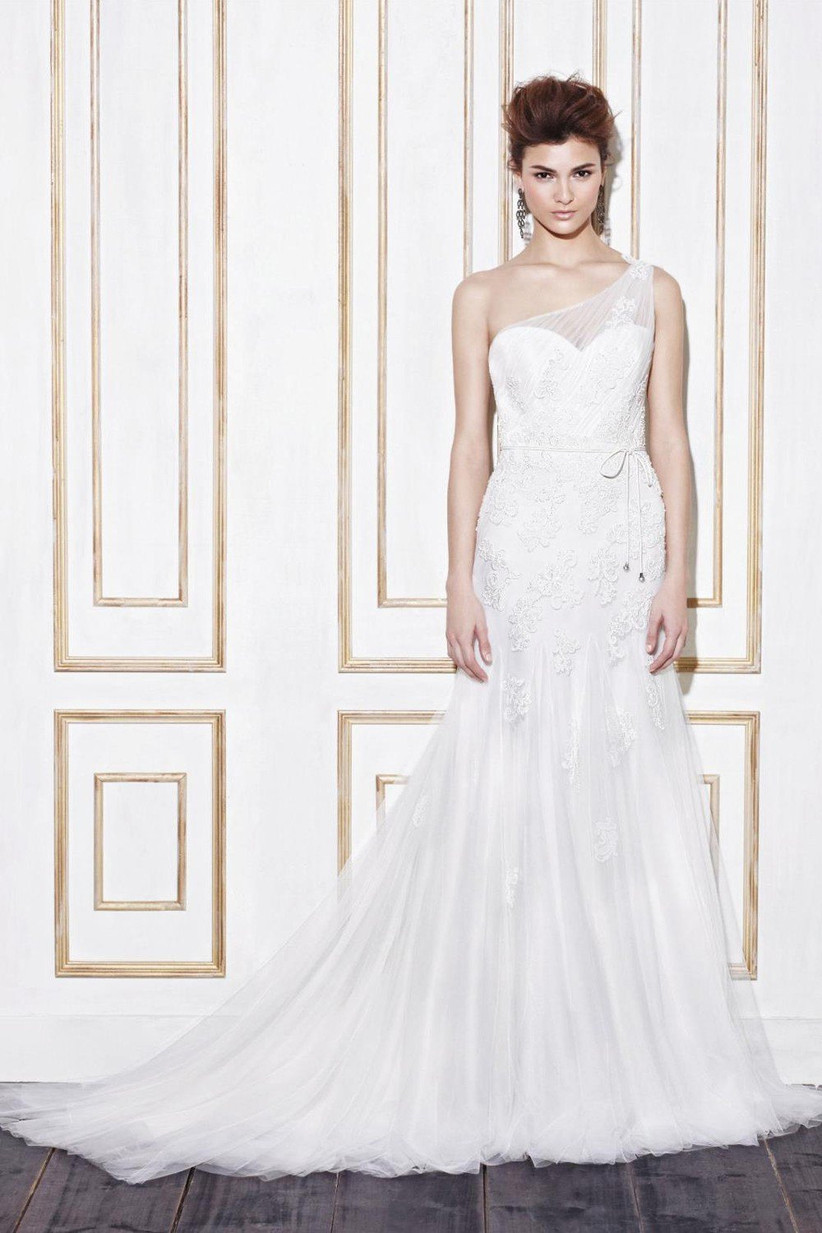 Image: Blue by Enzoani
It can be tempting to bring your whole bridal party along for a look at the dress but this isn't a good idea, says Deborah. "Most boutiques will advise ideally only one guest, certainly no more than two. A fittings appointment is just that –  getting the dress to fit perfectly for the wedding day and using the time to discuss exact requirements/concerns with the seamstress without the distraction of well-meaning others.
"Keep to the bride and the dressmaker, with a friend or family member on hand to help with any particular details about how to get into the dress."
How Much Do Wedding Dress Alterations Cost?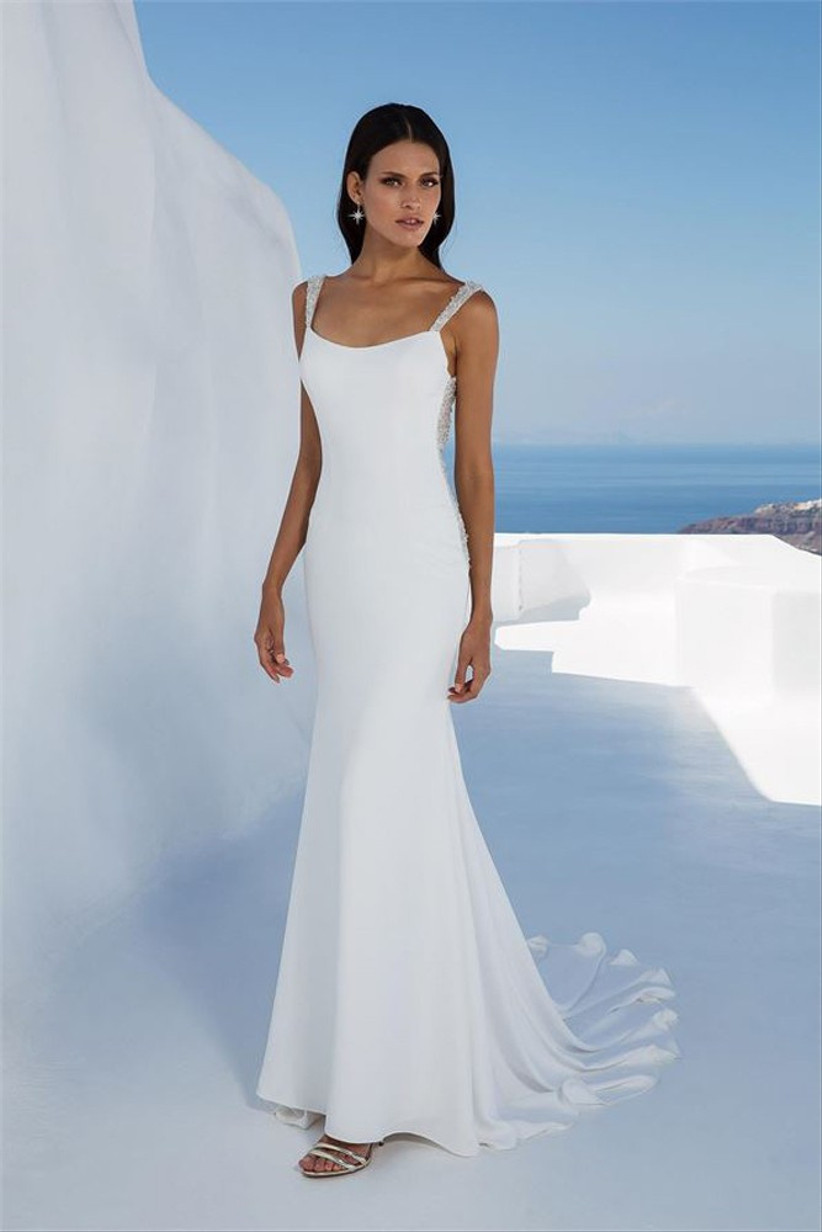 Image: Justin Alexander
Wedding dress alteration costs will vary depending on what you need to have done, but you'll need to factor them into your budget.
Patricia said that brides can pay as little as £60 for minor alterations, but for more extensive work (like a hemline and bodice) you can be looking at over £200. "As a guideline the most expensive part of the fitting is usually the hem; our prices for this ranges from £70-£125. Brides have a free consultation and are not obliged to have their fittings with us – almost all do!" she says.
READ MORE: Wedding Dress Ideas For Older Brides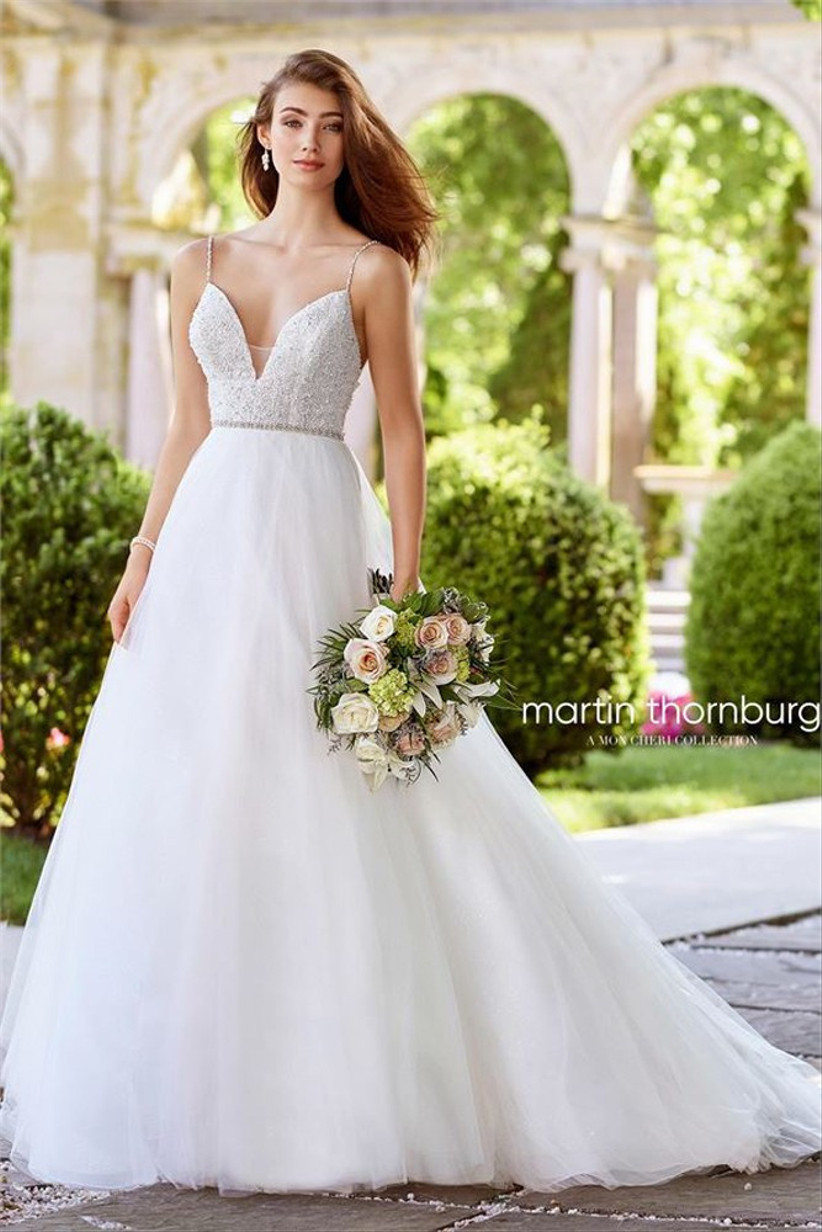 Image: Martin Thornburg for Mon Cheri
At Fairytale Weddings, their average for alterations in £150, but bespoke changes like adding straps or extra beading will raise the price, says Daisy.
It can't be emphasised enough that this money should be set aside in your budget from the start. "Don't compromise on fittings," warns Deborah. "To me it is madness to pay a considerable sum for a beautiful dress, only to skimp on the fittings to save a few pounds!"
It's also not on to expect the work to be done for free, says Deborah. "Brides must remember that the seamstress is performing a highly skilled job, and to expect it to be done for less than the minimum wage is not acceptable. So often we're asked if fittings are 'free' or if we can reduce a fittings quote – but if the bride is having her fittings carried out in a bridal boutique then the price quoted will be a fair and reasonable amount for the level of skilled work carried out. Many dresses have several skirts too, so shortening a wedding dress can take hours and hours of precision work."
Wedding Dress Fitting and Alteration Tips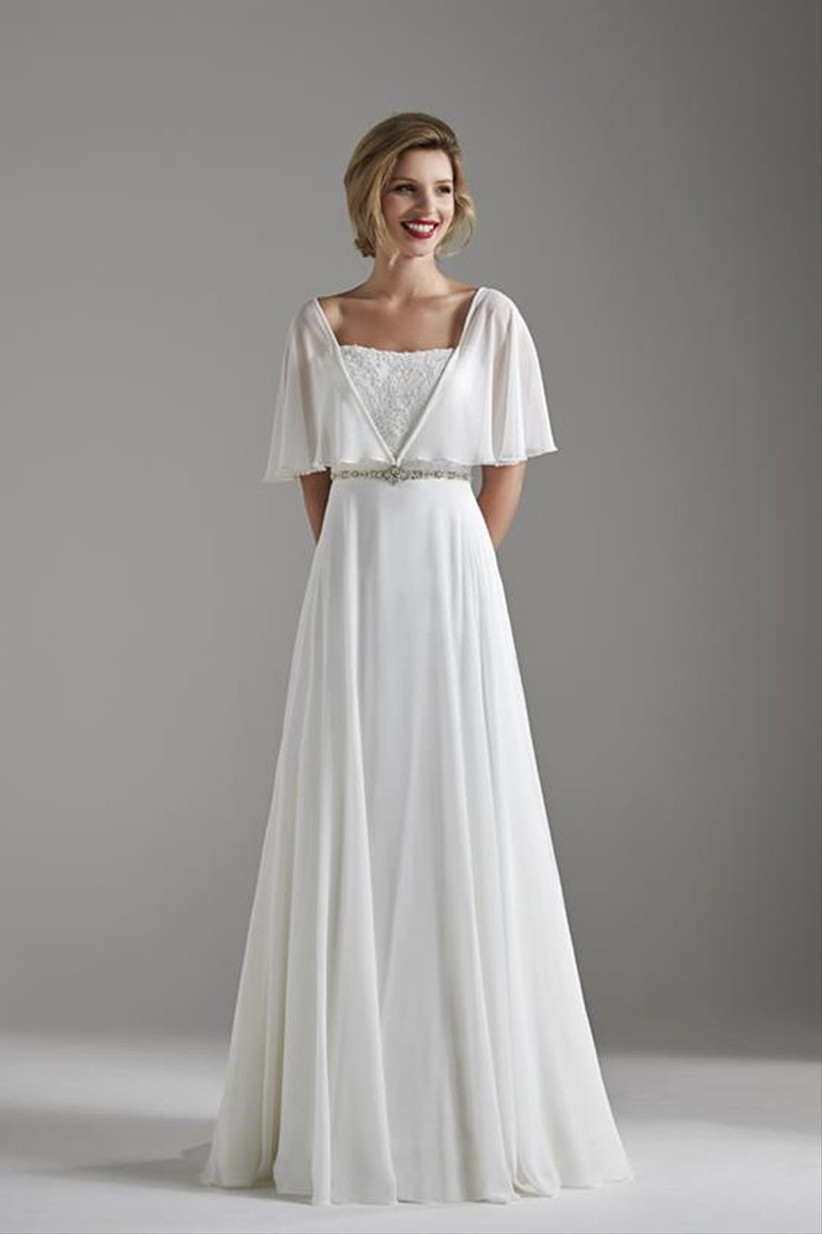 Image: Opulence Bridal
Don't get upset over dress sizes – Bridal sizing is completely different to normal shop sizes and you may have to buy a dress in a larger size than what you normally wear. Don't get hurt by this; it's how it looks and feels on you, not the size on the tag. Read our helpful guide to measuring yourself for a wedding dress.
Make sure your support garments fit – No bride wants her bra to give her the appearance of back fat but a bad fitting bra can do this. If you plan to wear shapewear, make sure it's the right size and is comfortable.
Listen to the seamstress' advice – If they warn against a change or suggest a different one, it's for a good reason. Trust their experience and knowledge of the garments.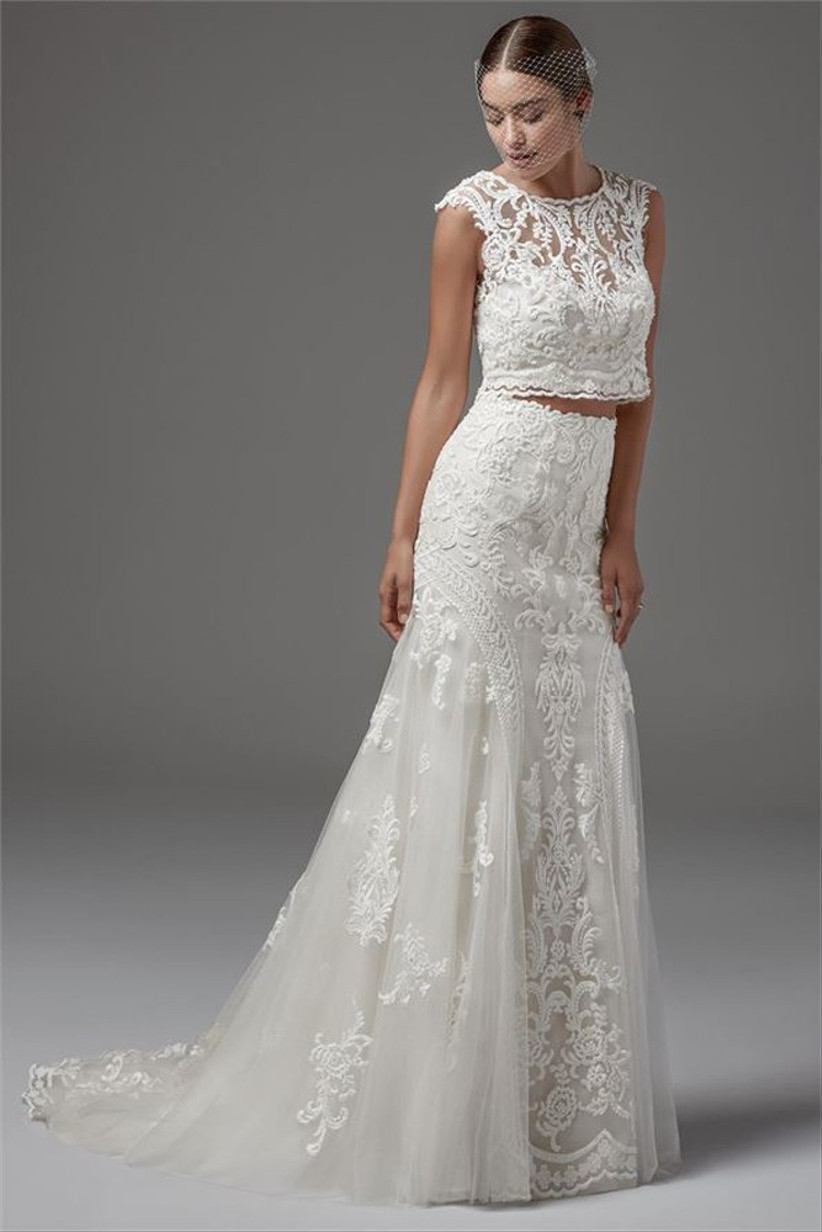 Image: Sottero and Midgley
Ask for a second opinion – Not everyone is as experienced with certain types of changes or working with certain fabrics, especially if they're more novice. It isn't offensive to take the dress to a different seamstress for a second opinion; you will get what you pay for so make sure the seamstress is right for the job at hand.
Don't rush your appointments – Getting your dress perfect takes time so squeezing in a fitting during your lunch break isn't ideal. At the same time, if the seamstress doesn't work evenings or weekends, please take this into account and don't demand fittings outside their work hours.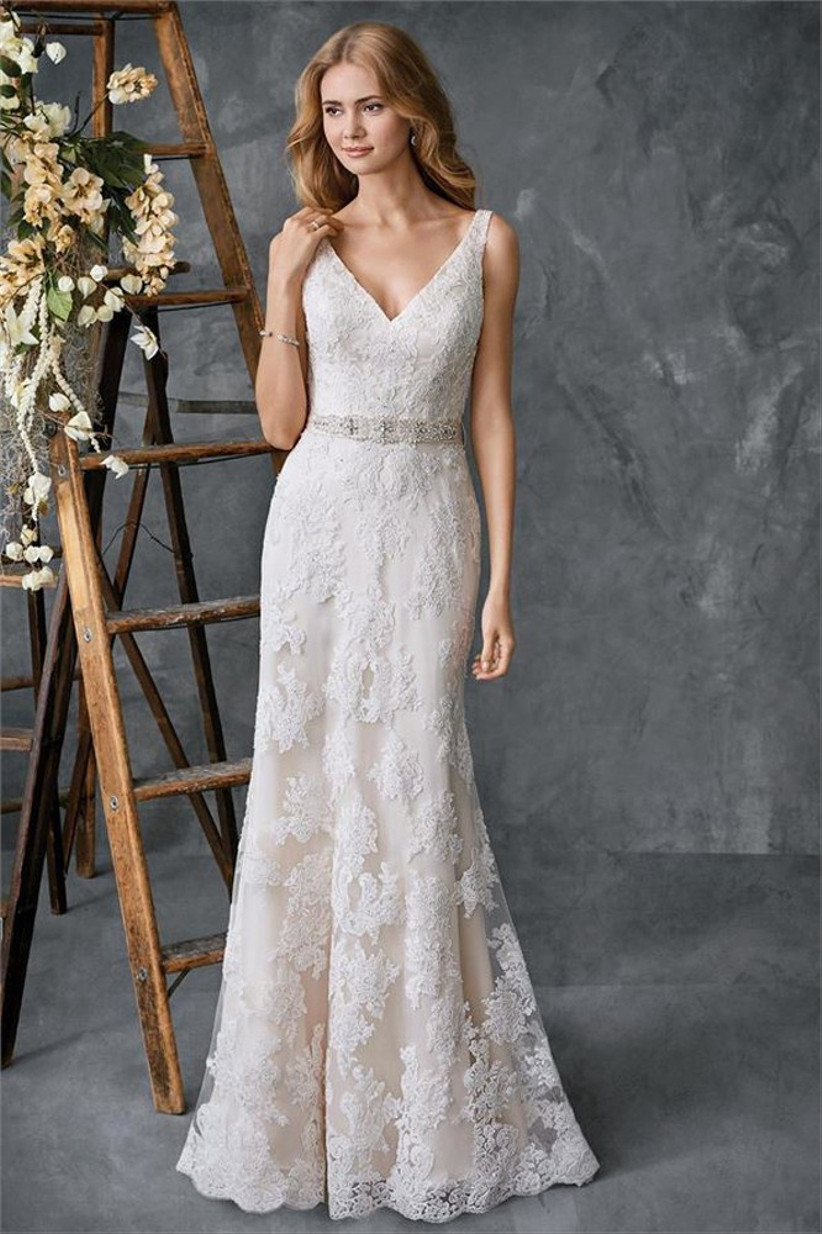 Image: Kenneth Wilson
If you are having any plastic surgery, give your body time to settle – You should tell your dressmaker ASAP if you're planning to have any surgery like breast implants/ reduction or liposuction that will change your body shape. Give your body at least six months to settle after this to make sure all swelling has gone down.
Watch out for unscrupulous businesses – You won't have any issue with the majority of bridal boutiques but it's not unheard of for unscrupulous business to order dress in larger sizes so they can charge you more for alterations. Double check the order beforehand and if the wrong size does come in (and it's not just a mix-up), be firm in asking them to order in the correct size.
If you're a bride on a budget, check out our edit of wedding dresses under £500 or an even more affordable selection of wedding dresses under £100.